Well, this is my third trip report, I hope you enjoy it.
Story of the trip
:
I'm currently less then a month away from my wedding, and I'm facing problems with my apartment. It is currently on rent but, back in March, I informed the person there that I would be needing it in August as I was getting married and was moving into the apartment (I wanted time to work on it before moving in). He said "no problem", but, despite the law giving him only 30 days to leave after I had informed him and me granting him 4 months, he went into a campaign of misdirection and breaking of agreements, the last one informing that his wife refused to leave the apt. This only 1 week before the agreed date. I was very stressed and wanting to kill the guy for lying right to my face as he did. Instead, I have no choice but to seek my rights at the Courts, but that will take a lot of time. So, one month before the wedding and with no home, my father offered me the trip so I could get a way from it all and keep my sanity. I accepted.
The trip
:
Varig has recently reintroduced its Paris and Rome service. The flight is RG8730 and it goes GRU-CDG-FCO. With this reintroduction of the services to Paris and Rome, a promotion is in place where with 75,000 miles two persons can make a round trip, on the route. We took this opportunity to burn some miles and revisit Rome, a place that was my home for 3 years but to which I had never gone back since my time there (this was back in 1992, so 15 years ago). I was excited to revisit Rome after such a long time.
October 3rd arrived and it was time to go. We had to connect in GRU, so our flight from GIG to GRU was RG8740, the service to Frankfurt. This flight was operated by Varig's "new" 767-300 PR-VAA. It was a great opportunity to see the aircraft we've been talking a lot about here in Brazil. We arrived at GIG about 5:45 PM (our flight was around 7 PM) and went straight to check-in. There, a very nice lady checked us all the way to FCO and informed me that the GIG-GRU leg would be done by PR-VAA and the GRU-FCO stretch would be done by PP-VTE.
Following check-in, my father and I proceeded to the dept area. Here's a view of GIG's TPS 2 Int'l departure: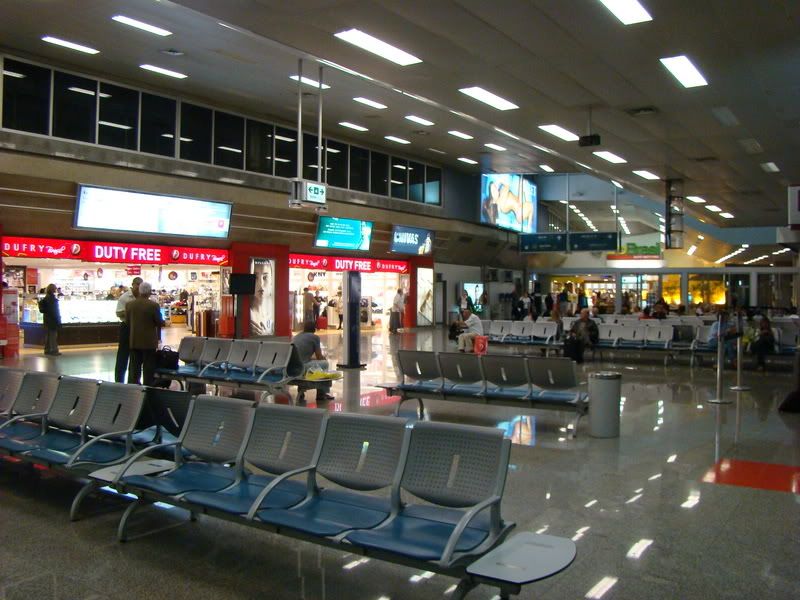 And there it was, PR-VAA parked at the gate, waiting for us: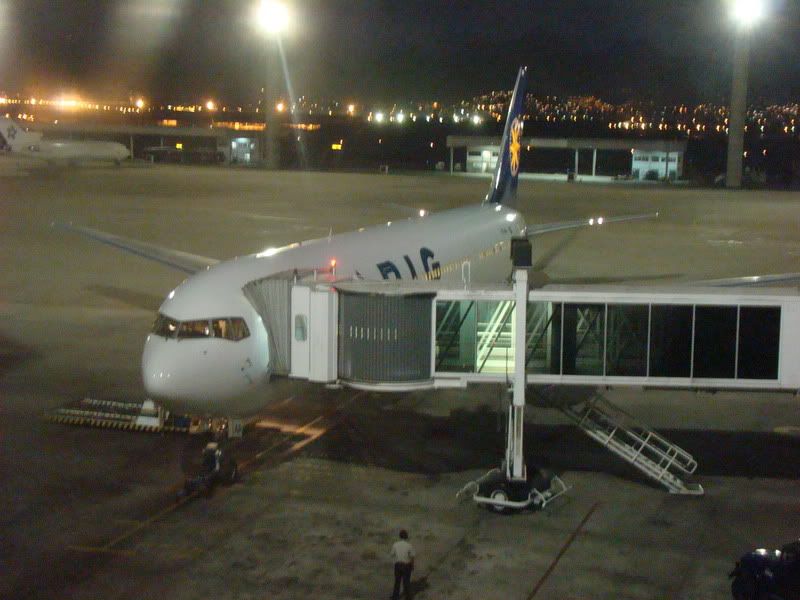 We waited for about 20 minutes, time enough to talk to our lawyer, and then headed for boarding. No confusion whatsoever, boarding proceeded smoothly and not that many people boarded the plane here at GIG.
Here's PR-VAA business class seat:
And economy:
As you can see, its nothing special, but then again these are "temporary" planes, meaning that they are being picked-up by Varig as quick as they can find them, in order to keep Varig's routes.
The legroom was decent, as you can see below. The pitch was also common economy seat pitch, not great but also not low-cost like.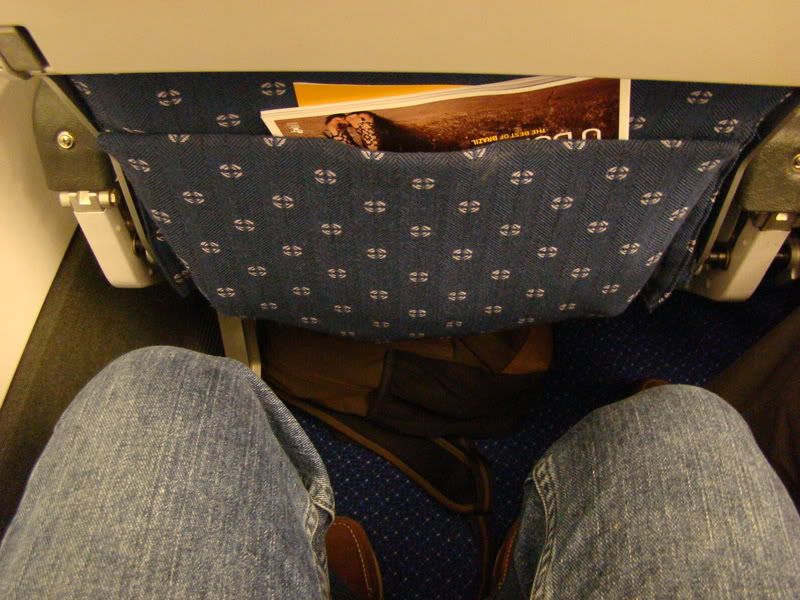 I got to talking to a flight attendant, checking if they had any news regarding Varig's new paint scheme, scheduled to debut on Oct. 23rd. He told me that they are also being kept in the dark, but all they new was about the new uniforms, something in black and with a little orange (from Gol), which he said looks great. I guess we'll have to wait and see.
The flight to GRU was uneventful and lasted about 45 minutes. Nothing but water or orange juice was served on this leg. Soon enough, we where at GRU and me and my father had about 2 hours to kill until our GRU-CDG-FCO flight, which departed at midnight. As my father is a Smiles Gold card member, we headed to Varig's VIP lounge, to check how it is after the "reopening". The Lounge is the same as before, and a lot of the chairs need a little tuning up. However, staff was again very friendly and helpful. I must say that Varig is treating you like no other airline, at least in Brazil (or in Italy, from what I could see). Here's a couple of views of the VIP Lounge:
Also, Emirates 777 parked at GRU (sorry for the bad quality, lighting was bad):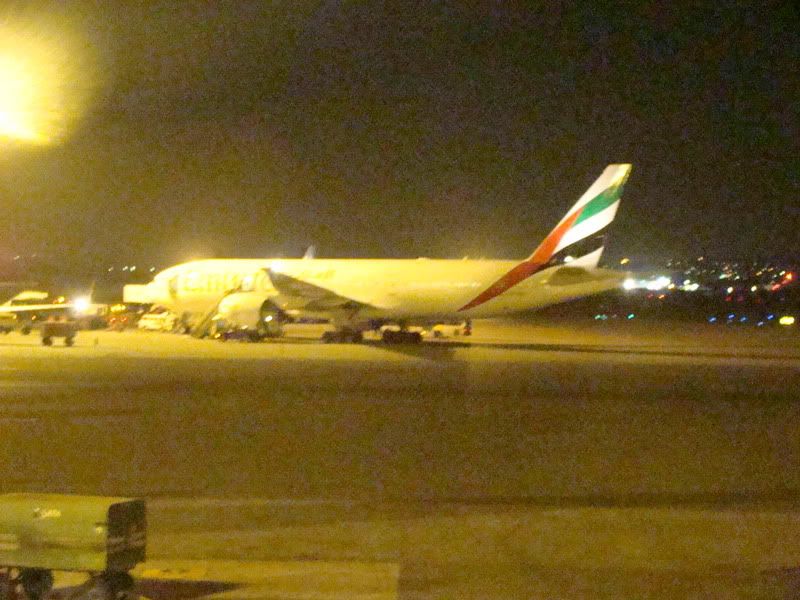 The VIP Lounge wasn't crowded at all. I sat by myself on a separate TV room and watched a bit of the soccer game that was on that night. Around 11:30, the staff called our flight to CDG/FCO and we headed down for boarding. Again, no major fuss at the gate, and soon enough I was seated on 9L, on PP-VTE. The aircraft is clearly tired, with no working IFE system, but again Varig has to deal with it, and they clearly try to compensate with a great attitude from the staff and flight attendants. But something I found out about PP-VTE. For some reason, the cabin between business class and the first galley has dreadful legroom, something that doesn't happen (at least not that badly) on the cabin aft the first galley. Seat 9L was incredibly uncomfortable, as you can see by the picture below (bear in mind, I'm only 1,74 meters high):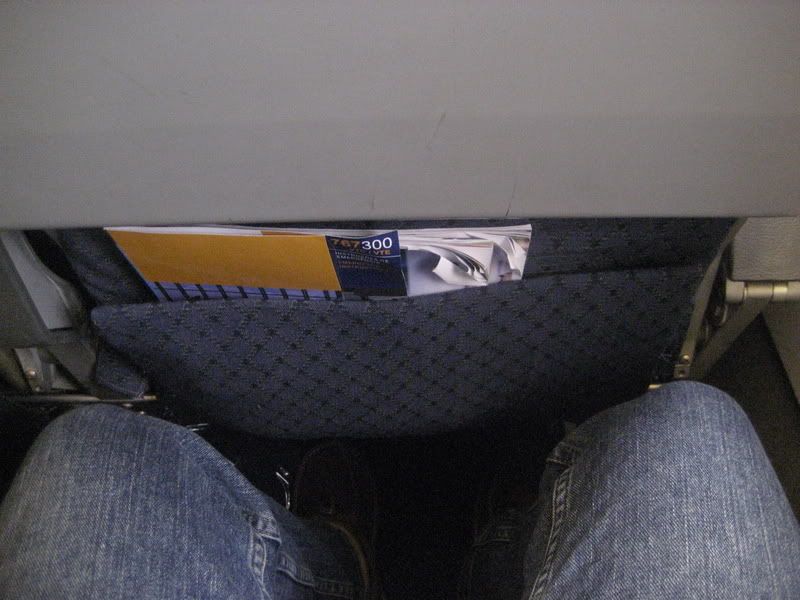 As you can see, no legroom. Luckily, not all the middle seats were filled (the flight was about 75% full), so both my father and I managed to find a place were we could lay down and sleep during our 12 hrs flight to CDG.
Some more views from PP-VTE's interior:
Business Class: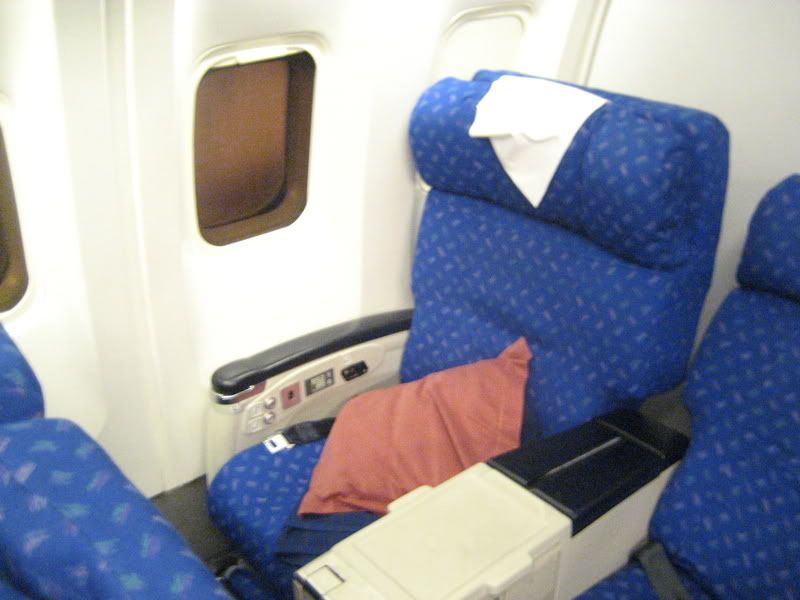 Economy:
With a 15 minute delay, we pushed back. GRU is operating only 1 rwy (9L / 27R) as the other one is being refurbished. We stood in line after a TAM A320, A321 and two Gol 737-800s. After 10 minutes in line, we were airborne and on our way to CDG. About 45 minutes after take-off, dinner service started (as it was already around 1 AM). The options were chicken or pasta. I went with the pasta, its harder to go wrong there (actually, it was quite tasty):
Then I started my sequence of portable DVD, iPod and the book (on the history of the Crusades, great book) in order to get some IFE of my own, before I was tired enough to sleep. By this time, I had moved from 9L back to the aft cabin, and got myself 3 seats to lay on. Good stuff. All I can tell you is that, after about 3 hours of DVD/iPod/Book, I fell asleep and woke up with the breakfast service, about 1:30 hrs away from CDG. I moved back to 9L and opened my window, to see this view, already over Europe. It was my first sight of Europe in 15 years!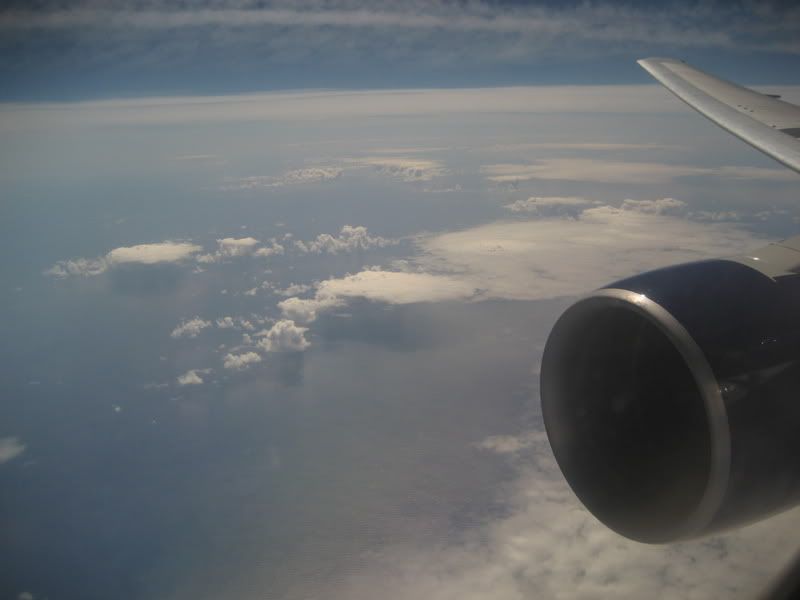 A little bit afterwards I got my breakfast. Again, very tasty: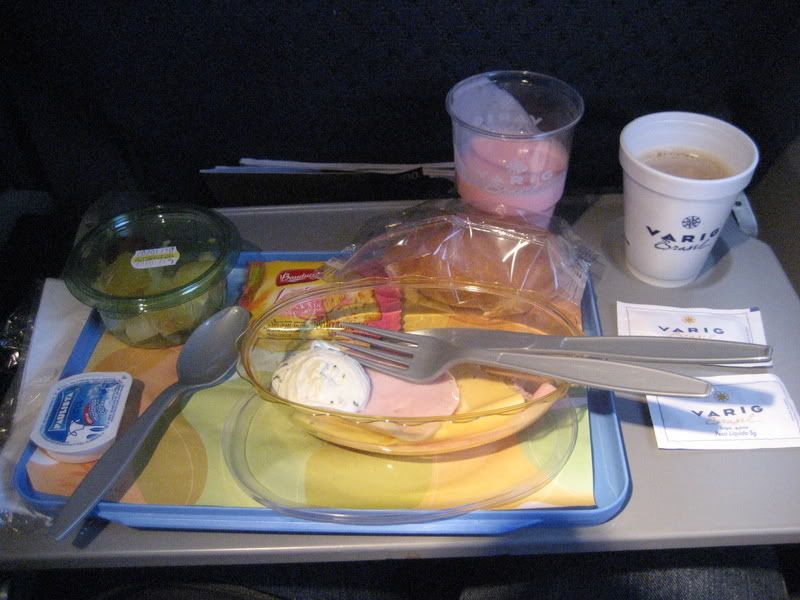 After breakfast, we had about one hour to go. Then, over a cushion of clouds, we began our decent into CDG. Here are some views of that cloudy afternoon in France:
Approaching CDG: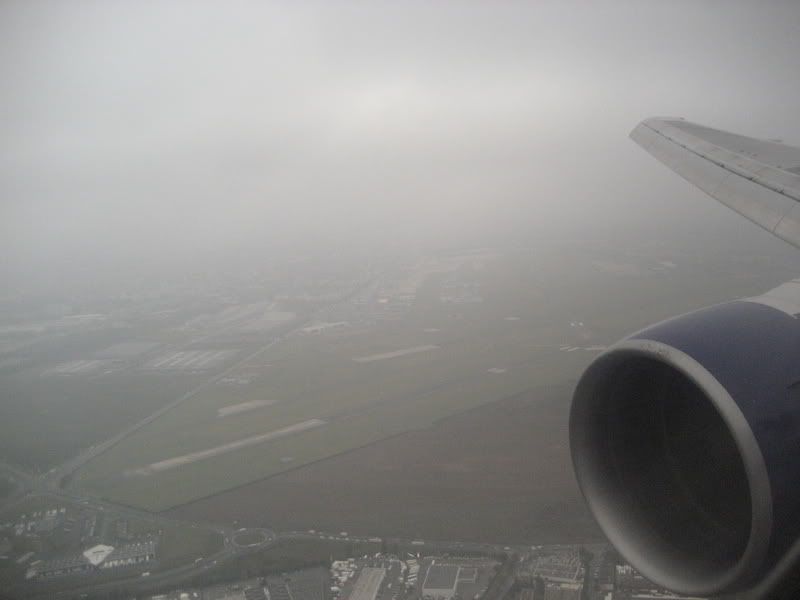 After landing: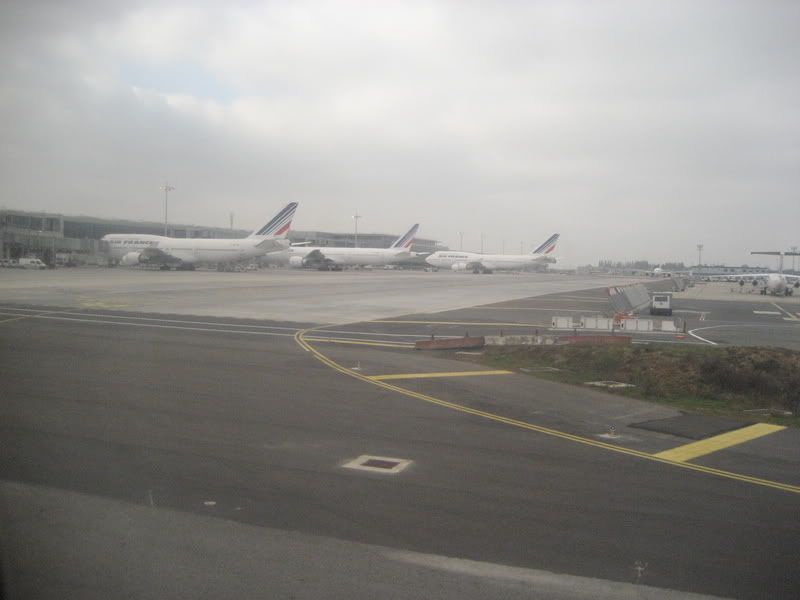 Landing was, lets say, technical. I guess the winds left little margin for a over smooth landing. I was truly excited to see European grounds for the first time in 15 years. Parked at the gate, about 80% of the passengers stayed at CDG. Cleaning personnel came into the plane, while we waited for about one hour to continue on to FCO. About 10 people boarded the plane at CDG to FCO, and we could be on our way.
Taxing for take-off from CDG (no its not GRU, its truly CDG):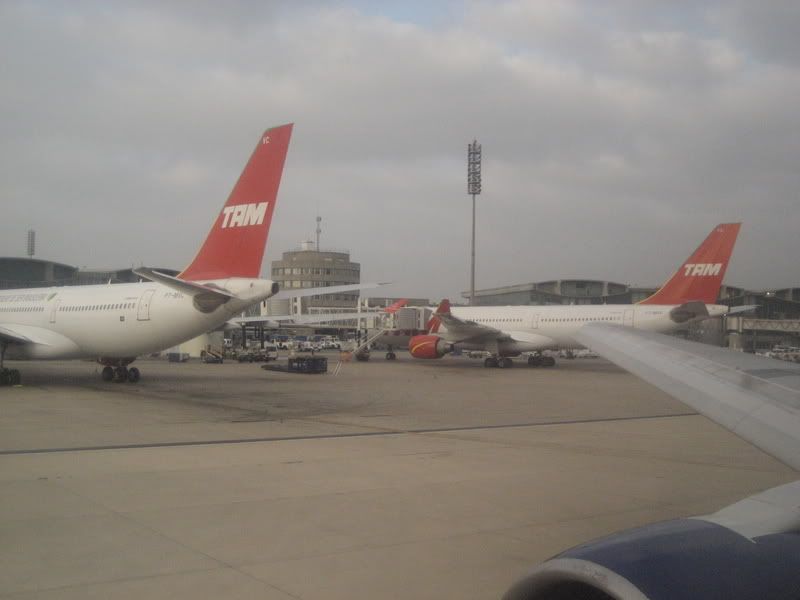 After a rolling take-off, Rome was 2:30 away! Sorry for the lack of pics here, but I fell asleep again! I had time however to get this pic of the sunset:
Soon enough, we had landed at FCO. I have to admit, I got a bit emotional as Rome had been my home for 3 years when I was a kid, and I had nothing but good memories. But, for one reason or another, I had never gone back. This was finally over. The visit to Rome was fantastic. I got not only to see the sights, but also went back to my old school (Marymount Int'l School of Rome), my old apartment (the doorman remembered me right on the spot, even after 15 years), the old Tele Monte Carlo HQs (where my dad used to work). After 8 days (and a quick two day hop to Venice, which I will also post a trip report, as I flew with Air One and Alitalia), it was time to head back to Rio.
That's my father there, waiting for the Tram from Terminal C to the main terminal at FCO:
This time, our journey would be quite different, as Varig did not offer a connection from GRU to GIG. We had to take a bus to CGH and come back to Rio through SDU. Its quite tiresome after 14 hours from FCO to GRU (counting the stop at CDG).
Fiumicino Airport: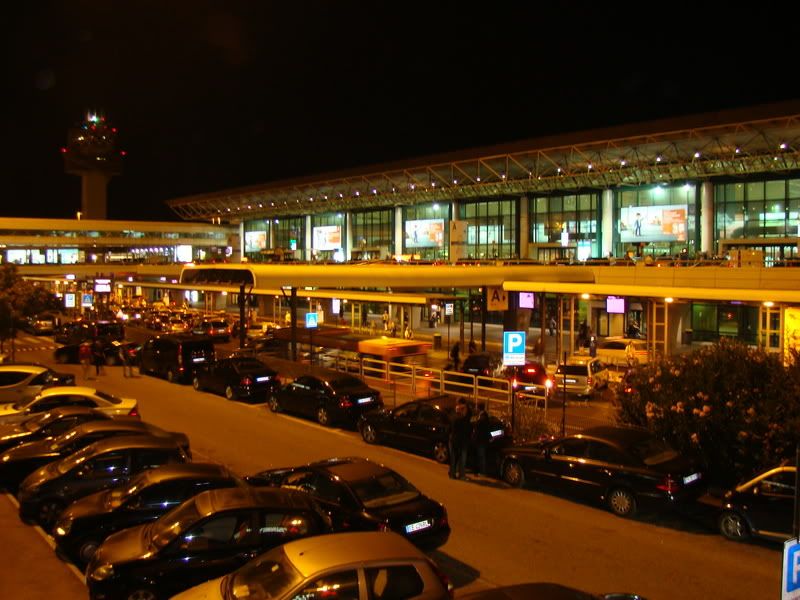 Varig's Check-in counter at FCO:
After being checked in by one of the most beautiful check-in ladies ever (Italian, of course), and very nice, we had our boarding pass and headed for the VIP lounge that Varig offers at FCO. Here's a pic of FCO's dep hall, with the shops, after immigration at FCO: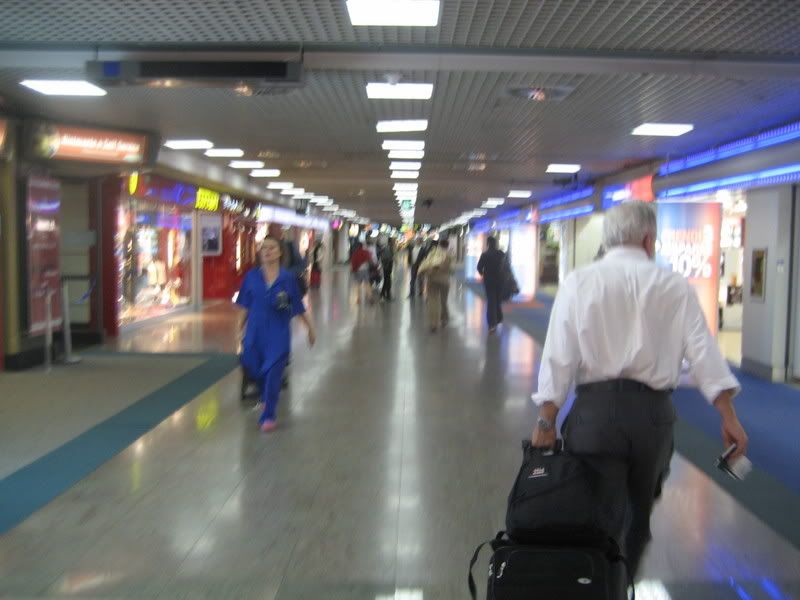 There's our flight on the board:
And the VIP lounge: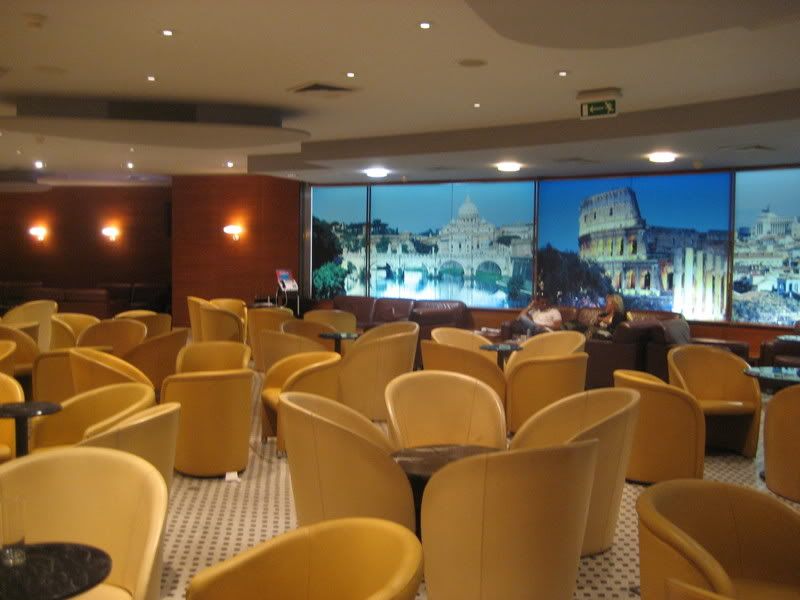 As you can see, it was us and another couple there, that's it. We had time only to get a drink, as right after we got to the lounge, boarding started. We finished our drinks and headed up to the gate.
At the gate, a seemingly out of control kid (about 4 years old) made a lot of us wonder if this is was we had to get used to for the next 14 hours. As we boarded (him and the mother were right behind me), the kid quited down I heard nothing during the flight.
As I mentioned above, the legroom in the aft cabin of PP-VTE is quite different from that in the fwr economy cabin. Here's the legroom on seat 30L:
The flight to CDG had about 30 people on board, and some deplaned at CDG. With a delay of 20 minutes, we pushed back and, after a 10 minute taxing time, were airborne and on our way to CDG. I couldn't take a lot of pictures as the lack of light, and the movement of the aircraft, made up for only crappy pics. I did take however a picture of the snack they served us on the FCO-CDG leg (a very tasty ham and cheese pannino and orange juice):
After a 1 hr and 30 min. we approached CDG. Landing this time was quite smooth, and we taxied to the exact same gate. On our way, I could see about 7 AF widebodies (747-400, 777 and A340). I managed to take this pic of a AF 777 getting ready to leave, with a Aeroflot A320 that was parked right beside us:
Boarding started and the plane filled up nicely. Even the flight attendants were surprised. We took off from CDG towards GRU about 2 hrs after our landing from FCO. About 2 hrs after take-off, the always nice and polite crew started the dinner service. I went again with the pasta (options this time were pasta, chicken or beef). Again, very tasty (after all, it was catered in France!):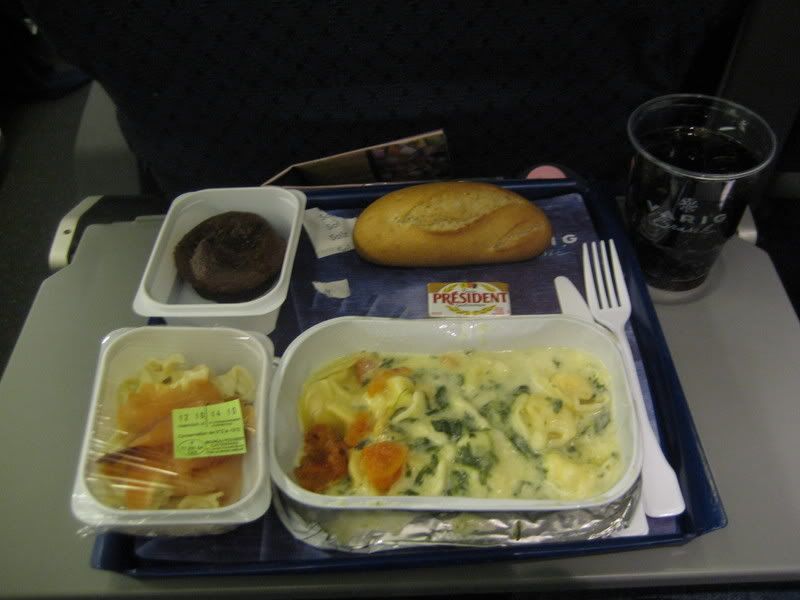 This time, I had no IFE other then my book. It was so entertaining that I never got to the DVD. I listened to a bit of music during dinner and breakfast, but that was it. But, again after about 3 hrs, I couldn't make it anymore and fell asleep. My father managed to find yet another free 3 row of seats, but I wasn't that lucky this time. But, my dad was kind enough to trade with me after a while.
When I woke up, realizing that was morning, I switched seats again to take a look at the outside. This was it: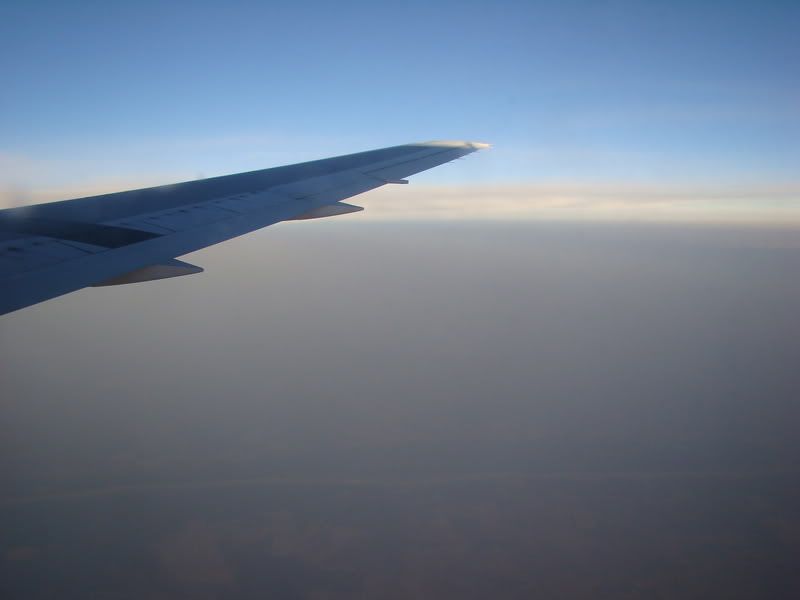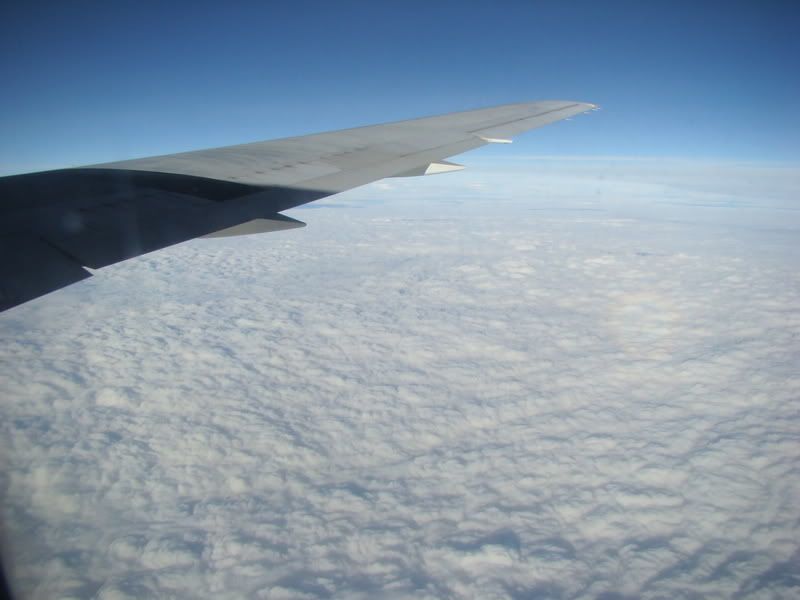 Time seemed to rush by, as we were already starting our decent into GRU. Following yet another technical landing, we were again in Brazilian soil. We had to deplane and pickup our bags here (we arrived at 7 am local time), as we had to go to CGH in order to get back to Rio. After some traditional shopping at the Duty Free shop (mostly chocolates), we headed out to get our Varig complementary bus to CGH. Luckily, it was the middle of a long holiday here in Brazil, so São Paulo was a "empty" city, so traffic was normal, and not the normal chaos that is the SP traffic.
While at GRU, I took these pics:
Ocean Air 767-300 (beautiful livery, as Avianca):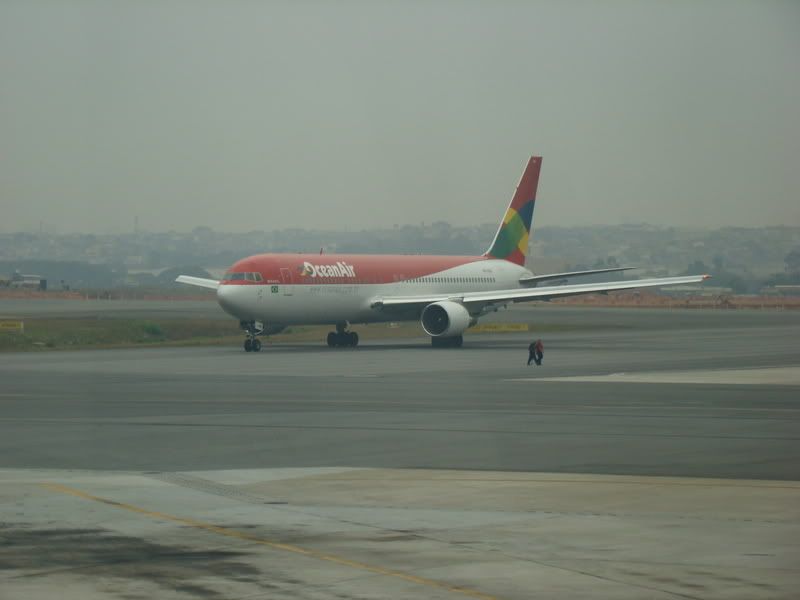 The famous (in Brazil) PR-VAA parked at the gate (arrived from FRA):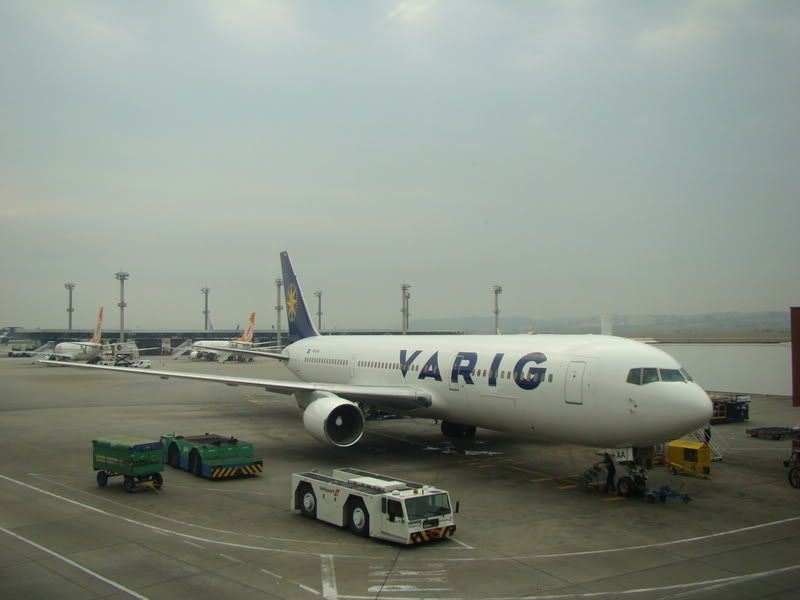 Arriving at CGH, we checked in again, checked our bags, and headed out to boarding on the next available shuttle (which was at 12:05, we had arrived at CGH only at 11 am).
Some views from CGH that morning:
Check-in area: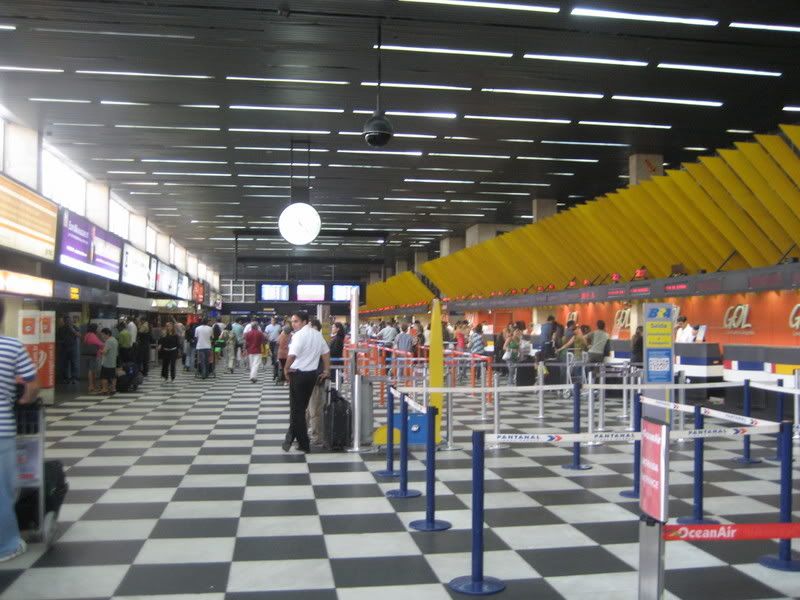 Gates (my father is visible, as well as a great friend of mine whom we waited for at GRU and flew back to Rio with):
Boarding started at 11:45, the plane had only about 35 passengers (plus 19 extras, mostly Gol personnel - remember, now Gol owns Varig), and at about 12:15 we were pushing back. Clearly with APU problems, the Varig 737-300, PP-VNZ started up engine 1 at the gate, and used its power to start up engine 2 after pushback. Following a TAM A320 and a Gol 737-700, we took-off to Rio.
Leaving CGH: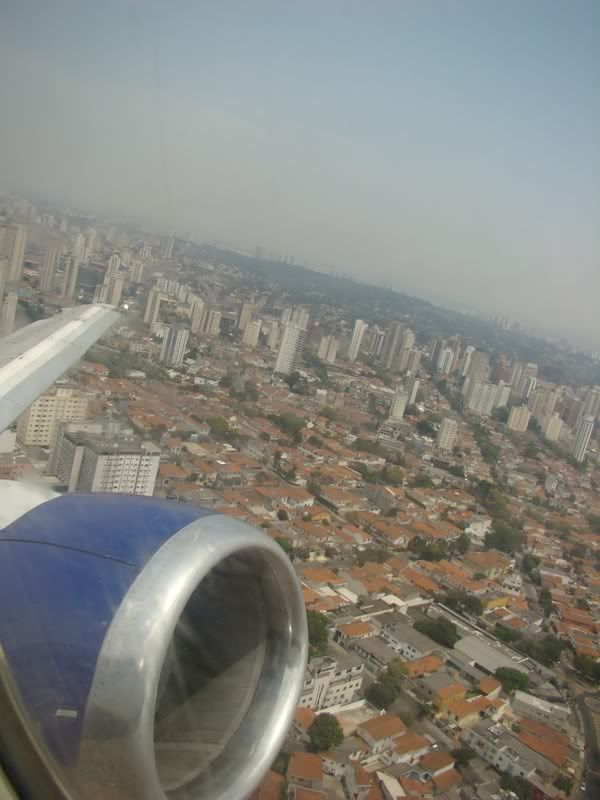 The flight time was only 35 min, so the crew quickly served us snacks ( a couple of very good "salgadinhos") and beverage. You had to eat it quickly, as soon after handing it to you, the crew was back to pick it up.
On approach to SDU, we had a couple of great views of the field: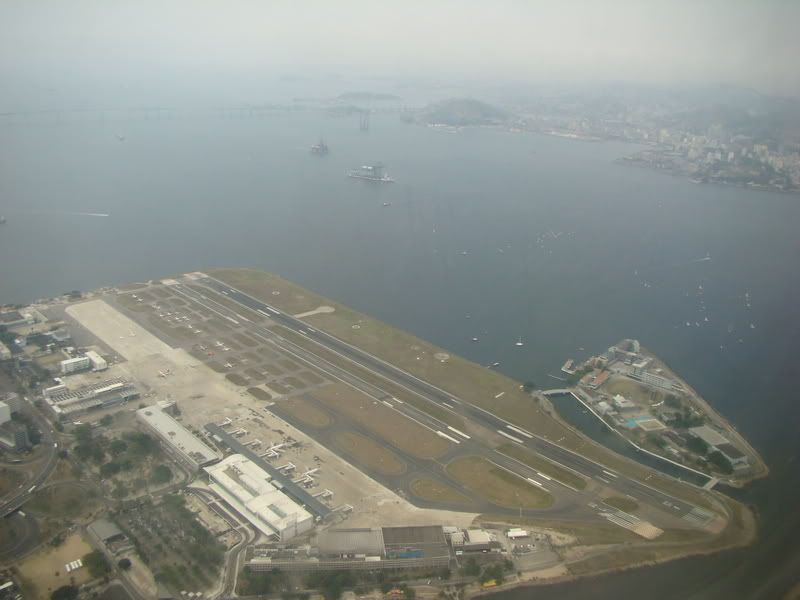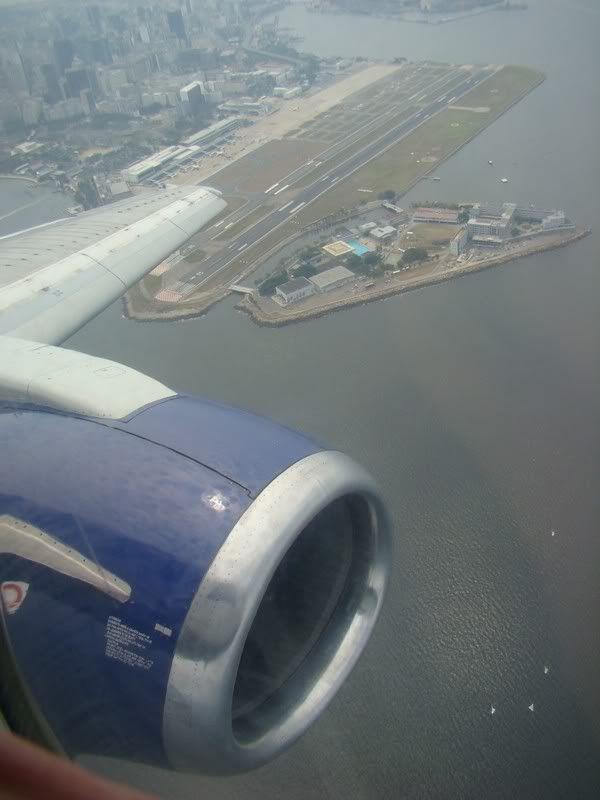 At SDU, one has no room for smooth landings. You have to hit the deck as you come. It was no different with us (he even came a little too high). So, after about 24 hrs (from going to the airport at FCO to arriving in SDU), I was back home. While leaving, I took some more pics that I share with you:
PP-VNZ: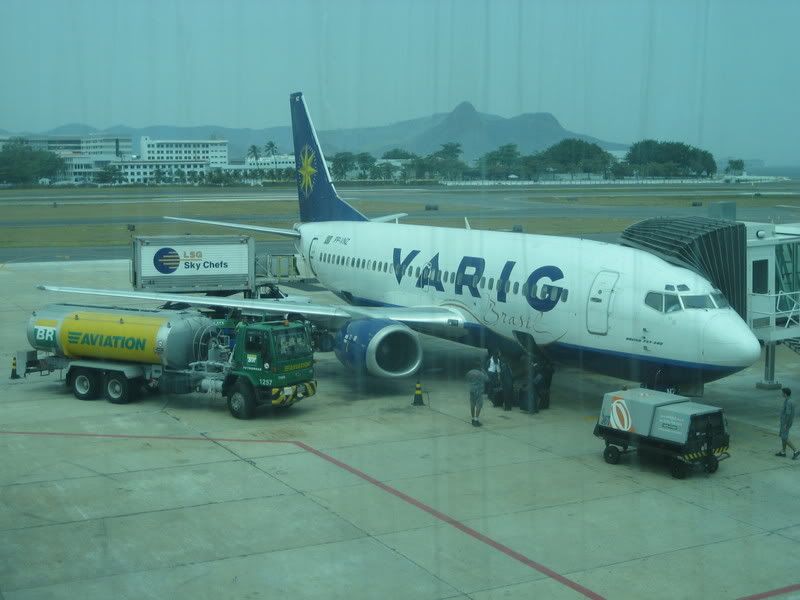 A empty SDU: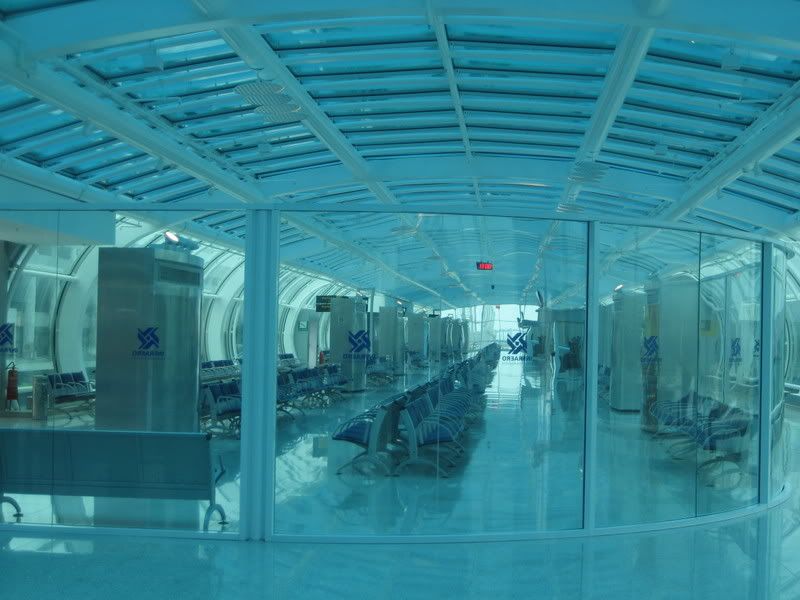 Baggage Claim at SDU: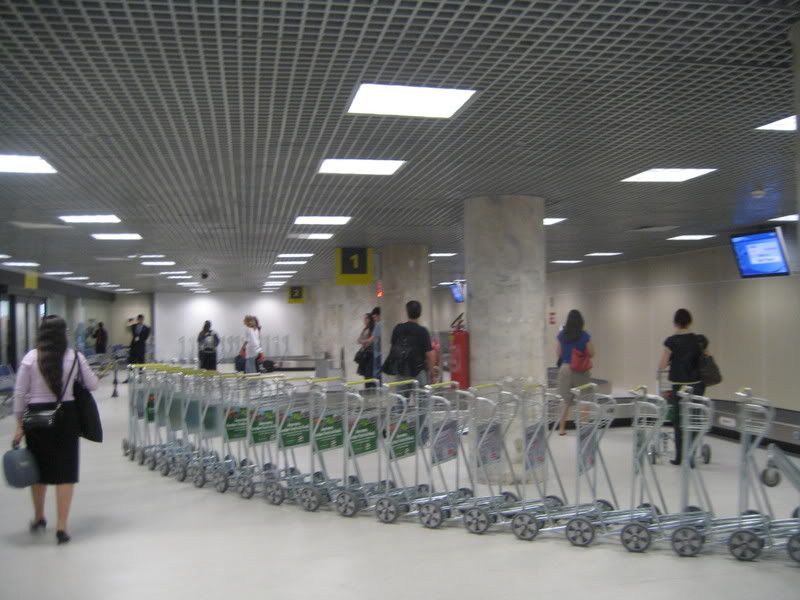 Conclusion
:
Varig is putting up one heck of a service. The planes are far from ideal, sure, but the staff is so polite, helpful, they show so much effort and willingness to make your flight enjoyable, despite the aircraft problems, that it compensates a little bit the lack of IFE and the outdated seats. From my recent experience in Brazil, not getting good service from TAM at all, it was a great experience to fly Varig international again. With the new planes that will come, and with the investment in a standardized interior and colors, I think Varig will attract a lot of passengers back. I for one would fly them again, just for the warm service I got.
I hope you liked this long TR (I kept it as brief as I could), and hopefully soon I'll be able to post my FCO-VCE-FCO TR.
Tks for reading!