Rome-Venice-Rome On AirOne & Alitalia (pics)
Posted: Thu Oct 25, 2007 12:24 am
Hi there!
Following up on my TR on my
Varig GIG-GRU-CDG-FCO-CDG-GRU-CGH-SDU
(yes, its an odyssey) flight, as promised, here's the TR on my short trip to Venice during that larger trip to Rome.
My father insisted we took a couple of days to go up to Venice. I had never been there, so it was a great opportunity to get to know one of the truly unique cities of the World. In order to save up time, we decided to fly as opposed to taking a train. A good decision, as the flight is no longer than 40 min, against 5 hrs by train.
Here from Rio, we looked for the most convenient times (a early departure from FCO and a later departure from VCE). The result was to go by Air One (flight left at 8:40 am) and coming back with Alitalia (at 7:35 pm). A even better opportunity for me to fly Air One for the first time and fly again with Alitalia after 15 years (my last flight with AZ was my flight back from Rome to Rio, to end my 3 year period of living in Rome).
I had no problem booking and paying online for the Air One flight, but with Alitalia, the website would not accept any of my credit cards. The online help tool was a great assistance. A attendant called Emanuela chatted with me, and made all necessary arrangements. In 15 minutes I had my e-ticket and all was set.
Three days after my emotional arrival in Rome, my father and I woke up at 5:00 am to get ready, get on a subway to Termini railway station, to then get on the Leonardo Express, the express train service direct from FCO to Roma Termini. We planned on getting on the 6:52 train, but we got to Termini earlier, so why not get on the 6:22 am train? We noticed the new and refurbished Termini station, with many automated ticket purchasing posts. We got our tickets and proceeded to the train.
Termini station that morning: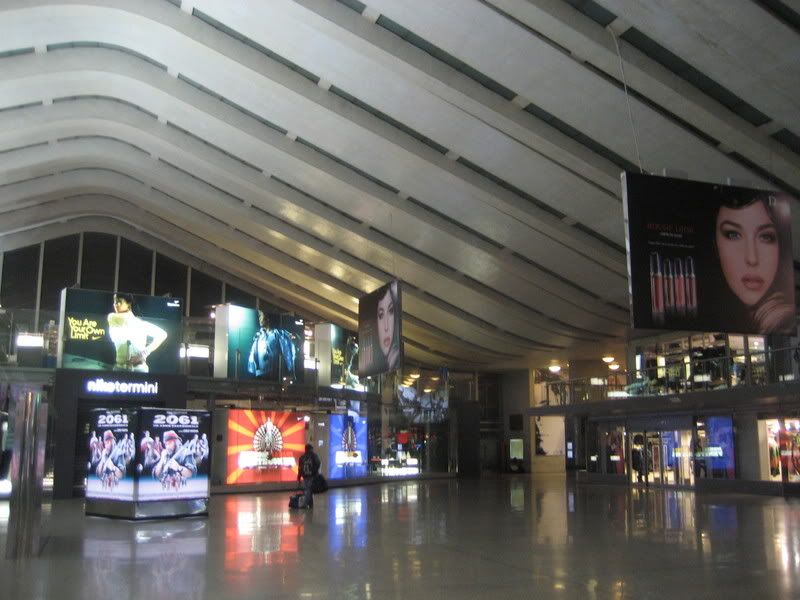 The Leonardo Express train: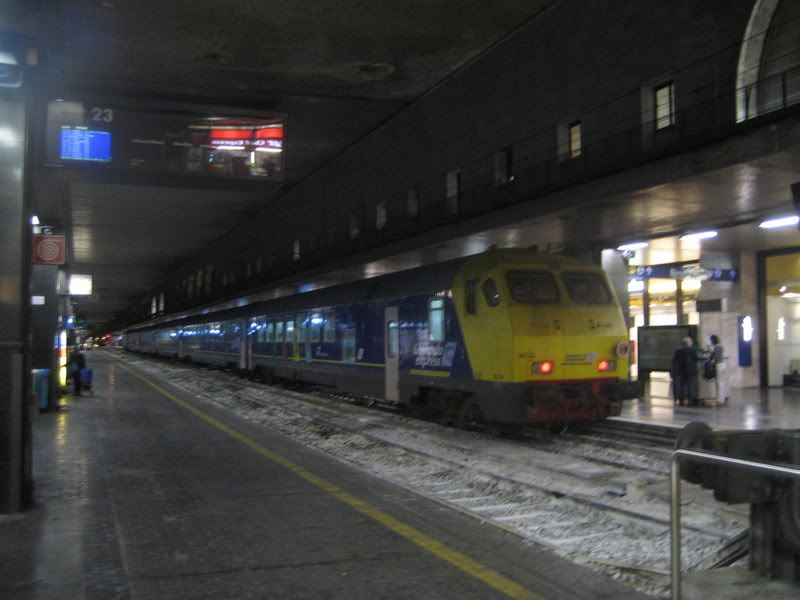 The train left at (amazing for Italy) exactly 6:22 am. A lady sitting near us even mentioned "The train is late" and the other replied "Of course, we're in Italy! If this was Germany...", right after she said that, at 6:22 am precisely, the train started to move. The ride was uneventful and at night, so nothing much to see. The ride also took 35 minutes, as indicated on the website.
Upon arriving at FCO, we moved across the walkways to Terminal A, FCO's domestic terminal. A long walk...
FCO Terminal A that morning:
Air One's Check-in counter:
The line at Air One's counter was quite long, and apparently the Fast Check-in counters had some problems. While my father stood in line, I looked for another Fast Check-in (we didn't check any baggage, only carry-ons) and found one a little more hidden, and clear. I was able to issue both our boarding passes just in time as FCO's check-in and baggage check system crashed (extremely lucky). I had my boarding pass, but this system crash meant certain delay for all flights. We got our patience ready...
Air One's Fast Check-in stand (the more secluded one):
After getting our boarding passes, we proceeded straight to security. A bit of a line, and the very "american" like checking of your baggage contents, laptops, etc. Took about 10 minutes only though, and we went on to check the board for our flight: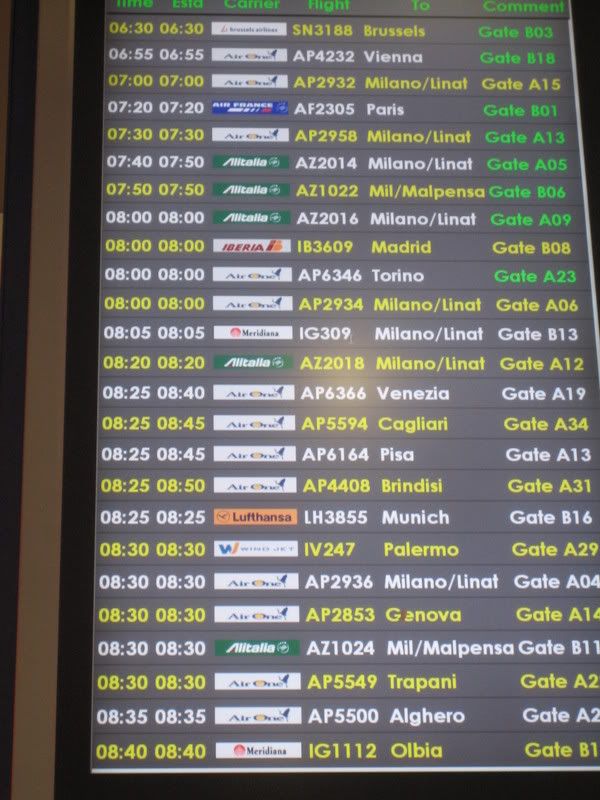 There's our flight, out of gate A19
FCO's Terminal A has good shopping options for while you wait for your plane: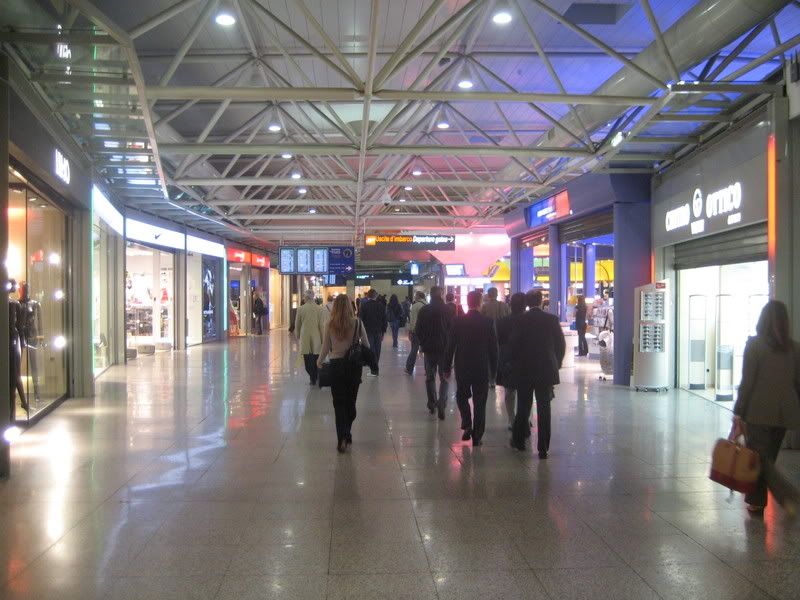 We went downstairs, as gate A19 is a remote stand gate. Downstairs we found a bit of a CGH like boarding area. Huge lines all over, delayed departures, the classic Italian (very much like the Brazilians) habit of waiting in line despite the flight not being called yet (for a flight, this blocked the passage and we barely got through to our gate), etc. The flight itself was delayed, as expected, due to the check-in system crash. At our gate, there was of course already a line, but I just found a chair and waited for the flight to be called. From what I saw, and the similarity to Brazilian airports, I thought "people will for sure cut in line eventually, so its best not to bother". Said and done. Once I got to the line, there was people shamelessly cutting in line, and trying to get some advantage. Why, I wonder? We're all going to get into a bus anyway so, who cares?
Anyway, we got on the bus and went on to our remote stand, where our A320 was waiting for us: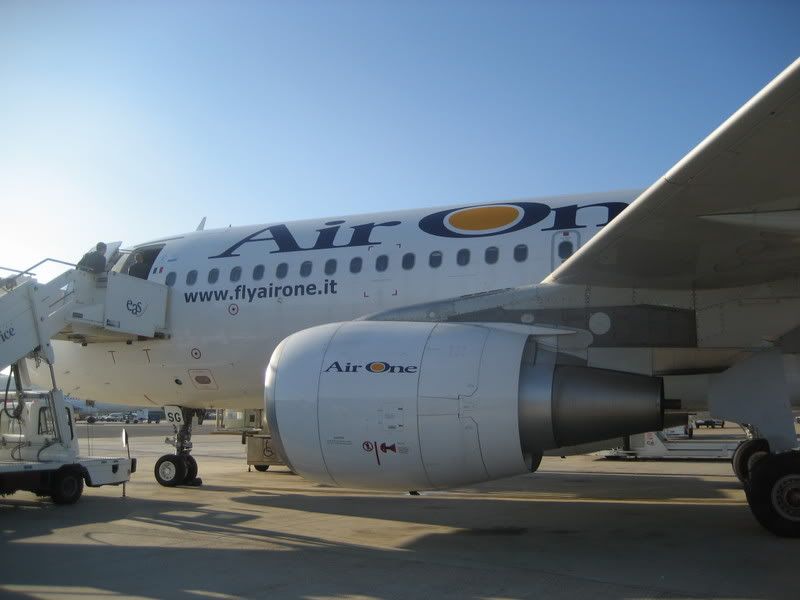 A new line formed to climb up the stairs. I thought "why not do as they usually do in these situations in Brazil, board both through the front and back doors". But no, boarding only through the standard door. Anyway, after I took the picture above I got my first "la foto no si può fare" (you can't take pictures) from a ground agent. I just thought "here we go with this nonsense...". I took this picture, climbing up the stairs, anyway: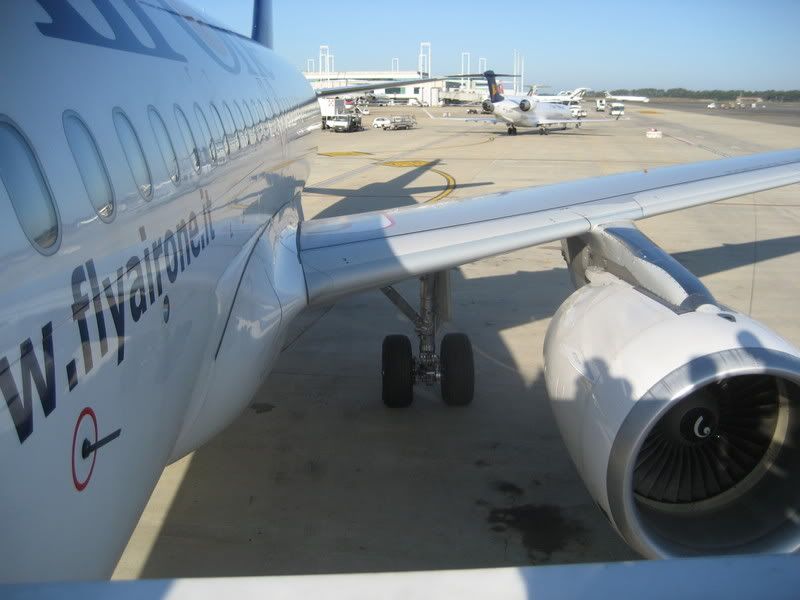 The plane looked very new, with leather seats (two shades of gray, a clear and a darker one, with a Air One logo embedded on the leather seats), and PTVs for all (though they never came on during our flight). I settled into my right window view (I remembered, from I stop we made in VCE on a flight to AMS 16 years ago that, on approach, you could see Venice to the right), and took the classic "legroom picture":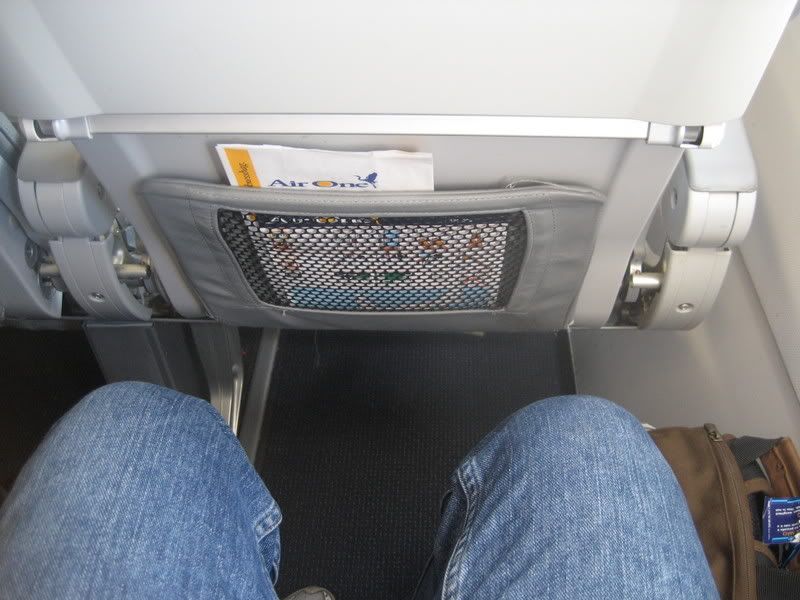 And a idea of the interior:
http://i85.photobucket.com/albums/k48/FMAL_2006/romar0032.jpg
Boarding took about 30 minutes, then doors closed and the engines started. A different thing to taxi straight out, and not experience the pushback. A few pics:
While boarding, a Brussels Airlines 737 next to us:
When he departed, and the Air Europa 737 behind him departed, a sister ship parked near us: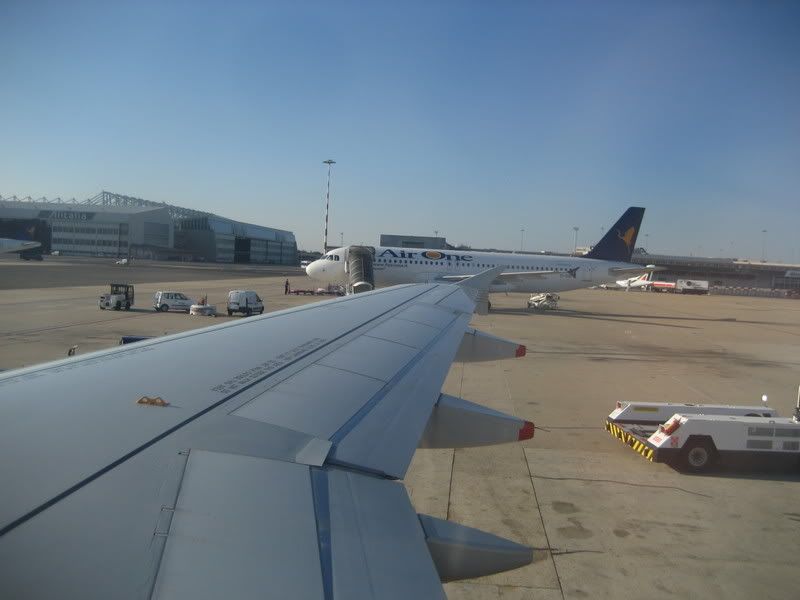 AZ's maintenance center at FCO:
Taxing out: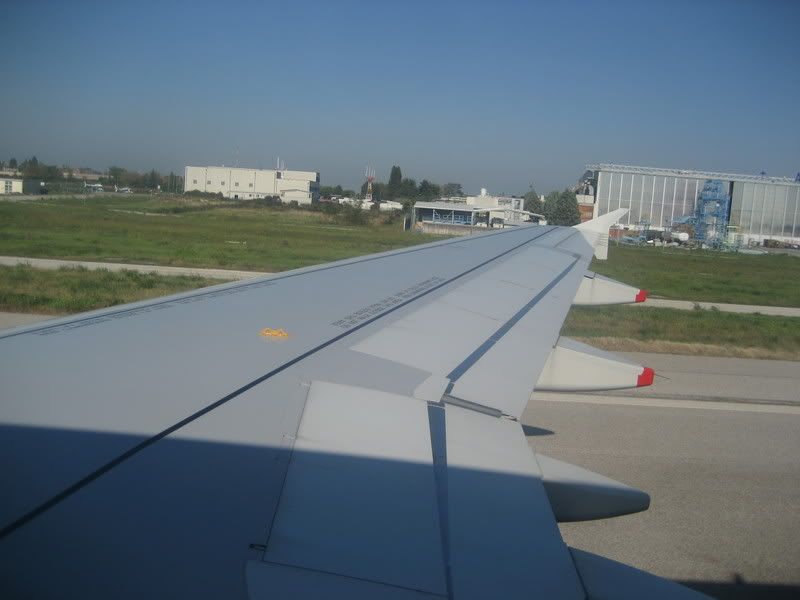 Right after I took the picture above..."signore, la foto non si può fare" (again with this!) from the flight attendant. After a dirty look, I put the camera away and thought "fine, I might as well sleep a bit too", as I had woken up at 5 am. Therefore, sorry for the lack of pics on this stretch.
I know they served something during the flight, I could hear them. But I had no strength to wake up to see what it was! Neither had my father, apparently. After about 40 min, I was right, you can indeed see Venice from the right hand side while approaching VCE (from that particular rwy, but I understand the other one is seldom used). Smooth landing, we parked quite far from the Terminal, on a remote stand. Jumped on the bus and we had arrived in Venice.
At VCE: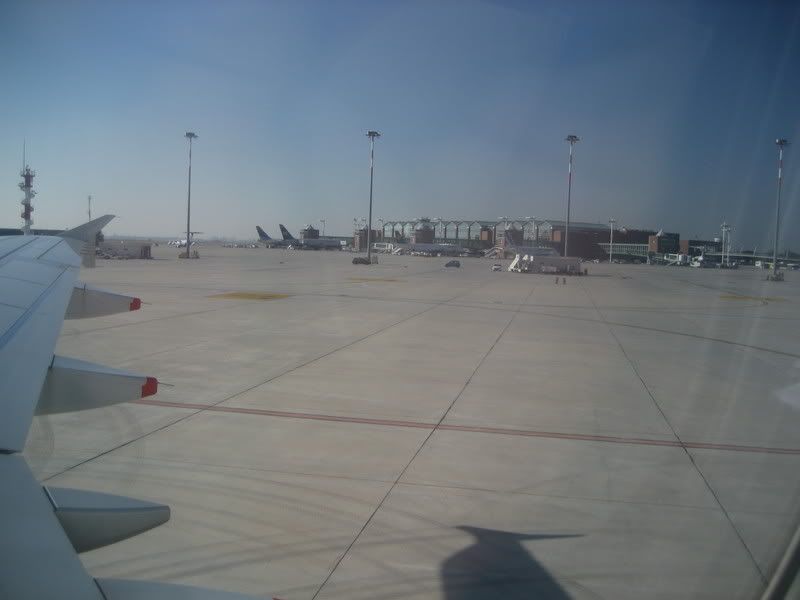 VCE Baggage claim: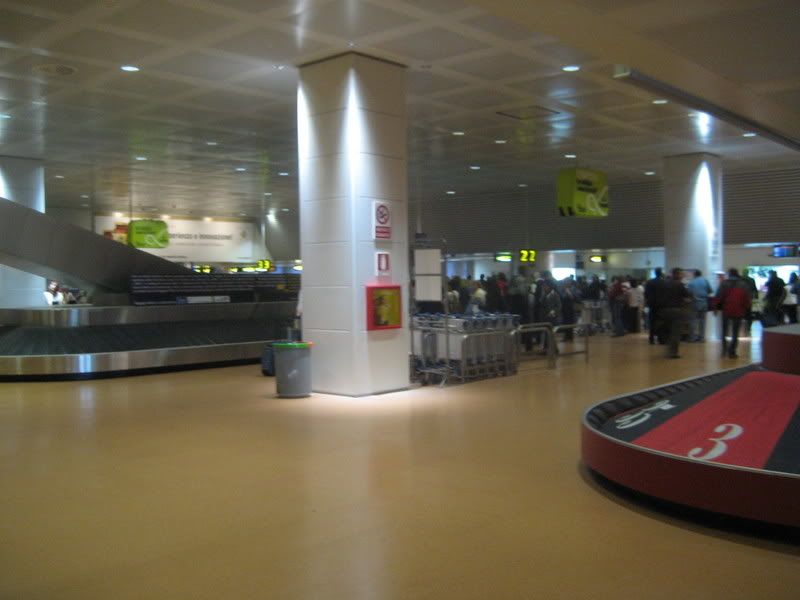 I took this near the INFO desk, where we purchased bus tickets to get to the city:
Venice is a amazing town. Truly unique, as you have two options to get around: you walk, or by boat. That's it. Piazza San Marco, with its pigeons, but mostly with its caffes and live classical music, its unforgettable. I'm quite a lover of history and palaces, and the Ducal Palace in Venice is a must see. Extensive and comprehensive tour with the audioguide, fantastic. We spent two days (one night) in Venice and I must say, I think we saw everything! Of course if you wanna go to the Casino, visit the Gallery calmly, etc, you need more time. But for the sightseeing we planned, two days was quite sufficient.
Then, it was time to find the best way to go back to the airport and then back to Rome. Our options where: (a) get on a Vaporetto (the naval bus, if you will) to Piazzale Roma and then on a bus to VCE - around 1 hr to do this; (b) a water taxi to VCE - at the hotel they told us this would cost around 90 euros so, no dice; or (c) a Alilaguna boat - Linea D'oro, for 25 Euros a head, straight to the airport in 45 min. We went with option c. A different way to get to a airport, no doubt.
The ride was awesome. We got to pass through Murano (the glass producing island near Venice), right passed a ocean liner, and then on to VCE.
Arriving at VCE from the "water highway":
We then got out of the boat and on to the covered sidewalk to the Terminal. From the start of the walk, it marked "7 min." Here's a pic 4 minutes later: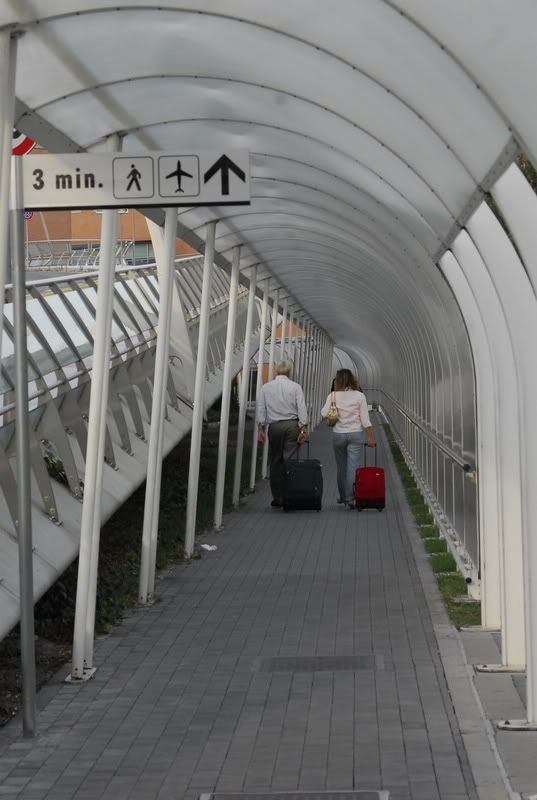 VCE's Terminal: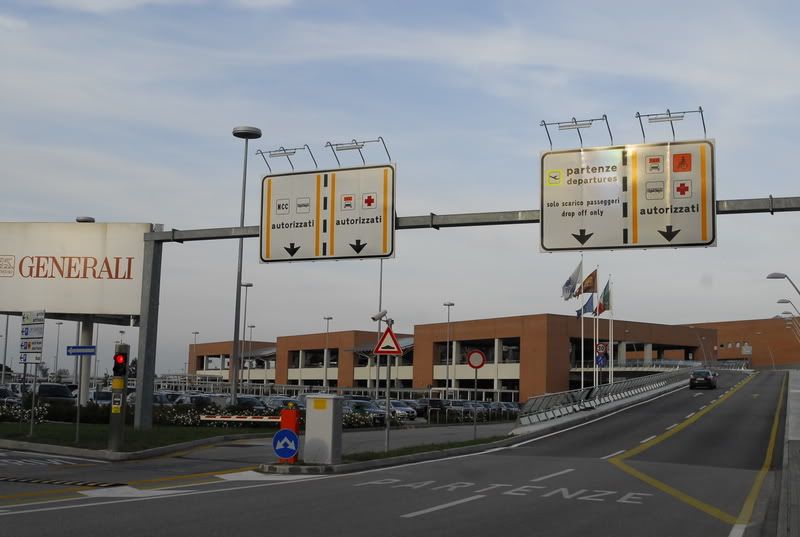 The control tower: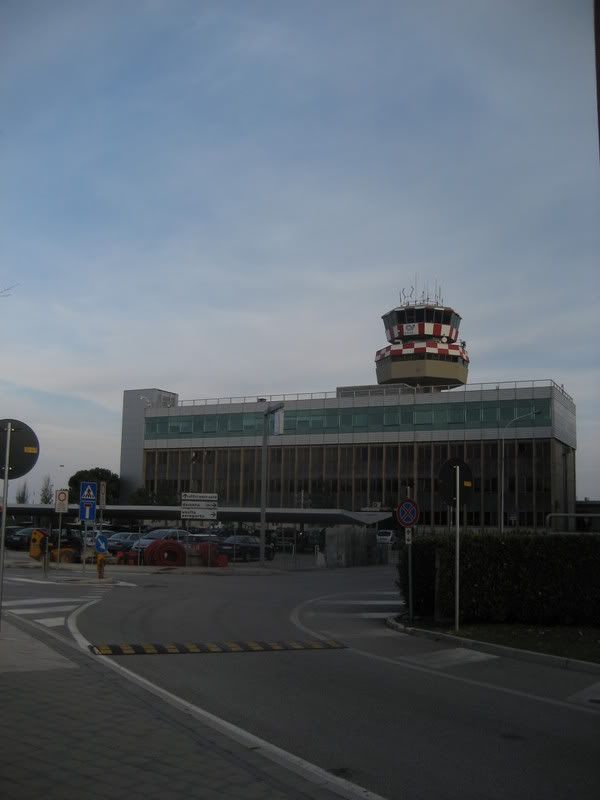 Welcome to Marco Polo Int'l Airport: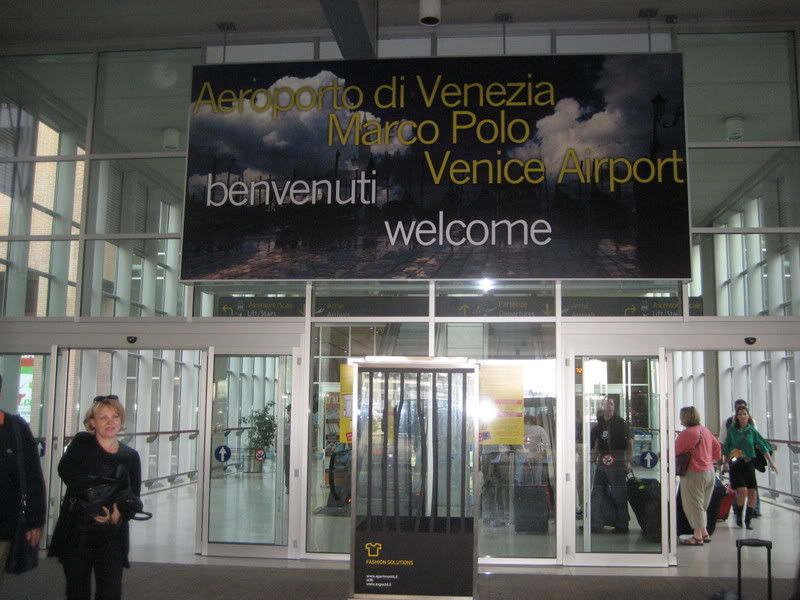 Alitalia's check-in counter was empty and, as we had arrived early at the airport, we asked the agent if we could catch the earlier flight (at 6:35 PM). He replied "si, si, si può" (yes you can). I asked for a window seat, he replied nothing, but game me not only the window seat I asked, but also a emergency exit too. Great! He asked if we had liquids or gels, we said "yes, toothpaste and some medicine." In the traditional Italian fashion, he just glanced at them and said "và bene, và bene, tutto và bene" (all is good, you can go). Baggage closed, onto security, but first, a pic:
Inside the Terminal: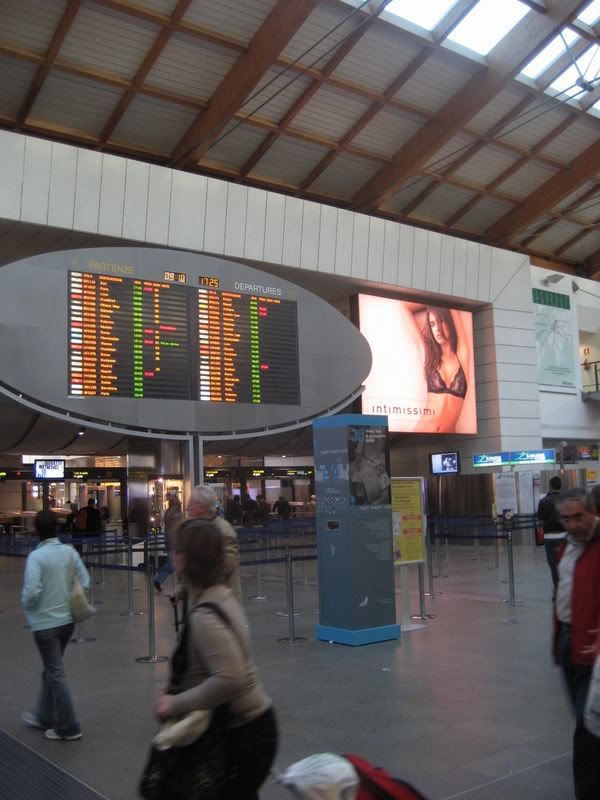 At security, they did some extra checks on our bags, but the lady agent was surprisingly nice. My father did think he lost a SD memory card, asked them to check and this other agent gave him some attitude. My father answered in the same note, but the nice agent again calmed everything down and we found the memory card. On to the gate.
The beautiful departure area, with huge clear windows: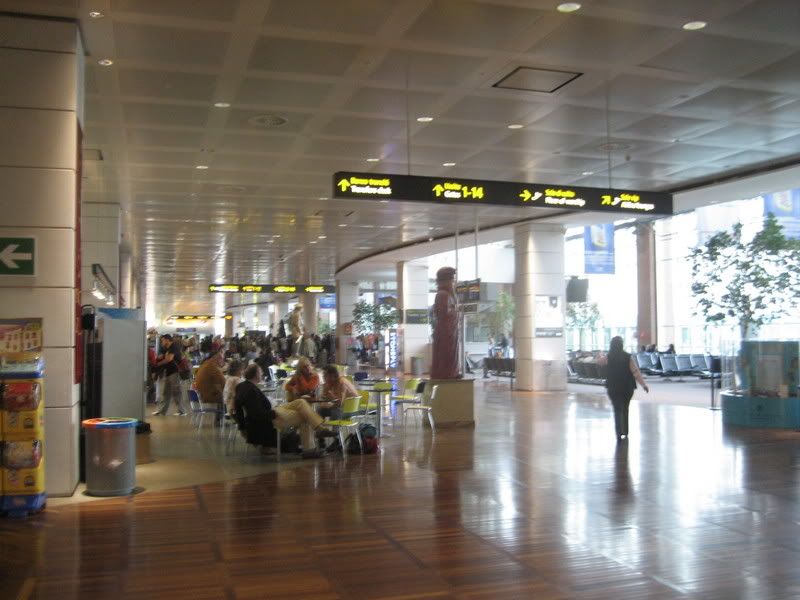 Our classic MadDog, I-DAWP parked at the gate: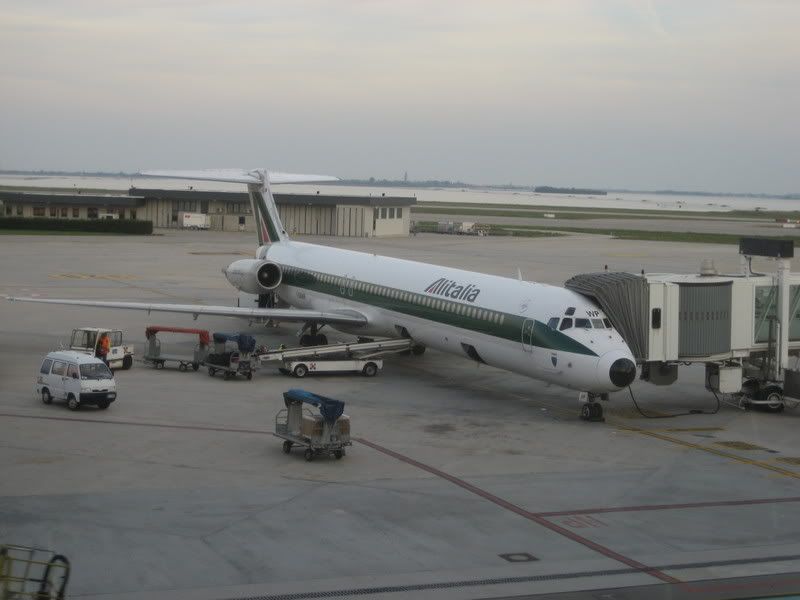 The flight didn't seem that full, not from the number of people near the gate. This time there wasn't such a big line, and people actually waited for the flight to be called to form the line. No cuts either.
The boarding finger, very nice and clear: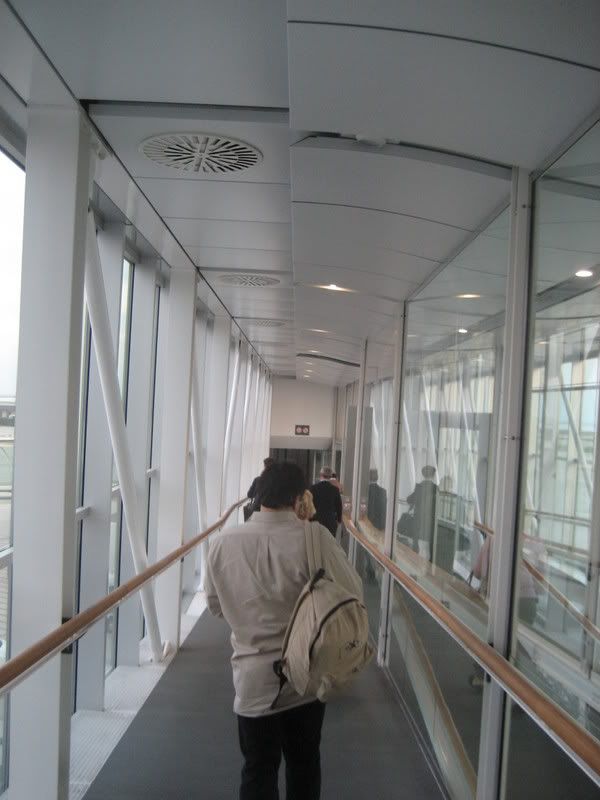 I found my seat at the emergency exit, and snapped the legroom: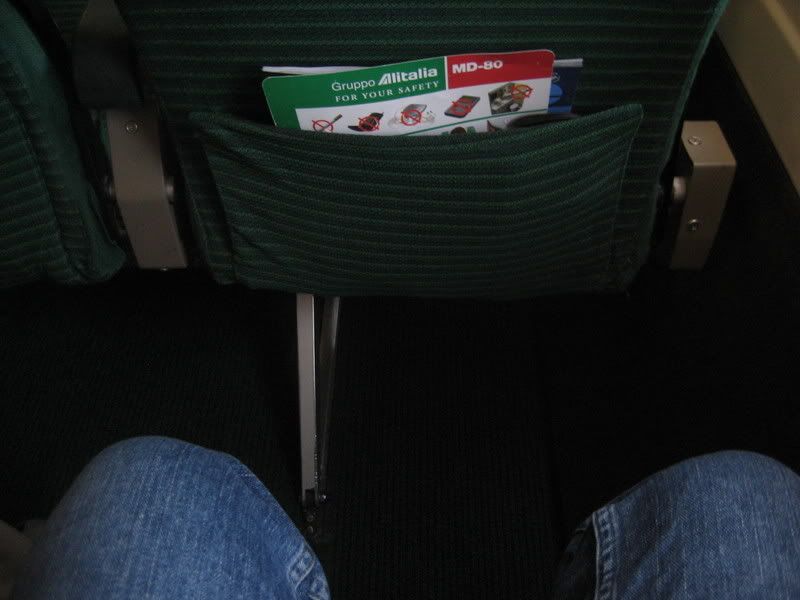 View from my window, while boarding was underway: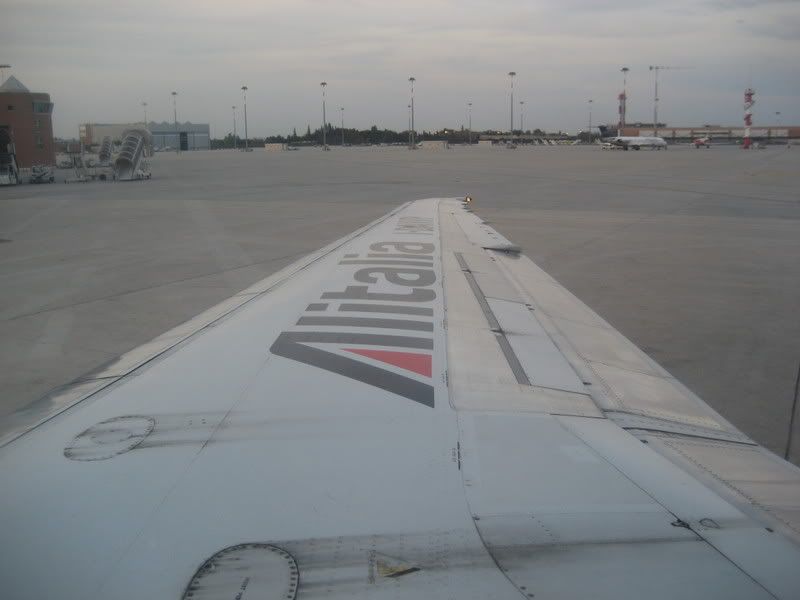 Incredible, at 6:35 PM, the plane was pushing back. My father was "wow, Italy really got good at this." I again got the "no pictures" speech from the flight attendant, but this time I Basicly ignored it.
Taxing out:
Take-off:
VCE: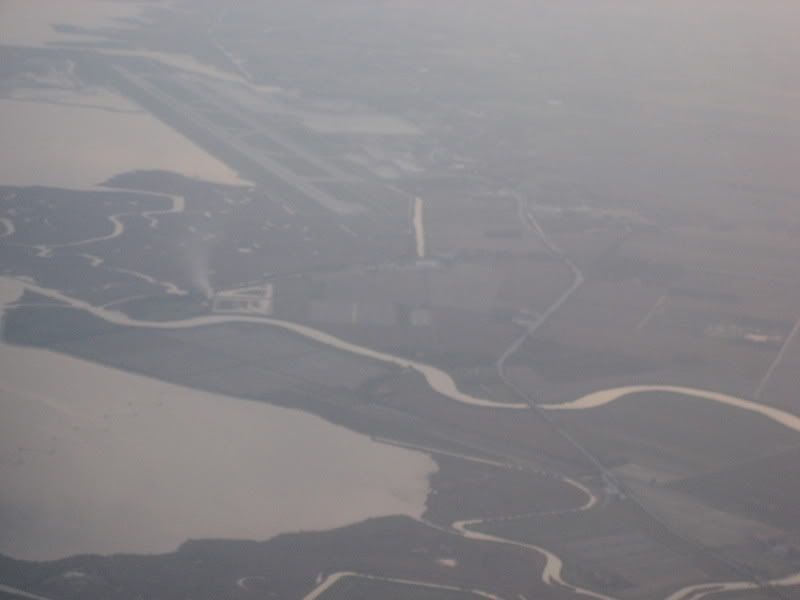 Climbing out and turning for Rome: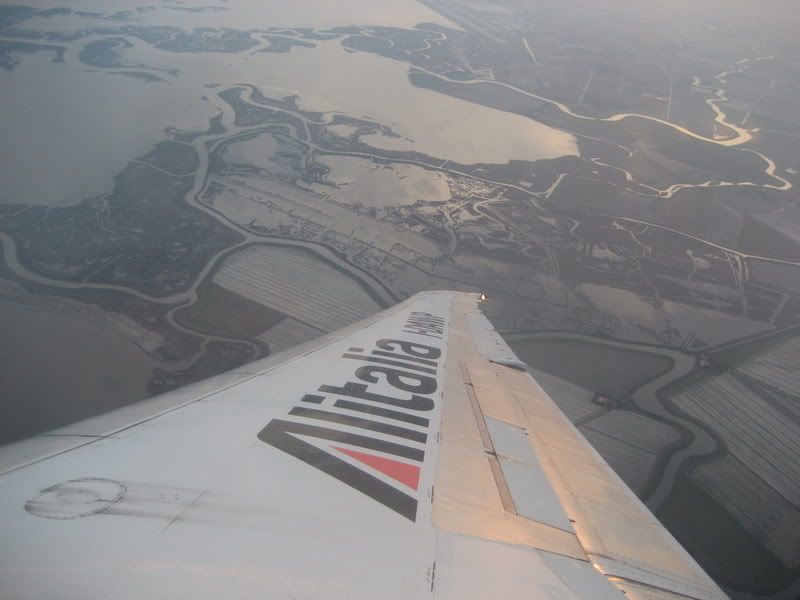 The beautiful island of Venice, in the distance: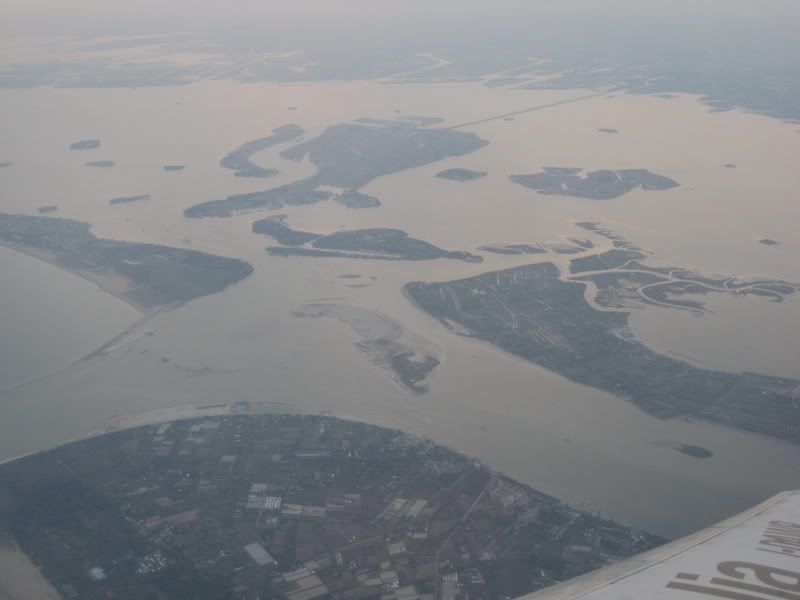 A light snack was served on this 40 min. flight. I got a Coke and a biscuit, that was it. It was good though.
Sunset in-route to Rome: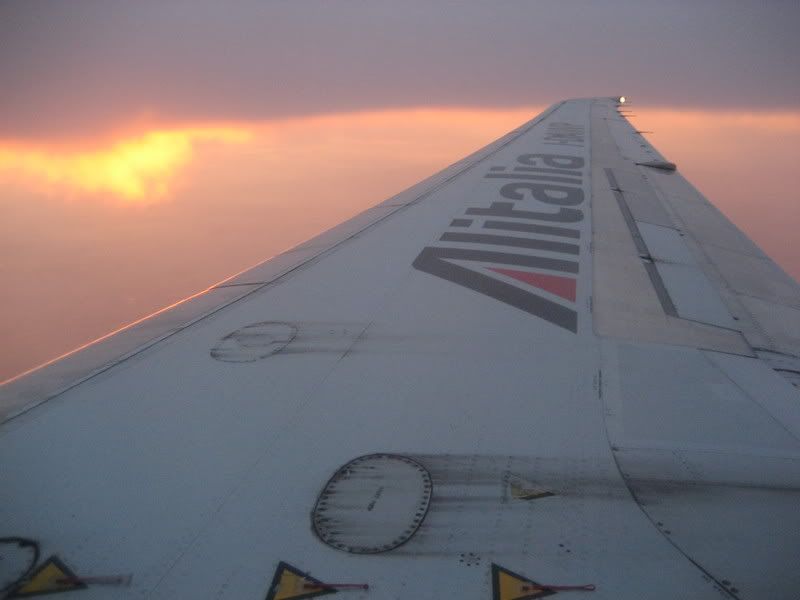 As night fell, pictures became harder to take. I managed to take this one, on our final approach to FCO:
Smooth landing, no reverse as the plane kept as fast as possible in order to reach the high speed taxiways at the end of rwy 16L. We again parked at the remote stands, and the aft stairway this time was available. I took that one, of course.
At the "gate":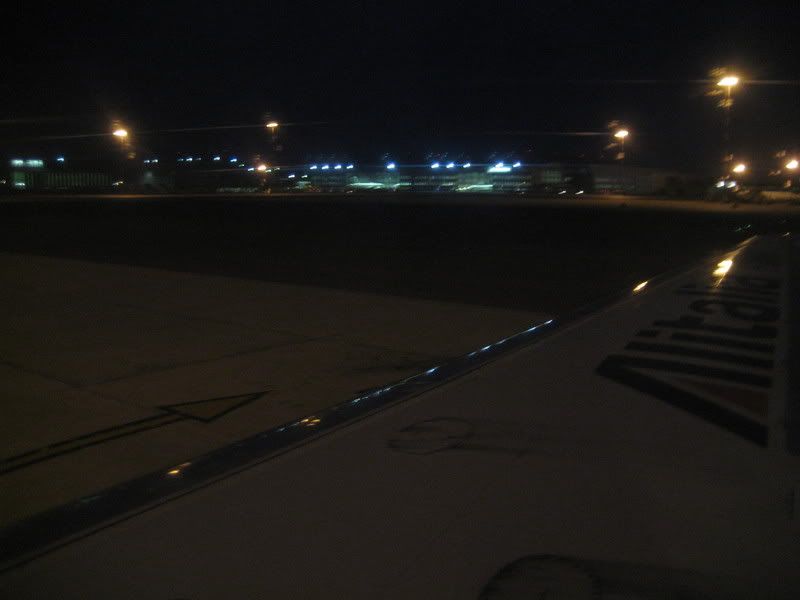 While on the bus: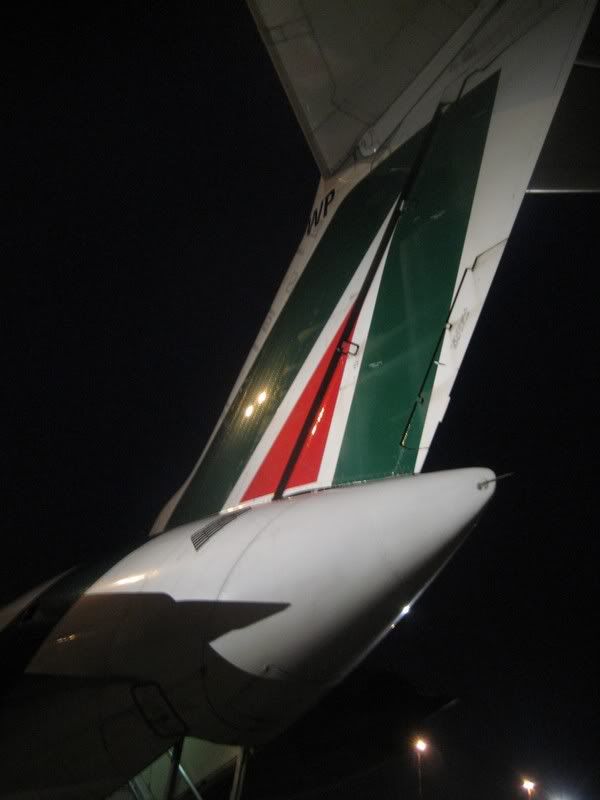 FCO tower:
To sum up, good flights with both Air One and Alitalia. The "no pictures" routine is quite tiresome and makes no sense whatsoever. FCO's remote gates departure lounge, at Terminal A, is old looking and can get quite crowded. But the Leonardo Express service from Termini to FCO is very reliable and safe, the same goes for the Alilaguna service from Venice (Piazza San Marco) to VCE. VCE is a good looking and functional airport. The Terminal is apparently new(ish) but clean, ample and comfortable.
I hope you enjoyed this TR, and look forward to hearing your feedback!
Tks for reading.
[Edited 2007-10-24 17:27:44]
[Edited 2007-10-24 17:30:01]
[Edited 2007-10-24 17:33:10]