Hello fellow A.netters,
Welcome to my new trip report based on a couple domestic flights within wonderful Venezuela in aircraft that perhaps, are several years older than most of us readers here.
I decided to book myself and a friend who came to visit from Italy on a couple flights, to show-off the awesome �brand-new� pieces of equipment that our reliable airlines have got to offer. This time, the best option was to go to Margarita Island, an amazing place where I was pretty sure the Italian dude would have fallen in love with.
After spending a few minutes in the internet, I got our e-tickets printed out from the rather simple web-sites Laser Airlines and Avior Airlines feature. The schedule for our flights was as follows:

Caracas (SVMI/CCS) � Porlamar (SVMG/PMV)
Flight 8Z 908
LASER Airlines, DC-9-30
October 17th, 2007.
16.45

Porlamar (SVMG/PMV) � Barcelona (SVBC/BLA)
Flight 9V 1129
Avior Airlines, Beech 1900D
October 19th, 2007.
16.30

Barcelona (SVBC/BLA) � Caracas (SVMI/CCS)
Flight 9V 1030
Avior Airlines, Boeing 737-2H4Adv
October 19th, 2007.
18.30

The other options were with the usual Conviasa 737s �which I�ve flown way too many times- and with the common DC-9s from Aserca Airlines. Unfortunately the price on this option was too high for such a short trip; therefore, we chose this cool itinerary with one connection at an airport that wasn�t in my list of visited airports.
Having all set, our trip started on October 17th. After spending the whole day touring Caracas, we headed down to the airport and went to the desks from Laser Airlines. This modest airline performs exclusively flights from Caracas to Porlamar and back on a daily basis with frequencies dependant on the demand of seats. On the day of our trip, the line was rather short and we got our boarding passes in no more than 12 minutes. As soon as we paid the airport tax we headed to the departures area after going through the easy check points. As we got there, spotting time begun.
Aserca�s DC-9 parked at gate 8
Other Aserca�s DC-9s parked in the remote stands
Dominance of this carrier in the domestic area
Venezuela�s domestic traffic is one of the most interesting �for some- and boring of the world. In my case, I must admit I�m fed up of the million DC-9s and 732s we get to see at CCS, but on the other hand, European people tend to go nuts after they see these pieces of equipment that are infrequently under 35 years old. This however provides the tarmac at CCS with colorful variety of visitors, which mixed result in a pretty nice photo:
LH Flight to FRA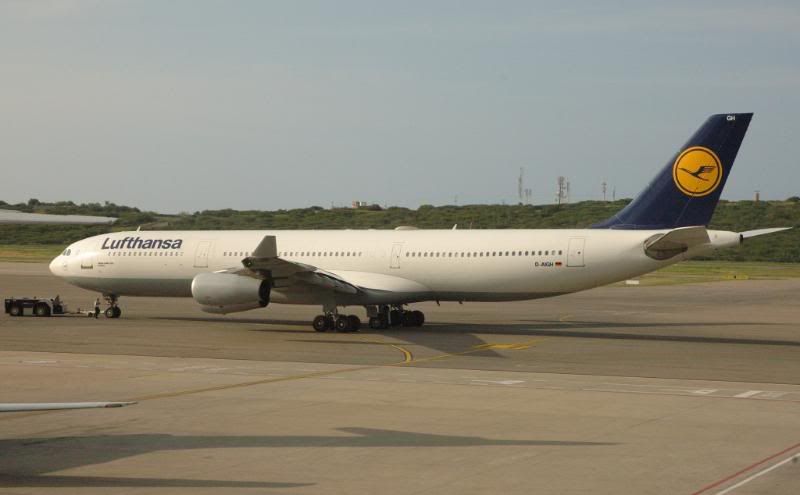 As we approached our assigned gate 10 �located at the far left side of the domestic terminal- we grabbed our cameras again and proceeded to shoot some photos of the 40 year-old aircraft originally delivered to Swissair, intended to fly us to Margarita.
My friend�s face was something unexplainable due to the prehistoric
thing
he had in front... On the other hand, me� well, I would have preferred to fly on a new Embraer or something similar!
Flight 1
Caracas (SVMI/CCS) � Porlamar (SVMG/PMV)
Flight 8Z 908
LASER Airlines, DC-9-30, YV167T
October 17th, 2007.
Scheduled departure: 16.45
View Large
View Medium


Photo © Enrique Perrella
Anyhow, a bit delayed, boarding started at 16.35; roughly 10 minutes before scheduled departure. We gave our boarding passes to the lady at the gate and went through the worn jet-bridge towards the �young� flying machine. As we got inside, took some photos and went all the way back to our assigned seats: 18A and 18B. My friend however, found a free spot behind me and sat next to the window in my back� everyone happy and no reason for a fight!
Time passed and the Captain made an unusual announcement, saying he was proud to be flying that specific flight because some person (who was mentioned but I never heard of) was inside, and then proceeded with the usual flight info, saying that flight time to Margarita would be 35 minutes, at an altitude of 21.000ft and speed of 895Km/h.
Finally after a few minutes, we were being pushed-back while our engines were being turned on by an external power unit. By 16.55 we were on our way to Runway 10 taxiing in front of a TACA A320 and the Alitalia�s gorgeous 767 bounded for MXP.
Then, at 17.12 an awesome roar from the �fresh� engines rolled us down runway 10 and made us become airborne towards the Island of Margarita. Pretty exciting, I must say. (Apologies, but no videos this time� my camera is busted)
Our hike to the announced FL210 was smooth and uneventful. As soon as we reached cruising altitude, the cute flight attendants started the in-flight meal and beverage service (on a 35 minute flight!). I, as a good Venezuelan, chose to have a Scotch on the rocks (Something Special) with the offered Ham and Cheese sandwich. Great snack, I must say! Accompanied by a good leg-space (considering the size of the aircraft!)
Then after I finished eating the tasty sandwich, the captain pulled back the thrust and took us down gently. We then started the approach procedures and got in-sight the most occidental part of the Island called Punta Arenas at 17.37, meaning we were some 30 miles out of the airport.
Then, as we passed next to the National Park ��Laguna La Restinga��, the captain deployed the flaps and pulled down the gear. The final approach was quite noisy, but pretty fun. Check out the pictures.
A nice close up of the ailerons of this elder flying machine
Landing was quite soft I must say. We touched down at Runway 9 at 17.45, a few minutes behind schedule. Then, taxied quickly and parked next to a rare visitor; ArkeFly�s Boeing 763 from AMS and other domestic carriers (Conviasa�s ATR-42 and Aeropostal�s DC-9).
For our surprise, the rear door was opened so we deplaned through grandpa�s butt. But before, took my time to immortalize the guts of the old man. Here�s the evidence!
This is the picture
That�s me taking it
Then myself in front of the jet
The other visitors
ArkeFly from AMS, ex-Air Canada
Then, took some time to shoot some photos and went inside the airport to grab our bags and head to the apartment to have some rest and enjoy a couple of days in this amazing place. Here are some photos of our experience in Margarita (feel free to contact me if you want to know more about the island!).
Margarita�s Airport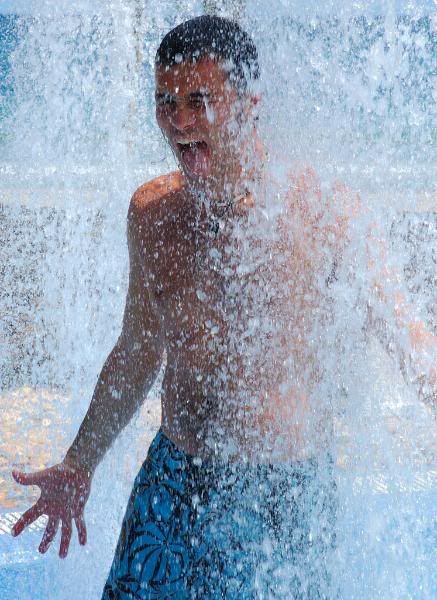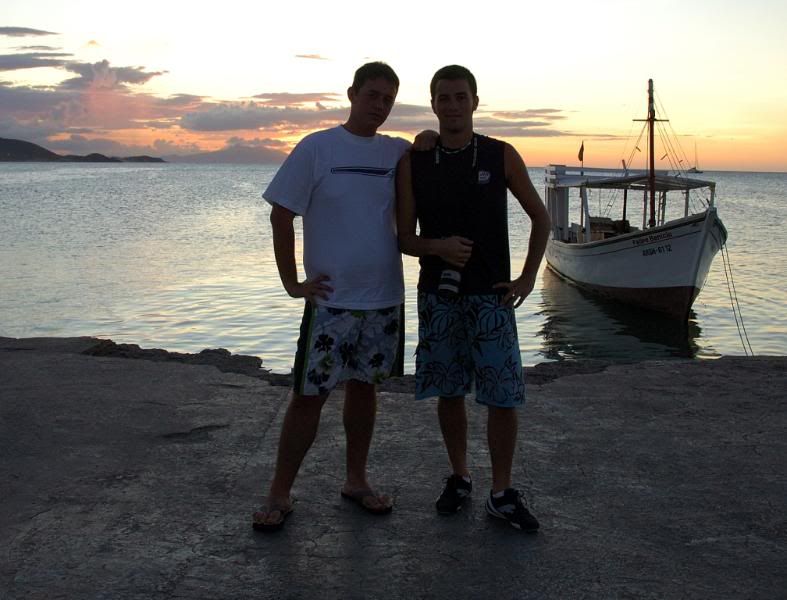 And to end our magnificent vacation in the island: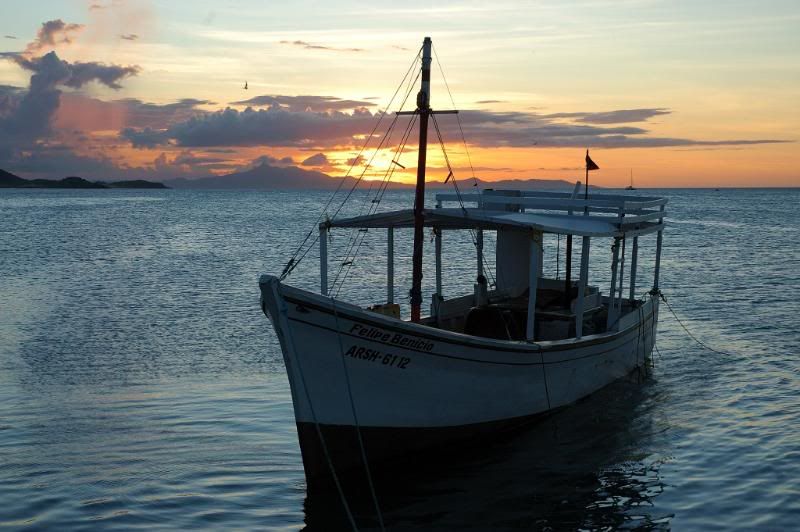 That�s it for our first trip!
After two amazing days in paradise, it was time to head back to the heart of the country, Caracas. We took a cab and went to the airport one hour prior the scheduled departure, heading straightly to the Avior counters to perform a quick check-in.
The polite staff member asked us for some ID and the printed e-tickets. After a quick move, the guy handed our boarding passes from PMV to BLA and from BLA to CCS. He explained that we were the only passengers in transit to CCS for which as soon as we got to BLA, we�d have to stay in the waiting area for connecting passengers. No problem for us.
Being through the security check-points, we sat at the assigned gate to wait for our flight to be called. A few seconds after sitting, I got anxious and went to the gate, opened it (please don�t do it in USA) and shot some photos at the two aircraft that were parked by then in the tarmac.
Flight 2
Porlamar (SVMG/PMV) � Barcelona (SVBC/BLA)
Flight 9V 1129
Avior Airlines, Beech 1900D, YV1367
October 19th, 2007.
16.30
MyAviation.net photo:


Photo © Miguel Garcia
Having that done, I went to relax and wait until someone came and called us to board. Some ten minutes later, a lady came and yelled (not announced) the departure of our flight, so all passengers must board at that time. We then passed through the gate and continued to photograph the tarmac, us included.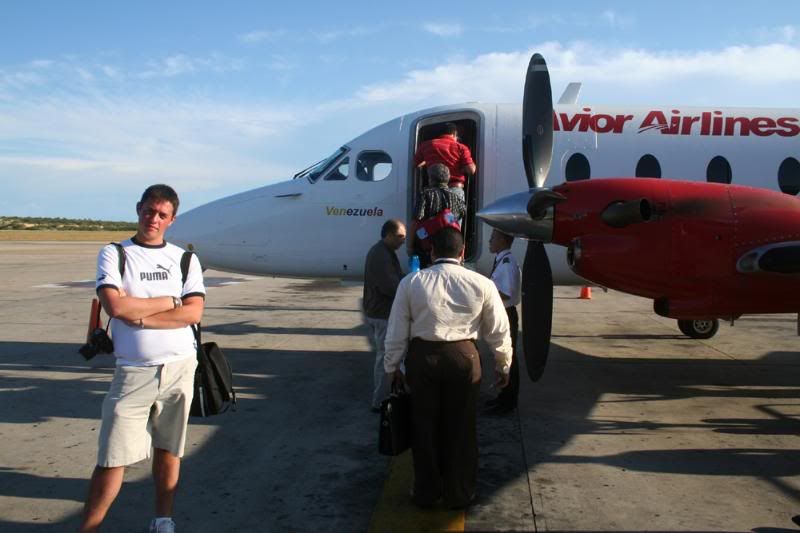 Being inside this nice Beech 1900D, I got to capture the office, which was spotless. Enjoy.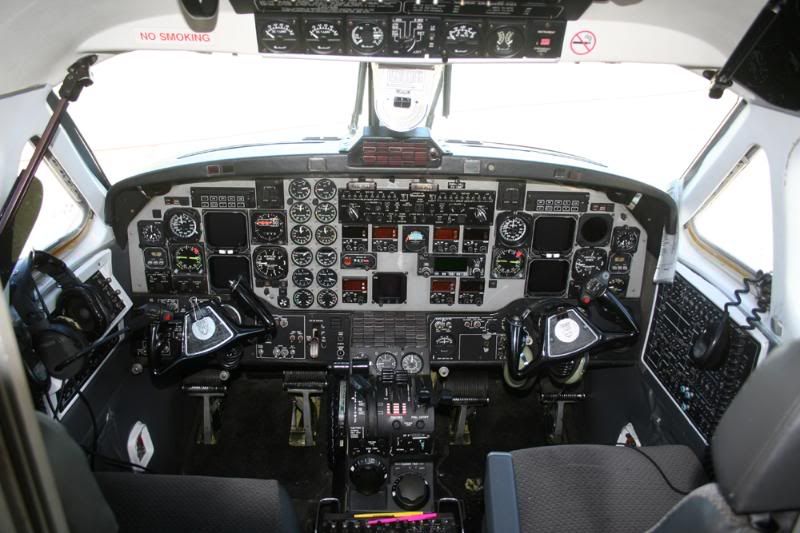 Soon later, being on a comfy exit row, the pilots of this prop started the engines and taxied us to Runway 9 at exactly 16.36, some 6 minutes behind schedule �unacceptable timing-
After a recorded safety announcement that could barely be heard by anyone in the cabin, the first officer pushed the thrust and took us down the runway to throw the light Beech up in the air at 16.40. What a fun little plane, the feeling is quite enjoyable. Here are the photos.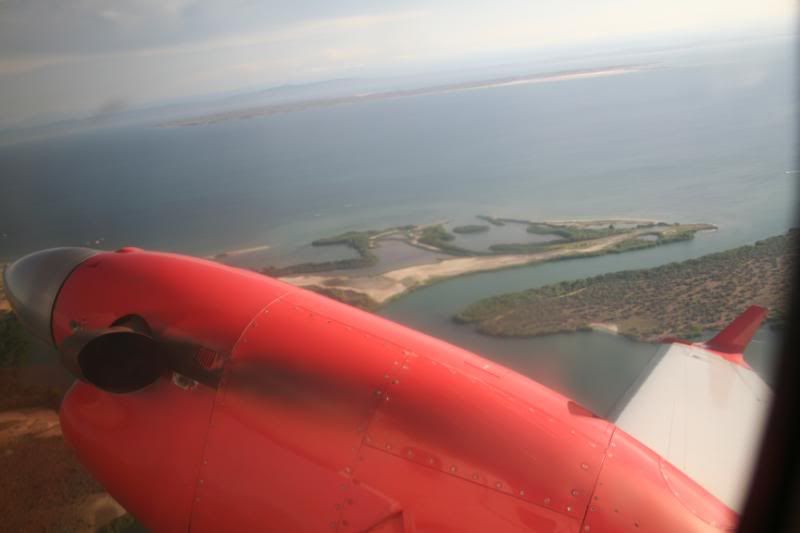 A view of the Airport from the South
Established at an unknown altitude, the only thing I did was gaze through the window and enjoy a pretty cool flight, with a decent amount of leg-space and a comfortable environment. Here the photos from the cabin: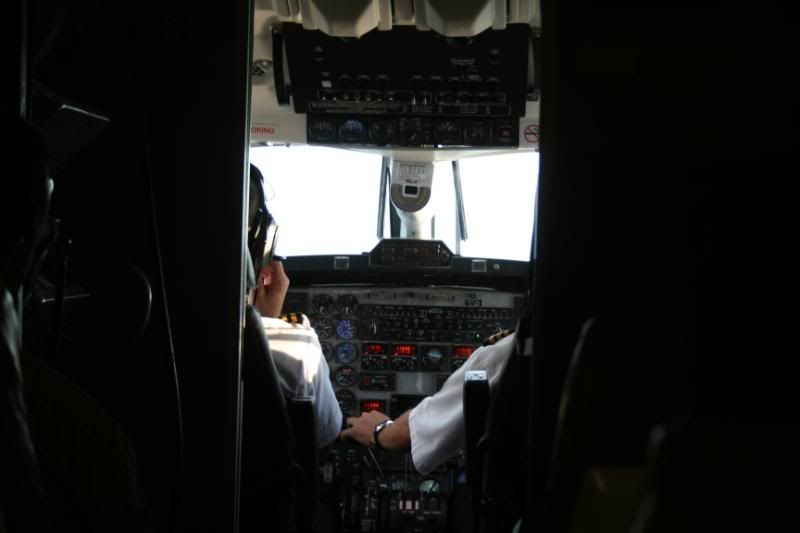 Incredibly, 13 minutes after take-off we started our way down to Barcelona. After passing some clouds and a bit of chop, the first officer took controls of the aircraft and landed easily at 17.08, passing next to the Venezuelan Air Force Sukhois, which have been recently delivered (sorry for the blurry pic)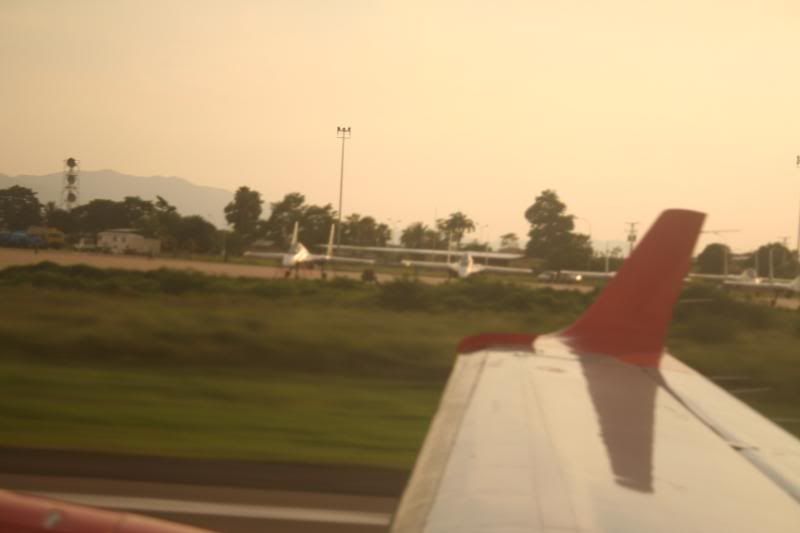 After an enjoyable short hop over the Caribbean from Margarita, we deplaned and starred at the brand-new terminal that�s being built at Barcelona. For my surprise, the construction is looking really good, with three full-glass jet-bridges and a nice blue scheme that will give a very nice touch to this airport which is one of the most important in the country. Glad for BLA!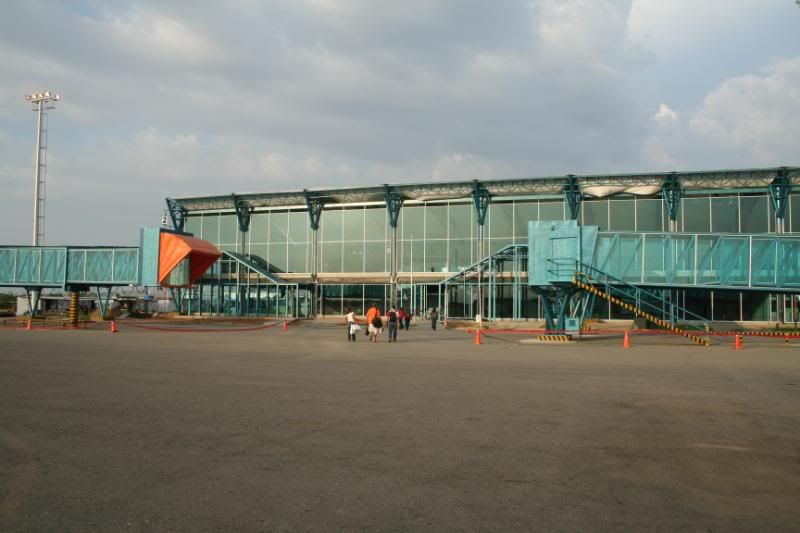 And then, the surprising traffic that comes to BLA:
As we�ve been told, we stayed at the connections holding room, but as there was nothing else to do, a staff member (very gorgeous lady) came and stamped us with the airport tax so we could go out and walk in the terminal. Happily, we exit the holding room and realized there was nowhere to walk. The terminal was busy and too small! We walked up the stairs and sat at the restaurant for some 40 minutes, until our flight to Caracas was called. This is the only photo I though it was worth to take: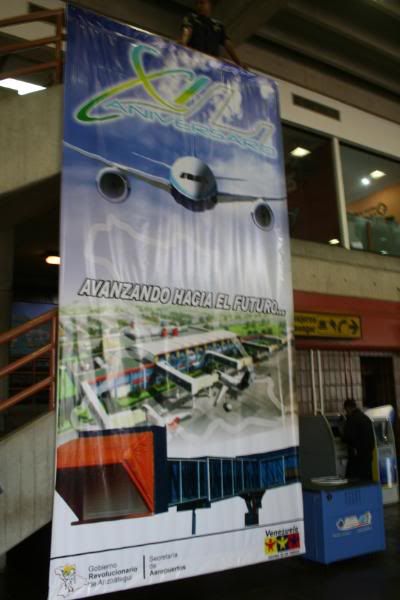 Passing once again through the security check-points at BLA, we stood at the crowded Gate 2 until a strong engine sound let us know that our ex-Southwest Boeing 737-2H4Adv had arrived. Then, 20 minutes later at 18.30, passengers were finally called to board.
Flight 3
Barcelona (SVBC/BLA) � Caracas (SVMI/CCS)
Flight 9V 1030
Avior Airlines, Boeing 737-2H4/Adv YV1361
October 19th, 2007.
18.30
View Large
View Medium


Photo © Ivan P. Nesbit MAS/AIM
Our boarding passes handed out to the staff member meant our time to board this recently-configured 732. On our way to the jet, these photos were taken (sorry for the blurriness, no tripod)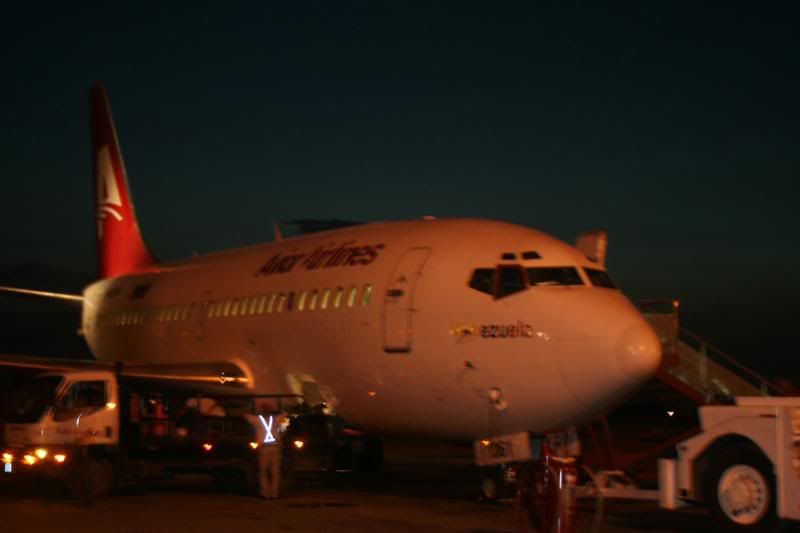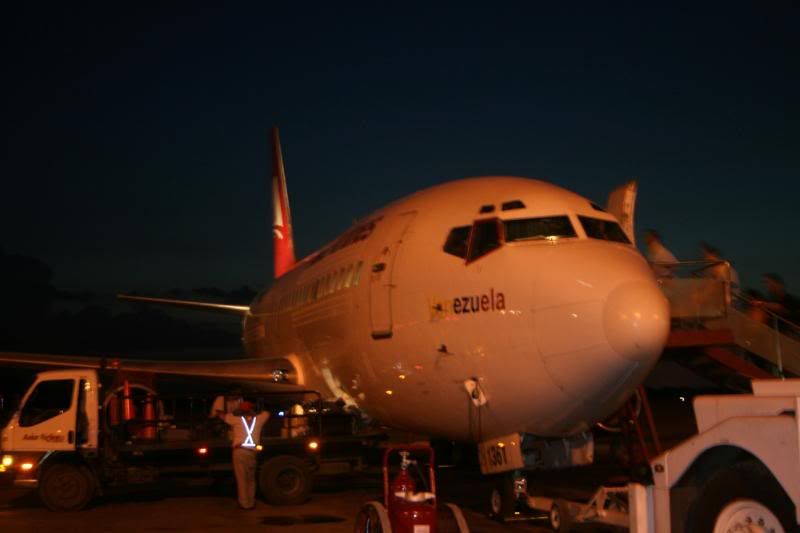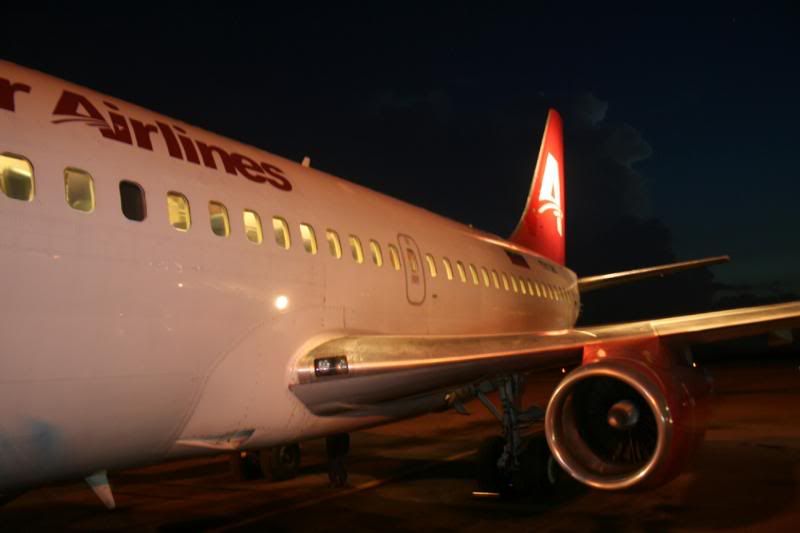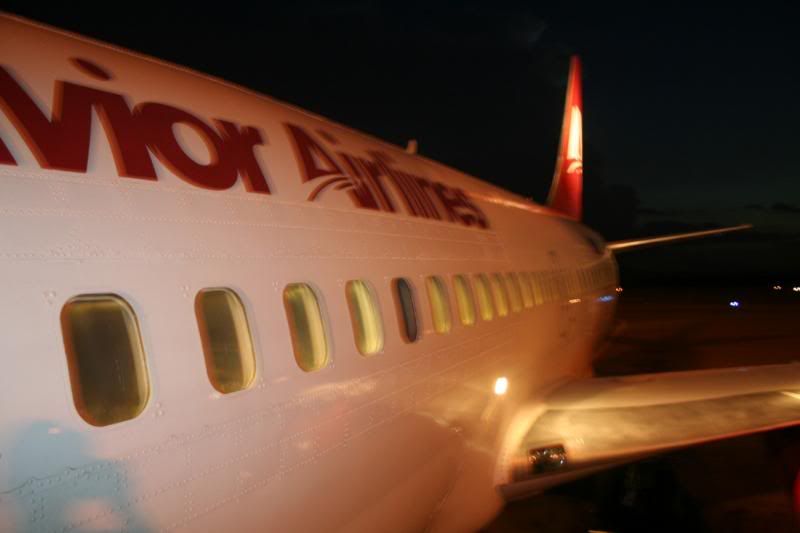 Once inside, photos of the Business Class this boy has to offer (they fly to MIA with this equipment from BLA)
Then, we finally reached our seats located in row 15, A and B. Once we sat, I realized that the only snack I was going to have on the flight was the front seat. The leg-space was without a doubt the worst I had ever seen and the closeness of the front seat to my mouth was a cause of concern! One of the most uncomfy seats I�ve ever been on.
Anyhow, the ground staff pushed us back while the crew announced the flight info: Flight time, 30 minutes at 18.000ft of cruising altitude. Then, a few minutes later, we ran down the runway to become airborne at 18.59, some 29 minutes behind schedule.
The procedure was smoothly done with a light turn to the west, bound for CCS. As soon as we were up at FL180, the flight attendants started with the beverage service. This time, no alcohol; I had to choose a boring peach juice that tasted like crap. Here it is: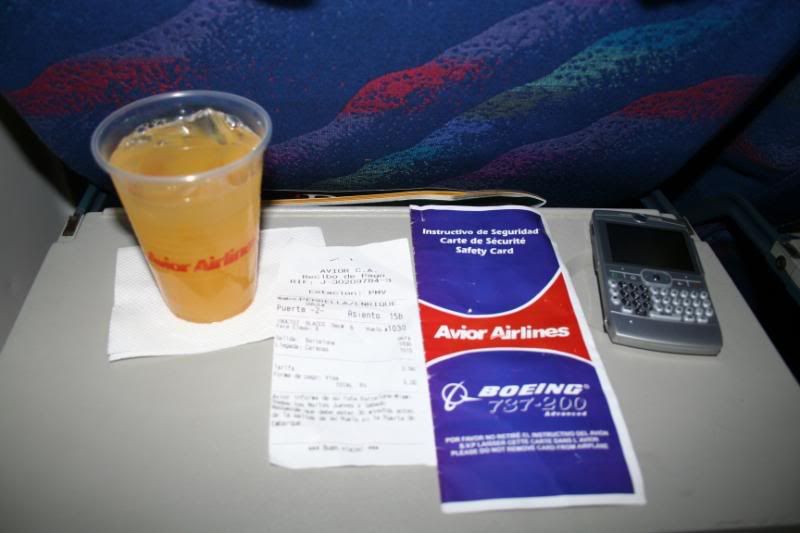 Having some fun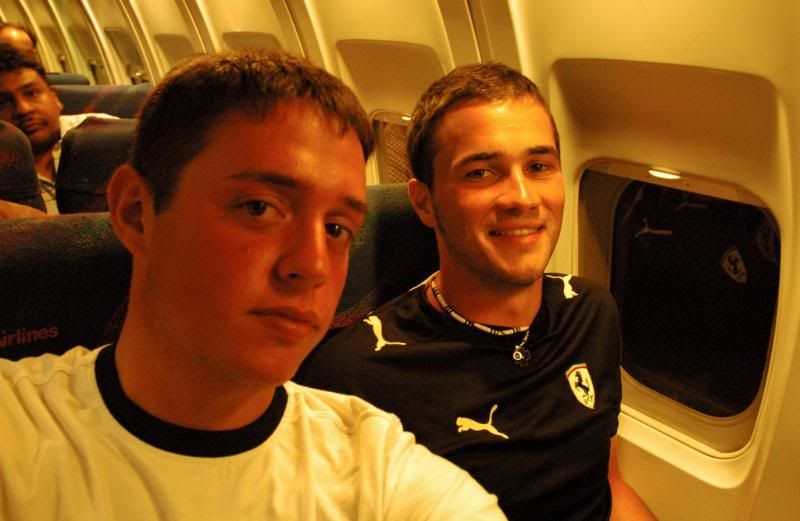 Anyhow, after I zipped the last drop of the juice, we started our descent towards Maiquetia. Passing over the north side of the airport, the captain announced the landing while performing a tight left turn and lining up with Runway 10. Soon later, at 19.31, our main gear was touching down while the thrust reversers were applied producing an enormous sound that made me smile. Here�s a cheap try of taking a photo without enough light; my apologies.
No time later, we parked at gate 10 (same as departure) and without notice, our trip was sadly over. On our way out of the plane, some last pictures of this jet: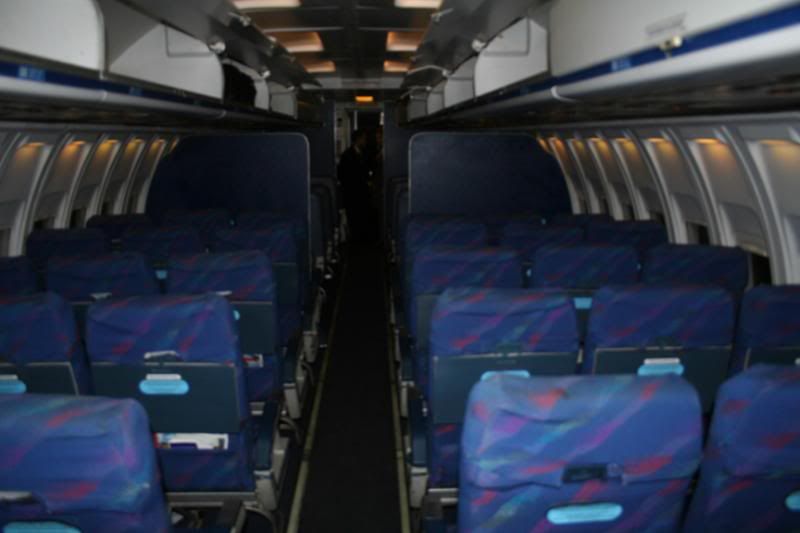 Once again, flying in Venezuela proved me that it is nothing near what aviation should be. Is more something like taking a bus than actually flying. Service on all flights was good, albeit austere. I would love to see newer aircraft and a better attitude from both the passengers and the crew of each airline, but for that, loads of things have to happen�
Having said this, I must admit that I felt comfortable with all flights. It was fun and for a really cheap price (if you calculate it in US Dollars). My Italian friend paid 66$ for all three flights including airport taxes� cheap, huh!?
Well guys, once again it was a pleasure to write stuff from my country to you. Please expect another Venezuelan report on the CCS-MAR route with Venezolana and Conviasa, it�s done�
Cheers,
Enrique.