On my way to Sydney and SQ380
Trip Report Part 3
SQ380 It all started here:
http://www.a380.singaporeair.com/con...ws/newsrelease/20070816/index.html
Changi Airport, night of 25 October 2007.
The second part of my trip report ended when I said goodbye to my young friends Aaron and Eugene at the immigration point and rushed upstairs to the Silver Kris Lounge for a quick shower and a bite to eat
Leaving the Silver Kris Lounge, there was just enough time to go to Gate F50 to board the flight to Sydney.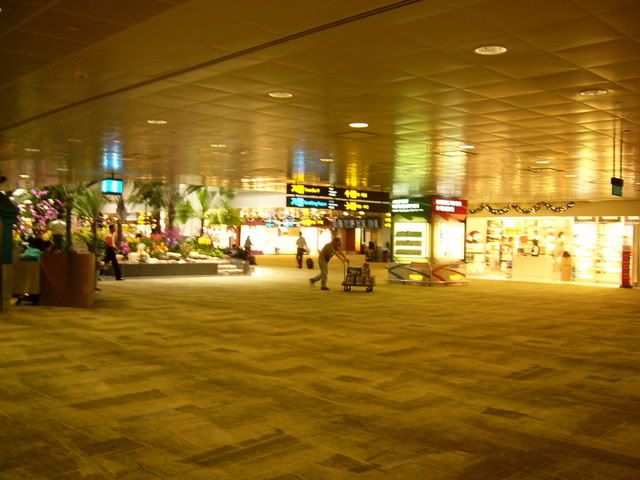 The gate area made it look like it was going to be full house.
On the aircraft, a B-747-400, the downstairs Business Class cabin had not one free seat. It was the same upstairs. The flight was fully booked in all cabins.
Dinner was served.
I had "booked the cook" a Slipper lobster thermidor but like the rest of the food and considering the standard at Singapore Airlines, the service, all of it was rather disappointing.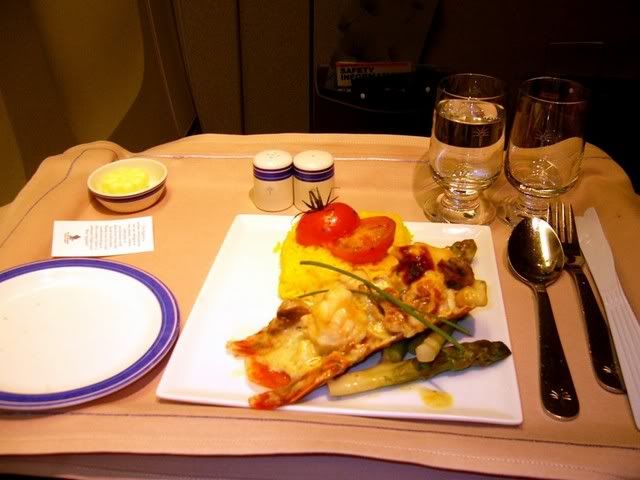 I could not believe the ice cream. It was handed to me by the stewardess without even a napkin. It looked cheap!
Made me wonder if this was really Business Class!
This was my third flight in a row so I tried to get some sleep. I never sleep well in Space Beds or rather not at all. They are slightly angled and do not lay completely horizontal. They are not what I would call comfortable when in fully reclined position. It feels like being head up and feet to the ground.
Breakfast was served but it had almost nothing.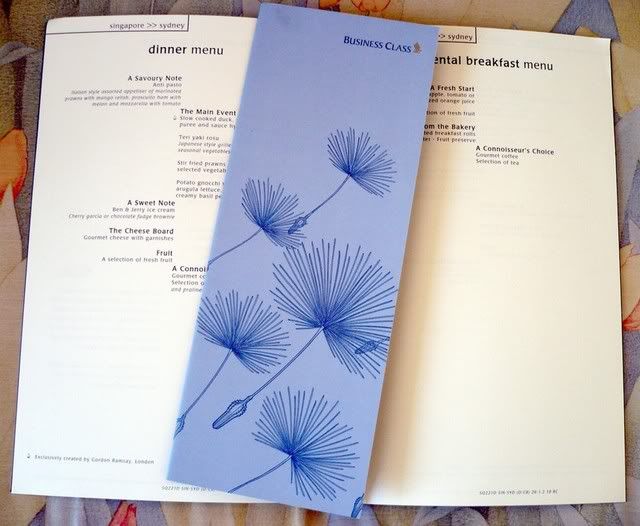 It was very minimal. Some fruit, a croissant and coffee. It was served about one hour before landing. All in all, the fabled SQ Girls offered very disappointing service. The estimated arrival time in Sydney was 6.31 AM. Out the window was a beautiful sunrise.
Some time later, the aircraft started her descent into Sydney airport,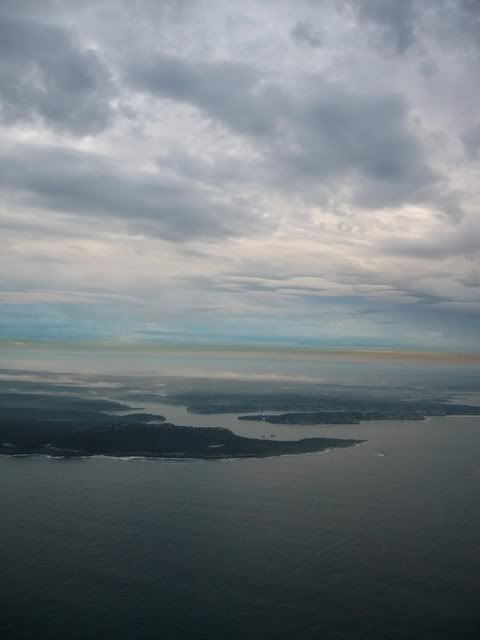 then taxied and parked at the gate.
I was extremely tired. I did not feel like much of anything.
Once on the ground, I had to collect my travel bag and then go through passport control and customs. It all went fairly easily. Not only I was tired but I was totally timeless. The only thing I knew is that I had some 6 hours to kill before checking in for the big event.
I was so completely off that I had not the slightest idea what I was going to do. This is where I wished I had the FCT facilities. I have been in this airport before so I knew what to expect.
The first thing I did was to find my way to the observation deck.
I wanted to see if I could spot anything that looked like the Mother of all Aircrafts. My eyes were a bit blurry. I looked everywhere until I could spot a Golden Bird bigger and higher than usual on the opposite side far above the trees. She was kept there in the maintenance area until she would be towed to the departure gate.
The runways were rather quiet at this early hour in the morning. The Sydney skyline was clearly visible out in the distance.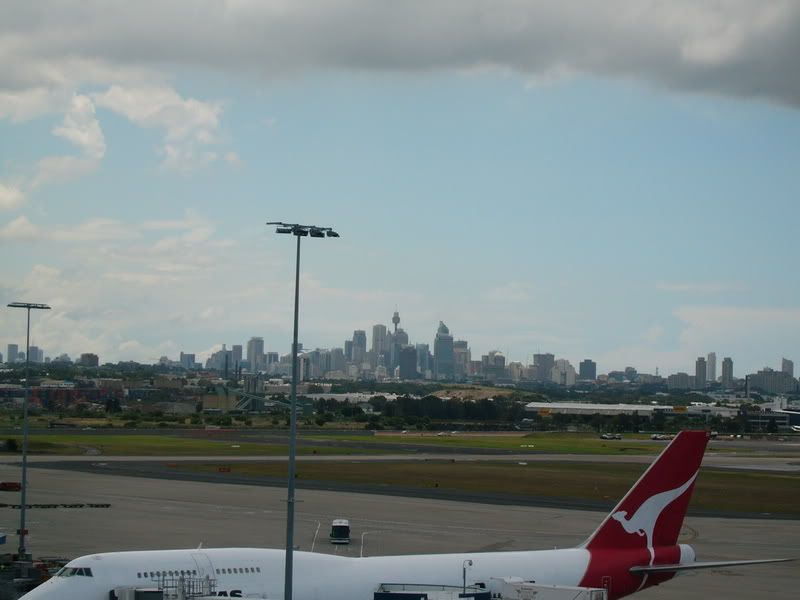 I stayed up there for a while. There was a small group of spotters all equipped with cameras and large telelenses. Some of them are members of the A.net forum!
It was nice to see aircrafts from airlines we never get to see in our home airports. In the terminal I ran into a group of Royal Brunei stewardesses with their beautiful young stewardesses wearing such a pretty uniform in the traditional style of their country that make them look so feminine and they were all beaufiful girls. The boys were nice looking too! Makes you want to go to Brunei just to fly with them.
http://www.bruneiair.com/
I always find it interesting to see all the different planes from so many countries. I was looking at the Air New Zealand aircrafts. They reminded me of my travels to some far distant Pacific Islands. The same with Air Pacific which reminded me of my visit to Fiji. There was an aircraft from AirCalin the airline of New Caledonia teaming with Air New Zealand. I had gone on their flights from Auckland to Noumea and back and I remember them as a high quality airline.
As there wasn't much action on the airfield I went back inside the terminal and took the elevator to the departures level. I wanted to see if there was anywhere that said Singapore Airlines or A380.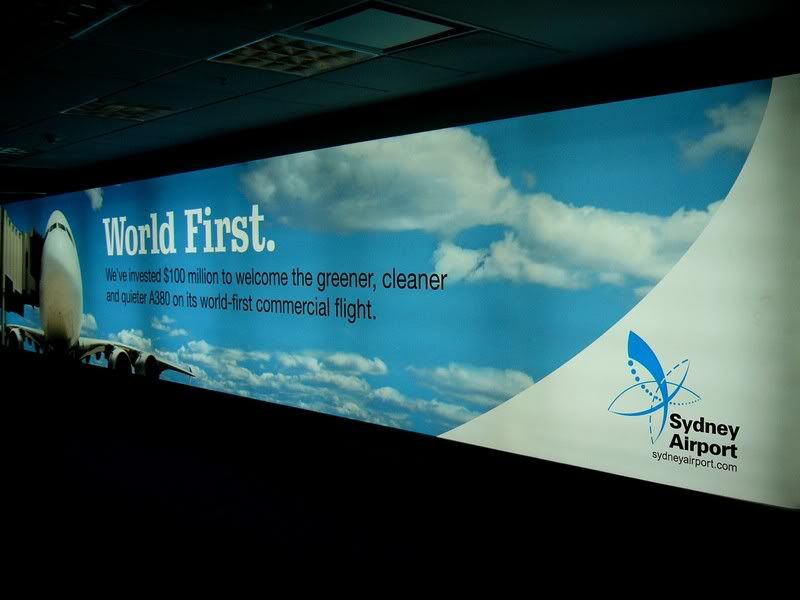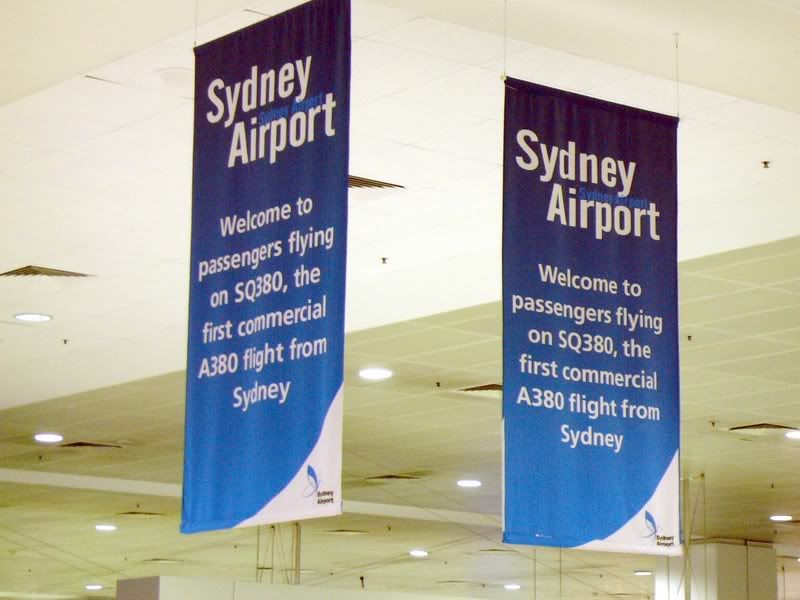 I took a tour of all the rows of check in counters looking at the respective airlines logos. I finally saw the Singapore Airlines check-in counters. They were at row J. There was no trace of any A380 inaugural passengers this early in the morning.
The train station to the city is underground with an access right inside the terminal. I figured that it would not be too much of a good idea to go to the city for just a few hours. I would need to leave my bags at the airport. Taking the train and being in the city would involve too much walking so I figured I might as well spend the few hours in the terminal.
Hot black coffee is what I needed most to keep me awake so I went to one of the coffee shop in the Departures Food Court. I ordered black coffee and a couple of hot glazed doughnuts. I really needed to get myself back on track. The food court was starting to get really busy. After some time I started feeling a lot better.
I needed to get away from the hustle and bustle of the terminal and find a quiet corner to rest and relax. Considering the long distance I had travelled to get here it would not be too much longer to wait. Two days and nights non stop spent on planes and airports without getting much sleep. Only the excitement and enthusiasm of flying on the brand new A380 on the inaugural flights could make me travel such a far distance in so little time.
After a trip on the elevator and a quick investigation I noticed there was a third floor with airlines offices and what looked like some empty space with quiet sitting areas with floor to ceiling windows with views on the tarmac and some of the gates.
I finally located a space near the United Airlines office with plenty of room to sit down... and a view!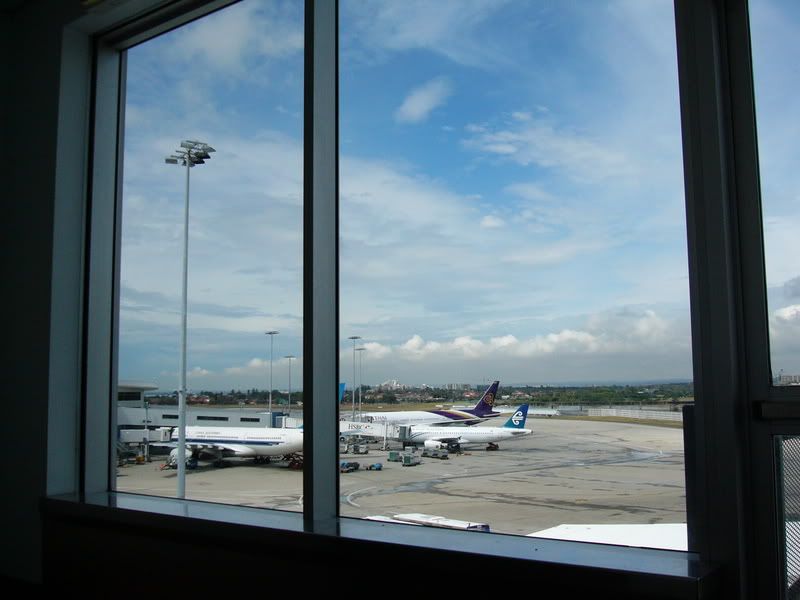 I decided not to look any further. This sitting area was going to be my private space until check-in for the A380 inaugural flight so I decided to set myself up as comfortably as possible in this rather simple place.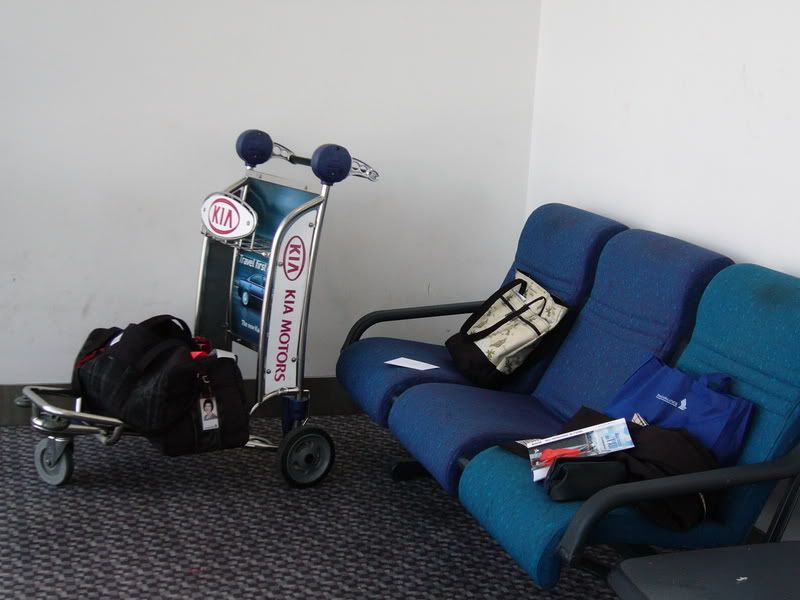 This was certainly no Lufthansa FCT lounge but I made the best of it. One has to learn to be adaptable and detached from luxuries on these long haul trips and be willing to take what comes when necessary.
While finding the Singapore Airlines check-in counter I had asked the agents what time they would start the check in for the A380 flight to Singapore. They said to come around 1.00 o'clock in the afternoon. In the check-in area I noticed one unusual looking passenger. He seemed to be Japanese. He was wearing a white nylon jacket with the Singapore Airlines First to fly the A380 inscription in large gold letters. You could not miss him. I went to see him as it was obvious that he would be on the flight. He said he had come on the A380 flight from Singapore the day before and was ready to go on the return inaugural flight. I did not see him again until the pre-boarding party at the gate and on board the flight as he was in the same section in the back of the Y cabin not too far away from where I was sitting.
I patiently waited in my quet corner on the third floor and got busy reading a book until about noon. As one of their 100K flyers I was almost about to go knock on the door of the United Airlines office and ask for some coffee.
I ended up thinking different as I started to wonder if there was any interesting activity around the check-in area so I went back down to the Singapore Airlines check-in counters at row J to see if there was any chance that they checked in the flight early.
The A380 flight was posted on the departures monitor. My long wait was finally over.
In fact they had already started to check-in a few passengers for the flight when I got there. There was only a small line when I got there. There was different check-in areas for the A380 flight: the F Suites, the Business Class and also several Economy check-in counters.
This is where my United 100K flyer card came in handy. I went to ask about Star Alliance Gold priority check in. I was sent to the Business Class counter. This allowed me to skip the long line that was forming.
I checked in my bags and got my boarding pass. I asked if it was possible to have two boarding passes printed, one to go on the flight and one that I could keep. She said she would try. She printed two boarding passes and handed them to me.
I was assigned seat 54F, a bulkhead seat, first row of the last Y cabin in the back of the aircraft on the main deck.
http://www.seatguru.com/airlines/Sin..._Air/Singapore_Air_Airbus_A380.php
I later heard that they had even a band playing in the check-in area to entertain those who were patiently waiting in line for their turn to get their boarding passes. I did not see this as I had already gone.
Something had changed. I was officially a passenger on the first A380 commercial flight to Singapore. We were indicated to a gate to the pre-boarding party. I filled in my departure card, I went through customs and immigration to go to the departure gates. Prior to that I had gone to the very comfortable Singapore Airlines Silver Kris lounge to refresh, take a quick shower and change clothes before going to the pre-flight celebration and getting on board the aircraft.
The other event for me besides being on the first A380 passenger flight to Singapore was my birthday. This flight was an event the whole aviation world was waiting for so I decided to wear one of my favourite Hawaiian muumus as this was not an ordinary day.
A number of passengers came all dressed up for this most special occasion but they were not the majority. Most were wearing casual or even ordinary clothing. The Singapore Airlines staff; those who organized the event and the helpers were elegantly dressed, very fashionable and nice looking, mostly wearing black dresses. Singaporean women can look truly outstanding and beautiful in some circumstances.
I noticed there was an uncommon number of Singapore Girls in uniforms. I could see that they had chosen the very best ones. I did a quick count and reached a total of about thirty in the party room alone in their coloured kebayas according to their ranking. There are 4 Kebaya colours that represent the ranking of the Singapore Girls: blue for the stewardesses, green for the leading stewardesses, red for the chief stewardess and brown for the supervisor.
The flight supervisor on this flight was a man. He was wearing a grey suit. The male cabin crew are also wearing different colours: light blue for the stewards, sky blue for the leading stewards, navy blue for the chief steward and grey for the flight supervisor.
The party was organized at the boarding gates in what seemed to be a rather large hall. Tables with drinks and glasses of champagne and wines, waiters and waitresses passing around with sandwiches, juices and lots of champagne while a four-man band playing light jazz was entertaining the passengers as they waited to go on the flight. A lot of passengers --including myself-- were taking lots of pictures of the aircraft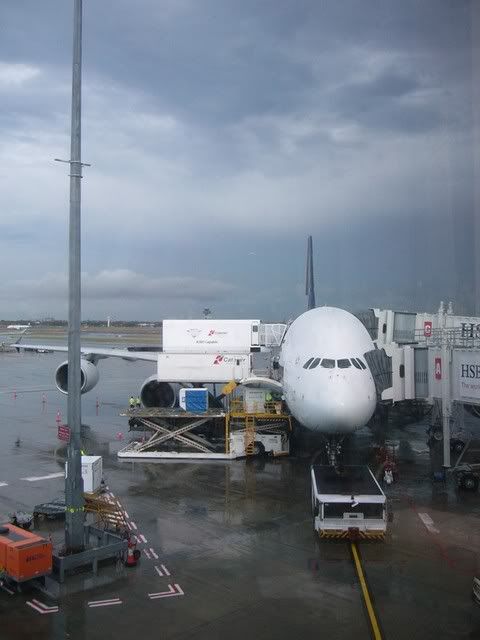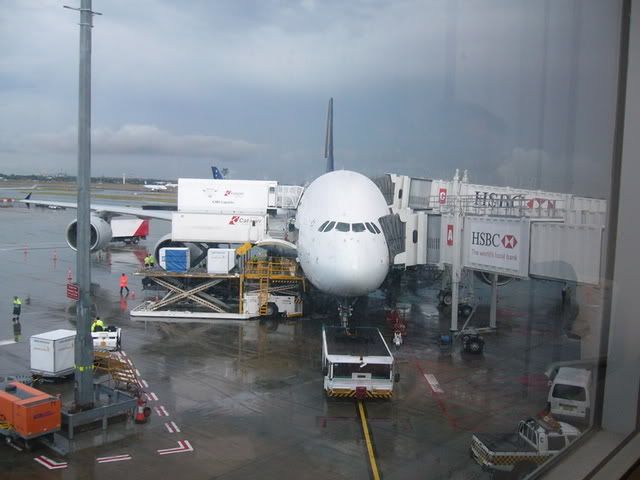 and also pictures of themselves with the A380 as a background!
There was a sort of indescriptible monumental work of art as the reception room's center piece,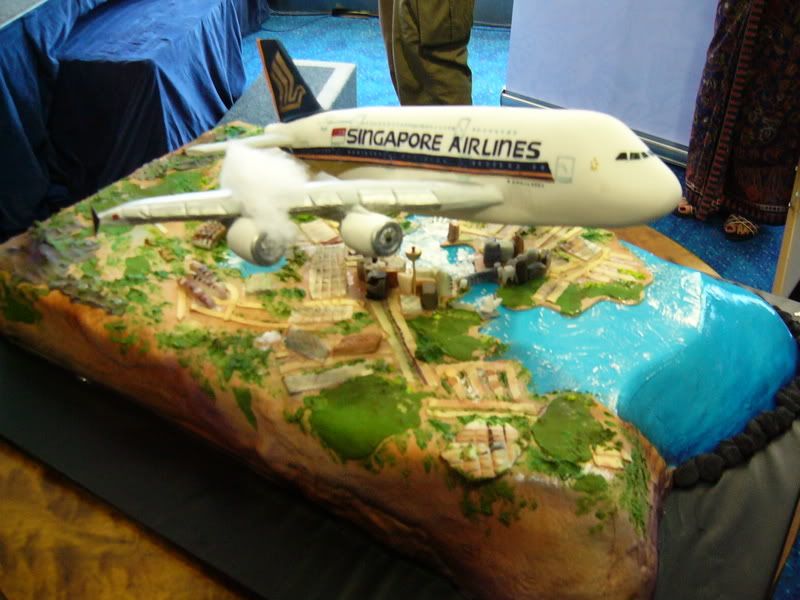 representing the Sydney Harbour with the airport and surroundings with a giant Singapore Airlines A380 flying through some clouds made out of cotton.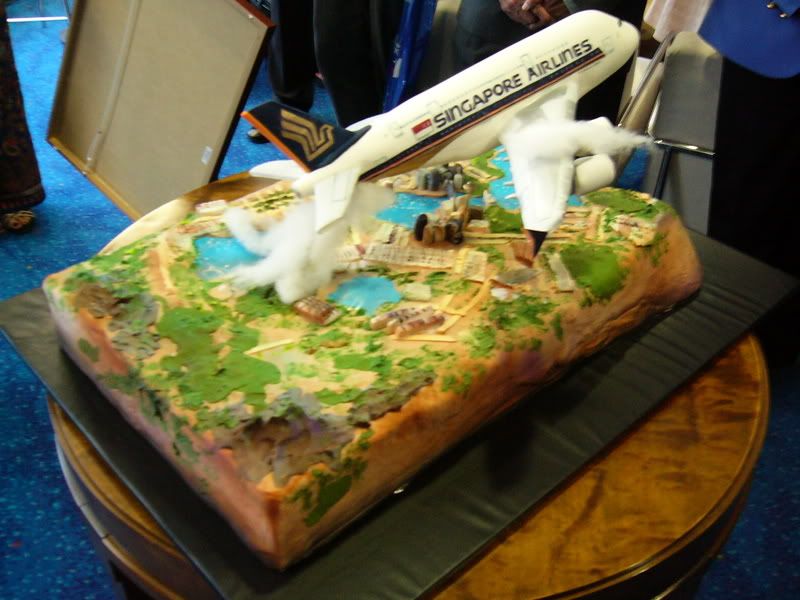 I wondered if this was a cake... in fact it was a cake!
I did not feel like eating much of anything. I only had some fruit juice. I was easily recognizable in my flowered muumuu and wearing a Concorde as a necklace. I had quite a big success in the party hall and also later on board the flight. I certainly could not be missed out! I was interviewed by a journalist as they knew I was familiar with Concorde. The main question they asked was the difference between the A380 and Concorde and how I would compare the travellers on this inaugural flight with Concorde passengers.
After a while the party crowd was asked to quiet down a bit as some speeches and presentations were going to be made: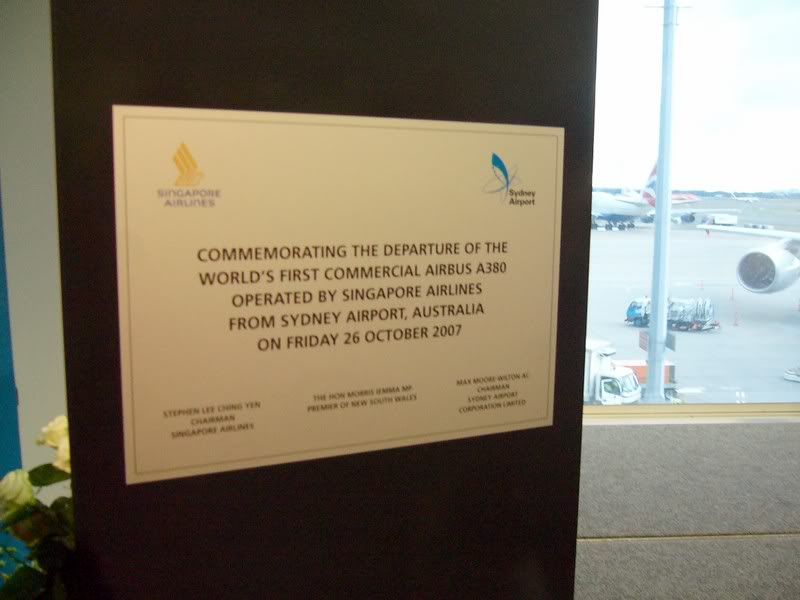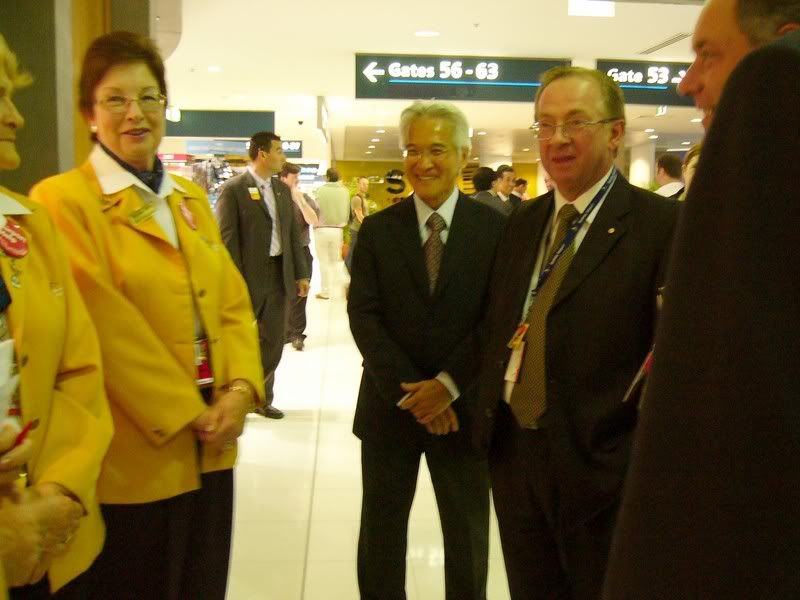 Mr Morris Iemma, the Prime Minister of New South Wales followed by Mr Chew, the CEO of Singapore Airlines and Singapore Airlines Chairman, Mr Stephen Lee, Dr. Nick Wood, President of Medecins Sans Frontieres Australia, to present the cheques to Medecins Sans Frontieres, The Children Hospital at Westmead, and the Sydney Children Hospital and to thank everyone who made the Singapore Airlines A380 First Flight Charity Auction a success.
The departure time was going to be at 4.00 PM local time but the flight got delayed due to an electrical storm that hit the area. It looked like no planes were leaving the airport and the airport had closed temporarily. This gave us more time for champagne and socializing, meeting new people coming from different walks of life and different countries from all over the world.
Captain Ting, Chief Pilot of the Singapore Airlines A380 fleet, was the big star of the show. You can see him here with a book written by Jacques Rosay that was just published before the flight and he had kindly mailed to me before I left for my trip. Jacques Rosay, Airbus Chief Test Pilot for the A380 was the very first pilot to ever lift off the very first A380 test aircraft F-WWOW at Toulouse-Blagnac on 27 April 2005.
Captain Ting was going all around the party room signing documents and talking to everyone. In fact we did not board the flight until about two hours later. Plenty of time to socialize and meet more passengers of this historical flight.
Finally an announcement was made that the Boarding process was going to start.
We were finally going to be able to get on board the new double decker jumbo jet, the much waited for Singapore Airlines A380 and share a new flying experience.
There were 3 different boarding zones. Suites, Business and Economy. I could feel a lot of excitement. Everybody was looking forward to the experience of flying this new aircraft. Many including myself had travelled very far to be on this flight.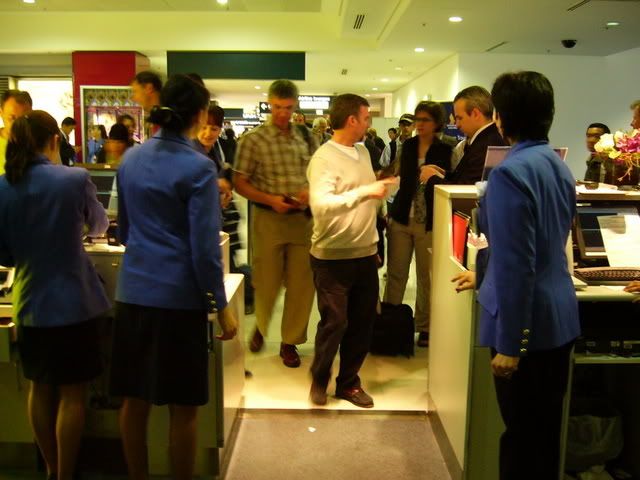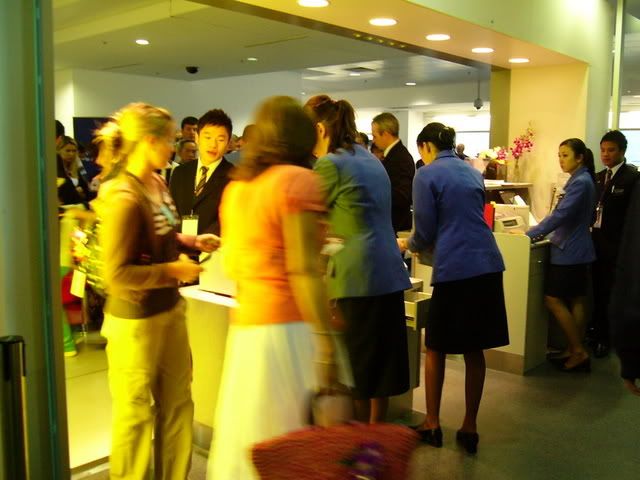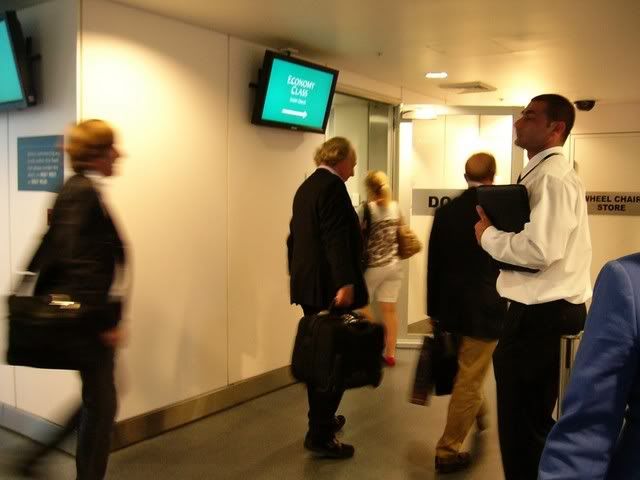 Once again, I did not hesitate to use my priority boarding advantages. I was sent to board through the Suites jetway.
I was lucky to be able to quickly go through the Suites area in just enough time to take a couple of quick pictures.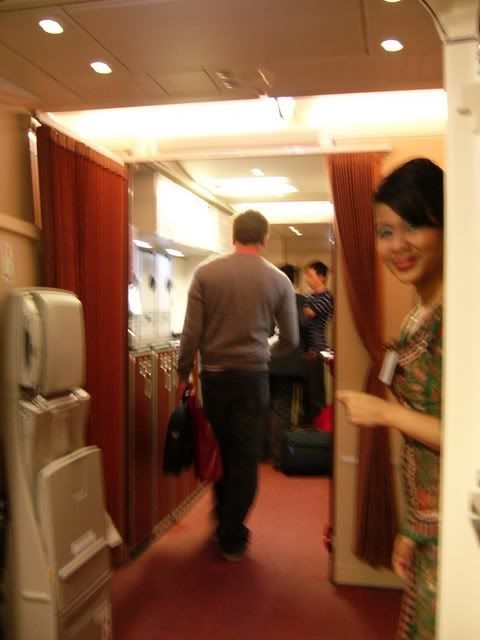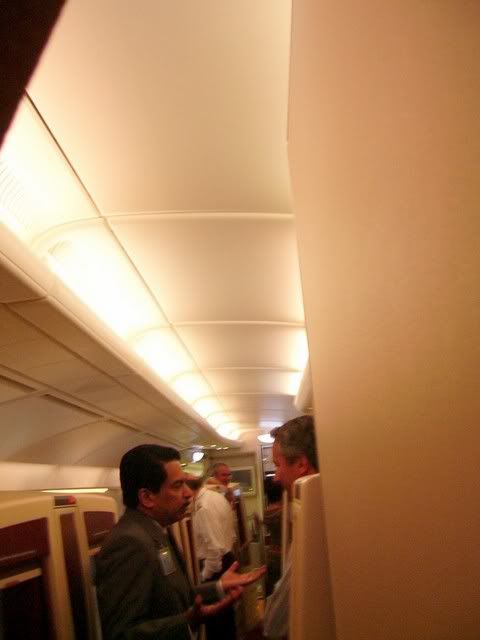 I moved on to the Economy cabins where more passengers were boarding.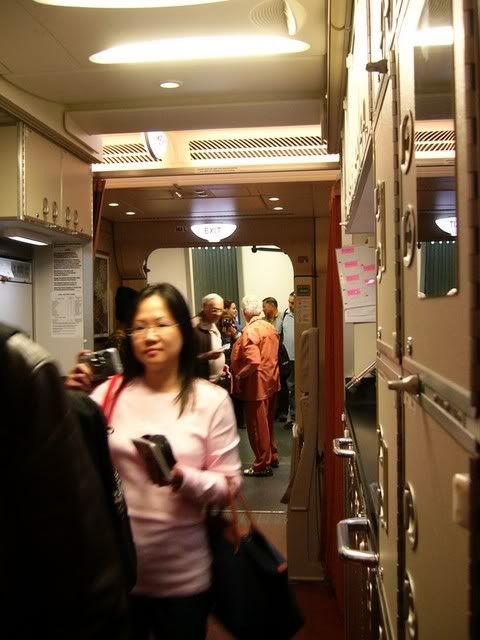 We were directed to our assigned cabins and seats by the appropriate stewardesses.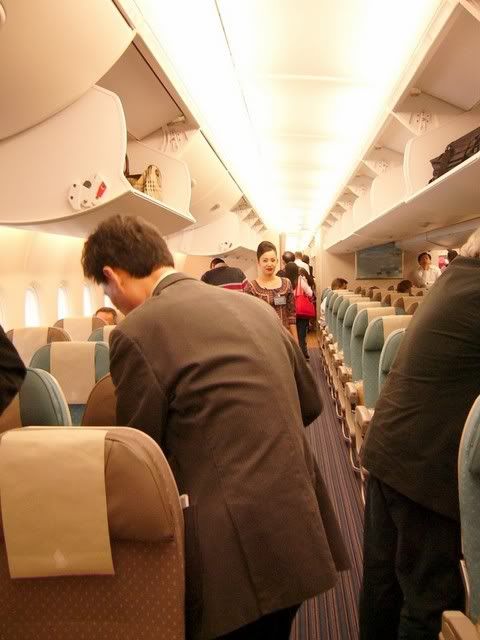 The A380 is a BIG plane! I already knew it as I had already been on board on the ground, not in theair. I had kindly been invited to see the inside. This time was different. I was going to stay on board and fly on one!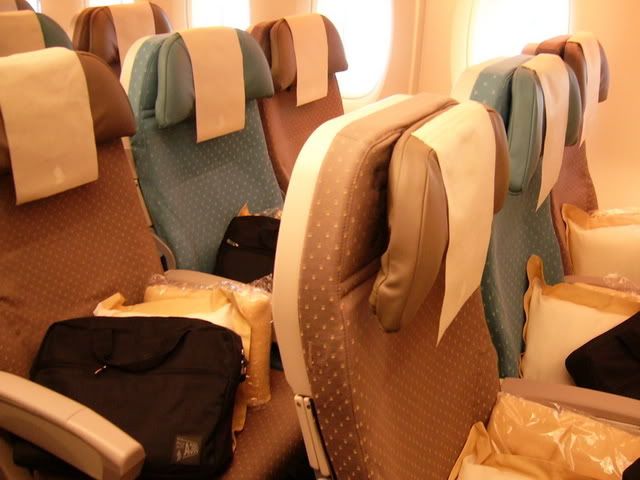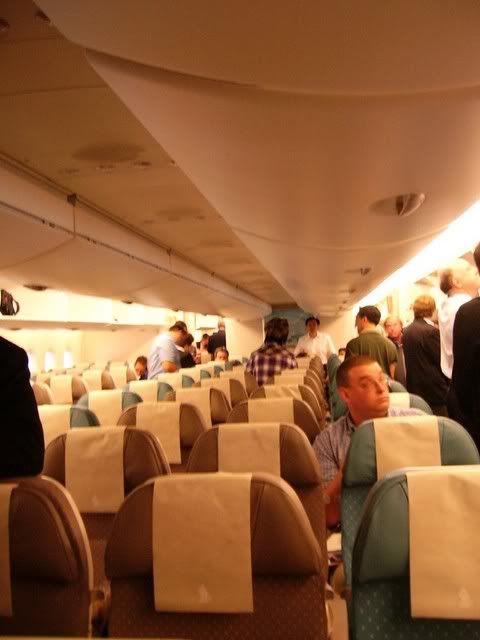 I went to my assigned seat in the back of the main deck.
My seat was 54G. Each seat had a beautiful pillow with a very beautiful blanket. The seats come complete with a large PTV screen and several connecting ports. I was surprised to see a high quality laptop size black bag on every seat!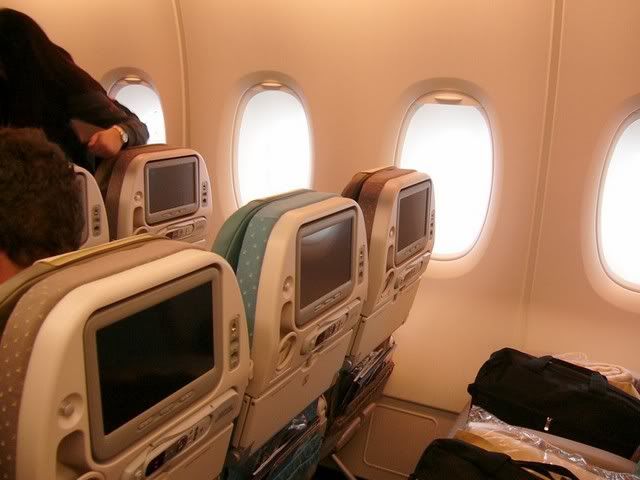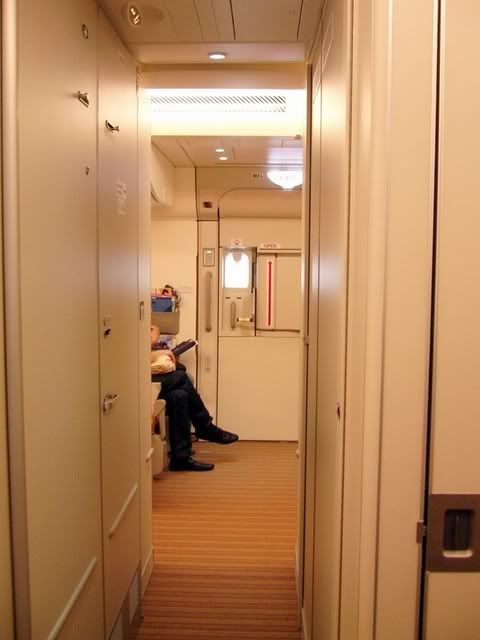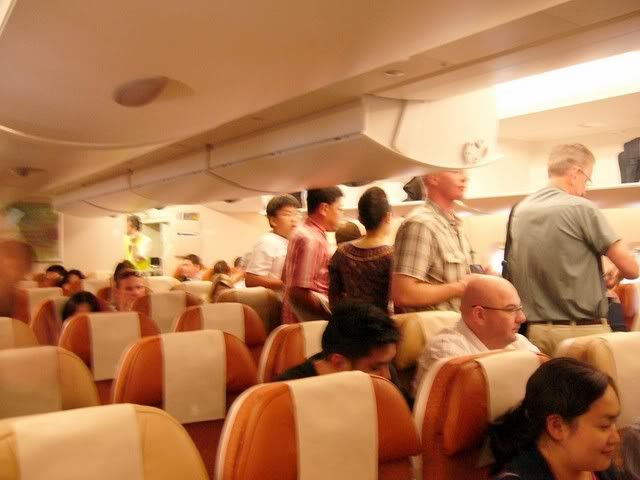 I never expected that every Economy Class passenger would be gifted such a well-made goodie bag with such a wonderful collection of flight memorbilia inside including a fairly large A380 aircraft model just made for this Sydney to Singapore flight.
At first try, my impression was that of roomy seats with comfort and a lot of extra legroom for an economy cabin.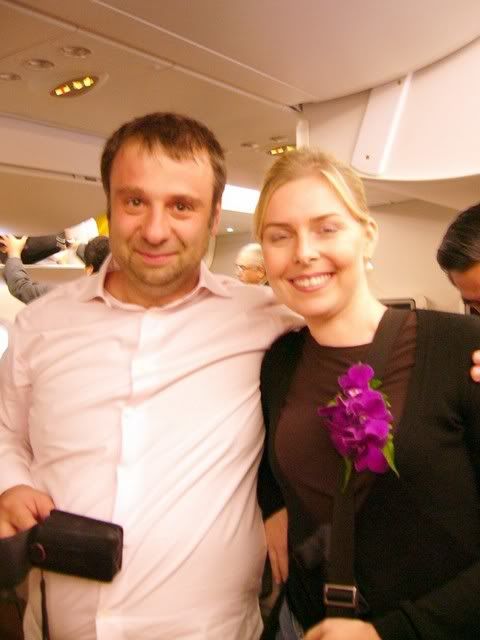 A happy couple from Budapest, Hungary
Singapore Girl
Singapore Boy!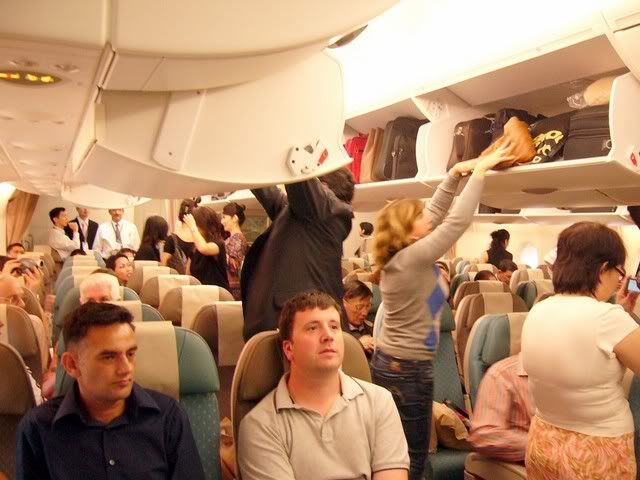 Overhead bins
Boarding took time. After everybody had more or less- found their seats and stored their belongings in the overhead bins, stewardesses started passing around hot towels. These were real towels not some cheap imitations. They were wet and very hot.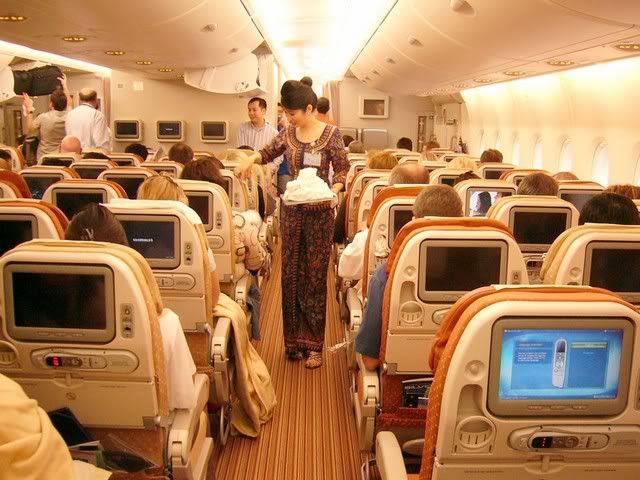 The atmosphere was very nice and relaxed unlike on normal flights. Everybody seemed to be very happy.
Food catering
Seat pockets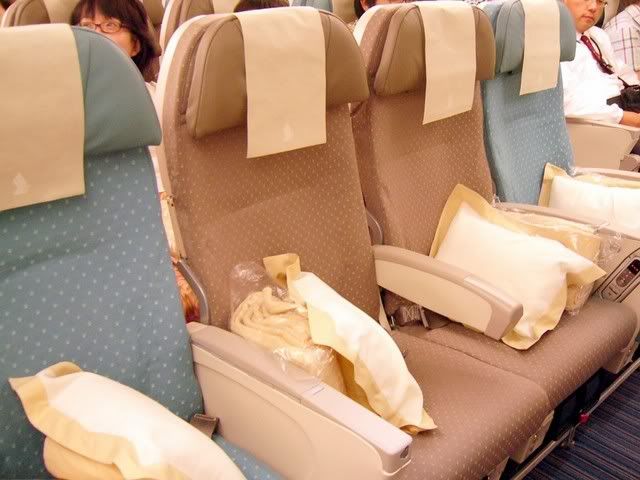 Pillows with blankets
Cabin overview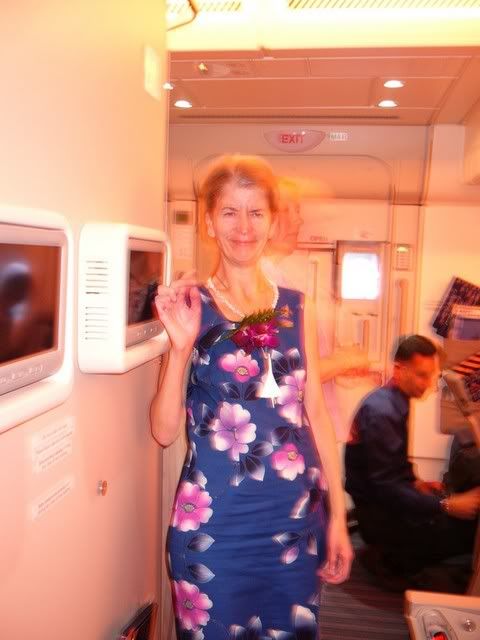 The girl in the blue muumuu with a blurred face...
Not long after, the captain came on the PA system. He welcomed all the passengers and introduced the other cockpit crew members: Captain Peacock from Singapore Airlines and Mr Claude Lelaie Chief Test Pilot at Airbus which he said was invited to supervise the flights.
The aircraft finally started pushing back and got on her way to be cleared for take off. Once the Big Bird took the air, we could not hear the engines. They were nowhere as loud as a B747 for example. The engines were really quiet considering the power needed at take off. I could not see the outside directly as I had a bulkhead aisle seat in the middle. Some with window seats must have enjoyed some great take-off views!
The noise level in the cabin was surprisingly low. People did not need to shout. They just talked. You could hear the sounds without rumbling engine noise in the background. This was the one noticeable difference with the other aircrafts.
After the seatbelt signs were turned off some passengers started moving about and I did too. I really wanted to see and feel the new plane and explore what was around so I went looking everywhere. Many passengers were coming and going. There was a lot of curiosity about this new plane.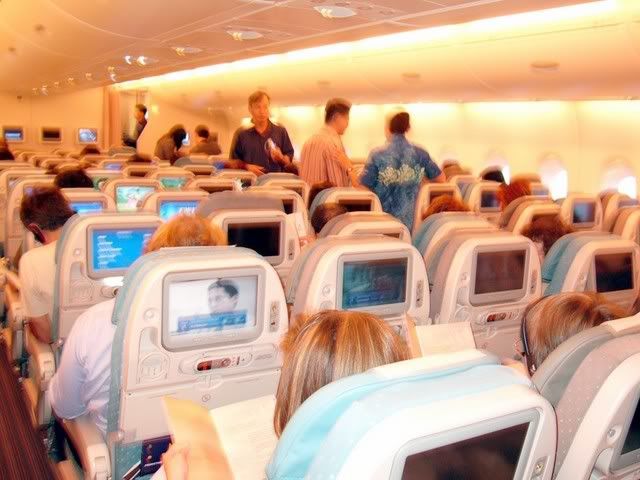 The stewardesses started serving hors d oeuvres yet we were free to go around and we were welcome to have a look in the kitchens and working areas on the main deck.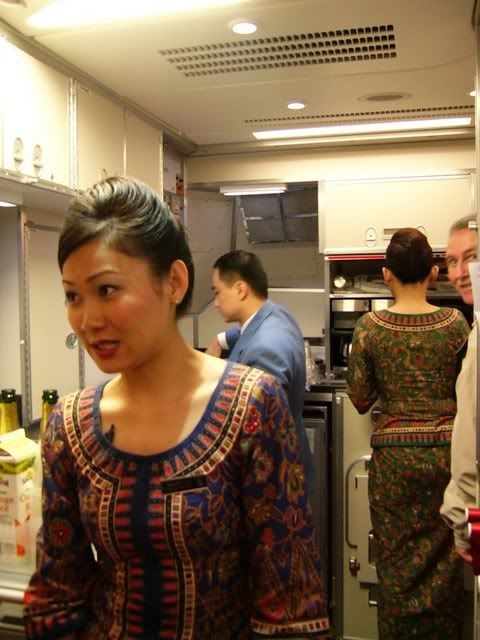 The onboard staff was extremely busy with the service but also very nice to us and always smiling. Each one of us was personally presented a flight certificate nicely mounted in a strong transparent sleeve.
So as I went around exploring the aircraft...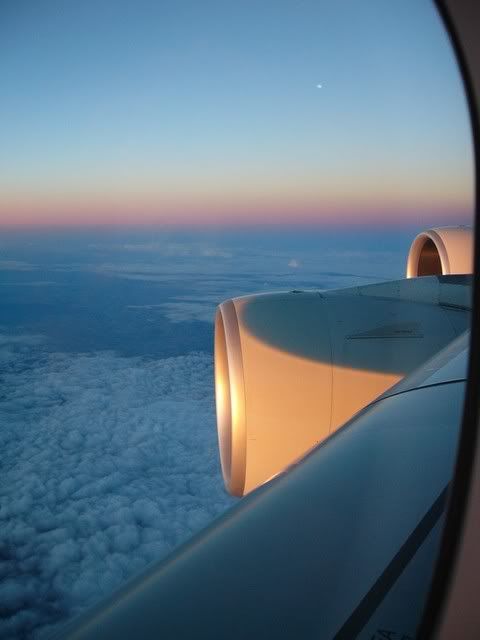 I was meeting passengers from different countries talking with them getting their impressions about the flight. Many passengers were taking pictures and doing videos of the flight.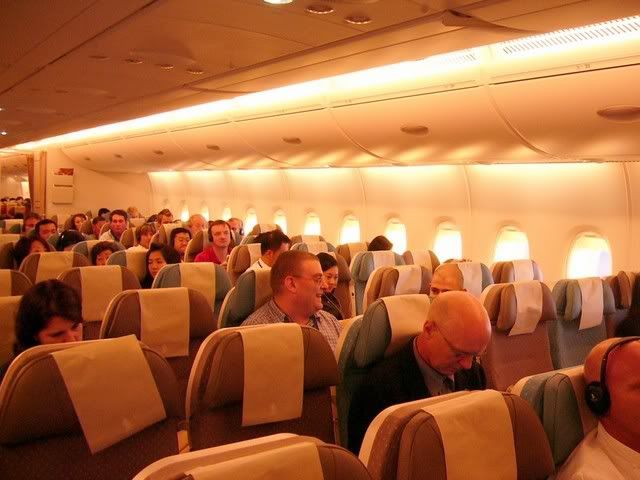 TsenTsan and Derek
The meals were starting to be served while I was not in my seat so I had to go back. The portions were huge and the food was delicious. The silverware was contemporary and very nice. Flat shapes all metal except the knife which was of strong clear plastic. There was a variety of drinks, fruit juices, champagne and wine. Both chefs were on board the flight so we could easily go and talk to them about the various preparations they had made for the inaugural flights and how they chose the food for the different classes. No need to tell you, everything that I ate was truly delicious and served in a quantity never seen before in Economy Class.
As I was in the middle of my whereabouts and socializing around the aircraft someone (sorry... I can't remember who it was) came to get me and I was presented a very yummy Birthday chocolate cake with a menu that specially signed by the crew for this special occasion.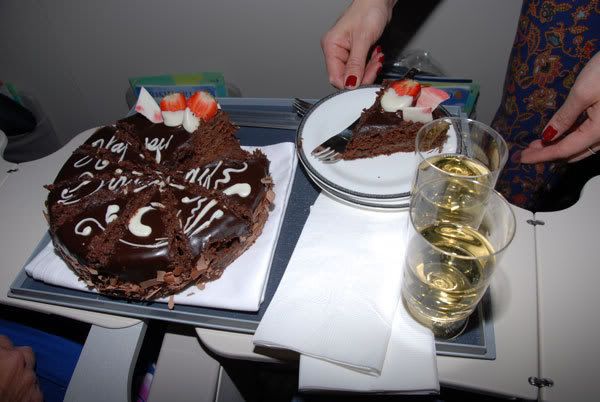 (Photo by TsenTsan Tsung)
I was in the very best company as I had SIA Chairman and a group of beautiful Singapore Girls around me as well as my friend TsenTsan from the NinerVictor and Airliners.net forums wishing me a happy birthday. This is the very best and most original birthday party I have had in a long time! I shared the cake and champagne with Tsen Tsan and other friends on board.
(Photo by TsenTsan Tsung)
This birthday cake and party came quite unexpectedly. Thank you Singapore Airlines. You offered me such a wonderful birthday with a lot of nice memories. Needless to say, I ate a lot of cake so I ended up not eating much of anything else until the end of the flight.
There was definitely a party atmosphere on this flight. There was a group of nice singaporean girls sitting on the main deck in the same cabin in the back on the main deck. They had come to Sydney as part of the inagural organization and they were going back to Singapore. I was happy to share some of my birthday cake with them too.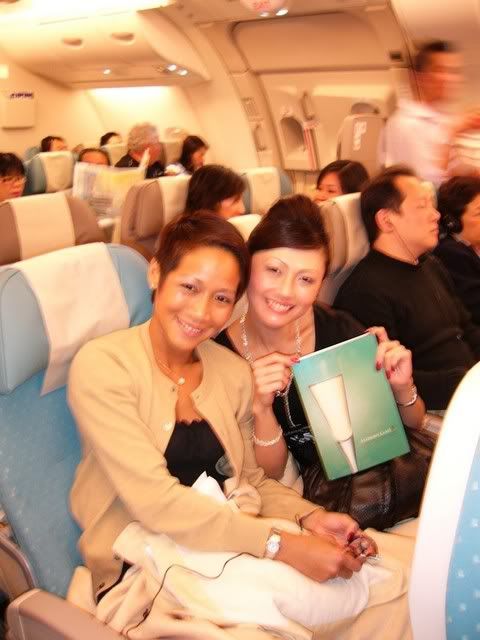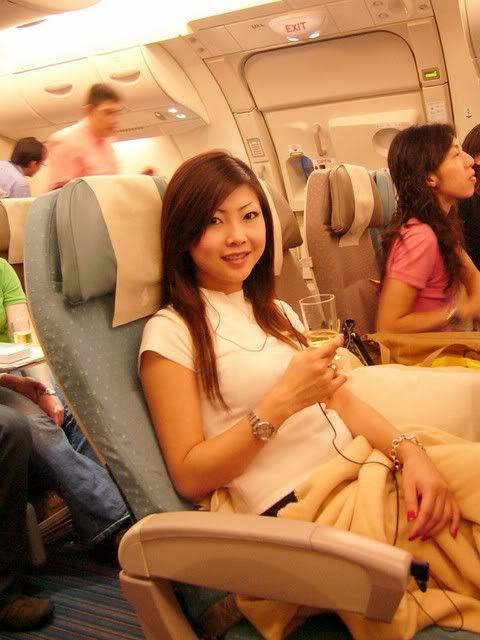 Some passengers turned on their PTVs. This is the one thing I could not understand how they bid in the auction and paid to be on this inaugural flight to play video games or watch the TV programmes.
So I spent the rest of the flight going from one cabin to the other and from the main deck to the upper deck and even through Business Class. I was curious about the differences between the main deck and the upper deck...
trading seats with other passengers for window views or an impression of the different cabins.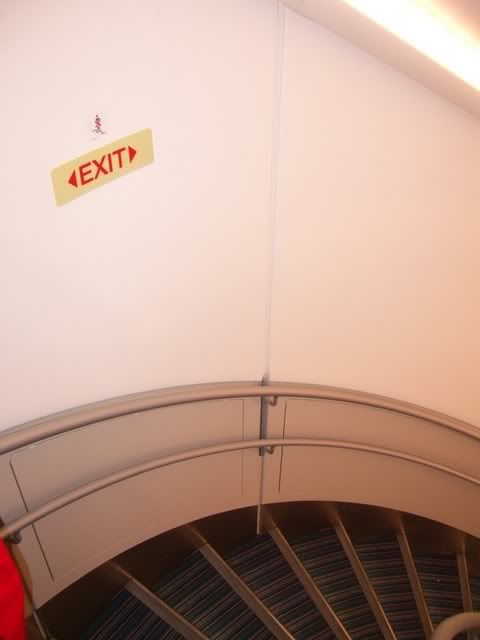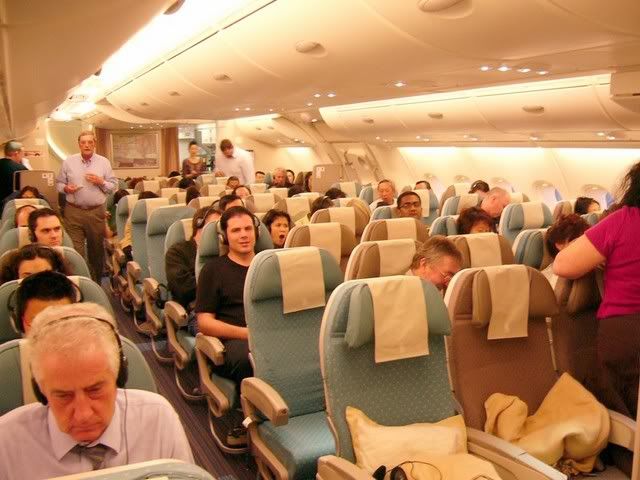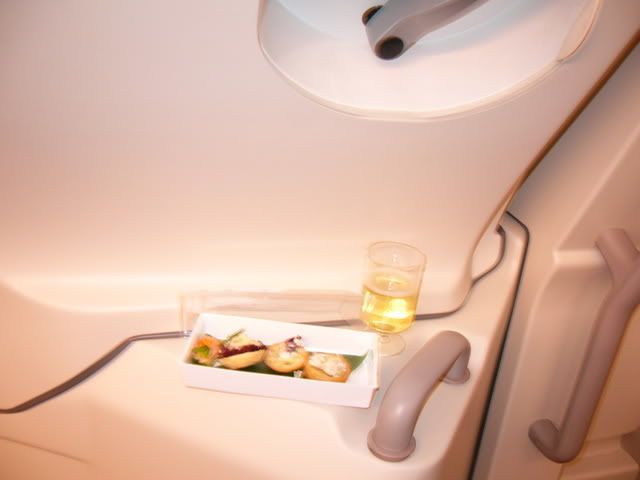 Comparing with Concorde...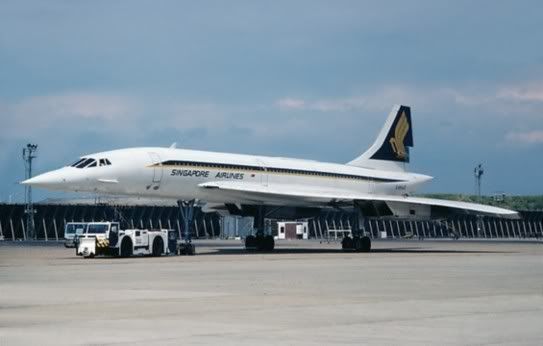 the A380 is certainly a slow plane.
Yet for a flight that lasted almost 8 hours, the time spent on board seemed to have gone way too fast.
We had some VVIPs in the cabin. I got to talk with Mr Claude Lelaie whom I had already met on the occasion of the very first Paris Air Show A380 flight demo and again at Changi Airport when F-WWOW the Airbus-380 test aircraft came to Singapore for the very first time. I also got to talk with Captain Ting again with an immense pleasure. What a humble and kind gentleman he is!
On this inaugural flight back to Singapore, time went way too fast. I hardly looked at the TV monitor on my seat at all. I just had a quick look at the map once to locate where we were and that was it. It would not have bothered me at all if we had continued on to London Heathrow but it will be some time until Singapore Airlines will fly their A380s there.
Another noticeable thing besides the very low noise level was the smoothness of the flight. I can't remember any serious turbulence or the aircraft shaking. It is very strange how you don't feel what the aircraft is doing like on other aircrafts and God knows I have flown on every possible aircraft from Concorde to DC10s, Ilyushins, Tridents and even old Breguets (those also had an upper and lower deck) back in the early 60's. The A380 is truly an awesome aircraft. It flies so well!!
So I could feel we were getting near the end of the flight. We were about to start our descent into Singapore. Captain Ting's voice came back on the PA system. He announced that the landing was going to be done by computer. This was going to be the very first full auto landing of an A380 on a commercial flight.
The landing and touchdown were so quiet we could hardly hear a thing and so smooth we could not even feel it. We taxied for a while and then parked at gate F31. It was midnight. I wanted to be among the last passengers to leave the aircraft.
After we had deplaned at about midnight we noticed that the party was not quite over yet. A traditional Malay style band with drums and dancers was expecting us passengers and the flight crew on arrival into singapore's changi airport. We were all greeted by SIA staff handing us flower garlands made of fresh flowers, the same kind of flowers that were given to us in Sydney before going on the flight. Many more pictures were taken in the arrival gate hall and the crew members were eagerly waited for.
As to myself I was headed back to the Silver Kris Lounge F side. I had not slept for 3 nights but I had forgotten all about it. As I had arranged a very early morning SIA flight to Kuala Lumpur I did not bother making a hotel reservation and going to the city. So I hopped up to SKL for the rest of the night. My KL adventure will be narrated in the next part of my trip report, not forgetting the relevant pictures.
This is a flight I will never forget.
I feel privileged to have been a part of these Singapore Airlines SQ380 inaugural flights. Economy Class was awesome, so much delicious food. I fly a lot and I have never had such a fine flight in Y class. I have been on every imaginable airline and aircrafts from the 60's til now.
Concorde stole my heart (she was also a Singapore Airlines aircraft bearing the Golden Bird). Yet this Sydney to Singapore inaugural flight made it so I will always keep the fondest memories of this A380 experience: 9V-SKA the first operating commercial A380 in the world with a big plus: a special birthday party for me on the inaugural flight!!
9V-SKA now flies the Singapore to Sydney route. She is the only flying aircraft of her type in the whole world doing commercial flights until her sisters will come to lend her a hand and take the flights to Heathrow and back until others get to do other routes.
Things will be different on "normal" flights, no more great quantities of food, no more French champagne flowing in Y and the party atmosphere will be gone. Except for the new aircaft, it will be business as usual.
Economy Class was awesome, so much delicious food. I fly a lot and I have never had such a fine flight in Y class. I have been on every imaginable airline and aircrafts from the early 60's til now.
Thank you Singapore Airlines for making this possible! You have done a great deed and a fantastic job organizing these charity flights and you made everybody happy. You will always be remembered! LONG LIVE A380 and let's wish them a successful career!
(photo: Ericp from Ninervictor.com)
[Edited 2007-11-15 14:45:23]