Hello folks. This past Thanksgiving weekend, I visited family & friends in my native Chicago and Madison, Wisconsin. I paired up the most exotic and spectacular flights possible in the USA.
My itinerary;
San Francisco – Minneapolis; Northwest 757
Minneapolis – Chicago; Northwest DC-9
Rode to Madison with family member in a Buick Roadmaster Limited
Madison – Milwaukee; Midwest CRJ-200
damn I wish it was a Dornier 328 instead
(operated by Skywest)
Milwaukee – Los Angeles (short stop in Kansas City); Midwest 717
Signature series Best Care 2+2 seating
Los Angeles – Oakland; Southwest 737
ticket purchased before SFO was offered and before Virgin America started selling tickets for route
Oakland – San Francisco, BART
Northwest
Skywest
Midwest
Southwest
Does anyone see a pattern?
Had a wonderful time over the extended Thanksgiving weekend. I had to somehow fit a Northwest DC-9 in to this trip as well as take advantage of Midwest Airlines 717 Signature Series 2+2 flights.
The SFO-MSP 757 flight marked the very first time I was able to sleep in coach. As many times I have flown, it has always been next to impossible to sleep in coach, no matter how sleep deprived I may be before the flight. Northwest must be doing something right.
When I purchased my tickets (months ago), I wanted to make sure my DC-9 was during daylight. The MSP – ORD DC-9 flights were 2 in the morning and the next were late evening with A320s throughout the day. Hence that is why I chose the red-eye to MSP to catch a DC-9 flight in to Chicago in the daylight.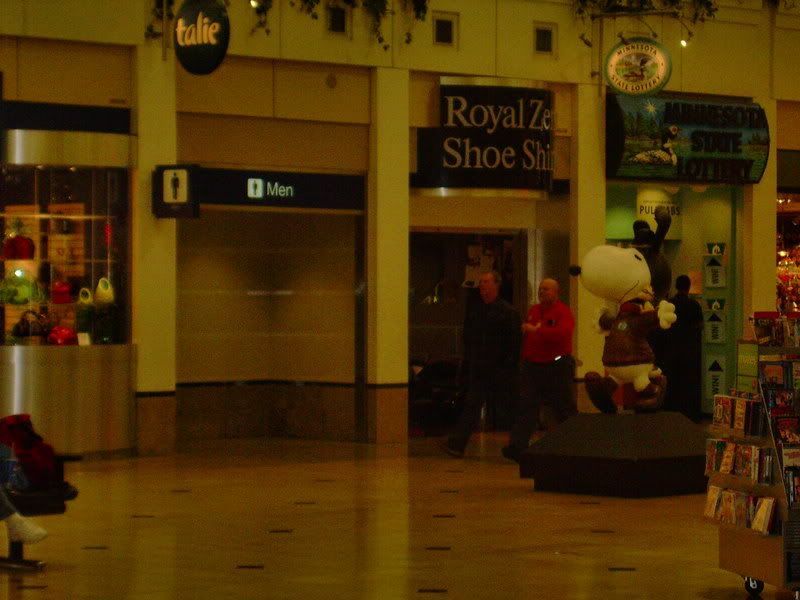 The Minneapolis/Saint Paul airport is a great facility. Easy to find your way around, friendly staff and excellent for spotting. I had 3 hours to kill so what is one to do in their spar time at MSP? Visit the infamous Senator Larry Craig bathroom.
My gate was rather far from his restroom so I asked a young lady at a Caribou coffee stand where it was. She enthusiastically pointed me in the right direction. When I got to the general vicinity, I noticed the shoe-shine man that was covered in a Yahoo story about the event. He seemed embarrassed about the fact that he has somewhat became famous because so many people ask him about the restroom he works near.
I went inside just to wash my hands. I felt icky just being in that restroom. All I can say is that has to be a very sick puppy to get aroused by strangers in a public bathroom.
Now on to more fun things.
The Northwest DC-9 flight.
My last DC-9 flight was on SAS waaaaaaaay back in 1975 and I was only 2 years old and don't remember but I have E6 slides with me on one.
All I can say is WOW! That is a very loud plane and a thrill to fly on. I picked the absolute best seat to have on a Northwest DC-9-50.
Seat 24-A.
It's just before the engine so you still get a view yet hear the wonderful sound of those JT8D engines roar. I recommend all aviation buffs that have not flown on a DC-9 to take advantage of the opportunity to fly on one. Glad that such a wonderful airline such as Northwest still operates them. More than half of the passengers were from a group based in Saint Paul that was participating in the Thanksgiving Parade in Chicago. I presume that they were going to be various characters such as a Mousse, Squirrel, and Beavers. Some were talking in character at the gate and throughout the flight. They were very friendly and entertaining people to be around.
I was hoping to land on 27R and get a view of the Chicago skyline over Lake Michigan with the DC-9 engine and wing cropping the edge of the photo but that didn't happen. We ended up landing on 14R in the rain/sleet.
View Large
View Medium


Photo © Wayne Dippold
N600TR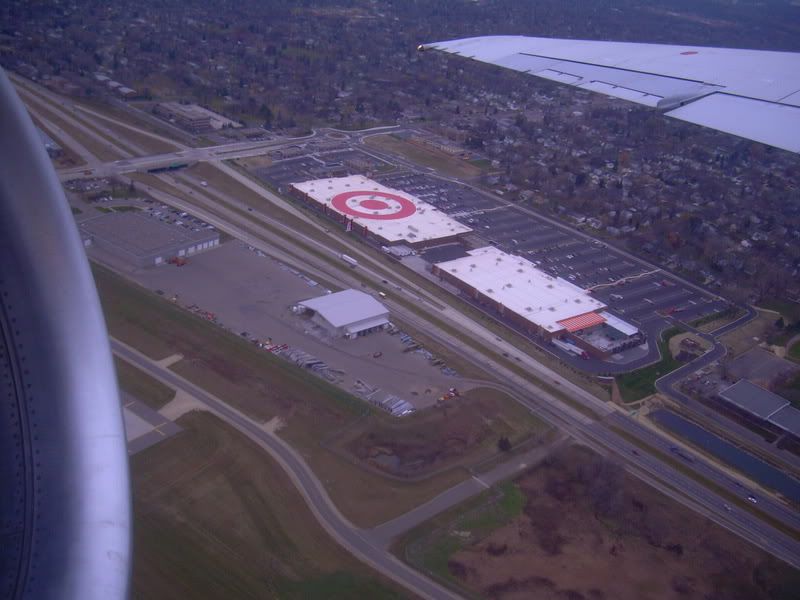 Had a wonderful time seeing family, eating tons of food and doing all that good stuff folks do on Thanksgiving. I also had that chance to squeeze in a visit to Giordano's Pizza as well as grab a bite at one of America's most classy fast-food restaurants; White Castle's.
OK so what if there is bullet proof glass between the customer and the cashier, their burgers are damn good!
White Caste's tend to be in rough areas but worth the risk.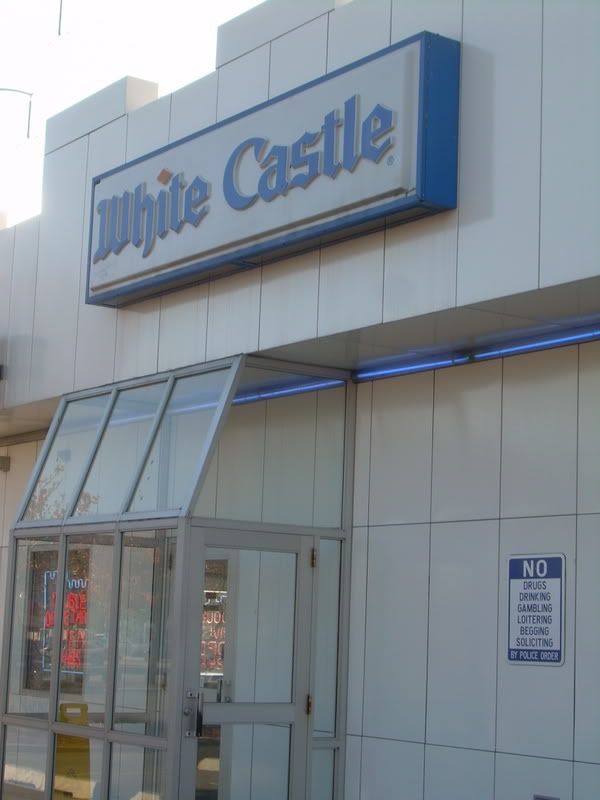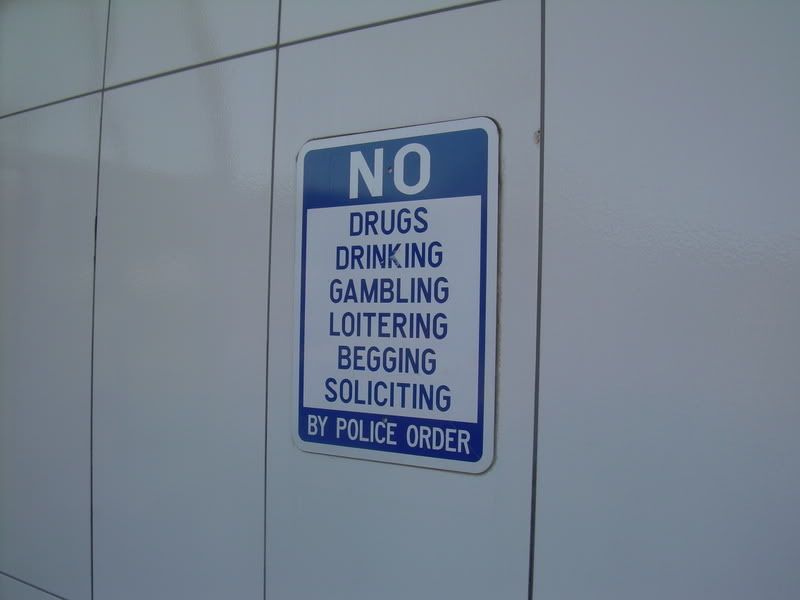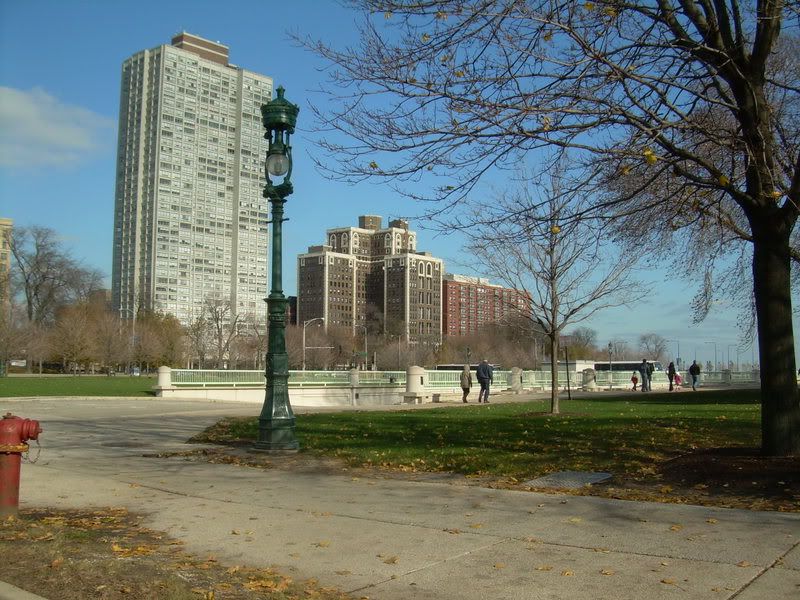 Near University of Chicago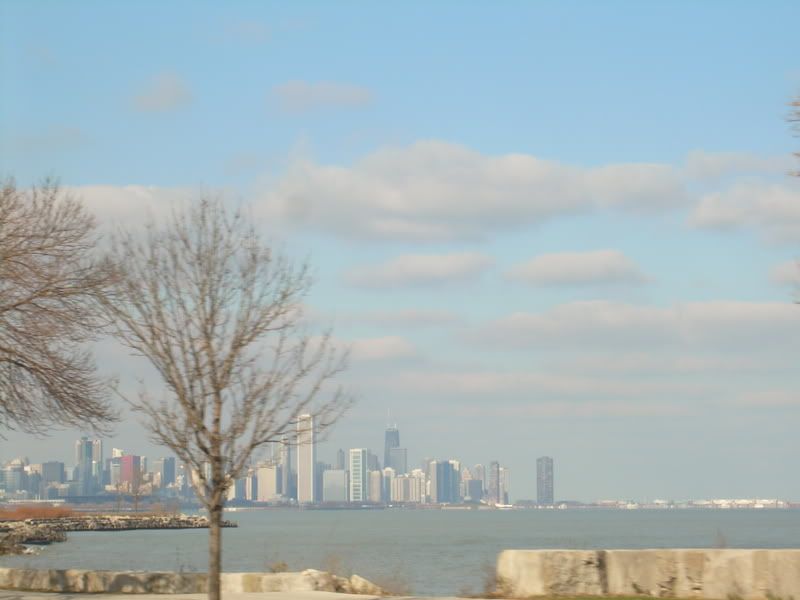 Chicago skyline from LSD (Lake Shore Drive) approx. 4700S.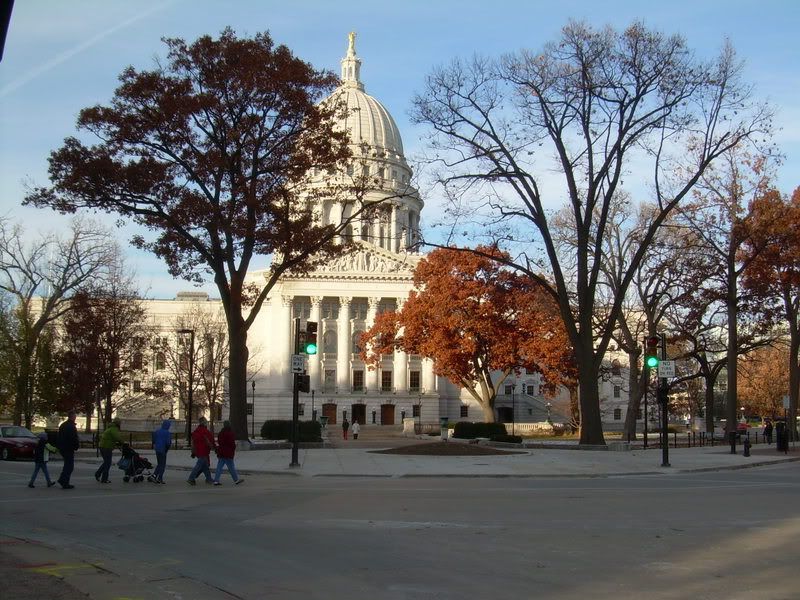 Wisconsin state capitol building in Madison
Then rode up to Madison, Wisconsin to spend a few days with my half-brother as well as friends I know that live there. Madison, Wisconsin is a place I fall in love with more every time I visit. This time it was nice & cold with some snow on the ground. (I miss those cold Mid-western winters), yet it only got down to 20 degrees Fahrenheit. Not as cold as it can get in Madison.
This time around, I happened to be in Wisconsin on a Friday so of course I had to take advantage of a Friday fish fry. I went to my favorite bar & grill in Madison; The Great Dane. The fish of the day was deep fried Perch. I had that with their Black Earth Porter.
As expected, the food was excellent, genuinely friendly service and the beers are world-class.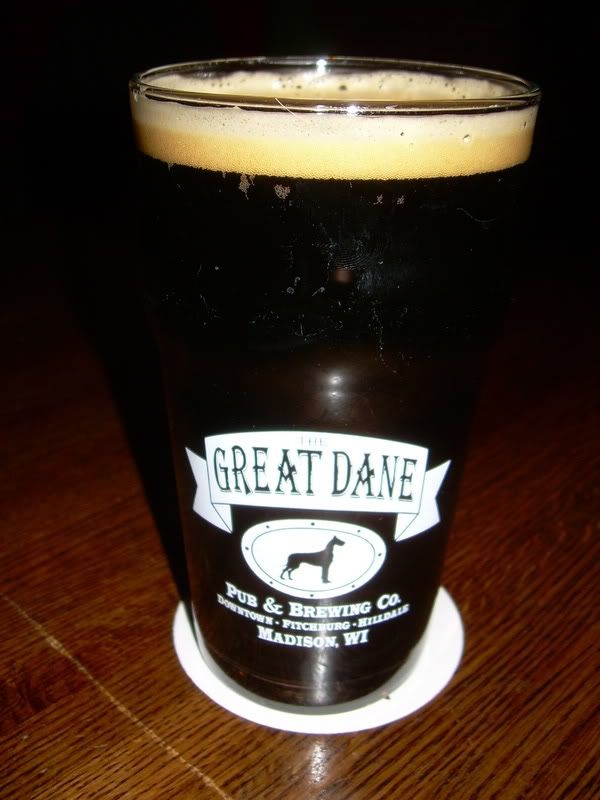 Black Earth Porter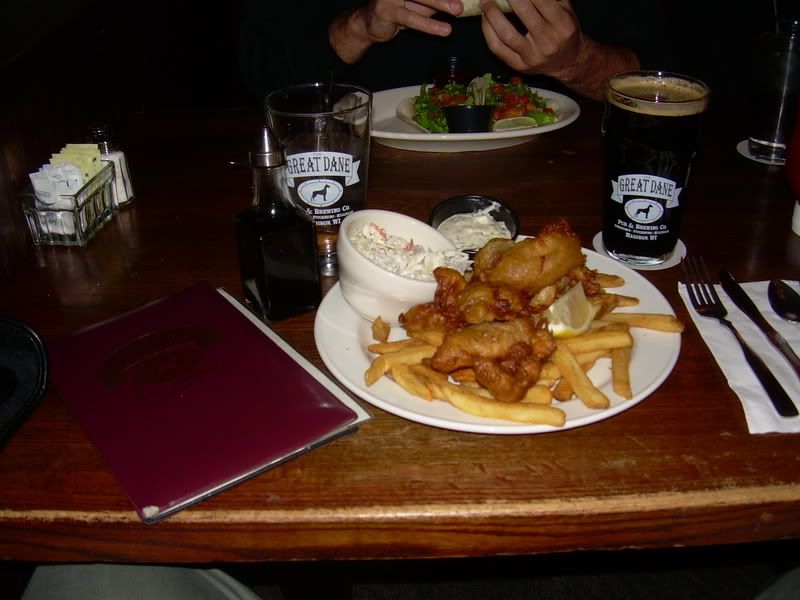 Friday Fish Fry at The Great Dane
After the bars close, a popular place to feed those munchies is the Parthenon. It's a Greek greesy spoon that serve awesome gyros. Most the patrons are drunk after 2:00AM and want a bite to eat.
Here is a friendly older guy serenading two ladies as we all wait for or food.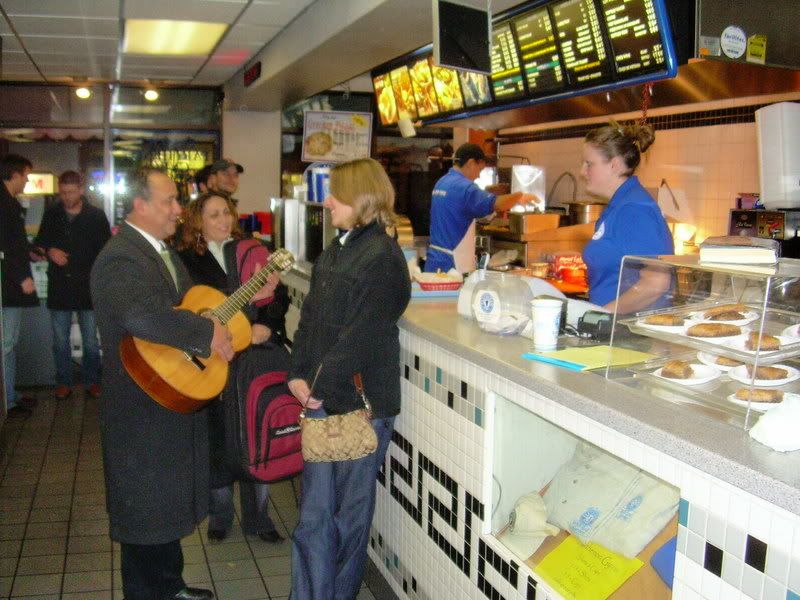 Another highlight was the Essen Haus brewery. Man those folks can drink!
This place had many German style beers on tap in large beer mugs and steins. The guys wear Lederhosen and the women wear Dirndls.
The Essen Haus had a polka band that was incredible! The band members looked to be in their 60s & 70s but the crowd was mostly in their 20s & 30s. The placed was packed and everyone was getting drunk, dancing and having a great time.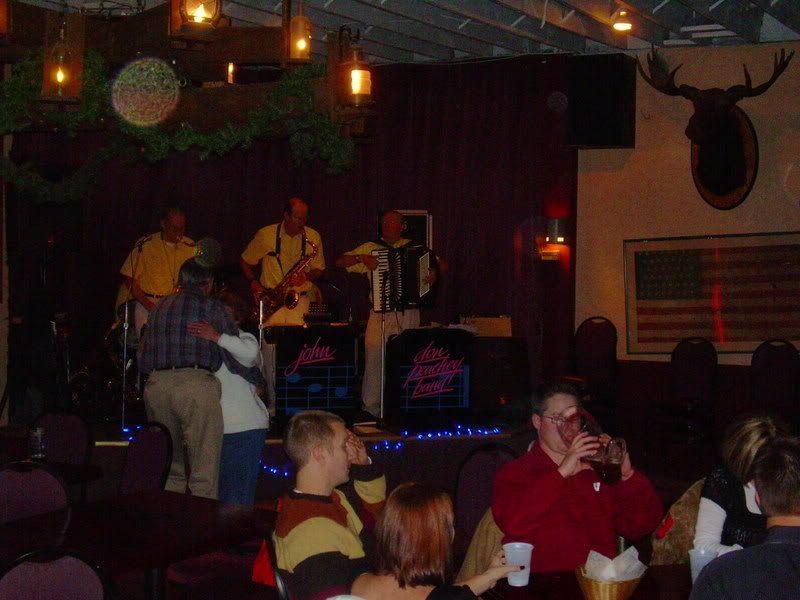 Polka band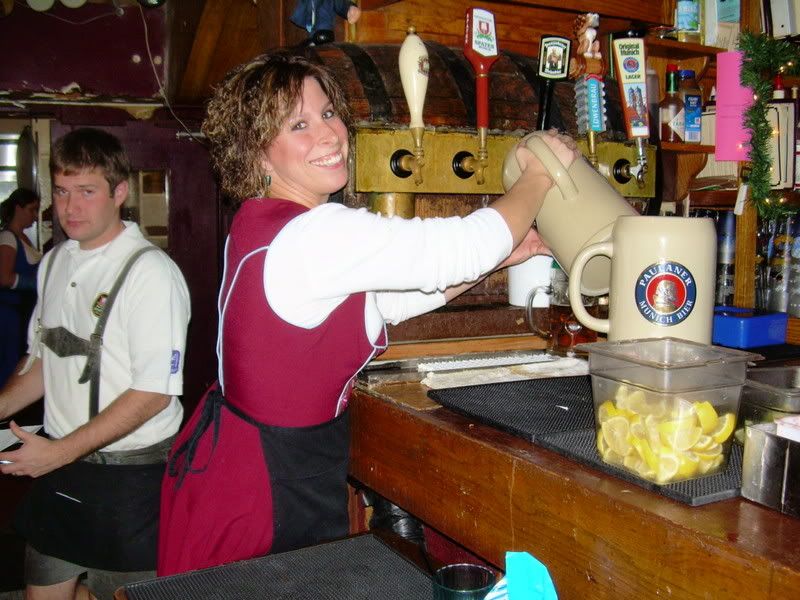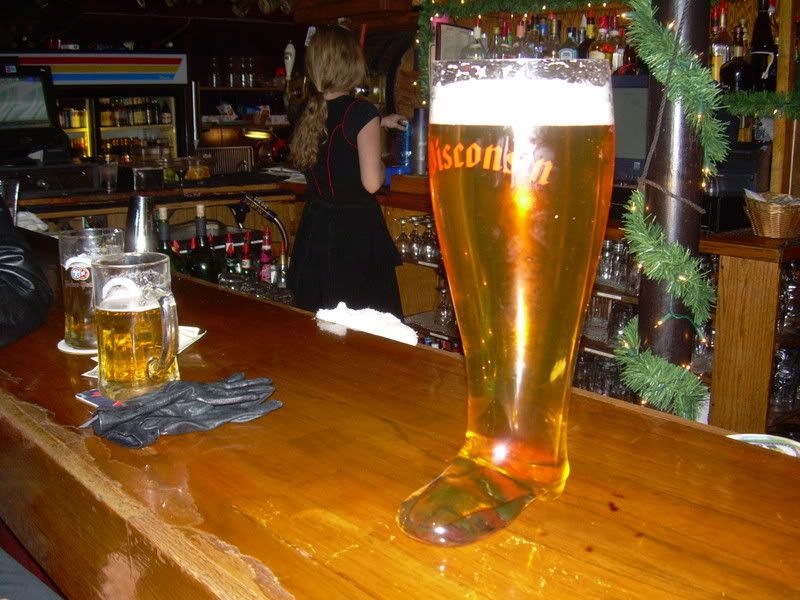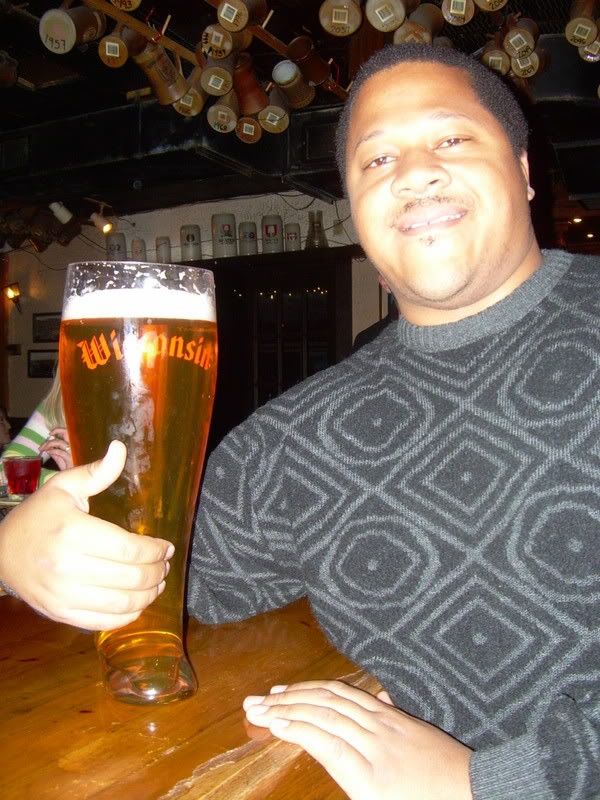 My flight out of Madison was early in the morning and I was hoping to get an equipment sub. I had a CRJ-200 but was hoping to get a Dornier 328 but that didn't happen. I could have flown on a Dornier 328 to Milwaukee but I would have missed the Signature series 717 best care 2+2 flight out of Milwaukee. Sadly, none of them fly to San Francisco. Instead they only send the Saver Series standard to 2+3 seating MD-80s out here.
If my flight leaving Madison was only 45 minutes later, I could have got an awesome shot of the Wisconsin state capitol building with Lake Minona and Lake Mendota being lit by the morning sun.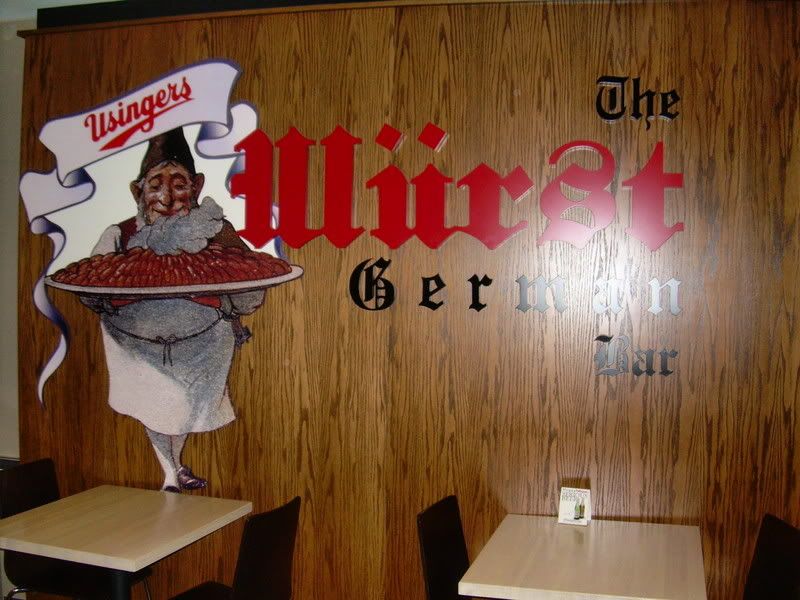 Inside Dane County Regonal airport terminal
The staff at Midwest Airlines far exceeded my expectations!
They have to be one of the best airlines in the world and certainly the best domestic carrier in the United States. It was surprising to see this quality of service on a post 9/11 flight on a domestic carrier. I can tell these good people are Midwest is committed to being the best domestic airline and providing excellent customer service.
Me and hundreds if not thousands of others in Milwaukee are so happy that they didn't get gobbled up by that trashy low brow carrier down south in Atlanta (air tran). They would have just turned Midwest in to another low cost carrier.
Granted, Midwest was better 10 years ago back when they offered real silverware, Chinaware, table cloths and all the other good stuff you get in first class. Glad they still offer the 2+2 seating on their aircraft and fresh baked on-board cookies.
I had to buy a beverage that was distinctly Wisconsin that I can't get on any other airline. Of course that would be Leinenkugels beer. Ok it's not the best beer but it's tied to Wisconsin just as Midwest Airlines.
I meant to take a photo of my Best Care meal but I was so damn hungry by the time the food came around and forgot to take the picture until my meal was half finished.
This was my first time on a 717 and I think it's a shame that this aircraft is out of production. What a magnificent aircraft! Very comfortable too. Of course Midwest 2+2 seating configuration helps. My seat was 3D, way up front. The flight was virtually silent. I had the bookends of the DC-9/MD-80/717 family. The loudest plane of this series in the loudest seat 24-A on a DC-9 and the most silent of this series in the most quiet seat/section on a 717.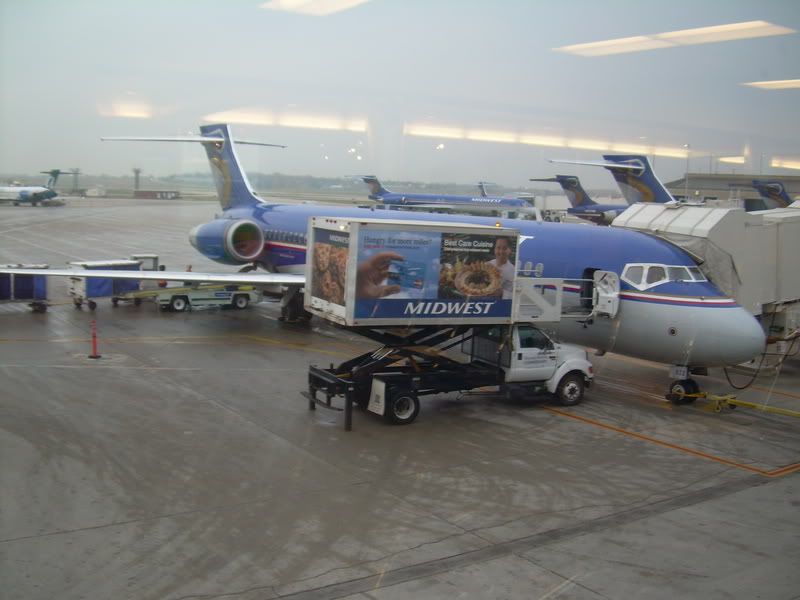 N922ME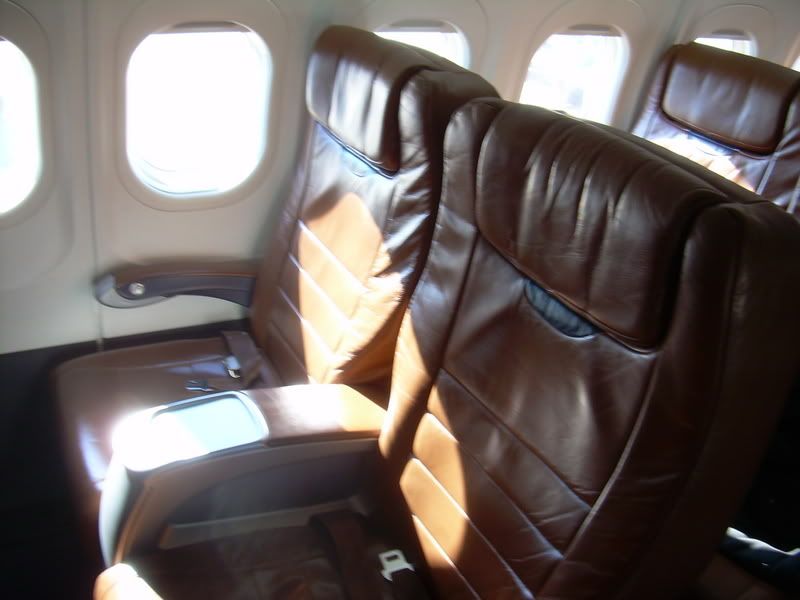 My seat 3D
I highly recommend flying Midwest 717 Signature Series flights if you can.
Oh and finally Southwest Airlines was a fun experience as always from Los Angeles to Oakland.