This is a brief report of my recent trip to Madrid for Thanksgiving.
Having lived in Madrid for a year four years ago we have kept a tradition of going back to visit for Thanksgiving break. The first time we went for Thanksgiving we flew KLM via AMS and the last two years we have flown Air France via CDG. I thought this year it would be nice for a change and continentally Swiss was offering very low fares.
I was quite excited about going through ZRH as it can be considered a spotters mecca!
November 15, 2007
Swiss International Air Lines
LX017 JFK-ZRH
JFK Terminal 1, Gate 2
ZRH Terminal E, Gate 23
A340-313X HB-JMA
ETD 6:10pm ATD 7:08pm
ETA 8:30am ATA 8:20am
Seats 34A, 35AB
Leaving Poughkeepsie at 1:30pm we arrived at the JFK Long-Term Parking lot around 3:15pm and took the AirTrain to Terminal 1 after parking are car. After entering Terminal 1 we headed over to the Swiss check in which is located at the far left end of the terminal next to Austrian Airlines. The line was very short and in no time we were checking in for our flight. A rather clueless check in staff gave us our boarding passes for the flight to ZRH and our connecting boarding passes for the flight to MAD.
After checking in we had to take our bags to a security bag drop off located right next to the Austrian check in and afterwards we headed over to the security check point located in the middle of the terminal. The line for security was rather long as the departure rush hour for Terminal 1 was starting to pick up. Once through security 20 minutes later we headed over to our gate which was #2 and again located right next to the Austrian 767-300 flight to VIE.
We waited at the gate for a few moments and watched our aircraft coming into the gate after arriving from ZRH at 4:00pm and then headed over to the Panini Express located in the second concourse of Terminal 1 which has a majority of the gates. After purchasing a Caesar Salad and a cup of soup we headed over to the seating area which is located directly in front of gates 10 and 11 and watched 31L departures for a while.
At 5pm we headed back over to our gate area since boarding was scheduled to commence at 5:15pm. Of course boarding did not start until 5:30pm but we joined the queue after hearing our section of rows announced and entered the aircraft.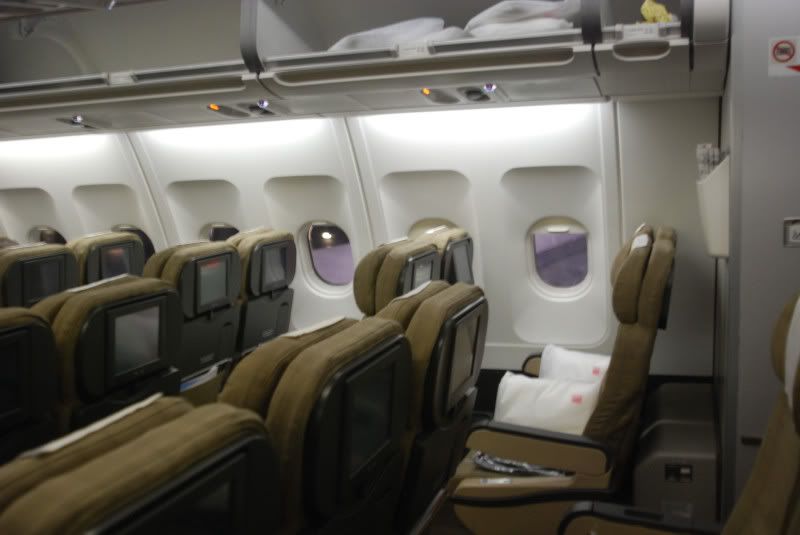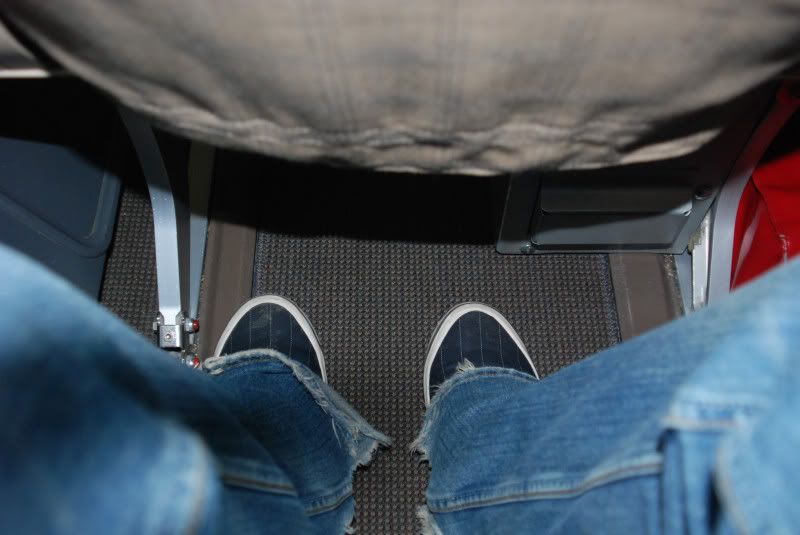 After entering the A340 we passed through the rather large business class section and back into the economy rows and found our seats. The seats were rather comfortable and the PTVs were huge! Boarding continued for 15 more minutes and then the safety procedure video was started while we commenced our push back.
Taxi to runway 31L was the normal length and we entered the take off queue as number 12. Finally after KL642 to AMS had lifted off from runway 31L it was our turn and we were quickly off the ground and turning over Howard Beach. The climb was rather bumpy and turbulent but finally we made it to our cruising altitude. The AVOD IFE system was turned on and I began to watch No Reservations while the beginning of our dinner service started.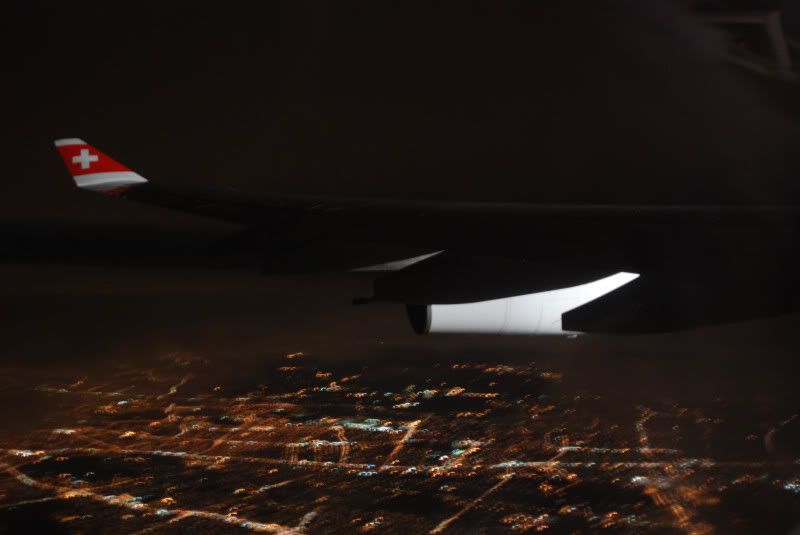 A bag of pretzels was handed out along with drinks and about 10 minutes later dinner was handed out which was a choice between Pasta or Chicken. I chose the pasta which consisted of penne and ravioli in a white sauce. The pasta was rather tasteless and was not very good unfortunately.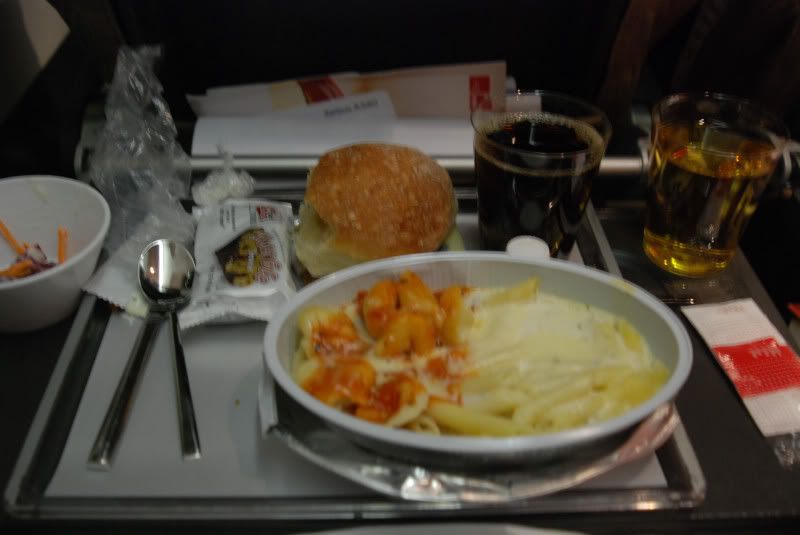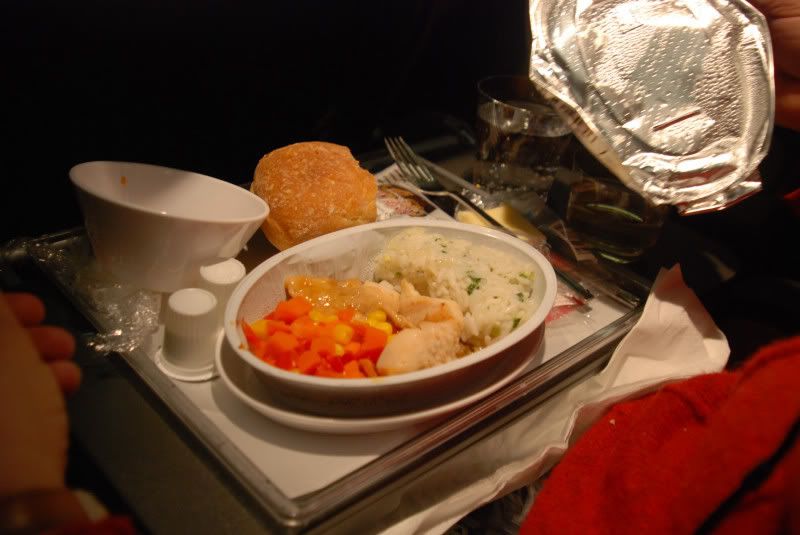 After the meal duty free came around and then the lights in the cabin were turned off allowing people to sleep. I continued to watch No Reservations and afterwards License to Wed and Transformers.
While flying over Paris the lights were brutally turned on awakening the cabin. We were approaching our 6th hour of flying out of 7 and the breakfast service started. The breakfast was a croissant served with a strawberry/banana yogurt.
We started our descent into Zurich and after passing the beginning of the Swiss Alps dropped into the clouds and approached runway 14 where we made a smooth landing 10 minutes before schedule.
We docked at Terminal E, gate 23 next to a line of Swiss heavies and deplaned.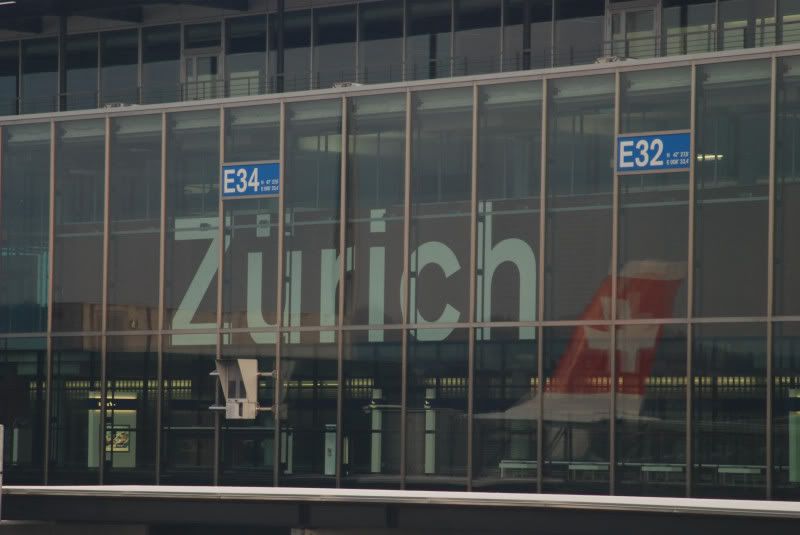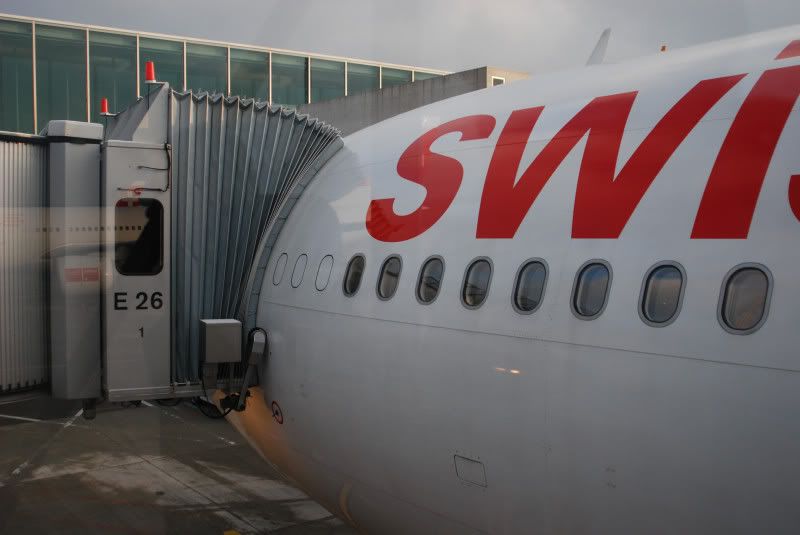 After deplaning we made our way to the transfer underground train to Terminal A. Surprisingly more then half of our flight was connecting onto Tel Aviv and other destinations which made our process through immigration extremely fast! We were connecting onto Madrid but our flight did not leave until 4:05pm so that we could have time in Zurich to spot.
We spent the 8 hour layover spotting at the Terminal B observation deck.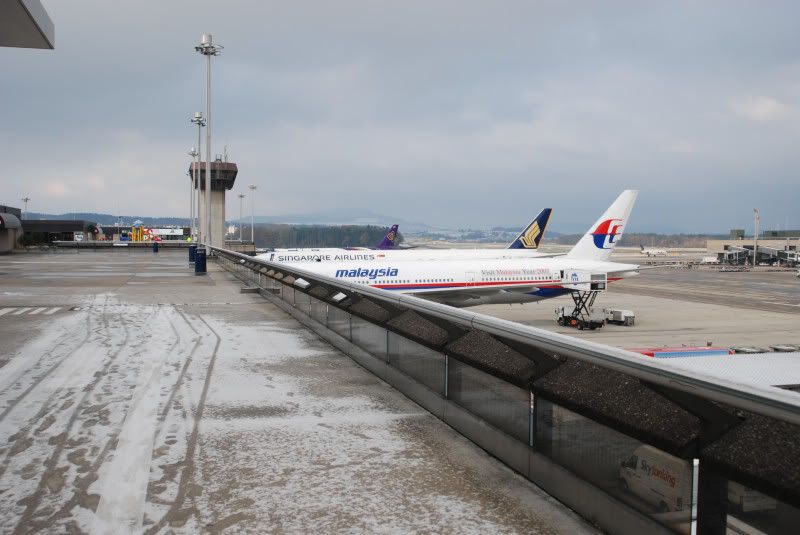 November 16, 2007
Swiss International Air Lines
LX2032 ZRH-MAD
ZRH Terminal A, Gate 83
MAD Terminal 1, Gate 20
A320 HB-IJP
ETD 4:05pm ATD 4:20pm
ETA 7:00pm ATA 7:10pm
Seats 16ABC
After spending the majority of our layover spotting at the Terminal B concourse we proceeded back into the terminal and over to passport control because we already had our connecting boarding passes.
We walked through the airside center and followed the signs to Concourse A. Our gate was A83 so we had a bit of a walk through the concourse but finally arrived at our gate.
Boarding was on schedule and we entered the aircraft and sat down in row 16. The seats were a nice leather and were pretty comfortable. We pushed back on time however we had to wait a bit for take off.
Once in the air I fell asleep and did not wake up until after we had landed so I apologize for not having much to say about this flight. Apparently there was a sandwich served.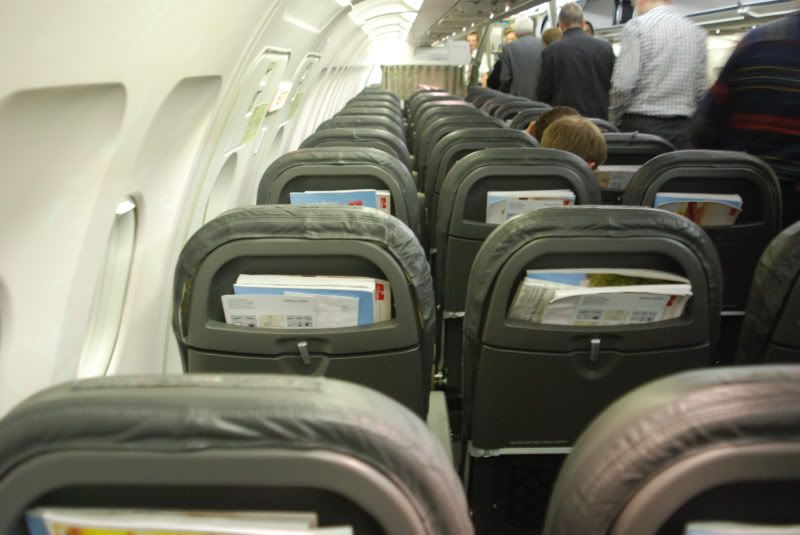 Welcome to Madrid!