Hi
I came across my notes on a trip to Japan in November 2006. So, just a year ago and might still be interesting for you to read.
Purpose of this short trip was my attendance to a seminar with my employer. Duration of this seminar was only 2 days. Only problem was my return. After checking our reservation system, I found our own return flight being full with waiting list. No chance to get on, especially not in Business Class. Therefore I got myself issued a single on KLM, but also World Business Class was full. Economy still available.
As I had to go anyway, I always have the feeling that KL's Y class is more convenient for me, with a bit more legroom, the IFE and the earlier arrival time at AMS.
So, here we go…
I was dropped by my friend at departure level, lounge 3, for my flight to Tokyo. I used the Executive Class counter with my electronic ticket and was helped by a friendly Menzies staff. Menzies Aviation is the current handling agent for JAL at AMS, and they do a pretty professional business. The JAL representative said goodbye to me, and I was off through passport control.
Basically I was able to use the Sakura Lounge for some refreshments, but I also had to cash some Euro's (to exchange in Japan) at the dispenser, to buy some magazines and I wanted to stroll around the taxfree shopping area. Time flies, and I really had to start my journey towards the departure gate, E19. This gate is the last gate at the E-concourse, and basically the standard gate for JAL flights nowadays. The walk takes about 15 minutes from the central lounge.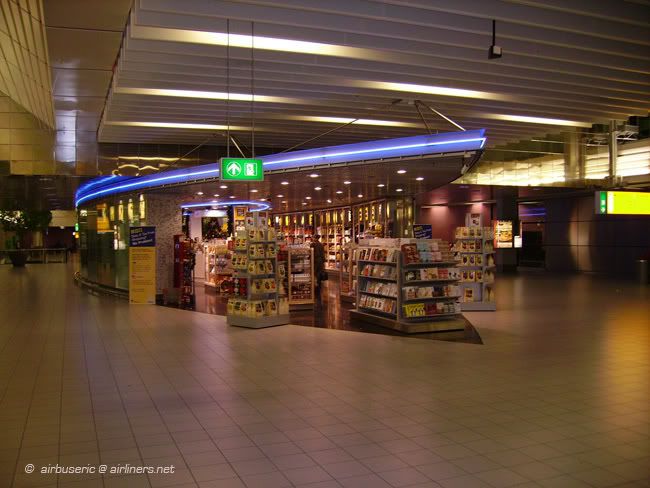 Taxfree-shop at Amsterdam Airport , E-concourse
At the gate, I had a small talk with some collegues. They checked if the seat next to me was still vacant, but it wasn't. A lot of seats were still open in the middle rows, and I was hoping that the fellow passenger was moving to another seat during the flight. So, I kept my boarding pass, and entered the pre-boarding area. JAL always blocks of a dedicated part for Executive Class passengers, which is very convenient. Boarding started at 19:45hrs. Business Class passengers use a dedicated aviobridge at AMS.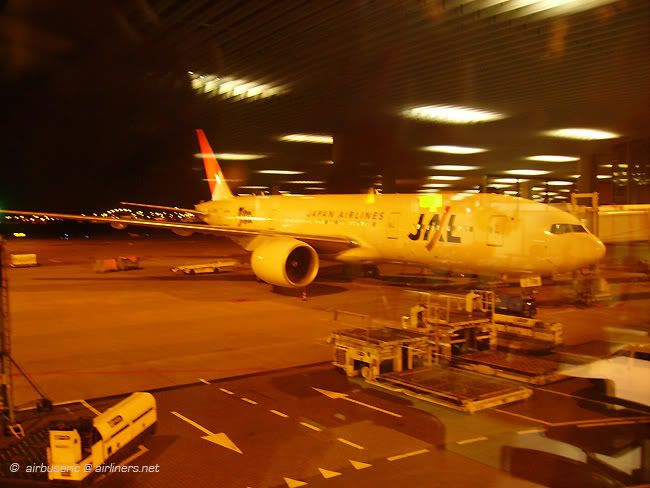 My B777-200ER waiting: JA709J (including Yokoso! Japan stickers)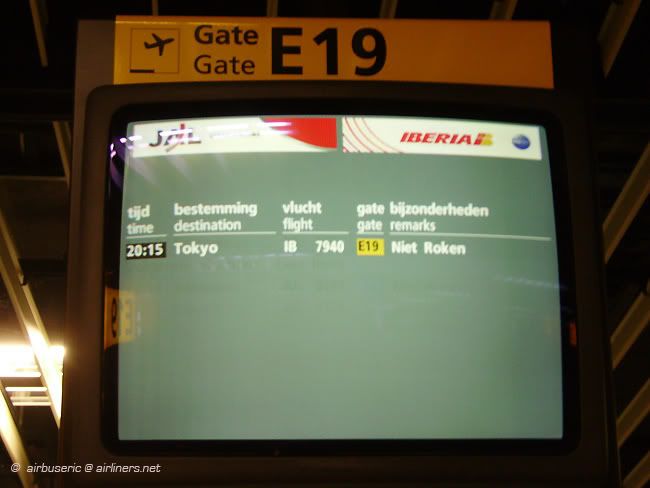 My flight announced on the screen at the gate, codeshare with Iberia

AMS-NRT
Flight No.:
JL412
Date:
13NOV06
STD:
2015
ATD:
2010
STA:
1550
ATA:
1527
A/C:
Boeing 777-200ER
Reg No.:
JA709J
Seat:
08D – Executive 'Seasons' Class
View Large
View Medium


Photo © Eric Meijer
My 5th ride on the Boeing 777-200, and the first on this machine.
I was greeted and directed to my seat by a female flight attendant. She also took my jacket and brought it to a wardrobe. I settled myself in seat 10A and was happy with my window seat. This changed when the other passenger took seat of 10C next to me and started talking almost immediately about his work etc. This passenger was from Australia, and didn't seem in the mood to move himself into another seat for some private rest. So I kindly told him that I was tired and wanted to sleep, and I moved myself to my new seat: 8D. Aisle side in the middle block. Layout on the JL 777's in C class is 2 – 3 – 2. Complete configuration on this Triple Seven is 56 Business 212 Economy Class.

Cabin JAL B777 in Executive 'Seasons' Class during inflight
We departed ahead of schedule, also a common thing on the JAL flights at AMS. The whole team working for this airline is very sophisticated and minimize or avoid any delays.
During taxiing, the safety demonstration was shown on the main screens and also the personal screens. Cabin crew checked the necessary items in the cabin before takeoff. After the video finished, the nose camera was switched on and a 'birds eye view' came on the screens. Now, everybody can enjoy the view on runway and takeoff in this rather different way. JAL also got this feature on their 747-400's. After 10 minutes we lined up for a runway 24 departure. The powerful GE-90 engines perfomed some great action and sound great! Load was not full today, and we got airborne rather quickly.
After being in the air, we turned to the left and the flightcrew, captain Matsuno and F/O Hatta brought us further to flightlevel 330 (33,000ft).
Hot towels was handed out by the crew, and also collected again shortly after. Also the menu was distributed. After some minutes, the crew asked me what I wanted to eat.
MENU
Western Style
Starter:
Foie Gras with Truffle
Salmon Rose with Salmon Roe
Marinated Prawn
Grilled Artichike
Consomme Soup with Cabbage & Tomato
Main Course:
Beef Niçoise (in tomato & olive sauce, accompanied by mashed potato & spinach)
Or
Seafood Bouillabaisse Style (Fresh lobster, scallop & prawn, served in soup style, accompanied by chateau potatoes)
Fresh Salad
Bread or Steamed Rice
Dessert:
Cheese & Fresh Fruits
Raspberry Mousse Cake
Apple Pie with Custard Sauce
Coffee or Tea with Petit Fours
Japanese Style
Zensai
Poached Lobster with Sea Urchin
Foie Gras in Jelly
Salmon ''Oshi Sushi''
Wasabi Flavored Herring in Lime Cup
Mixed Asparagus with Egg Yolk
Mukouzuke
Eel Teriyaki with Sweet Vinegar Sauce
Kobachi
Soybean Milk Custard in Jelly
Dainomono
Poached Assorted Seafood & Vegetables in Sweet Soy Sauce
Steamed Rice, Japanese Pickles, Miso Soup
Dessert the same as with Western Style menu.
I told the crew to take the Japanese option tonight, to get in the Japanese mood for my short trip. Shortly after, another crewmember gave me a small appetizer with the famous Otsumami (Japanese Rice crackers) and I was able to take a good glass of Labouré Roi Chablis 2004 (white wine).
Other choices to drink were white wines, including a German Riesling 2005 and a French Lacheteau Vouvray 2004.
Red Wines available were Château Beau-Site 2002 Saint-Estèphe and Dépagneux : Maranges Rouge 2005.
Also available was Piper Heidsieck Champagne.
Dinner came about 45 minutes after takeoff, and was very good. Although I prefer other carriers for their presentation of the food in Business Class on longhaul flights.
Wine was refilled all the time.

Small appetizer, and Labouré Roi Chablis 2004

Starter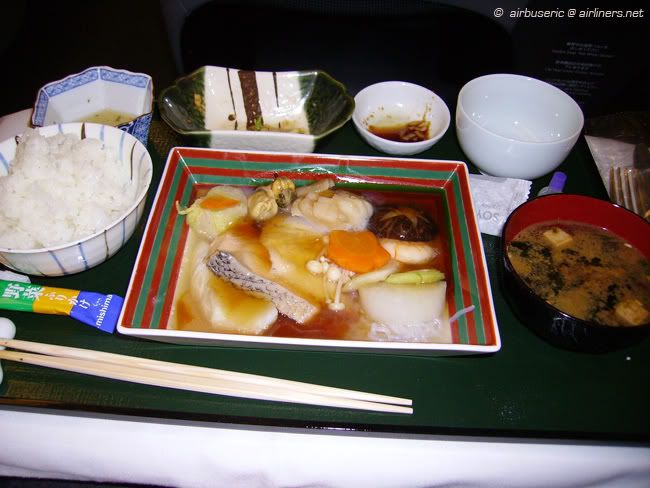 Main course, some plates already eaten by me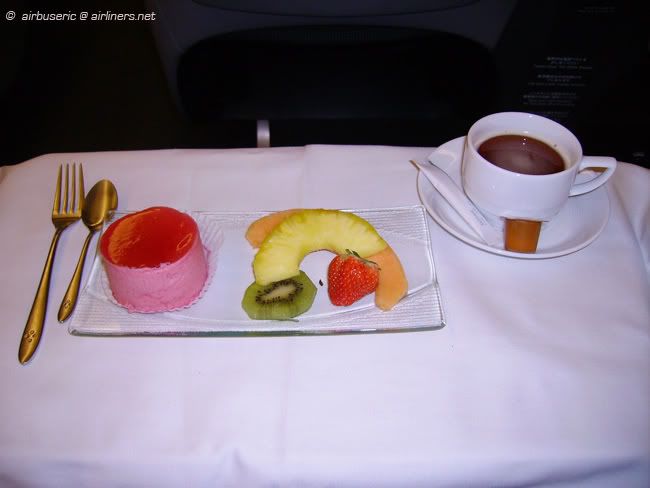 Dessert: Fruit & Raspberry Mousse Cake
After dinner service finished, I called the crew for a Bailey's with ice. When she brought it, I was surprised to see my drink without ice, but with a cup of Häagen-Dazs icecream. Not really what I was asking for, but nice anyway
.

LOL,… Bailey's on the Rocks?
Also disembarkation cards were handed out to foreigners, to be filled out when you want to enter Japan. Another crewmember came with a mix of amenities: earplugs, tooth brush, moisture mask, eyeshades. On JL, you won't find a small amenity kit bag which is more common on other carriers. Only take what you need; it might be the Japanese culture.
Before I wanted to rest a bit I decided to look into the JEN Guide (JAL Entertainment Network) and found an interesting mix of movies which were shown on demand e.g.;
Pirates of the Caribbean, Superman Returns, The Devil wears Prada and many others. Also 25 channels with different kinds of music are available and songs can be selected on demand, or make your own playlist. Further a large selection of games are ready to play.
Anyway, I listened to some music only and played some games. And felt asleep.
When I woke up after some hours, I found a small leaflet in the seatpocket:
''We will serve the second meal whenever you wish. Please make your selection from the menu''
This was an unknown service for me, and never read internal correspondence about it, so I decided to walk around the cabin a bit, by ending in the galley to check out the menu
. I'm always in the mood for some food when I'm on a plane.
I found the menu (with pictures) quite interesting, with about 12 different choices of food! This includes
rice dishes, with fish, sandwiches with some salad, pasta's and noodles.
I had a small talk with the flight attendant and I decided to take a pasta gorgonzola with cream sauce.
Later she brought it to my seat. And I've to say that the taste was good.

Second meal: Pasta Gorgonzola
Then it was time to check the lavatory. It was very clean inside, and JL offers 3 kind of lotions and moisturizers from the brand 'Shiseido'. A good selection. Also shavers and shaving cream can be found in the lavatory.

Self-Service bar with route-information
The rest of the flight in dark was uneventful. We climbed to flightlevel 365 (36,500ft) above Siberia. I read some magazines, slept a bit, etc. Nothing special. The seat is comfortable, with massage-function for the back. Cabin was calm, window shades closed. Until 1:45 minutes before arrival. Cabin lights were switched on a bit (not full) and people started to wakeup. I quickly went into a lavatory to shave myself (and to avoid queuing at a later moment before arrival).
The smell of fresh bread (croissants) and egg came through the cabin. Breakfast-Time! Breakfast was also available in 2 options: Japanese or Western. Now I decided for the Western one.
Breakfast
Japanese
Japanese Rice Porridge / Grilled Salmon Saikyo Miso Flavor / Fresh Fruits
Western
Scrambled Egg with Veal Sausage / Fresh Fruits / Yoghurt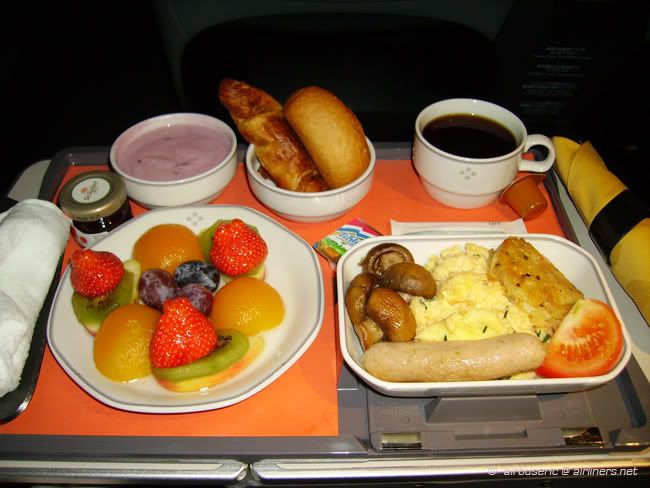 Breakfast on JAL's JL412
After breakfast service finished, the crew started cleaning up the cabin and preparing for arrival. The Japanese news channel came onto the main screens, later also a video which showed the Narita Airport Arrival procedures. This can be very helpful for first time visitors or the ones which are not used to large airports.
My jacket was returned about 30 minutes before arrival. Descending into Narita was calm, and at 15:20 local time we touched the concrete of runway 16L, the shortest runway at NRT. I was happy to see this runway use, which meant shorter taxiing to the arrival gate. Just 7 minutes later parking brakes were set at gate 88. Another longhaul flight ended here.
Disembarking the aircraft by use of a dedicated fingergate for Business Class. Including a friendly goodbye of the purser. Yokoso! Japan
*** *** ***
Very tired I was when I had to travel back home again, and it got even worse when I found out that the Business Class was really completely full today. Although I checked in at the Business Class counter, and was helped promptly. The staff was really sorry for me, and they showed my the seatmap for Economy, and I was able to choose any seat I wanted. I choose 10H, being the first row of Economy Class, and no seat in front of me. This was also a row of 2 seats, and H is aisle side. My boarding pass was given, and I was asked to pay about 2000 Yen departure tax. My staff travel ticket does not include any tax (taxes exempted) and I have to redeem this money from my employer afterwards.
After checkin I used the internet computers, which are located on various places in the terminal, to send an e-mail to home with my flight details. Later I went to the observation deck for some final spotting. I eventually also saw my aircraft arriving and taxiing to the gate.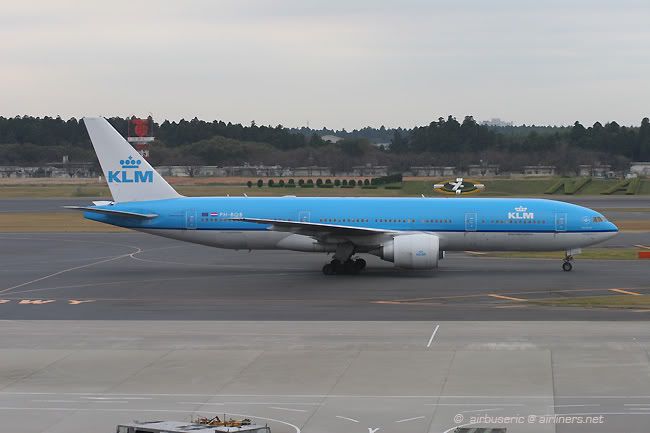 B777-200ER PH-BQB taxiing after arrival from Amsterdam
I passed passport control without problems, and directed myself through some taxfree shops where I spend my last Yen on souvenirs and sweets. Finally I reached gate 22, the aircraft was being readied for boarding. A lot of Dutch passengers on this flight, and noticeable a completely and louder public then I use to see on the JAL flights.
Boarding was announced on time, and the staff wished me a good flight.

NRT-AMS
Flight No.:
KL862
Date:
17NOV06
STD:
1220
ATD:
1221
STA:
1620
ATA:
1612
A/C:
Boeing 777-200ER
Reg No.:
PH-BQB
Seat:
10H – Economy Class
View Large
View Medium


Photo © Stuart Lawson [Airplane-Pictures]
My 6th ride on the Boeing 777-200, and the first on this machine.
I was greeted on board by about 4 crewmembers which were located near the entrance. I said hello and introduced myself as being staff member. I always tell them that, in case of trouble or emergency, they might contact me for assistance. This was received with pleasure by the purser and she wished me a good flight. She was also sorry for the 100% full flight today, but I said that obtained a quite good seat in Economy.
When seated, an introduction video on KLM was shown and followed by the safety demonstration. Next to me was a younger Japanese man, I think he was ill.
Blockout was almost on time, and we taxied to runway 34L for takeoff. After many heavy JAL's it was our turn. We took our position in the sky and were on the way home again. The climb to cruising level 315 (31,500ft) was calm.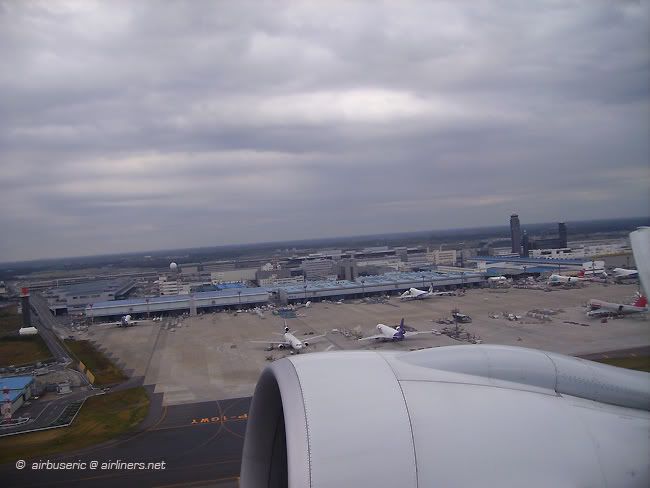 Cargo apron visible after takeoff on PH-BQB
Not long after takeoff, we were served a small bag of peanuts and a drink, also the menu was handed out. Choices between Japanese (fish dish) and Western (beef). As I never prefer to ear either beef or pork, I decided to take the fish. I also took a South-African made White Wine.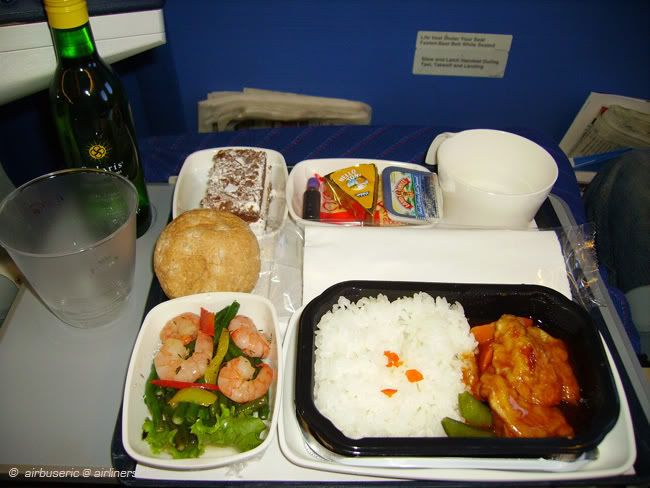 Dinner in Economy Class on KL862
When the dinnerservice finished, I looked into KLM's outstanding IFE system, which is on demand and have a large selection of movies and music albums. I decided to look the movie 'Zwartboek', a very good Dutch movie. This helped me trough about 2 hours of the flight.

Enroute information on the IFE system
After the movie finished, I walked around a bit, had a talk with the crew in the galley, and took a sandwich with smoked salmon back to my seat. I also looked a bit outside the window over the frozen Siberian landscape and listened to some music.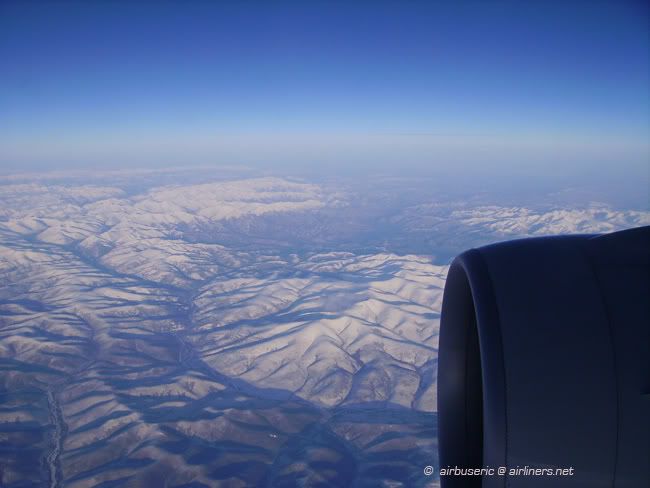 Cold and freezing Siberia below us…

Beautiful colours… and permafrost landscape of Siberia
About a hour later, crew came with a choice of noodles or icecream. I took the icecream and also got a baileys with it. I continued with sending a sms to my friend and reading the latest Dutch newspaper (from the day before), and felt asleep. I think the news was rather boring
.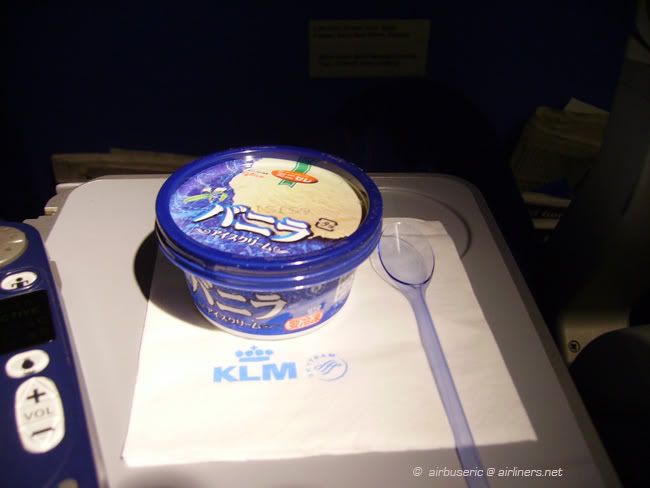 Icecream service!
During the flight we climber to flightlevel 335 (33,500ft) and experienced some heavier turbulence due to changing winds. This all happened somewhere between Pskov and Novgorod.
The complete routing was Tokyo-Khabarovsk-Jakutsk-Ekaterinburg-Arkhangelsk-St Petersburg-Copenhagen-Amsterdam
Roughly about 1½ hour before arrival we got served another meal, now being a Chicken Curry with salad, fresh fruit and a muffin. It all came in a carton snackbox.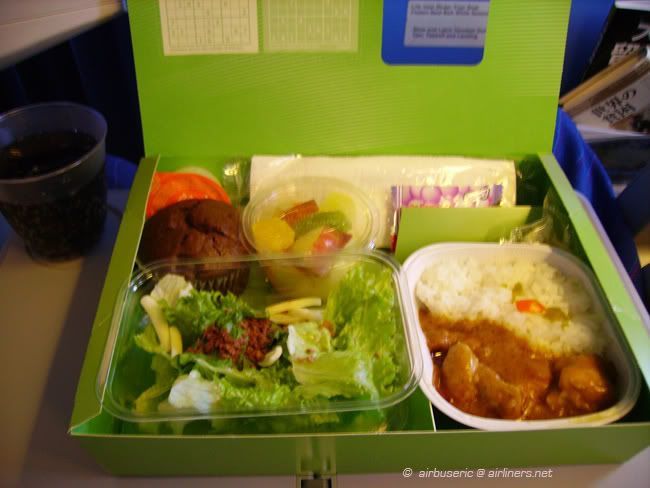 Another refill for the stomach, presented in a carton box
When everybody was finished their eating, the cabin was being prepared for landing. Then the purser came to me and said again sorry for the full Business Class. She hoped that I had a nice flight anyway, and gave a 'Delftblue KLM-house' with the liquor inside to me. She said this was the newest addition to the range of houses, and the collection number was 87. It's a replica of the 'Peperhuis' in Enkhuizen.
We landed on runway 18R and finally parked at gate E9, about 10 minutes ahead of schedule.
To conclude this report, I would say that JL offers a supreme product. Helpful crew, solid service level, nice choice of meals, good seat, quiet flight. Time schedule of the JL411/412 is worse then KLM's KL861/862. When you fly JAL to Tokyo, you will enjoy the typical Japanese way of flying. The extra meal inflight is a big extra now. A big plus here!
KLM did also a good job. Although I ended up in Economy, the crew was very nice to me and were in for a chat. Also the present at the end was not necessary, but very well respected by me. Thank you!
Overall, the KLM 777 was just 3 years old when I flew her, and the cabin showed a bit 'used' to me, and the seat was a bit hard and therefore rather uncomfortable for the long flight. But, KLM's IFE is really nice nowadays (on the B777 and A330's) and better then on JL.
I hoped you enjoyed reading my story. Please comments and your replies below
Thank you!
Eric