Feedback always appreciated.
Trip Report: 032
Flight Category: J-ILR (See Report End)
Date: 04-Sep-07
SDT/SAT/Delay: 2030/0600/08:30 hrs
Flight:
KLM KL 562
, 3941 miles
Routing: EBB-AMS
Aircraft: 332
Seat: World Business Class, 1J
I > Background:
Ok, I am back! After taking a sabbatical from trip reports for 5 months, here is the first installation from a series of trip reports. Mid-August to mid-November 2007 saw the craziest of my travel plans. 69 flights totalling 175,028 kms on 35 airlines, visiting 49 airports in 34 countries in all 6 continents. And, here is the best part ... all of them were part of a 4month break from life ... pure vacation, and pure food for the mind, body, and soul. Together, they mounted to 21/2 round-the-worlds that was truly insane. As usual, all long haul flights were on Business or First Class; short haul was on Economy Class.
As I have tried for A.Net audience in the past, several of the reports will be firsts on A.Net. These include either first time airline coverages, routes, airports, flights, or countries.
This report on KLM's EBB-AMS will be the first for the segment, and the first out of Uganda. At least, that's what preliminary searches indicate. The reason for the trip was to do a trip to Jinja for some amazing white water rafting, and also finally have crossed the Equator on each and every country on earth. Yes, I am a dork.
II > Pre-Flight:
a) Before Airport:
Booking was done using KLM's excellent booking interface at
www.klm.com.
eTickets were immediately issued via email on my one-way EBB-AMS-MOW routing. I was unable to choose my seat for some reason. Since at the time of purchase I just happen to be in Netherlands, I called their number and the English speaking attendant was super rude in confirming the seat of choice. Apparently their had been a spate of operational issues at AMS and lots of missed flights ... so he said, "I need to do this non-essential thing now?" Whatever. Anyway, so I wish I could choose and modify my seat. Every airline should have that!
b) At Airport:
They were having major reconstruction work at the airport. Thankfully the departure side was not as much of a mess like the arrivals side was. The arrivals side was basically a warehouse. So to enter the airport, one security guard checks your ID and ticket and warns you that you cannot come out. Then like airports in India and some Middle Eastern countries, your check bag is scanned, and then you appear the departure check-in area. KLM was the only flight departing and the economy queue was LONG. It snaked itself into several loops and there was utter chaos. The Business class queue had a 10 minute wait, and before you could actually see the agent, your passport was checked to make sure you had the necessary permission to enter Netherlands. The people doing these passport checks were super high-handed and rude. While I understand the airline is responsible for checking these documents, these agents went about it in a completely wrong way. One agent (who apparently turned out to be the airport manager) screamed at a helpless Brazilian who was trying to explain that he did not need a visa to enter EU. He threw his passport on the airport counter and threatened to call the police. The poor guy (who spoke very little English) was in tears, and I had to make my way to translate and ensure that he got onboard! I later spoke to an Indian who sat next to me in J, and he complained about the airport manager as well ... this guy had a 4 book passport and seen the world, and the airport duty manager accused him of being a "human smuggler"! On a personal note, I had no drama and was able to check-in with ease. However, my seat assignment had magically disappeared and I was assigned 1J. I was not in the mood to argue. C'est la vie.
After a quick immigration I went to the bare-bone lounge and made myself a stiff drink, and finally made it to the gate just after last call. It was great to walk on the tarmac of a balmy night and see the KL 332 looking splendid under lights. I was thinking of how calm everything looked ... and how the (old) airport might have looked during the horrible ElAl hijacking. Upon finally boarding, I was greeted by 2 friendly KL flight crew. One of them offered me a choice of drink, and I was more than happy to have a glass of champagne. The 332 looked good, and was in top condition. J class load was a very healthy 95%. I am sure KL does very well on this route.
Oh, one bizarre thing ... while embarking, I saw a THAI ONE-TWO-GO 747 at EBB ... any idea what the hell it was doing here? I took a picture, but cannot seem to locate it. It was a very strange sight. Insights?
Airport - External:
(Entebbe Airport)
Check-In: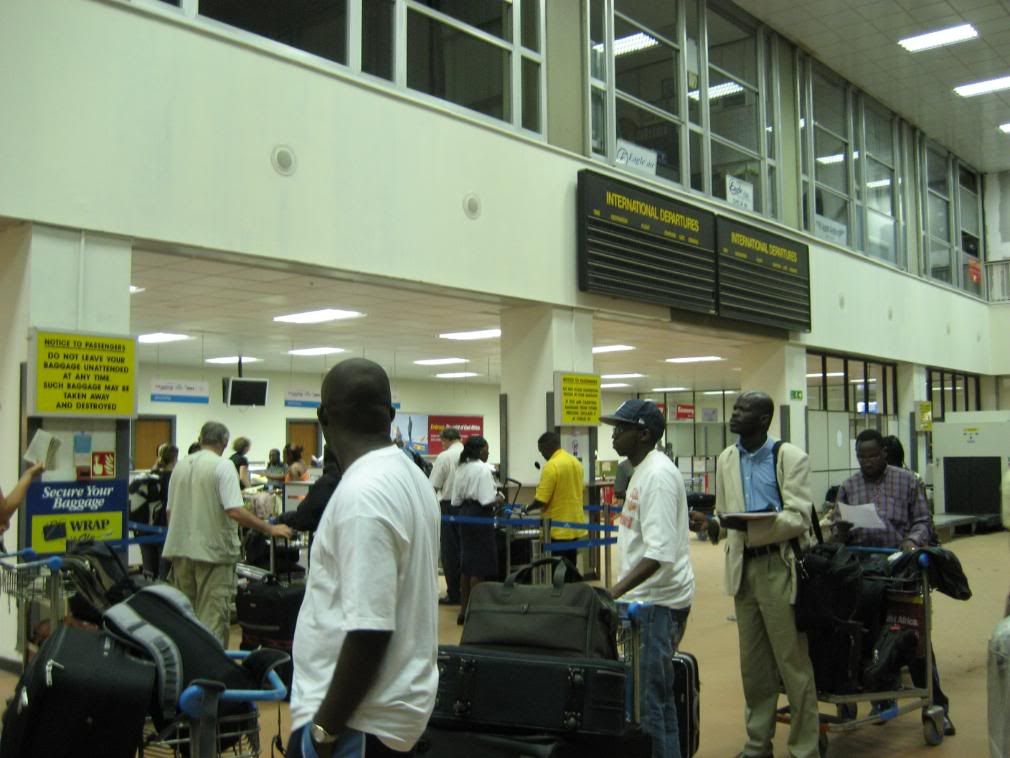 Airport - Internal:
(Pre check-in)
(Post immigrations)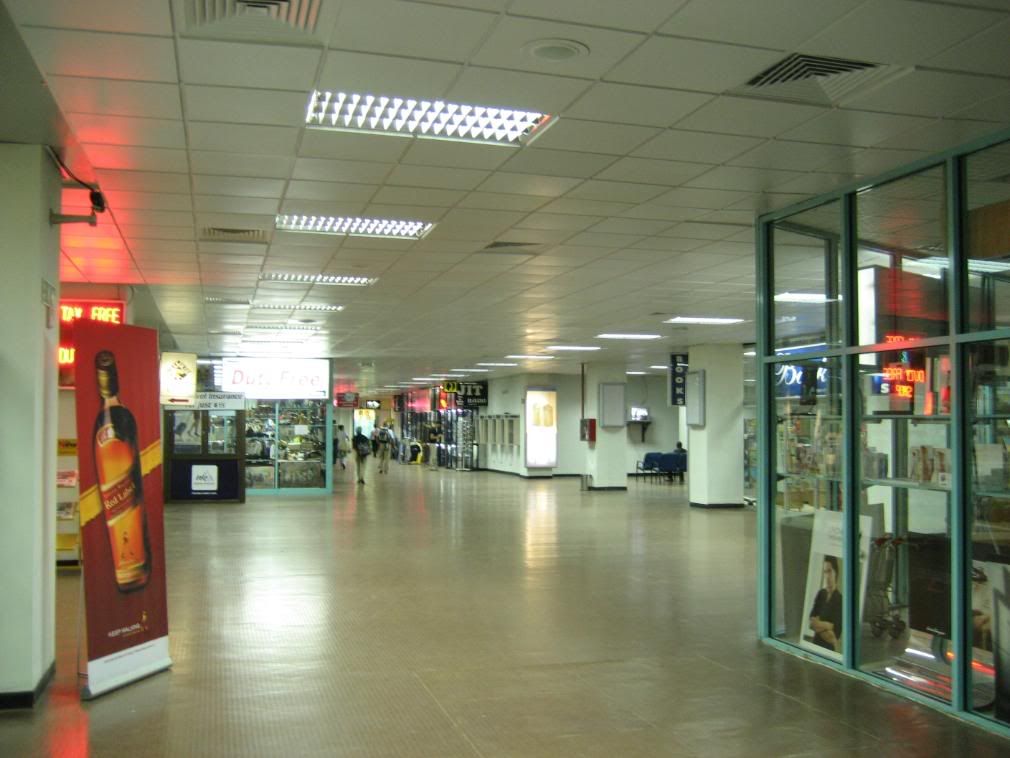 Scenes of the tarmac:
NONE
Lounge
(As in most other African airports, one lounge for all airlines)
(Arr./Dep. screens)
(Tasty samosas)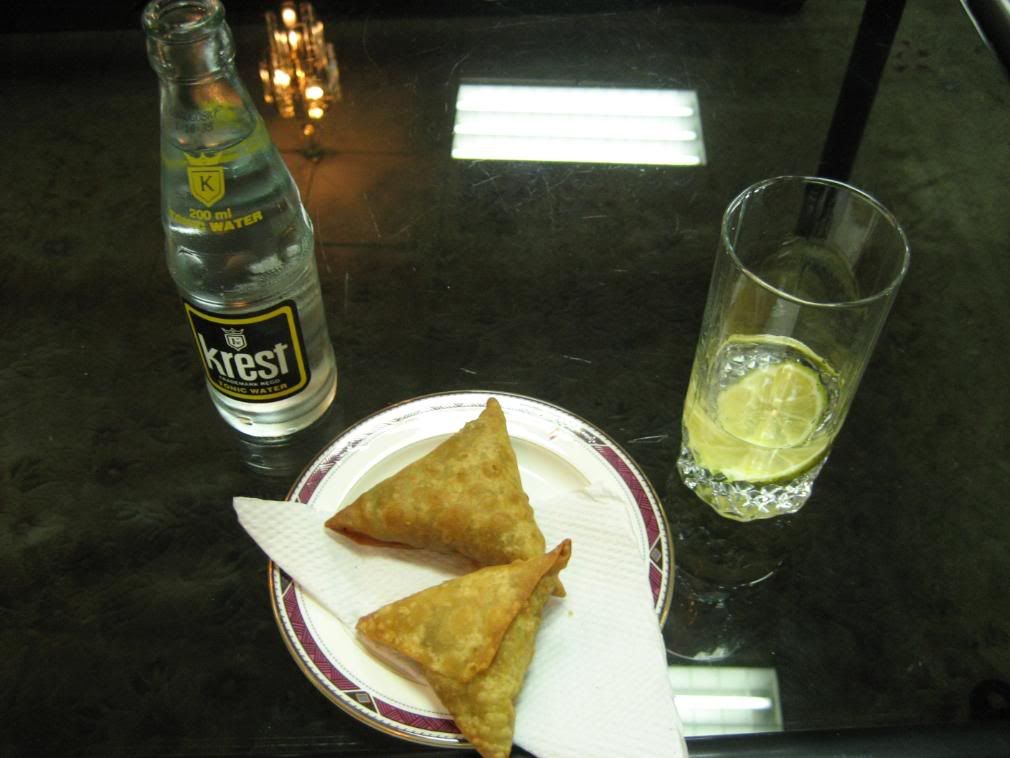 Boarding:
NONE
III> In-Flight:
a) Service Schedule + Impressions:
Welcome drink choice of champagne, orange juice, and water. Menus for breakfast and an option to "tick" your choice (later to be collected by crew) were on the seat upon embarkation. Also on the seat was a very useful amenity kit. Service commenced immediately after takeoff with hot towels and a "drink-n-nut" service, followed by dinner. I had a quick nap on the rather uncomfortable seat after exploring their relatively generous IFE. 90 minutes to landing, a full breakfast service commenced followed by my FAVOURITE part of flying KLM ... their "blue little Dutch houses" gift. It was brought in a tray so collectors like myself can choose ... I actually now have all but one; if there is any KLM staff reading this, how can I get the one I am missing? I have been looking for it for the past 9 KLM flights this year! Can I just take this moment to say how much I enjoy this little gift? This used to be the norm in J and F class ... and while most airlines have done away with this tradition, I sincerely appreciate and enjoy KLM keeping it! Oh, a thoughtful gesture was to provide sealed plastic bags for the gifts for those transferring at AMS to comply with EU security regulations.
b) Aircraft + Seats:
The 332 was kept clean throughout the aircraft, and especially in J. Even though it was a relatively new aircraft, the cabin felt a little antiquated (cannot really explain, check one of the pictures). However, I
HATE
the J class seats. While they are comfortable to sit on, I always found recline posture to be just odd. There are better angular-flat seats out there (SQ Raffles is one of them); this one has weird fold points which makes your body cringe at several points because the "bed" has several uneven fold points. However, unlike some angular flat arrangements (example: AF, AA), I found the overall room to be much more satisfactory. I could be in several recline modes without having the need to cramp and position my leg in some awkward manner. Interestingly, I had a conversation later with the FA, and he bitched about how much these seats are hated. I wish KLM would change these seats ... but with the way AF treats KL as the evil step-child with limited investments, it might be wishful thinking. Oh, one random comment ... I LOVE the KLM pillow. Super comfortable.
Aircraft: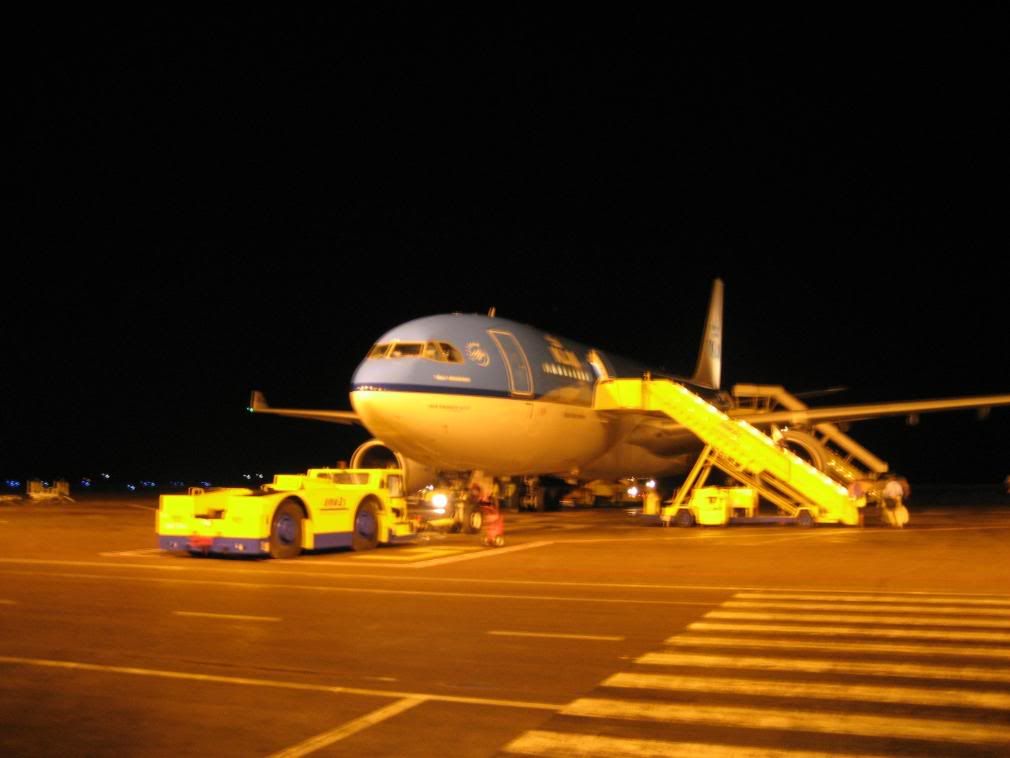 Views from Aircraft:
NONE
Seat Leg-Room:
Seat Recline + Angle View: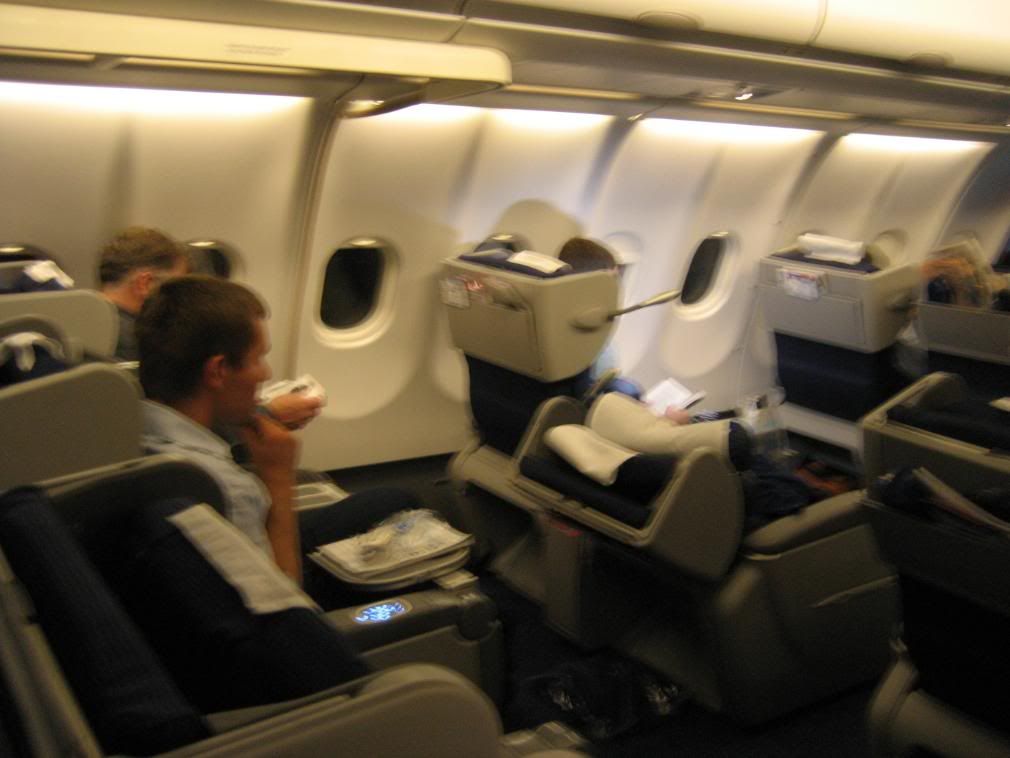 Cabin:
c) Meal + Beverage:
I think the best way to describe KLM's meal and beverage service is inconsistent ... and it seemed that my catering (bad) luck from my earlier
Air France: CDG-JNB
flight carried a little here as well. I will explain later.
KLM has 2 meal service on this flight. A dinner service, and a pre-arrival breakfast "a la carte" service. Service began soon after take off with some warm nuts and a stiff gin and tonic.
Now here is where things became amusing ... for dinner, there was a choice between a fish and chicken (see menu) ... catering had EBB had mislabeled the food options, and it made quite an interesting "hide and seek." For example, I had chosen the fish ... but got a plate marked "chicken". LOL. Anyway, the crew was excellent and apologetic for the snafu, and ensured that passengers got the dish they actually wanted. Also, the appetizer read "beef", but the reality was "salmon"
. I always maintain that the mark of a good/great airline are its crew, and their ability to "rise above" such adversities. Unlike my AF crew on CDG-JNB, the KLM crew were excellent in dealing with the situation and finding a good solution for all. While my actual Tilapia in a "creamy cheese and prawn sauce" was a little burnt, it was still excellent and the portion was huge! Finishing off the meal, was a little desert ... though interestingly, it was not advertised in the menu.
For some very weird reason, catering at EBB had ALSO messed up with the breakfast order. They somehow figured that I wanted an AVML. LOL. Maybe all the India flying had entered the KLM system and they had somehow extrapolated that I was just some Indian vegetarian. Haha, I would probably be the whitest Indian vegetarian out there. Anyway, the crew apologized again and volunteered to get me any meal I wanted from Y. Since I was not really hungry, I declined the offer and decided to "explore" my Indian breakfast ... unfortunately, my new Indian friend next to me and I both agreed that the meal looked anything BUT Indian, and did not look that great either. See for yourself. After having some rather large potatoes for dinner, I was not going to do the same for breakfast! Some of us have figures that need to be maintained! Breakfast service was finished off with some excellent tea options, and I have always enjoyed their healthy fruits and cereal on KL overnight flights.
Finally, while not top class, beverage service quality and options were far above industry J average.
(Breakfast pre-order form)
(Menu)
(Pre takeoff bubbly)
(Immediately followed by warm nuts and a stiff G&T)
(Notice the meal top and the actual meal)
(Ending with tea)
(AVML Breakfast)
d) Inflight Entertainment:
While not state-of-the-art, KLM's IFE is miles ahead of many of its counterparts, and certainly better than AF's. The screens are big and lucid, and the options for movies were at over 30. They had the option for SMS/EMAIL built in ... but of course like my other KL flights, it never seems to work. Can someone explain more about this?
(In-flight magazines, Boarding Passes, etc.)
(Can someone please explain this email option?)
(KL headphones, far superior than from its "mother" airline)
e) Crew:
Ok. Absolutely fantastic crew ... ESPECIALLY given this was an European airline! I usually find Euro-crews on transcontinental (NOT intra-Europe) flights to be normally very RLC and the better ones ERC ("Reserved Lazy Cold" read AF, and "Efficient Reserved Cold" read LH). They were always genuinely caring about their passenger needs, and I loved the way they handled the catering situation on board ... apologetic, and pro-active. You really cannot ask for more than that. After the meal service was done, I went to the galley and had a great conversation with the lead FA. He was very honest about his opinion on KLM and the future of the airline. It was great to see a knowledgeable crew who knew what he was talking about. So refreshing.
I think there should be a requirement made ... EVERY AF long distance cabin attendant needs to spend a stint with KLM and learn from them. The comparative service levels between the 2 airline really is heaven (KLM) and hell (AF). I put the airlines in bracket just in case my repeat did not give enough indications otherwise. Jajajajajajaja.
IV> Post-Flight:
Upon landing, a cheesy video about KLM was played using super 1990s images, followed by a really useful screen which contained gate information of all connecting passengers. I really wish more airlines did this! Again, the heaven and hell adjectives come to mind when comparing AMS and CDG. I absolutely adore AMS. Post flight, immigration was a breeze, and my bag was at the carousel even before I was there. This is how airports should be run!
(Cheesy arrival video)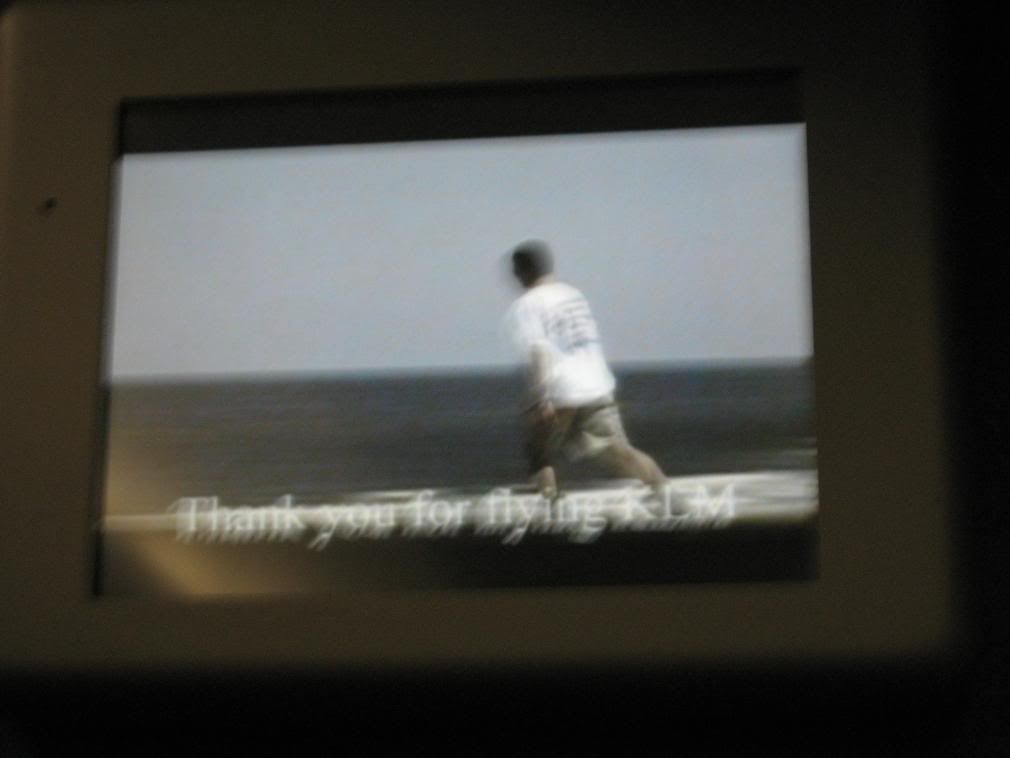 (Useful connection information)
(Amsterdam Schipol)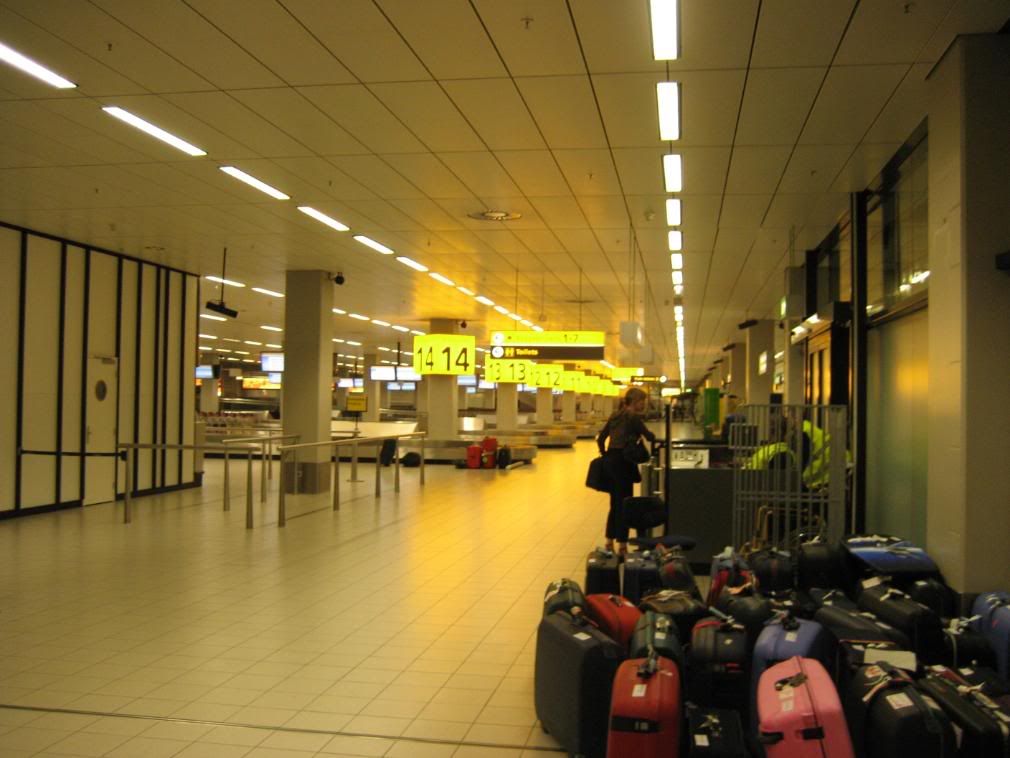 V> Impressions + Scores:
A mark of a great airline is consistently great service ... from booking the ticket to picking up the bags upon arrival. Absolutely horrendous ground agents at EBB and inconsistent catering ensured that this KLM flight would not be getting top marks. Moreover, KLM really does need to invest in new generation J seats. However, an excellent crew coupled with neat little touches (gifts, IFE, amenity kits) supplemented by an excellent AMS hub ensured that KLM remain as one of my favourite airlines in the Skyteam alliance. I absolutely recommend KLM for your next flight ... just make sure its not ex-EBB
.
Reservation: 7.0
Check-In: 2.0
Lounge: 5.0
Boarding: 8.0
Seat: 6.0
Aircraft Overall Ambience: 7.0
IFE: 8.0
Crew Service: 9.0
Food: 6.5
Beverages: 7.5
Amenity Kits + Others Freebies: 10.0 (First 10.0; primarily driven by "GIFT")
Disembarkation: 8.0
On-Time Record: 9.0
OVERALL IMPRESSION: 7.15
(Pre-flight average of all-reviews: 6.26)
(Scores are based on comparison with other airlines in THAT class of service ... No comparison of Y vs. F for example)
VI> Other Trip Reports:
1/
Avianca: BOG-LIM: 07/06/06: 7.09pts: Y-IMR
2/
Air Tran: EWR-MDW: 08/02/06: 6.73pts: Y-DMR
3/
West Jet: YYC-YVR: 09/05/06: 7.14pts: Y-DMR
4/
Air Canada: YYZ-YVR: 09/02/06: 5.92pts: Y-DLR
5/
Air Canada: ALB-YYZ: 09/01/06: 5.88pts: Y-ISR
6/
Singapore Airlines: EWR-SIN: 09/20/06: 7.81pts: J-ILR
7/
Adam Air: SIN-CGK: 09/22/06: 6.04: Y-ISR
8/
Valuair: CGK-SIN: 09/22/06: 5.04: Y-ISR
9/
Spice Jet: CCU-DEL: 09/25/06: 6.67: Y-DMR
10/
Indian: DEL-CCU: 09/26/06: 7.25: Y-DMR
11/
Air Sahara: CCU-BOM: 09/28/06: 4.42: Y-DMR
12/
Air Deccan: IXZ-CCU: 10/07/06: 5.75: Y-DMR
13/
Alliance: CCU-IXA: 10/08/06: 7.54: Y-DSR
14/
Kingfisher: IXA-GAU: 10/08/06: 8.21: Y-DSR
15/
Indigo: GAU-CCU: 10/08/06: 6.54: Y-DSR
16/
Singapore Airlines: CCU-SIN: 10/11/06: 5.88: J-IMR
17/
Air Canada: ICN-YYZ: 10/12/06: 7.13: J-ILR
18/
Delta AirLines: SEA-JFK: 11/24/06: 7.17: F-DLR
19/
USA 3000: PUJ-BDL: 01/06/07: 5.96: Y-IMR
20/
Viva Aerobus: CUN-JFK: 02/20/07: 4.58: Y-DSR
21/
Jet Blue: CUN-JFK: 02/20/07: 5.96: Y-IMR
22/
SAS Norge/Braathens: OSL-AES: 05/26/07: 5.75: Y-DSR
23/
TAP Air Portugal: OSL-LIS: 05/29/07: 5.46: Y-IMR
24/
Delta Airlines: JFK-CDG: 08/09/07: 7.85: J-ILR
25/
Air France: CDG-JNB: 08/10/07: 5.33: J-ILR
26/
LAM Mozambique: JNB-MPM: 08/13/07: 5.67: Y-ISR
27/
Transairways Mozambique: INH-MPM: 08/17/07: 6.08: Y-DSR
28/
Air Link Swaziland: MTS-JNB: 08/18/07: 6.17: Y-ISR
29/
Kenya Airways: NBO-BJM: 08/19/07: 6.17: Y-ISR
30/
Rwanda Air Express: KGL-NBO: 08/25/07: 5.96: Y-ISR
31/
Fly 540: MYD-LAU: 08/31/07: 4.83: Y-DSR
(Note on Codes: Y - Economy, J - Business, F = First :: I/D -" International/Domestic :: SR/MR/LR - Short/Medium/Long Haul :: I have designed these codes so people don'tt believe my scores are comparing apples with oranges)
VII> Other Pictures:
It has now become customary to share some images of the place I went to, and some other related aviation pictures. Hope everyone enjoys!
(Amenity kit + Gift)
(Here are some pictures of AMS from outbound flight)
(Kampala, Uganda as seen from the Sheraton hotel suite)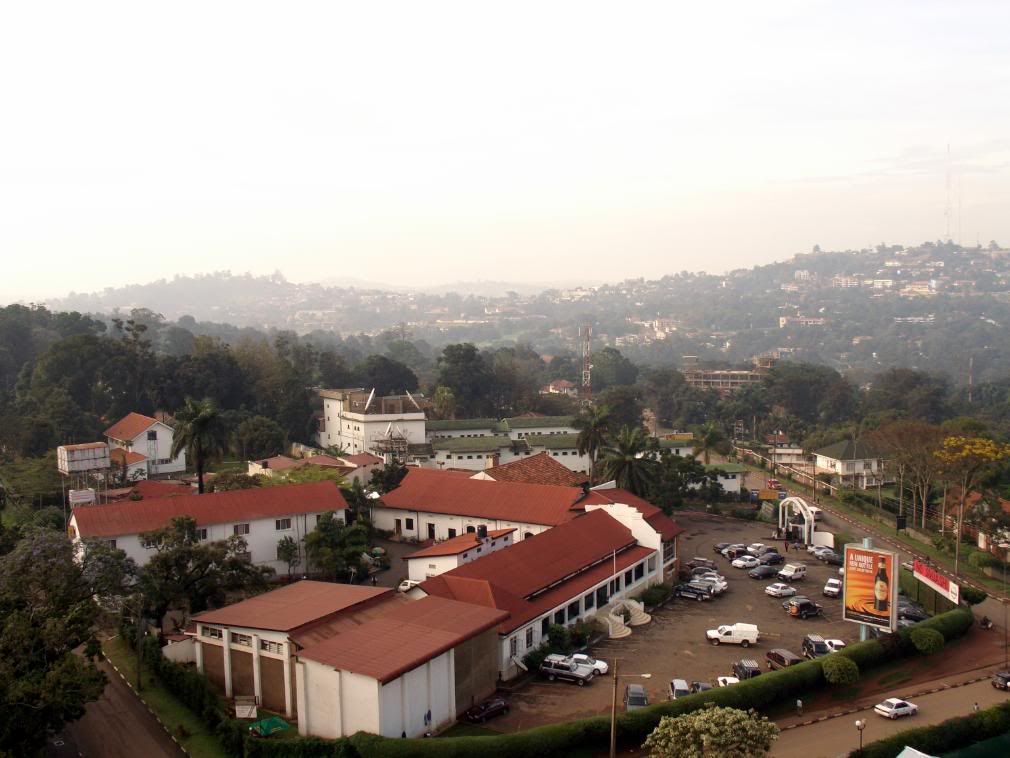 (YAY ... now having crossed the Equator in EVERY country)
(Road to Jinja)
(Awesome white water rafting at Jinja)