SIN-HKG-SIN In SQ Business
Posted: Wed Dec 26, 2007 7:41 pm
Introduction
I'm back with my 4th TR, yet another one on SQ. The year end holidays have come around (now almost over!) and my family decided to go to Hong Kong for the 2nd time in 3 years for our annual holiday. Because I had some school commitments, I was to join my family in HK, which meant my second time flying alone. I persuaded my father to redeem a J class ticket rather than Y, so I would have more 'respect' in the event of something going wrong. I deliberately chose SQ866 for the outbound and SQ1 for the return, I prefer the Spacebeds on the 744 over the regional 777s. The 77W would have been the best option, but for J only unrestricted upgrades are allowed (meaning double the amount of points required).
24 November 2007 SQ866
A/C type: Boeing 747-412
Reg: 9V-SPB
Seat: 17K
Scheduled Dep Time: 1330
Actual Dep Time: 1332
Dep Gate: F50
Scheduled Arr Time 1715
Actual Arr Time: 1710
Arr Gate: 29
Check-in
For once, I could leave the house early for a flight. My brother sent me to the airport and I proceeded to SQ's Business class counters to check-in. The check-in lady was polite and smiled occasionally. She even asked if it I was ok travel alone (I'm 17 and look small for my age), to which I replied in the affirmative. My boarding pass was handed to me, seat 17K, which I had requested. IMO, 17A and K are the best seats on SQ's 744s. They're upper deck emergency row (plenty of legroom) and window. I only checked 1 bag, which weighed a surprisingly hefty 8kg (maybe the airlines rig their scales???), so check-in was quickly done with. Overall it was a typical Changi level of service.
Immigration, Lounge and Boarding
Having a biometric passport really makes clearing immigration even faster at Changi. There's never a queue at the automated immigration clearance and as long as the machine scans the thumbprint properly, it's pretty quick. I made my to the SKL with slightly less than an hour to kill before boarding commenced at 1300. When my travelling with my family, we normally use the F side of SKL (thanks to my father's Solitaire status), unfortunately I'd to have to settle for the J section this time. I've complained many times about the F section of the SKL, but the J side is even worse. It's bigger, but it has a smaller selection of food. Especially at a 'non-peak' period like then, the amount of food and the service isn't quite up to scratch. There were only 4 hot dishes available. I helped myself to some food and plenty of water, knowing full well that I'd be having lunch on the plane later. If it's possible to get bored in a lounge, I managed it that day (and also later in HKG). By 1300, I was impatient to board and made my way to F50. There were already long queues for security by the time I got to the gate. Supposedly, there was a line for premium pax but evidently someone forgot to tell the staff who were doing the screening about it. At least, there was dedicated line for boarding. I boarded 9V-SPB, already annoyed with the way the day was going. I found my seat and waited quietly and impatiently in the hot cabin of the 744. A welcome drink was offered, juice as usual, as well as hot towels, reading materials and the menu. Finally at 1332, we pushed back and began a long taxi to 02C for takeoff.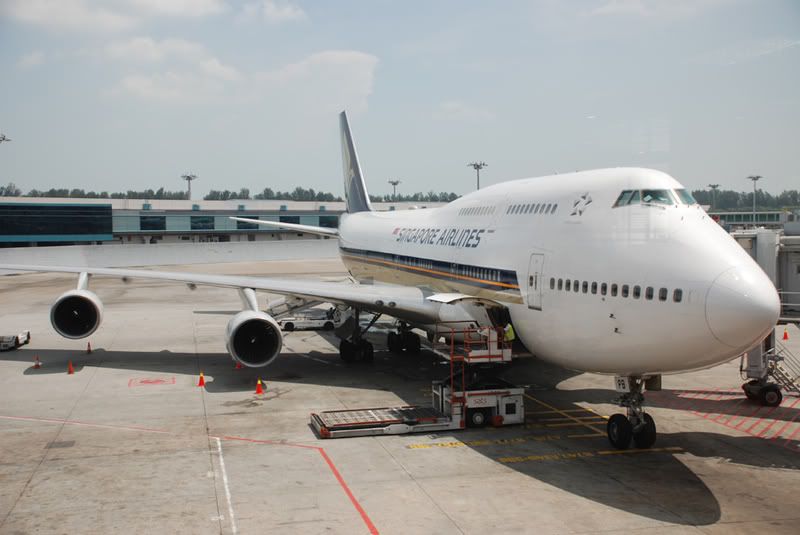 9V-SPB awaiting the full load of pax
climbing out of Changi
The flight
With no other traffic ahead, we turned onto 02C and took off immediately. We climbed steadily for a couple of minutes, before making a slight right turn. Earlier, the captain had announced that due to a tropical storm, we would be flying inland of Vietnam, instead of the normal route over the South China Sea. A post-takeoff drink was offered and orders for lunch were taken. For starter, there was hot smoked salmon with anchovy-garlic flavoured creamy dressing. There were 4 choices for the main course:
Ah Yat's style onion infused baked chicken with superior light soya sauce, seasonal vegetables and fried rice.
(exclusively created by Yeung Koon Yat of Forum Restaurant, Hong Kong)
Seared beef fillet in red wine sauce with spinach, carrot and mushroom
Char Siew and wanton noodle soup
Baked crusted Chilean bass with white wine sauce, broccolini, cherry tomatoes and pea mash
Dessert was lemon and lime sorbet with fruits salad, followed by the usual cheese board and fruit.
starter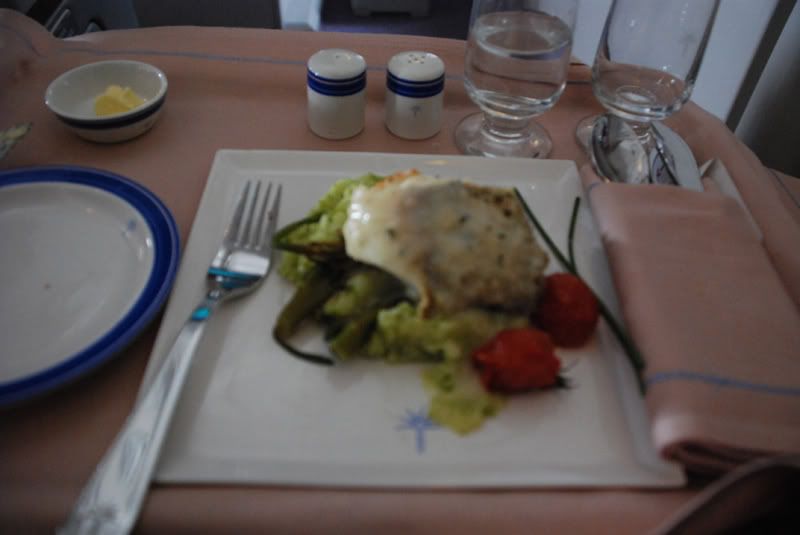 main course
dessert
When flying J on SQ, I've been tempted to use the 'Book the Cook' service. However, I've since decided to adopt a "see what the airline dares to serve" policy. Judging by feedback I've heard about the "Book the Cook", it's proven to be a sound policy thus far. I chose the bass for lunch and was not disappointed. The fish was fresh and nicely baked with a crisp outside. I dislike peas, but surprisingly the pea mash was excellent. It didn't really taste like peas, was well seasoned and skilfully mashed. Dessert was excellent as well. I asked for a cup of Early Grey tea to wash down my meal, this was duly delivered. I then asked for more sugar, this however never materialised. A small lapse in service by the crew, but a lapse nonetheless.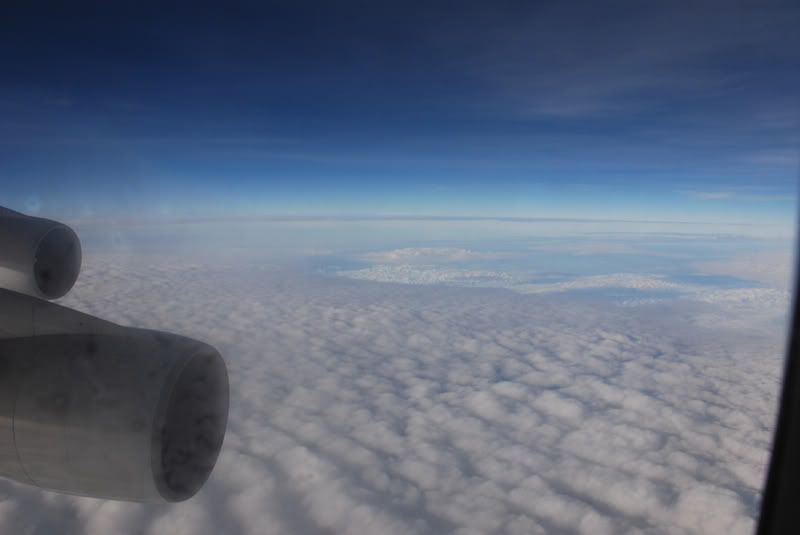 cruising at 41000ft
Normally, I don't have issues with the WISEMEN system, but this time something extremely annoying occurred. Every time I switched the mode from INT (interactive) to VID and than back to INT, the stupid thing would reset itself. I gave up trying to figure the thing out and resolved myself not to change anything. Other than this, the rest of the flight passed pleasantly, despite the near-constant turbulent weather.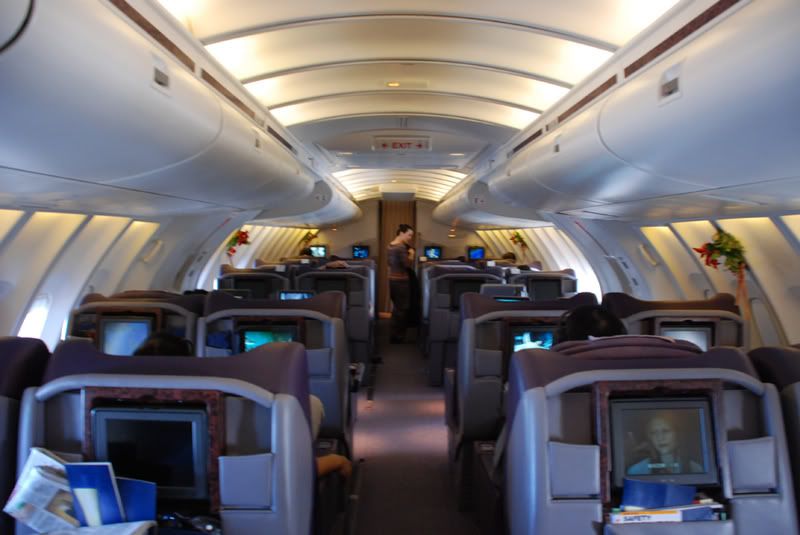 cabin as we began our descent
We began our approach into HKIA at 1635. The descent was smooth and at 1710 we touched down gently on 07L. We docked at gate 29, with a QR A346 (A7-AGA) for company on the right. This was my 3rd visit to HKIA, so I was familiar with the layout, and in any case, there's plenty of signage for lost pax. I cleared immigration and collected my bag pretty quickly (the walk from the gate could well have taken longer), and made my way out to meet my father.
Braking on 07L
beautiful sunset as we taxi to the gate
QR A346 A7-AGA parked next to us
Ratings
I've decided to add this to my TRs, I think it gives a better gauge of the experience.
Check-in: 7.5/10
The lady was polite enough and quick about the task, though not exactly very friendly.
Lounge and Boarding: 5/10
The SKL....well I think the less said the better. I just hope has got something good under renovation in T3. Boarding wasn't the best experience either, long queues and the missing priority security queue, despite the sign.
Service: 7/10
Average by SQ's standards. They didn't really do anything wrong, with the exception of the non-appearing extra packets of sugar. Small issue, but small lapses like this make a lot of difference. They did their jobs, but that was all they did and unlike some other crews, lack the personalised touch. (This is judged against my previous experiences in SQ J)
Meal: 9/10
Excellent as usual. Been very fortunate, haven't really had a bad meal on SQ in recent memory. (This would change)
Arrival: 9/10
HKIA is extremely efficient and easy to navigate, despite it's size. It's no wonder it constantly gives Changi a run for its money.
The IFE problem was another issue on this flight, so overall not the best experience on SQ. A final score of 69%, calculated form the above ratings (with an adjustment made for the buggy IFE).
28 November 2007 SQ001
A/c type: Boeing 747-400
Reg: 9V-SPM
Seat: 17K
Scheduled Dep Time: 0800
Actual Dep Time 0900
Dep Gate: 25
Scheduled Arr Time 1150
Actual Arr Time 1220
Arr Gate: E3 (I think)
Check-in
Just to have the Spacebed, I had to force myself to wake up at the unearthly hour of 5am to catch SQ1. Again, I would be flying alone, the rest of the family would fly back from Shenzhen the next day. My dad and I left the hotel and went to the Kowloon Airport Express station. The great thing about departing from HKG is that if you take the Airport Express, you can check-in your bags at the train station, thus eliminating the hassle of lugging bags on and off the train. 2 bags this time, combined weight of 16kg. Where did the added 8kg come from? Souvenirs? Not exactly. The 2nd bag contained some 8kg of dried Hong Kong noodles. I was glad to be rid of the bags. Naturally, I was seated in 17K once again.
Immigration and Lounge
We got to the airport early at about 6.30. There was hardly any pax at that time of the morning, so clearing immigration was quick. Yet again, I found myself in a windowless SQ lounge with plenty of time to kill. The standard and quantity of food available was not any worse than at the SKL in Changi. If anything, it served to highlight how lacking the SKL is. I ate quite a bit at the lounge ( and what a good decision it turned it to be), caught with the happenings in Singapore with the help of some back issues of The Straits Times and basically waited. Around 7, streams of transit pax began to fill up the lounge. The flight had been delayed to 8.15, 15min was irrelevant, at least that's what I thought. How wrong I was. By 7.40, there was still no boarding call made, and this for a departure originally scheduled for 0800. Bored once again, I decided to do a little spotting before making my way to the gate. I stuck my boarding pass and passport in my back pocket, or so I thought.
9V-SPM parked at gate 25
Boarding (Where's my boarding pass???!!!!)
I made my way to gate 25, only to be greeted by long lines of pax waiting to board. That's right, at 8am pax are still
waiting!
to board. There was even a queue for premium pax. I paid a visit to the toilet and came out, reaching into my back pocket as I walked. "Hmm, passport's there, but where's the boarding pass?" I checked once again and absolutely panicked. "Holy S&%@ ! Where's the bloody thing?" I scrambled round the gate area, hoping that the boarding pass fell out somewhere around. A quick scan told me that I'd run out of luck. It took me a while to calm down and think logically. The obvious thing would be to approach the ground staff and report the loss and get a replacement. I barged my way to the counter next to the gate and explained the situation. A brief look of annoyance crossed the lady's face as I talked. Or was it just my imagination? Perhaps she thought I'm some clumsy teen idiot who shouldn't be flying. Her demeanour appeared to change slightly when she realised I was in Business. She quickly printed out a new boarding pass ad led me to the gate. She held on to the boarding pass during the short walk (maybe she thought I would somehow lose it in the 5m between the counter and gate). She separated the boarding pass and gave the section that airline keeps to the staff on duty, thus allowing me to skip the queues. Well at least
some
good came out of losing the boarding pass.
I boarded the waiting 9V-SPM and settled into my seat without any further drama. The usual welcome drink, menu, reading materials etc are offered. Finally as we seem to be all set to go, this fat guy boards. When I say fat, I really mean fat. Like if this were AF Y, he'd have been made to buy 2 seats. Now, you'd think someone who's flying in SQ J would know the alphabet (even if English isn't his 1st language) and be able to match an A to an A, K to K...you get the idea. Oh no, not this guy. He stops at row 17, looks left, looks right, check the seat numbers and finally says to me: "I think you're sitting in my seat" I was expecting this, so I readily and politely reply: "Most certainly not." He starts going on about how he was promised an emergency row window seat etc. And he talks real loud, so by now he had the attention of everyone in rows 17 and 18. Finally a crew member arrives to resolve the situation, which has irritated several pax already. Where was he sitting? 17A. The only empty seat left on the upper deck. There's real intelligence for you. Finally at 0835 we pushed back and made a long taxi to 07L for departure. It was a busy time, so we were no.5 in the queue for takeoff. During this time, while we slowly progressed forward, the crew took orders for the post-takeoff drink. After that was done, I could hear them talking in the galley. When you're 4 rows away from the galley and can still hear the crew talking, you know they're talking loudly. Now, the crew have every right to talk among themselves, but they could have shown a little more professionalism, they especially ought to watch it with the Singlish. It doesn't sound very refined does it, all the "lah" and "lor" and etc.
CX A333 next to us
This NW 744 is one of the many planes we passed while taxiing
turning onto runway 07L for takeoff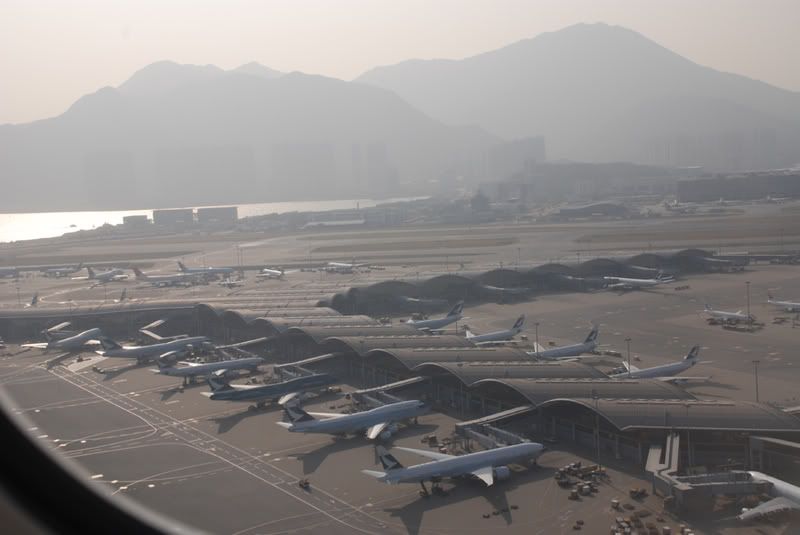 Passing a full house at HKIA as we climb out
legroom at emergency row (photo taken from earlier trip)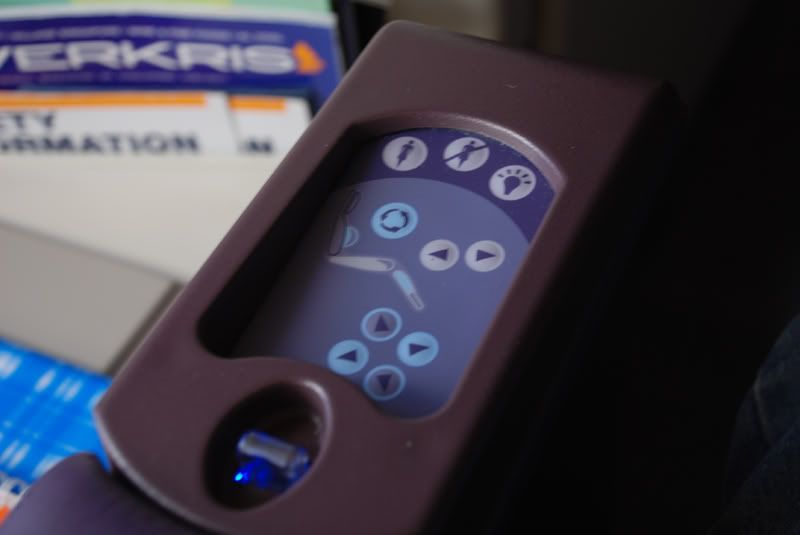 seat control
The Flight
Finally at 0900, we accelerate down 07L and climb into the smoggy HK air. We made a few turns to get on course for SIN, a direct route over the South China Sea this time. My post-takeoff drink, a glass of soya bean drink was delivered. It was the most disgusting soya bean drink I have ever drank. Next time, I'm sticking to the coffee shops in Singapore. The orders for breakfast had been taken earlier on the ground in HKG. Breakfast started off with fruits and cereal or yoghurt. 3 choices for main course were offered:
Selection of dim sum
Pork sausage with warm salad of potatoes, mushrooms, tomato and bacon
Egg frittata with mushroom, sautéed potato and cherry tomatoes
I chose the egg frittata, and regretted it. Normally I don't take egg-anything on planes (except egg noodles) and the one time I ignore my policy, I get taught a hard lesson. It was absolutely terrible. No taste at all. My seatmate had ordered the same thing and both of us were vigorously sprinkling salt and pepper on our food. Worst meal I've ever had on SQ.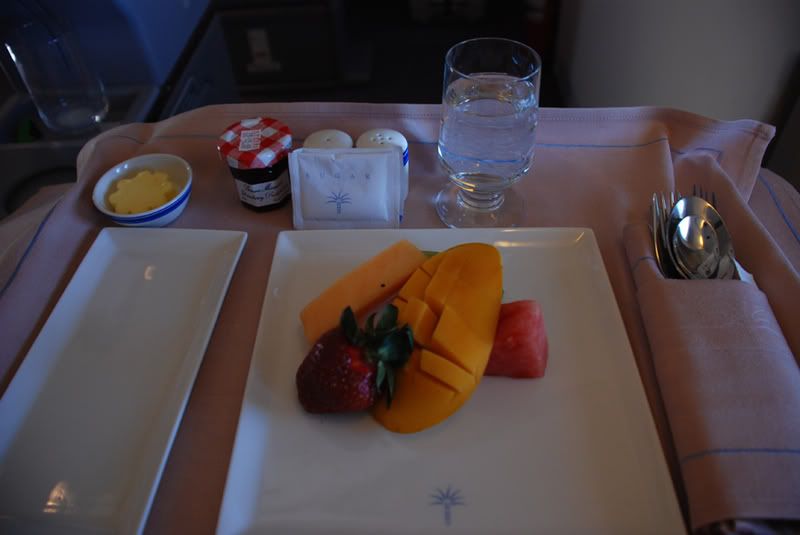 fruits and cereal to start with
Horrible main course
Once again, the WISEMEN acted up. Same problem as on the outbound leg. I've never encountered this issue prior to this trip, be it WISEMEN 2000 (non-AVOD), WISEMEN 3000 (AVOD) or eX2 (this one has it's share of problems, but that's another story). The IFE didn't bother too much this time anyway, I simply wanted to get some sleep. I'd been up over 5h by the time breakfast was finished. Unfortunately, Mr. Big and Loud (the guy in 17A) just had to talk loudly every time a crew member tried to communicate with him. Irritating, thank heavens for the noise cancelling headphones.
Speaking of the crew, I commented earlier on the lack of 'refinement'. I began to think they were overdoing it. It was the worst case of Fake Western Accent-itis I've ever encountered. I only wish I have some audio recordings for you guys to listen to. I can't fathom why some Singapore Girls insist on putting on an accent. Does it add to the service? I don't think so. There are ways to appear refined without resorting to such behaviour. I was tempted to tell them to just speak to me like normal a Singaporean, but I hastily dismissed that idea. I shuddered to think what the result of
that
request would be. I noticed however, it's usually the junior stewardesses that are struck by the "disease", I seldom see the stewards or the more senior crew members put on the accent.
The rest of flight passed smoothly with much less turbulence than on the outbound sector. I managed to sleep rather peacefully for awhile, the disturbance of Mr. Big and Loud notwithstanding.
cruising at FL380
We began our descent into Changi at around 1145. We overflew Changi, made an end round over Indonesian airspace on approach for runway 02L. I chatted with the chief steward who was sitting in the jump seat opposite. We talked about the flying patterns of SQ cabin crew and the change in minimum age for pilots to join SQ. At 1220, 30min late, we touched down on Changi runway 02L. I breezed my way through immigration, thanks again to my biometric passport and reached the belt before the bags came out. Surprisingly, the bags took a rather long time to come out, I probably stood there for about 10min, about 20-25min after we parked at the gate. The long amount of time taken was odd, considering it was a non-peak period, very few flights to handle. Perhaps few flights=few staff?
almsot there....passing a company 744F just before touchdown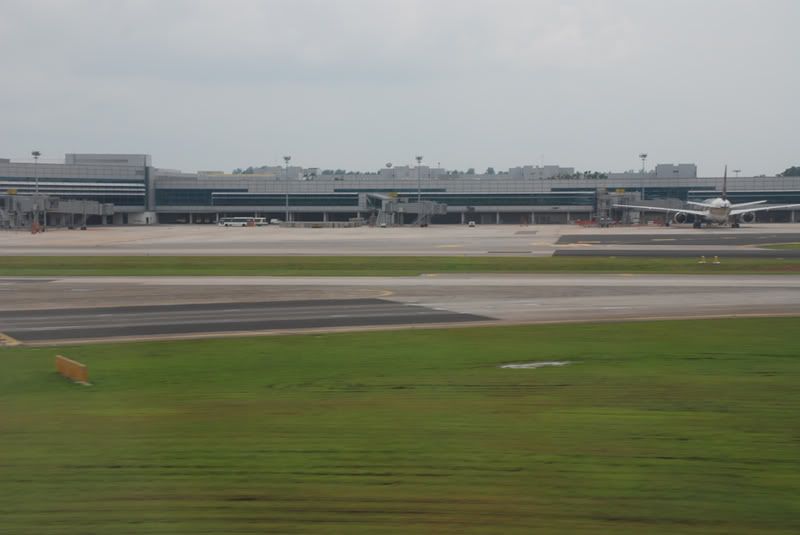 braking on runway 02L
Finally the bags came out and I made my way out, only to be stopped by customs officials. Evidently I fit the stereotypical profile of someone carrying contraband: young male travelling alone. Well, I hoped they had a good time looking at the contents through the scanner. Hmm, maybe the 8kg of noodles looked like snakes? Or maybe explosive fuse? I got to the taxi queue, another surprise, no taxis! A short wait and finally taxis appeared. Guess that's the way things work during non-peak timings.
Ratings
Check-in: 10/10
Excellent, the staff was very friendly and no hassle at all.
Lounge and Boarding: 8/10
The lounge is pretty decent for an overseas station, as far as SQ's lounges go. Small, but food and service is comparable to the SKL in Changi. Can't say much about the boarding process, was pretty easy for me (once I got the boarding pass replaced of course!), but it'd probably have been a real pain if I had to stand in line like everyone else.
Service: 7.5/10
Slightly better this time, a bit more personalised. They did jobs pretty well, so no real complaints. I might though, have given a higher rating if not for the whole fake accent thing.
Meal: 6.5/10
Disastrous. The soya bean was disgusting, the main course barely edible. The cereal and fruits saved it, but then again you can't really go wrong with those can you?
Arrival: 7/10
Not the usual Changi standard.
The IFE and delay costs more points, so a final score of 73% after factoring in those two issues. Far from the being the best experience on SQ. I've no doubt it's still better than many other airlines, but this 2 flights were simply not up to the normal SQ Business standards. My expectations of SQ, I must admit, are quite high. But my judgement is based on my personal experience in SQ J, (which number 12 flights in 6 years now) and that of my father, who flies SQ F or J an average of at least once per month. It's a sound enough foundation upon which I base my judgements on SQ.
Thanks for reading this TR and I hope you enjoyed it. As always, comments, criticisms and suggestions are welcome.