Feedback always appreciated.
Trip Report: 035
Flight Category: Y-DSR (See Report End)
Date: 23-Sep-07
SDT/SAT/Delay: 2310/0010/01:00 hrs *Delayed by 01:30
Flight:
Go Air G8 376
, 327 miles
Routing: MAA-HYD
Aircraft: 320
Seat: Economy Class, 12F
I > Background:
Ok, I am back! After taking a sabbatical from trip reports for 5 months, here is the first installation from a series of trip reports. Mid-August to mid-November 2007 saw the craziest of my travel plans. 69 flights totalling 175,028 kms on 35 airlines, visiting 49 airports in 34 countries in all 6 continents. And, here is the best part … all of them were part of a 4 month break from life … pure vacation, and pure food for the mind, body, and soul. Together, they mounted to 21/2 round-the-worlds that was truly insane. As usual, all long haul flights were on Business or First Class; short haul was on Economy Class.
Go Air (G8) was one of the 2 airlines in India I had never flown (Paramount being the other) and so I took a break from my general India sightseeing to have a succession of flights. First up was IC 173 from BOM to MAA documented
here
. G8 was the second leg.
II > Pre-Flight:
a) Before Airport:
Booking for the Go Air flight was done at their website at
www.goair.in
. The website is an absolute delight, and should serve as a model for other airlines around the world. One can buy the ticket, modify the same, chose a seat, modify a seat and chose an exit row seat for an additional INR 100. Moreover, during the entire process, there were no glitches or errors.
b) At Airport:
Go Air (like all its cohorts) utilizes the Kamraj Domestic Terminal at Chennai International. Its relatively modern and clean – though the inside comes nowhere close to BOM 1B, CCU, or my favourite Indian airport at GAU. Coming in from the IC flight, I made a mad dash from the arrivals to departures, had my G8 ticket and ID verified by security, and somehow managed to make it to the G8 counter with 1 minute to spare. Interestingly, exit window was open, and I was pleased so far at the outcome. As I made a rush to the empty security check (only 1 other flight at this hour), the security guard said, "Sir, what is the rush? Don't hurry … be happy"
. I love Indian security guards
. Oh, and he also told me that the G8 flight had announced a delay more than an hour back … something the check-in agent had forgot to mention … even after I asked, "Is the flight on-time? Grrrr". Anyway, no announcement or apology was given for the delay. When I asked the airport manager when "wheels up" would be … he said, "soon". When I asked him 30 minutes later, he said, "flight is on time … don't worry." Uugh. Flight was already over an hour delayed. Anyway, approaching the 1:30 delay mark, departure was finally announced and of course, the ILBST is well alive at Chennai. While people at Bombay were super organized, this ethic had not yet reached here. Everyone made a mad dash … despite having assigned seats. Anyway, boarding was through aero-bridge and I was soon on board a tired looking dimly lit 320. Now, as I was storing my carry-on, push-back commenced! What the hell? The Spanish captain REALLY wanted to get back to BOM. The last time this happened was on SQ out of AMS last year. G8 is all Y and the load was around 90%.
Airport - External:
(MAA Domestic)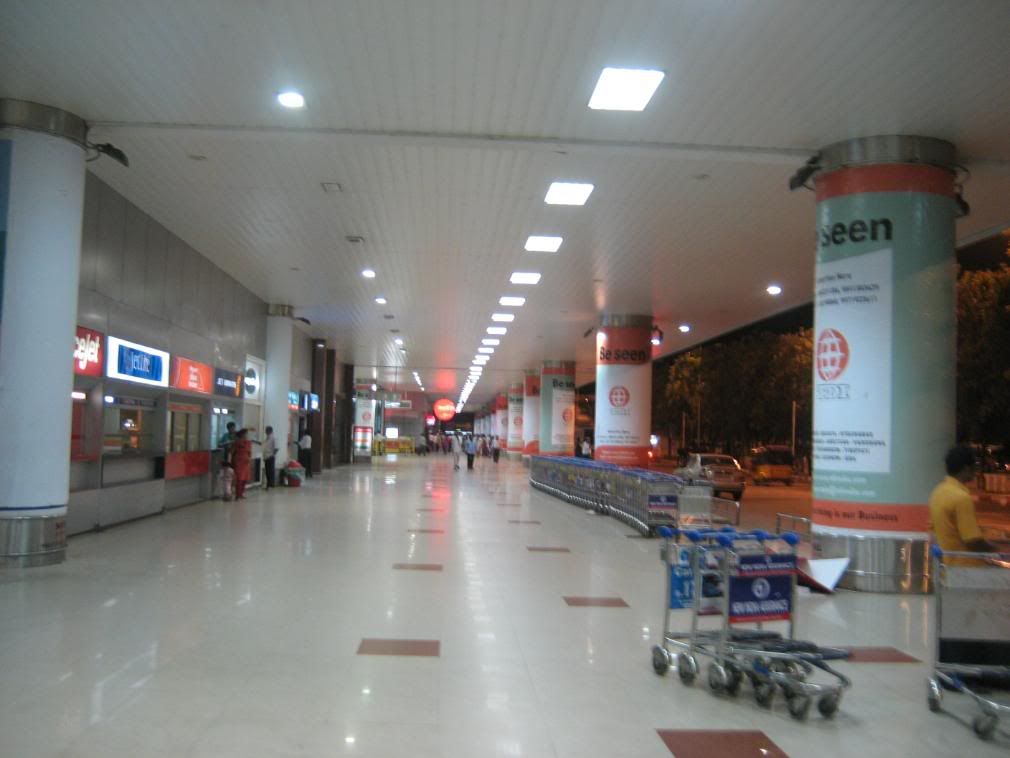 Check-In: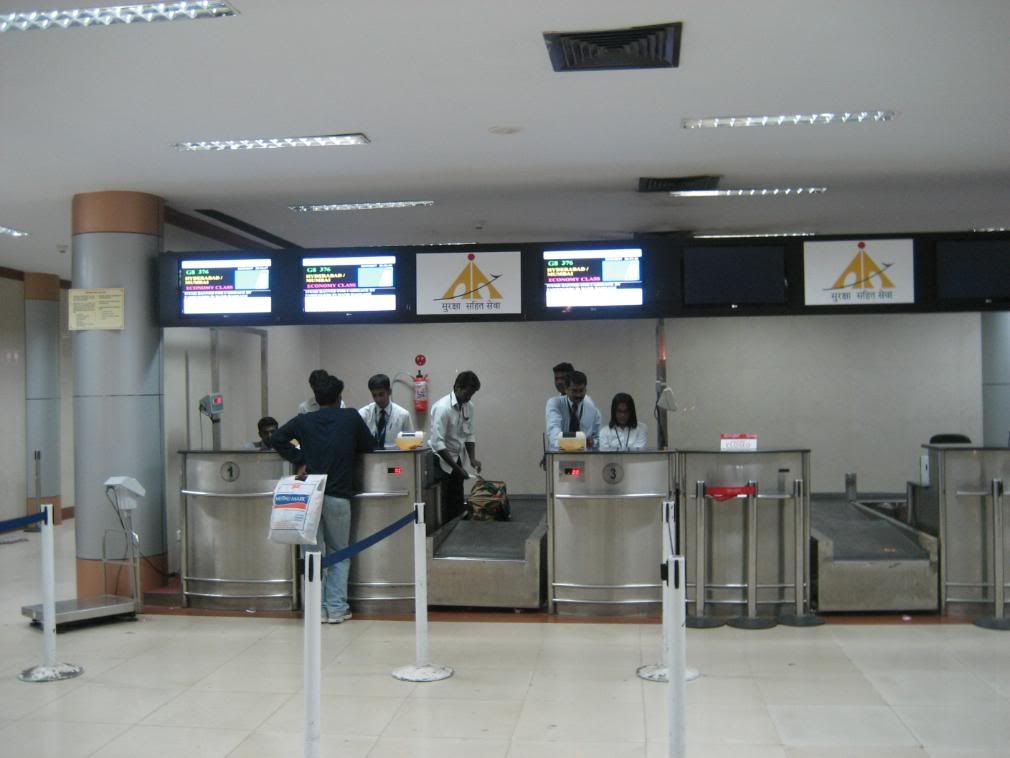 (Other counters at this check-in clusters)
Airport - Internal:
(Departure Board)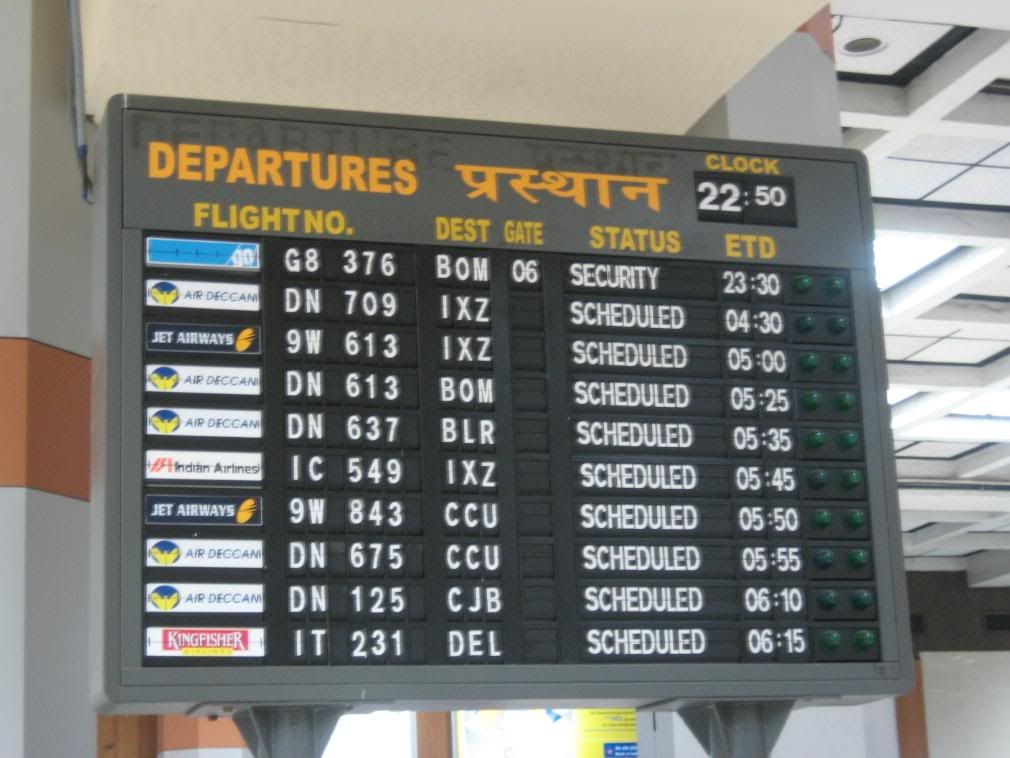 Scenes of the tarmac:
NONE
Lounge
NONE
Boarding:
(Boarding area lounge)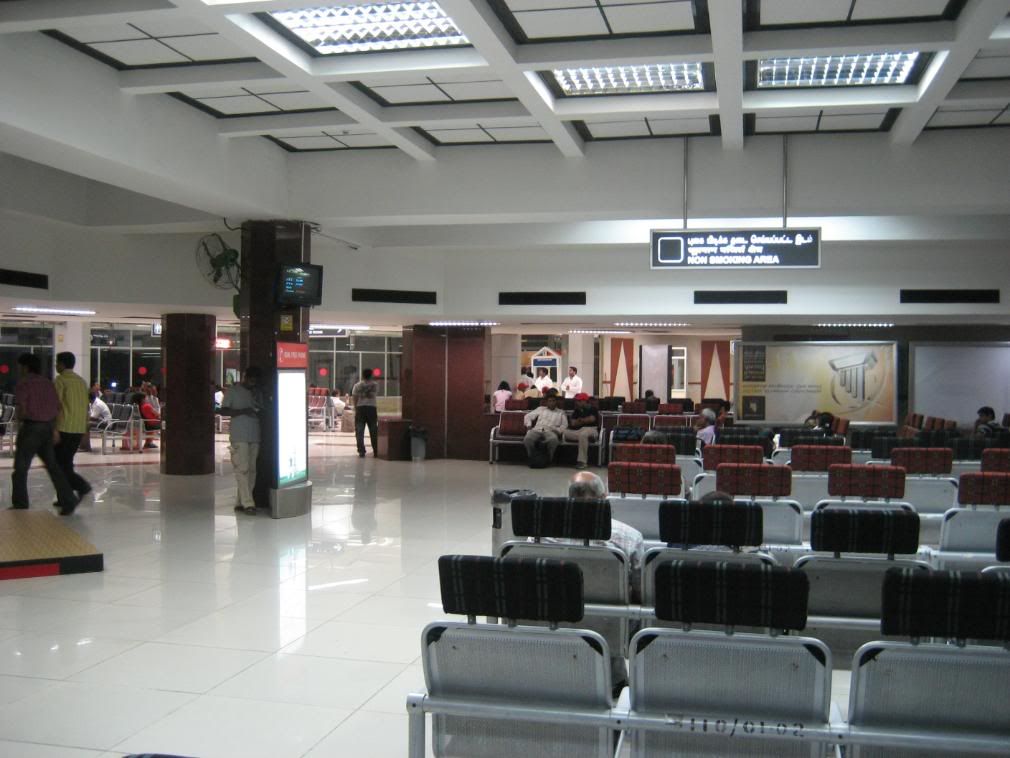 (Back to ILBST)
III> In-Flight:
a) Service Schedule + Impressions:
Everything is buy-on-board (BOB). I was super thirsty so bought a bottle of water. After BOB, an auction was run … sort of an in-flight shop.
b) Aircraft + Seats:
G8's has an all 320 fleet painted in various different colors. This "orange" 320 looked tired inside. While exit row seating legroom was generous, all the rows were super cramped, and I was not a big fan of the orange seat covers. Finally, my seat did not recline
. To those who have flown G8 …do the covers change with the aircraft?
Aircraft:
(Ok, um … is it obvious that I did not take this picture?)

Views from Aircraft:
NONE
Seat Leg-Room:
Seat Recline + Angle View: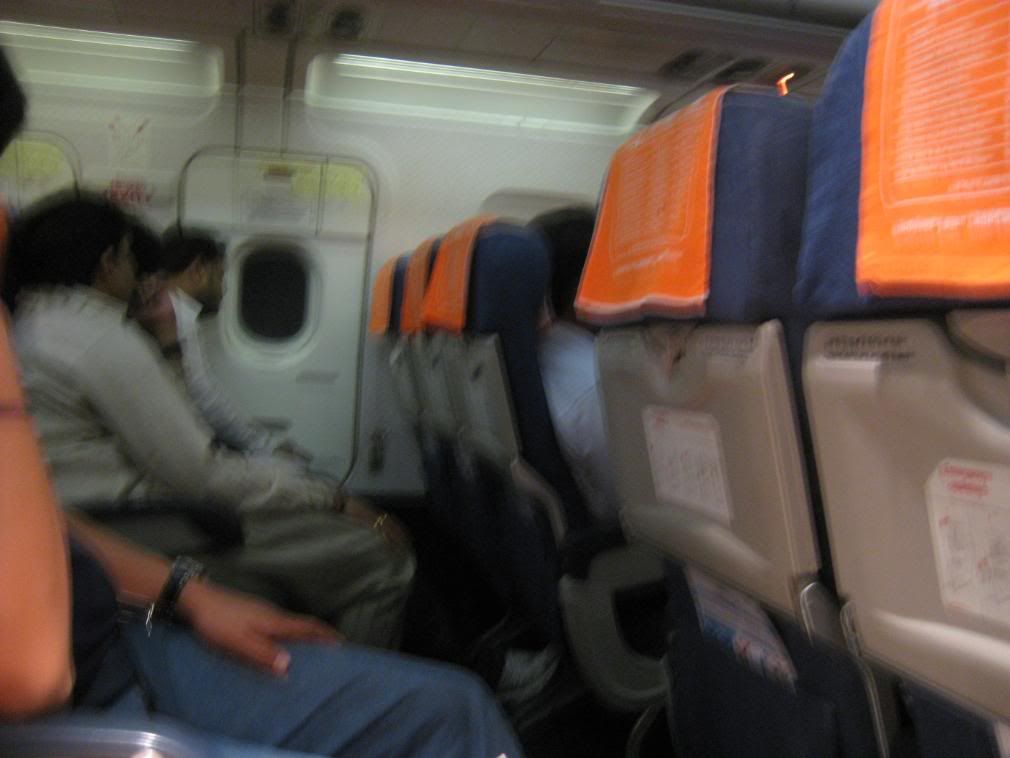 Cabin:
(YAY
- VIVA! PlaneHunter, what does this say about its pedigree?)
c) Meal + Beverage:
Everything was buy-on-board … including water! I had flown on DN, SG, and 6E and all of them had free water. Not good. Moreover, their was no catalogue of what could actually be bought onboard.
(I miss IC – water costs INRs!!!)
d) Inflight Entertainment:
No IFE. In-flight magazine "GLADRAGS" is not really an in-flight magazine. It is basically a Go Air branded copy of the regular Indian fashion magazine "GLADRAGE" … both the airline and the magazine are owned by some rich Indian family.
(In-flight magazines, Boarding Passes, etc.)
e) Crew:
This was the first crew I have flown on an Indian carrier that never smiled, nor looked cheery, and did not attempt to help anyone store their bags. They did the in-flight sales and quickly disappeared. It took my around 15 minutes to respond to my row-mate's simple request for H20. Finally, not even a attempt of "thank you for flying" at disembarkation.
IV> Post-Flight:
I cannot wait until the new HYD. Old HYD is small, decrepit, and at that hour, totally shut.
(Other aircrafts parked next to us at HYD)
(HYD Arrivals)
V> Impressions + Scores:
I understand G8 is trying to position themselves as an ULCC, but that does not mean you suck out humanity from the experience. Both SG and 6E do a great job and I even prefer DN to this crap of an airline. Ok, so you charge for everything … but is it too hard for the crew to smile and care? Based on this experience, I cannot recommend G8 and will actively seek to fly a different carrier … even if the price is a few hundred rupees more.
1.0 > RESERVATION: 9.5
2.0 > CHECK-IN: 5.0
0.5 > LOUNGE: N/A
0.5 > BOARDING: 7.0
2.0 > SEAT: 7.0
0.5 > AIRCRAFT OVERALL AMBIENCE: 5.0
1.0 > IFE: 3.5
2.0 > CREW: 3.5
2.0 > FOOD: 2.0
0.5 > BEVERAGES: 2.0
0.5 > A.KITS + OTHER FREEBIES: 5.0
0.5 > DISEMBARKATION: 8.0
1.0 > ON-TIME RECORD: 6.0
WEIGHTED OVERALL IMPRESSION (WOI): 5.07
(Pre-flight WOI of all reviews: 6.34)
* Weighted Overall Impression (WOI) aligns scores with what matters most. Weights are indicated alongside each category.
(Scores are based on comparison with other airlines in THAT class of service – No comparison of Y vs. F for example)
VI> Other Trip Reports:
PREMIUM:
8.11:
Aeroflot (33): MOW-DEL: 09/2007
8.02:
Delta Airlines (24): JFK-CDG: 08/2007
7.82:
Singapore Airlines (06): EWR-SIN: 09/2006
6.93:
Delta Airlines (18): SEA-JFK: 11/2006
6.81:
Air Canada (17): ICN-YYZ: 10/2006
6.70:
KLM: EBB-AMS: 08/2007
5.75:
Singapore Airlines (16): CCU-SIN: 10/2006
4.42:
Air France: CDG-JNB (25): 08/2007
ECONOMY: Long + Medium:
7.38:
Avianca (01): BOG-LIM: 07/2006
6.26:
Jet Blue (21): CUN-JFK: 02/2007
6.06:
Air Canada (04): YYZ-YVR: 09/2006
5.89:
USA 3000 (19): PUJ-BDL: 01/2007
5.46:
TAP Air Portugal (23): OSL-LIS: 05/2007
ECONOMY: Short
8.24:
Kingfisher (14): IXA-GAU: 10/2006
7.87:
Indian (34): BOM-MAA: 09/2007
7.72:
Alliance Air (13): CCU-IXA: 10/2006
7.57:
Indian Airlines (10): DEL-CCU: 09/2006
7.23:
West Jet (03): YYC-YVR: 09/2006
6.70:
Spice Jet (09): CCU-DEL: 09/2006
6.58:
Air Tran (02): EWR-MDW: 08/2006
6.33:
Kenya Airways (29): NBO-BJM: 08/2007
6.31:
Indigo (15): GAU-CCU: 10/2006
6.22:
Air Link Swazi (28): MTS-JNB: 08/2007
6.13:
Adam Air (07): SIN-CGK: 09/2006
6.00:
Transairways (27): INH-MPM: 08/2007
5.95:
Air Canada (05): ALB-YYZ: 09/2006
5.85:
SAS Norge (22): OSL-AES: 05/2007
5.81:
LAM Mozambique (26): JNB-MPM: 08/2007
5.69:
Air Deccan (12): IXZ-CCU: 10/2006
5.67:
Rwanda Air Exp (30): KGL-NBO: 08/2007
5.07: Go Air (35): MAA-HYD: 09/2007
4.96:
Valuair (08): CGK-SIN: 09/2006
4.74:
Fly 540 (31): MYD-LAU: 08/2007
4.33:
Viva Aerobus (20): ELP-MTY: 02/2007
4.11:
Air Sahara (11): CCU-BOM: 09/2006
(Note on Codes: Y – Economy, J – Business, F – First :: I/D – International/Domestic :: SR/MR/LR – Short/Medium/Long Haul)
VII> Other Pictures:
NONE