Just a quick note, sorry it took me a while to post this, had a little more work than expected so time was short!
Continued from Part One:
https://www.airliners.net/discussions/trip_reports/read.main/114816/
Syrian Trip Report Part Two:
DAM-ALP-DAM-AMM-LHR on Syrian Arab Airways Boeing 727-200 and Airbus A320-200, AirQuarius Fokker F28-4000 and Royal Jordanian Airbus A340-200
Sunday 28th January 2007
After a rather uncomfortable nights sleep, I got up early and had another wander around Damascus, finding my way along somewhere called Baghdad Street of all places, before hailing a cab and heading out to the airport for my flight to Aleppo. I could only stay a single night there and, as the hotel in Damascus was so cheap, (by Western standards) I decided to reserve the room even for the time I was away, so that I didn't have to carry my Bergen with me, lazy I know, but I'm glad that I did! Upon arrival the airport was heaving, several flights had just arrived and passengers were checking in for several leaving to Middle Eastern destinations, including Dubai and Riyadh. Passing through security to get to check in was certainly much easier with just my small bag, and likewise check in was a lot quicker, selecting a seat at the very back on the right hand side, close to the engines -- which confused the lady assisting me somewhat.
Once more I called into the airport café for some lunch, and then strolled up and down the terminal, enjoying watching the many unusual aircraft outside on the tarmac and the arrival of the Saudi 777 which taxied and parked up right in front of me.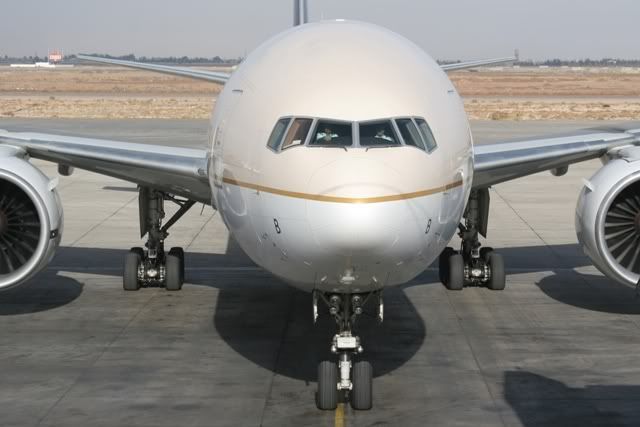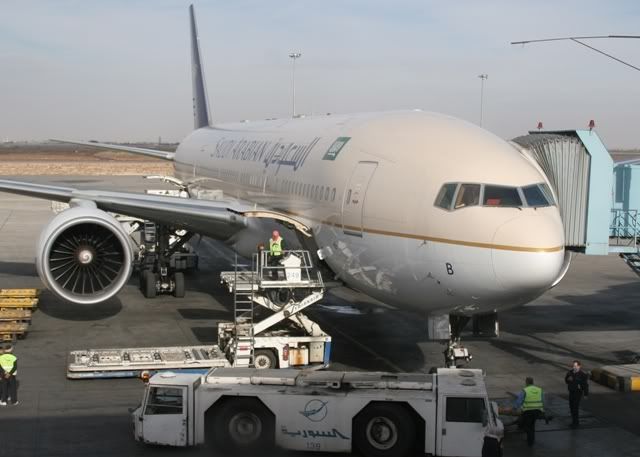 Boarding for my flight was downstairs, where the small departure lounge was packed with people waiting to board the bus out to the aircraft. The guards were not to keen on pictures from down here, so obviously I kept my camera in my rucksack to avoid any trouble, although once nearing the plane on the bus many people started snapping pictures with their phones. Syrian people are certainly not technologically repressed as some people would have you believe, they were all newer than mine, that's for sure!
The aircraft on the next stand was Syrian's illusive Tu134, already back from it's daily flight and, with the dispatcher's blessing I took a few pictures, although as I did in the background I could just see the shape of a 747SP gracefully touching down through the dusty haze, which then proceed to taxi straight towards me; the wingtip passing just a few meters away from the nose of the 727... the sound as it slipped past was pure ecstasy from an enthusiast's perspective!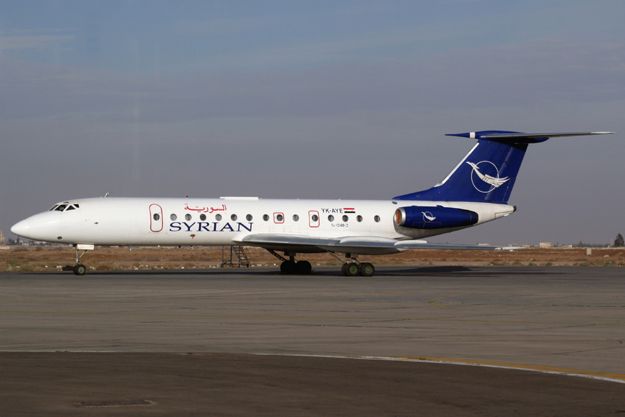 This flight was another first for me; my inaugural flight on a 727 aircraft! So many times I had the opportunity to fly them with IB during their last years of operation, although at the time, and I am almost too ashamed to admit it, I was terrified of them -- as I was of flying in general. However times change, so I was happy to be walking down the aisle of one of these fine looking aircraft and loving every minute of it, finding my seat at the very back in row 25. The cabin looked in good condition, although the same could not be said for my window, which had so many scratches it was difficult to even see through it, which was a bit of a shame, but at least I was about to fly on something a bit more special than an A320!
DAM-ALP
Carrier: Syrian Air -- Syrian Arab Airways
Flight: RB 384
Aircraft: Boeing B727-200
Registration: YK-AGD
Date of First Flight: 9th October 1980
Seat: 25F
Estimated Departure Time: 15:40
Actual Departure Time: 16:19
Estimated Arrival Time: 16:40
Actual Arrival Time: 17:05
Total Flying Time: 46 minutes
After a short delay the engines behind me fired up with a dull rumble, suffice to say it was a wonderful noise, which only got better as the pilot lined up on 23L and applied the power for take off. After seeing so many from the outside, it was good to be on the inside of a 727 eating up the runway, as it bounced down the not so smooth runway of DAM and then pitched back, rotating smoothly into the overcast skies.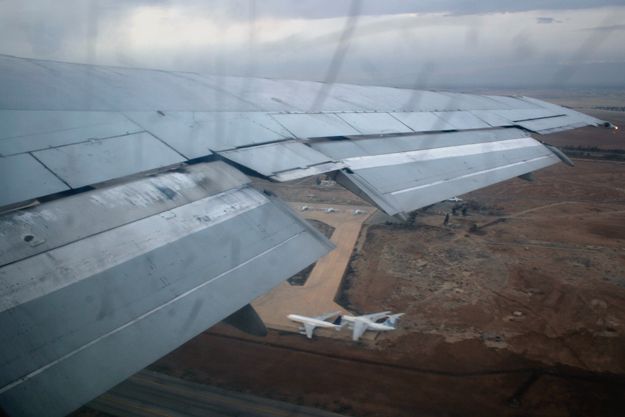 The take off itself enabled a good view of the dumping grounds for old aircraft; firstly surrounding the Syrian hangers much of their former Tu154 fleet could be seen, along with several redundant 727s whilst others, including the second 747SP, were just visiting for maintenance. There were also a large number of Antonovs, some Yak 40s a 707 and even what looked like a Caravelle sitting in the dust, all of whom are probably never going to fly again.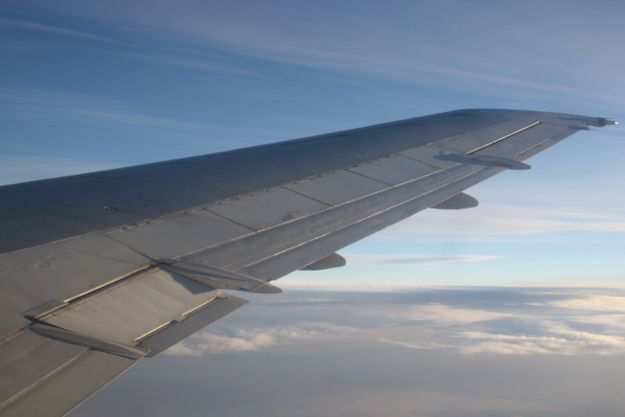 Service wise the offering was identical to my previous two internal flights; a small macaroon in a tray and a drink, which was enough really as I had eaten in the airport, although the seat certainly felt as if it could have some more cushioning. For most of the flight the ground below was obscured by cloud, although just occasionally a clear patch would allow a view to the ground below, the reason for Syria's lack of oil becoming quite evident by the volcanoes visible, although I think they are all long since dormant now. About half an hour into the flight the thrust was reduced and a bank to the left signified that we would be commencing our descent towards ALP, diving into the thick cloud layer which threw the aircraft around fairly well. Drifting out of the bottom, my eyes were met with a wonderful view; the Citadel of Aleppo - the reason I had flown here from DAM and, although it was dusk beneath the cloud layer, I managed to take a half decent photograph.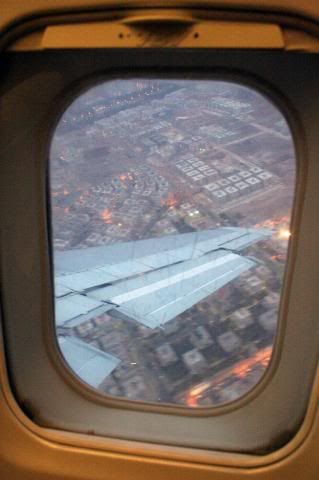 We must have been flying in a South Westerly direction, as a few moments later the plane baked sharply to the right, a bank which continued as we dropped lower and lower, then after a few further corrections the city lights gave way to airport and a gentle touchdown onto runway 09. Post flight I asked to take a few pictures of the cabin and cockpit, requests met with much kindness, as I was ushered into the cockpit and had a lengthy chat to the pilot, who, if I'm remembering this correctly, had spent a lot of time in the UK and still had family living in the Bath area. He also offered to take the obligatory picture of me sat in the pilot's seat... might as well; I may not fly in a 727 again!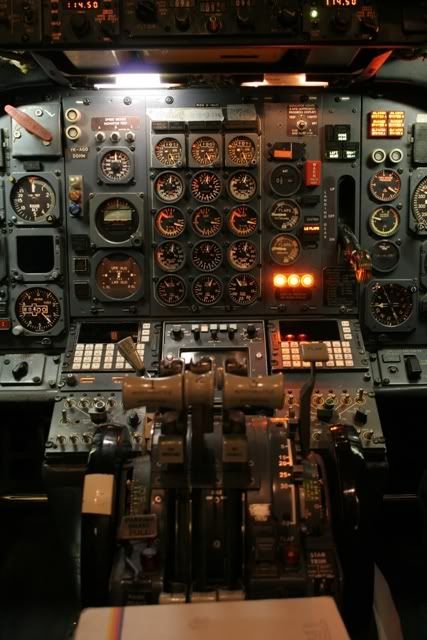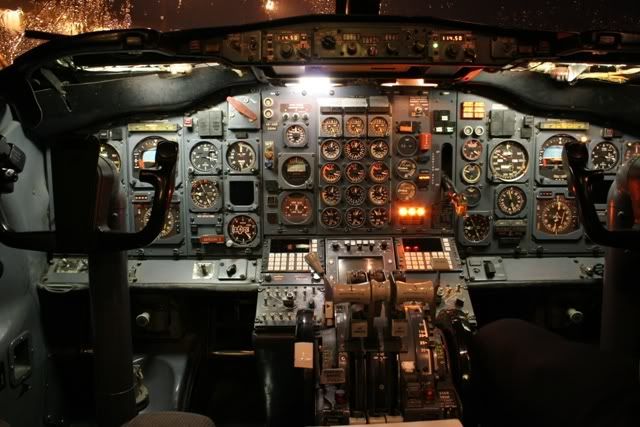 Whilst in the cockpit the heavens really opened, so after thanking the pilot and staff very much for their hospitality I was pleased there was a jet bridge to take me straight to the terminal. Not knowing where I was and it being dark by now I decided to just take a taxi, despite being given directions by public transport should I wish -- or perhaps that should be dare to find my own way! As it was, I'm sure that at one point the driver was going rough ways across a ploughed field, certainly it didn't make my chest feel any better which was still hurting a lot from the awful landing the previous evening. After a long ride, but only 300 Syrian Pounds - half that of DAM, I was at my hotel for the night; the well renowned Hotel Baron, made famous by it's most famous guest; Laurence of Arabia -- who happened to leave without paying the bill, nice chap!
You could say it was rather wet; the view from my balcony. As far as hotels go, it was absolutely great and just to my liking -- a little expensive perhaps at $40 (IIRC, might have been $20); but the en suit and beautiful period furnishings more than made up for it.
Monday 29th January 2007
The morning dawned sunny and mild with no sign of the previous day's rain, unfortunately though I had gotten no sleep that night, and was beginning to realise that perhaps that pain in my chest was a little more serious than I had first thought, as I was now having difficulty breathing without it really hurting and no matter how I lay down it hurt like hell! Still after a little breakfast and a walk around I felt better, so after arranging an excursion for the afternoon I headed off to walk to the Citadel. Before leaving though I had a look around the walls of the hotel, which were adorned with some wonderful posters and memorabilia from bygone eras, along with the unpaid bill of Mr Arabia, although I doubt he'll be back to pay it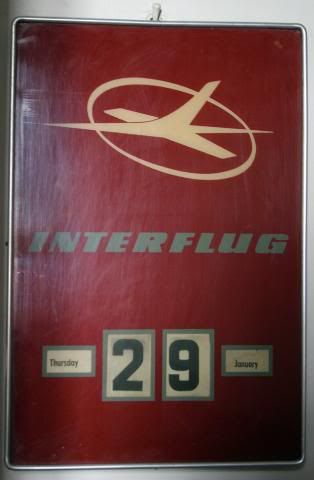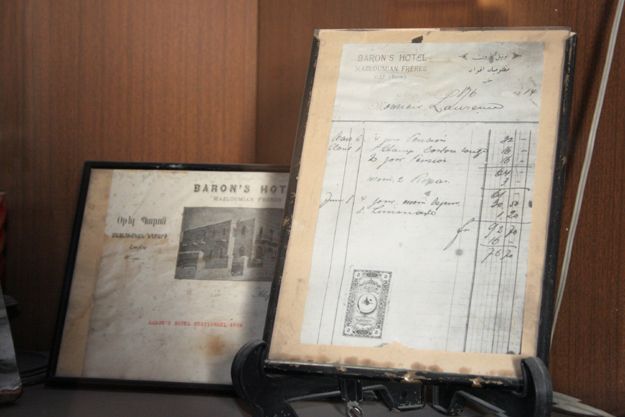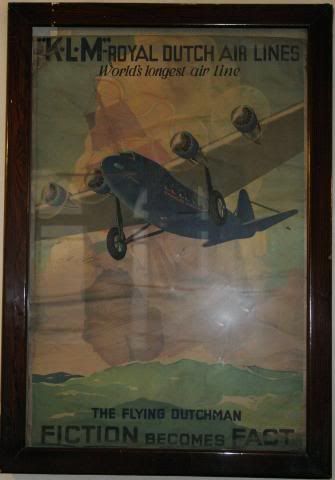 My how times change...
I love waking through cities, and this was no exception, even though I was attracting a fair bit of attention as a foreigner. On the way I stopped off at the Umayyad Mosque of Aleppo, not as grand as the one I had visited in Damascus, but just as peaceful -- incredibly so considering that it's located right in the middle of the bustling city. The people were also incredibly open and friendly; four boys probably in their early teens stopped me and, when they realised I was from England, proudly displayed their text and workbooks from their English lessons, whilst chatting away with a quality of language that probably exceeds many native UK citizens.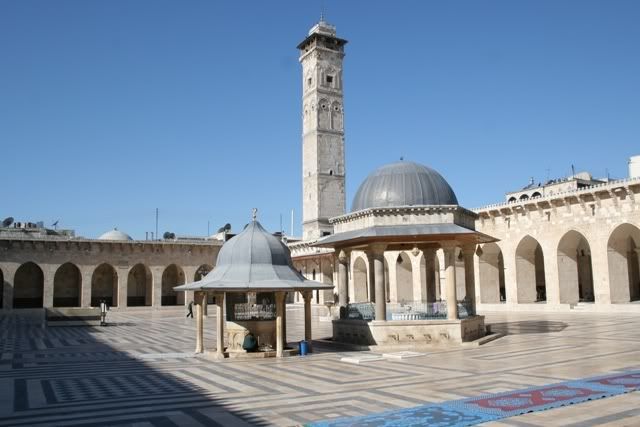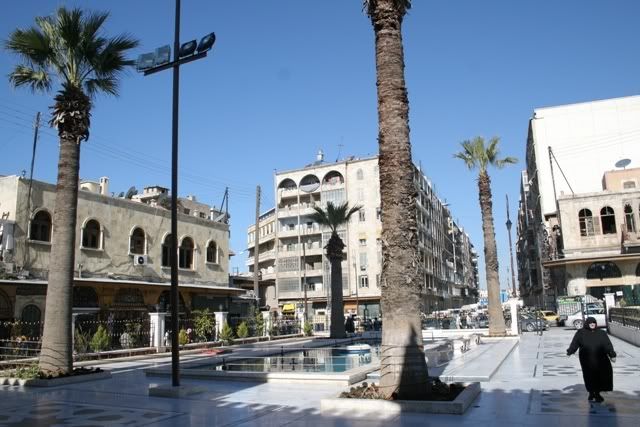 I was aware though that I didn't have too much time, so continued on to what I really wanted to see; the Citadel. This has to be one of the most amazing man made structures which I have seen, to me it's right up there with the Great Wall of China - I defy anyone to stand in front of it's main entrance and not be impressed!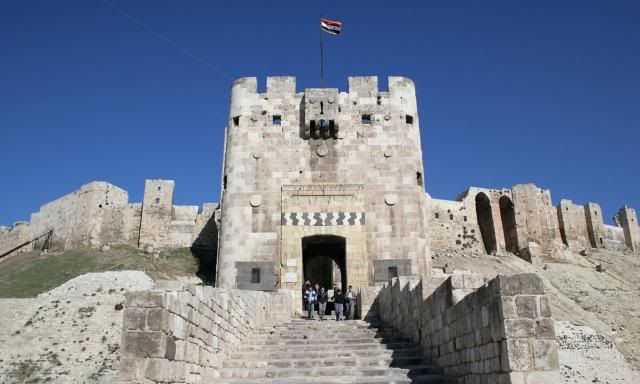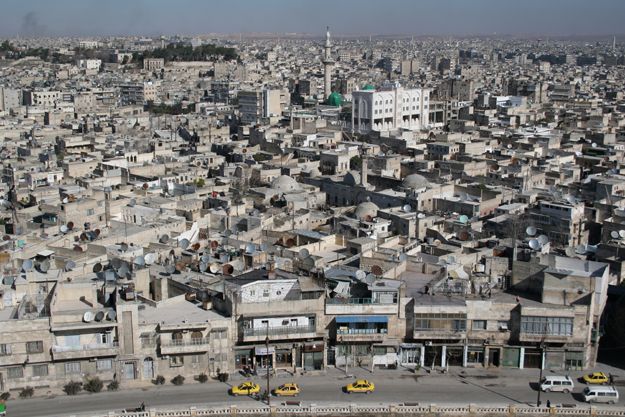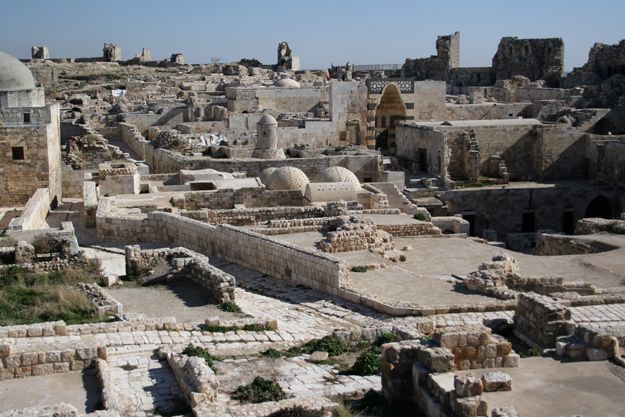 After that it was back to the hotel to meet the guide who would take me to see the Basilica of San Simeon, about 30 miles by road outside of Aleppo and only 10 or so from the Turkish border. The roads on the way were not the best and by the time we arrived I really felt awful and considered asking him to take me to a hospital instead, but I was determined to carry on now that I was here. The views were well worth it; the ruins sit atop a hill overlooking a wide valley stretching away into the distance and it was flat enough to walk around without making me too breathless.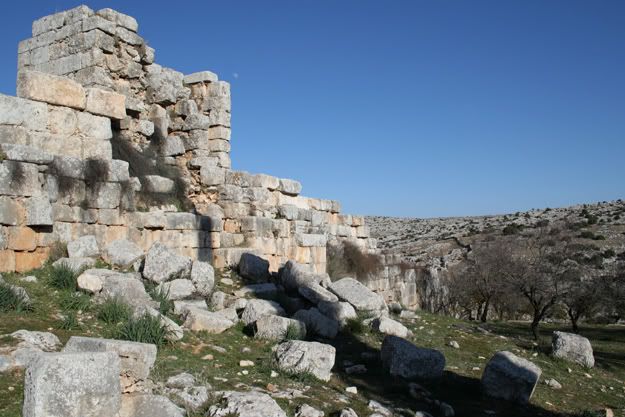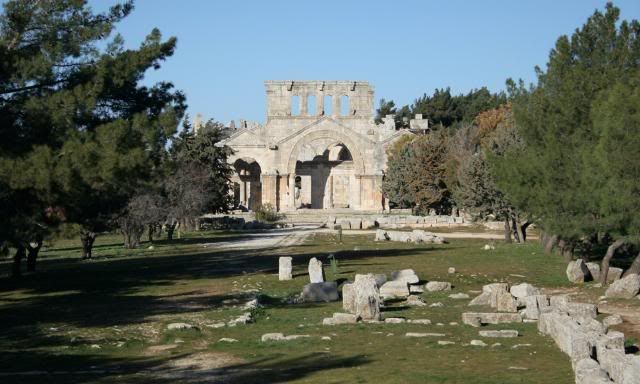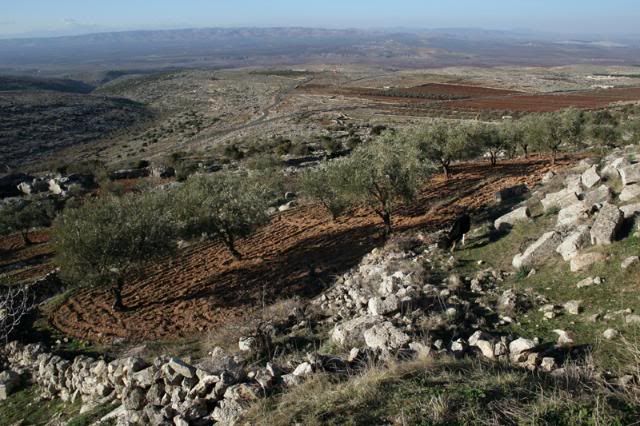 My guide was a really nice guy, who was very keen to show me as much of the local sights as possible, stopping off at some Roman tombs carved into a rock face and enthusiastically suggesting that I should climb up inside, which ordinarily I would have done in an instance, but just couldn't face at that point. His car was quite impressive too, I've no idea what it was, but despite looking fairly old it went like a dream.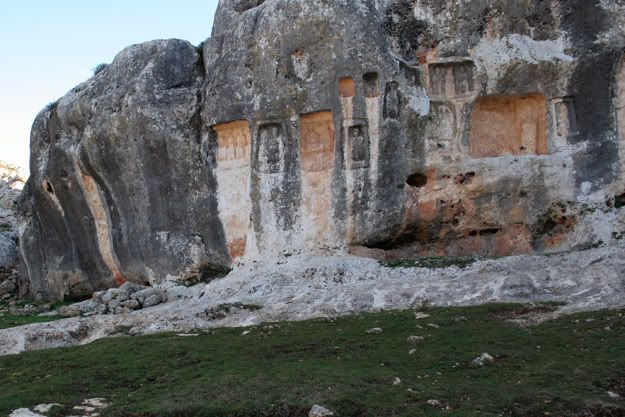 Whilst bargaining the price of the trip I'd reached an acceptable price, so agreed on the terms that I was dropped off at the airport on the way back, for the flight back to Damascus. The trip back down the 'motorway' around Aleppo was pretty impressive in itself; the moment that a coffee stop was spotted it became entirely acceptable to drive on either side of the road and park, without any warning, absolutely anywhere you liked! It even put the M25 to shame as a car park!
I don't recollect any of the check in process at the airport whatsoever, all I remember was getting upstairs into the lounge and collapsing into a rather hard chair and wondering what to do. I had never felt this ill before whilst travelling and my instinct was telling me not to get on the flight, but as my Bergen was still in Damascus along with most of my other belongings, I really had to. The lights of the A320 operating the flight in from Rome drew up to the gate and shortly afterwards the passengers began to get off. Still unsure, I just decided to carry on and hope for the best.
ALP-DAM
Carrier: Syrian Air -- Syrian Arab Airways
Flight: RB 418
Aircraft: Airbus A320-200
Registration: YK-???
Date of First Flight: Unknown
Seat: 23F (Free Seating)
Estimated Departure Time: 18:15
Actual Departure Time: Unknown
Estimated Arrival Time: 19:15
Actual Arrival Time: Unknown
Total Flying Time: About 50 minutes
As the plane remained partially boarded by those passengers traveling from Rome to Damascus, the seating onboard was free, so I found the first available window seat - 23F I seem to remember and relaxed into it. I can't say that I enjoyed any of the flight, let alone the take off or landing as every bump the plane made echoed through my chest in a series of painful stabs which happened to be exactly in the area of my heart... not good I thought to myself. I even forgot to take the registration of the plane, managing only one half hearted shot once we were at the gate in DAM. It was only an A320 I suppose, but nevertheless, if anyone reading this has any idea what it is then I'd be most grateful for it!
The first thing I did once back at my hotel was to phone my family back home with enough details to then contact my insurance company, this was a cheaper way of doing it than hanging around on an international line in a queue, but unfortunately to no avail. In order to advise me of what to do next and to advise if they had any recommended hospitals in Damascus I needed to speak to the nurse, only she was off sick and they couldn't do anything until the next one came in at 8am the next morning... great! Trouble was, I knew that something had to be wrong to cause this much pain, but my onwards travel -- the flight to Amman left at 8am, so I either miss that or go ahead regardless. I decided on the latter, and once more hoped for the best. Also, to be fair, they did phone straight back at 8am, but this was unfortunately too late.
Tuesday 30th January 2007
Once more, not much sleep, but up early at 5am anyway to get ready and wait for the taxi to the airport. It was quite embarrassing that I couldn't even carry my own rucksack, the hotel concierge though was most obliging and deservedly I slipped him a couple of notes for his assistance. Again, the driver knew only two speeds, stop, or go -- flat out that is, so it was only a few minutes on the quiet roads before we drew up at DAM's terminal again, just before 6am in the morning. There was just a single desk open for the flight to AMM, sold jointly as a Royal Jordanian and Syrian Air flight; it was supposedly operated by a Fokker F28 aircraft, which was the reason why I had chosen to fly it -- to fill another missing type in my logbook. I chose a window seat and once my Bergen had disappeared down the carousel I wandered over to a little desk to pay the departure tax, then onwards to receive my exit stamp, then headed for one last time up into the terminal via a prehistoric looking escalator, which was actually moving today.
As the aircraft was parked out on a remote stand all passengers were bussed out to where the it was waiting. The glass was covered in condensation after the cold night and the bus was so crowded that I couldn't have seen what aircraft was anyway until to doors swung open to reveal the unmistakable sight of an F28, now there's something to make any aviation nut feel much better! But, before boarding everyone had to rummage around on the tarmac and identify their bags, which had been laid out beside the plane. It was the first time I had ever had to do this - I was under the impression that it was only El Al who took such measures for security, but evidently not. Although this caused a slight delay whilst there was much faffing about, and a few cabin calls for unclaimed items, the doors were closed just a few minutes late.
DAM-AMM
Carrier: AirQuarius Air Aviation, for Royal Jordanian/Syrian Arab Airways
Flight: RJ 0436
Aircraft: Fokker F28-4000
Registration: ZS-JES
Date of First Flight: 14th March 1986
Seat: 8A
Estimated Departure Time: 08:00
Actual Departure Time: 08:15
Estimated Arrival Time: 09:00
Actual Arrival Time: 08:45
Total Flying Time: 30 minutes
Up until now I had thought that the MDs were pretty loud, however all was put in perspective when the two mighty Rolls Royce Speys were brought into life. My oh my, they could make some noise, and we were still only taxing! Turning onto 23L there was a slight pause, before all hell was let lose behind... or that's what it sounded like! The F28 was definitely the loudest take off I have ever experienced from inside the cabin, excluding helicopters that is, although for all the noise it made the acceleration was nothing spectacular and the climb out rather slow -- but still, I was flying in an F28, and that was all that counted! A couple of sharp banks to the left as we climbed into the clouds gave a few fleeting views of DAM as we left it behind and headed towards Amman
t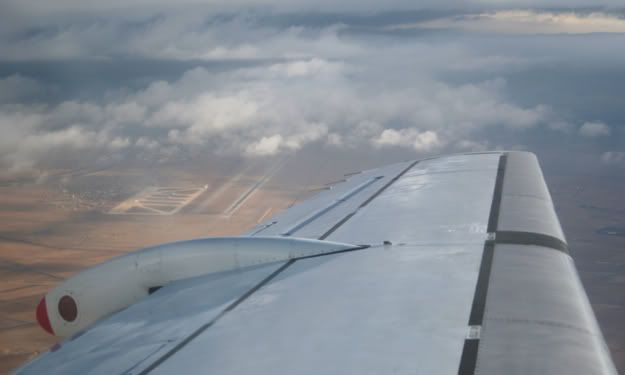 The entire flight crew and the aircraft were from South Africa, which in a way felt quite odd when flying between two countries in the Middle East! Despite the flight being very short there was a brief snack service brought around, the cake looked and tasted really nice, but I just wasn't hungry and there was no point pushing it down so I popped it in my rucksack for later. I also might as well mention that it was my Birthday - and this flight on the F28 was my Birthday present to myself. The year before I had been sat on a DL 763 from JFK-FCO and then an AZ MD up to LHR, as I like to get away from everything and avoid the fuss which family tend to make!
Most of the flights operated by AirQuarius are into Iraq, where I am told they perform a 'spiral' approach into Baghdad to avoid missile attacks -- this sounded like great fun, in fact I even considered the feasibility of flying in and out in a day, just to experience it, although on the advice of pretty much everyone that it was a silly idea, I dropped it. Ironically though, I was about to get a taste of it, not that I was in any way appreciative of it at the time! All through the flight my chest had been feeling no better and with every breath that I took I could feel a really nasty stabbing pain in the area of my heart, so hence I was taking a lot of very shallow breaths to avoid this which just made me even more breathless. In the same moment the thrust was reduced and the left wing dipped steadily down... and pretty much stayed that way as we banked around and around getting lower and lower before finally, after several minutes of rapid descent, we leveled out on approach to the runway and touched down about thirty seconds later. I really didn't know what to do; it felt like my chest wanted to explode so I just gripped onto the armrest with one hand and my camera with the other!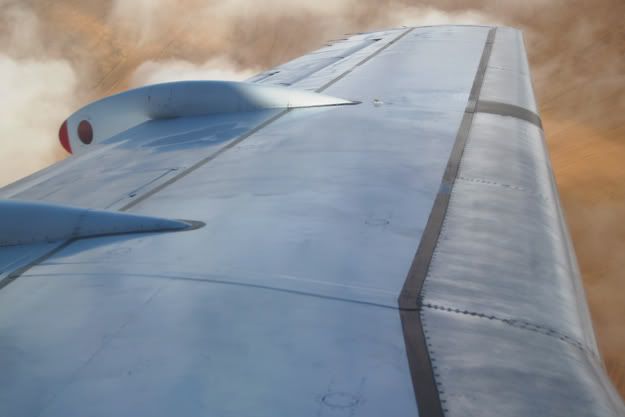 I really hate giving in to anything, especially illness, and I always try to ignore it, but enough was enough as now I was almost bent double and really wasn't in a fit state to carry on. Waiting until most people had disembarked I rather sheepishly I asked one of the pursers for his assistance and explained how I was feeling, straight away he contacted the ground staff and from there I was taken with assistance to the in house hospital at AMM airport. After a few questions and an examination they were not happy with my condition/symptoms, so sent me onwards to a hospital in the centre of Amman where, to cut a long story short, they performed a thorough examination and to my great relief ruled out any problems to do with my heart (rather nasty history of family heart problems which up until that point I had been told I had not inherited, and luckily still don't seem to have done). It was though going to be the end of my trip, as it would have been foolish to carry on under the circumstances, so after being discharged I decided to head back to the airport, one of the junior doctors insisted on giving me a lift which was most kind of him, and although he made a point of not asking for anything in return I made sure I gave him something as it was a real help to me!
The only hotel near to the airport was very expensive, but needs must, and at least I managed to then contact home again, my family being very glad to hear from me. The next day I was now booked on the Royal Jordanian flight back into Heathrow, not the way I hoped for the trip to end; my journey was supposed to continue onto Petra, Wadi Rum, back to Amman and then on to Beirut, before flying back to the UK with MEA -- that'll have to be accomplished on another trip though.
Wednesday 31st January 2007
Again I'd managed to get no sleep at all, as the only roughly comfortable position was standing up, so once my wake up call sounded at 7am I headed down to reception, settled the bill and took the shuttle bus the short distance to the airport. From here on in I did my best with pictures, but as I could only really use my right arm I stuck the camera on motor drive in the hope that at least one out of a batch might come out, although I should have used auto, as I was waaay out with the shutter speeds! Check in was a pleasant and hassle free experience, apparently the flight was just about empty and, as a favour because I was tall, the lady put me in an extra legroom seat... it was only afterwards that I realised I could have a problem with this in an emergency as I wasn't feeling well, but upon asking a RJ help counter was told it was 'ok' and 'not a problem' -- oh well, I really wasn't in the mood today for pointing out safety regulations.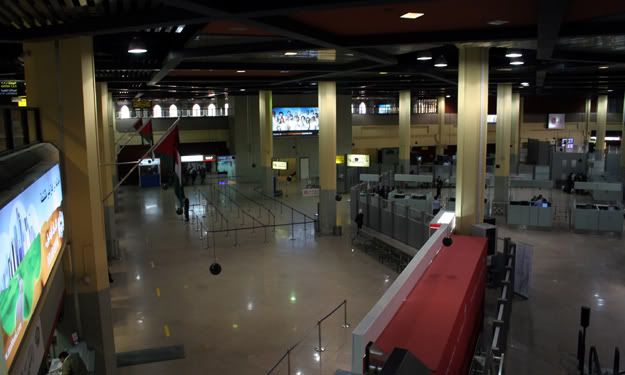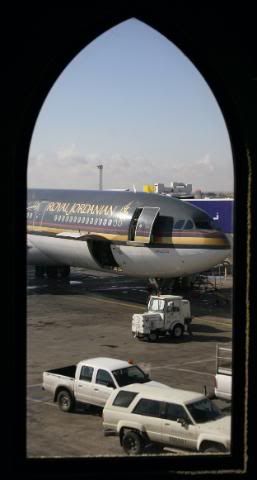 I suppose the only partial benefit of coming back home this way was that I'd get to fly the A340-200, not really a consolation, but it was at least something positive to come out of the situation. Boarding took no time at all, due to their only being a handful of passengers, I think a loading of around 56 pax springs to mind, which on a plane the size of the A342 is nothing!
AMM-LHR
Carrier: Royal Jordanian
Flight: RJ 111
Aircraft: Airbus A340-211
Registration: JY-AIA
Date of First Flight: 1st December 1993
Seat: 23J
Estimated Departure Time: 11:00
Actual Departure Time: 11:27
Estimated Arrival Time: 14:45
Actual Arrival Time: 14:50
Total Flying Time: 5 hours 23 minutes
My seat was at the front of the second cabin and did indeed have miles of leg room and was comfortable too. There was a short delay, then slowly the aircraft was pushed back. Outside on the tarmac was much of the RJ fleet, several A320s, some A321s, an A310 and one of their relatively new Dash 8-400s, which I was supposed to fly up to BEY about a week later.
The taxi to 26L took an age, however the takeoff was brisk and powerful, much, much more so than the -300 series (OK, I know it's not hard to beat the A343 when it comes to power) and before long the ground was receding , buildings becoming dots, trees pinpricks.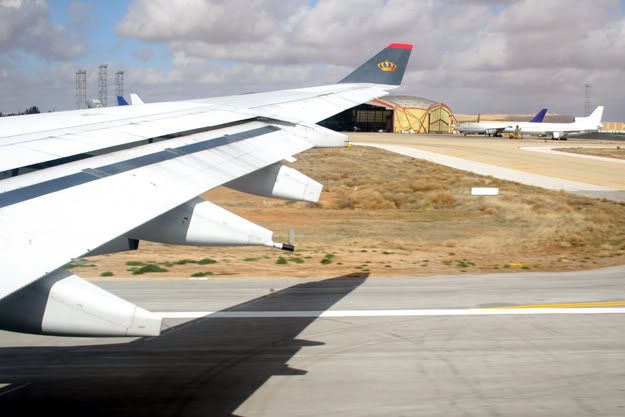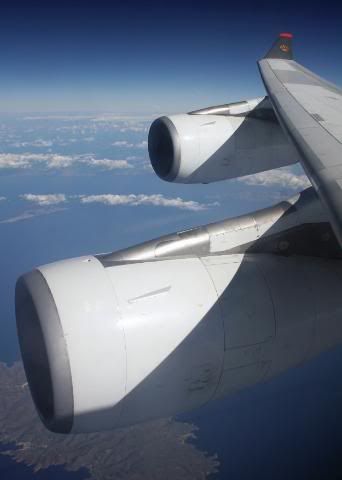 Sitting wasn't the most comfortable of positions, then again nor was standing after a while, but I found that alternating between the two made the whole experience a bit more bearable, so managed to catch a cabin picture on one of my wonders around the aisles. After about an hour the meal service was commenced, now I'm not sure if it was just because I hadn't really eaten much for the past three days, but the meal was the best I have ever had on a flight, it doesn't look much, but it tasted just perfect! In general I found the service onboard Royal Jordanian to be attentive and very polite, with frequent trips around the cabin to offer more tea and coffee.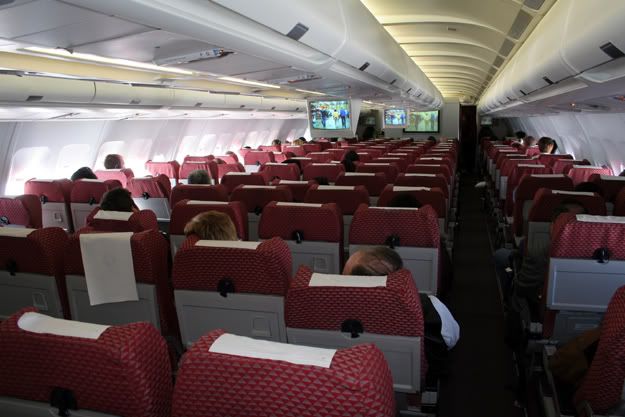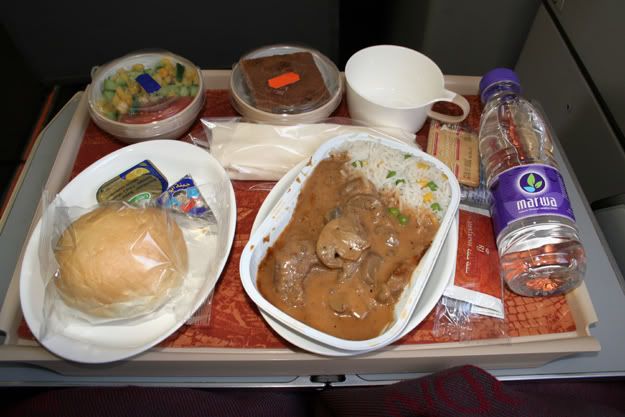 After the meal I tried to relax back into the seat, but it didn't really work, so I tried to concentrate on the scenery outside to take my mind off things -- the Alps proving particularly spectacular to look down at, clad in their winter finery. Just over an hour later the English coast drifted by far beneath, I don't think I've ever been so glad to see it either! London appeared soon after, followed by a gentle approach down over the capital to land firmly on 27L... I was home!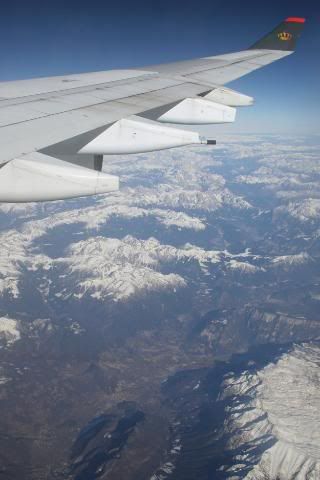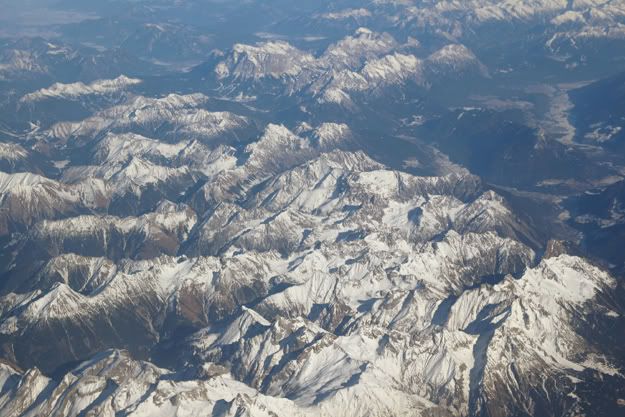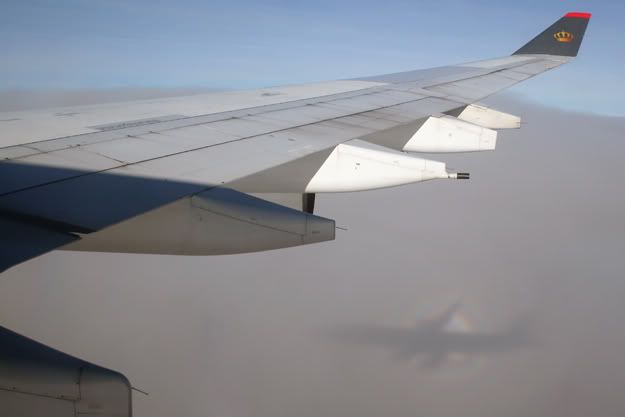 Well, nearly home. After meeting my mum outside T3, who was very pleased to see me, it was a mere 5 hours drive back to Plymouth -- something else I could have done without! I did have the option of flying with Air France back to BHX from AMM, via CDG -- which is just what put me off that idea; having been flung about in busses between terminals there before, likewise having to transit at AMS with KLM was not appealing, (yes, it's the one time in my life where I have actually avoided taking an indirect flight!) even if it meant sitting in the car for slightly longer before finally reaching home.
I'm sure some of you are wondering what on earth was wrong with me, well, first thing my family did was cart me off to the local NHS outfit to have them look at me, and work out just what I had done. I forget the medical term for it, but somehow I had managed to crack several of my ribs in the left hand side of my ribcage which had also crushed it inwards slightly, and badly tear all of the muscles which hold the two sides of it together. The doctor was curious as to how I had managed to sustain such an injury, as it normally entails major trauma such as a car crash. I described the only thing I could think of, which was the hard landing with the Yak, which he agreed was the most likely cause and suggested that I stay away from Russian aircraft in the future, not that I really see it happening. I was also informed that I would have to do 'nothing' for at least a month, otherwise it wouldn't heal... so February perhaps became the most boring month of my life, as for most of it, I couldn't do a thing!
Aside of feeling ill, this trip was really good; Syria is not a dangerous country which should be avoided, just take precautions as you would when travelling anywhere else and you will be fine -- the people are friendly and it's brimming with culture and history just waiting to be explored. Certainly I wish to go back, and soon, hopefully also making it to see Petra, which is something I have always wanted to do.
Hopefully you have enjoyed reading this second part of my trip, as I find the time in between studies I will complete other reports from places I have been to. Feel free to comment and ask any questions you might have.
Dan