Azores Trip
Part One:
BRS-CDG-LIS-PDL-FLW
with
Airlinair, Air France, SATA Internacional
and
SATA Air Acores,
flying on the
ATR 42-500, A320-200, A310-300
and
BAe ATP
.
To Follow in Part Two:
FLW-CVU-HOR-TER-PDL-LIS-LHR
with SATA Air Acores, TAP Air Portugal[/i] and
British Airways,
flying on the
Dornier 228, BAe ATP, A310-300
and
B757-200
.
Introduction:
Pretty much the only place to get on the BAe ATP these days is in the Azores; I had tried during a trip to the Philippines in the summer to fly Asian Spirit's single ATP, but was advised that it was currently out of service, probably for good. However, I hadn't planned to head down there quite so soon, instead I was aiming to travel to Iran and then carry onwards through the 'stans', however the Ministry of Tourism in Tehran turned down my Visa request, so that was the end of that for now… As I hadn't been anywhere since June and since I had just sold my entire very large collection of model railways for a nice sum, decided it was time to get away for a bit! Still though I needed to consider my University course, which meant I needed to be in attendance for Thursday and Friday of each week, but it still gave me a five day weekend to work with, into which I got quite a lot, as the report below details…
The Route Map:
Saturday 13th October 2007
I wanted to leave from BRS in order to fly the new Air France ATR 42 service to Paris, specifically because it is operated by an airline I had never flown before using a -500 series which I had also not yet been on. However, I was in Birmingham and my flight left at 06:30, leaving me no other option than to travel down by train and coach the previous evening and then spend a very boring night in the airport! In total this BRS-CDG-LIS portion of the journey had set me back 12,500 of my airmiles and €61.04 in airport taxes, so not too bad. Before leaving home I'd checked in for both flights to Lisbon and had managed to fit everything into my hand baggage, so as soon as I saw other passengers moving through the security channel I roused from my oh so comfortable bench and headed into the departure lounge and then into the Servisair Lounge when it opened at 04:30. In 2006 I'd managed to fly enough sectors on Sky Team to gain me Gold status, but this was only going to be my 5th flight on Sky this year, so I welcomed another chance to make the most of my status… namely the free snacks and a most welcome cup of coffee – very reasonable too for machine brew. The lounge was nice and quiet, so I relaxed into a comfortable chair and scanned a newspaper from the day before – it was still early so there was very little movement outside on the tarmac.
The flight was called after a short delay due to the crew being late and then we were bussed out to the aircraft. At least half of the passengers were heading to the England-France quarter final rugby match in Paris, it's lucky I hadn't left it later to book or there wouldn't have been any seats left. Oh, and sorry we beat you France, but congratulations to South Africa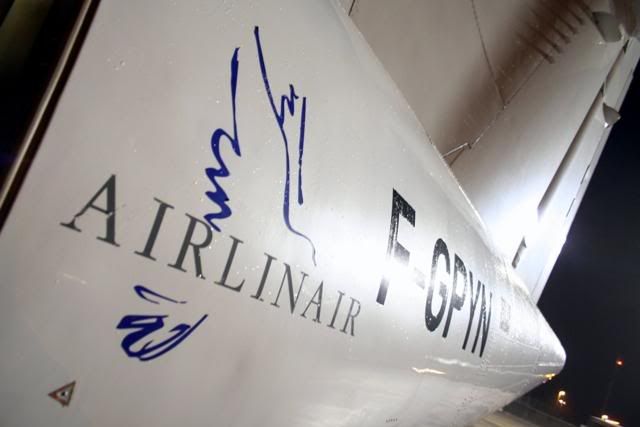 Another delay was announced once onboard; as a result of the first delay we had now missed our landing slot at CDG and would be waiting for 50 minutes to take off… great I thought, but it certainly wasn't quite that long before the doors were closed and we made our way towards runway 27.
BRS-CDG
Carrier: Airlinair for Air France
Flight: AF 2073
Aircraft: ATR 42-500
Registration: F-GPYN
Date of First Flight: 12th March 1997
Seat: 12E
Estimated Departure Time: 06:30
Actual Departure Time: 07:21
Estimated Arrival Time: 09:00
Actual Arrival Time: 09:36
Distance Flown: 285 miles
Total Flying Time: 1 hour 15 minutes
After holding for an approaching Air Southwest flight from PLH to touch down, which I've taken more times than I care to remember, we lined up in the first murky light of the morning and after a fairly long roll pulled gently back and promptly disappeared a few seconds later into the low cloud.
A long right hand bank ensued, to bring us back into a direction more conducive with flying to Paris instead of Cardiff, puncturing through the cloud as we did so to reveal a beautiful sunny morning. Ahh yes, flying is the guaranteed way to see some sun whilst you're in the UK! Once straight and level the crew initiated the service, although most of the passengers still seemed entirely preoccupied with the size of the aircraft – amusing to hear just how many of them seemed convinced that Air France should be flying a 747 on the route. Just a snack was served, a sort of fruit croissant/pastry wrap which tasted pretty nice and to wash it down I had a glass of orange juice.
The view outside was a pretty constant blanket of cloud below, whilst the occasional jet would go cruising by high above us, drawing out streamers in the sky. Mercifully for the other passengers the air was perfectly smooth in our cruise at 18,000ft, which is the ceiling height for the aircraft. An hour into the flight and the descent began, skimming the tops of the beautiful candifloss clouds then diving into them to find 09L, settling gently down onto it half an hour or so later than expected. Last time I was at CDG I had learnt not to take any pictures when a stumpy and bad mannered woman walked up to me and smacked my camera against my face, only everybody else seemed to be taking pictures so that their families at home would believe how small the plane was… so once on the bus I felt safe enough from small evil women to take a few.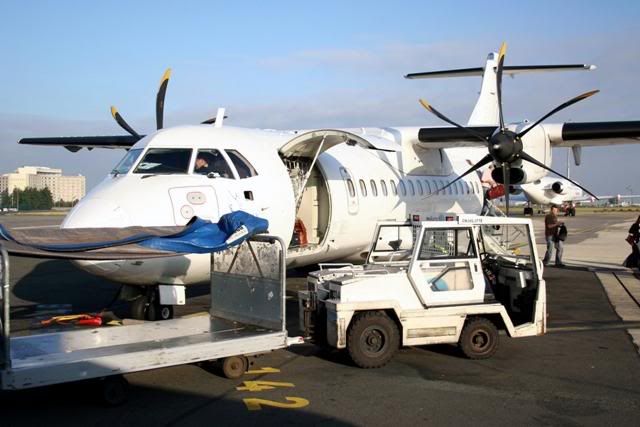 A undesirably long and jolty bus ride to the terminal followed; whenever I fly into CDG I almost
always
end up on a bus, even when flying to HKG we left from a remote stand, to be honest it's a real pain and puts me off flying AF, well, one of the reasons that puts me of flying AF that is. I still had a few hours to kill before the next flight, so again made use of my Flying Blue card once I had found a lounge which was open. I know my lounge experience is not the greatest, but the offering was decisively poor; a wonderful selection of drinks was available, but there was nowhere to get anything to eat, except some minute and individually wrapped biscuits whose taste and texture was only a disappointment after all the hassle of getting into the darn things. Finding a computer which worked was a pain as well – almost all were broken and, shock horror, they were Macs! Now, I don't have a problem with them, I just think that it's alienating a large amount of your clientele if they are the only thing available – I don't have a clue how to operate them and gave up unsuccessfully trying after a while. To me it would make far more sense to have PC's, if anything, as 99.9% of people who are computer literate know how to use them.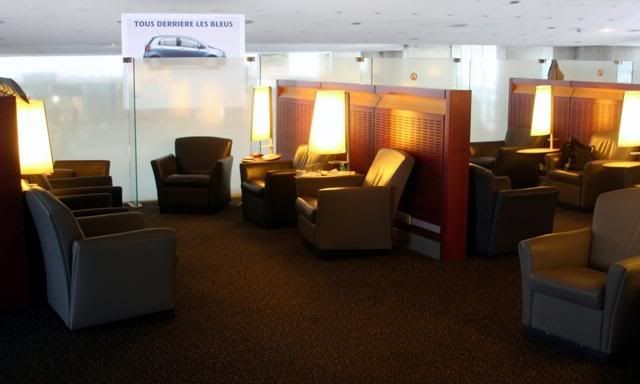 Nevertheless, it was at least somewhere quiet to sit back and relax before I made my way through security and to the gate area of Terminal 2D where my flight would depart from. This was another odd thing – why is the lounge on the wrong side of the security barriers? To me Charles de Gaul is a striking piece of contemporary design as far as the visual impression is concerned, however as a major transport hub it has too many flaws – nothing connects easily, nothing flows and it just lacks the basic integration of say AMS, BCN, ZRH or MUC.
Boarding for the flight to LIS began on time and, surprise surprise, down the stairs everyone descended to a waiting bus, not of the Airbus variety either. Once the dispatcher had ensured we were all packed on like sardines and that there wasn't an inch of breathing space left the doors shut and off we were driven, to the other side of the terminal, where we were let off and asked to walk up another set of stairs to access the A320 via an air bridge of Terminal 2A. I don't think I was the only person left wondering why we couldn't just have been sent to that terminal and gate in the first place – although it probably comes back to the Schengen agreement and regulations on where EU passengers are and are not allowed, which only reiterates my point about the poor design of the airport.
CDG-LIS
Carrier: Air France
Flight: AF 1624
Aircraft: Airbus A320-211
Registration: F-GFKO
Date of First Flight: 28th September 1990
Seat: 22F (IIRC)
Estimated Departure Time: 12:45
Actual Departure Time: 13:10
Estimated Arrival Time: 14:15
Actual Arrival Time: 14:10
Distance Flown: 915 miles
Total Flying Time: 2 hours exactly
Departing traffic was light, with only one aircraft in line before us, so it wasn't more than a couple of minutes before we steamed down the tarmac of runway 08R and soared elegantly into the sky. The sun had begun to burn the cloud off, but still much of the countryside below was obscured, so I sat back in my seat and read the magazine, taking a few photographs once we had turned south and I didn't have the sun beaming into my eyes and the camera lens.
I hadn't flown Air France itself within Europe for a good couple of years, previously being served with Blueline and CityJet aircraft for connections to long haul flights from CDG, and once more I wasn't impressed. The cabin had a strange and not overly pleasant muskiness to it, combined with the odd waft of stale sweat and, although the seat was comfortable, the general appearance wasn't that of cleanliness. I'd put it down to a one off, but this was also the exact perception of my last AF flight back in 2005.
Half an hour out of Paris the meal service began, as I hadn't eaten in the terminal I welcomed my provision and asked for a bottle of white wine for an accompaniment – it was past midday now after all. Peeling back the tinfoil I wasn't sure what it was and I really regret not taking a picture of it now; there were several large slices of a round 'substance', around which a creamy grey sauce covered what I think was sliced mushrooms and potato. Tasting it, I was still none the wiser – whatever the substance was it seemed to resemble a sort of tofu at first bite, which was vaguely mushroom flavored, but once in the mouth took on a sour taste as the texture rapidly disintegrated to that of a fine chalk. I should really congratulate Air France on such a fine achievement; in 21 years of flying on more than 300 flights they have served me the first meal
ever
which I physically couldn't eat, I gave it several tries as I was very hungry – but it was so disgusting and cold that I just could not make myself. If anyone has an idea of what it might be, then I'd be interested to know; I have a habit of ordering random things in foreign restaurants in order to experience different cuisine, but I never wish to have this again!
The cabin crew were very attentive throughout the flight, passing through several times to offer more water once the meal service had been cleared away. Below the North coast of Spain appeared under the wing and at some undefined point Spain must have given way to Portugal as we began to descend very slowly back towards Earth. As the landing was to be made on runway 03 the approach to LIS itself was fantastic, providing a beautiful view of the city and the famous '25 de Abril Bridge'.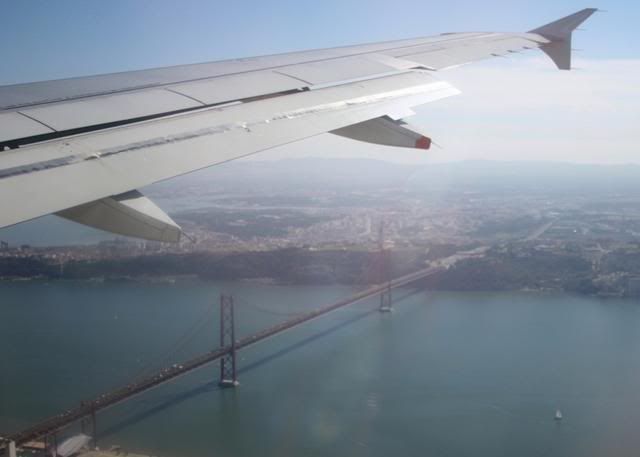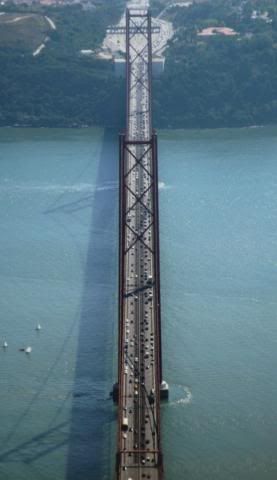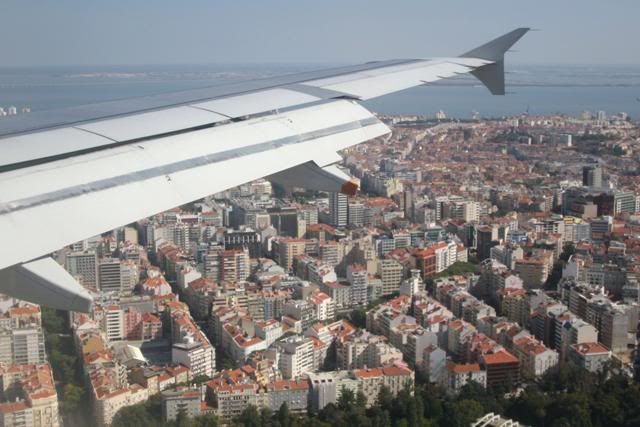 Touchdown was firm, after a flying time from Paris of exactly two hours, arriving at the stand right on block time. In summary, I was not exactly impressed with AF, but there we go, it's an experience and in future I shall stick to either the LCCs for European flights, or KLM.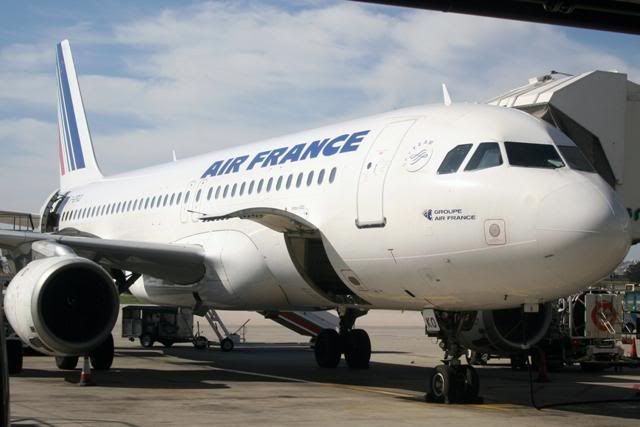 Although I have spent several years in total of my life in neighboring Spain I had never visited Portugal before, so debated whether to go into the city, however as time was tight and I needed to make my way a different terminal, so decided against it, but picked up plenty of literature from the tourist office so that I'd be fully informed of how to get in should I have time on my return. Next I had to get a bus to reach the newly constructed Terminal 2, to begin with I wondered where it was, as the building is built in a fairly deep excavation and thus cannot be seen from the main terminal or the road approaching it. Check in wasn't open yet, but I wandered over to the SATA information desk because I wanted to check that my flight definitely was being operated by the A310, no problems there and the kind assistant offered to check me in right away. The configuration for this flight would be 3-3-3 in economy, apparently they have different configurations on certain aircraft, with some having the regular 2-4-2, but to make it a nicer flight he sat me in one of the emergency exit seats which I was certainly most grateful for, especially once onboard!
There was pretty much nothing to do in the terminal, being in a dip meant that you couldn't see anything, so after going back and forth on the bus a few times just for the hell of it, I had a good lunch and waited for the flight to board. Apparently it's built in a new kind of modular style, which presumably means it was much cheaper due to reduced design costs and that it can be added to should needs be. Slowly the seats around the gate filled up as more people waited for the flight, until it was called and everybody filed onto the bus to be driven out to the remote parking area where the A310 was waiting, ready for the flight to PDL. On the next stand one of TAP's A330 aircraft was parked up, their new livery looks brilliant on this bird;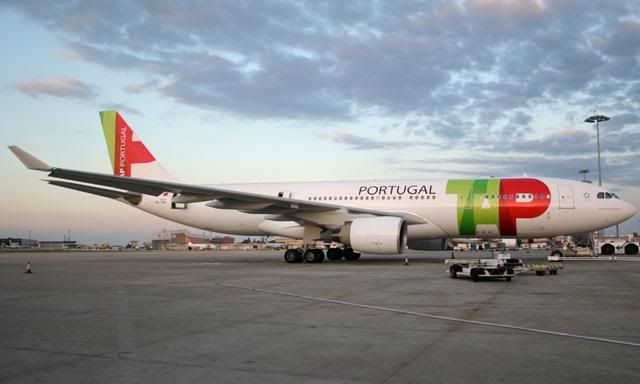 As expected, the seating was nine abreast, which wasn't too much of an issue in terms of the seat width, but you certainly felt much more 'pushed up' against the wall of the cabin, so it was a blessing to have the extra legroom in which to stretch out and not be sat bolt upright. As the night grew over Lisbon we pushed silently back while the engines whined into life from their afternoon sleep. I've flown on the A300 a good few times and loved it each time, but this was my first time on an A310, in a way it feels odd inside, as the cabin is so short, yet it is wide and spacious.
LIS-PDL
Carrier: SATA Internacional
Flight: TP 6559/S4 129
Aircraft: Airbus A310-325
Registration: CS-TKN
Date of First Flight: 6th December 1991
Seat: 22A
Estimated Departure Time: 19:10
Actual Departure Time: 19:28
Estimated Arrival Time: 20:25
Actual Arrival Time: 20:21
Distance Flown: 901 miles
Total Flying Time: 1 hour 53 minutes
Pulling onto the runway there wasn't even a pause; the engines were thrown straight into action and after a brisk roll of about 20-25 seconds the nose raised and we lifted quickly away from the ground. Watching the suburbs of Lisbon recede below under the last remains of sunset, we banked to the left and headed over the Atlantic towards the comparatively tiny Azores archipelago.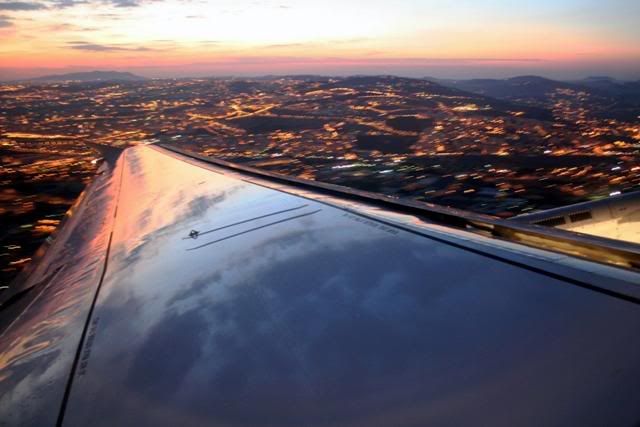 The load onboard was moderate, probably not more than 70%, and the cabin itself was looking a little dated, in fact it reminded me quite a lot about the Northwest DC10 flight I had taken almost exactly a year previously, especially the three overhead projection screens, which throughout the flight didn't seem to show anything of much interest. From the back of the plane an appealing aroma was beginning to waft through the air, preempting the appearance of the meal service, which arrived in a little cardboard box, drinks and a tub of ice cream being handed out separately by the crew. Presentation wise there wasn't much to be said, dinner was a hot cheese and ham/pork baguette whose filling had managed to cement itself quite impressively to the foil paper it was wrapped in, but taste wise it was delicious – if a little greasy to handle.
Once the service had been cleared away I took an amble around the cabin with the aim of taking some pictures, which was easier said than done, as half of the other passengers seemed to have the same urge to take a post dinner walk! There was very little room to move in the aisles, I definitely prefer the 2-4-2 seating over this much more high density approach, but on a comparatively short flight of under two hours I can't see any reason to complain, however long haul would be another thing, something which I shall have to prepare myself for, as I plan to take Air Asia X once they start flying to the UK or Europe from South East Asia.
The seat, apart from being a little tight for my liking, was fairly comfortable – although the tray table mechanism had seen better days; firstly it didn't want to open, and then it didn't want to fold back away again. Value for money though, well, prices to the Azores are pretty steep, the return ticket from Lisbon had been £164 at the very cheapest, which for intra-European standards on a two hour trip is pretty high, but there is no other option than to go via LIS, unless you can take the weekly (and still expensive) A320 flights from the UK or other destinations, which I couldn't do because of my course requirements.
For most of the flight we had traced the dying embers of the days light which had lingered hopefully on the horizon, but by the time our descent towards Ponta Delgada began the night sky had closed in and it was completely dark, except for the pulsating halo of light emanating from the wingtip. The approach was quite an unusual sensation really; normally as you drop lower and lower on the glide path you have lights on the ground to act as a bearing for just where you are, but as I was on the left of the aircraft and this faced directly out to sea, for almost the whole approach I had absolutely no idea where we were or how high the aircraft was – save for the dull rumble which signified that the landing gear had been lowered and that we must be somewhere heading towards a runway. Indeed, a short while later a few lights flickered past the wing and moments later the wheels abruptly met the surface of runway 30, with a combination of reverse thrust and braking slowing us down along it's entire length. There is no reason to stop any quicker, as the terminal is located at the very far end of the airfield, where we drew up on the small apron alongside an ATP waiting for it's next flight.
Before leaving the UK I had found an affordable guest house in the centre of Ponta Delgada using the internet and reserved my accommodation, so just as suggested by the host, I caught a taxi from in front of the terminal which whisked me straight to the door in about ten minutes and for only 5 Euros – very convenient and for a highly agreeable price! As it turned out, I was really glad that I stayed where I did; located within just a short stroll of the city centre I had a very comfortable room, or studio flat as it turned out to be really, which provided every amenity I needed; en suite bathroom, kitchen area, ample furnishings, all set in a period 'Victorian' townhouse which exuded a fantastic relaxing atmosphere. The owner was most hospitable, brimming with highly useful information about where to go, what to see and what to do – I would recommend it to anyone, and would post a link if I could find the website, which unfortunately seems to have disappeared… the name though is
Casa Victoriana
.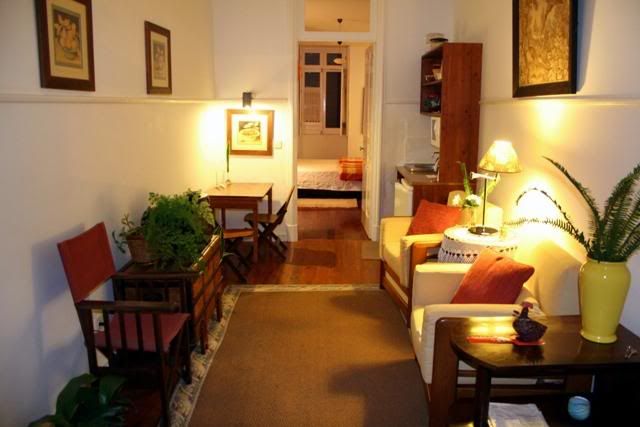 The only thing I regretted about this trip was that I only had three days in the Azores, before I even booked the trip I realized it would not be enough to see everything, but hoped it would be a 'taster' of what the islands had to offer. The following day, on the Sunday, I spent the time walking around the city and botanical gardens – although it's the capital of the Azores it's hardly a city by normal standards; feeling more like a large town with a really nice atmosphere and just over 50,000 inhabitants – or approximately one million less than Birmingham!
Monday 15th October 2007
Today I was going to fulfill the purpose of my trip; to fly on the BAe ATP aircraft. In the planning of my trip I'd spent literally hours on the SATA website finding the best itinerary which got me the most flights in one day, on both the ATP and the fairly illusive single D228 in SATA's fleet. I had contemplated booking it on the day, using the SATA youth standby tickets which are half the regular adult price, but considering that several of the flights I aimed to take ran only three times a week, I figured it was best to avoid getting stranded somewhere remote and missing my flights back home! In the end I chose a PDL-FLW-CVO-HOR-TER-PDL routing, with two flights on the ATP and three on the 228, unfortunately when I looked at the price my stomach did a back flip – but in the end the child in me persuaded the accountant in me that it was worthwhile and I booked it via the SATA website and then confirmed my card details and payment via email; the total cost being 214.22 Euros.
Figuring it best to be a little early, I got to the airport just before 8am and after checking in caught some breakfast at the café before proceeding through to departures. The lady who checked me in seemed quite aghast that someone would do such a routing all in one day, telling me instead to spend more time on each island, which of course I would loved to have done do should time have permitted it.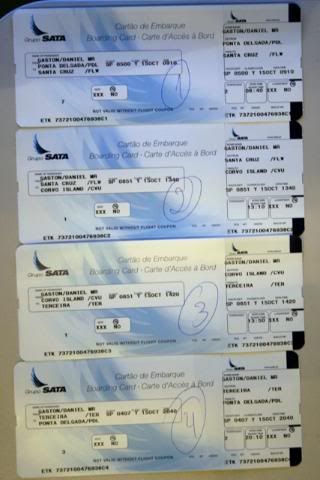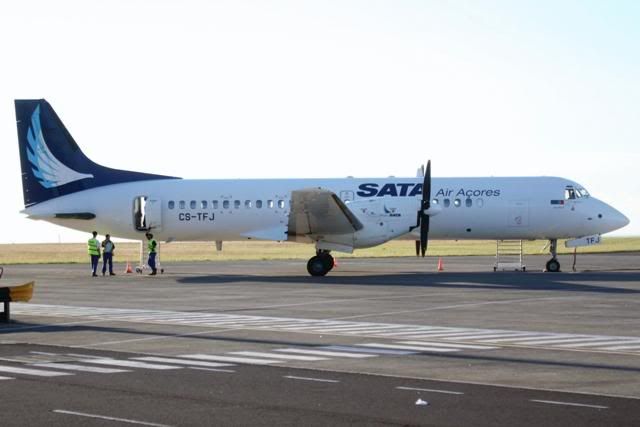 The glass fronted terminal provided good views of the apron, including the same A310 as I had flown in on the night before departing back to LIS. There were only around 25 passengers on the flight, so boarding was not too much of a rush and, once onboard I found a seat at the very front – on the intra-island flights SATA does not pre-allocate seats, it's all free seating once you get onboard.
PDL-FLW
Carrier: SATA Air Acores
Flight: SP 500
Aircraft: British Aerospace ATP
Registration: CS-TFJ
Date of First Flight: 18th September 1989
Seat: 1D
Estimated Departure Time: 09:10
Actual Departure Time: 09:16
Estimated Arrival Time: 10:40
Actual Arrival Time: 10:37
Distance Flown: 317 miles
Total Flying Time: 1 hour 21 minutes
It's always nice to get on rare and unusual aircraft and, in many ways the ATP reminded me of the YS-11 which I'd flown back in the summer, appearance wise there are certainly quite a few similarities. After a short safety briefing the engines powered up and the props began to sidle idly past, until they were spinning in a blur, moving us off stand to backtrack down the entire runway in order to take off to the West, in the direction of Flores, the most Westerly island of the archipelago and along with Corvo the only two islands to be on the North American tectonic plate.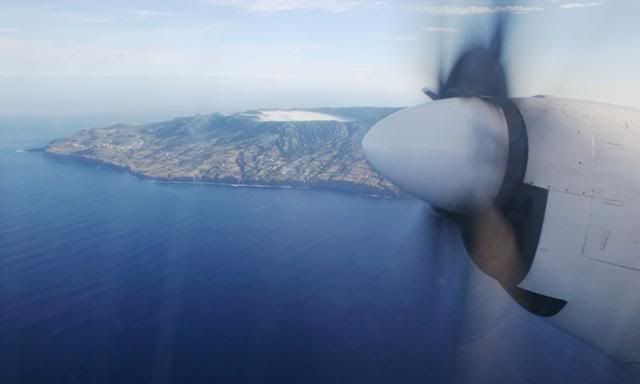 The actual takeoff was not especially powerful, but still the ATP soon lifted into the skies, climbing out shallowly which was nice, as it enabled a much closer view of the countryside below, including a view into the crater of the extinct Cete Cidades volcano. As this is the longest of all passenger flights in the world served by the ATP and longest on SATA Air Acores's network, I did wonder if any refreshments would be served, but even on a near hour and a half flight it appears there is nothing which was a little disappointing. Still, the view outside was certainly good enough to keep me occupied, on the way we passed over Sao Jorge, providing some wonderful views down onto the island below.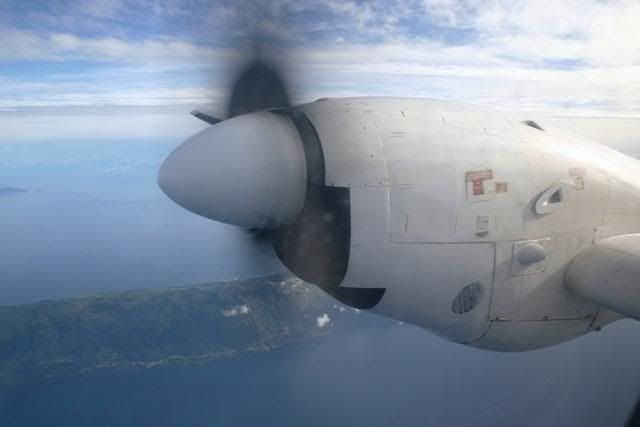 I had asked if it was possible to take a picture down the cabin in flight, however the attendants did not allow it, a shame, but they informed me that it was for identification reasons regarding the other passengers, which is fair enough. As we flew nearer to Flores the skies grew noticeably darker, so that by the time we began the descent it looked as if the heavens were about to open. The approach to the airport is one of the most spectacular that I have ever witnessed; at first it seems as if you are about to fly straight into the towering cliffs which you shadow all the way down until the land appears out of the sea, followed swiftly by the runway – just an amazing experience which sadly pictures do not do justice to!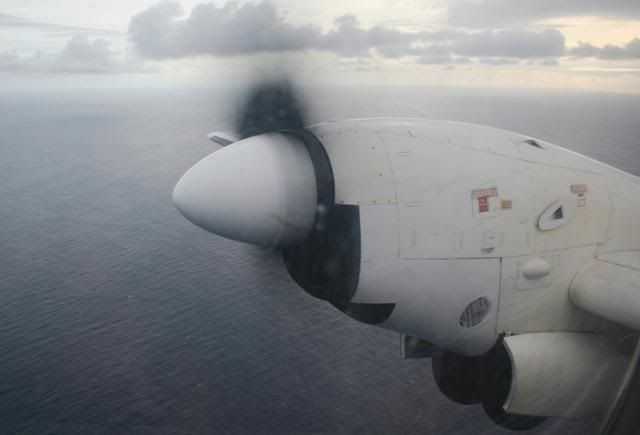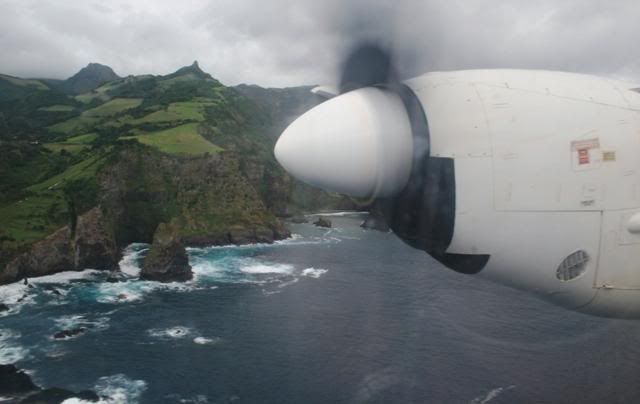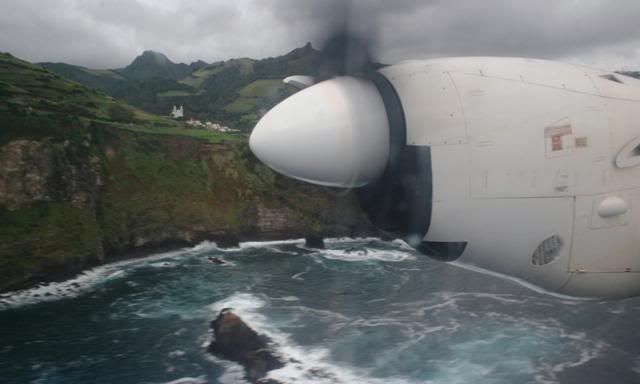 The moment rubber met tarmac the props were feathered and brakes applied sharply – one of those moments where the seatbelt really helps to stop you from being pushed onto the floor by sudden deceleration! Upon exiting the crew were happy for me to take a few pictures, showing the clean and comfortable cabin. I was impressed by the ATP – inside it was quiet, on a par if not better than the ATR which I had flown a few days previously to Paris, it's just a real shame that they hardly see any passenger use these days, they are not even that old!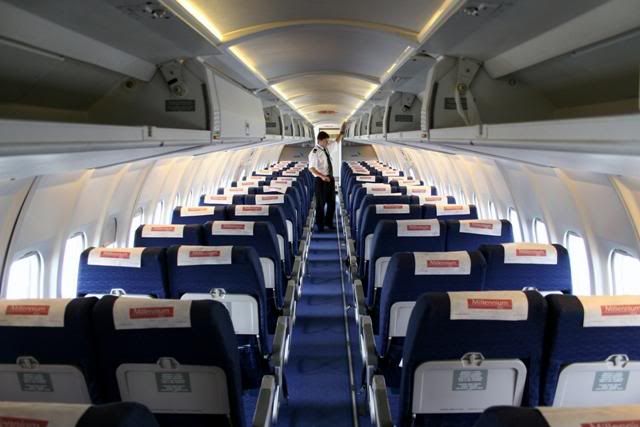 The terminal was small and compact as could be expected, I had several hours though before my next flight so decided not to hang about; I was keen to get out, see a bit of the island, and photograph the ATP taking off again – which meant getting to the other end of the runway ASAP! With about five minutes to spare, including finding a shop to buy lunch, I found somewhere to stand, although I anticipated that it would use much more runway than it actually did, so hence gambled on using the wrong lens.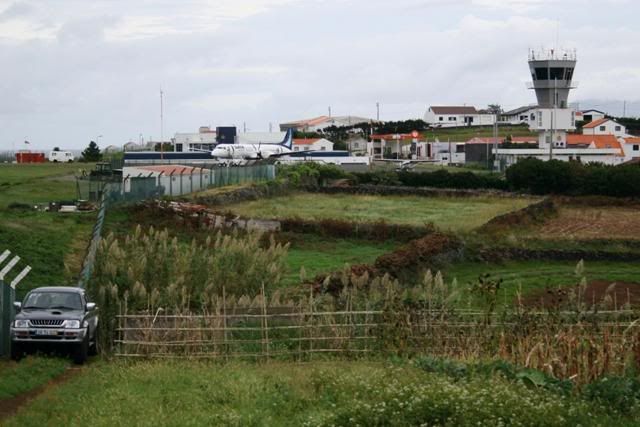 Once the ATP was just a dot in the sky I had a quick look around the town, and then decided to climb down the cliff and sit by the sea to eat my lunch. Living in Birmingham as I do now means that I miss the sea, sounds odd I know, but I really enjoy going for long walks around the coast paths and many beaches of the South West where I can sit and listen to the waves crashing against the rocks for hours, very peaceful, real chill out time!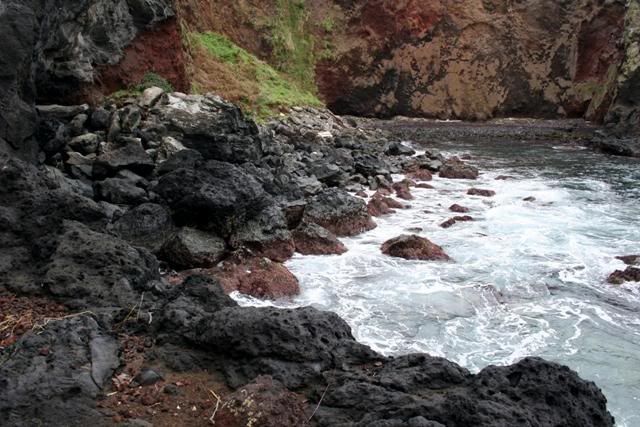 There really is no margin for error when landing at either end of FLW's runway; the drop straight down to the cove where I had just been is literally a hundred meters or so from the Southern end – note the 'up' markers on the embankment to warn approaching pilots of the landform.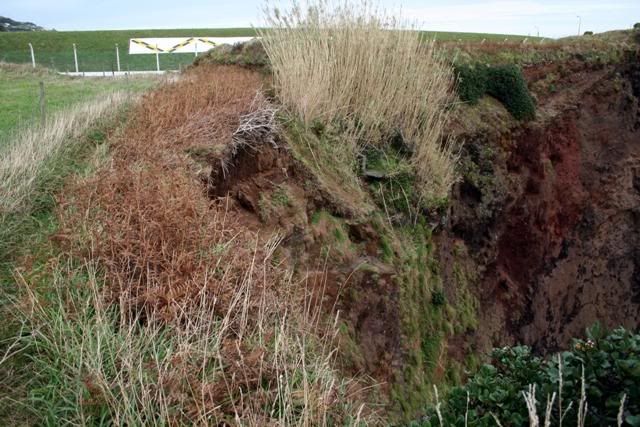 With plenty of time still, I carried on around the perimeter of the airport, ending up at a convenient point to photograph this Beech Super King Air 200, which was a pleasant surprise to see land!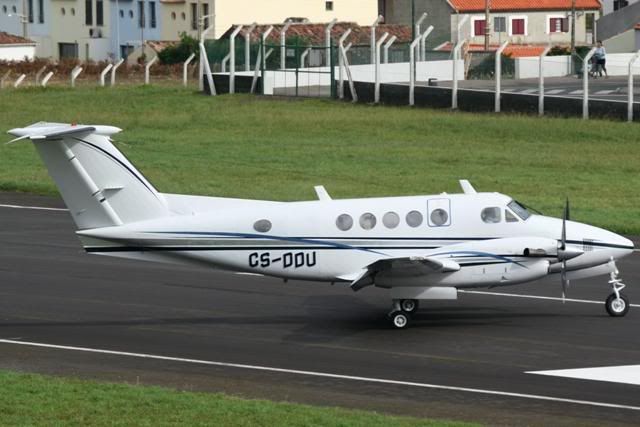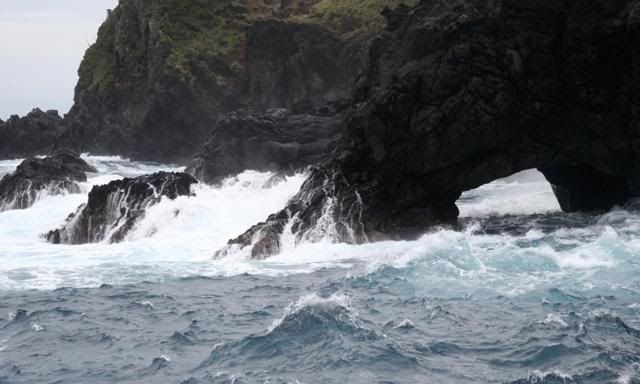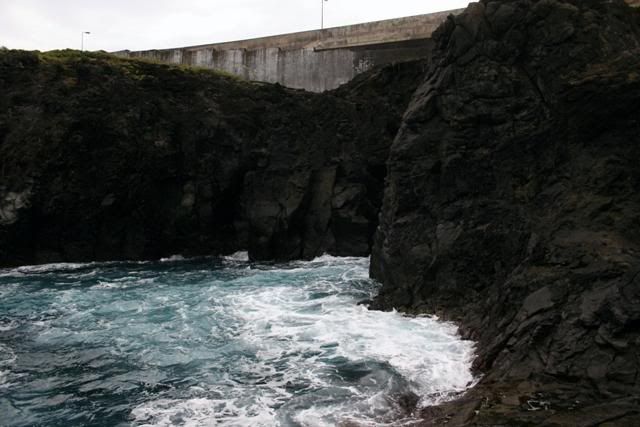 The North end of the runway has an equally undesirable reason not to overrun – the latter picture showing just how much the land has been built up to accommodate the road and then runway. I was conscious though that time was getting on, so headed back towards the airport - in just over an hour my next flight, this time on the Dornier 228, was due to take off for Corvo, the smallest island in the Azores and clearly visible from Flores: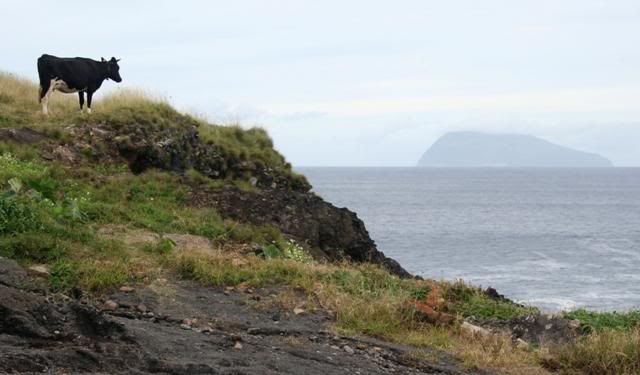 Continued in Part Two, which I will post once I've finished tying up a few lose ends to it. Hopefully you have enjoyed reading the report so far, as usual, please feel free to post any comments or ask questions which you may have.
Thanks,
Dan