My trip began Monday 1/21 with me non-reving on a layover that my mom was working so I can get a chance to see LAX and ride the new 763 Biz seats. It began painfully...
Monday morning I woke up around 9am to check jetnet and too see that my moms flight was oversold by 5 people. I was very surprised because the night before, there where 30 seats open. We noticed the first two ORD-LAX flights where canceled and understood it was very unlikely that I would get on this flight. We had to make a decision. Knowing there where several flights to LAX out of O'Hare, I decided I would go and see what happened.
On arriving at the airport we found out now there where 30 non-revs, many of witch where crew from previous cancel . I decided to try and go ORD-DFW-LAX, as my mom had left me to go work her flight. 30 minutes to boarding, the gate agent of the flight to DFW informed us that there where 93, yes 93 Standbys to get on an aircraft that held around 140...what a joke
I preceded to ask the agent to put me on the direct LAX and 750pm as it was wide open. So I waited, got some food and sat down at the gate where I was expecting the plane in a few hours. Two hours before departure, I over head the agent telling another passenger he had to find another plane due to a mechanical! At this point I was sure I wasn't getting to LA. He then made an announcement that there was a gate change and we where on our way. A 757 was waiting for us, thank god.
I again asked the gate agent how it looked for me since I was a little nervous and all flying for the first time alone, and he said "pretty good sir" Some relief settled in but I kept thinking of something happening like another cancellation.
30 minutes to departure I was given my seat, 20A. I was relieved but also anxious to hear what my mom had to say about me not just going home and coming to LA for around 8 hours...She called me when she landed at LAX and I was still in the 757 getting De iced in Chicago.
Got into LAX 4 hours later and got the shuttle to meet my mom.
Next morning Checked in and went to the gate to get on flight 88 to ORD
Here some pictures from the gate area-
Our 767 on the left
Captain Mark knew about me being into aviation and all and offered to take me around the airplane for the walk around. What a treat! He did have a women with him, I am not sure what her title was but he mentioned flight ops and he needed her to escort us... I'm so bad with names but anyways here are the pictures from that. My mom took most of them because I was busy listening to Captain Webber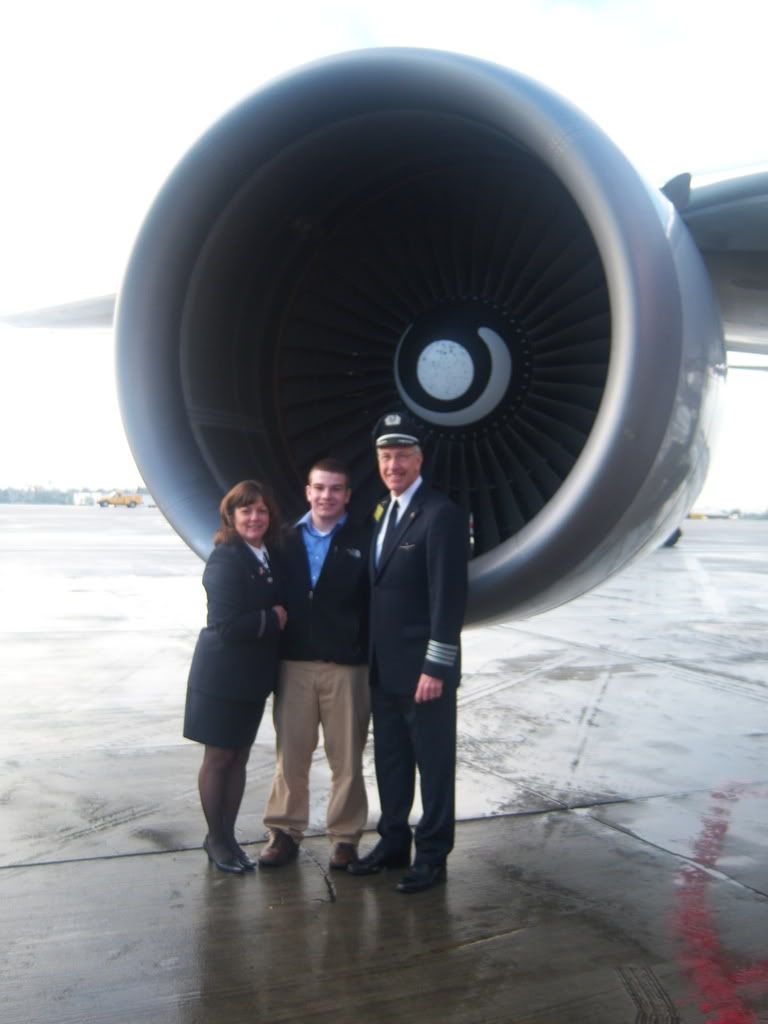 I couldn't believe how nice this Captain was at this point but thats not all he did for me, wait til the end.
Once back in the gate area I got my seats, I was kinda bummed not to get the Next Gen biz seat but it was good, I just got a tour of the 763! I got 17a, crew rest which was pretty nice.
I boarded about a half hour before the rest and it was the crew and I on board getting settled in. I decided to snap some more pictures before we pushed.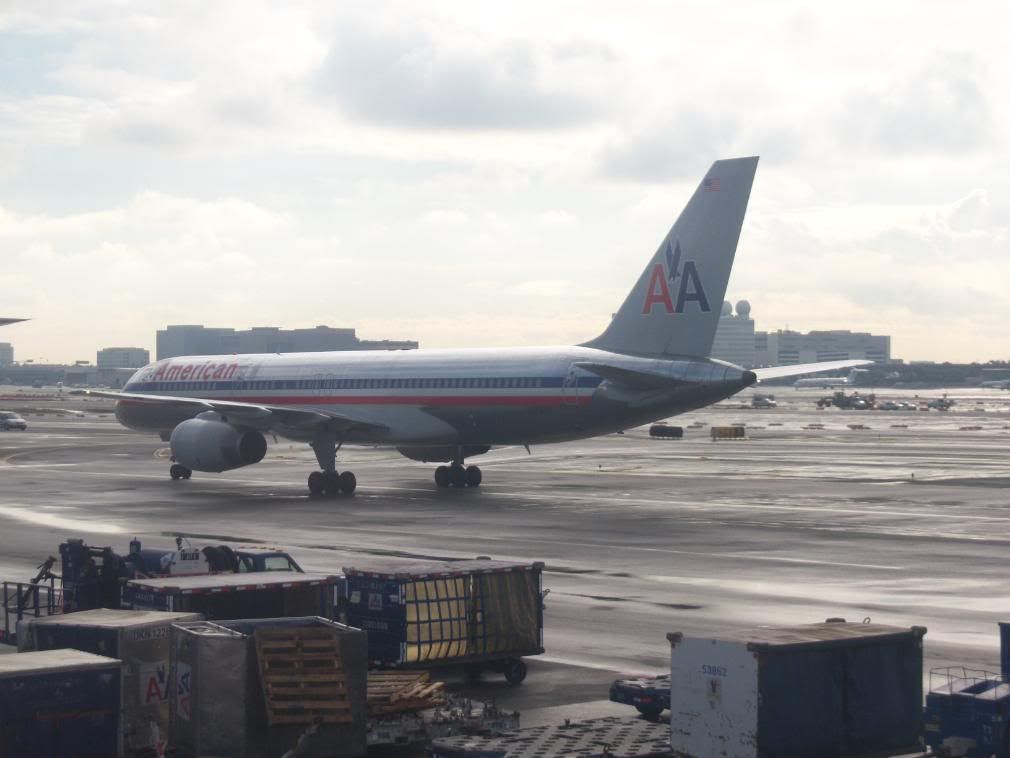 The other passengers began to bored the airplane and we were soon on our way to ORD. After push back one of the flight attendants came up to me and asked, "Do you know who Peter Wentz is" I said ya, Fallout Boy. "Well hes sitting in first a kid just got his autograph" she replied. I was completely shocked. My first LAX flight and I have a Rock Star. I'm sure many doesn't know who he is but it sure was cool for me to meet him. Im not a huge fan of there music though. So then shortly we where on our way but only after taxiing from one end of the runway to the other on the taxi way that is.
Mid way through the flight I asked my mom to give the camera to Captain Mark and to see if he can take some pictures up front for me. He was more than glad. I asked for it back though later on since I wanted a picture with Peter. I got it back but he said to give it back soon so he can get some on the approach and landing. So I gave it back after attempting to get a picture with Peter mid flight but was sleeping the whole flight. Here are the pictures from the cockpit on cruise/ approach
Travis and Peter and I (from left to right)
I was so glad to have such a nice flight crew, going out of there way to make my flight the best it could be. Especially Captain Mark. I can't wait to drop him a letter or email once I find out his info.
Anyways, If you've read this far, I want to thank you for your time and hope you enjoyed reading it. It is my first report if you couldn't tell and I wouldn't mind hearing how I can improve for my future flights.
Mike