This trip was completed in the summer of 2007 after I finished my A-Levels, I wasn't going to be having a gap year and so a friend and I decided to go for a six week holiday.
Our route was as follows: LHR-SIN-MEL-SYD-AKL-RAR-AKL-LAX-LGB-BOS-JFK-LHR. The first three sections of the trip report were completed a few months ago; I then had a period of inactivity on this site while I settled into university. However, I've now decided to write up the rest of the trip and this time, I'm hoping, to a better standard than the last.
The last section of the trip can be found here:
Around the world in Y, part three: SYD-AKL-RAR
This part of the report covers our journey from Rarotonga in The Cook Islands to Los Angeles via Auckland.
Sector: RAR-AKL Sunday 15 July 2007
Flight number: NZ45
Flight time: 4 hours 20 minutes
STD: 16:30
Pushback: 18:31
Rotate: 18:36
Runway: 26
Aircraft: Boeing 777-200ER
Registration: ZK-OKA
After probably the best beach holiday of my life we had to sadly leave The Cook Islands. As a holiday destination I
highly
recommend Rarotonga and there are several other islands which are only a short flight away and apparently even more stunning. The islands are still relatively undeveloped compared to others in the South Pacific such as Fiji although I don't know how long this will last. There is such a contrast of scenery from the coral reef and shallow waters to jungle covered mountains, it can really cater for lots of different activities…it reminded me of Lost! The residents of The Cook Islands have an amazing culture which I was completely unaware of, they are also so friendly and relaxed that they really make you feel welcome. Getting a Cook Island driving licence and hiring a scooter is a really fun way of travelling around the island, just being able to pull up anywhere at the side of the road and have an empty and untouched beach with fantastic snorkeling is incredible.
Our first flight today was taking us to Auckland to catch NZ2 to Los Angeles, there was the option of flying direct to LAX on the 767, however as I'm a 777 fan and not keen on the idea of flying for 9 hours with no PTVs we took the longer alternative. We left our hotel at 11:05 to get the 11:17 bus to take us over to the airport, being a Sunday there were only two bus services and the later one got us theretoo late. We arrived at a completely deserted airport exactly at midday and were told that check-in wouldn't be open for another two hours. Now facilities at Avarua airport are fairly limited and so much of the time was spent trying to catch some more of the South Pacific sun which wasn't difficult as the whole airport is open air and instead of the usual concrete there's plenty of lush green grass.
Check-in area
GZ Saab 340 which used to belong to NZ as ZK-EFS…or so I'm told!
As soon as it passed 14:00 numerous buses and taxis turned up and the area was full of tourists and residents leaving the islands on the same flight, the queues for check-in quickly built up and soon the whole airport was buzzing with 300 people. It was the most number of people we had seen all week and wondered where they had all come from. We checked-in as the first two passengers and were given boarding passes for our flight to LAX and our bags were checked all the way through, it was then time to pay the $30 departure tax before we could head through to security.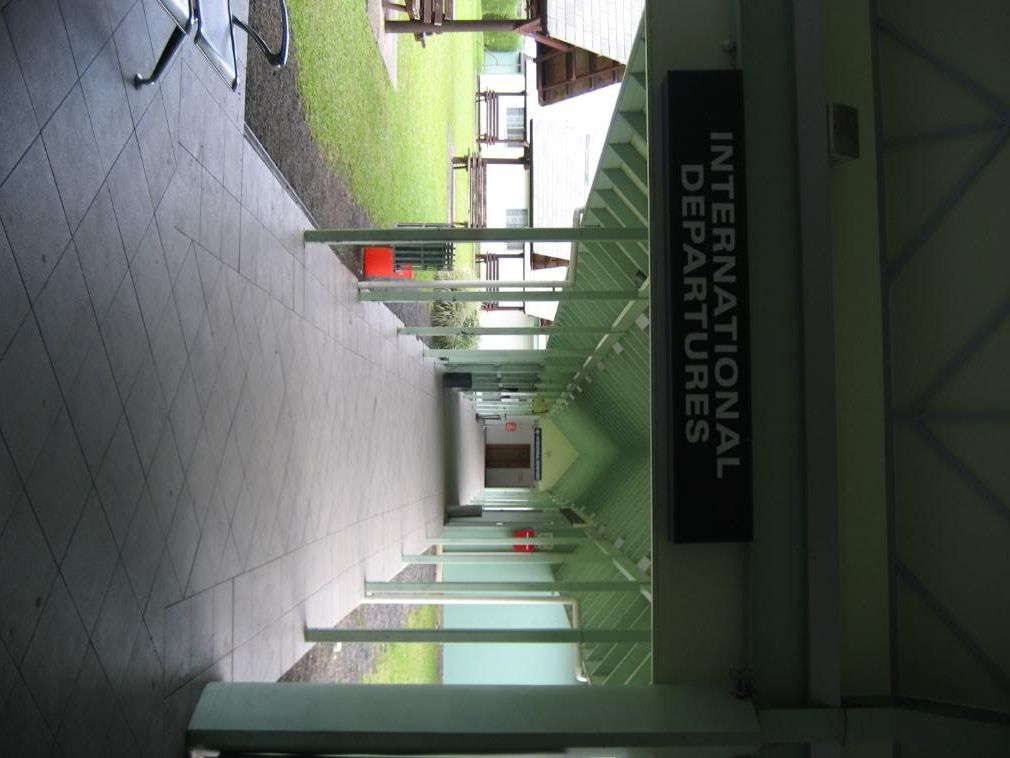 To Departures
Our inbound aircraft was due to arrive at RAR around 15:20, as we were queuing to pay our departure tax rumours started going around that the flight wouldn't arrive until 17:10 with a new departure planned for 18:00, this rumour was soon confirmed by the airport staff and was due to "technical issues" on departure from AKL. Our onward flight to LAX was planned to leave AKL at 21:45 so we expected our connection to be quite tight. After passing through security we had the options of a few duty free shops which were located around the edge of the open air "lounge", there was also an excellent view of the runway so we were able to see the beautiful 777 land.
RAR Departure Lounge
As the arrival time of our aircraft approached all the passengers started to gather by the hedge to watch it land which it did at 17:05.