BA Club World HKG-LHR W Pics
Posted: Fri Feb 22, 2008 11:34 am
This trip was a while ago so the memories are a bit scarce and blurry. I will however, do my best!
For those of you who haven't visited the aviation museum in HKIA, I highly recommend it. It is located in terminal 2 and is on the first floor towards the left of the building and has many attractions for the aviation enthusiast. As well as the history of flight and some basic principles of flight, there is a simulator, a 4D motion ride and a skydeck. The simulator was sadly inoperative when I visited but I may go back and try it. The 4D motion ride was a sci-fi-esque ride into a dinosaur island that clearly mimics Jurassic Park. Not to ruin the story, but scientists have found some dinosaurs and you ride along with them and a journalist into the heart of the dinosaur layer. Not much to do with aviation really, but it was realistic. You wear 3D glasses which are not of the blue and red kind so it works. The skydeck is perhaps the best aviation enthusiast spot. It is basically a lift that takes you to the rooftop of the terminal 2 building and overlooks the airport. There are free binoculars for you to look through, and when I was there, there were 3 other enthusiasts taking pictures of the inbound aircraft landing on 25R. The aircraft pass right by you and you have a pretty good view. Unfortunately, I didn't have a camera with me, just the one on my phone so I didn't bother with plane pictures, but from what I remember I managed to catch the afternoon arrivals from Europe including an OHK 744, BA 744 and many many CX aircraft! I have included some pics of the exhibits which included a replica CX First Class seat and models of the old Kai Tak airport.
Old style aircraft seating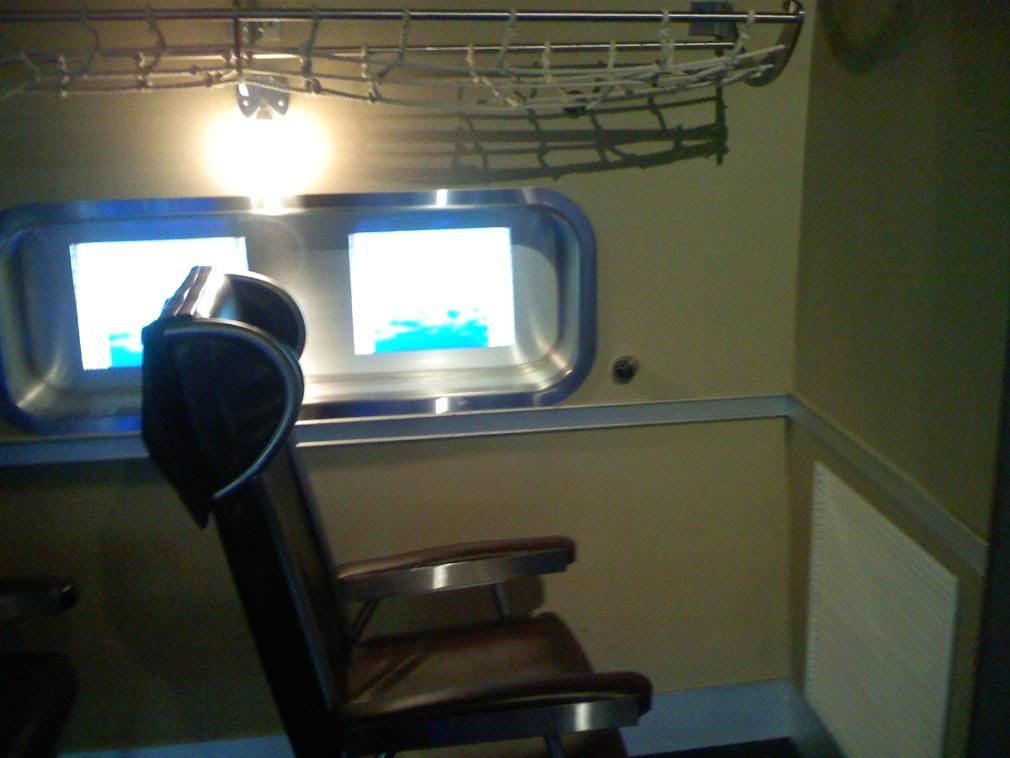 Cathay Pacific First Class Seat Replica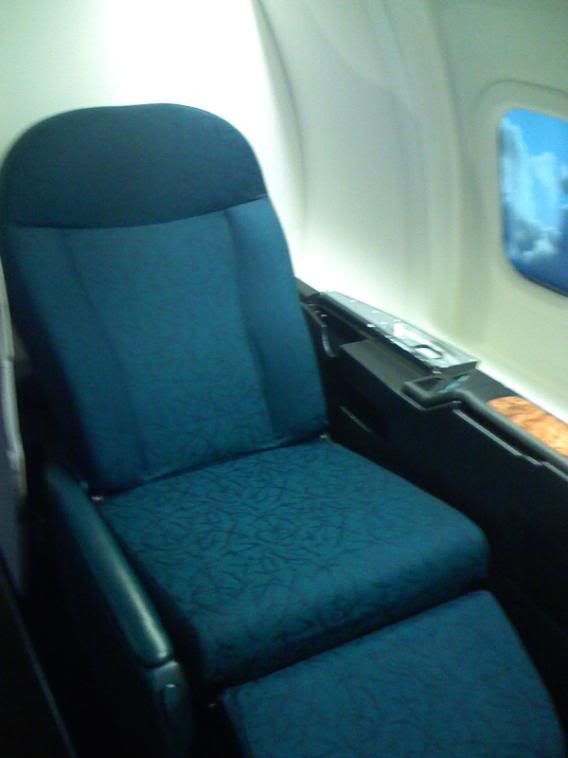 BA028 HKG-LHR
CLUB World
Seat 61B
0110-0630
I arrived at the airport well ahead of schedule at 2130 for my 0110 flight to LHR. The airport was relatively busy with late evening passengers. I proceeded to the BA check in counters at the very end of the airport and waited in the Club World check in desk. There were 3 Club counters IIRC and all 3 were in use. What I like about HKG is that whenever there is a free counter, you are immediately directed to it regardless of what class you are travelling in and what class the counter is. Since there was no one at the FIRST check in, I was directed to an empty counter and checked in promptly. My bags were all checked through to MAN and my boarding pass was given for the MAN flight. I was asked if I was familiar where the lounge was to which I replied yes and was wished a pleasant journey. I used the e-channel immigration for HK ID card holders without hassle and proceeded to security. There were only 2 passengers ahead of me and so this was done very quickly with the usual shoes, laptops and belts affair. Once I gathered my belongings, I turned right to the BA lounge. I am not a fan of the BA lounge and prefer to use the Wing by CX when travelling in FIRST. I find the BA lounge pretty small and when all 3 of BA's flights are grouped together, it can get a bit crowded. There is a separate section for FIRST at the end of the lounge which is of similar size but offers the same amenities as the business class lounge. It is worth noting that the BA lounge is also shared by Qantas.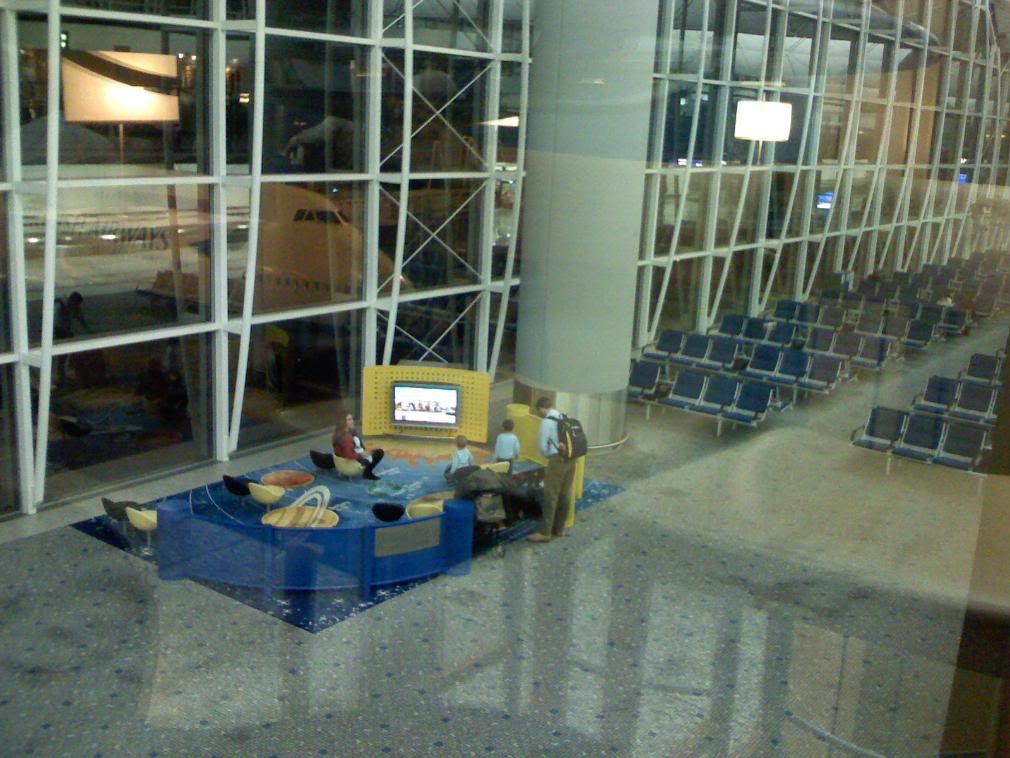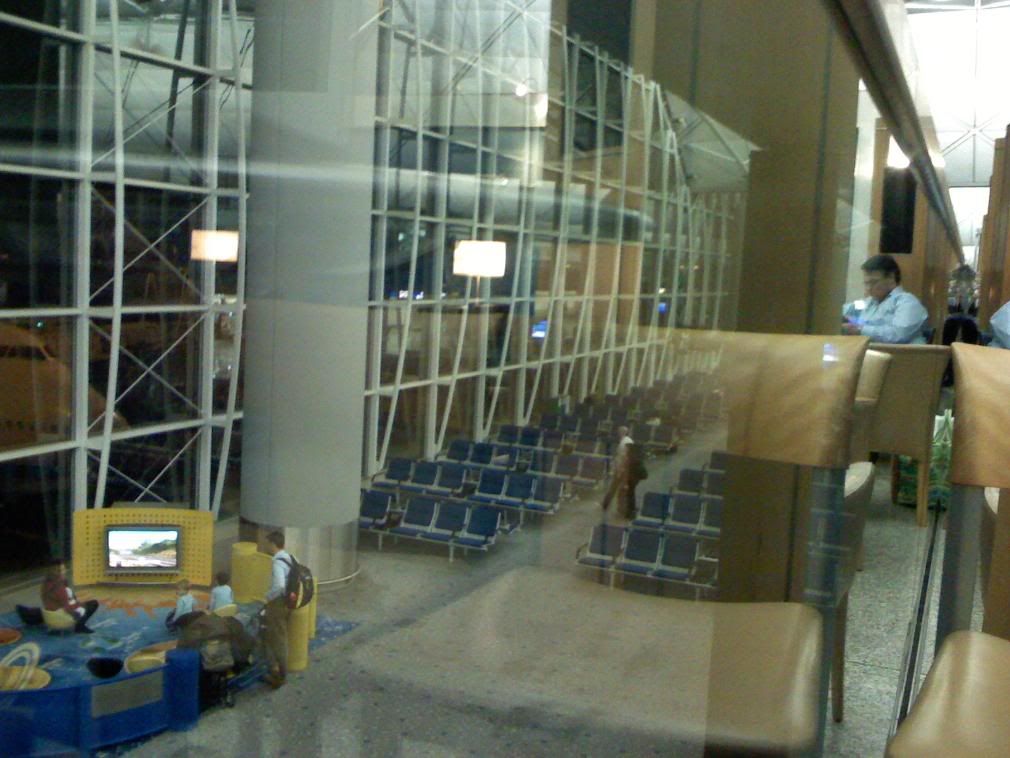 The lounge overlooks the gates from which BA flights operate so it is easy to spot when your flight is boarding. I grabbed a coke and a few snacks and worked on my laptop for a while until my flight was called.
Boarding was from gate 17 and HK has the benefit of a separate air bridge for premium passengers. Tonight's flight was configured in the new mid J configuration with World Traveller Plus in front of Club World, but since I was on the upper deck, it made little difference. I was greeted by a friendly flight attendant who showed me the stairs to the upper deck and after reaching the upper deck I was greeted once again by a smiling attendant who showed me to my seat. Whilst I got my usual items out of my bag and put them in my drawer, the attendant came round to offer to take my jacket and exchanged it for an amenity kit. As I waited for other passengers to board, there was a bit of seat swapping going on behind me whilst a lady wanted to sit with a friend and swapped with a tall Hispanic looking gentleman who just happened to take his new place next to me in 61A.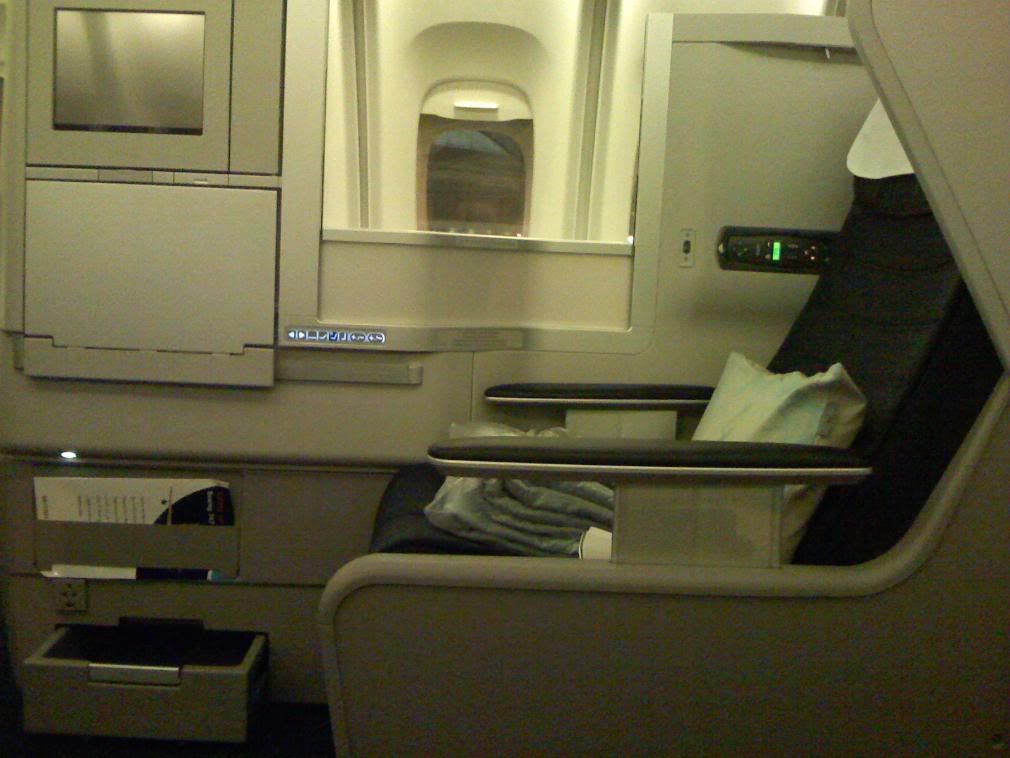 The lights were dimmed and we taxied out to runway 07L for takeoff. Unusual since it has always been the southerly 07R/25L that is used for departures under normal circumstances. Once airborne, the sound of trolleys being loaded and meals being prepared were heard from the galley and the smell of hot food slowly made its way up front. Service began with a hot towel for refreshment. I like to use the towel to wipe down the surfaces of the seat after I use it as often, the tables have unsightly stains on as a remainder from the previous flight. Drinks were then served along with mini pretzels. I opted for the Rioja which was very drinkable. Meal choices were:
Starters
Prawn and Crab salad with green Thai coconut Salsa
Or
Slow-roasted tomatoes and Mozzarella cheese
Fresh seasonal salad served with vinaigrette
Main
Stir-fried beef with black pepper sauce and rice noodles
Vineet Bhatia's chicken makhanwala
[Chicken with a butter and tomato sauce]
Penne pasta with tomato and basil sauce topped with Mozzarella cheese
Main course salad of poached salmon, sour cream, potato and chive
Dessert
Butterscotch cheese cake with crème anglaise
Selected cheese with biscuits
A selection of fruit
I decided to go for something light and so my choices were the Mozzarella to start followed by the salmon and then the cheese cake. It was nice to see that the options were actually shown to me on a tray.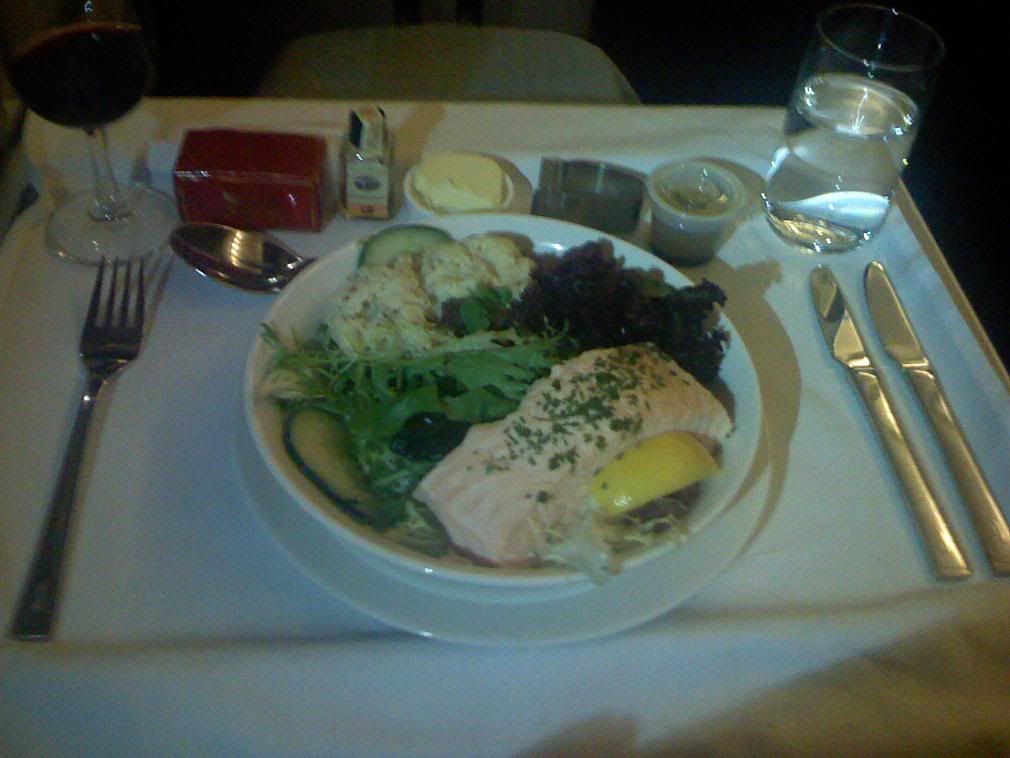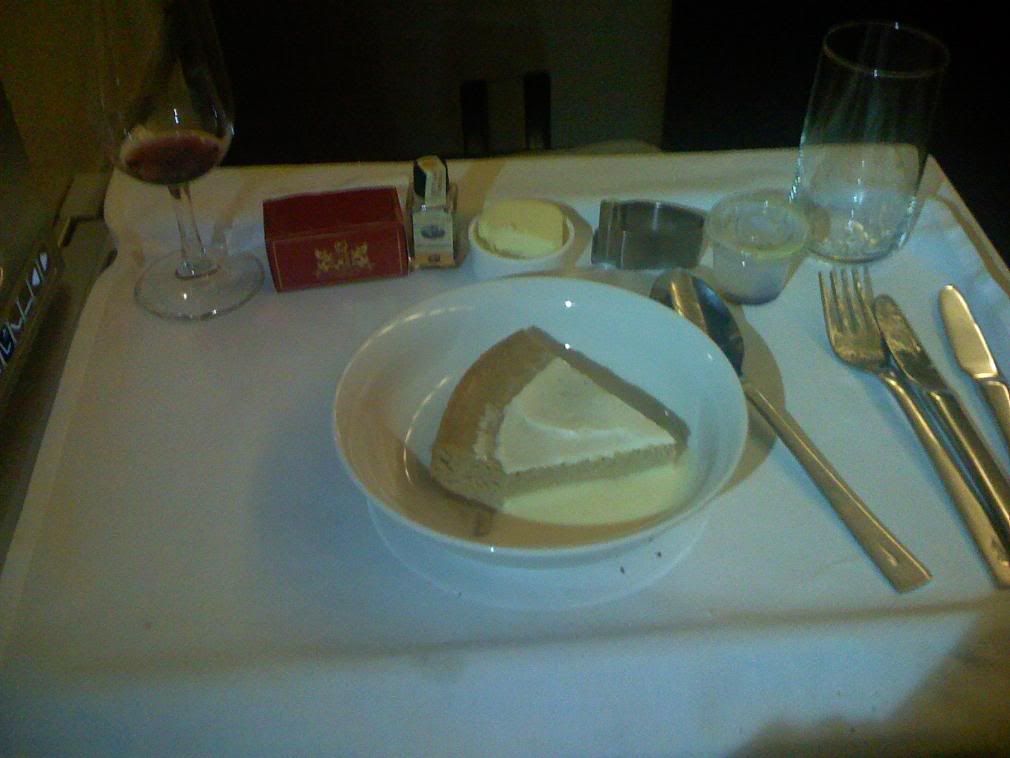 The food was accompanied by two rounds of the bread basket and rock hard butter! The starter was disappointing. The cheese was unimpressive, the tomatoes were not slow roasted and were simply raw and the salad left plenty to be desired. A bad start to the meal but since I was not all that hungry, I wasn't too bothered. The salmon was also disappointing and was clearly just brought out of the fridge. That left the dessert which was a lot better. It was creamy and light and I finished it off with no trouble! The meal service was cleared away and bottles of water were handed out.
The lights were dimmed and as it was close to 0300 Hong Kong time, my eyes felt heavy and I started to nod off and join the rest of the cabin in sleep. The flat bed was very much appreciated by most passengers including my neighbour in 61A who turned down as soon as the seatbelt sign was turned off and missed the meal service. I got a good 3 hours sleep, I think and woke up over Novosibirsk. Something spooky as I always seem to wake up over the same place no matter if I'm going to HKG or returning! Anyone else have a weird habit like that?
Where I always wake up, without fail!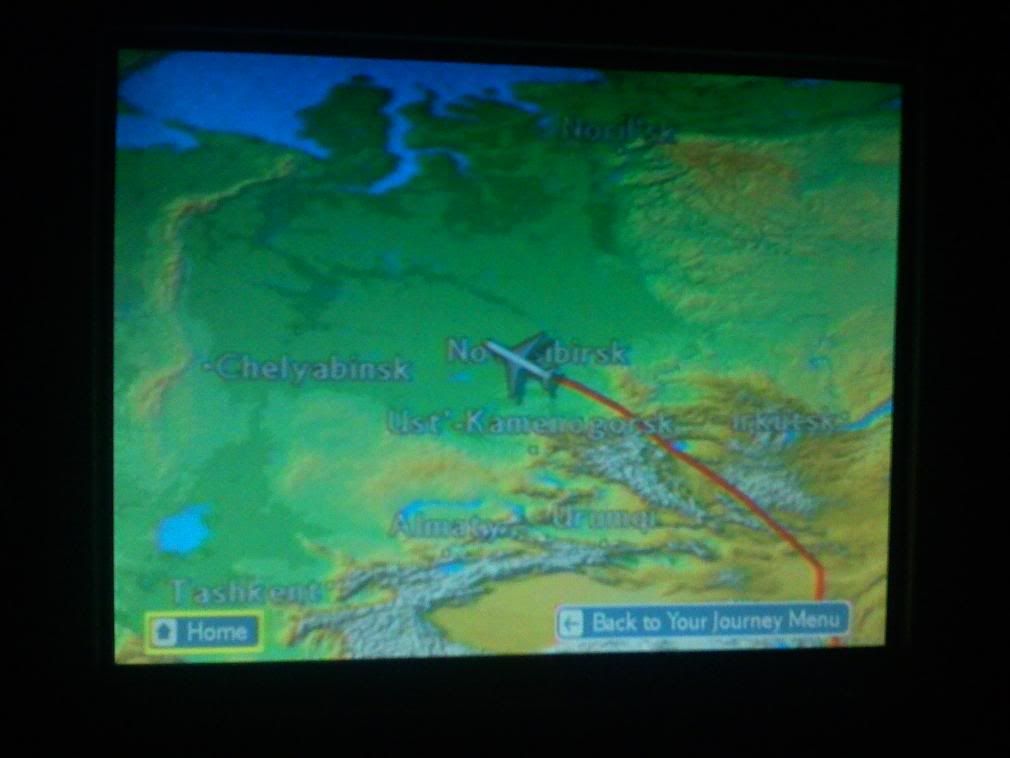 I decided that that was enough sleep for me and selected Transformers on the AVOD. The new AVOD system also allowed me to pause the movie while I made my way down to the Club kitchen to grab a sandwich and a bag of crisps from the selection. I also requested a cup of Jasmine tea from the flight attendant who was sitting down reading her copy of Heat magazine. The rest of the flight was uneventful and passed quickly in the darkness of the night.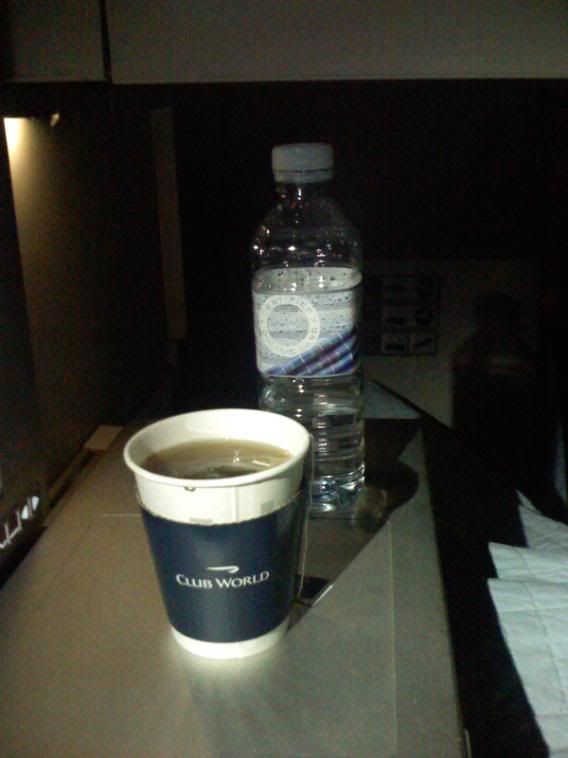 About an hour and a half from LHR, the cabin crew turned on the lights which woke most of the passengers up in time for the breakfast service. Breakfast options were:
Starters
Chilled orange juice
An energising fruit smoothie
Fresh seasonal fruit
Or
Greek yoghurt with honey and toasted almond flakes
Bakery
A selection of warm breads and breakfast pastries
Main
Classic British breakfast of scrambled egg, grilled bacon, pork sausage, mushrooms and grilled tomato
Sharp cheese frittata with tomatoes, sautéed mushrooms, rosti potatoes and cheese sauce
Braised e-fu noodles and assorted dim-sum
Drinks
Ground coffee, decaffeinated coffee or tea
Selection of herbal teas – green tea with jasmine, peppermint, blackcurrant or camomile and honey
My choices were the smoothie and fruit followed by the frittata and coffee. This meal was a lot better than the dinner service, with warm and fresh pastries, fresh and ripe fruit and a very enjoyable frittata.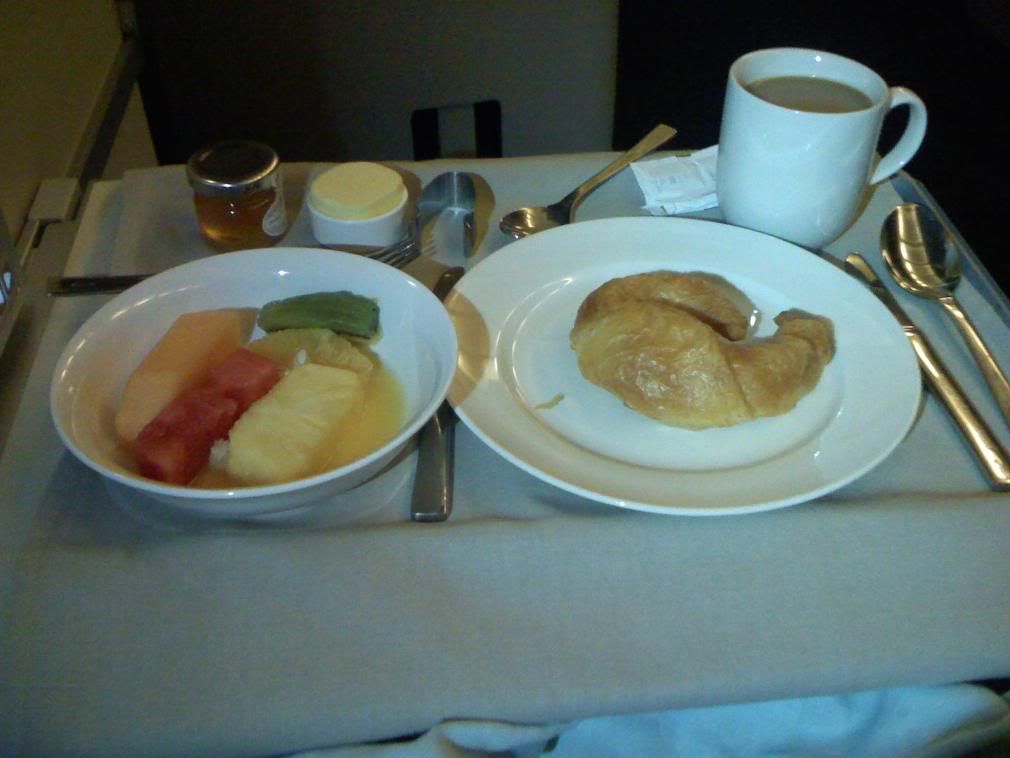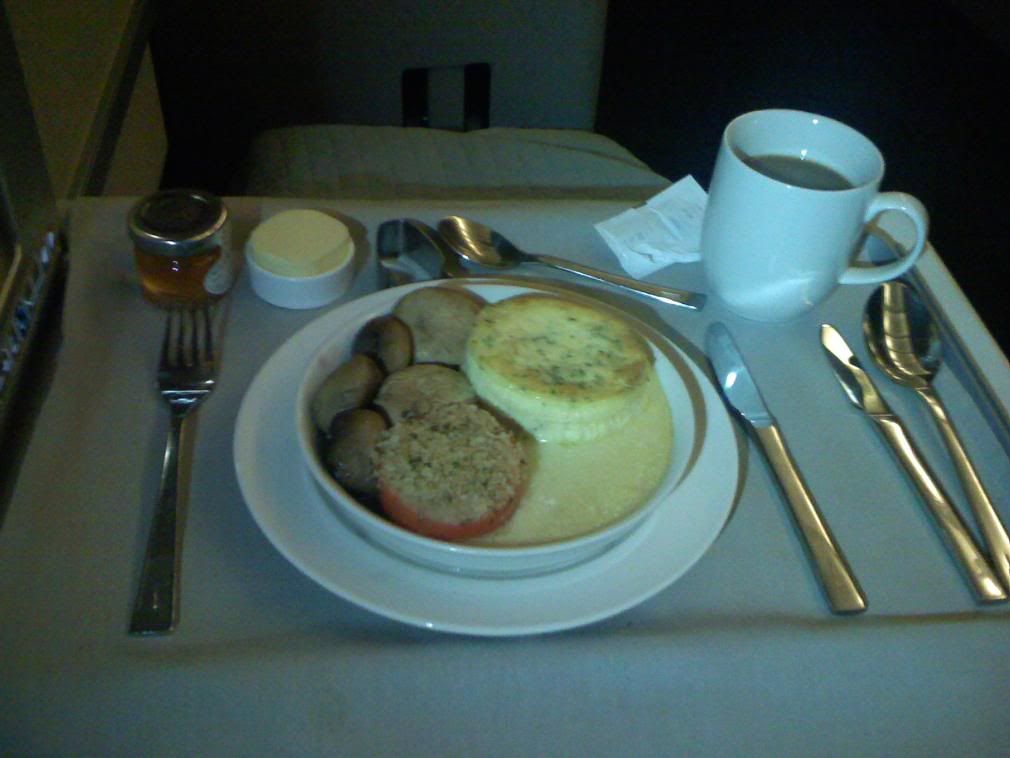 Not long after the meals were collected, that passengers started to make their way to the bathrooms to freshen up. I had about 4 hours to wait in LHR so I decided to use up a bit of the time and visit the arrivals lounge in T1.
CSD after collecting breakfast trays from the flight deck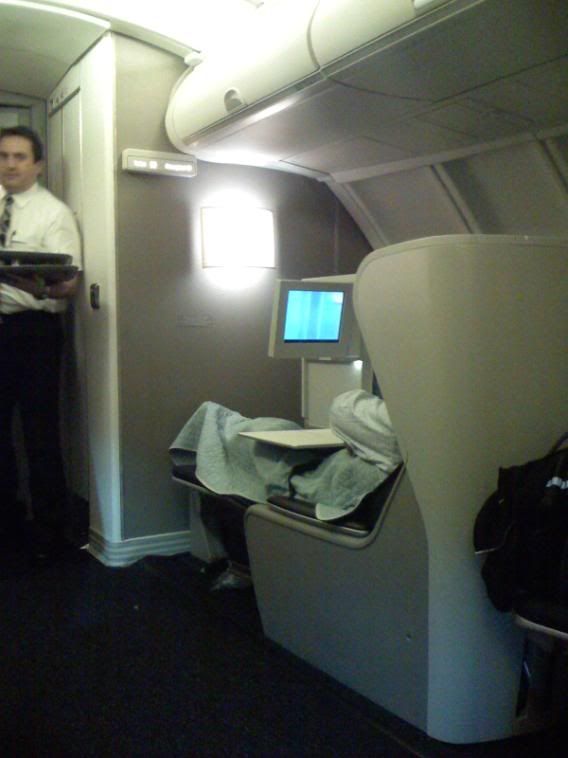 Landing was very smooth and we arrived at LHR about 30 minutes early. Sadly, as is often the case when arriving at LHR, we had to wait on the ground for near to 45 minutes for an empty gate. This caused a lot of aggravation amongst passengers and announcements were made to keep us updated. We were also told that we were allowed to go to the bathroom if needs be and this resulted in many passengers, including me, to stretch their legs for a bit. Eventually we taxied into a gate and left the aircraft and I made my way to the zone R check in and arrivals lounge for a quick shower and another coffee. I also decided to pig out a bit and go for a second breakfast.
In conclusion, the delay on the ground at LHR spoilt a perfectly pleasant flight. The meals left a lot to be desired, but considering that it was a late night flight, I don't think many passengers were too bothered. All I can say is bring on T5!
Next report, XRY-MAD-LHR
Gary