Hey all,
This is my first trip report. I always say I'm going to make trip reports of my many flights, but never get around to do doing so. This trip however had a twist which I thought I would share. I was flying to Ottawa to visit a buddy for a few days. I usually book with AC for Aeroplan points, and more flight choices, but I missed their seat sale so I ended up booking with Westjet because they were actually quite a bit cheaper than AC in this instance (usually they're around the same).
I checked in online 24 hours before my flight to YOW so I proceded right to the baggage drop off when I arrived at YYC. Small line-up moved quickly and within a few minutes my bag was on its way to the bag room and I was headed for security. Went through security quickly and with no problems. Had about an hour before boarding so I decided to get my eat on at the small food court that is in D-wing. While eating I hear on the P/A that my flight has changed from gate 49 to 42. I made a mental note and continued to mow down on my Subway.
After eating and relaxing a bit, I noticed it was getting close to boarding time so I made my way to gate 42. D-wing was quite busy now with several flights on the ground. I found a seat near my gate took note of the tail number of my plane (#005 737-700) and then did some people watching. After about 10 mins pre-boarding for families with small children or passengers needing assistance was called, of course every idiot decides it's time to que up at the desk blocking the way for people who need to pre-board. It got so bad that the gate agent had to tell people to get out of the way (in a polite manner of course) over the P/A. A few minutes later general boarding was called and I made my way to the desk. Walked down the jetbridge and thought to myself "ahh feels good to go flying again" and was reminded about how I love the whole travel experience. Got into my seat (4F) and prepared for the fun of flying. After boarding finished I noticed the middle seat was empty and there was a nice elderly woman in the aisle. I knew it would be relaxing flight so I was happy  
Flight: WS 846 YYC-YOW
Date: Feb 17 2008
Gate: D42
Type: 737-700
Tail #: 005
Seat: 4F (window)
Sched Dept: 17:15
Actual Dept: 17:15
Sched Arr: 22:59
Actual Arr: .... will explain....
Duration: 3 hours 35 mins
After getting settled I decided to take some pics while we waited for push-back: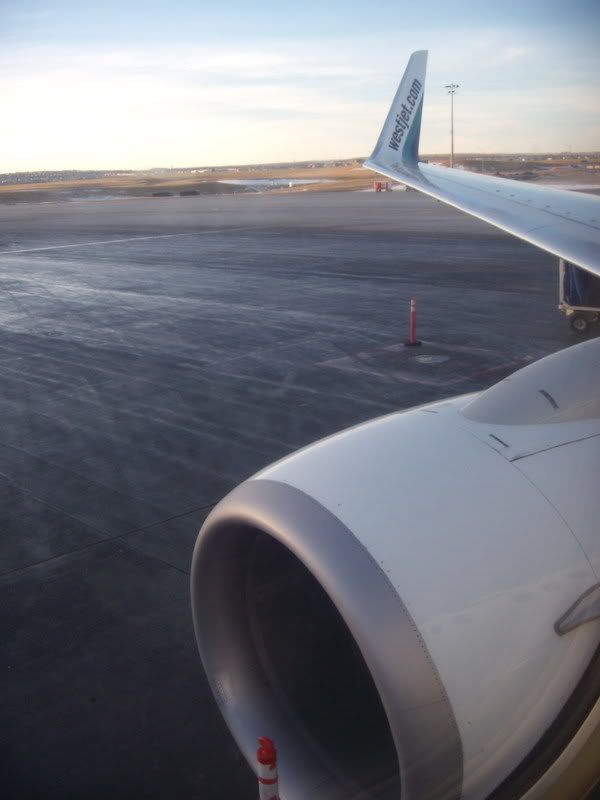 Regional 1 Dash-8 parked at the gate beside me: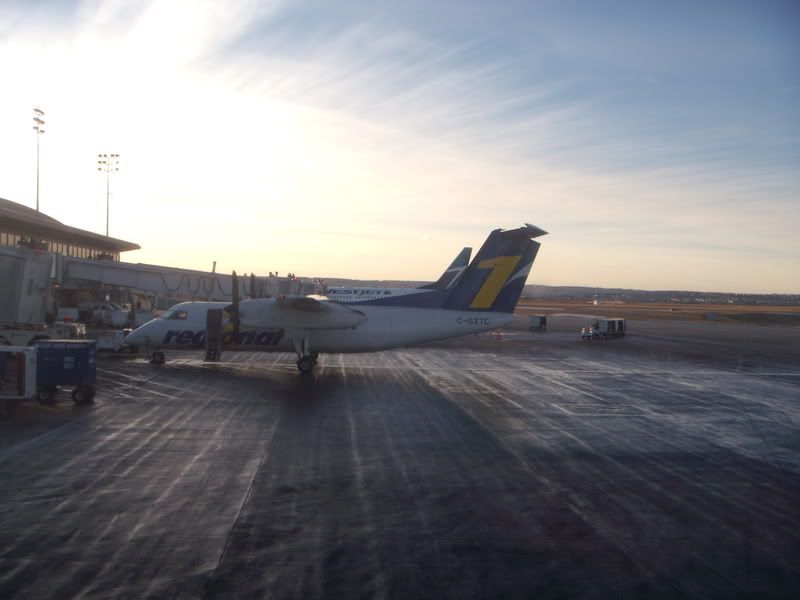 Another WS 737 just after push-back: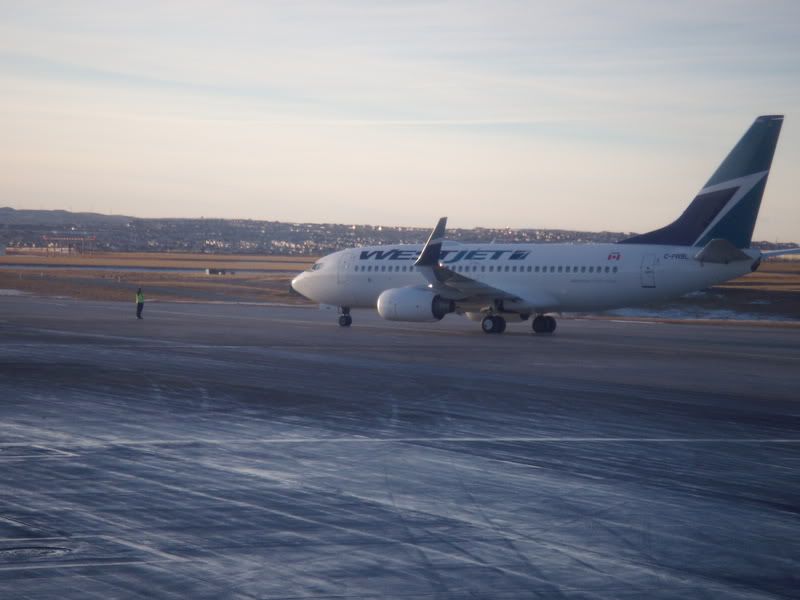 Push-back:
After a long taxi from D-wing to the threshold of Runway 34 we were ready to roll. I took some pics of the take off roll but some came out kind of fuzzy:
Take off roll: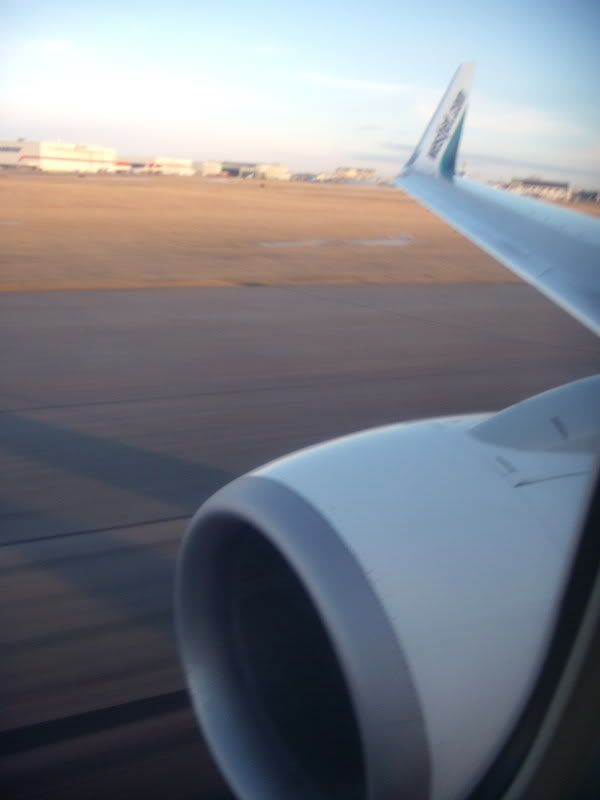 Take off!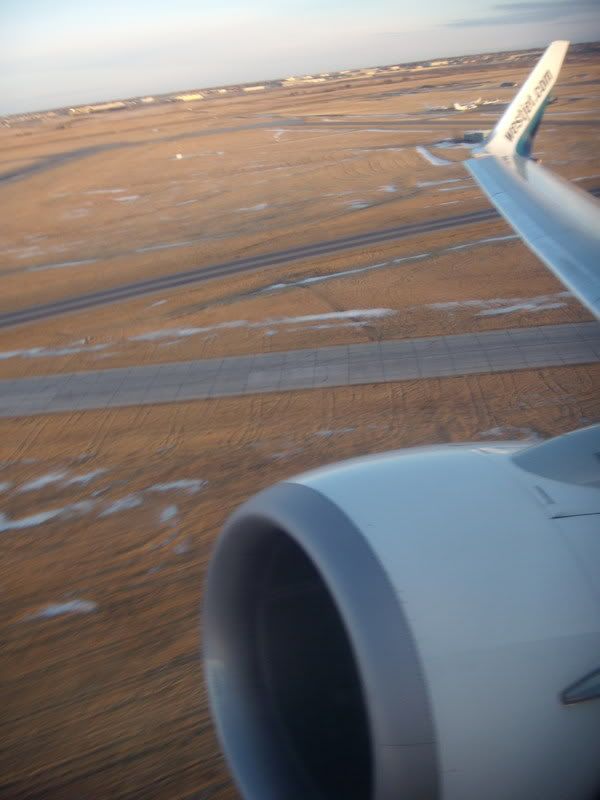 View of YYC from the air (fuzzy):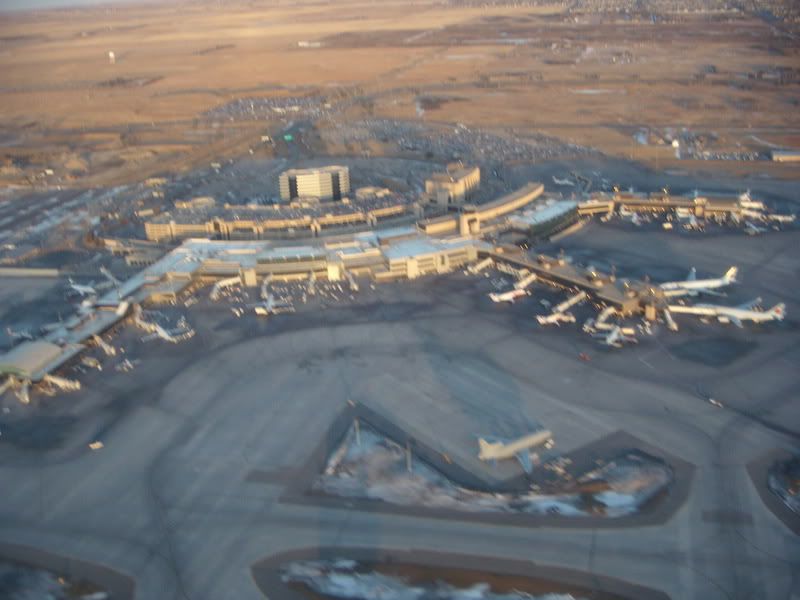 And again: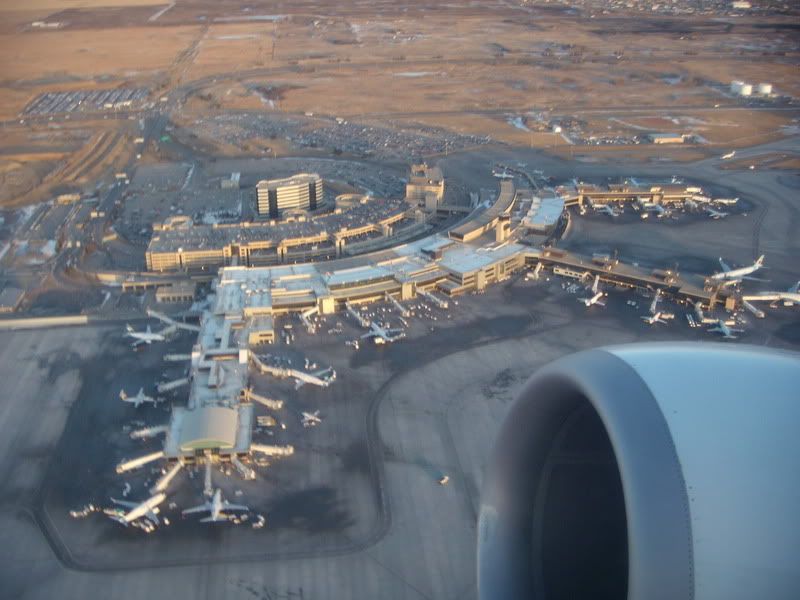 The farmland North East of Calgary: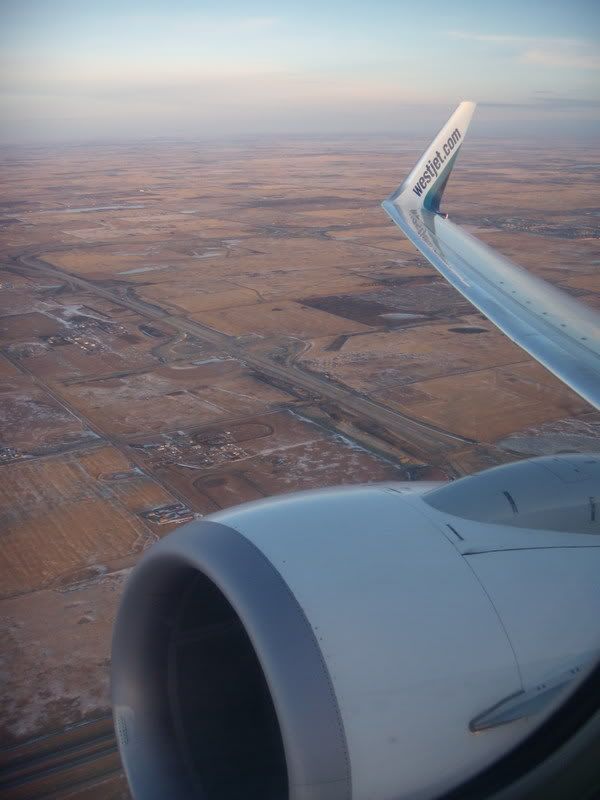 Banking right to head East for YOW!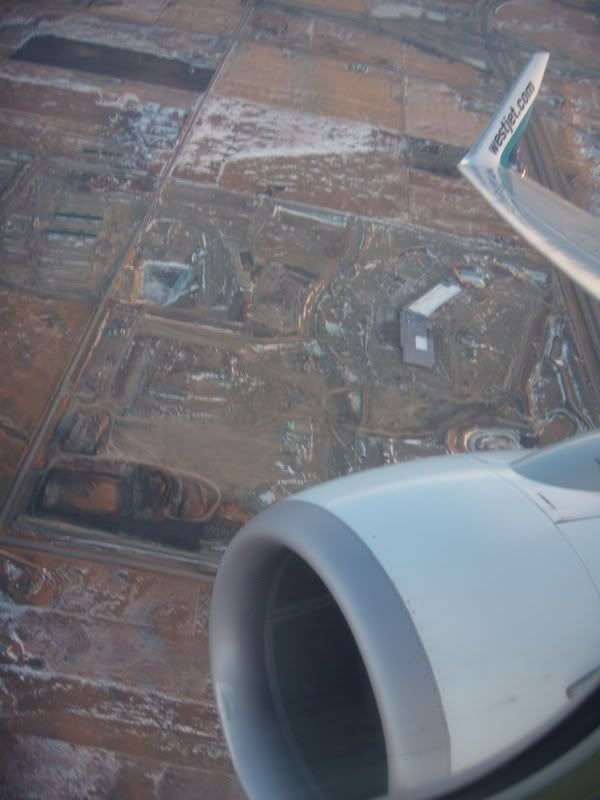 The sun set shortly after take off so I couldn't get any pics of the cruise. The flight was very smooth and relaxing and I spent my time watching "The First 48" on the Live TV screen in the seatback in front of me or simply gazing out of the window trying to figure out which town was which as we flew over Western Canada (I love when the sky is clear for night flights).
The flight had the normal soft drink and snack service and before I knew it we were starting our descent into YOW. The weather in YOW had been pretty crappy with freezing rain and snow. The descent was smooth and we touched down VERY softly. I remember thinking to myself "he greased it!" when we touched down. Right after touchdown is when things started to go a bit funky:
Thrust reversers came on only for a few seconds and then they went off. We were slowly descelerating down the runway and nobody thought anything of it. I began to wonder when I started seeing the white markers on the runway go by indicating we were approaching the threshold of the other end! But I still wasn't alarmed, thought maybe there was a high speed taxi-way at the end of the runway. It wasn't till I saw the threshold lights approaching fast did I clue in something wasn't right and in the time it took me to clue in I was already watching the threshold lights pass underneath us. We were skidding off the runway! It was a bit bumpy and snow was being tossed up around my window pretty good, we skidded sideways and came to a stop. Everybody was kind of going "whoa" to themselves and then they started laughing! Captain came on the P/A literally 2 seconds after stopping and told everybody to remain seated and for the F/A's to wait for instruction. Probably 10 seconds the flight deck called the F/A and gave him instructions. They determined there was no fire and the pilots shut down the engines after the APU was engaged. By then we could see the airport fire trucks showing up on the left hand side of the plane.
Everybody remained calm and stayed in their seats. The F/A did a great job of keeping us informed of what was going on and how that we were waiting for the snow plows to clear snow for the air stairs. I must say though that it was really just the ONE F/A doing all the work while his colleagues just sat in their seats, I'm not sure if that's procedure in such an incident? After about 90 minutes of waiting we were finally able to deplane onto to OC Transpo city busses that were waiting. I was pretty impressed at how fast they were able to get some busses that quick at that time of the night (it was well passed midnight on a Sunday night). The busses took us to the terminal where there was some media cameras etc. We were told by WS reps to call a number the next day to arrange luggage delivery. I was pretty bagged so I just took the number down and went to my buddies place.
Here's the pics that I got, they're poor quality but it's the best I could get from a point and shoot camera at night.
I took these images within seconds after stopping. The snow that was kicked up spackled the window: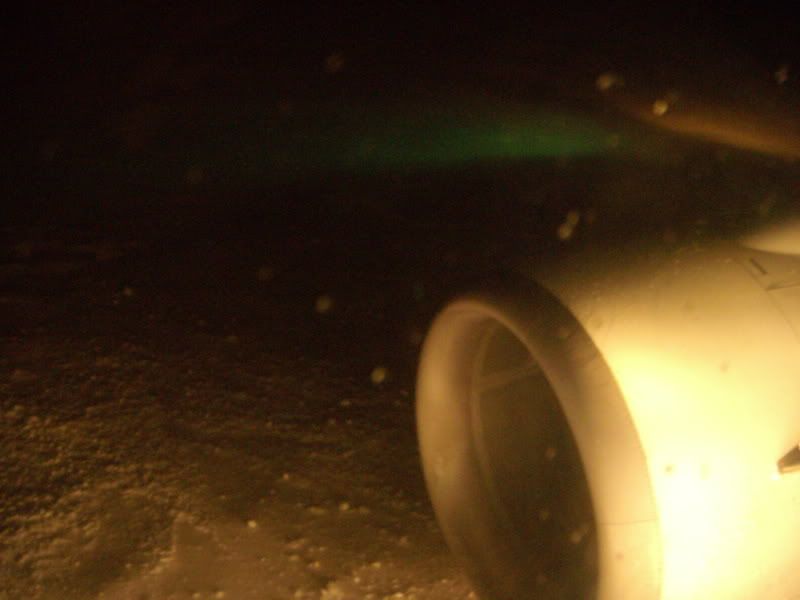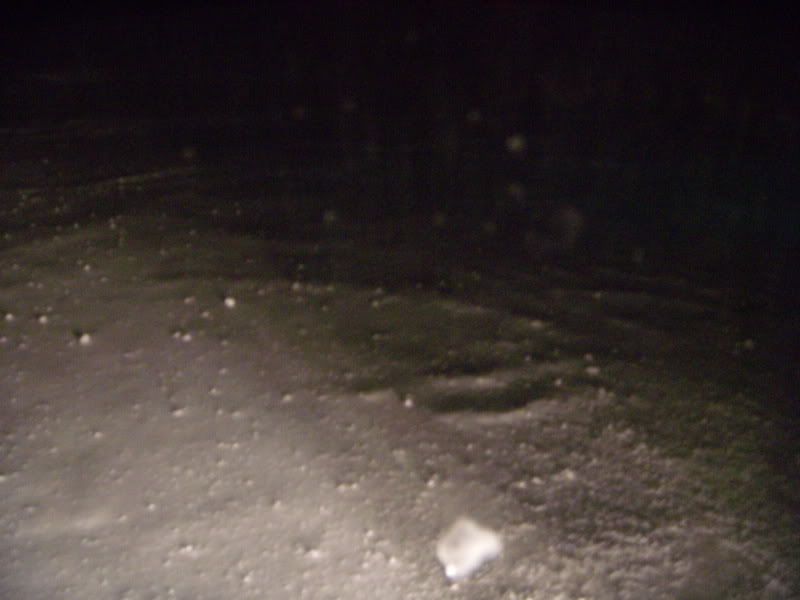 Some guy checking out the state of the aircraft and taking photos as well: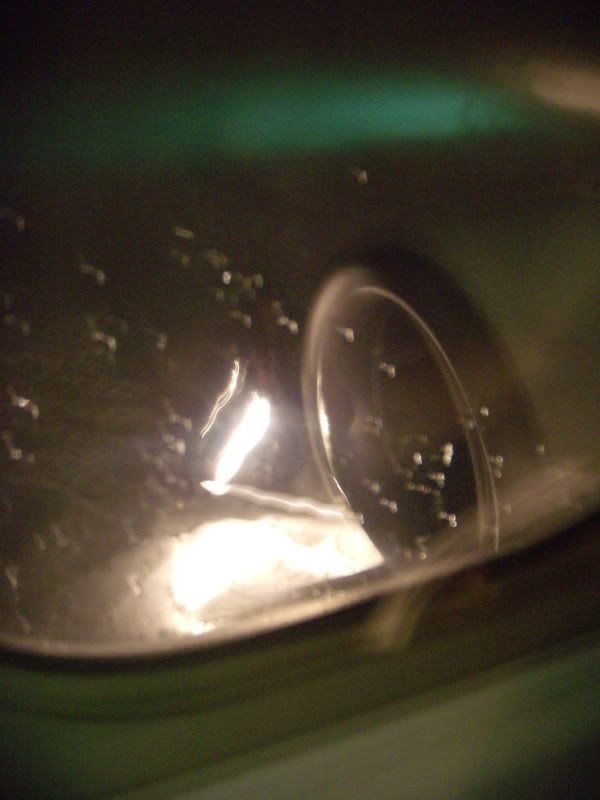 Paramedics are the first to board once the air stairs are up. Just to make sure everybody is OK: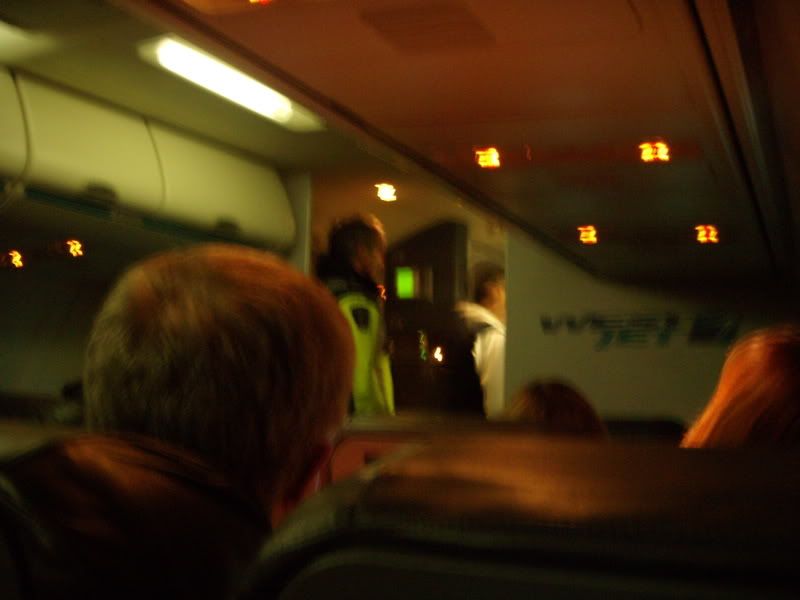 The next few pics I took after de-planing. You can see how the deep the snow was!!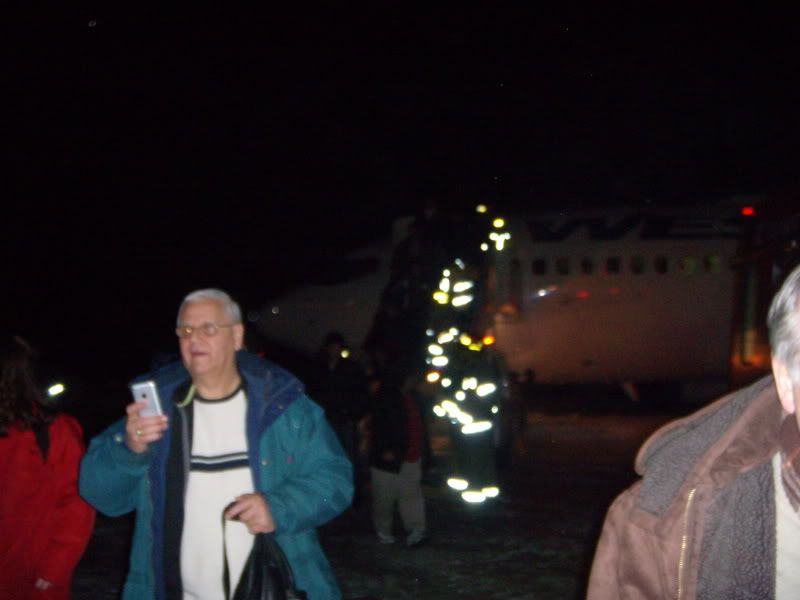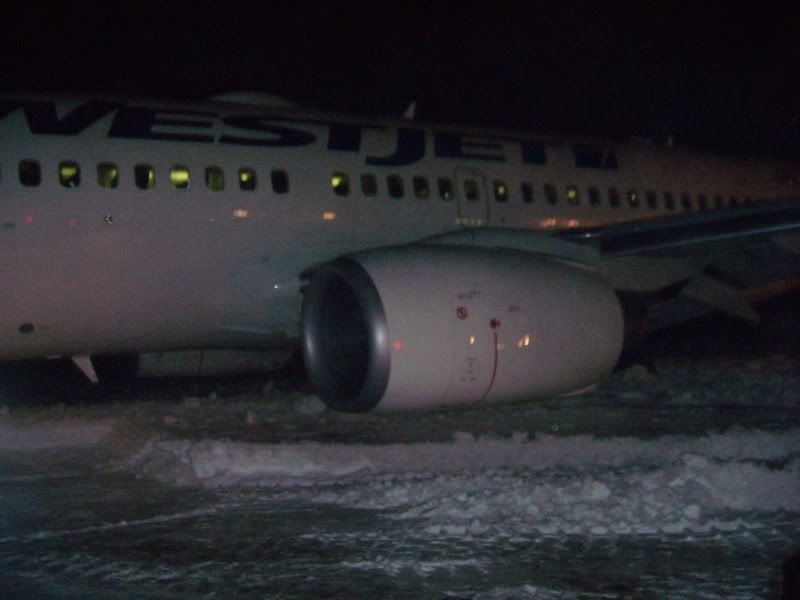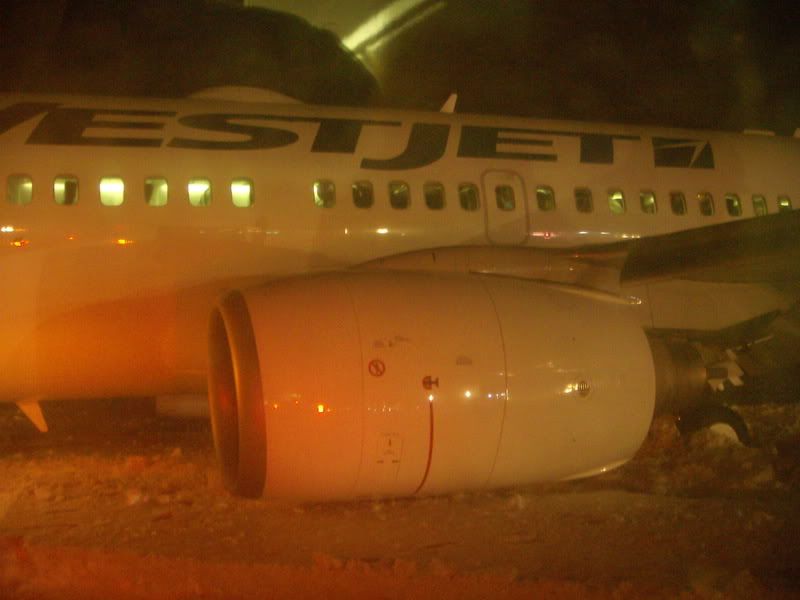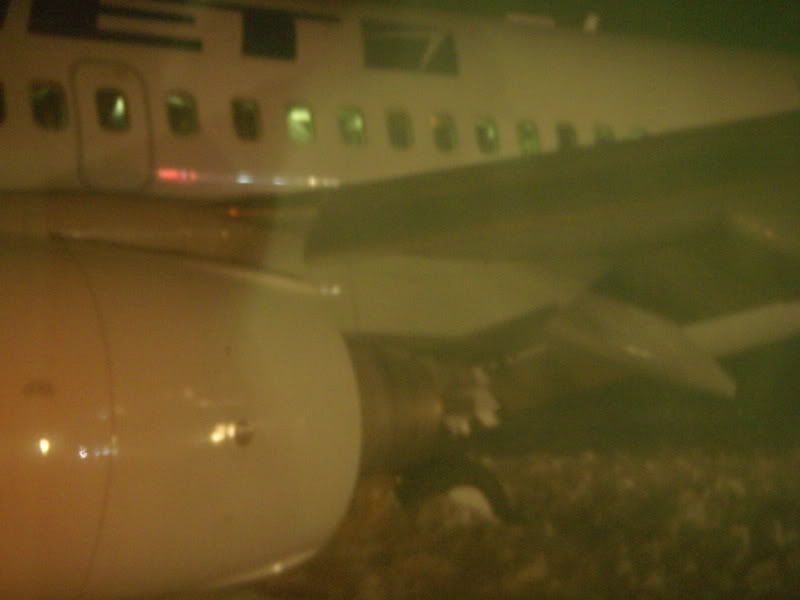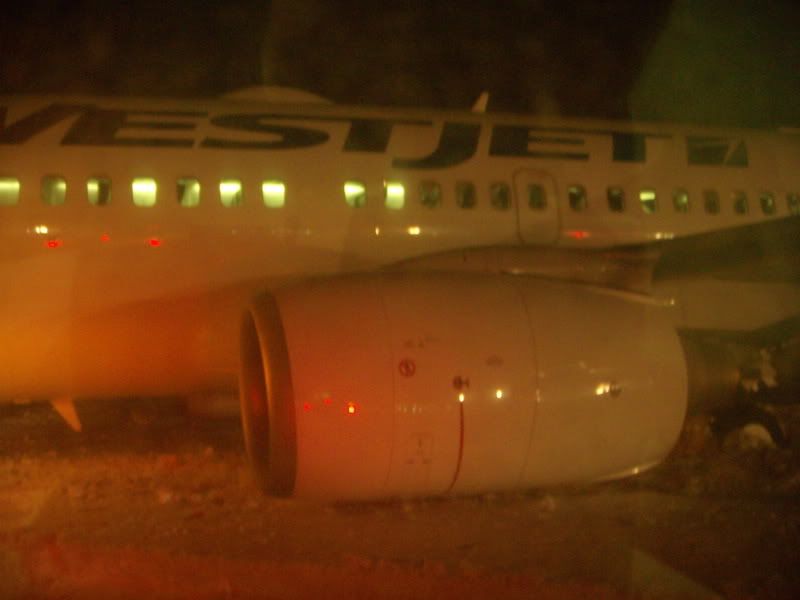 The next day I called the number and left a message with my confirmation number, my luggage tag number etc. They called me back and said if I picked up my luggage myself I'd get a $100 travel credit. My buddy and I weren't far from the airport anyway so we decided to pick up my luggage. Felt good to have deodorant again! A couple hours later somebody from Westjet HQ called me and asked me what went down, how the F/A's handled it etc. So I voiced my opinion and he then said that I was getting an addition $250 travel credit on top of the $100 I already received. So $350 future travel credit. Not bad at all.
The flight home:
Well 4 days had gone by fast and it was time to return home to YYC. I was dropped off at YOW and proceded directly to the nearest washroom as the Pizza Pizza I ate earlier had gone right through me haha. After experience tremendous relief I made my way straight to the baggage drop off as I had checked in online the day before. Everything went quickly and I had some time to admire the new McDonald-Cartier airport. I must give Ottawa kudos for doing such a great job with the new airport. It's very stylish and easy to navigate.
I made my way through security which was pretty busy with the LHR flight that was due to depart not long before mine. The line went fairly quickly though which was good. After security I made my way to a Relay store to find some Zantac 75 because my gut was still roiling from the Pizza Pizza. After taking Zantac I made my way to my gate (13) and found it packed with people because the gate beside us was the AC 767 for LHR. But I managed to find a seat and began to relax noticing that there was still no plane at our gate. Ah well.
Our plane showed up about 15 mins before we were supposed to start boarding. Another 737-700 but I couldn't get the tail number. About 10 mins after boarding time was supposed to start they announce pre-boarding. Again every idiot starts to que up by the desk getting in the way of people who really need to pre-board. General boarding was announced and as I made my way down the jetbridge I couldn't help but wonder if Westjet had another adventure in store for me haha. But I figured "what are the chances?". I took my seat (5A) and to my delight the middle seat wasn't taken again. In fact this flight had a signifigantly lighter load than my flight from YYC-YOW. Despite the late boarding we managed to push-back on time and it was a quick taxi and take off and before we knew it we were headed West!
Flight: WS 521 YOW-YYC
Date: Feb 21 2008
Gate: A13
Type: 737-700
Tail #: Unknown
Seat: 5A (window)
Sched Dept: 19:30
Actual Dept: 19:30
Sched Arr: 21:59
Actual Arr: 21:50
Duration: 3 hours 54 mins
I didn't get any pictures on this segment because it was dark the entire time.
Cruise was smooth and I proceded to do the same thing as the flight out to YOW. Watch The First 48 (love that show) and try to figure out which town was which. Again it was mostly clear I could see every town we flew near which was awesome. Mid way through the the flight, the guy sitting in the middle seat on the right hand side of row 4 (4E?) decided to move to the middle seat in my row? I'm not sure why he did this, he was sitting with his wife. But I think maybe the guy in the window seat beside wasn't feeling well so they were just trying to give him some room. If that's the case then he needed space more than I did as I was planted in my seat quite comfortably.
Descent into YYC was smooth and we came in for a nice landing on Runway 16. Arrived at the gate about 9 mins early and didn't wait long for my bag.
All in all, I can't say I'm angry at Westjet or anything, other than the mishap in YOW everything was very smooth and effecient, and the staff handled the mishap pretty well. So now I have to use up that $350 travel credit!!
I hope you enjoyed this report,
Kris
[Edited 2008-02-25 12:01:10]
[Edited 2008-02-25 12:11:34]
[Edited 2008-02-25 12:22:16]