Those of you who kindly humoured me by slogging through my inaugural trip report last year probably hoped that it would be the last you'd hear from me. So apologies in advance for posting a second. You'll be delighted to learn that it's much shorter than the last and disappointed (but not altogether surprised) to learn that the photo quality remains resolutely rubbish. Here goes…


Date: 120208

Flight: BA 6938 (operated by GB Airways)

Departure: LGW; 1700 (sched); 1720 (push); 1735 (take-off)

Arrival: MLA; 2105 (sched); 2120 (landing); 2125 (on stand)

Aircraft: A320-200; G-TTOF

Seat/Cabin: 2A/Club Europe

There's nothing exciting about Gatwick. For an a-nutter, it comes a very poor second to Heathrow. It's too modern, airy and moderately organised and lacks the chaos, frenetic energy, number and sheer diversity of people, aircraft and airlines that Heathrow offers. Simply put, it has no rhythm, no soul. That and it has the atmosphere of a run down Croydon leisure centre.
But I had 2 good reasons for undertaking this trip. Firstly, the opportunity to visit the beautiful medieval Maltese capital, Valletta, built by the Knights of St. John in the 16th century, and secondly as a personal 'farewell' to GB Airways whose fantastic service and crew I had the good fortune to enjoy on a trip to Morocco last year. Ok, I'm a bit of a sentimentalist.
We left the car at the mercy of BAA's care and entered North Terminal which seemed completely devoid of people. The place had that same sort of hush you get when you first go inside an ancient cathedral. Having decided that the terminal hadn't actually been evacuated, we continued past empty Delta, Emirates and Oman Air desks and banks of empty seats until at last finding some other human beings clustered around the BA check-in area. No-one waiting at the Club Europe desk, so we approached a very welcoming agent who printed the boarding cards for our pre-selected seats and told us that no delays to departure time had been reported. She explained the way to the Terraces lounge, invited us to use Fast-Track security and wished us a good flight to Malta.
As it happened, I doubt 'fast-track' was any faster than 'slow-track' this afternoon. Half a dozen BAA staff were loitering near the passport check with clutches of re-sealable plastic bags, waiting to pounce on the few remaining half-wits who've been away from Earth for the last 2 years and not heard about the restrictions on carrying liquids. And then a sight you don't often see: 4 operational and fully-staffed baggage screening machines and not a single passenger using them. This novelty filled me, somehow, with a giddy sense of excitement and for a brief moment, I was racked with indecision, wondering which one I would select for the privilege of x-raying my bag… In the end I took one and my companion another just to give the bored-looking staff something to do. We found the Terraces easily enough, and there you have it: car park to lounge in a shade over 10 minutes. Disgraceful. That would have been at least 45 minutes at Heathrow. I felt I had been cheated out of an airport experience.
I mentioned in my last trip report
BA Club World, QF Business & XR: Around Australia
(by
Khaleej777
Aug 18 2007 in Trip Reports) that I wasn't that excited with the BA Terraces lounges. Having experienced them several times now, I'm still not too impressed. My companion, a Terraces virgin, commented that the slightly gawdy multi-coloured furnishings and tired-looking pastries on show reminded her of Southampton services on the M27. Had those pastries really been sitting around since breakfast? She definitely felt the Emirates lounges were far superior. Looking round, I could kind of see what she meant. But the staff on duty that afternoon were wonderful. One lady of more senior years who resembled a kindly great-aunt and kept calling me 'love' shuffled over to us and said 'Ooh, I don't recognise you – it must be your first time here. You're very welcome' (as if it was her own living room). She proceeded to point out where the different facilities were. 'We also have…The Internet,' she continued, not seeming altogether sure what that was. 'You must let me know if there's anything at all I can get you.' She leant over as if to impart some impish piece of gossip, 'How about a glass of bubbly?'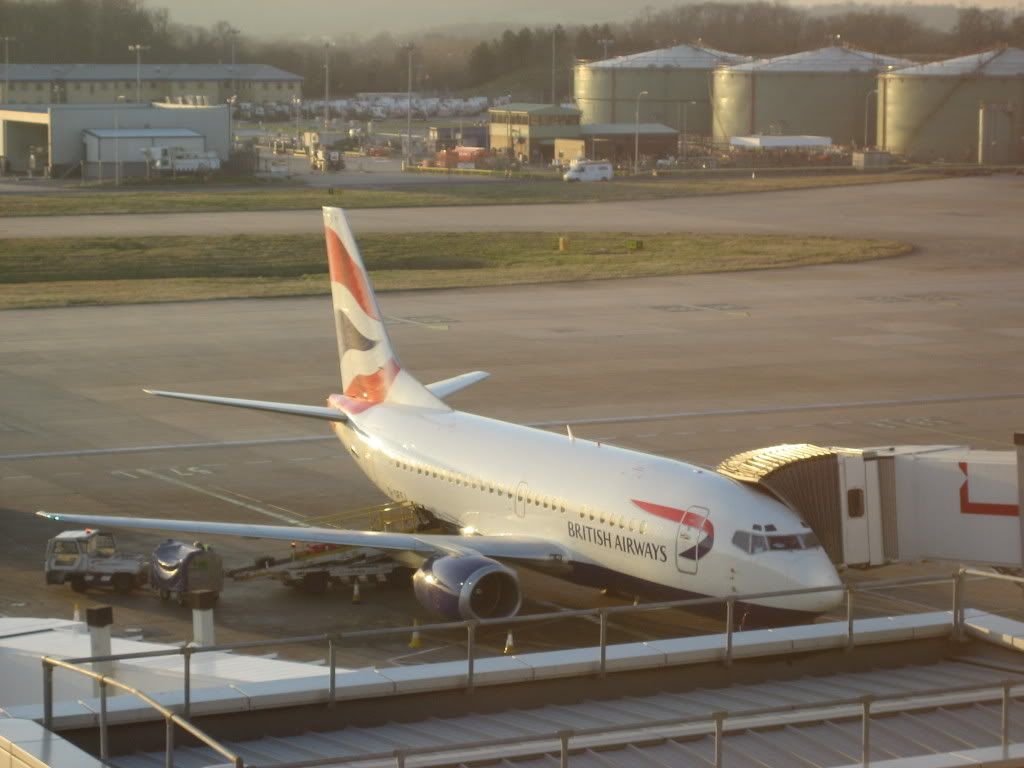 One of many BA 737 classics preparing for its next mission viewed from Terraces Lounge, LGW North Terminal
And so it was that a good 2 hours of 'bubbly' and ubiquitous BA sour cream and chive pretzels passed. The lounge did afford good views of the apron and runway and it was a joy to see swarms of 737 classics buzzing around wearing their smart BA uniforms. Unlike at Heathrow, no boarding announcements were made in the lounge, so we kept an eye on the departure screens and headed to the gate at about 1640. Despite boarding for Club Europe being announced first, there was the predictable stampede for the airbridge entrance and we allowed ourselves to be carried in the crowd down to the aircraft door.
Pushed back and ready to taxi…
A delightful stewardess with a radiant smile welcomed us on board and pointed to our seats. Immediately, the warmth of the crew reminded me of my earlier flights on GB Airways and I sort of knew right away that this was going to be one of those 'good flights.' Amazing how you can often tell that within seconds of being on board, isn't it? It took a while for everyone to stow their bags and take their seats and the First Officer announced that our slightly late departure was due to the aircraft arriving in to Gatwick late. We started to nudge away from the gate at 1720, the TV screens flipped down for the safety demo and after holding for an incoming BA 737, we turned on to runway 08R and began the take-off roll straight away, climbing in to the gathering dusk over southern England.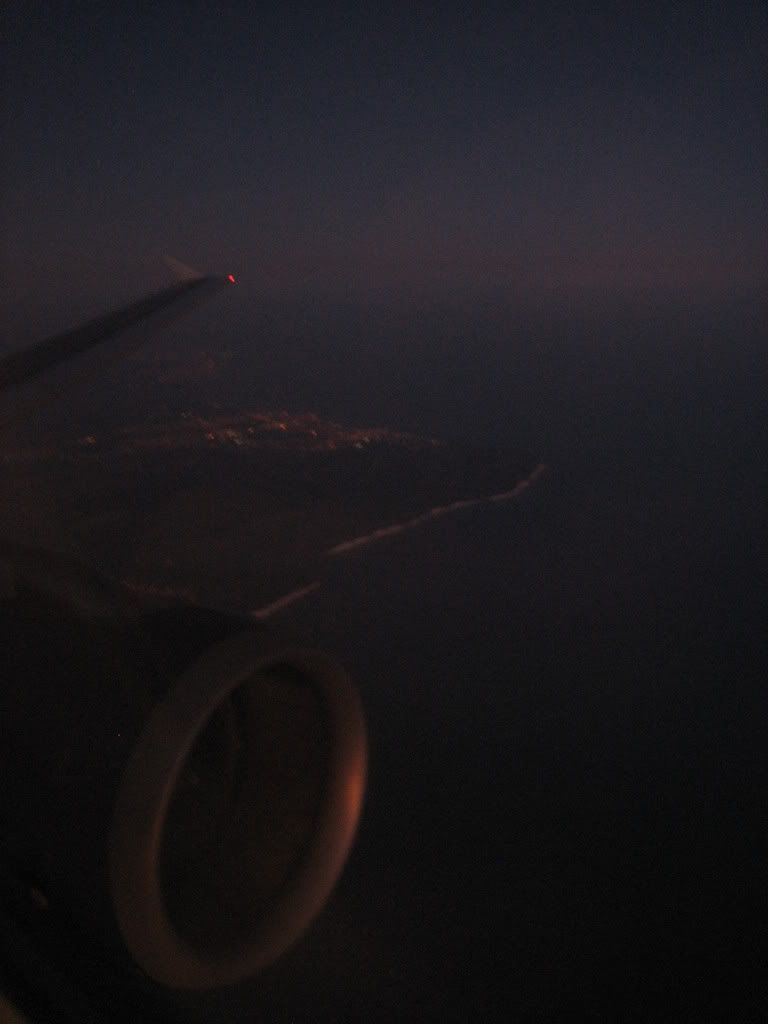 Climbing out over the English Channel leaving the White Cliffs behind.
My only (and very minor) gripe with GT last time had been them using the flip-down screens for showing a film for which they tried to flog earphones to the folks in Euro Traveller at 3 quid a time, or something. Far better to use those screens for the moving map of course! So I had a mildly smug and machiavellian glint in my eye when the system refused to work – surely they would turn the map on instead? But no, turned out the whole thing was buggered, so up went the screens. Serves me right, I suppose.
The crew sprang into action and after a trolley had been wheeled down the aisle to Euro Traveller, the curtain divide was drawn and a bar service began. There were only 2 rows (10 seats) in Club Europe of which 9 were occupied so service was attentive and speedy. Champagne was poured from a large bottle on the trolley rather than the miniatures usually handed out on BA and yet more pretzels were distributed. 2 passengers were clearly GT staff as they knew the crew and did not feel inhibited to go into the galley and help themselves to top-ups of drink and extra snacks. Having had a lot of experience travelling on staff tickets and always being conscious to behave as discretely and inconspicuously as possible, I felt this lack of subtlety was possibly a little inappropriate in front of fare-paying passengers.
The hot meal options were beef casserole with vegetables or king prawns with lime and coriander on noodles. I had the beef while my companion plumped for the prawns. The casserole wasn't like my gran's, but it was very tasty with the beef being tender and the vegetables hadn't had all the crunch cooked out of them. I'm told the prawns were fantastic, quite on the spicy side, but with the lime and corriander flavour apparent and the noodles dry and firm. Hot rolls from a basket were offered twice, and the meal came with a plate of stilton and mature cheddar with quince jelly (a nice touch) and oatcakes, and a berry cheesecake for dessert. Another passing of the drinks trolley yielded a bottle of red Burgundy (more champagne for my prawn-munching companion) and finally, coffee with chocolates was presented. BA has set the bar high with their Club Europe meal service and this certainly did not disappoint.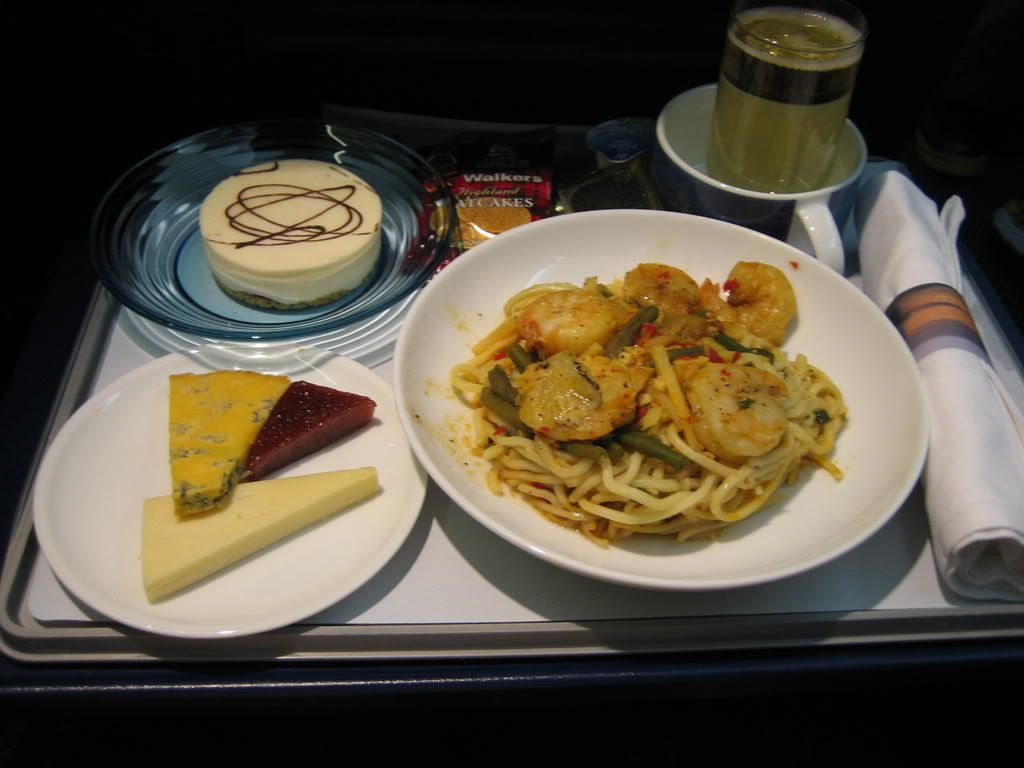 King prawns with corriander and lime on noodles
Beef and vegetable casserole
As the aircraft descended through the dark towards Malta, we could see some lightning from a storm that was moving away to the north. We passed to the south of the island before banking left to line up for a landing on runway 32. Reverse and some hard braking applied and we were on stand a touch before 2130.
-------


Date: 150208

Flight: BA 6939 (operated by GB Airways)

Departure: MLA; 2155 (sched); 2130 (push); 2135 (take-off)

Arrival: LGW; 2355 (sched); 2330 (landing); 2335 (on stand)

Aircraft: A320-200; G-TTOG

Seat/Cabin: 2A/Club Europe

An asthmatic wheezing bus plies the route between Valletta and the airport at Luqa, a distance of a few kilometres covered in a somewhat indulgent 40 minutes. The terminal however is modern and pleasant and check-in and security formalities were quick and administered by good-natured staff. The lounge, quaintly called the 'Valletta Club' or something similar, was dark with low ceilings, but decorated tastefully with comfortable chairs that you could slouch on or sink in to and BBC World showing on wall-mounted TV screens. An eclectic range of snacks was on display including plain bread rolls, pots of olives and sun-dried tomatoes, processed cheese, and fruit cake slices.
Boarding was announced early and we made our way to gate 10 and walked out to the aircraft. This moment reminded me of my many happy years in Muscat when we would catch the early morning hours BA departure to Heathrow, stepping out of the terminal, smelling the hot, dusty, kerosene-infused air and walking across the floodlit apron towards the looming 747 or Tristar, Landor tail illuminated and the sounds of airport equipment and aircraft getting louder as you approached. An apparently mundane moment, but actually one of utter magic. Wonderful stuff.
This reverie was abruptly ended by a passenger expressing his consternation at not being able to find space in the overhead lockers for a case the size of a family hatchback. Apparently, it contained some sort of musical instrument. Sighing, I opened up Highlife magazine at the 'Ask the Pilot' column which is always amusing (who writes that stuff?) The man and his bassoon (or whatever it was) must have found their respective places for we pushed back nearly 30 minutes early and taxied to runway 14 for take-off, well ahead of the only remaining departure left that evening – a Ryanair 737 to Luton that had been scheduled to leave before us.
This time, the cabin was configured for 5 rows of Club Europe (25 seats) of which 15 or so seemed to be occupied. The hot meal followed 2 runs of the drinks trolley, the choice being between coconut chicken curry and some sort of fish. Both of us had the curry, which it has to be said, was rather let down by its presentation, as if it had been released with a 'glug' from some sort of plastic mould. The taste was actually very good, surprisingly spicy and coconut quite discernible, and with the rice not too clammy. Similar accompaniments of cheese, dessert (a splendid chocolate and orange cake) coffee and chocolates as on the outbound flight were offered.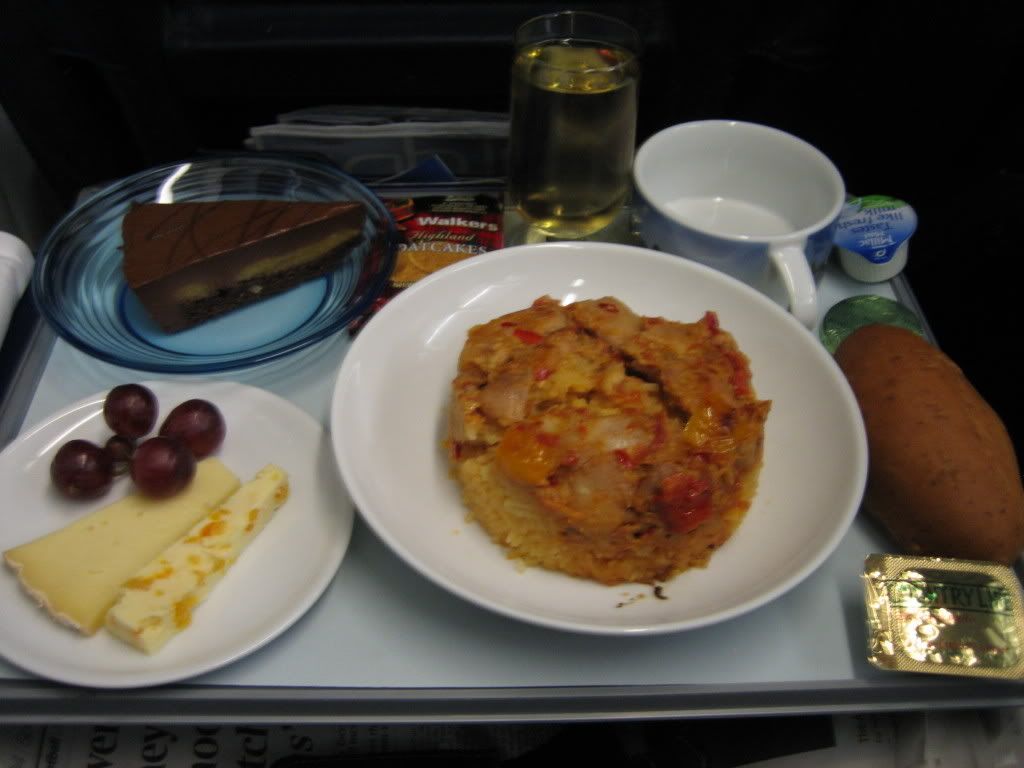 Coconut chicken curry
The crew excelled themselves again, despite having just worked the sector from Gatwick. They were enthusiastic, cheerful and efficient. Returning from the washroom, I chatted to one of them as she was preparing some coffee. How did they feel, I asked, about the prospect of working for Easyjet? She smiled. "Well, I'm looking forward to it. I think it'll be cool." "Really," I said with a raised eyebrow (communicating, I hope, an expression of mild surprise rather than that of deranged lunatic). "Oh yeah," she replied. She was young, petite and with blue eyes that sparkled. Even at this late hour after working 2 busy sectors, she seemed to exude energy and enthusiasm. "Well, not everyone's happy," she continued after a pause. "I think we've had over 50 leave…but that's not much out of a total crew of 250."
I admired her optimism and confidence and thought that such a positive attitude would hold her in good stead for what's around the corner. But I felt very melancholy. Maybe it was just the plentiful champagne kicking in, but I was sad to think that this wonderful little airline that started in the 1930s, today carrying the BA flag to some off-beat parts of Europe and north Africa with its incomparably friendly crew, is coming to an end and its aircraft (and staff) having to suffer the indignity of being painted bright orange. It's hard to see how the ethos of GB Airways can survive when it is absorbed by Easyjet. I suspect it won't and that's sad.
The usual runway 08R/26L at Gatwick was closed for maintenance work resulting in us landing on the northern runway 08L at 2330, nearly half an hour early. I was happy to see we parked up at pier 6, affording my first opportunity to use the fantastic new bridge to the main North terminal. With such great views from a unique vantage point, this easily has to be the best part of Gatwick!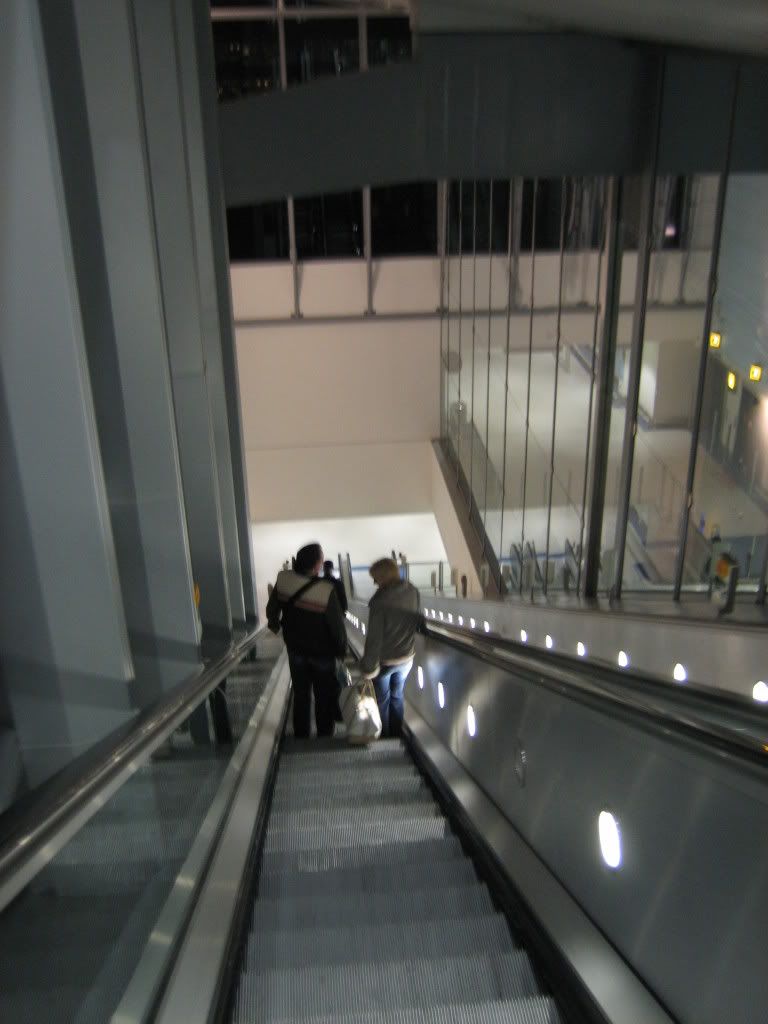 Descending to the main North Terminal from the taxiway-spanning footbridge linking it to Pier 6
Summary:
So 2 great flights that more than lived up to my experience and expectation of the winning combination of BA Club Europe product and GB Airways service. The Club Europe product excels on board – comfortable seats, enjoyable meals and so on, but just as important is that the whole process from check-in to boarding feels serene and effortless, aided by pleasant staff, fast-track security and lounge facilities.
But a high quality inflight product can still be let down by inattentive or half-hearted service. No such worries on GT. The crew were charming. Every interaction was accompanied by eye-contact and a smile and delivered with engaging energy and enthusiasm. I wish them all the very best for the future. Join me in raising a glass to GT.