Greetings, this is my first TR in a.net, so any and all criticism is welcome. This trip was my first trip to France along with a chance to get away from the bitter mid-February Michigan winter for four days. For both flights, I flew as a NON REV (non revenue-standby), and was fortunate enough to sit in business class both ways.
Northwest Airlines 50
DTW-CDG
A330-300 (N804NW)
Seat- 03G
Departure- 2120 2/15/2008 GATE-A54
Arrival- 1130 2/16/2008
Load factor- 90%+Y, ~80%J
Check In
For 6 years now, I've flown hundreds of flights out of the McNamara terminal (I was on the 2nd flight out of the new terminal the day it first opened) and have never yet been to a world club, I had my heart set that this would be the day. We arrived at the terminal at about 1830, with plenty of time to kill. Right before leaving for the airport, I checked on RADAR, and it was showing 7 open up front, with us at the top of the stand by list. I was hoping to get a WBC boarding pass at the kiosk, instead, it showed seat: AT GATE-damn!
After getting the bad news from the kiosk, the line for security was non existent and in less than 5 minutes I was riding the escalator into the A concourse, I commend the TSA at the McNamara terminal, I'd have to say that in hundreds of trips from this building, the longest I've spent in a security queue was less than 10 minutes.
DTW/BOARDING
With just under 2 hours until boarding, although I wasn't able to check out the world club, the McNamara terminal is in my opinion the best airport in the world to kill time in. I say this because of the ingenious idea of having one security entry point for the entire terminal, as well as the option to take the tunnel to the B and C concourse (which I think anyone who has time to kill in DTW should do). After grabbing a snack and a drink at taco bell (which is the only vendor in the airport with self-serve fountain drinks-a bottomless Dr. Pepper is nice when you're flying standby and the loads aren't in your favor, or you just have a lot of time to kill in the airport). Since it was dark, along with those little dots on the windows; I didn't bother trying to take many pics at DTW, for the record, I waited at A62 as long as I could for LH 486 to come in and get some pics, but it was late.... this is what I got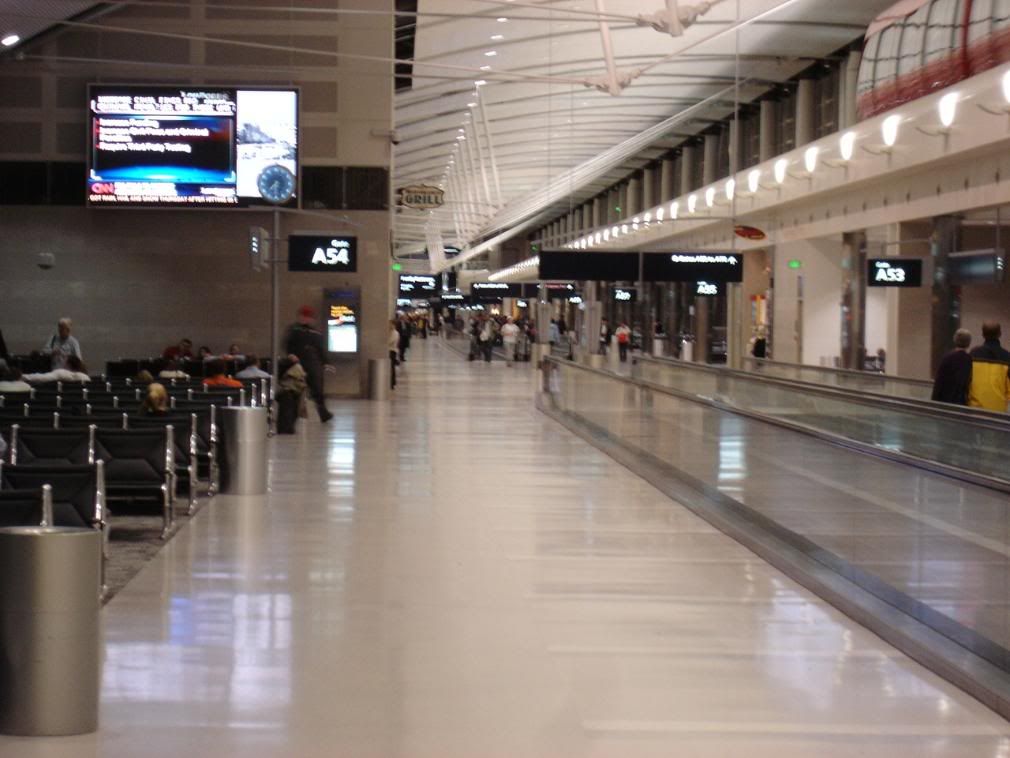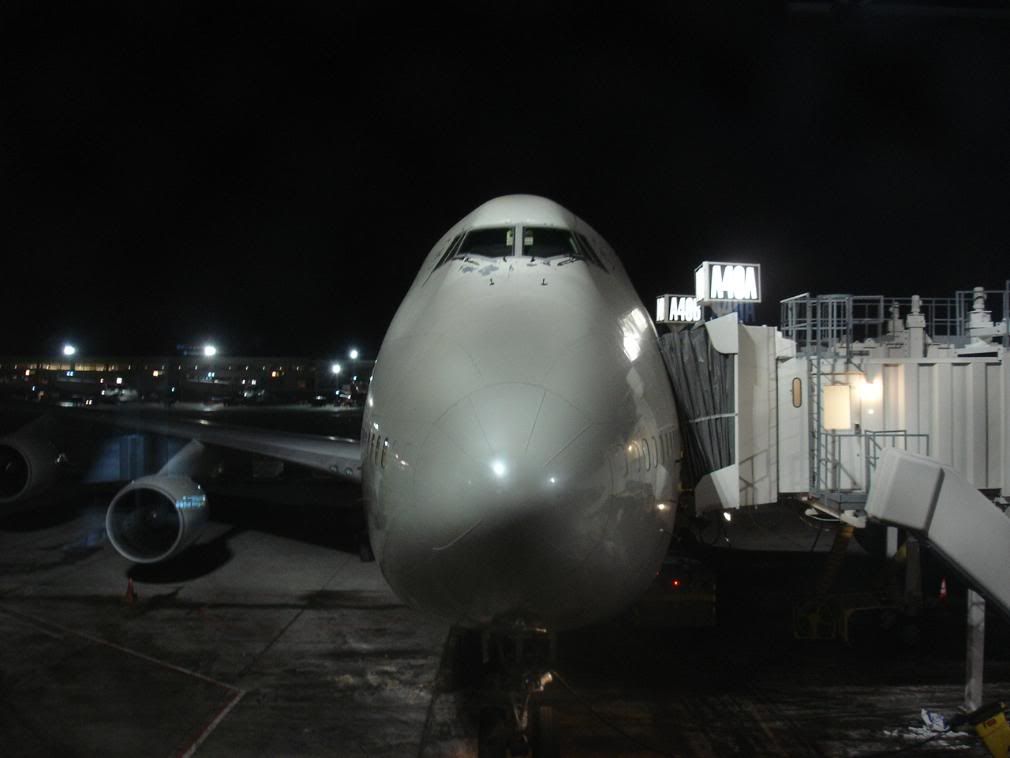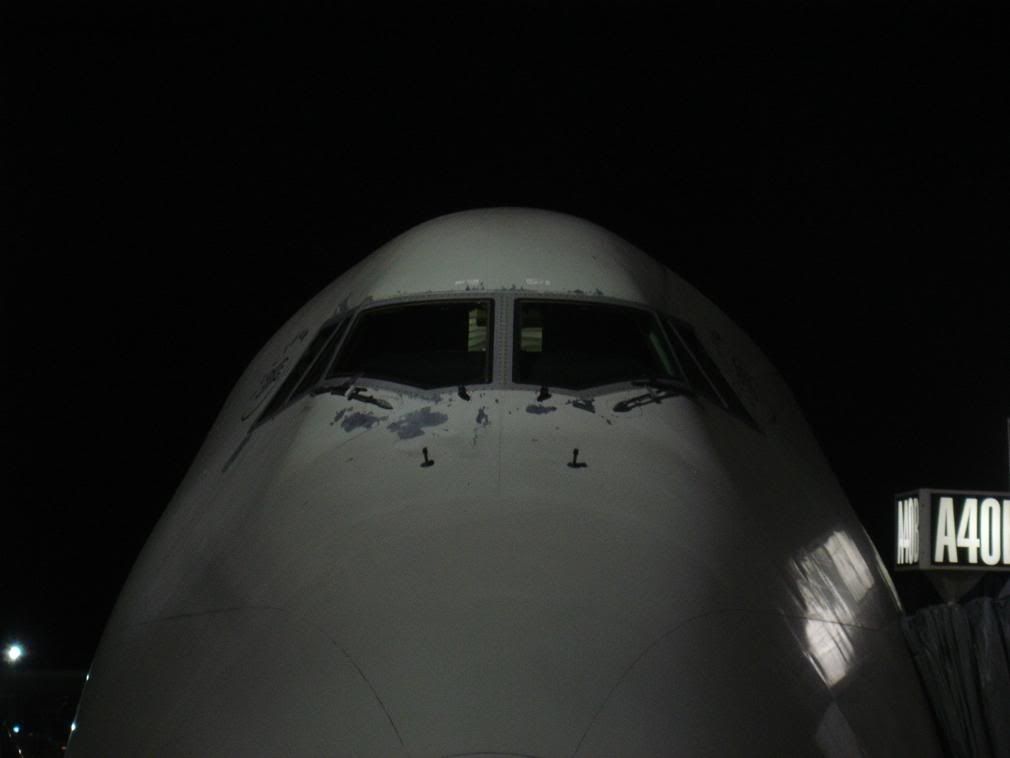 N804NW- my equipment to CDG, I've flown this bird twice before to and from AMS.
At roughly 2015 the agent called me to the counter, and assured me that I had a seat on the flight. A few seconds later she asked me if I was wearing jeans, I was not, and she happily handed me a boarding pass reading seat: 03G. Since I was being issued a boarding pass while pre boarding was going on, I had to board with the masses, and I'll take it any day.
IN FLIGHT
Upon boarding at 2L I was greeted with a smile and told where my seat was located. Don't get me wrong, these seats are nice, but somewhat uncomfortable, from what I've read on a.net these seats are similar to the WBC seats on KL, and I noticed some of the same flaws reported by others. The biggest problem I noticed was an all around lack of padding in the back and bottom of the seat, but other than that everything else was great (ample reading light, great leg room).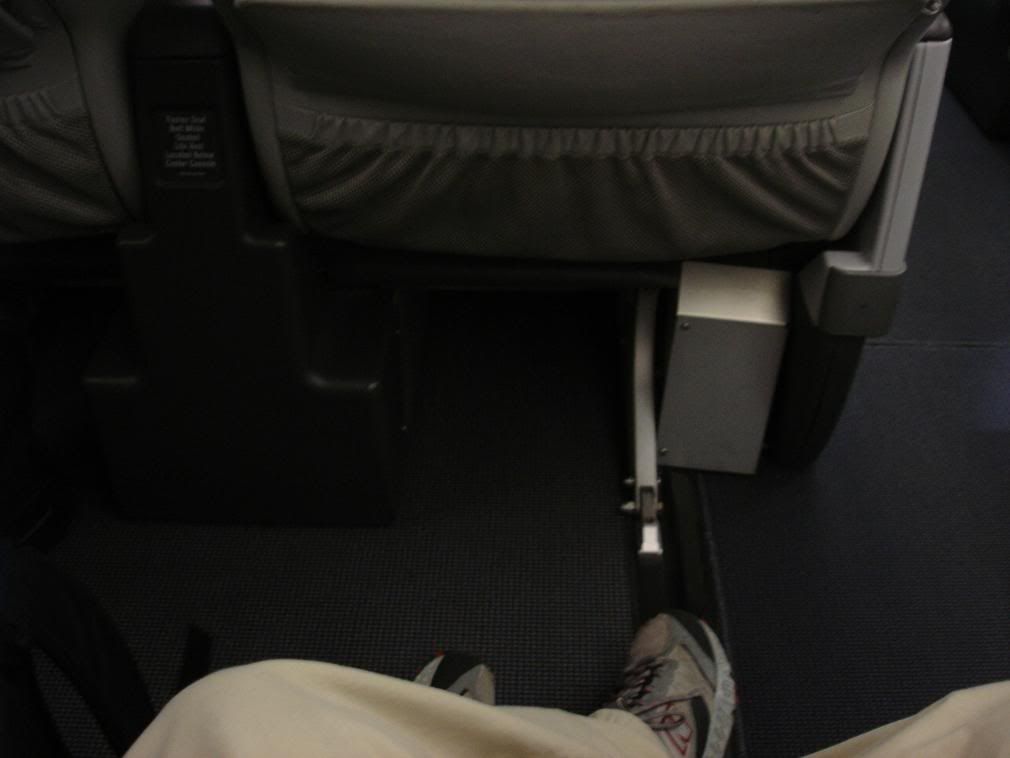 The F/A's proceeded to pass out beverages, amenity kits, headphones, and menus while the plane filled up. The options were Champagne, water, orange juice, or beer, I choose the OJ.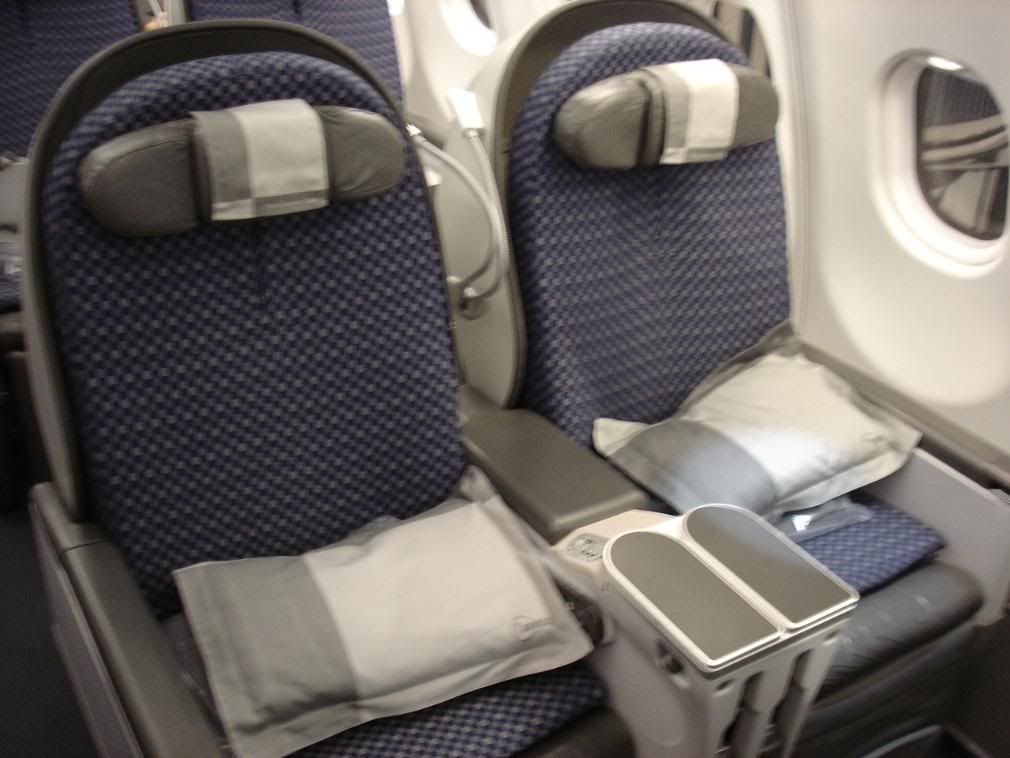 Within the last 6 months, I've done DTW-TATL in WBC 3 times, and there is always a choice between beef, chicken, or fish, this flight to CDG also had the option for a cold champagne supper, which I didn't notice on the Flights to AMS.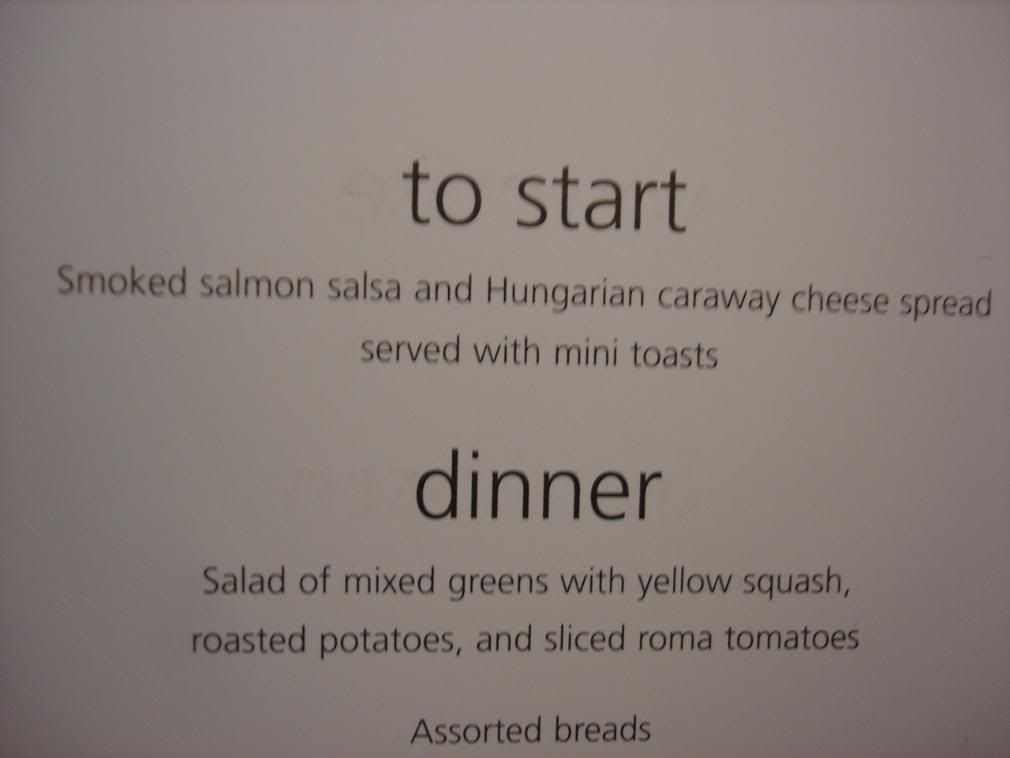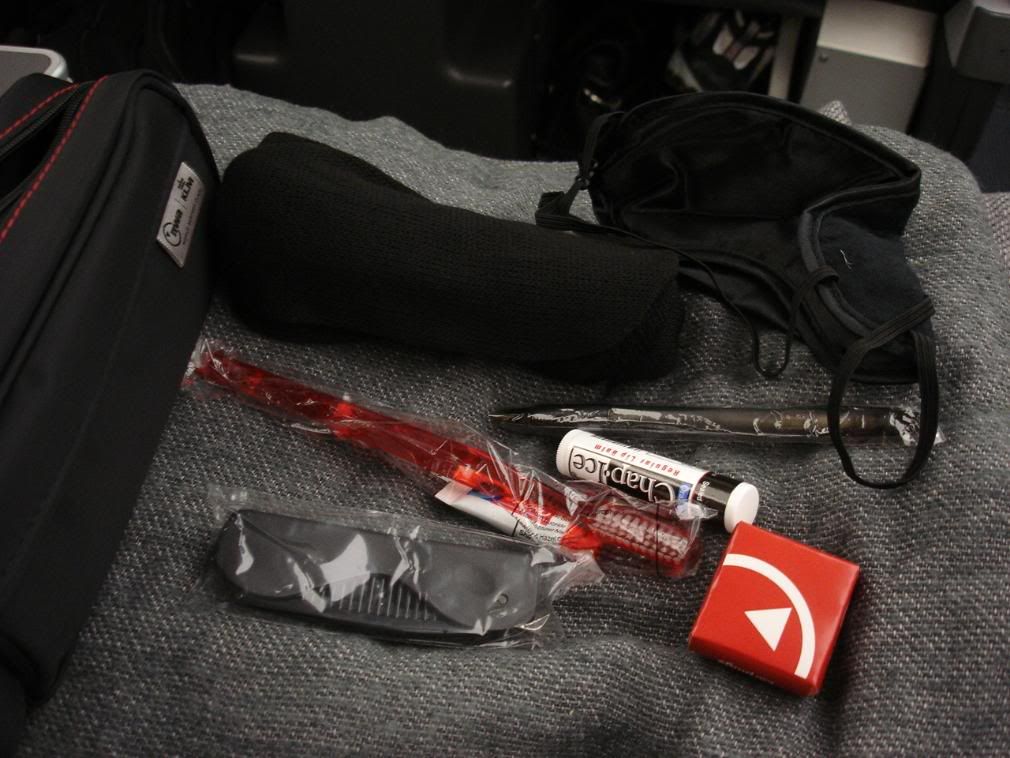 After the door was closed, we had a quick taxi to 22L, where we had a pretty long takeoff roll. By accident, the purser played the safety video in Dutch/English rather than French/English, so he aborted the video, and announced a manual demo over the PA. He was quite embarrassed, but none of the passengers seemed to pay much attention. The IFE (world entertainment network) is an excellent system, but the one thing I hate is how NW shows at least 20 minutes of useless "commercials" advertising Sky Team, duty free, and this STUPID airobics video which has no point at all, except to waste time that pax could otherwise be enjoying the interactive IFE. In fact during the airobics video, I checked, and out of the entire WBC cabin, not one person was even paying attention to the monitors. Thankfully as soon airobics was over the interactive system kicked in.
Within 20 minutes after take off, the crew began the dinner service (I choose the beef entree). Everything was presented well and tasted excellent.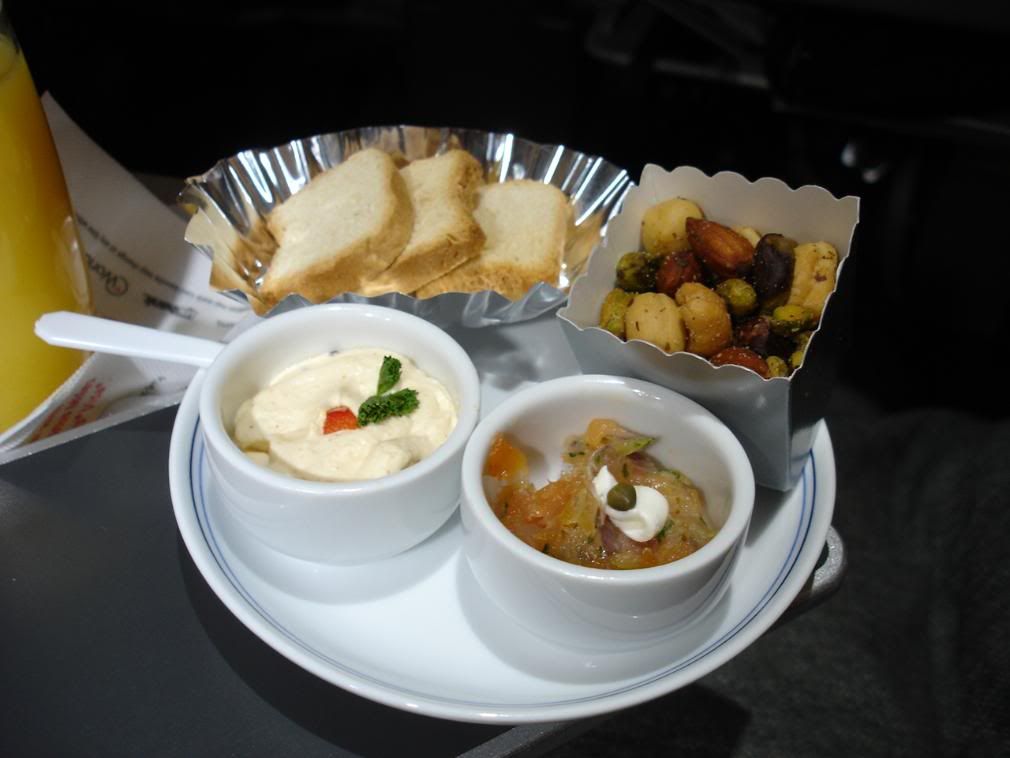 My salad (minus tomatoes), the first salad I've ever had with potatoes in it, pretty good.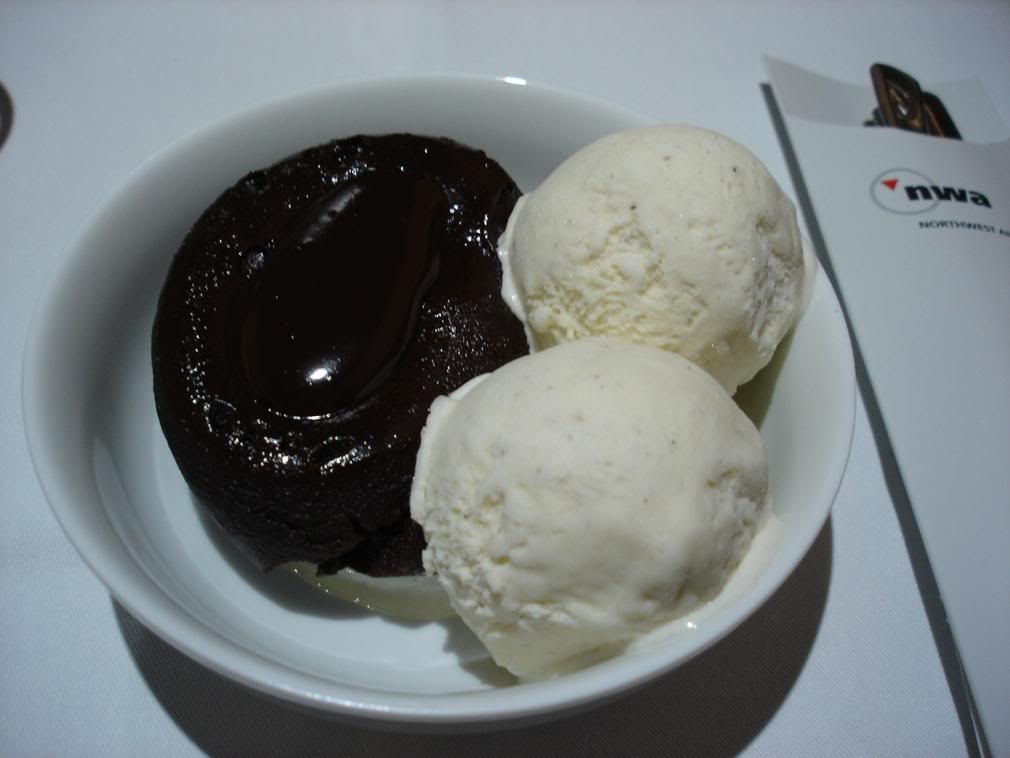 Chocolate cake and Ice Cream, very rich, but very good.
After the dinner service, I decided to play a few games of trivia. I love this game, but it's hit or miss, as in some flights it works perfectly, others it crashes halfway through the flight, and others it never works. Luckily, it stayed online for the whole flight and I got a new high score.
After a few rounds of trivia, I slept about four hours until breakfast was served. I know that most of the WBC pax sleep through most of this flight, but I do think that NW should put a snack basket in the galley for pax to help themselves during the flight, I've noticed that they're only catered on westbound TATL flights, anyone know why?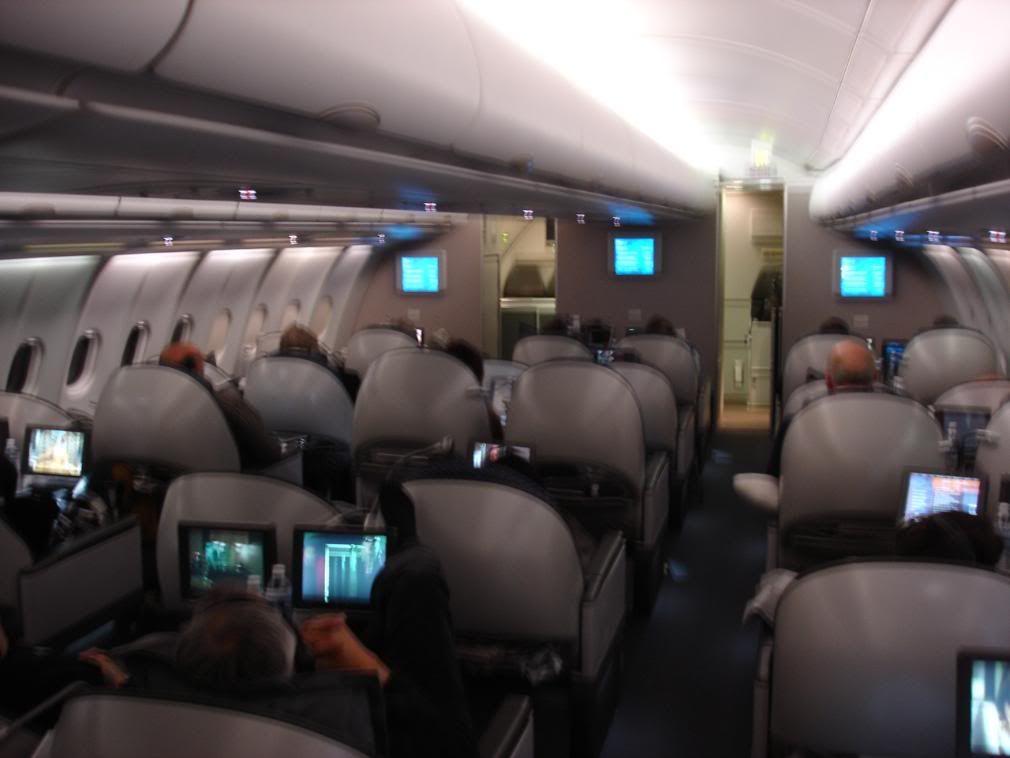 The WBC cabin shortly before the lights were dimmed
Awakened by the sunlight, breakfast was only a few minutes behind.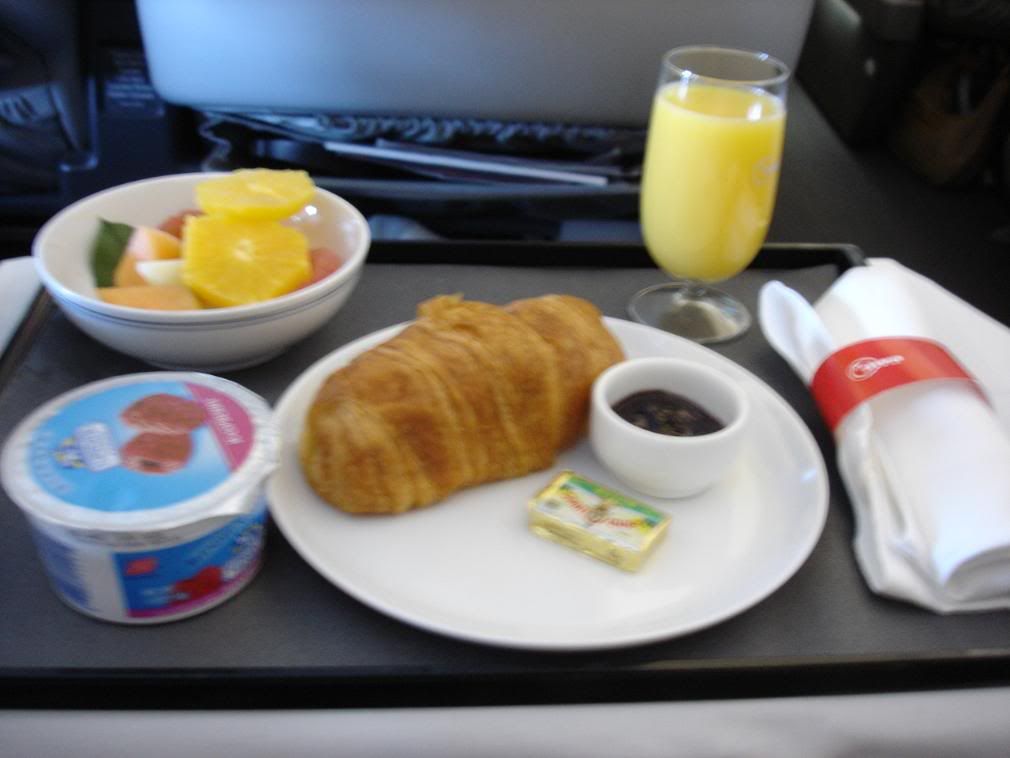 What you see is what you get, nothing more. It doesn't look like much, but everything except for the oranges was quite tasty and filling.
The lavs for WBC are no larger or different except for a bottle of toning mist? And lotion. A bit off topic, but I remember in Jul. 2002 flying SEA-HNL in F on an NW DC10, and going in the lav to find around a half dozen bottles of Cologne, perfume, aftershave...., and 5.5 years later on a flight twice as long, aircraft 30 yrs. younger..... We're reduced to toning mist??? And lotion.-just a side thought.
Upon arrival to CDG, I had some great photo opps including a beautiful CO 752 that taxied right alongside us, but I was stuck in the middle. Due to construction at T2, we taxied to a gate but had to deplane via stairs-YES!!! Largest aircraft I have ever boarded via stairs was a CRJ 200, and now a 333, what a treat. Unfortunately, once on the tarmac there was a ramper every six feet making sure that everyone keeps moving.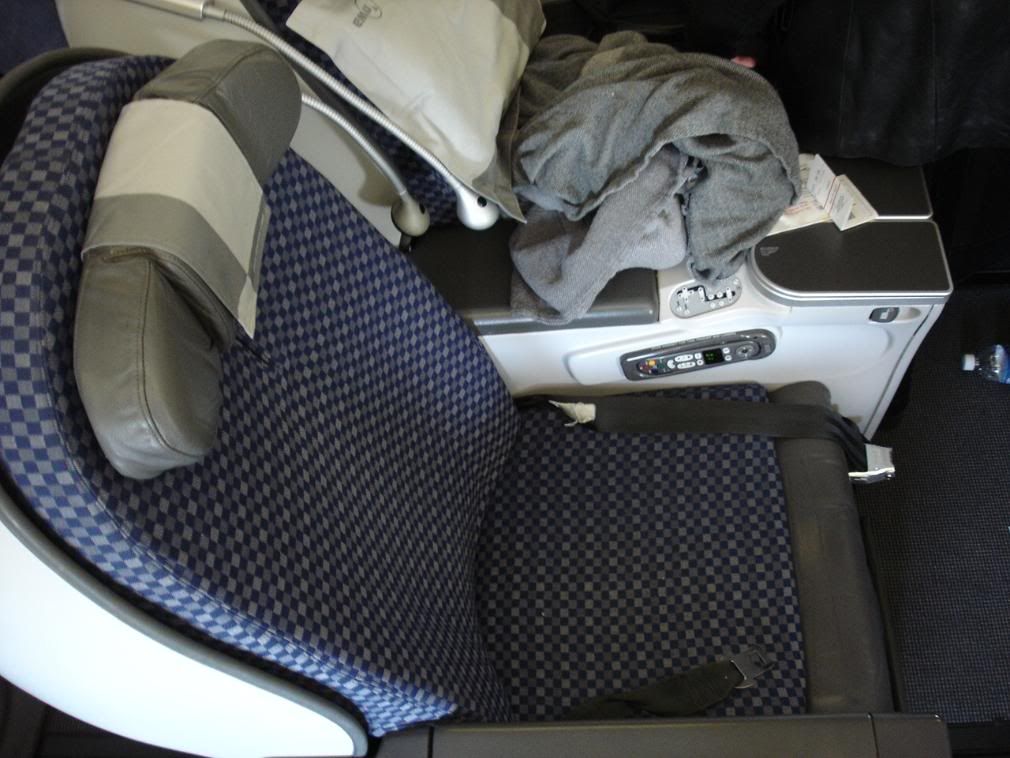 Seat03G after 8 or so hours
A ramper standing 3 ft from me when I took this picture asked me to put the camera away, after much consideration I decided to keep taking pictures.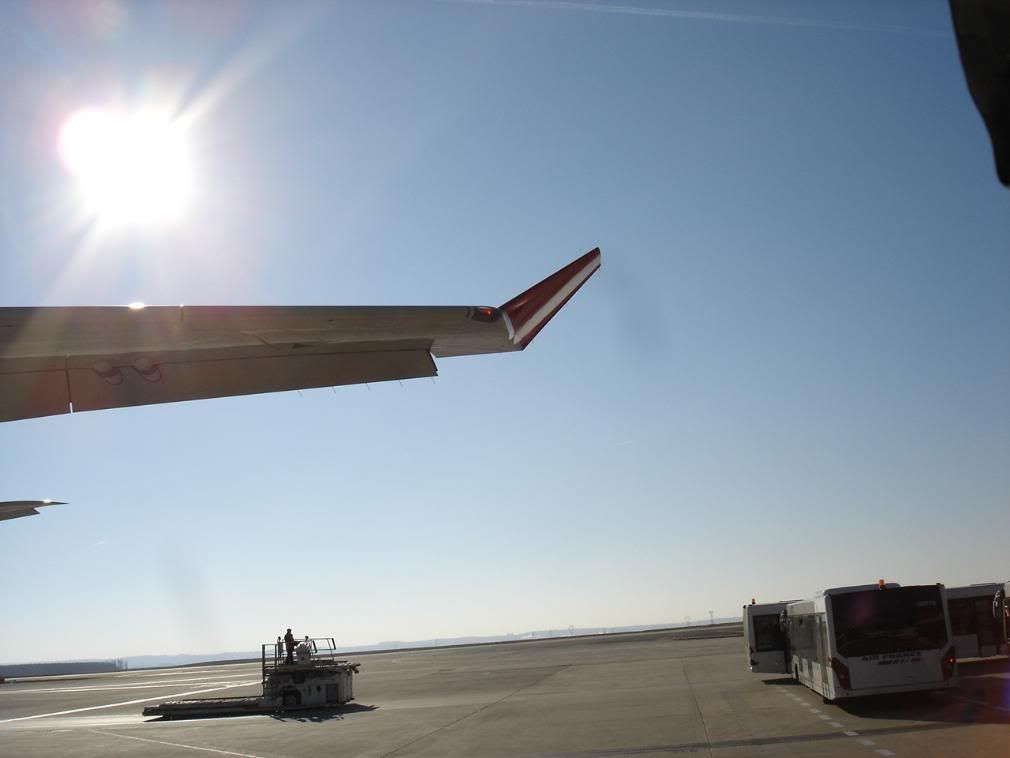 From the bus.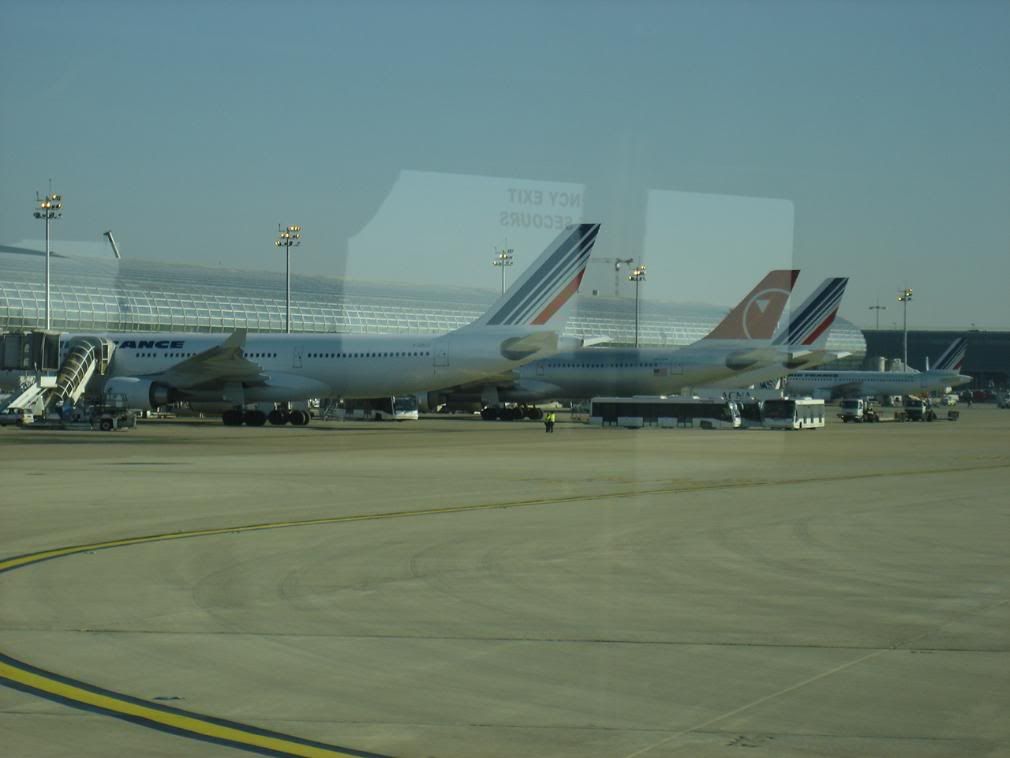 I think I can pick out which 330 we came in on.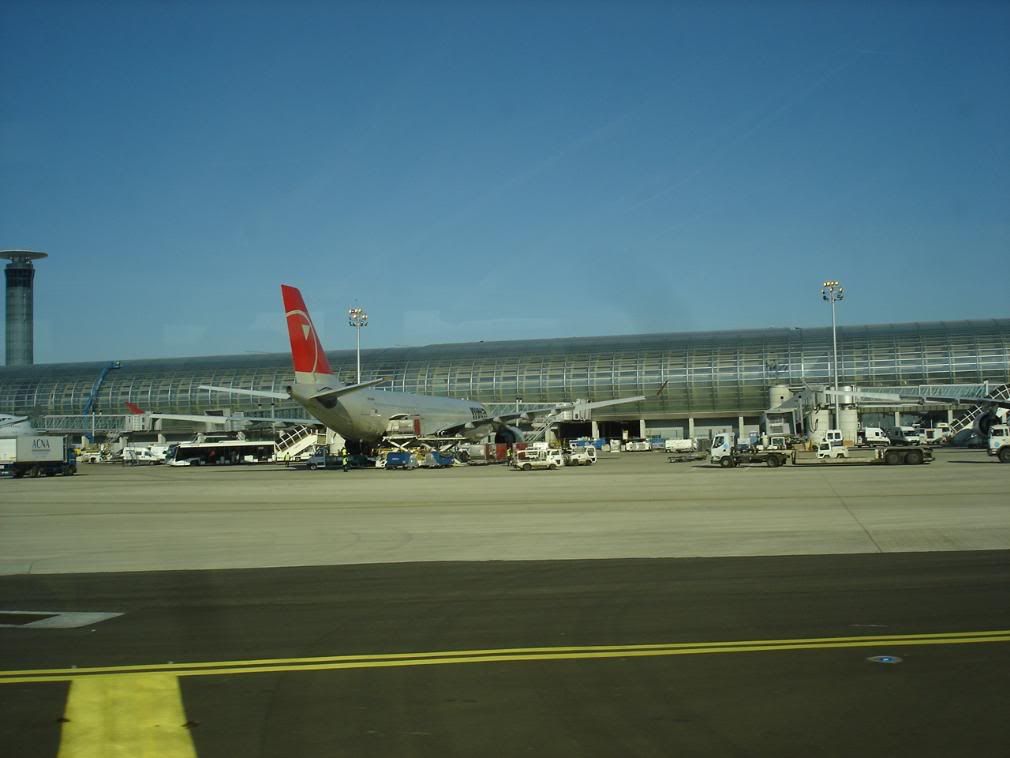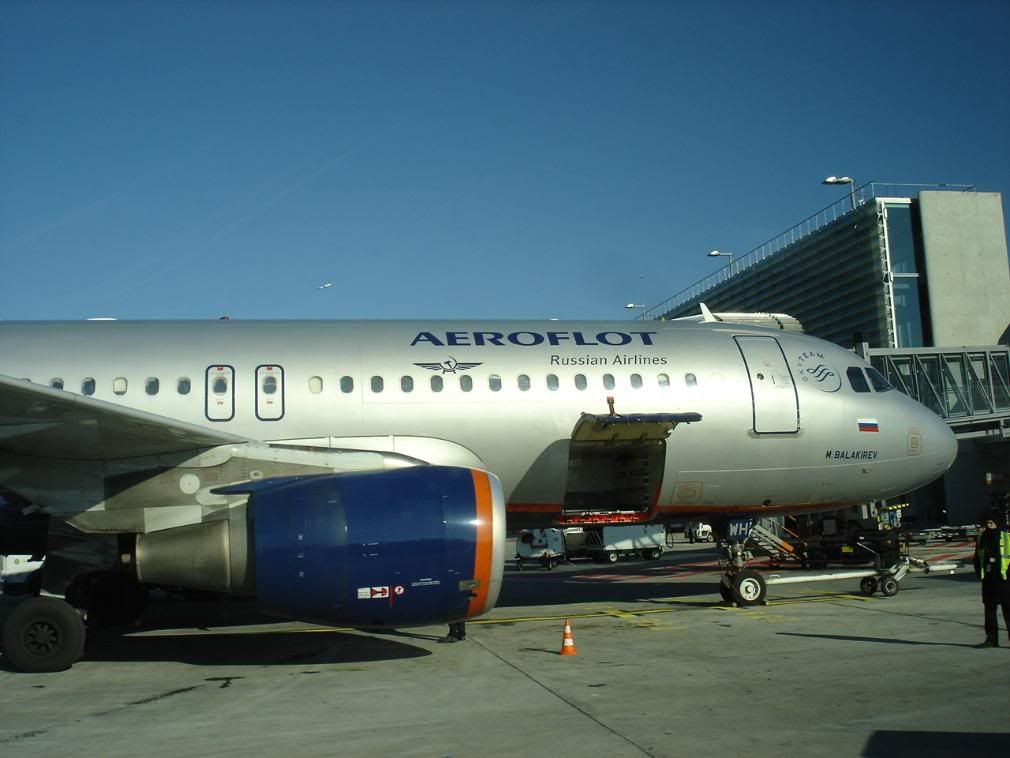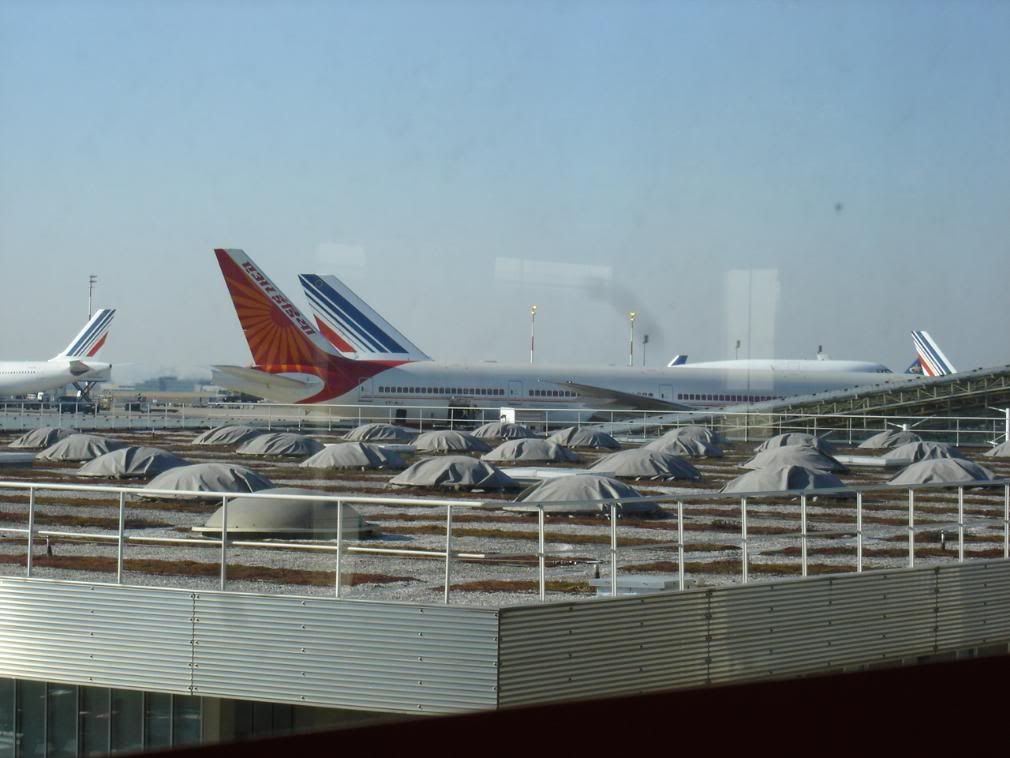 From the terminal.
My three days in Paris went all to fast, here's a few highlights.
Cathedral of Notre Dame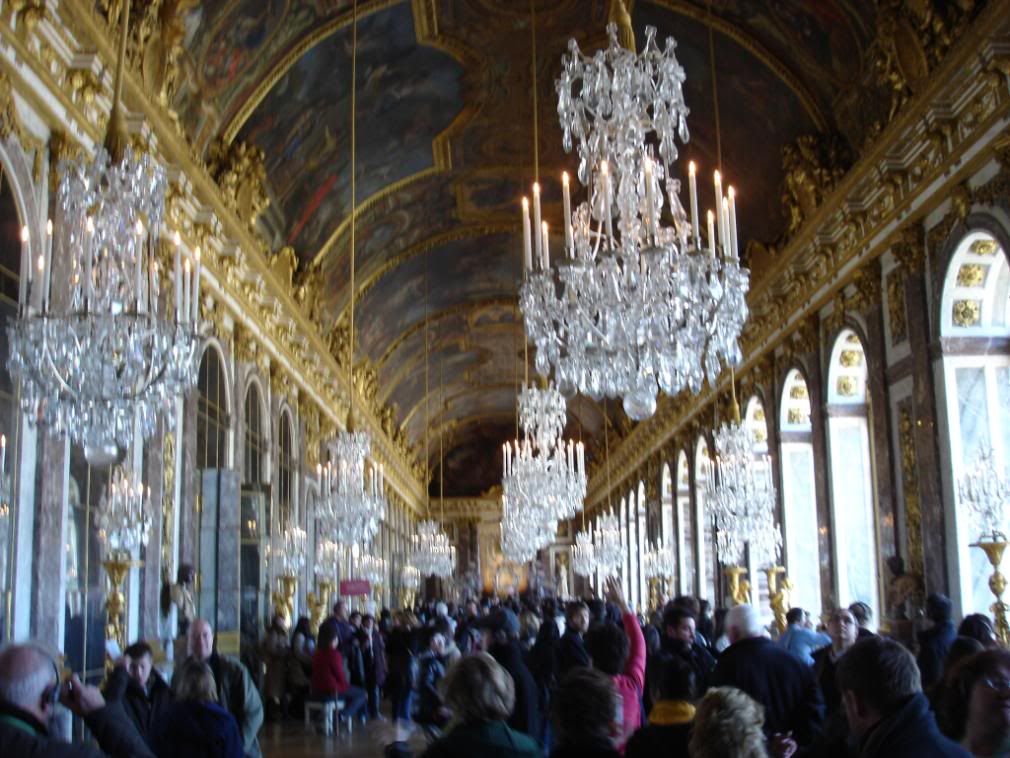 Hall of Mirrors at the Palace of Versailles
That statue from National Treasure 2
Me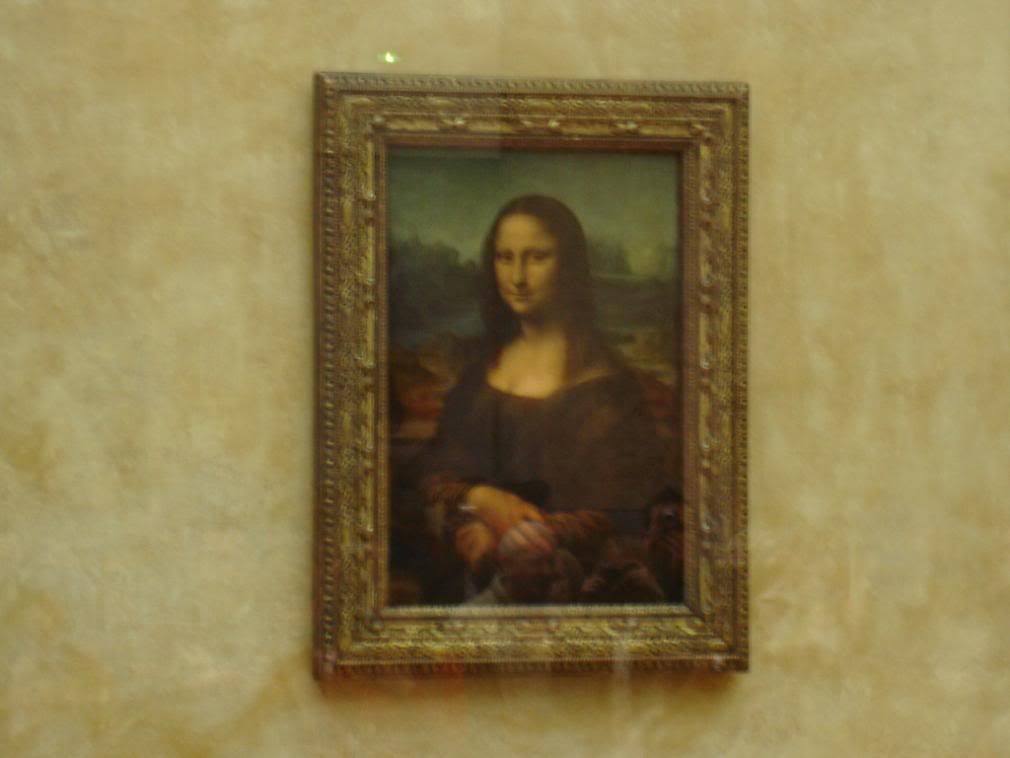 Overrated, in my opinion.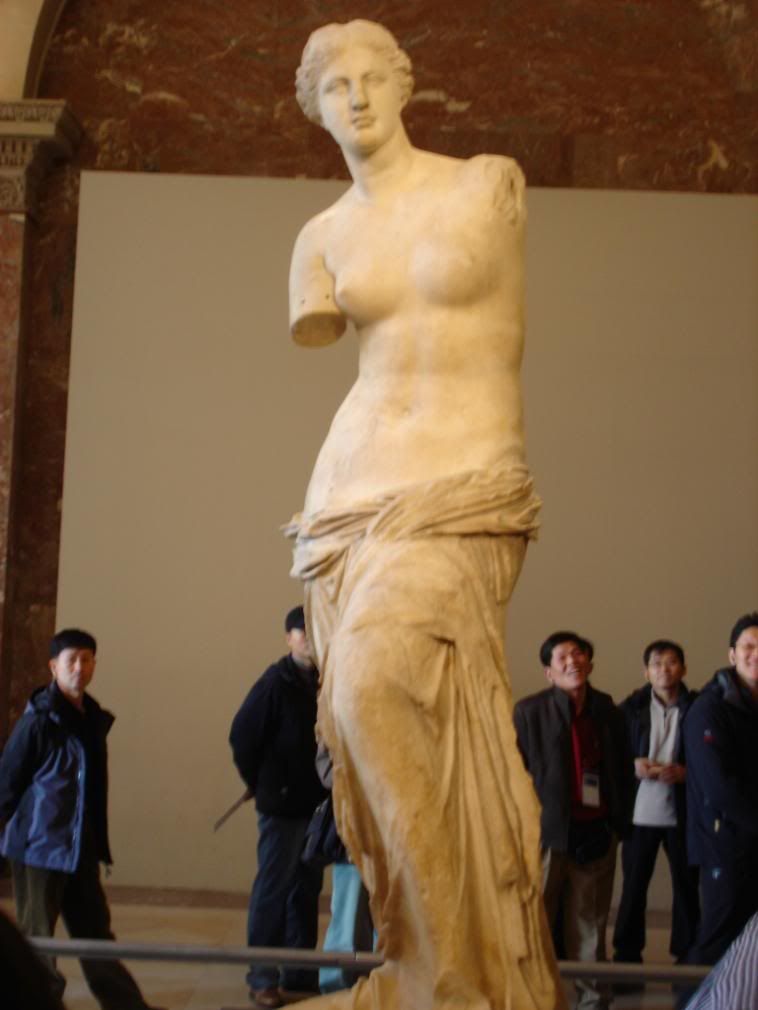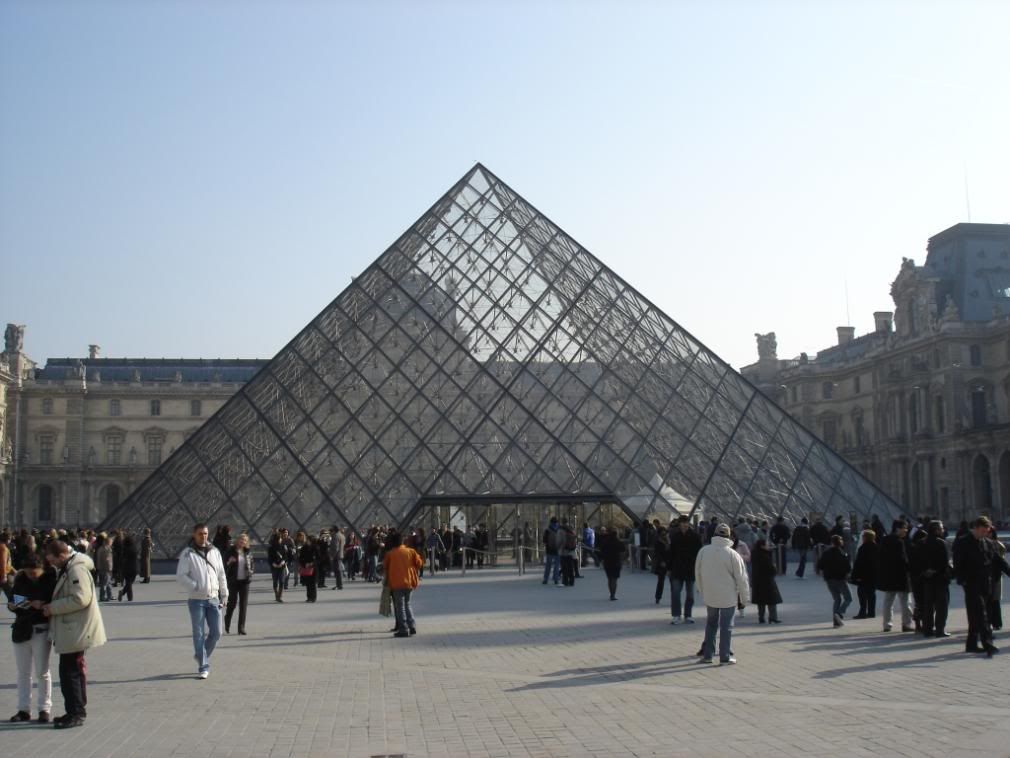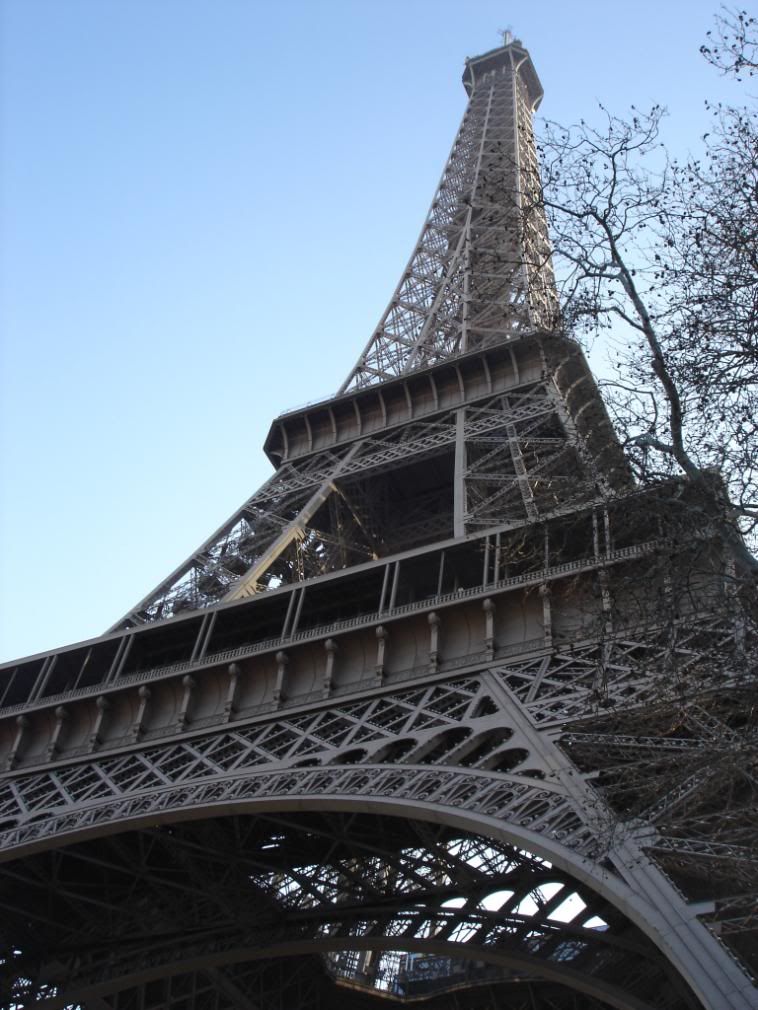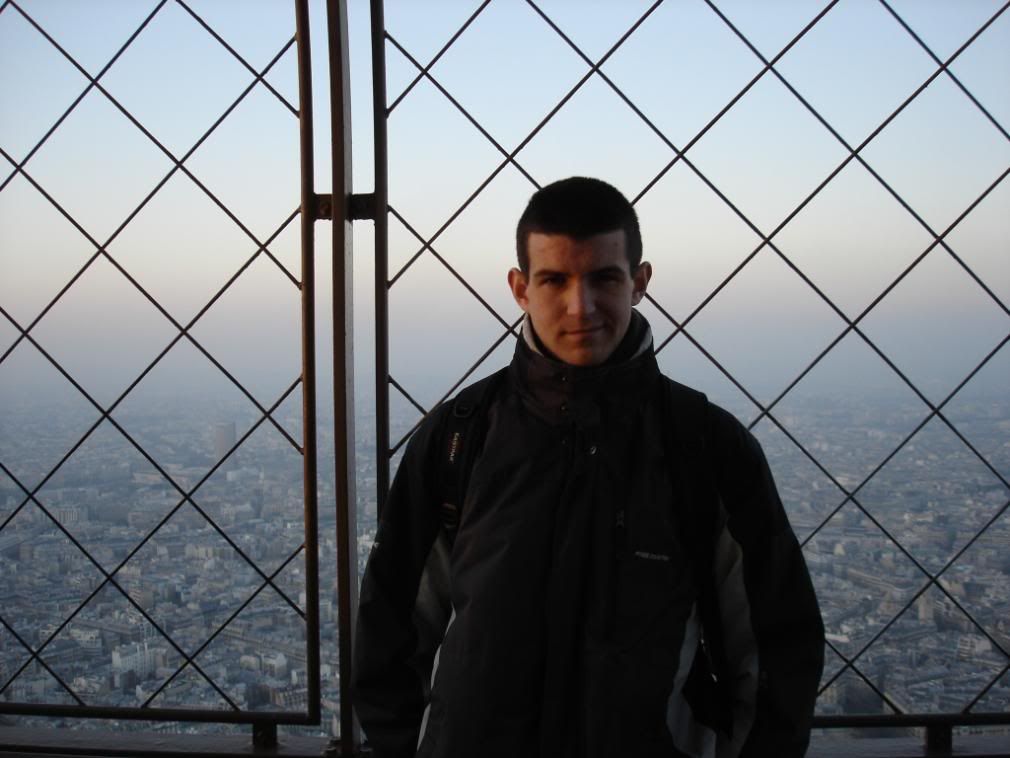 Me, at the top of the Eiffel Tower
Like all good things in life, my time in Paris was over too soon, but being able to look forward to sitting in WBC on the way home eased the end-of-vacation blues.
Northwest Airlines 49
CDG-DTW
A330-300 (N806NW)
Seat- 05J
Departure- 1355 2/19/2008
Arrival- 1500 2/19/2008
Load Factor- ~60%Y, ~80%J
CHECK IN
Before leaving home, I checked the loads for this flight, and they were surprisingly light. Upon taking RER line B to CDG T2, getting from the train station to the ticket counter took a matter of minutes. At CDG, NW uses AF/KL ticket counters. A friendly AF CSA ensured that we were listed on the flight and instructed us to enter the security queue. The people who asked the security questions were trainees from a contracted company, the gentleman who questioned us was very friendly and executed his job very well; although when he asked us where we packed our bags, we replied, "at the hotel", he replied "which hotel?", we replied "The Hotel Grenelle", and then he asked to see a booking receipt from the hotel?!?!, even thought we had the booking receipt, I thought this was extremely unusual, has this ever happened to anyone else? After questioning, we were directed to the ticket queue, which was non existent, in contrast to the 10 minute wait for questioning. For this trip we used a perfect attendance pass which required a paper ticket, I could tell that the staff had minimal experience in dealing with paper tickets, but the AF agents took care of us. We were listed in J, but even though we weren't assigned seats, the boarding card said "business" on it, so we were able to get to the short queue for security as well as access the AF Salon Lounge-Yes!!!
Here are a few photos I managed to shoot in CDG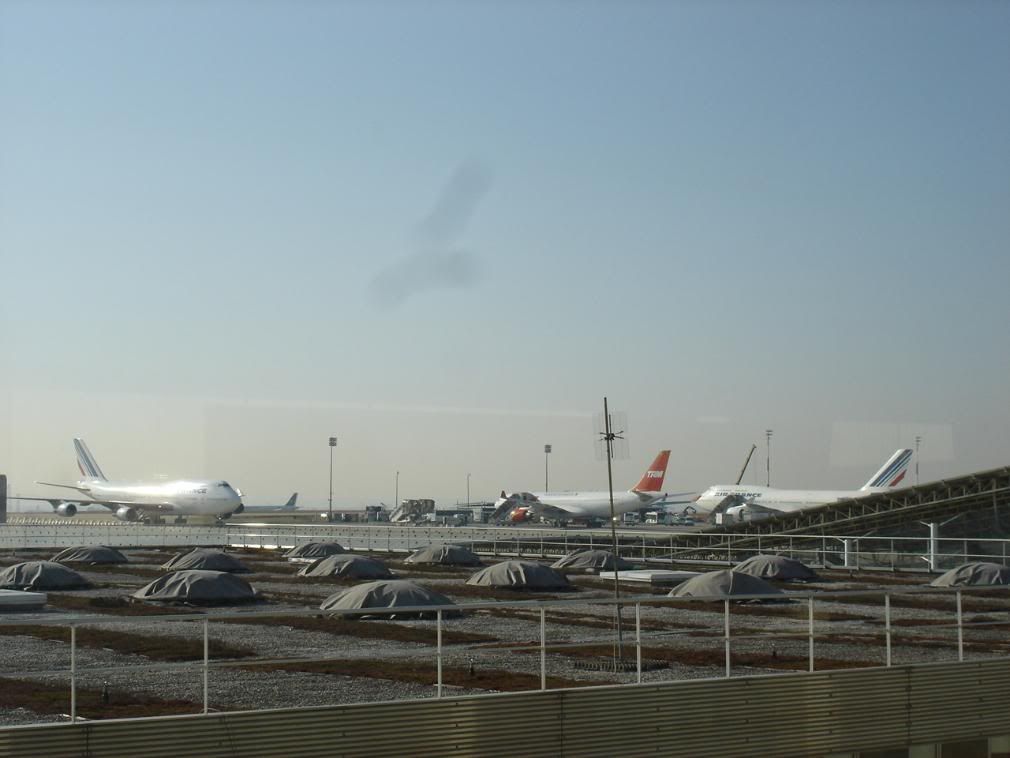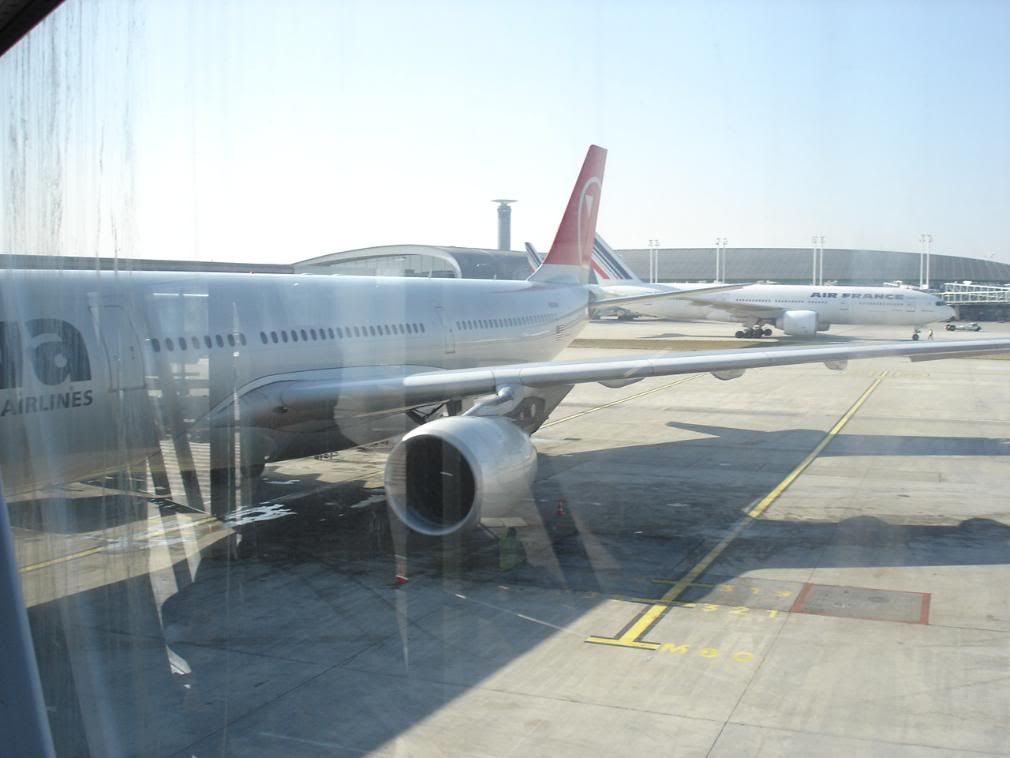 My equipment to DTW (N806NW), notice jet way connected to door 1L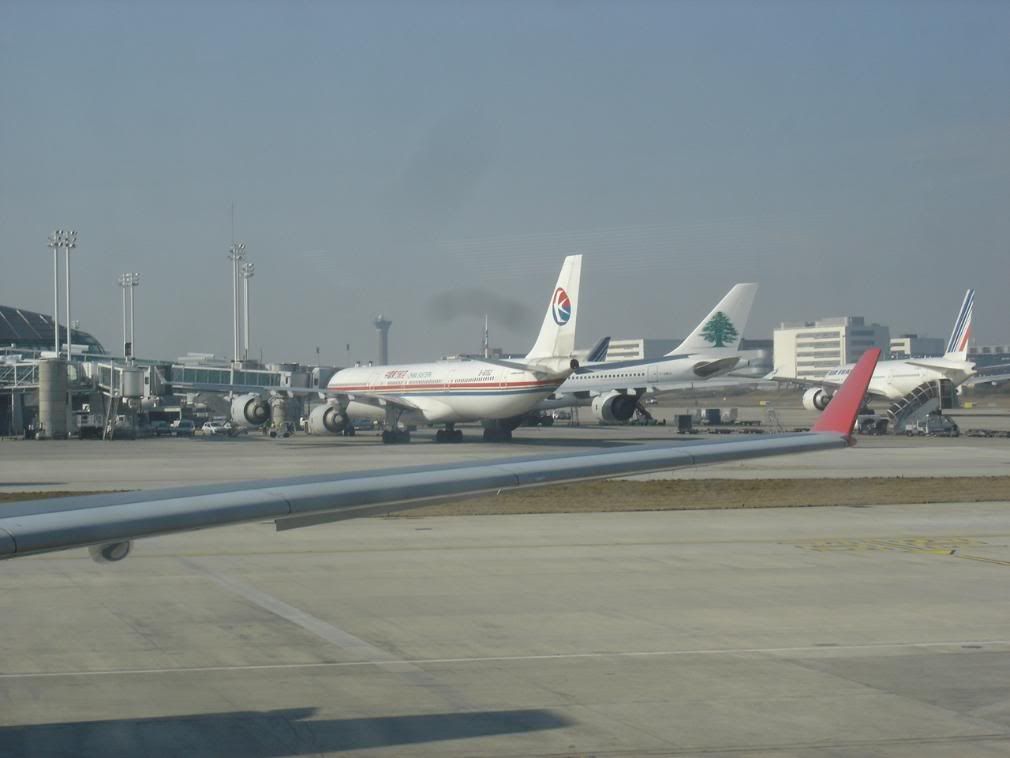 Looks like a Malaysia? 345/346 Anyone know the carrier?
The wait for security was less than 5 minutes and with about 30 minutes until boarding, I headed to the Salon. I was a bit nervous that the AF staff would turn me away because I was an NW NON REV, but the nice lady looked at my boarding card and told me to see her at 1300 for a seat assignment. The Hot Chocolate I got from the coffee machine in the lounge had to be the best cup of hot chocolate I've ever had in my life-honestly. Here are some photos of the Salon.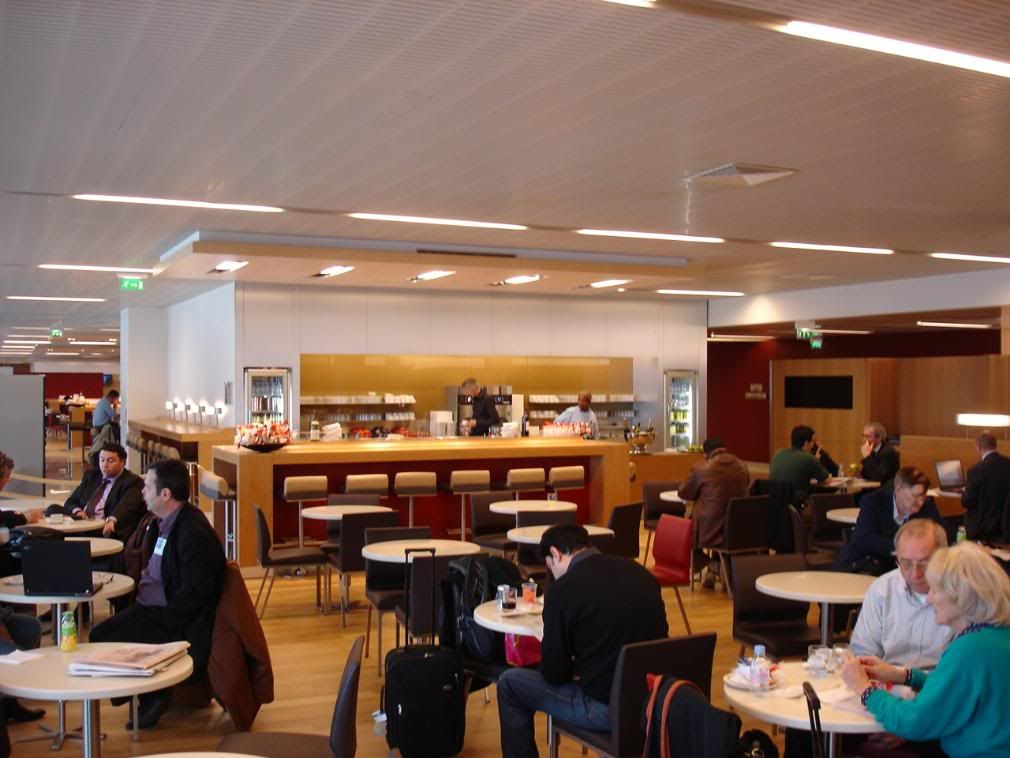 Everything was good, except for the yogurt, I couldn't read the French labels, but one tasted like sour cream, and the other didn't have much taste at all.
At 1300 I proceeded to the check-in counter at the salon, where the AF agent gave me a boarding pass reading seat: 05J-Yes a window!!! After that, I left the lounge and proceeded to the gate. This would be my last contact with an AF employee in CDG
BOARDING
As I neared the gate area, the concourse was unusually hot; it had to be close to 80F in there. Approaching the gate I heard "NW49 Now Boarding All Passengers", from here on I can honestly say that this boarding was the most unorganized way I have ever seen 200 people get on an airplane. To start, according to the American Businessman who was in front on me in line, there was no pre boarding for anyone (WBC, disabled, families....), then to board you must be asked additional security questions. There were 5-6 lines to be questioned, at one end was a line marked "elite", which was no shorter than any other line, so I decided to get in the "elite" line. After waiting 5 minutes in the "elite" line which did not move while the other lines were moving, the businessman in front of me in the "elite" line was becoming upset and began to question one of the agents, he said "where is the line for business class", she looked rather confused and instead on pointing to the line marked "elite", she sent us to one of the regular lines with the shortest line. When it was finally my turn, I was questioned by an Indian Gentleman who could barely speak English. If I didn't already know the questions he would be asking me, I think I would still be in France! During boarding, I did not see one Air France agent, and this whole fiasco was conducted by whom else but the trainees from the outside company who were responsible for questioning at the ticket counter an hour and a half earlier. Dripping with sweat, I boarded the 333 through door 1L!! I really felt bad for the F/A's who were trying to distribute pre-flight beverages, amenity kits, menus, and headsets with a constant stream of main cabin and WBC pax all trying to find their seats at the same time.
IN FLIGHT
Along with WBC and Y class pax all boarding at the same time, everyone coming through door 1 added to the disorganization. I felt sorry for the F/A's who were trying to distribute pre-flight beverages, newspapers, menus, amenity kits, and headsets. Once seated, I opted for a glass of Orange Juice and a (slim) copy of the USA Today, from which I was surprised to find that Ryan Newman won the Daytona 500-go Penske South. The door closed on time, but we pushed about 10 minutes late, nonetheless I was just glad to have a window seat. This flight was unique, because it was the Captain's last flight, his family, which was seated in business across from me, was able to go onto the tarmac with him during boarding to take some photos. While that was going on (which I didn't know at the time), I went to the cockpit to take some pictures, to my surprise, there were no pilots to be seen; one of the trainee flight attendants (there were five, yes FIVE of them on this flight) told me that I could not go near the cockpit, but the purser graciously invited me to the flight deck.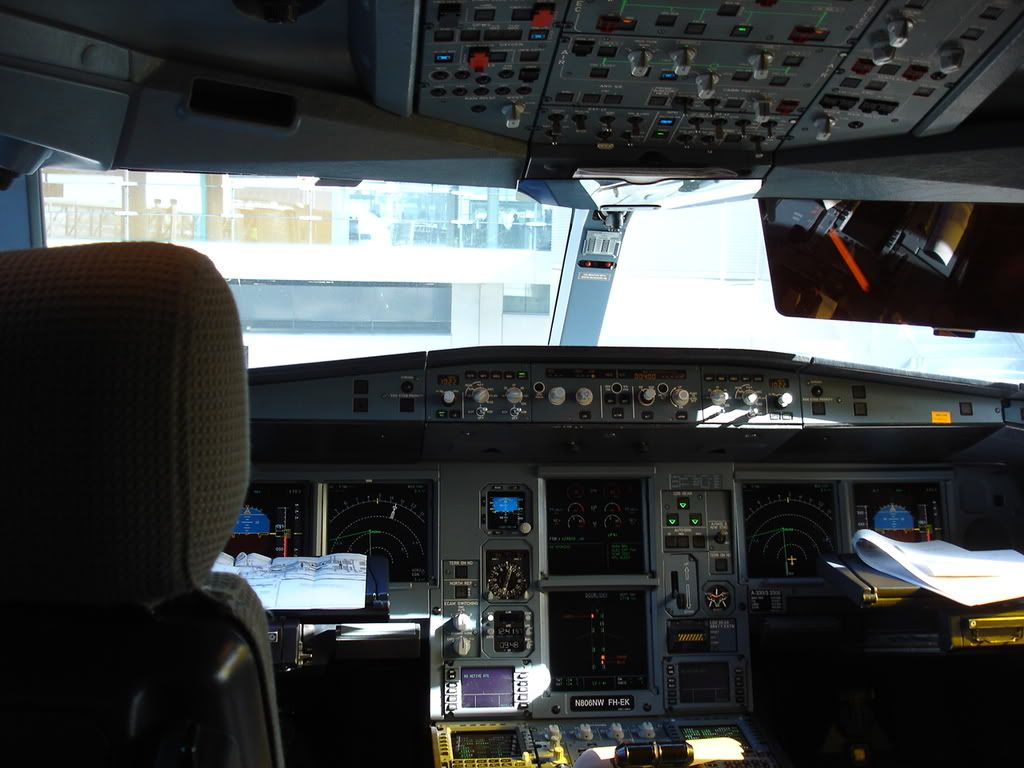 Since I had a window this flight, I got plenty of shots on the ground (please pardon the dirty camera lense)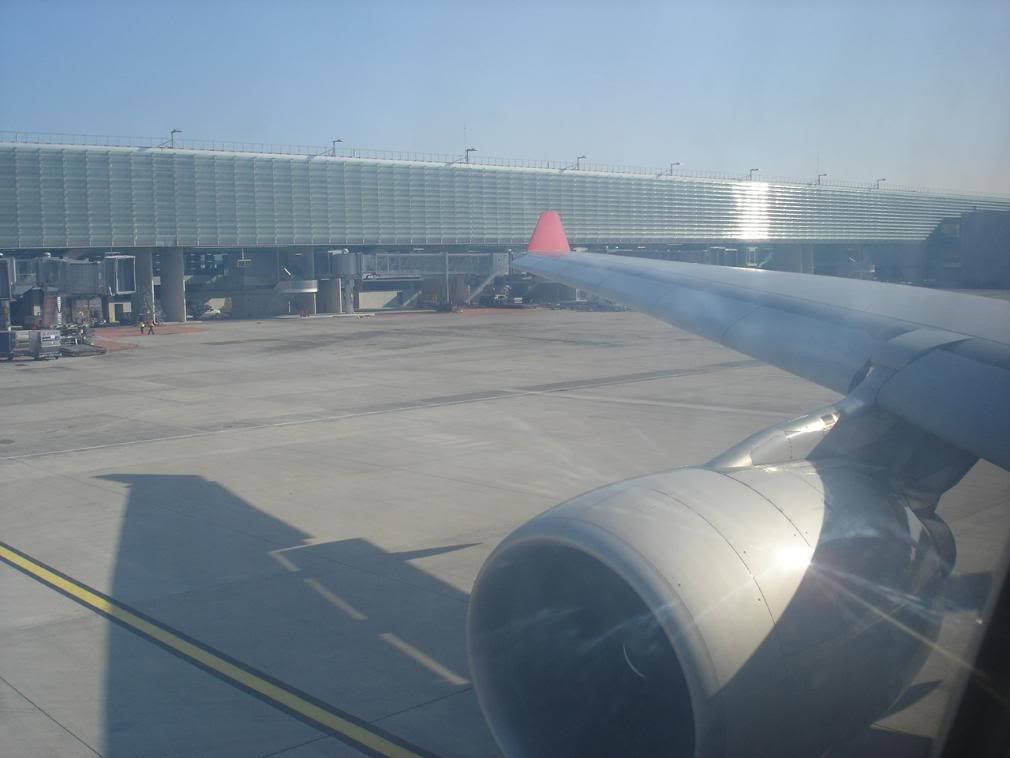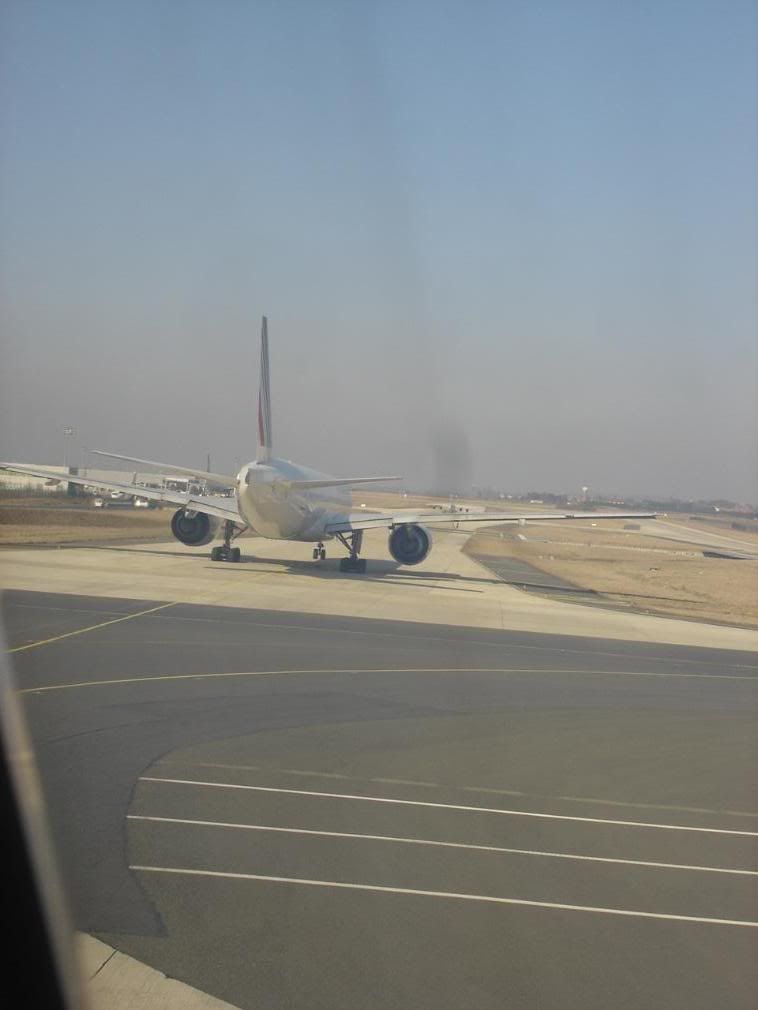 TG 744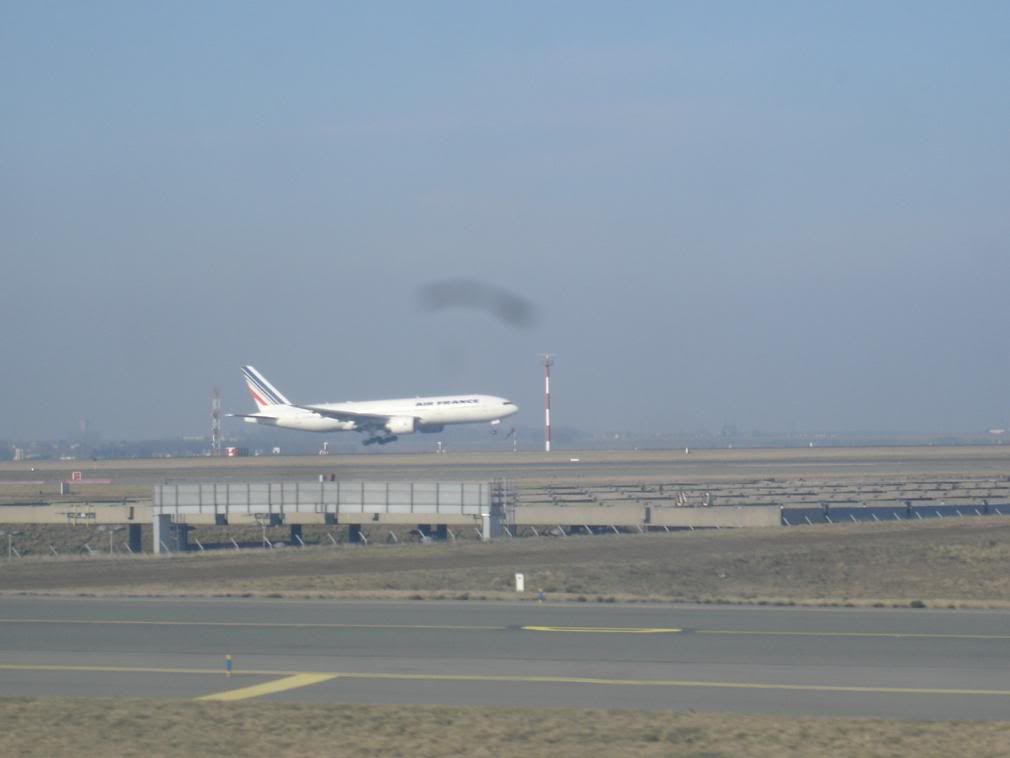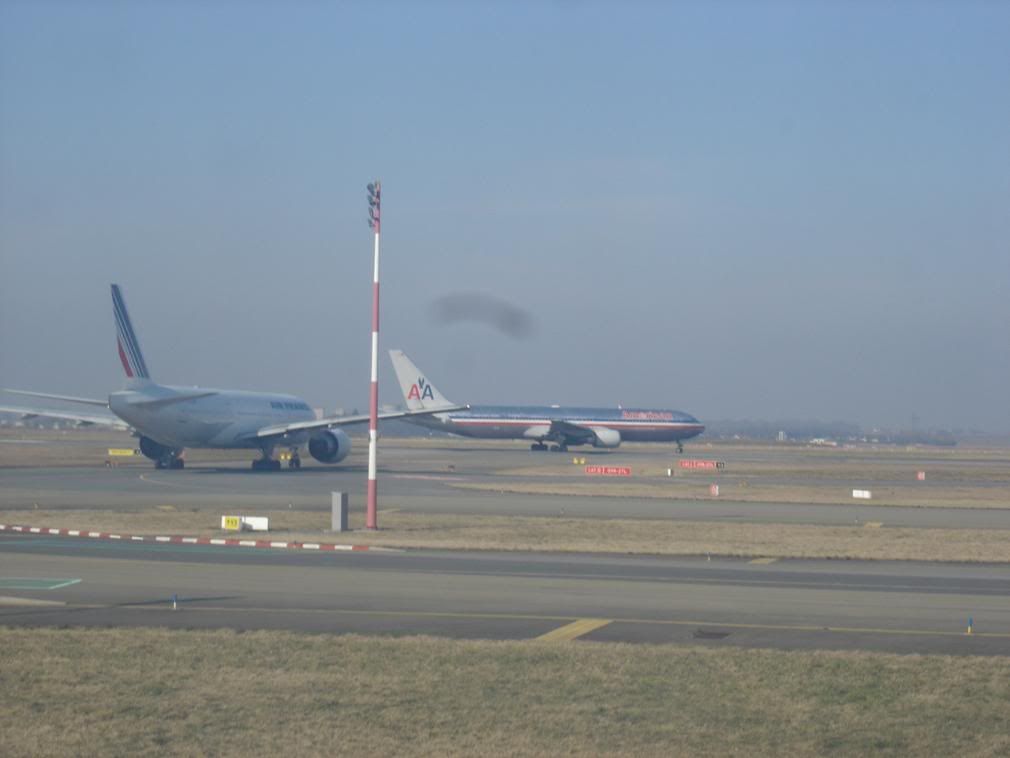 Kuwait Airways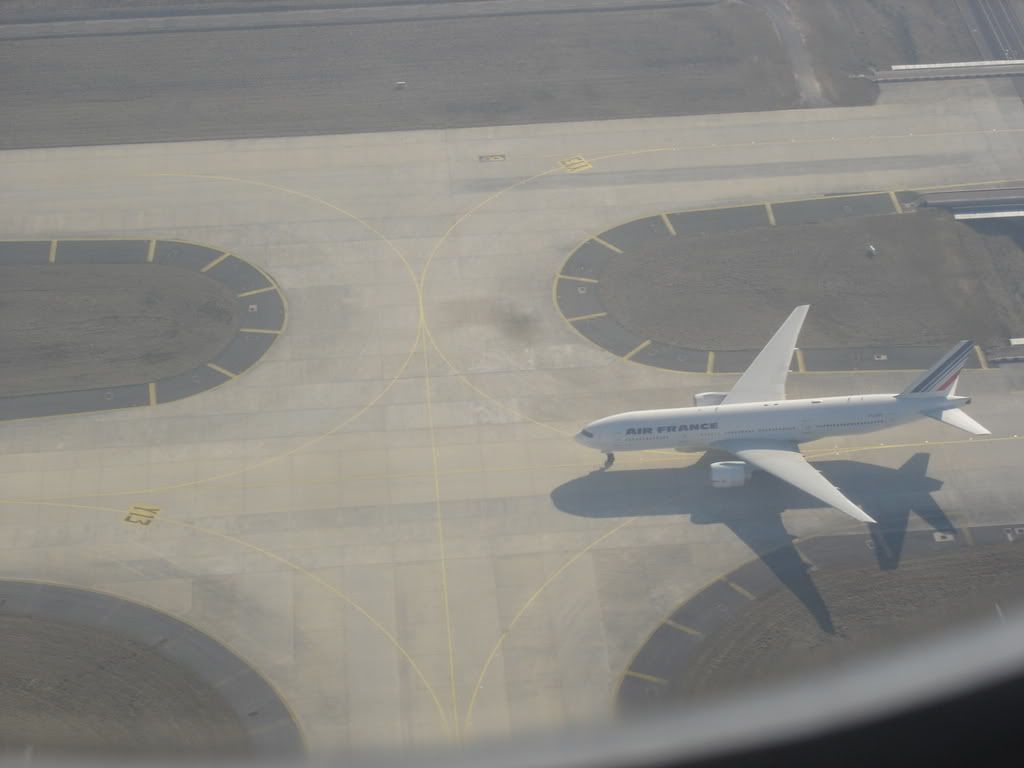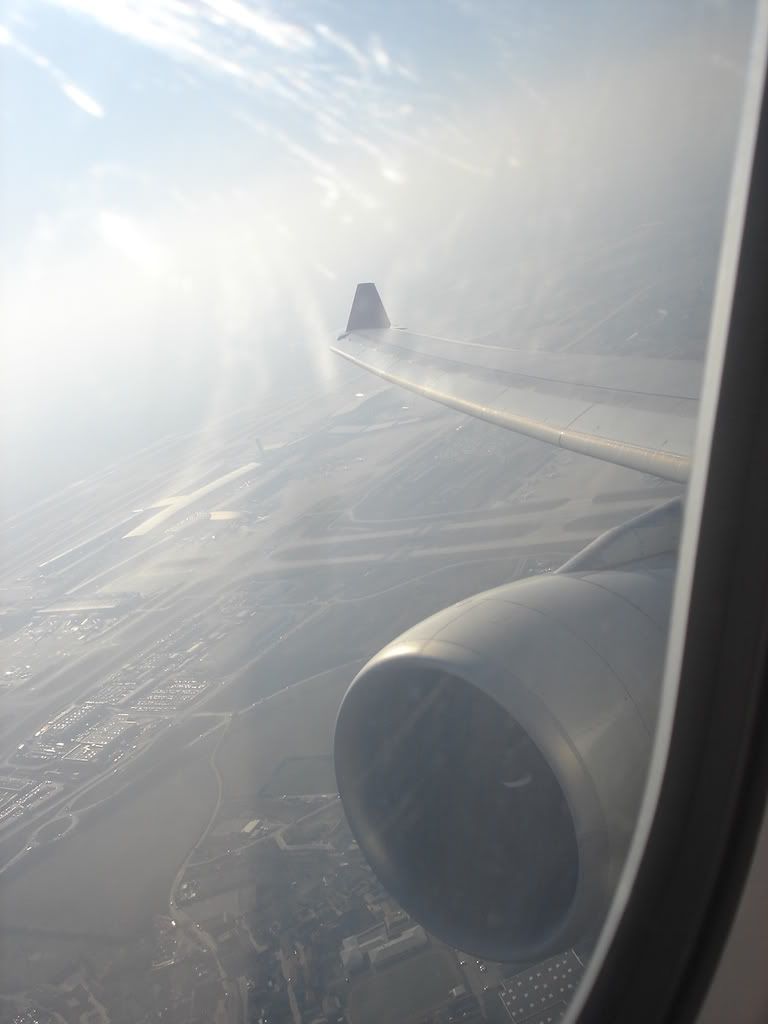 Here is the menu: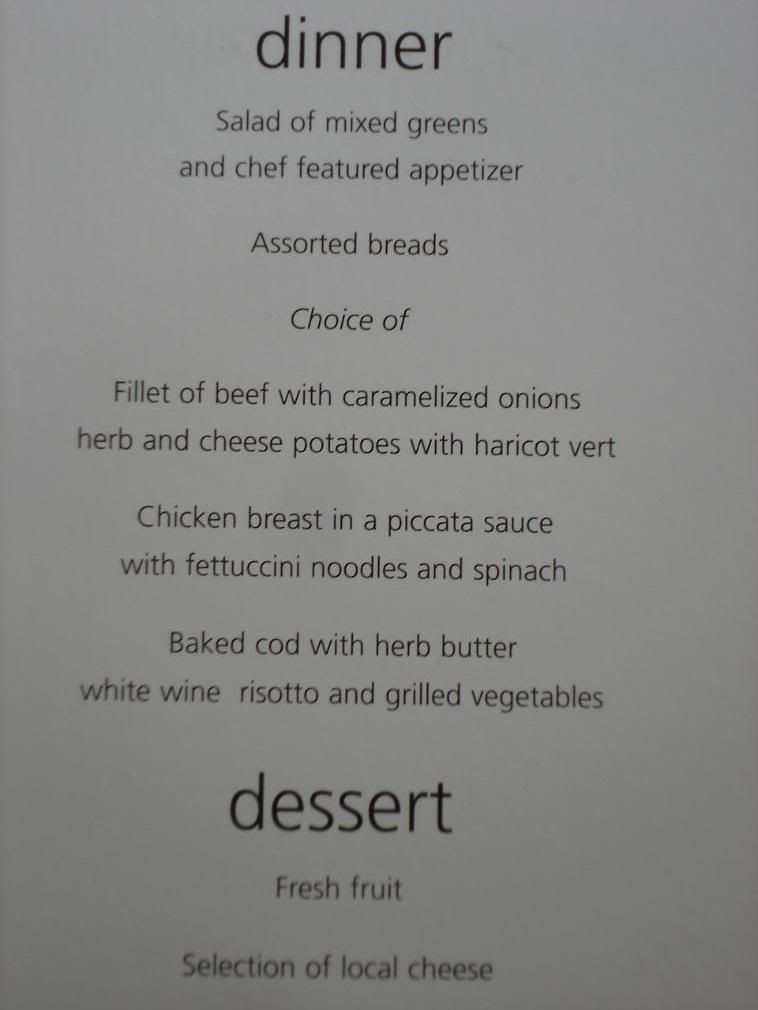 Shortly after takeoff, the F/A's came through with beverages, and Lunch/Dinner soon after (I chose the Chicken).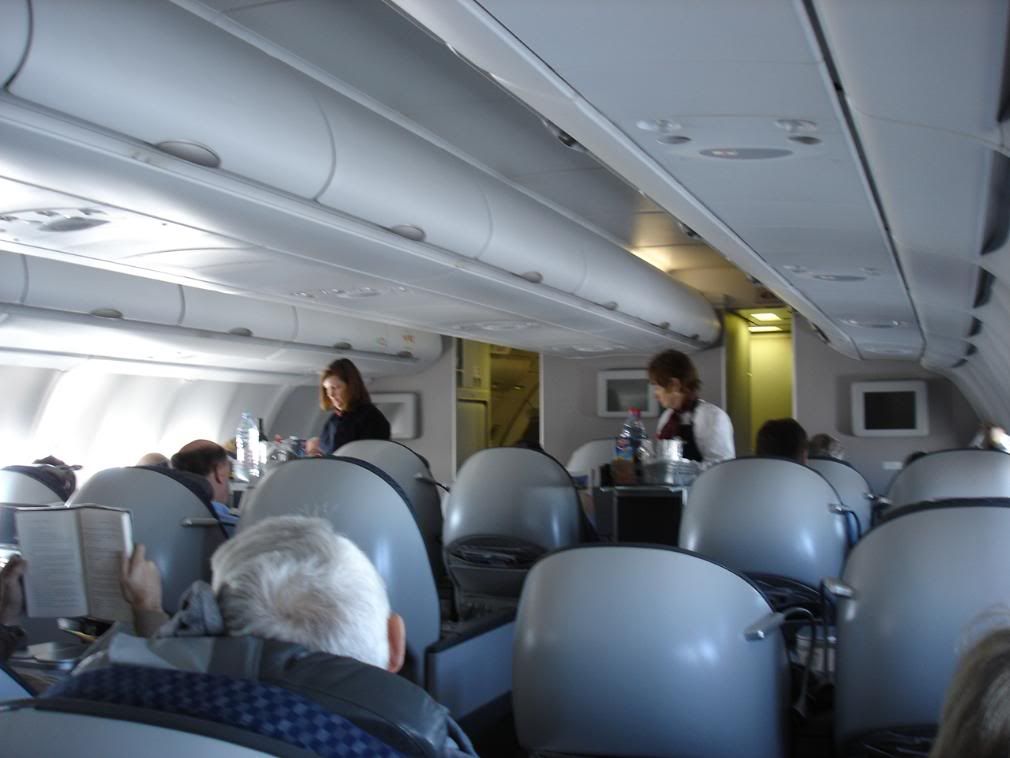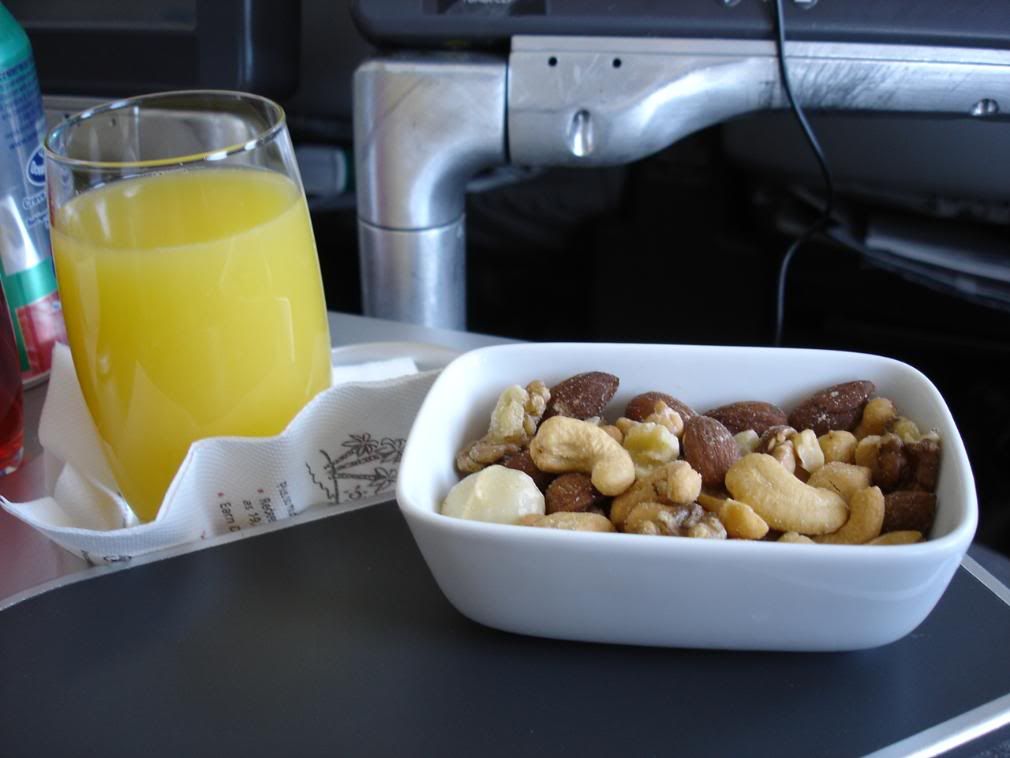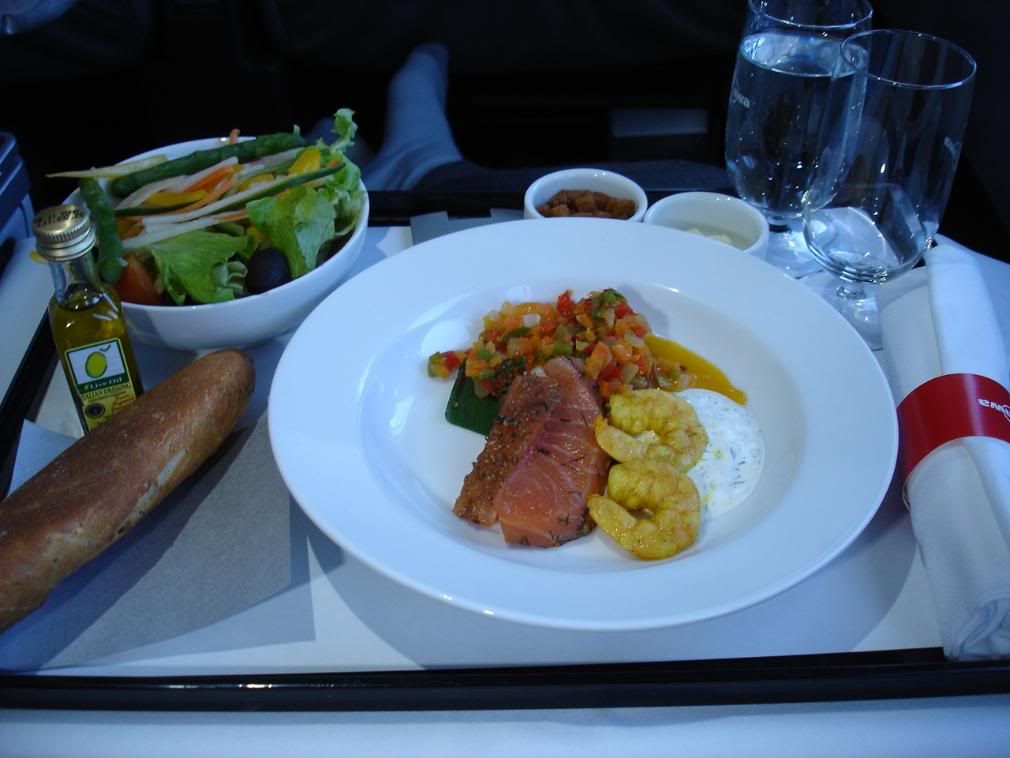 The cheese and Crackers Dessert.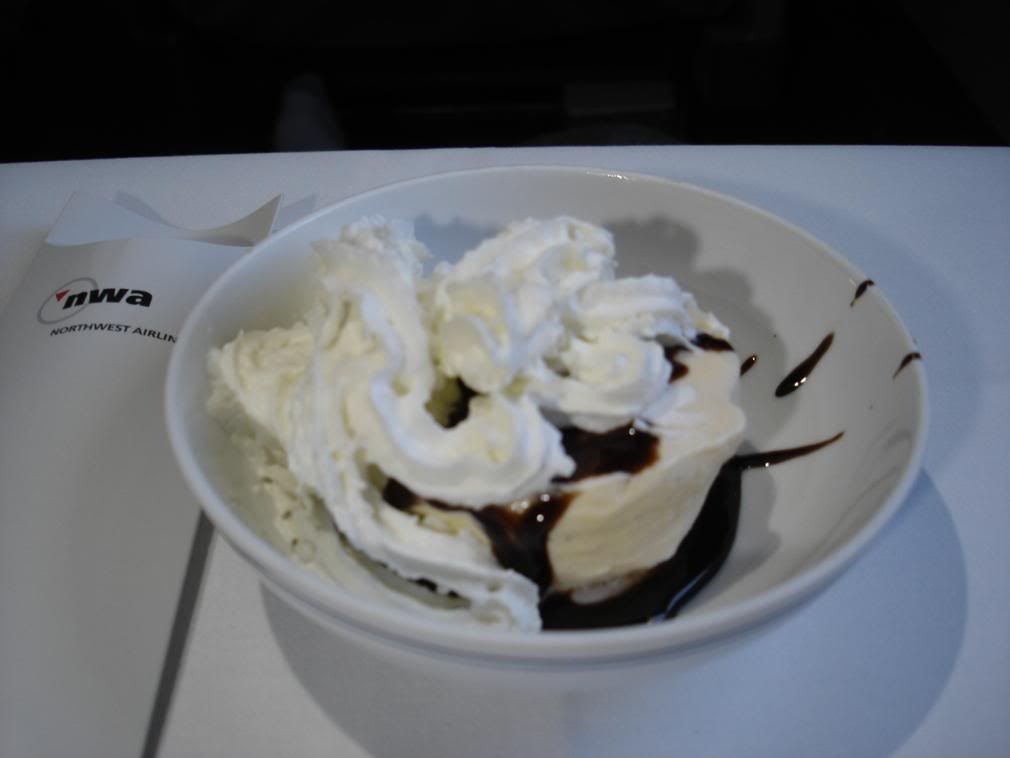 The Ice Cream Sundae.
The Captain (who was retiring) took a seat in Business with his family, once we reached cruise altitude. If he didn't announce that he was retiring, I never would have guessed. I, along with several other passengers gave congratulations, before he returned to the cockpit.
After Lunch, I tried to play trivia, but this is what I got the whole flight: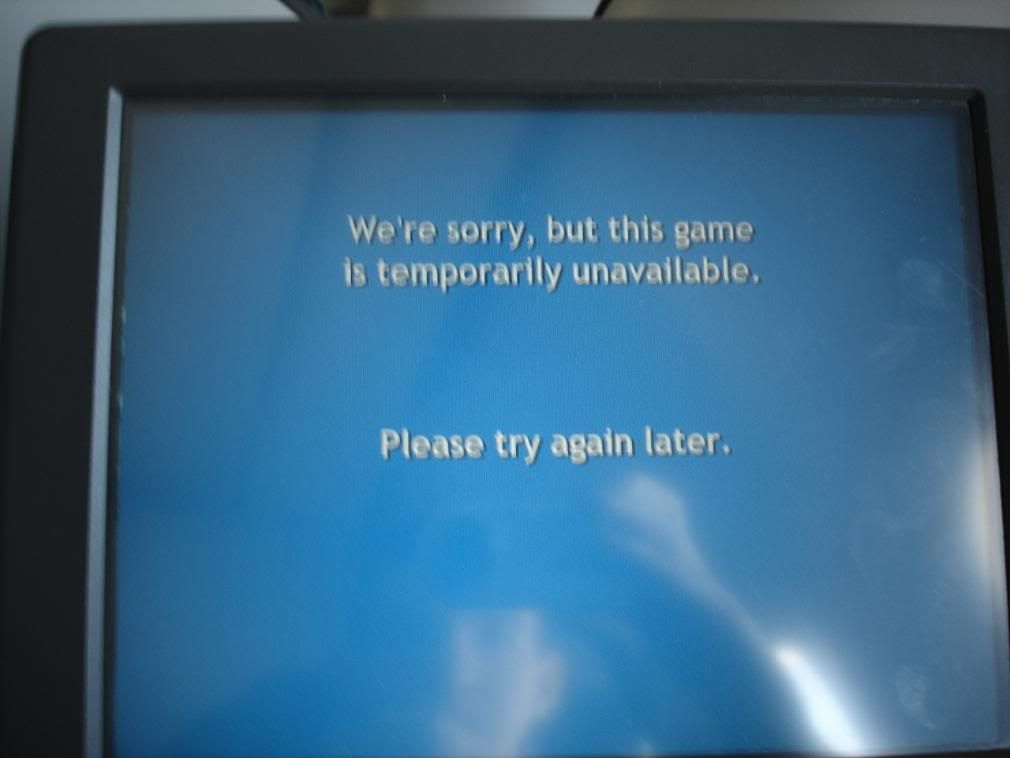 I said it was hit or miss.
On these westbound TATL daytime flights everyone in business closes their window shades, so it almost feels like night. I watched: Matrix Revolutions, King of California, and Elizabeth-the golden age. Here we are somewhere over Greenland: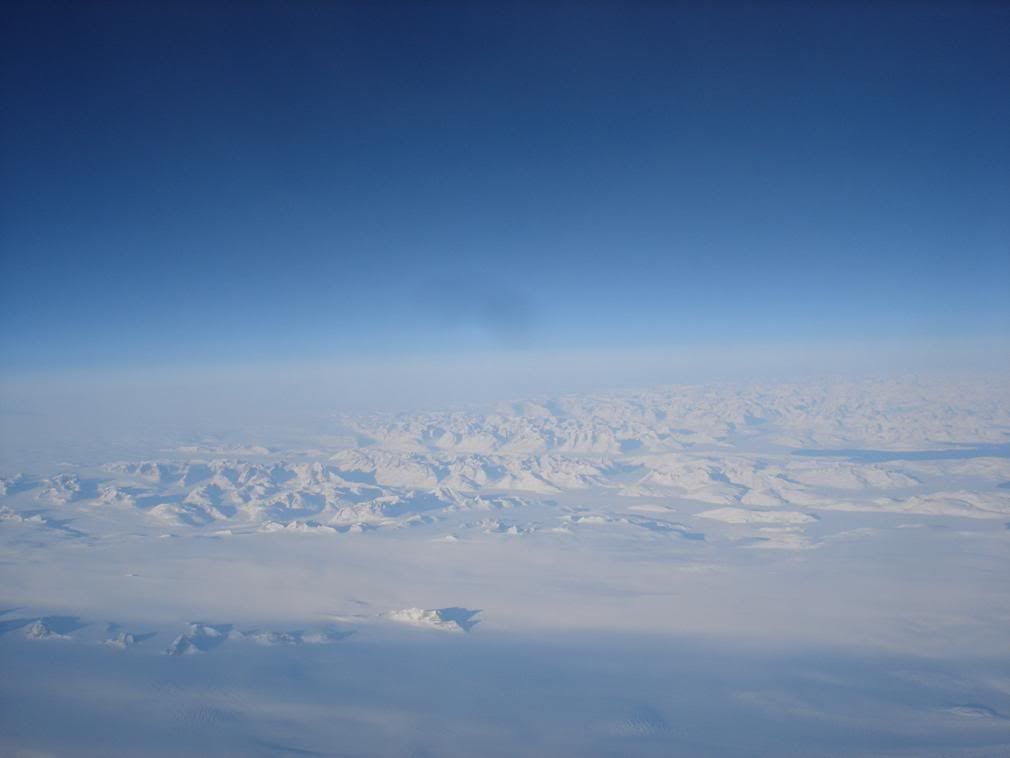 I like the westbound TATL flight in business more because of one small touch, the snack basket (full of candy bars, chips, fruit..). About halfway through the flight the Purser walked through the cabin with the basket, when I finished my movie and went to the galley about an hour later, it was pretty well picked through and not worth taking a picture of.
In what seemed like a half hour, the cabin lights were turned on and the arrival snack was being served. I'm not the biggest fan of this dish, but the chocolate cake is the best I've ever had on an airplane.
The approach from my side was uneventful, but on the other side was a great view of downtown Detroit, I got a nice view of the endless northern and western suburbs.
Touchdown on 22L was smooth with a short taxi to A62. Frigid temperatures and abundant red tails welcomed me home.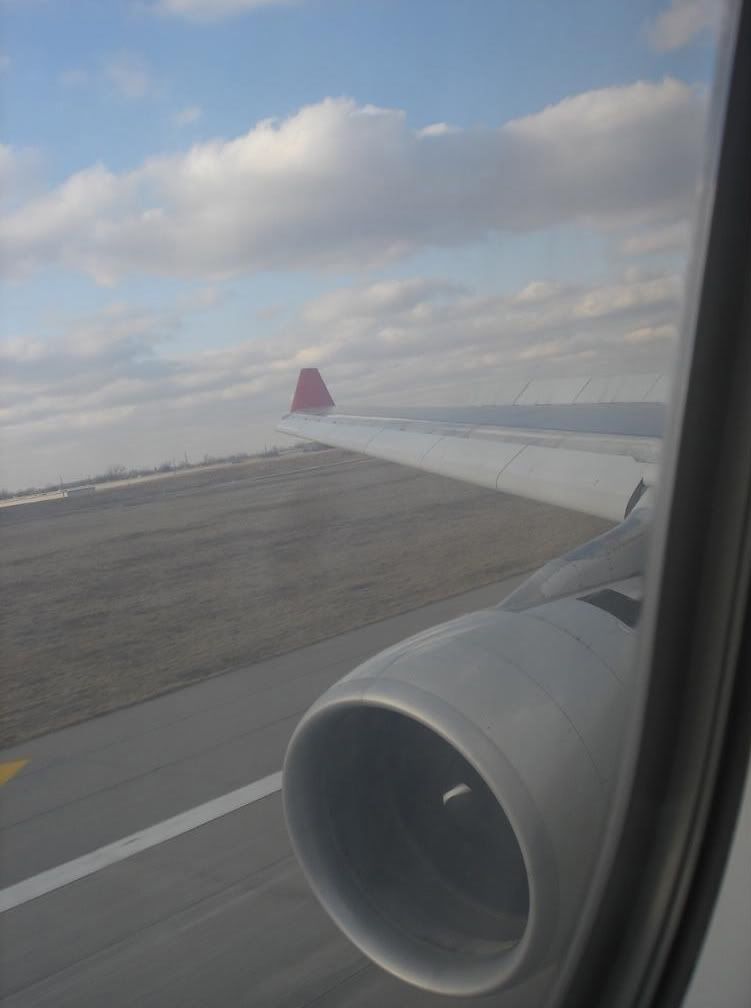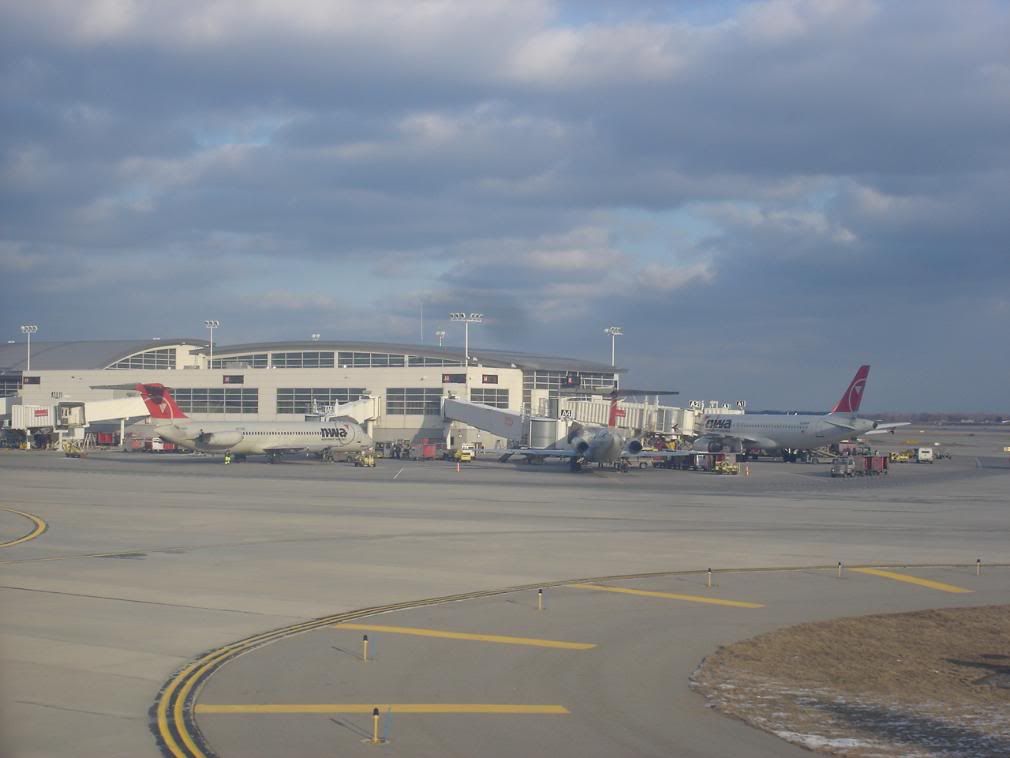 N804NW, the ship that took me to CDG four days earlier.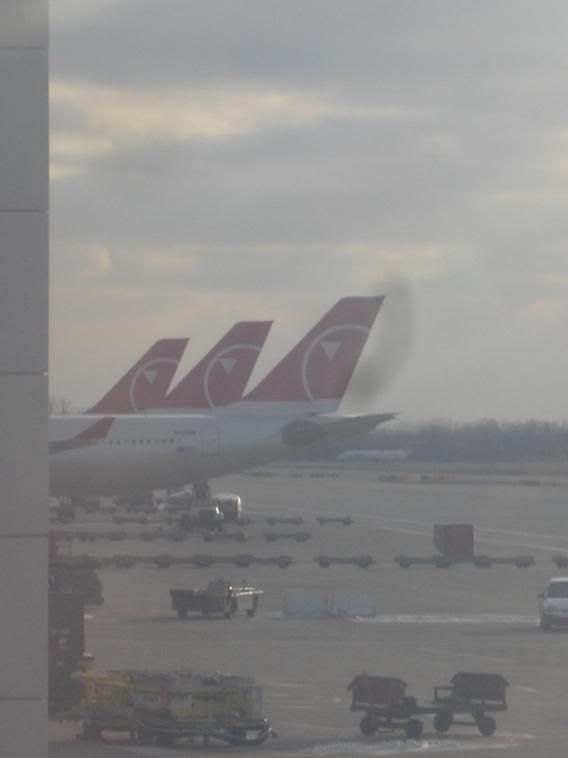 After landing at 1700, and since I had to be at the University of Michigan at 1830; I choose to leave the aircraft ASAP. This trip was a new record for me at immigration in DTW as well, there was less than five minutes between leaving the aircraft and getting to the bus stop, we were lucky because the entire customs area was empty when we arrived. I was one of the probably 10% of the pax ending their journey in DTW.
In the parking lot, on my way to the car, the only aircraft that I could see taking off was one befitting my trip.
CONCLUSION
This was a great trip, but as pretty much everyone on a.net knows, US carriers are behind other foreign legacy carriers, and NW is no exception. NW has made enormous strides in the last decade to improve the TATL network, but they are still lacking in some areas. My hope is that with the introduction of the 787, NW will introduce a new WBC product for the entire long-haul fleet. According to nwa.com the fare for this round trip in business was about $9700 (and for the record I saw base fares in Y for as low as $438 round trip for my exact travel dates), nwa.com also showed the J fare on AF for the same price. Based on my wonderful experience with AF in CDG, I wouldn't mind traveling on AF someday, but I strongly believe in "don't bite the hand that feeds you", and if a red tail flies there, I'll fly the red tail.
Thanks for reading,
Josh