Date: Feb 3, 2008
Route: Hong Kong-Los Angeles
Airline: Cathay Pacific
Aircraft: Boeing 747-400
Registration: B-HUA
Long-haul Economy Class travel: long revered among business and leisure travellers the world over. The symbol of capitalist extravagance and indulgent luxury. The perfect time for quiet and poignant contemplation.
Yes, we all look forward to it like we do a serious bout of Gonorrhea. Yet too many of us face a crippling mental dilemma in evaluating whether we should cop the abominable discomfort like a true champion of the masses, or whether we should indulge in an investment in our already inflated egos by upgrading to the more dignified surrounds of Business or First Class. Unfortunately the bean counter got the better of me when planning for this trip. Economy Class was victorious.
I don't usually write trip reports to detail my travels, largely because I too regularly find air travel a mundane chore. Whereas I used to pay close attention to detail in my nascent youth, cynicism has embraced me in all its glory. Upon boarding, usually I will either go straight to sleep or I will be too busy typing on my laptop to note the important elements required for a trip report on this fine, albeit freakishly peculiar forum to which I vigorously deny any membership of.
I decided to write this report six hours into the flight from Hong Kong to Los Angeles as I became increasingly bedazzled by the absolute disgrace of this cabin crew to the point where it actually became comical. Please therefore excuse the less detailed descriptions of the first half of the flight for I was neither particularly interested nor engaged. Moreover, my attempts at photography within the darkened cabin are so embarrassingly shameful that I can only apologise profusely. Alas I shall continue!
Check-in @ Kowloon
We decided to get smart with check-in by doing it at the HKIA Express Terminal in Kowloon. What a smart decision.. We went straight to the front of the queue which was great as we managed to get checked in within five minutes flat. An impressively seamless start to the trip%u2014how very refreshing.
Arriving at HKIA
Upon arriving at HKIA, I was again reminded why the airport has many fans. Though it is as aesthetically inspiring as a water cracker with its rather dreary grey marble slabs in each and every direction, it is at least filled with light: huge windows and impressively high ceilings (take note on the latter Changi Airport) go a considerable way in providing a feeling of spaciousness that helps one forget that there are, at any given time, several thousand sheep competing for limited infrastructural resources.
Unfortunately my positive comments will take the back foot from there. Passport control and security screening simply weren't up to scratch and they clearly did not acknowledge that I, yes I, was travelling. I was offered nothing in the way of a personal escort and nor was I even offered a separate line free from the other peasants who surrounded me with their incessant coughing, spluttering and shrieking akin to a drowning seal. And to think this nonsense was conducted in some dreadful regional Asian dialect. I think some people refer to it as Chinese. Must be spoken by those people in China. Alas I digress.
Boarding
Upon reaching the boarding gate, the board showed departure had been moved from 1620 to 1645. May I remind you this was not a delay. It was merely a shifted time in the scheduled departure. Not a huge problem of course as it gave me time to send emails to my seven wives and send messages of encouragement to my nineteen illegitimate, though not illegal, children.
Having communicated with them, I decided to board. In most airports worldwide, this is a relatively painless experience. However, Hong Kong is unique, challenging the limitations of conventional wisdom. Hong Kong likes to conduct its additional security screening for US flights within the aerobridge itself, I assume because of the great depth of space available. With almost 300 people trying to cram into the aerobridge, the ambience was sensual. The wide variety of individual body fragrances was inspiring to say the least, demonstrating a truly international flair. Tempted to reach for a nose plug I resisted, for I knew I would then become the subject of much bitter jealousy from my fellow travellers. I decided I should refrain for their collective benefit.
Upon arriving at the second door (who ever knew it existed?) I was welcomed aboard warmly by the Filipino in-flight services manager. A woman with evident flair and enthusiasm, my initial impression was that this would be a good crew. Alas optimism nearly always proves to be the chief symptom of the misguided. I once again proved myself to be a misguided idealist lacking the enviable quality of pragmatism by jumping to unfounded conclusions.
Having travelled a whole five rows, I was confronted by an Indian woman of mammoth proportions blocking the aisle. At first I was concerned that the poor woman had become stuck between the two seats. I gestured to help her as only a true gentleman would. I contemplated using some serious physical force to release her, but it became apparent that she was instead undressing, having obviously realised that her grandiose attire would likely be damaged by the low grade quality of the seat fabric. I waited a whole four minutes before she kindly finished the process, after which she abused me for not doing anything to assist her, naturally in Tamil. If she weighed 300 pounds less and was a little more beautiful, perhaps I would have been more inclined to assist her but in this instance, I was more worried my hands would be absorbed by her Bangalore-Bermuda Triangle.
The Coveted Seat 66D (D is for DOOM)
Upon reaching seat 66D, which might well have been 660D, I was reminded of why I don't care much for Economy Class and try my best to avoid it. Sitting down, my knees were wedged into the metal wire of the seat pocket. Why can they not use some elastic fastener that negates the need to have a metal wire wedged into one's knee? Forget suicide by slitting your wrists, this is far more painful. The Captain, a fine British chap who possessed all the qualities of one of His Majesty's subjects, welcomed us aboard with characteristic Queen's English suggesting an arrival into Los Angeles approximately 15 minutes ahead of our scheduled time. I was later to realise this was a complete and utter fabrication. How dare he.
Pushback
Push back came at 4.50 and we were airborne about 15 minutes later after a very long take-off roll. We climbed through about 30,000 feet before the cabin crew sprang into life as "flight attendants." The seatbelt sign remained illuminated during the period.
Discharging the Cabin Crew from their Fasteners
The drinks service began from the back which worked well for me. A junior flight attendant by the name of Joyce, a drag queen in disguise judging by her questionable selection of makeup, asked what I would like to drink. I replied "anything alcoholic to numb the pain please", politely of course. She responded quickly and curtly "well I have white or red wine. Which is it?" Hmm. "A can of coke thank you, oh and may I have an extra packet of nuts please?" Though I do freely admit I am greedy, and shamelessly so, Joyce clearly did not see this as an endearing quality. No doubt more troubled by the welfare of fellow passengers and perhaps the prospect of me ballooning, she replied "NO! CANNOT! I run out!" She moved on. I didn't, however.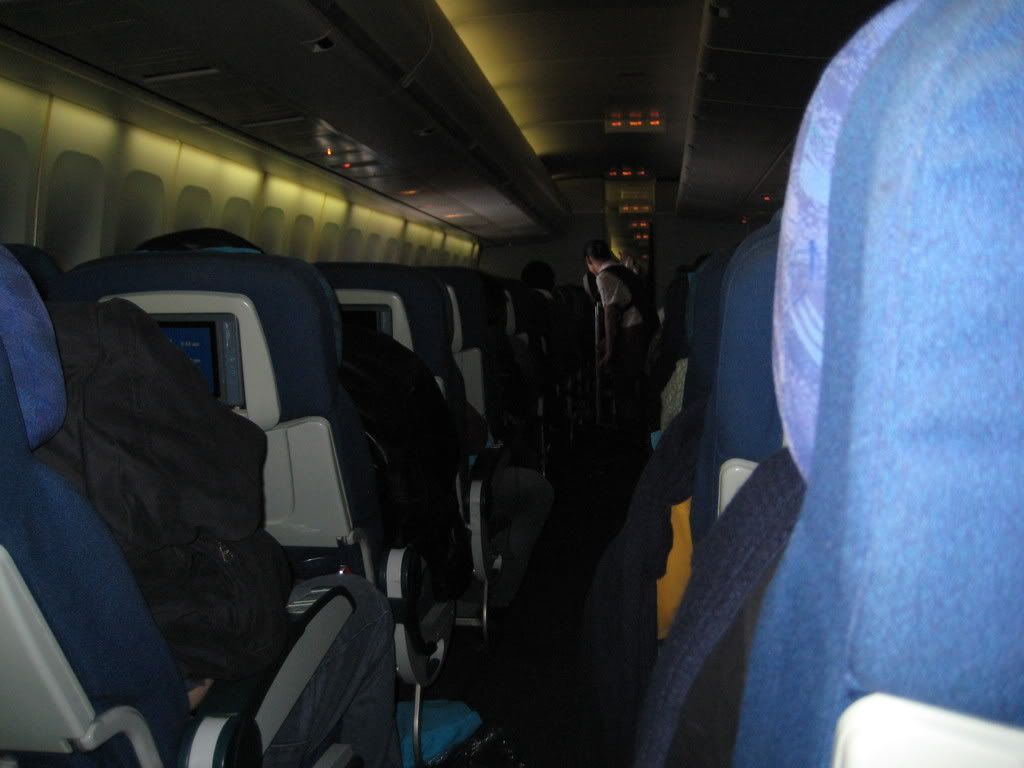 Dinner
Menus were distributed and we were asked to share one between two or three as there weren%u2019t enough. Five star indeed. When the main meal selection came around, I decided I would ask dear Joyce for her meal recommendation. Her response was characteristically brusque, replying "how would I know? I don't take lamb" I sensed that dear Joyce was implying that the fish was better than the lamb so I chose it seeing as she seemed like a shrewd no-nonsense woman. Alas it had the consistency of her temperament: as tough and as tasty as a pre-used condom. Upon her return to collect the meal trays, I asked her colleague whether I could have a second meal. Expecting a "Sure sir!" or perhaps "I'll have a look and see if we have any left" type of comment, I was flabbergasted to receive the response of "NO! No more! Must have nuts! Yes, Nuts!" as she threw two packets of the previously elusive nuts onto my tray table. Obviously the embargo on nuts had since been lifted following my earlier request. Gourmet cuisine indeed. This is the life.
The Great Quest for Comfort
Having completed my two packets of deliciously superlative nuts, I attempted to try and catch some shut eye. Attempting to do so with a 6'2 stature is not particularly easy and I had great difficulty achieving any mild degree of success. Being two rows from the rear toilets was not particularly helpful as there always seemed to be a congregation in the queue right beside my seat. In some ways I started to sympathise with zoo animals as it was precisely how I felt, constantly being watched. I wouldn't make a good celebrity.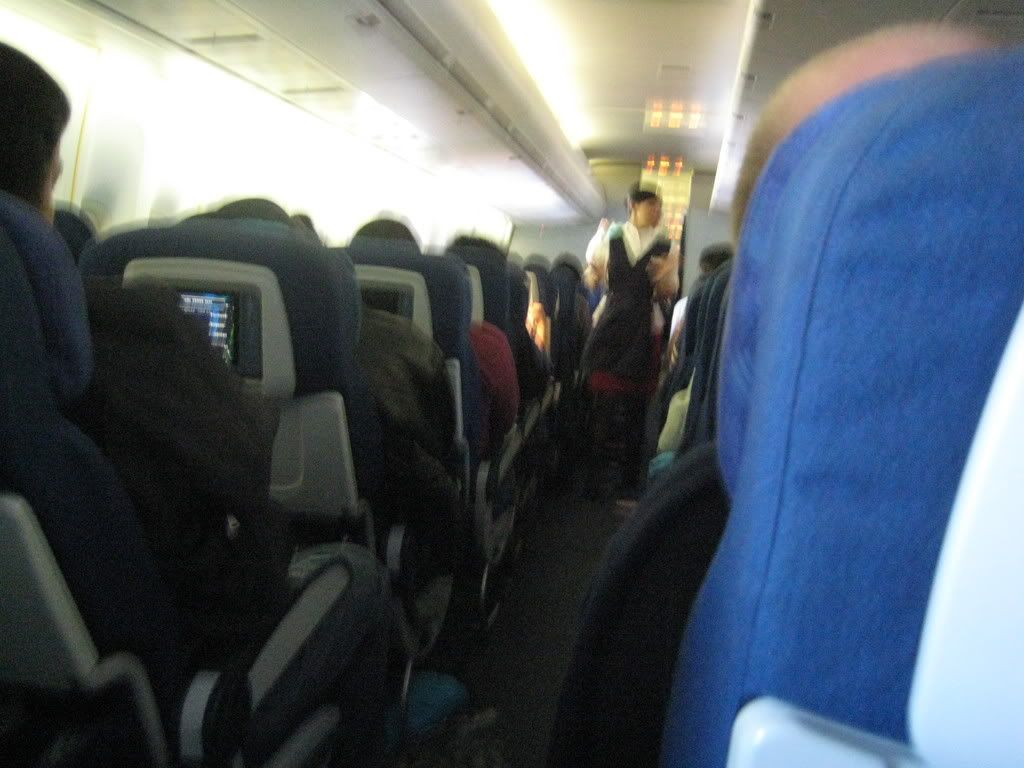 That said, I did manage to close my eyes for about two hours which was greatly appreciated, though I did awaken to feel as if I had been hit across the back of my neck with a potent magnesium hammer and a throat as dry as Prince Philip%u2019s humour. As I motioned for the service button, I noticed no fewer than 23 service lamps illuminated. Now mathematics is hardly my most ardent academic talent, yet I had the common sense to realise with some degree of rapidity that my chances of attaining service were limited. Instead, I was to embark on a courageous expedition to the galley, aiming to return to my luxurious seat with tidings of comfort and joy in the form of an apple juice.
Arriving at the forward galley, I was met with three startled faces. The reaction of two of the crew was to turn their back to me and pretend they were busy. The third, evidently a little slower and unfortunately not quite so intelligent, could not conjure an adequate alternative and instead stuttered "Yes, you need something?" I replied that I would like an apple juice and she directed me to the starboard side of the galley to the self-service refreshment centre where they had a fairly decent selection of soft drinks, juices, biscuits, chocolate bars and ham and mustard rolls. Unwilling to immediately return to my seat, I lingered a bit, looking out the door window to the dreary sight of the darkened Pacific Ocean until one of the male attendants made it clear I was being a nuisance and strongly encouraged that I return. Faced with the possibility of this delightfully vile attendant%u2019s threat of murder for invading his quarters, I decided it to be in my best interests to return with a degree of urgency, only to continue dozing to the distressing sight of the many thousands of miles to go before arriving in Los Angeles.
In-flight Entertainment
Cathay Pacific is fairly slow with its take up of innovations and this 747-400 was not yet fitted with the new generation in-flight entertainment system replete with AVOD. The system is very basic indeed, using a stripped-out version of Matsushita 2000 without the proper handset and with a much reduced functionality compared with even SIA's oldest system. My system was defective today with only half the channels working and the majority of those functioning without sound. I alerted the flight attendant to the irritating problem but she made it clear to me it wasn't her fault and that she didn't have almighty powers to do anything about it. Unwilling to fight, I just accepted that I would have no functioning entertainment system.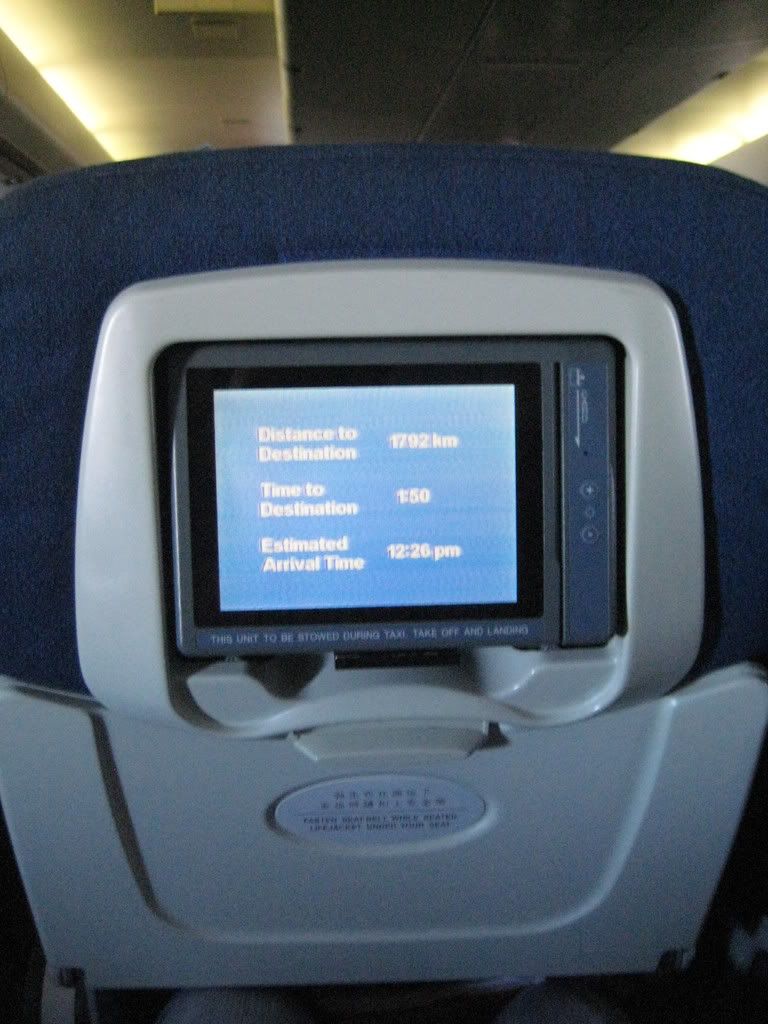 Continued Despair
A couple of hours later, I decided I would attempt to use the forward lavatory. I walked to the front of the cabin to see the unfortunate sight of the crew emerging from the galley with their drinks cart. My worst suspicions were realised: they were about to begin a drinks service as they swung the trolley into the aisle. As I approached, I thought there would surely be no problem for me to simply pass by and use the restroom considering they had not yet commenced serving. Alas not.
Instead I was faced by a union picket line that only dearest Maggie Thatcher could disband. Rather than gently moving to the side before beginning the service, this delightful crew instead decided to stare at me and just continued to edge towards me, completely ignoring my presence. Now I know I am very good looking and possess a rare charm that is completely irresistible, but this did not impress me in any way whatsoever. The only thing missing from the venue were the placards of government and bourgeoisie-focussed abuse to accompany these fat, beer-gutted unionists. Instead, the accompaniment was mere silence. They just stared at me and I finally relented: obviously they were not going to allow me to use the washroom so I decided to cut my losses and return to my seat. Perhaps in future Economy Class passengers should just be fitted with a catheter. It really would be far more dignified and save the gymnastics of manoeuvring out of those appalling seats.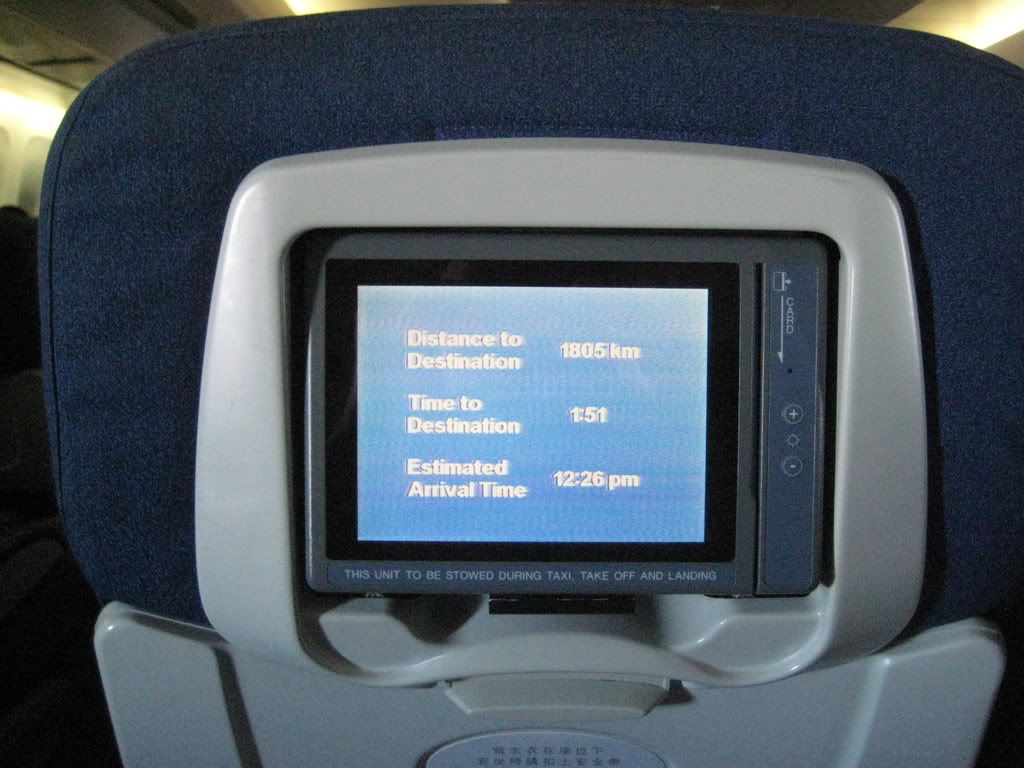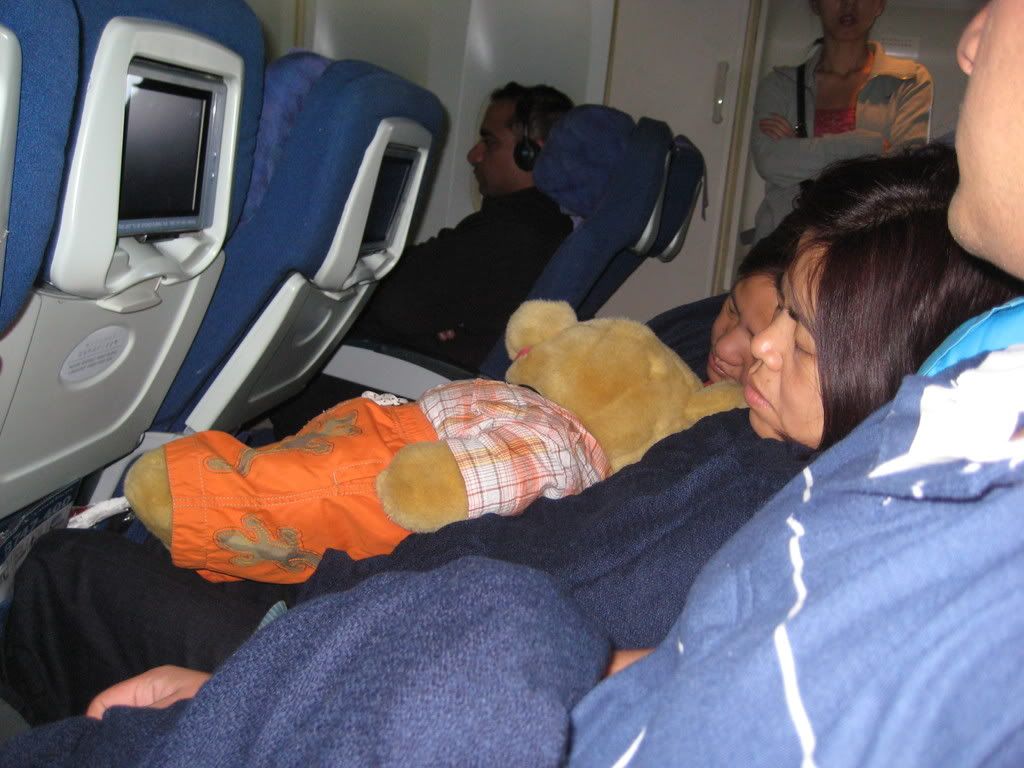 The Toilets
Upon finally reaching the toilet only moments before a messy accident, I was met with an absolutely disgusting washroom. What was more alarming was that it was one of the flight attendants who exited it immediately before me. Though I wouldn't be quite so awful as to blame him for the mess, surely one person cannot physically make such a mess single-handedly, I would like to ask why he left it as such, particularly when he saw me queuing to use it as he emerged.
Breakfast
Dearest Joyce was back. I had missed her while she was away in the crew bunks resting her acidic tongue for another round of abuse. I cheerfully greeted her and she very almost smiled. Unfortunately her facial muscles couldn%u2019t quite muster the strength and she returned to her neutral scowl, asking whether I would be having the omelette or the seafood noodles. Feeling a little oriental after my dalliance in Hong Kong, I decided on the seafood noodles and they actually weren't all that bad. If anything aboard this flight was to stand out as a highlight, these greasy, oily noodles would do the trick. The excitement of finding something satisfactory was immensely satisfying.
Descent
About 50 minutes before arrival, Her Maj's man came over the PA to announce our descent into Los Angeles and continued his trail of deceit about our estimated time of arrival, which he suggested would be approximately 12.24pm. Descent was a very rough affair indeed and we seemed to circle forever, exceeding our estimated arrival time by about 15 minutes. We made a very fast, rough approach and touched down smoothly at just after 12.40pm. No reverse thrust used and we exited the taxiway to make our way to Tom Bradley.
Arrival
Cathay Pacific, in line with other Oneworld partners who operate selected codeshares on behalf of American Airlines, park at the Tom Bradley International Terminal but disembark through Terminal 4. Terminal 4, for those of you who have not been fortunate enough to visit, is an abomination like no other. Having left the aerobridge, there were teams of ground staff screaming at the top of their lungs at Cathay passengers, telling them where to go and how to change terminals via the war-time war trenches. No microphones, just screaming. I was just waiting to hear the sound of bullets to round of this authentically modest experience. Joined the non-citizen US immigration queue where we remained for 1 hr 25 minutes, by which time our United Airlines connecting flight had long since departed. And to think that it was only our singular flight being handled. What an unmitigated disgrace. A shameful exhibition of airport inefficiency indeed.
Verdict
Judging by the report above, it is glaringly obvious that this was an excellent flight. It was so excellently vile that it was actually quite impressive, chiefly because of the consistency with which Cathay Pacific was able to deliver.
Every element of the flight was utterly appalling. I have never witnessed a lazier cabin crew complement in my life. Their dismal attitude, coupled by a delayed departure, the aging 747, woefully inadequate seats, defective (antiquated) in-flight entertainment, inedible food, a late arrival and completely incompetent ground handling upon arrival made this the worst flight I have ever experienced. I can categorically say that my subsequent flights on United Airlines and US Airways were vastly superior and that should go a long way in proving to you Cathay loyalists how bad the airline has come.
The fact that we arrived is indeed the only strong point of the experience. Obviously for that I shall be eternally grateful. Once again I shall say that I%u2019ll never fly long-haul in Economy but this time I think I mean it, though it's always a little more tolerable aboard my beloved Singapore Airlines or even my national carrier, Qantas.
One thing I will say categorically is that this is the last time I will ever fly Cathay long-haul, regardless of price.
Check-in 8
Outbound Ground Handling 6
Boarding 3
Service 1
In-flight Entertainment 2
Seat 3
Food 5
Arrival 3
= 31/80
= 38%
Oops!