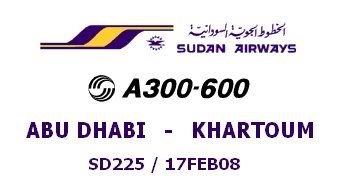 View Large
View Medium


Photo © James Mepsted
I am guessing that this may be the first trip report involving Sudan Airways - the national carrier of the Sudan. It is also the first trip report I have completed for quite some time. Sadly I just don't seem to find the time to write about my flights these days.
This trip was arranged only a few days before I travelled and involved obtaining a visa in order to travel to Sudan. I planned to travel on Sunday 17th February and would normally have flown with Etihad Airways, who had a flight at around 0100 in the morning. However, my visa would not be ready for collection from the Sudan Embassy until around 1000 so the only other way of getting to KRT without flying from DXB or via DOH or BAH was with Sudan Airways who had a direct flight scheduled for 1630. I quite liked the idea of this as Sudan Airways is an airline most people would not normally get the opportunity to fly with, and is certainly another exotic carrier to add to my list of carriers flown.
Sudan Airways is one of a small number of carriers operating from Terminal 2 at Abu Dhabi International Airport. Other carriers currently using T2 include Air India Express, Shaheen Air, PIA, Sama Airlines, Turkmenistan Airlines, Yemenia and most recently the new Nepalese low-cost carrier – FlyYeti.com. According to Amadeus the scheduled time of departure for my flight was 1630, so I headed to Terminal 2 at around 1315 to check-in. The terminal was pretty quiet, with only two flights scheduled to leave that afternoon. I headed through security and into the check-in area after a number of questions from one of the security personnel who seemed surprised that I was flying Sudan Airways when I worked for another carrier – particularly as my ticket was actually issued by Etihad Airways. I had to point out the flight number SD225 and explain that it was actually for Sudan Airways.
After passing through security I headed straight to the Sudan Airways check-in where there were four desks open. I was called to the front by a member of ADAS (Abu Dhabi Airport Services) staff and was promptly checked in. While I was checking in, another passenger asked if I would check-in some of his baggage under my allowance as he was clearly in excess of his allowance and I was not. I showed him my airline ID and more or less told him that he had chosen the wrong person and that it was a security issue. He smiled and backed away. About a minute later another passenger tried it on. He got much the same response. I was now in possession of a boarding card but not a seat number, as all SD flights out of AUH are apparently free-seating. This flight was actually routing DXB-AUH-KRT and I guess SD have basically chosen the simple option for check-in, particularly as the flight is checked in using different DCS systems in DXB and AUH. Still, I believe allocated seating is better from a product point of view – particularly for a full service flag carrier. Luckily I knew one of the staff who was supervising the SD check-in and he promised that I would have the chance to board first so I could get my window seat. As I placed my boarding pass in my pocket I noticed that it showed a departure time of 1530. I checked this against the FIDS screens which also showed 1530 and confirmed it with the ADAS representative. It seems SD have not kept Amadeus up to date with the correct scheduled departure times as my ticket which was issued just a couple of days earlier showed a scheduled departure time of 1630. It was a good thing I noticed, I thought to myself. I then headed back to the office.
After an hour or so back in the office my colleague gave me a lift to T2 again and I headed straight through Immigration to the gate area. It is actually a lot easier passing through T2 than T1 – particularly during the quieter periods. It is a minor inconvenience that T2 does not have the UAE-gate machines at Immigration, which means you can not avoid getting a stamp in your passport when passing through this terminal.
I took a seat in the departure lounge as a pretty new Turkmenistan Airlines B737-800 arrived on stand just outside the window. I have never knowingly met a person from Turkmenistan but they were generally easy to distinguish in the departure lounge from the Sudanis. I was one of the few people there who was neither.
After a while the gentleman from ADAS who I had spoken to at the check-in came to see me and explained that the flight would be arriving late from DXB but could not confirm exactly when. He went on to explain that Sudan Airways are known as 'Sudden' Airways, as they have a habit of appearing out of the blue. I know from seeing the FIDS screens on several occasions that SD have a pretty poor on-time record – often with delays of several hours. Luckily today the delay was not expected to be too significant.
I was very kindly invited to use the First/Business Class lounge, and as it was approaching departure time and there was still no sign of the aircraft I was certainly not going to decline. I headed to the lounge where I was soon drinking a cup of tea and relaxing.
First/Business Class Lounge – AUH Terminal 2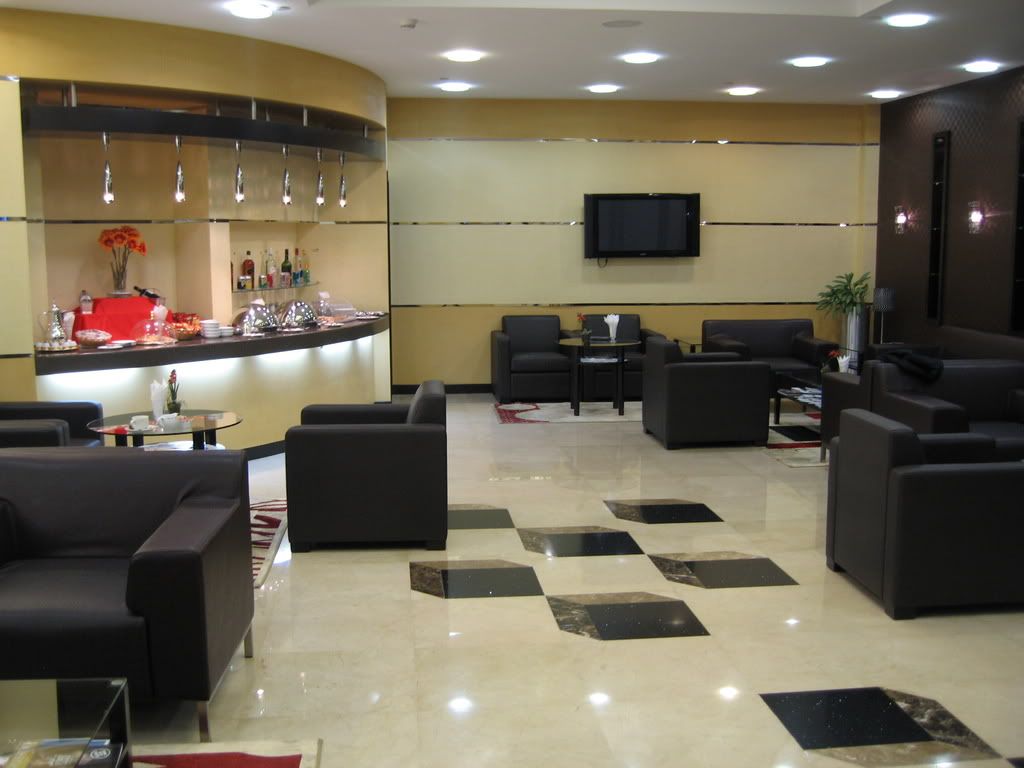 After departure time came and went it became apparent that nobody had any intention of keeping passengers informed, as the only other passenger in the business lounge – another Englishman - was not told anything while I was there. In fact, the lounge attendant rarely came into the lounge from the kitchen at all. It even seems that updating the FIDS screen was a task too large, as the time on this photo shows.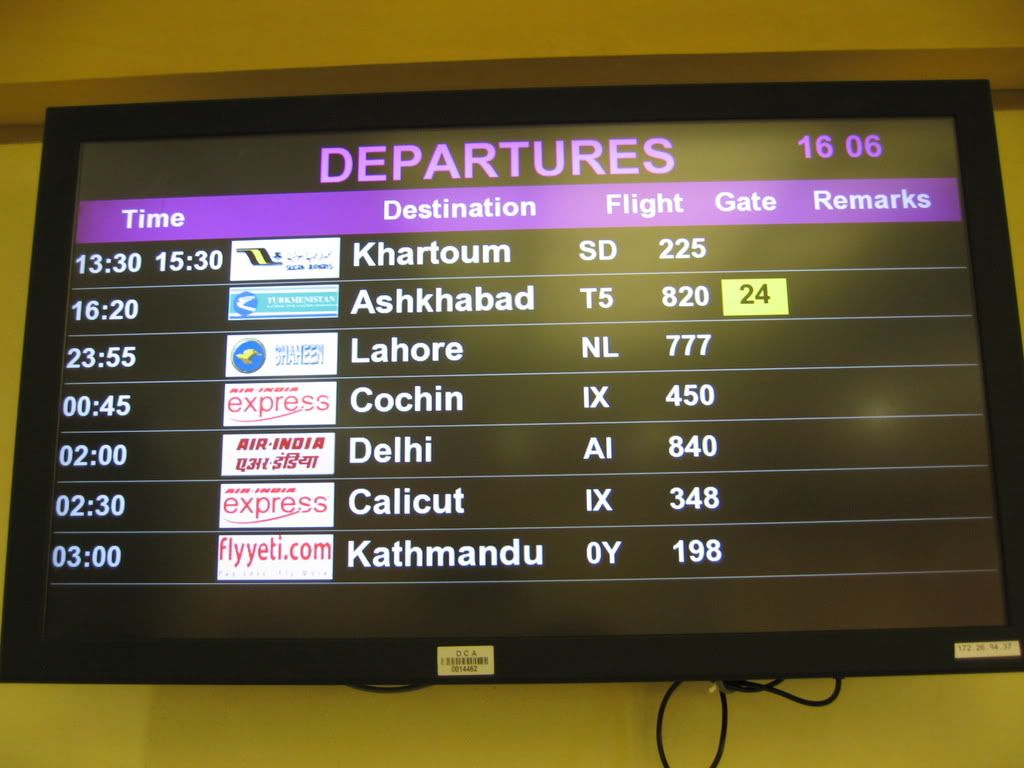 Part of one of my previous airline jobs was keeping such systems up-to-date and even if I did not have any information at all on an aircraft's arrival time, if I knew it was late I would take an educated guess at the ETA and calculate an appropriate ETD or NI (next information). I certainly would not leave the STD on the screens when that time had already passed. To me, this is nothing short of utter laziness on the part of those who update the screens at AUH. Disregard and indifference towards a 'lesser' user of the airport probably plays its part in this too. It was also a very quiet period, so there really was no excuse. Not what one would expect from an airport which wants to see itself as a world class hub.
At around 1720 – one hour and fifty minutes after STD, the other English passenger asked the lounge attendant what time we would be boarding and was understandably frustrated when he was told that the aircraft had just recently arrived. The FIDS screen still showed a departure time of 1530. It was just before 1800 before Premium passengers were invited to board – after the Economy passengers had been boarded, which is pretty standard at AUH. I headed out of the lounge before the two Business Class passengers were invited to board, and managed to catch a sneaky photo of the aircraft.
Sudan Airways A300-622R ST-ATA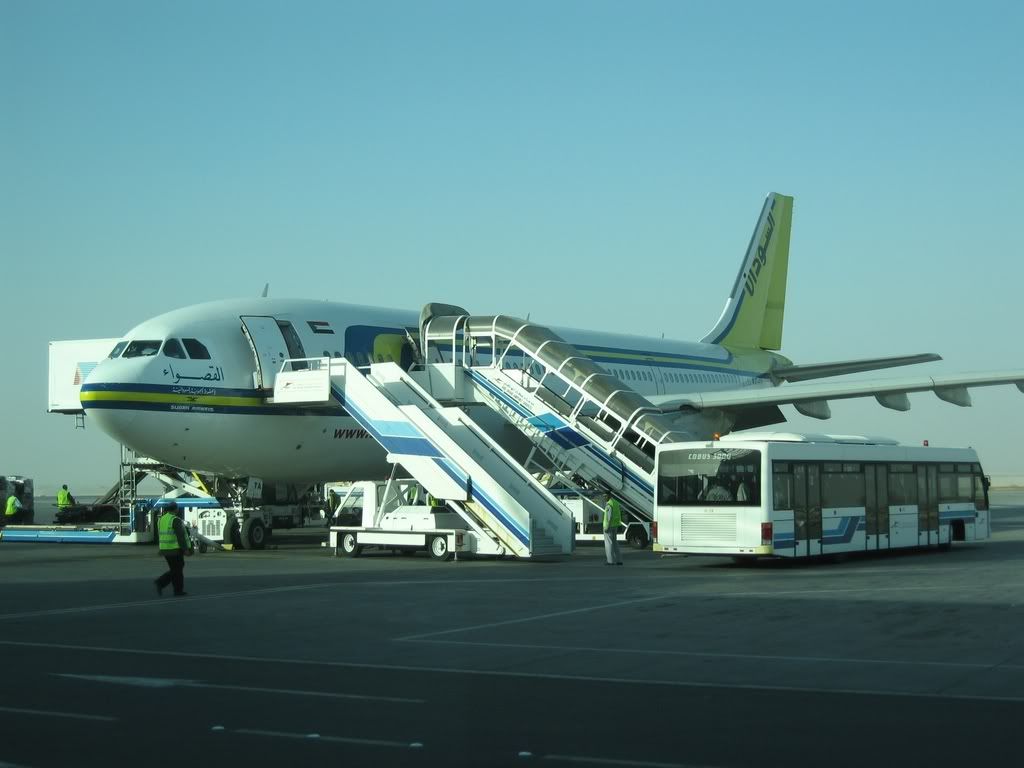 A few minutes later at around 1800, I boarded the bus with the two joining Business Class passengers and was soon making my way up the steps with them, having been informed that a Business Class seat had been arranged for me. That was good news – especially as Business was not full and I could take a window seat with a spare seat next to me. I placed my laptop bag in the overhead locker and sat in the right window seat in the last of the three rows.
Sudan Airways Business Class
The interior looked a little dated, with no PTVs and Business Class seats that reminded me of the old SQ Business seats which are still installed on some of their former A340-300s currently operated by Gulf Air and Etihad. However, it was an upgrade and I was more than happy. A quick look through the seat pocket in front of me revealed that SD do not seem to have such a thing as an inflight magazine, as there were only safety cards and sickness bags present. The safety cards were extremely poor quality and looked like they were copied and laminated by a monkey. They did not look like they would be much use in case of an emergency. It seems a shame that SD can have their sickness bags made professionally but not their safety cards, of which there seemed to be two equally poor variations.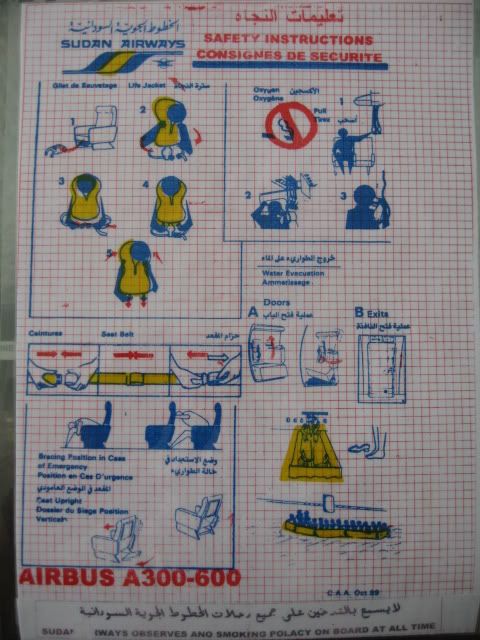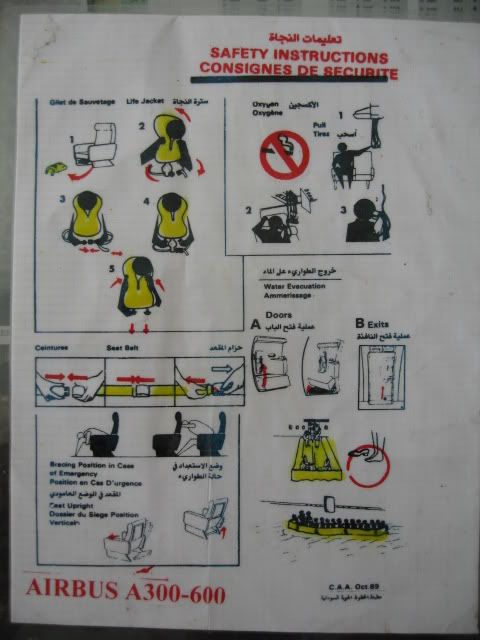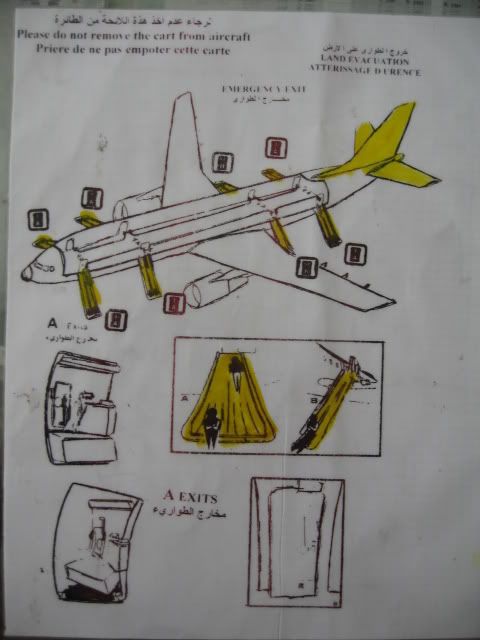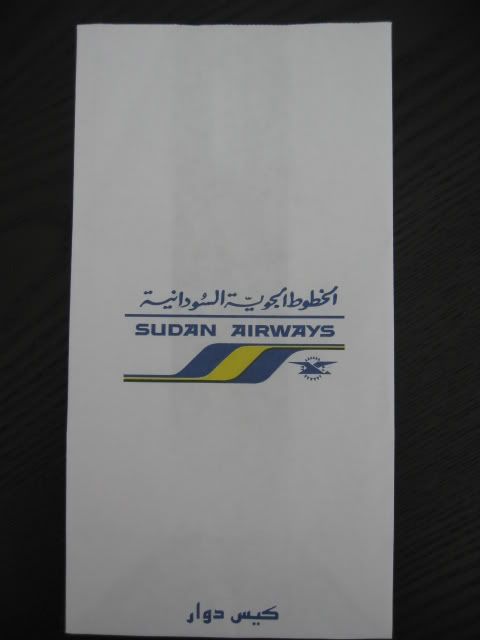 There were no other aircraft parked at Terminal 2, but the adjacent remote stands were occupied by French Air Force A310-300 F-RADC and Etihad Airways B777-300ER A6-ETC resting between duties.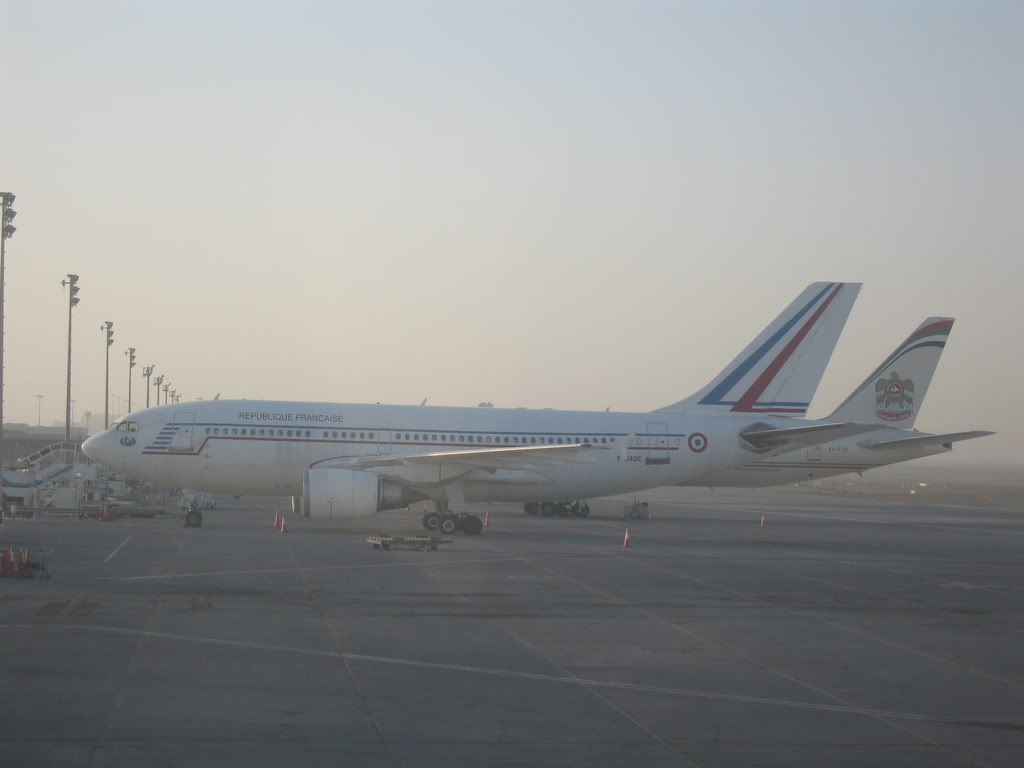 As we waited for departure, passengers were offered a selection of juices from a tray and I chose orange juice.
Doors were closed at around 1830 and pushback commenced a few minutes later. I bet the FIDS screens in the terminal still showed 1530 – they certainly did half an hour earlier. The aircraft was pushed back for a runway 31 departure, which gave me a final view of the comparatively tiny Terminal 2.
AUH Terminal 2 (Airside)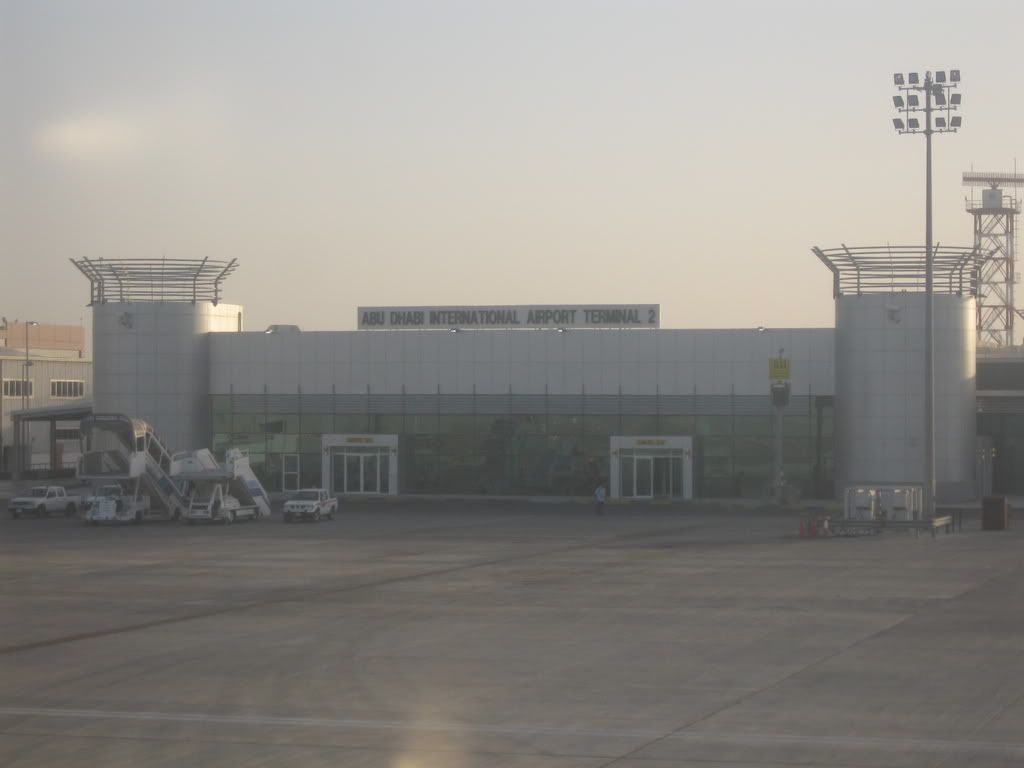 While we were pushing back a couple of the cabin crew members were making sure that their bags of duty free were snugly squeezed between the centre business class seats in the last row and the aft bulkhead. I had seen some of the crew members emerging from the terminal with duty free during the transit stop. Between them, they had a huge amount of duty free. I wouldn't be surprised if they make more money from selling this than they do for flying. The male cabin crew wore a formal uniform with white shirt and lapels, whereas the ladies wore a very distinctive yellow and black uniform with a yellow hijab.
A few minutes later the aircraft was taxiing towards runway 31.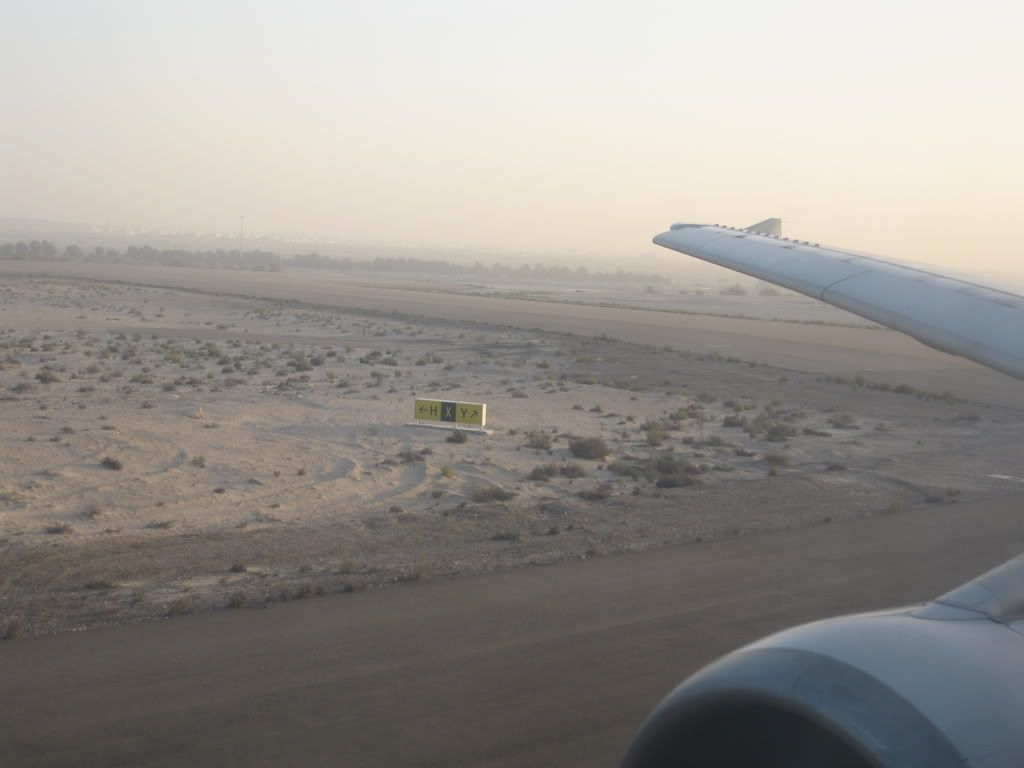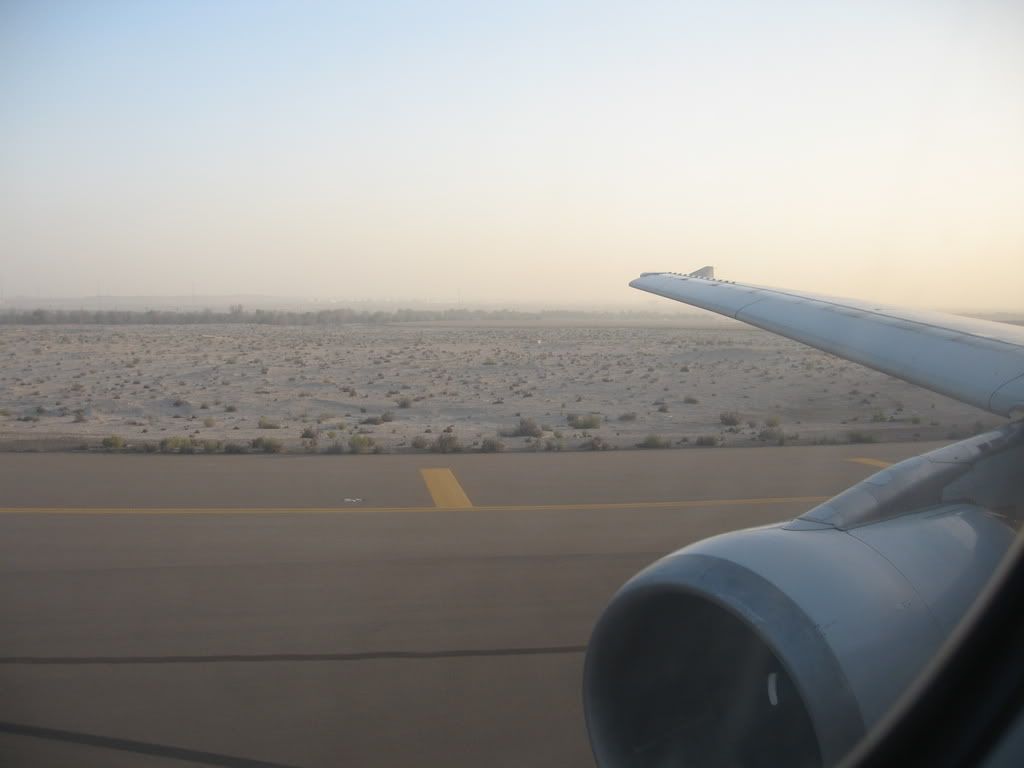 While the aircraft was taxiing I had to make my mind up whether to photograph or film the take-off. I decided to take a few photographs, as we would be landing in the dark so I would not be taking photographs of the landing. The aircraft lined up on runway 31 and after a few seconds the take-off roll began.
Take-off from AUH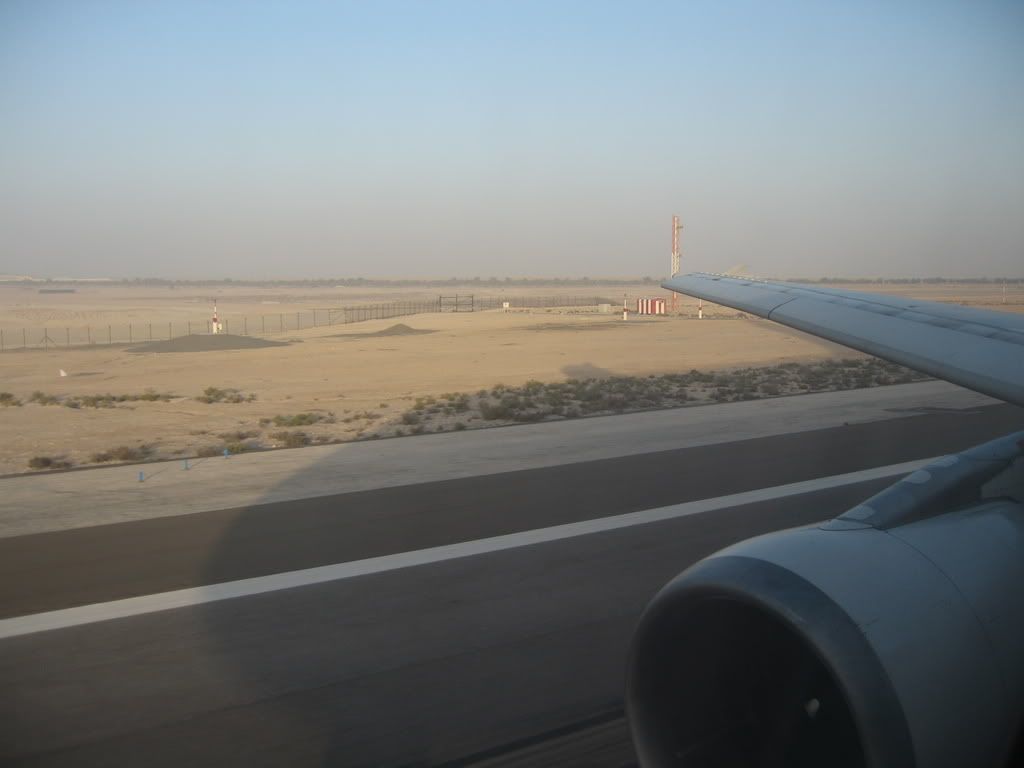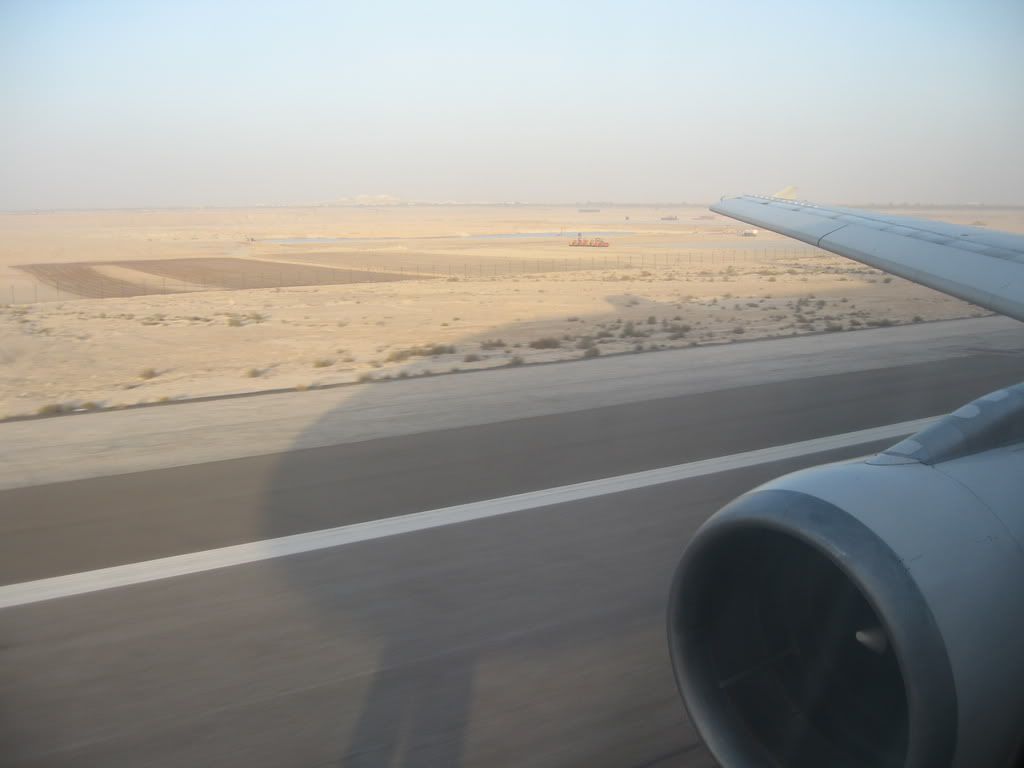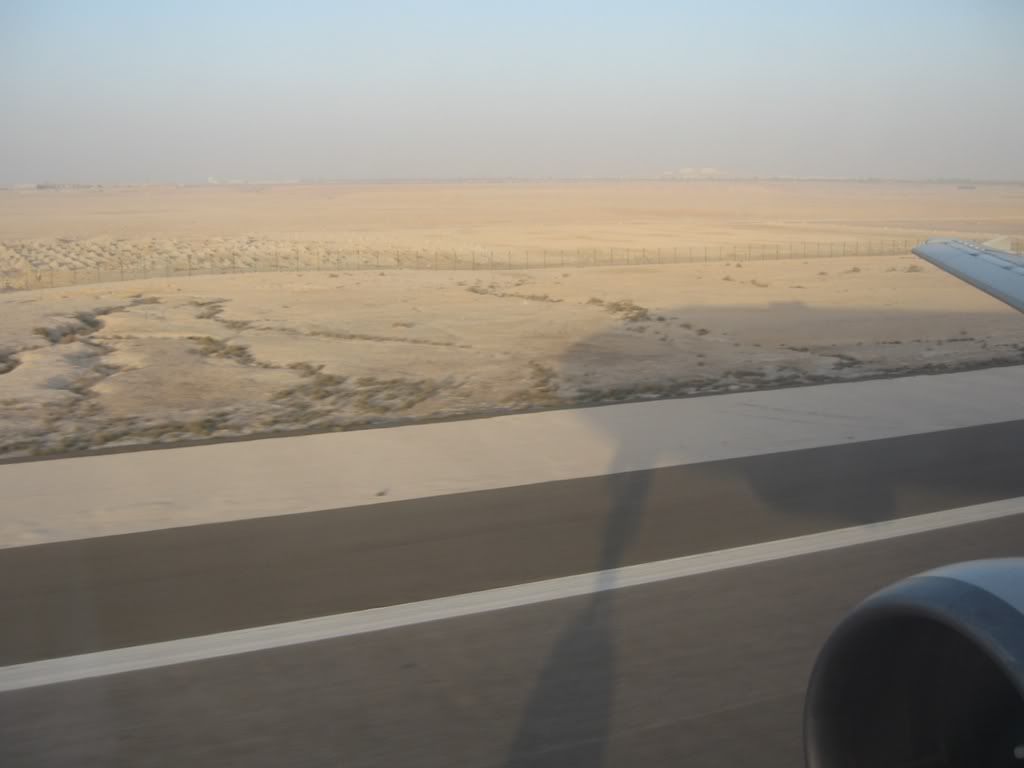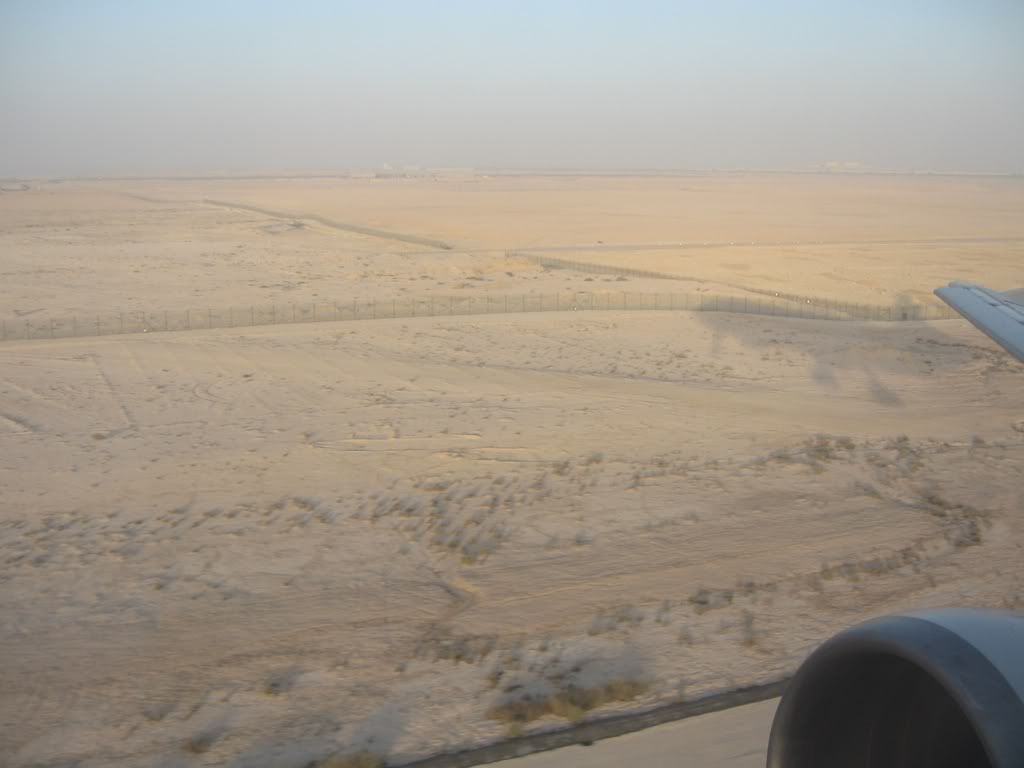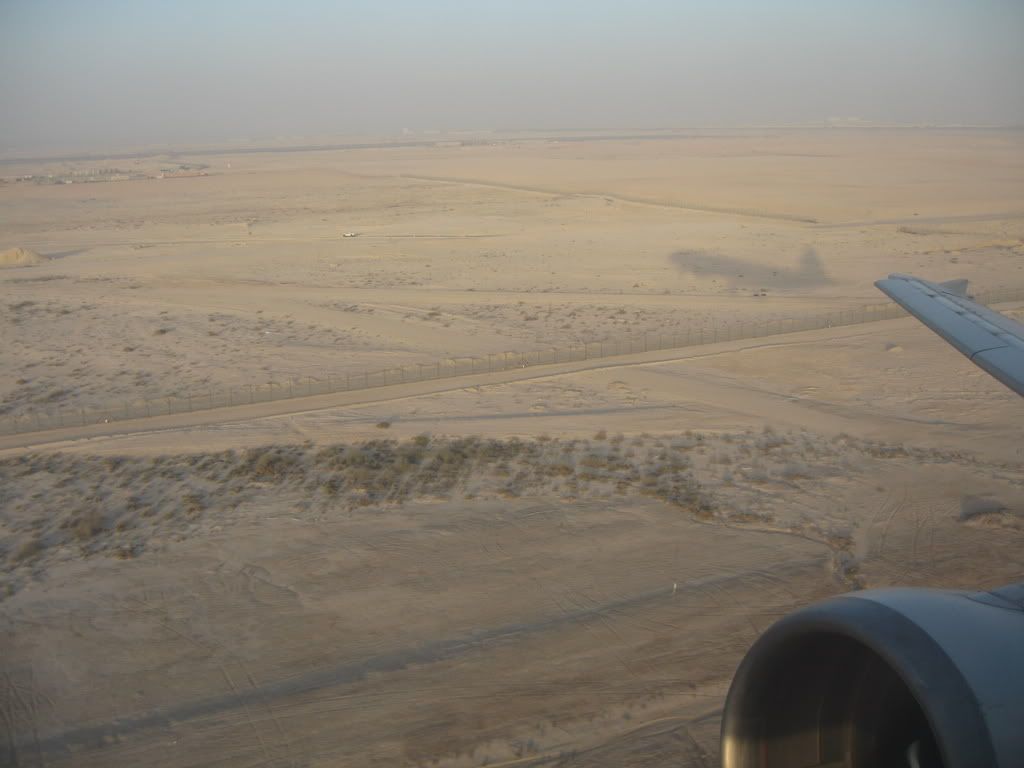 As Tango Alpha climbed out the shadow of the aircraft quickly disappeared into the distance and the massive area to the right of runway 31 could be seen. This is the future site of the midfield terminal which will occupy the land between the existing runway and the new runway which could also be seen nearing completion.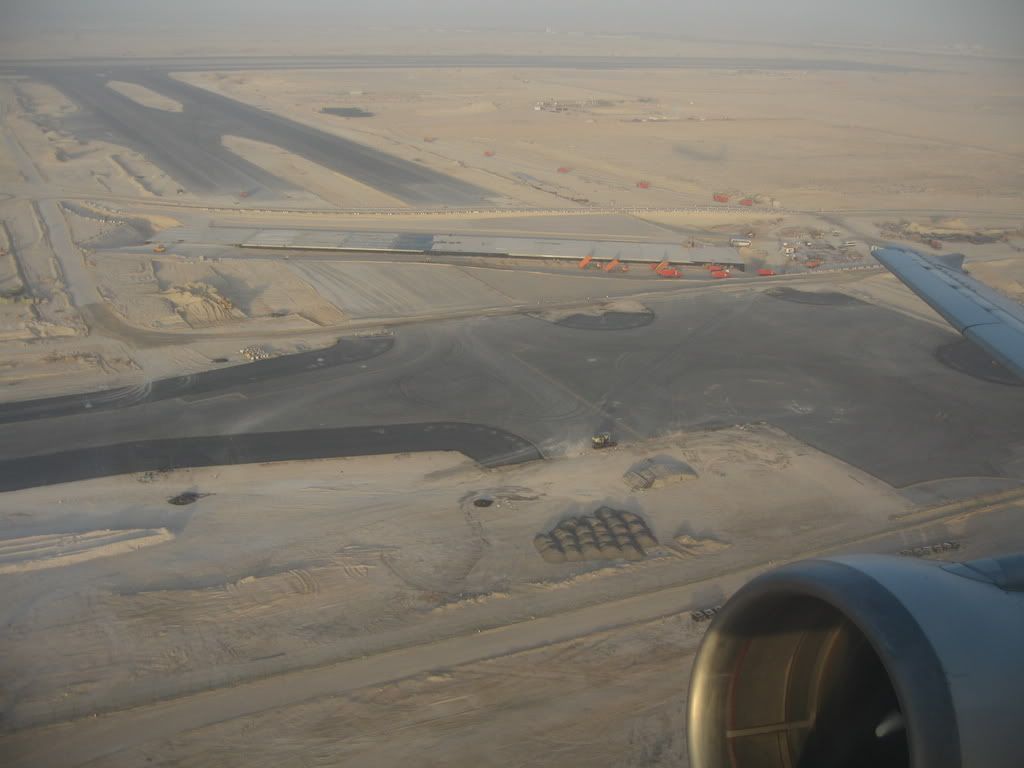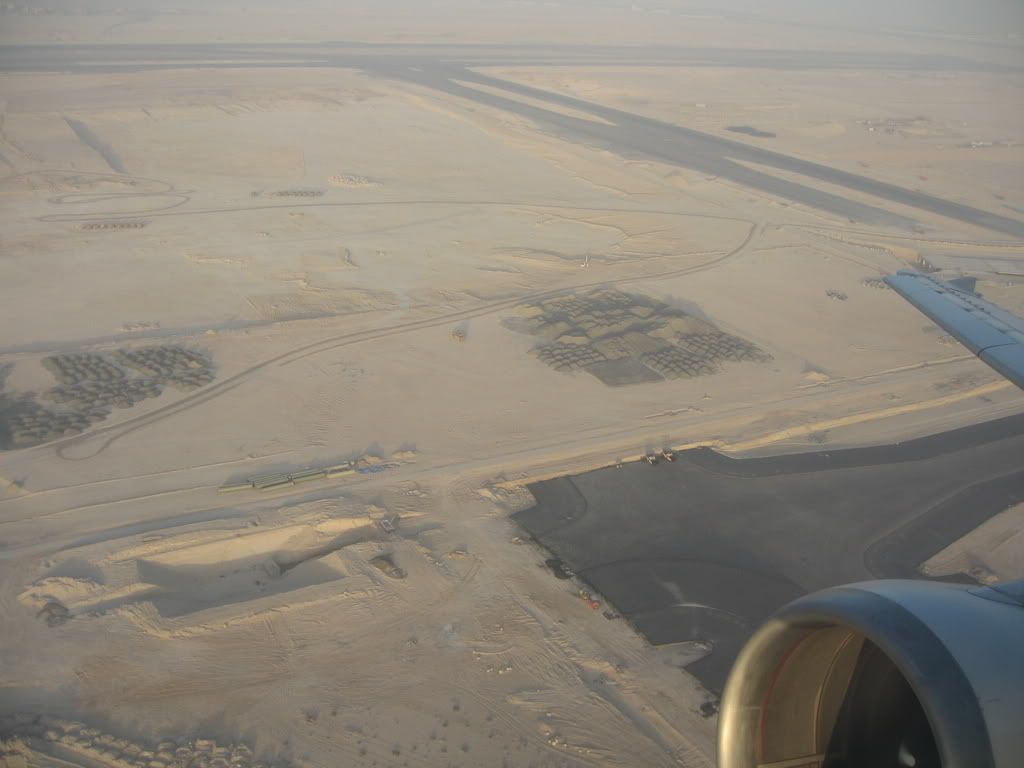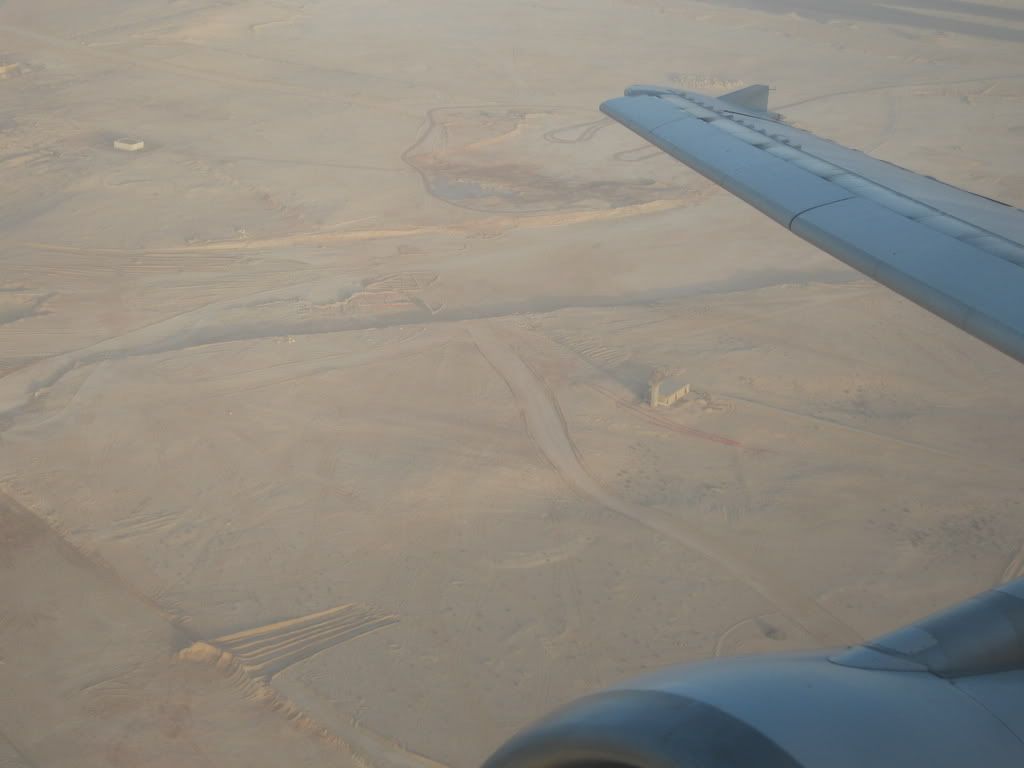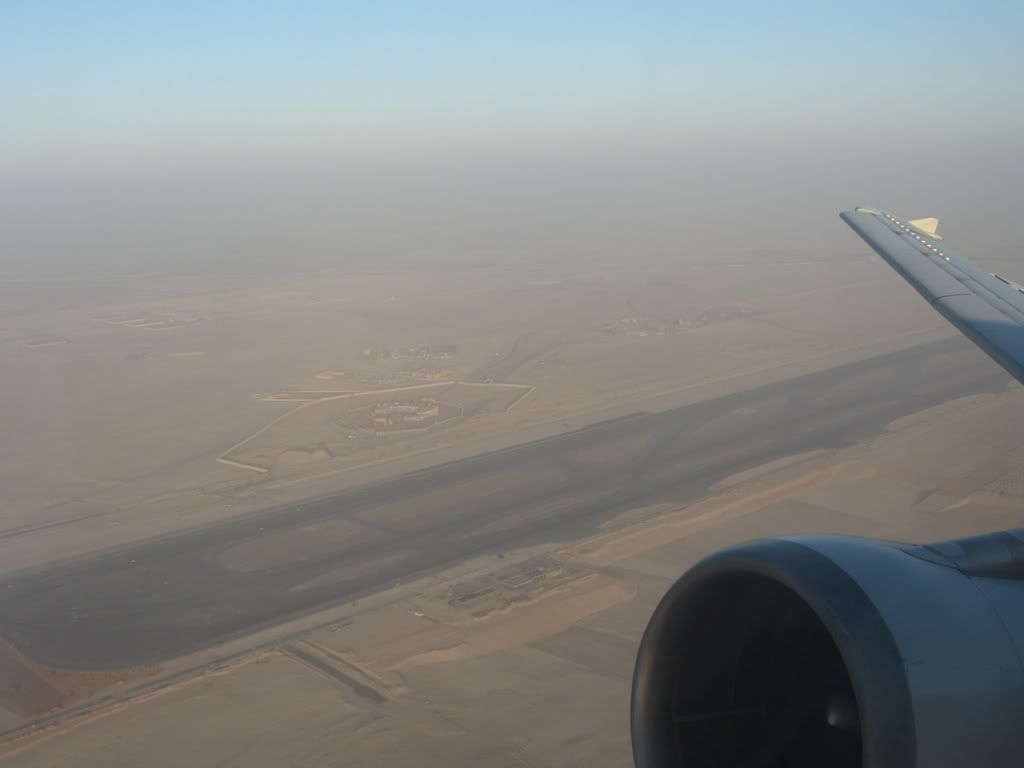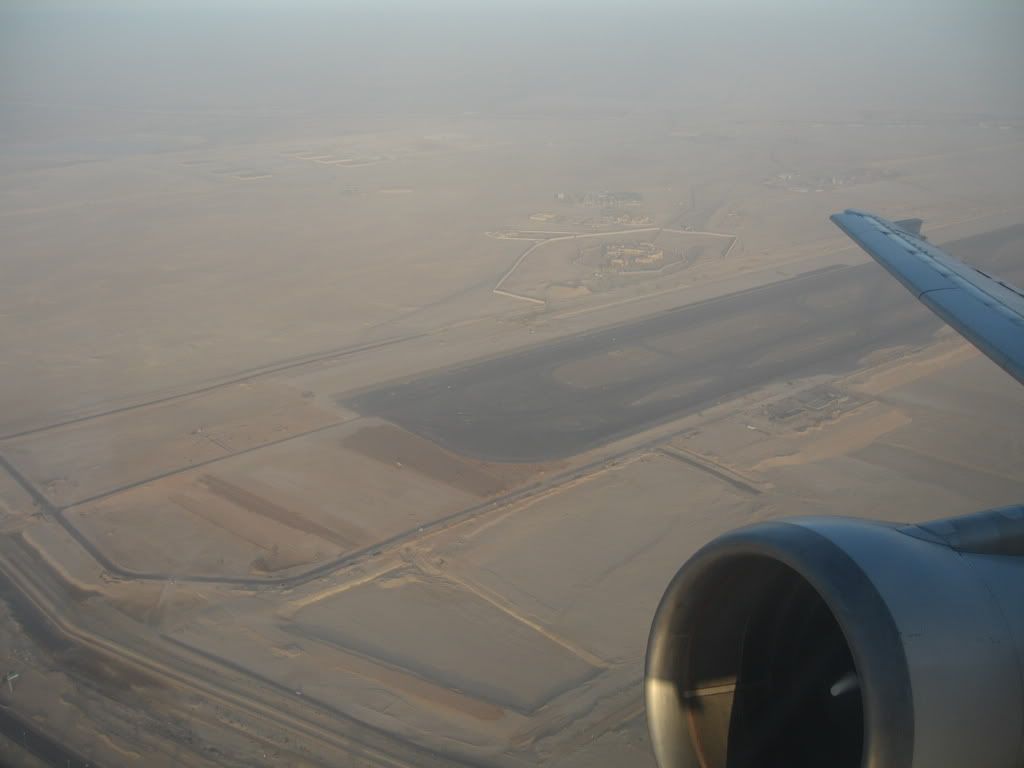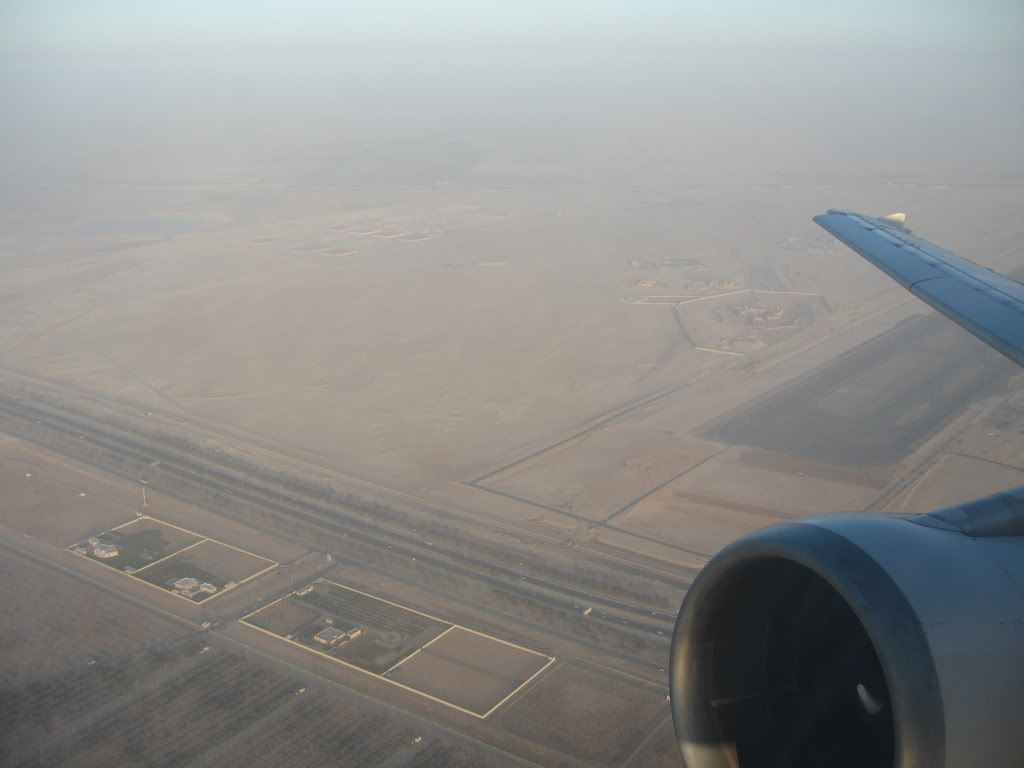 Most of the land around Abu Dhabi Airport is still desert, broken up by a few perfectly square clusters of villas.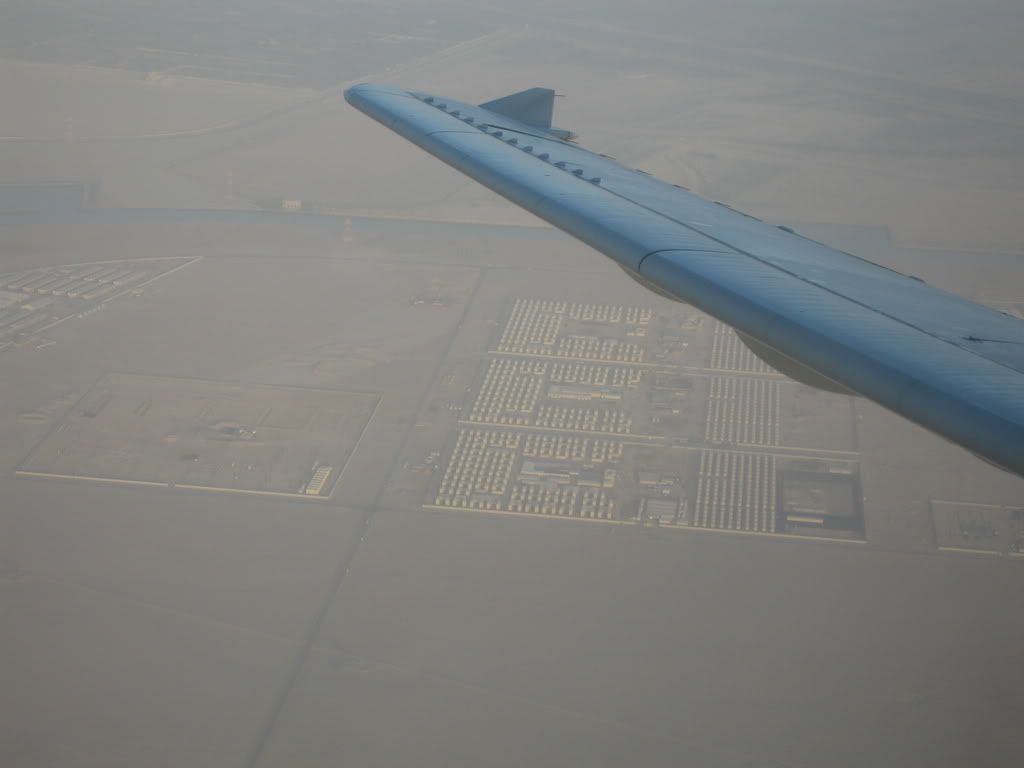 The aircraft continued to climb out over the many sandy islands which surround the city of Abu Dhabi – several of which are earmarked for development and will be linked to the current city and mainland by bridges.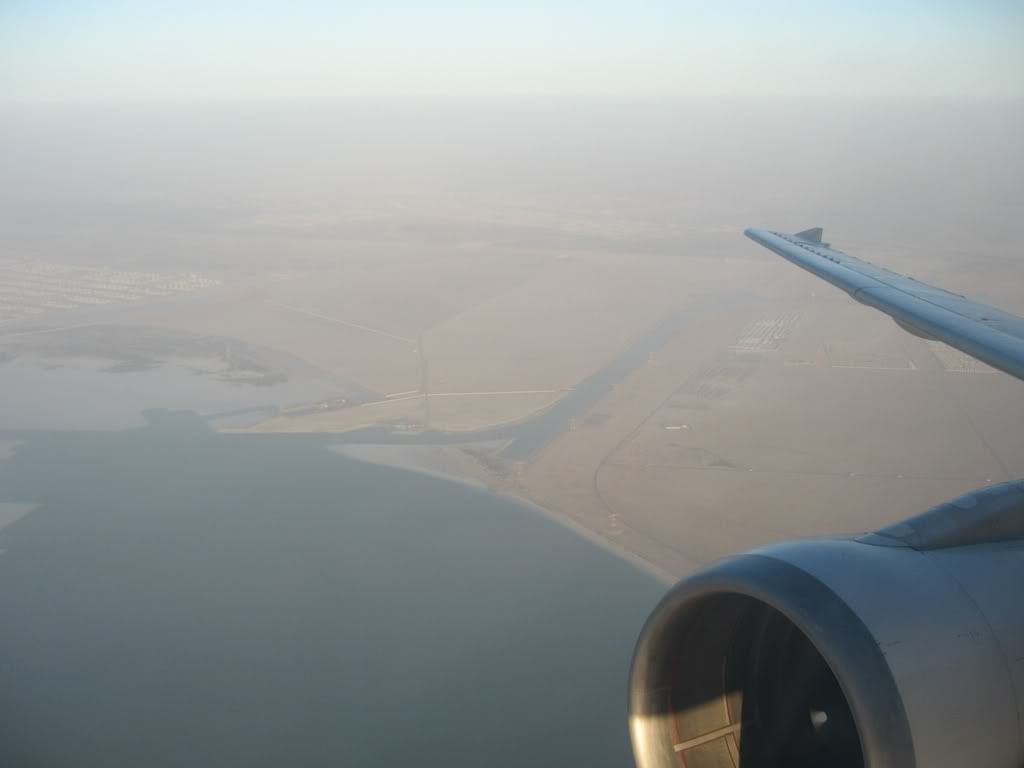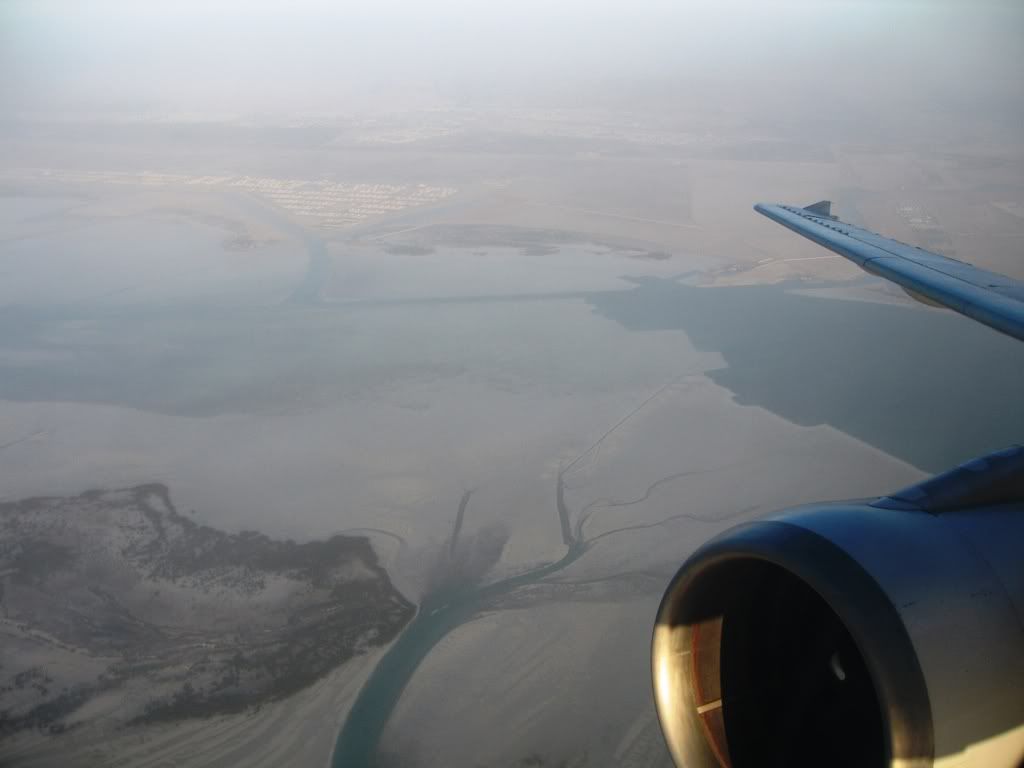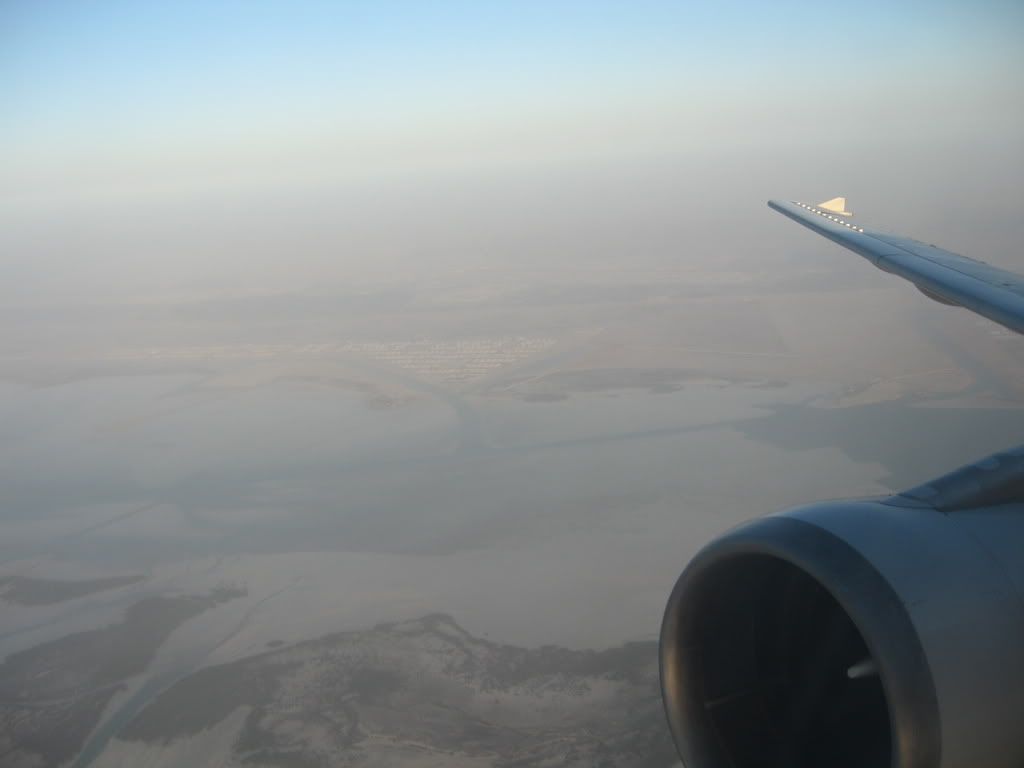 Cabin & window view