Changi Airport, 18 march 2008, early morning at gate B5. This was to be the official launch of Singapore Airlines commercial A380 flights to London Heathrow and Europe with flight SQ308. Another Singapore Airlines premiere.
Travel in a new light. I was going to be "first to fly" the A380 once more.
I had to get up at the crack of dawn and take a taxi from my hotel, the Holiday Inn Atrium, located on the outskirts of China Town in order to be at the airport on time to prepare for this historical flight.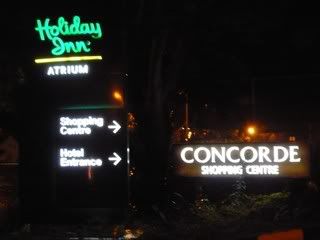 It was still totally dark at the time I left the hotel. I had booked the taxi in advance. Getting to Changi airport at such an early hour in the morning went without any problem. The traffic was smooth.
I liked the feeling of travelling from a nice new terminal and going on an aircraft that was just as new. Singapore always tends to do thing very well.
http://www.changiairport.com/changi/...Fly_SQ_from_T2_T3.html?__locale=en
Check-in area at Terminal 3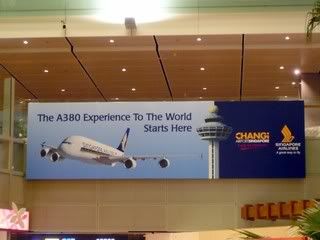 The Singapore Airlines A380 is placed way up high.
After check-in at Terminal 3, a pre-boarding breakfast was organized by Singapore Airlines at the departure gate for all the passengers on the flight complete with a MC and jazz musicians.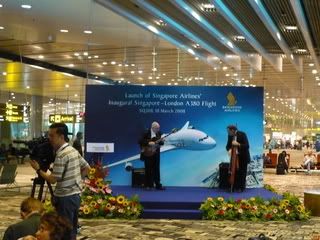 The center stage with the jazz musicians and TV crews trying to catch the action.
Most passengers had gathered in the back of the room around the breakfast buffet. Others were talking to their fellow flyers or just sitting down.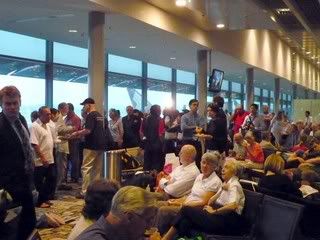 The gate B5 room was very busy.
There was no way SIA would make us forget that we were going to take part in a unique and memorable experience!
As a background picture on the tarmac, there was not only one Singapore Airlines A380 but two sitting side by side. The one that would take us to London, 9V-SKB and her sister 9V-SKA hiding away behind her. SKB was going to be the big star of the day.
Souvenir photos were taken prior to the flight in one part of the gate and available to all. The special souvenir card with the photo will be mailed by Singapore Airlines to their home address to all participating passengers.
Among the crowd, one could notice the Singapore Girls in their coloured kebayas and a group of A380 enthusiasts: the First to Fly group in their specially made A380 polo shirts. There was a lot of people moving around the gate area.
Before boarding procedures began, a launch ceremony took place.
There was an introduction to the A380 and first flight to London in the presence of the High Commissioner of Great Britain in Singapore.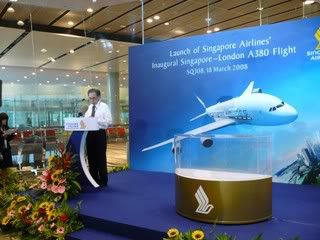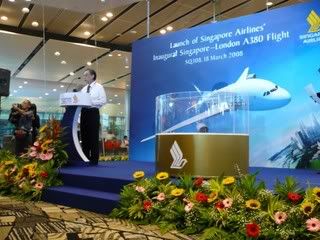 Mr Huang Cheng Eng, Singapore Airlines Executive Vice-President
The High Commissioner for the UK in Singapore.
There were introductory speeches by the Singapore Airlines executive vice-president Mr Huang Cheng Eng, then the British high commissioner
ending with a count down to boarding before the boarding sequence is announced.
The count down.
Another very important moment was the arrival of the 4 pilots at the gate before they proceeded on to the aircraft: Captain Yeap, the captain in charge of the flight, assisted by Captain Peacock and two First Officers.
Among the passengers on this flight was the "First to Fly" enthusiast group with members from several different countries. Several of the "First to Fly" group members had already taken part in the very first A380 commercial flights (charity flights) operated by Singapore Airlines from Singapore to Sydney and back on 25 and 26 October 2007. All of them were wearing 380 polo shirts specially made for the occasion.
Boarding was to be called according to suite/seat numbers and Star Alliance frequent flyer status through different areobridges for the lower and upper decks. The boarding passes are of a size larger than regular boarding passes reflecting the size of the A380.
Accessing the aircraft.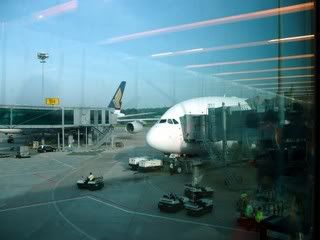 This is a very wide see through jetway.
Different signs lead to different areas of the aircraft each with their own access doors.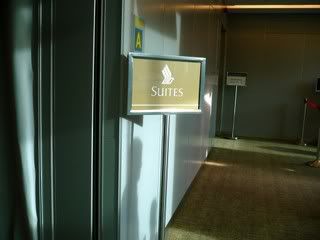 The Suites
Business Class
Upper deck Economy in the back of the Business Class.
Greetings at the door.
Some of the on board cabin crew on this flight were no strangers to me and I was no stranger to them. It made the greetings a lot less anonymous. Also my own unique specially made T.shirt did a good part of the job.
My seat number was 75K a window seat, upper deck Economy. The flight will make it that I will have three seats in all three classes. I got very lucky this time!!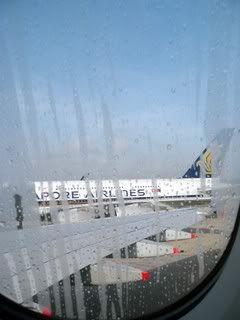 A steamy window with a view of 9V-SKA before push back.
Bye Bye, SKA. We were soon to leave Singapore.
Flight SQ308 took off from Changi airport in Singapore at 9.19 am. Scheduled departure was 9.00 am. The flying time to London Heathrow was to be more than 13 hours.
I will end the talk here. I will add comments on all pictures that will follow. They will give you a detailed description of the different places and events on board during flight.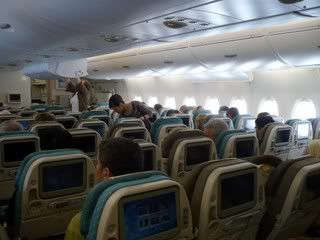 An overview of the upper deck Economy cabin. You don't feel tight in that cabin. This is probably the most spacious economy cabin that exists among all airlines. Being in a new aircraft makes it even nicer.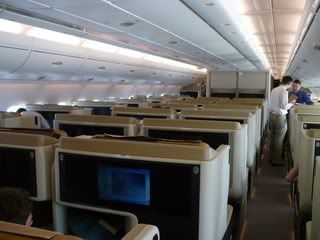 Across to the other side of the upper deck: the Business Class cabin.
The Business Class seats come in two different shades: a darker or a lighter colour.
This is the darker leather Business Class seat.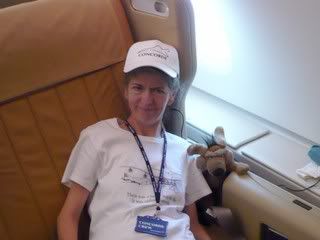 Seat 11 F all the way up front. I am spending some time with Karl, Miguel's furry friend and travel companion. I had to be authorized by Karl in order to use the seat. These are very large seats that can easily accomodate two like me.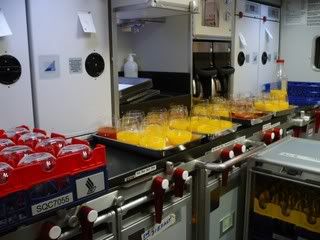 The Business Class FA's working area with juices and other goodies waiting to be served.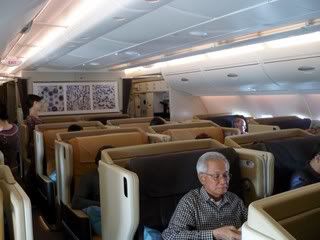 Overlooking the Business Class cabin.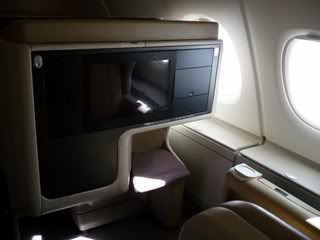 Business Class seat TV monitor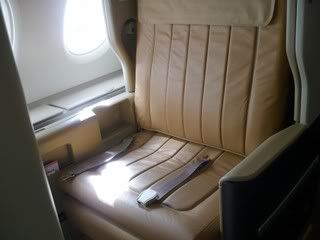 Same seat, opposite side view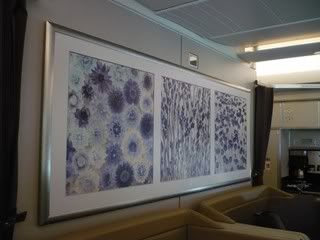 Business Class main decorating screen in some nice shades of blue
Business Class service area. Preparing for breakfast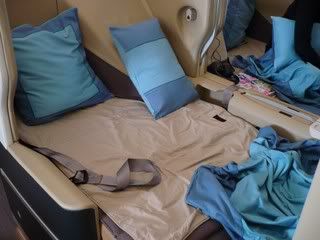 After all the delicious food, one can take a nap. The Business seats can be turned into very comfy beds! The day I get my Business Class seat, I will make sure I get a window seat. I would not want to wake up right next to a total stranger!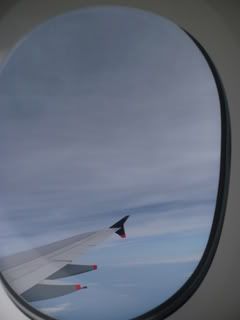 Back to reality. My 75K seats calls me for breakfast. In the mean time, I can enjoy the view.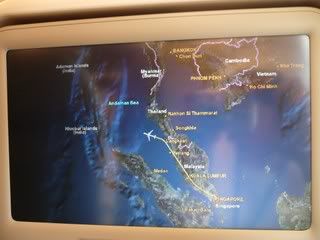 Or look at the map to find out where we are. These A380 maps are beautiful and very detailed.
A blue Singapore Girl starts bringing the trays. Special meals are served first. Little stickers were placed on the seats of those who had requested special meals.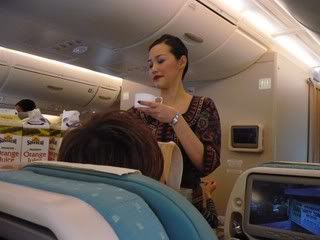 This is followed by general breakfast service, serving all other passengers with regular meals.
My choice was poached eggs with ham and hash browns. I chose not to eat the ham but I ate everything else. It was just a so-so meal, nothing extraordinary.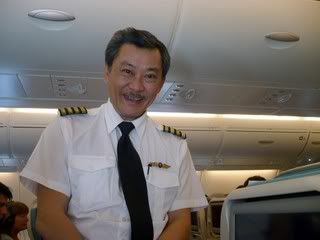 Some time after breakfast, I had a VVIP visitor coming to my seat. It was Captain Yeap himself. The man in command of the flight. I was rather pleased to have such a nice and most important visitor.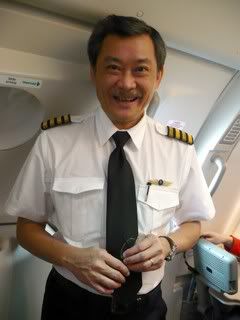 With my previous inaugural flight experience to Sydney and my few visits on board two of the Airbus prototypes there was a lot I wanted to talk about. Also I asked the Captain to sign the back side of my T.shirt with a special textile pen. He was more than happy and rather amused to put his signature on what has now become a unique piece of memorabilia and a treasured goodie.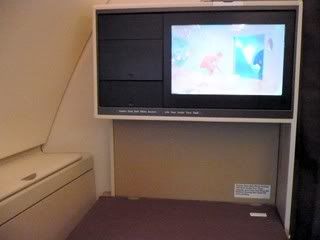 ... after which I decided to go back to "my" Business Class seat.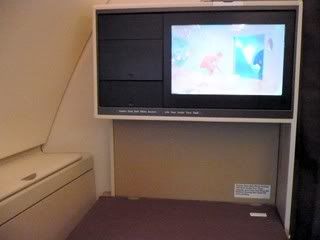 There were some empty seat and I was welcome to using them. The FAs in the cabin knew me from the Sydney flights and my birthday on board.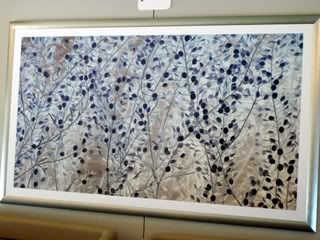 I could have remained in that seat for the rest of the flight but I did not want to miss out on some of what was to come. More surprises were going to expect me so I had to move on.
World map
Detailed map, to give you an idea of where we were at that time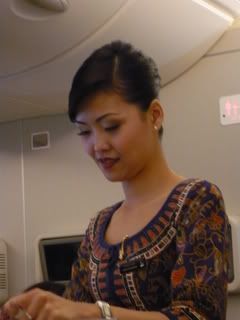 Busy blue Singapore Girl
Sleeping enthusiast from the "First to Fly" group
A few minutes later, Gino (the hero) Bertuccio of Suite 1F came to look for me... and then came the time for my visit to the sanctum: the Suites!! Luxury in the sky!
One cannot access the Suites unless the lucky Suite flyer comes to bring you to the place. Even then, it's rather restrictive, probably very difficult on a routine A380 flight.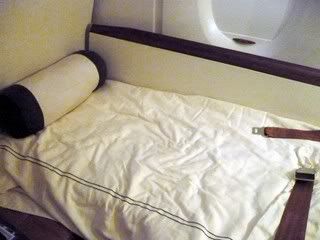 So I got my bit of time in one of the fabled A380 Suites. Gino was back with the group. I had the Suite all to myself.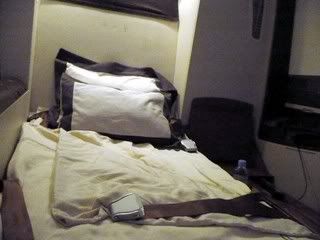 A bed in the sky from which you can watch your favourite TV program, sip some of the best champagne or read or do anything else you like: can you imagine?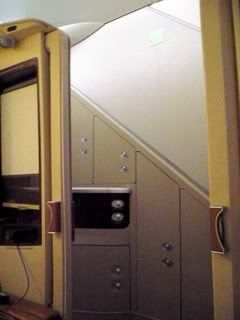 You get your own private room in the sky that becomes enclosed with two sliding doors and will give you total privacy.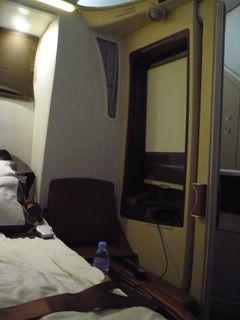 I am not one who likes to hide from others so I preferred to keep the sliding doors opened. It did not take anything away from my experience of the Suites.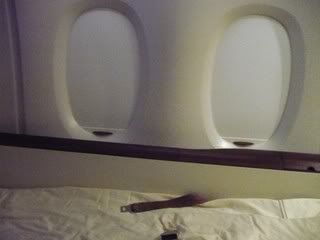 You can pull the shades down if you think there is too much light.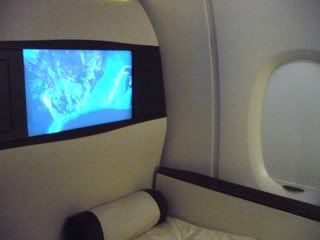 You lie down in your bed with the TV at your feet.
The Suites "hallway" with the red carpet and sliding doors. Suites passengers generally like to have their sliding doors closed.
Storage area across Suite 1 F
The main staircase to be used exclusively by those who have booked the Suites. This is a restricted area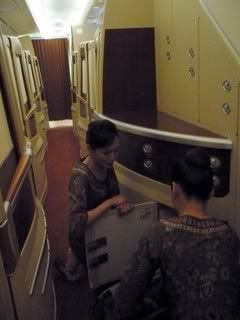 Exiting Suite 1 F with Singapore Girl using the storage area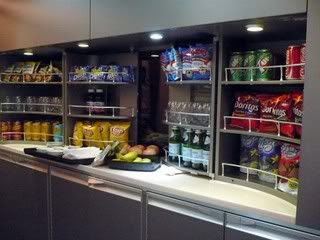 Service area - drinks. Not really a "self serve" zone. One has to ask
Working area
This is a rather large area with a lot of different ovens and heating places and other things unknown to me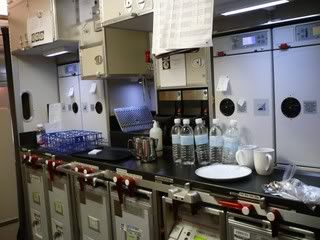 More of the same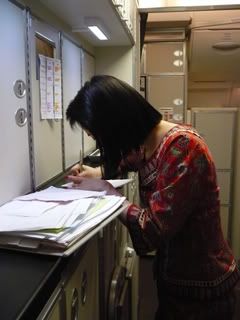 Leading Singapore Girl (wearing a red kebaya) doing paper work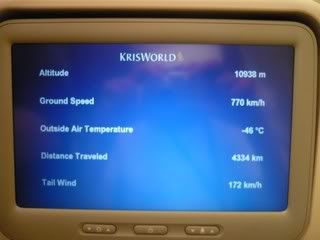 My seat map back in the upper deck Economy cabin where the action is taking place.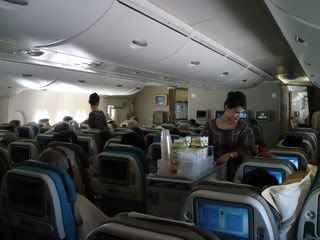 Most of the "First to Fly" enthusiasts group are seated in this section of the aircraft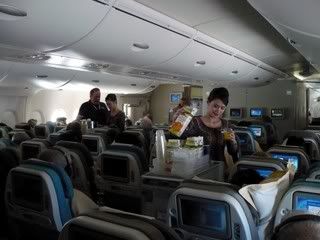 There is never any time to get bored spending time with the group. They all have stories to tell.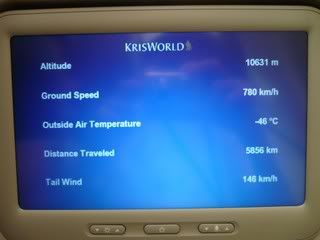 The flight is progressing towards London. My overall impression is that this is a rather slow flight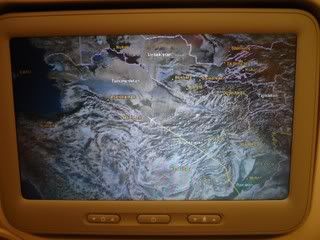 We are somewhere over Afghanistan but I guess we are far away enough from the "no-fly" zone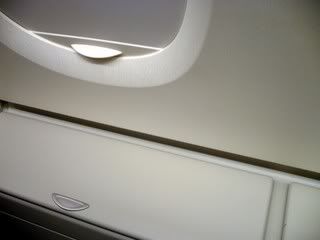 One thing I really like about the upper deck window seats is the individual litttle boxes. I named them "goodies hiding boxes". I did hide some of my goodies in there, it can be anything!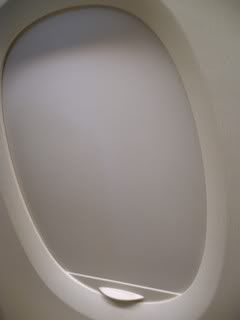 Window shade down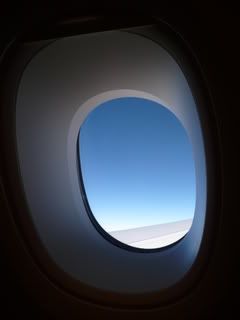 Window shade up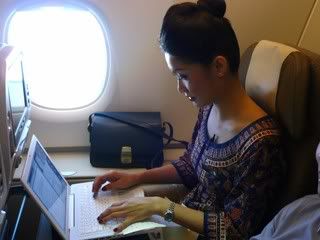 Some of the seats were reserved for crew rest/work. A Singapore Girl works on her computer. Every seat has a data port with internet access
The main stairs view from the upper deck with the cockpit access middle door
MadameConcorde in one of the vacant Business Class seats
Flight information (from the monitor in my assigned seat)
Map
More detailed map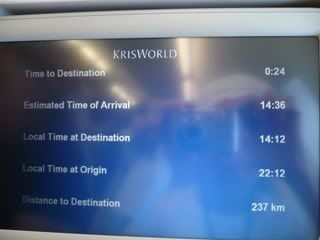 Getting closer to landing at Heathrow. We will be put on hold for some short period of time.
After our descent, we will do a fly over central London where we can see Hyde Park, Buckingham Palace, the London Eye and other famous spots. Some of those on the ground must have had a great time watching us flying by.
My most awaited sight was Concorde G-BOAB. I knew I was on the good side of the aircraft to see her. When I saw her I had an emotional shock and burst into tears. I knew something had changed. The days of supersonic passenger flights were long gone. Despite all the sophistication, aviation had gone a step backward.
We touched down, this was a very smooth landing. The A380 can very easily land herself on the computer. I don't think Captain Yeap used the auto-landing as this was the Singapore Airlines very first A380 landing at Heathrow.
Landing time at London Heathrow was at 2.48 afternoon local time.
A lot of people had come to the Heathrow airport area to see us landing.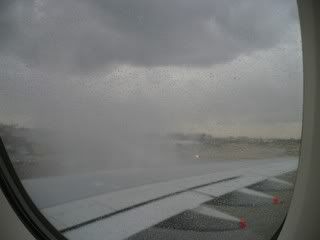 We were greeted by a water cannon salute in due form by the Heathrow fire crews.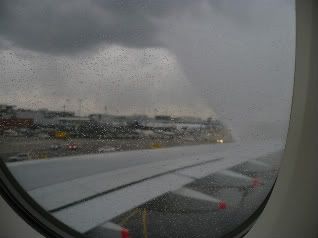 We taxied to the acclaim and welcome from a lot of Heathrow staff on the tarmac
We parked at the gate (I forgot which gate number it was) at Terminal 2 in a section specially alloted to the A380s. Getting off the aircraft was fast and efficient.
At the gate, there was a jolly brass ensemble waiting for us playing in front of a huge billboard. They played some of the classics related to aviation and other famous tunes. I stopped and listened to them for a while. They were true professionals and also happy people. I believe these musicians are part of the London Symphony (LSO). They added up to the party atmosphere at the end of the flight and reserved us a special welcome in this huge airport that is Heathrow.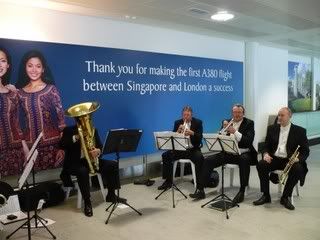 Two ladies were passing out orchids to all the passengers coming out of the flight. We were safely on the ground.
It was time to leave the gate and go out through customs and immigration.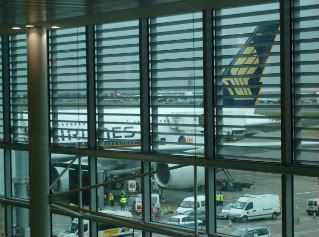 I waved goodbye to 9V-SKB. She was to return to Singapore with 7 of the "First to Fly" enthusiast group on the flight back to Changi airport.
Goodbye SKB! Safe journeys to you and your passengers!! I am sure our paths will cross again in the air or on the ground!!
This ends my picture trip report:
SQ 308 - First To Fly The A380 To London Heathrow
Thank you Singapore Airlines.
I miss you, Concorde. At one time you were also a Singapore Airlines aircraft... the fastest and most beautiful of all... flying to Bahrain and Paya Lebar and back to London Heathrow... I will always miss you, Concorde...