Some rituals need no words. Miss Suzuki – you don't know her first name – has dropped to her knees. You hear it happens in the lofty heights up front beyond those drapes; but here it is, happening to you. You fumble a little - it's the first time - but call it primal instinct if you must, for you'll just do what comes naturally...
First Leg
All Nippon Airways flight NH 007
San Francisco to Tokyo Narita
22 February 2008
Dep 1058 Arr 1505 next day (arrives on time)
B777-300ER JA734A
Welcome to First Class. Squeezing one's Star Alliance miles dry is a devilishly clever way of getting upgraded to the front of the bus. Having done that, one should confidently act the part by strolling purposefully to the counter with the red signs and thick carpets, and asking if the flight is on time.
Silly question: of course it is. You're flying ANA, where polite efficiency reigns supreme and bilingual check-in girls attempt to bow to you sitting down. You're off to a fine start. San Francisco's International Terminal is, you must agree, a pleasure to fly from – airy and spacious, and seemingly bereft of the riff raff that you, only just yesterday, used to be. But today, what you look like is irrelevant: your boarding pass has a red stripe and shows your seat as 2A, and all the ladies love you.
When you breeze through security – TSA is thorough but extra nice – you just know it's your day. Another bonus: the international concourse G is still quiet in the morning ahead of the bank of UA transpacific departures around noon.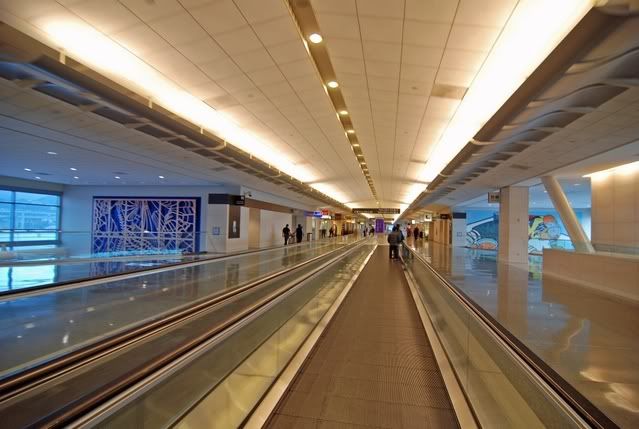 Space… for someone more used to the late night chaos of TBIT at LAX, this is a welcome change.
You resist the temptation of exploring any further - plane spotting can wait. Taking a right and down one level in a private elevator, United's First International Lounge beacons as your pit stop. Bathed in natural light, it's surprisingly classy, feeling less like airport lounge and more like four-star hotel lobby; but you're disappointed with the limited buffet spread and the absence of computers or wifi. When even third world airports can offer free wifi for all and sundry, this is a rather poor showing for the main international airport serving Silicon Valley.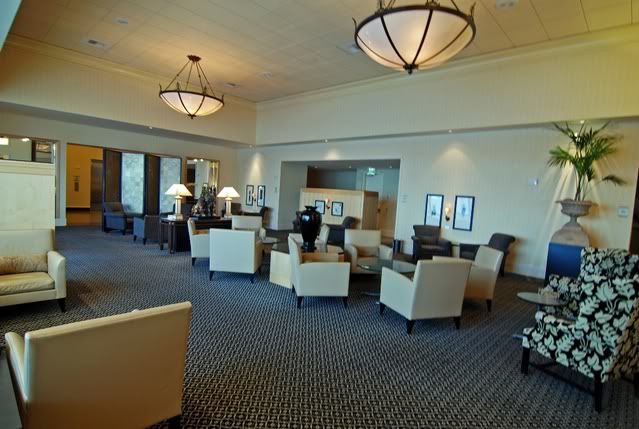 You have all this space pretty much to yourself. Most of United's own long-haul First Class passengers are unlikely to patronize the lounge for another hour.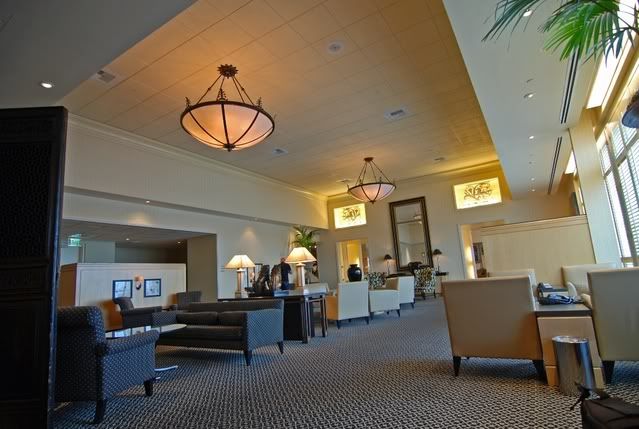 Time to go. It's a short stroll from here to gate 99, where boarding is supervised by an army of politely bowing women in dark blue suits. There's no waiting as First Class is sent off ahead of the pack, together with Star Alliance Gold members, who appear to have priority over Business Class on ANA.
Like a good host, Ms Suzuki is already waiting at the door, and she has memorized your name. With only eight seats across two wide aisles, you hardly need to be shown where 2A is, but escorted you are by Ms Suzuki in the sort of deferential way only the Japanese can pull off without looking insincere.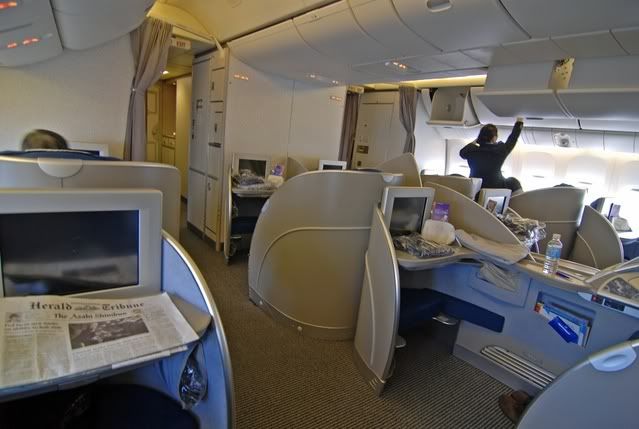 Surveying your surroundings, the cabin at first blush looks more clinical than plush. Grays, beiges and blues predominate in a pristine, no-nonsense office-in-the-sky that your fellow passengers – all male, middle-aged, Japanese executives – probably appreciate. Some posh airlines stretch the truth somewhat by calling their first class seats Suites; ANA could, quite honestly, call theirs Cubicles.
If "austere" and "spartan" make a strange appearance in your note book at this stage, you will soon regret having to eat those hastily chosen words. Appearances aren't everything, you discover, for ANA's real strength lies in its attention to detail, one that transforms First Class from the eclectic mix of flat bed, rich food and expensive booze (nice as they are) into, well,
an experience
. It is precisely the experiential element, connoisseurs will tell you, that sets apart a truly
great
First Class from the "merely" First Class.
ANA's "F" is clearly of the
great
variety. As if to prove the point, Ms Suzuki has dropped to her knees in front of you; and she beacons your next move. Some rituals need no words and this is one of them - you just do what comes naturally. (Okay, lest strangers think any less of the very, very proper Ms Suzuki, it's fair to stress at this point that she's just unwrapped some slippers, and is laying down a pair at your feet. Alas
)
Although not generally a slipper man, you nevertheless obligingly remove your shoes and slip your naked feet into – aaah, heaven. Alright, it's just a well cushioned toweling variety you find in some nice hotels, but as with so many things on this flight, it is the details and execution that make all the difference. Just as attending a Japanese tea ceremony is not merely "drinking tea", so "wearing slippers" too can be a near-religious experience with Ms Suzuki as co-participant.
The service unfolds, seamlessly. Would you like to change now, Ms Suzuki asks, or perhaps later? She assures you'll be more comfortable out of those clothes. You don't doubt her, and neither do your fellow passengers. Even with the plane still at the gate, half the cabin has taken up the offer to change into ANA's gray PJs that look bizarrely like a marriage between kimono and prison-warden's uniform. You wisely wait until much later, when the lights are suitably dim and Business Class curtains drawn before putting on the outfit that's obviously designed to test your fragile male ego.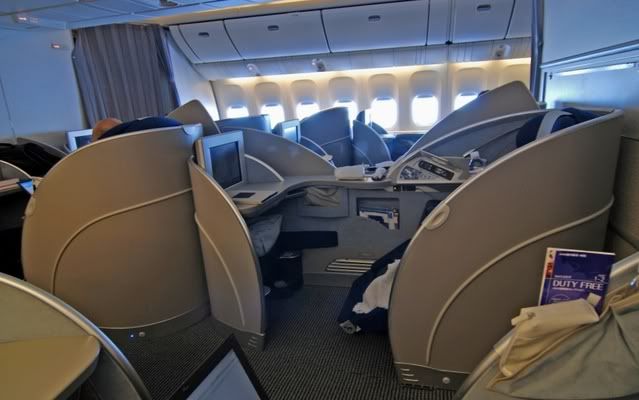 It's 10 hours 33 minutes to Narita. After take off, the menu and wine list are distributed in a nice cream box. And the selection is simply mind blowing. Champagne is Krug, while each of the sake choices comes with different recommended canapes. The Japanese Kaiseki lunch menu is an elaborate eight-course affair of prawns, snow crab and scallops that you just manage to resist. The a la carte "Western" choices are even more extensive: three starters including caviar, two salad selections, four main courses including steak and bouillabaisse, and three deserts. Turn the page and there's more: another ten "light dishes" that are veritable meals in themselves; a highly cosmopolitan selection that range from Indian chicken curry and Hong Kong-style congee, to pizzas and cheeseburgers that you can choose to eat in any order you want. It's lavish for sure, and yet so refreshingly different. You haven't seen a more extensive menu aloft.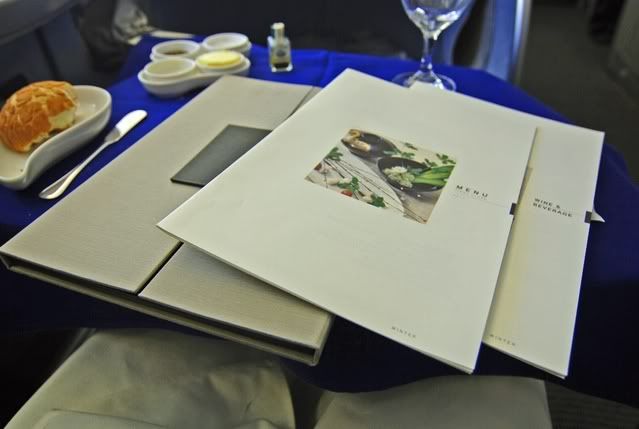 Opting for the caviar as your starter.
The meal service is relaxed despite a full passenger complement in First today. There are two senior crew members serving the cabin, with Ms Suzuki devoted to the port side and her colleague (who seemed equally on-the-ball) at starboard. A third flight attendant helps in the galley.
Here's your New York cheesecake with the coffee.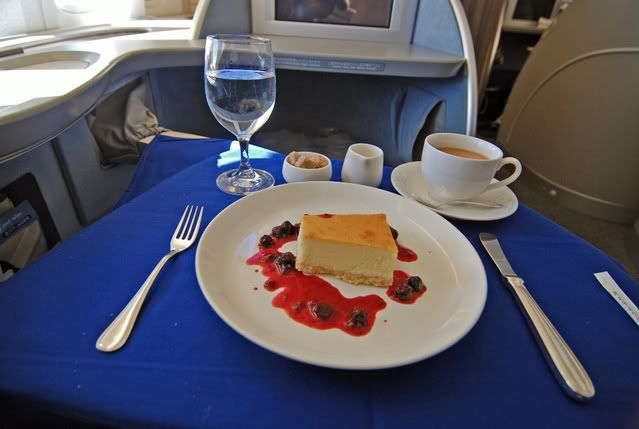 The impressive food choices and top notch service make up for an inflight entertainment system that's almost non-existent. There may well be decent choices in Japanese, but in English, the movie and TV selections (sitcoms, for instance, comprise one measly episode of
Frasier
) are so meager they needn't have bothered with AVOD. IFE is clearly the weakest link in an otherwise superb product: good thing you brought along a thick paperback.
But you're in a forgiving mood. Ms Suzuki anticipates your needs so well you could swear she mind reads. When you return from changing into your PJs, your bed's already made, complete with soft underlay and a light satin duvet. Your window shades are down, and Ms Suzuki is waiting to tuck you in.
When you awaken from a remarkably good 5 hours of slumber (wow, was it that long?) Ms Suzuki is at your side with a steaming hot towel and freshly squeezed orange juice. Emerging from changing out of your PJs, there she is again waiting to relieve them from you. At your seat, your bed linen has been cleared, your seatback is in lounge position and the shades are cracked open just enough to let light in, but glare out. You know you could get used to this…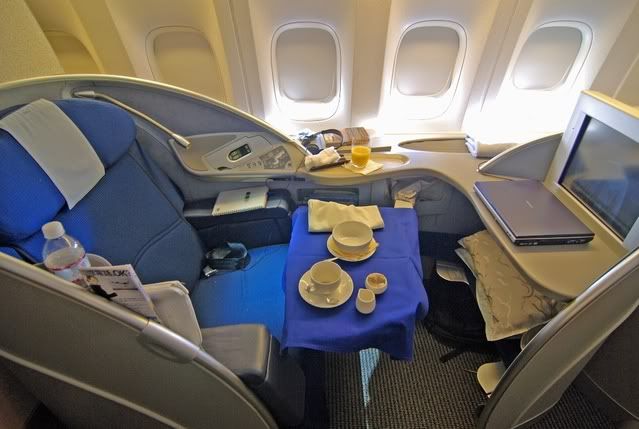 You have crossed the international dateline and it is now afternoon, next day. To celebrate, you order a snack of sake-steamed fish followed by ice cream and coffee. It's less than an hour before landing but your meal is served in the same unrushed manner that lunch was.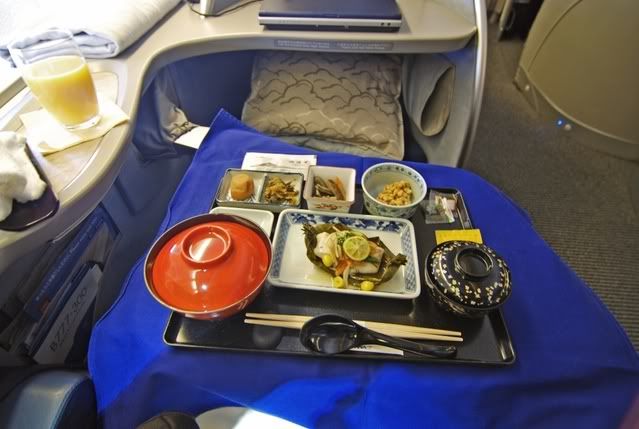 Service items are promptly stowed for a bumpy descent into Narita. Ms Suzuki comes round to thank you for flying ANA. If there was a form to nominate the perfect First Class flight attendant, you'd fill one up right away: Ms Suzuki is simply exemplary. ANA, meanwhile, far exceeds your expectations. You say goodbye reluctantly – and for once, the flight just doesn't seem long enough.
Transit
ANA delivers you to the gate on the dot, as promised. It's cold and damp outside, but the weather matters little to a transit passenger whose comfort is temperature controlled. Making a Star Alliance connection is not a complicated affair at Narita where members congregate at Terminal One's South Wing. Even so Thai Airways, your next ride, doesn't leave it to chance: a nice purple-clad lady has a card with your name on it.
She escorts you through security and walks you along the entire cavernous length of the passenger tunnel between Satellite 5 (that's used almost exclusively by ANA) and Satellite 4, from where your flight departs.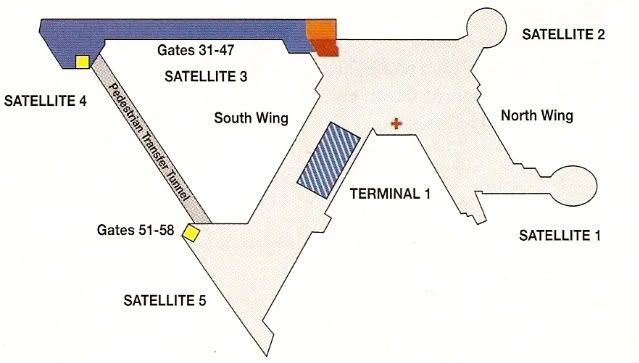 After swopping your SFO-issued boarding pass for a "Royal First Class" one, your THAI escort deposits you at ANA's First Class Lounge, where greeting attendants bow so deeply it'd be rude not to reciprocate.
You are ushered to your window seat – decisions, decisions, which one? There are so many. What would you like to drink? A double espresso is promptly delivered.
The lounge exudes a certain quiet elegance, which you now know to be an ANA hallmark. The airline's other F Class Lounge at Satellite 5 would, you suspect, be a little busier but this one – used primarily by other Star member airlines like THAI – is empty.
There's a good view from the lounge. Satellite 4 looks like a United Airlines domain with at least 8 heavies parked close by. Here's an example just arrived from across the Pacific. In the distance, Satellite 5 is filling up with ANA triple sevens.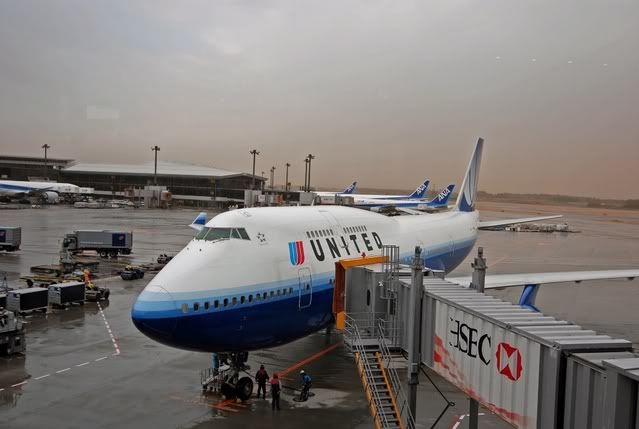 You have another hour to kill and so decide to wander around. Lounge attendants are concerned "Do you know the gate? Will you come back to the lounge?" but you assure them you'll get on the right plane.
Here congregate the masses… you have eight more hours before joining them.
A walk with a view… better for UA than NH.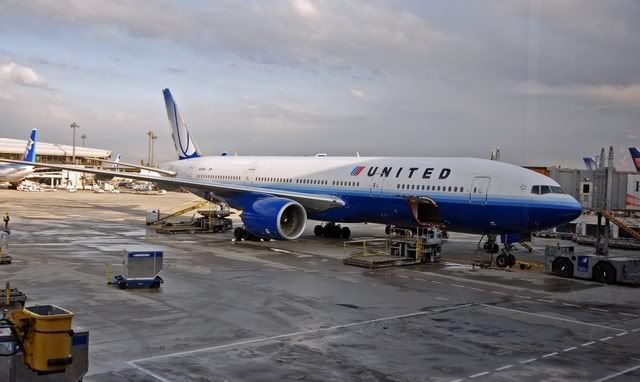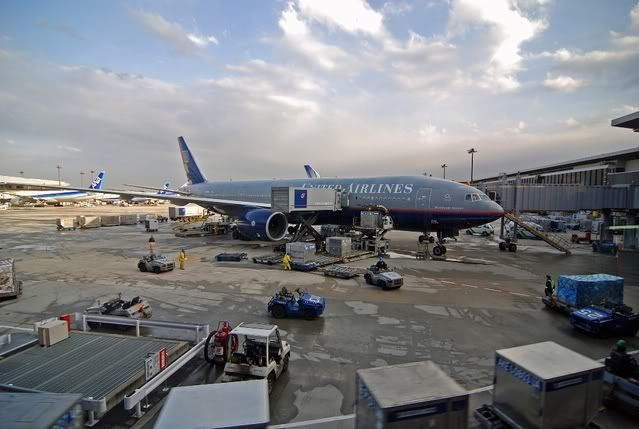 You take a long walk, all the way from Satellite 4 via Satellite 3 to Satellite 5 and back again, to find the TG B744 from Bangkok only just pulling in twenty five minutes before departure. A half-hour delay prompts you to return to the lounge where your reappearance is welcomed with another series of deep bows.
Second Leg
When it's finally time to board, a THAI ground agent is already waiting for you at the lounge door. Escorting you alone and bypassing the long queues at the gate, you're hurriedly bundled aboard like a celebrity. Makes you wish you were wearing those paparazzi-shielding shades…
and saying:
"please, please, no autographs…"
Thai Airways International flight TG 677
Tokyo Narita to Bangkok
23 February 2008
Dep 1800 Arr 2309 (arrives 54 minutes late)
B747-400 HS-TGB
Nothing beats the nose of a 747 for sheer panache. Never mind you're on one of the few TG machines with old-style seats, the feel of the cabin is just unparalleled when you have an almost panoramic view ahead of the cockpit.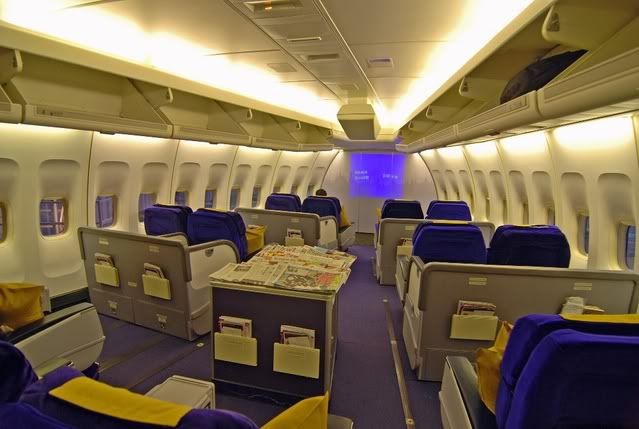 Sawasdee-krab.
Flight attendants are politely friendly, as they (almost) always are on TG. Conversation begins in Thai but realizing that your vocab is pretty much limited to making small talk with taxi drivers and ordering street food off a Bangkok
soi
, they quickly revert to English.
You're expected: a toilet kit and duvet have been placed on your seat but, you're glad to see, not on the seat next to you. Purple PJs and a pair of slippers are passed out courteously enough, but well, it's just not Ms Suzuki is it?
First Class has a complement of 10 tonight. The seat, although lie-flat, feels narrow for First, with a PTV screen that's first generation tiny. Although adequate for this six-hour-plus flight to Bangkok, you'd not be happy paying for First Class and ending up here on a twelve-hour haul to Europe.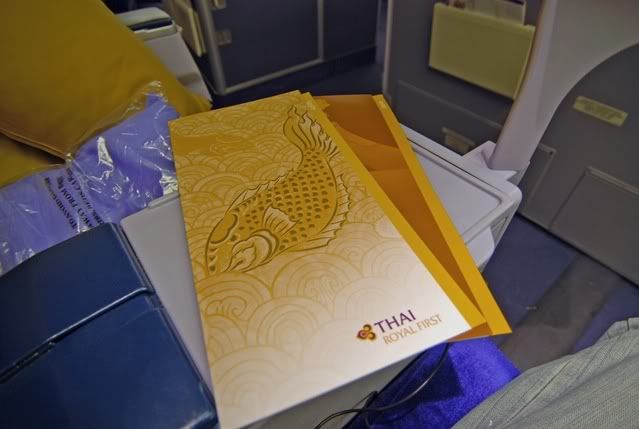 Pushing back 45 minutes behind schedule, and you're soon headed for a longish bumpy ascent over Tokyo Bay. Finally at cruise, dinner menus are distributed. Being a regular TG flyer, you know the food will be good. What's disappointing however is how some of the offerings in First differ little from those back at steerage, where you're usually seated. The only choice offered by this menu is among three main courses.
This is the first course of roast veal and salmon.
The pumpkin cream soup.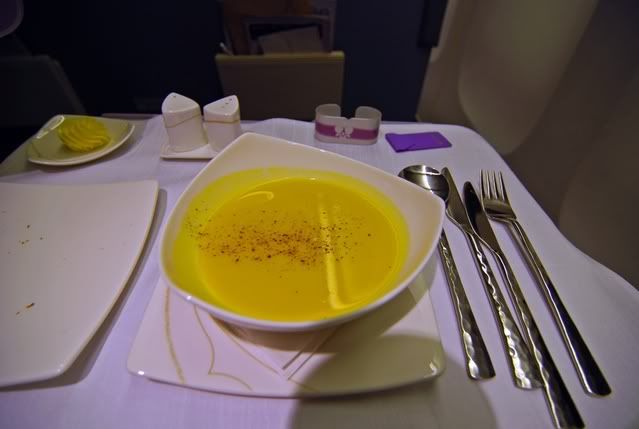 The rest of the flight progresses uneventfully. Like almost everyone else in the cabin, you manage some shut eye.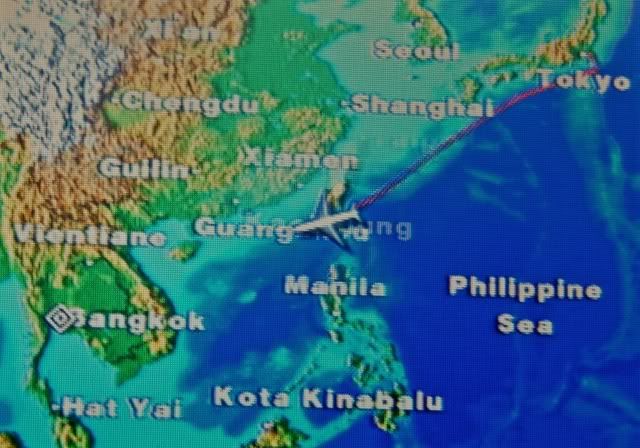 Legging it
Arrival at Bangkok Suvarnabhumi Airport's notorious far away gates is not a problem. First off the plane, you are met by a ground agent and driven by electric buggy to a separate fast track immigration desk ahead of everyone else. Like a baton, responsibility for you passes after immigration to a THAI porter who then leads you to baggage reclaim, and asks you to "please take a seat."
You're on the ground, almost home, and it's nearly midnight. It's in the midst of this sub-tropical humidity that reality strikes: beyond those exit doors, you're back being riff raff again. It was nice pretending to be posh but you also know when it's time to call it quits. You dismiss your porter with a small tip and "thank you, I can handle it from here."
Tomorrow you're back to the grindstone. There's nothing left here for you, except for memories of two fantastic flights and the fabulous Ms Suzuki, and perhaps, if you get the chance, a trip report you'll submit on a.net.
But there's a final surprise: emerging from the carrousel is a bag you almost don't recognize. "Baggage protection? Which pretentious bastard owns this bag?" Uncontained laughter echoes down the customs halls…