Trip Report: Chile Spring Break '08

Date: 7 March 2008 (8 March 2008)
Dep.Arr.Time: 20:30/8:30 (9:00/22:30) 11hr:20mn
Flight: LAN Airlines, LA 533
Routing: JFK-SCL

Aircraft: 763
Seat: Economy, 37A
Trip Background: For my spring break this year I would be accompanying my mother who was leading a group of Vassar College students through Chile. The trip would take two weeks and would include northern and southern Chile. Air travel arrangements were made via a travel agent and LAN Airlines was our selected carrier much to my enjoyment. The routing would be JFK-SCL on March 7th (turned out to by March 8th), SCL-PMC on March 10th, PMC-SCL on March 15th, and SCL-MIA-JFK on March 22nd/23rd.
Pre-Flight:

A) Before Airport: Considering we were flying with a group there wasn't much choice or say in booking but I was very helpful with finding the cheapest flights. The cheapest option was Air Canada LGA-YYZ-SCL and Air Comet Chile SCL-PMC but considering we were traveling in a large group we thought it would be better to keep all of our reservations with one airline.
On Friday afternoon we left Poughkeepsie at 2:00pm with plenty of time to make it down to JFK. The normal driving time is about 1 hour and 35 minutes but since we were on a bus we had to take some different highways then normal. Luckily for us we had left enough time since it ended up taking 3 hours to get to the airport due to traffic.
B) At Airport: We pulled up to the modern Terminal 4 in the pouring rain and took all of our luggage off of the bus. I headed into the terminal first, to find out were the LAN check in desks where located. After quickly glancing at the monitor (I should have spent a few more seconds looking!) I headed over to the LAN counters and joined the medium sized line of passengers waiting to check in. I was surprised to see that no one from the group had followed me but instead were congregating around the monitor at the entrance to the terminal. Finally some students joined me and let me know that on the monitor it said that our flight was canceled. I was certainly shocked since every other flight was operating on time despite the crap weather outside. Finally the leaders of the group came over and went to ask a LAN representative what was going on. It turned out that our flight had been canceled due to technical issues with the aircraft. LAN had reserved rooms for us at the nearby Hampton Inns hotel and had scheduled the flight to depart in the morning after flying in a new aircraft. We needed to still check in and leave our luggage so that when we arrived at the airport the next morning at 6 am we could go directly to security. The check in process took much longer then normal and finally after waiting a good two hours we had the whole group checked in and were ready to head over to the hotel. While the group was slowly checking in I had headed off to walk around Terminal 4 and watch the departures from 4L. I spotted our original aircraft, CC-CXC the newest 767 in the LAN fleet, parked on a remote stand. Finally at 20:15 we piled into shuttle busses and arrived at the hotel. It seemed like most of our flight had been put up in the hotel while a small number of passengers had been rebooked onto the LAN flight to SCL via LIM. Rooms were assigned and meal vouchers were handed out and we were told to be down in the lobby at 5:30am the next morning to take a shuttle bus back to JFK.
C) At Airport, Again: We piled onto chartered busses at 6am to take us back to Terminal 4. I was sitting next to a LAN employee on the bus and asked her when our new aircraft was due to arrive. She informed me that the scheduled arrival time would be 7:30am and that our scheduled departure time would be 8am. Once back at Terminal 4 we were all told to head directly to the gate. We made our way over to the security checkpoint for concourse A and within 10 minutes had arrived at gate A6. At this early time of the morning there were not too many flights departing however a lot of international arrivals were coming into the terminal. 8 am came and left and there was still no sign of our replacement aircraft and our departure had been pushed back to 9am. Finally a LAN 767-300 taxied into the terminal area but it turned out it was the arrival from GYE. Finally at 8:45am our new aircraft, CC-CEB, taxied into gate A6. It seemed like it took forever for the aircraft to start being loaded and at 9:20am the cargo holds were opened and on went our luggage. At 9:45 the first boarding call was made for the flight and of course the passengers swarmed the boarding area. Since I was seated in row 37A I was one of the first to board. I was surprised there was no boarding announcement first for business class passengers.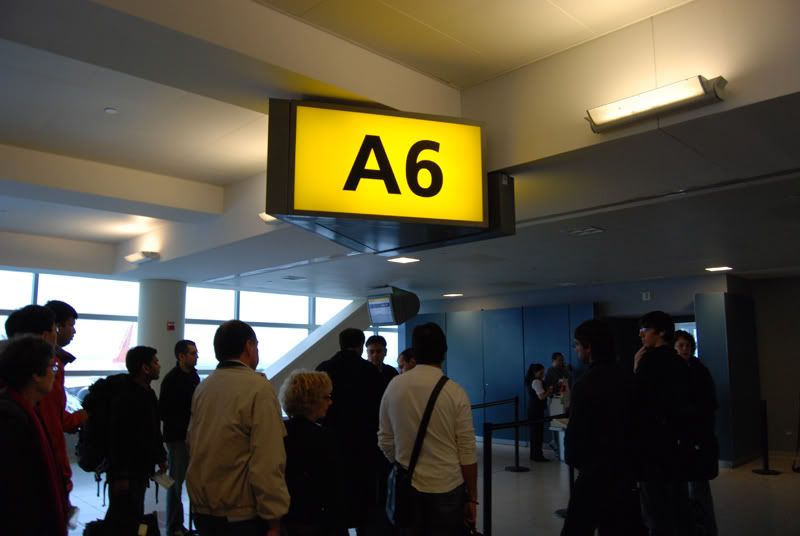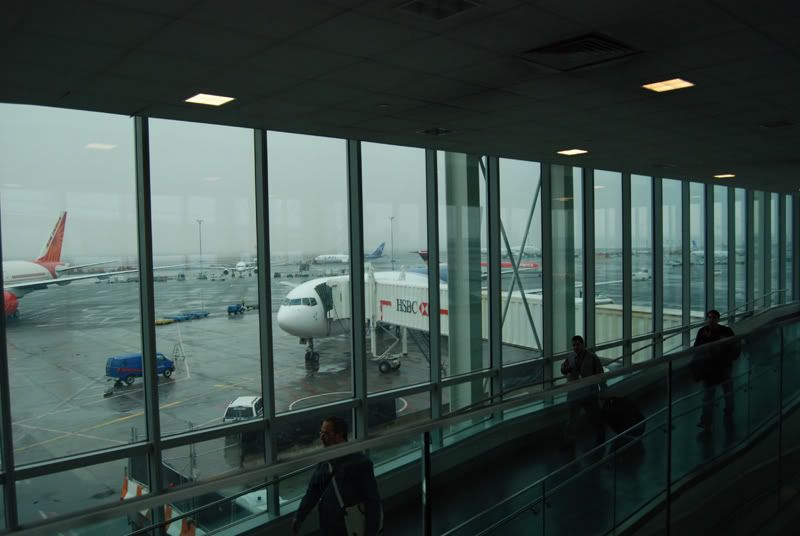 In-Flight:
A) Service Schedule + Impressions: After entering the aircraft I was greeted by a LAN flight attendant dressed in a red/ black uniform who pointed me in the direction of my seat. After pushback the safety demonstration video was shown using the seat back monitors and some routine announcements were made. I noticed that the English spoken by the flight attendants was rather poor and only one flight attendant actually spoke English. After we initiated our taxi towards runway 4L the captain informed us in Spanish that we would be taxiing for roughly an hour due to aircraft congestion. No announcement in English followed but the groans that erupted throughout the cabin were pretty self-explanatory. It seemed like the entire cabin got up from their seats and an announcement was made in Spanish for everyone to please sit down or the captain would have to return the aircraft to the gate due to safety reasons. The passengers who were standing groaned again and returned to their seats except for an American couple that were still standing up. A flight attendant seated in the galley kept yelling at them to sit down in Spanish and finally approached them and basically seated them herself. After taxiing and sitting for about 30 minutes the entertainment system was turned on and I began to watch an episode of The Office. However 20 minutes later the system was shut off as we were approaching 4L.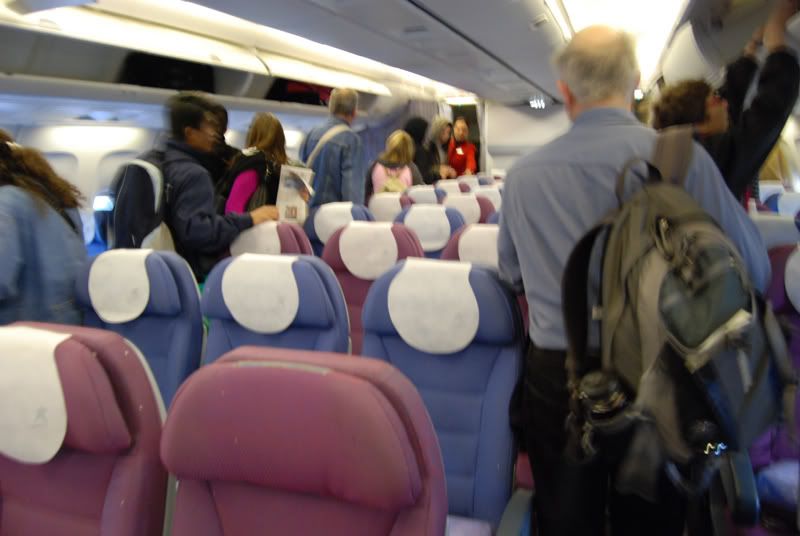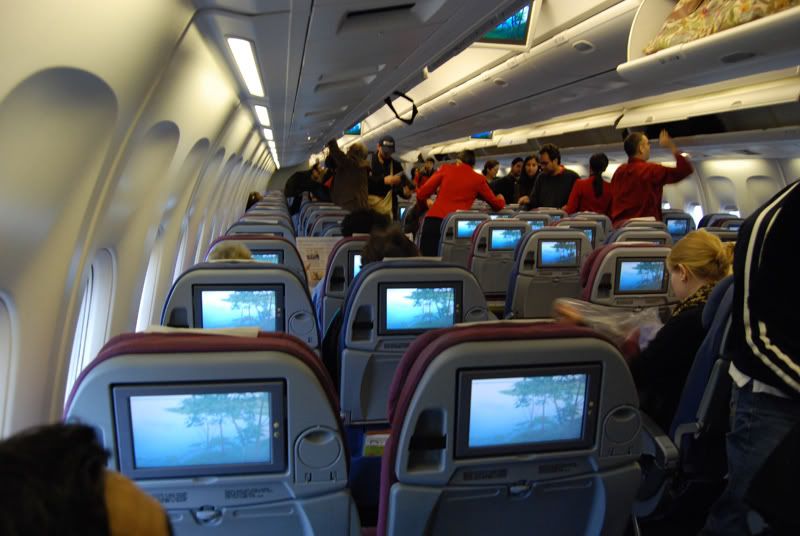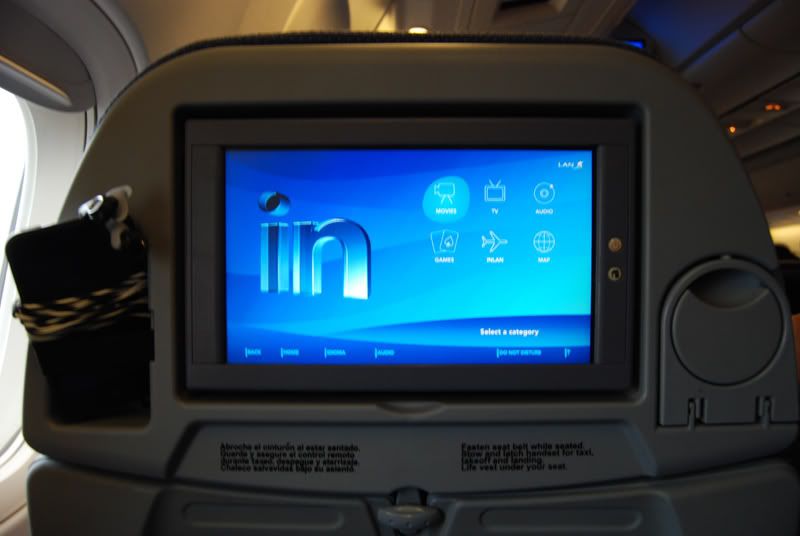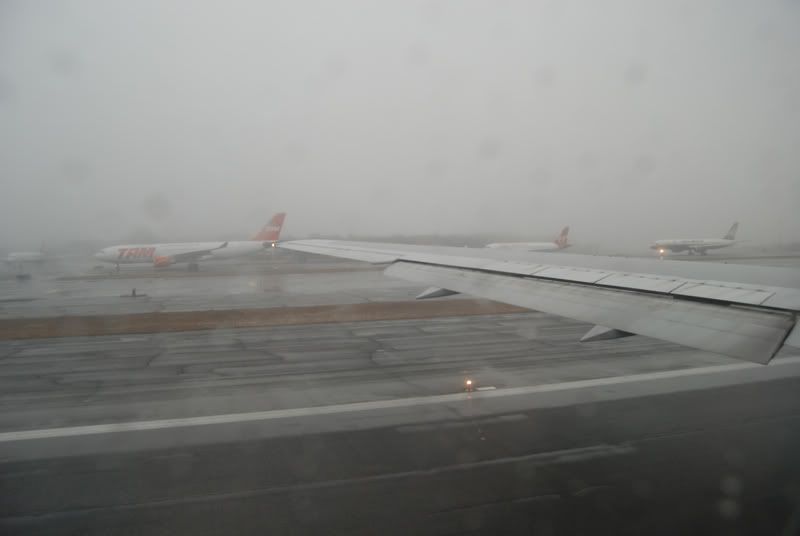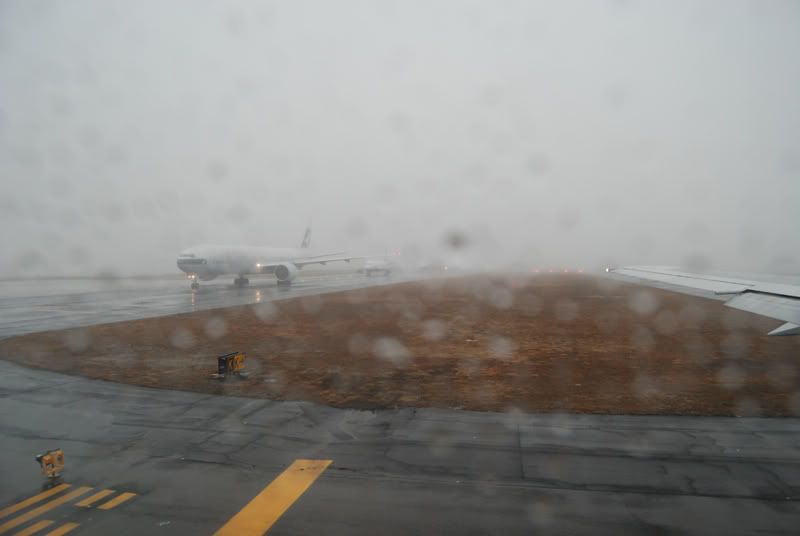 We were finally holding short of the runway and after an American Eagle ERJ had departed we turned onto the runway and took off into the fog and clouds. It took a while for us to break through the cloud cover but we finally did and continued climbing towards our cruising altitude. The flight attendants came around and handed out headphones and a tiny amenity kit that included an eyeshade and ear plugs. The entertainment system was soon turned on again and a beverage service that included breakfast was handed out. After breakfast had ended the flight attendants passed out Chilean immigration forms which were presented in a nice Movistar folder. The cabin lights were turned off allowing the cabin to sleep some until dinner was served two hours out from Santiago.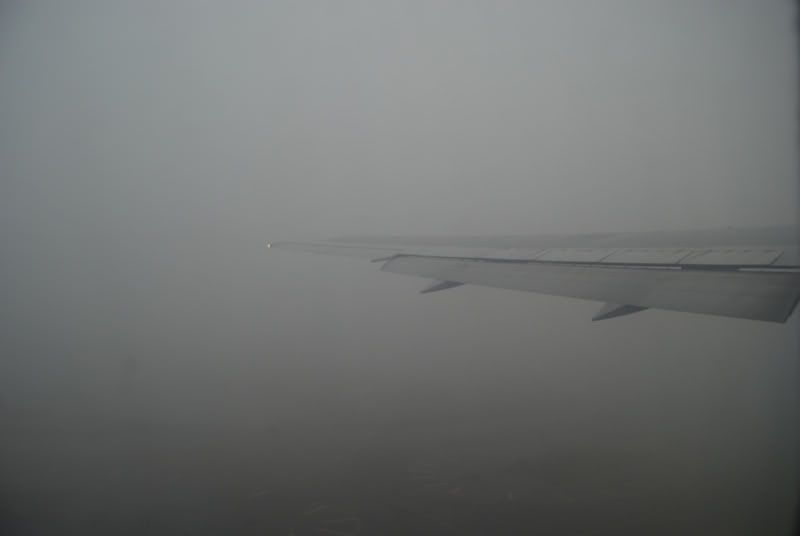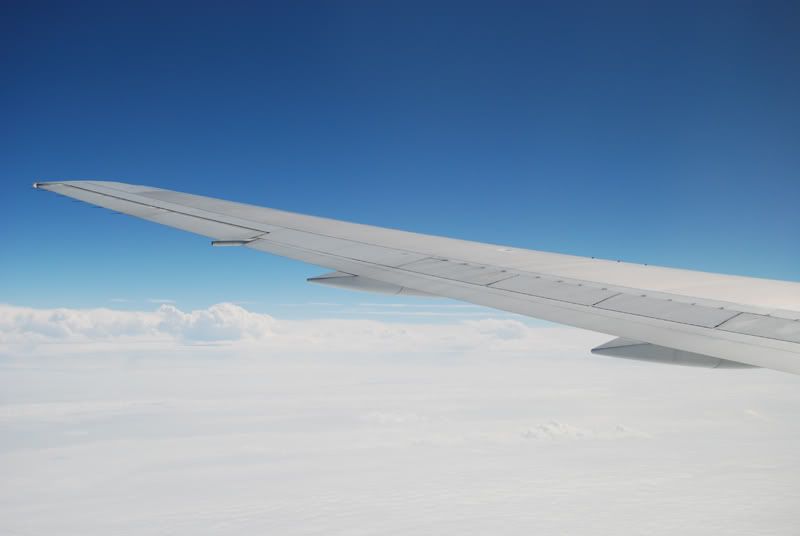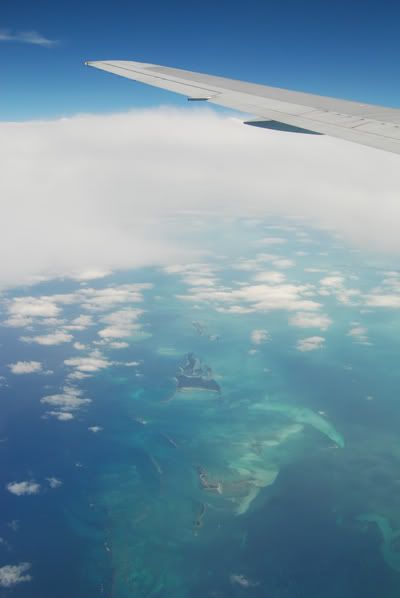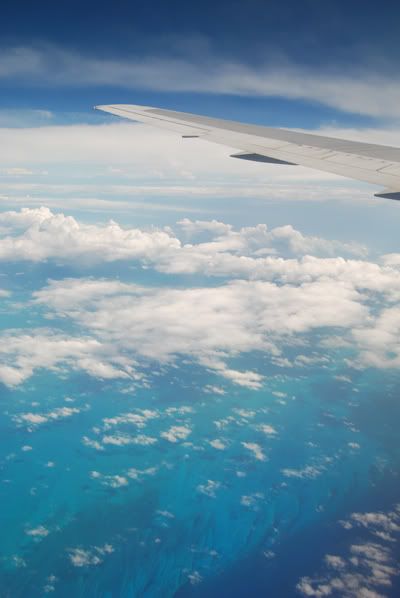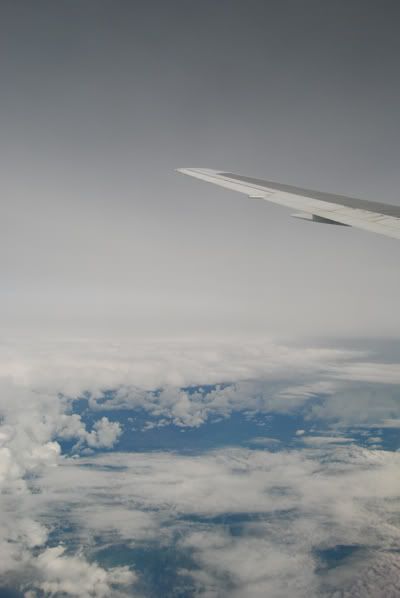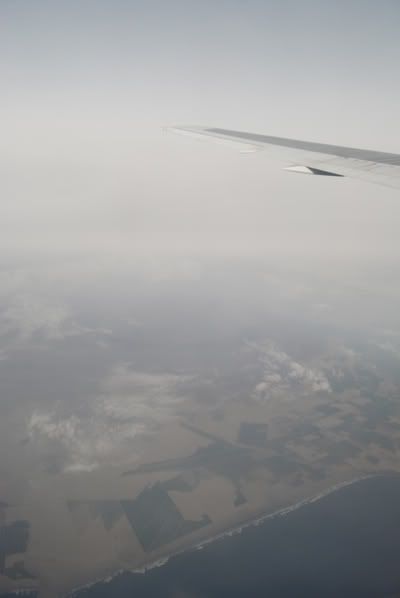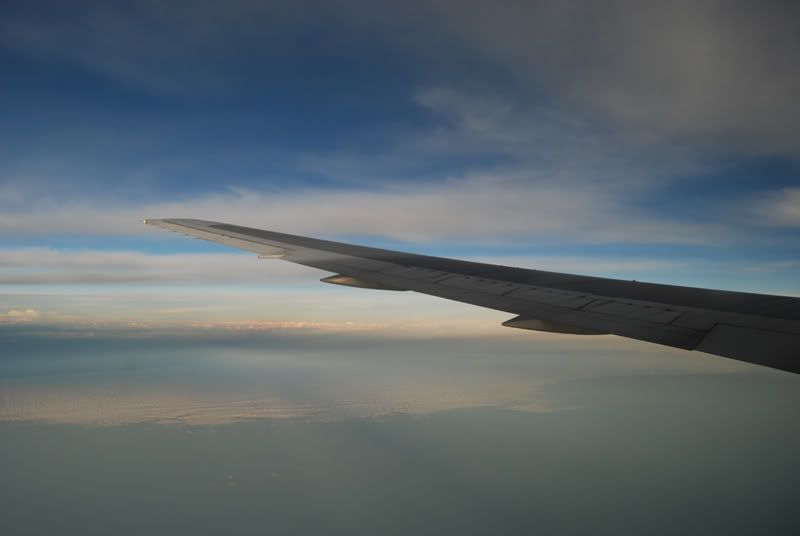 B) Aircraft + Seats: I was very impressed with the comfort and legroom offered by LAN on their 767 fleet. The seats were upholstered in blue and purple which was a rather calming color mix to the eye. The recline was very generous and the seat moved forward in order not to intrude into the seat behind. I did not find that this feature limited my legroom much. A pillow and comfortable blanket were provided and luckily I had the seat next to me free so I was able to use the extra pillow. The seats also have a headrest. Not once during the 11-hour flight did I feel uncomfortable in the seats.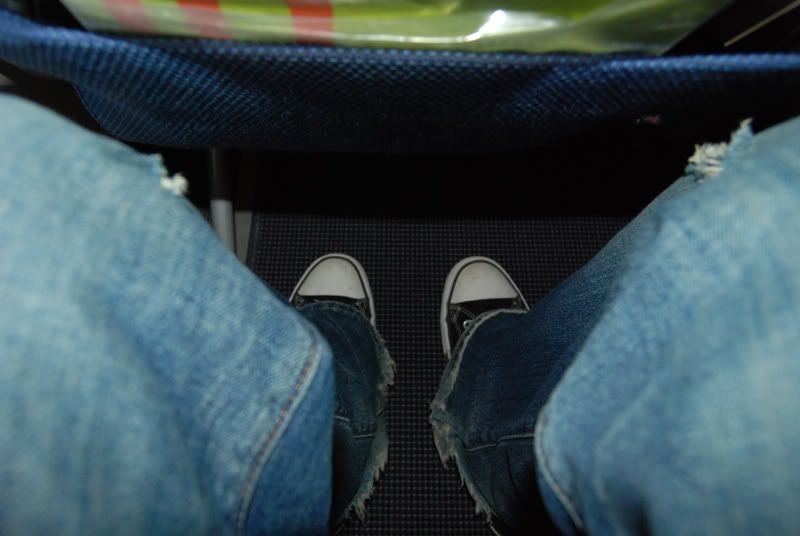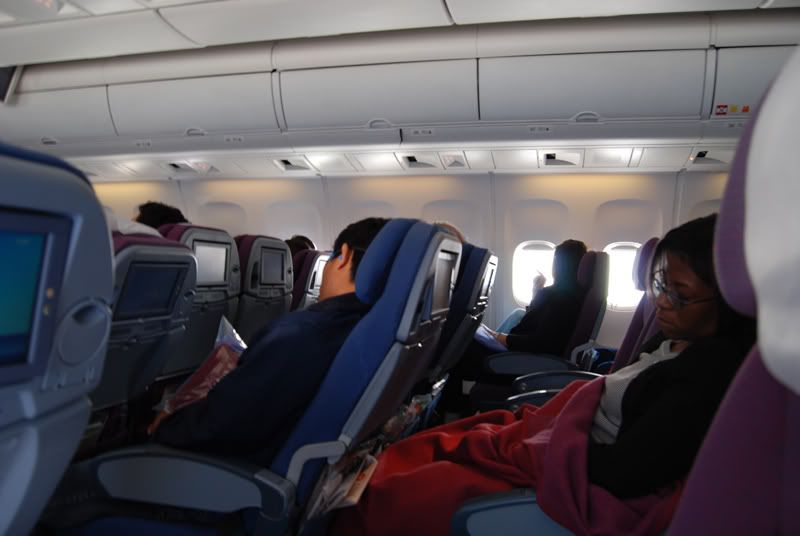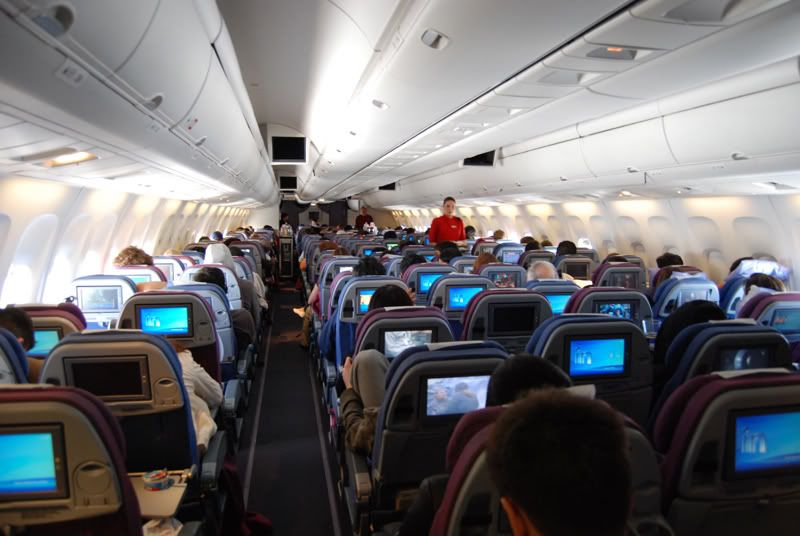 C) Meal: The breakfast choices were either a cheese sandwich or an omelet. I chose the omelet and was not disappointed. My only complaint was that there was too much cheese used. The presentation of the meal was rather impressive with all real silverware and dishes. The dinner choices were chicken and a pasta dish but since I was seated in back of the aircraft pasta was the only choice available. I was not disappointed by it either and quickly devoured the meal. A salad and a very tasty desert as well as a mint chocolate accompanied the main dish. One thing I found annoying was that there was no snack offered in the middle of the flight and I found myself very hungry. I'm sure that when the flight normally operates this is not an issue since it is a night flight. Luckily I was able to get one of the breakfast sandwiches from the galley.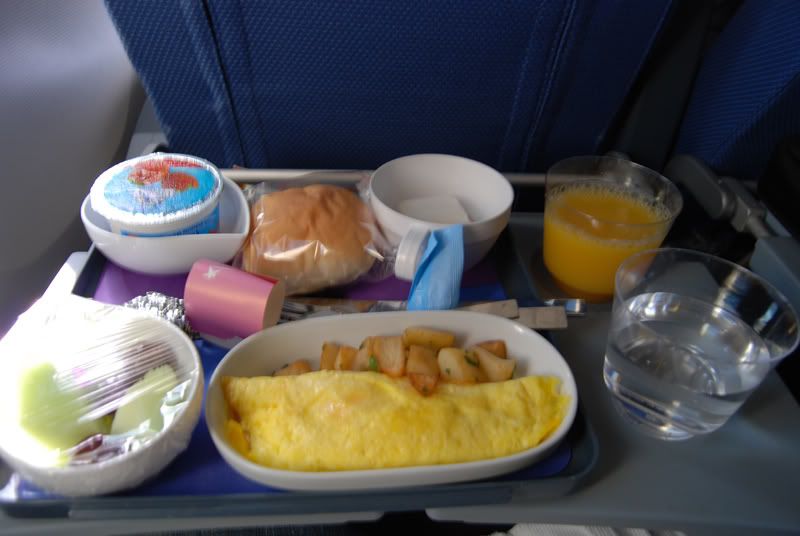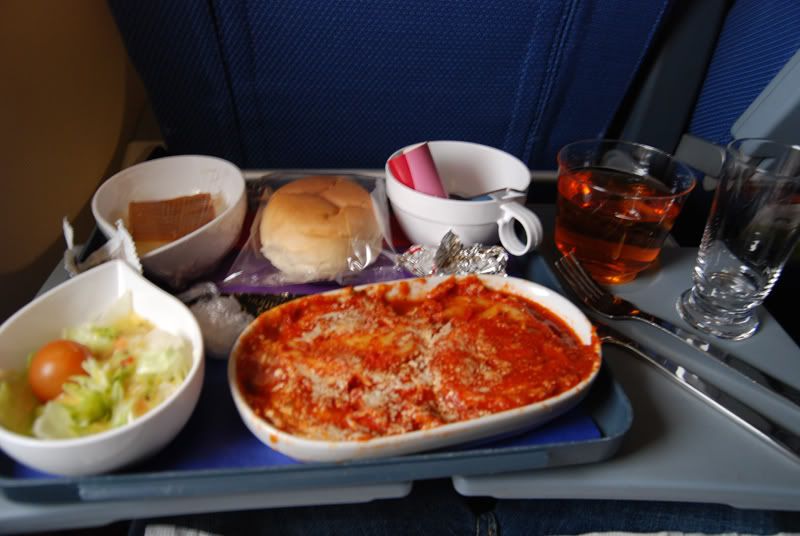 D) Inflight Entertainment: The new AVOD system was fantastic and included a large variety of movies and TV shows as well as audio and game choices. The personal televisions were rather large and there was no box under the seat infringing on legroom. The system was touch screen as well as a remote. I found the remote a little too sensitive and I was always pushing buttons by accident when I shifted my position. I was disappointed that the map was not working and only showed a red line. Another nifty feature was the PIP, which allowed you to have the map showing while viewing a movie. I watched about 4 movies including Enchanted, Alvin and the Chipmunks, As Good as it Gets, and the King of California.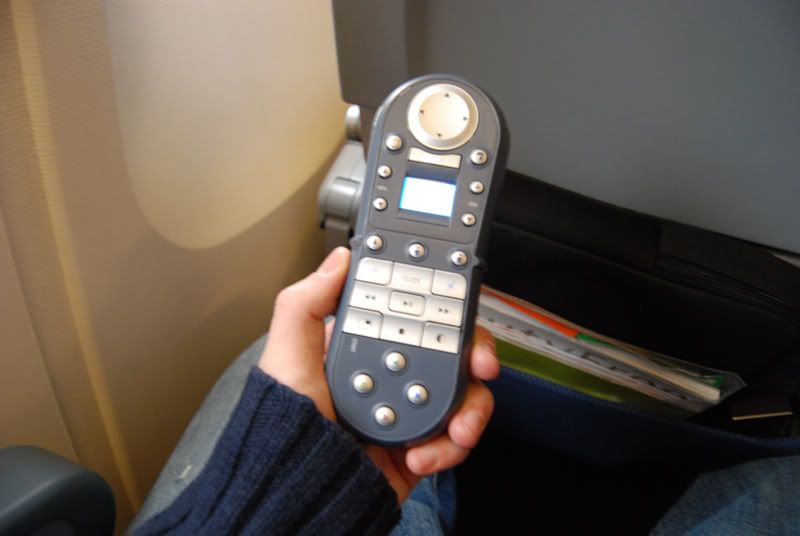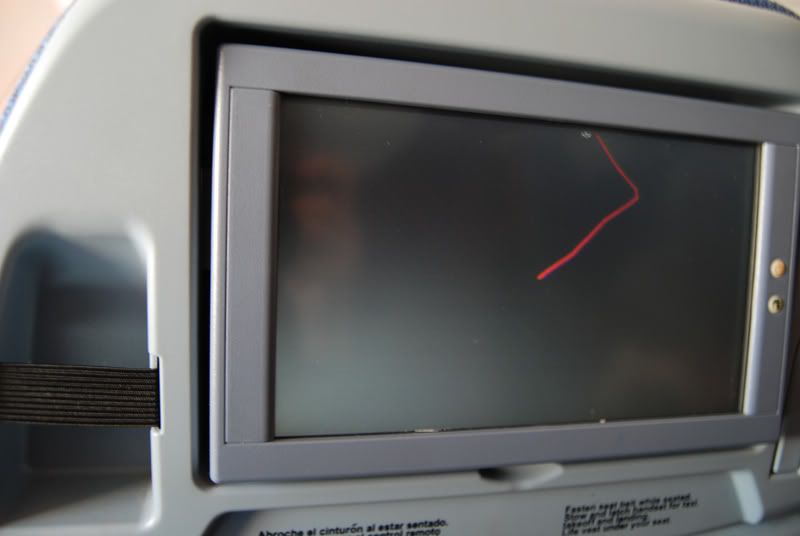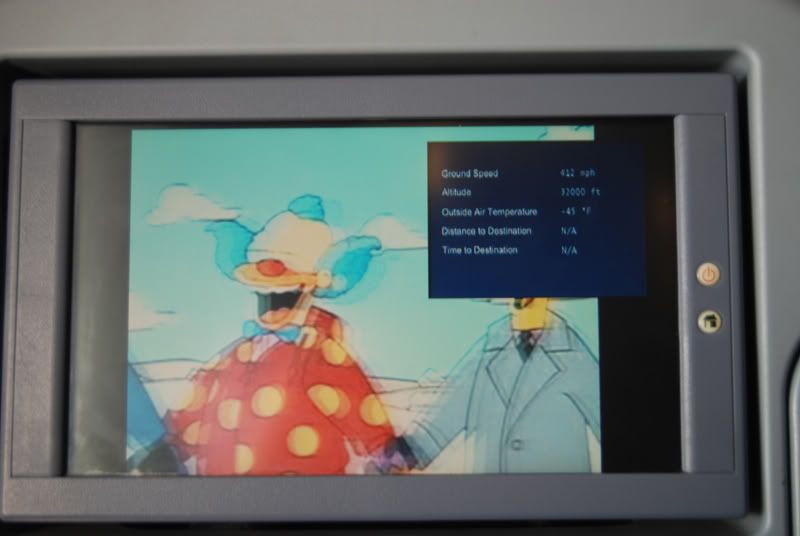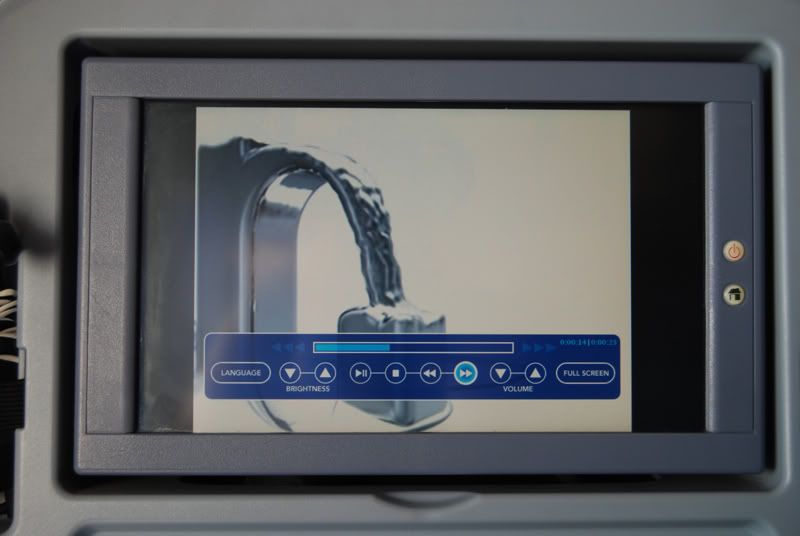 E) Crew:
 The crew seemed very professional and was very right to the point and no messing around. The crew all seemed rather young. The flight attendants worked in shifts while others slept in a special section of seats curtained off. I had no complaints about the crew except for them being way too serious!
Post-Flight: We touched down on 17R and taxied into the modern SCL terminal. At our late hour of arrival there was only one counter open to pay the entrance fee into the country. We ended up standing in line for two hours and finally made it through immigration and onto baggage claim. Once in baggage claim we joined a long line to go through customs only to find out the long line was Taca check in!
Impressions + Score:


I have flown LAN twice before in Peru and was very impressed by their service. I was looking very forward to trying out their international product and was not let down. Despite the cancellation of our flight the airline handled it very well. The seats were very comfortable and the entertainment system was outstanding. While the crew lacked in personality they were very professional and good. For an American who does not speak any Spanish the lack of English in the cabin would probably be an issue however it did not bother me.
I hope you enjoyed this trip report. Depending on when I have time I'll write up the SCL-PMC-SCL sector of my trip.