It was time to go back to Bangkok to visit my friend. This was my second trip there. Bangkok is a very interesting city and a shoppers paradise, as items are much cheaper there than they are in Tokyo. Only thing I didn't like was the weather. Bangkok, has 3 seasons, hot, hotter and hottest, as my friend says.
NRT-BKK 28 March
JO 703 operated as JL 703
Boeing 777-300ER JA733J
Premium Economy seat 18K
Flying time 6:15
I was travelling on a Oneworld pass, as I am retired AA, living near Tokyo. This flight was wide open, as I checked in at the JAL ticket counter, I was given my choice of aisle or window seat. I asked for a window seat and was assigned 18K, which meant I would be pretty far forward, which I prefer anyway. It would be my first flight on a 777-300ER.
Here are some pics of the nana nana nana (777 in Japanese)
JL 777-300ER to take me to BKK
BKK">
On boarding, I walked through the First class section which really looked nice, and the Seasons class section which also looked very nice. To my surprise, my seat was in the Premium Economy section. Even though the flight would be operated as Seasons and Economy classes, it meant I had a nicer seat. Sorry I didn't get any pics of the seat. It was a shell seat, similar to Seasons class (which I would get on the return).
Here is a pic of the 777-300ER wing with raked wingtip.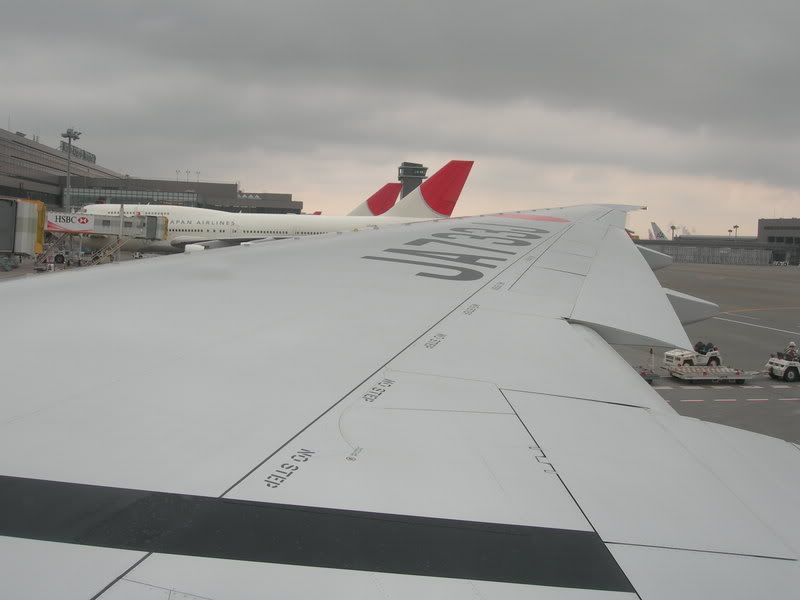 We pushed back and started up. I've heard from other reports about the GE 90-115B engines being noisy. They did sound noisy on start up, but after that I didn't think it was any noisier than the other 777's. One thing I like about JAL and ANA is that they turn on the nosewheel camera for takeoff and landing. This is about as close as you will come to being in the cockpit, because visits to the cockpit are pretty much a thing of the past. I asked the purser if I could visit the cockpit, but she said it was not allowed. Prior to 11 September, they could do it.
We took off to the north and made a right turn to the south and on course for BKK. Here is a picture just after takeoff. Notice the flex in the wing.
Shortly after takeoff, we were served beverages and given a choice of 2 entrees for dinner. I really like the inflight service on JL. The flight attendants kept telling me, and other passengers to let them know if they can do anything for us. This is a contrast to US carriers, where you never see the flight attendants after takeoff. Here, they truly wanted to be of service to us.
Also, on JL we had the Magic, entertainment system. It was AVOD, which was really nice, as I could watch a movie whenever I wanted and listen to whatever songs I wanted. It was really nice.
We flew over Fuji San shortly after takeoff, but because I was over the wing, I didn't see it until we had flown over it and it was too late to get a pic.
We landed at BKK Suvarnabhumi International Airport just before 9PM. The nosewheel camera was turned on and we had a nice pilots eye view of approach, landing and taxi to the gate. Clearing immigrations and customs was quick, although it was a long walk from the gate to immigration. Before landing the captain said it was 86 degrees in BKK (32 degrees centigrade). I definitely would not need my sweater!
I stayed at the Nasa Vegas Hotel, which is an older hotel, but comfortable and cheap. My friend met me and we went down to Nana, which is the red light district. Even though it was past midnight, BKK is a city that is very much alive. There are many open air shops and you can get nearly anything you want.
Nana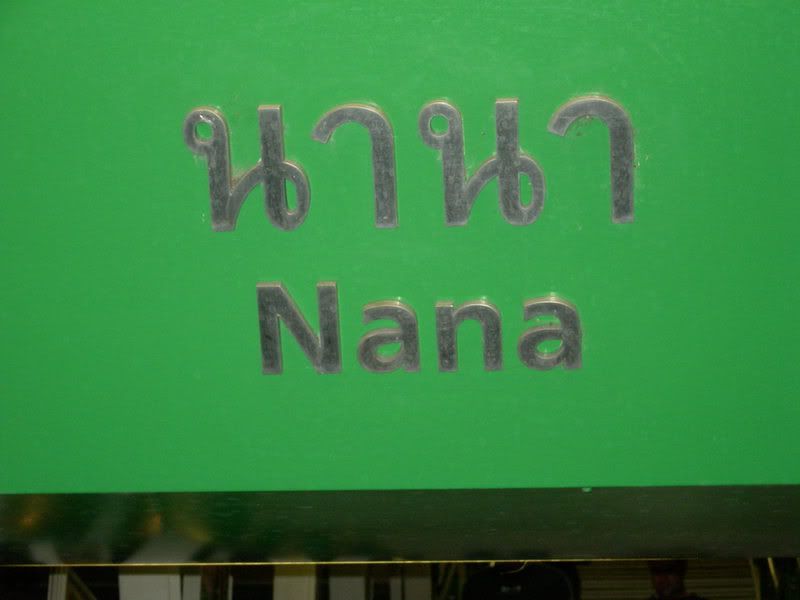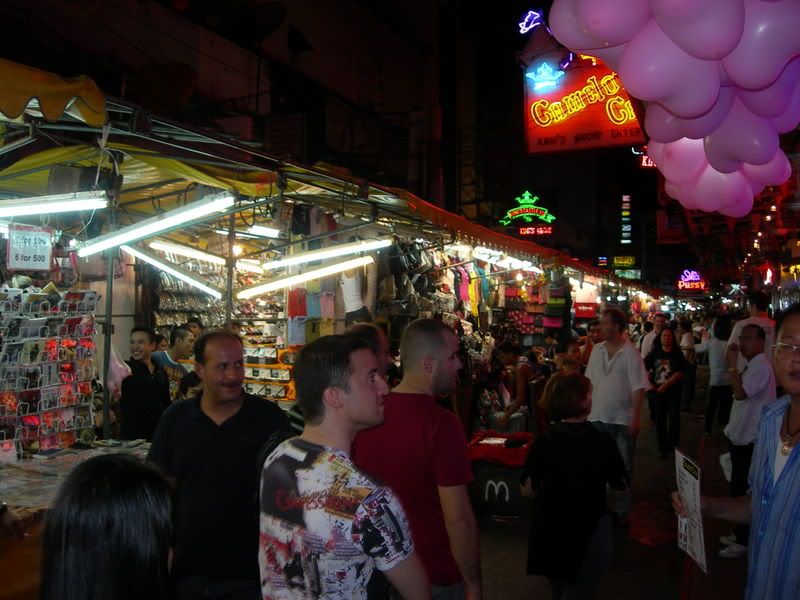 OK, the next day we started by going to Samutprakarn Crocodile Farm, which claims to be the world's largest crocodile farm. There were many crocodiles there!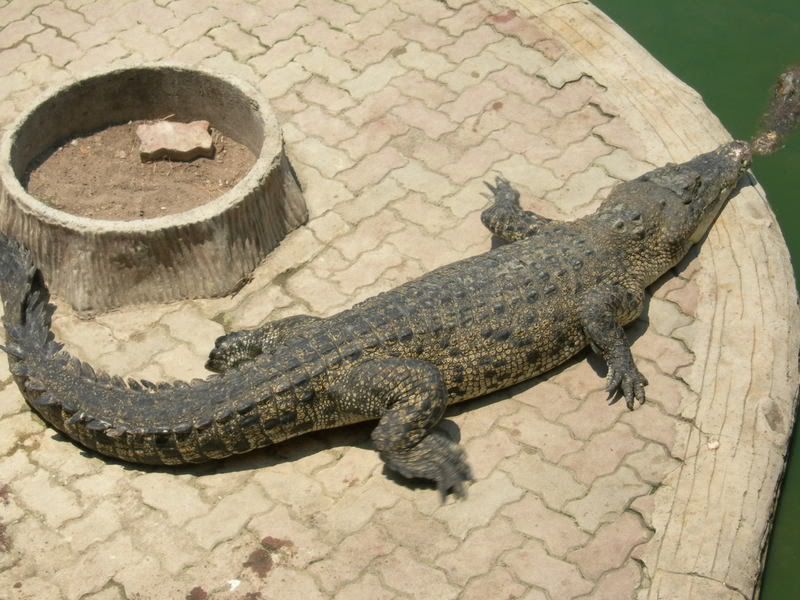 Cute crocociles but I'd rather not have one for a pet!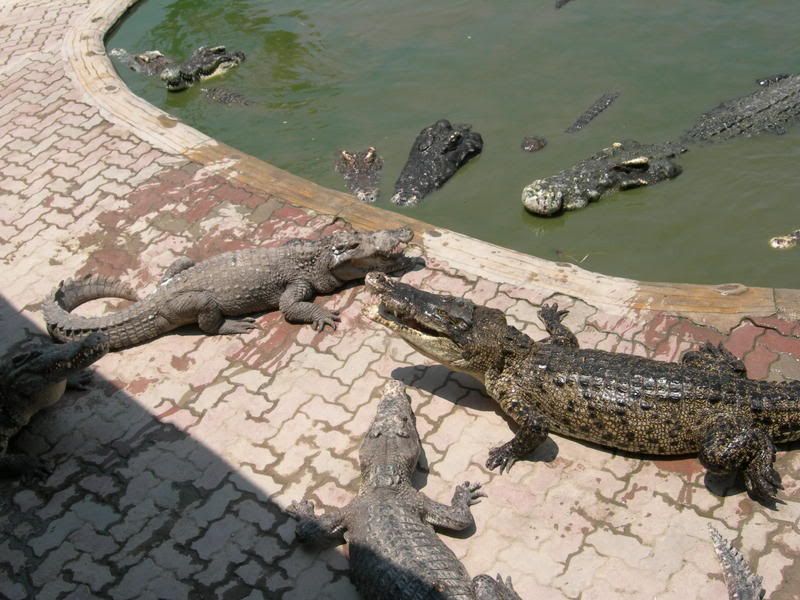 They were fun to watch, but I wouldn't want to be lunch for any of them! We went to a show, and I think the pics will describe it better than I can.
I'd rather keep my hands and my head!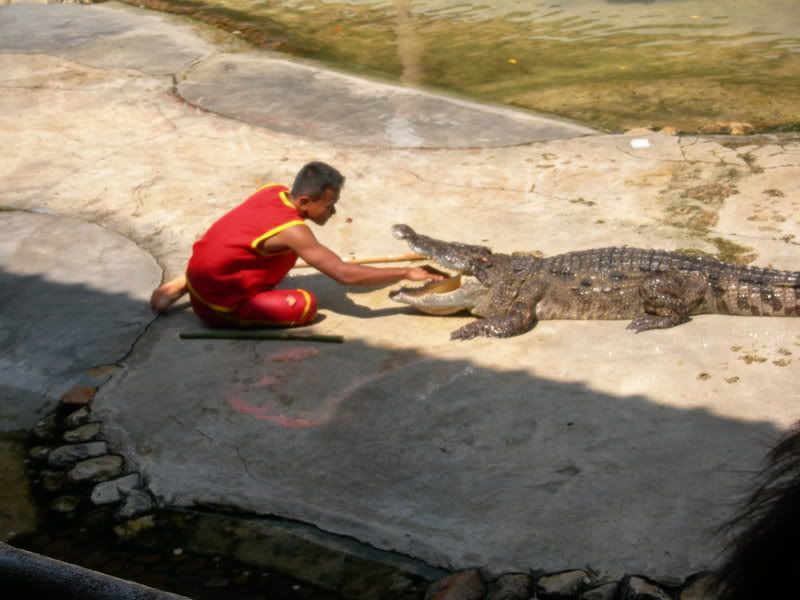 There was also an elephant show as well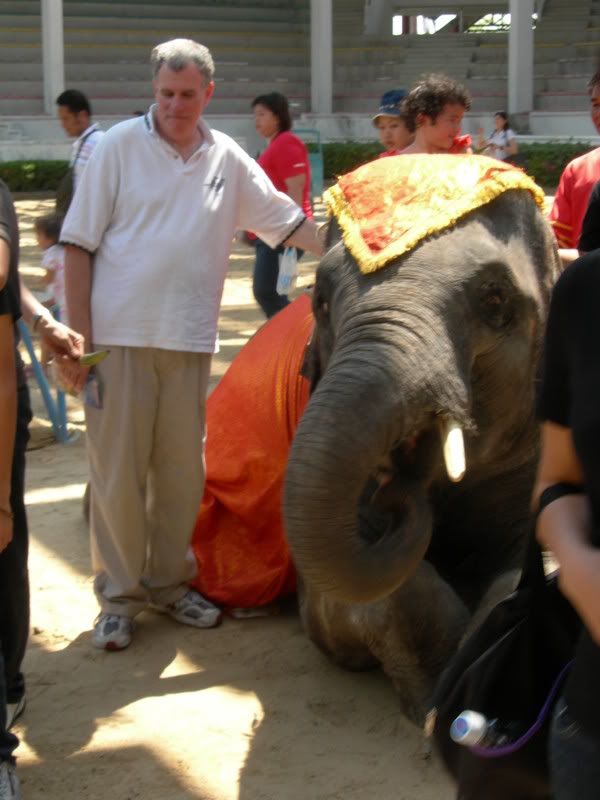 Also, there were other animals there. This one was cute.
We next went to Ancient City which was an outdoor park in the shape of Thailand that displayed her ancient culture through art and architecture. Because I was getting low on memory on my digi cami, I just took one pic of the deer.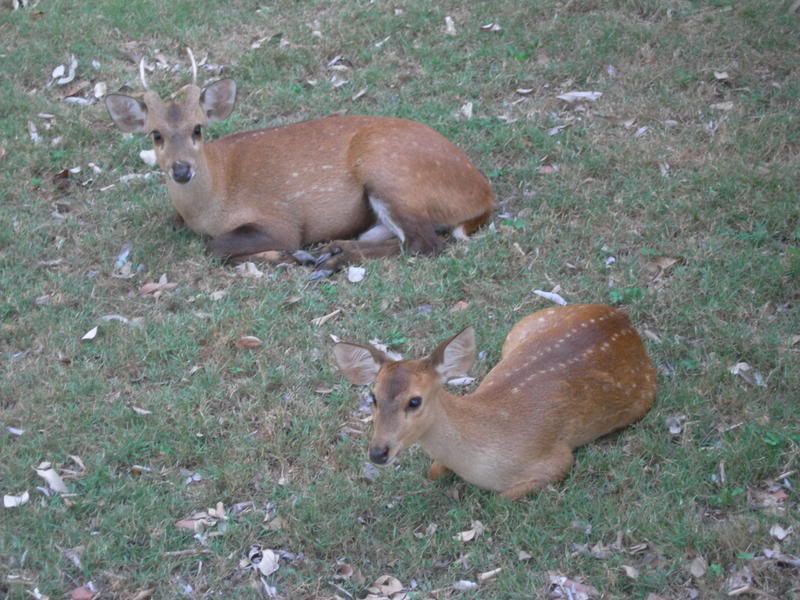 By the way, in someone else's report, they mentioned a store at MBK center which sold airplane models. We would be eating dinner there, so I wanted to find it. I couldn't find the store at all, and I realized, from reading that TR again, I was on the wrong floor! I'll be sure and remember next time I'm in Bangkok.
The next day we went to the Grand Palace. It was very interesting, but it was also very hot there. I haven't seen buildings like this in Japan
From there we took a river boat to Wat Arun. Wat is Thai for temple. I had seen this from a previous visit to Bangkok when we took a cruise down the Chaophraya River. That was very nice.
I climbed the steps to the top of Wat Arun and I'm glad I did, because it would be good practice for what I would be doing Monday.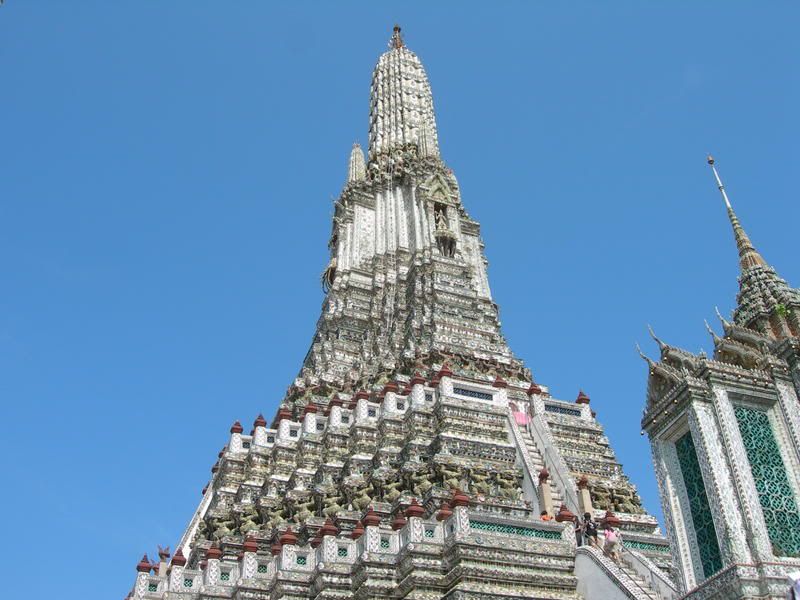 All in all I had a very nice time in Bangkok, but it was so hot. I was glad to be going where it was cooler.
OK, time for probably the longest flight marathon I've ever had, and some interesting surprises (pleasant and not so pleasant)
BKK-NRT 31 March
JO 718 operated as JL 718
Boeing 747-400 JA8082
Executive (Seasons) class
Seat 20A Upper deck
Flying time 5:10
I had listed on JO 708 (JL 708) which was a 777 at 8:10 that morning. I would fly AA to JFK that same evening. I got up at 4AM and girded my loins for the long journey ahead of me. On arriving at BKK Suvarnabhumi Airport I checked in at JL and was told the flight was full, and to come back at 7:30AM. I knew that UA had a flight at 6:50AM, so I asked the JL counter if I could try for that one instead. They said I could, and to come back if I could not get on the flight. I went to UA and was told the flight was full. So I went back to JL and they told me they would keep my ticket and to come back at 7:30AM. Nothing I could do but wait and pray I would get on the flight. I went to the airport lounge which was on the 4th floor and it was very nice.
At 7:30AM I went back to the JL ticket counter which by now was empty. An agent told me in about 20 minutes he would escort me through security and I would be OK, not to worry. I really was relieved because I wanted to make that AA flight to JFK that night. I took a seat and waited for about 15 minutes. A family went up to the JL ticket counter, and I was afraid that would affect my getting on that flight. The agent came up and said he was sorry but the flight was full. He said they had a seat for me, but this family had been sent there by Thai Airways. I went to the ANA ticket counter to see if I could get on their flight. It was also full.
At this point, I was pretty low, having gone from elation of getting on that JL flight. The JL agent said there were 2 flights that night. Having nothing to do I decided to go to a hotel...the airport Novotel, and get some sleep. In going out a revolving door to get outside, I thought I was at the spot where I needed to get off. I walked right into the door and hit my nose on it pretty hard. Some airport personnel ran up to me and said it was bleeding. There was an airport clinic and we went down there. The doctor said it would probably be better just to bandage the cut than to put stitches in. He gave me some antibiotics and a tetanus shot.
I then went to the Airport Novotel. It was a luxury hotel, and very nice but also very expensive. I checked my emails and tried to get some sleep, but to be honest I slept very little.
At 6PM I went back to the airport and waited for the JL ticket counter to check in. I had been advised that morning by the agent that the earlier flight at 10:25PM looked better, but on checking in it was full. There was also a flight at 11:25PM I could be moved over to if I didn't get the earlier flight. The earlier flight was a 747-400 and the later flight was a 777-200ER.
I was told to come back at 9:45PM and I went back and waited, along with several other passengers standing by. I was starting to get a bit anxious because it was getting close to 10PM, and I was afraid I would not make the flight. They started processing standby passengers, checking their bags, and they finally called my name. I always travel with a carry on suitcase and my computer and try to avoid checking in bags. To my surprise, I notice my boarding pass was for Seasons Class on the upper deck of the 747! I was elated, because travelling as a non rev on other carriers usually means I fly in economy class. The only thing by now we were less than 15 minutes before departure and needed to go through immigration and security. I was really getting anxious by now, because I had a business class seat but was afraid they would not hold the plane. Several other passengers were on that flight too, and I was reassured they would hold it for us. In immigration and security there were JL agents with their 2 way radios, and they coordinated very well to help us get on the flight. Do you remember the commercials with OJ Simpson sprinting through the airport? Well that was me. My heart definitely got the workout it needed! At one point a JL agent offered to carry my suitcase for me. We made it to the airplane (which of course was parked at the farthest gate) and shortly after they closed the doors.
The ground staff at BKK really did an outstanding job of accomodating us on the flight and getting us on the airplane.
The inflight service was wonderful. In Seasons class, JL has the new shell flat seats. They were very comfortable. And again, the nosewheel camera was turned on for takeoff. I really like takeoffs in a 747-400 best. They usually need a lot of runway and if the airplane is heavy, it is a long slow climbout. We were pretty heavy, but not like if we were flying on a longer flight like JFK-NRT.
Here is my seat in Seasons Class, on the upper deck of the 747-400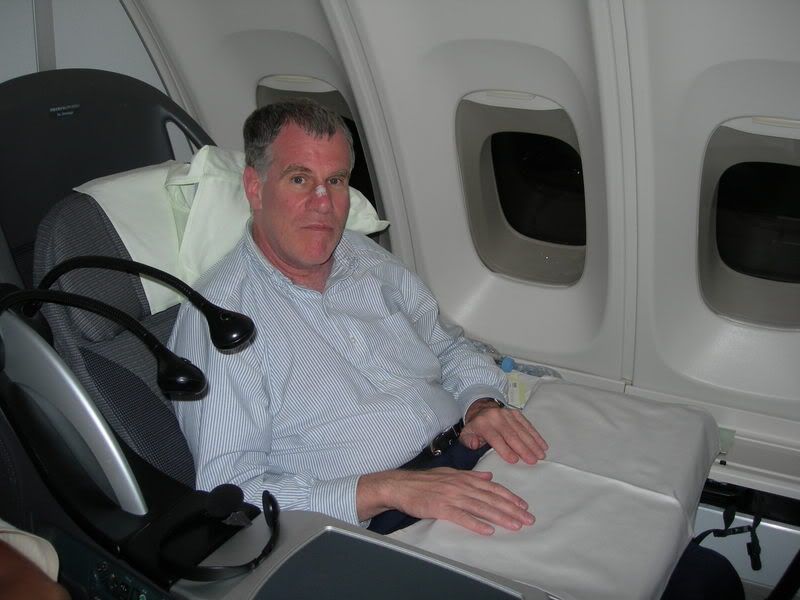 In conversation with a flight attendant, she asked me about my work with AA. Of course I asked if it would be possible to visit the cockpit. JL's NRT-BKK-NRT flights are actually on Jalways. She told me one of the pilots was American. (Actually he was Canadian). I asked if she could ask them if I could see the cockpit, if not in flight, after we land at NRT. I gave her my AA retiree ID card. She checked later but unfortunately it would not be possible. She said they used to be able to do it but that was prior to 11 September.
Here are some pics I took from the 747-400. It was an overnight flight.
In landing at NRT we landed to the north. It is a long straight in approach, and I could see Tokyo and Fuji San in the distance. Because we were not close I did not take any pics.
On flying into NRT to the north, all airplanes have to lower their gears prior to reaching the shoreline. The nosewheel camera was turned on and I had a nice pilots eye view of landing.
After deplaning I talked to the pilots. They were very nice and the Canadian pilot said it was unfortunate about the security, otherwise he would have let me in the cockpit. I told him I had flown on Canadian Airlines and allowed to visit the cockpit, and was even privileged to sit in the cockpit jumpseat on CX. Sadly that is a thing of the past.
I had a 12 hour layover in NRT. For any of you transiting NRT with long layovers, there is a day center there where you can rent a shower room, or a bedroom. I rented a bedroom for 7 hours, and I slept much better than I did in the 5 star hotel at BKK Suvarnabhumi Airport! The day center was overlooking the ramp and I took some pics from there.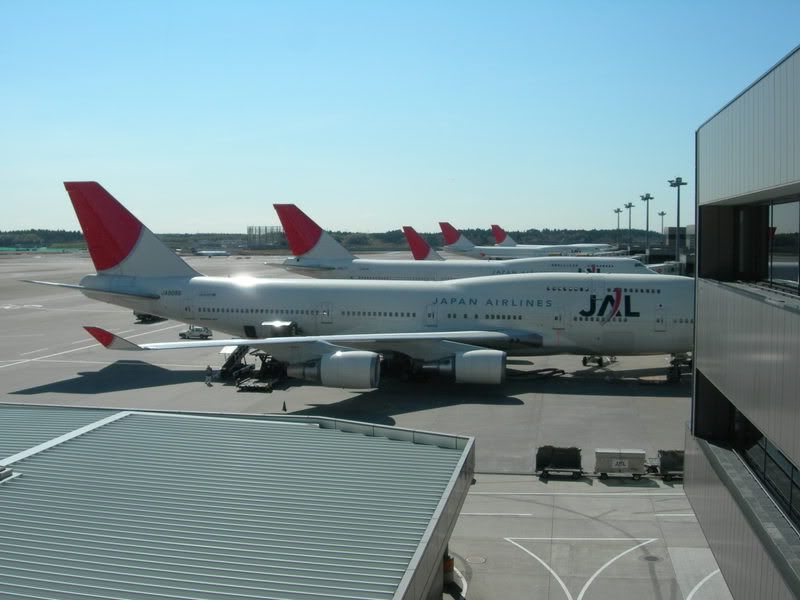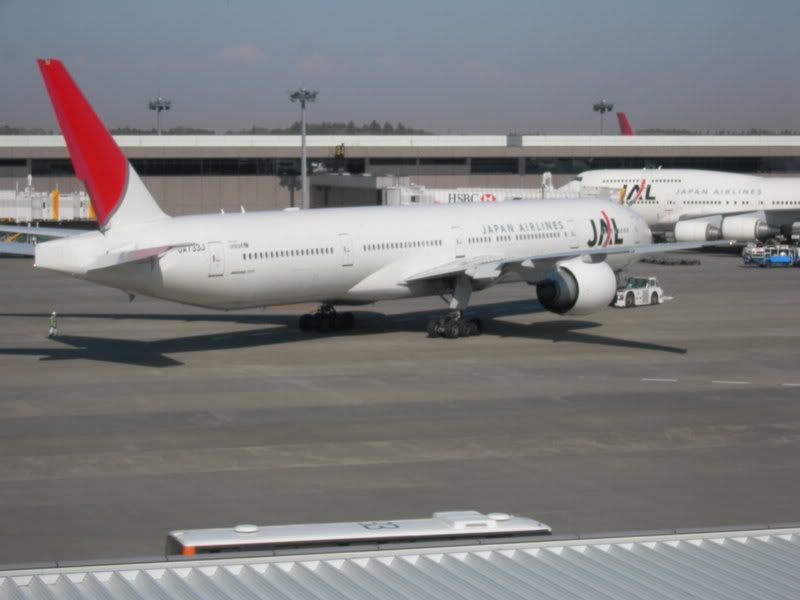 BKK">
NRT-JFK 1 April 2008
AA 168
Boeing 777-200ER N789AA 7AW
First class seat 2D, moved to 3J
Flying time 12:15
Soon it was time to fly to JFK. The loads looked very good, so I was very confident of getting a seat in first class. For flights like these it is the only way to go.
Here are some AA 777's.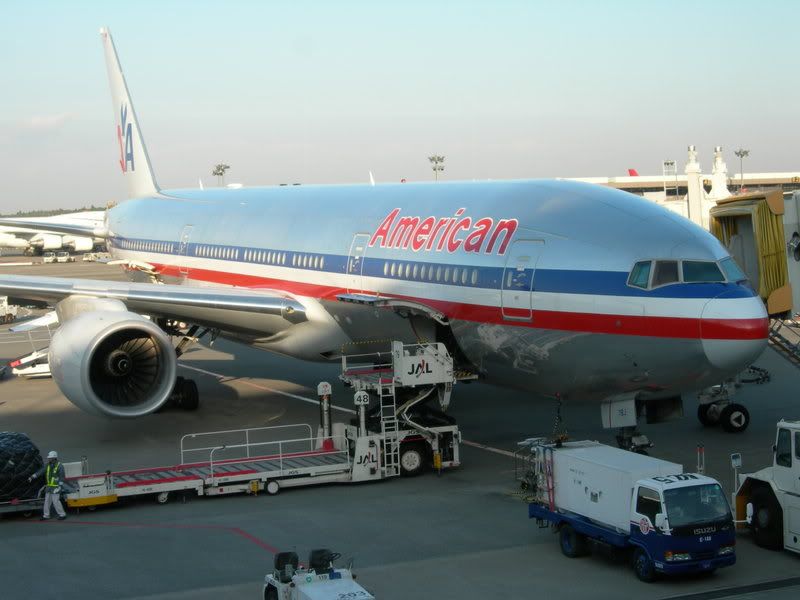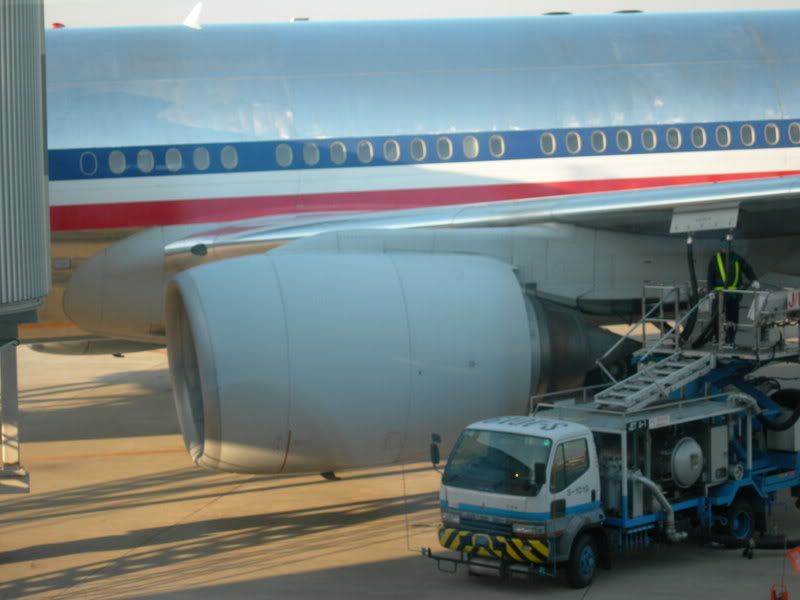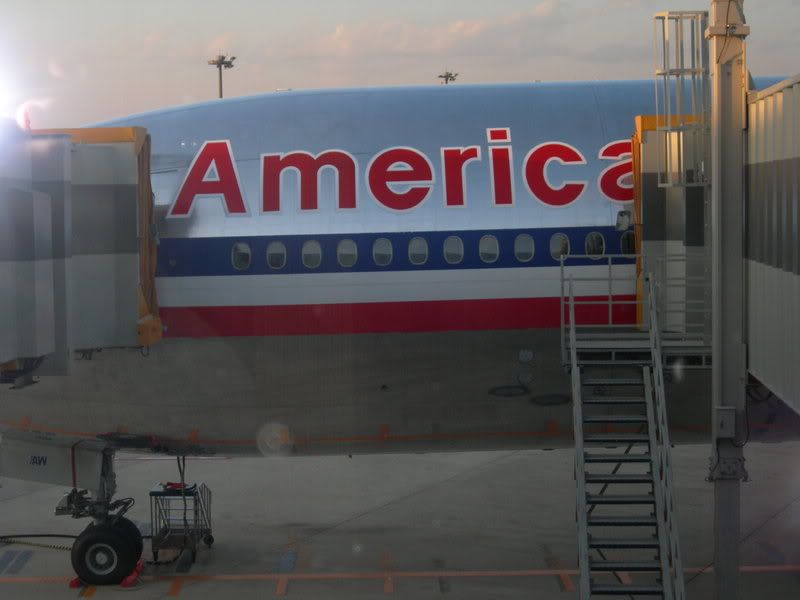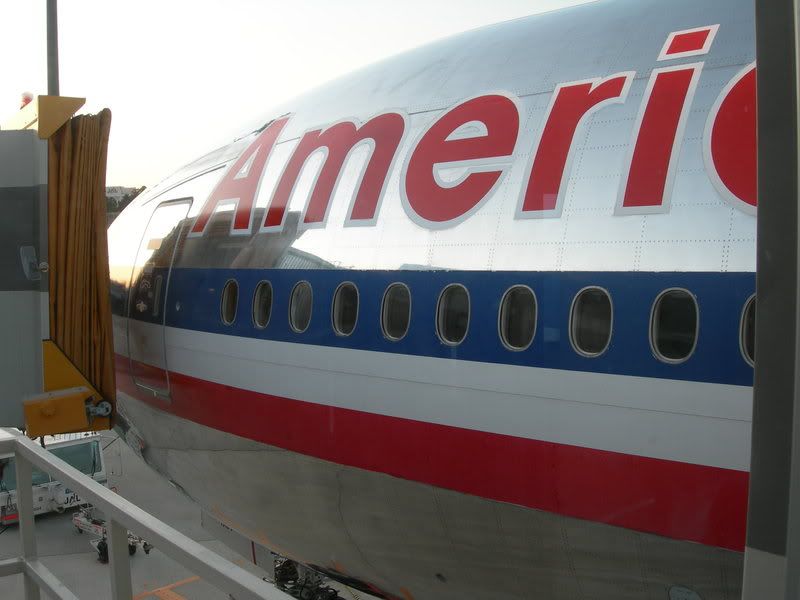 I've written another report on AA's first class service so I won't say much about this one, except it was wonderful. I had been assigned an aisle seat and asked the purser if I could move to a window seat. About the only viewing I did was on takeoff and landing. This 777 was reconfigured with the new business class seats, and it also had AVOD. Unfortunately on this flight, it didn't work. The flight attendants tried rebooting it, but to no avail. They even called Rockwell, but unfortunately they could not get it to work. We didn't even have the inflight airshow map. Because I was pretty tired I slept a good part of the flight. It was an overnight flight and I didn't take any pics, but I'm glad I had my own inflight entertainment system with me...my iPod Nano.
The new terminal at JFK is very nice. The customs hall is much bigger and brighter than the other one. On a more serious note, because I had been on a farm and in close proximity with animals, I had to go through inspection. The customs officer was very nice and professional and I told her so. You always hear stories about unpleasant experiences in customs and this one was very pleasant.
LGA-DFW 1 April
AA 791
Boeing 737-800 3AR
Seat 19F
Flying time 3:25
I took a bus to LGA to fly to DFW. We were going to be delayed an hour. While waiting for my flight there was a couple flying with their Chihuahua. It was very cute and I asked if I could take a picture of the dog.
She was very well behaved, and I told them about my experience flying to NRT with my 2 cats.
Cute dog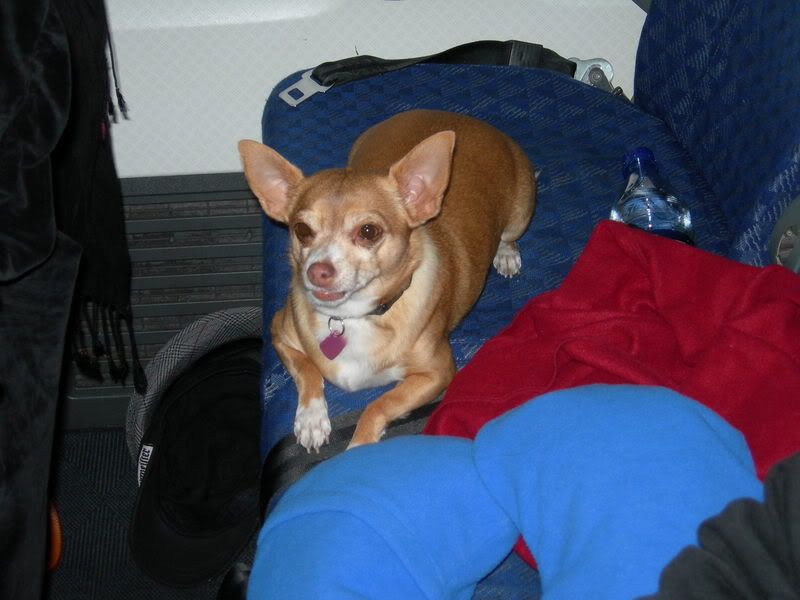 The captain came on and said we should be pushing back and getting off pretty quickly. We taxied out and then I noticed a long line of planes. And then the engines were shut down, followed by an announcement by the captain. It had been raining, and he thought we could taxi out and take off soon, but ATC had shut down the western corriders for westbound flights because of thunderstorms in Pennsylvania. There were about 17 flights ahead of us, and all we could do was to wait...he said probably it would be from 30 minutes to an hour. Weather delays are always frustrating, but there is really nothing we can do about them. I remember only too well my days at AA as a reservations agent and supervisor and having to reaccomodate passengers because of weather delays or cancellations. I would always tell them that we'll get you to your destination...eventually. The difficult ones were those who were inflexibile and needed to be somewhere. Gomennasai, nothing I can do about the weather.
The captain said he would turn off the seatbelt sign and we were free to use our cellfones and laptops. Also, it turned out the delay was not as long as he predicted as about 15 minutes later he came back on and said that flights are now being given their departure cleareances. So about 20 minutes later we took off for DFW and arrived at 2AM. I rented a car, went to my friends, and got to bed around 4AM. My long marathon journey had ended...I made it. Only thing is I woke up 3 hours later because of the time difference. No partiality with jet lag is there.
A couple of days later it was time to fly back to Tokyo. This time I took the nonstop flight from DFW.
DFW-NRT 4 April 2008
AA 175
Boeing 777-200ER N764AA 7CC (AA's newest nana nana nana)
First class seat 2G
Flying time 12:36
Here are some pics of AA's newest nana nana nana in their fleet.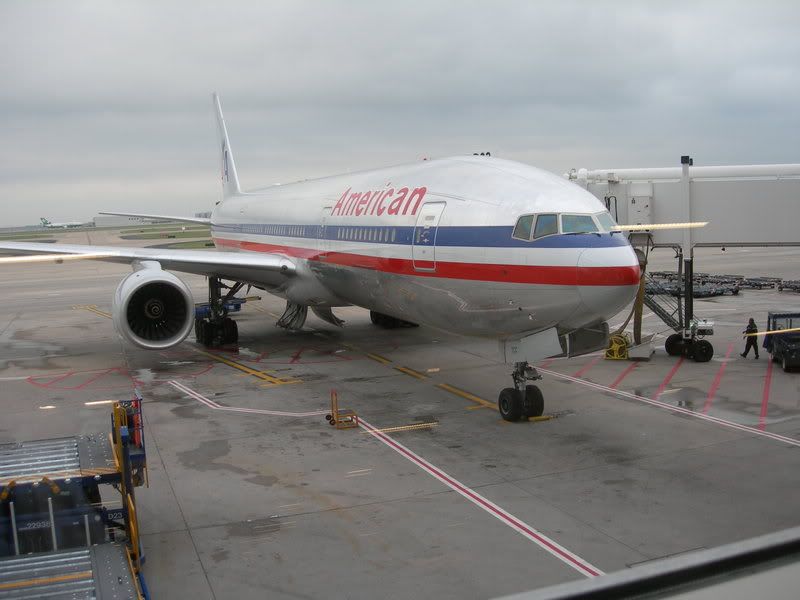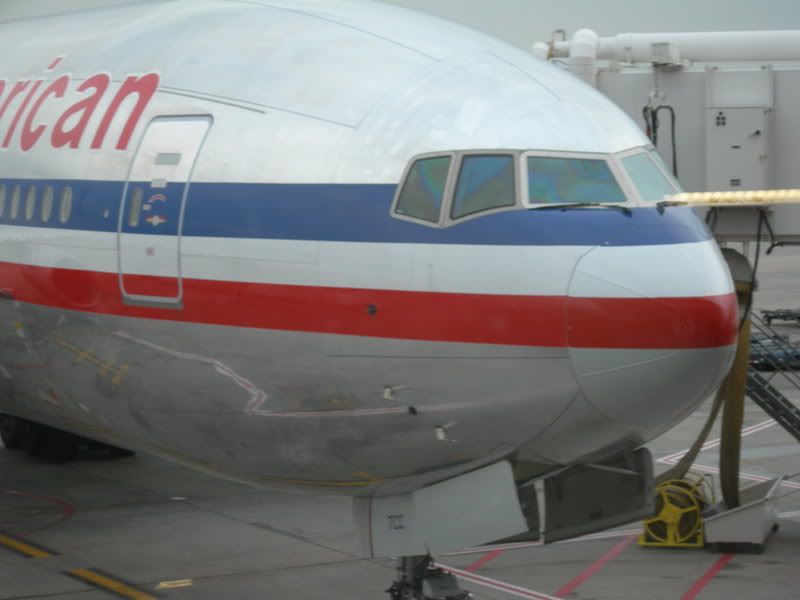 The inflight service on this flight was also very nice. First class was full, so I was not assigned a window, but it's OK, it was still a seat in first class. (A middle seat in coach is not the way I would want to do this flight!).
I didn't take many pics, but here is one of me with a strawberry sundae made at my seat.
Also, we flew over Russia...the Kamchatka Peninsula. I've done this on flights to NRT from JFK and ORD, but never from DFW. I've been told we have to pay high fees to overfly Russia.
In contrast with Bangkok which has 3 seasons of hot, hotter and hottest, I imagine in Russia there are also 3 seasons, cold, colder and coldest.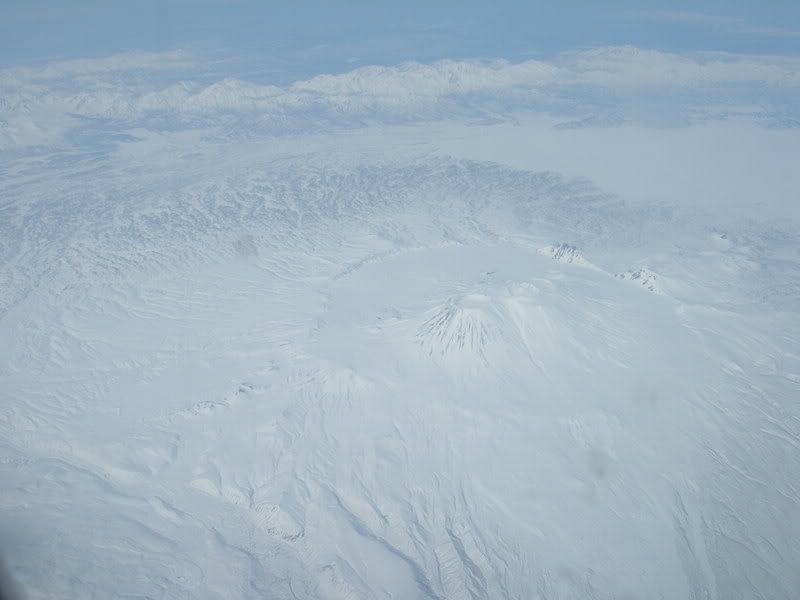 After landing at NRT I asked the pilots if I could take some pics of the cockpit.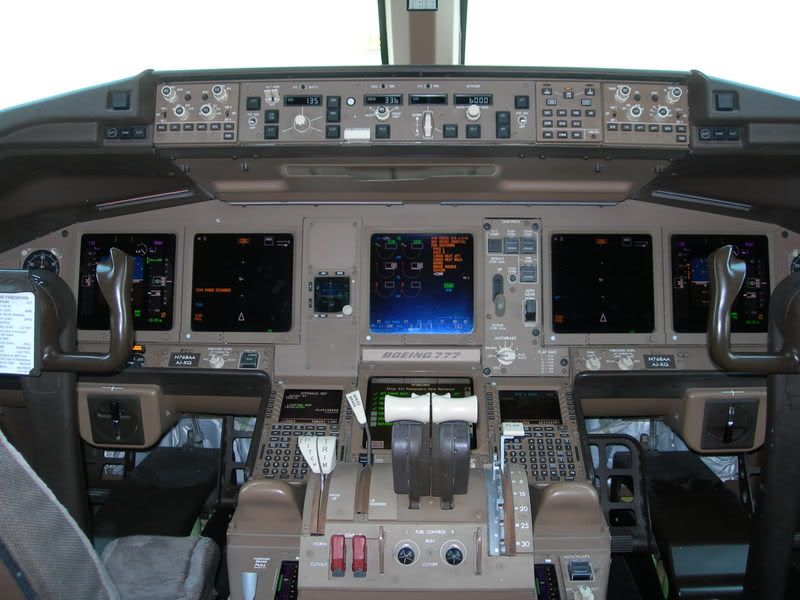 All in all these made for some very nice flights. I hope you enjoy my report. I'm glad to have been able to fly and come back to Japan safely. And I'm also very thankful I can still fly as a non rev; I'm very blessed to be able to do this...especially first class on an AA 777