So this is my second trip report, and it was quite a long flight this time. We were going to fly to South America via MEX in order to catch a cruise around Cape Horn, so it was a great opportunity to fly Long-Haul on AeroMexico. Our flight took us with Mexicana for the LAS-MEX-LAS legs and AM for the MEX-SLC/GRU-MEX legs. I won't get into too much detail for the LAS-MEX-LAS flights as you can see it on my previous trip report here
https://www.airliners.net/aviation-fo...ums/trip_reports/read.main/116336.
We flew out on MX 999 on Thursday March 20th to start our South American Adventure. Once again we were lucky to get upgrade to Clase Ejecutiva for the way down to Mexico City. Again, the service was great onboard MX, but they still have not gotten a knack for passing out the personal video screens with enough time to allow the passengers to view a full-lenght movie. As I had said on the last trip report, I did not get to finish Transformers, and now I did not get to finish Enchanted either, but in any case, the service was warm an attentive. We flew on one of the newest A320's on MX's fleet as we could see the very clean interior as well as the touchscreen to control the lights and video ala A318, so it was a nice change of pace from the older A320's on MX's fleet.
Here's some pictures of MX's award-winning Clase Ejecutiva:
Our Welcome Drinks: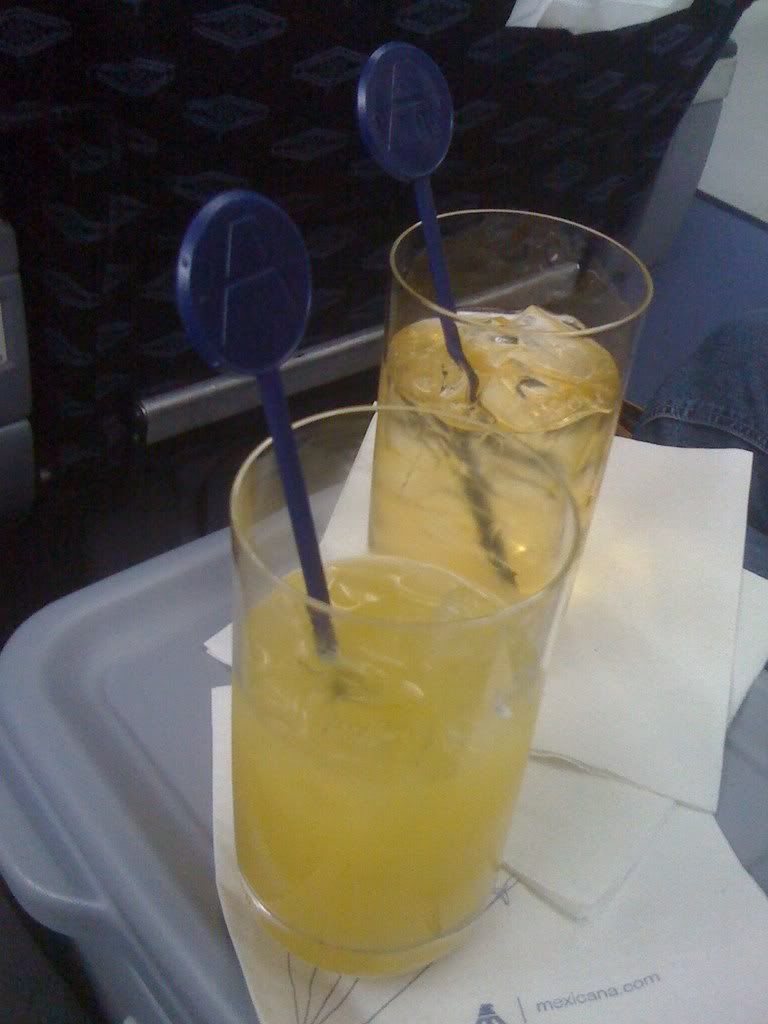 Salad was the same as in December: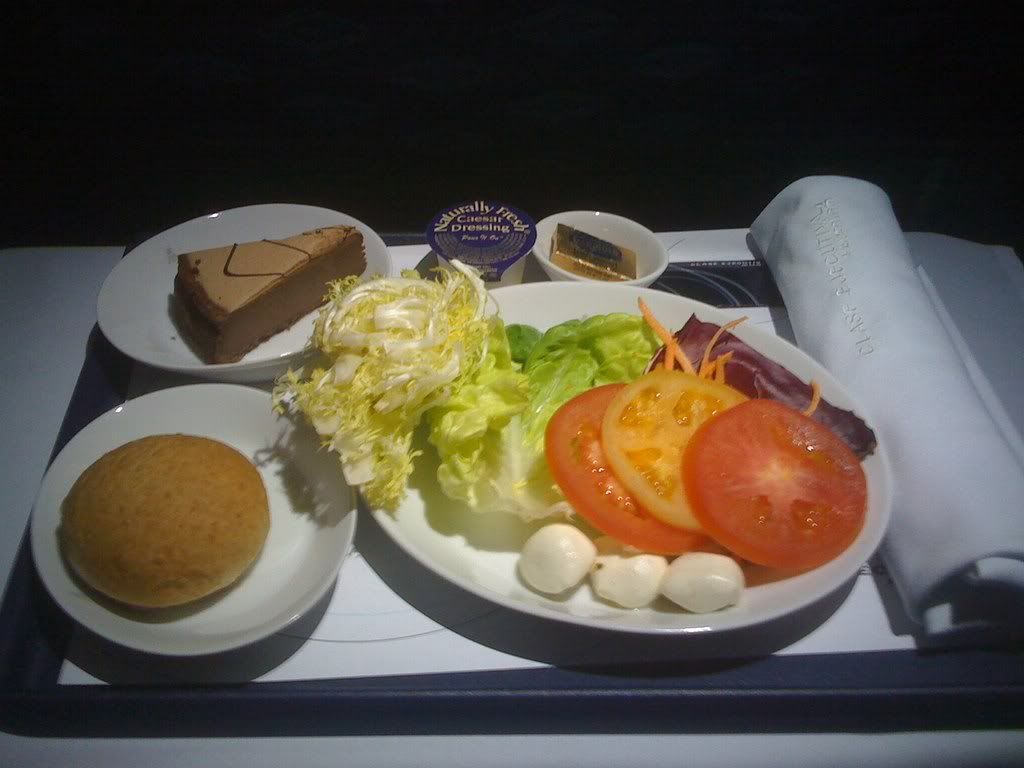 This time I tried the Pasta as I had had Salmon on the last trip, and they did have a metal spoon this time...
Everyone being nice and quiet onboard: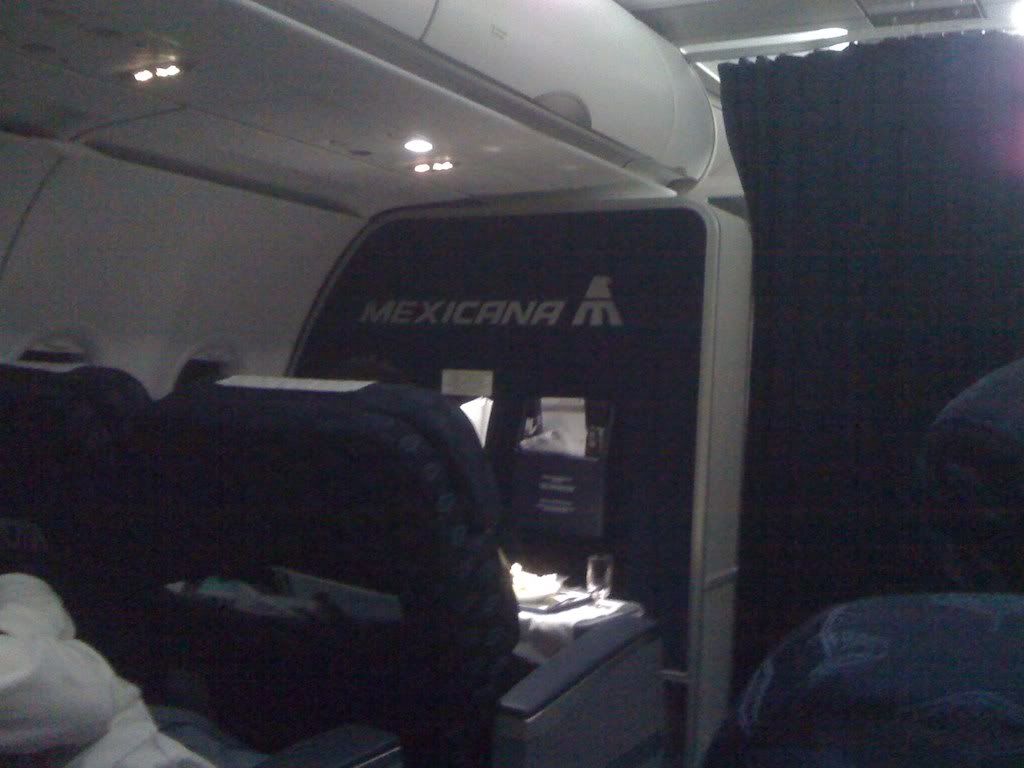 Nice cup of coffee (large cup unlike the small ones they have in coach) and dessert:
They didn't pass the video screens until after dinner, so I didn't get to finish Enchanted... DARN IT!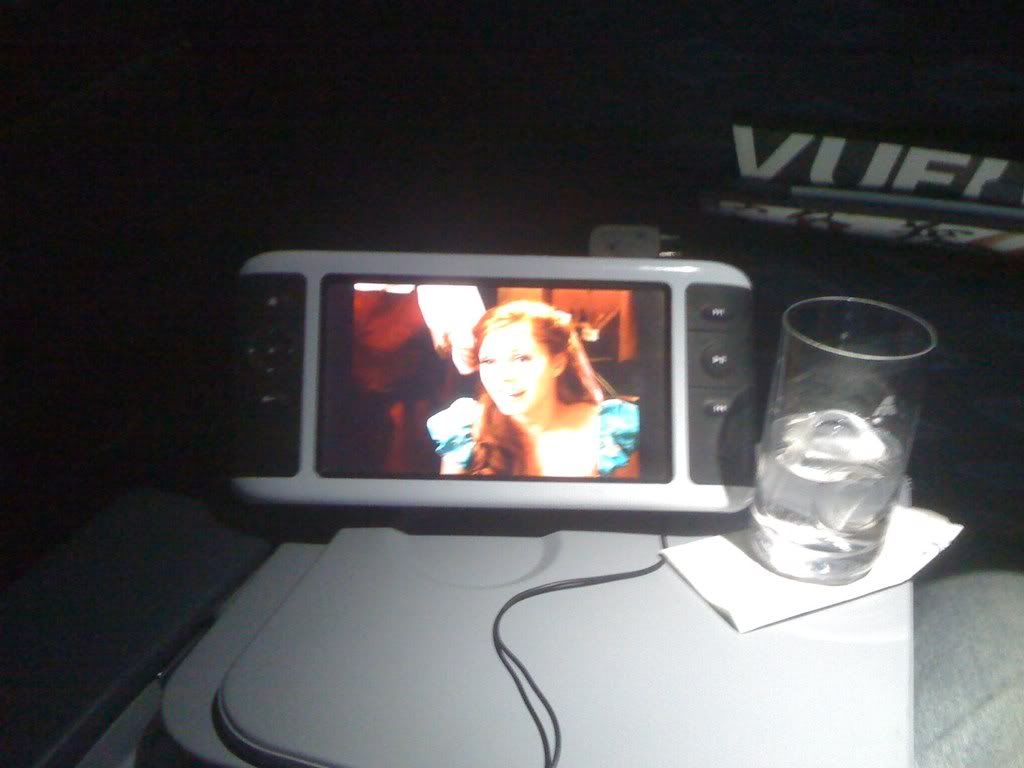 Eventhough we departed about 30 minutes late, we arrived in Mexico City on time, and were wheels down exactly at the scheduled time of arrival of 00:25, were in the terminal in no time and passed through immigration formalities very quickly, but once again, waiting for the bags took forever and we didn't make it out of the Airport until about 01:15, so a little under an hour to pass through MEX's T1 wasn't bad overall.
After a short night with family in MEX, we headed to MEX's T2 at around 11:30 am to catch our 13:00 departure on AM 10 to SCL. MEX's T2 is very nice and airy, it almost reminded me a little bit of Mexico's Anthropology Museum with it's big circular opening in the center where the driveway for pick-up/drop off is. Check in was rather slow (as it always seems to be in Mexico for some odd reason) even though we went straight to the ticket counter. The girl was about to give us an Upgrade as a colleague of mine is an AM manager, but after she checked with the MEX Spvr it was no dice for Clase Premier, so we had to settle for flying coach on the 8 hr leg to Chile. It was ok though as the flight was basically empty.
A novelty in T2 is that you actually get to pass through departure immigration procedures as in some of the European and South American Airports, unlike T1 where there is no such thing, so I was quite confused as to the inconsitency of this procedure, but in any case, T2 was almost deserted so we passed through Immigration and Security in no time after having one last cig outside, the last cig in about 11 hrs... yuck!
A shot of the boarding are of MEX's T2 with it's rounded window-like holes on the wall...:
As I said, the whole terminal has a very open an airy feel, and it looks and feels super modern as well, however, there wasn't the usual massive amount of duty free stores lining the halls as there are in T1, there was only a couple of gift shops and 1 big duty free store, but not much else. After waiting for about an hour, it was time for us to board our B767-200ER that would take us all the way to the Chilean Capital. Boarding in T2 is very different as compared to T1, as in T1, the doors for the jetways are pretty much right where the boarding gate is, however in T2 this is not so, as you pass boarding pass control, you have to go down a ramp to 1 level below where the actual door to the jetway is. The jetways are awesome in all crystal (ala BCN amongst other airports), which is a stark contrast to the very "windowless" terminal building. So all in all, T2 has 3 levels, the boarding hall, at the top, the actual jetway level in the middle, and the baggage claim/immigration at the bottom.
Once onboard, we were greeted by friendly flight attendants, a pillow and blanket in every seat, the traditional complimentary newspapers and candy (AM have their own little candies that are very good and are offered at boarding and upon arrival), as well as a small water bottle in every seat, which was a nice touch as we all know how dry a cabin can get on a long-haul trip, and they sure came in handy.
Shortly after boarding began, everyone was on board and we were soon on our way to the runway for an on-time departure. Take-off was quite bumpy as the warm conditions that Mexico is experiencing obviously cause for air pockets in the air, and it was quite a rough ride until we passed the clouds. There was no "Air Show" so we had to settle for trying to figure out where we were by looking out the window. About an hour after take off, menus were passed (WOW, surprise for being in coach!) telling us what we could expect for dinner, and what our "before landing" snack was going to be:
There were two choices for dinner, which is pretty standard, but the menu was a nice touch, and of course, the fact that there is even a meal at all and open bar makes it even nicer than flying on an American carrier. I had the steak for dinner accompanied by a never ending flow of white wine (there was red, but I decided to try the white instead). The flight attendant passing the meals was awful though, she had a look like she didn't want to be there, and was almost throwing the trays to everyone, how unfortunate as the rest of the crew were trying the best to be welcoming and friendly. There was also another flight attendant that kept going up and down the aisles offering wine to everyone.
Shot of Dinner:
After dinner, movie time began on the main screens as the B767 is not equipped with the much touted new in-seat entertainment system that is installed on the B777, but we'll get into that later. The movie choices were... (drumroll please) "Enchanted" (great as now I'd get to see the ending) and "Elizabeth: The Golden Age", Enchanted was announced on the Escala Magazine section of in-flight entertainment, but Elizabeth was a surprise as it was not announced on the Magazine, but as you know, you can never trust those magazines...
I saw Enchanted in it's entirety this time, and as I had already seen Elizabeth in the movie theatre, I began to dose off, but it was hard to sleep as it was full daytime outside, however, massive cloud coverings prevented us to see much of the ocean or any sort of landscapes below us, so it was a pretty boring flight. I switched on the iPod, and went to sleep for a couple hours, and before I knew it, it was time for our pre-landing snack which was a nice cold chicken salad: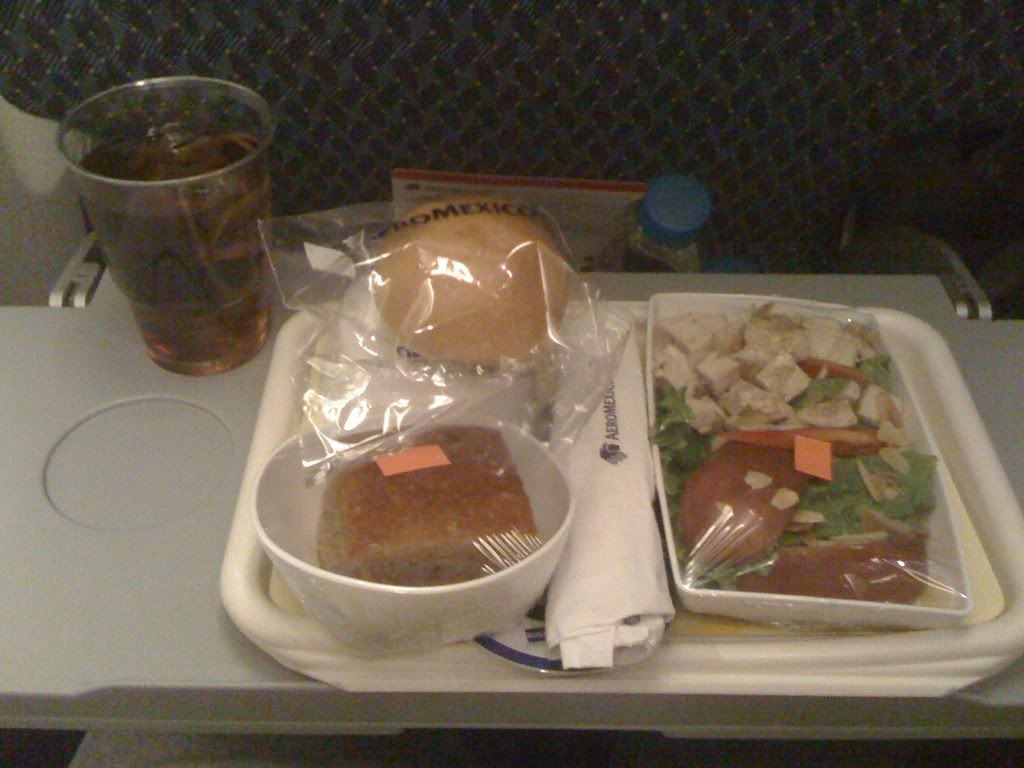 Dusk over South America:
Shortly after our Snack, we began the rather quick descent into SCL, and we had one of the smoothest landings ever, the capitan put the B767 down in such a gentle way that you wouldn't even know you were landing, it was a very nice approach. After landing, it was a lenghty taxi before we reached the international side of SCL's terminal and we were off into the terminal in no time. There were no other flights arriving, so it was only us in the arrivals hall at SCL. There are two queues that you have to line up in, however, if you are a US Citizen, Mexican, Canadian, and Australian as first you have to pay Chile's Arrival tax ($131.00 USD for US Citizens), and then once they stamp your passport, you have to go through the formal immigration procedure. The wait to pay the Arrival tax was quite lenghty as there was only one very polite lady hadling the transaction, and of course, there were a lot of surpised people (including us) who either thought the tax was much less (as we had thought) or who had no idea that there was even a tax to get into Chile, however, the tax we paid is good until our passports expire, so I have until 2016 to go into Chile as many times as I need until I feel I have used up the $131.00. This is not the same for all nationalities that have to pay the tax, so check with the Chilean consulate or embassy before you go to Chile so you are aware of the terms and conditions and of what you have to pay.
After immigrations, we arrived at the baggage claim and all of our bags were waiting for us already except mine, for a second I thought it had been lost and I was getting worried as I knew we were boarding our ship the following day and I knew I wouldn't get my bag until our first port of call a couple of days later, but in the end, there was no need to worry as my bag had happened to fall off the belt in the back, so after the AM agent checked, she found the bag and we were soon on our way out of the terminal. SCL is about 30 mins from the city center, but the highway infrastructure is very very good and super new so it was a smooth ride into Santiago's Providencia area where we would spend the night before heading to Valparaiso the next day to catch Splendour of the Seas, the ship that would take us on a 15-night voyage through Chile, Argentina and Brasil before reaching Santos (close to Sao Paulo).
Our cruise was amazing (needless to say, this was our fourth, and if you want the details, you can visiti cruisecritic.com and find my cruise review...
), but after 2 weeks it was time to head back home.
Once we debarked in Santos (Largest port in the Southern Hemisphere), we were taken to our overnight hotel in the beach resort island of Guaruja, and after a lovely afternoon and night, we headed off into Sao Paulo (about 1.5 hrs from Guaruja through some amazing forest and a suspended highway) for our 9hr. flight back into Mexico City and my first ride on a B777.
We arrived in Guarulhos at about 17:00 for our 22:55 departure which was quite early, but our tour throught he city had ended at that time and we had no choice but to wait until the AM counter's opened (which they share with AF/KL) at around 19:00. We lined up in the Clase Premier line (as the coach line was huge, and since we had our upgrade authorization), and check in went super quick, however, no dice again on the upgrade, so we had to settle for coach again, and... a huge surprise, we were overweight by 75 kilos!!! Something we didn't know is that the baggage policy is completely different for flights to/from Brasil. Unlike AM's regular international baggage allowance of 2 bags per person at 32kg each, for Brasil it is only 20kg (no matter how many bags) per person, which is outrageous considering that most people go to Brasil for a few weeks, and since we were gone for almost 3 week we had 2 huge bags each! The girl at the desk was pretty nice and she said she was only going to charge us for 60kg, that she would waive 15kg, which was great and I was thinking that each kilo was probably going to cost us a few Reais, or maybe a couple dollars, so I was thinking that we would pay maybe about $60 - $80 for the overweight, BUZZZ, WRONG!!! Each kilo runs at a little over $10.00 USD, so we were going to pay a little over $600.00 USD for our overweight, needless to say we were mortified as we were flying on passes from AM that cost us $500 each, so we weren't about ready to pay more in excess weight than what we had paid for the entire flight (R/T).
We headed into AM's office and I asked to speak to the manager, and after much back and forth, I finally went to go find him in the AM operations office which is behind the check in counters, and this time our AM connection finally paid off, and our friend that works in AM was able to waive our excess baggage fees. The staff and the manager of AM in GRU were all very nice and they understood our dilema, and he was also kind enough to allow our AM friend to waive the fees, so in the end, we were saved.
GRU's terminal looks very industrial and is pretty windowless as well. There was a small food court and some shops before security, and after our baggage ordeal, we finally queued up to pass security at about 20:10 (after being there since 17:00 you can see this was a long process). The queue was very long as nightime is probably the busiest time for GRU as there were many flights leaving for Europe, the America's, and Asia (including EK's very on Ultra Long Haul). There was about 4 rows of queue before reaching the first part of the screening process which is Boarding Pass control, then abotu 3 more rows to pass the bagagge screening, and then another 5 rows to get our passports stamped. By the time we crossed it was about 21:30, so we barely had time to purchase some cigs at the duty free (super cheap at $84.00 US for the 5 pack! what a deal!) before the AM agents were doing their rounds calling for passengers to head straight for the gate. (Sorry no pics of GRU's terminal due to the debaucle that ensued our check-in)
Boarding went quick as about half the plane had already been boarded, and we got to see the spacious interior of AM's first B777-200ER (Diego Rivera) I believe is N746AM, but not completely sure...
We had to wait quite a while at the gate due to the fact that a lot of people were still stuck in the security/immigration queues, so we ended up leaving the gate about 15 minutes late, and after a short taxi we said good bye to Brasil and South American soil after a very fun trip.
Shortly after take off, meal service began, this time there were no menus to pass out (perhaps because we were not departing from home base, or perhaps because they simply didn't have that available for this flight) but there were 2 choices as well, chicken and pasta. I had the pasta, and unfortunately again, it was served by 2 very unfriendly and very rude flight attendants, how sad that AM is loosing it's service standards and how awful that flight attendants seem to hate their job so much. This lady was honestly very upset to be there and never smiled and hardly spoke to the passengers which gave a horrible impression to everyone and we could hear the comments from other passengers at the dismayed look of this flight attendant. I hope that she finds another job soon so that she can be happier and she can quit giving AM such a bad image.
Here's dinner: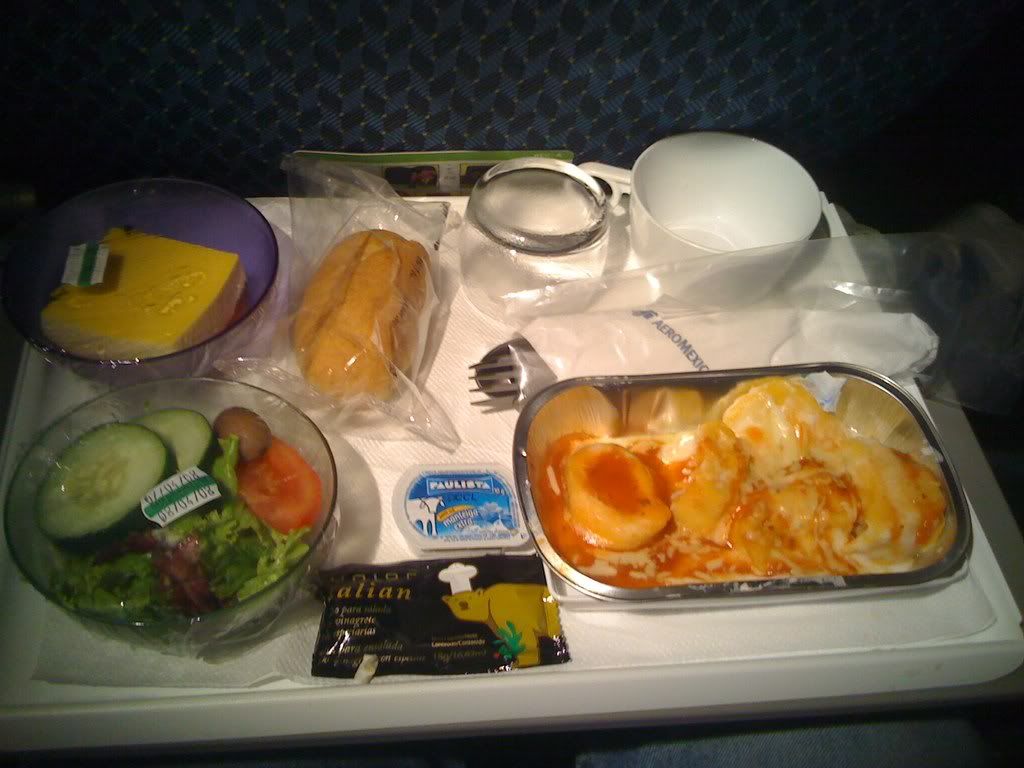 The meal was rather good nonetheless, and right before dinner they turned on the PTV's so that we could star to enjoy AM's "ETT" (EntreTreten Te in spanish, which translated means Entertain Yourself), however, much to my dismay, the system wasn't working correctly, and for example, if you picked a certain movie, something else came up that was totally different. Example, you cliked on the TV section and once you selected your program, instead of the Simpsons or Sienfeld starting, the movie "Atonement" would begin, or if you clicked on the movie "P.S. I Love You", the trailer for Michael Clayton would begin, or if you clicked on "National Treasure 2" the Spanish film "The Club of the Suicidals" would start (which I ended up watching and it was pretty good), or if you tried to listen to music, it would say it was playing something, but in reality you were listening to something totally different, so it was quite a dissapointment that something that I had been looking forward to was not working correctly, however, at least it was on and we got to entertain ourselves with some of the other features of the system.
The airshow played correctly on the PTV and played continuosly on the main screens, so that was always nice to look at, the games on the PTV also worked properly, and as I mentioned, I got to watch the spanish film in lieu of any other of my movie choices and I began to watch Atonement (instead of the TV selections) but I feel asleep shortly after I started watching it, so all in all it wasn't a big deal, but I wish it would've worked correctly.
Some shots of the PTV's and the Air Show: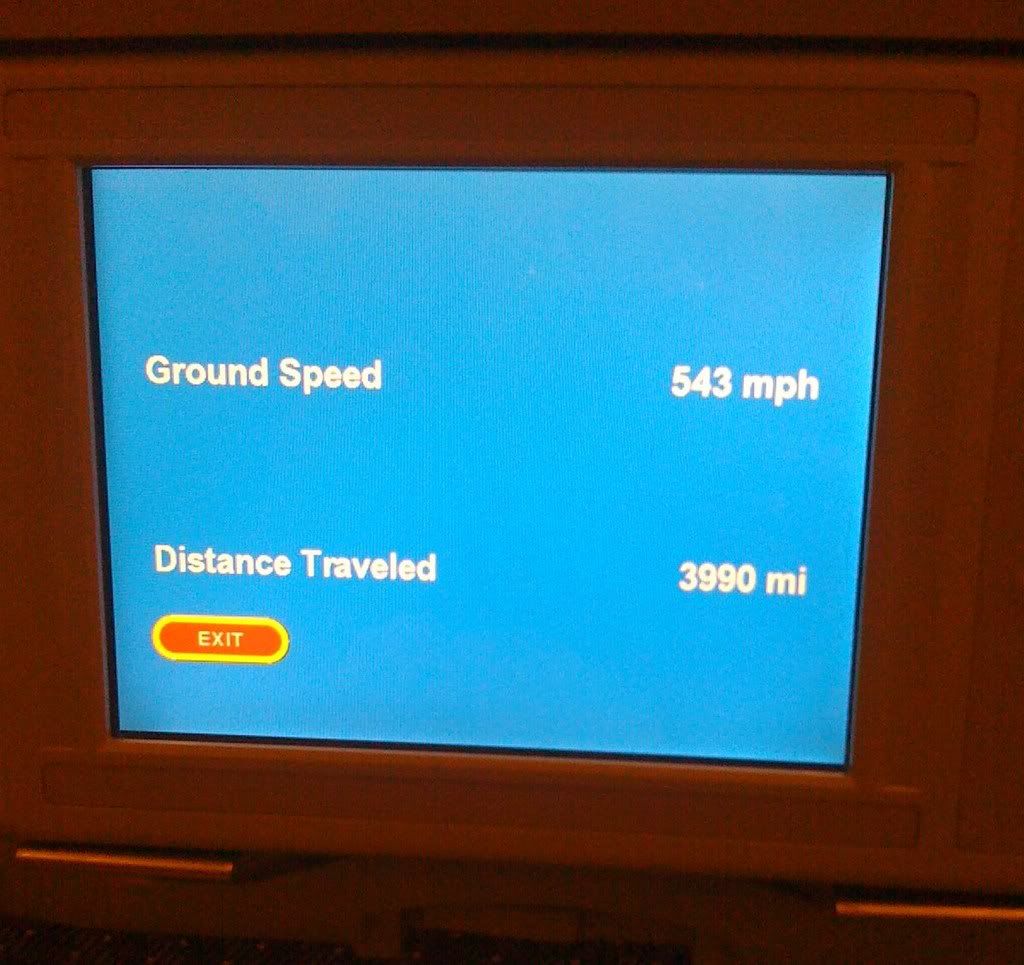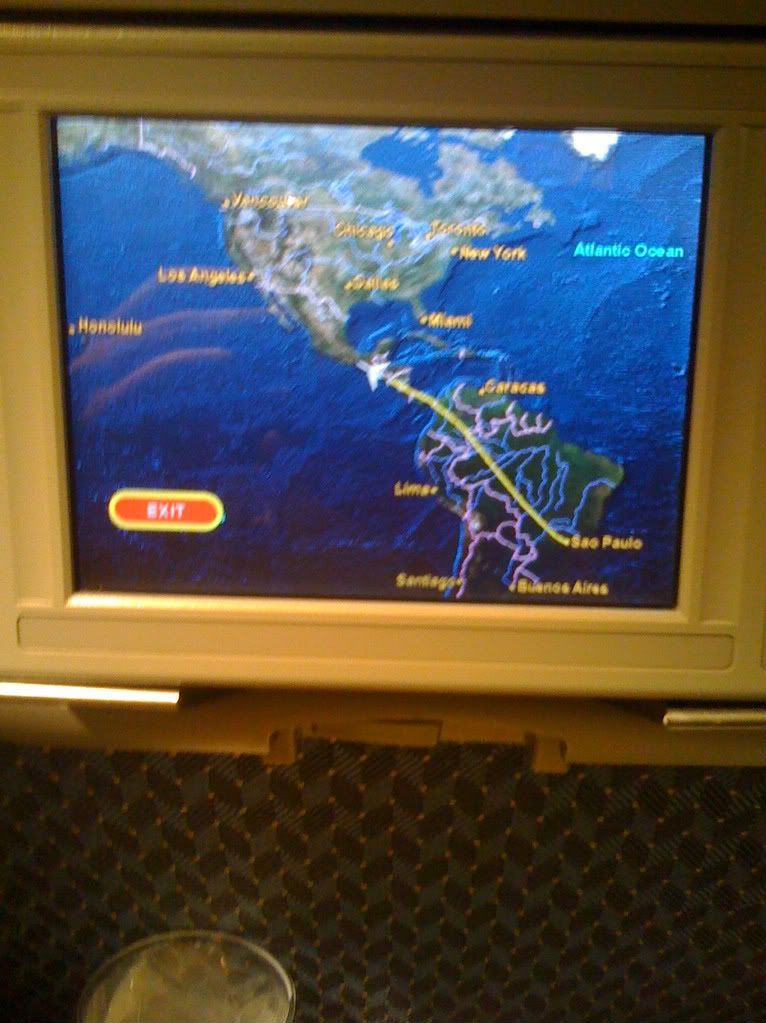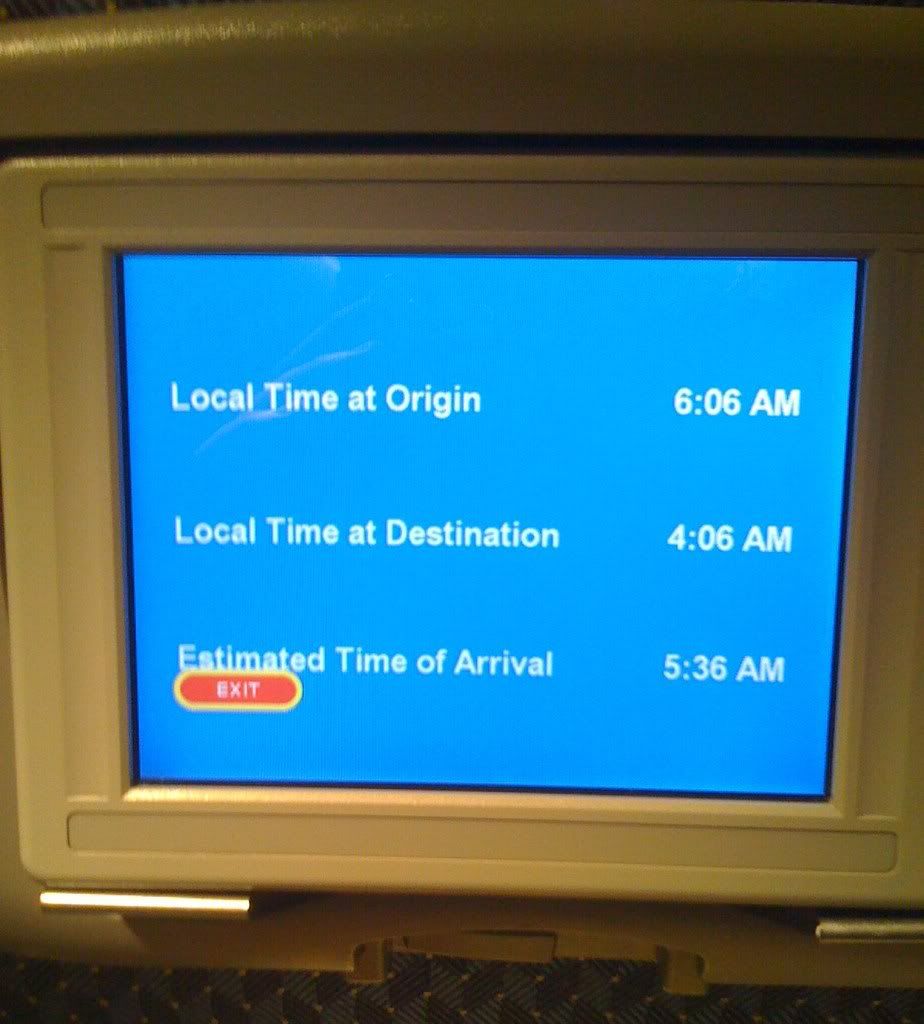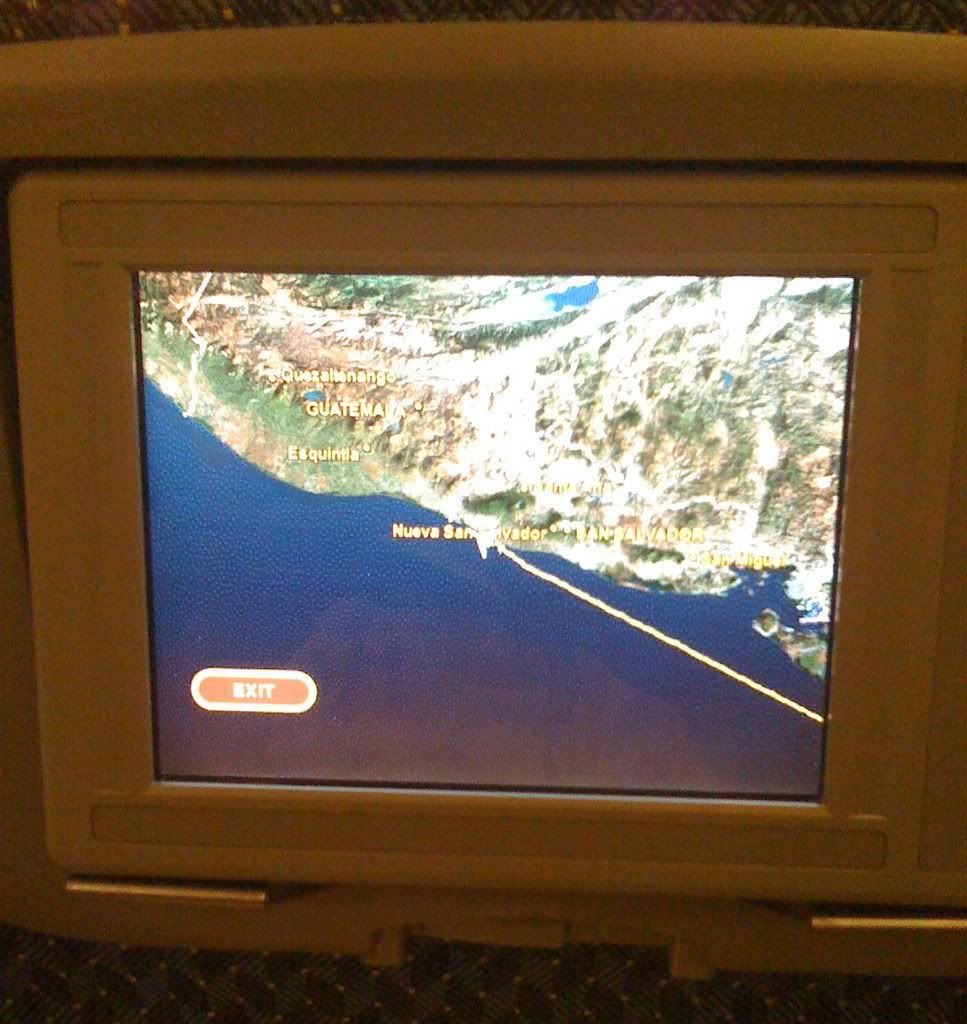 After sleeping for most of the flight (a full flight might I add), it was time to wake up and have our pre-arrival snack (which was sort of a Spanish Tortilla, which was eggs, cheese and ham), and it wasn't very good at all, but at least they offered it and many people ate it, just not my particular choice, I did eat the fruit and the bread, and of course, the unfortunate note was to see the same rude flight attendant, now looking even worse and more upset than ever... tsk tsk tsk.
Breakfast: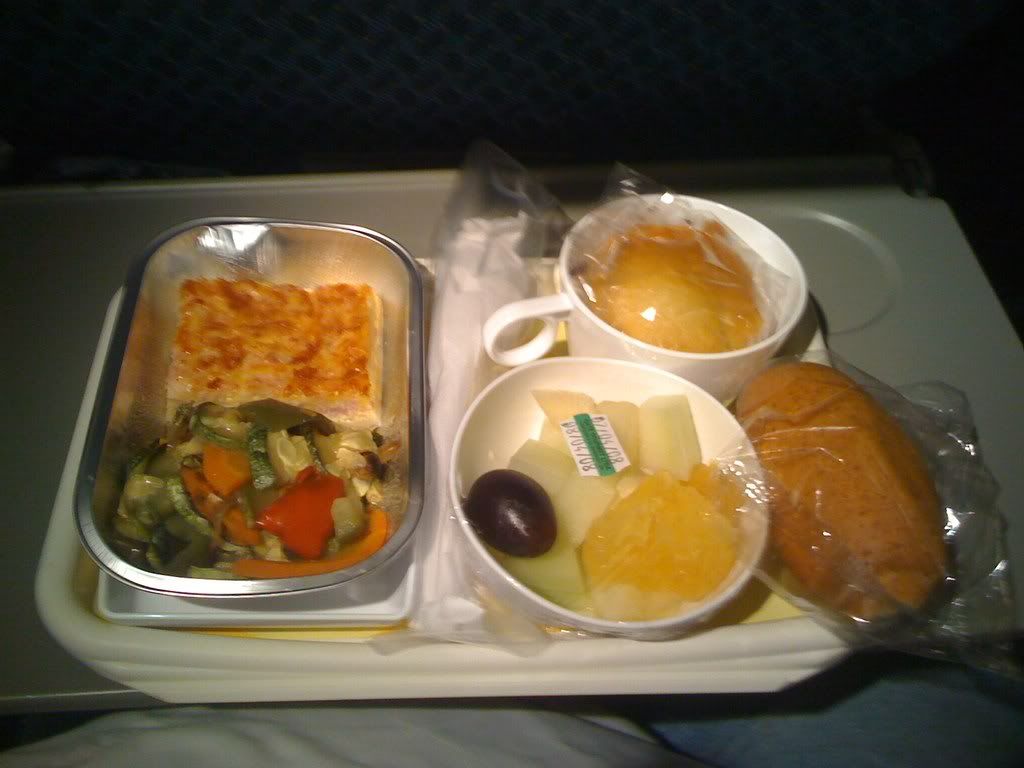 Shortly after Breakfast which was served over Guatemala, we were on our way down into MEX, and after the usual manouvers to land in MEX, we came in too high and the B777 had to use full breaking power (quite a contrast to the smooth landing in Chile a couple weeks earlier on the B767) before reaching the end of the runway. Immigration was a mess (as the flight was full) and everyone on the Coach line in Sao Paulo had gotten their immigration forms, however, those of us who were on the Premier line did not get our immigration forms in Sao and the flight attendants never passed them out on board, so we had to fill them out on the spot while standing in line. However, all in all, the immigration hall in MEX's T2 is very nice and spacious and though the wait was a little long, it wasn't too bad.
Bags came quickly (much quicker than at T1, or perhaps it seemed quicker as we had stood in line for a while to pass immigration), and the line to pass customs was again long, but int he end it was a good experience and I really enjoyed T2 and AM's B777 (though the service wasn't the best, at least the plane ride was good).
We landed about 25 minutes late at 05:45 instead of the scheduled 05:20, but oh well, whatcha gonna do, and we took an airport taxi to Grandma's house for breakfast before having to head back to the airport for our 15:40 departure back to LAS, this time back in T1 and with MX.
Check in for the LAS flight was smooth (terminal was empty) and surprisingly quick, because as I had mentioned, even though there are no lines, it always seems to take forever to check in, and we were soon on our way to Gate 36 to board MX 998 back home. It was my 4th flight on A318 (love the little guy) XA-UBV, take off was once again super super bumpy (it threw our little plane around a lot) and did not get better until we passed the clouds, so it was about 20 minutes of exhilarating bumps and ups and dows (i love it, but I could tell people were kind of scared). The rest of the flight went smooth, the MX crew was much warmer and friendlier than AM's neffarious woman earlier in the day. There was only one choice for dinner (unlike my last trip where there were 2, but oh well) I had the pasta again, and it was great. The movie was "The Golden Compass" so I passed on it and decided to read "HOLA" and "TV Notas" (Gossip magazines) instead and I also slept for a bit until we began our descent into LAS. Again, super super bumpy and the landing was even worse... landed with one wheel, then the next, and then we jumped up then came back down again, pretty scary stuff, but I was laughing through it all and people were super scared... LOL
The Pasta again... nice: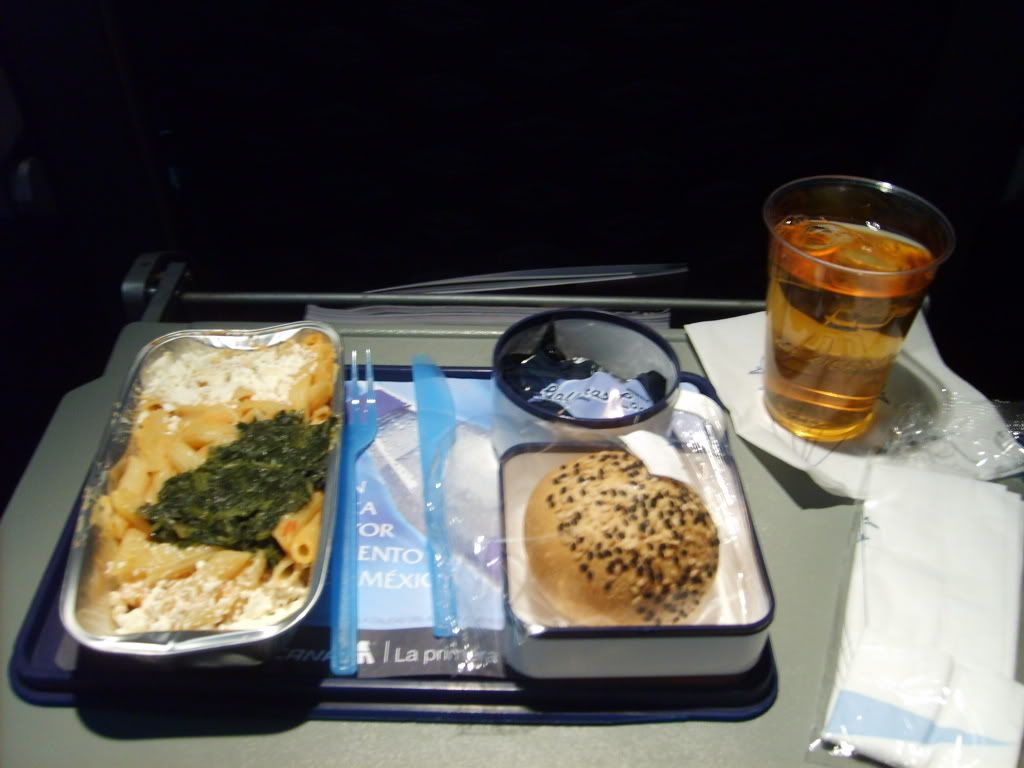 Immigrations through LAS's T2 was super quick and the bags were even quicker and we were outta there and on our way home in less that 30 mins... tired, and sad, but super happy to have been to South America for the very first time... and even more excited to add B777 to the list of planes... which now stand as follows:
A318/319/320 B727-100/200 B737-200/300/400/700/800/900 B757-200A/200ER/300 B767-200ER/300A/300ER/400ER B777-200ER B747-400 MD-82/83/87/88/90 DC-9 ATR-32 Saab and Metro
I've still got a long way to go...
Specially in the Airbus Long-Haul department, but oh well, I'll have to wait for MX's A330 to arrive...
Anyway, thanks for reading and Happy Travels!!!