I was planning a few days away in Edinburgh with some members of my family. They would fly up from Cardiff and I would fly up from London and we would rendezvous at Edinburgh airport.
As my mother travels in a wheelchair and needs some assistance, I wanted to time my flights around their arrival and departure. At the time of booking, bmibaby were the only carrier on the CWL-EDI route, subsequently joined by Flybe.
I decided to book the tickets for the Cardiff mob first, knowing that I could arrange my travel around their timings. We would be leaving on Sunday, March 9th and returning on Wednesday 12th March. As I was making the booking at the end of January, I was confident of getting good availability and fares, and I had chosen this weekend as it did not coincide with the Six Nations. Booking a CWL-EDI flight when Wales are playing Scotland is an expensive business!
I went on to the bmibaby website and found the following flights:
Sunday, 9th March
WW2001 Dep CWL: 14.40
Arr EDI: 15.55
Wednesday, 12th March
WW2004 Dep EDI: 17.25
Arr CWL:18.45
The price per person including taxes was £67.91- not too bad, I thought. The bmibaby website was easy to navigate and I made a quick call to their customer services to let them know that a member of the party needed wheelchair assistance. This was arranged quickly and easily over the phone.
I then turned to my own booking. I wanted to fly from London City, and to arrive before my family on the Sunday, and leave after them on my return. As I am a member of Flying Blue, I decided to give Air France-Cityjet a go as I fly BA a lot, and I wanted to try AF on a domestic UK flight- quite an "exotic" trip. Most of all, I wanted to book the EDI-LCY leg on the ex-Scot Airways Dornier, now being operated for AF Cityjet.
I found the following timings:
Sunday 9th March
AF5161 Dep LCY: 13.45
Arr EDI: 15.10
Wednesday 12th March
AF5168 Dep EDI: 19.00
Arr LCY: 20.20
The Air France website was easy to navigate, and the trip would cost £100.30- quite reasonable, I thought.
Sunday 9th March
AF5161 Dep LCY: 13.45 (13.45)
Arr EDI: 15.10 (14.55)
RJ85
I took a taxi to London City from my home in Central London. Traffic was light on a Sunday and I arrived at the airport in good time. LCY is closed from Saturday lunchtime until Sunday lunchtime. When I arrived the airport was gradually coming back to life, but was quiet and few people seemed to be travelling.
I had checked in online the previous day and secured a window seat-5A. The flight seemed wide open when checking in online. There was no queue at the AF bag drop- the agent was very friendly, and soon I was heading through security.
Sunday afternoon departures at LCY- the BA flight to MXP was cancelled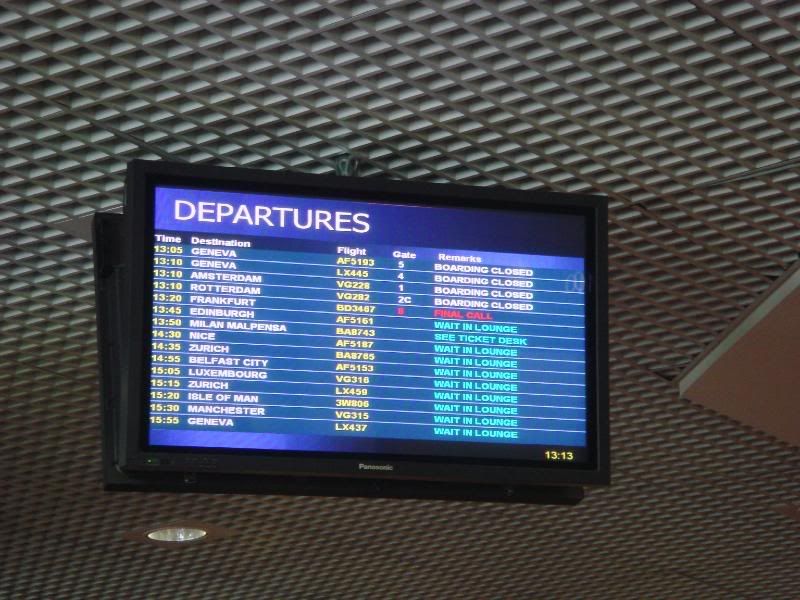 Quiet scene in the departure lounge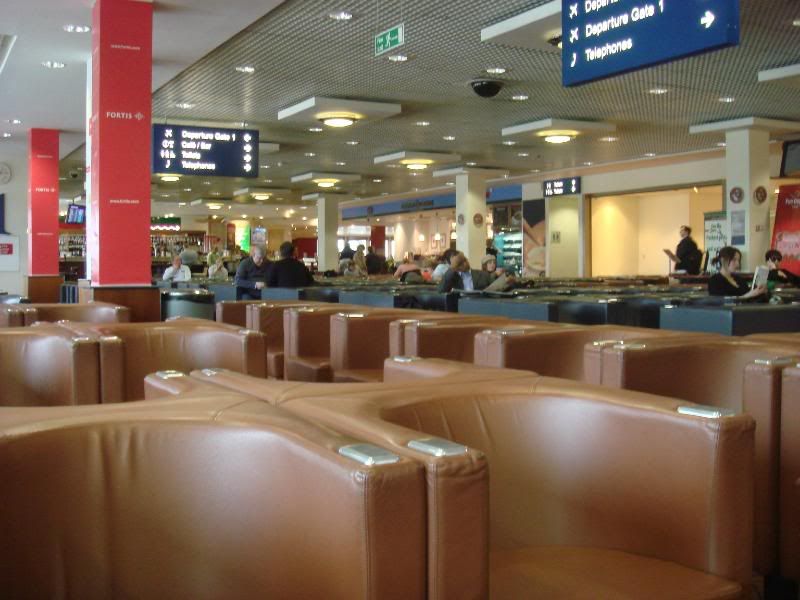 Ramp Scene- I was looking forward to returning to London on the Dornier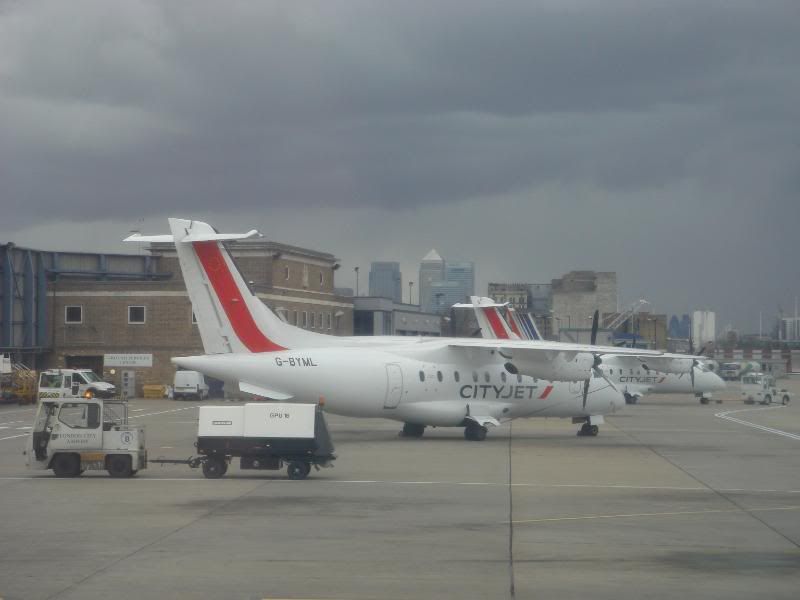 Boarding was called at 13.15- which seemed to indicate an ontime departure. Few people got up when the flight was announced, and I wondered how many people would also be travelling AF to Edinburgh today. Travelling from LCY is a joy when compared to the other London airports- especially on a Sunday afternoon.
I counted 22 passengers in the gate area- certainly a light load this afternoon- with 1 passenger in business class. Boarding was unhurried and easy and we were greeted by 2 female and 1 male cabin crew- a mixture of Irish and Spanish crew. Although the flight was almost empty, I was surprised to find that there were 2 other passengers in my row. I can never understand how this happens. As the load was so light, I sat in 4A instead, which was the front row of the Economy section.
The cabin was in pristine condition- looking brand new and the leather seats were comfortable with a decent pitch. I have a horror of the 6 abreast configuration on the RJ100/85, and I am spoiled by flying Swiss a lot, who operate with a 5 abreast configuration. Having said that, as the load was so light today, I really didn't mind so much.
We pushed back on time and taxied to the holding point. We made a very powerful take off to the west, rotating well before the terminal into a darkening sky. Immediately it began to rain, making for some rather brooding shots of the City.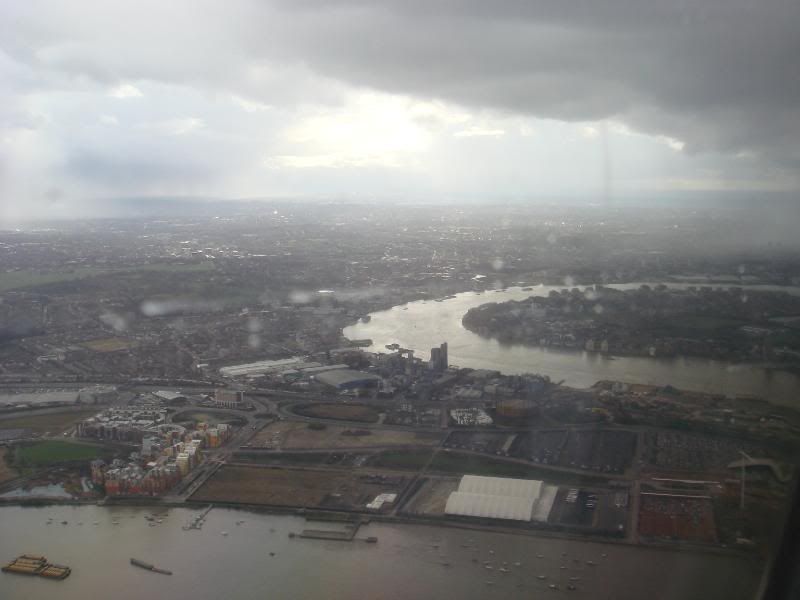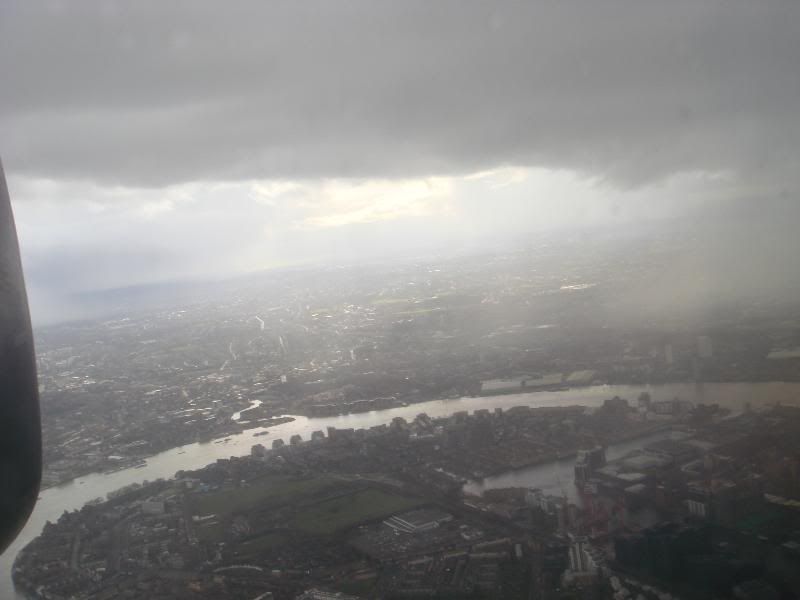 I really like this photo!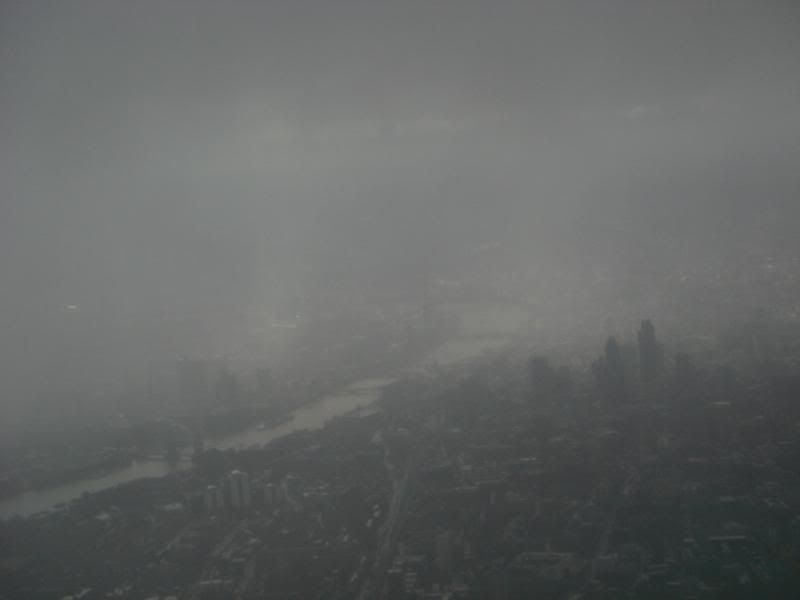 We banked north over Stratford before heading into cloud. The cloud cleared as we were over Enfield, soon crossing the M25 heading north into bright sunshine once more.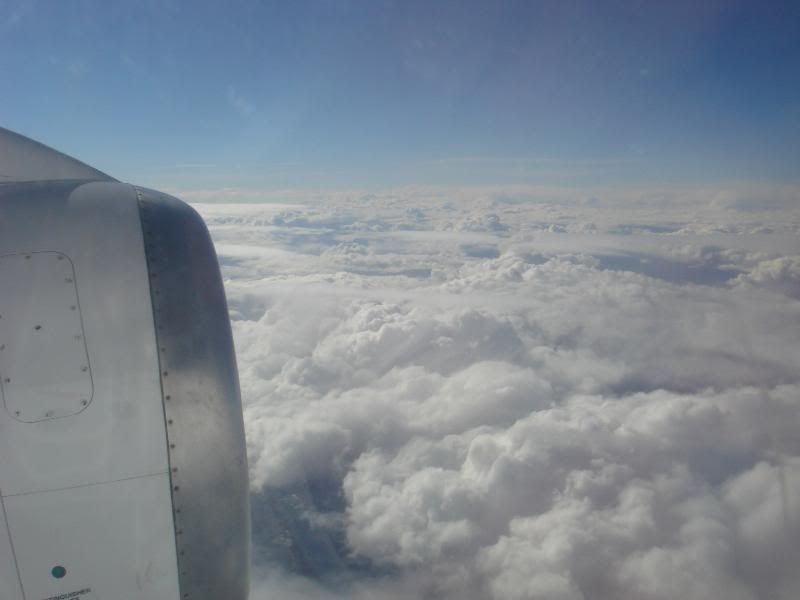 It did feel strange to be on an Air France flight, flying domestically in the UK. The branding was consistent with other AF flights that I have taken, including the AF magazine.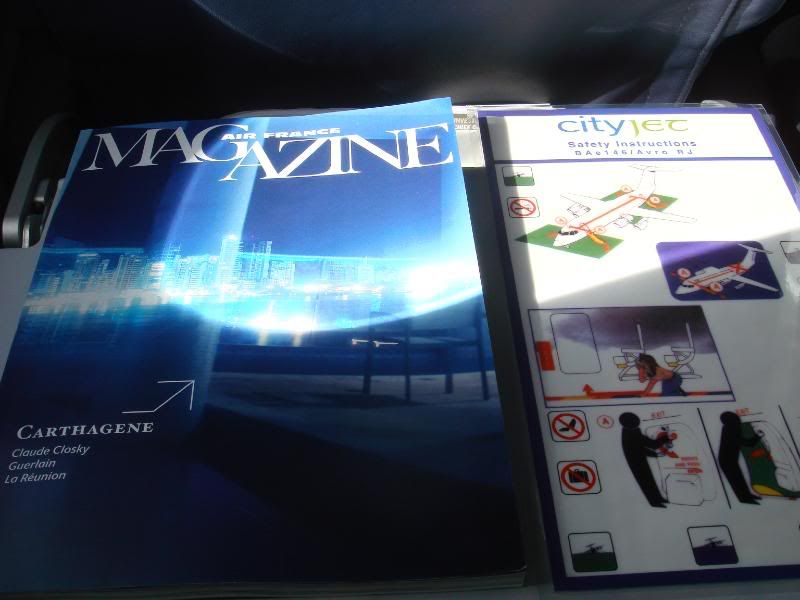 The curtain was drawn to screen the solitary business class passenger from the rabble. Service was personalised and unhurried due to the light load. We were served drinks from the bar plus a savoury and sweet snack.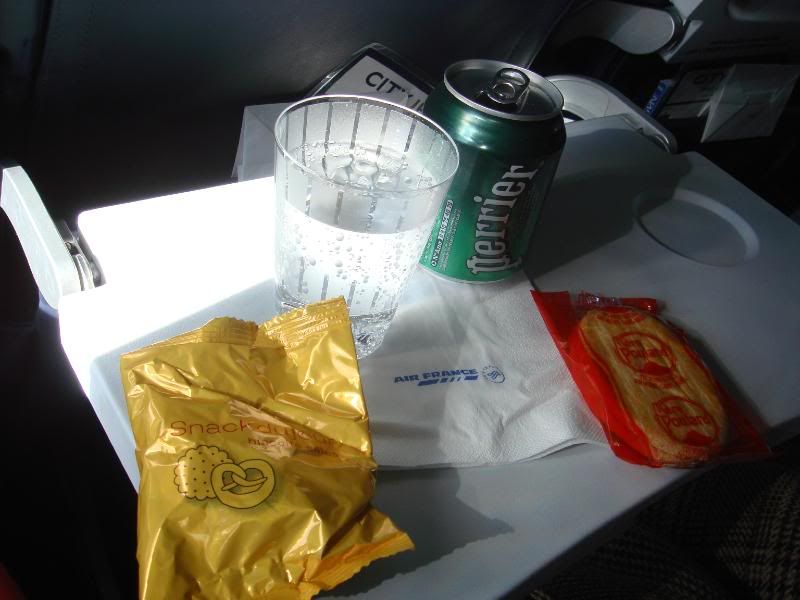 I decided to keep the Gallic theme going by ordering a Perrier. I noticed that alcoholic drinks were freely offered and refills were also given. I was also surprised that a hot drinks service followed the snack service.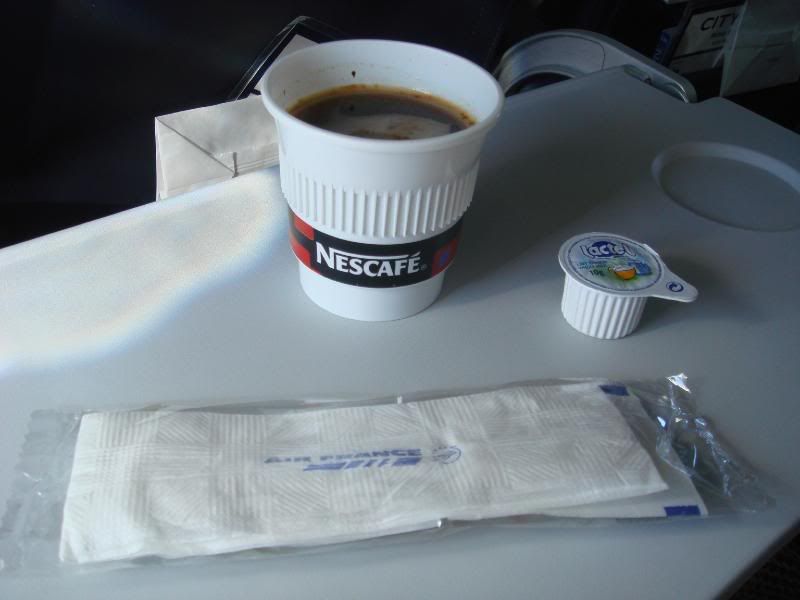 All too soon we were on approach to Edinburgh, and the weather was getting worse again.
On approach to EDI- Murrayfield and the Forth Bridges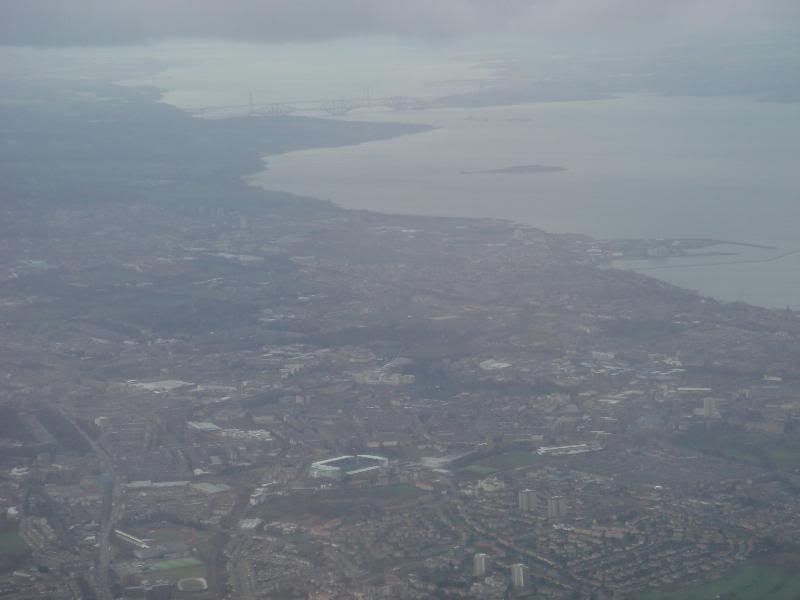 It felt good to be back in Edinburgh. We made a very smooth touchdown and the familiar sight of the terminal at EDI came into view.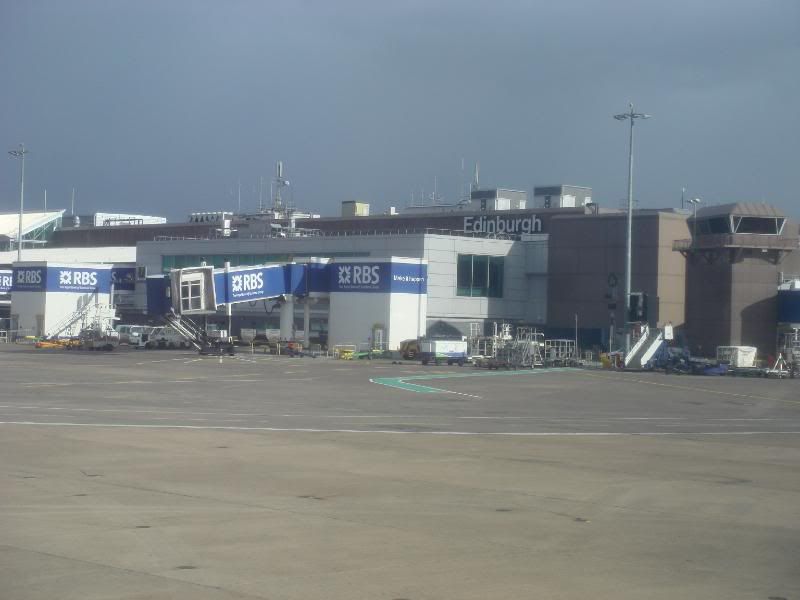 I was very impressed with the service on board this AF flight. The plane was spotless and the crew really couldn't do enough for the passengers.
I think that Edinburgh is a gem of an airport. Any airport that has a Paul patisserie gets my vote…
We parked away from the main terminal and it was quite a walk to baggage reclaim. My family was due to arrive from Cardiff in about 45 minutes. I had thought about waiting for their flight at their arrival gate, but as I had a bag to collect, I went straight to baggage reclaim.
The bags came off fairly quickly and I settled down in view of a monitor to keep an eye on the arrival from Cardiff. The flight was due in at 15.55 but actually arrived at 15.35, so I had a short time to wait. In no time at all we had a family reunion in the baggage hall!
Here are some photos from Edinburgh: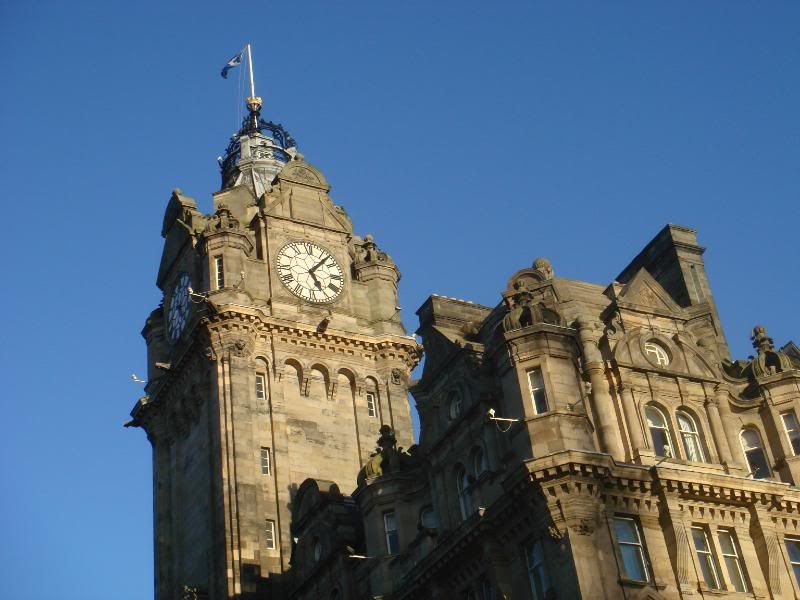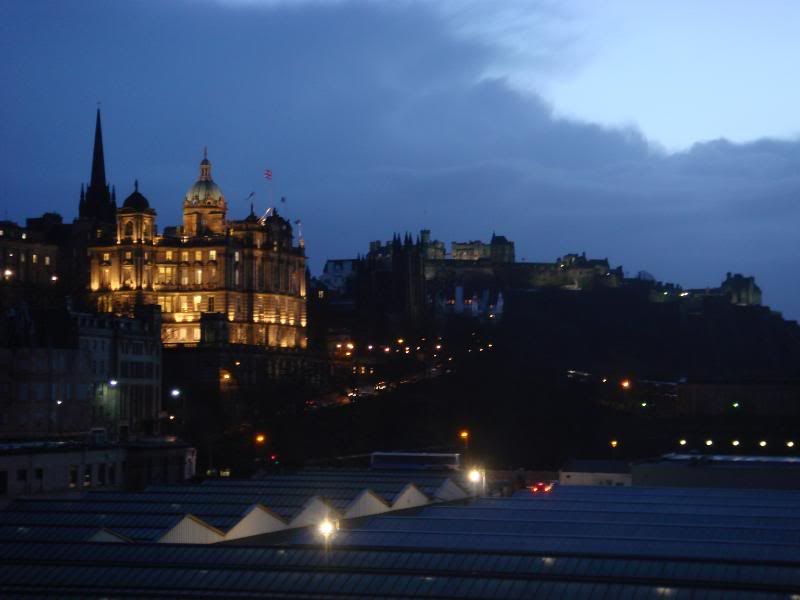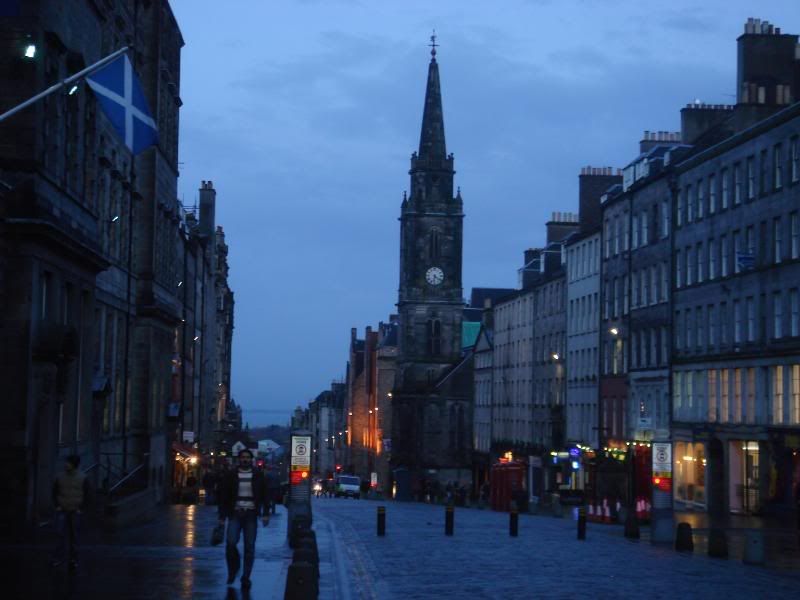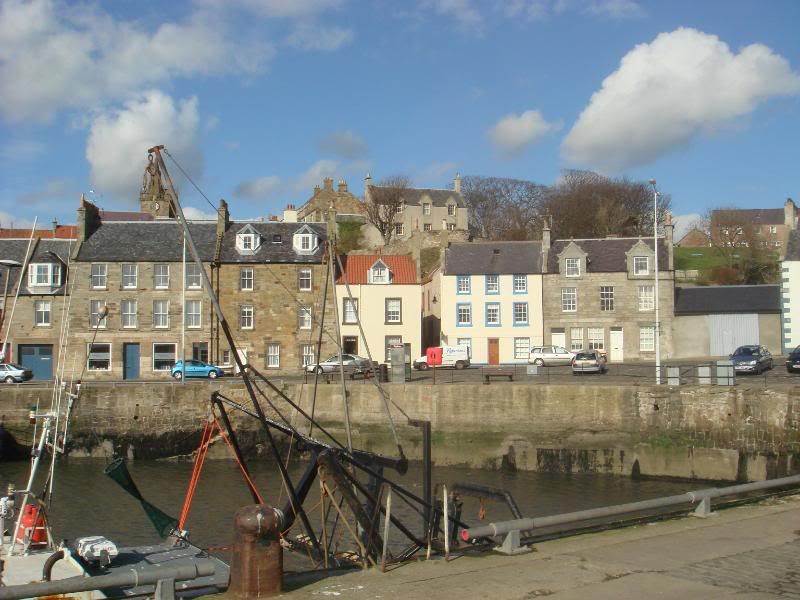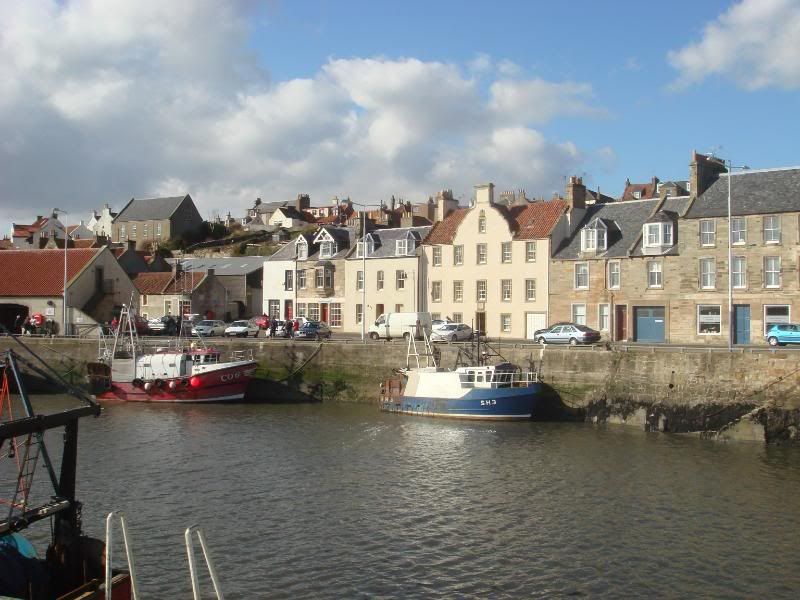 We had a great stay in Edinburgh- despite the "four seasons in one day" weather! On the day of our return, the UK was being battered by what was being billed as the worst storm of the winter. I was worried about our flights being delayed or cancelled, especially as I would be flying home on the Dornier.
Sunday 9th March
AF5168 Dep EDI: 19.00 (Cancelled)
Arr LCY: 20.20
Dornier 328
We took a taxi to the airport and the wind was very strong. We were practically blown into the terminal! I checked my family in for their bmibaby flight. Bmibaby check in is adjacent to the Air France check in.
We had arrived at the airport at around 15.00. As my flight was not due to leave until 19.00, I was concerned that I may not have been able to check my bag in so early before the flight.
As I was queuing at the Air France check in to enquire about this, my mobile rang- it was Air France, telling me that my flight was cancelled due to "operational reasons"! There goes my chance of flying the Dornier. The agent advised me that I had been rebooked onto AF5166, departing at 17.55- a boring rj85- of course…
When I got to the front of the queue, I told the check in agent about this. She did not seem to know that the flight was cancelled. I explained the situation and she pointed to the Servisair ticket desk, where she wanted me to go for re-ticketing. There were obviously lots of other cancellations today, as the queue snaked halfway around the terminal. As I wanted to see my family onto their flight to Cardiff, I objected to having to queue.
Luckily I had just received a text message on my phone from Air France, confirming the rebooking. The agent called a supervisor over and after tapping away on the computer for a few minutes, I was given a boarding pass for the 17.55 flight, seat 13A.
My attempt to fly the Dornier was thwarted- that was one of the main reasons why I had booked these flights, but I wasn't too disappointed as I would not have so long to wait once I had waved my family off to Cardiff. We went through Security and got a window seat at Paul.
By this time the weather was getting even worse- with strong winds and hailstorms. The area was crowded due to the delay of a bmi flight to LHR. It seemed that there had been a road accident on the approach to the airport, and the crew were stuck in it. This flight eventually left around 2 hours late.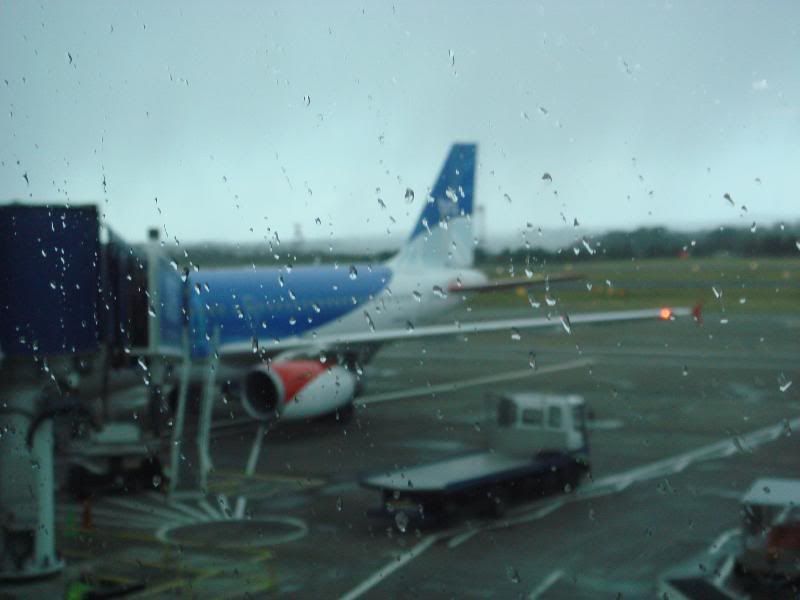 Trying (and failing) to be artistic- bmibaby arriving from EMA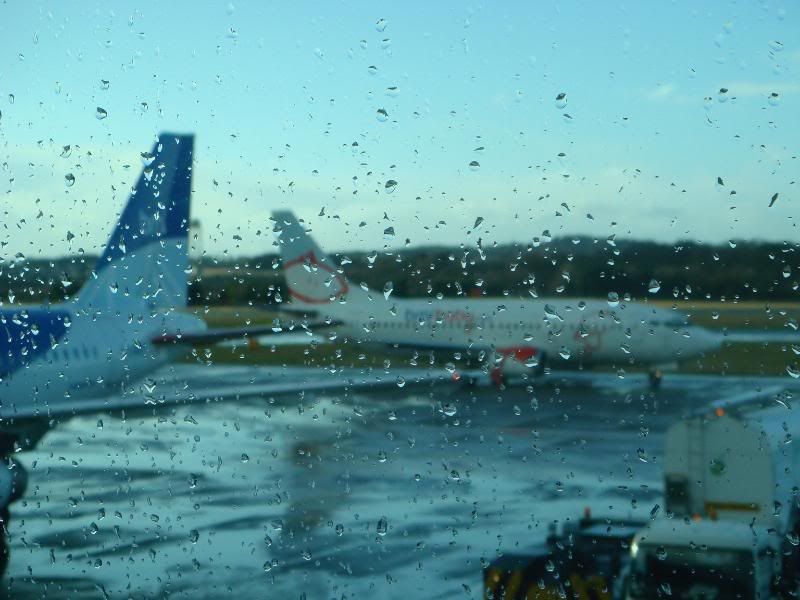 Afternoon departures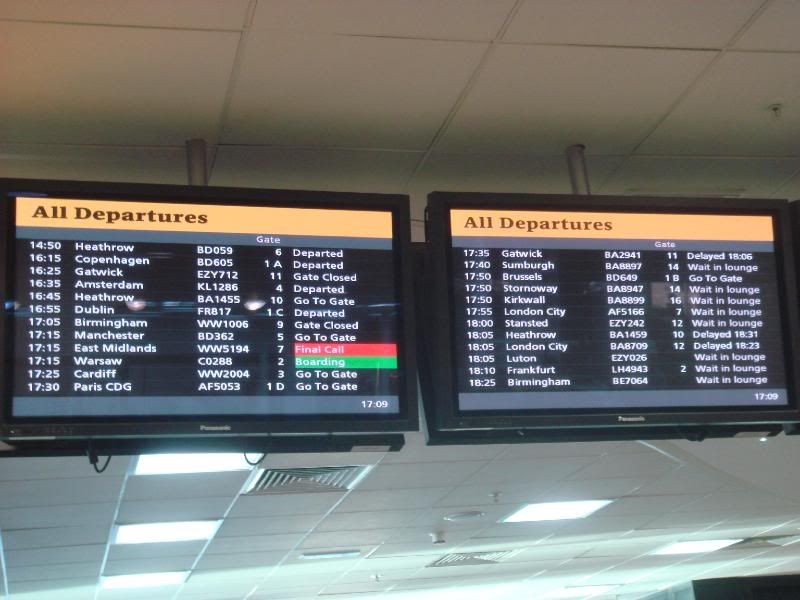 bmibaby flights arrived from East Midlands, Birmingham and Cardiff.
As my mother was travelling in a wheelchair, we were instructed to be at the gate in good time. When we saw the incoming flight arriving, we headed over to the gate. The CWL-EDI flights seem to have quite respectable loads as both the incoming and departing flights seemed quite full. I am not sure how Flybe's entrance into the market will affect this.
Soon it was time for my family to pre-board. Then I headed for my gate, but now my flight was showing a delay.
My family's flight back to Cardiff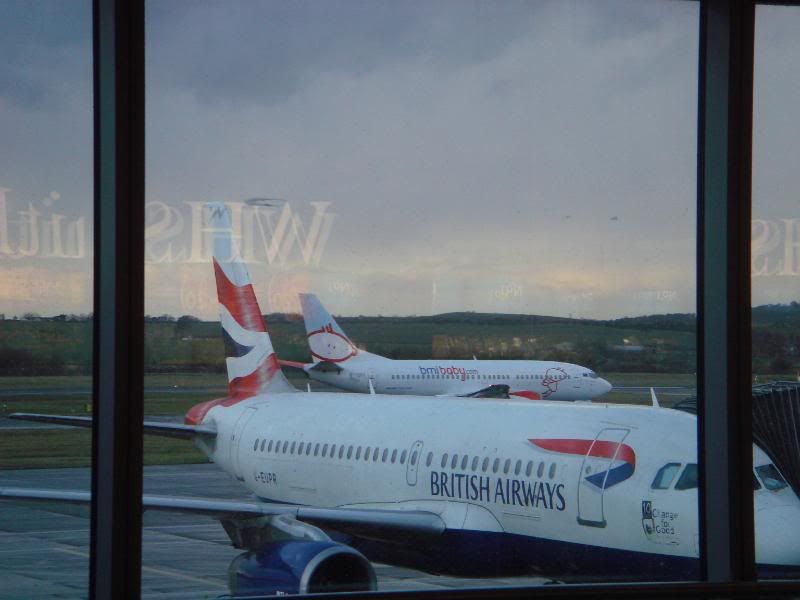 My flight back to LCY- in full AF livery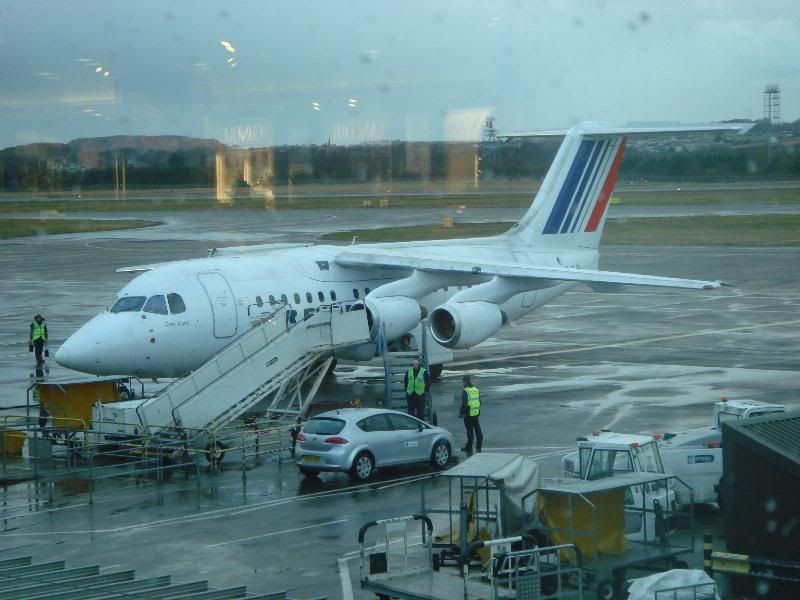 The flight was due out at 17.55. By 17.45 there was no information. We were eventually called for boarding at 18.05. I was expecting a full flight as my original flight was cancelled. The flight turned out to be around 60% full, including a healthy load in business class.
We received another warm welcome from the AF Cityjet crew, who looked very smart in their uniforms. The Captain made an announcement apologising for the delay and explained that we would be held at the gate for a while due to ATC restrictions. There was a party of Swiss travellers seated behind me who were very concerned about making their connection at LCY to ZRH.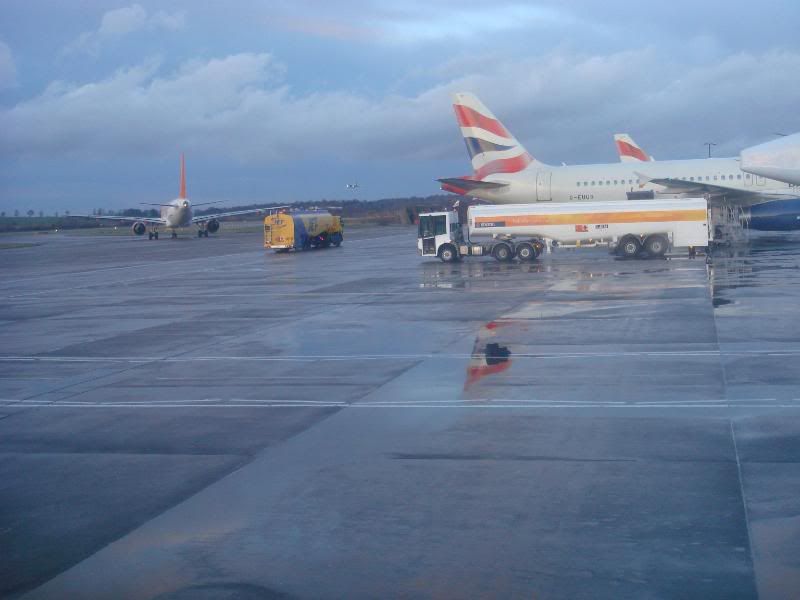 We eventually pushed back and made a swift taxi to the holding point. Another powerful takeoff, and we were heading west towards Glasgow, before turning south.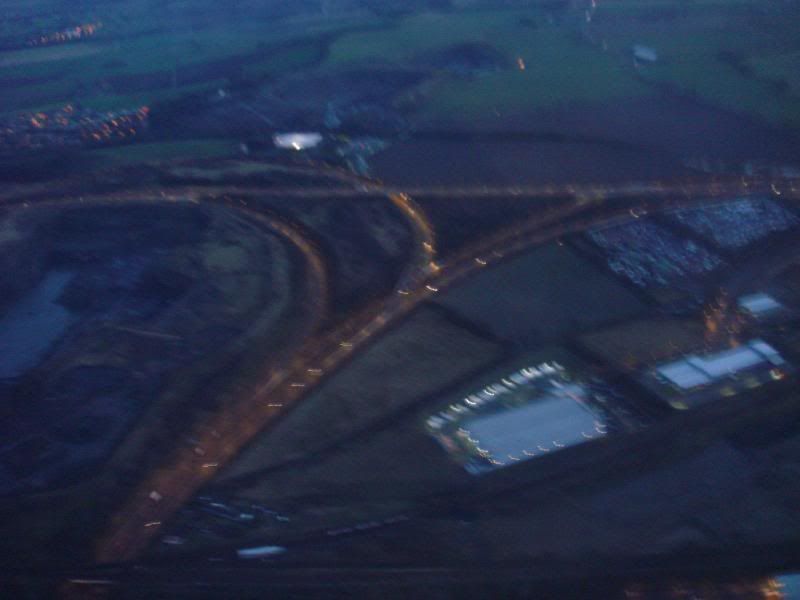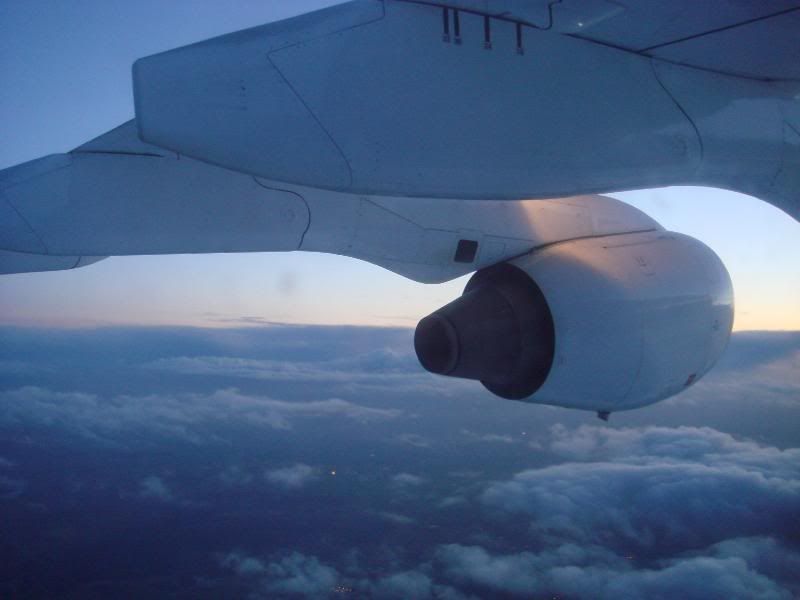 Service mirrored that of my outbound journey, and once again I was impressed by the attitude and approach of the cabin crew. They really couldn't do enough and seemed very motivated.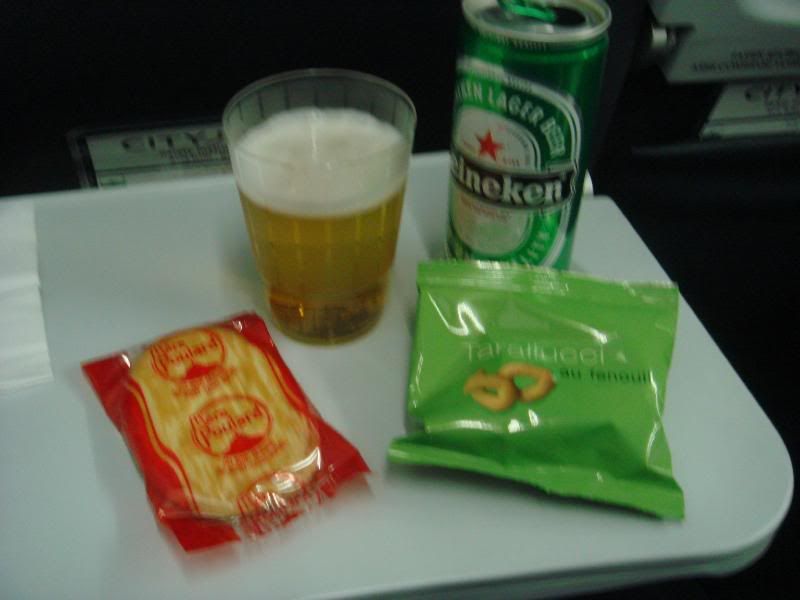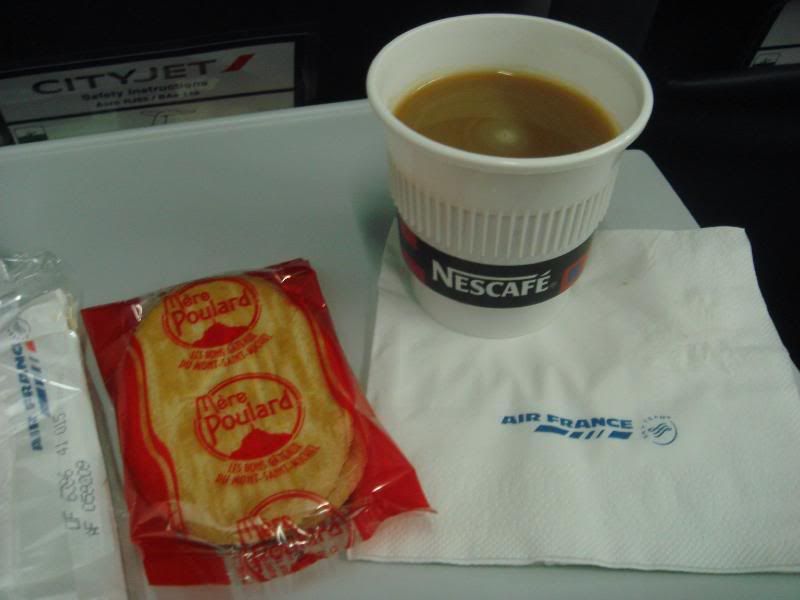 Soon it was dark and as we neared London I could make out the grid layout of Milton Keynes. We turned towards the north east of London, flying near to STN and then down towards Southend.
As we slowed for our approach the plane was being shaken and buffeted by the strong winds, but we made a very smooth touchdown at LCY, and another journey was at an end. We were held on the aircraft as an adjoining VLM F50 was refuelling. Then it was a quick walk to baggage reclaim, where my bag was already waiting.
In conclusion, I was very impressed with AF Cityjet's service. I was disappointed that my Dornier trip was cancelled, but this is just another reason for another trip- Strasbourg, perhaps?
Thanks for reading, and I look forward to questions and comments.