Hello,
This is my first trip report here on Airliners; this was from Vero Beach to Miami (driving) and from Miami to Mexico City on American flight 2199 on April 19th and back to Miami and Vero Beach on April 26th.
The whole purpose was to visit the family; I've been studying for 5 months here in Flight Safety Academy because my dad and sister couldn't come during the spring break in March better known as "Semana Santa" (Holly Week). After searching with many carriers for a trip to Mexico City, American came with the best fare (220 USD with tax round trip).
So the trip began Saturday April 26th at 1:30am, since my flight departed Miami at 7:40am and had to be there at least 2 hours and 30 minutes before departure, and the road trip was going to take at least 2 hours , I grab the car I rented and head to I-95 to the South, passing many cities/towns until West Palm Beach and finally at 3:30am in Miami, after 15 minutes trying to figure out where was the Marriot Hotel in Miami I found it and drop the car, of course there was no body at the Hertz desk, I just drop the keys and kill some time at the lobby. At 4:15am I decide it was time to head to the airport, I just took a cab and get there in less than 10 minutes, It was my first time with American out of Miami and I didn't knew where to check in, so the cab drop me out of Concourse C I think and get in line at the American counters, long line by the way! It took me almost an hour to get at the front, but I was glad because by 5am the line to check in was extremely long. After check-In, I walked to Concourse E and pass through the security screening, as always the same pain in the a$$ with this guys, getting almost naked to make them happy, but it was fast, the line wasn't that long and after a 15 minutes wait I was resting on a chair in gate E4. The next gate, E6 was packed of people that were getting ready to board a "Scarebus" to Orlando.
A300 getting ready for the flight to MCO
After that picture , I grab some breakfast by the way the most expensive breakfast I've ever had 11 bucks for a croissant and a juice anyway hunger is hunger, after that I just continue taking pictures until boarding was call, here are some pictures:
A300 pushing back to MCO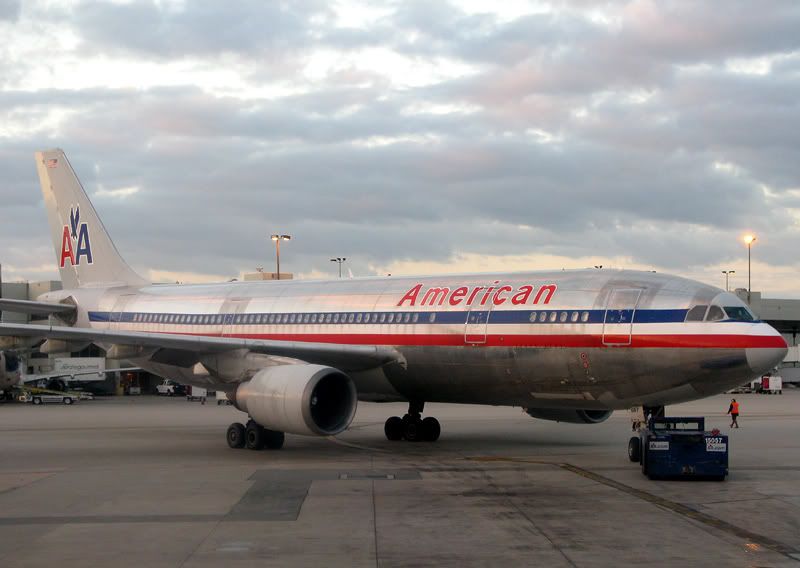 2 A320 and 737 at the F Concourse waiting for their departure times to Mexico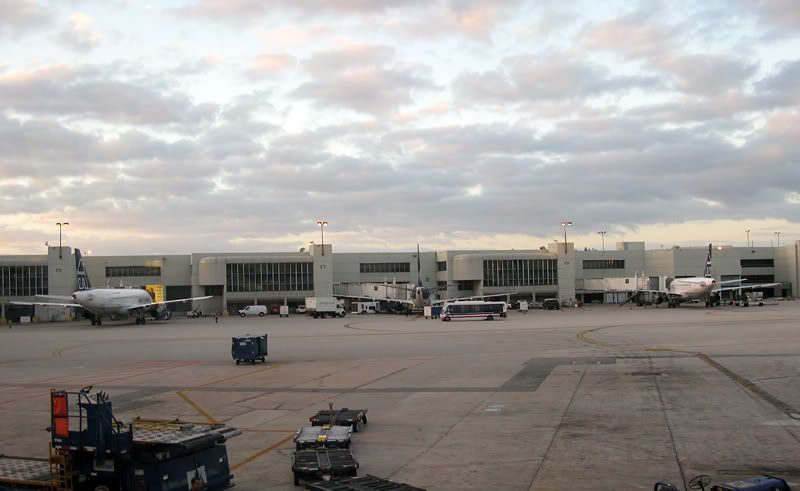 A320 pushing back to Mexico City
American 767 a the gate
American 777 at the gate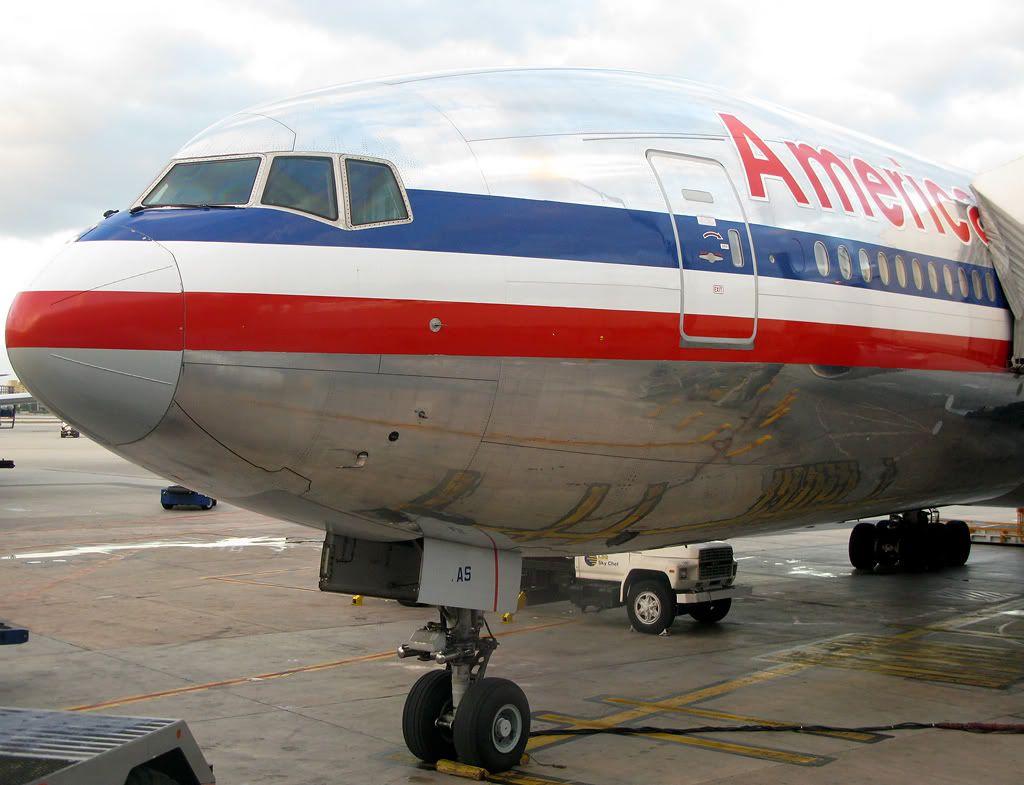 After that I return to E4 and boarding was call as usual starting with business class, then all the American Airlines gold platinum and all those members and then coach cabin starting by group 1 and 2 follow by 3 and 4 and 5 and 6. I was on group 4 so just waited like 5 minutes, after being call I handle my boarding pass and walk down the gate to the 737-800, I was greeted by a flight attendant and walk to my seat 18A.
Picture of my airplane to Mexico and pictures from my seat during boarding:
The 737 at E4 getting ready: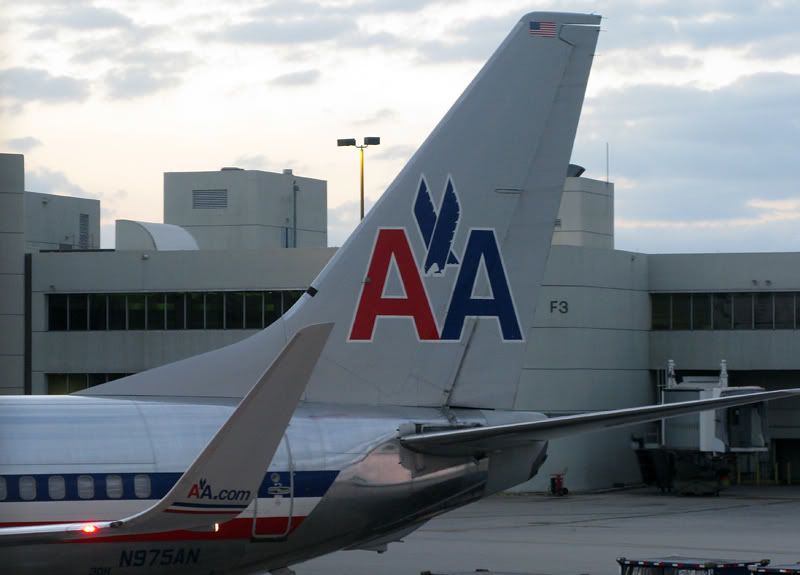 A 767 unloading probably just in from South America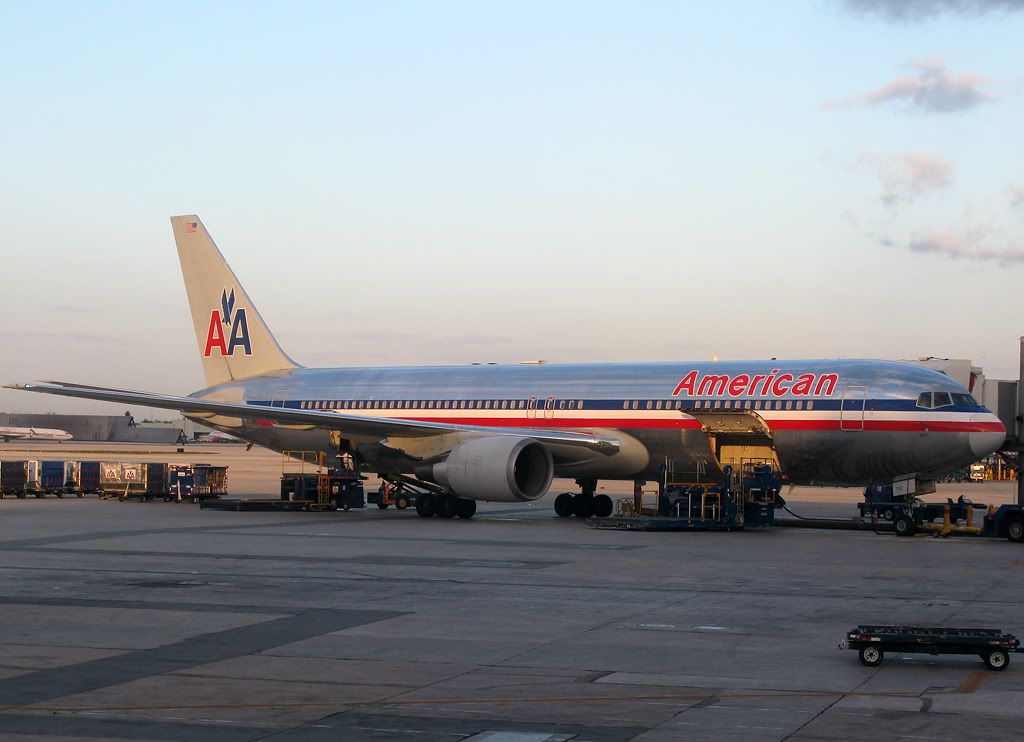 Winglet:
Schedule departure time was 7:40am, and we were pushing back at 7:30am with a load of no more than 60%, which meant that I had the whole row for myself! Making it very nice! Taxi was quick no traffic at all and soon we were taking off runway 8R.
Pictures of pushback, taxi and take off:
Pushback from E4 with a view of gate F7 occupied by one of the newest 737 of AM
XA-MAH being load up:
XA-TXT being load up:
Racing with a MIA fire truck: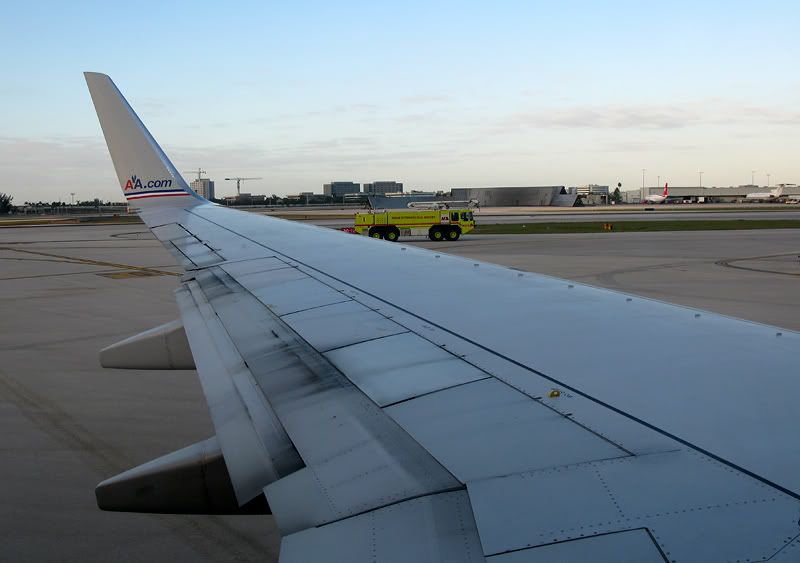 AmeriJet 727 fleet: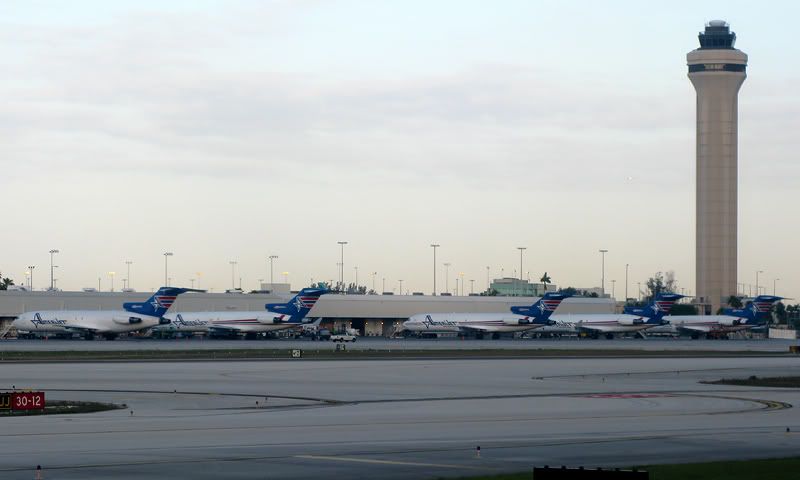 Ready to go 8R: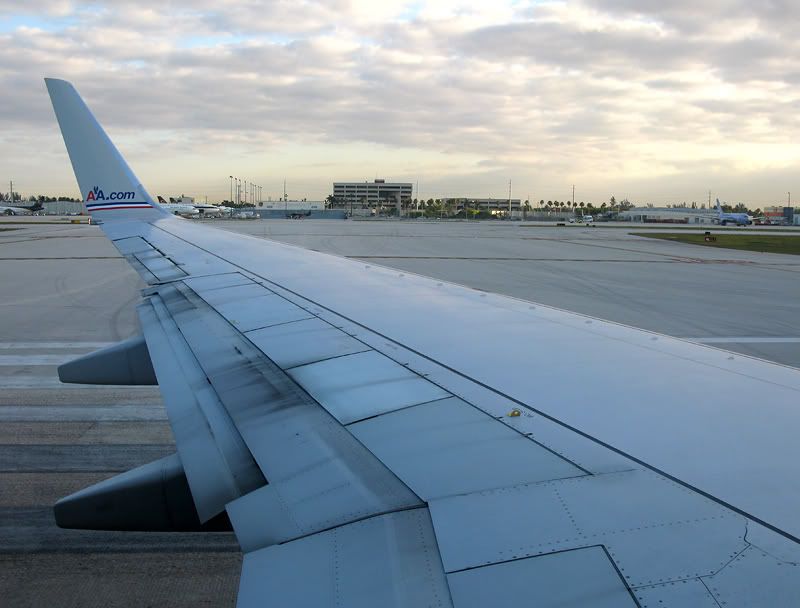 Some cargo planes as we roll down 8R: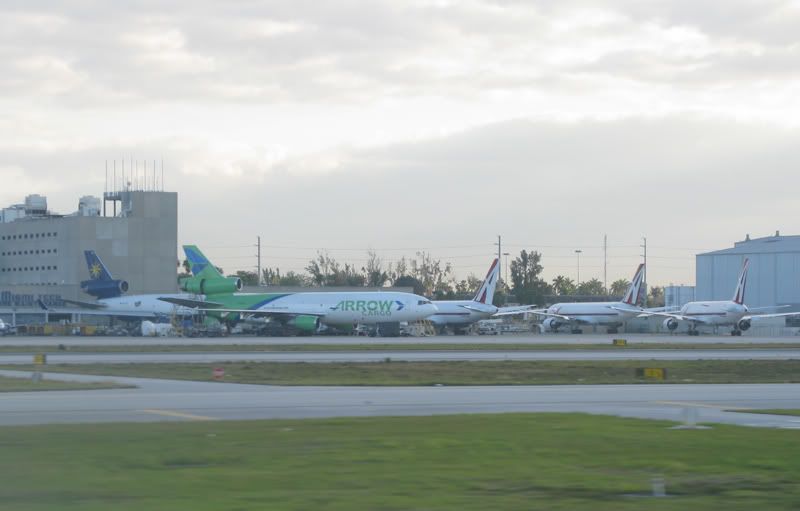 American Airlines Arena as we climb away on the MNATE1 departure: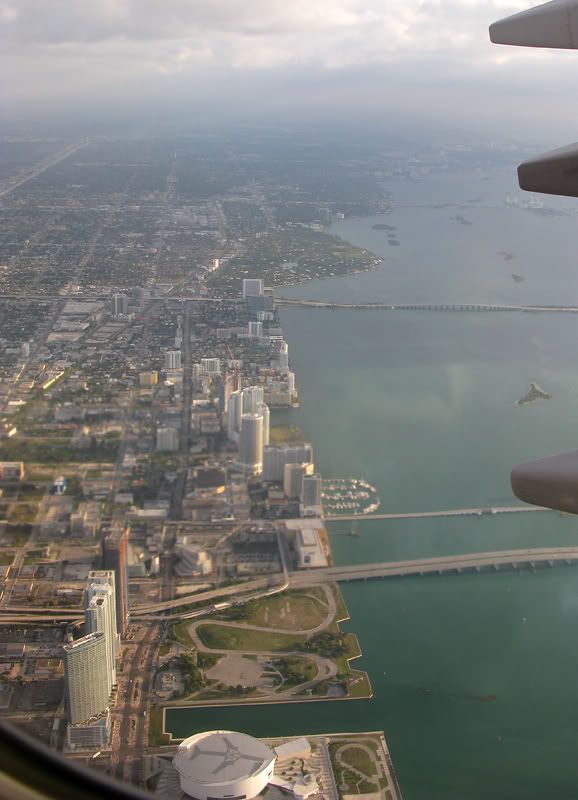 The announcement was we were climbing to FL390, very smooth climb and cruise, they pass a movie, I don't even remember which one it was, probably Mad Money or something like that, I didn't pay any attention, I was watching a DVD on my laptop, here are some pictures:
Climbing over the Gulf of Mexico to 39,000 ft.: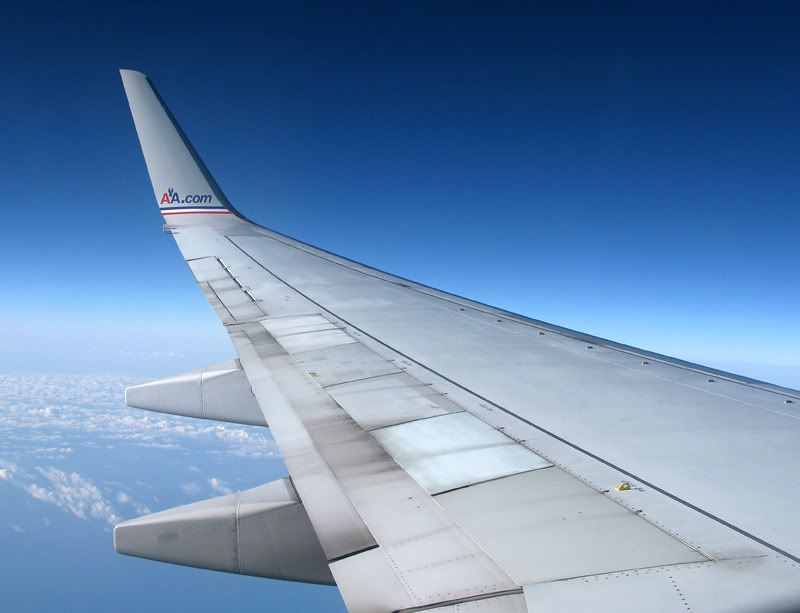 My IFE: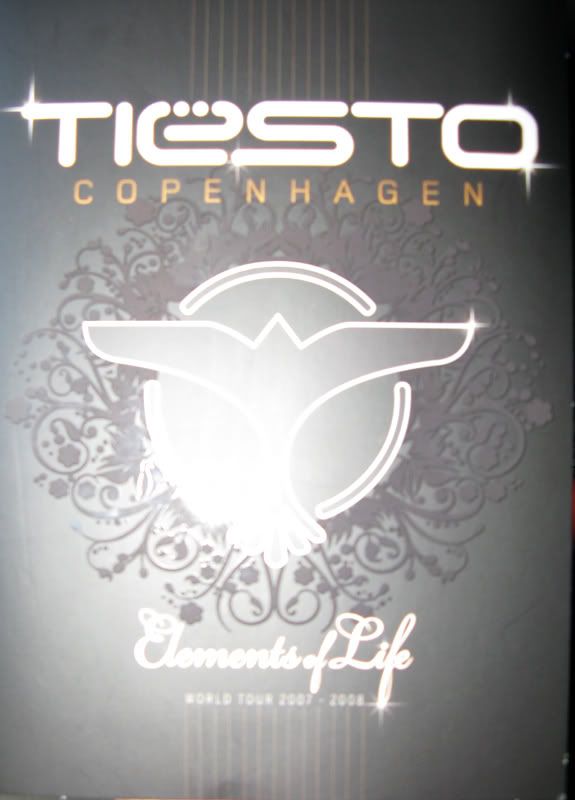 Seating back, relaxing and enjoying the smooth flight!
After nearly 2 hours and 45 minutes of flight the coast of Veracruz was spotted and at distance Pico de Orizaba was gracefully showing through the overcast skies:
And shortly after that we start our descent via DATUL1A into Mexico City, expecting the ILS DME to runway 5R in Mexico City:
Descending:
On the initial approach on a very hazy and polluted day in Mexico City: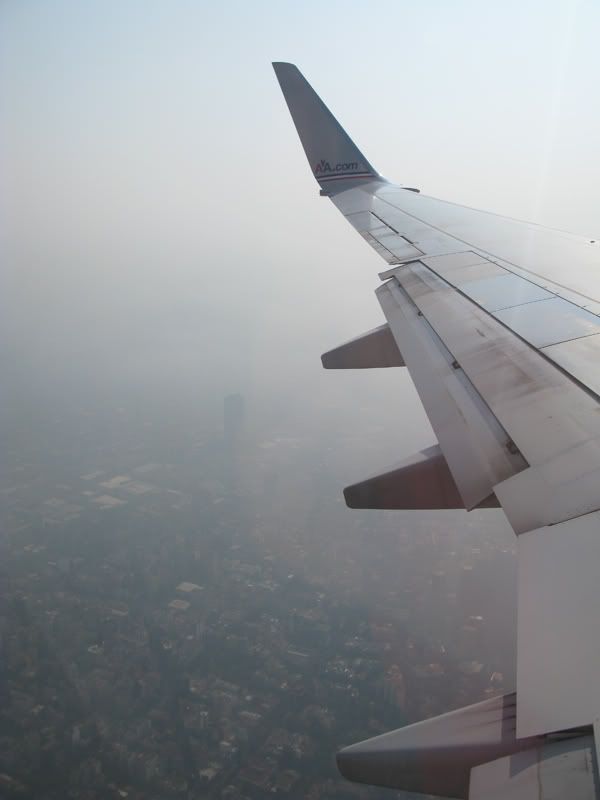 Somewhere over the city while turning to Plaza NDB: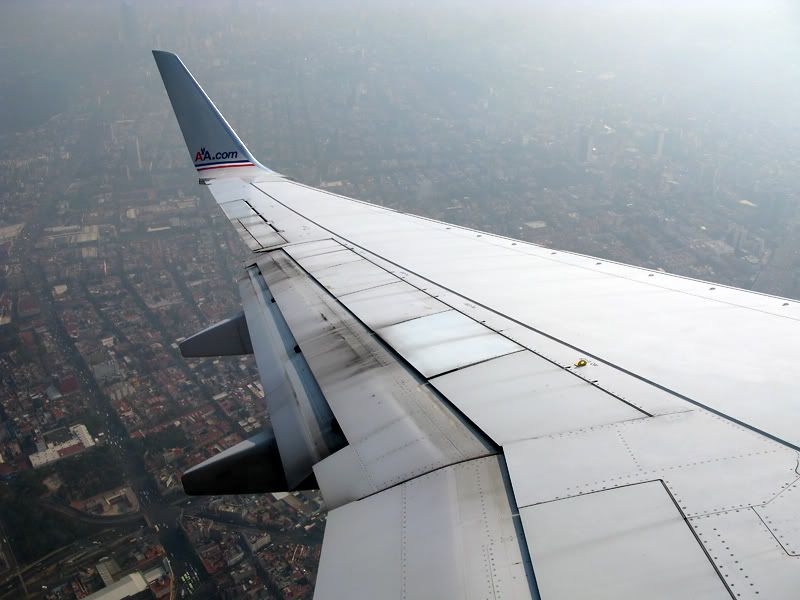 World Trade Center as we turn to Plaza NDB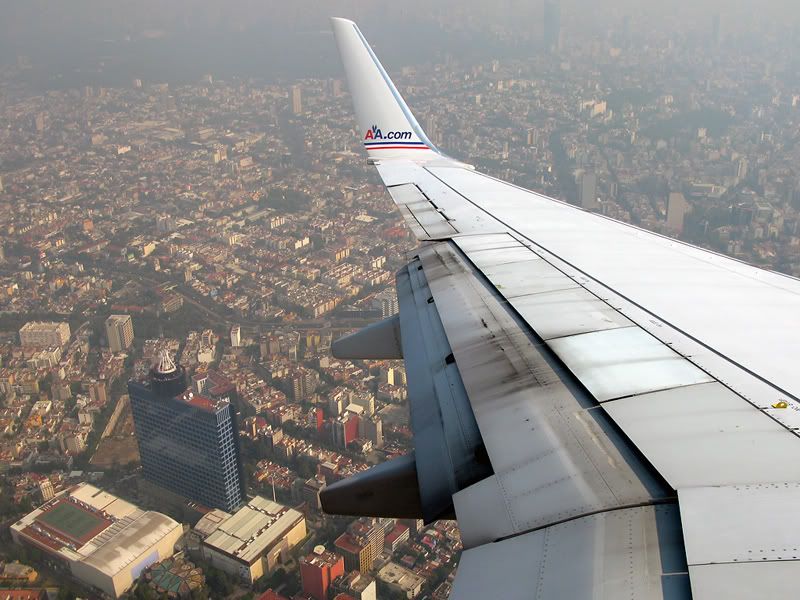 Mexicana Tower, or at least used to be: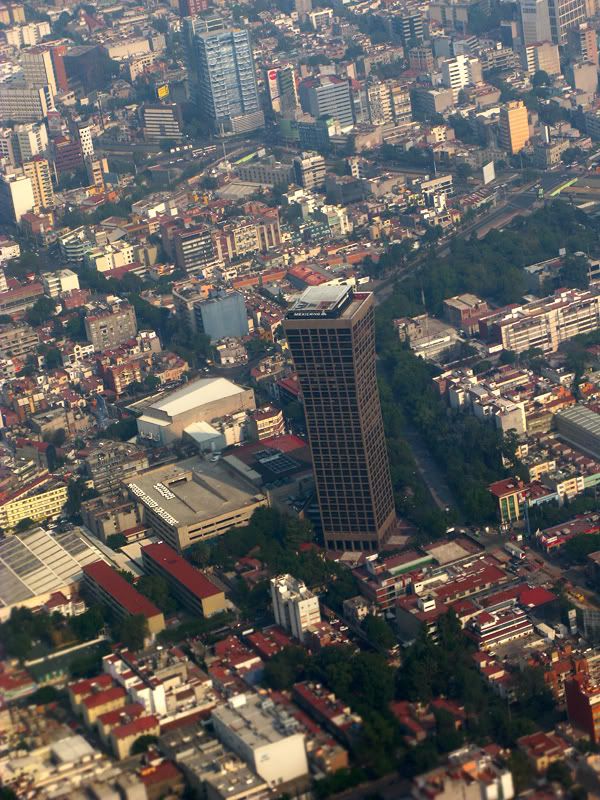 Full established on the ILS 5R:
Some of the "fantastic" road construction on the city!
Very short final, over the fence!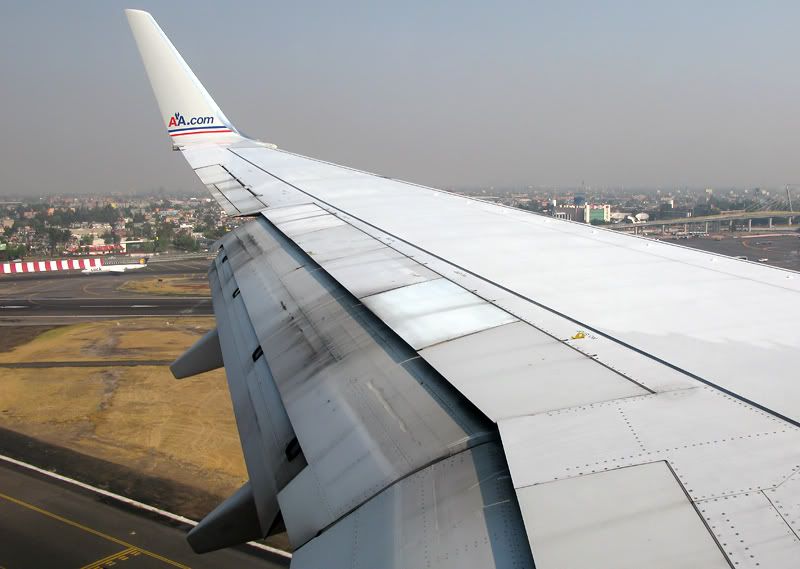 Touchdown!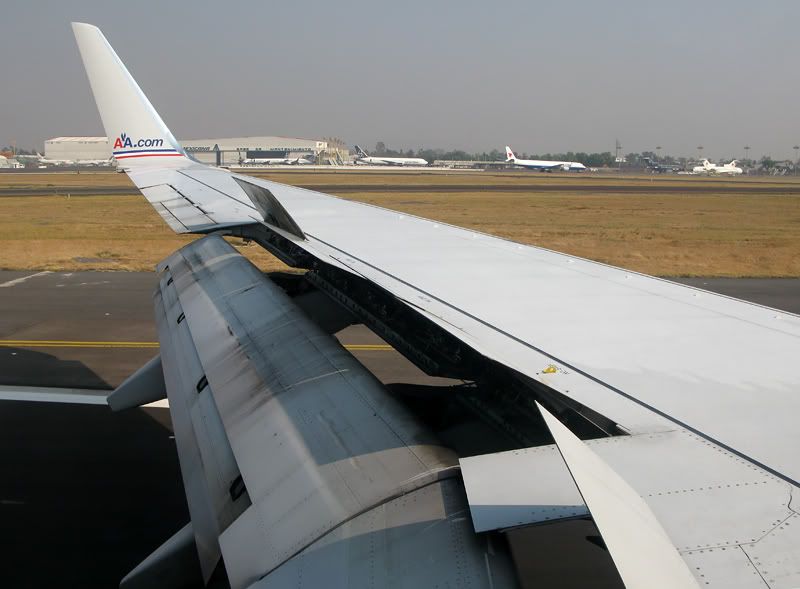 Cleared of 5R and crossing 5L.
We arrived 10 minutes early, and taxi was fast to gate 33. From there I head to immigration which was empty and only took 5 minutes. Walk to baggage claim, which came out fast and then customs in 5 minutes again so it only took 20 minutes since we landed until I was meeting with my dad!
Hope you enjoyed my first trip report and comments are welcome!
Thank You
Jorge Meneses
Coming soon: Part 2 MEX-MIA
[Edited 2008-04-27 20:06:57]
[Edited 2008-04-27 20:11:22]