Hello!
This is part 2, which covers the return trip to Miami and Vero Beach so if you don't mind let's get down to business!
The return was set on American Airlines flight 2198 which was schedule for departure at 11:10am local time, therefore I decide to wake up at 7am and take a quick shower, and make sure I had packed everything before going to the airport. My dad and I live the house at 8:15am and the ride to the airport was very fast, no traffic at all over Circuito Interior and arriving at 8:30 at the F3 ticket counters, home of American Airlines in Mexico City, check in was very fast and in just a blink I was passing through security and head to the Duty Free to kill some time as well as to an electronic Duty Free, since the flight has no gate assigned yet I just assumed the flight was going to departed from any gate between 29 a 36, so I walked through the long hall to gates 29 thru 36 which was almost empty! The only flight departing in there was a UA flight to IAD, and gat gate 29 was an AA Mad Dog which was departing later to DFW. We having almost anything to do I connected to the internet using my Prodigy account and then I just searched for a place to take some pictures and with little luck I could took some "decent" pictures:
Varig, DHL, Iberia, Califas DC9: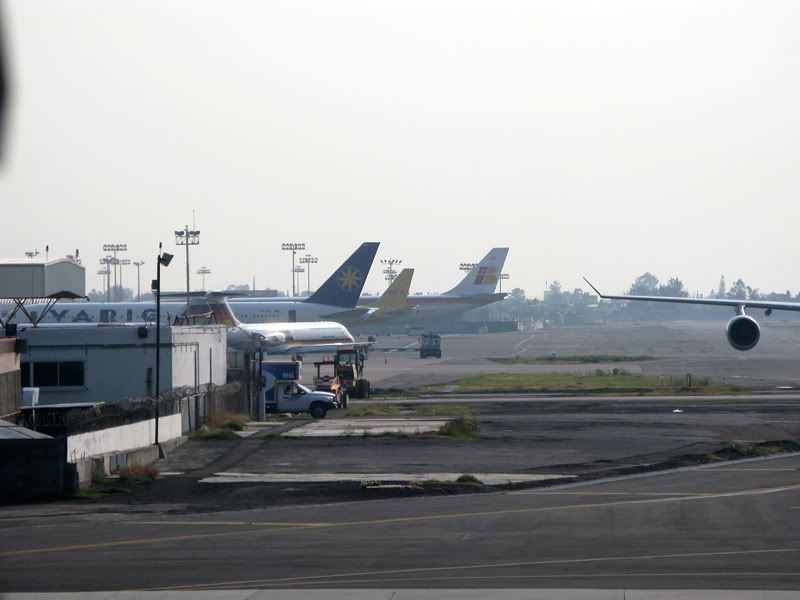 View of a sign, pointing to gate 30, which later turns to be that gate 30 was assign to American Airlines flight 2199 from MIA and AA2198 to MIA:
Departure's Screen, some information: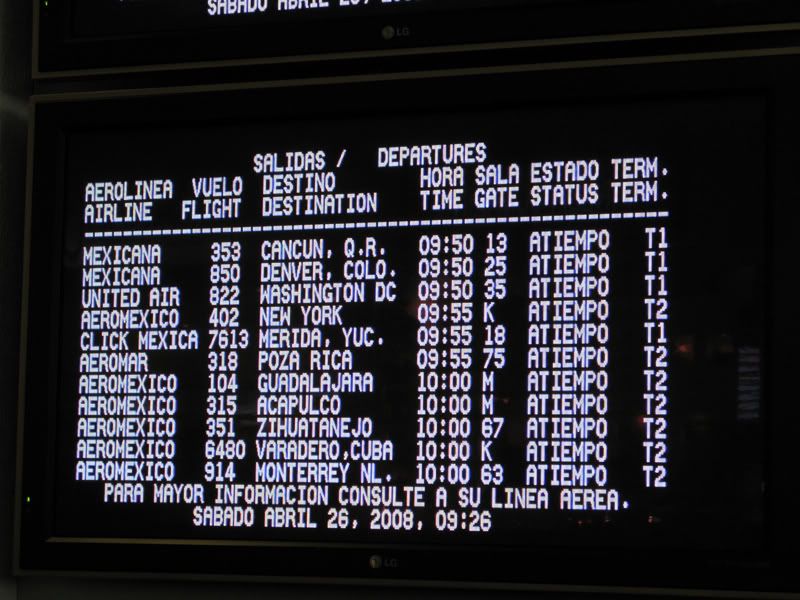 Terminal 2 thru the jail bars:
Parallel operations?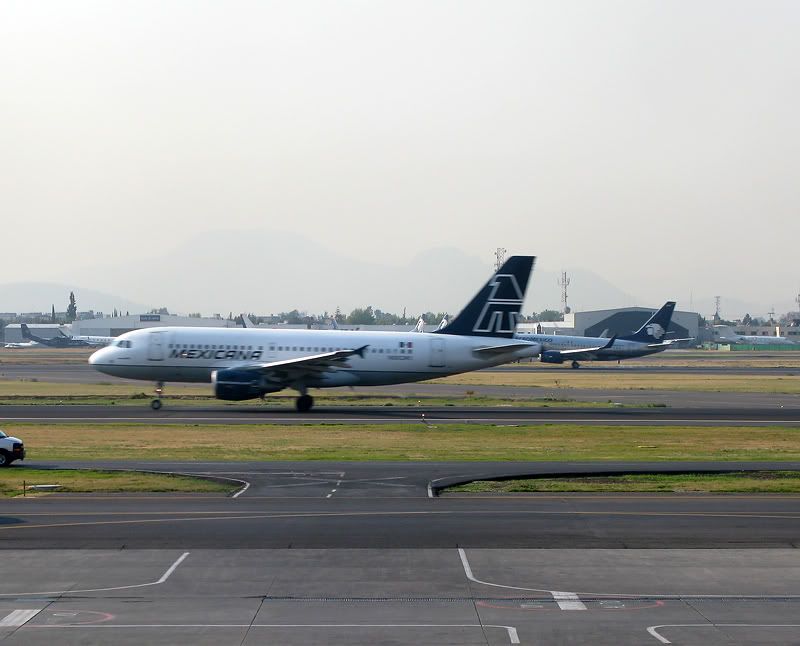 Mexicana A318 after landing and taxing to the gate: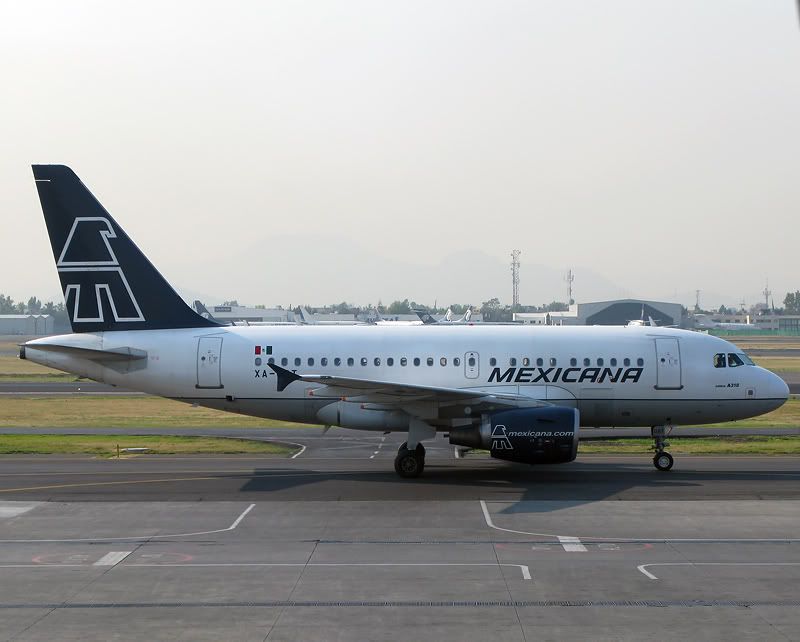 Iberia A340 being tow to the gate, and will be departing to Madrid as IBE6400 or 6401: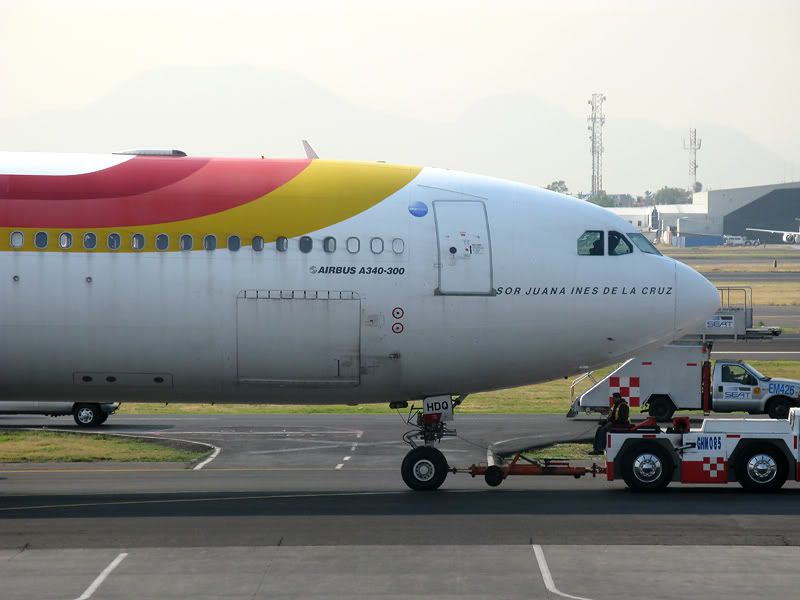 Mexicana Airbus preparing for an international flight at gate 27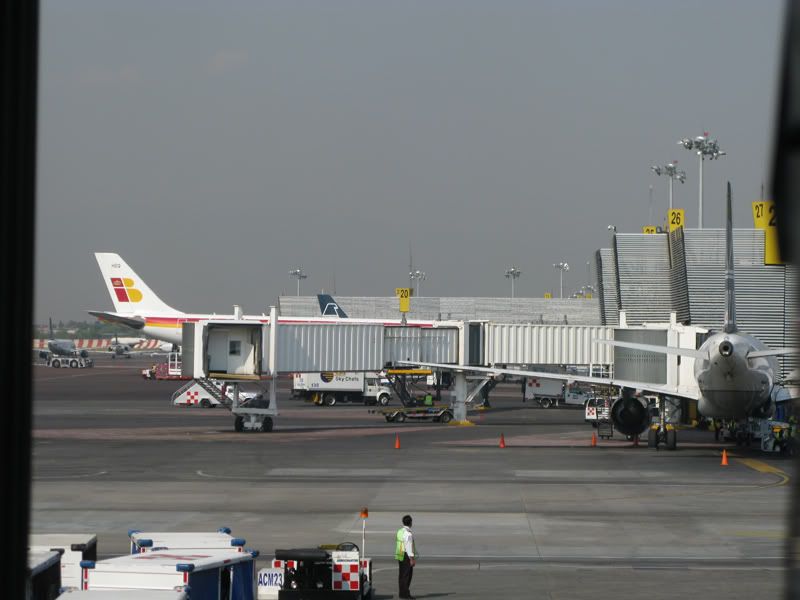 After that I sat again and just chill out, and check the arrival of American 2199 from MIA on American webpage and saw it was schedule for 10:15, I again just pack my laptop and search for a place to take a picture of the 738, thank God I found it and here are some pictures of it:
My plane to Miami coming to gate 30: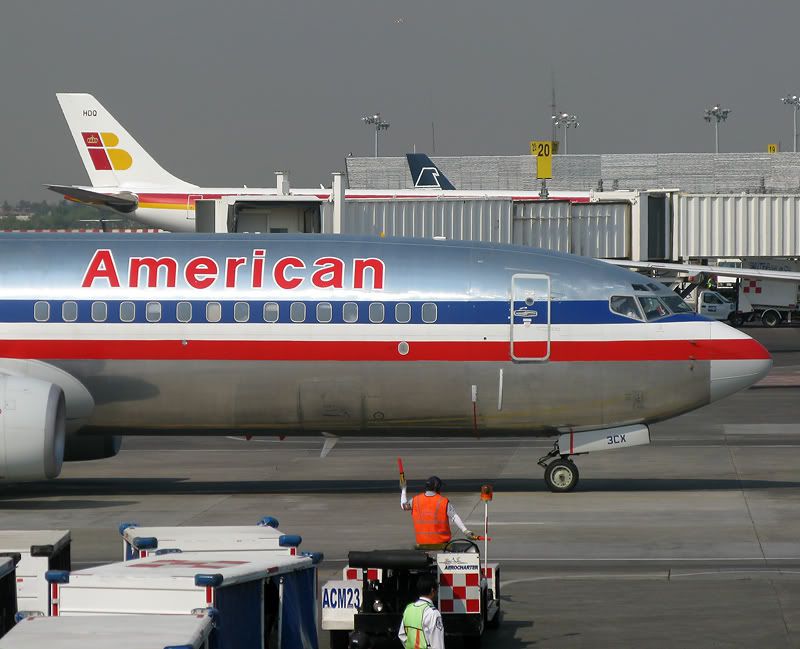 Entering to the gate: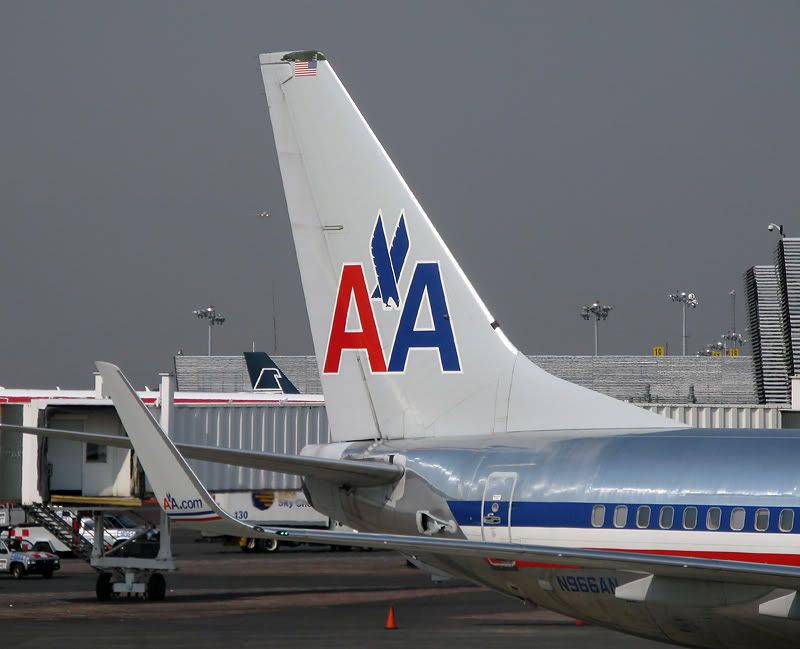 Quickly after arrival, all passengers came down, there was also a crew change which was a surprise to me, anyway boarding was schedule for 10:25am and actual boarding was call at 10:35am again with business class follow by American gold platinum and all those members and then coach class group 1 and 2 follow by 3 and 4 and last but not least 5 and 6. Sadly to me and good for American this flight was full on F and full on Y so there was a lot of people at the gate, I board an took my seat 19F and just wait to the whole plane to get full, here are some pictures:
After boarding:
After that, and luckily enough, people were fast and we were pushing back 5 minutes before schedule departure time of 11:10am, here are some pictures of the pushback:
Safety demonstration video: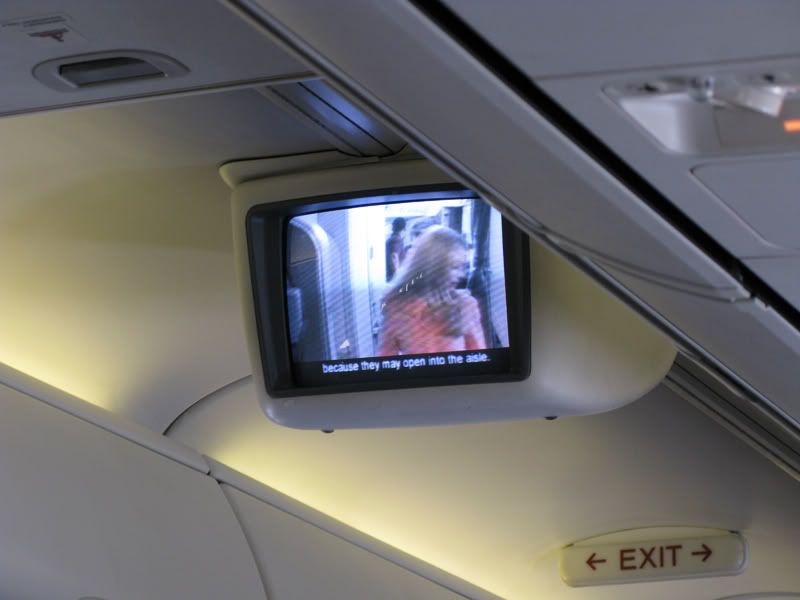 Taxiway Bravo was close between Bravo 7 and Bravo 5 I think so we were cleared to taxi to runway 5R via B9, runway 5L and A1 I think to 5R, some pictures during taxi:
Taxiway B closed:
Money, anyone???
Entering 5L: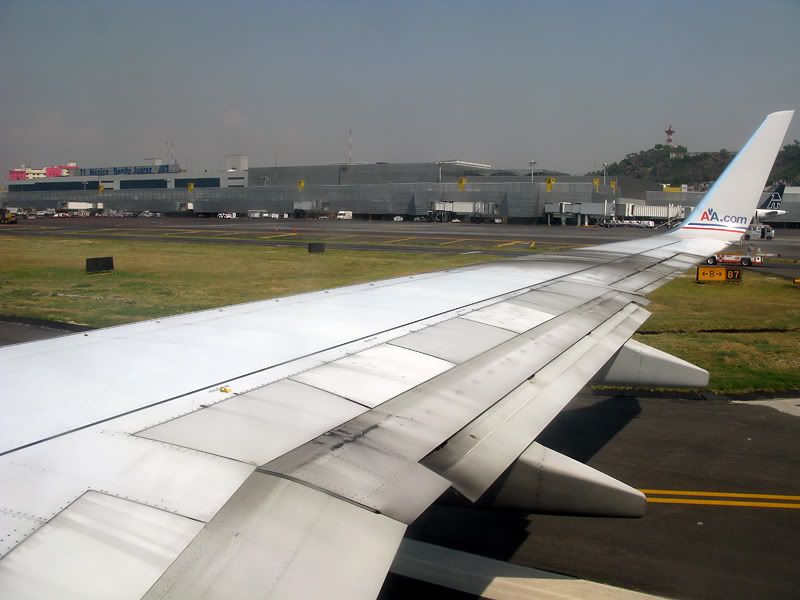 Since we were using a runway for taxi, taxi was a little faster and we were number one on 5R for departure here is a video, sorry about the window, it was so dirty!
After almost a minute rolling down 5R, the heavy, full of cargo and passengers 737-800 had generated enough lift was climbing way from Mexico City, here are some pictures again!:
Climbing with Texcoco highway below: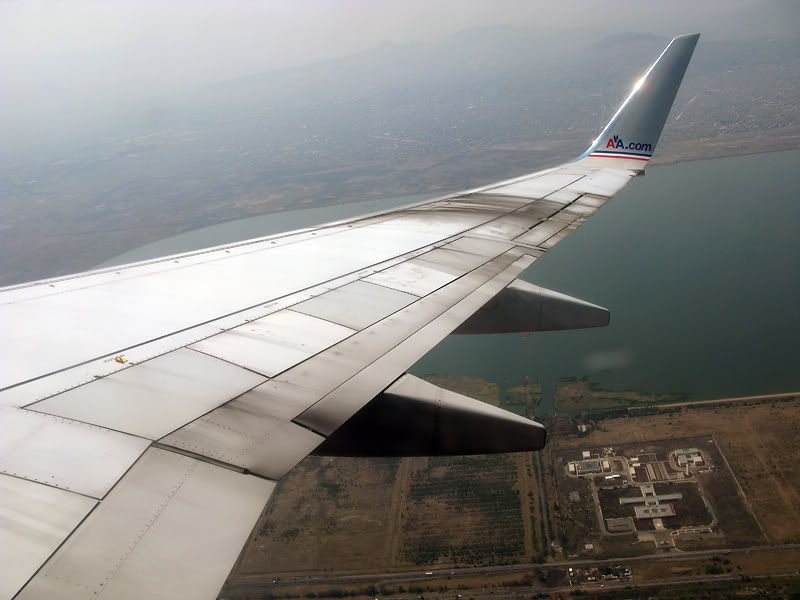 The crew announced we were climbing to 37,000 feet but, we never make it there, some minutes later they announce we were at 35,000 feet and that was going to be the final altitude, here are some pictures during cruise:
Mexicana A319 probably from Miami: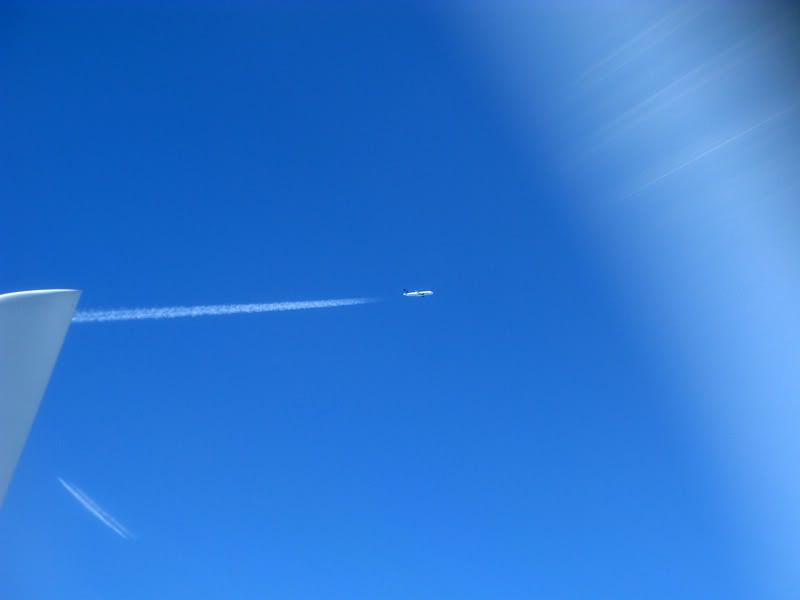 Some nice puffy clouds: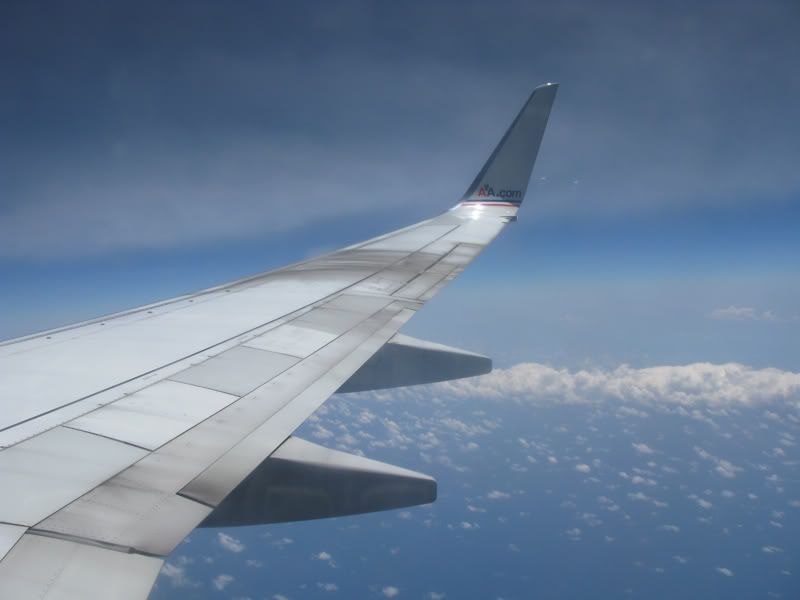 A tanker probably on its way to Veracruz or Tampico port:
The cabin: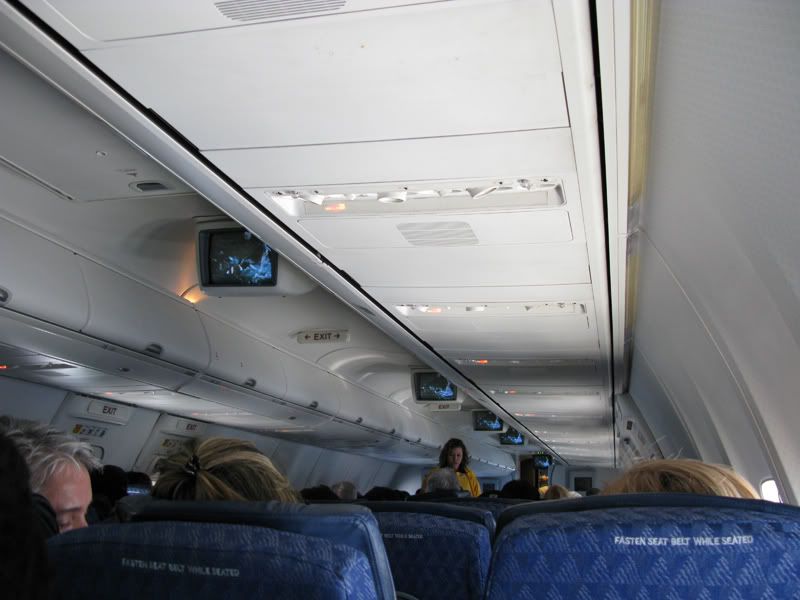 More puffy clouds and turning: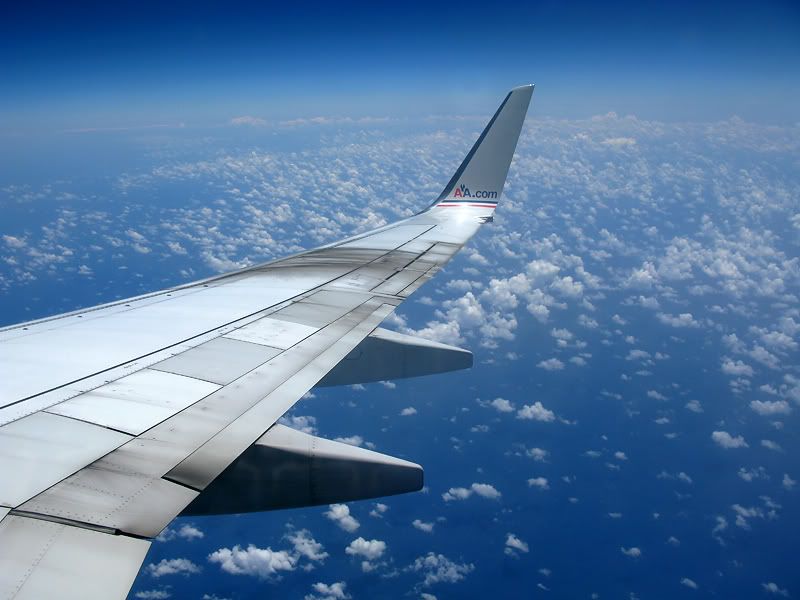 After that the coast came into sight, I'm assuming we enter the US somewhere near Key West, I got some pictures, if anyone can identify, I will appreciated it: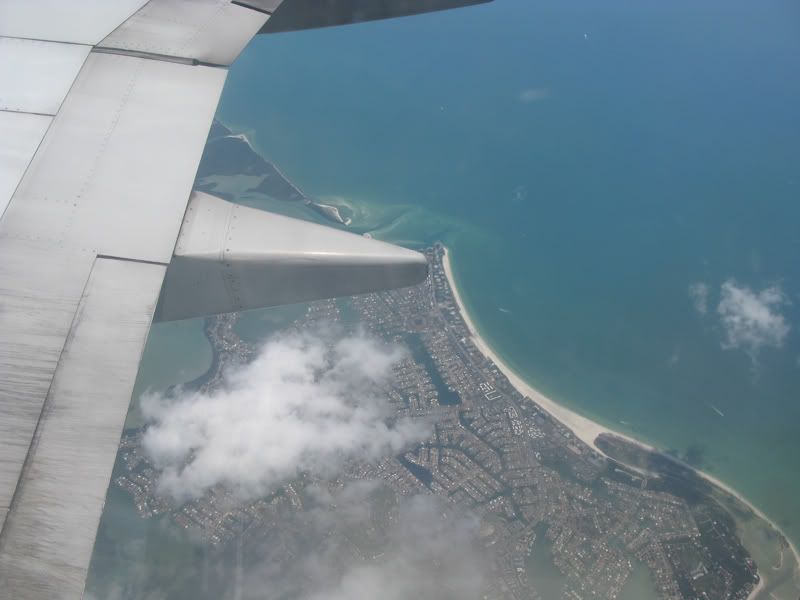 An airport: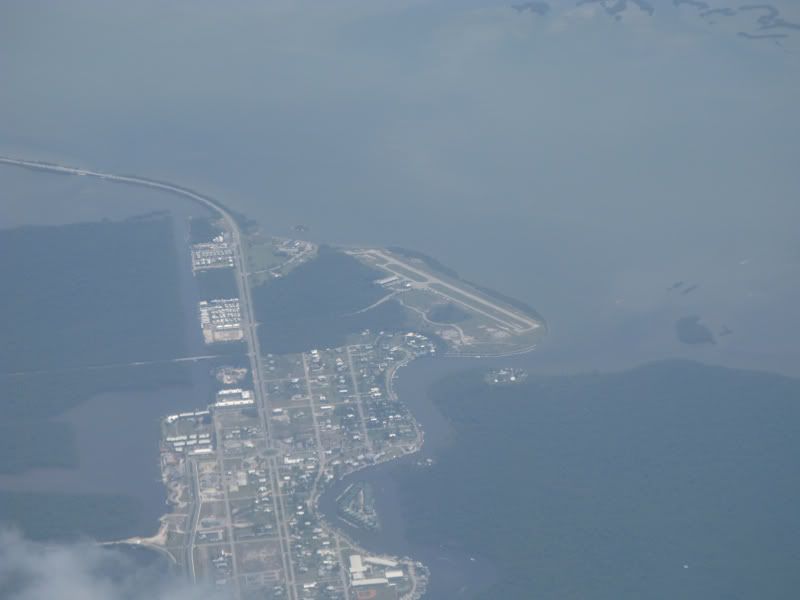 And after almost 2 hours and 10 minutes, we start our descent and approach into Miami, and 25 minutes later we were touching down on runway 9, here are some pictures and a video:
The everglades as we descent into Miami:
Slowing down, with the help of the spoilers:
Flaps and spoilers still up:
Flaps in position for landing: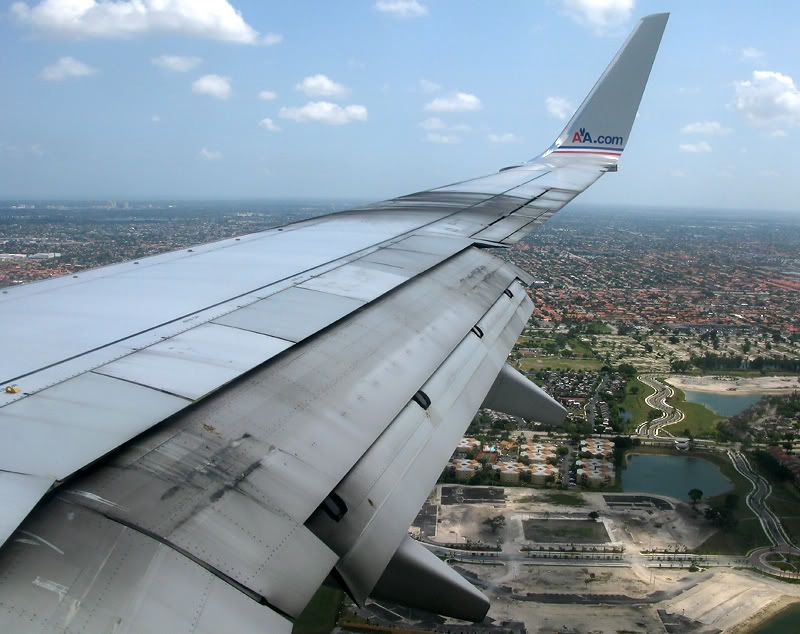 Video of landing, sorry it's incomplete, when the airplane touchdown was a bit hard and I turn the camera off  ROFL:
Breaking in runway 9:
We arrived almost 25 minutes earlier in Miami, which didn't help in anything because we just spend those 25 minutes waiting for the gate to become free, so I just took some pictures while taxing and waiting at the penalty box or something like that the pilot call the stand we were waiting:
Speedbird just in form LHR and being prepare for the return: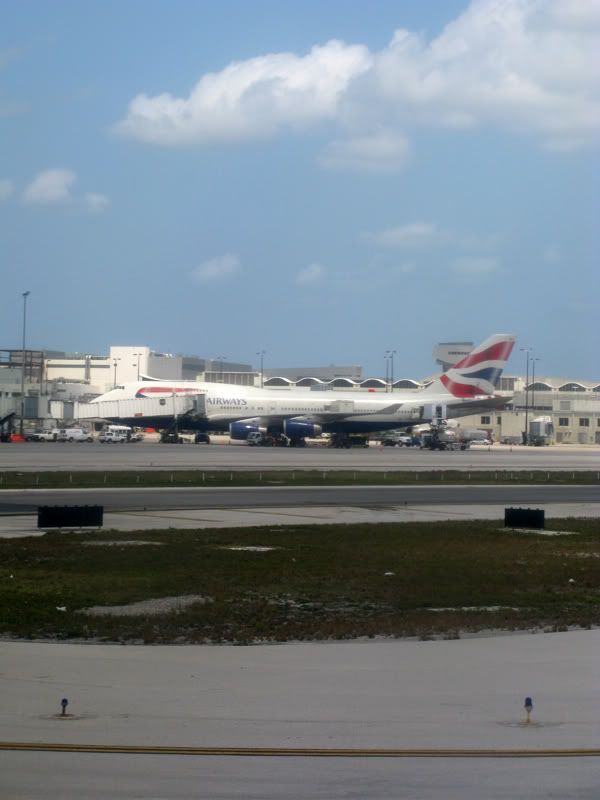 American 777 being tow to the gate: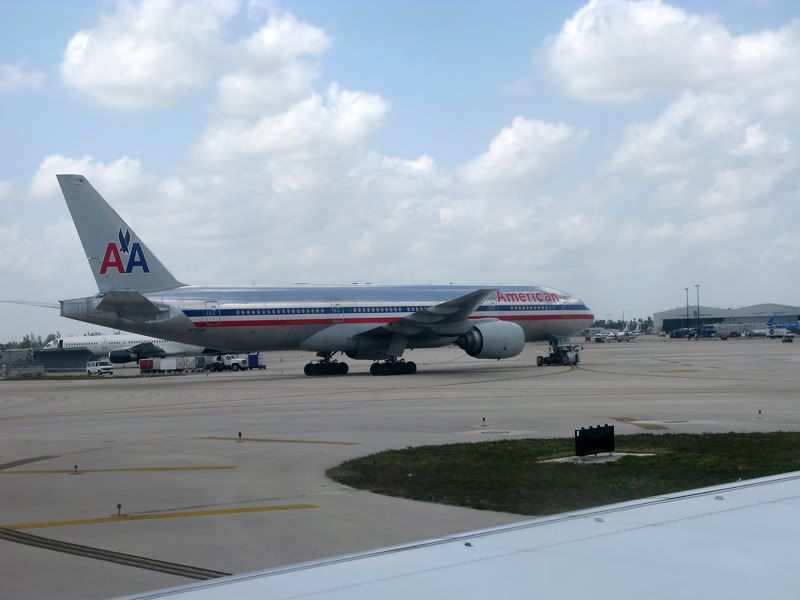 Aladia first 757 with winglets being prepare for delivery in Miami: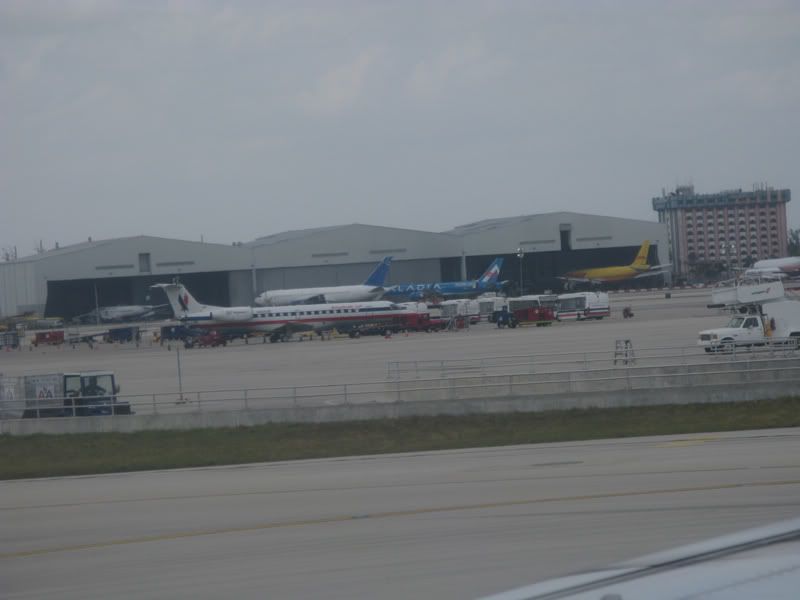 After the 25 minutes wait, we taxing to Concourse E gate E6, some pictures:
Virgin A346 at gate F19 preparing for departure back to LHR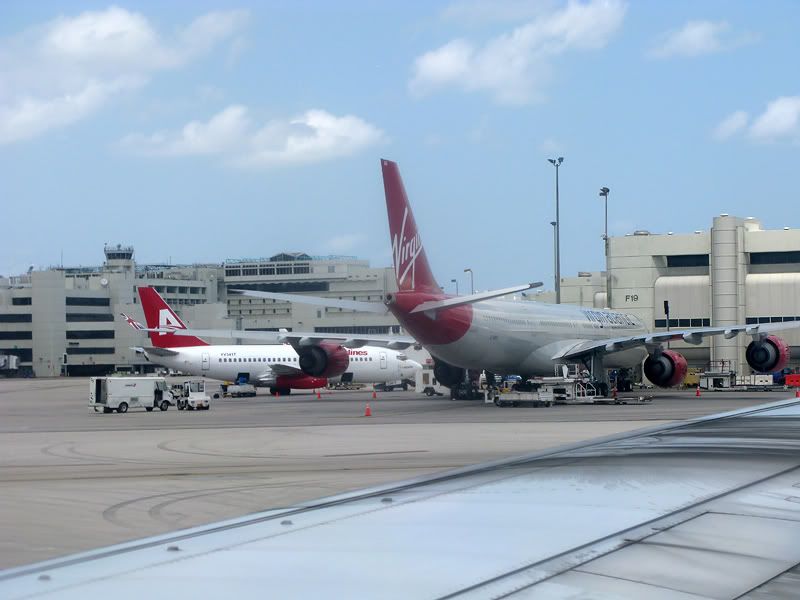 Shutting down at the gate: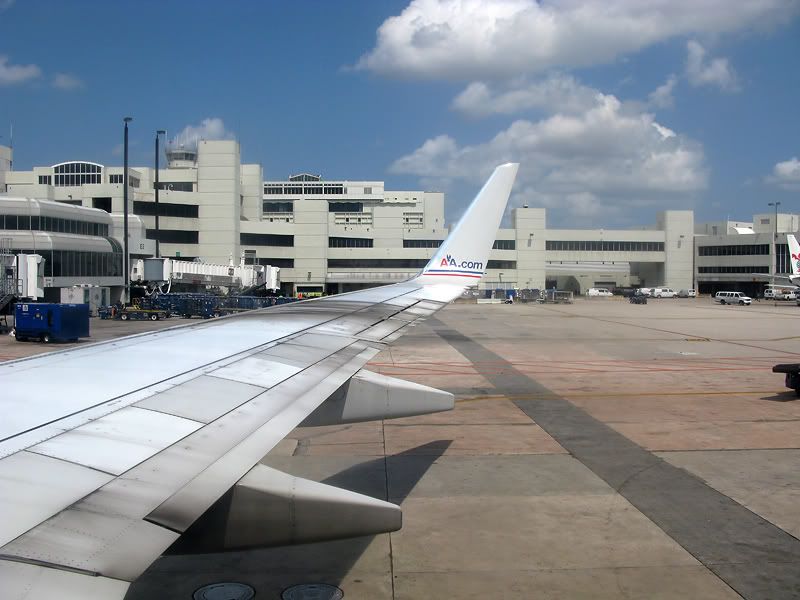 After that, I was walking fast to beat some people on the line at passport control but guess what?! It was rush hour! It was packed! From people from France, Spain, England, Italy! OMG I spent almost one hour in passport control, after that everything was easy, and almost one and half hour after arrival finally I was on my way to hertz to pick up my car, ad drive back to Vero Beach.
Hope you enjoy this second part! And be prepare for the trip report The Road To Vero Beach on January 2 with Continental Airlines. I might be doing it tomorrow!
Thanks for reading, comments very welcome!
Jorge Meneses