Purpose of the trip:
My wife is from Brasília and had never gone back to her hometown since leaving it as a child to come to Rio. Given the fact that a very good friend of mine now lives in Brasília, I decided to combine taking my wife on a nostalgic trip while visiting a very close friend. Given recent disappointing experiences with TAM, I personally look for Varig first every time. Therefore, I went on Varig's website and after many problems with the connections (I insisted, but it was not a good start), I was able to book my flights for the 25th of April and back on the 27th. The GIG-BSB leg would be flight RG2212 service from Rio to Manaus with a stop at Brasília. The BSB-GIG leg would be RG2205 also coming from Manaus.
Booking the flight:
As I mentioned it, booking the trip was not easy. Varig's website kept crashing and not allowing me to purchase the tickets. I was quite frustrated and the thing actually became a rivalry between me and the machine. I would not rest until I got that flight. An hour later, I had my e-tickets on my email.
GIG-BSB
- April 25th, 2008:
Varig flight RG2212 on that day was operated by PR-VBB, a 737-800 (ex-Ryanair, if I'm not mistaken). The flight was scheduled to leave GIG at 6:20 PM, so I planned to leave work early and be at the airport at around 5 PM. Given that it was a Friday, I was worried about traffic on Linha Vermelha (the express way to GIG) so I left work at 4:15 PM. There was in fact little traffic, and at 4:45 PM I was in line for check-in. GIG's Terminal 2 (serves Varig, TAM, TAP, United, Lufthansa and Pluna) was not busy at that time, though a line for TAM's international check-in was starting to form.
Varig's ticket purchase and customer service desk at GIG TPS2: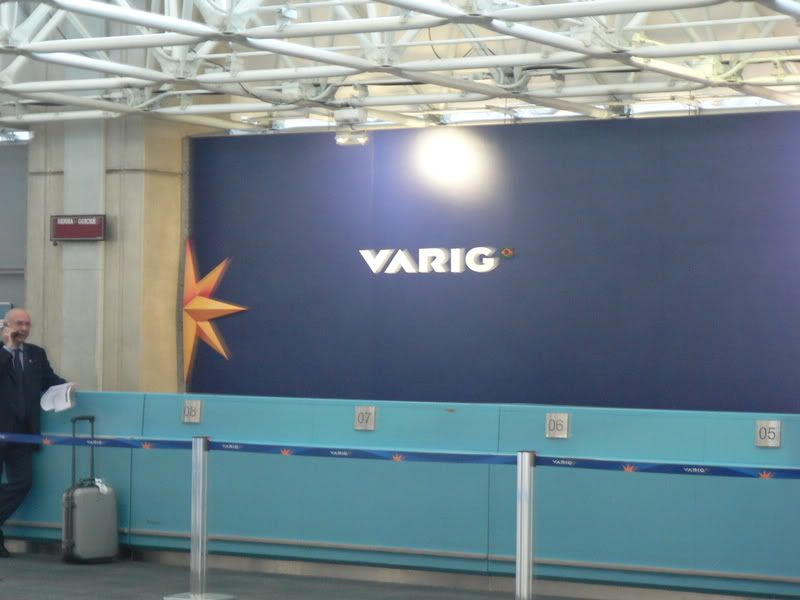 I waited about 15 minutes in line until it was my turn to check-in. While in line, I asked the Varig attendant who was directing people to the correct line for a bag tag. He was prompt to get one for me, but I could see he was having trouble finding any. He went to every single counter until he got me those tags. He came back, apologized for taking so long and I just replied
"not at all, I thank you for your effort in find me these"
. Also while in line, I could notice a kid (about 8 years old), his mother and grandmother checking-in. It was his first time flying and he was clearly excited. The check-in agent was sure to enhance that and was very playful with him. I'm guessing this kid will be posting here and in other forums in a few years...
Check-in: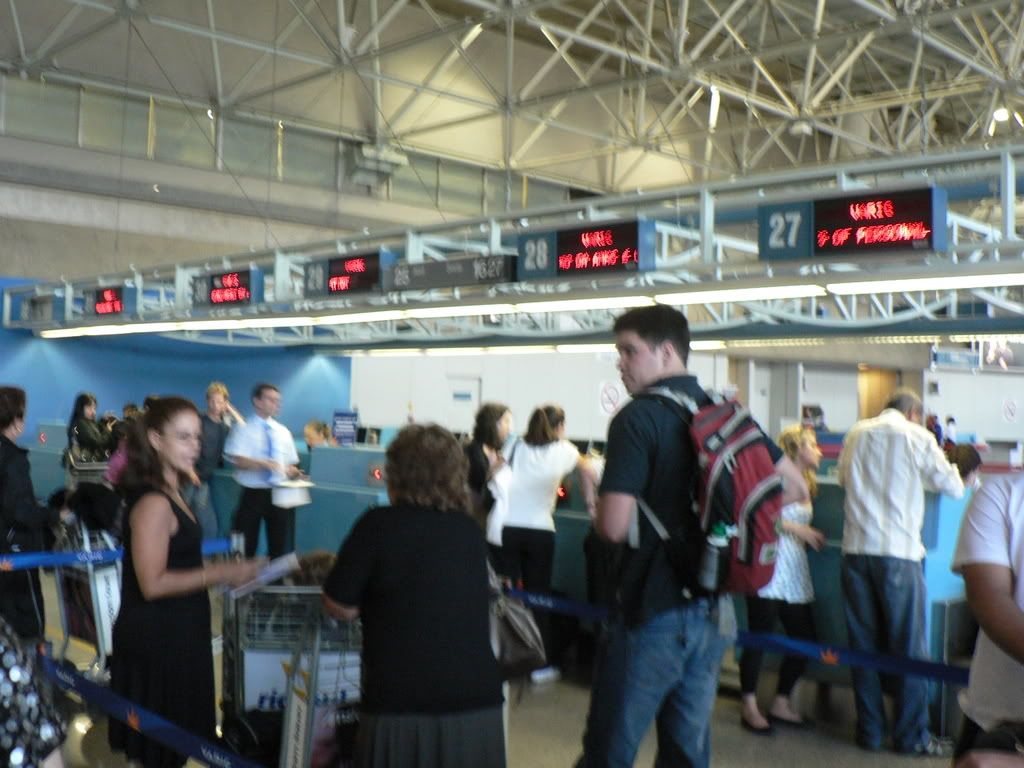 Looking towards the International Dept gate.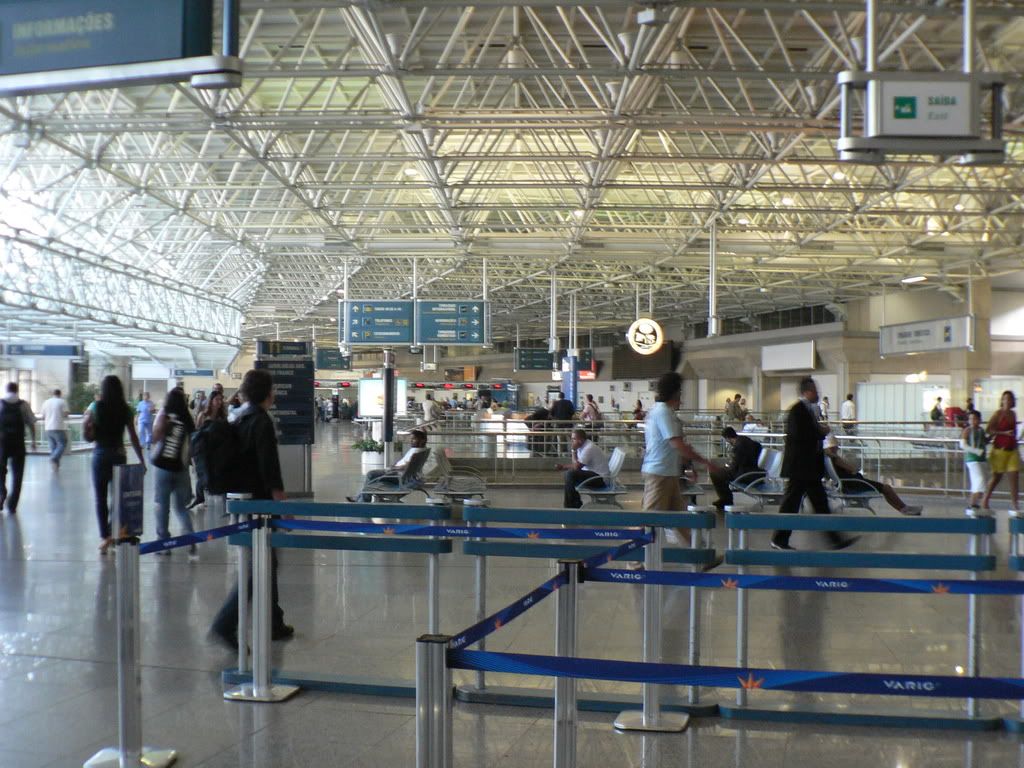 I ended up on the same counter as that kid and his family. The agent was very polite and surprised when I asked him if it was indeed PR-VBB assigned for the flight:
"how do you know that?"
he asked.
"I have my sources"
(the good folks at Contato Radar), I replied. In 5 minutes I had checked my bag and had the boarding passes in hand. Boarding was on time and my pre-booked seats were confirmed (10L and M). I had some time to kill, so I strolled through the airport. My wife was not that happy about it, but she was comprehensive and endured my aviation hobby.
Some pics of GIG that Friday afternoon:
This is the International arrivals area:
A Webjet 733 getting ready for yet another flight:
Lots of TAM birds: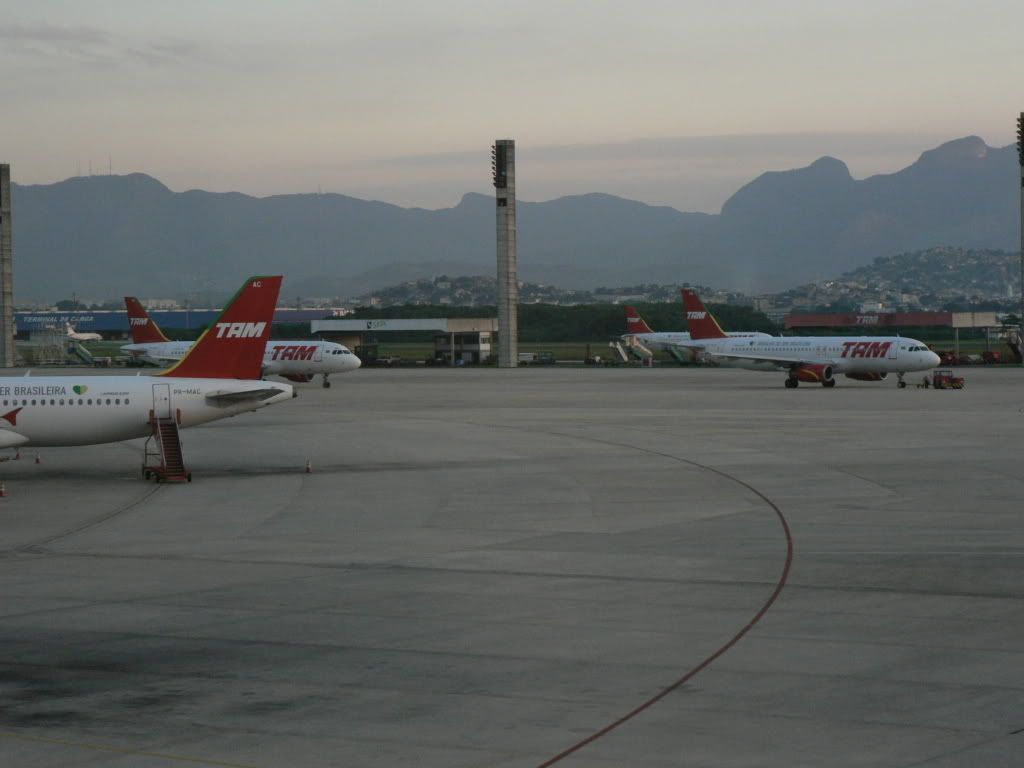 Another one coming...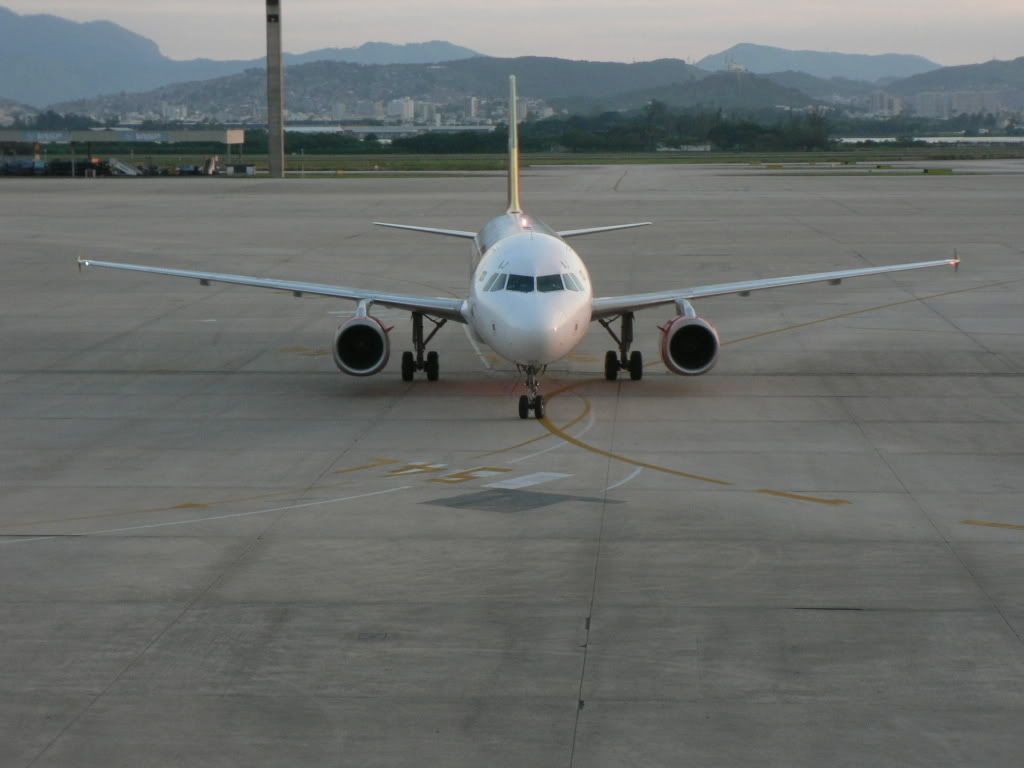 ...and parking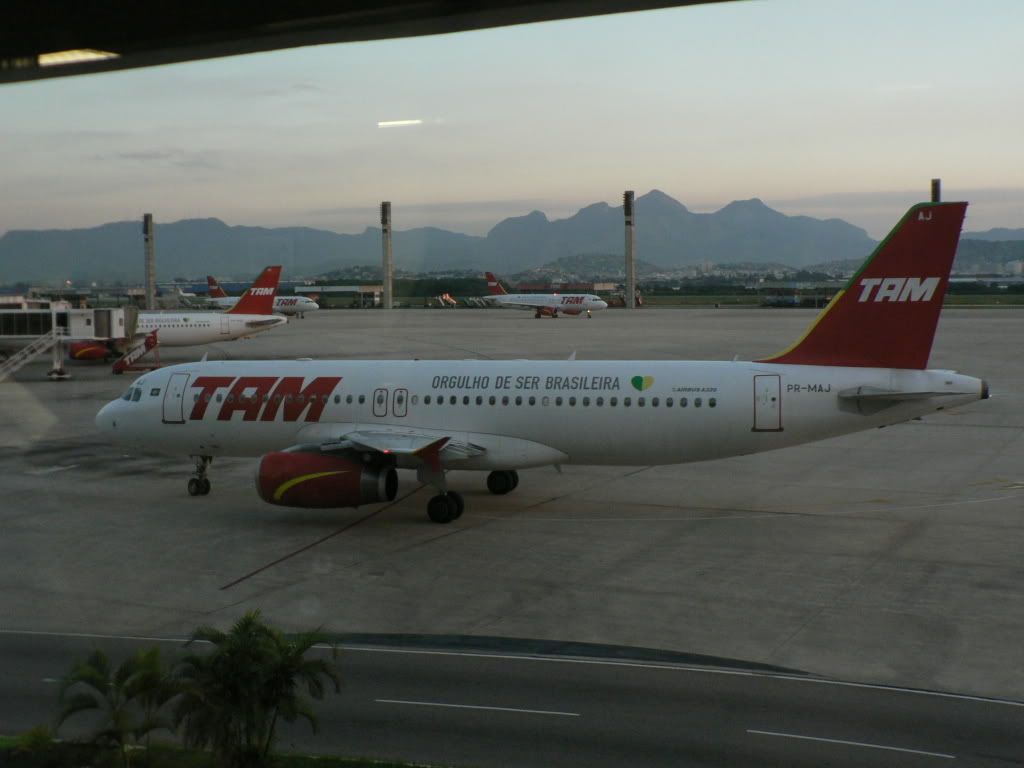 The Webjet was now pushing back: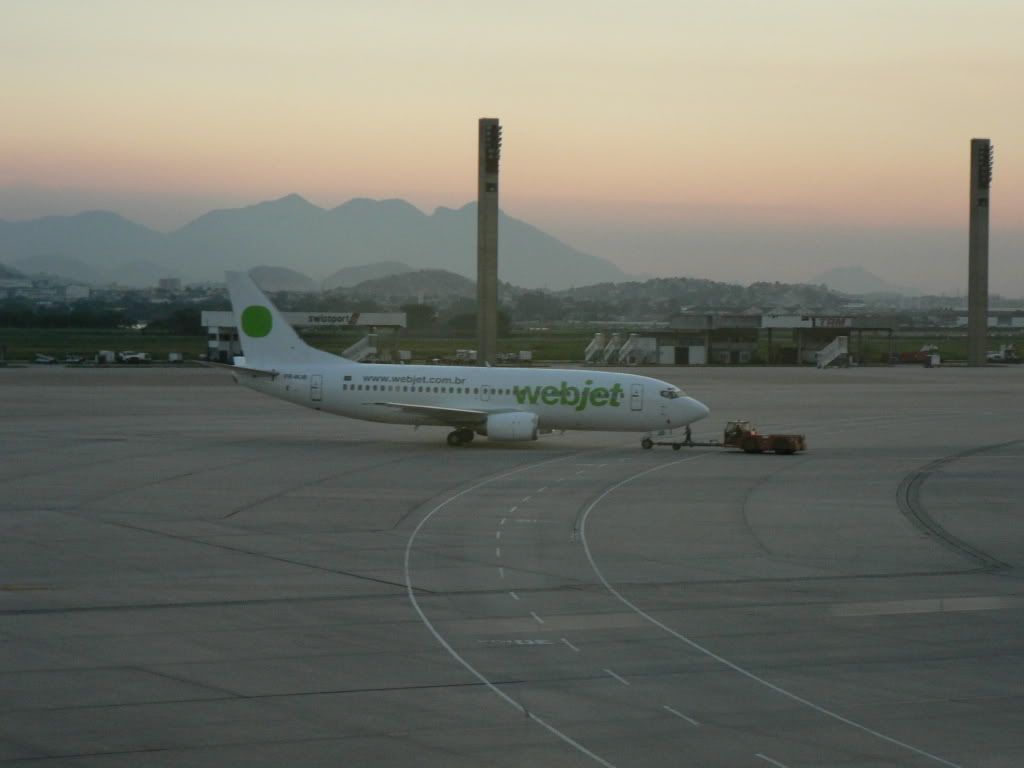 I had hoped of catching my Varig bird arriving to handle my flight. As fate would have it, just as I turned around to make my way towards the departure area, the plane landed....Anyway, I'd have my chance to catch it inside.
The wife and I made it through security with no hassle and delays, and soon enough we were waiting by Gate 25 for boarding to start. Flight was shown to be on time, so while my wife talked on her cellphone (why do they always do that?), I went on to take some pics that I share with you now:
On time: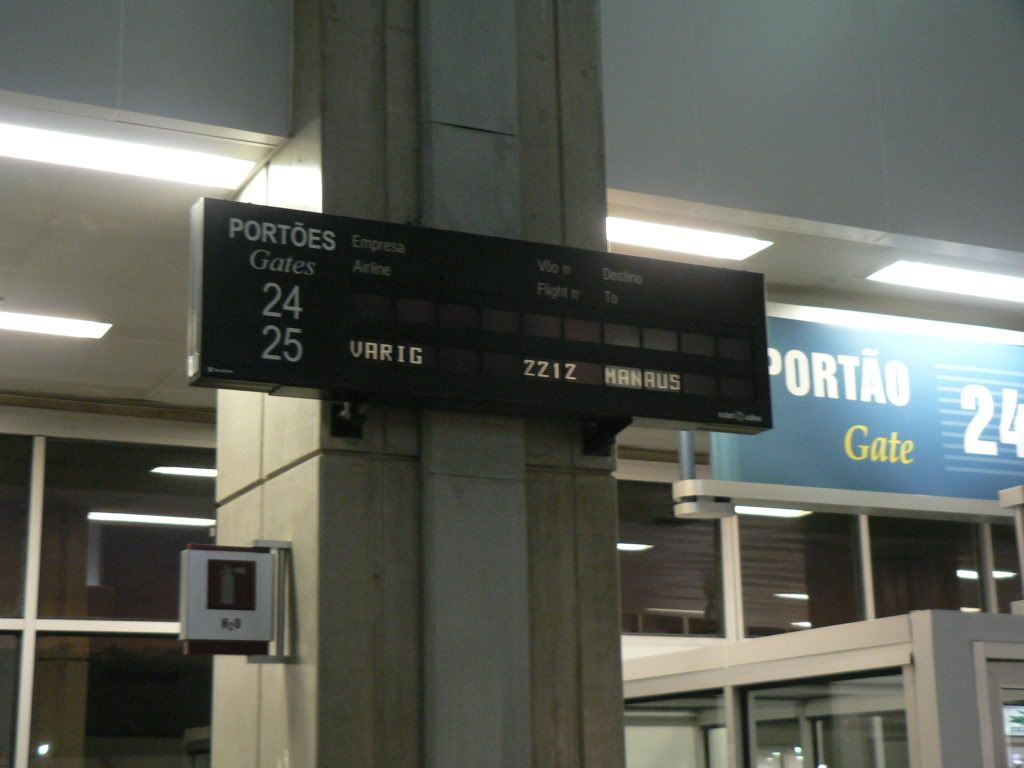 The domestic departure area at GIG, Terminal 2: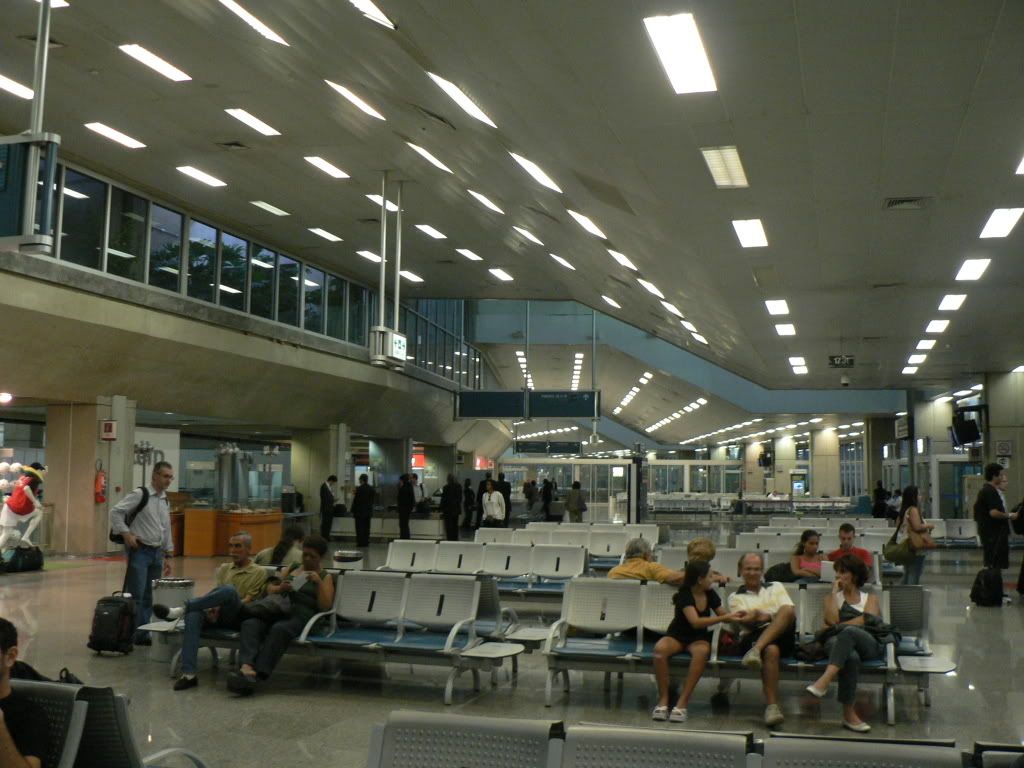 PR-VBB approaching Gate 25: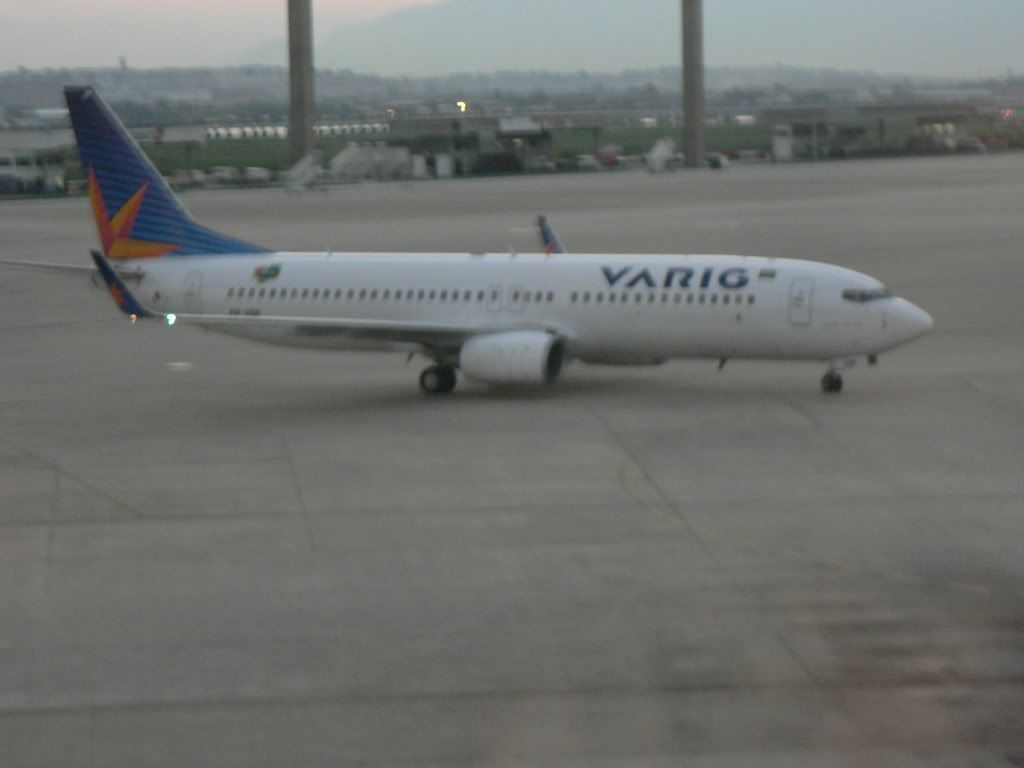 And docked:
Boarding started at about 5:50 PM, with the regular priorities (elder citizens, people with kids, difficulties and Smiles Platinum or Gold). Surprisingly, the traditional "long line even though your seat is assigned and its mealiness whether you board now or later" did not form, and boarding was smooth. Again a polite staff checked our boarding passes and a very polite crew welcomed us aboard. The plane looked clean (single class 737-800), but nothing special regarding the seats or the interior. I noticed the lack of a IFE system, and was proved right was we took off and nothing came on. Aside from that, the seats were comfortable.
PR-VBB seats: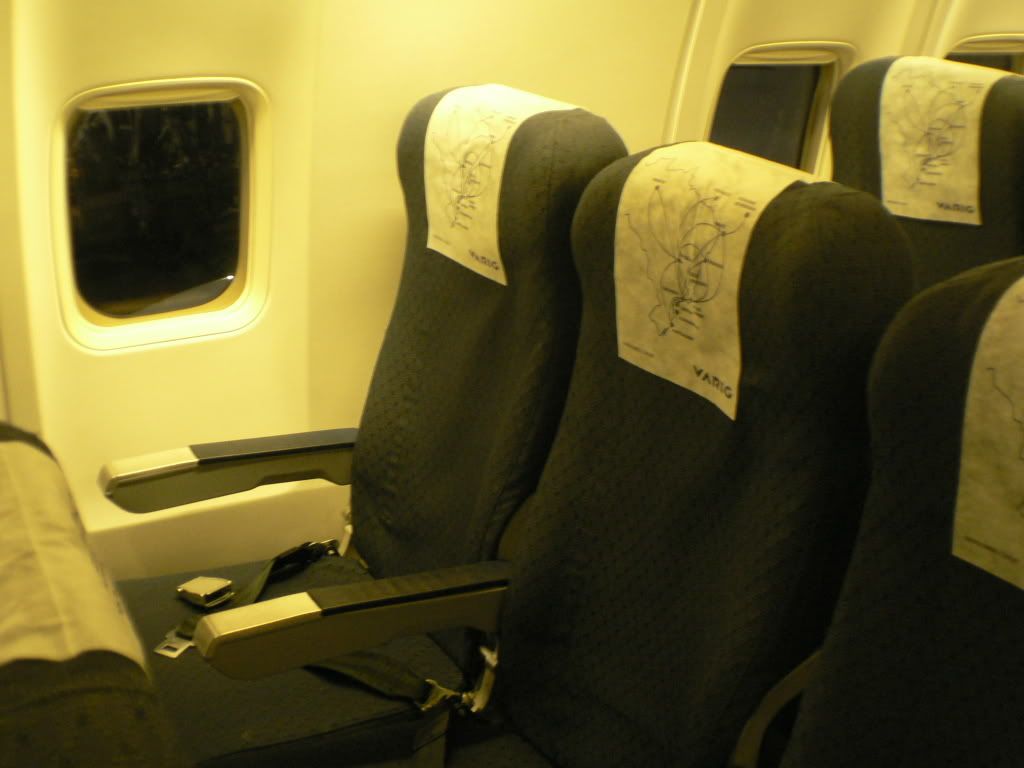 Pitch as good, much better then American's 767-300 and/or 737-800, TAM's A319's and 320's, Gol's...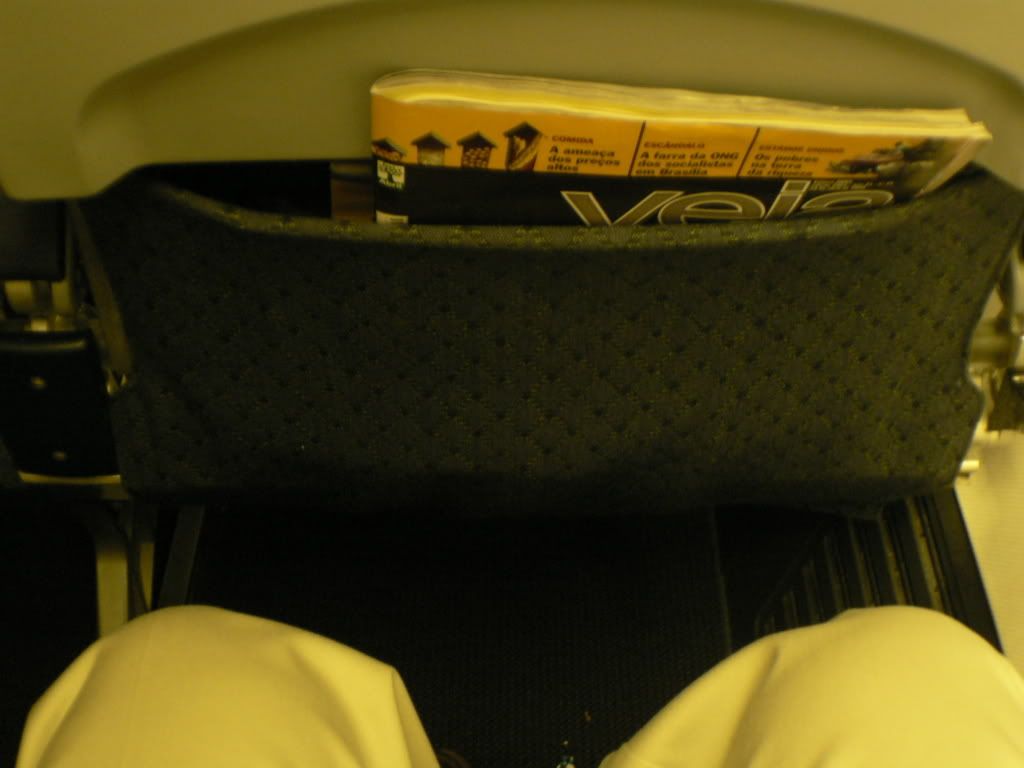 View from 10L while parked at Gate 25: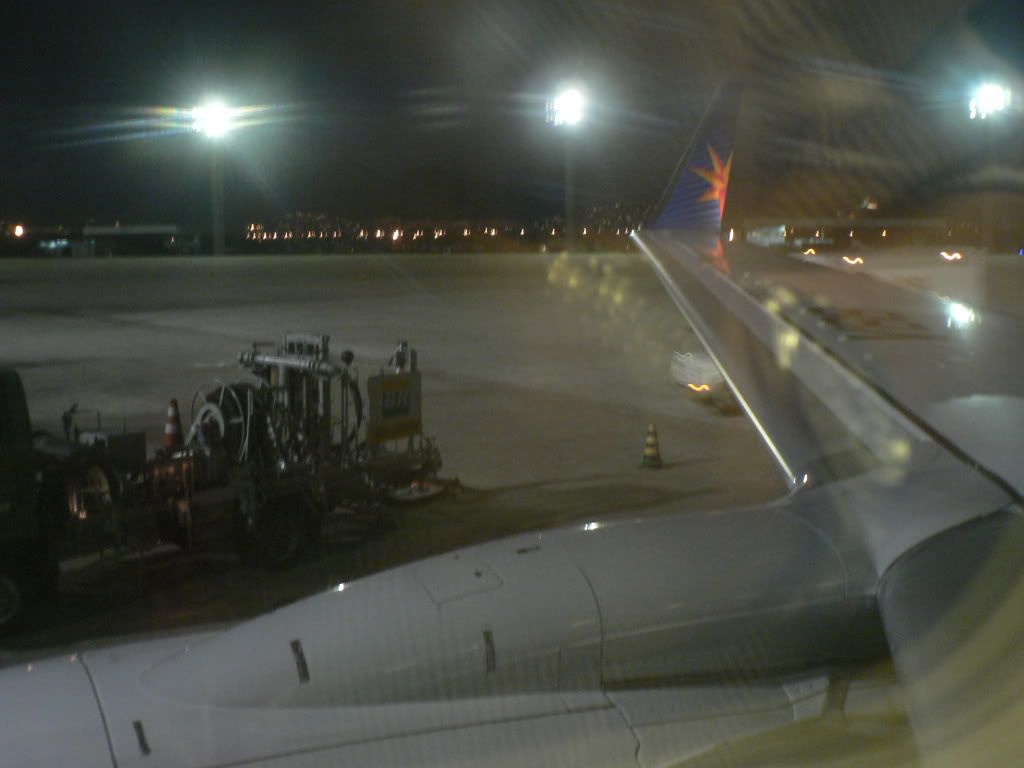 Promotional material on the back of the seats, with Varig's new domestic routes: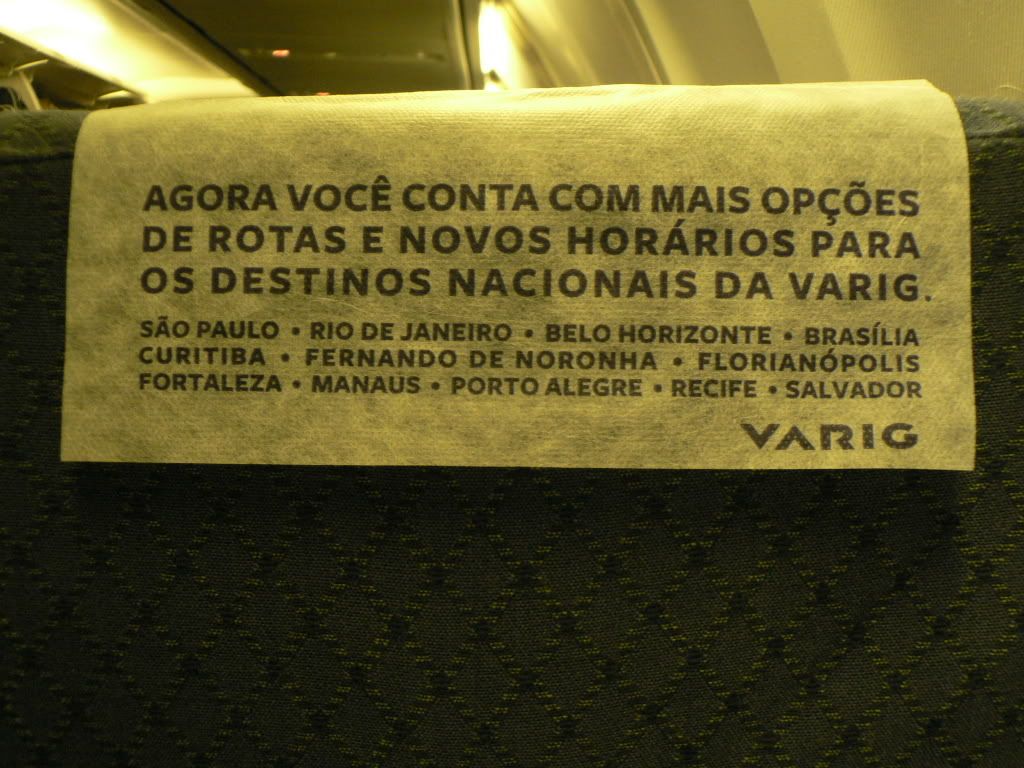 As my watch marked 6:19 PM, doors were closed and we were ready for pushback. The flight was precisely on time. We pushed back and made our way to rwy 10. That meant we would cross the Tarmac in front of Terminal 1. It was not busy either, with a few WBs getting ready for their trips or just arrived (Iberia, Delta, American and Continental).
Taxing out of Terminal 2: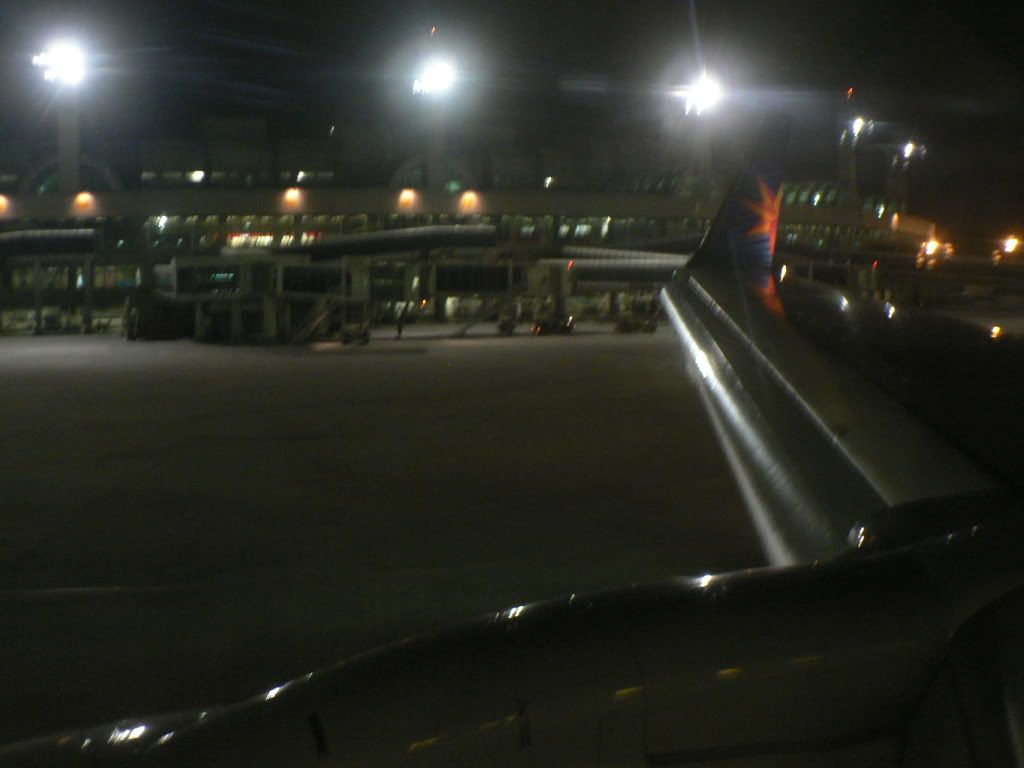 Iberia A340-300 just arrived from MAD;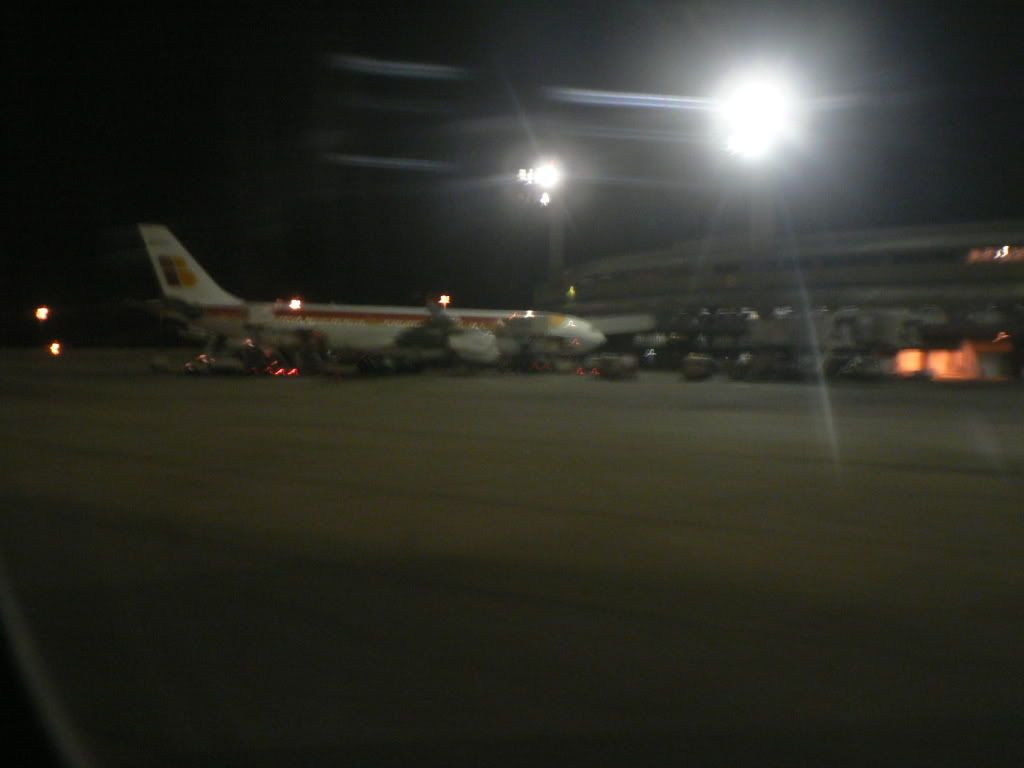 After a rolling take-off, we were airborne and on our way to BSB: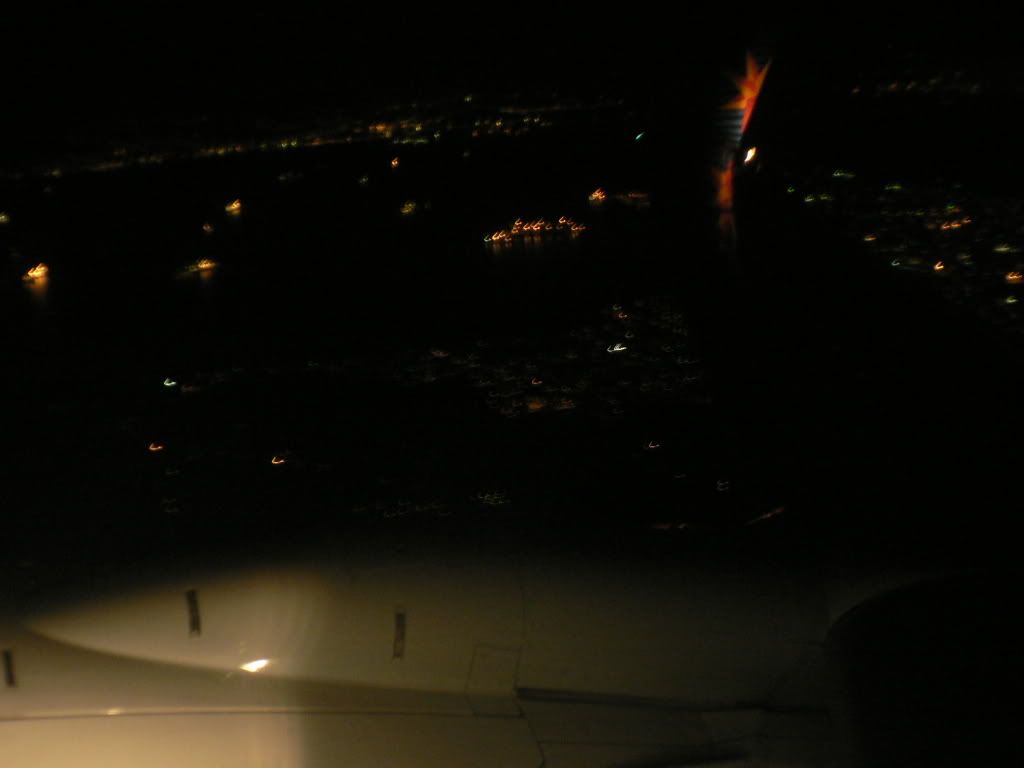 It had a nice roar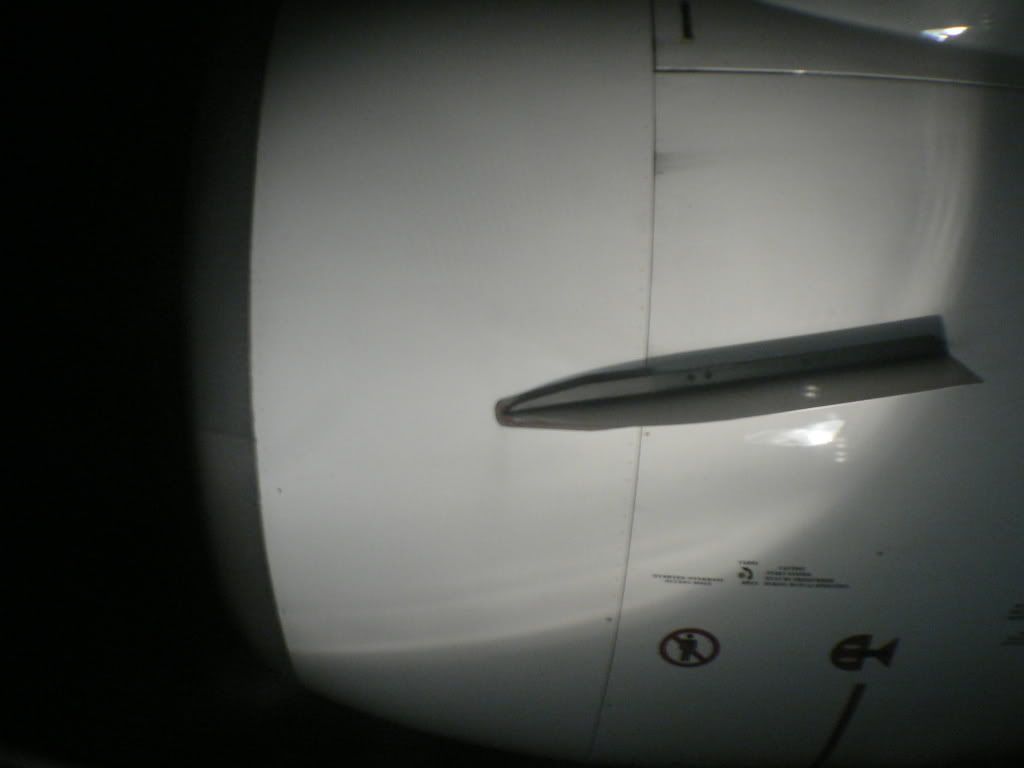 About 20 minutes into the flight, the meal service started. It consisted of a snack (turkey and creamy cheese sandwich, with a Brazilian - or Portuguese - desert named "quindim"- roughly coconut and eggs, very tasty) and soft drinks or juice. The sandwich was nothing special but the quindim was delicious. I made a deal with my wife. If she would let me have hers as well, I would let her read the magazine we bought first. Done deal...I was quite busy with my iPod as it was. I was happily surprised with the seat as I reclined it. It was a very good angle, the best I can remember from my recent flights on Economy on other airlines. That made for a very comfortable trip. After the meal service, the flight attendants came back with more drinks. As the cabin would be dimmed down for the rest of the flight, and my wife as reading the magazine, the flight attendant was good enough to turn on her reading light so she wouldn't interrupt her reading. A simple but nice touch that one would expect from the Varig tradition of attention for the passenger.
The snack: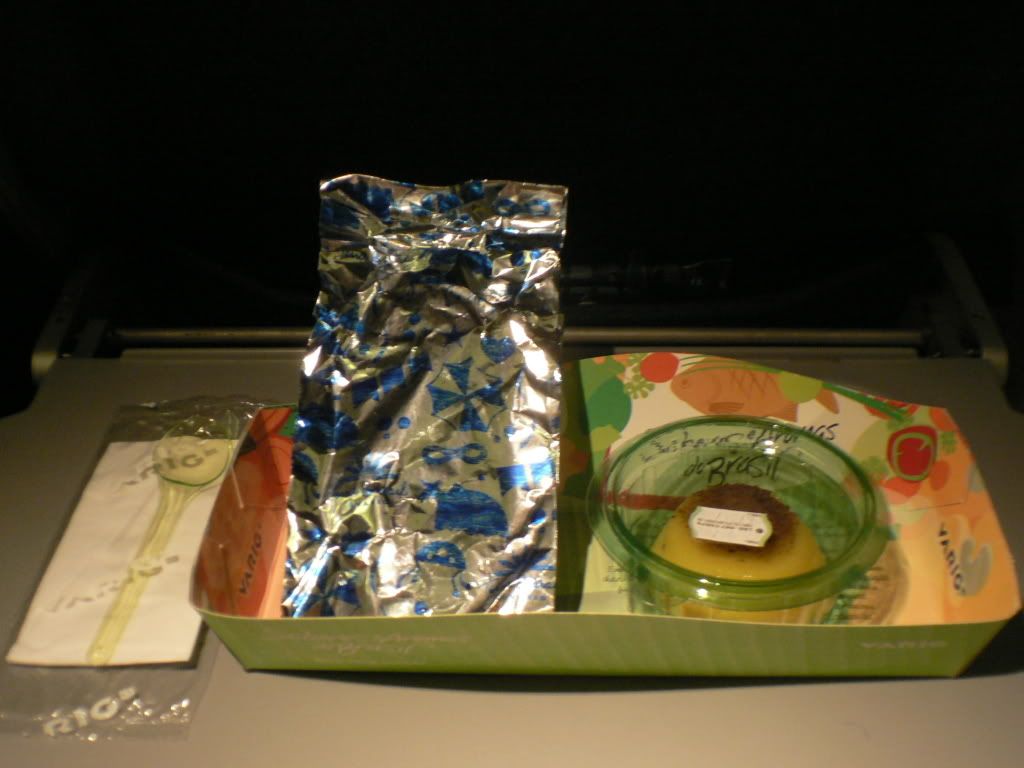 Needing to rest a little bit, I just listened to my iPod and dozed off a little bit. I was busy video taping the landing so I took no pictures. It was a smooth landing and right on time we were at BSB. We taxied to a remote position and de-boarded through stairs.
At BSB: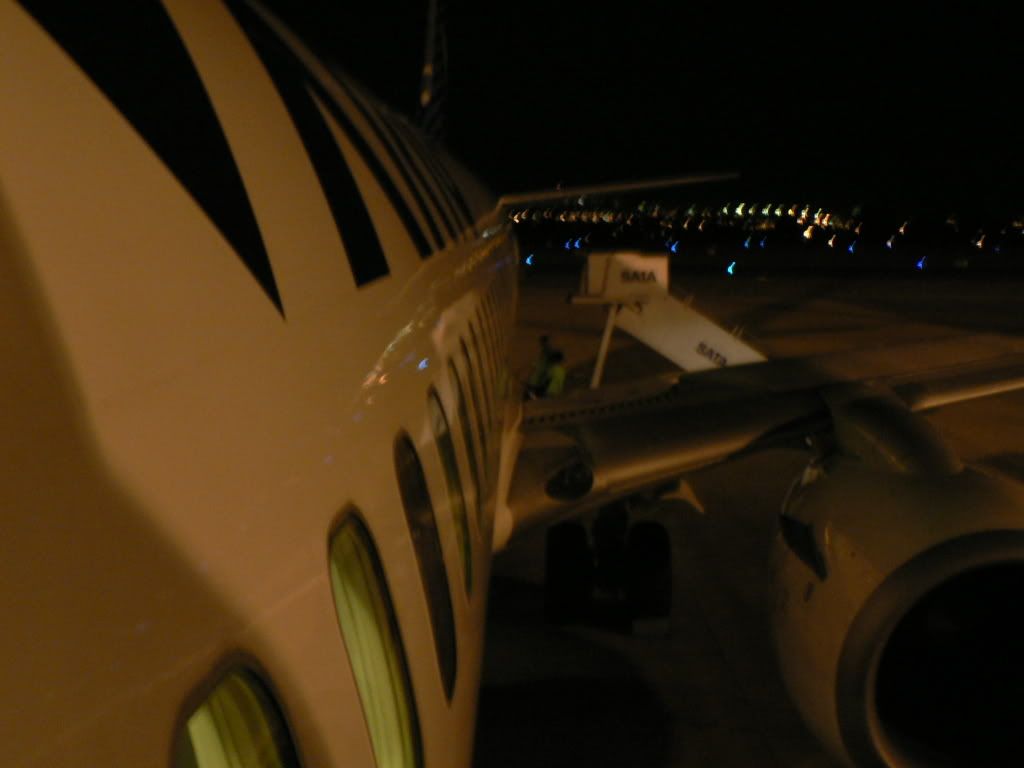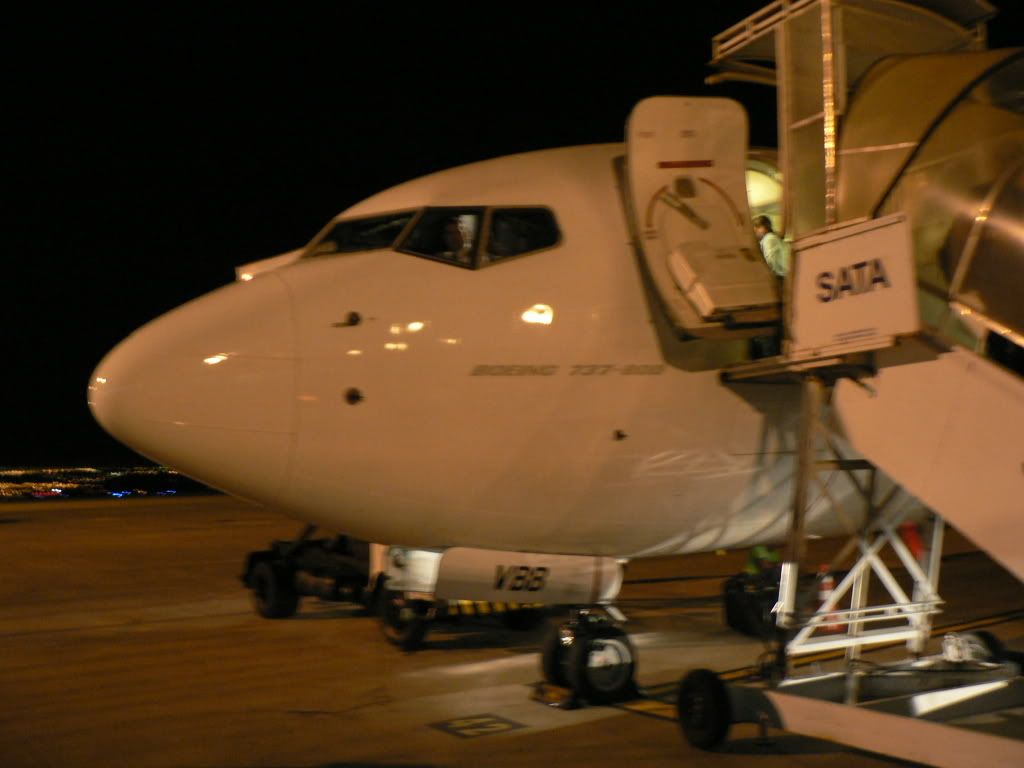 After the bus ride: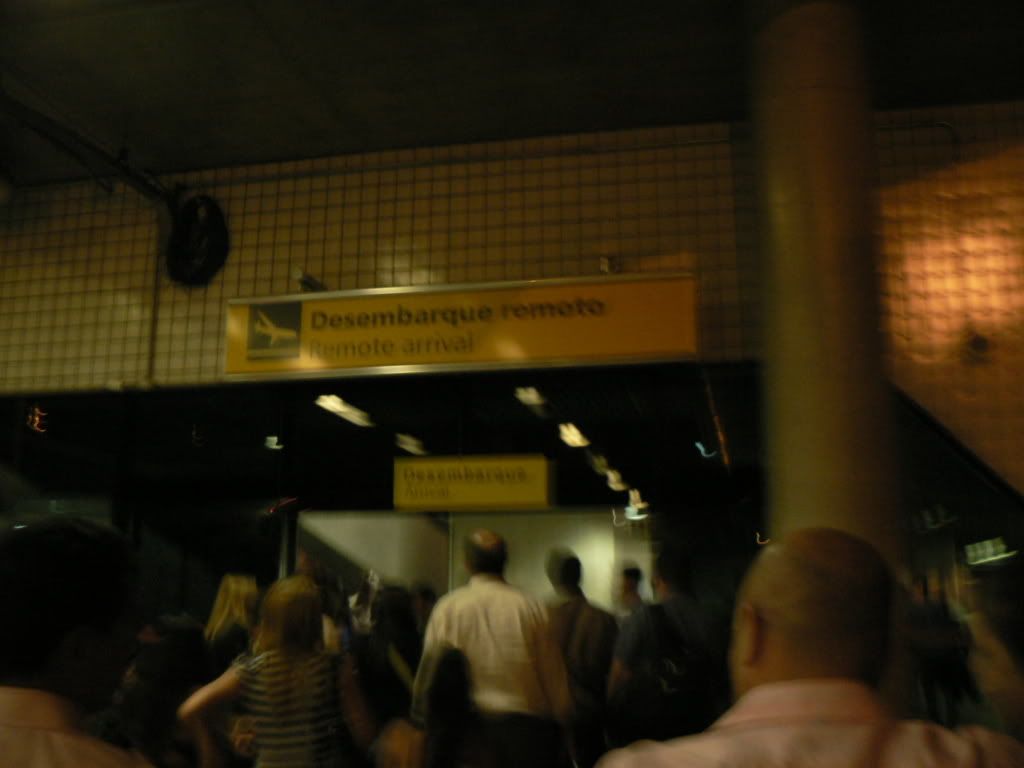 At the baggage claim area: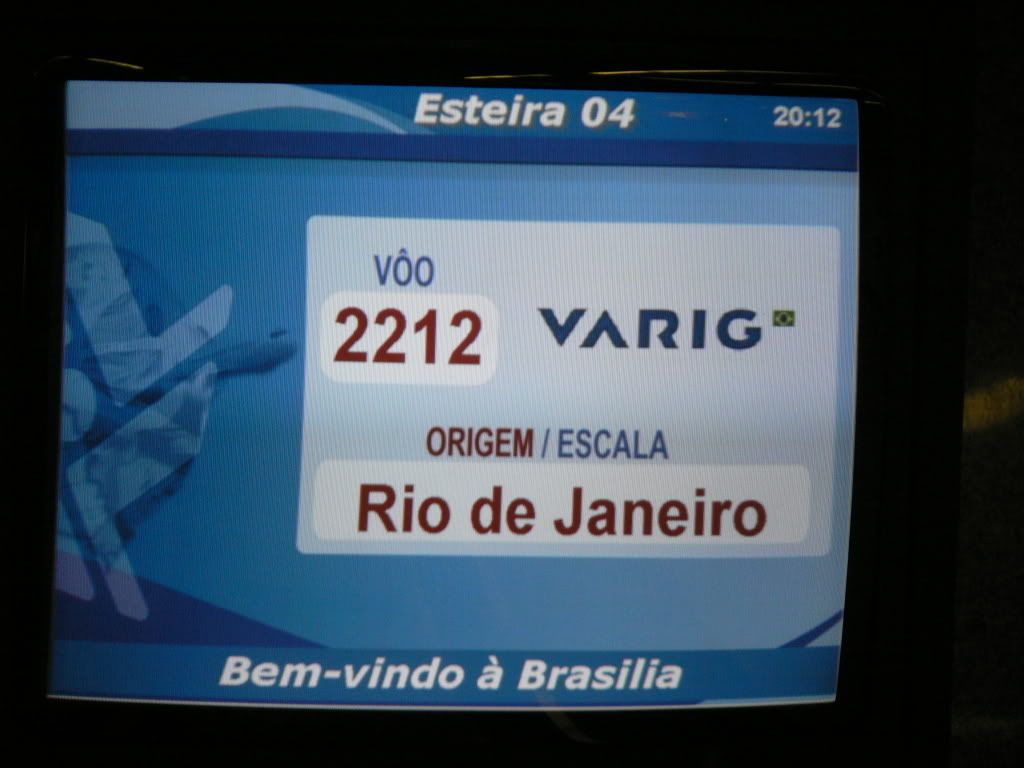 Leaving for the city, BSB at night:
Our friends were waiting for us outside, and it was time for a nice dinner and to start our BSB visit. Brasília is a unique city, built in the late 50's by president Jucelino Kubischek to be Brazil's new capital and to help better populate the interior of the country. The city has specific sectors for everything (Gov. buildings, housing, hotels, commerce, etc), everything is very wide and ample (avenues, squares, etc). Its almost as if you're not on a Brazilian city (some of the criticism around Brasilia is that it takes politicians away from the woes of most Brazilian cities, such as urban chaos, favelas, etc). All of that is tightly kept away from Brasília. Its still a nice place to visit, but 2 days is more than enough in my opinion.
Following a very pleasant and emotional trip, it was sadly time to get back to Rio. The commute to BSB was quick and with no traffic at all. We parked the car and made our way to the Terminal. Its a open terminal, no outside walls on the front of the building which makes it breezy and pleasant (at least that time of year). It is in expansion as BSB is already a HUB for domestic flights, connecting the Northeast and North of the country with the other regions.
BSB:
Interior: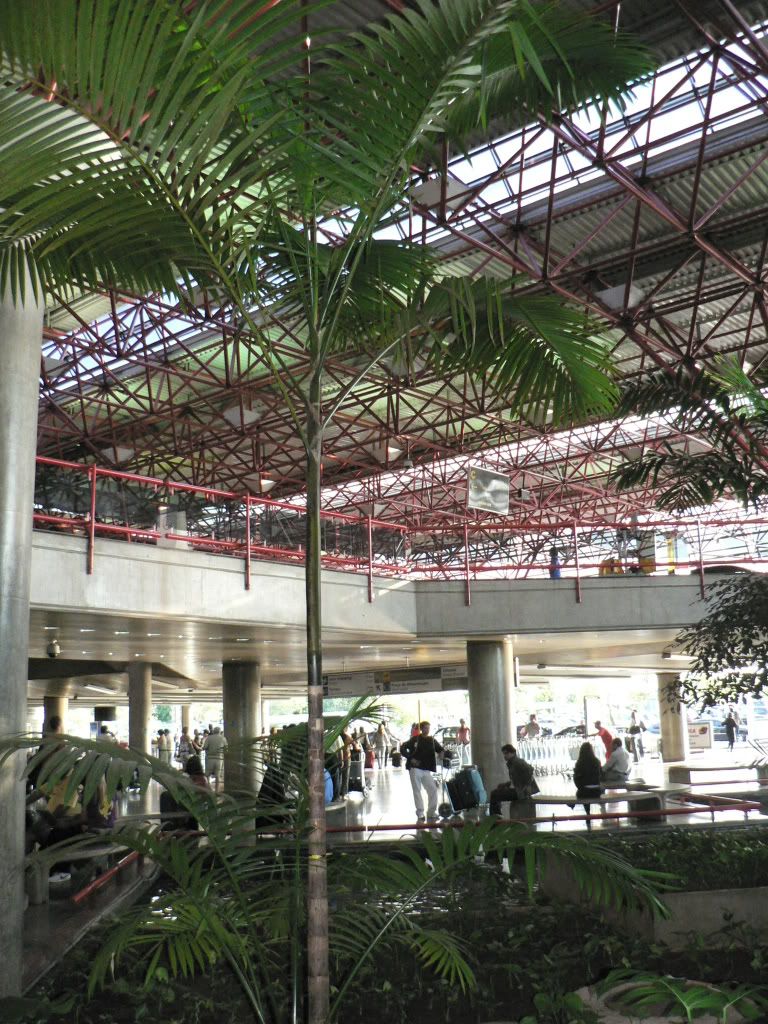 We made our way upstairs towards the check-in area. Varig's check-in was empty and the process was quick and uneventful. Not as pleasant as at GIG, but no complaints either. I asked the agent for a emergency seat, and he assigned me to seats 24A and C, a emergency exit just aft of the wing (flight 2205 was operated with a 767-300).
Varig's check-in (sorry for the bad quality), the wife is just leaving the area: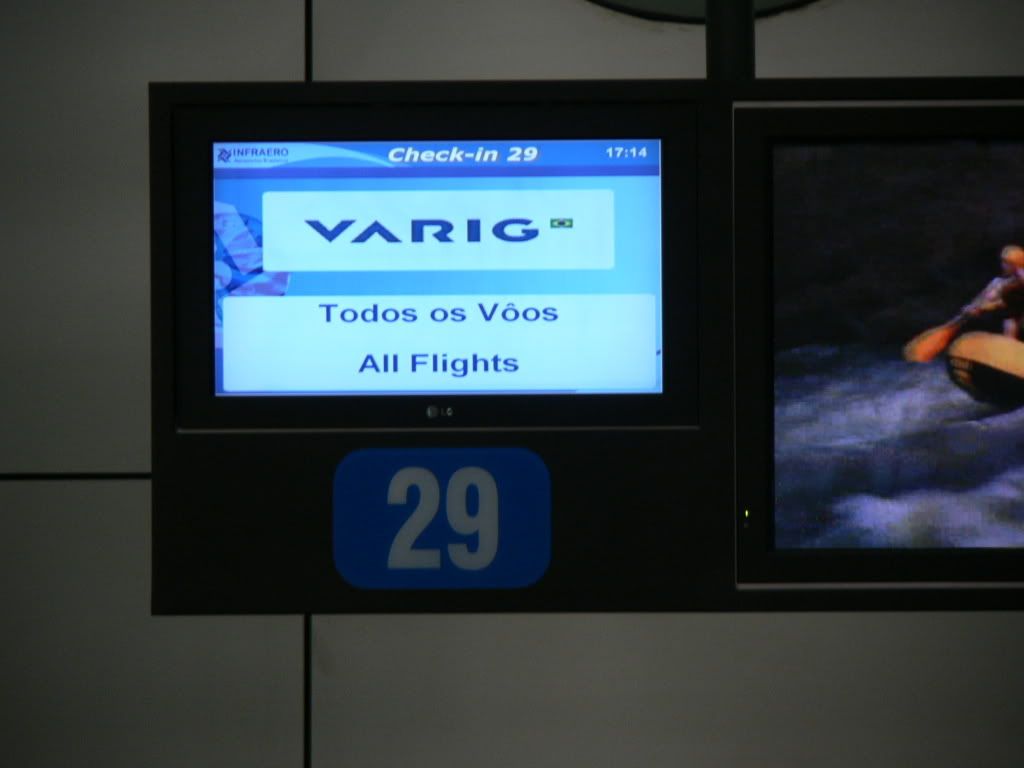 General view of BSB's check-in area:
View from the check-in area:
Tribute to the founder of the city, from whom the airport takes its name, president Jucelino Kubischek (JK):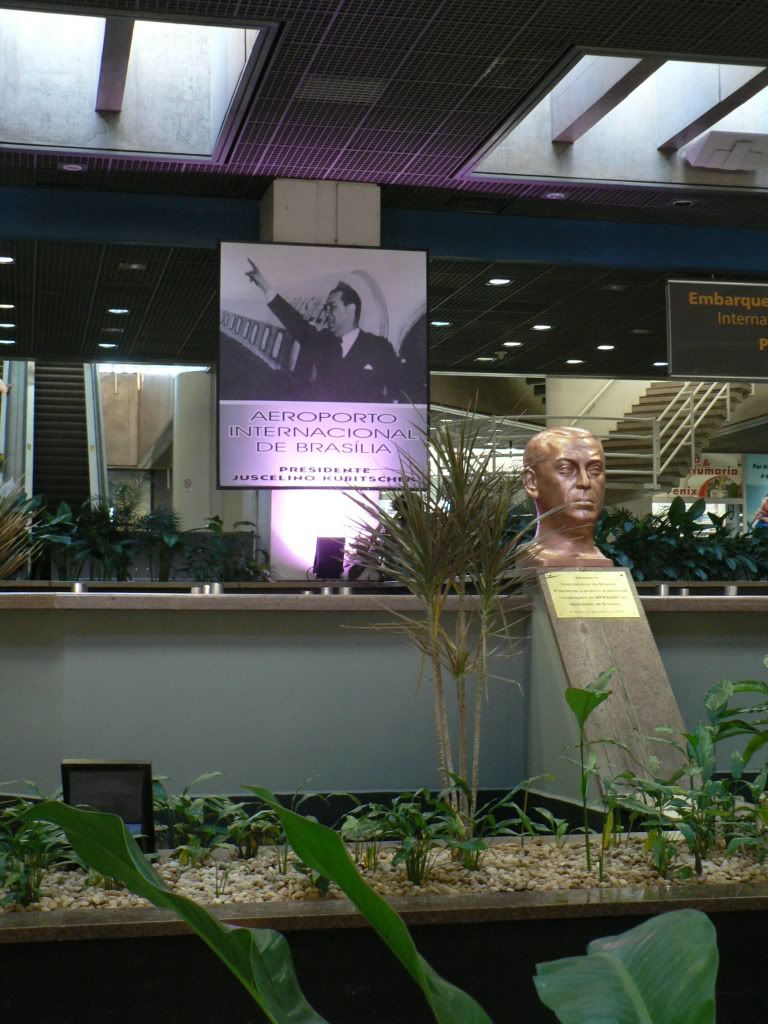 The board showed our flight again on time: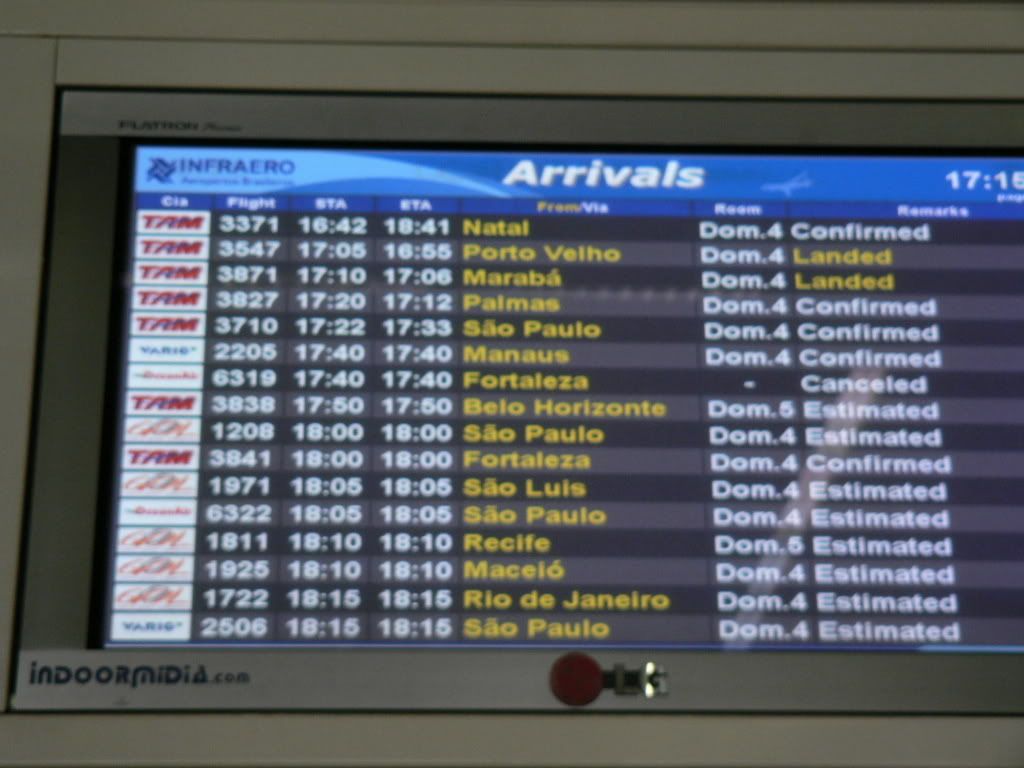 After check-in, we made our way for the viewing deck. BSB has a very wide and ample viewing deck, with large windows that allow for spotting. Its filled with shops and bars. As there were regional soccer finals being played (Rio and SP mainly), everybody was hooked at the TV screens. I just took some pics: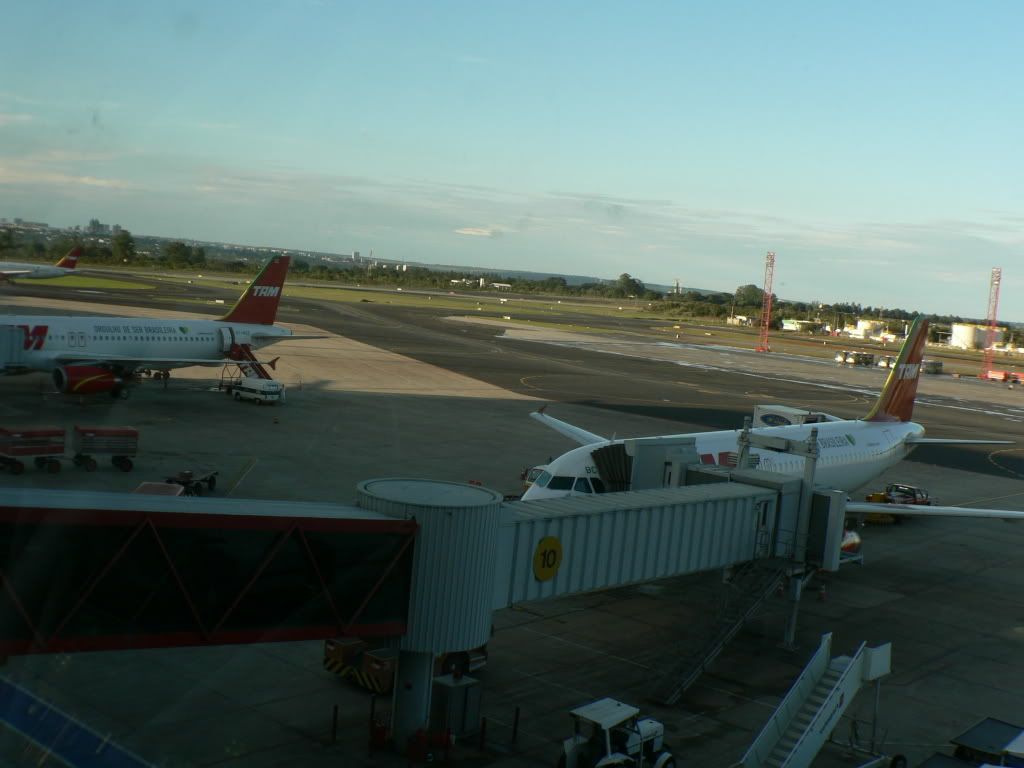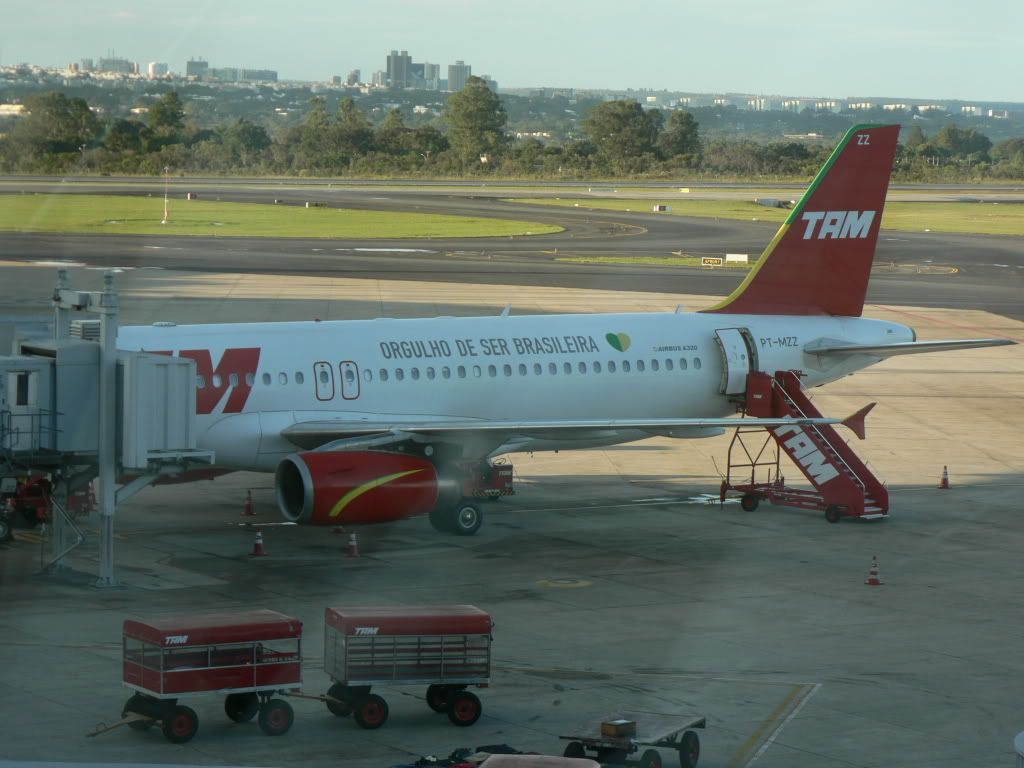 TAP A330 to Lisbon: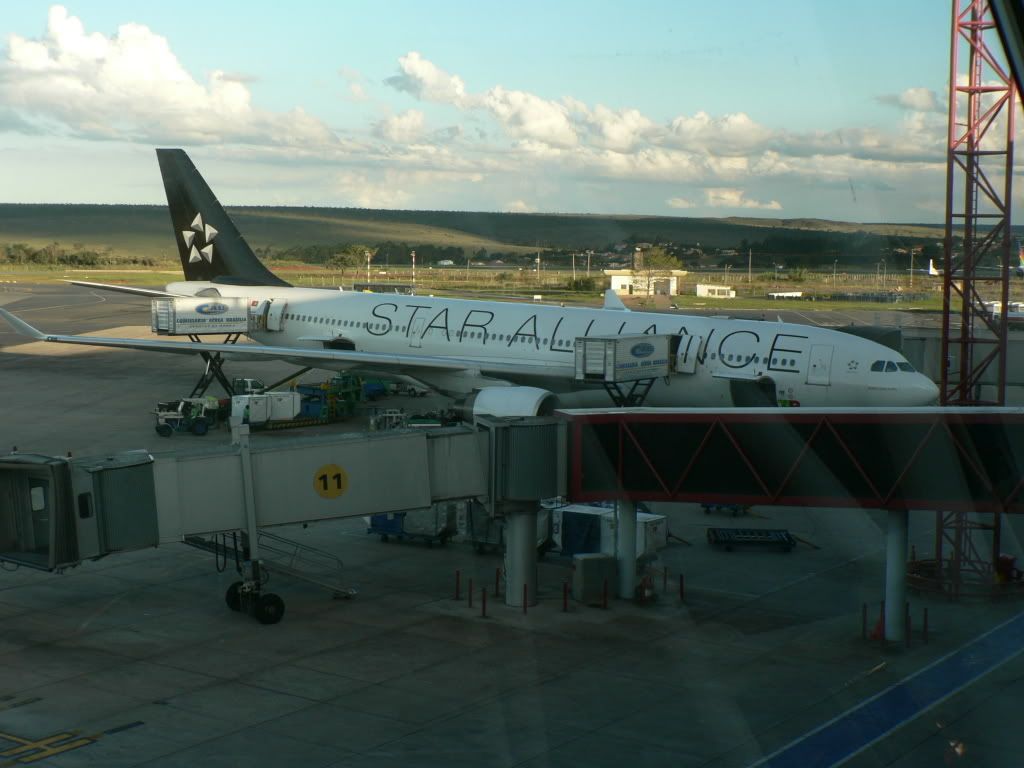 "ah....ah.........does that look right to you?"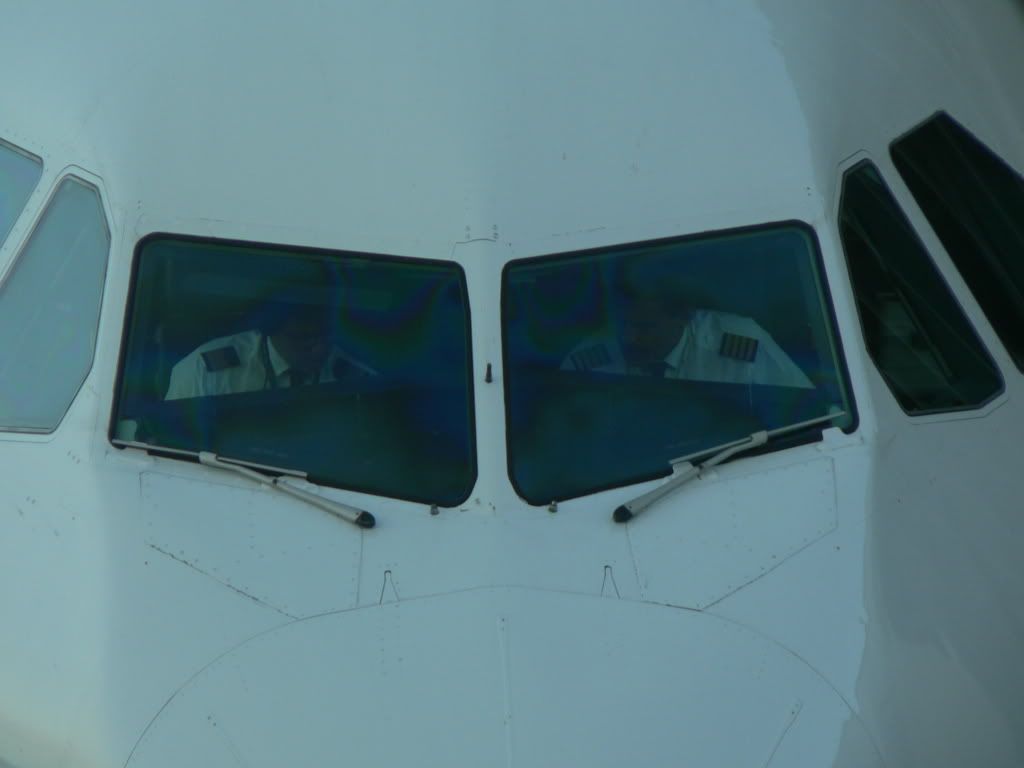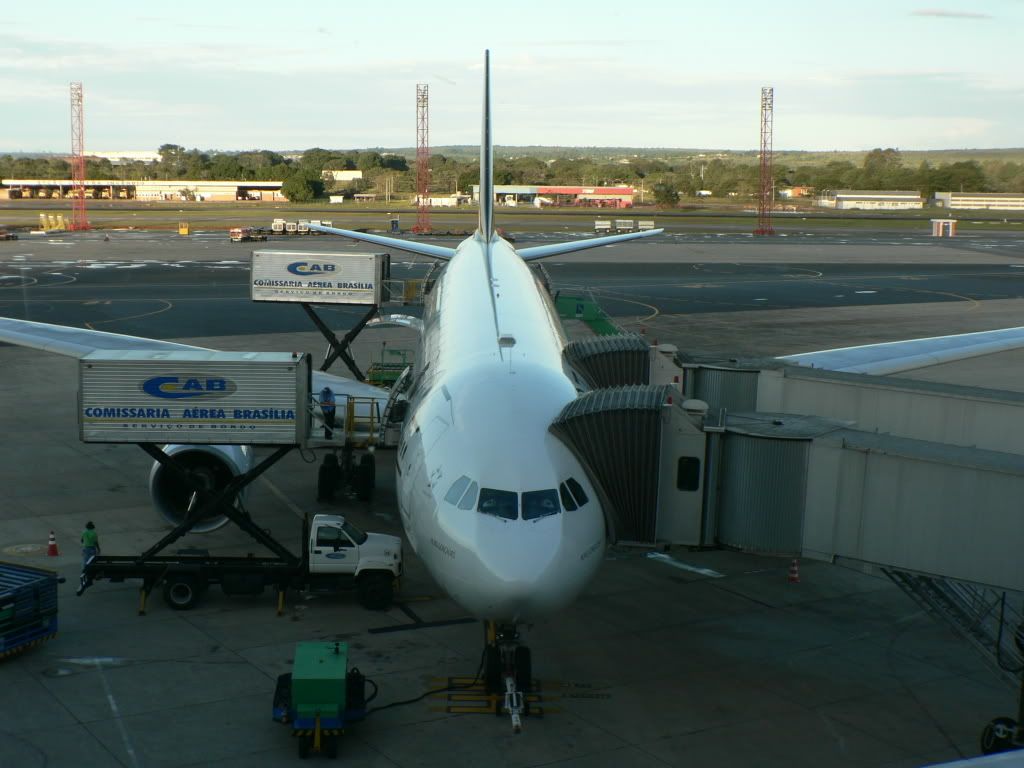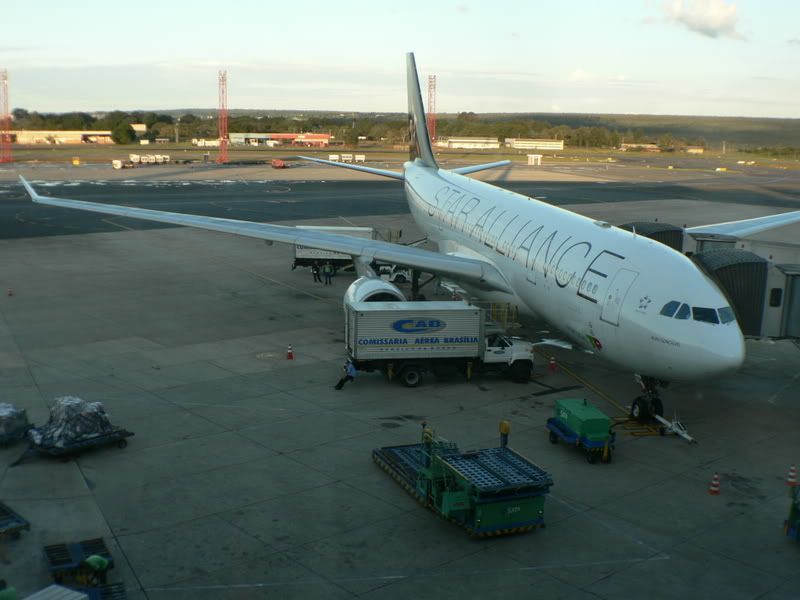 Sad fate for this Transbrasil bird. They had great service in their day: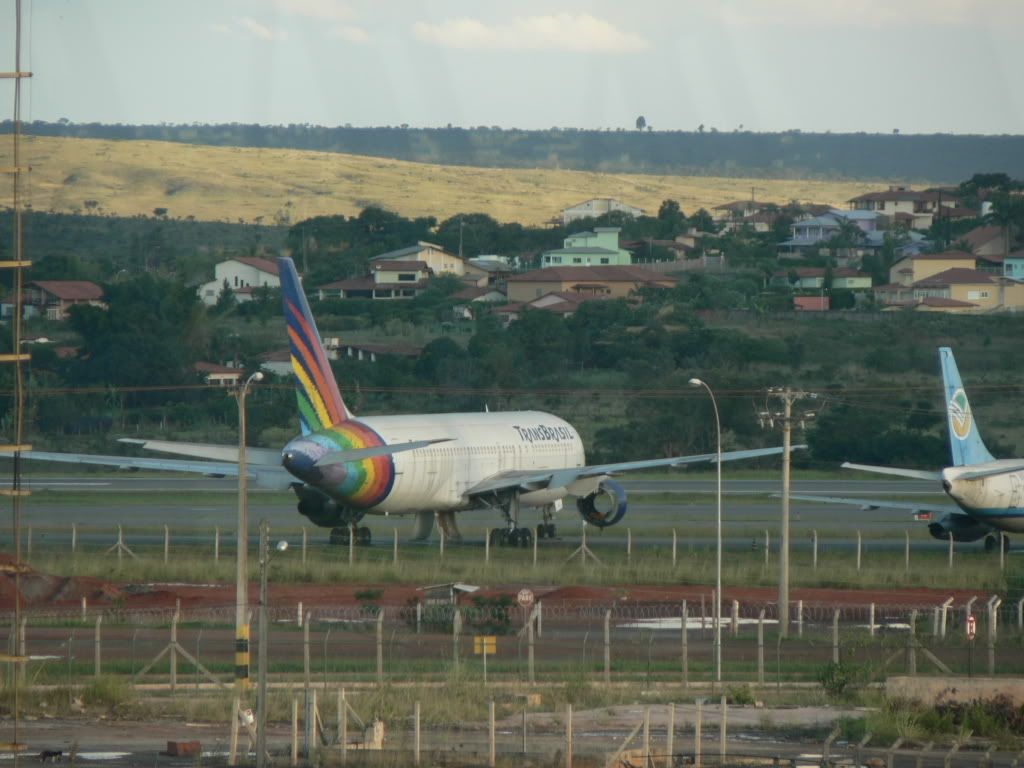 And another defunct airline, Vasp: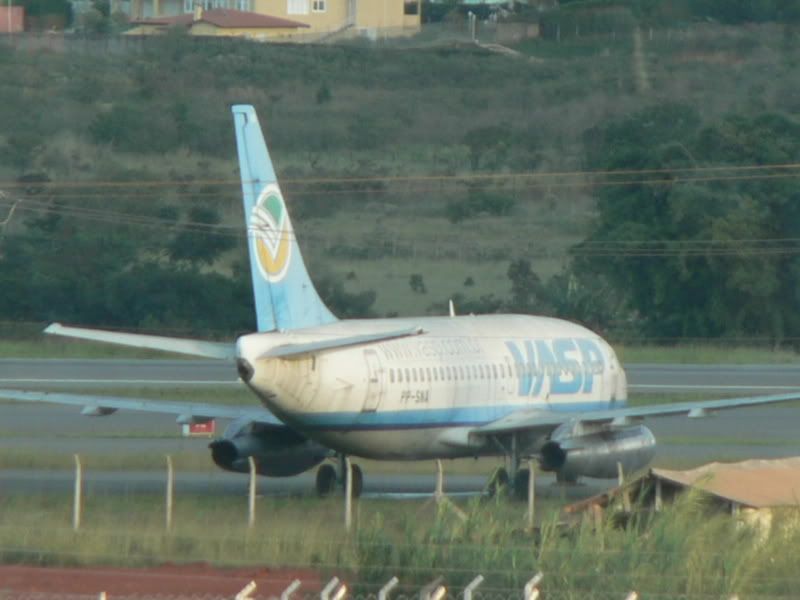 Our 767, PR-VAD arriving from Manaus on time:
And parked at Gate 5:
After our plane docked, we made our way to the departure lounge. We said goodbye to our friends, went through security and walked towards Gate 5 at the satellite.
A little artistic:
Walkway to the satellite building:
Gol: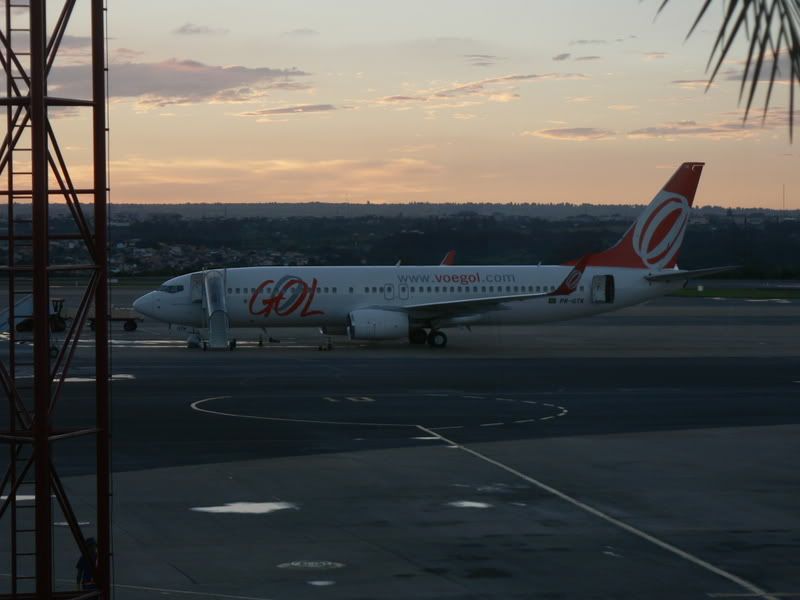 "Proceed to gate? I'm already here!"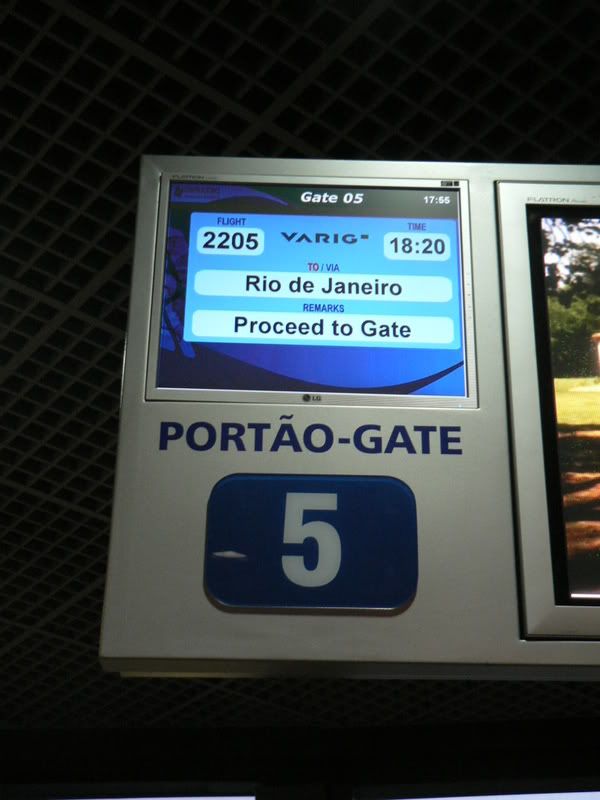 Our 767 being serviced:
The satellite building: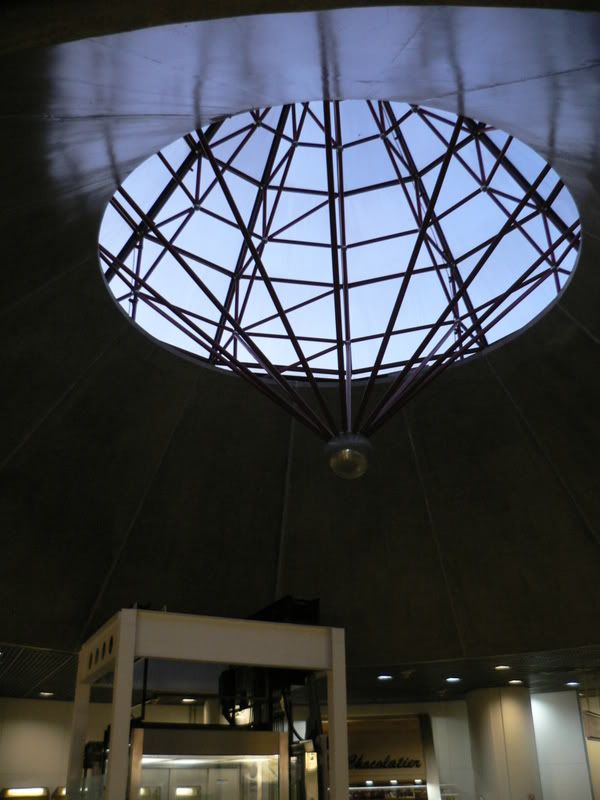 Again boarding started at the expected time (5:50PM, flight scheduled to depart at 6:20 PM) and not major lines formed. Boarding was smooth and uneventful.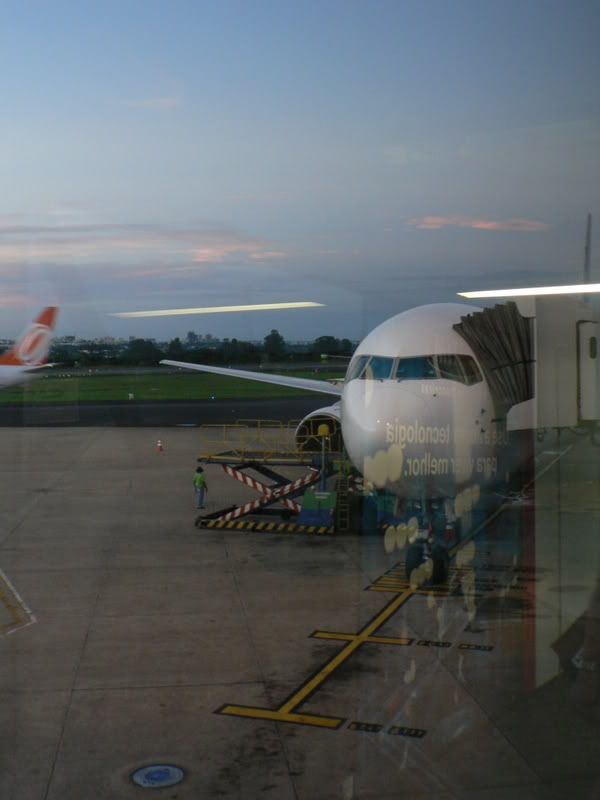 Just in case you were wondering the model of the plane: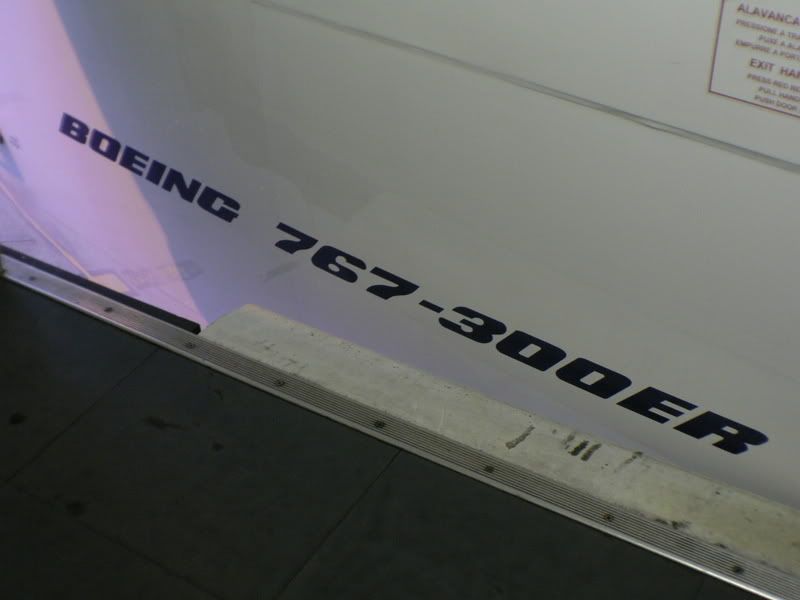 PR-VAD business seats or, for this domestic flight, "Economy Comfort":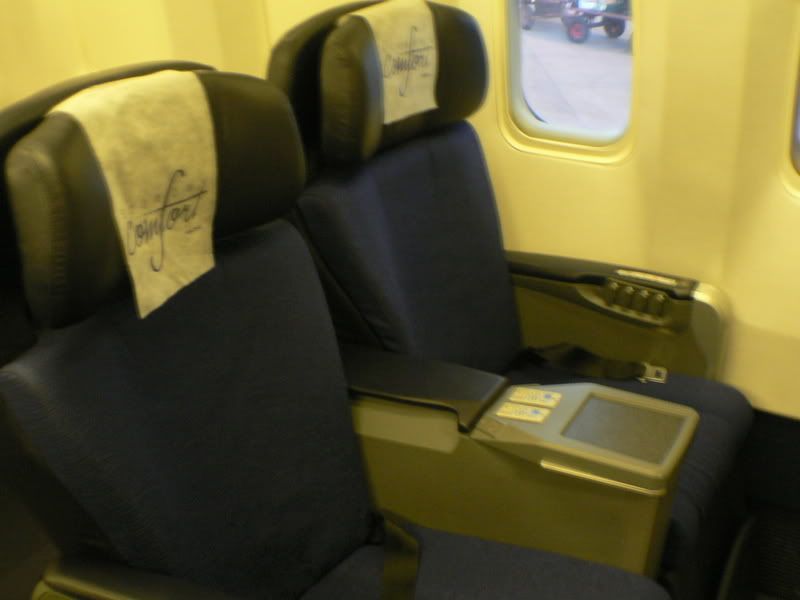 Economy: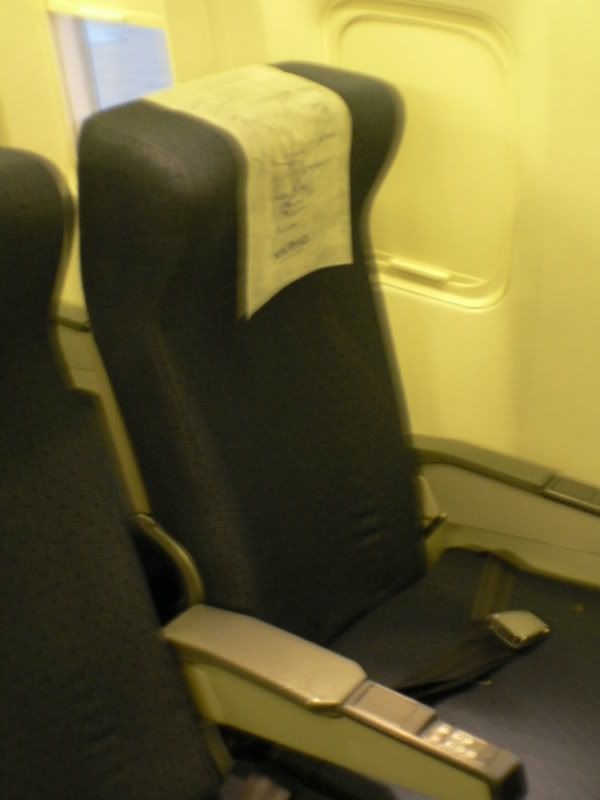 This time, the flight did not look calm. A group of teenagers from Manaus were on board and on their way to Rio. It looked like their first time on a plane, and they simply did not stay put. The kids seating behind us changed seats some 7 times. As long as they didn't bother us, fine, but the odds of that happening were slim. Indeed they eventually got to us and we asked them to be careful and pointed out that they didn't need to pull down the seat in front of them to get up, they could use the armrests...
But back to the flight, the interior was the same pattern as PR-VBB, so I understand this is Varig's new standard interior. PR-VAD was old looking, but clean. The IFE was the standard big screen in front of the cabin, but from what I could see only the Business class one worked 100% (the fwd cabin one the images were red and the one next to us were green). My seat's IFE and light controls did not work, but again the recline was beautiful. As I had no plan on using the plane's IFE, it made little difference to me that it did not work.
View from seat 24A
Wide legroom on the emergency exit: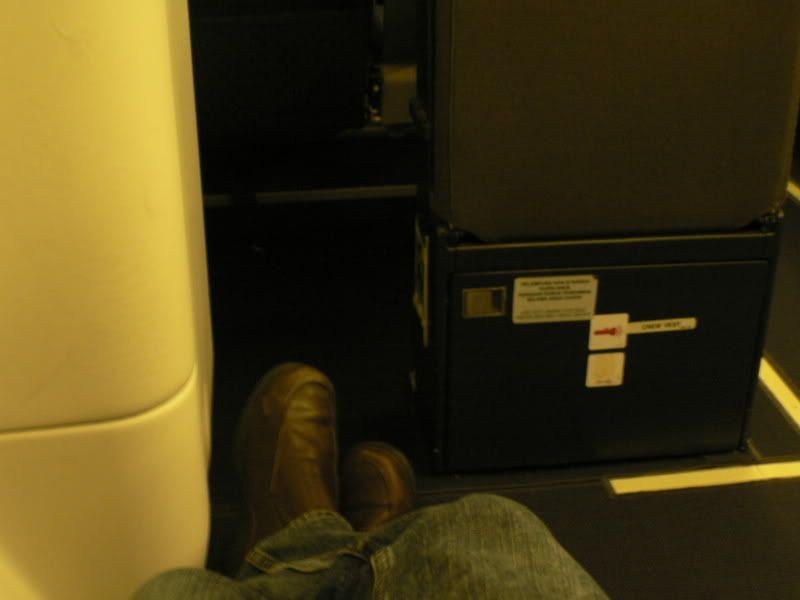 Again, as on our way from Rio, some 20 min. after take-off the meal service began. This time it was dinner. Varig has a "flavours of Brazil" thing, so they serve typical Brazilian dishes, and this time it was "Arroz Carreteiro" (dried meat with rice and spices - not my favorite) and for desert, "Manjar" (a coconut based desert). To drink, guaraná (simply the best soft drink there is). I'm not a fan of these dishes, but had them anyway, and I ate them all. Can't really say if they were good or bad cos I simply don't eat them elsewhere, but I did eat it all, if that means anything....Again after serving dinner they came back to check if you wanted more drinks and, after that, coffee. I took few pics on this leg as it was night and shots were simply not coming out well.
The meal: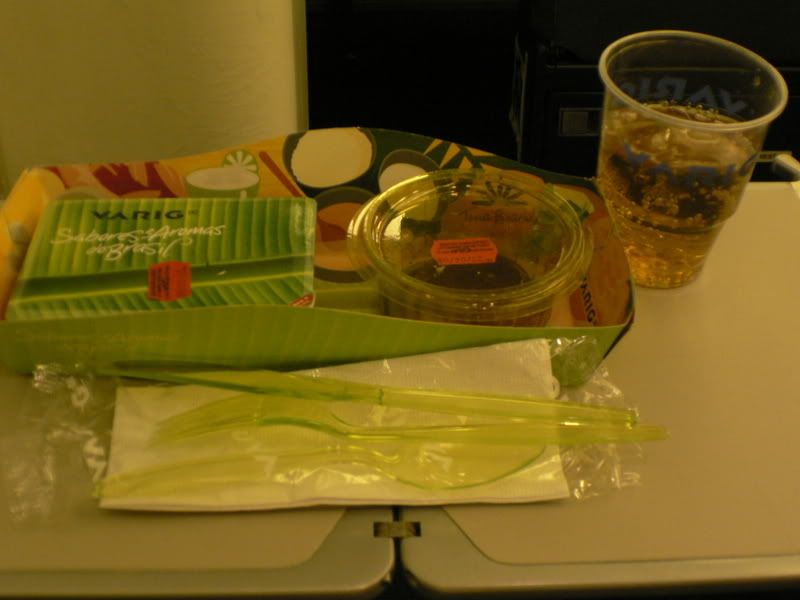 The regular space on VAD's economy:
The Business class seats, again: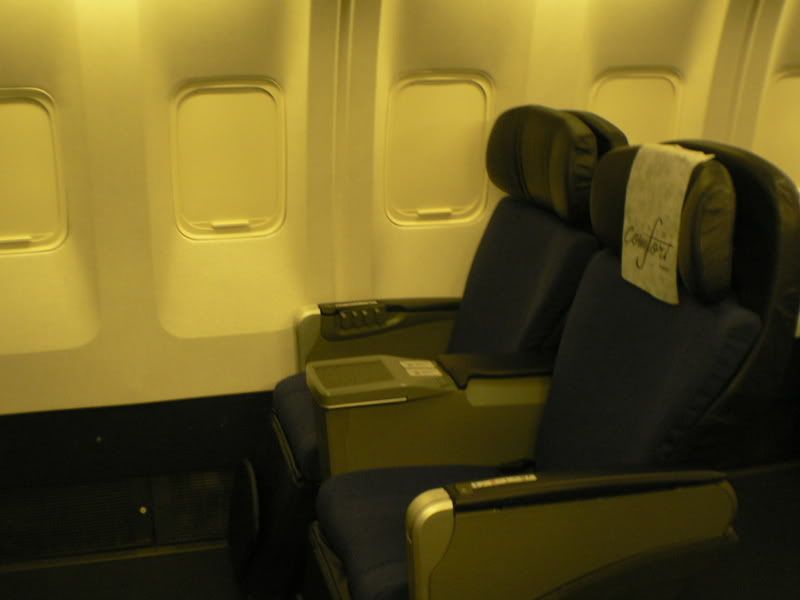 Apart from the teenagers, the flight was uneventful. Landing at GIG was smooth. We proceeded quickly towards the baggage claim and luckily our bag was the 3rd to come out. At that time, we just wanted to get home to rest a bit as it was work as usual the next day.
GIG Terminal 2 domestic baggage claim area:
Conclusion
The new Varig, at least in terms of service, is keeping up with the traditions and standards of the Varig brand from what I could experience. Even though the planes are not the state of the art models and interiors, they are comfortable and offer you a smooth ride. The people wearing the Varig badge are however making a effort to present you with a pleasant flight, which is more I can say for the recent airlines I've also traveled (aside from JetBlue).
I hope you enjoyed this (long) trip reports, and your comments are very welcomed. Thanks for reading!