Welcome to another TR. I was in ZRH for a weekend to visit a friend. Usually I fly from PAD, but this time I was flying from HAJ to take advantage of flying one new airline (LX), one new airport (ZRH) and three new routes (HAJ-ZRH, ZRH-MUC, MUC-HAJ). After reading some TRs of fellow A.netter OA260 I was excited to my first LX experience.
Flight: LX 819
Route: HAJ-ZRH
DATE: 26. April 2008
TIME: 6:50 am
DURATION: 60 min.
A/C: A321-111
REG: HB-IOF 3rd flight on an A321, 1st on this one
SEAT: 6A
CLASS: ECONOMY
View Large
View Medium


Photo © Andres Contador
I had checked in online the day before and arrived at the airport by car at around 5 am. I parked my car in a multi-storey car park in front of the terminal and went into the airport.
I headed to the LH check in area and printed out my boarding pass at a self service check in kiosk. Then I handed over my bag at the quick drop off counter. The agent advised me to head directly to the gates, because the check in area was already crowded, maybe due to the Hanover exhibition. So I went to passport control and security in front of gate 3 and lined up at the end of the queue. All passengers in this queue were going to ZRH, because behind the controls was only the gate room 3. After 20 minutes I was through and took a seat in the gate room. From the gate room I had a good view onto the apron, which was quiet on this early morning.
Omni Air International DC 10-30:
Swiss HB-IOF waited for boarding to ZRH. Behind were some regional jets prepared for their morning flights. AF Regional, Cimber Air CRJ 200, Austrian Arrows F100, LH Regional ATR 72-500 operated by Contact Air and a LOT.
Boarding started at 6:25. First were the passengers for the rear part of the cabin called to board.
Next to us a LH A321 to FRA was boarding, too:
Our crew:
Once greeted by the cabin crew aboard I stowed my backpack in the overhead bin and took my seat 6A. First the two seats next to me kept free. After boarding was completed a man from the full row behind me changed into 6C. Load was an empty business class and ca 90 % in economy, most of them Indians. The man next to me was connecting to BOM, as I saw from his boarding pass.
A KL F70 departed to AMS:
Our crew consisted of three female and one male f/a. The two older ladies serving the front cabin talked French together, but also perfect English and German to the guests. All announcements were made in French, German and English. The safety demo was played on the overhead screens. Then the captain welcomed us on the speakers and predicted us a short 45 minutes duration. DAMN, I paid for 1h 20 min.
We taxied to the runway with no aircraft in front of us and started a fast take off.
Shortly after take off: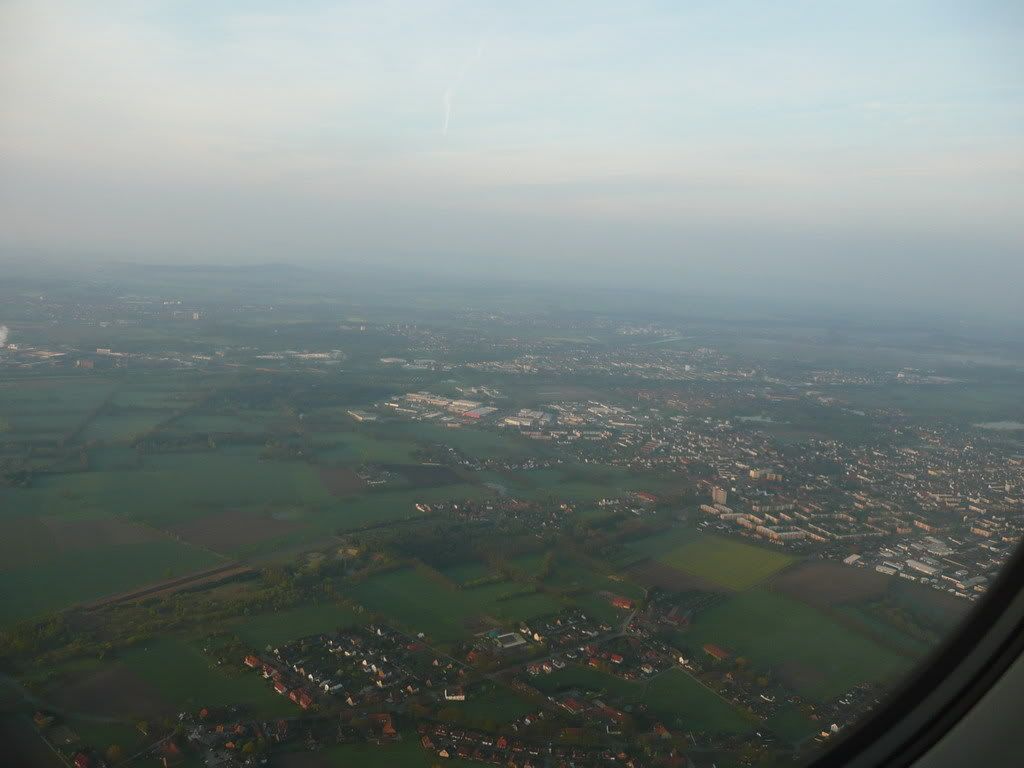 Soon the cabin crew started their service. Breakfast was a tasty muffin and an orange juice: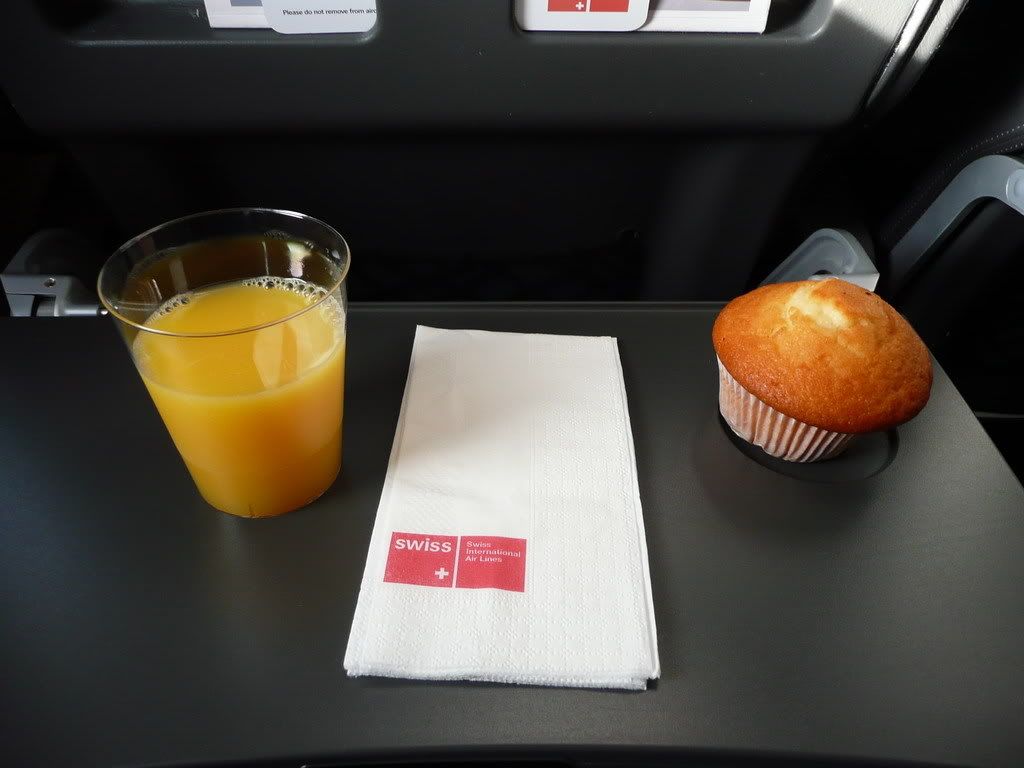 The aircraft gave a neat impression and the cabin was clean. It looked like a new aircraft, but later I found out, that this machine was built and delivered to Swissair in 1995.
The legroom was roomy (I'm 1,82 meters tall):
Over the black forest:
I like it when there are screens on middle haul aircrafts. We saw some funny comedies and the map view:
Nice feature. Overview of ZRH airport and the gates of our connecting pax (sorry for the low quality):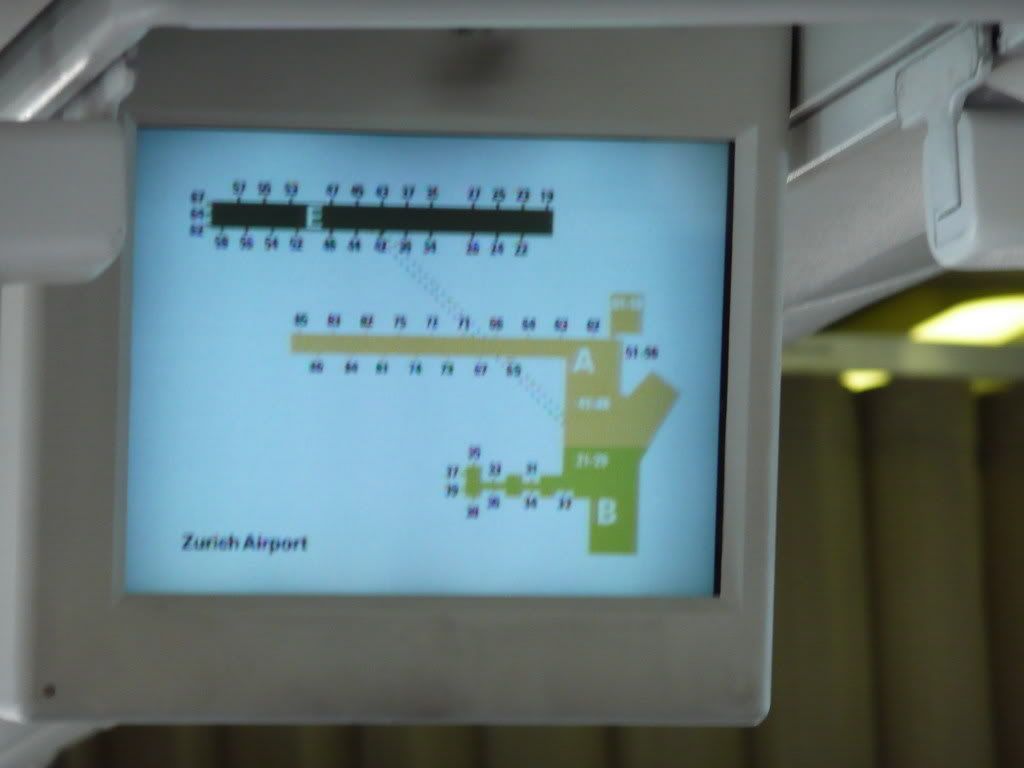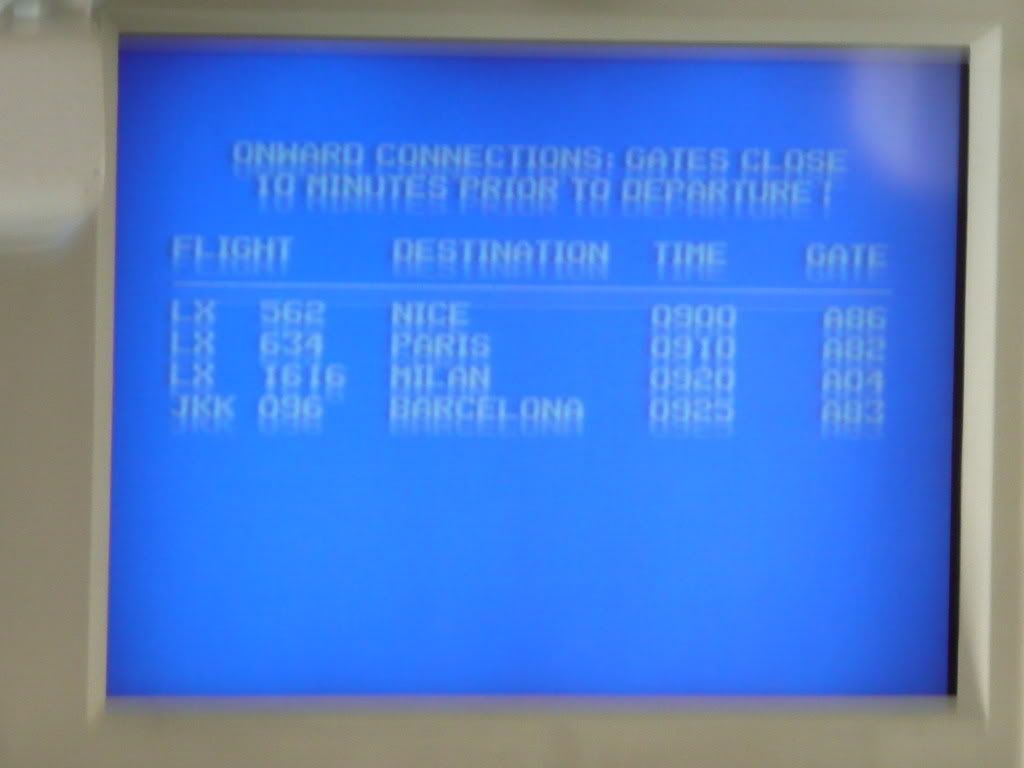 Shortly before descending into ZRH a f/a came around with some swiss chocolate. Due to the European soccer championship the chocolate looked like a soccer ball: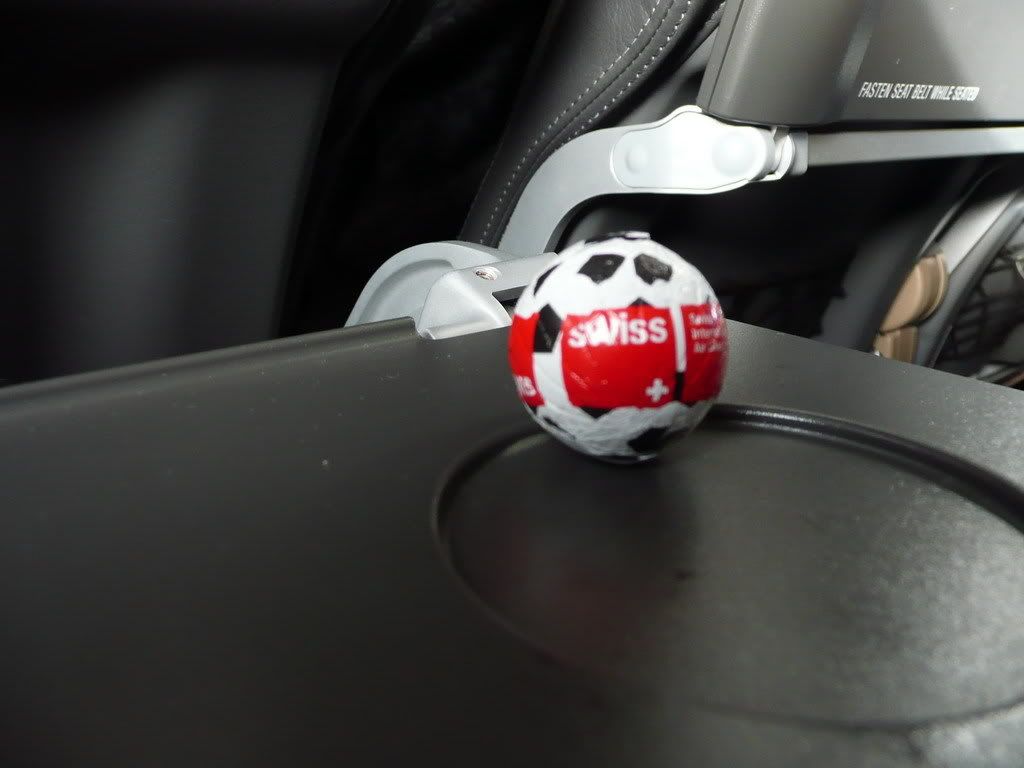 The alps:
Approaching over the lake of Zurich:
Zurich:
The landing was smooth and we taxied to our gate A74.
Disembarking:
Our aircraft: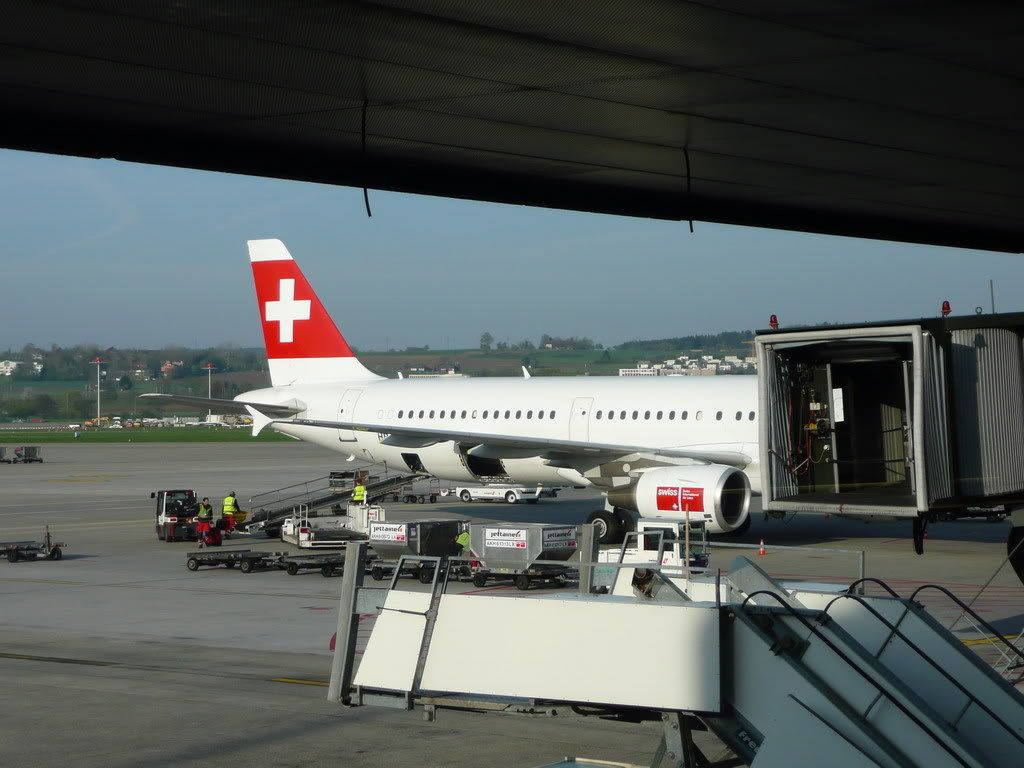 Nice welcome to Switzerland:
Most pax were transits, so when I came to passport control there was nobody in line. I collected a stamp of Switzerland to my passport and went to the baggage claim, where my bag was already on the carousel. I headed out into the empty arrivals hall and waited some minutes for my friend to pick me up.
Zurich is very beautiful city. It was my second time there, but the first time I arrived by a plane. Here are a few pics of Zurich.
View from a bar on the top of a building: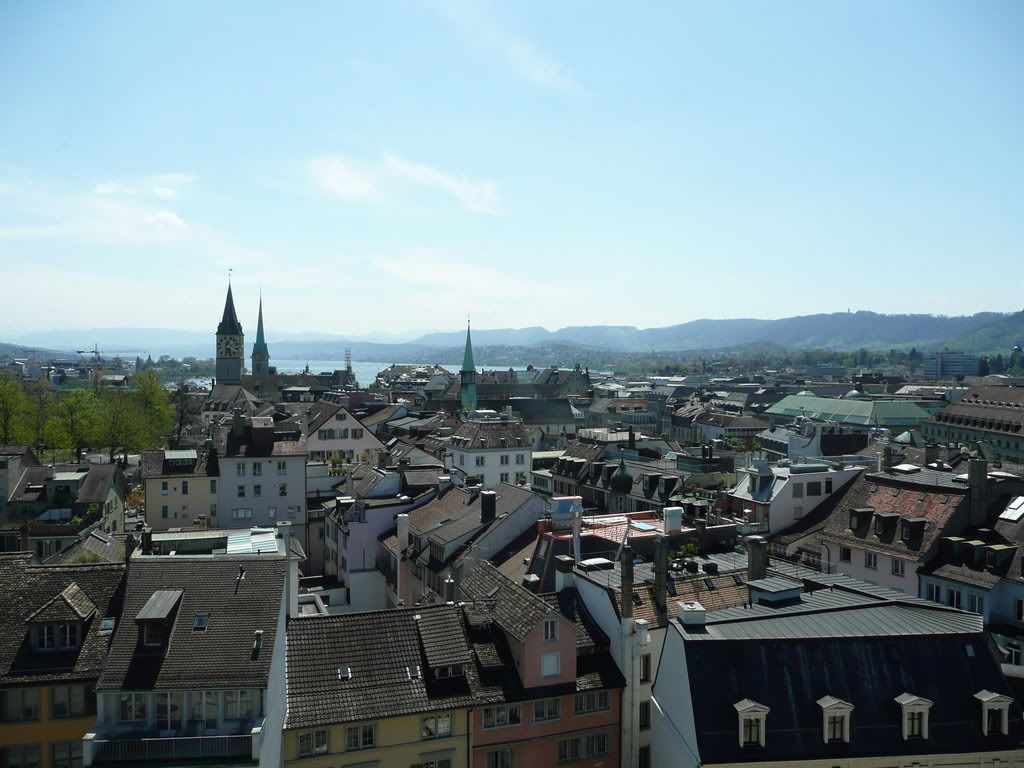 Old town: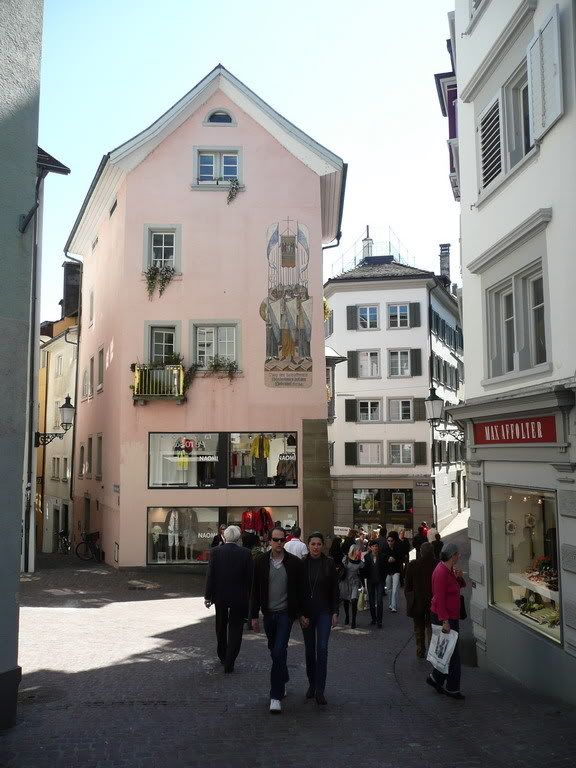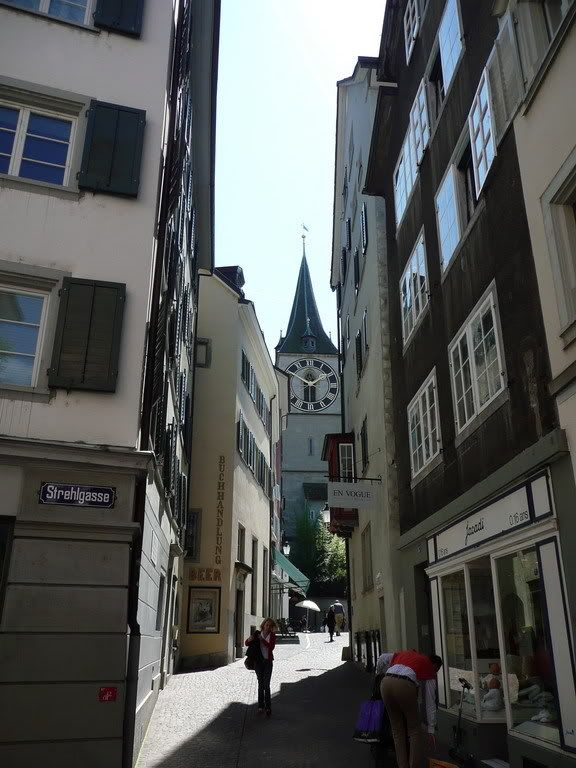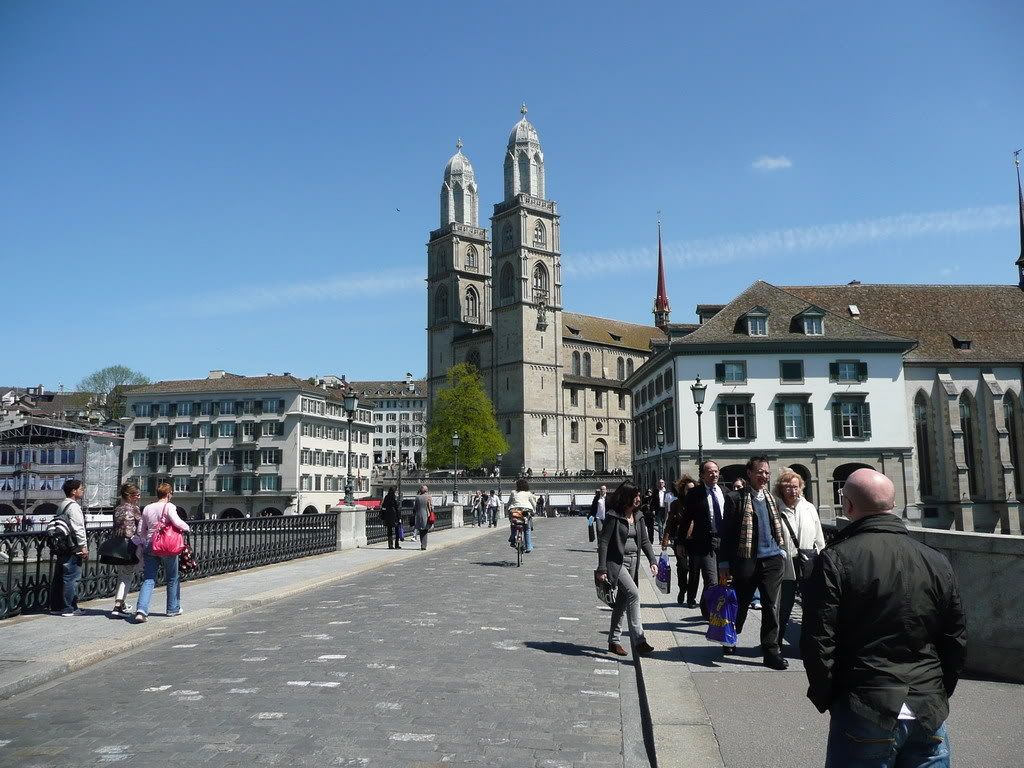 Zurich by night: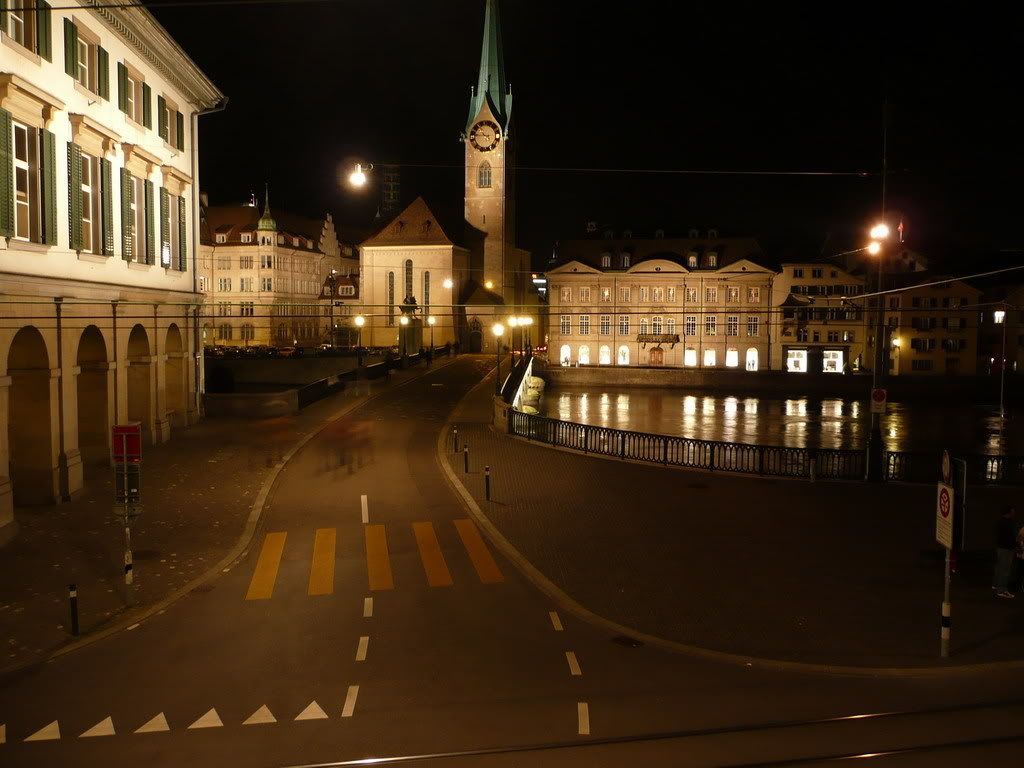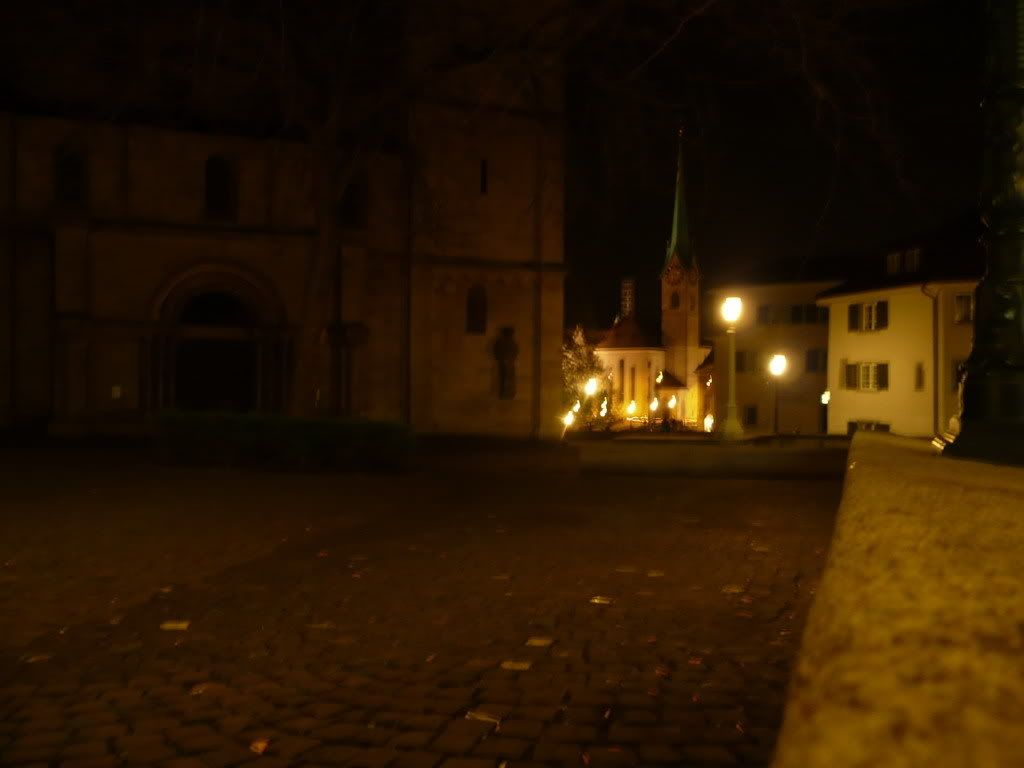 Funny for us Germans, because in Germany it's now forbidden to smoke in bars and restaurants: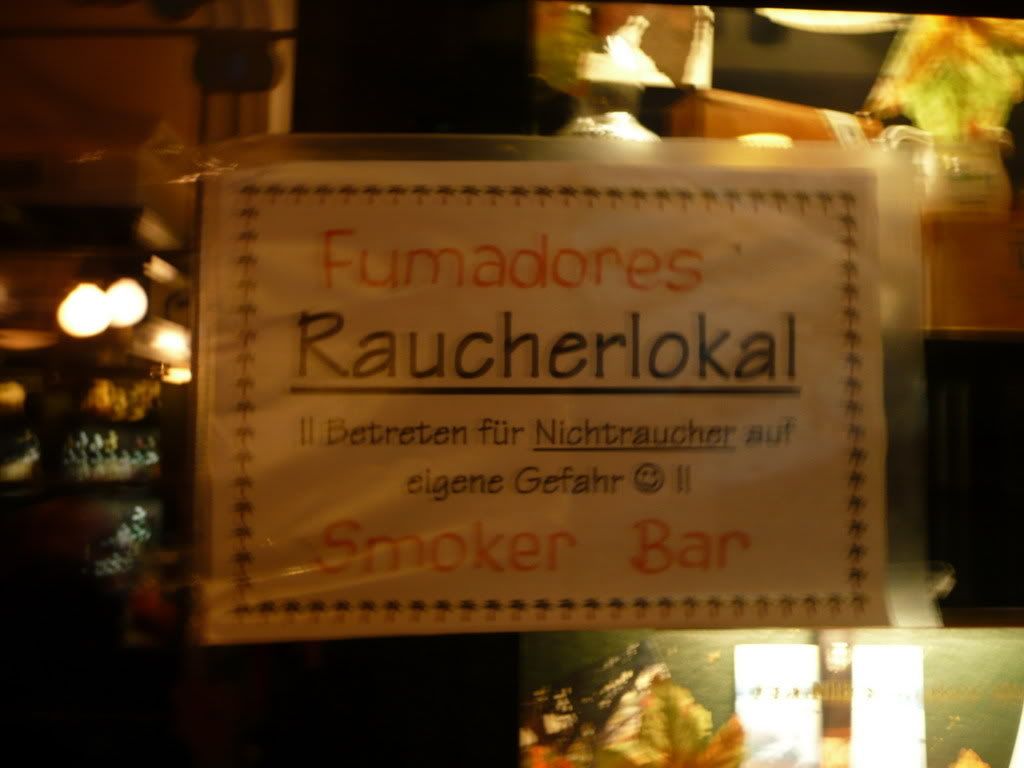 After two nice days in Zurich it was time to head home. My flight was departing at 8 pm, but my friend drove me to the airport at 3:30 pm, because I wanted to explore the (for me new) airport.
After arriving at the airport I first checked in at the empty business class counters as I am a Star Alliance Silver Card holder: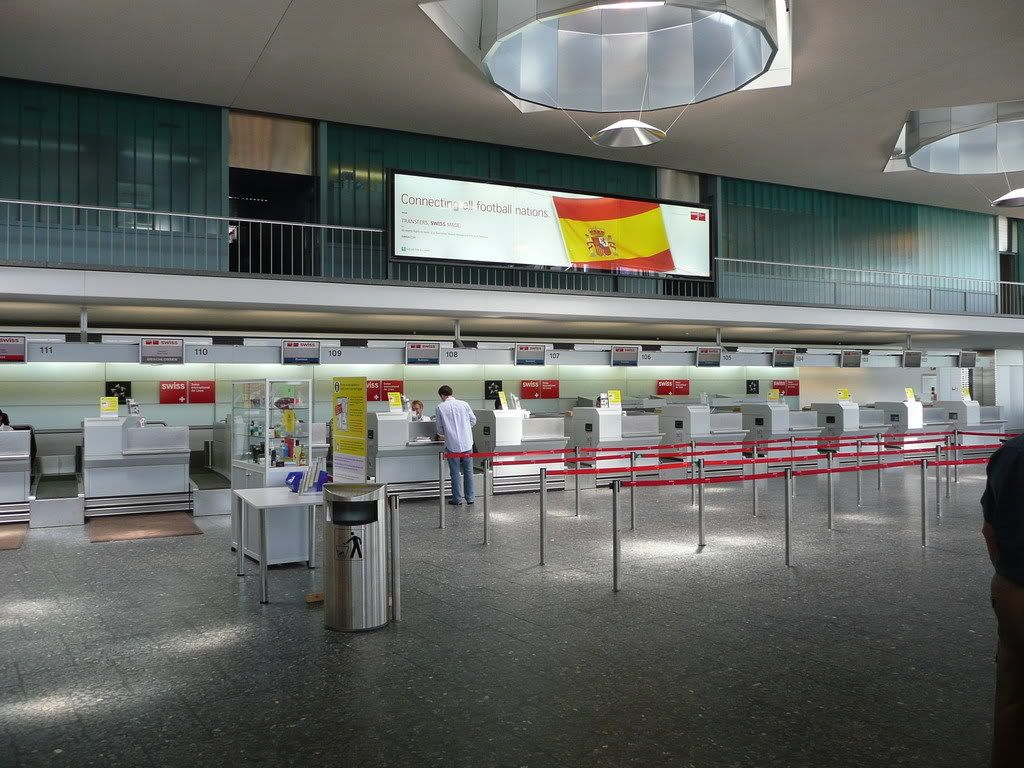 My friend advised me to ask for a F seat for a better view, because after take off all aircrafts make a turn over the lake of Zurich and on my flight to MUC are the alps all the way on the right side. So I took his advice. In consideration of a 30 minutes transit time in MUC the agent stuck a "hot tag" on my bag. It should show the ground handling crew the short connection and to work on it fast. But from my time I worked as a student at FRA baggage transportation I knew that it wouldn't work always. I doubted to see my bag again at HAJ.
Economy check in area with check in kiosks:
After checking in we had a coffee at the Starbucks, because we were a bit dozy due to the long night before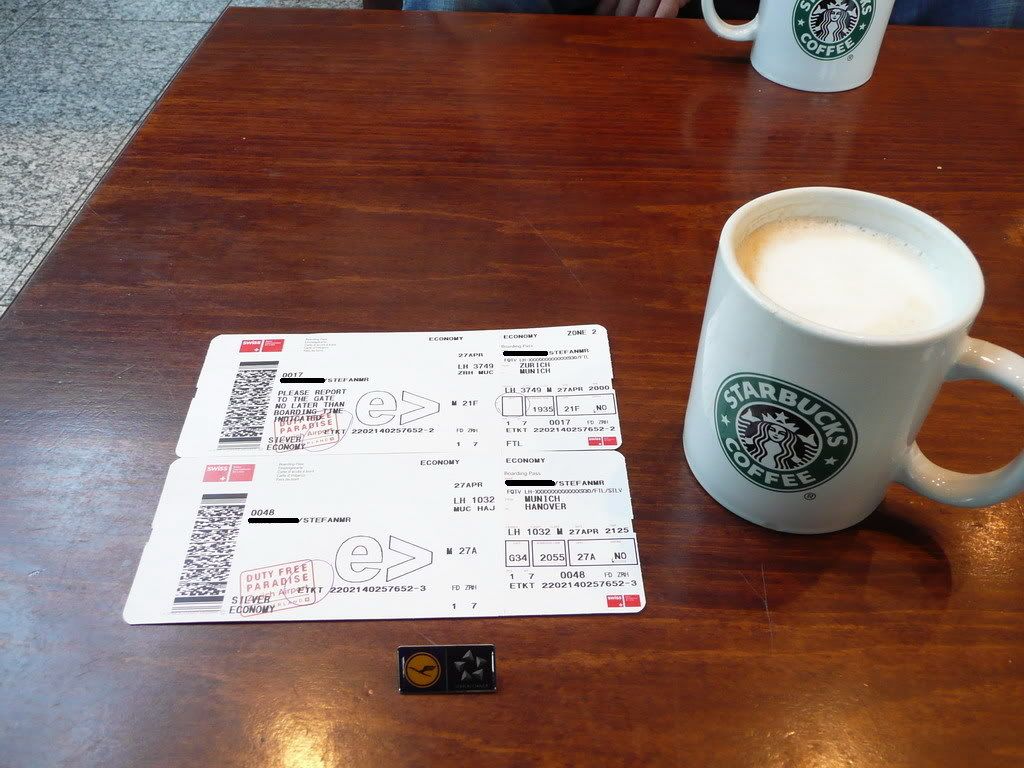 Then we headed to the observation deck. My friend managed to get free access, because he is an employee of the Lufthansa group.
Some views from the observation deck:
Hello, who is on the phone?
A Contact Air Fokker 100 arrived: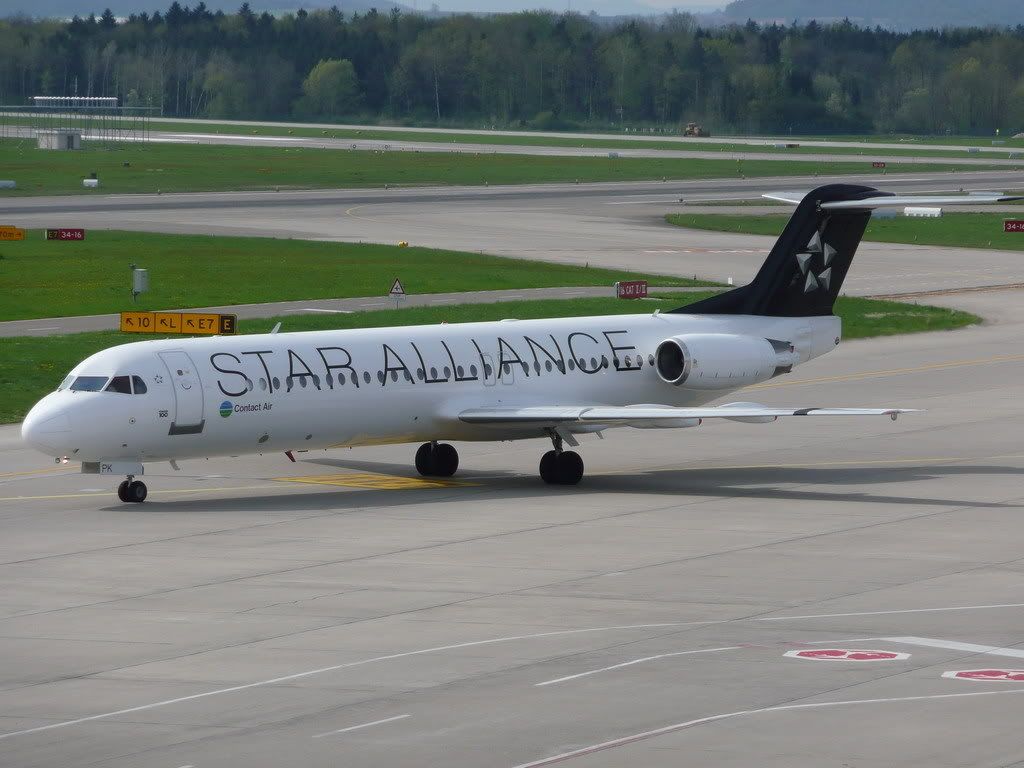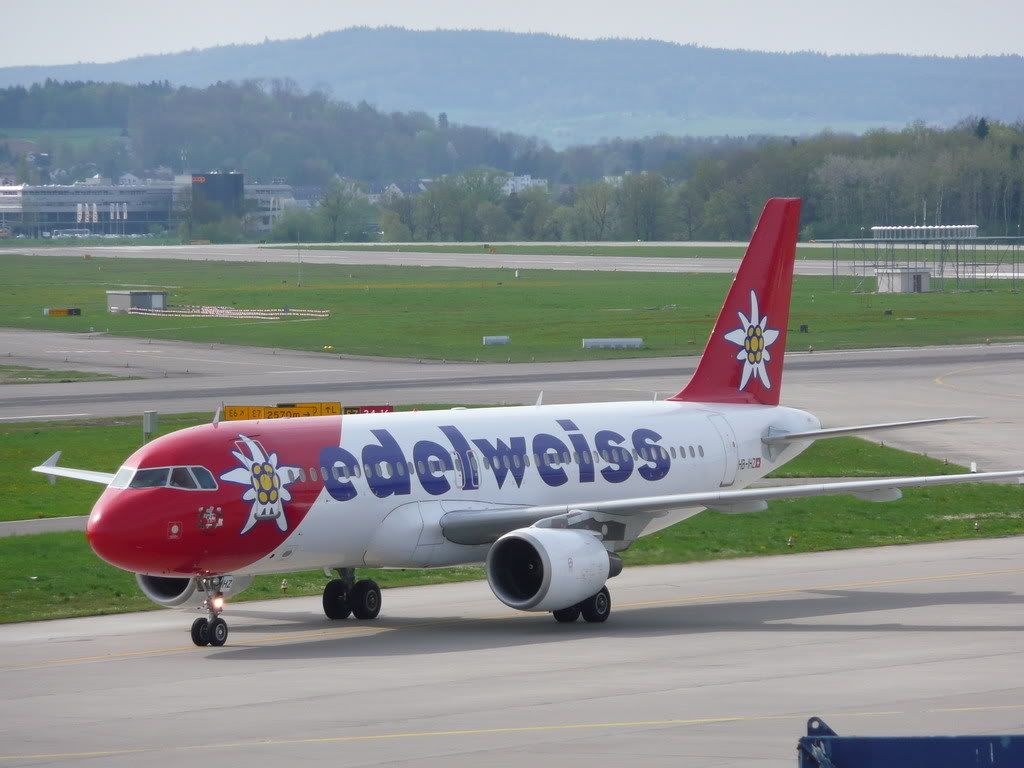 Three aircrafts on one shot: Austrian Arrows Fokker 100 (OE-LVI the same I saw the day before in HAJ), a departing AB 320 and an approaching aircraft in the background:
An empty Emirates Sky Cargo A310-300 arrived: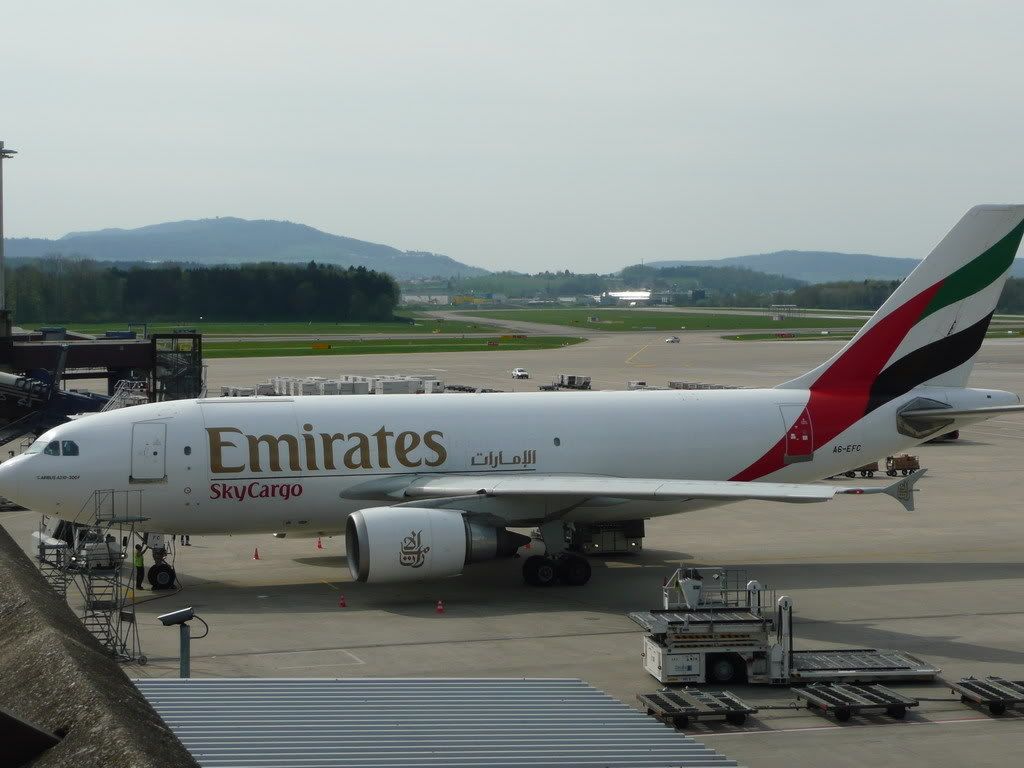 After a while we left the observation deck and I said goodbye to my friend. Then I went to passport control: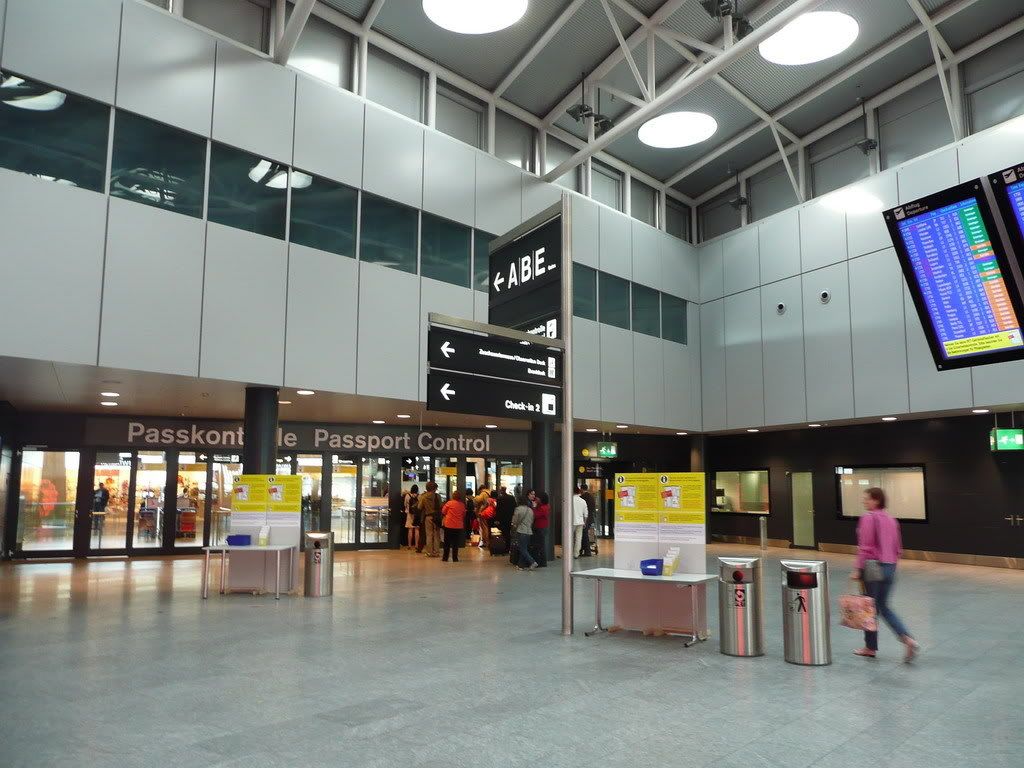 I wandered around and bought some chocolate for my colleagues in the duty free shop.
The shopping area: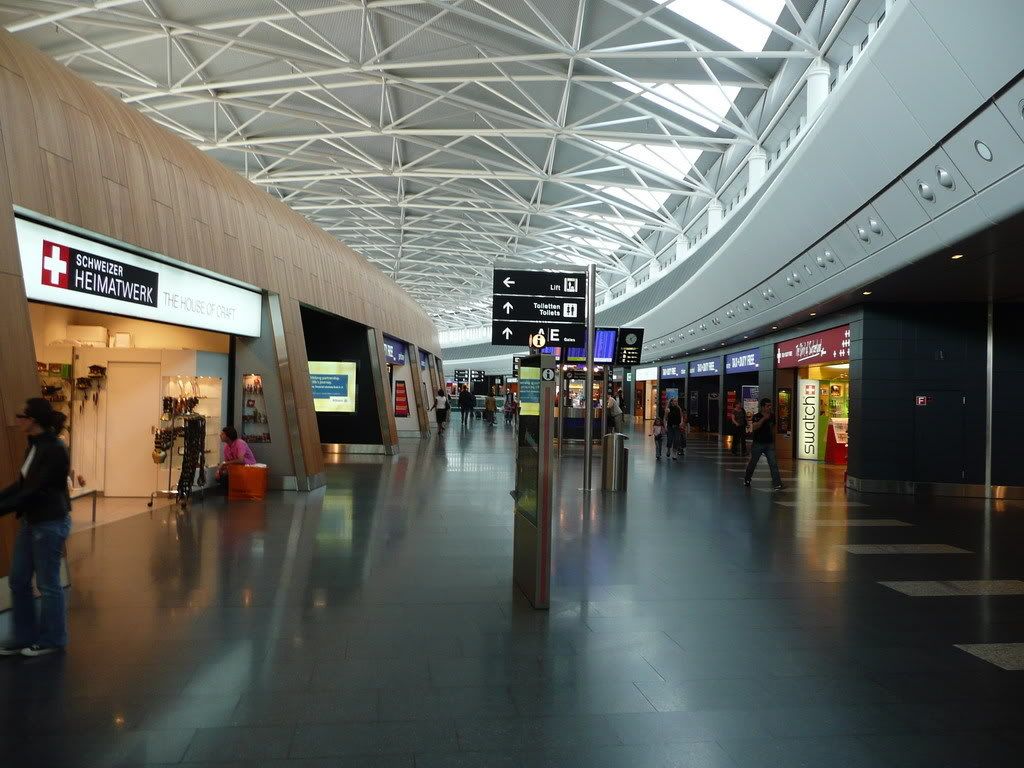 Spacious gastronomy area:
I went downstairs to the train bringing be to the E-gates: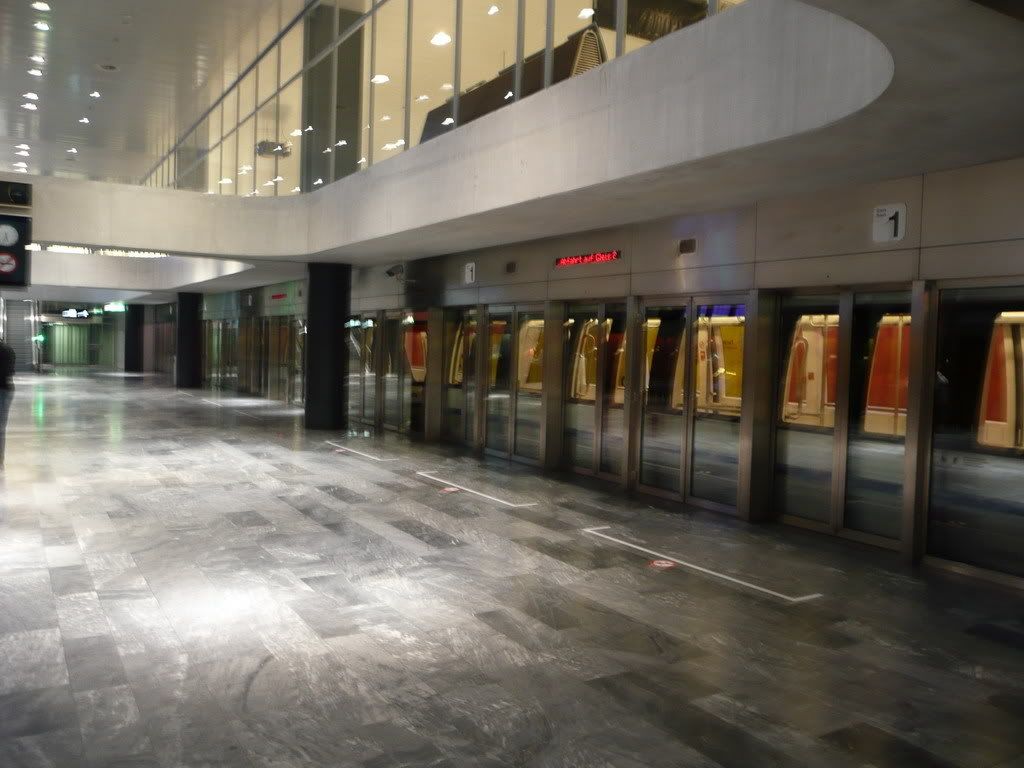 In the train you can hear some alp yodelling, cows, sheep and alp horns from the speakers.
At the E gates I tried to make some photos, but the steel construction balked my view: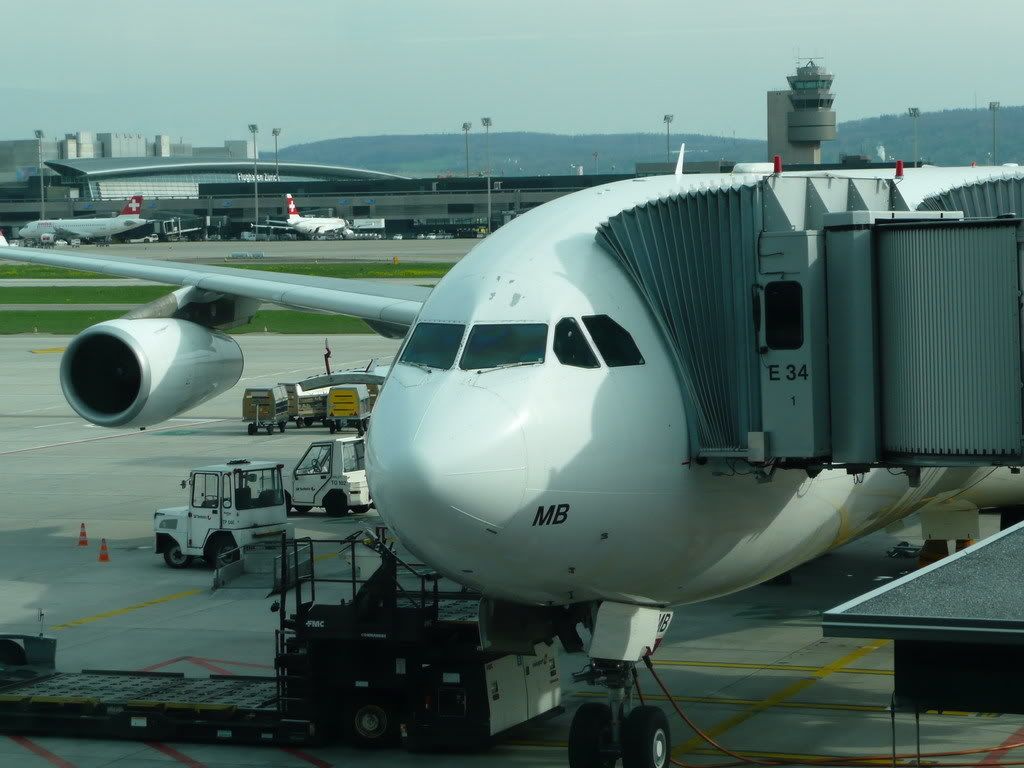 After riding back to the main terminal I headed to the lounge: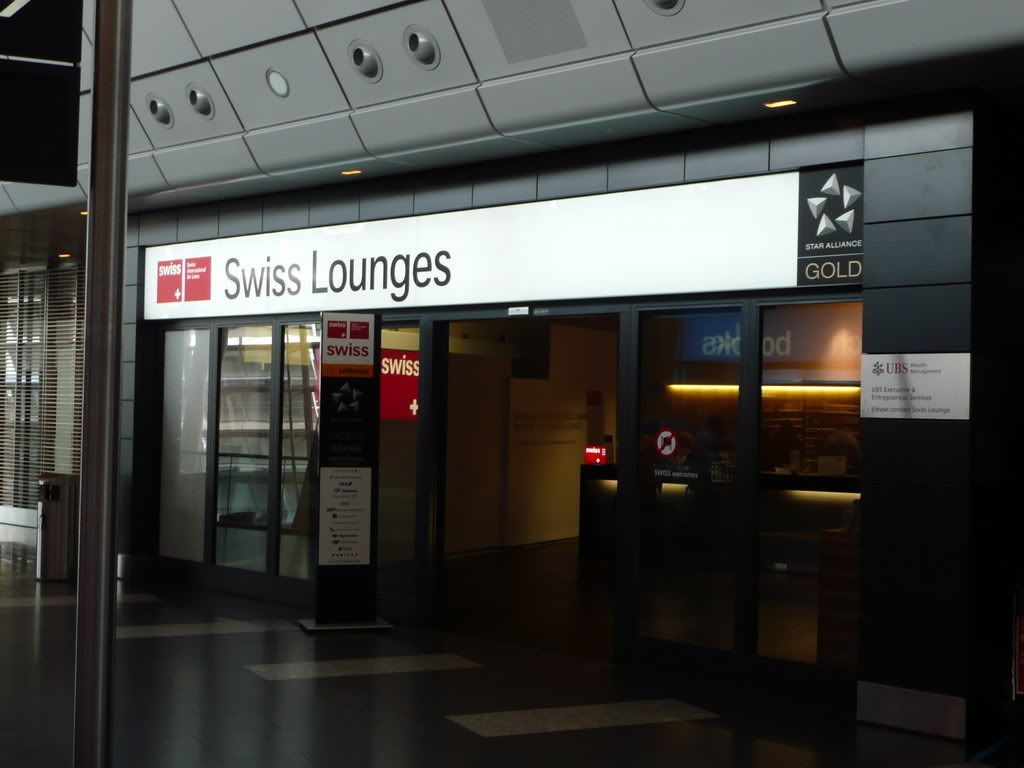 Upstairs is the longest served airport lounge bar in the world:
Besides is a nice gallery of their members:
And my two airlines for the currently trip: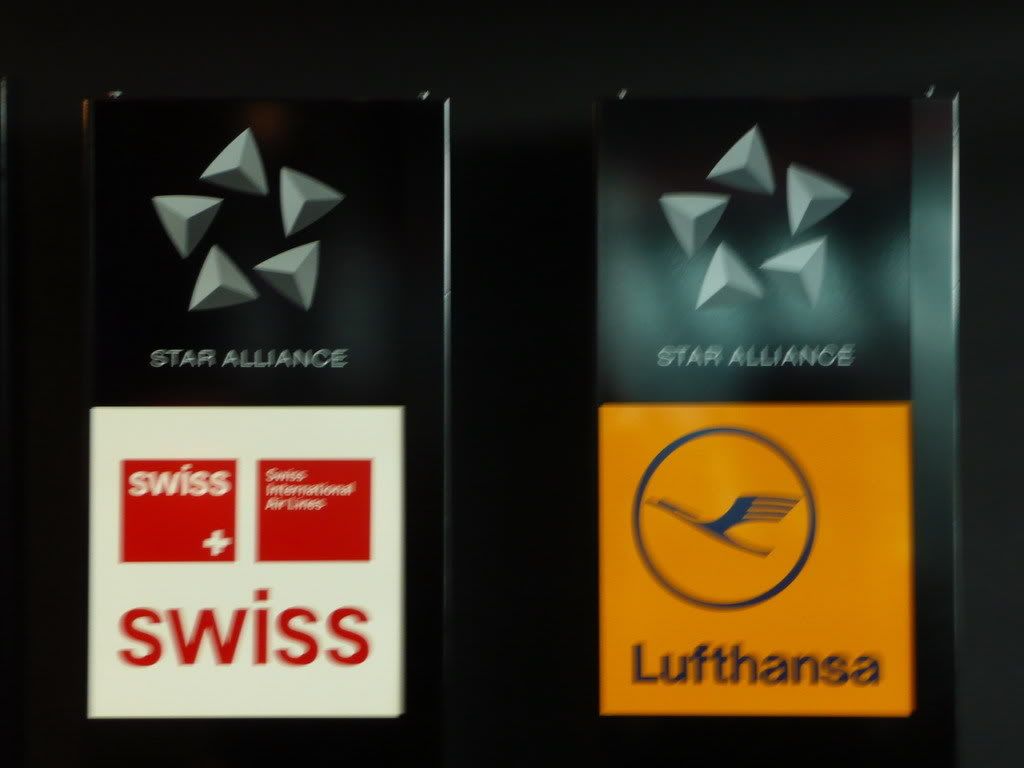 After some coffee I went downstairs and settled into the comfy leather sofas. The lounge was not too busy: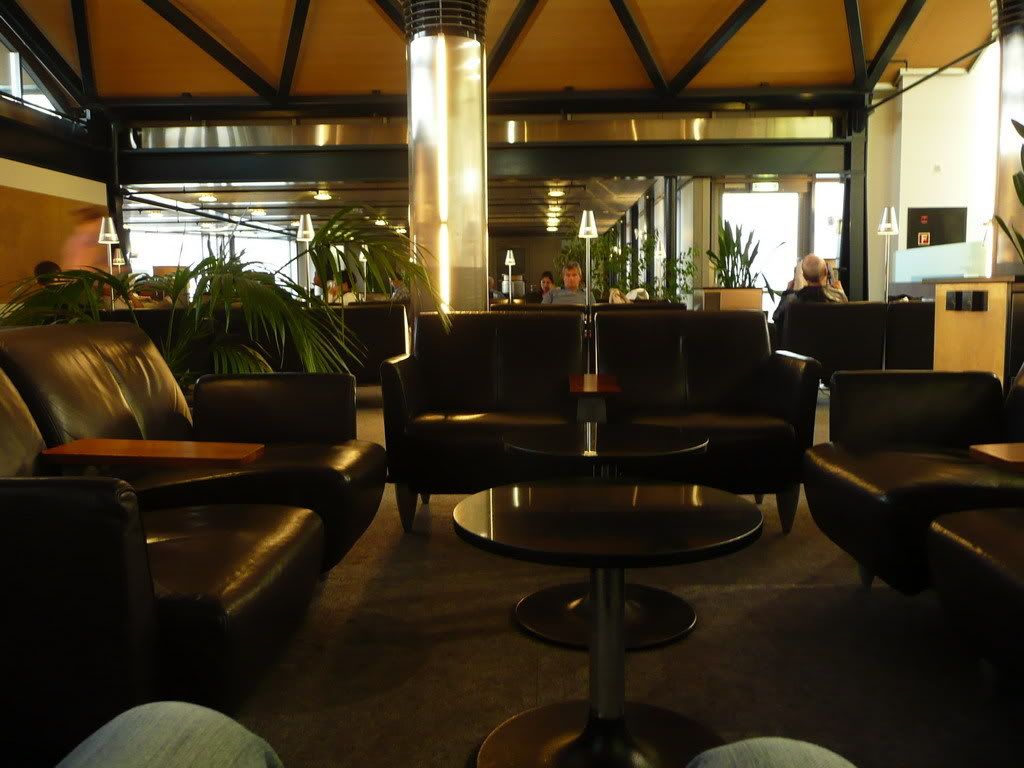 Flight: LH 3749
Route: ZRH-MUC
DATE: 27. April 2008
TIME: 8 pm
DURATION: 50 min.
A/C: 737-530
REG: D-ABII (named after the city of Loerrach) 12th flight on a Boeing 737, 1st on this one
SEAT: 21F
CLASS: ECONOMY
View Large
View Medium


Photo © George Canciani
View Large
View Medium


Photo © Marco Toso - SpotIT
Boarding was scheduled for 7:35 pm. At 7 pm I left the lounge and went to security. Within 4 minutes I was through. My assigned gate was A3. Before I went to my gate I wandered around the 70ies gates to take some photos:
On the apron was a Cirrus Airlines Dornier 328-110 with advertisement for the airport of FMO on the tail: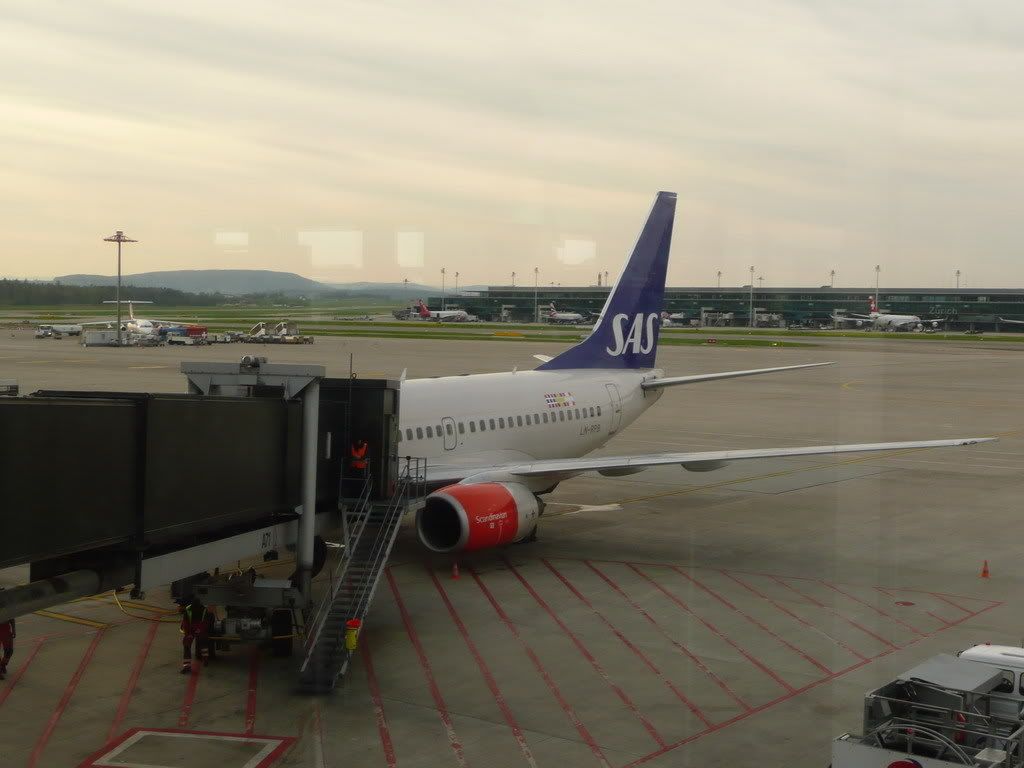 Then I went back to the bus gates. The waiting area is upstairs. When boarding was announced I went downstairs to gate A03:
A bus parked in front of our gate. Then boarding started with showing our passports and boarding passes and entering the bus. The bus drove us to a remote position, where D-ABII was waiting: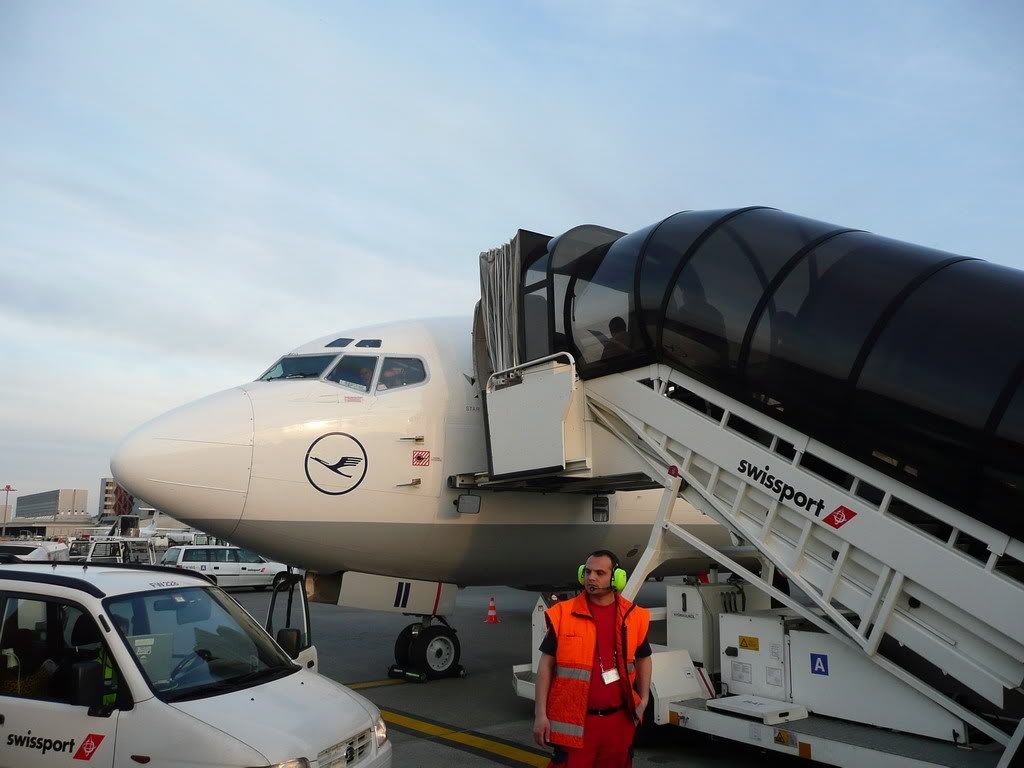 The bus driver opened all doors and everyone rushed to the stairway at the front door, though the rear door was open as well. As I had my seat in the last row, I walked to the rear door and was greeted by a friendly female f/a.
View from my seat:
Boarding was completed quickly and the doors were closed. Load was about 60 %. The seats next to me kept free. The captain welcomed us aboard and predicted a duration of 40 minutes. We left the position, which was next to the runway and had a short taxi to the beginning of the runway.
While taxiing:
And take off:
Beautiful view of sunset over Zurich thanks to the hint of my friend:
Sunset over the alps: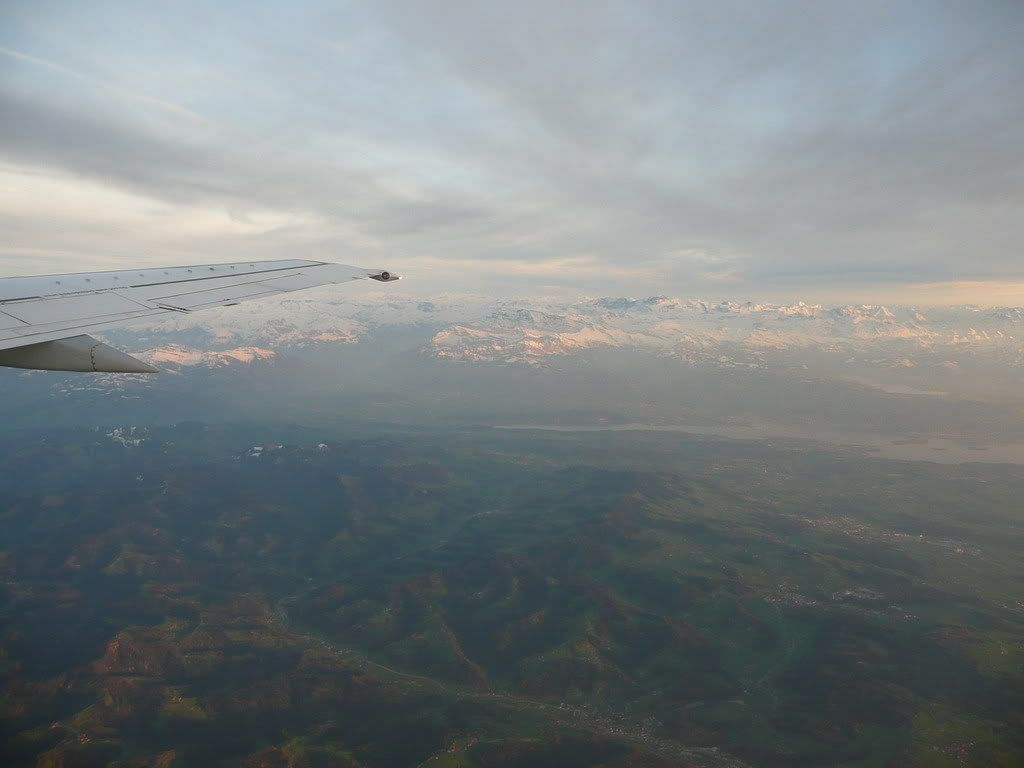 The cabin crew (three female f/a) started their service and we all got some chocolate and I opted for a tomato juice with salt and pepper.
During the flight the captain came on the speakers again and mentioned that we were flying over the city of Fuessen. So I looked outside and tried to find the Neuschwanstein castle. Here it is, sorry for the poor quality:
Cabin shot during the flight:
When we started our approach into MUC it was getting dark outside. I could see the illuminated Allianz Arena, Munich's soccer stadium. Munich has two soccer teams. When it is blue illuminated, 1860 Muenchen is playing. Today it was red illuminated, means 1 FC Bayern was playing. You can see the red illuminated stadium over the wing (sorry again for the poor quality):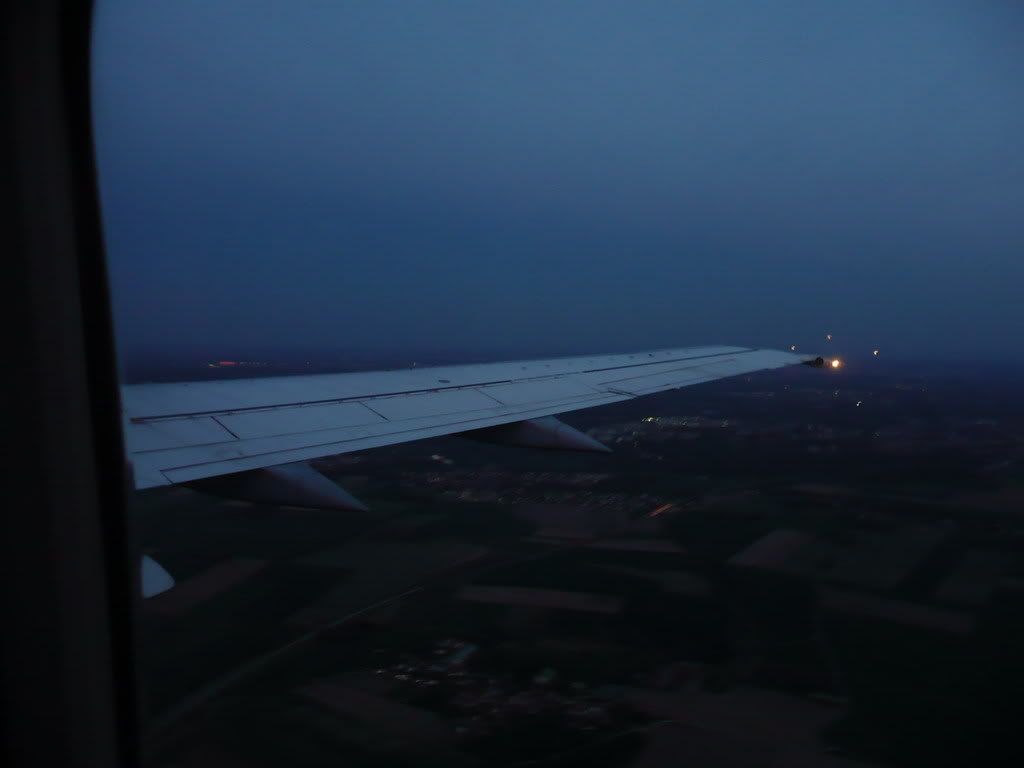 We landed and taxied to our gate G48 at terminal 2, which is the outermost gate at the terminal. This means it was the first gate at the terminal from the runway and we had only a short taxi, but I had to walk through the entire terminal to get to my new gate.
Arrival at G48:
I disembarked the aircraft at 8:50 pm. Boarding for my next flight was scheduled for 8:55 pm. After entering the terminal I saw on the info screen, that my gate to HAJ has changed from G34 to G22: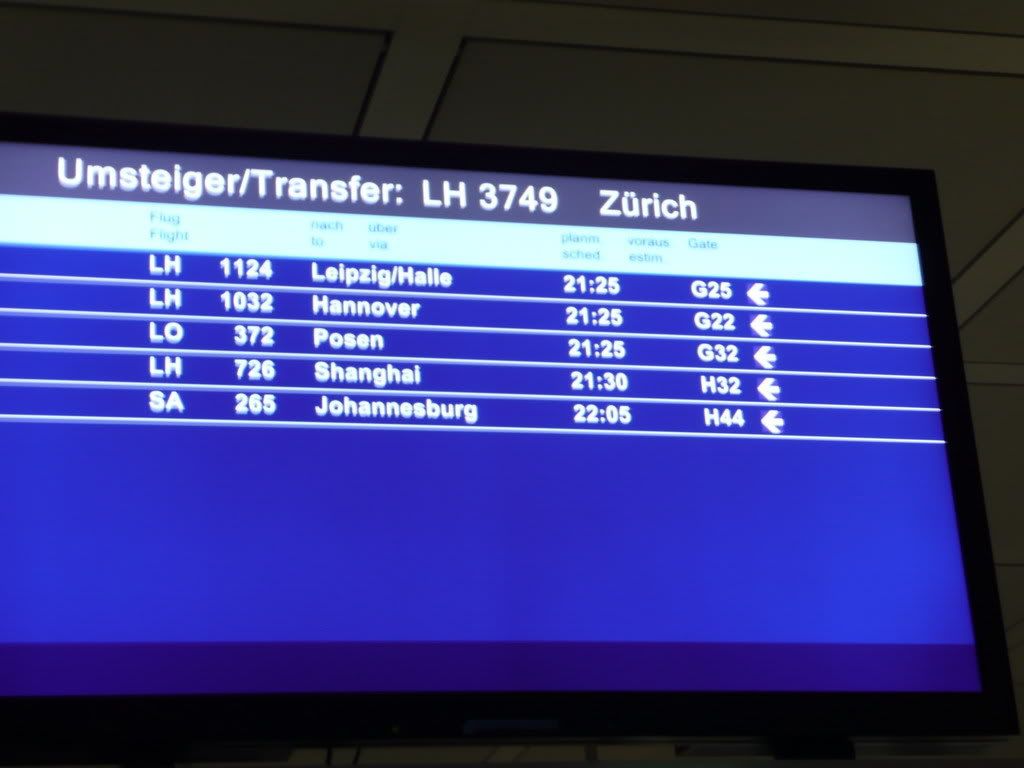 Switzerland is a non-Schengen country, so I had to deal with the passport control before rushing down the long terminal to gate G22. I reached the gate at 8:58, but boarding hadn't started yet. While I was relaxing a bit I looked outside to the aircraft and thinking about if my bag would make the transit.
Flight: LH 1032
Route: MUC-HAJ
DATE: 27. April 2008
TIME: 9:25 pm
DURATION: 1 hour 5 min.
A/C: A320-211
REG: D-AIPP (named after the city of Starnberg) 5th flight on a A320, 1st on this one
SEAT: 27A
CLASS: ECONOMY
View Large
View Medium


Photo © Gordon Zammit
View Large
View Medium


Photo © William van Wanrooy
Boarding started 15 minutes behind schedule. The load was around 100 %, because I couldn't see any free seat in economy. I don't know the load in business, because I was sitting in the second last row of the cabin.
The captain welcomed us aboard and announced some minutes delay for departure, but we would be in HAJ on time. What finally had been correct. We left the gate some minutes behind schedule and taxied out to the runway. After two arriving LH jets it was our turn and we took off. Soon after the seat belt signs were switched off the cabin crew started their beverage service. I had a water, because I had to drive car later.
Cabin shot:
The remain flight was uneventful. Outside it was dark. I expected an descent over the city of Hanover, but we were descending from the west and there was nothing to see outside. We arrived HAJ on time and parked at gate 4 at 10:30 pm. This was the last flight for the crew today and I wished them a nice end of work. I was the last passenger to disembark and went down to the carousel, where all other pax were already waiting for their baggage. When the carousel started and the bags came out I was looking for my bag, but it didn't came out. But some other passengers were waiting as well for their bags. I began already searching sticker of my baggage tag that I got at the check in desk in ZRH. But suddenly my bag came out together with the crew baggage.
Baggage claim: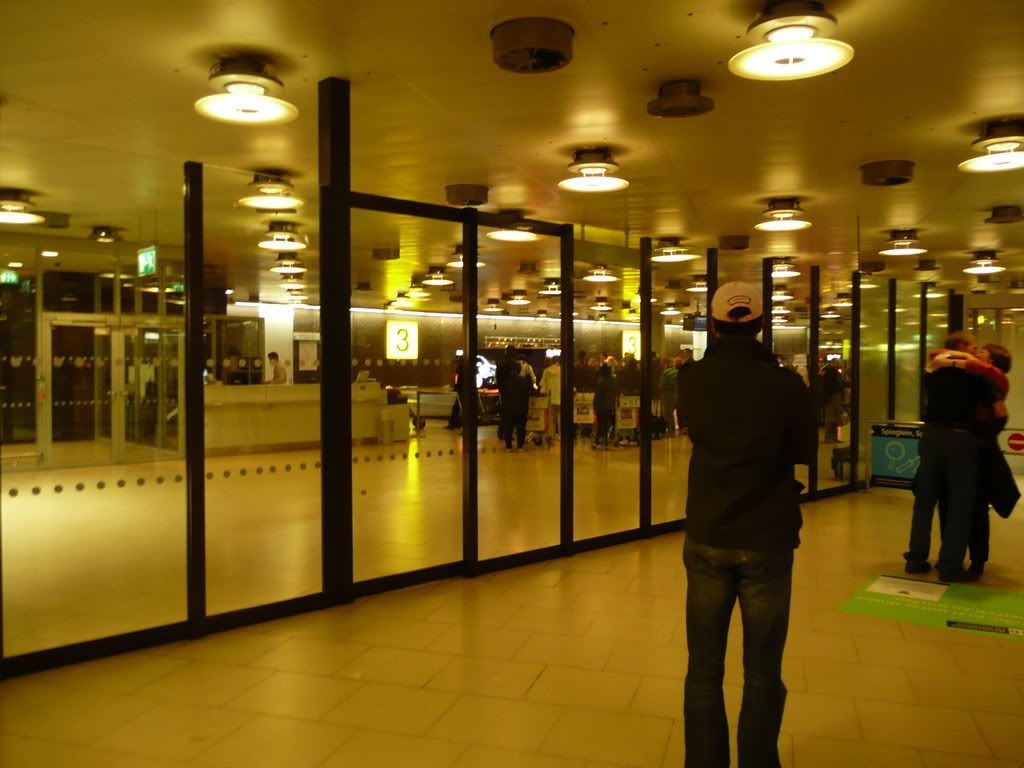 Lucky I headed to the multi-storey car park and paid the parking fee. Then I went upstairs and found my Volvo waiting for me.
Route: HAJ-BFE
DATE: 27. April 2008
TIME: 11 pm
DURATION: 1 hour 10 min.
CAR: VOLVO 960
REG: BI-******** 260,000 KM on this car
SEAT: 1A
CLASS: LUXURY
The ride home was smooth, as there was not much traffic on the highway A2 (Warschauer Allee/ Warszawanese Avenue) and I was at home shortly after midnight.
EPILOGUE:
The visit to ZRH was great. All flights were good and all crews were friendly. My first flight with LX was excellent and I am looking forward to fly with them again. ZRH airport is very worth to see, modern and well arranged.
I hope, you enjoyed my TR. Questions and comments are appreciated.
Regards,
Stefan