Feedback always appreciated.
Trip Report: 047
Flight Category: Y-DSR (See Report End)
Date: 06Jan-08
SDT/SAT/Delay: 1054/1227/1:31 hrs (Delayed by 0:20)
Flight:
Skybus SX 102
, 472 miles
Routing: SWF-CMH --> INAUGURAL FLIGHT --> NEW CITY
Aircraft: 319
Seat: Economy, FS
I > Background:
It is interesting to write a trip report about an airline that does not exist anymore. I did have mixed feelings about going forward. However, I felt it would be good to share this given the very strong views many have about SX on this site, and to remember an airline that made an attempt to create an alternative view of air travel in the U.S. Ironically, this report is of a first-flight to a new city.
This will probably be the last report on SX on A.Net. It is also unique as it is a post-mortem report, covers the launch of a new city pair and first flight (SWF-CMH), and also cover a city pair not likely to be covered in the future. In January, I was stationed in NYC for work and thought why not spend a day of flying back and forth to CMH to try a first flight experience on SX. Besides, I had not done a first flight since SQ's inaugural SIN-LAX and SIN-EWR flights.
II > Pre-Flight:
a) Before Airport:
If you have been living inside a cave, SKYBUS (SX) was the ULCC based in CMH connecting to a bunch of random points. SWF service was announced last year, and commenced with my flight on January 6, 2008. I even managed to score USD 10 tickets on both ways!
Ticketing was done through the only channel possible … Skybus website at
www.skybus.com.
The website was actually very efficient and you could even add the priority boarding for an additional USD 10.
b) At Airport:
Newburgh is a small provincial airport and I do think SX could have succeeded if it based itself at an airport like SWF. Anyways, the SX boarding area was decorated with balloons, and I utilized the self-check in to re-print my boarding pass. By the time I arrived, the entire operation had shifted to the gate area, and I was hoping I would make it to the flight.
After a quick security, I came to the festive gate area where local media had gathered. The SX station manager gave a brief history of SX and then asked people who had paid the USD 10 fare to raise their hand. There was excitement … but nothing special and no souvenirs were given out. Question to our European cohorts … when FR starts a new city, is there much fanfare? Ok, so the first flight came in and there was some problem with the jet bridge. Apparently, the agents did not know how to connect the jet bridge to the aircraft. So we ended up having a rather interesting boarding process which involved entering the boarding jet way, then going down the stairs (ones connected to the jet bridge), through a cone maze, and then boarding by the rear stairways. Through the walk, there were many of the top SX officials welcoming and thanking us for flying SX. Upon boarding, I was greeted by 3 cheerful FA's wearing their black restaurant waiter type uniform. Y load was an extremely poor 55%.
Airport - External:
(Newburgh Airport)
Check-in:
Airport - Internal: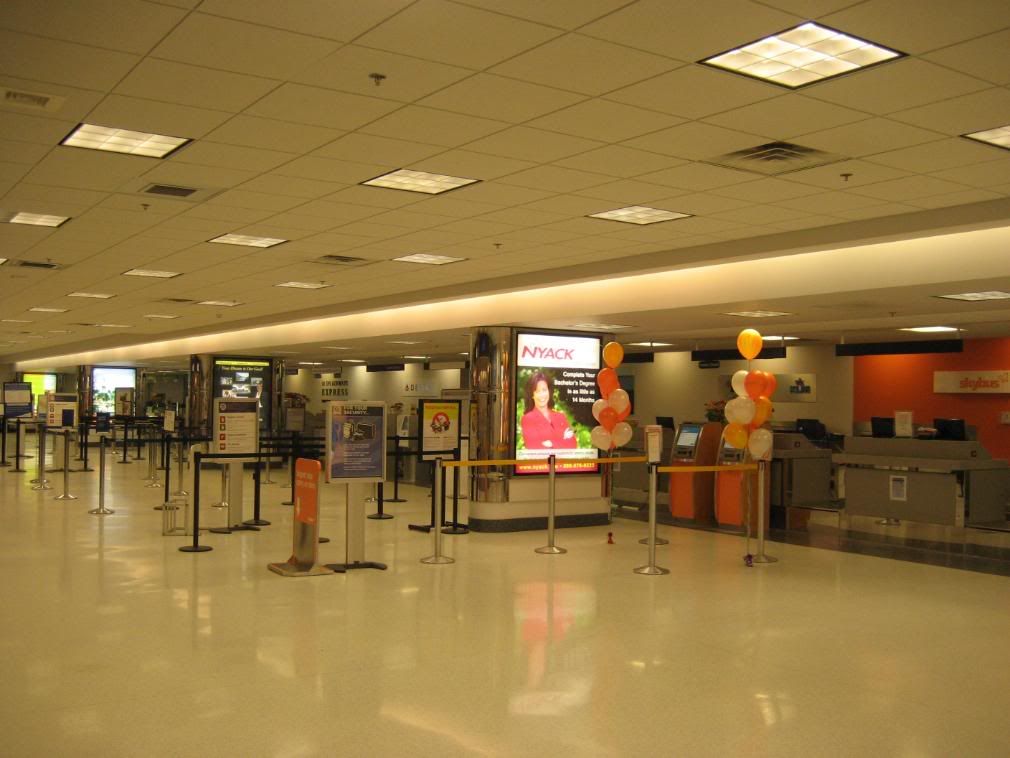 (FID – on arrival back)
(Post security)
Scenes of the tarmac:
NONE
Lounge
NONE
Boarding:
(Boarding area)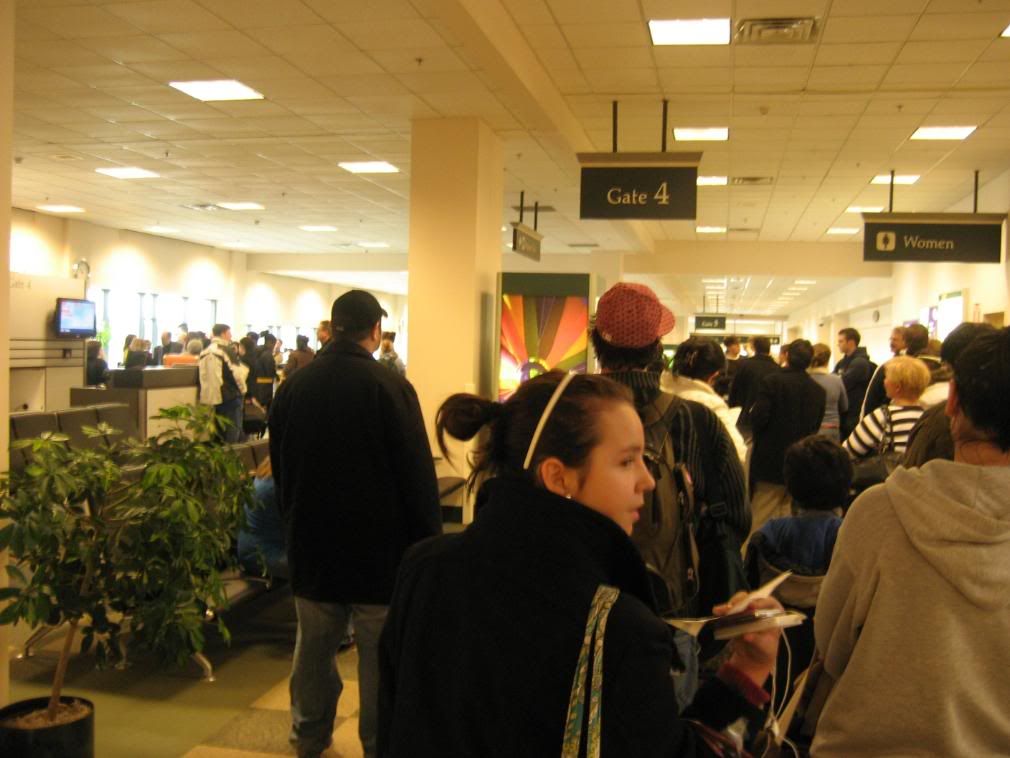 (Unique boarding)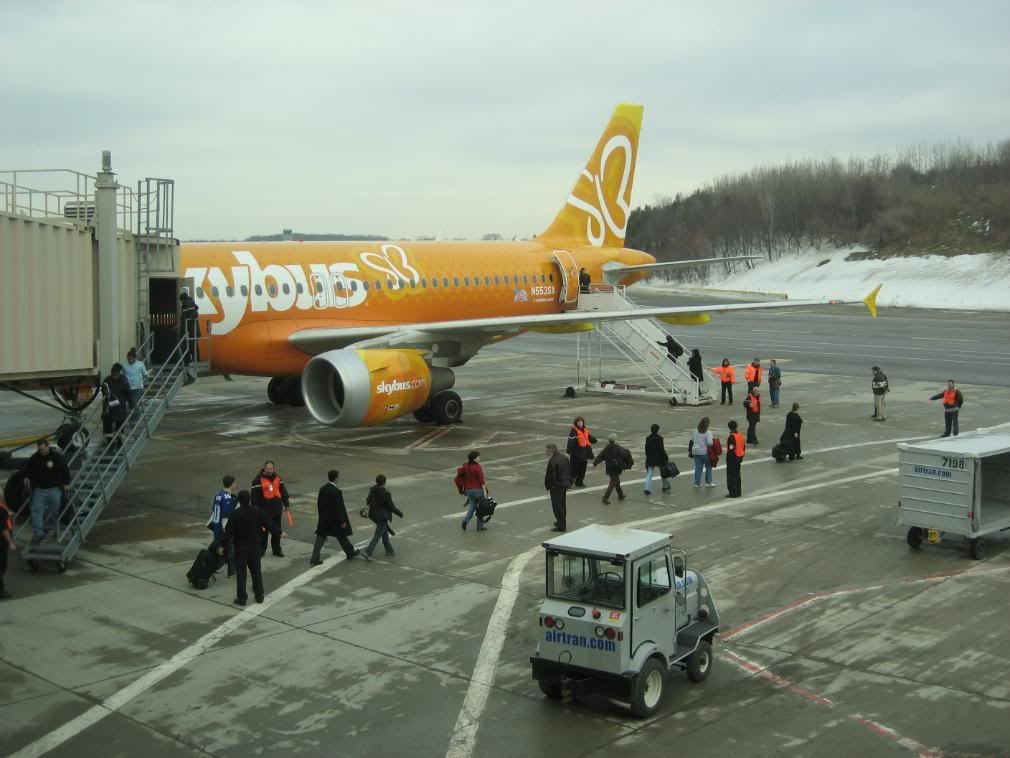 III> In-Flight:
a) Service Schedule + Impressions:
After take off, sales of food, beverages, and shopping items began.
b) Aircraft + Seats:
The 319 was actually very comfortable. The Leather Recaro seats were great and the seatbacks were of the newer all plastic variety. I had the exit row which is nice … but even the other rows seemed to have survivable leg room. None of the seats reclined. The aircraft was immaculately maintained.
Aircraft:
Views from Aircraft:
Seat Leg-Room:
(Exit row)
(Regular row)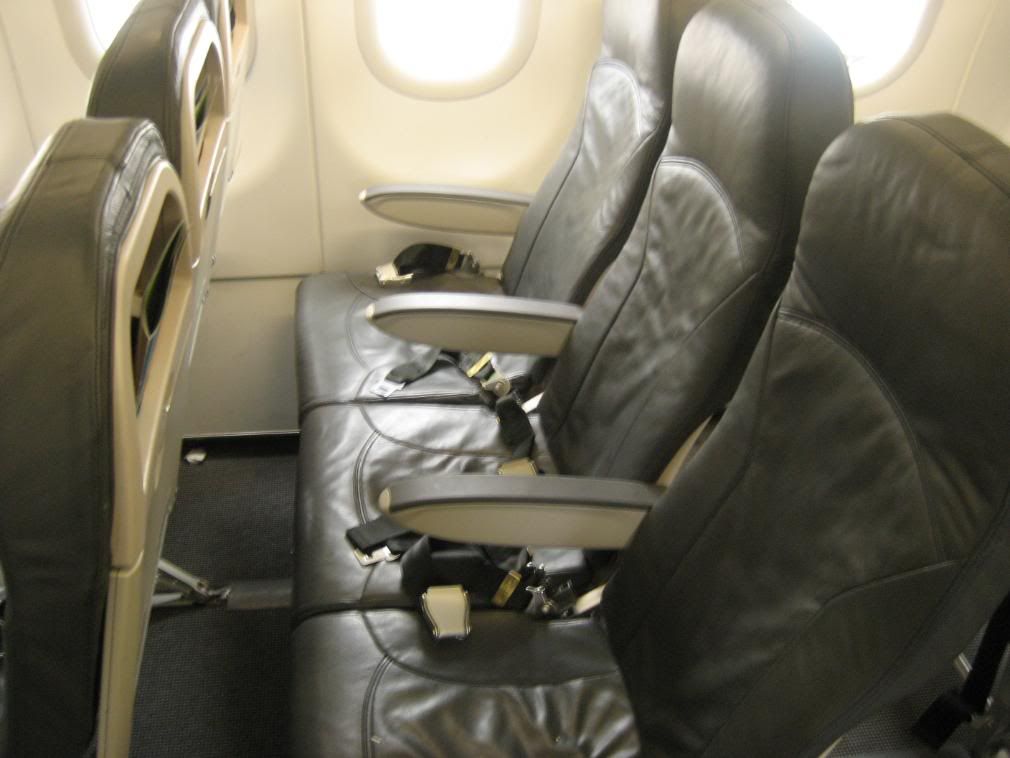 Seat Recline + Angle View: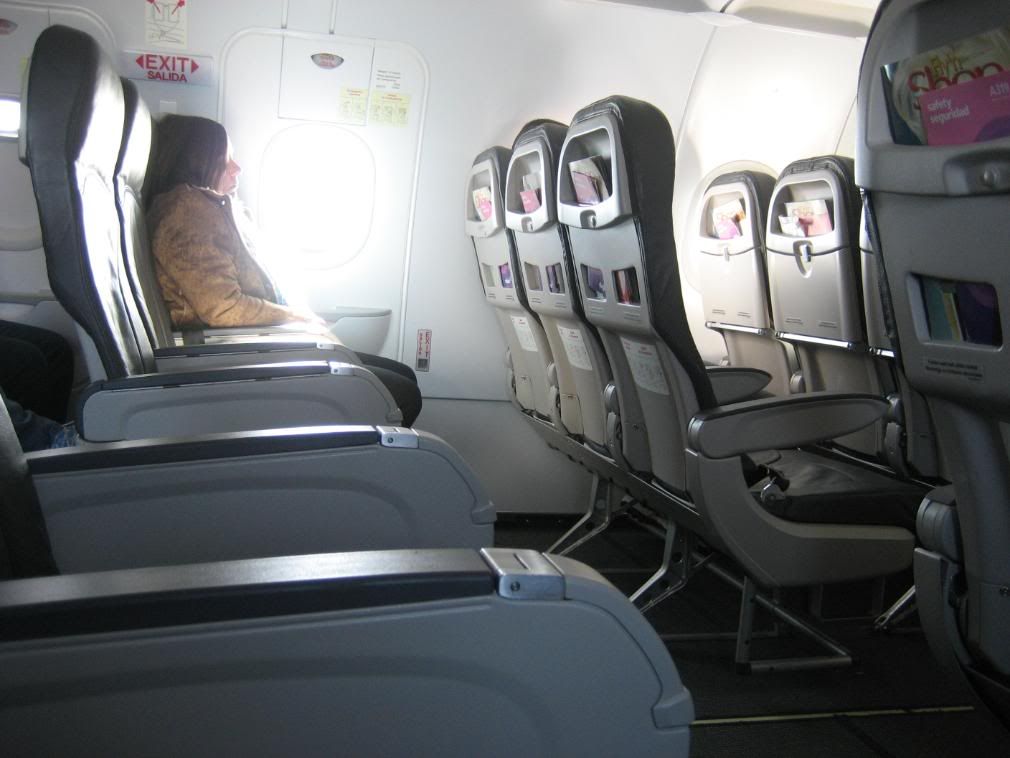 Cabin: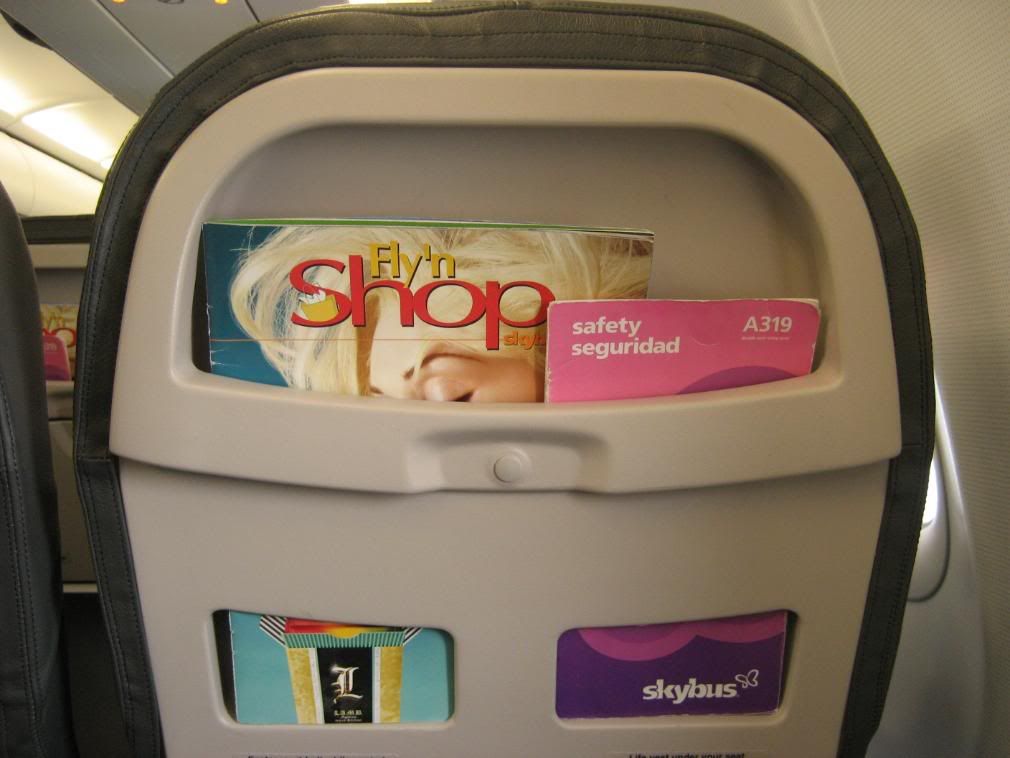 c) Meal + Beverage:
As the menu indicates, there were tons of options for purchase. It seemed that the crew did brisk business with sales. Contrary to what I heard on A.Net, they were not pushy and there was no sales pitch. My order for a Bloody Mary was taken using a hand held computer … and I was amused at the sales pitch of the FA with, "some people buy a second Bloody Mary as they don't find one adequate." It was interesting to have my Bloody Mary in a Caribou coffee cup (very back when I was in high school). Another interesting thing was the Captain announcing that any tip for the cabin crew would be greatly appreciated.
(Menu Options)
(Interesting presentation)
d) Inflight Entertainment:
None. No in-flight magazine. What were you expecting for USD 5,00?
("In-flight magazines", Boarding Passes, etc.)
e) Crew:
Definitely the high point of my SX experience. What a great bunch of FA's. Throughout the entire trip, they were cheerful and helpful. Full of smiles, they were not pushy and I certainly will miss them from the skies. Perhaps other airlines really need to take a hard look at an incentive based FA bidding process rather than seniority. Increasingly, I do think … and this is especially true for U.S. and E.U. airlines, meritocracy would be the ideal way forward to reward FA's and not some seniority list. The lead attendant was very knowledgeable and we talked briefly about SX, the VX birds, load factors on OAK flights, which flights generate sales, and the future of SX … yes, ironic indeed. But, I left with a very positive first (and last) impression.
IV> Post-Flight:
CMH's Skybus gates served the purpose. I was out of the terminal in 15 minutes flat.
(CMH – Skybus gates)
V> Impressions + Scores:
I was impressed by Skybus. I am cognizant it is a mute point, but I do think the model could have worked if they had chosen destinations that people wanted to fly to. If FR can have cheap flights, I don't see why SX could not do the same on same stage lengths,
ceteris paribus
. Anyways, good planes and a great crew made my SX experience a positive one. No point in recommending an airline that does not fly anymore. However, let me take this opportunity to pass on my best wishes to SX staffers. Many A.Netters and self appointed industry stewards here wrote you off … but always remember, the greatest risk is not taking one at all. Cheers!
1.0 > RESERVATION: 8.0
2.0 > CHECK-IN: 7.0
0.5 > LOUNGE: N/A
0.5 > BOARDING: 4.0
2.0 > SEAT: 6.6
0.5 > AIRCRAFT OVERALL AMBIENCE: 7.0
1.0 > IFE: 2.0
2.0 > CREW: 8.0
2.0 > FOOD: 5.0
0.5 > BEVERAGES: 7.0
0.5 > A.KITS + OTHER FREEBIES: 5.0
0.5 > DISEMBARKATION: 7.0
1.0 > ON-TIME RECORD: 8.0
WEIGHTED OVERALL IMPRESSION (WOI): 6.37
(Pre-flight WOI of all reviews: 6.38)
* Weighted Overall Impression (WOI) aligns scores with what matters most. Weights are indicated alongside each category.
(Scores are based on comparison with other airlines in THAT class of service – No comparison of Y vs. F for example)
VI> Other Trip Reports:
PREMIUM:
8.11:
Aeroflot (33): MOW-DEL: 09/2007
8.04:
Korean Air (40): NRT-ICN: 10/2007
8.02:
Delta Airlines (24): JFK-CDG: 08/2007
7.82:
Singapore Airlines (06): EWR-SIN: 09/2006
6.93:
Delta Airlines (18): SEA-JFK: 11/2006
6.81:
Air Canada (17): ICN-YYZ: 10/2006
6.70:
KLM (32): EBB-AMS: 08/2007
6.25:
Korean Air (45): NAN-ICN: 10/2007
5.75:
Singapore Airlines (16): CCU-SIN: 10/2006
5.64:
Skybus (47): SWF-CMH: 01/2008
4.42:
Air France: CDG-JNB (25): 08/2007
ECONOMY: Long + Medium:
7.38:
Avianca (01): BOG-LIM: 07/2006
6.26:
Jet Blue (21): CUN-JFK: 02/2007
6.06:
Air Canada (04): YYZ-YVR: 09/2006
5.89:
USA 3000 (19): PUJ-BDL: 01/2007
5.79:
Air New Zealand (42): RAR-NAN: 10/2007
5.46:
TAP Air Portugal (23): OSL-LIS: 05/2007
ECONOMY: Short
8.56:
Paramount Airways (38): BLR-MAA: 09/2007
8.24:
Kingfisher (14): IXA-GAU: 10/2006
7.87:
Indian (34): BOM-MAA: 09/2007
7.72:
Alliance Air (13): CCU-IXA: 10/2006
7.57:
Indian Airlines (10): DEL-CCU: 09/2006
7.23:
West Jet (03): YYC-YVR: 09/2006
7.15:
JetLite (37): BOM-GOI: 09/2007
6.70:
Spice Jet (09): CCU-DEL: 09/2006
6.63:
Air Fiji (44): NAN-SUV: 10/2007
6.58:
Air Tran (02): EWR-MDW: 08/2006
6.44:
CO Micronesia (39): ROR-YAP: 10/2007
6.41:
Pacific Sun (43): NAN-SUV: 10/2007
6.37: Skybus (47): SWF-CMH: 01/2008
6.33:
Kenya Airways (29): NBO-BJM: 08/2007
6.31:
Indigo (15): GAU-CCU: 10/2006
6.22:
Air Link Swazi (28): MTS-JNB: 08/2007
6.22:
Air India (36): HYD-BOM: 09/2007
6.13:
Adam Air (07): SIN-CGK: 09/2006
6.13:
Air Rarotonga (41): RAR-AIT: 10/2007
6.00:
Transairways (27): INH-MPM: 08/2007
5.95:
Air Canada (05): ALB-YYZ: 09/2006
5.85:
SAS Norge (22): OSL-AES: 05/2007
5.81:
LAM Mozambique (26): JNB-MPM: 08/2007
5.69:
Air Deccan (12): IXZ-CCU: 10/2006
5.67:
Rwanda Air Exp (30): KGL-NBO: 08/2007
5.07:
Go Air (35): MAA-HYD: 09/2007
4.96:
Valuair (08): CGK-SIN: 09/2006
4.74:
Fly 540 (31): MYD-LAU: 08/2007
4.33:
Viva Aerobus (20): ELP-MTY: 02/2007
4.11:
Air Sahara (11): CCU-BOM: 09/2006
(Note on Codes: Y – Economy, J – Business, F – First :: I/D – International/Domestic :: SR/MR/LR – Short/Medium/Long Haul)
VII> Other Pictures:
NONE