Feedback always appreciated.
Trip Report: 048
Flight Category: Y-ILR (See Report End)
Date: 14Feb-08
SDT/SAT/Delay: 1705/1645+1/14:10 hrs
Flight:
Air India AI 102
, 7318 miles
Routing: JFK-DEL
Aircraft: 77L
Seat: Economy, 39A
I > Background:
Over the past three years, all my business work in India has meant that I have developed a strong network of Indian friends. Interestingly, they all seem to be getting married (and even more interestingly, all my Indian friends seem to marry Israeli/Jewish folks … what's with that) and I was invited to yet another wedding in India. Since my work schedule had been crazy, I could not buy a ticket until the last minute … and I had to take the fastest way to India. Working on client site in NYC meant my options were limited to CO, DL, and AI. It really was a no brainer as I wanted to try AI's nonstop product. Unfortunately, the price of a J ticket was well beyond my reach (around USD 9,000 for the days I wanted), so I settled in for a Y ticket. My last experience on AI had not gone too well … so I looked forward to this trip with mixed emotions. (
Read report here
)
This is the first trip report on AI's DEL-JFK-DEL service (it had only been a week since the launch) and only the second report on AI's 77L service.
II > Pre-Flight:
a) Before Airport:
Air India is the "flag" carrier of India. It is one of the pioneering airlines in the world and was considered amongst the best for overall service until the mid 1980s. Service standards deteriorated throughout the 1990s and 2000, and the airline garnered a particularly nasty reputation for unreliable service. With the opening up of Indian aviation industry, there is a renewed commitment to improve AI and to establish itself once again as a premier airline. A new fleet order, merging with Indian Airlines, a well liked rebranding, new nonstops, and a Star Alliance designation by 2009 are all steps towards that direction.
Ticketing was done on Air India's website (www.airindia.in). While I was able to utilize the booking engine to chose the desired flights and have them e-ticketed, it was not seamless and not user friendly. It is disappointing given that India is such an IT superpower. Anyways, seat selection cannot be done on the website and so I called their U.S. toll free number and was able to get my desired seats without problem.
b) At Airport:
After half a day of work, my chauffeur dropped me at Terminal 4 of New York's JFK Airport. I had not flown out of T4 in a year and was pleasantly surprised at the overall relaxed nature of the terminal. It was surely a far cry from my impressions of T4 in the late 1990s. AI uses Door 5 at T4 and has an entire row of check-in counters dedicated to it.
Check-in itself was extremely smooth and pleasant. The outsourced ground staff were able to quickly issue my boarding pass and tagged my bags with "THE NONSTOP" markings. Since the flight was only a week old, I was stunned to hear that the loads was 100% in Y, and over 90% in both J and F. What a departure from the first few months of the BOM flight! Overseeing the counter was the AI supervisor staff with whom I had an amusing conversation:
AI: "Sir, how many bags are you checking in today?"
ME: "None."
AI: "Sir, I mean, can you please put the bags for checking in on the machine?"
ME: "Ma'am, I am not checking in any bags."
AI: "Wow. Are you serious?! We don't get that often."
LOL. Anyways, after more pleasantries, I explored T4's shopping and dining options before a quick security led me to AI's gates.
For some strange reason, boarding started over 75 minutes prior to departure, and "final boarding call" was being done for at least 60 minutes! There were literally a half dozen ground crew trying to locate AI passengers and make sure they were on board. I was amused at the dedication to have the flight go off on time … hehe.
40 minutes prior, I decided to board after a quick passport and visa verification (India needs one from most countries.) I was very impressed when the supervisor remembered me from check-in and said with a smile, "Mr. Manzilla … thanks for flying Air India … make sure you shop a lot in India and check some bags in. You know you are allowed to." LOL. What a charming lady! I wished her well, went through the boarding (and another security check … Jesus, what is this? … EL AL?) to be greeted by two extremely attractive FA's in their colourful Sari. I was also impressed by immaculate 77L interior and the striking colourful layout chosen by AI. Very positive first impression. The second HUGE positive impression was when I made it to my seat … a 35" pitch in Economy!!! This was the longest flight I have ever taken in Y (yes, I am a snob) and I would have 35". Not too shabby. Another pleasant surprise was the bottle of large water on every seat pouch, and a welcome drink! Which airline gives a choice of welcome drink in Y?! Truly impressive so far. Y load was as the ground staff said, a full 100%.
Airport - External:
(JFK – T4)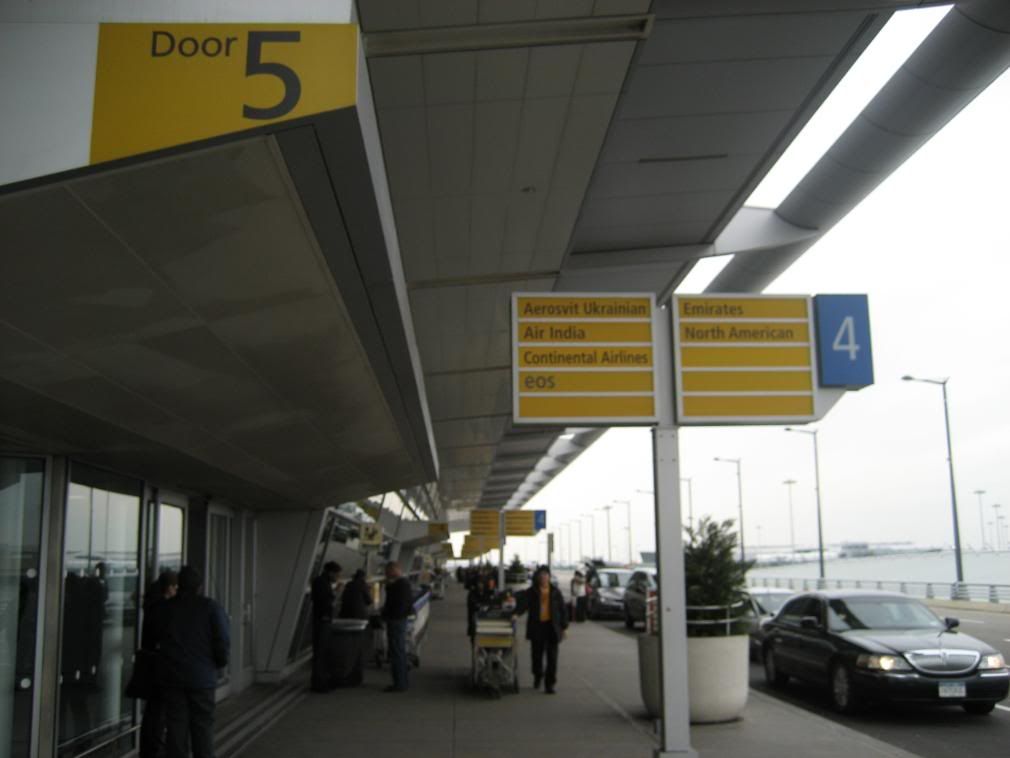 Check-in: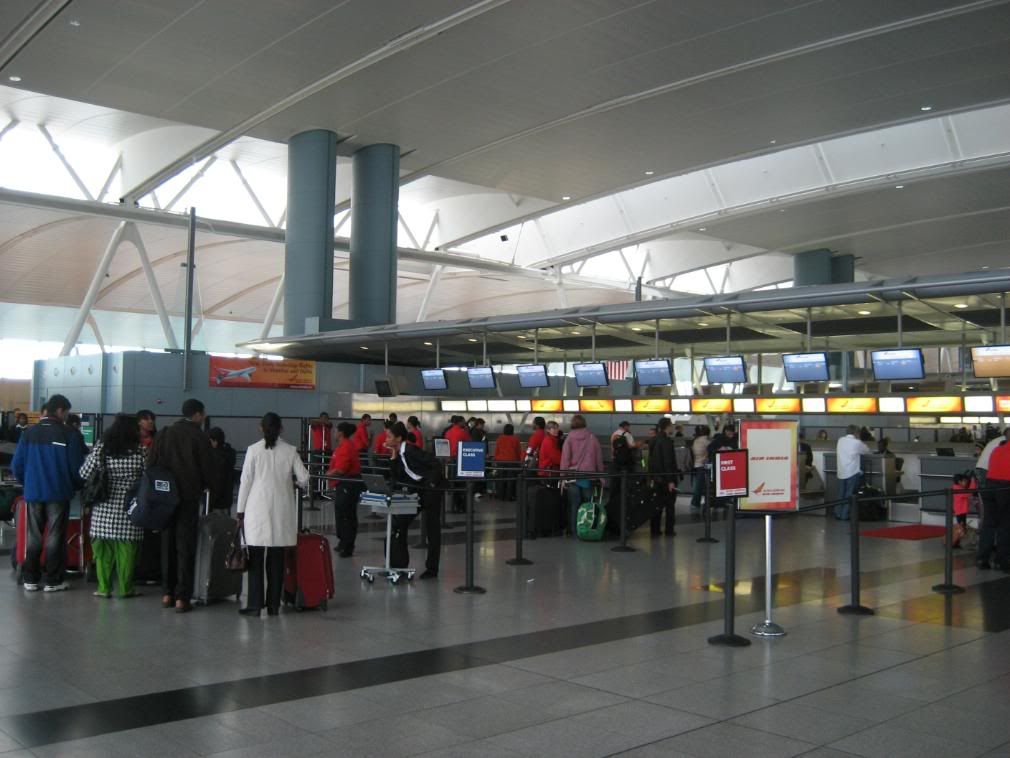 Airport - Internal:
(FID)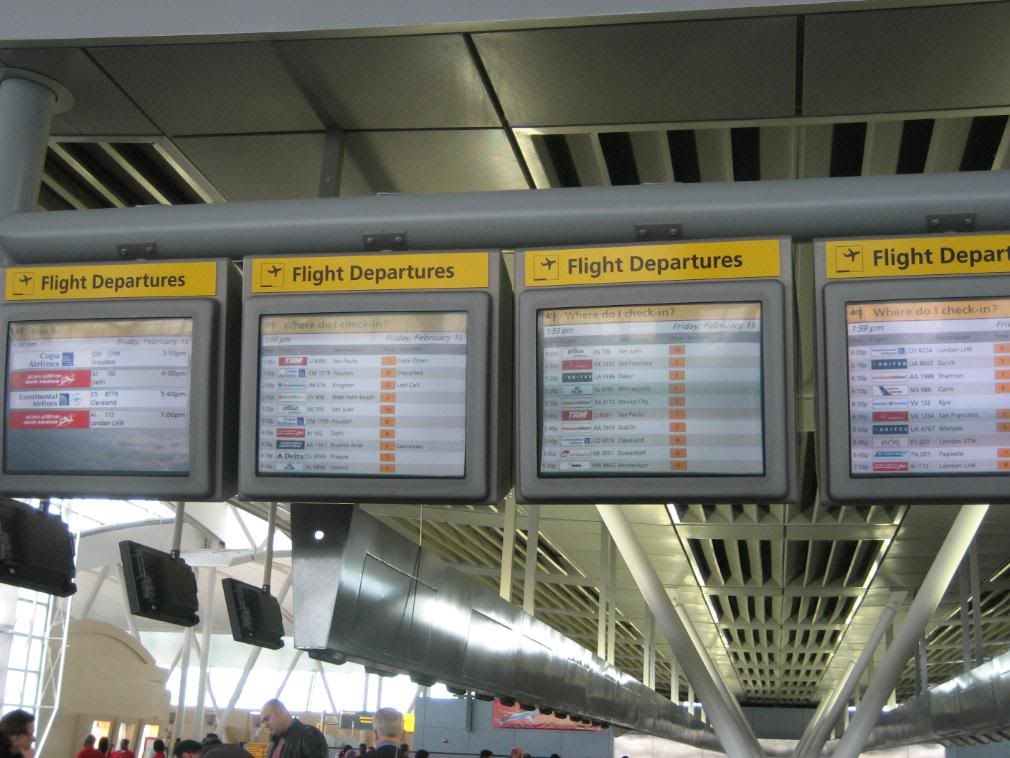 (Pre security)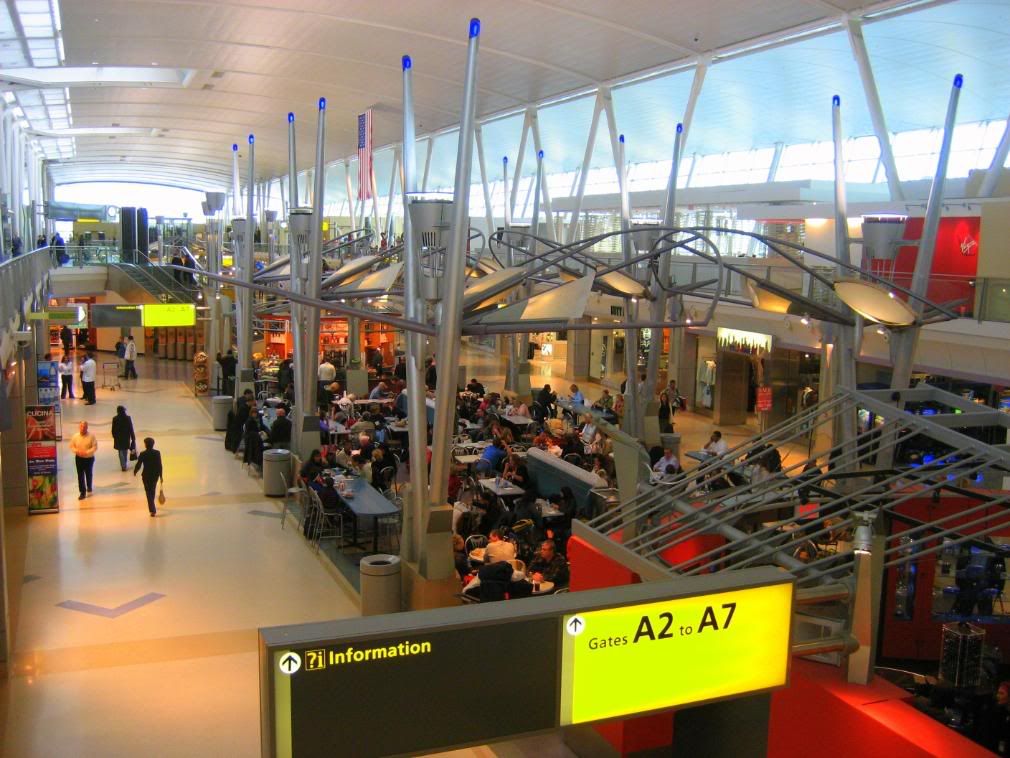 Scenes of the tarmac: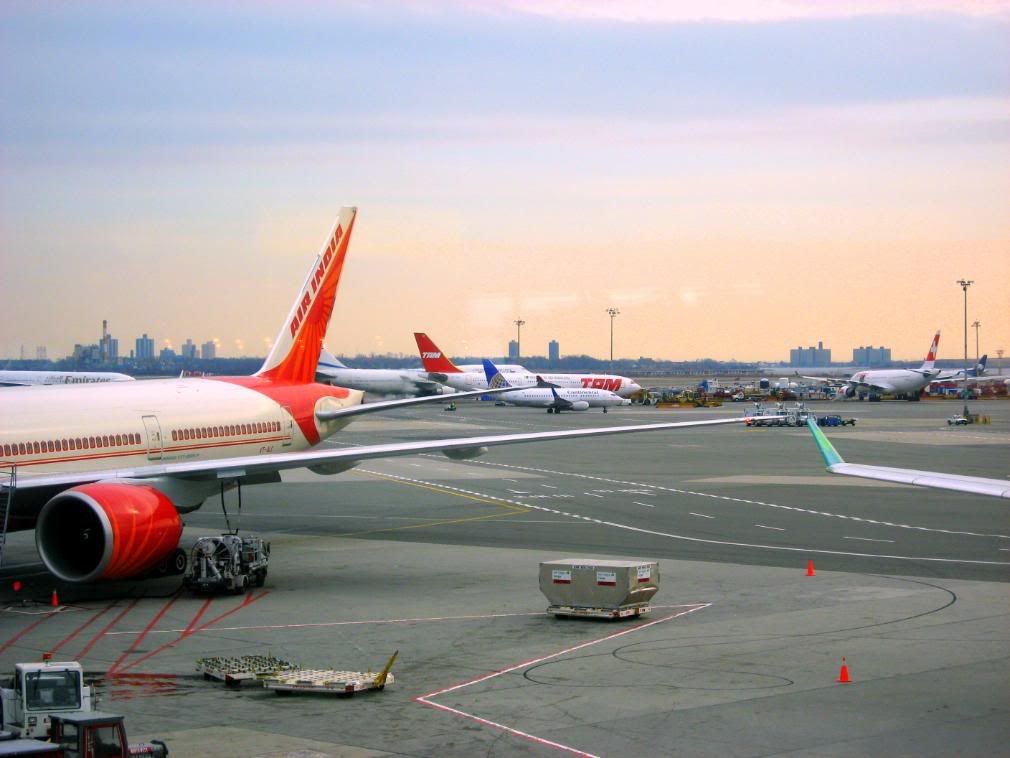 Lounge
NONE
Boarding:
(Boarding area)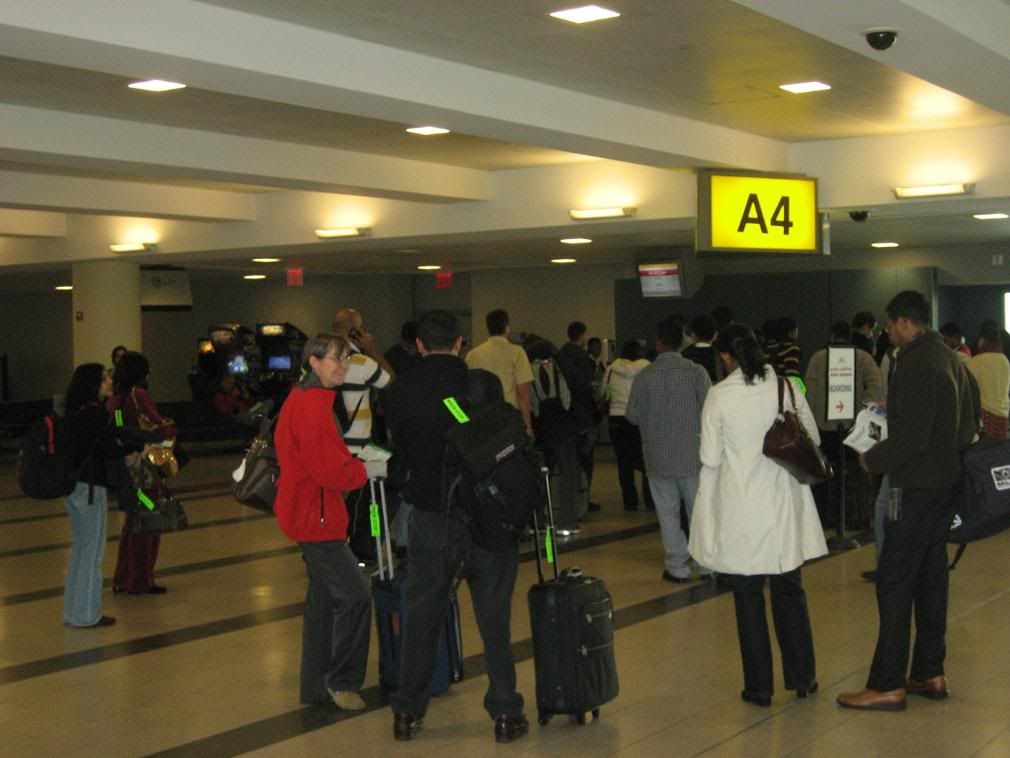 III> In-Flight:
a) Service Schedule + Impressions:
Ok. Truly impressive and totally pampering. Service starts as soon as you get on board with a hot towel service … and a welcome drink. Immediately after take off, in-flight amenity kits are distributed, followed by a beverage run. Dinner is served about two hours after take-off, followed by two beverage runs. Somewhere mid-way in the flight, there is a snack service. Finally, two hours prior to landing, there is a cold towel service and a breakfast! This is Y class!
b) Aircraft + Seats:
Air India's brand new 77L were delivered factory fresh and have the new aircraft smell and look. The interior is spotless and well-maintained and the alternating yellow, orange, and red seat shades are extremely pleasant to the eye. The bathrooms were well stocked throughout the flight and was clean even after the 12 hour flight at DEL.
AI's Y class configuration for their 77L include the standard 3-3-3 (except some "mean" carriers like EK with the 3-4-3) layout, but with extremely generous pitch (35" in my row). The seats have above industry recline, come with foot and headrests. Also, the seats have the new Y approach where the seat slides out instead of reclining. Most impressive is the seat front with lots of little spaces and a little drop bag (where the pre-departure water was found).
Aircraft: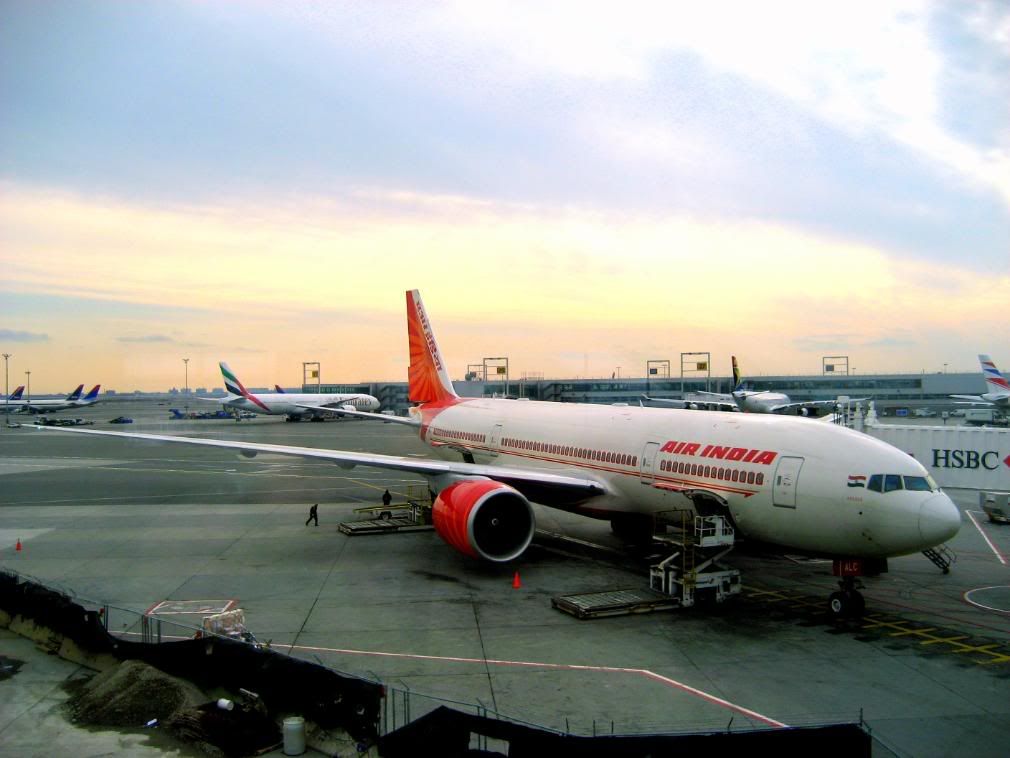 Views from Aircraft:
(Take off as seen with down facing camera)
(Bye Bye Long Island)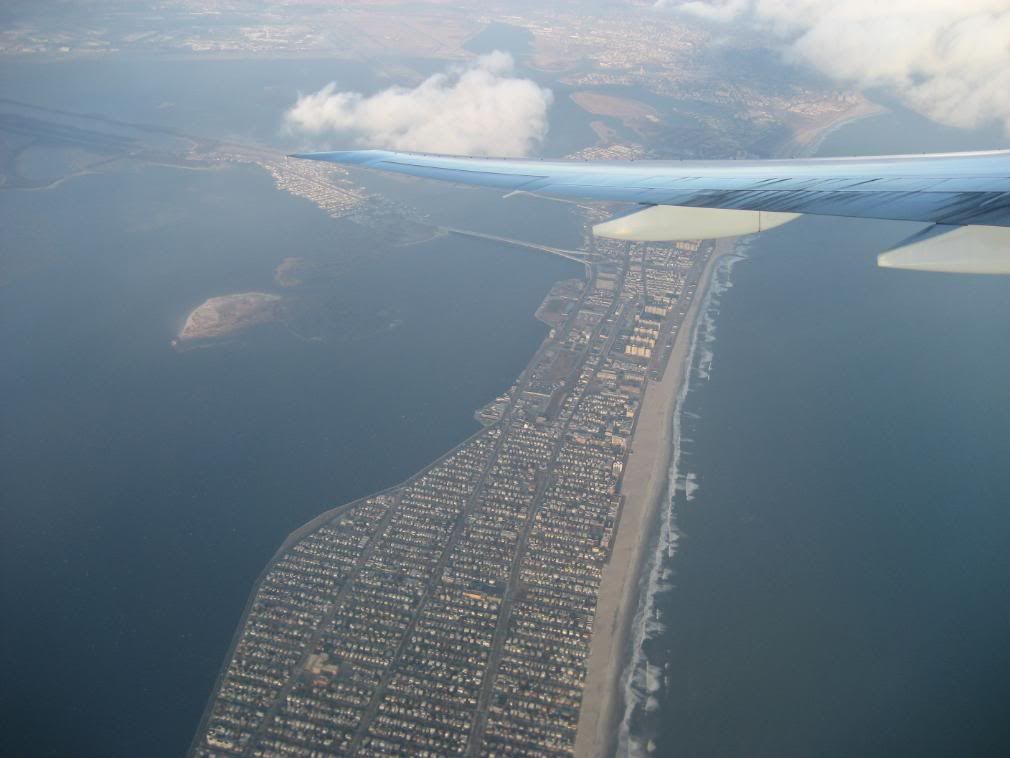 Seat Leg-Room:
(35 inch in Y; right is where water bottle greets you upon boarding)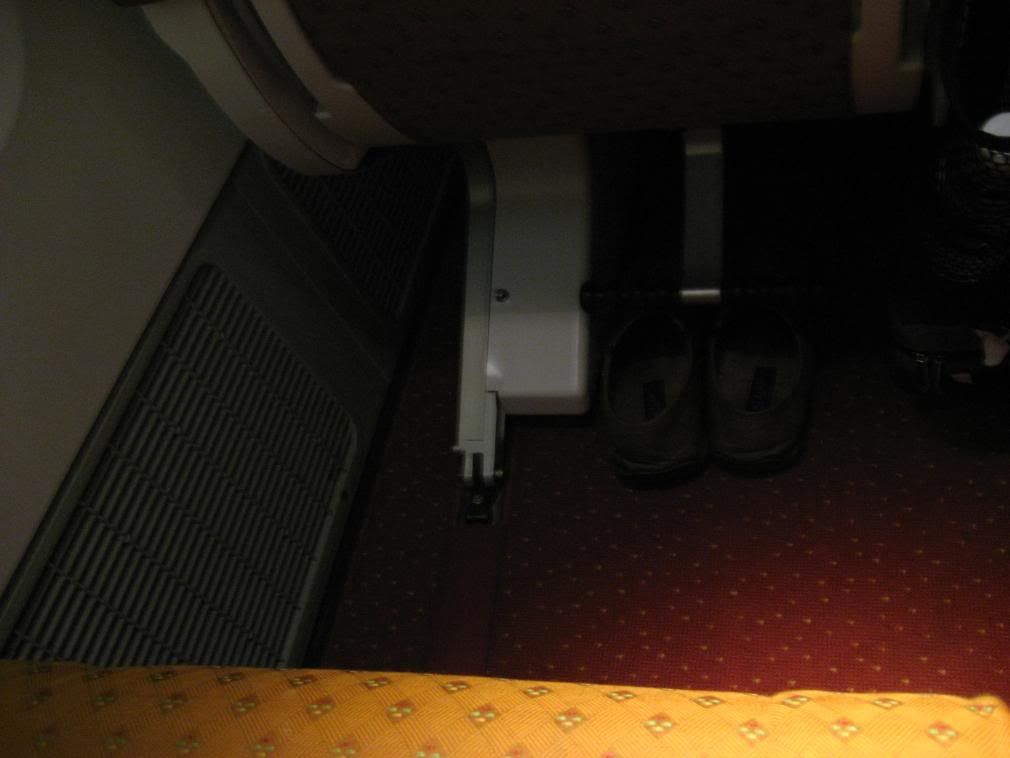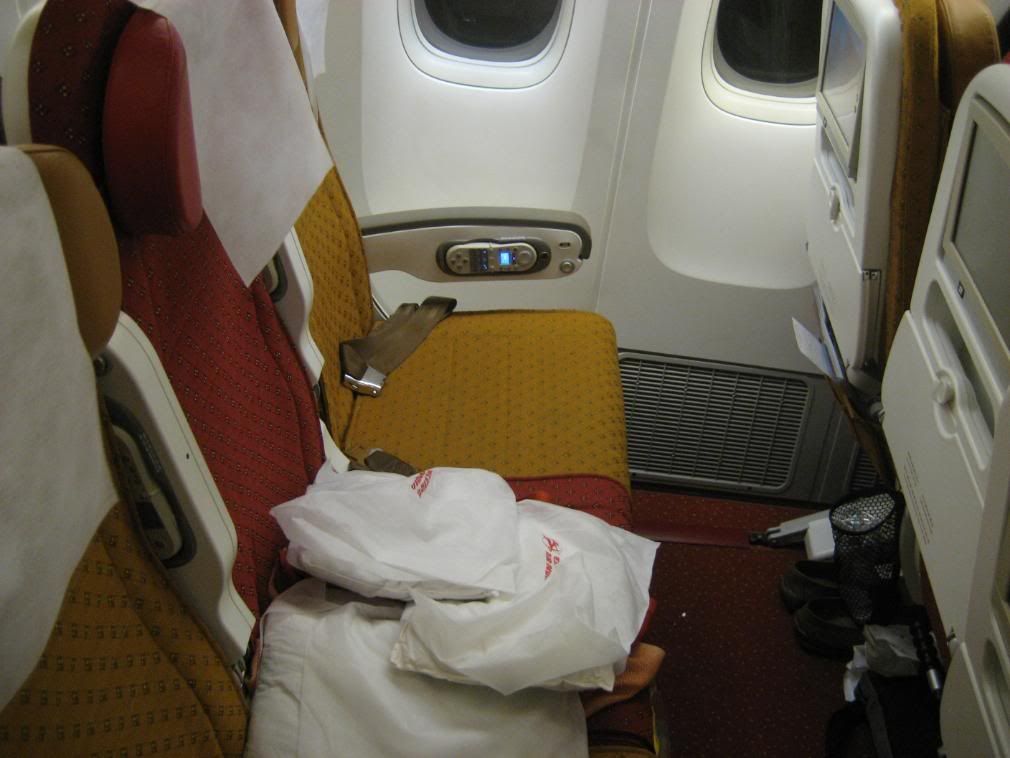 Seat Recline + Angle View:
(You cannot tell the recline, because these are the Next Gen seats)
Cabin:
(With mood lighting on)
c) Meal + Beverage:
Even when its reputation and reliability was poor, AI always maintained an extremely good in-flight catering. AI 102 did not disappoint. First off, there was the pre-departure drinks … then came the first beverage service where I had an interesting conversation with the male FA.
FA: "Sir, what would you like to drink?"
ME: "Can I get a bloody-mary please?"
FA: "Of course." (Then looks at me and goes with a total dead face…)
FA: "I do think you look like you might need another one. So let me give you two."
ME: "Is it that obvious?" (We both break into smiles)
Jaja. Seriously. What a great alcohol policy. Why would any sane person fly an airline that charges for alcohol?! Ok, so after a super awesome beverage service, it is time for dinner. Menus are distributed (another nice touch – and remember, this is Y) and contain a pretty decent selection of 4 options (not bad for Y again – I mean, that is more than NWA or KE J!). See photo of menu below. I chose the decadent Murg Charminar, which is absolutely wonderful. The chicken is rich in flavour, and the bread and the Indian cracker (papad? – Indians, help!) are both warm and perfect. Truly world class cuisine. During dinner, and just after it, there are two more beverage runs. After my fifth bloody-mary, I feel content to watch a movie and dozz off.
Somewhere over Finland, we are served a small snack and fresh fruit and juice. There was once again an option of chicken and vegetarian and I chose the former. The sandwiches were nothing amazing, but I did appreciate the gesture of the second meal. But wait, there is more!
Around two hours prior to arrival, a breakfast service begins. Impressively, there are options once again and I settle for the western breakfast with croissant, sausage, and omelette. My neighbour has the Indian meal … in which he opts for the South Indian option … and assures me it was great. Fears amongst the South Indian A.Netters of an anti-Chennai conspiracy within AI can now be squashed … hehe.
Throughout the flight, there was more than 6 runs of water and a fully stocked self snack bar was placed at the aft cabin. The self snack bar had more options than you would get on Singapore Airlines Raffles class!
(Menu Options)
(Round 1 and 2)
(Dinner)
(Snack bar – compare this to the J snack options of my recent NWA trip)
(Midnight snack)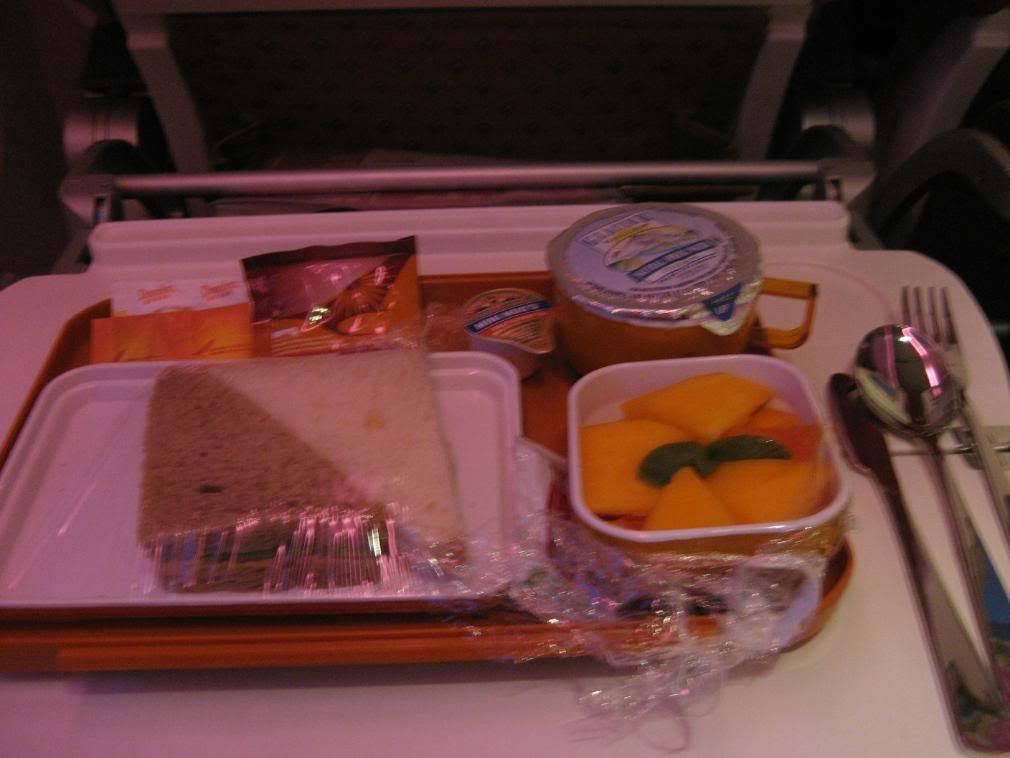 (Breakfast)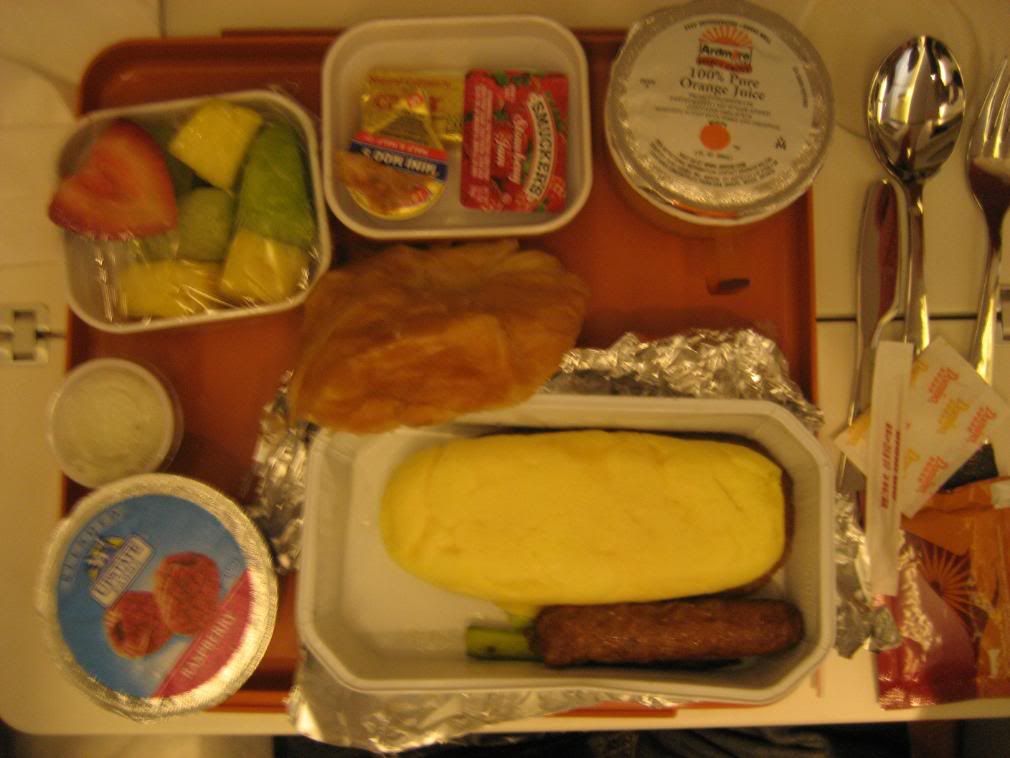 (South Indian option)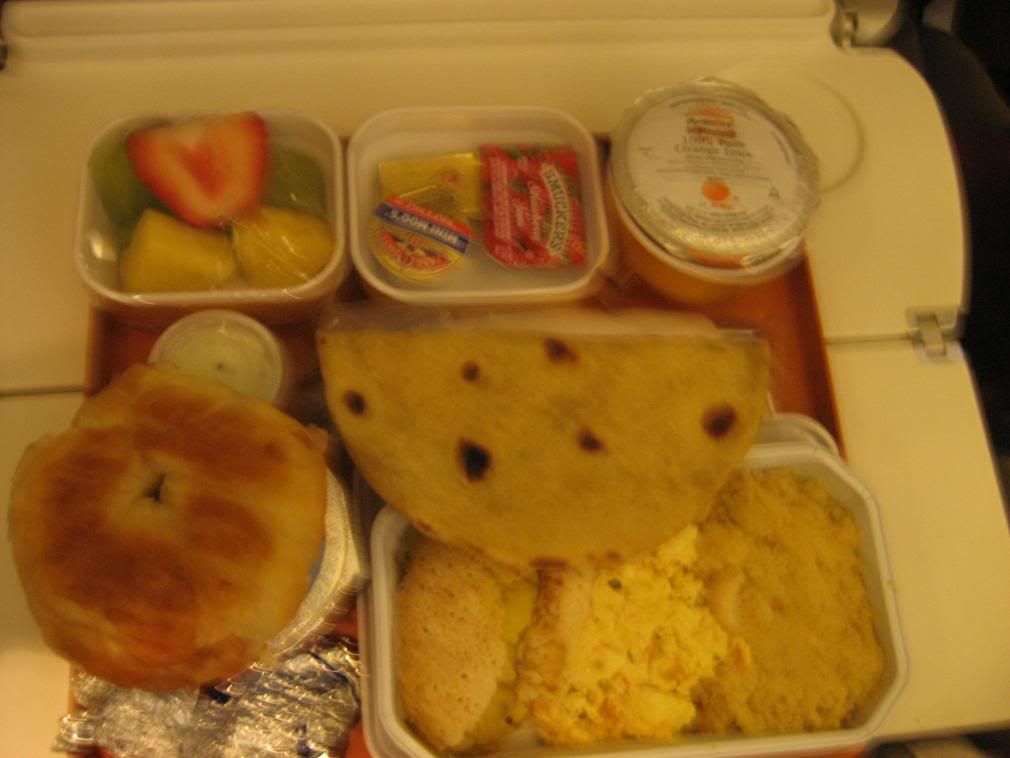 d) Inflight Entertainment:
Absolutely delightful. Seriously people, I am becoming an AI convert. Their IFE system is decades ahead of many of its competitors. Featuring a fully touch screen system, it offers over 1000 hours of entertainment including a seriously wide choice of movies (over 36 quality English movies), games, great forward and rear cameras, and messaging, etc. Even more appealing is the quality head-sets which are even better than some of the crap you get on Business class – see my Korean Air J class reports (
click here
) for more on what I mean. Added to this, a good in-flight magazine and you really have no reason to complain about the standard of service.
(Ok, I was in love with the IFE – so here is me going overboard)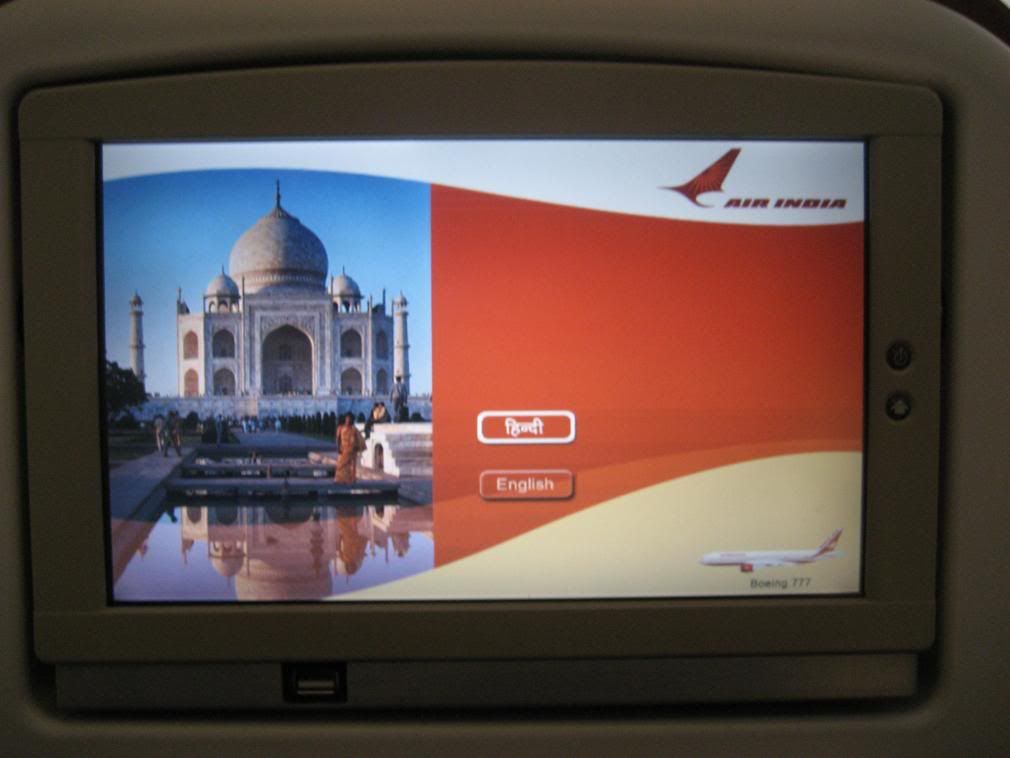 (Probably, the best Y headphones out there?)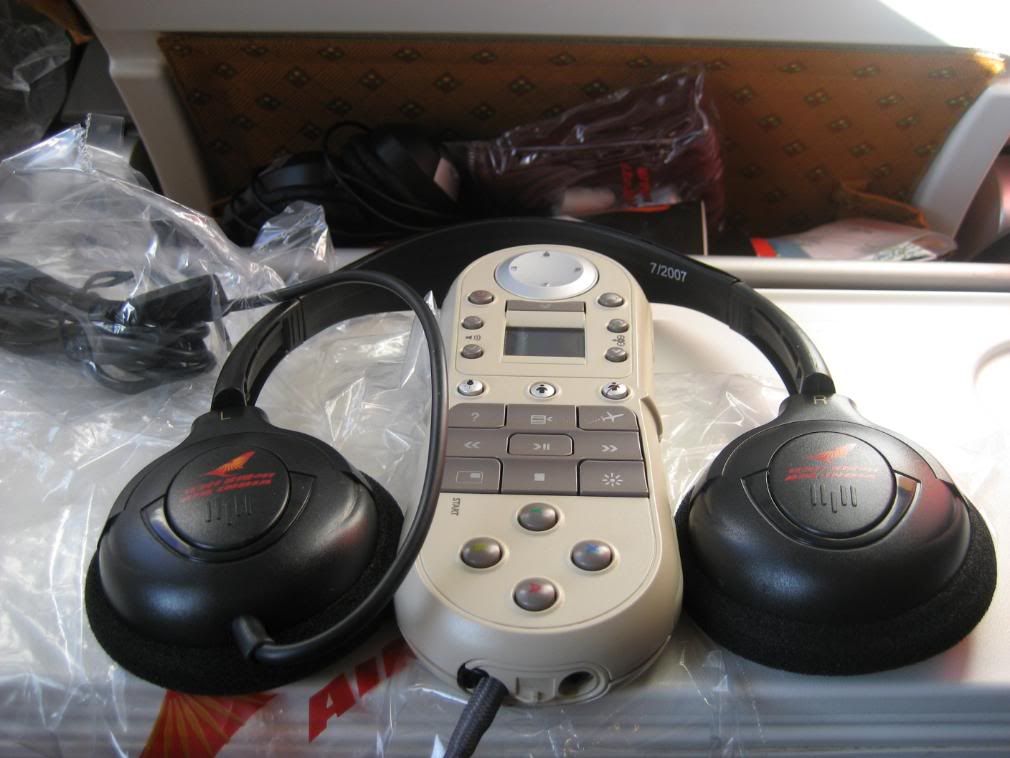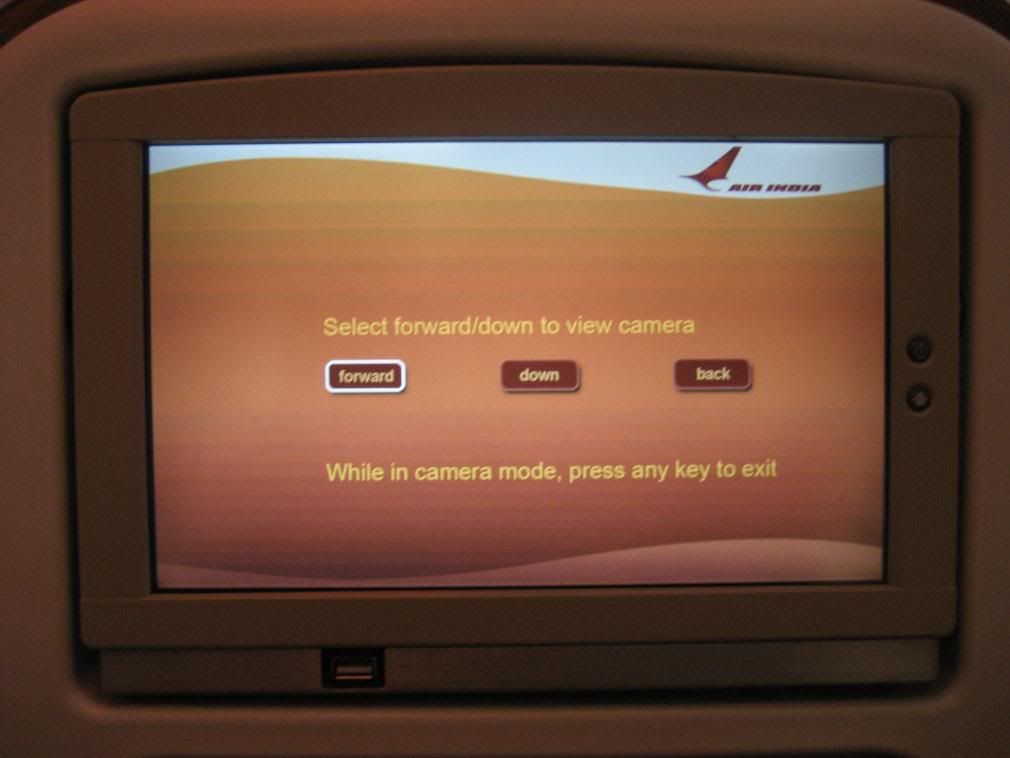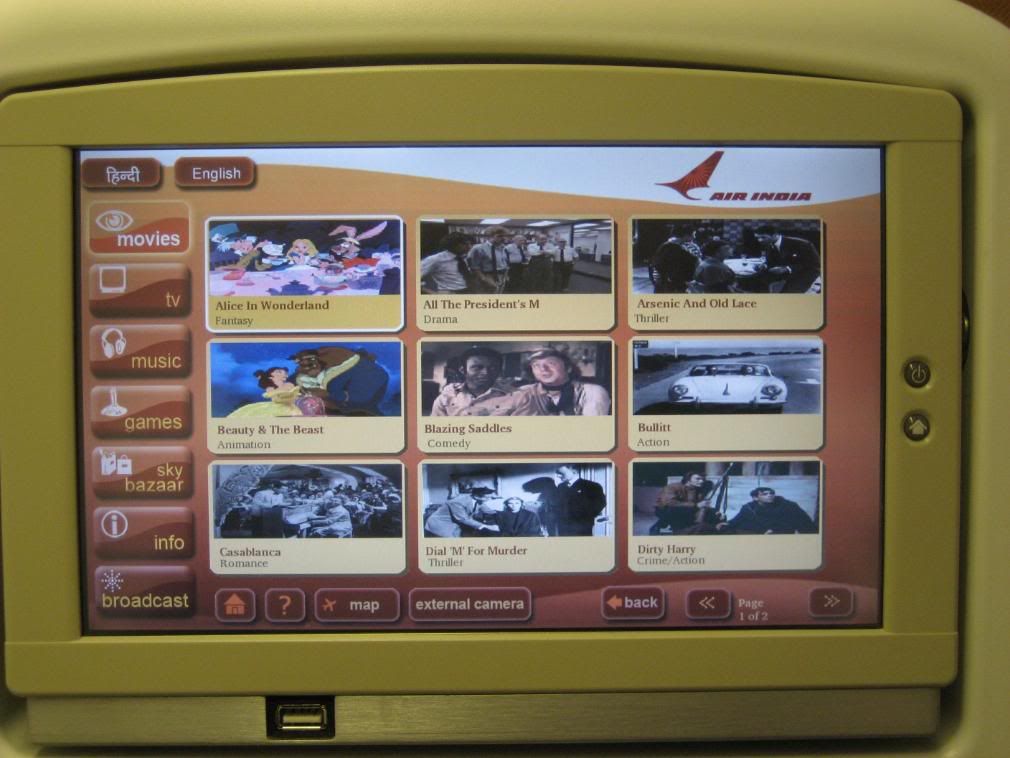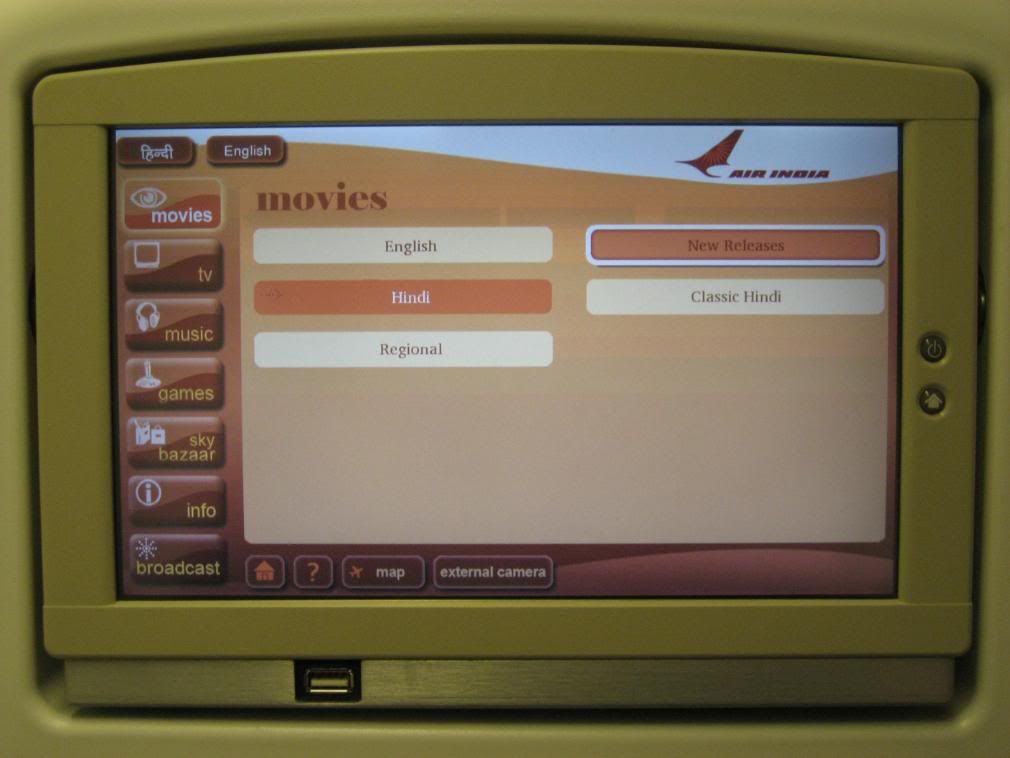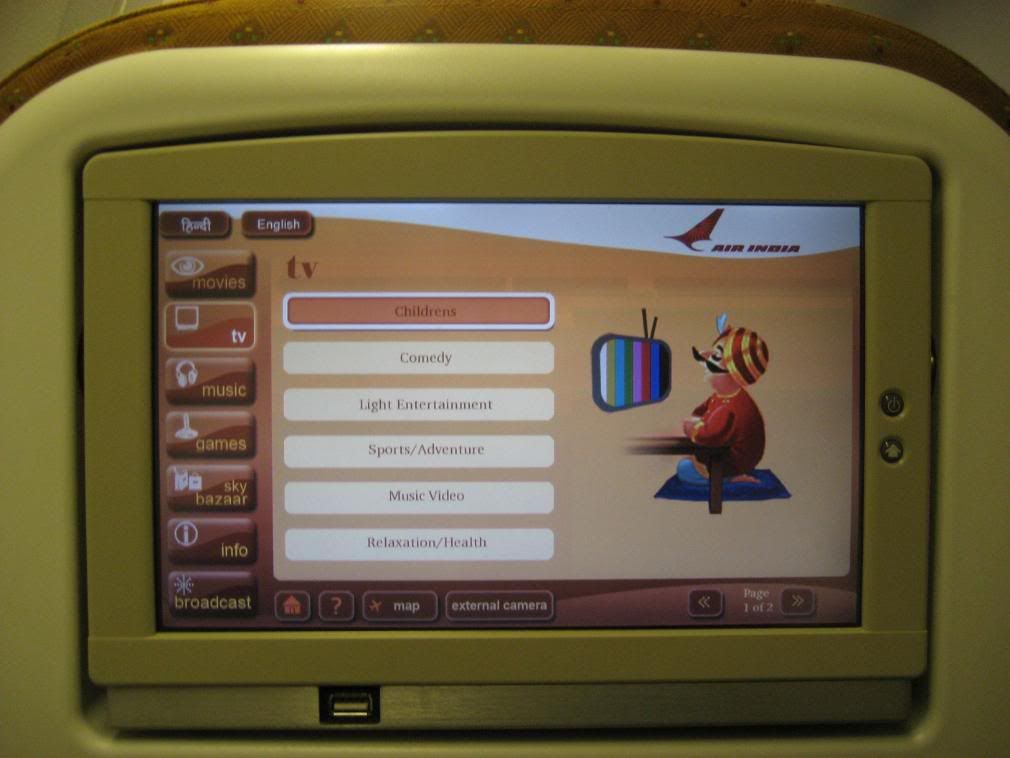 (Thankfully this Indian movie had subtitles – though, I didn't really get it – maybe the Indians can help?)
(Magazines and newspapers on offer)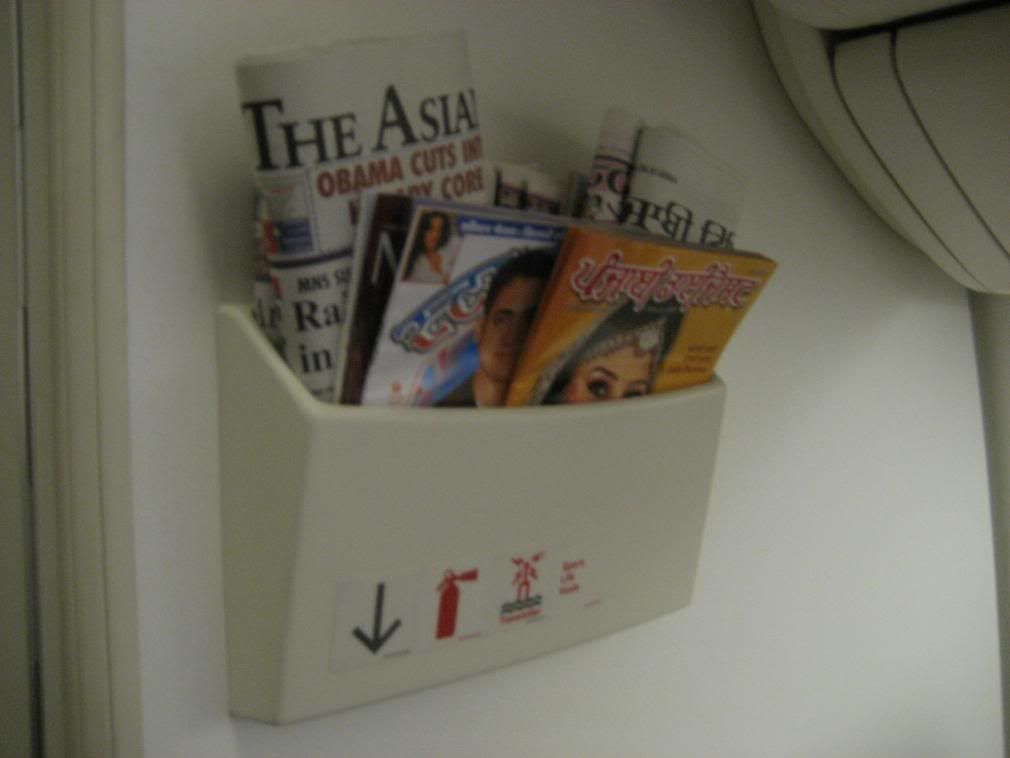 (Over Afghanistan)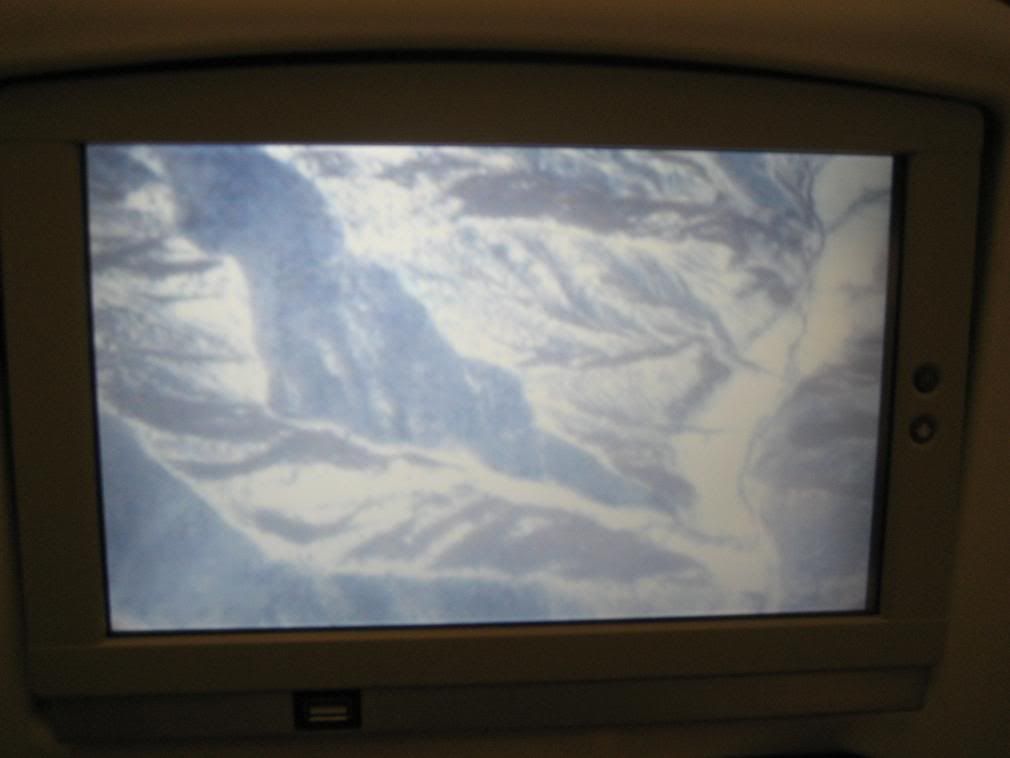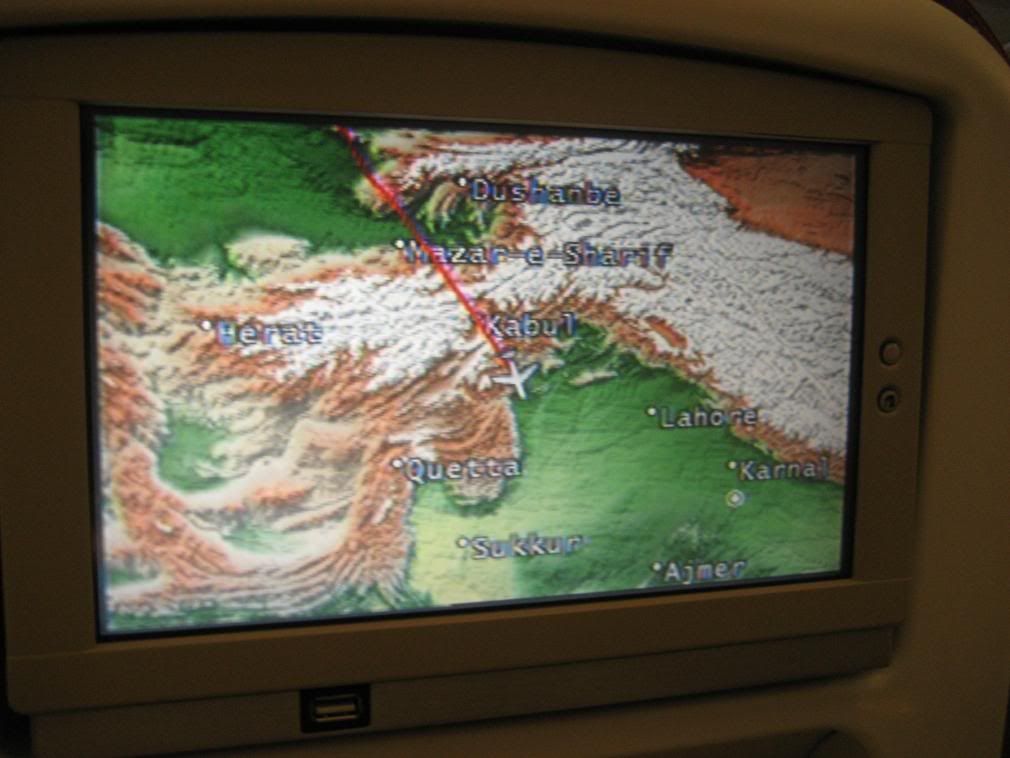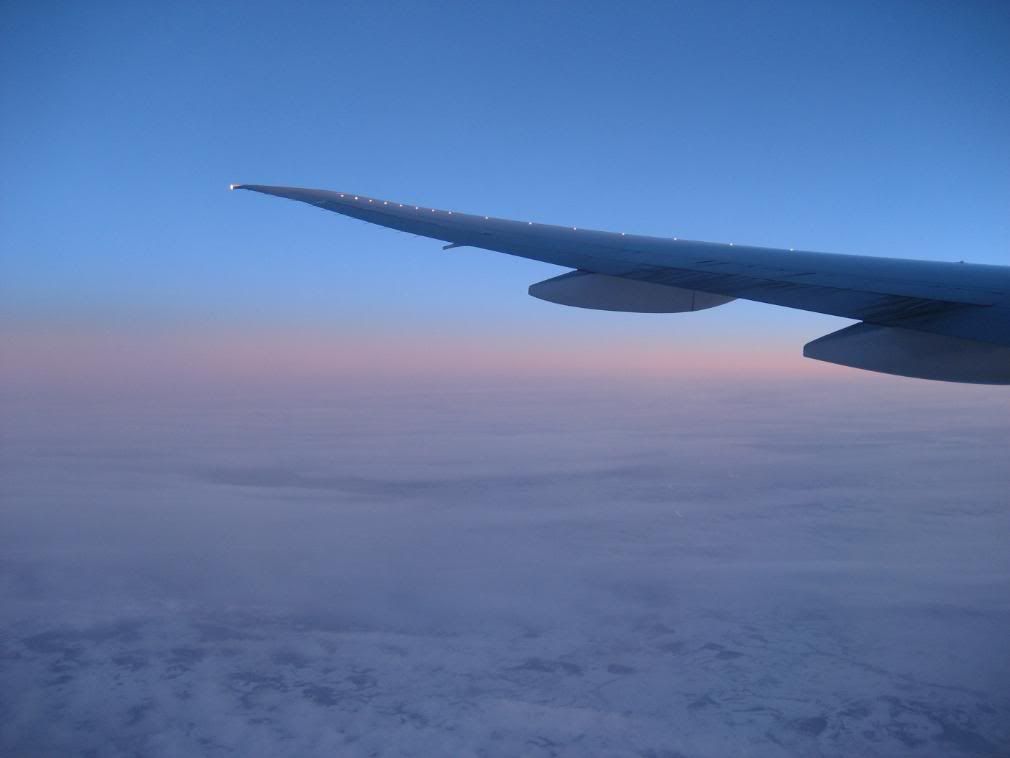 ("In-flight magazines", Boarding Passes – from the return flight, etc.)
e) Crew:
Probably the highlight of my Air India experience. What an absolutely delightful crew! On a macro level, loved their pro-active smiles, welcoming on board, help with the luggage, water runs, prompt response to call buttons (oh, and let me tell you, Indians are demanding … hehe), and caring questions such as, "how was the meal sir?" or at the end of the flight asking people, "how was the service?" and "please fill out our survey."
Then there were two more personal experiences that I must highlight. First, during the dinner service, the very elder woman in the aisle seat of my row was crying. So the sweet woman FA came up to her, kneeled down and asked her what was wrong in Hindi. The elder woman did not understand and muttered something in English. (She was from Bangladesh connecting to Dhaka I believe. Why did I think that Bangladeshis spoke Hindi? Don't they watch Indian movies? Ok, side bar done.). Anyways, so the elder woman was apparently visiting her son in NY and her visa time was up and she was going home. She lives alone in Dhaka and was super sad about leaving her son. So the FA (let's call her Miss AI) asks her what the son's name was. She replies, "Kamrul". Miss AI goes, "Auntie, you must eat?" …. "otherwise, Kamrul would not be happy with me." They went back and forth with sweet banter finally convincing the woman to eat. Then, Miss AI took off her gloves, opened each of the meals, and prepared the food like she was the daughter or something … you know, the Indian way … mixing the rice with the curry, etc. Incredible! Throughout the flight, she would come and check on her, bring her tea, cheer up, and just go beyond any reasonable call of duty. Now that is service than cannot be taught. Just pure service from the heart.
The other personal experience was with the AI crew in the aft galley. I went and hung out with them and complimented them on the service. The purser and I talked in lengths about AI, the future, and what 9W and IT means for the airline. All of them were extremely knowledgeable and all looked forward to AI service to MRU and MXP. At one point in the conversation, one of the FAs said, "do you want some tea?" … even after I said, "No. Don't worry" … he was adamant and made a fresh cup. Seriously. I have flown over 1,500 flights in my 29 years, and this AI crew was like no other. Absolute delight, personal service that came from the heart.
IV> Post-Flight:
DEL always leaves much to be desired. Thankfully, there was construction everywhere. Immigration was suprisingly fast and soon I was out in the madness of Delhi.
(Delhi airport – the BG flight is what the Bangadeshi woman was connecting to)
(Rival)
V> Impressions + Scores:
I have always considered airline service from Indian carriers to be far superior than what is found in other countries. My TR scores reflect that (though, to be fair, the lowest score ever received has also been an Indian carrier). AI took this superior level of service to a whole level higher. If you have read this report, you can very well understand my overall impression of AI. On this particular flight, Air India was flawless. Just absolutely perfect. Probably the best in-flight experiences I have had in ANY class of service in a VERY long time. Overlooking the rather shoddy booking engine, everything really was perfect. Check-in was a breeze, the seats were great, IFE, food, and beverage were top class, and little touches such as pre-departure drinks and towel, amenity kits, etc. went a long way. To top it off, one of the best in-flight crew I have ever encountered. If Air India keeps this up, I have no doubt it will reestablish itself as one of the premier airlines in the world. Star Alliance could not have asked for a better partner. Not only will I fly AI, it will be my preferred choice … at least on all sectors of the 77L! My hats off to everyone at Air India. This flight brought back why I love flying … I sincerely hope they can keep it up.
1.0 > RESERVATION: 7.0
2.0 > CHECK-IN: 9.5
0.5 > LOUNGE: N/A
0.5 > BOARDING: 8.0
2.0 > SEAT: 8.0
0.5 > AIRCRAFT OVERALL AMBIENCE: 10.0
1.0 > IFE: 10.0
2.0 > CREW: 10.0
2.0 > FOOD: 10.0
0.5 > BEVERAGES: 10.0
0.5 > A.KITS + OTHER FREEBIES: 8.0
0.5 > DISEMBARKATION: 10.0
1.0 > ON-TIME RECORD: 10.0
WEIGHTED OVERALL IMPRESSION (WOI): 9.26 – FIRST CARRIER TO GET 9.00+; CARRIER WITH MOST 10.0 (7/12); NEXT BEST HUGE GAP AWAY
(Pre-flight WOI of all reviews: 6.38)
* Weighted Overall Impression (WOI) aligns scores with what matters most. Weights are indicated alongside each category.
(Scores are based on comparison with other airlines in THAT class of service – No comparison of Y vs. F for example)
VI> Other Trip Reports:
PREMIUM:
8.11:
Aeroflot (33): MOW-DEL: 09/2007
8.04:
Korean Air (40): NRT-ICN: 10/2007
8.02:
Delta Airlines (24): JFK-CDG: 08/2007
7.82:
Singapore Airlines (06): EWR-SIN: 09/2006
6.93:
Delta Airlines (18): SEA-JFK: 11/2006
6.81:
Air Canada (17): ICN-YYZ: 10/2006
6.70:
KLM (32): EBB-AMS: 08/2007
6.25:
Korean Air (45): NAN-ICN: 10/2007
5.75:
Singapore Airlines (16): CCU-SIN: 10/2006
5.64:
NorthWest (46): ICN-NRT-SEA: 10/2007
4.42:
Air France: CDG-JNB (25): 08/2007
ECONOMY: Long + Medium:
9.26: Air India (48): JFK-DEL: 02/2008
7.38:
Avianca (01): BOG-LIM: 07/2006
6.26:
Jet Blue (21): CUN-JFK: 02/2007
6.06:
Air Canada (04): YYZ-YVR: 09/2006
5.89:
USA 3000 (19): PUJ-BDL: 01/2007
5.79:
Air New Zealand (42): RAR-NAN: 10/2007
5.46:
TAP Air Portugal (23): OSL-LIS: 05/2007
ECONOMY: Short
8.56:
Paramount Airways (38): BLR-MAA: 09/2007
8.24:
Kingfisher (14): IXA-GAU: 10/2006
7.87:
Indian (34): BOM-MAA: 09/2007
7.72:
Alliance Air (13): CCU-IXA: 10/2006
7.57:
Indian Airlines (10): DEL-CCU: 09/2006
7.23:
West Jet (03): YYC-YVR: 09/2006
7.15:
JetLite (37): BOM-GOI: 09/2007
6.70:
Spice Jet (09): CCU-DEL: 09/2006
6.63:
Air Fiji (44): NAN-SUV: 10/2007
6.58:
Air Tran (02): EWR-MDW: 08/2006
6.44:
CO Micronesia (39): ROR-YAP: 10/2007
6.41:
Pacific Sun (43): NAN-SUV: 10/2007
6.37:
Skybus (47): SWF-CMH: 02/2008
6.33:
Kenya Airways (29): NBO-BJM: 08/2007
6.31:
Indigo (15): GAU-CCU: 10/2006
6.22:
Air Link Swazi (28): MTS-JNB: 08/2007
6.22:
Air India (36): HYD-BOM: 09/2007
6.13:
Adam Air (07): SIN-CGK: 09/2006
6.13:
Air Rarotonga (41): RAR-AIT: 10/2007
6.00:
Transairways (27): INH-MPM: 08/2007
5.95:
Air Canada (05): ALB-YYZ: 09/2006
5.85:
SAS Norge (22): OSL-AES: 05/2007
5.81:
LAM Mozambique (26): JNB-MPM: 08/2007
5.69:
Air Deccan (12): IXZ-CCU: 10/2006
5.67:
Rwanda Air Exp (30): KGL-NBO: 08/2007
5.07:
Go Air (35): MAA-HYD: 09/2007
4.96:
Valuair (08): CGK-SIN: 09/2006
4.74:
Fly 540 (31): MYD-LAU: 08/2007
4.33:
Viva Aerobus (20): ELP-MTY: 02/2007
4.11:
Air Sahara (11): CCU-BOM: 09/2006
(Note on Codes: Y – Economy, J – Business, F – First :: I/D – International/Domestic :: SR/MR/LR – Short/Medium/Long Haul)
VII> Other Pictures:
(Pretty generous amenity kit + everyone gets a AI stationary pad)
(I have NEVER lifted anything off a flight – but the AI blanket was way too tempting – I just loved the colors! Oh, and the J class amenity kit was the biggest I have ever seen – think it was branded Pierre Cardin? - I have a sneaking feeling I might be flying them soon enough to experience J … hehe)
[Edited 2008-05-04 16:58:09]