Four LH legs without a LH plane: Destination Verona
Hello, dear readers,
welcome to my recent travel experience.
After my very short visit to Madrid:
https://www.airliners.net/aviation-fo...ums/trip_reports/read.main/124385/
I´ve thought about what to do next.
While there are some Italian cities covered in my log, I like Italy from a travellers point of view, to be honest,
there is still something new to visit.
Verona was such a place.
A short notice around my booking, LH changed the times twice and finally rebooked me on the last leg.
Tuesday, 29.04.2008
STR (Stuttgart-Echterdingen) - MUC (Munich-Franz-Josef-Strauss)
Duration: 40 minutes
Service Lufthansa LH 1367 operated by Augsburg Airways Dash 8-300 D-BDTM
Scheduled: 09.00 // 09.55
Actual: 09.15 // 09.55
Gate: 162 Seat: 14F
Load factor: Around 60%
Fare: 49,07 EUR per leg, all leg´s booked on one ticket
History:
04.05.2000: Delivered to Augsburg Airways
Leg no. 3 on the DHC8-3 and the first on this machine
Four flights on my schedule today, three only possible to check-in Monday evening.
No better result after several attempts, therefore I´ve decided to try it again at the self service machines Tuesday morning.
Arrival at the airport at around 07.00 am, the same situation at the machines. I´ve reprinted the three boarding passes and headed for the desks
to, hopefully, solve the problem.
No time to wait there, the morning rush was gone, a middle aged, not that friendly female, picked my three papers, searched in the system and finally printed
the fourth one with my, as always, seat of choice, window last row. Ok so far. No explanation.
Also no time to wait at security, I´ve identified my gate, Terminal 1 ground level and decided to spend the remaining time in T3 with the better views.
Now history, AB on arrival from VIE: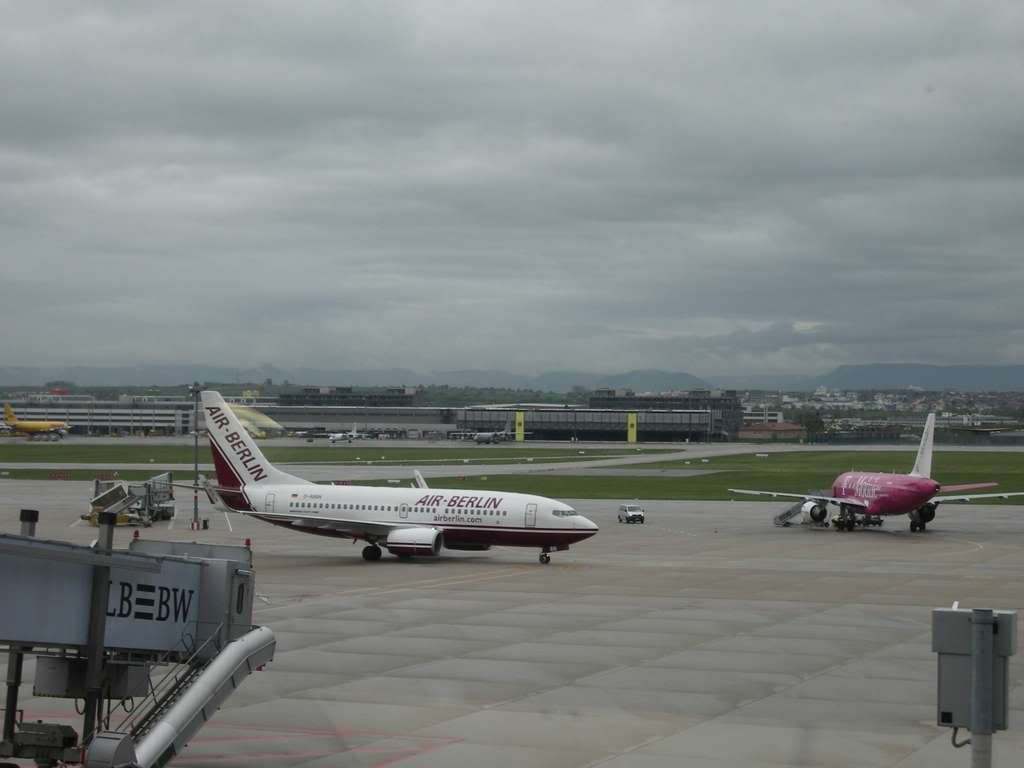 Nice colours: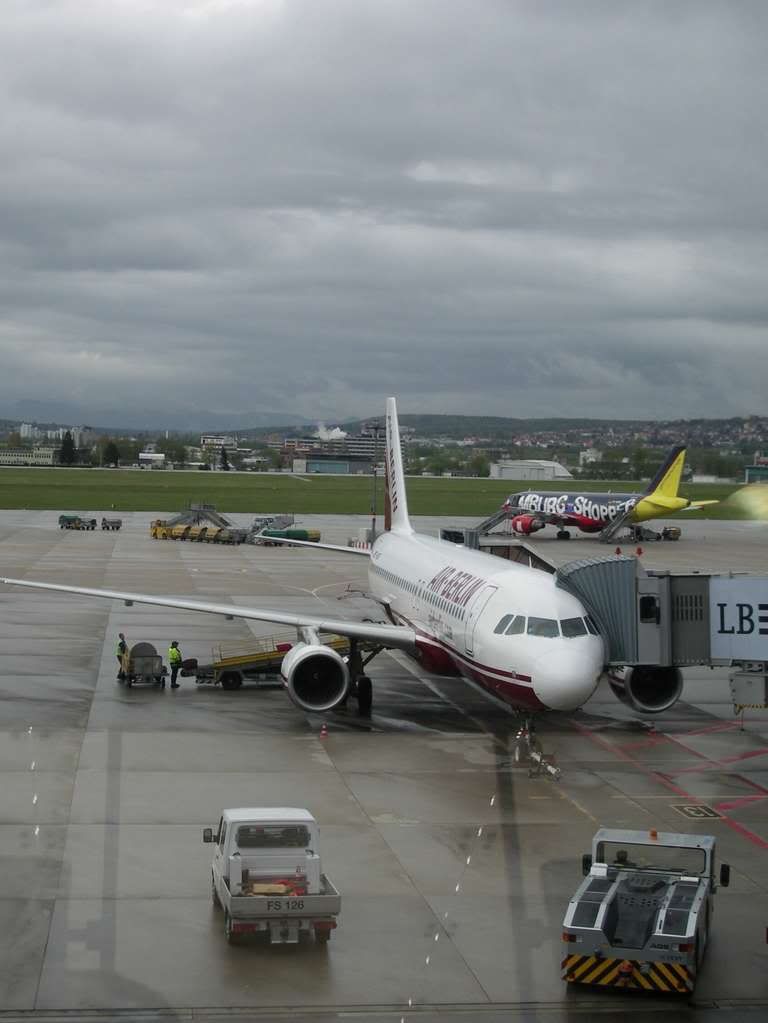 My machine was inbound from MUC announced ontime, no pic, it parked far from the terminal on the apron.
Only two other flights on the DHC8-300 in my log, also both on Augsburg Airways, the last one around three years ago,
so I´am looking forward to this one.
One of the earlier planes was sold, one is still in the fleet, a new addition to my log will be nice, I´ve thought.
It was so, D-BDTM was not covered till this flight.
Nice engine: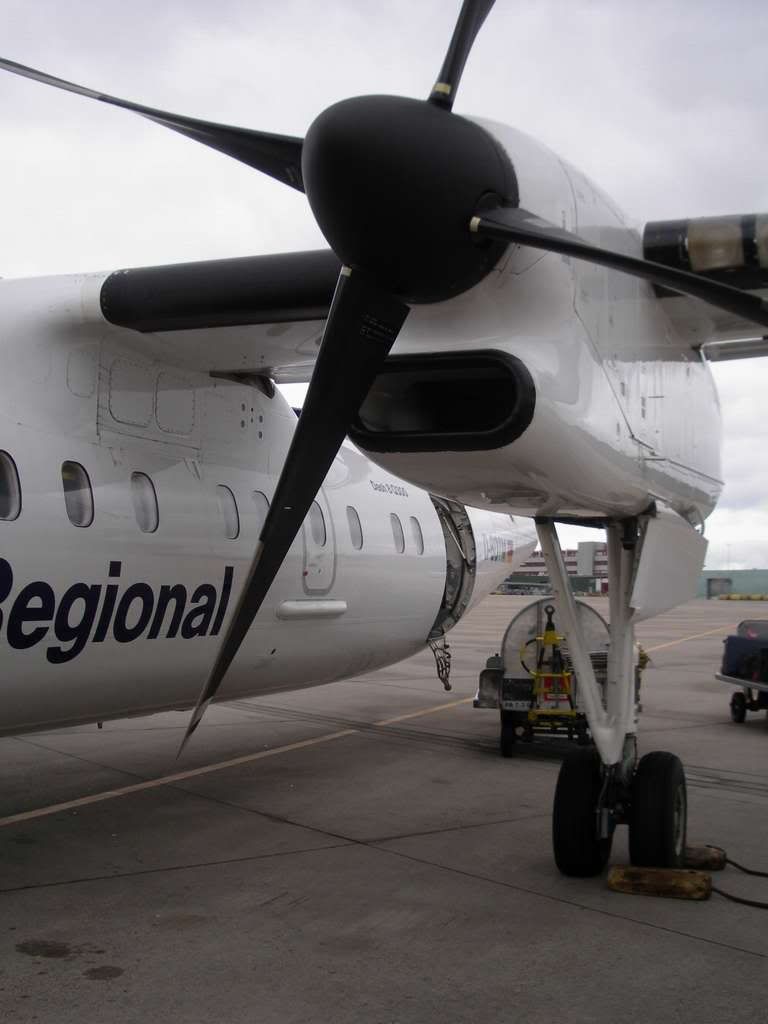 Boarding was ontime, a friendly female at the gate and further by bus to the plane.
Two female FAs today, one more, one less friendly, load around 60 %.
The legroom was really generous on that machine, dark grey leather seats, clean cabin.
Inside D-BDTM: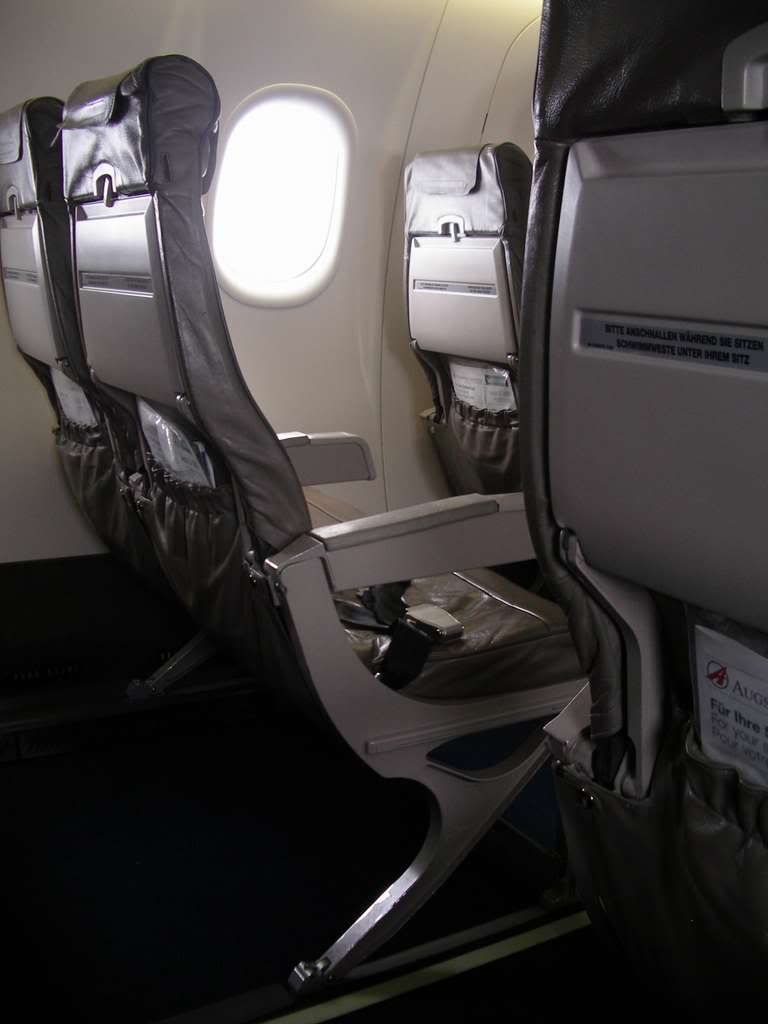 Cockpit crew was from Germany, the pilot was really talkactive, he welcomed us on the ground and called his plane "The little fuelsaver", a nice gesture.
We used not the whole runway lenght, entered the concrete stretch early to overtake another waiting plane.
Departure from runway 25 to Augsburg, the sky was cloudy, no views along the whole route, but nevertheless calm. No flightlevel information.
The FA´s offered, also on this short flight, beverages and coffee for free.
During the short cruise was the pilot once more on the speakers, he prepared us for arrivals into MUC and called the wheather situation
" freshly washed air", see my pics later.
Arrival on runway 26L, the long way to taxi back to the regional ramp near T2, deboarding by bus and finally the first of four today was in my log.
Bad wheather at MUC: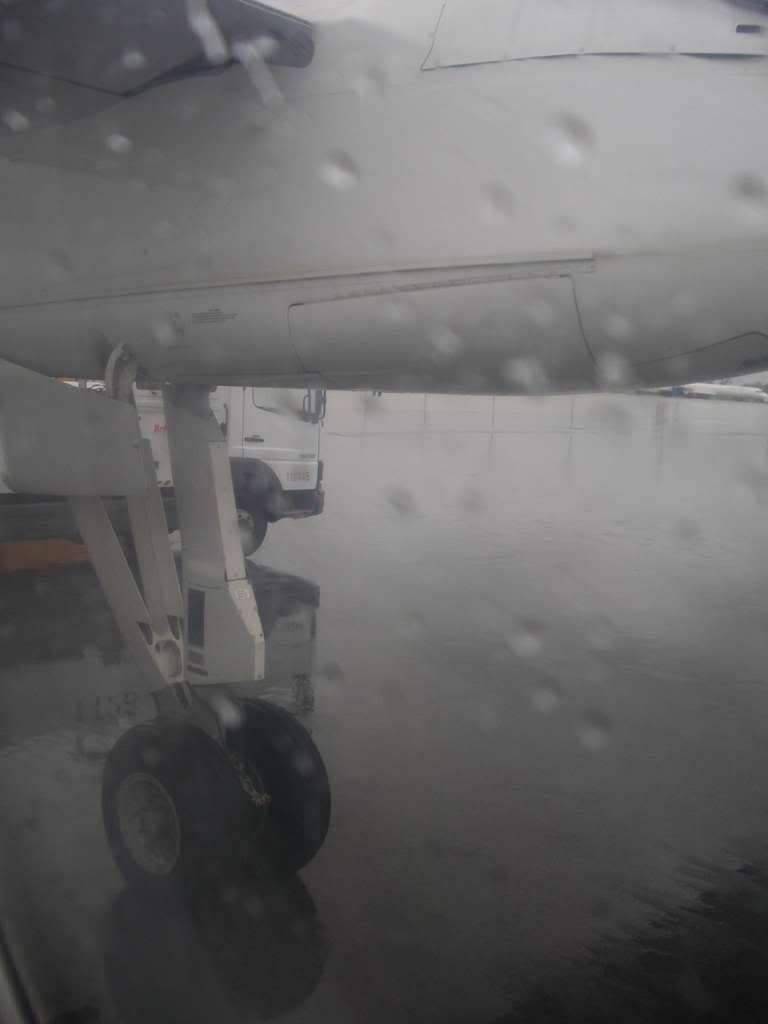 From my impression the DHC8-300 is much more spacious than the ATR 42 and even quieter inside.
Deboarding: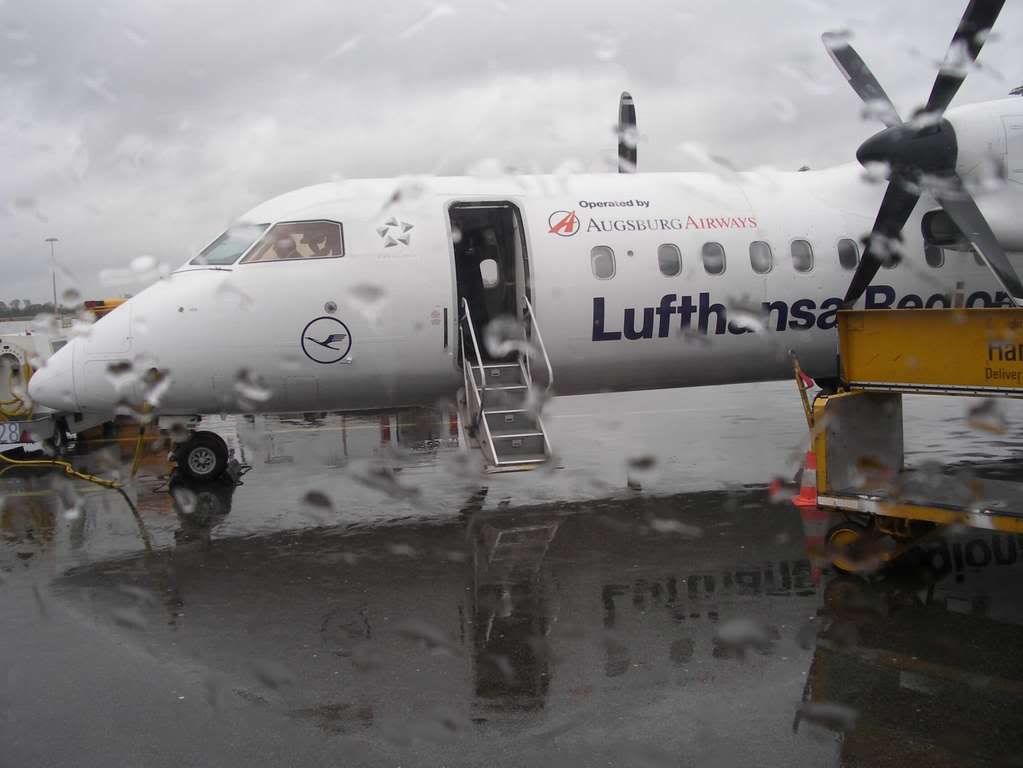 And again:
Tuesday, 29.04.2008
MUC (Munich-Franz-Josef-Strauss) - VRN (Verona-Villafranca-Valerio-Catullo)
Duration: 1 hour, 10 minutes
Service Lufthansa LH 3936 operated by Air Dolomiti ATR 72-200 I-ADLS
Scheduled: 11.10 // 12.20
Actual: 11.10 // 12.20
Gate: G64 Seat: 15A
Load factor: Around 60 %
History:
01.04.2000: Delivered to Air Dolomiti
Leg no. 8 on the AT722 and the first on this machine
So, one more time in MUC and I was once again impressed. Such a large and spacious terminal, enough chairs to sit back and relax, a lot of clean restrooms.
I´ve decided to walk along the whole terminal before joining my gate on the ground level with the bus boardings.
Ontime boarding, some Dolomiti planes parked one beneath the other, which will be mine?.
Some ATR72´s in my log, no Dolomiti machine, but also some three years ago since my last flight.
Rainy boarding:
First time on Dolomiti´s ATR:
Two friendly female FA´s on this service, the cabin fitted with dark green leather seats, clean, the legroom was ok.
A short but detailed, friendly welcome on the ground, the cockpit crew was from Italy.
Departure from runway 26L, also here in MUC we dont used the whole lenght, departed ahead to some other planes at the runway end.
The pilot was once again to hear with the route: Innsbruck-Bozen and the level: 19.000 feet.
The ladies served a snack box, followed by free drinks also wine was on offer.
The mystery box:
Bon appetit: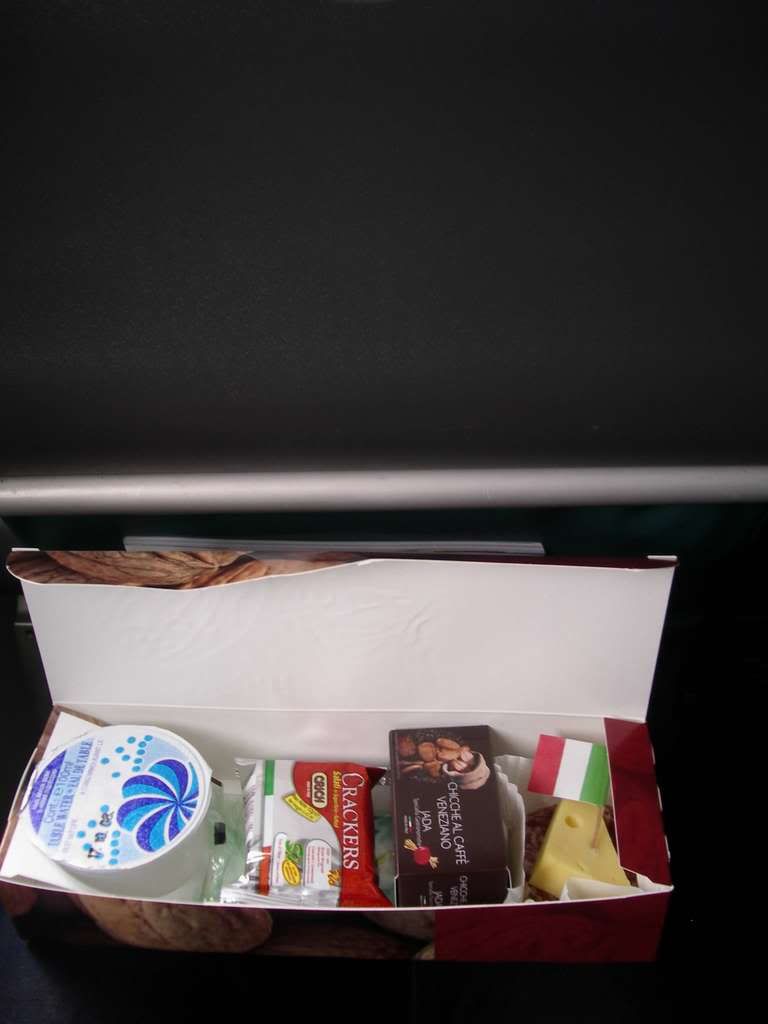 These flight was also calm with no views, clouds everywhere.
Arrival on runway 04 ontime.
VRN apron: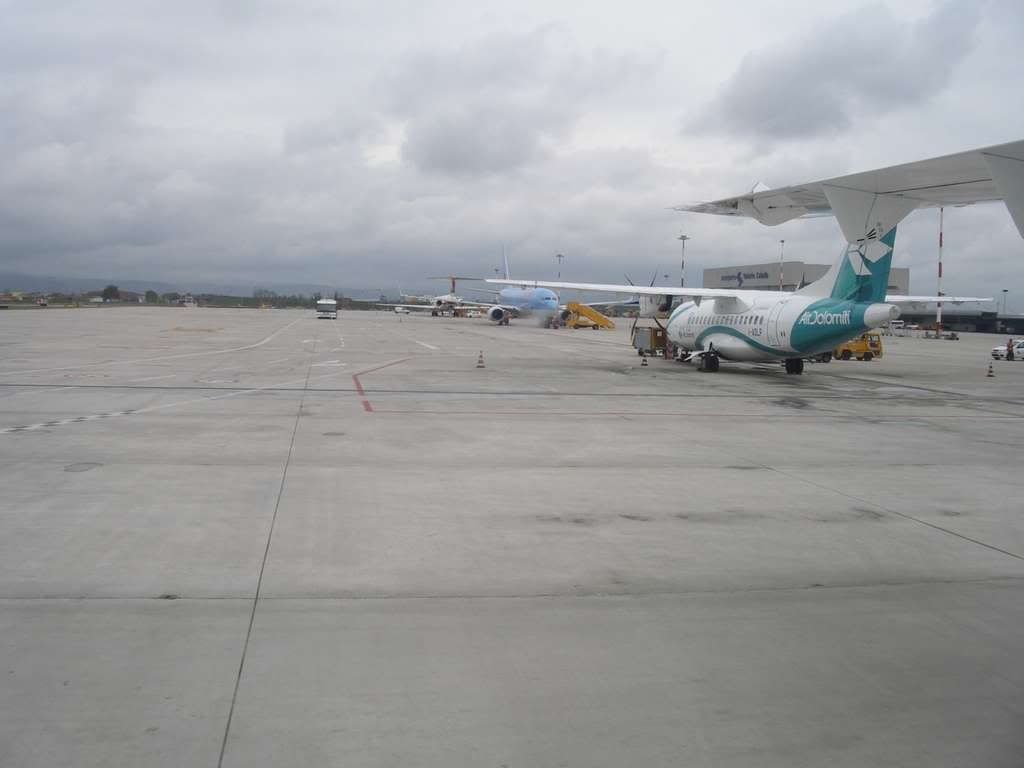 One more Dolomiti parked: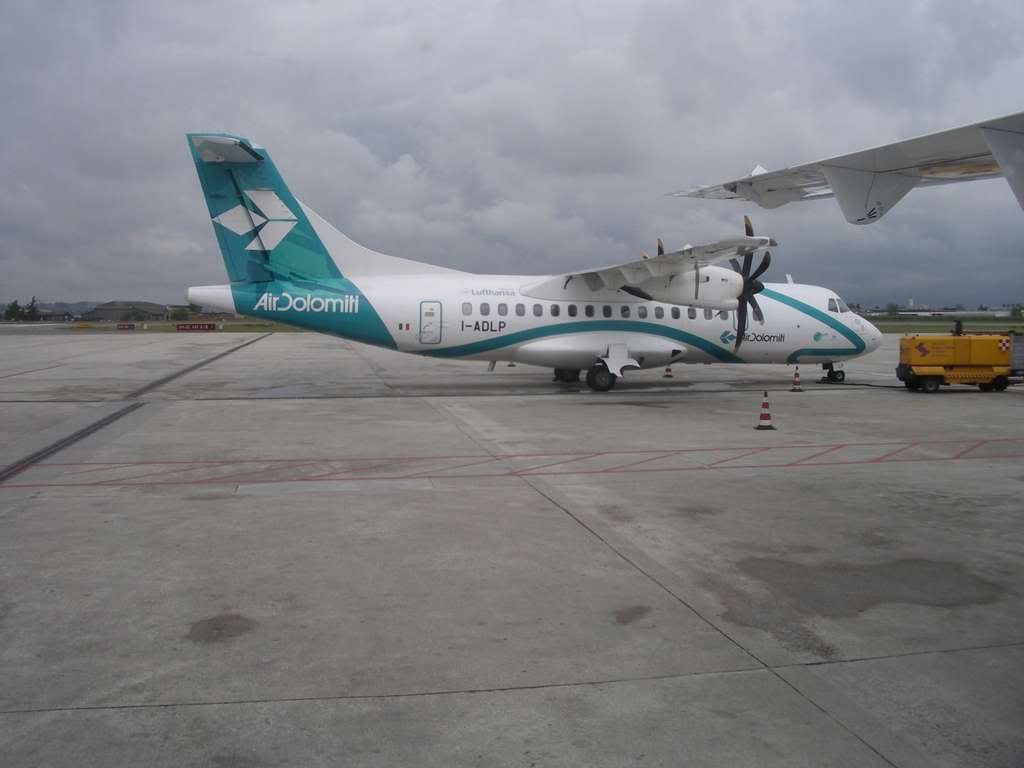 Bus deboarding, no airbridges at VRN.
Bye-Bye I-ADLS: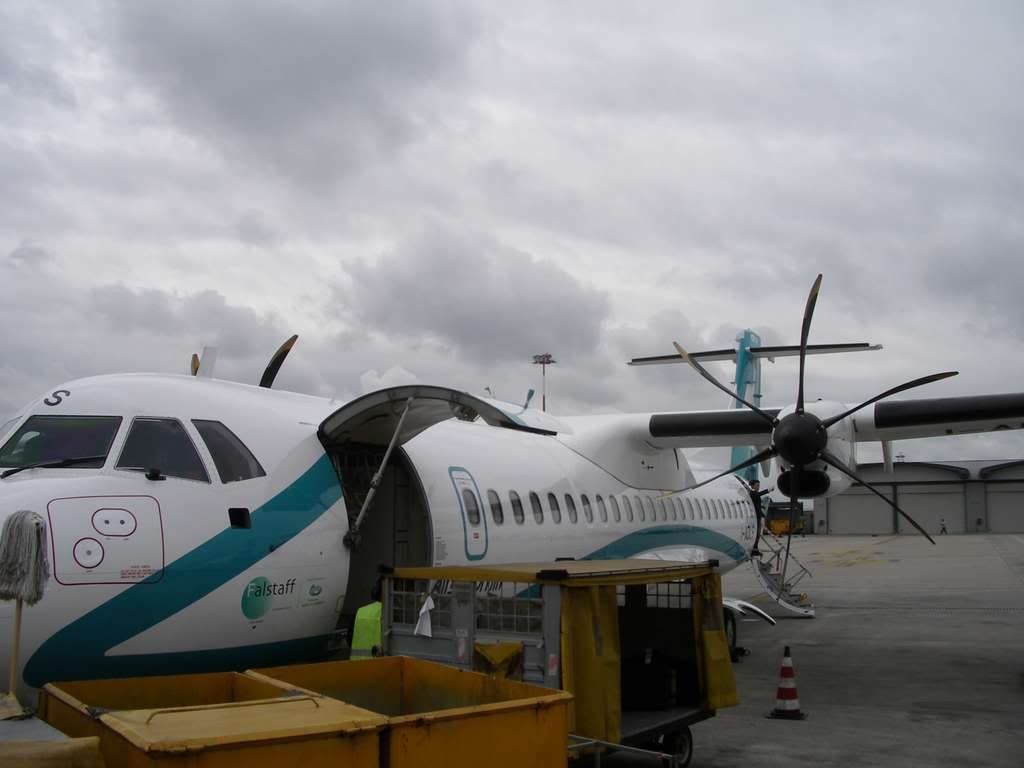 The second flight today also done. No problem to go with the ATR again.
The airport is well connected with the city´s main train station, oneway 4,50 EUR by bus, around 20 minutes to go.
I´ve decided to walk into the city center, no problem, some 15 minutes and want to see what´s Verona offers.
Wheather situation was not the best, but it remained dry the whole time.
Arena die Verona: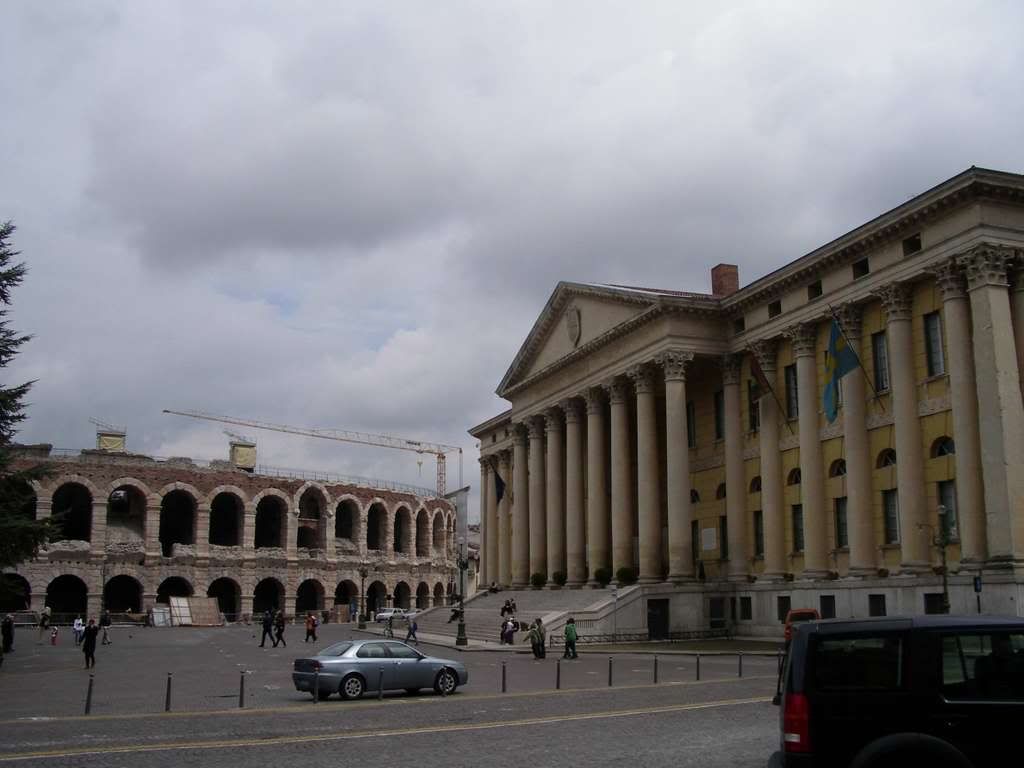 Torre dei Lamberti:
Arche Scaligere:
Julia´s home: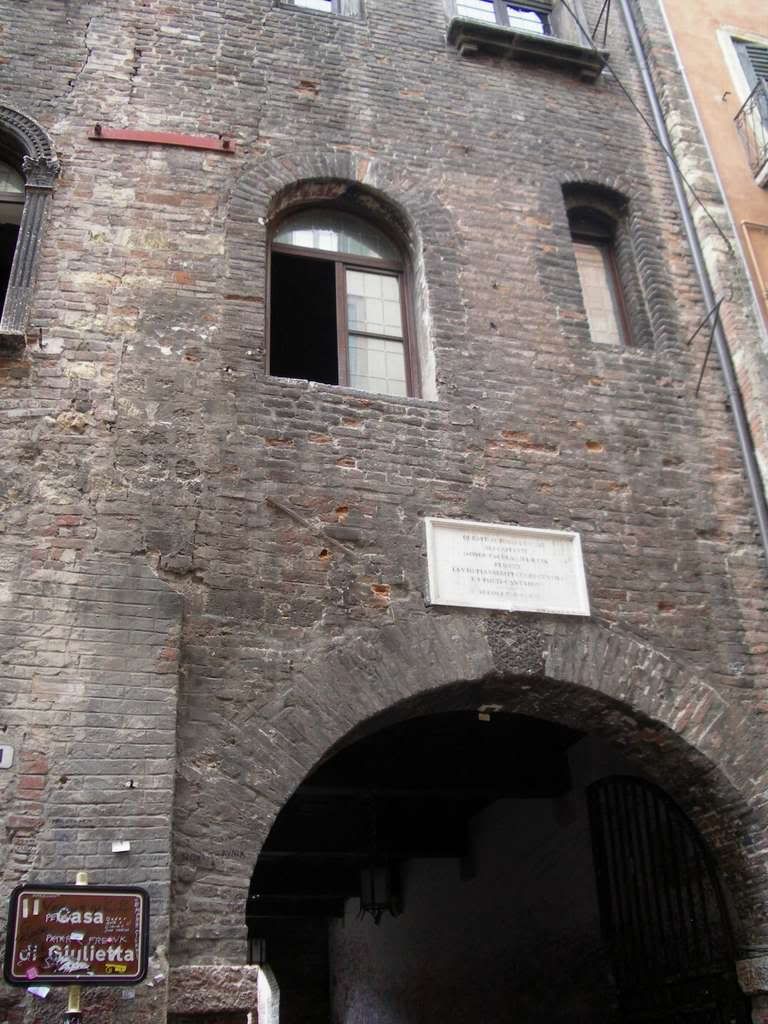 And her balcony from Romeo´s point of view: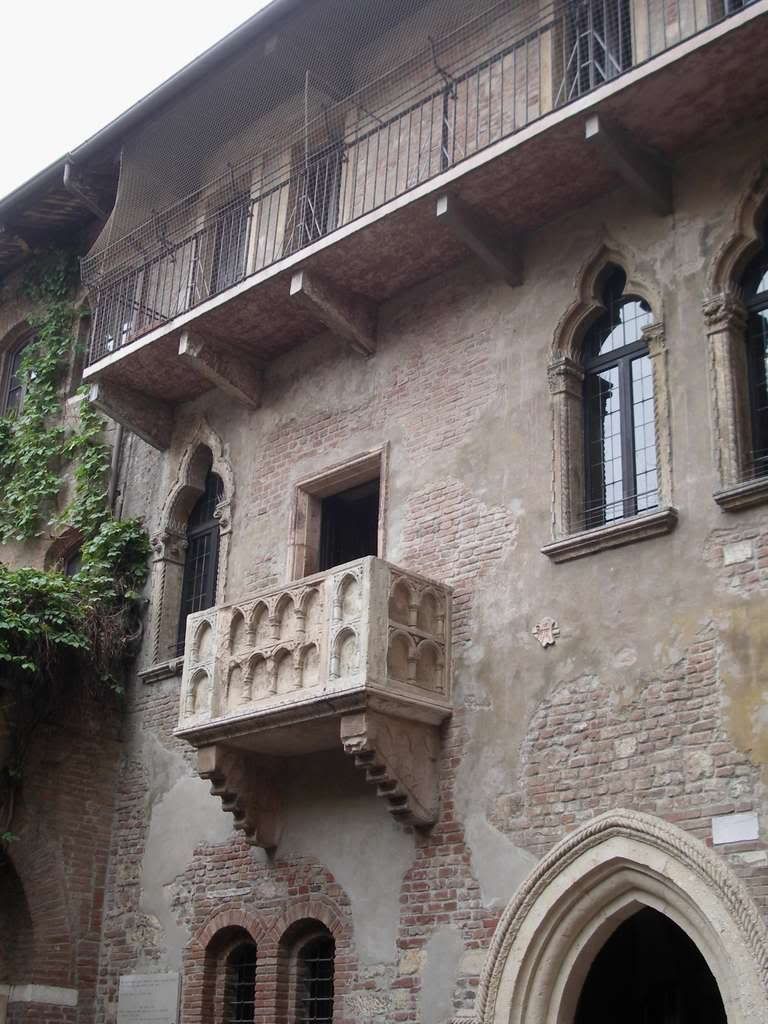 Tuesday, 29.04.2008
VRN (Verona-Villafranca-Valerio-Catullo) - FRA (Frankfurt-Rhein-Main)
Duration: 1 hour, 20 minutes
Service Lufthansa LH 3947 operated by Air Dolomiti BAE146-300 I-ADJI
Scheduled: 18.55 // 20.25
Actual: 19.05 // 20.25
Gate: 9 Seat: 16A
Load factor: Around 80%
History:
12.01.1990: Delivered to Thai Airways
12.12.1992: Further to LAP Paraguay
13.04.1994: In service with British World Airways
17.04.1997: Further to AerLingus
22.08.2005: And finally Air Dolomiti
Leg no. 8 on the BAE463 and the second on this machine
After my last experiences with the bus shuttle ontime performace, I´ve decided to return earlier than usual to the train station.
Not bad, when I´ve walked along I´ve saw the shuttle approaching, boarded and was early on the way back to the airport.
Nothing to view from the outside, beneath the usual airport building place.
A small viewing area from the upper level, but no space to sit and realx, therefore I´ve decided to go airside.
VRN apron right hand side:
VRN apron left hand side: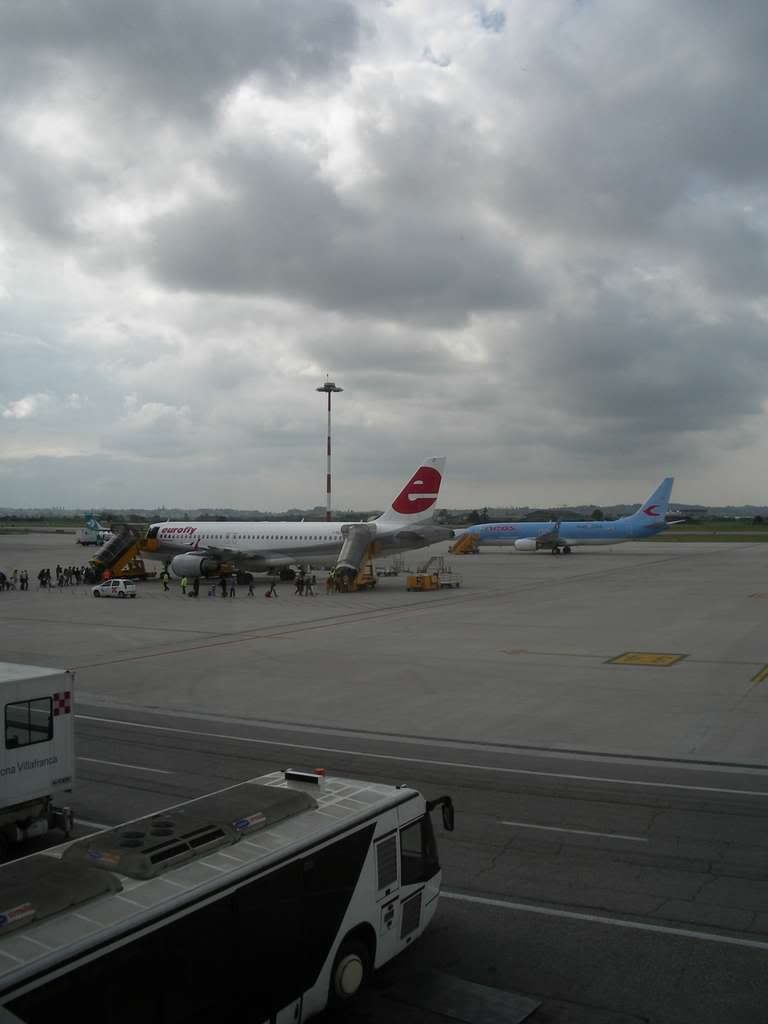 What kind of a bad mistake!, I´ve thought after security.
That was one of the worst, if not the worst airport place I´ve been the last time.
Six Schengen gates with only limited seats in front, pax all around but no flight directly ahead.
A small coffee shop, one restroom with two dirty and smelling cabins, unbelievable nowadays.
Much more crowded when a flight leave, always the announcements, pax for flight XYZ pass security immediatelly,
for sure, the frequent visitors know to join these area only for the last minutes.
Two delayed flights with more waiting pax. Incredible.
And every gate staffed with four to five agents, also when there was no flight from this gate, unbelievable.
Suspicious views when I´ve checked my camera.
Thanks god, my plane arrvied not that late from FRA and bus-boarding was called soon.
Approaching my machine: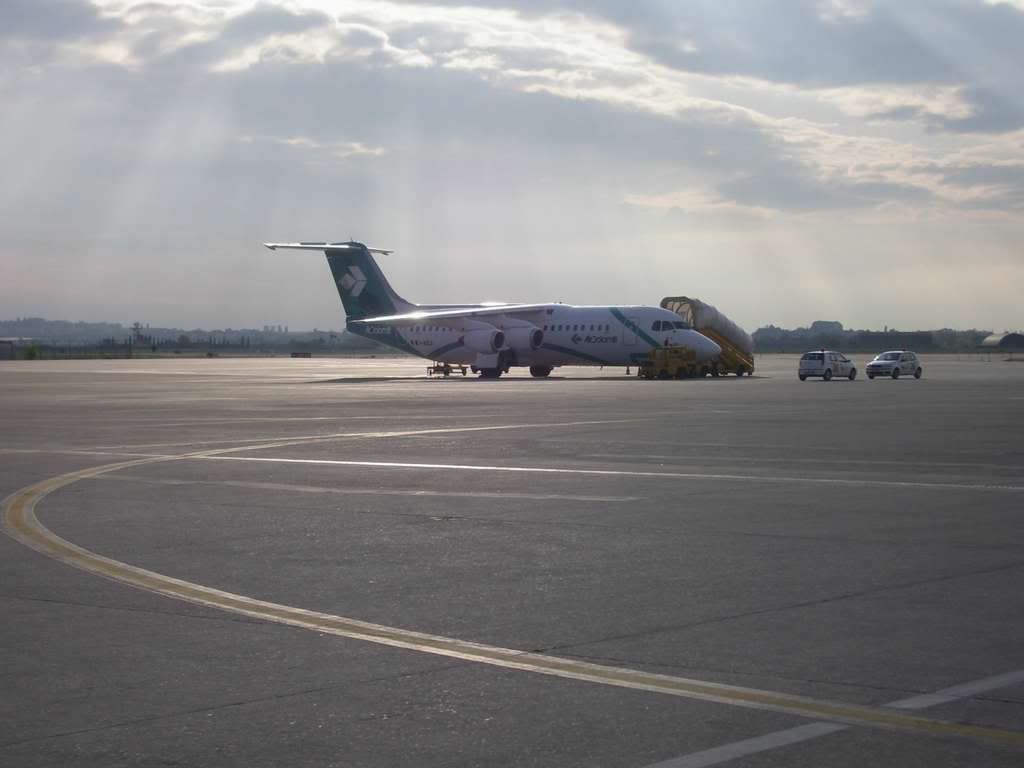 And again:
Once more:
Club Air two hours delayed for Bari:
Now time to complete the VRN experience. Air Dolomiti operates five BAE146-300´s, a 20% risk to fly the same reg again.
Seven flights ahead to this one on the BAE146-300 in my log with the last early last year
on Air Dolomitis I-ADJI and now the second.
Two middle aged female FAs, not that friendly this time.
All announcements also in german language.
Again the dark green leather seats, good conditions.
3/3 seating, but 2/3 in row 16, therefore enough space for me.
A something stressed welcome from the pilot on the ground, the cockpit crew from Italy.
Departure from runway 22. Nothing more from the flightdeck, therefore no route or level information.
Again the snack box followed by free drinks.
Engine view: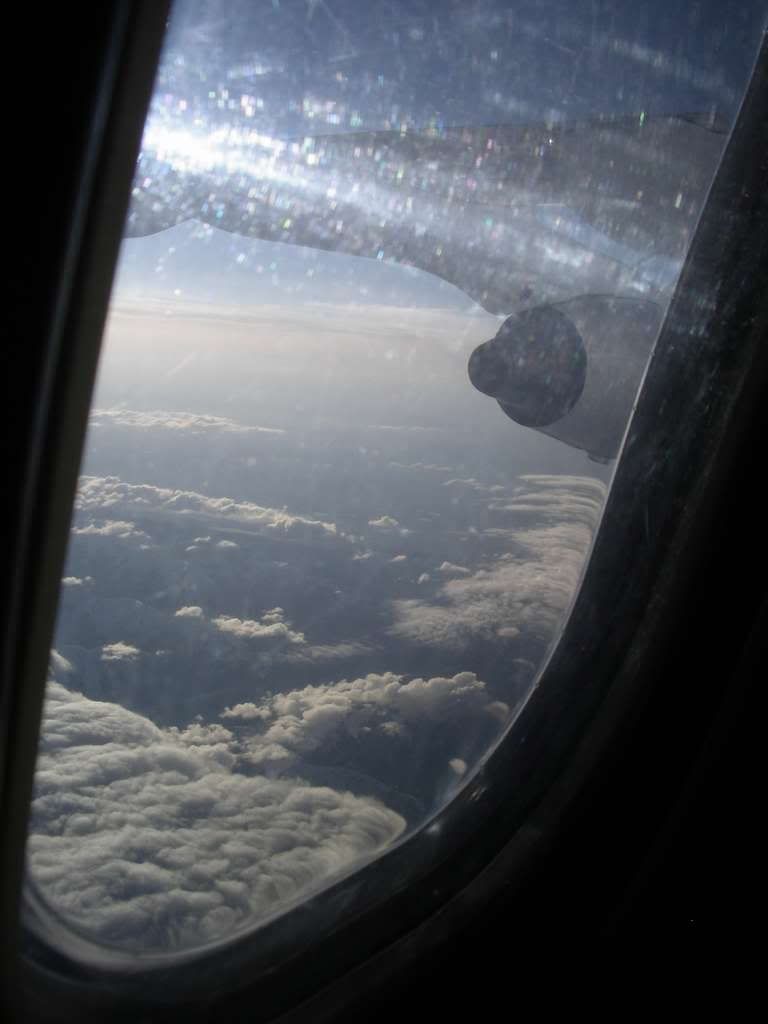 Surprisingly good wheather in FRA, a nice, long approach to runway 25L where we had a smooth landing.
Taxi to the end of the runway passed the other runway and parked near the cargo apron.
Welcome to FRA without rain: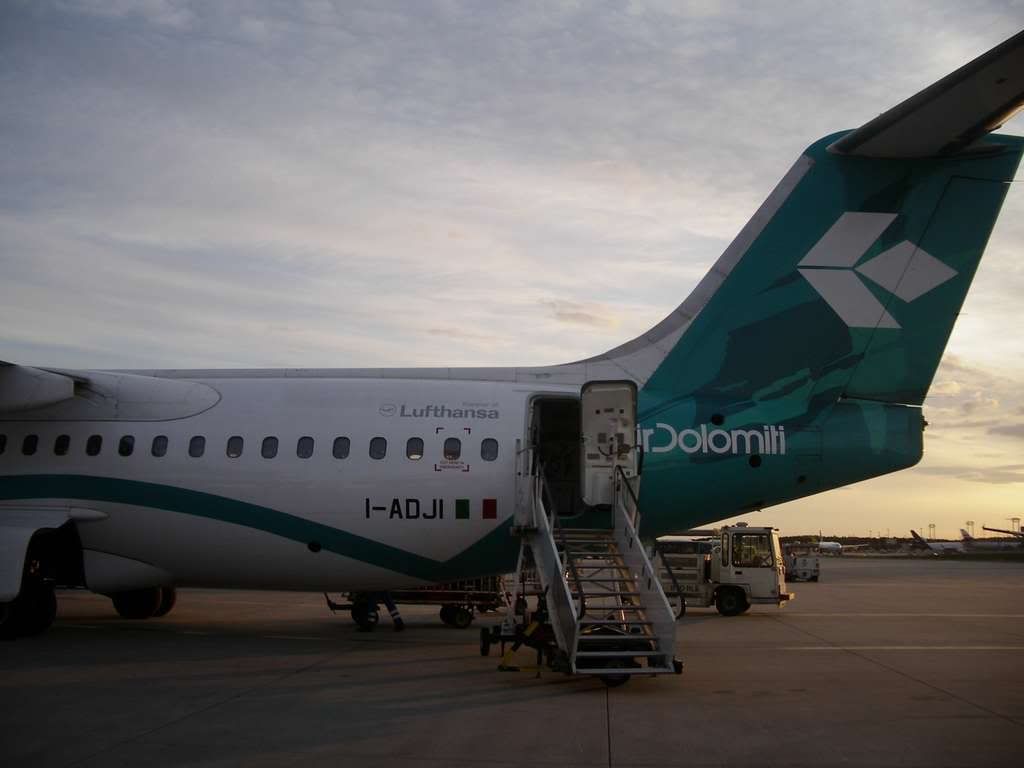 Bye-bye I-ADJI: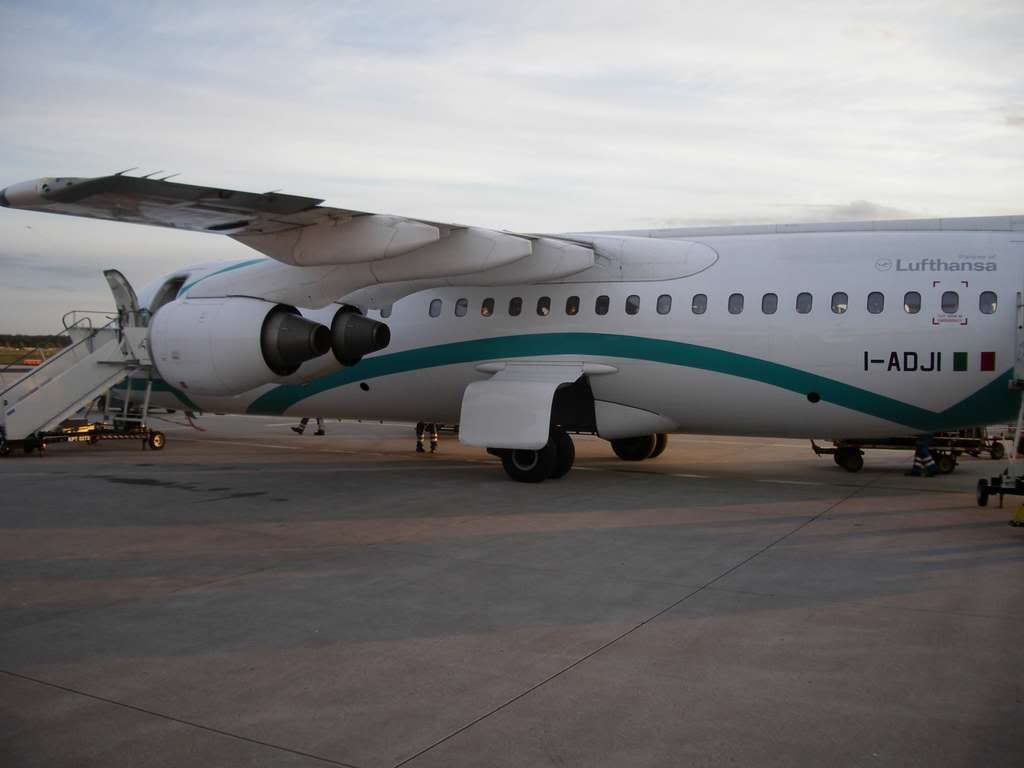 So, nothing new for my log around leg no.3 today.
Deboarding by bus and through the transfer tunnel to terminal 1A.
Tuesday, 29.04.2008
FRA (Frankfurt-Rhein-Main) - STR (Stuttgart-Echterdingen)
Duration: 30 minutes
Service Lufthansa LH 1360 operated by Cirrus Airlines Embraer 170 D-ALIE
Scheduled: 22.15 // 22.55
Actual: 22.25 // 22.55
Gate: A03 Seat: 20A
Load factor: Near 100%
History:
21.12.2004: Delivered to Cirrus Airlines
My premiere on the E170
Time enough to walk to the end of the A area, a nice place from my point of view, not that much pax around there, seats with direct apron/runway views,
always my place if its possible.
If there are no changes around the LH operation today, there will be a good chance for something really new to my log, the first flight with Cirrus airlines
and also the first run on the Embraer 170.
I was surprised when one of the three Cirrus E machines taxied in and parked directly in front of my spotting place, will that be my plane?.
It was nearly dark, so no pic through the glass.
I walked back the whole way to the A entrance, A03 will be my gate for the short hop to STR.
Ontime boarding by bus.
Only a short drive to another machine parked nearby, the scheduled E170, not bad.
My first E170: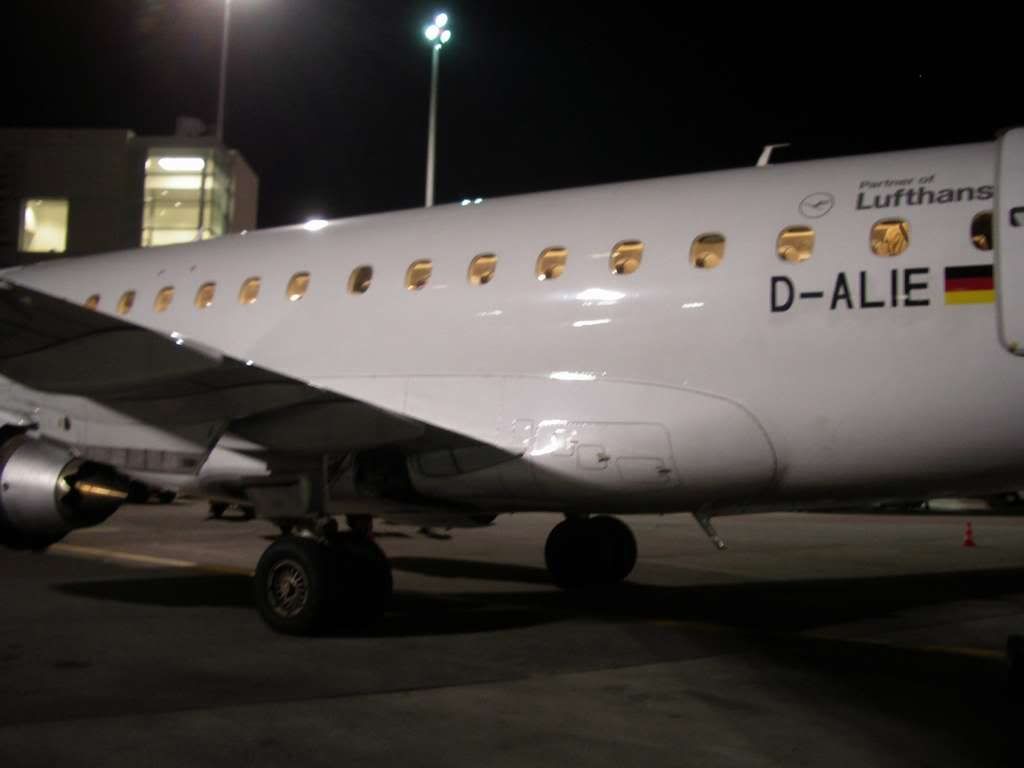 Lufthansa, sorry Cirrus Airlines:
Boarding:
Three female FA´s on the plane, ok so far. Stylish blue grey leather seats, clean comfy, good legroom, not bad.
Some confusion during boarding about pax numbers, bags offloaded and loaded again.
The female FO, cockpit crew was from Germany, apologized about it later, some pax do not reach the flight ontime, but others filled the gaps.
Departure from runway 18.
No more announcements from the flightdeck, no route or flightlevel info, no service on this route.
Finally touched down on STR´s runway 25 perfectly ontime. Bus deboarding.
Also flight four done and finally, this time with something new for the log!.
So, what about my rating:
1.) Dolomiti ATR, the nicest cabin crew, informative cockpit crew, good service
2.) Augsburg AW, informative and funny flightdeck crew, nice plane
3.) Cirrus, a new adittion, but nothing special around the flight
4.) Dolomiti BAE, FA´s not that friendly, less informative cockpit crew
Enough Italy for the next time.
I´ve cancelled my trip to Dubrovnik, Croatia one day prior to departure according to the really bad wheather forecast, thunderstorms and heavy rain in the area.
No way for a old town visit by feet and I dont want to be stranded in Croatia.
But nevertheless not that long to wait for the next scheduled flights, on IB and it´s partners to Las Palmas, if nothing goes wrong!.
Comments welcome,
Markus (FLIEGER67)