Back to school on Delta Airlines:
Caracas – Daytona Beach
Introduction
Living in the United States and being a Venezuelan is not an easy thing. Lately, traveling between these two countries has become, sometimes, more expensive than traveling to Europe. The restrictions by the Venezuelan government for foreign airlines to expand their services into the country have been very tough; hence the extremely high prices and not so many frequencies by the carriers that have managed to offer their flights to a travel-hungry Venezuelan population.
I moved to Daytona Beach last January to resume my studies. Fortunately I was blessed with the luck of being close to home (Caracas), having several airlines at my service nearby (Orlando and Miami). Among these, American Airlines and Delta have been the ones to offer the best services and fares, not to mention the connections and frequencies. Being in Daytona Beach (about 70 miles off Orlando) gives me the opportunity to choose between the mentioned airlines the best price or the best itinerary. My last experience was with American Airlines flying from Caracas to San Juan and connecting to Orlando. Unfortunately, the experience was long, uncomfortable and simply absolutely time consuming.
The options to travel between Caracas and Daytona Beach are few – to San Juan or Miami connecting Orlando; to Miami and renting a car and drive +4 hours north to Daytona or simply fly to Atlanta and connect directly to Daytona Beach, which is what I chose for today's trip report.
Caracas, May 11, 2008.
After two magnificent weeks of beach and party in Venezuela, time to head back to DAB finally arrived. I finished my spring semester at Embry-Riddle Aeronautical University and came back home to rest and visit my family until my summer semester started. Wanting to make the experience less stressed, I booked myself on Delta Airlines flight 316 from CCS to ATL and then connect straightly to DAB, not needing to rent a car or wait several hours for a connection.
The comfortable itinerary started at CCS with a scheduled departure of 08.00 on a 757, which 4 hours later would take us to ATL. Almost two hours later, an MD-88 would take me to DAB on a 1-hour flight. Looking forward on flying with a new airline to me, the day of the trip finally arrived.
Flight 1: DL316
CCS – ATL
Boeing 757-200
Scheduled Departure: 08.00
Actual Departure: 08.15
Scheduled Arrival: 13.09
Actual Arrival: 13.09
Delta Airlines requires passengers to arrive at the airport at least two hours prior the flight's scheduled departure. After three days of intense partying, I woke up at 04.30 struggling with my extended lack of sleep and rest. Sunday mornings in Caracas are really easy going, so my trip to the airport (usually endless) only took 32 minutes, arriving at the rather empty and relaxed DL counters at 05.28.
Delta shares its counters with SkyTeam members Air France and Alitalia
The line wasn't long at all, and in less than 5 minutes I had my both boarding passes (to ATL and DAB) and was asked to go and pay the taxes, which for my surprise were two, instead of the usual one. Accordingly, I paid the tax asked by the DL staff and then went to make another line to pay the airport's tax. This, unfortunately, is a new measure that was implemented a few months ago banning airlines to collect the airport's taxes at the moment of the ticket purchase. It's important to mention that these lines can become eternal during high season or at the famous CCS peak hour where more than 8 heavies (Lufthansa, Alitalia, Air France, Iberia, TAP, Santa Barbara and American Airlines) depart within a short time period.
Luckily, lines weren't long and I got to pay the taxes in no time. By then, my stomach was giving me signals of hunger, for which I headed with my dad to have some breakfast. The only available place at the time was the Oh Lala Café located in the top floor in the arrivals area. There, a ham & cheese baguette with a strong coffee was enough to awake me from my sleepwalk hassle and make me realize that my flight was less than an hour away!
After saying good-bye to my dad and waiting in the really long queue for immigration checkpoint, I found myself sitting in front of our 757 at 07.10. There, I had the chance to spot another unusual 757 at CCS – Icelandair, which was chartered by Santa Barbara Airlines for its services to MIA (which will be shown later on).
My boarding passes to ATL and DAB
After a few minutes, our flight was called for boarding. DL uses Zones instead of the Groups (as used on AA) for boarding passengers. My Zone was number 4, therefore I waited a few minutes before it got called and, surprisingly, the flight seemed to be very empty as the waiting hall wasn't crowded and it was past boarding time. I then handed my boarding pass along with the passport and walked down the jet-way that took me to the 757 through door L2. As I went in, two flight attendants greeted me with a nice smile and I got a nice impression of how clean and sharp the cabin looked. Walking down the aisle to my assigned 37F seat I realized how in well shape the aircraft is even though it was delivered in…
The line for Zone 4 boarding
The view from 37F
Row 37 A, B and C
Icelandair's 757 working for Santa Barbara
After I got to my assigned seat, I had a big hope of flying in a partly empty aircraft. This hope was later vanished as the aircraft got progressively packed. I, sitting in the window, prayed not to have someone seating immediately next to me (for obvious reasons). A man sat in the aisle and, as the aircraft got 99.9% packed, the doors were closed and I was lucky enough to have the middle seat for myself as well.
Looking out the window I realized that the ground staff had some trouble with some cargo. They repeatedly checked their papers and delayed the departure by a few minutes.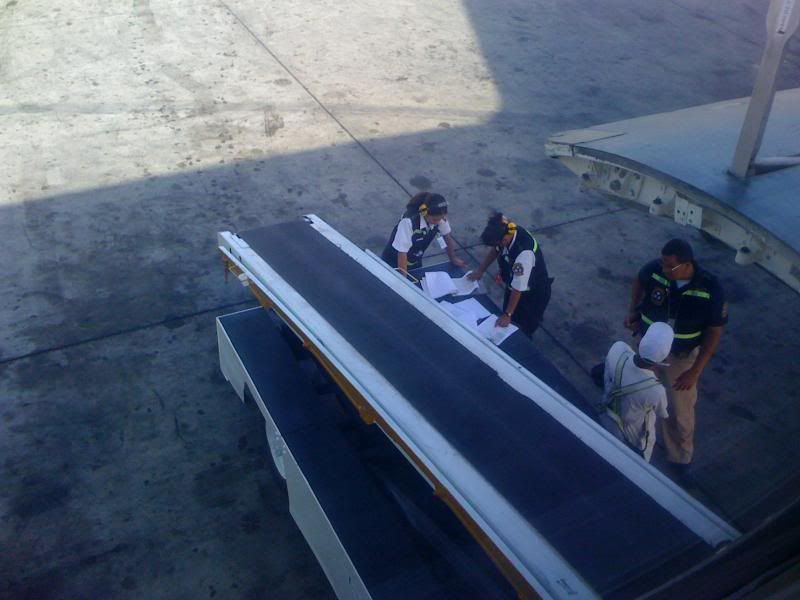 We finally pushed back at 08.07. While the Captain turned on the engines, the really cool safety video was shown on the HUDs. Being a first-timer on a DL flight I got to enjoy it, for a change!
A nice view of CCS International Airport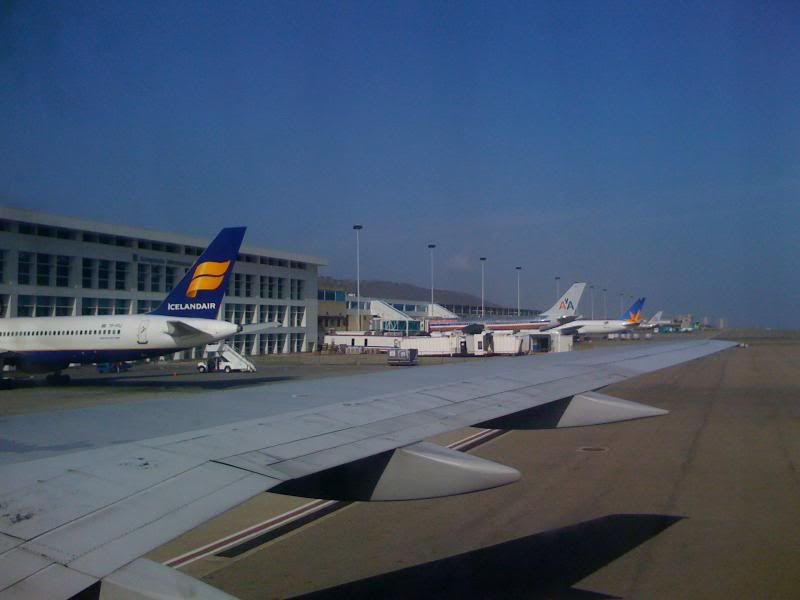 Icelandair, American Airlines and Varig
Taxiing to Runway 10
Then, on our way to the active runway for departure I realized that the flight might have not been as comfortable as I thought it would be. In the seat in front of me there was a family with two children (probably 6-8 years old) who seemed powered by batteries and couldn't stop jumping, yelling and moving their whole 36th row… They pushed the FA button two times to ask for Coke and candies and thankfully, that's when one of the FAs told them to be still (the mother acted as if it the children weren't hers). Hoping to see a change in the behavior of these kids, we reached the holding point of Runway 10 and, without waiting, rolled down and became airborne at 08.15.
Outside a gorgeous day helped me to take some nice shots of our take-off (sequence photos).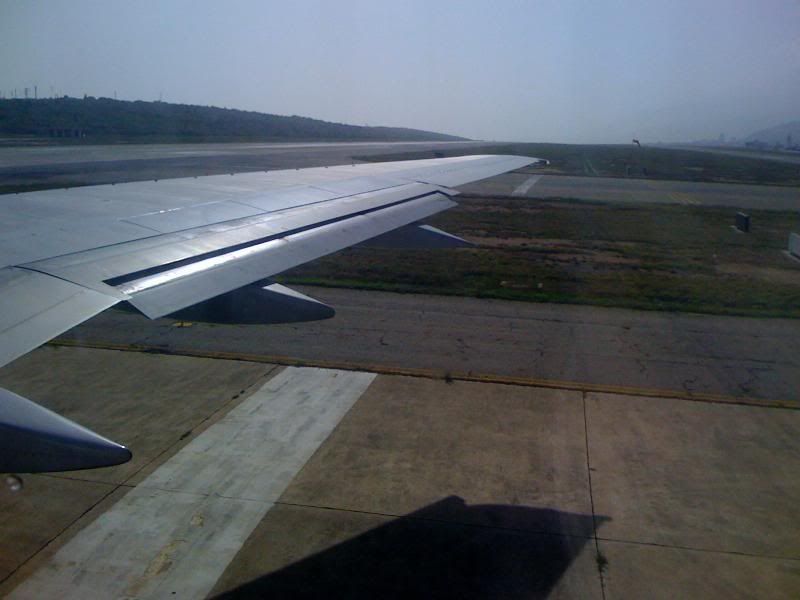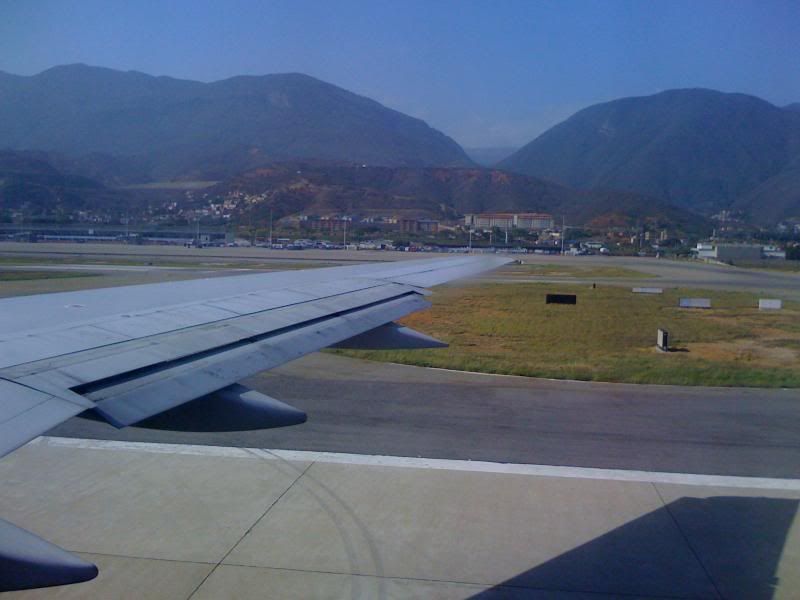 Amazing background of the Venezuelan coastline mountains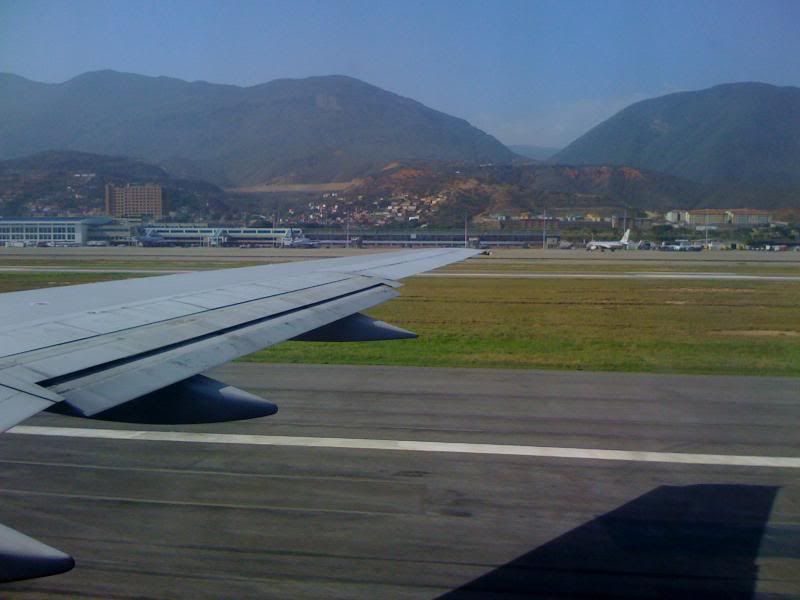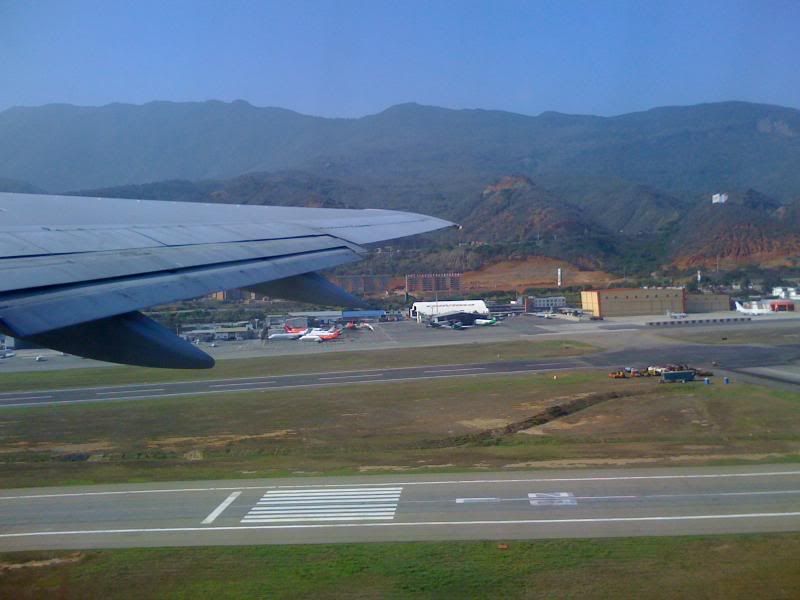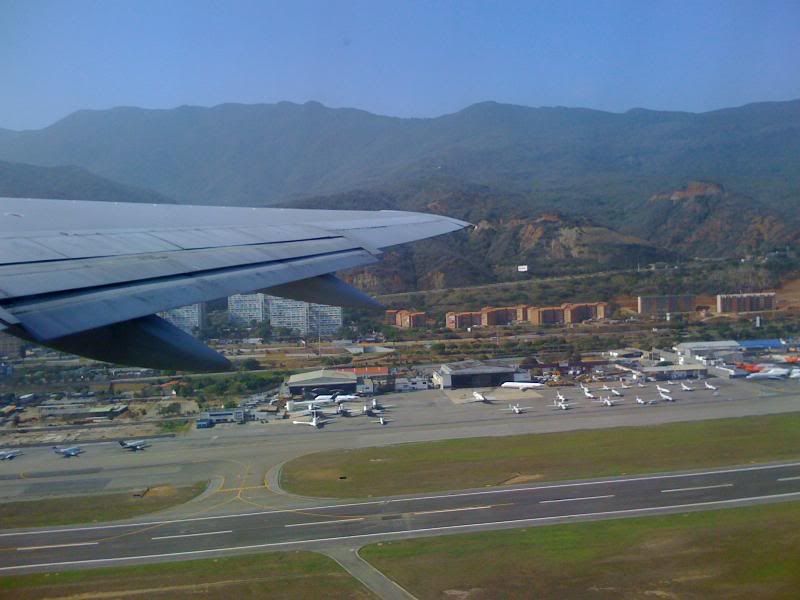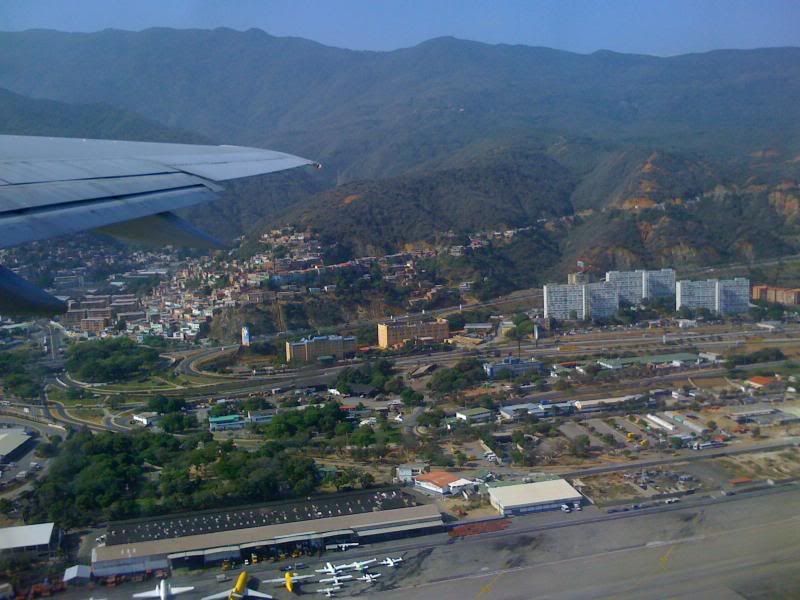 Right after takeoff, we turned left heading north over the Caribbean. Then, fly up to FL370 for 4 hours and 21 minutes – as previously announced by the crew who made numerous announcements through the PA. These announcements got to an annoying point as the volume was quite high and they repeated the same things over and over, as if we were passengers unable to understand what they were saying… this happened all the time, especially prior our arrival to ATL.
Anyhow, we continued to climb and everyone closed the window shields to give a nice and cozy ambient in the cabin. A few minutes later, after we reached our cruising altitude, the crew began the breakfast service consisting on a choice of French Toast with Sausage and a choice of Eggs with Ham and Cream Cheese, both with a plate of fruit, Venezuelan yoghurt and a croissant with butter and peach jelly. The meal could be accompanied with a beverage of choice with no charge for alcoholic beverages – a surprising fact to me! The only bad thing was the meal combined with the leg space, which after 4 hours would becom e a living nightmare for the commodity.
Not too much for a 4-hour flight
For breakfast I chose the Eggs, which weren't bad at all. Actually I got to enjoy them as they were well heated and the fruit with the yoghurt gave a nice and refreshing feeling. Good choice.
After the meal, I decided to have some rest as I still had some of the hangover from the massive partying of the previous days!
Awaken by the vibrations of the speed brakes I glanced out the window and realized we were descending towards ATL. The best part of the flight had yet to arrive.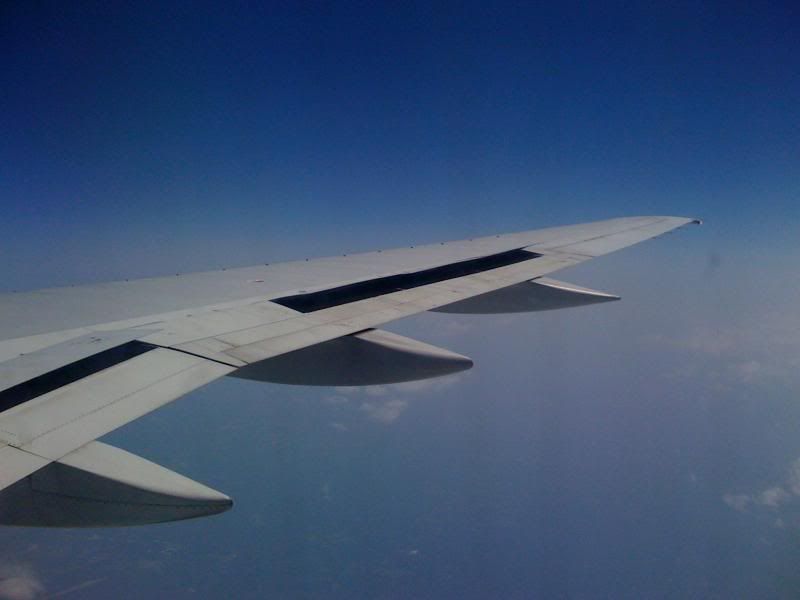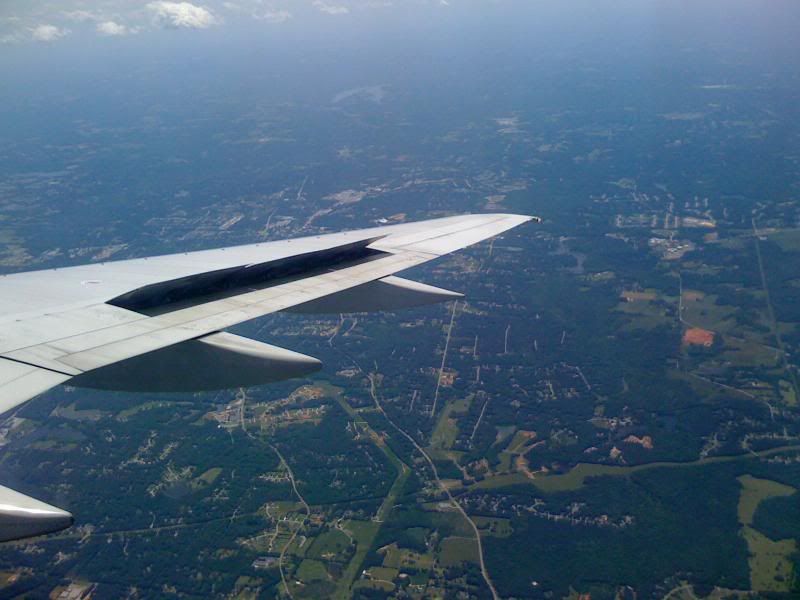 Staring at the wing I suddenly got struck by a really close DL 757 that passed below us really fast! It was really exciting to see the speed of that jet, which I think was at least 500 feet below us!
Then, we started to do a procedure that I had never seen nor experienced inside an airliner. Landing in ATL is sure a difficult thing to do, as it is the busiest airport in the world. The Captain pulled down all the flaps at an altitude of at least 10.000ft and made a slow flight for at least 7 minutes! Then, retracted them and aligned the aircraft with the runway and landed, still really slowly! It was very encouraging to see that performance since that's what I've been doing, but in a Cessna 172, working on my private… just compare the sizes and then we can talk about it!
Anyhow, the approach was quite nice and landed smoothly at a surprising sharp 13.09 – scheduled arrival time.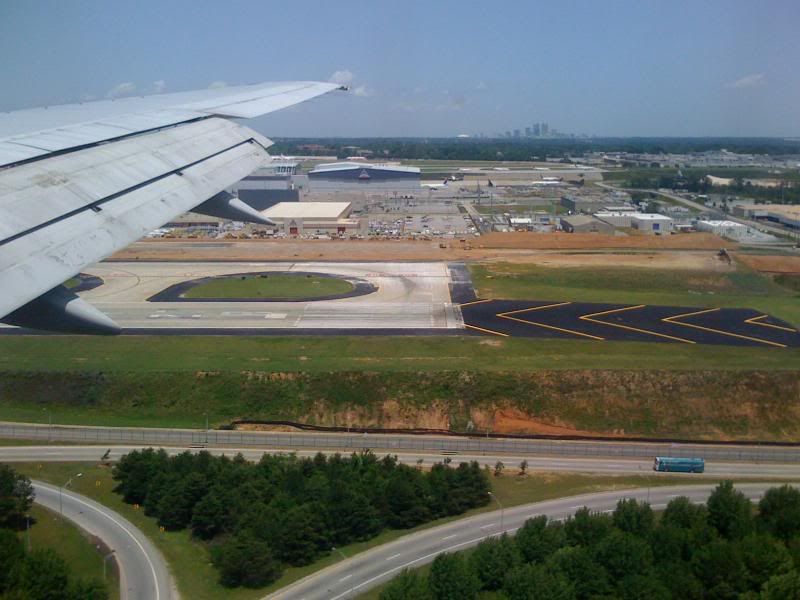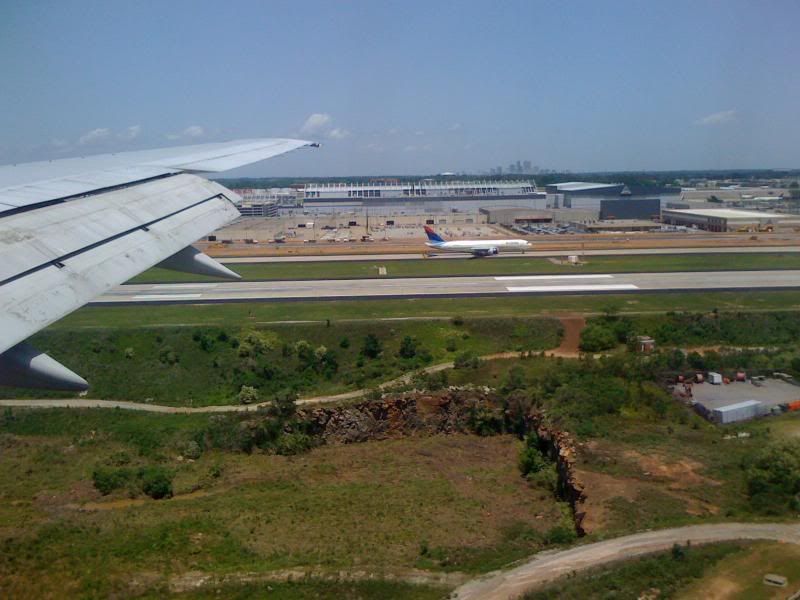 We arrived at concourse E and deplaned the aircraft in less than 5 minutes. Then, a long walk to the immigration lines and customs took at least some 10 more minutes. Finally, when I went to pick up my luggage – which was already there waiting for me – dropped it again for my flight to DAB and went through the security checkpoints in less than 2 minutes… way too fast for me to get used to it!
All happy for the great performance on this flight, I went to grab a bite and glance at the really nice terminal ATL has to offer. My flight to DAB is displayed to depart at gate A13 with departure 15.56.
Flight 2: DL699
ATL - DAB
McDonnell Douglas MD-88 (N904DL)
Scheduled Departure: 15.56
Actual Departure: 16.27
Scheduled Arrival: 17.14
Actual Arrival: 17.33
I really enjoyed spending some time in ATL. As soon as I went by immigration I got to see this impressive thing… judge by yourselves.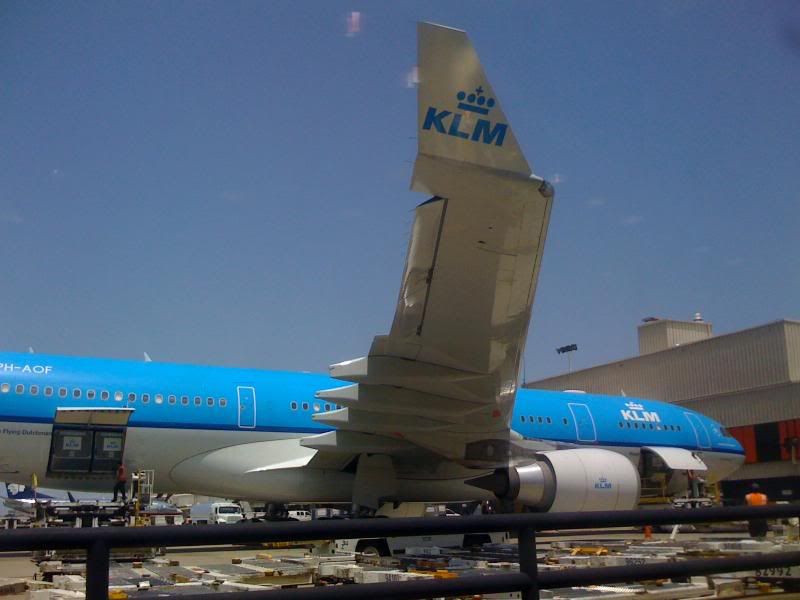 …I couldn't stop smiling, for some reason!
Anyhow, after that, I had to take the underground to go to terminal A from terminal E, which I believe was the International.
Then, hungry again, went to grab a bite at a deli. Some time later, I figured out that the flight was slightly delayed
due to a technical
. Thankfully, the technical wasn't much of a deal and I boarded at 16.05, some 30 minutes behind schedule.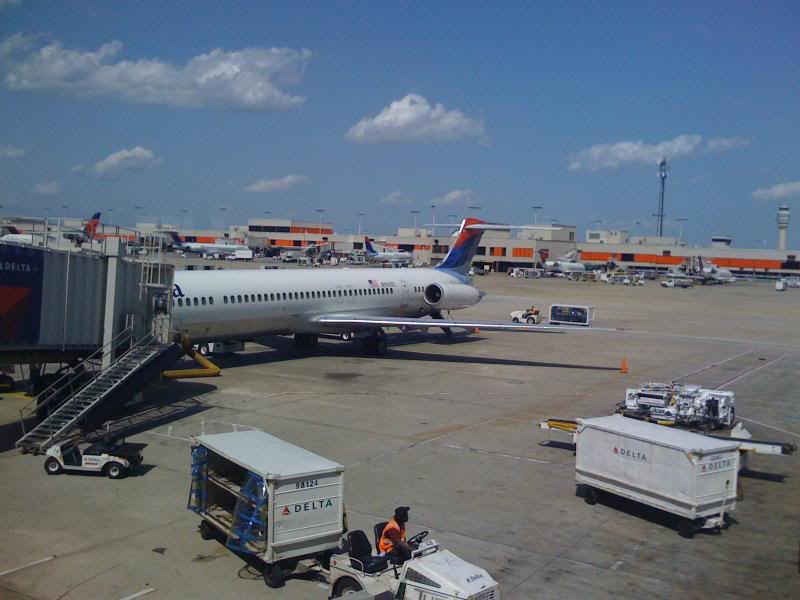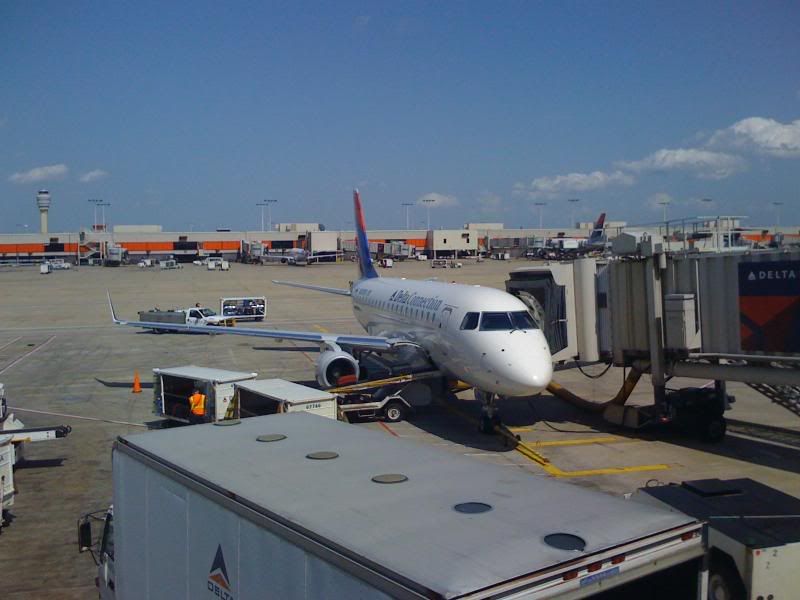 My favorite ERJ!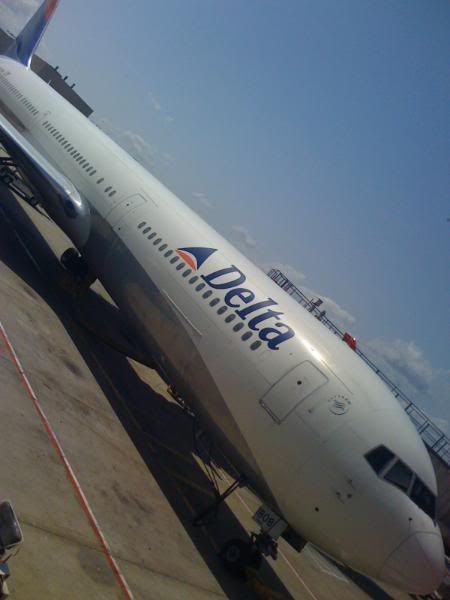 One of my favorite Boeing jets, the 764
Inside N904DL, I went directly to my assigned 16E seat. Being one of the first ones to board, took a shot at row 15.
Then, at 16.20 we pushed back. Along with that, the crew announced a 51 minute flight to DAB at an unknown altitude.
Push-back
We taxied on a pretty fast manner and on our way got to see a couple DLs taking off:
Then, lined up with Runway 27R and performed a really quiet takeoff: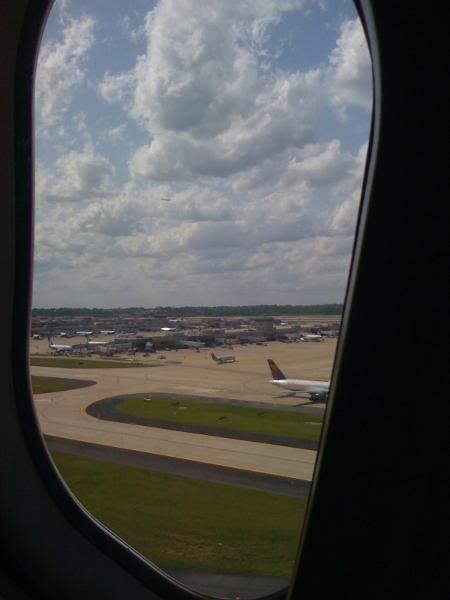 Views of ATL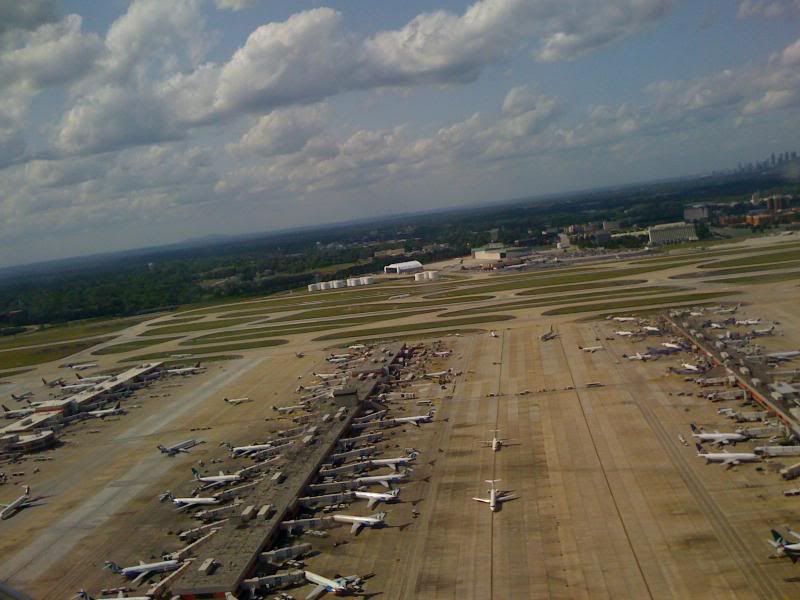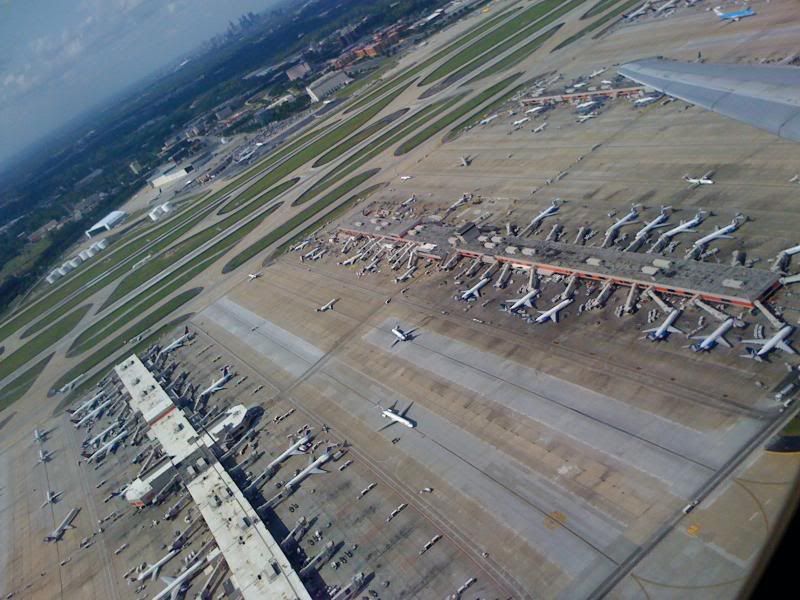 Soon after we took off, some turbulence appeared so the seatbelts signs re-popped out. I decided to close my window as there was not much to see and started watching my Dream Theater concert on my laptop: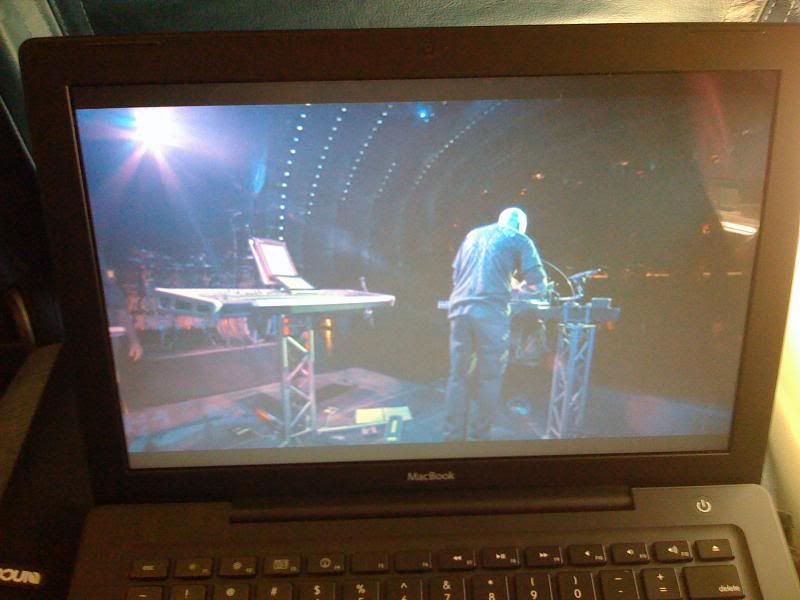 Jordan Rudess rules, doesn't he!?
Anyhow, 40 minutes later we began our descent into DAB. Knowing the airspace pretty well we came out of the clouds by Palm Beach and Flagler and went a couple miles out to the ocean. Then, avoiding the large amount of smoke provoked by the recent brash fires, we turned right, passed over the shoreline, the Halifax river and the US-1 and performed a rather fast landing on Runway 25R at DAB. Check it out.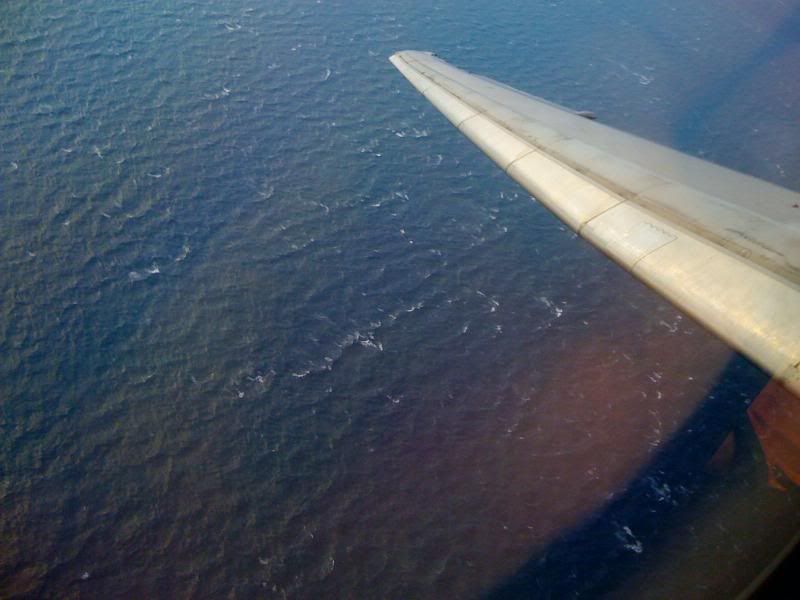 Smoke
Clyde Morris Blvd.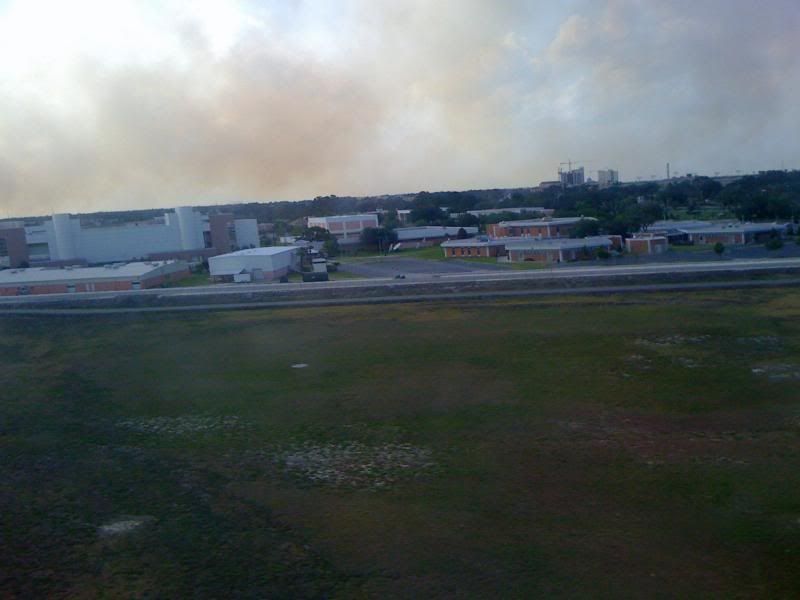 Embry-Riddle Aeronautical University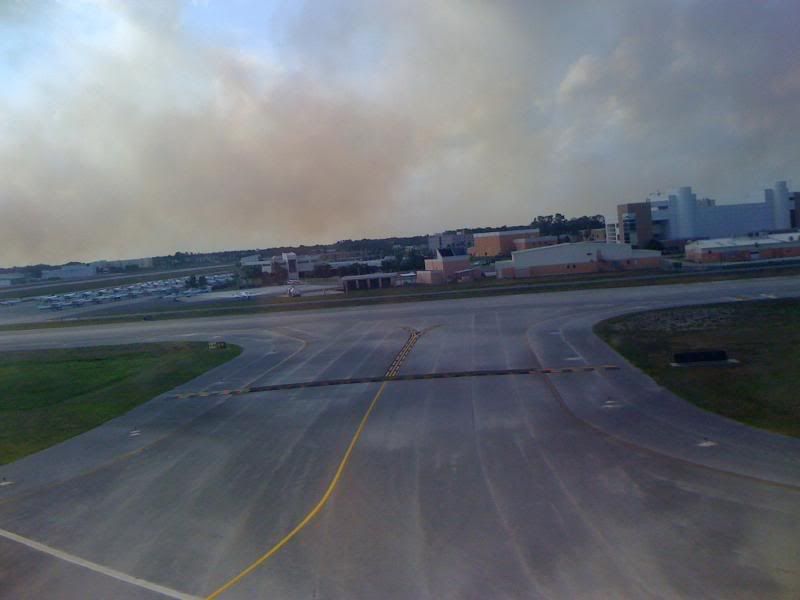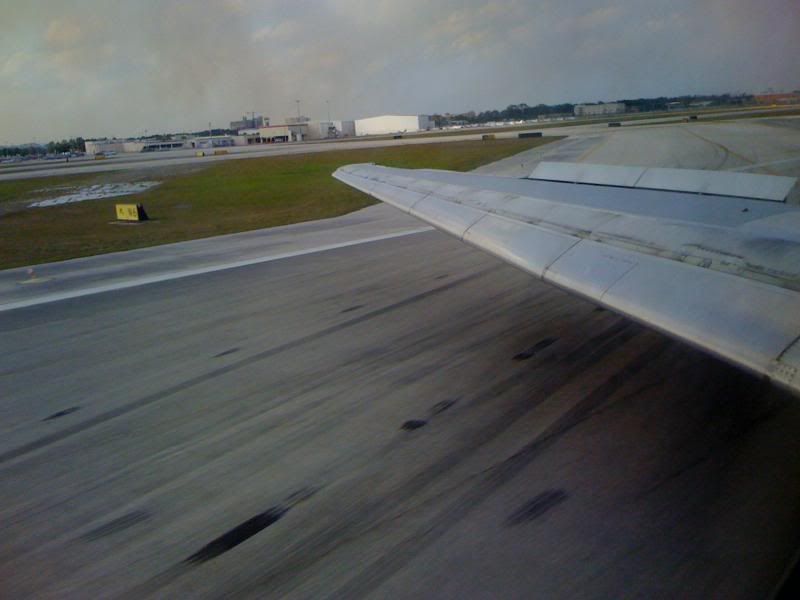 Finally, landing at 17.33 (almost 20 minutes behind schedule) made me conclude that flying to DAB from CCS is by far the best option. ATL is far much better than MIA and SJU, and the connection is a thousand times more comfortable.
Delta proved to be a great carrier and I'd dare to say that I've lost my fidelity to AA. I really liked the DL system and will now fly them on a more regular basis, both for commodity and the huge network they have.
My trip evaluation, 7/10.
More leg space would be greatly appreciated and less useless announcements by the crew on the PA.
I hope you liked my report and as usual, it's been a pleasure writing for you guys!
Comments would be greatly appreciated as well!
Cheers!
Enrique.