Hello everybody and welcome to another trip report...
I took advantage of the great, hot and shiny weather here in Germany these days and did a spontaneous trip to DUS for some spotting on the visitor terrace. In my eyes still the best terrace with the best views of all German airports. I returned the same day to Frankfurt, but with a little stop-over in Paris - CDG to log two new types in my log: the Embraer E190 as well as the Fokker 100. Enjoy reading and all comments are really appreciated!
Sunday, 11.05.2008
LH802 Frankfurt (FRA) - Düsseldorf (DUS)
STD:0905 // ATD:0920
OFF:0908 // ONB:0958
STA:0950 // ATA:0954
FRA POS:A24 // RWY:07L
DUS POS:A15 // RWY:05R
SEAT: 11E (Exit row)
Aircraft:
Boeing B737-300 D-ABWH "Rothenburg"
History:
built and delivered in 1989 to Condor
leased to LH 1990 an returned one year later to DE (1991)
after two years again the a/c finally went to LH (since 1993 in LH fleet now)
Flight number 5 on the B737-300 and the first one on this aircraft
Only about one hour prior to departure I was at the airport, but the lines at security weren't that long so I went through in a couple of minutes. The night before the gate was shown as A10. They changed it the morning to A24 which is still ok as only a walk of five minutes. Far better than A34-A42...
Arrived at the gate I remarked that not only the gate has changed overnight, but also the equipment from B737-500 to B737-300 meaning an upgrade in terms of seatcapacity. Anyway it looked that it would be very difficult for me to get on this flight as 17 (!!!) other passenger were standby'ing along with me. Lucky me I got one of the last seats and was rather surprised to having even an exit row seat.
our aircraft today on this short flight to DUS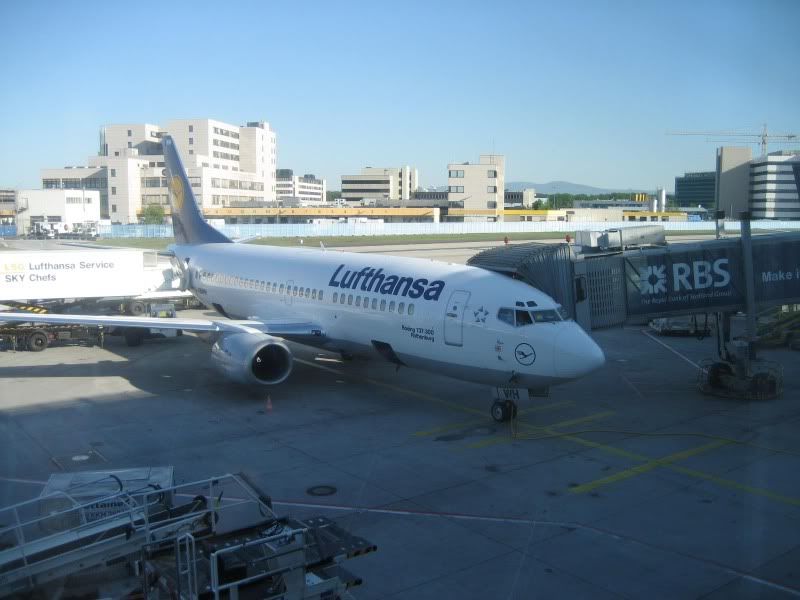 Today the economy class starts at row 9 and between this row up to row 12-13 there were only LH crew members seated, all in uniform. The reason for that are the three new longhaul flights from DUS to EWR, ORD and YYZ. Well except YYZ they are not new, but as known they changed from A319 to A343 since the start of the summer schedule. LH have no DUS-based crews so they fly all dead-head from FRA every morning.
We left the position almost on time about ten minutes later we held short runway 07L. A very steep climb this time, never experienced such a take-off attitude on 733. Due to the great weather very good views outside, but as I was in the middle and having a dead-head purser on my left and a FA on my right I couldn't take any photos on this flight.
My house is located 25km North of the airport. I remarked that especially during summer narrow body aircrafts departing from 07L/R are flying straight over my terrace. My house is underneath the North departure path according to some charts I found on the net. We took the same path as I could identify some familiar buildings, but not my house
Well, I would like to tell you more about this flight, but it's just another usual Lufthansa domestic service. As coffee, tea and newspapers are available at the gate in FRA no service for Eco, only Business class get a breakfast.
We touched the ground again almost on time at runway 05R and taxied to position A15 (gate A71 if I'm not mistaken). Inside the terminal a lot of construction works are under process.
Inside the terminal I went straight upstairs to check-in area B from where you enter the visitor terrace. Today the entry was free for all (usually 2EUR). Nice...! I spent the whole morning and early noon on the terrace. It wasn't that full as I expected (you know, Sundays families tend to spend a day at airport terraces) so no problems at all to catch all the major movements.
To be honest, I'm still a bloody amateur, but I'm practicing a lot... Here are some good shots, well in my eyes "good shots"... By the way I took more than 400 pictures during my stay.
they still preparing my aircraft for the return leg to FRA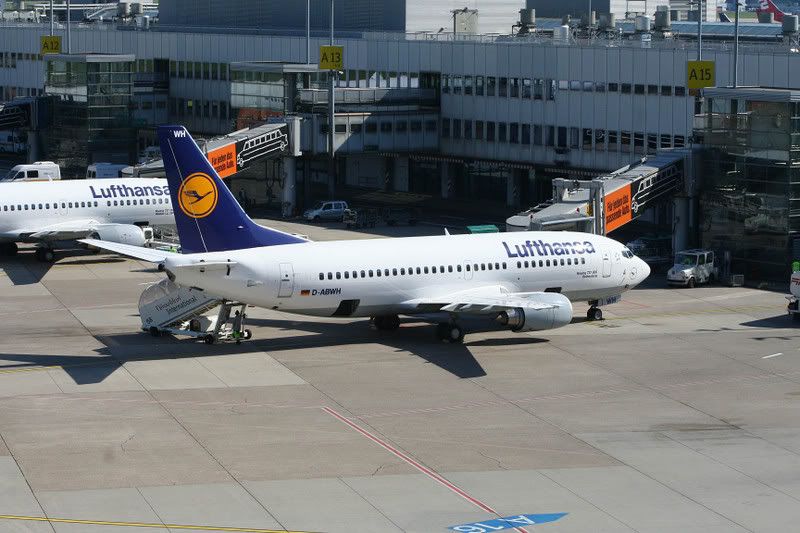 SU Moscow service
No.1 - D-AIFF 'Delmenhorst' just left the gate (to EWR)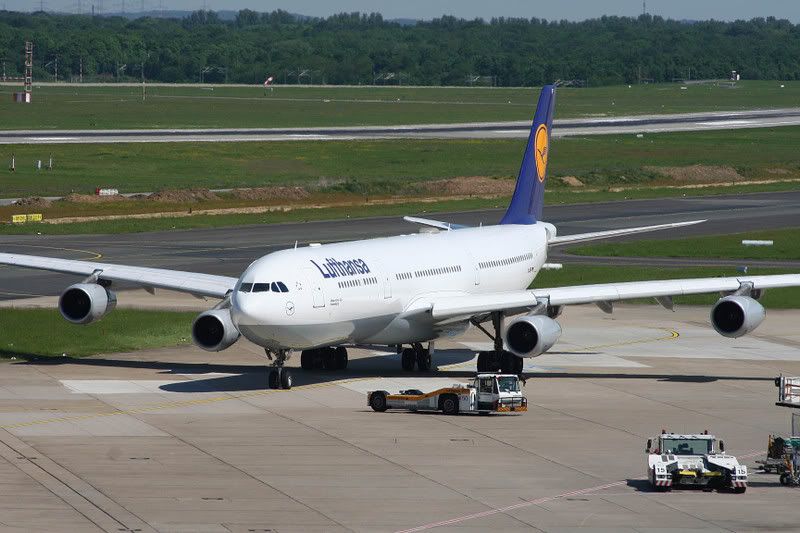 No.2 - D-AIGO 'Offenbach' lining up 05R (to ORD)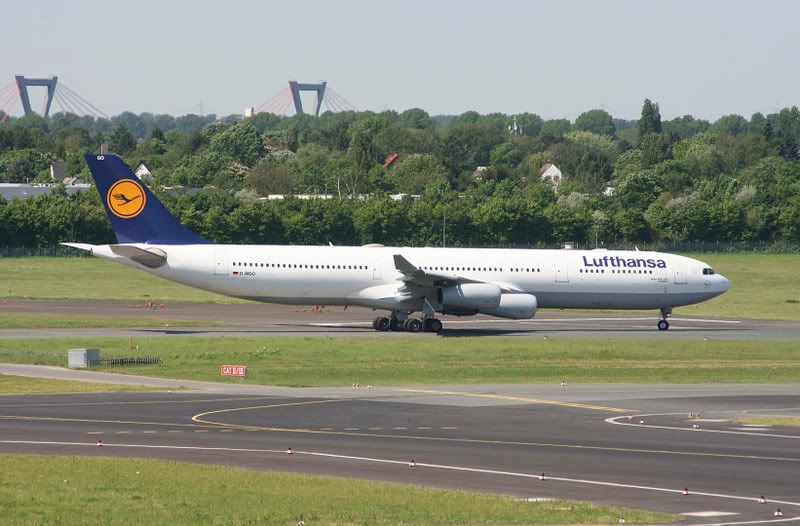 No.3 - D-AIFE 'Passau' accelarating on 05R (to YYZ)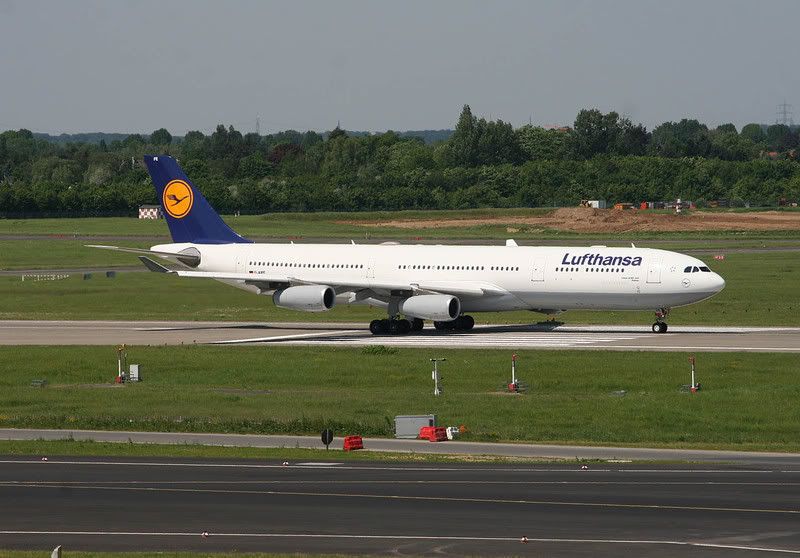 Tuifly with some smoke
the landlord of DUS
never saw this one or this airline before, some researches say Aurora Airlines
as I said, AB is very big at DUS!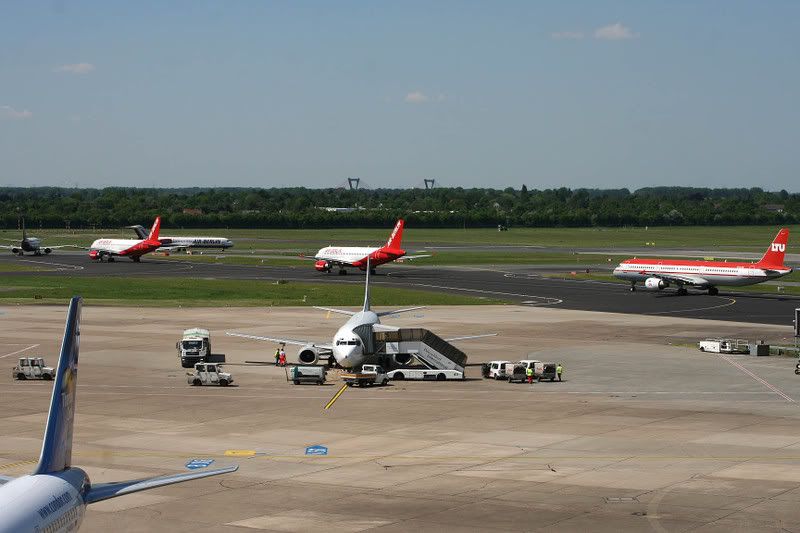 Izair operated on behalf of Pegasus to Istanbul - I'm connected with this airline as it is based in my hometown Izmir
winglet service to DTW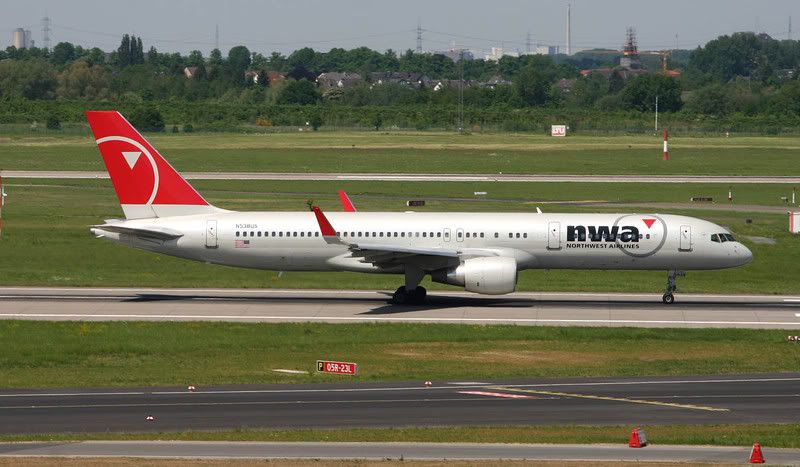 one of the two daily flights approaching 05R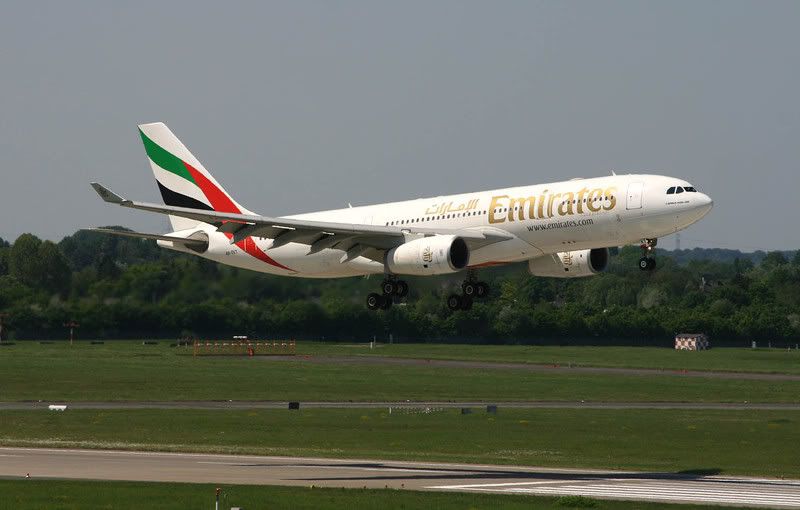 and finally the aircraft for my second flight today - luckily no equp.change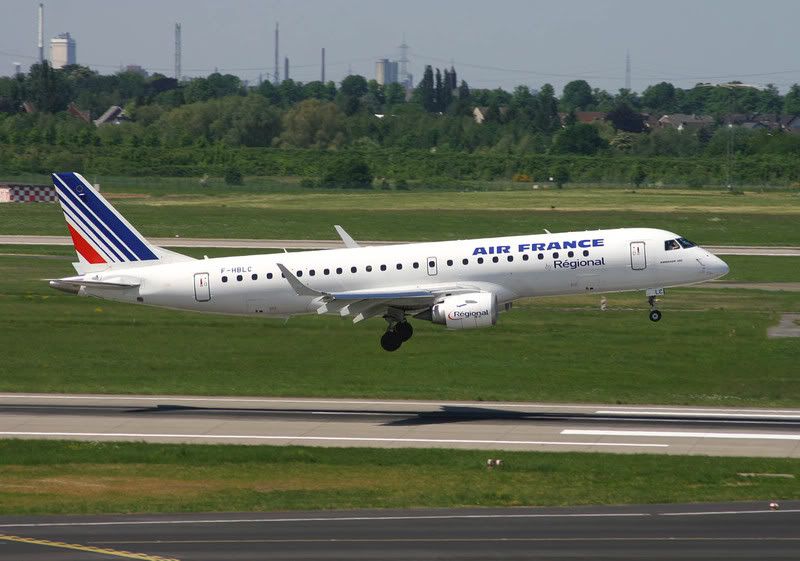 after 2pm and the arrival of the E190 I went inside the terminal again for check-in for my flight to CDG. Due to the very light load on this flight I got my seat immediately, I preferred window all the way in the back and got 18F.
After a good, but rather expensive lunch at the Italian restaurant I made my way to the gate as only 45 minutes to STD.