Penang International (PEN) to Seeb International (MCT) via Kuala Lumpur International (KUL) and Dubai International (DXB)
Part I
Hello and welcome to my detailed trip report about my rather complicated journey from Penang, Malaysia to Muscat, Oman. Three flights in 24 hours, with two airlines in two classes; this trip report reviews each part of this journey in a distinct format. Each flight will be divided into the following sections: 'General Flight Overview', 'Departure Airport', 'Aircraft', 'Flight', 'Arrival Airport' and 'Overall impression' and a final score will be given at the end. More than 100 pictures should also help to convey the things that I describe more vividly than my words ever could. So please, grab a cup of coffee and indulge.
This is Part I of the report and features the flight from PEN to KUL with Malaysia Airlines.
Introduction
I currently live in Penang and I wanted to fly to Muscat to see some good friends of mine for a short holiday. This is more easily said than done. A non-stop flight between PEN and MCT would be a little more than 3000 miles and would probably take about five hours. However, no such flight exists, so the only solution is to fly through hubs in order to reach the destination. I decided that KUL and DXB are probably the most sensible hubs to fly through, as they are closest to my departure and arrival cities respectively.
I also had to select which airlines to fly. To be honest, I am not a big fan of Air Asia and their LCCT in Kuala Lumpur. It is far away from the main airport terminals and the price is often only marginally below Malaysia Airlines. In addition the LCCT feels like a temporary thin aluminum construction site shack and not a terminal building. Since it is only a short hop from PEN to KUL, I decided to fly Malaysia Airlines Economy Class between the two cities. For the remainder of the journey my airline choice was clear, because I prefer Emirates over Malaysia Airlines between KUL and DXB, especially in Business Class. For the final leg between DXB and MCT, I also chose Emirates Business Class so that I could get lounge access during my four and a half hour layover in DXB. Overall, the journey I planned would be more than 3800 miles long.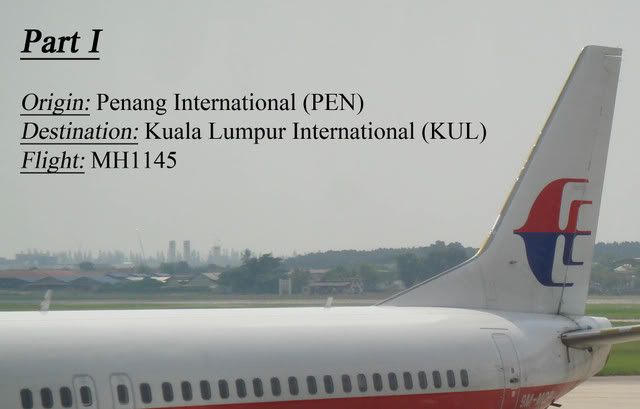 General Flight Overview
Airline:
Malaysia Airlines Systems (MH)
Flight number:
MH 1145
Origin:
Penang International Airport (PEN)
Destination:
Kuala Lumpur International Airport (KUL)
Distance:
201 miles
Scheduled departure time:
12:00
Scheduled flight time:
0 hours 55 minutes
Class of Travel:
Economy Class
Seat:
19B
Aircraft:
737-46J
Registration:
9M-MQP
Departure Airport
Penang International Airport (PEN) is relatively modest in size when compared to the big hubs in the South East Asian region, such as SIN and BKK. More than three million passengers now use the airport every year and construction for terminal expansion has just been completed. Air Asia now heavily uses this airport and they seem to have invaded what was once a Malasyia Airlines fortress.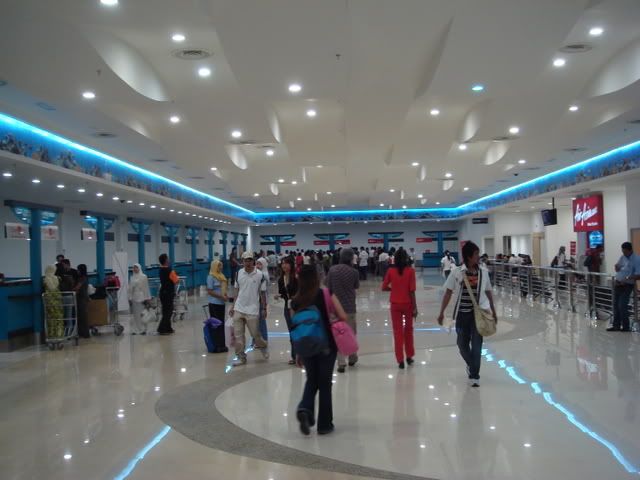 The newly completed expansion housing more check-in desks – especially for Air Asia.
I arrived at the airport at 10:50, with more than an hour to spare before my flight. As usual, the Air Asia check-in desks were swarmed by the masses, yet those belonging to Malaysian Airlines were calm and unvisited. This has become a trend nowadays and it is a little sad actually, because Air Asia is not that much cheaper and their service, from my experience, is nothing to write home about.
The rather pristine Malaysian Airlines check-in counters
Check-in was efficient and there was no queue. I only sent my luggage to KUL, because of my long layover. The agent told me that the flight was quite empty and gave me seat 19B even though I said I wanted a window seat. Thank god 19A also turned out to be free as I would later find out. Nonetheless, the service was friendly and came with a smile, something that I was lucky to have plenty of during this trip. The agent thanked me for flying with Malaysia Airlines and wished me a pleasant flight. I thank him and went on my way.
I was checked-in and ready to go with more than an hour left until my departure time. There was plenty of time to burn. I unexpectedly met a friend of mine at the airport, heading to FRA, and we decided to go grab a drink at coffee bean.
The Coffee Bean was packed. Several flights were leaving to KUL and JHB within the next half an hour.
Breakfast, when we finally managed to find our own little piece of table real estate.
With a little more than 30 minutes until my scheduled departure, the terminal area was becoming increasingly crowded, so I decided to head through security to see if there were any interesting aircraft at the airport today. Naturally, it turned out that there was little to see at the terminal.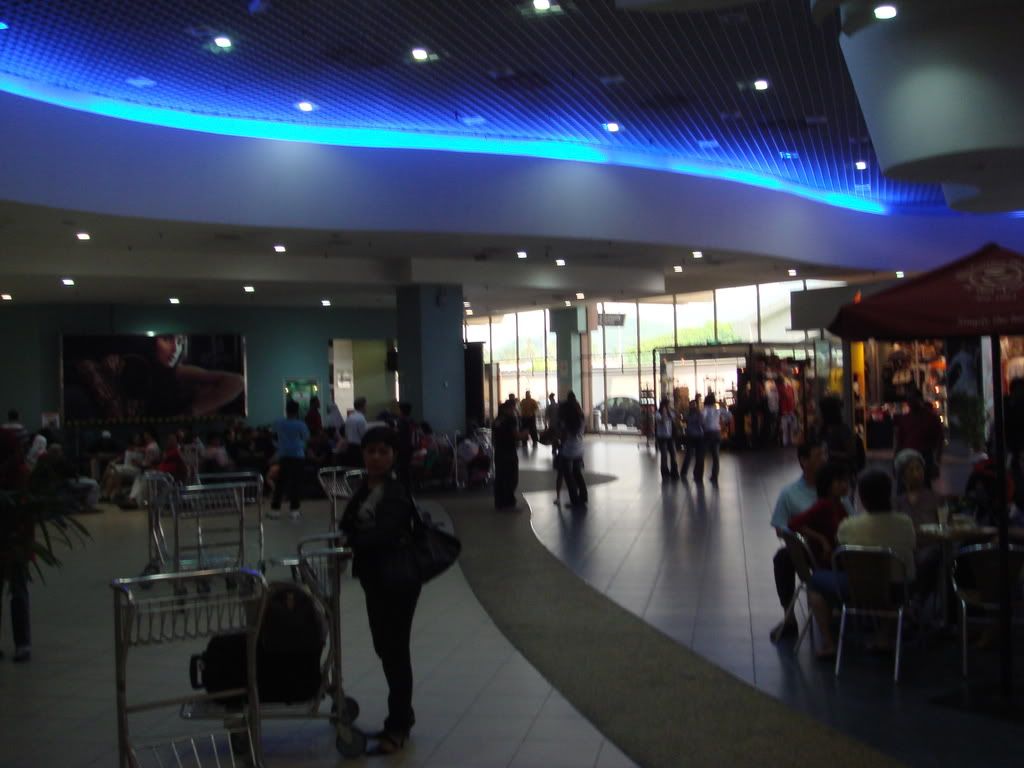 The blue 'mood' lighting at the departures hall. All possible seating was taken.
As with many smaller airports, when two or three aircraft depart around the same time, queues form quickly. Penang is no different and the long security line refused to get shorter as I tried to wait patiently. I stood in line for at least 10 minutes and my departure time crept closer and closer.
The security line which moved at a snail's pace. I was not amused.
When I finally managed to clear security, I walked straight towards the gate as the flight was already boarding. I have flown out of Penang Airport hundreds of times, so I am terribly bored by the terminal anyway. There is not much to do: a few duty free shops, one or two cheap restaurants and that's about it.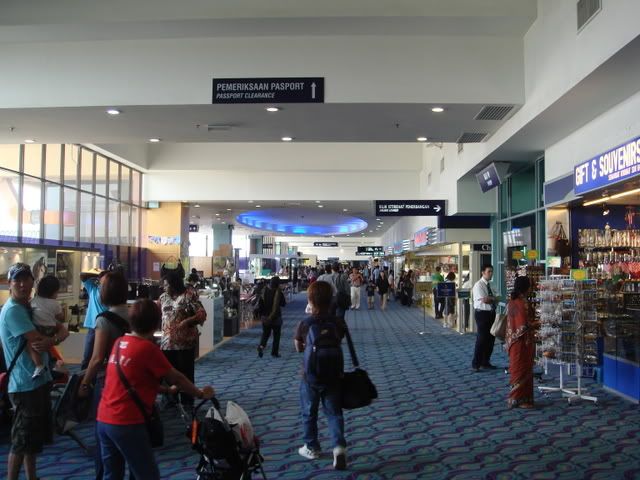 The rather crowded terminal at the other side of security.
I quickly walked to gate 12, where I saw that boarding had just started. My aircraft for today, 9M-MQP, stood in the morning sun, ready for its departure.
The first view of my aircraft today, 9M-MQP.
Gate 12 ready for boarding to Kuala Lumpur.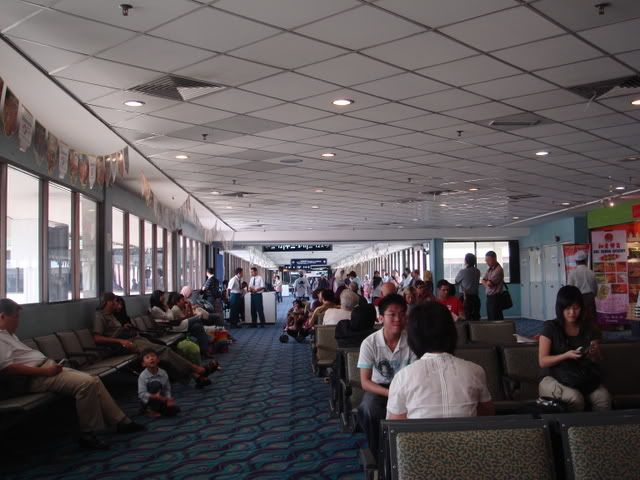 The waiting area in front of Gate 12.
As the load on today's flight was relatively light, there was no queue for boarding. I showed my boarding pass to the friendly Malaysia Airlines agent, who wished me a pleasant flight, and walked onto the aircraft. I was onboard at 11:45, 15 minutes before the scheduled departure.
Aircraft
The Boeing 737-400 is the workhorse of the Malaysia Airlines domestic fleet. However, many of the 37 aircraft are slowly beginning to show some signs of age, as they are used almost exclusively on very short flights, often under an hour. However, all of the 737-400 will be replaced with 737-800 by 2014, as Malaysia Airlines has just ordered 35 of them.
My aircraft today, 9M-MQP, was in a slightly better condition that most of the other 737-400s. The cabin was clean and the seats seemed newer than usual. This is probably because this is the latest 737-400 to join the Malaysia Airlines fleet, but it is not the newest 737-400, because it previously flew with Air Berlin. Nonetheless, it was nothing exciting or unusual, just another short flight on a plane I have flown countless times.
D-ABAI:
9M-MQP:
This 737-46J had its first flight in May 1996 with Air Berlin, where it was registered as D-ABAI. The aircraft is owned by WFBN who is now leasing it to Malaysia Airlines. The first flight as 9M-MQP was in May 2007, so the aircraft has only been with Malaysia Airlines for one year.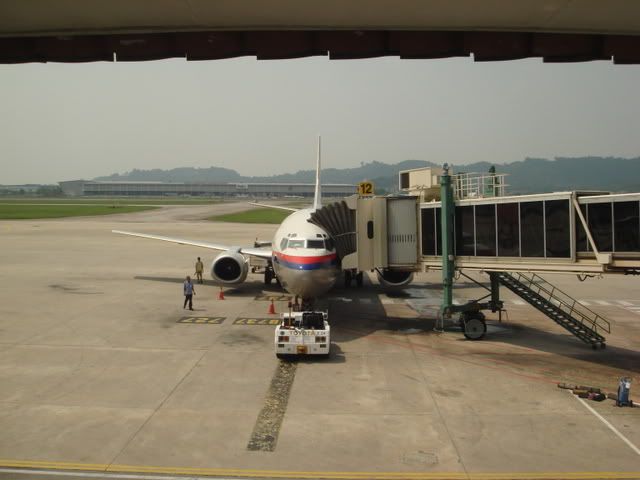 Frontal view of 9M-MQP as it was prepared for departure.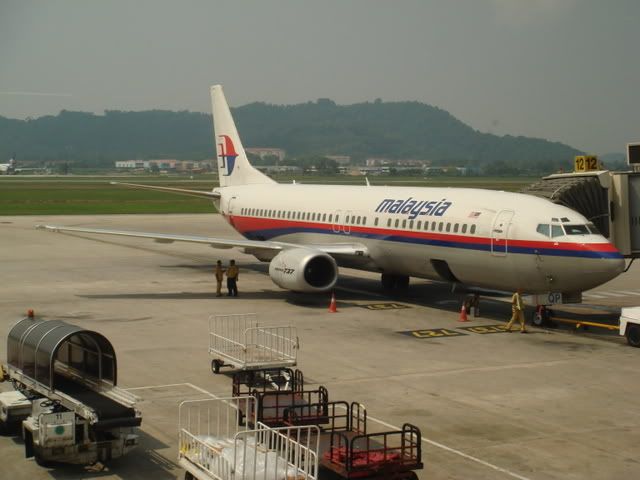 Side view of 9M-MQP as it was prepared for departure.
Flight
At the door, I was greeted by two smiling Malaysia Airlines Stewardesses with the usual 'Good Morning Sir'. This has happened on every Malaysia Airlines flight I have been on so far and I think it's a nice touch. I proceeded to row 19 and sat in my assigned seat, B. There were three cabin crew members on this short flight, all of them were female.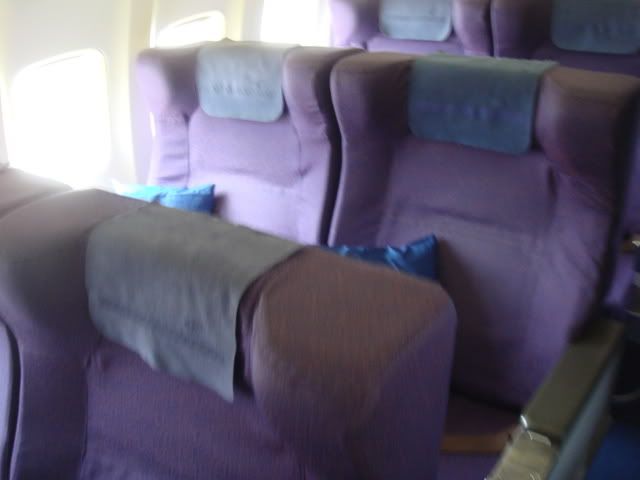 The Golden Club Class seats on this 737-46J.
Golden Club Class. Nice legroom for a 45 minute flight!
My boarding pass for MH1145.
Only a few more passengers trickled into the aircraft after I had boarded and soon the doors were closed. The load in Golden Club class was 60% and Economy class about the same. I was pleased that 19A has remained empty and quickly shifted seats. Soon the captain welcomed us aboard this short flight and notified us that the flight time was only 45 minutes at a flight level of 19000 feet. We pushed back at 11:53, 7 minutes early; a rare occurrence with Malaysia Airlines in my experience. I have often experience delayed flights and even cancelled flights between PEN and KUL, but maybe things have changed due to the strong competition from Air Asia.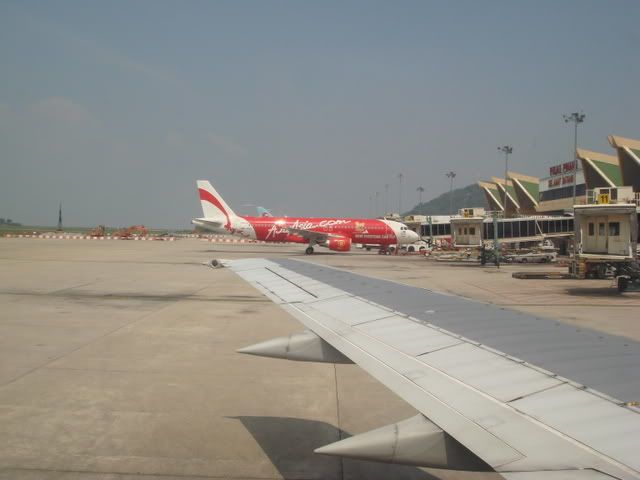 Air Asia 9M-AHG was also ready to go to JHB while we pushed back. Notice that it was parked at a gate with a Jetway, but the passengers still had to walk up the stairs.
A Korea Air Cargo 747-400F at the cargo stand with construction work in the foreground.
We then began to taxi towards runway 04, taking a slight detour due to the construction work. Even though our aircraft had overhead screens, the safety briefing was done the good old fashioned manual way.
Our pilot was taxiing towards the runway at great speed; maybe he forgot that this is not his car but a 45 ton aircraft?! He was cutting the corners like a racecar. Maybe he was unhappy about our detour.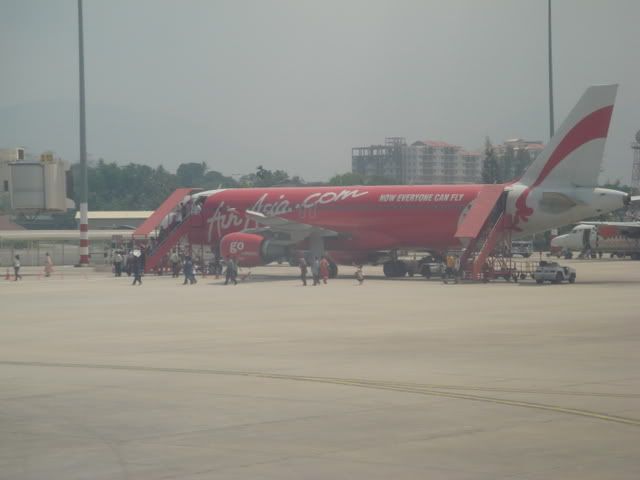 An Air Asia A320 which had just arrived from KUL.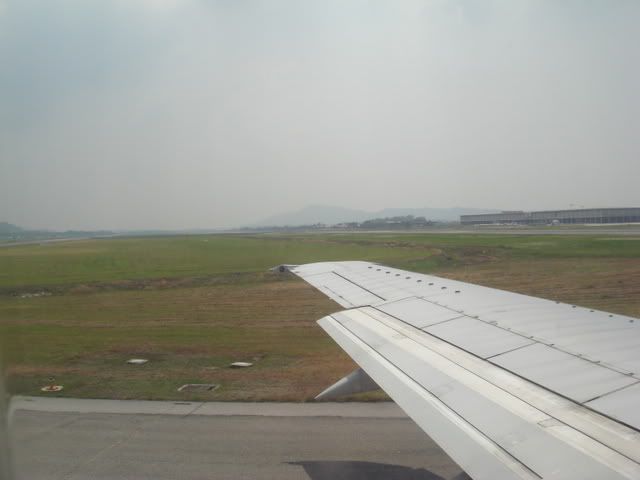 The view of runway 04/22 as we waited for takeoff clearance.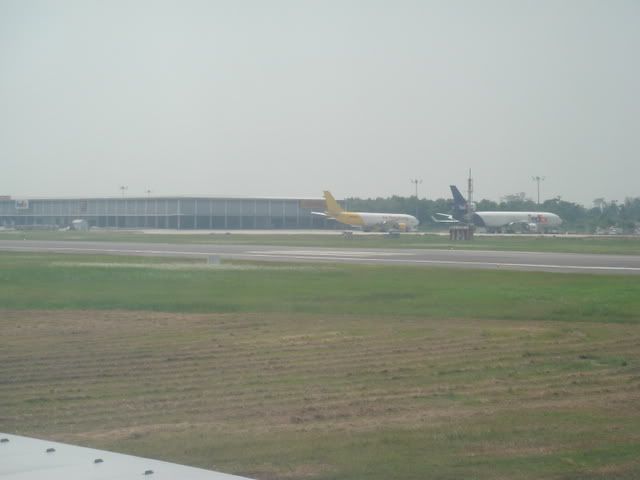 A DHL A310 and Fedex DC10 at the cargo ramp.
Another Malaysia Airlines 737-400, probably from KUL, landing before we are cleared for takeoff.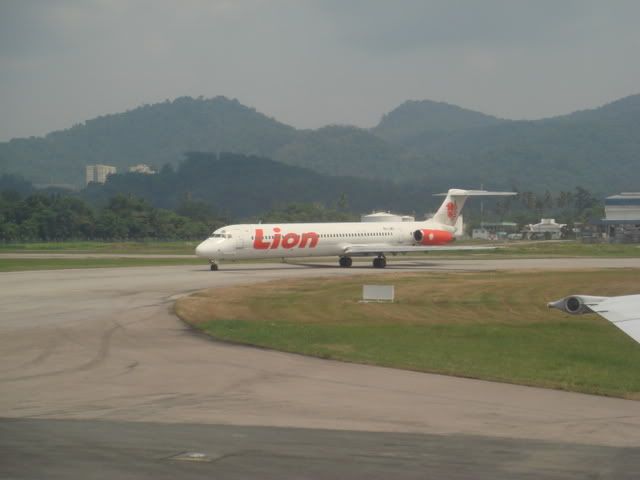 A Lion Airlines MD82 to Medan, Indonesia holding short behind us.
At 11:59, we taxied onto runway 04 and the CFM engines roared to life. I love takeoffs on these little planes: very noisy and very powerful. Always a pleasure.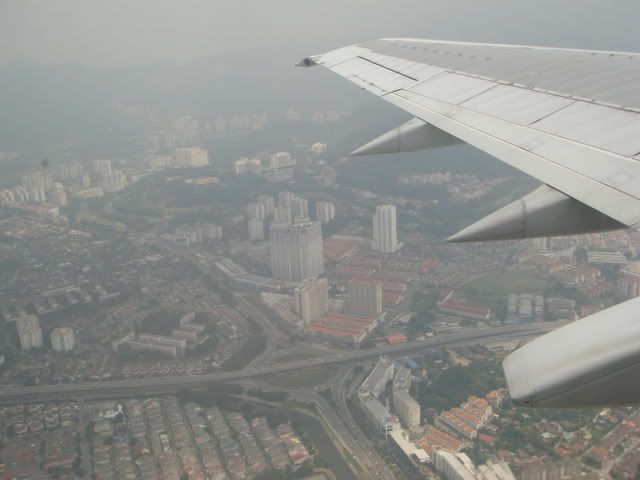 A smoggy view of Bayan Lepas after takeoff.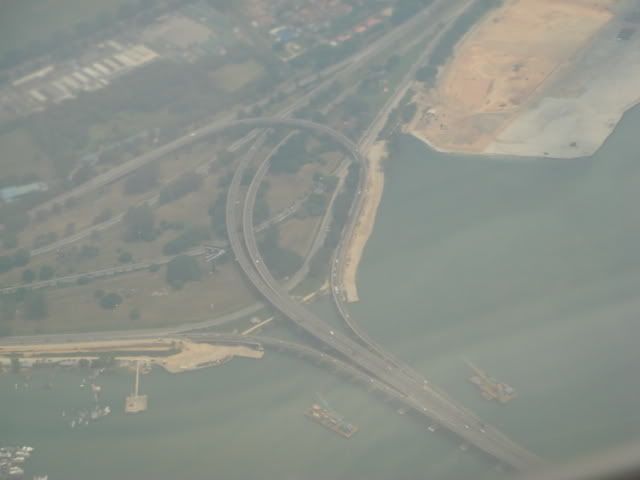 The start of the 13.5km Penang Bridge between Penang Island and the Malaysian Peninsular.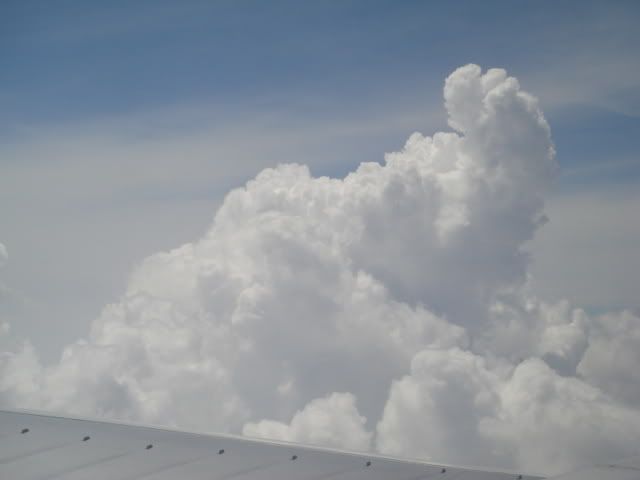 One of the massive cloud formations around PEN, making for a bumpy takeoff and climb.
The seats on Malaysia Airline's 737-400 were average. With 32 inch pitch there was enough legroom, even for taller people, on this short flight. I am about 1.8 meters tall and I was satisfied with the seats as they were comfortable enough for the short journey. However, I am sure my backside would have hurt if the flight had been much longer and I was glad to get up when I arrived in KUL.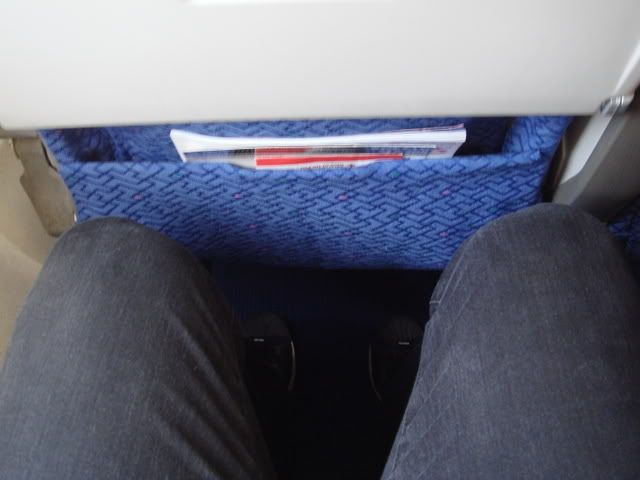 My legroom at seat 19A.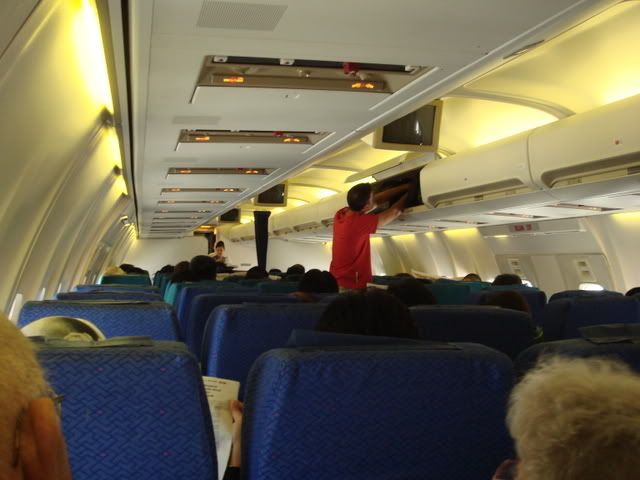 A cabin shot of MH1145. I am not really loving the blue-green color combination, but it is still a million times better than the sludge green that Qantas will have in their A380's Economy class.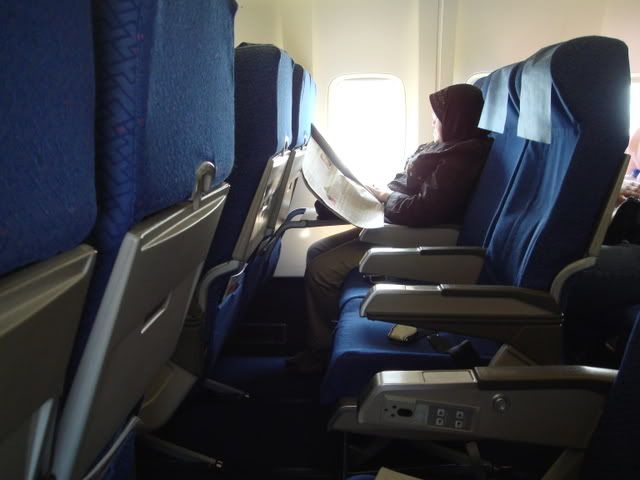 A view of row 19. Only one other person sat with me in this row.
Soon after takeoff, one of the friendly flight attendants handed out some peanuts. Her service seemed natural and she smiled. This was the only food on this 45 minute flight, which is a little disappointing. How about a little sandwich please?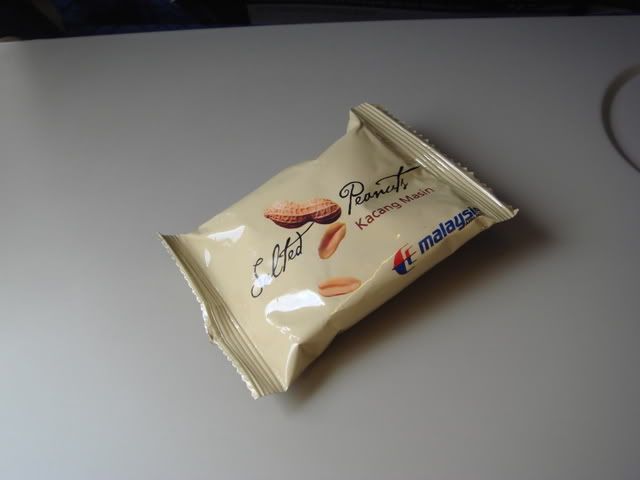 My 'meal' on this flight: Peanuts.
About 10 minutes after takeoff, we had reached 19000 feet and were cruising over the clouds. I get bored rather quickly when there is nothing to see out of the window. Thank God (or Apple) for the invention of the iPod.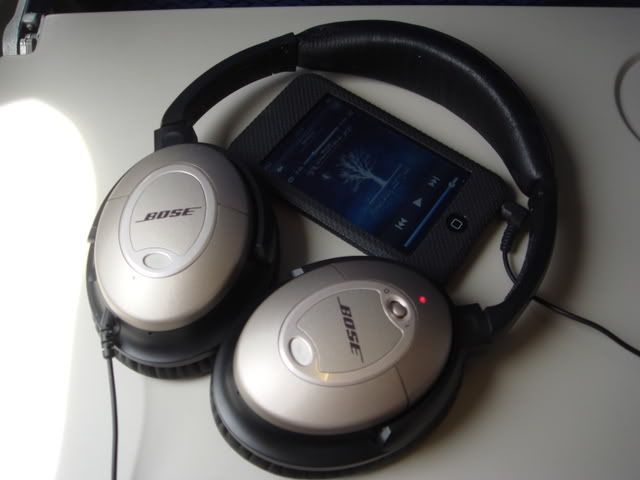 My only entertainment: the iPod.
Soon after the peanuts, the same flight attendant came around with some Guava juice. I was surprised that there was no orange and I am not a big fan of Guava. Sure enough, the juice was absolutely repulsive. It smelt like armpit juice and tasted just as foul, leaving a revolting taste in my mouth that would accompany me for the remainder of my day.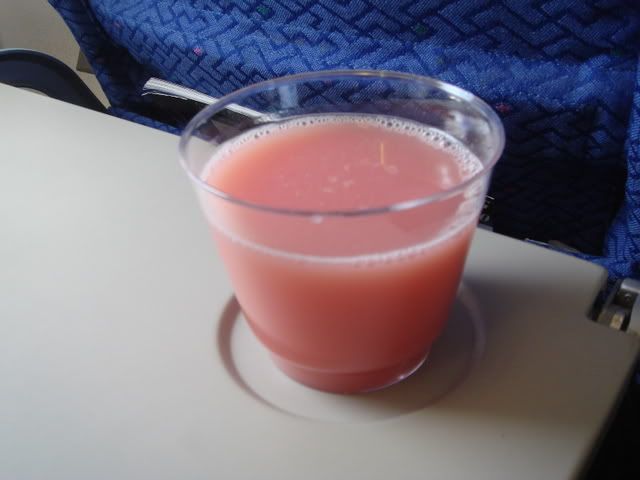 My Guava juice. I feel sick just looking at it. The artificial color also bothers me.
The remainder of the flight passed without incident. The friendly flight attendant came to collect my unfinished juice soon after and we started our decent into KUL by 12:28.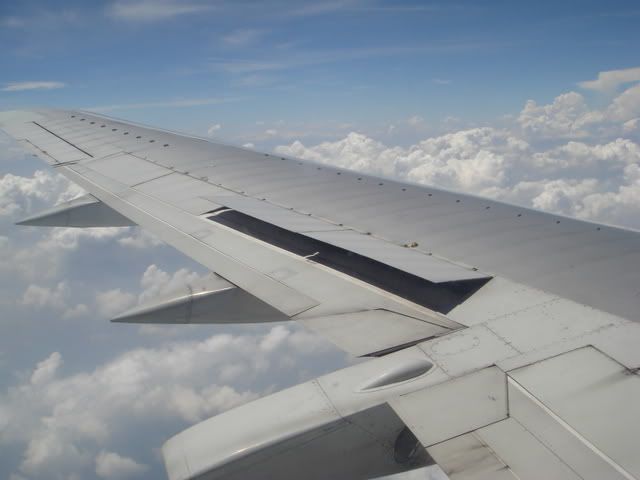 The speed brakes were deployed as MH1145 started descending into KUL.
Usually, I have found that I always land on runway 32L/32R when I fly from PEN to KUL, which means that a lengthy flight past the airport is required before the aircraft comes back on itself. This time however, we were landing at runway 14R, which greatly reduced our flight time even more.
The descent was very bumpy as we passed through thick layers of clouds.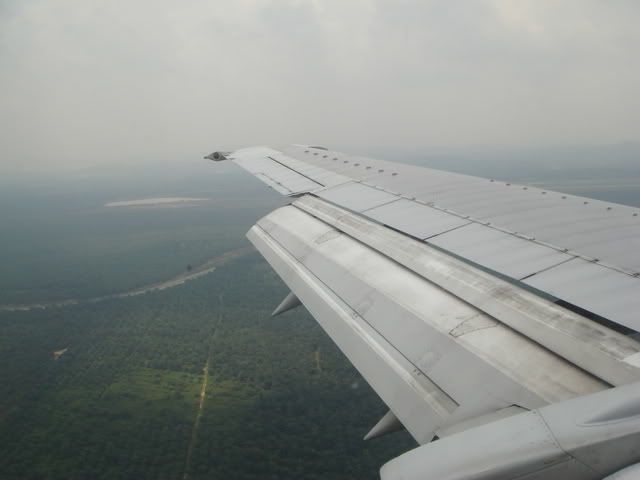 Palm oil plantations as we neared runway 14R with flaps extended.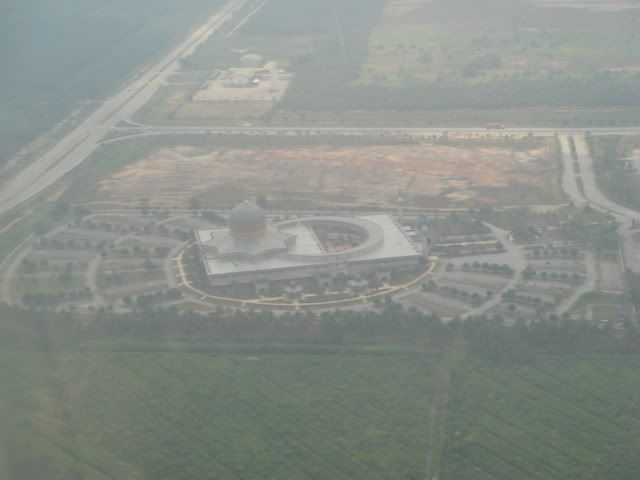 A large Mosque near KUL.
The magnificent tower and terminal at KUL came into view.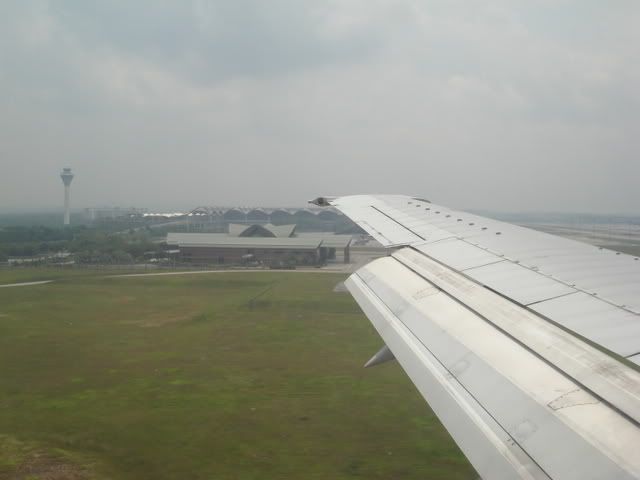 Just before touchdown on runway 14R.
MH1145 landed at 12:45, 10 minutes before schedule. The landing was very hard and we bounced a few times, but I was not surprised. I have found that landings on Malaysia Airline's 737-400 are never even close to smooth. I just wonder who is at fault: aircraft or pilot?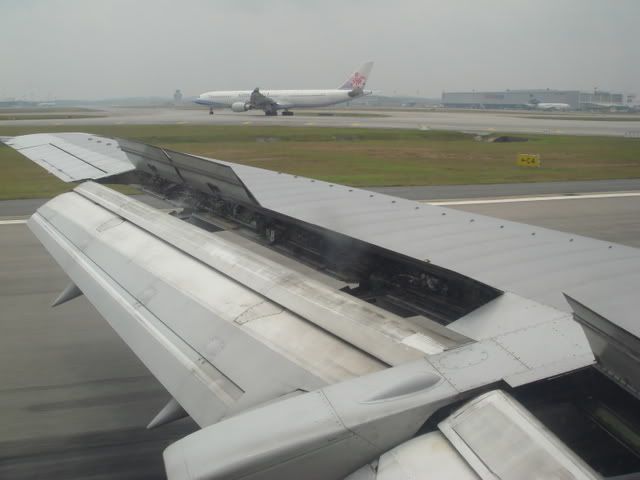 A hard touchdown with speed brakes extended. A China Airlines A330-300 from Taipei taxis to the terminal.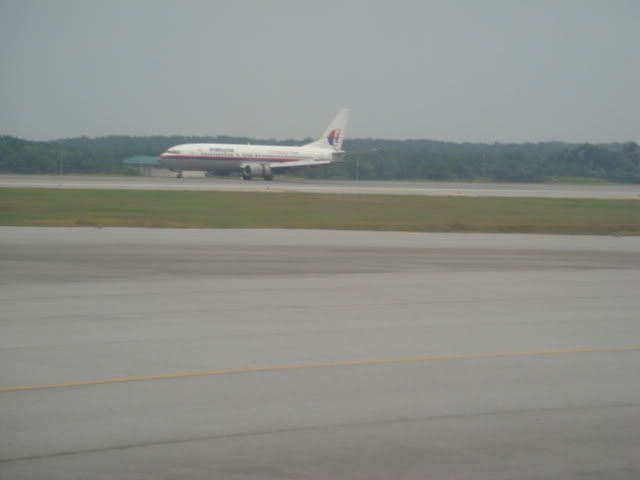 Another Malaysia Airlines 737-400 landed after us, most likely from KCH.
As we taxied to the terminal, we were welcomed to KUL by the flight attendant. I did not pay much attention I was busy looking at the beautiful architecture at KUL, but I did notice that she said the local time was an hour after what it actually was. I can only hope everyone knew that she was wrong and that they did not adjust their watches. Once again, our pilot seemed to be in a hurry as he raced around the corners as if he was on steroids.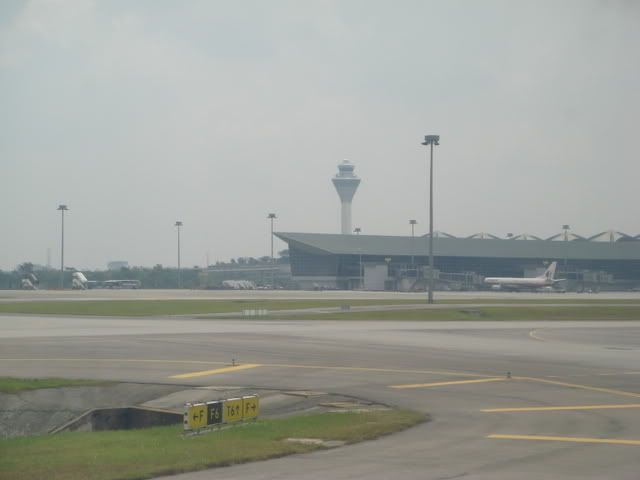 The very beautiful, but often empty KUL terminal with the tower in the background.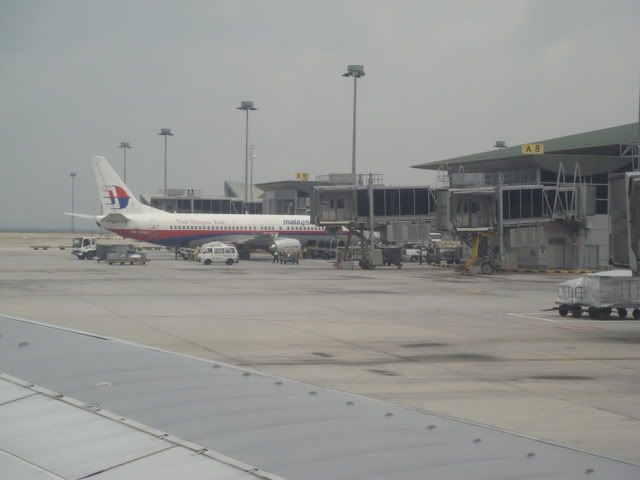 Most of the stands were empty apart from another 737-400 and an A330-300
We arrived at gate 5 at 12:52, still three minutes ahead of schedule. As usual, everyone rushed as the aircraft came to a standstill. I really do not understand why people don't just sit and wait until it is actually time to deplane. It is much more peaceful to sit than to stand on the cramped isle anyway. I gathered all of my belongings and as I left the aircraft I thanked the crew for their service as they wished me a pleasant day.
Arrival Airport
Kuala Lumpur International Airport (KUL) is still a relatively new airport as it only opened in 1998. Recently, however, with the poor performance of Malaysia Airlines, it is often called a white elephant because there are so few passengers using it. Much of the airport feels empty and cold, which I think is a pity because it is such a wonderfully designed airport.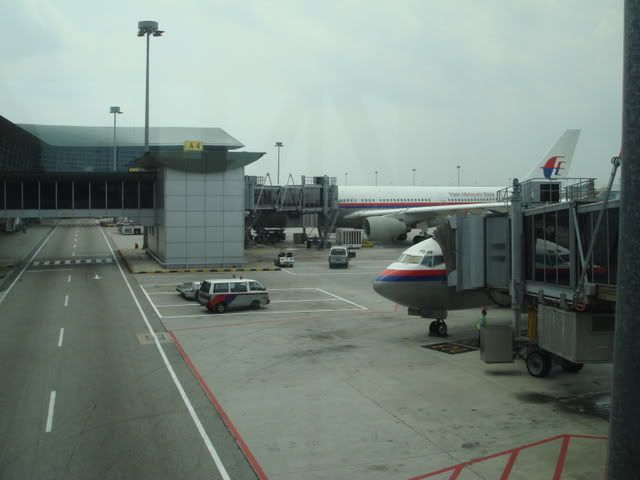 9M-MQP stands at gate 5 with a larger Malaysia Airlines A330-300 by her side.
One thing I do not like about the terminal at KUL, and most hubs for that matter, is the long walking distance everywhere. This time was no different and it took me about 10 minutes of fast walking to reach the baggage claim area.
The long walk to the baggage claim hall begins. Sadly the moving walkways are blocked by people standing on them.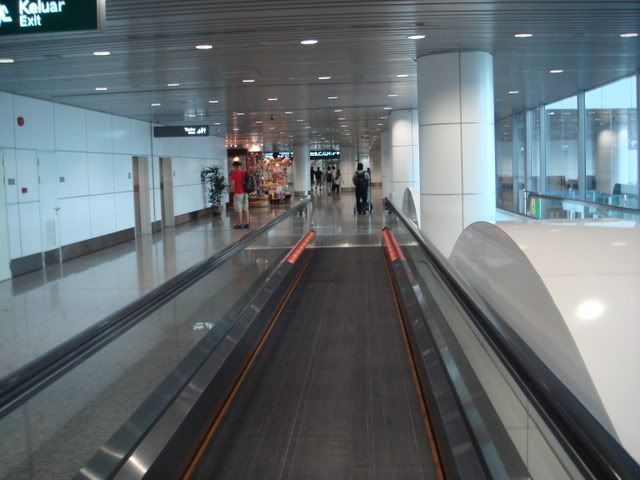 The seemingly never-ending terminal building.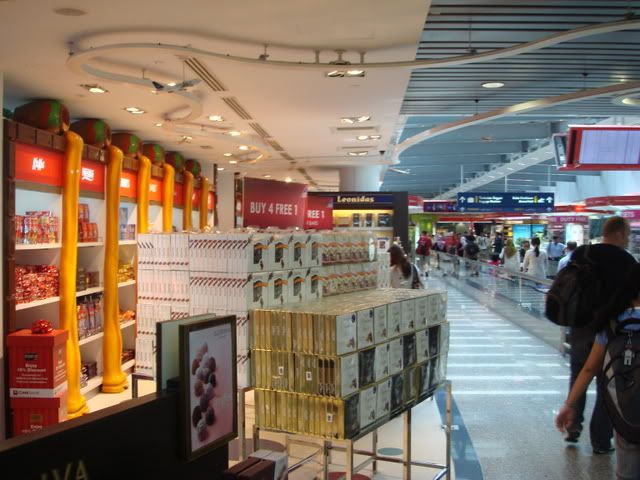 Duty free shops line the terminal near the baggage hall at KUL.
To my astonishment, when I arrived at the baggage claim the first bags had already arrived. It is nice to see that the days of endless waiting for luggage in KUL are long gone. That just gives me another reason to never fly Air Asia which uses the LCCT. You might as well have lunch after your flight before the baggage arrives there.
The screen showed numerous domestic flights arriving at KUL.
Surprisingly, the first luggage from MH1145 had already arrived.
My luggage arrived quickly and by 13:05, I was in the arrivals hall. My flight with Emirates to Dubai was only departing at 00:55, so I had a good 12 hours to go into Kuala Lumpur for the day. As always the sheer size of the arrivals and departures hall at KUL dwarfed me and all I could do was look up at the ceiling far, far above me. I think that the design of KUL has to be one of my favorites amongst airports.
As I walked all the way across the arrivals hall, I am asked for a taxi countless times. To be fair, I did look like your typical tourist with my camera and luggage, but it did get a little annoying after some time. I finally arrived at the lost baggage counter where I could store my luggage for the day. The staff was once again friendly, and in as little as five minutes I was ready to proceed to Kuala Lumpur with the KLIA Express train.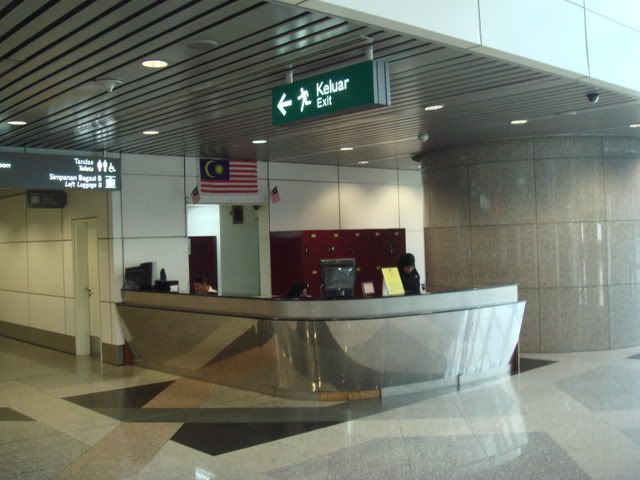 The lost baggage counter where I stored my luggage for the next 10 hours.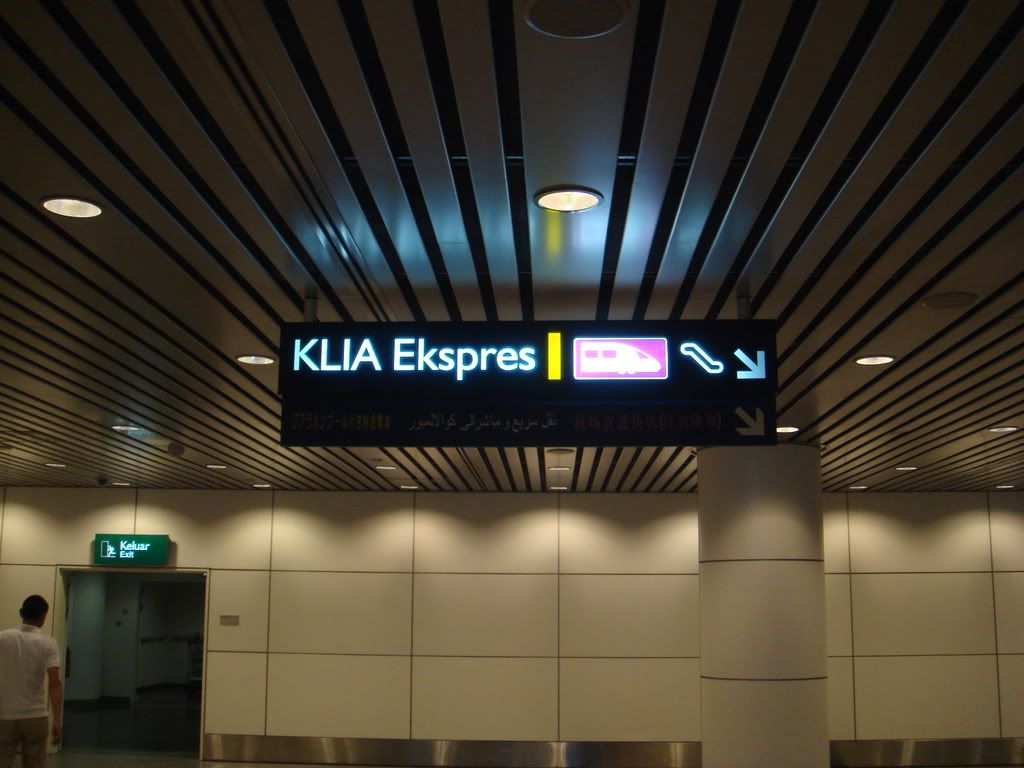 The way to the KLIA Express which took me into Kuala Lumpur for the day.
Overall Impression
The flight on MH1145 was short, average and forgettable. The aircraft was showing signs of its hard short haul career and the food and drink service was as good as none existent. I especially hated the Guava juice. The crew on the other hand, helped to improve my experience greatly. They were always friendly and always helpful, whether on the ground or in the air. This is something that you do not see very often anymore these days, especially on European and US journeys. In the end, this trip was merely meant to shuttle me to Kuala Lumpur so that I could continue my journey with Emirates to Dubai and Muscat.
In order to give each of my flights a score, I have looked at some of the methods used by my fellow A.netters to create a new scoring system for my trip reports. I hope you find it effective. Thank you especially to Abrelosojos, who gave me many ideas for the weighting of the scores..
(2.0) Booking: 7.0
(1.0) Check-in: 6.0
(1.0) Airline Airport Facilities: N/A
(0.5) Boarding: 8.0
(2.0) Seat: 5.0
(1.0) Entertainment System: 1.0
(2.0) Crew: 9.0
(2.0) Food and Drink: 2.0
(0.5) Amenity kits and other freebies: N/A
(0.5) Arrival: 9.0
(1.0) On-time performance: 10.0
Overall weighted score: 5.96
Thank you for taking the time to read this first part and I hope you have enjoyed the trip from PEN to KUL. As always, any comments and opinions are welcome and appreciated. Part II from KUL to DXB and Part III from DXB to MCT will follow within the next few days.
Best Regards,
Globetraveller
[Edited 2008-05-22 00:37:22]