Unexpected, the A340-600 domestic MAD-LPA
Hello, dear readers,
welcome to a new story.
As the title show´s, something unexpected catched me!.
First, I will tell you some more background´s around these trip.
My family decided to go for a week to Gran Canaria. I´ve booked them on Condor nonstop from FRA, with me joining for the weekend.
The Condor service was scheduled to leave 2.25 pm on a 753, later rescheduled to 06.45 am on the A320 and finally
delayed to 2.30 pm on the 763, nearly the original flight time.
I´ve managed comfort class seats when i´ve noticed the 763, DE payed a room at the Steigenberger conference center with full breakfast and lunch,
some potting time at the terrace for me and my son, relax for my wife and mother in law,
so no that bad in the end.
The return was also interesting, while Condor and FRA airport pages showed operated by an Condor A320, Amadeus told me around two months ago,
operated by AirBerlin on the 738 and finally it was an AB 738.
So, back to my story, also with time and equipment changes.
Saturday, 17.05.2008
FRA (Frankfurt-Rhein-Main) - MAD (Madrid-Barajas)
Duration: 2 hours, 20 minutes
Service IB 3507 operated by Iberia A319 EC-JAZ
Scheduled: 12.30 // 15.00
Actual: 13.10 // 15.30
Gate: D26 Seat: 25A
Load factor: Near 100%
Fare: 69,46 EUR per leg
History:
27.08.2004: Delivered to Iberia
Leg no. 31 on the A319 and the first on this machine
Two hours to go by car to FRA early Saturday morning. I´ve secured parking by TourCare, 26,60 EUROS three days, not bad, when you know that the single day at FRA airport costs around 28.-- EUROS. Only some five minutes away by shuttle from the airport, friendly staff, real recommendable.
IB offers online-check-in, but the system dont want to accept me late Friday, I´ve called the help desk, if something goes wrong with my flights,
the friendly guy there told me, everything ok, this problem seems not unusual.
At the counter FRA T2 at 09.45 am, a sign shows desk open from 10 am.
Some self service machines there, jointly used by One world carriers, so I tried my luck, insert my Iberia Plus card and surprise, no problem to check in and secure seats,
the A319 seatmap to MAD and finally the A343 to LPA, window last row, as usual.
Two females arrived some minutes prior opening and after another ten minutes a friendly spanish girl
send my bag to LPA.
Time for another view from the terrace, heavy action, impressive.
Soon history?: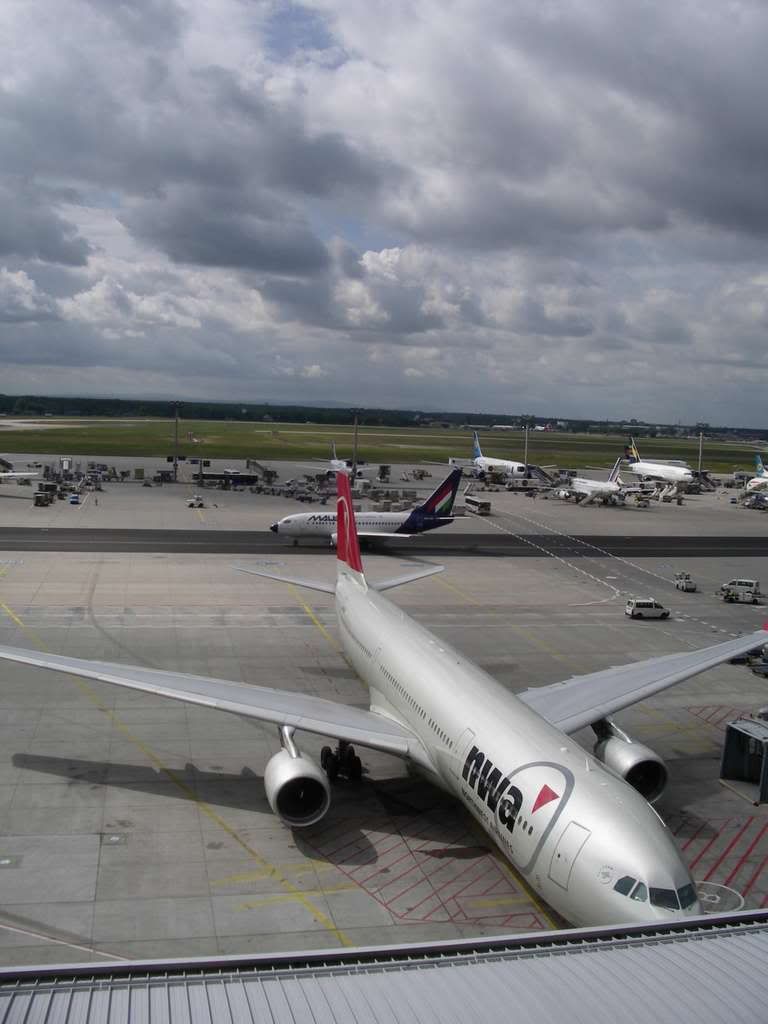 Gulf Air, new colours:
Eritrean Airlines:
Heavy departure queue:
Later I´ve passed security without any time to wait and was at the gate at around 11.30 am. Like most airports nowadays, also construction works at FRA T2,
blocked ways, diversions, not that easy for the non frequent travellers.
My plane arrived early from MAD, good to follow on the OPS screens, a nice FRA feature.
OPS inbound with my plane: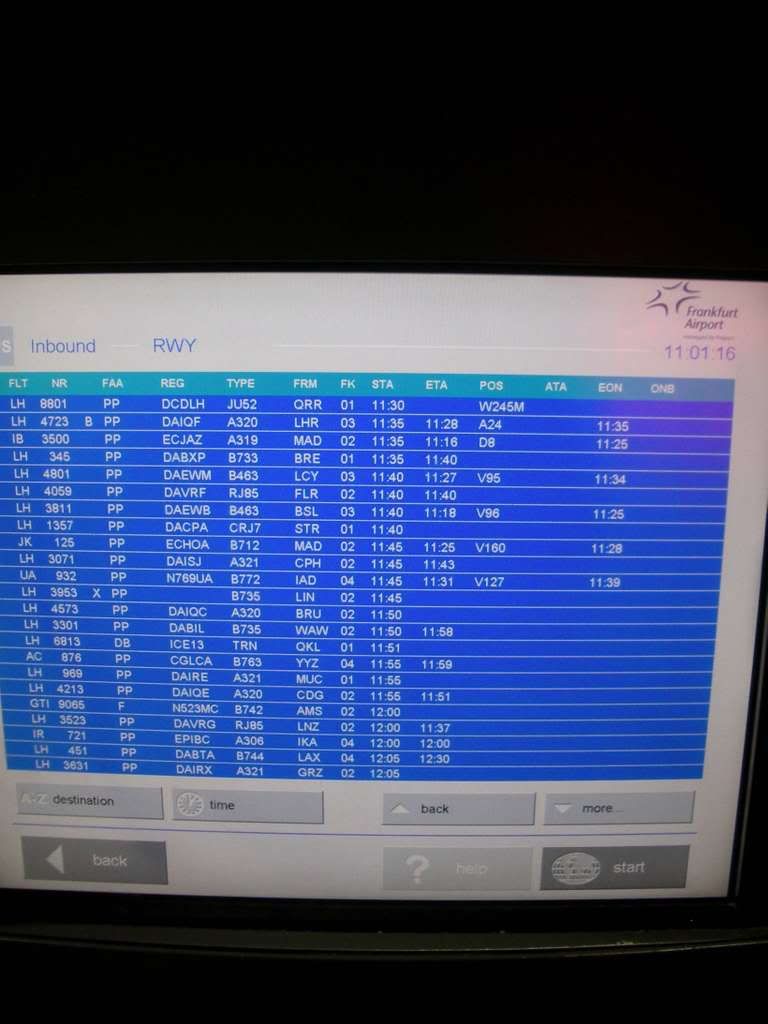 And outbound:
Arrival IB:
The action around the plane also good to follow from the gate.
At the gate: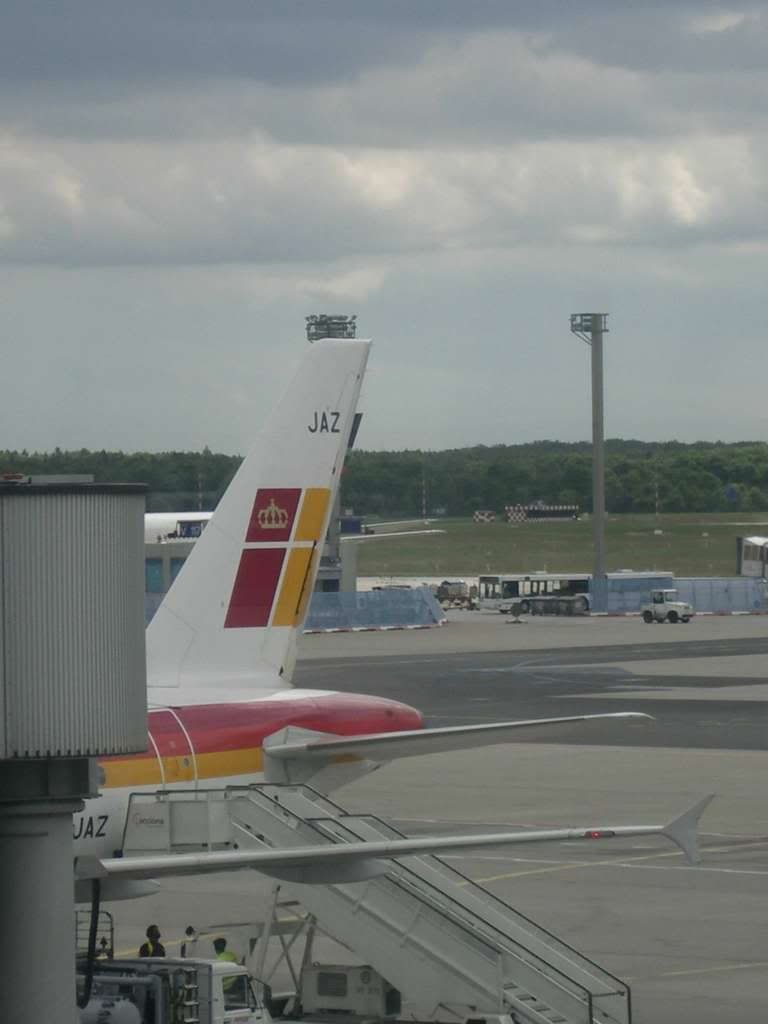 Heavy around the corner: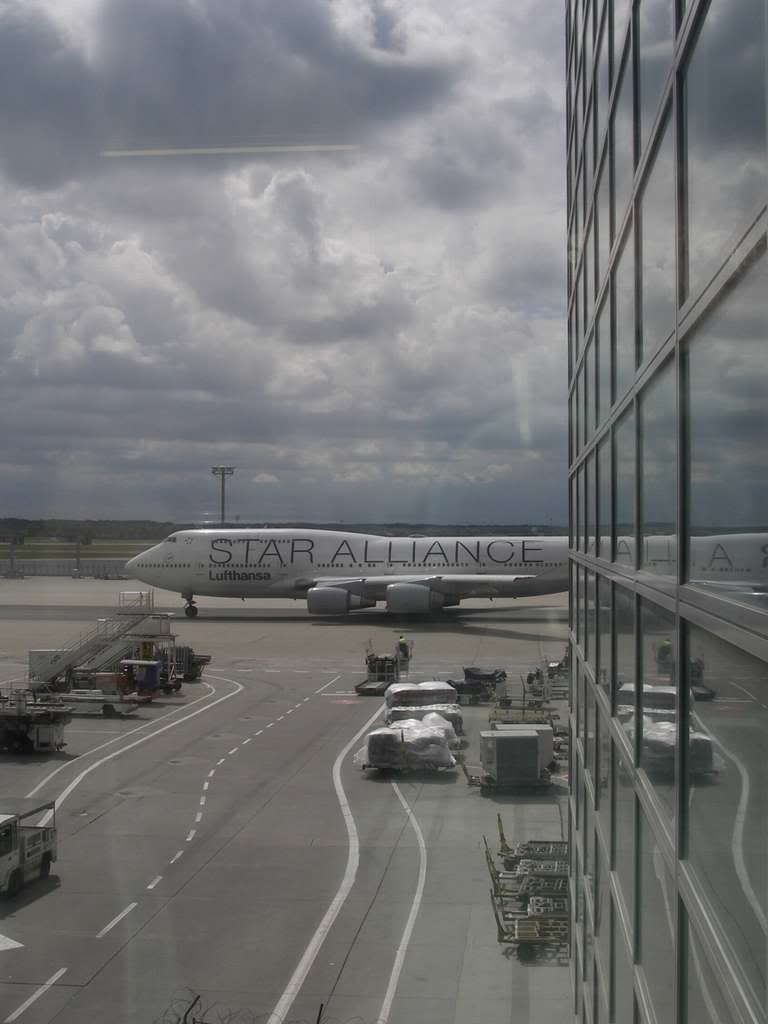 Also something special: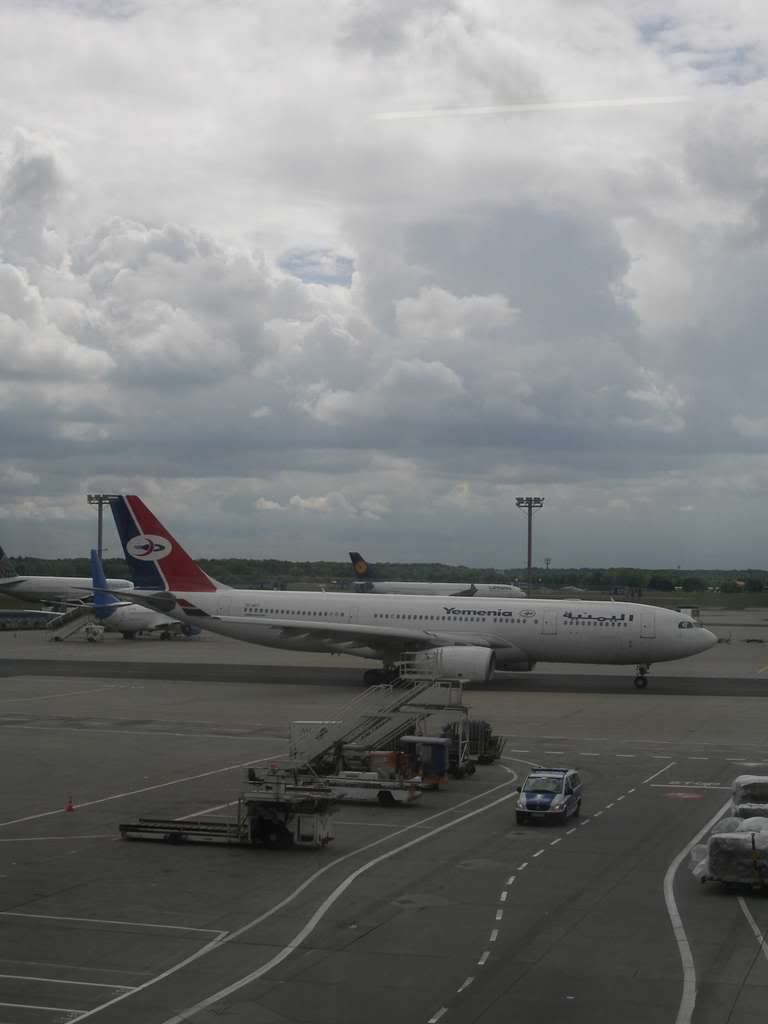 My machine:
And again: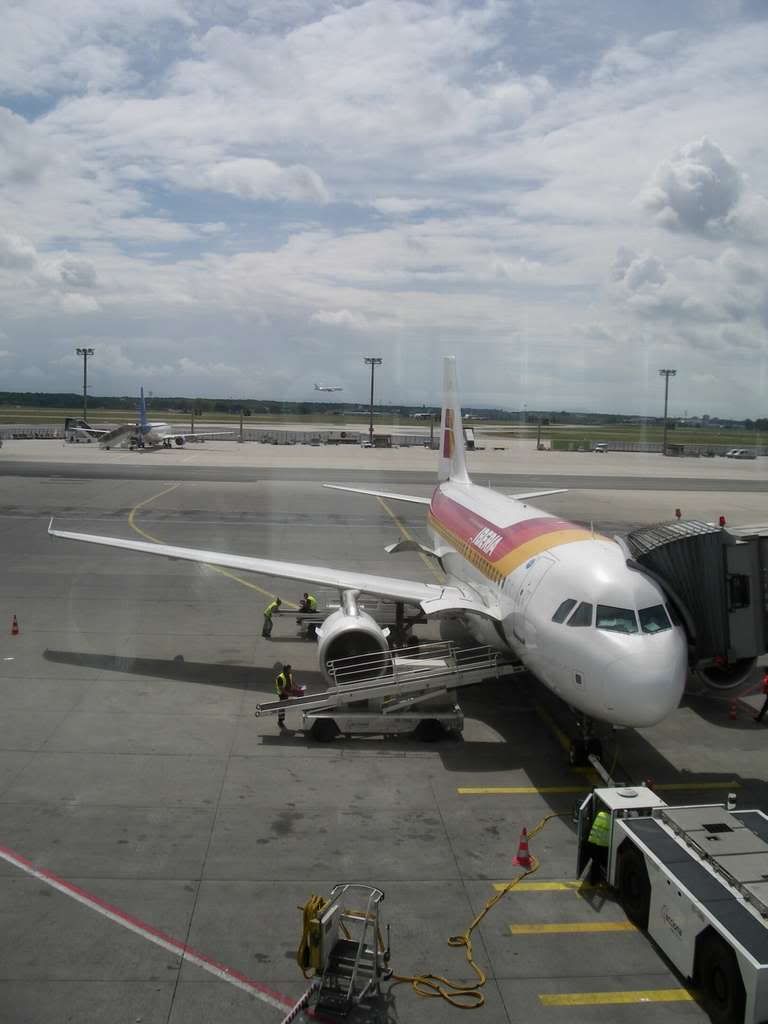 Some spanish pax there, a large group of retired germans on the way to Cuba and more germans on the way to sunny mediterranean destinations.
Nearly no biz pax today.
Boarding started some 15 minutes late, no reason to mention.
Two females, one not that friendly, one ok and one friendly male FA on the plane.
The machine fitted with stylish bright grey leather seats. Low legroom, dirty windows, cabin not that really clean, not the best first impression.
Interesting magazine:
Low legroom:
Departure from runway 18 after some more minutes to wait.
We´re joining french airspace soon, heading south to Clermont-Ferrand, Pau, and over the Pyrenees to Pamplona.
Mostly cloudy, no good views on this leg.
Beneath some newspapers, no service.
Only a very short comment from the flightdeck, the crew was from spain, short ahead to arrivals into MAD about the wheather situation there, no flightlevel info.
Heavy black, deep clouds around MAD, approach was therefore really bumpy, arrival on runway 33L.
No rain during taxi, but when we approached T4 it started with a heavy shower, all gates occupied, but finally we turned around and reached
a single empy one at the rear part of the terminal. Thanks god, no bus deboarding during the rain shower.
Rainy MAD: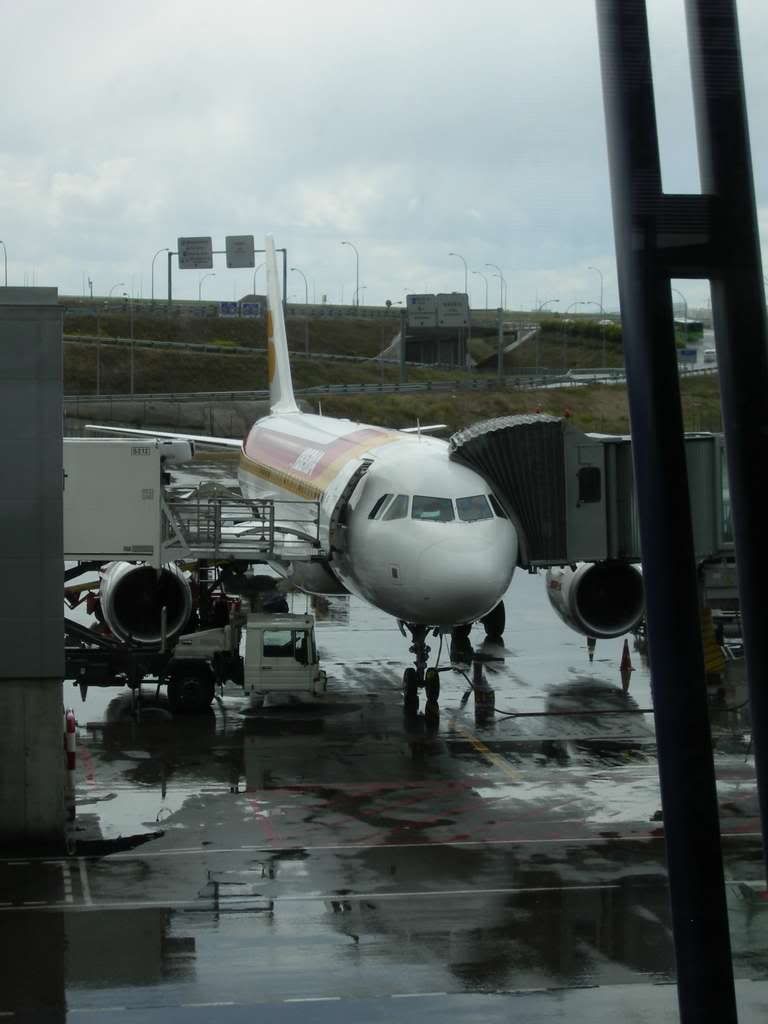 Further to my first time at MAD Terminal 4.
Saturday, 17.05.2008
MAD (Madrid-Barajas) - LPA (Las Palmas-Gando)
Duration: 2 hours, 35 minutes
Service IB 0808 operated by Iberia A340-600 EC-JCY
Scheduled: 17.00 // 18.45
Actual: 17.20 // 18.55
Gate: M43 Seat: 42A
Load factor: Around 90 %
History:
27.01.2005: Delivered to Iberia
Leg no. 1 on the A346
So, I´ve learned from the inflight magazine, that my assigned gate area M was at the T4 satellite.
Mainly used for the non Schengen flights and only reachable by subway train service.
OK, heading down the impressive, large and spacious T4 building to the central area, down some stairways and waiting for the subway to arrive.
Reached finally T4S, not that much pax around there, searching for my gate.
I´am looked really forward to this flight.
One more A340-300 flight, operated by Audeli Air Service, a company specialiced in subleasing planes to Iberia.
I´ve noticed not the scheduled A343 at the gate, no, much better an A346. But so I´ve thought, I was checked in on the A343, that seems bus boarding for me
and the A346 will do another flight from the gate beneath or else.
EC-JCY at my gate:
An -300 at the opposite gate:
I´ve walked around the deserted area, my flight was the only one here, do some pix. The line formed by other pax when boarding was called was unbelievable long
and as the first pax walked up the stairs and boarded the A346, I´ve marked some big thumps up to Iberia on my log sheet, my first flight on the A346 will coming up soon.
The agents picked all the pax with seat changes at the gate, so boarding need ages.
Finally, my machine: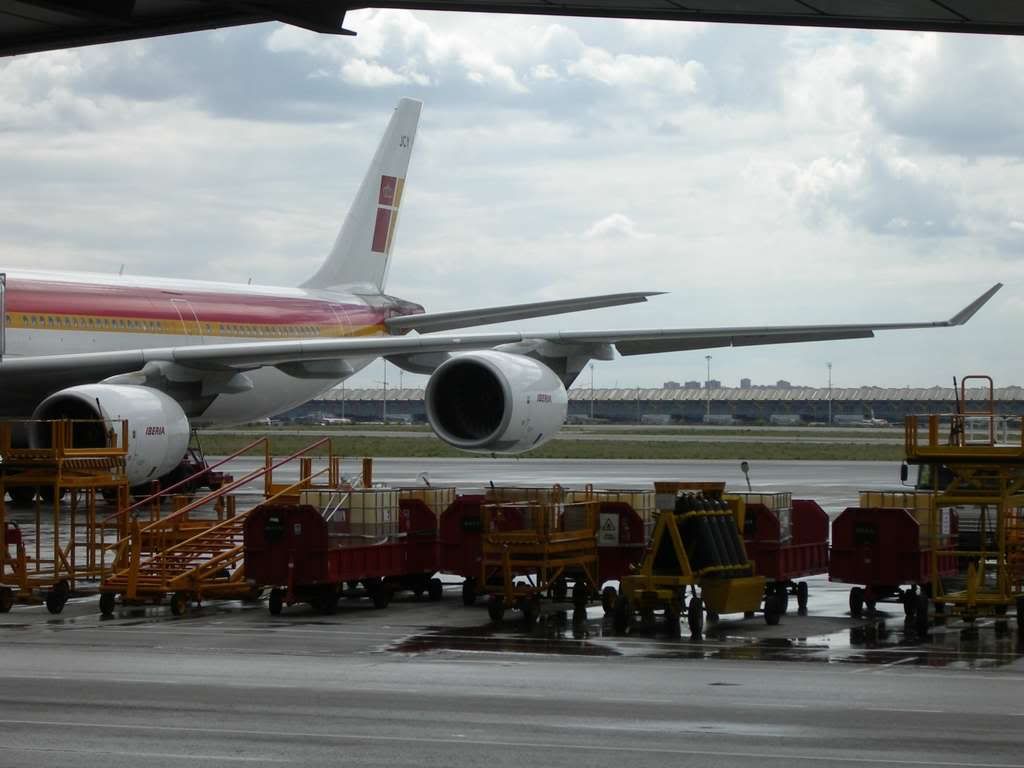 The other side: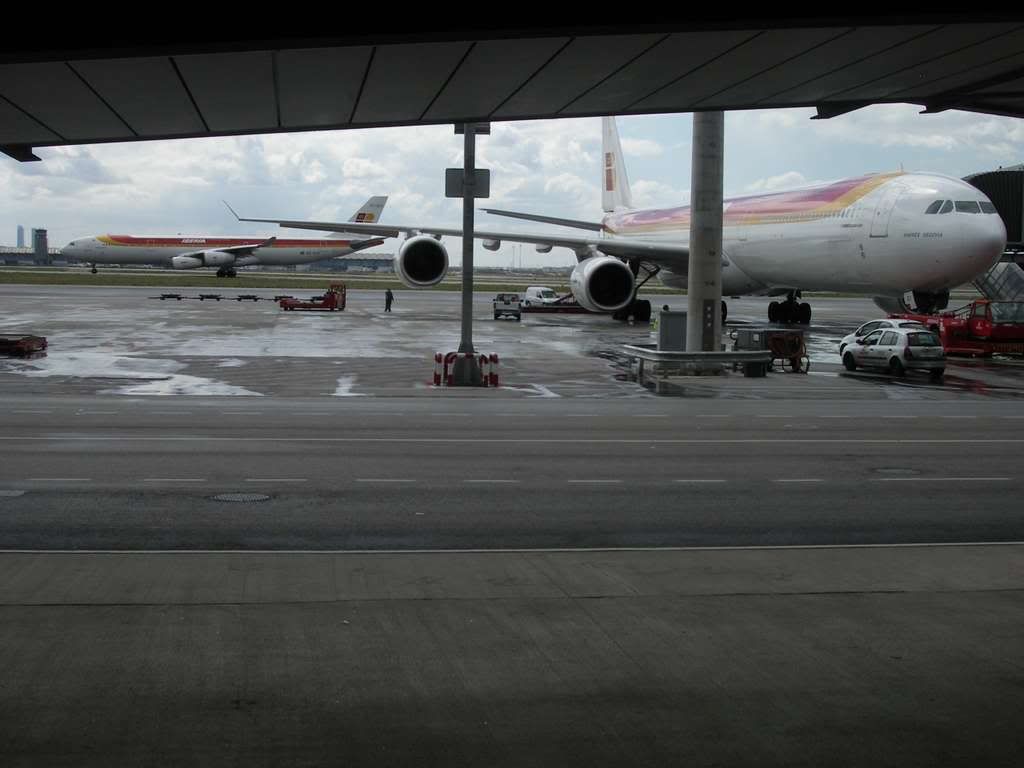 And again: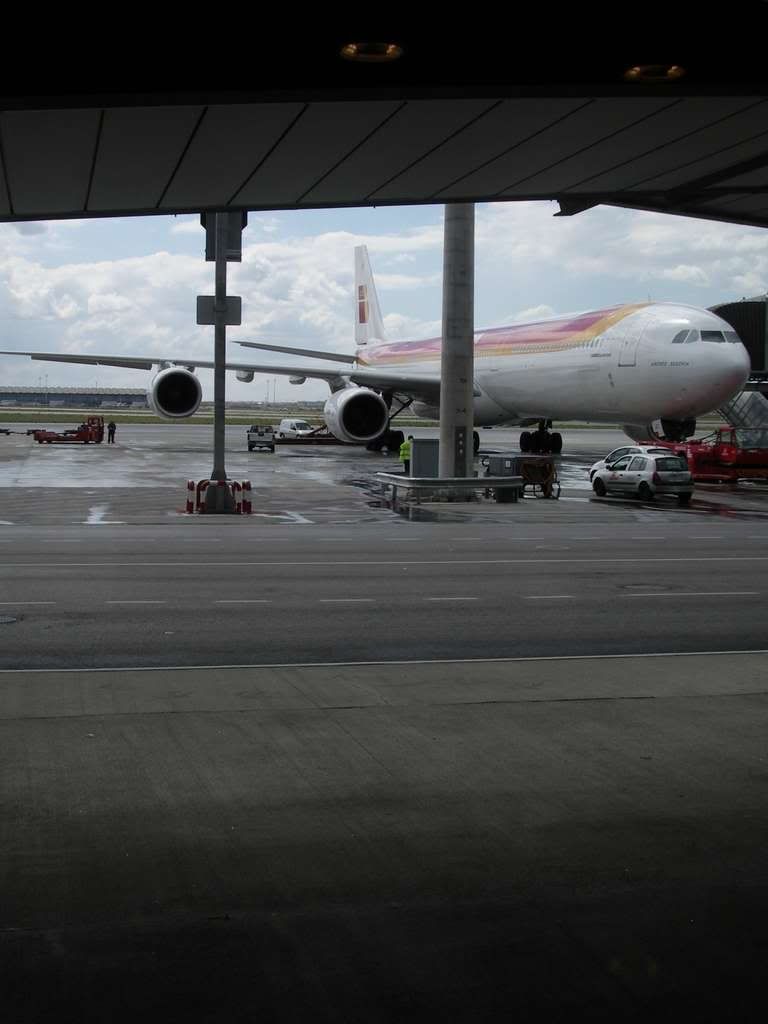 Now boarding:
Impressive engine: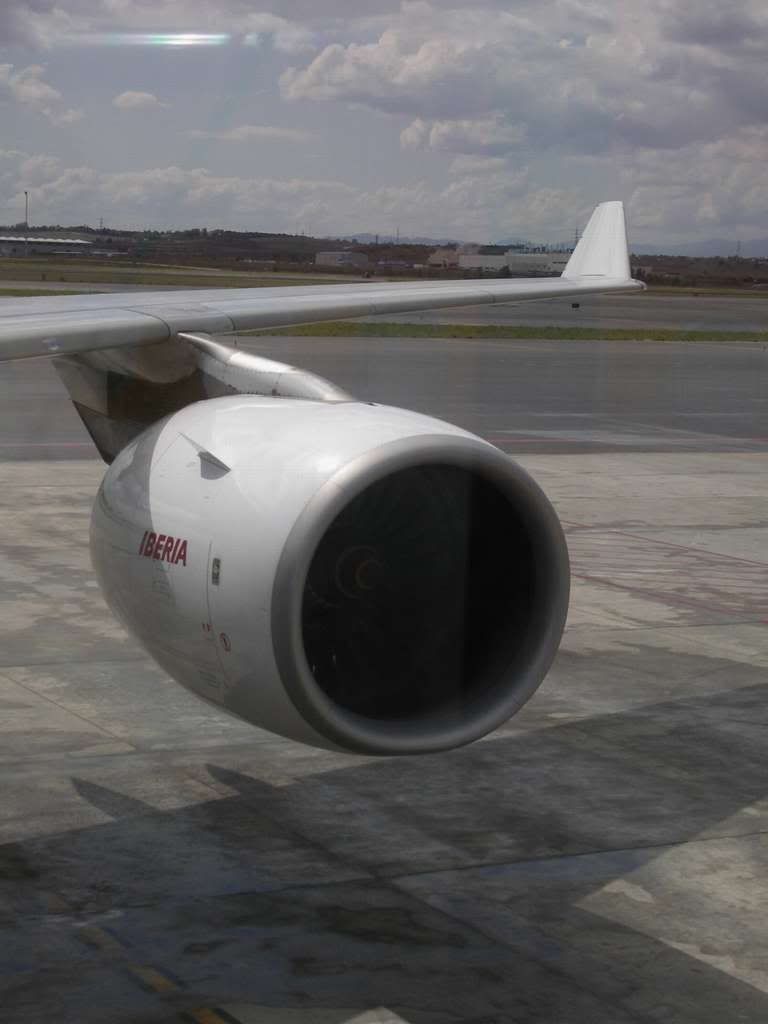 My seat changed to 36G, exit row ok, but no window, I´ve asked for another one and was redirected to 42A, where a male seated when I was there.
He changed again and I´ve had my window in the last part of the cabin.
From what I´ve saw, the forward cabin was 100% full, so it was not a technical change, it was needed to pax numbers on this service.
I´ve count one friendly male FA and six females.
Good legroom, but somewhat oldfashioned blue, grey, yellow coloured fabric seats.
Cabin: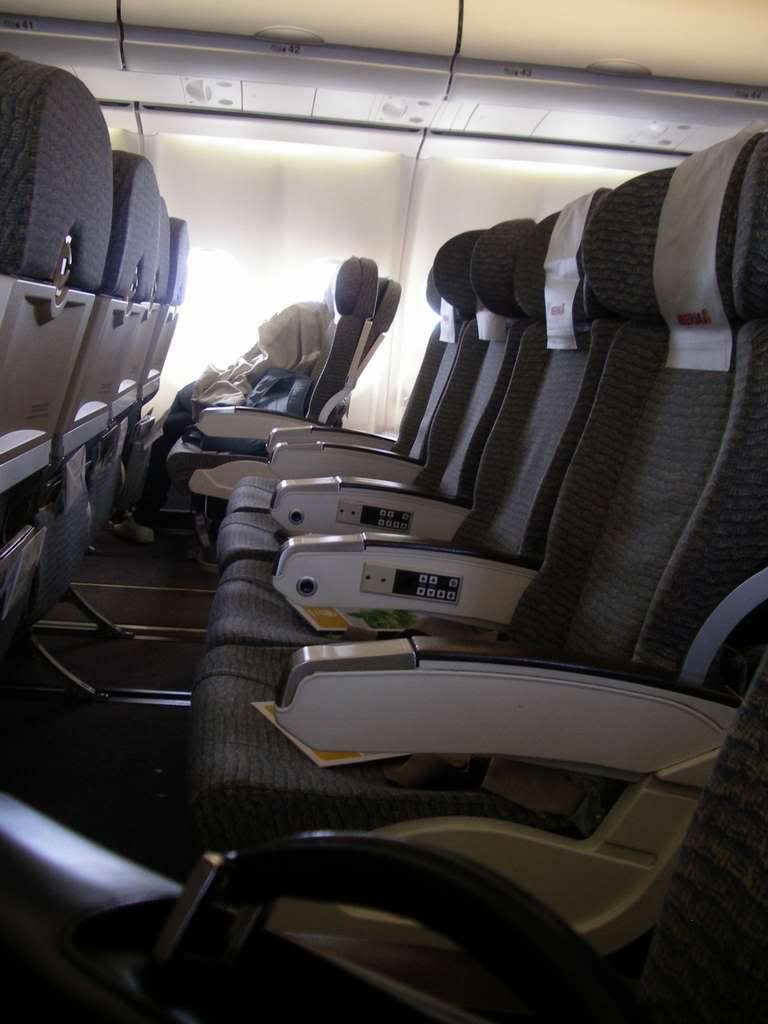 Again no service on this route. The route map on the screens for the whole flight.
We´re departed 36L in typical A340 style, long and slow, amazing.
Later we passed Sevilla at 36800 feet. Good views along the route.
Leaving mainland Spain:
Approaching La Graciosa:
Vulcanoes at Lanzarote: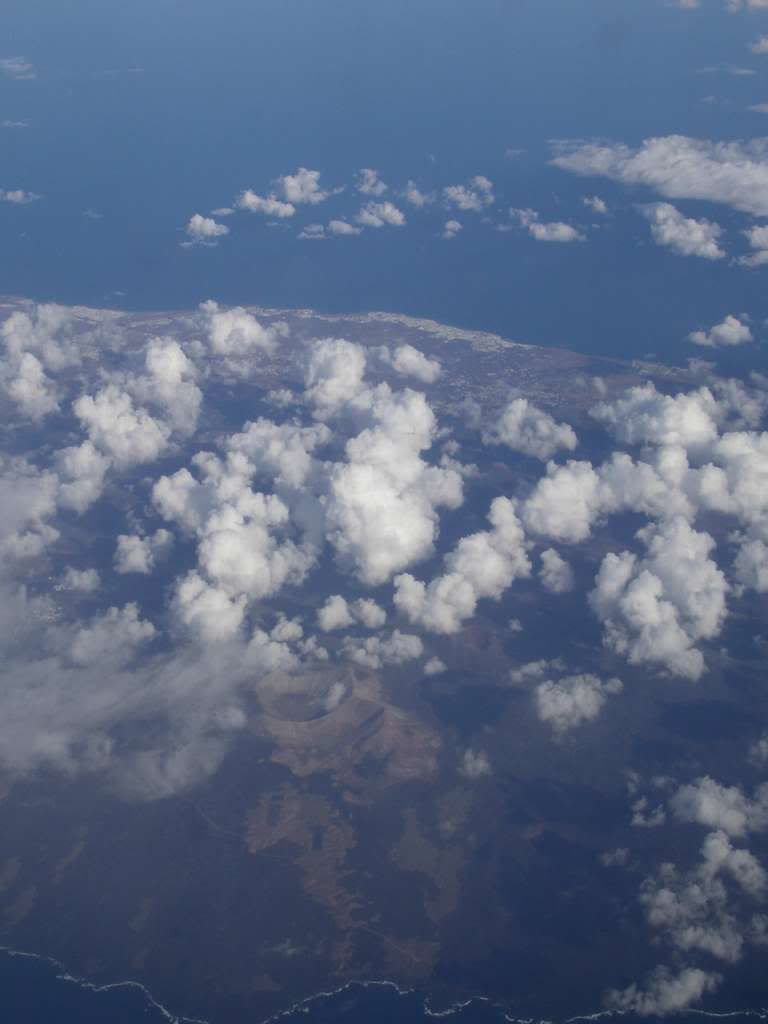 Sandy beaches at Fuerteventura: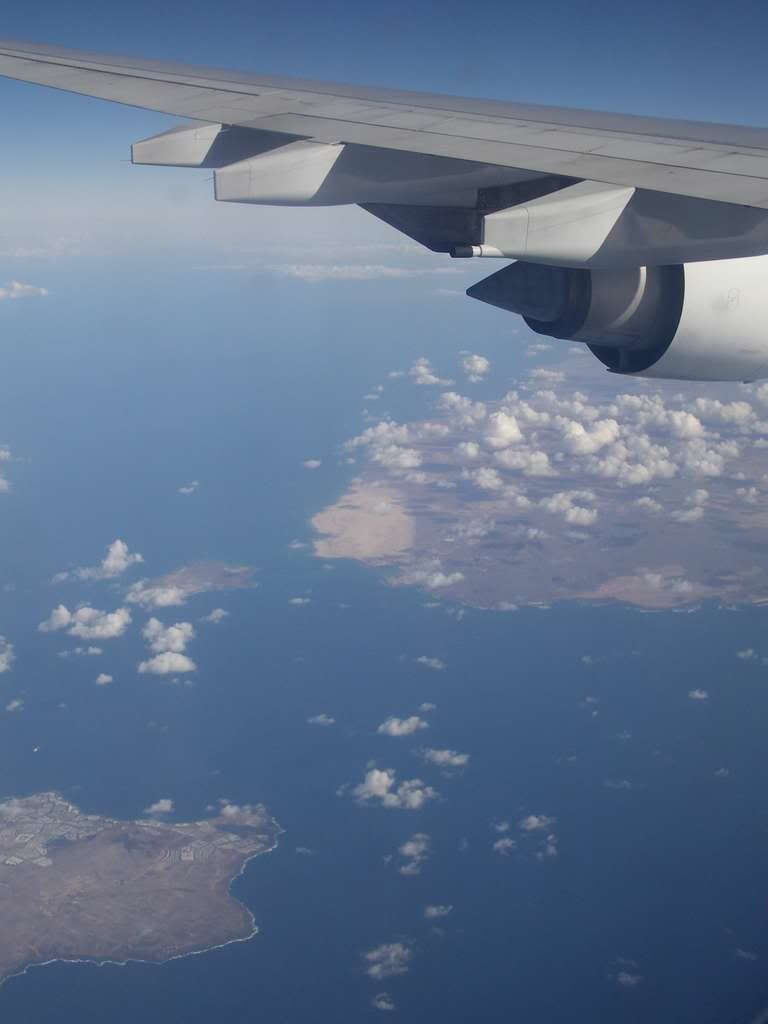 The tail camera showed the approach from the pilots point of view, real good.
Absolutely no comment form the spanish staffed flightdeck, arrival on runway 03R around ten minutes late with heavy brake action.
Parked on the apron, how I like bus-deboarding on such big birds, amazing again.
Arrived at LPA:
Heavy machine: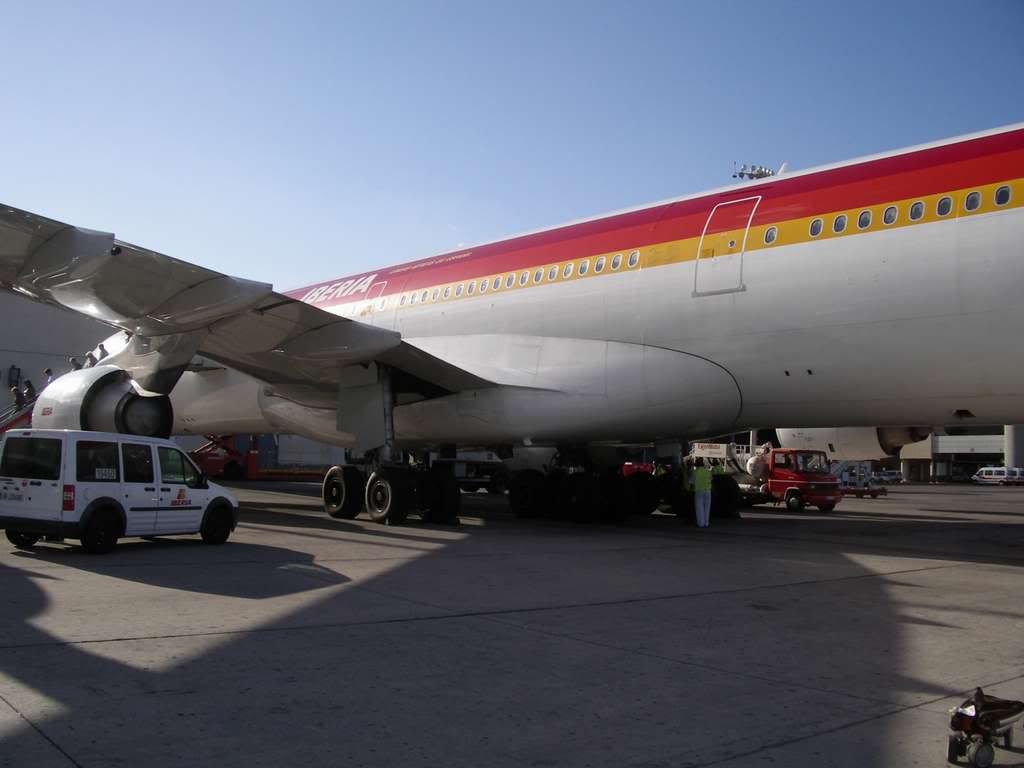 And again:
Tail shot: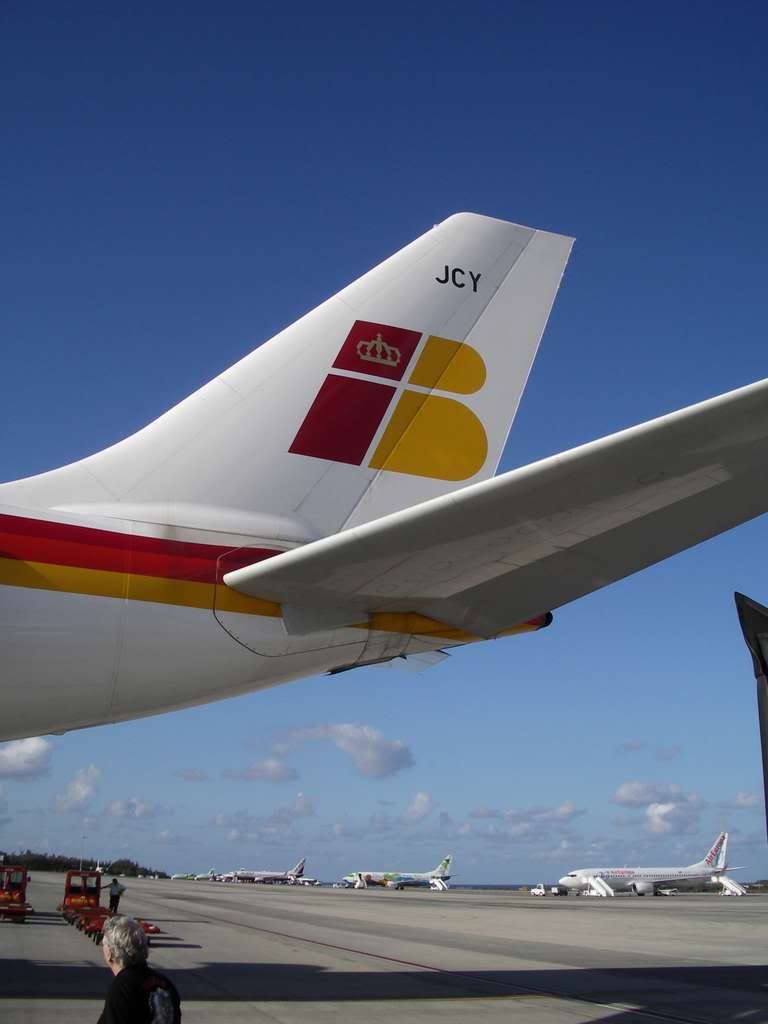 My bag was quickly on the belt, grabbed a taxi to Maspalomas where I´ve arrived only some 45 minutes after arrival.
Welcome to the "Costa Meloneras" hotel: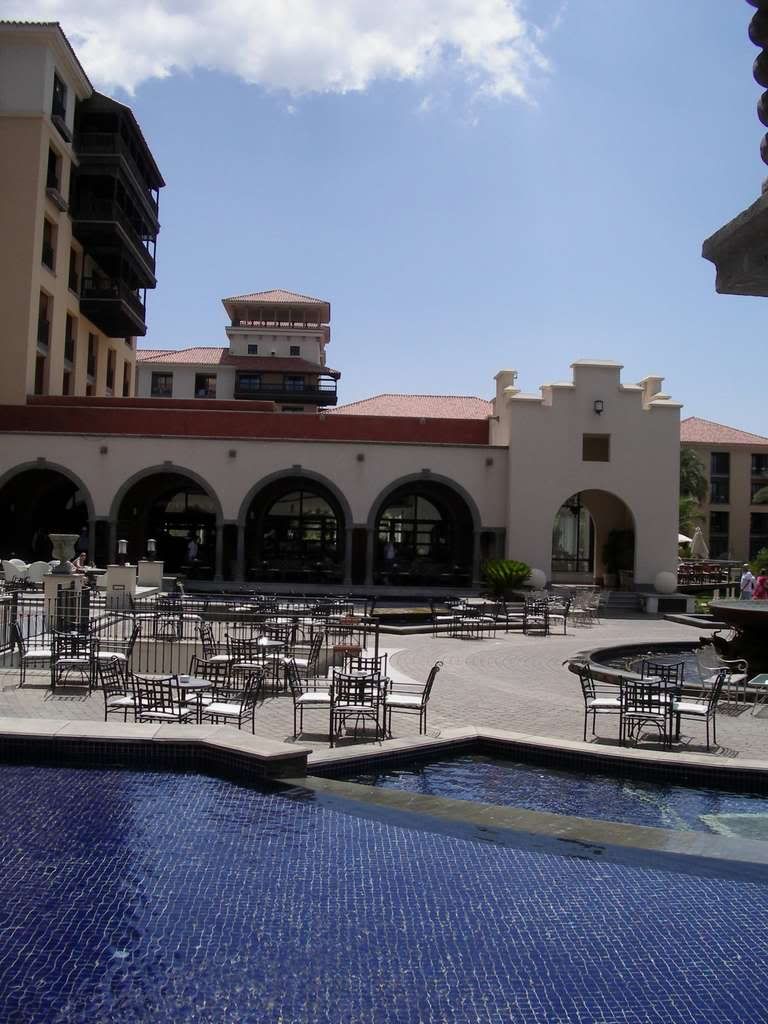 Swimming to Venezuela?: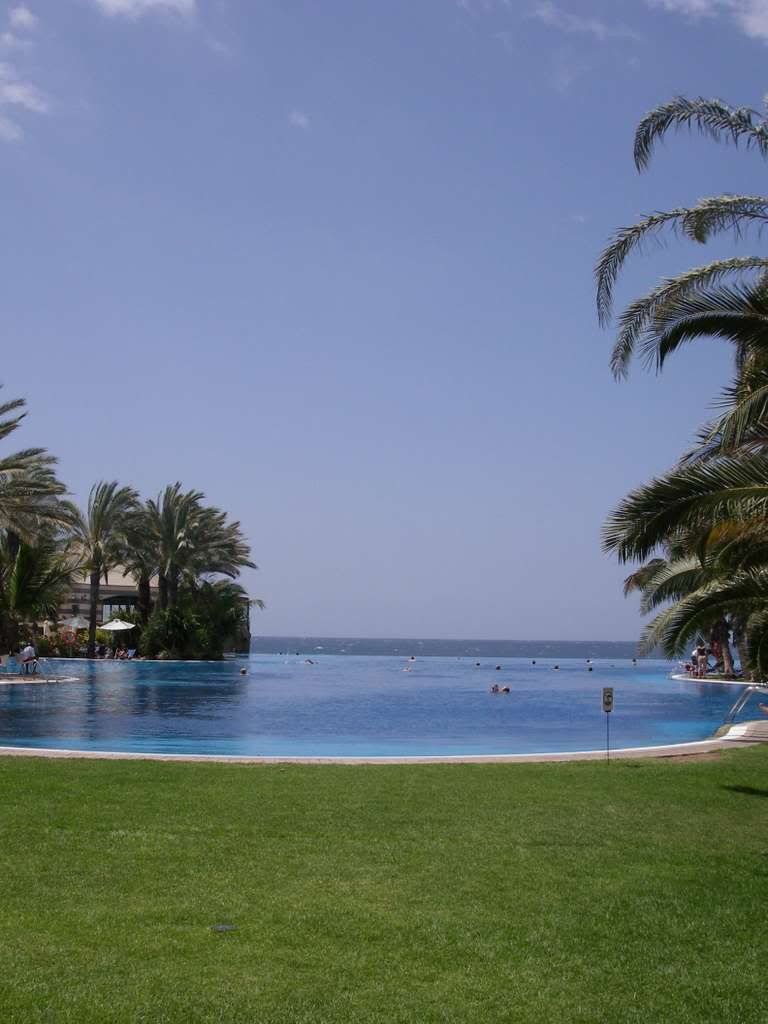 My son from behind the curtain: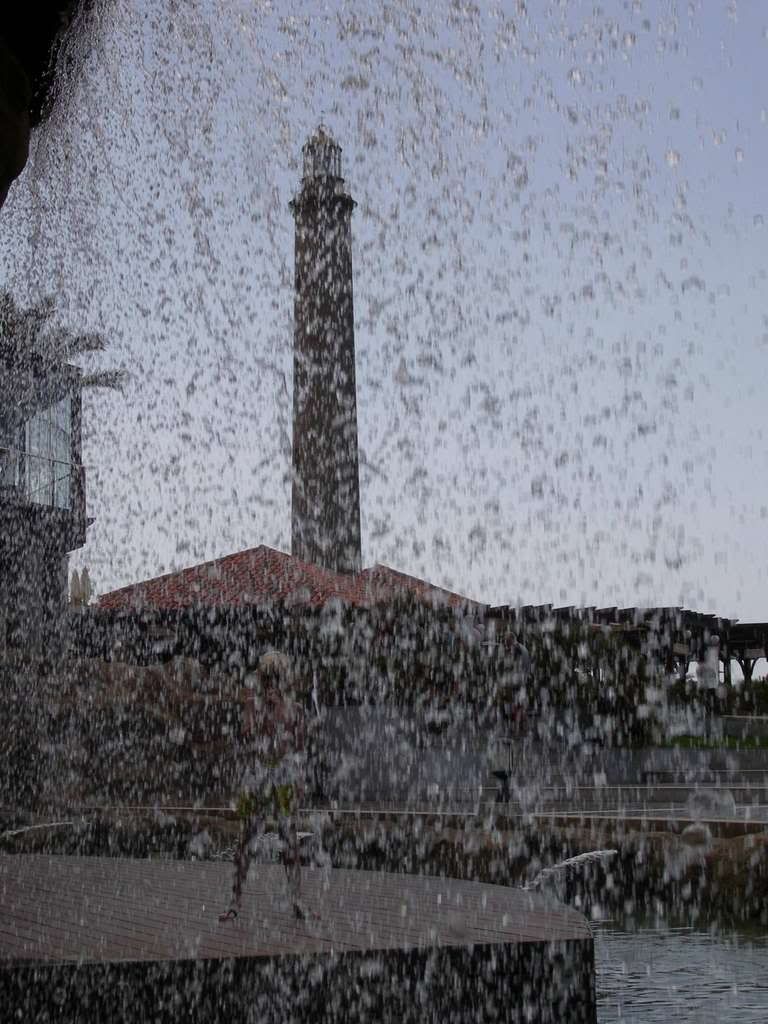 The hotel again: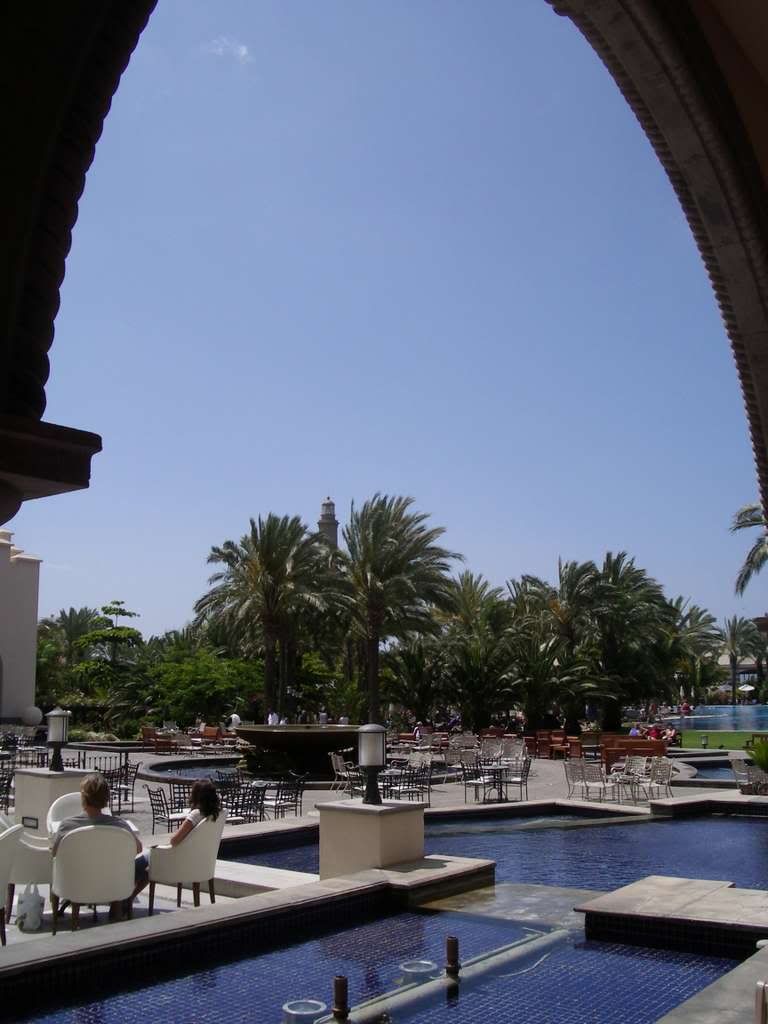 Once more: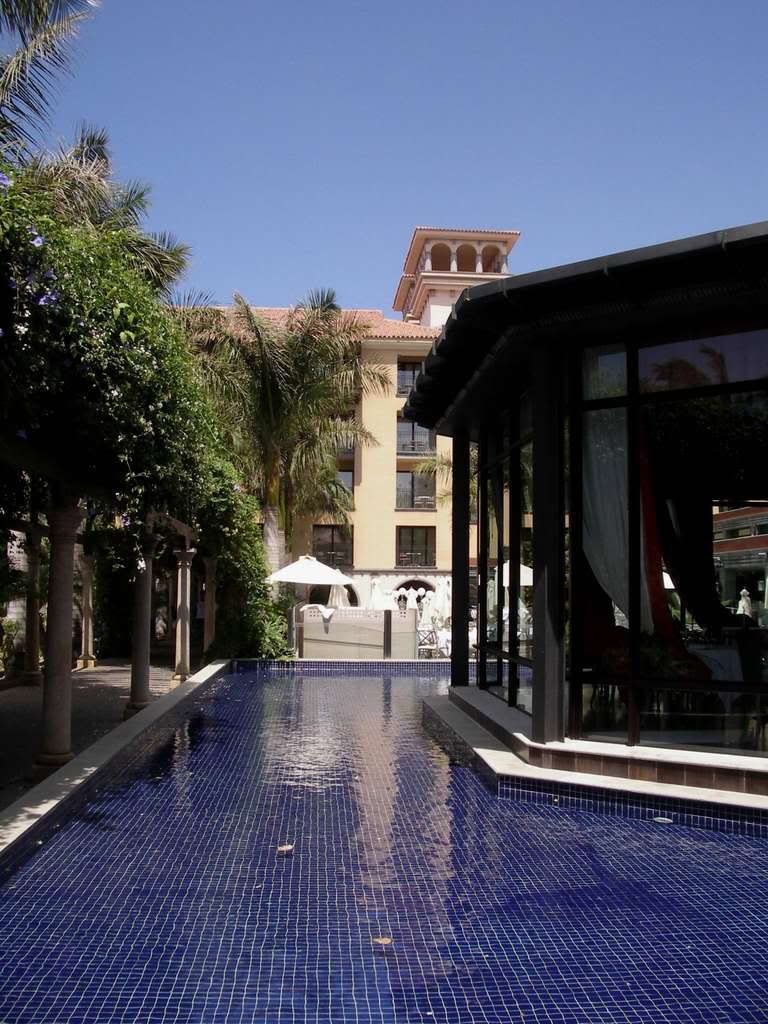 Pool area:
Monday, 19.5.2008
LPA (Las Palmas-Gando) - MAD (Madrid-Barajas)
Duration: 2 hours, 20 minutes
Service IB 0807 operated by Iberia Airbus A321 EC-JQZ
Scheduled: 11.10 // 14.45
Actual: 11.25 // 14.45
Gate: A29 Seat: 35A
Load factor: Around 90%
History:
21.04.2006: Delivered to Iberia
Leg no.11 on the A321 and the first on this machine
Monday was departure day for the whole family, so we´ve packed all our belongings into an oldfashioned Daimler taxi and
shuttled to the airport again.
My flight will leave around one hour ahead to the others connecting at MAD, the DE operated by AB service was nonstop,
so they had to wait in FRA around one hour till my arrival.
One biz, two eco desks open at LPA for all IB flights. Queues at the eco counters, I´ve decided to try the self service machines again,
no problem to check-in, but no papers printed. Therefore I´ve asked the female agent at the empty biz counter, no problem, she
accepted my bag and printed the boarding passes.
My family was first in row for check in to FRA, also done with seats in the first row, passed security without any time to wait.
My plane was arrived earlier than scheduled from MAD and was sitting at the gate.
My machine to MAD: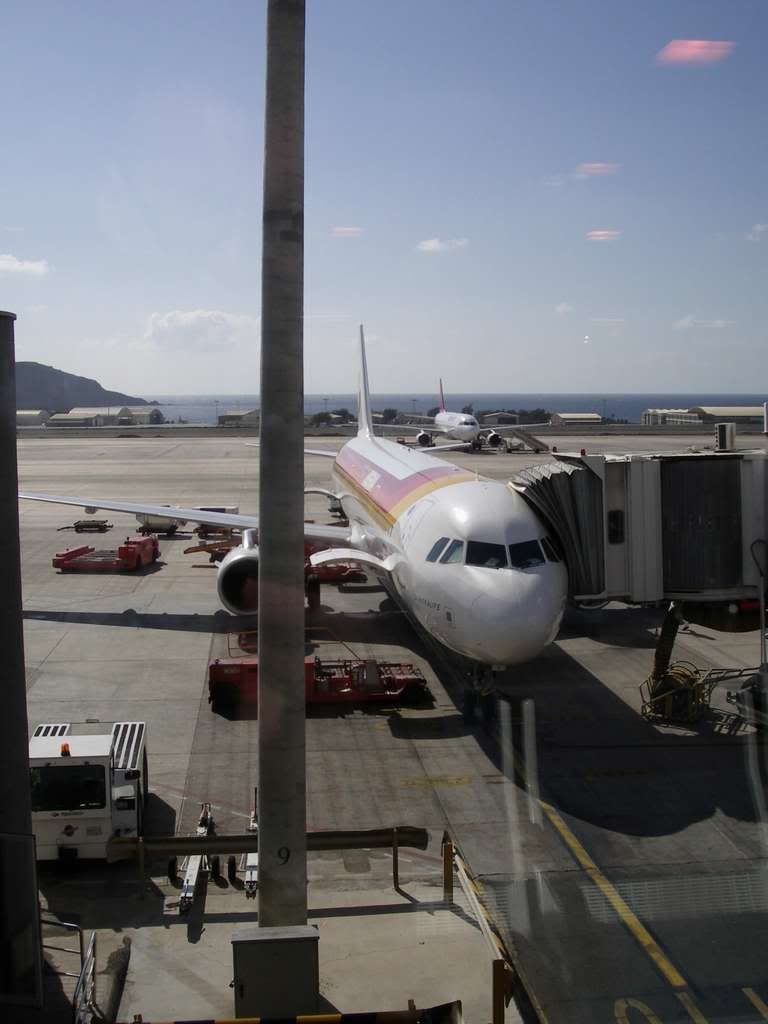 AB to FRA beneath: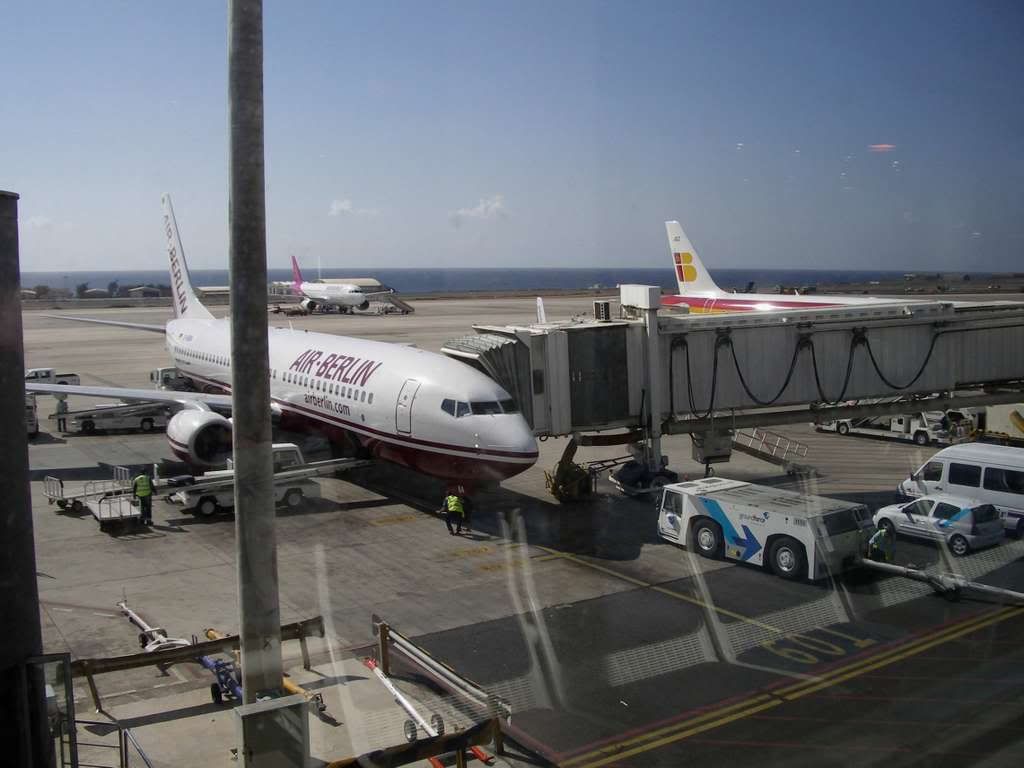 And again: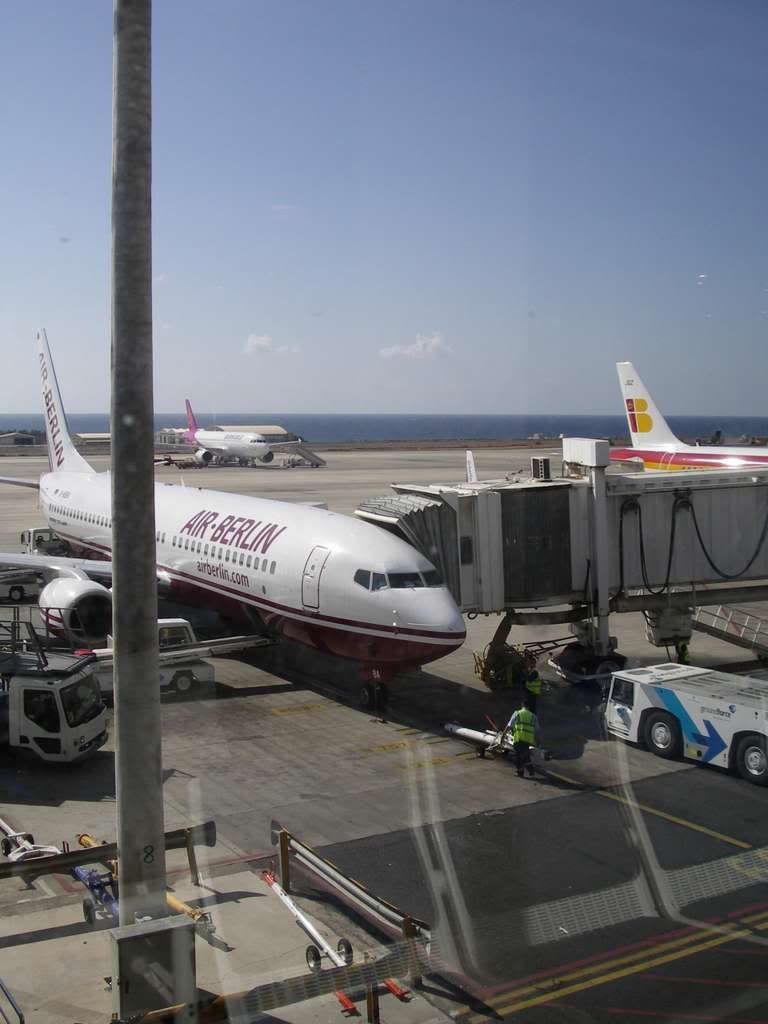 Again a change, Gestair was announced to operate the flight for IB, but finally it was a IB owned machine.
Boarding was called really early at around 10.30 am, one female, three male FA´s on this service, again the female not that friendly, the male guys ok.
The same interior like on the FRA-MAD A319 leg, bright grey leather seats, this time clean and legroom ok.
Departure from runway 03R to Huelva and Sevilla, no service, no flightlevel info, only a short wheather comment prior to arrival at MAD.
The flight deck crew was again from Spain.
Touchdown on runway 33L ontime with some crosswinds and heavy brakes and thrust reversers. Deboarding at T4, a finger gate again.
Arrival at MAD:
Bye, bye, EC-JQZ: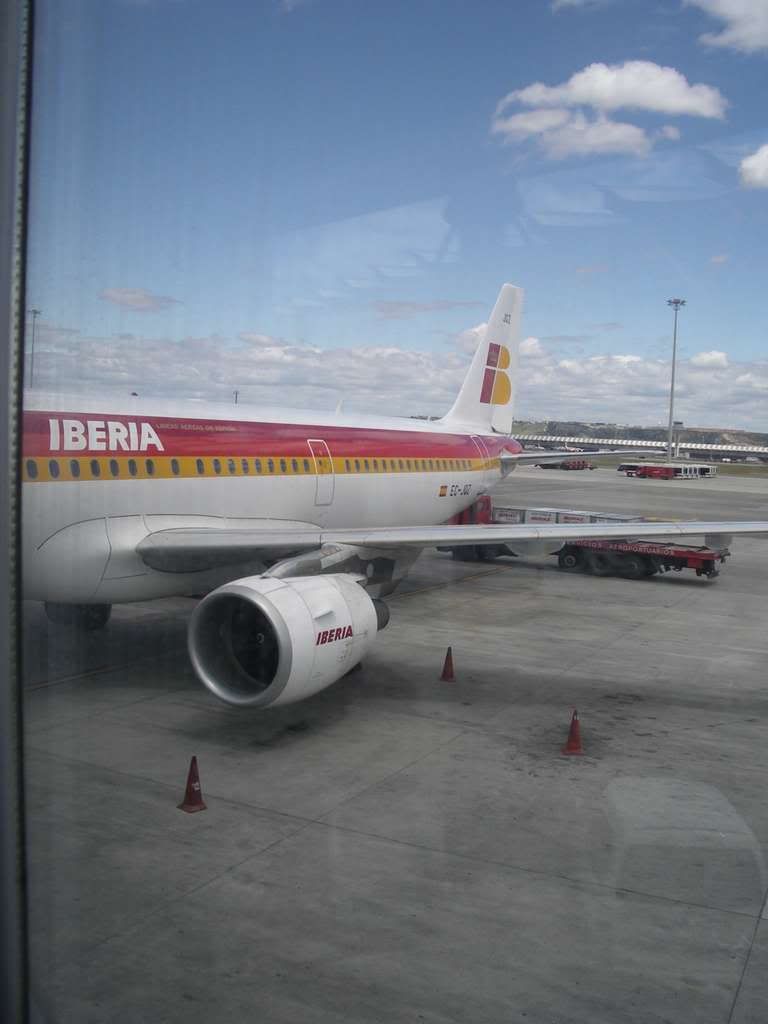 And again: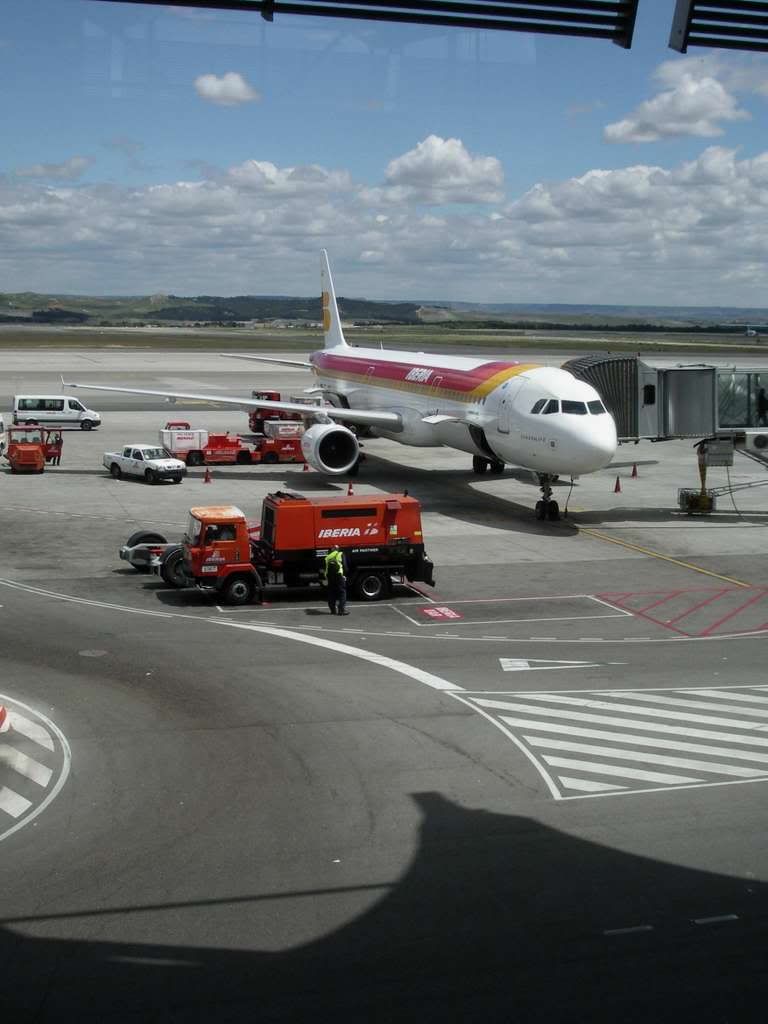 The gate for the next leg was not yet announced, so more time to walk around for some impressions.
Lots of pax around, but enough space to sit and relax, not bad from my point of view.
Monday, 19.05.2008
MAD (Madrid-Barajas) - FRA (Frankfurt-Rhein-Main)
Duration: 2 hours, 15 minutes
Service IB 3516 operated by Iberia Airbus A319 EC-JXA
Scheduled: 16.00 // 18.40
Actual: 16.25 // 18.40
Gate: H16 Seat: 25F
Load factor: 100%
History:
01.09.2006: Delivered to Iberia
Leg no. 32 on the A319 and the first on this machine
Immediatelly after the screens showed the gate, the plana arrived, the scheduled A319, only some gates beneath the inbound flight.
EC-JXA to FRA: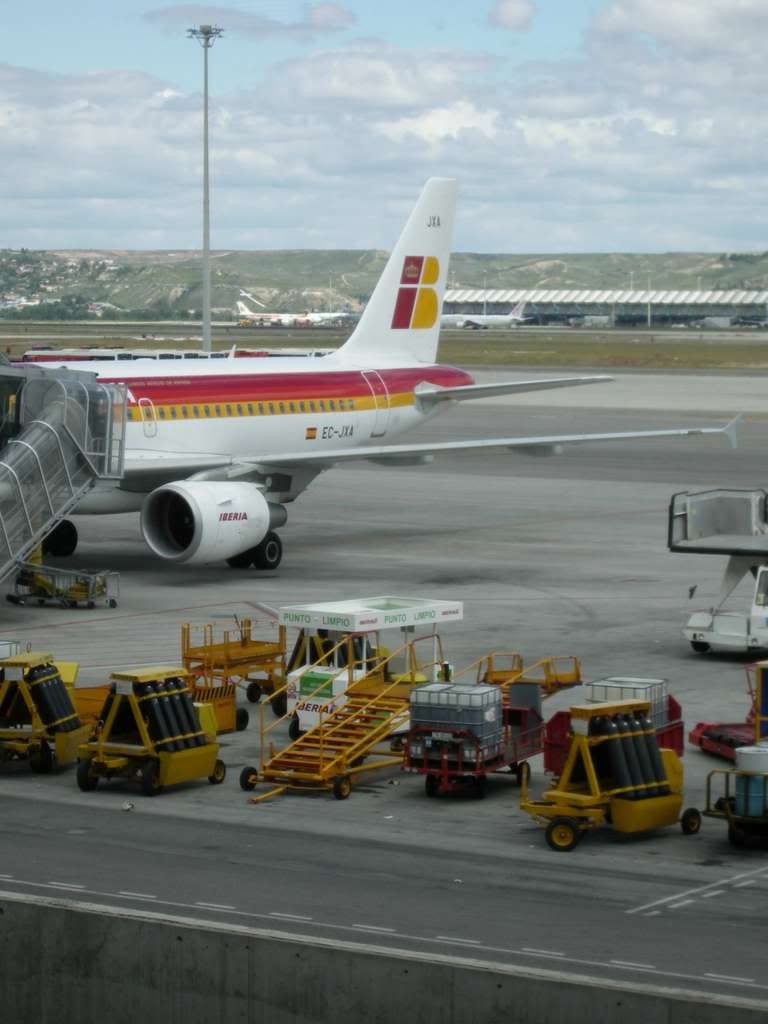 And again: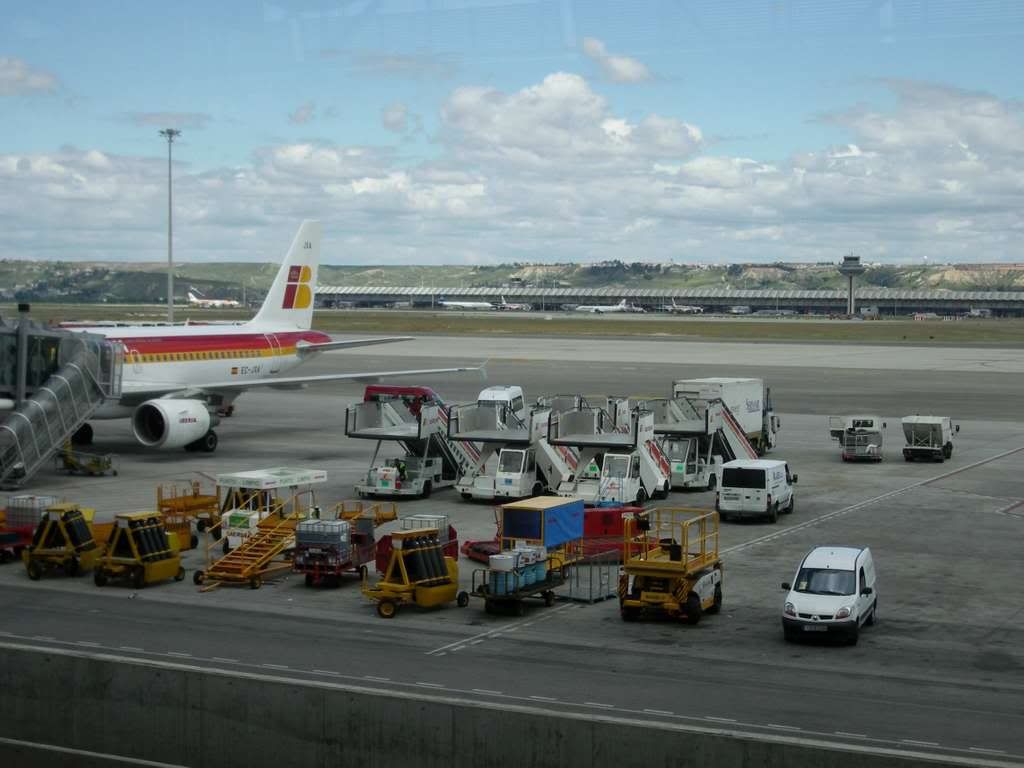 Two females, one male FA´s on these service, ok so far.
Again the bright grey Recaro leather seats, lower legroom than on the A321, cabin not that really clean.
Departure from runway 36R in a queue of planes, only a SV B777 beneath lots of IB metal.
The route was Zaragoza-Geneva-Stuttgart, no service, no flightlevel info.
The flightdeck crew was from spain again. This time a more detailed comment from the pilot during cruise with
route and wheather informations.
Mostly cloudy on the whole flight.
We passed FRA airport during the approach, turned right and joined the queue for an 07L arrival.
Taxi along T1 and parked at the same gate like last Saturdays departure.
Dedicated to Airbuseric: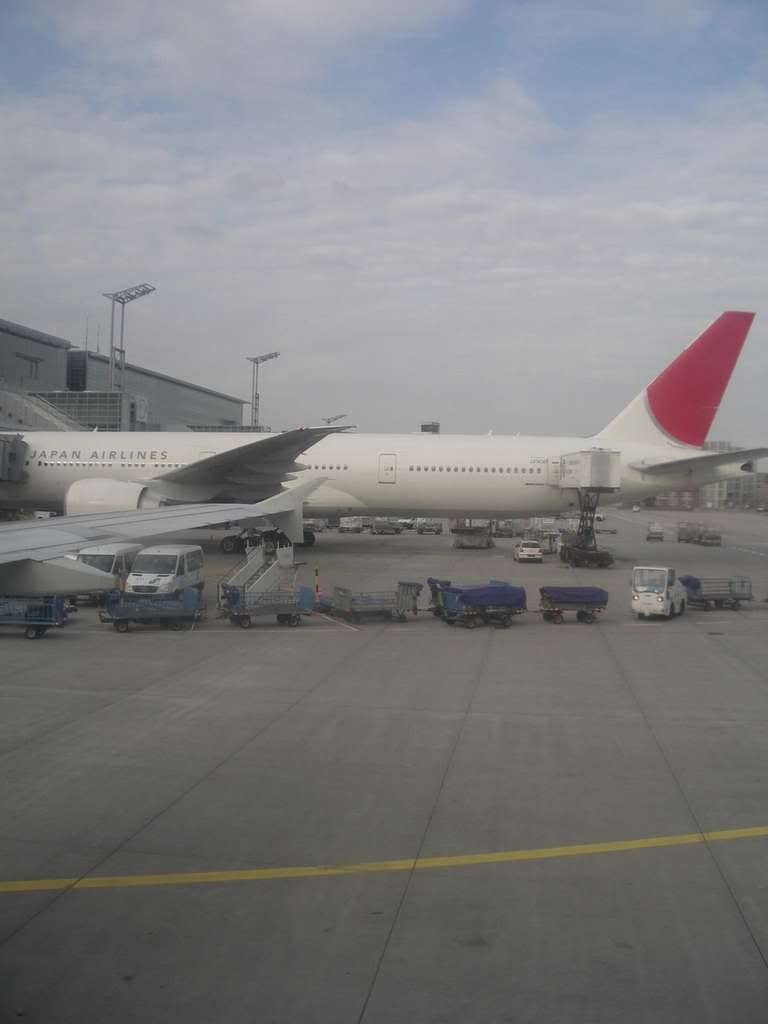 Not that long to wait for my bag, joined my family in T1, called the Tourcare shuttle, which was present when we
left T1 and on the way back home.
My opinions:
Over all, this experience with IB was ok.
The flights more or less ontime, some difficulties with online check in but mostly friendly staff solved the problems.
The fare was around 100.-- EUROS cheaper than the DE nonstop.
MAD T4 and T4s, large, spacious, well signed, ok so far.
The A346, such an impressive machine.
I dont need something to eat on a two hour flight, but anything to drink for free, that might cost not that much and should be standard, also on IB.
The lack of information from the flightdeck was a real negative point on three of four flights, but it seems that is usual on IB.
But, nevertheless no problem for me to fly IB again.
Comments welcome,
Markus (FLIEGER67)