Hello All,
I'm back for my most recent installment to my Trip Reports. The others can be found here:
https://www.airliners.net/aviation-fo...ums/trip_reports/read.main/106448/
Flagship Detroit DC-3
https://www.airliners.net/aviation-fo...ums/trip_reports/read.main/102590/
SXM
https://www.airliners.net/aviation-forums/trip_reports/read.main/99470/
CUN
Background
Although my family's timeshare expired last year, we already missed Cancun, and decided to try the Royal Haciendas, the Royal Resorts' newest resort in the Riviera Maya. It also gave us an opportunity to try out Viva Aerobus, Austin's 2nd newest international carrier, after Air Canada Jazz. I was looking forward to trying out the new South Terminal, as well, though I knew it wouldn't be real exciting. To give those an idea, I believe we payed about $600 for 3 people, round trip, for airfare. Not bad at all, though the $9.99 fares are not surprisingly misleading.
May 17th, 2008
Airport
We arrived at the airport about 5:45 for our 7:50 flight. Although we had priority boarding, we still got there two hours early. Viva told us to get there 3 hours early.
A bit excessive, if I do say so myself. Our first experience with Viva was that they had changed the scheduled time from 7:50 to 8:10. No wonder they have a 95% on time rate!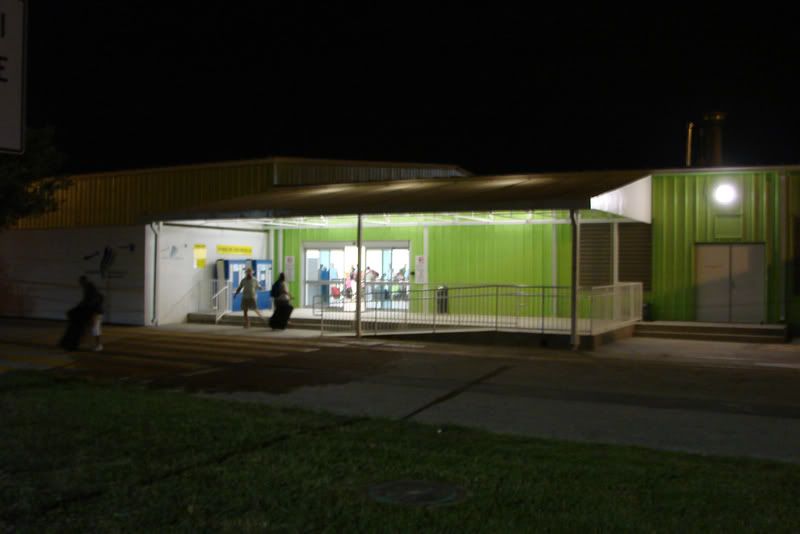 Outside the terminal
Waiting for check-in
What a beautiful terminal, so many colors, and just overall really exciting.
We were probably in line for about 45 minutes before we got our "boarding passes." Viva boards first come, first serve, with groups A,B,C determined by order of check-in, however with our priority boarding (I think it was like $6 per person, one way), we were able to board before group A.
After easily passing security (though the damn 3.4 fluid ounces got me yet again!) because Viva essentially controls the flow of passengers at check-in, I was quite surprised to see a duty free shop just outside the boarding area. The plane arrived from MTY about 7:05, and at about 7:30, they called for boarding.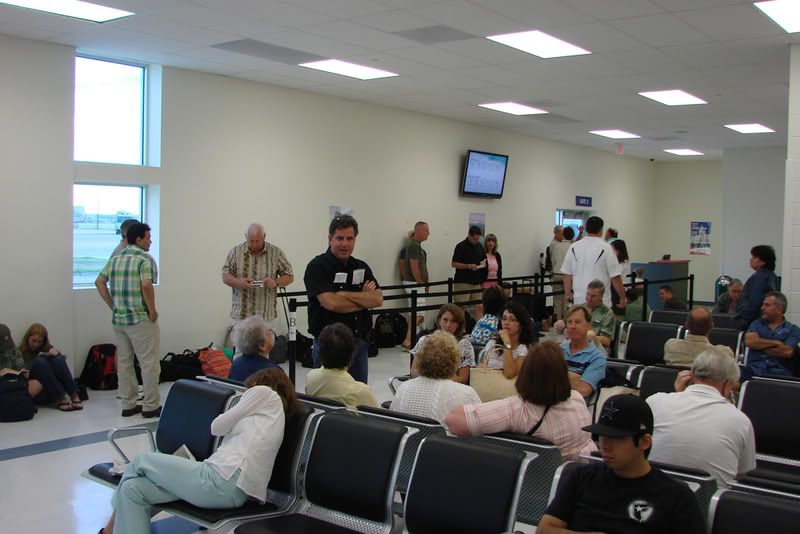 Gate 2 (Gate 1 is just off the picture to the left, It's just a door
).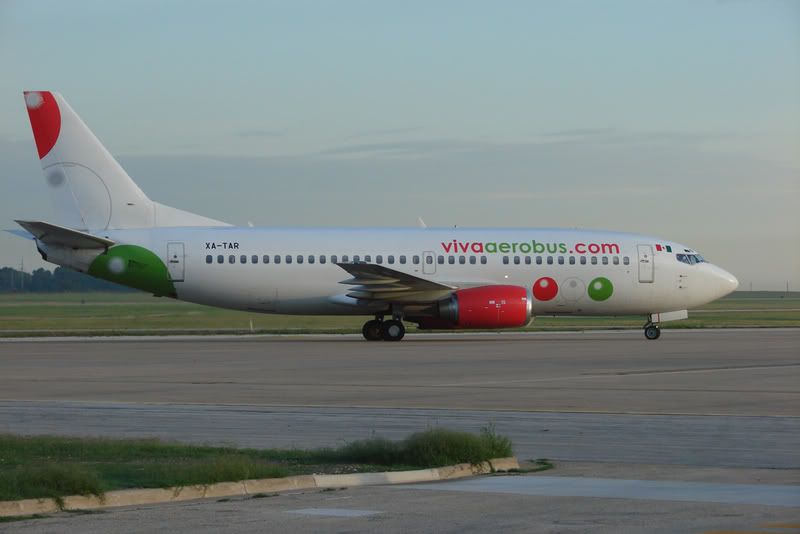 XA-TAR arriving from MTY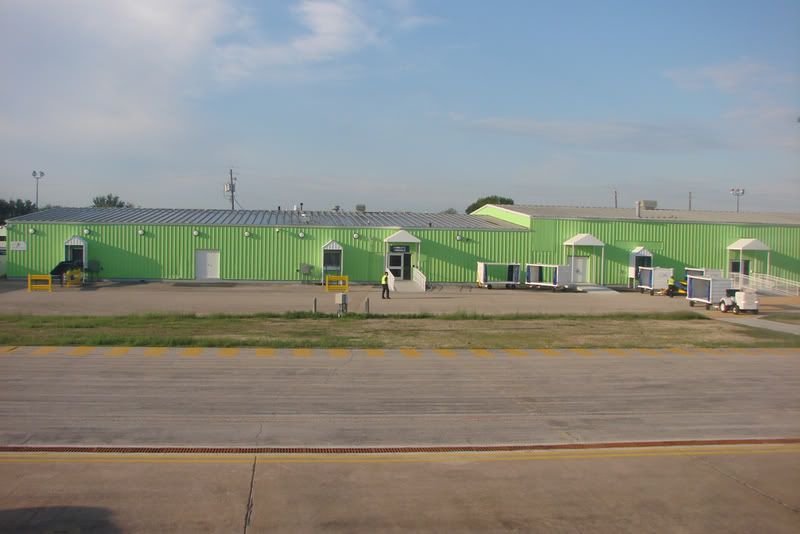 View of "terminal" as we taxied to 17R.

02 922
AUS-CUN
737-300
XA-TAR

Scheduled Departure: 0750/0810
Out: 0758
Departure Gate: 2
Seat: 5A
Departure Runway: 17R
Off: 0807
Cruising Altitude: FL 350
Arrival Runway: 12
On: 1032
Arrival Gate: 14/A1
Scheduled Arrival: 1040/1100
In: 1036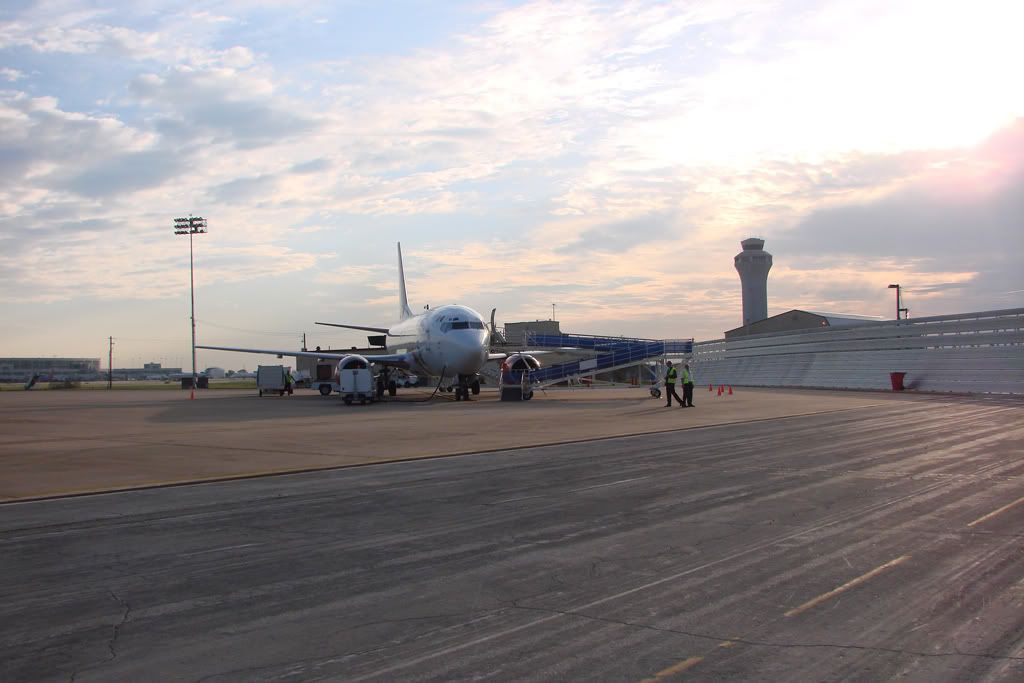 I love walking on the ramp to the plane! I was the first one on board.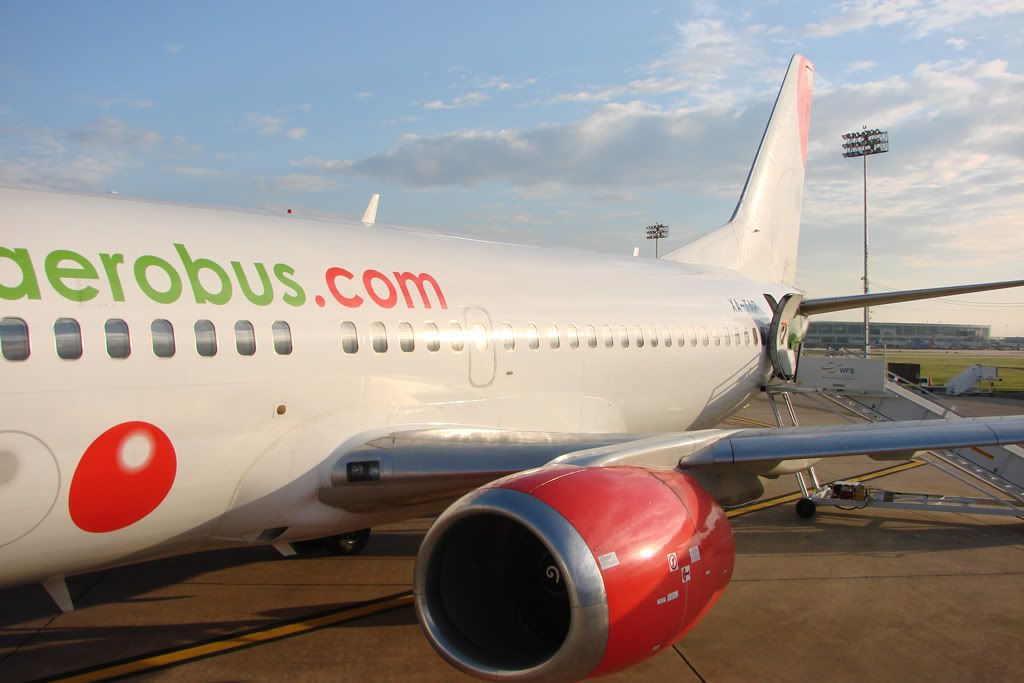 Closeup of XA-TAR
The boarding was relatively quick, despite being a full flight. We pushed back 8 minutes after originally scheduled departure, but they'll tell it as 12 minutes early
. A 9 minute taxi to 17R, and away we went.
Takeoff from AUS
We made a turn to the southwest, for some reason, before turning south. We eventually turned back to the east. Along the way I enjoyed some of the cloud formations.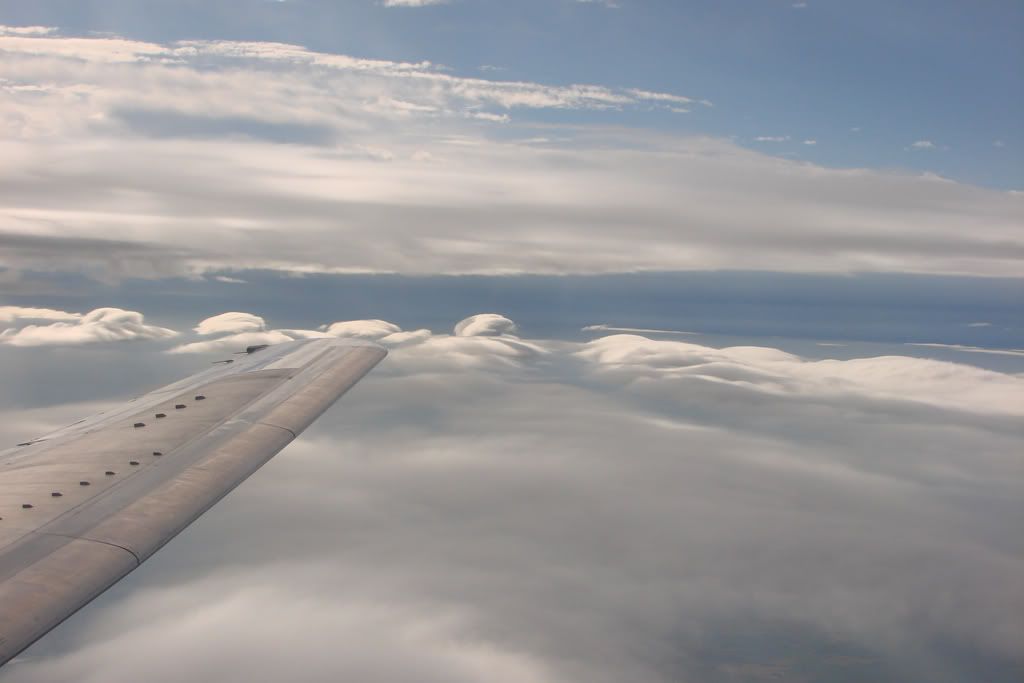 The a la carte service began shortly after we reached cruising altitude. I was really expecting the flight attendants to suck, the seat to suck, and the whole experience to suck, but to be completely honest, it wasn't too bad. It was no SQ suite, but it got me from point A to point B safely (I never felt unsafe, and the plane didn't rattle at all. I've read a couple of TR's that had that experience). What I was worried about most was the pitch. I had read horror stories, and I'm 6'2'', so I was concerned. Here is the result: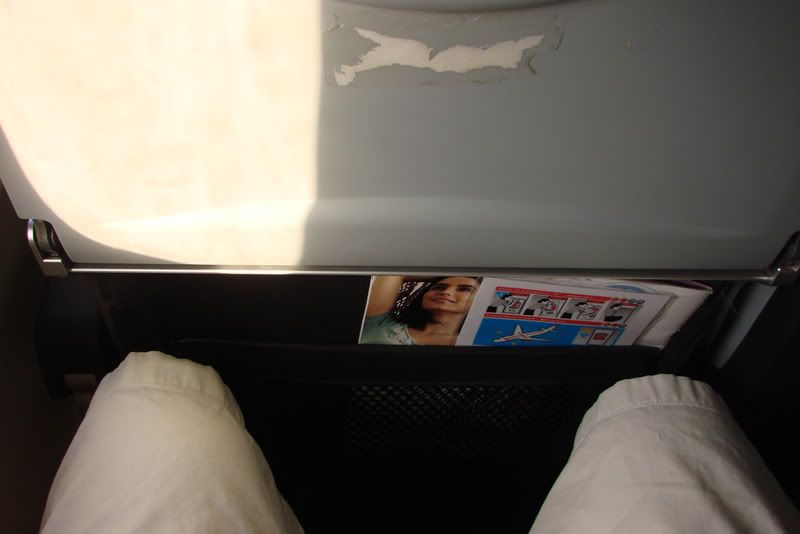 Not too bad!
I didn't find it to be much worse than any domestic carrier. My knees didn't even touch the seat in front of me. The flight attendants were perfectly nice, one of them spoke good English, though the other two did not. All things considered, the prices on board weren't too bad. If you have the option of buying something on board, or at the airport beforehand, I advise buying it on the plane. Surprisingly, they were noticeably cheaper. Other than my DVD-ROM drive crapping out on me, the flight was uneventful.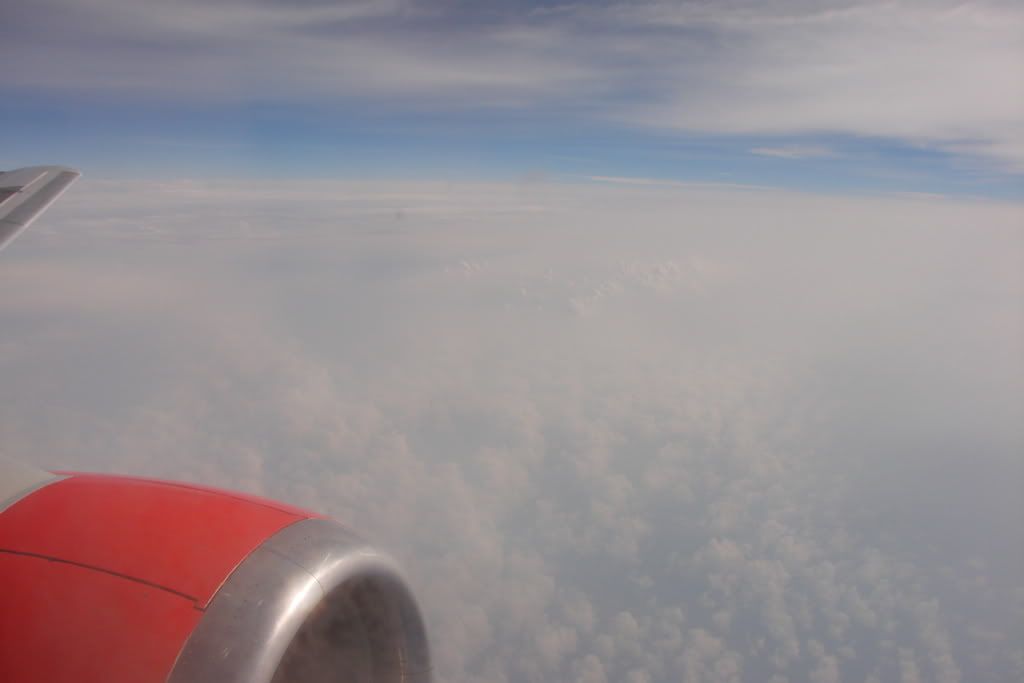 Cruising at FL350 over the Gulf of Mexico
After what felt like a short time, we finally reached Mexican coastline, northwest of CUN.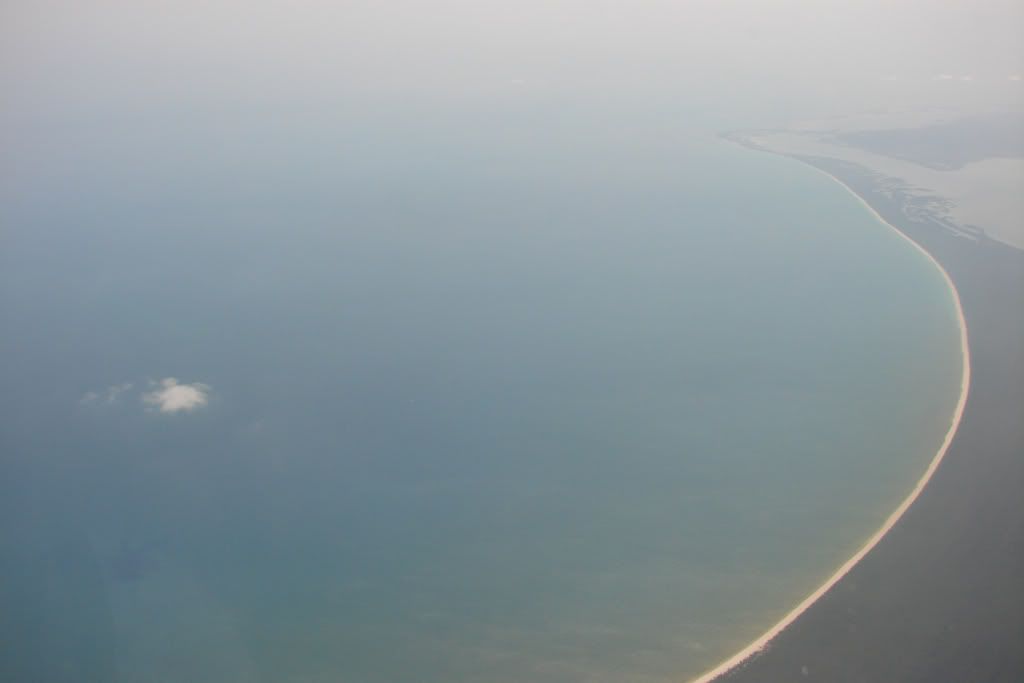 Coastline!
A more or less straight in approach to 12 followed by a landing ahead of schedule (regardless of which schedule I went by).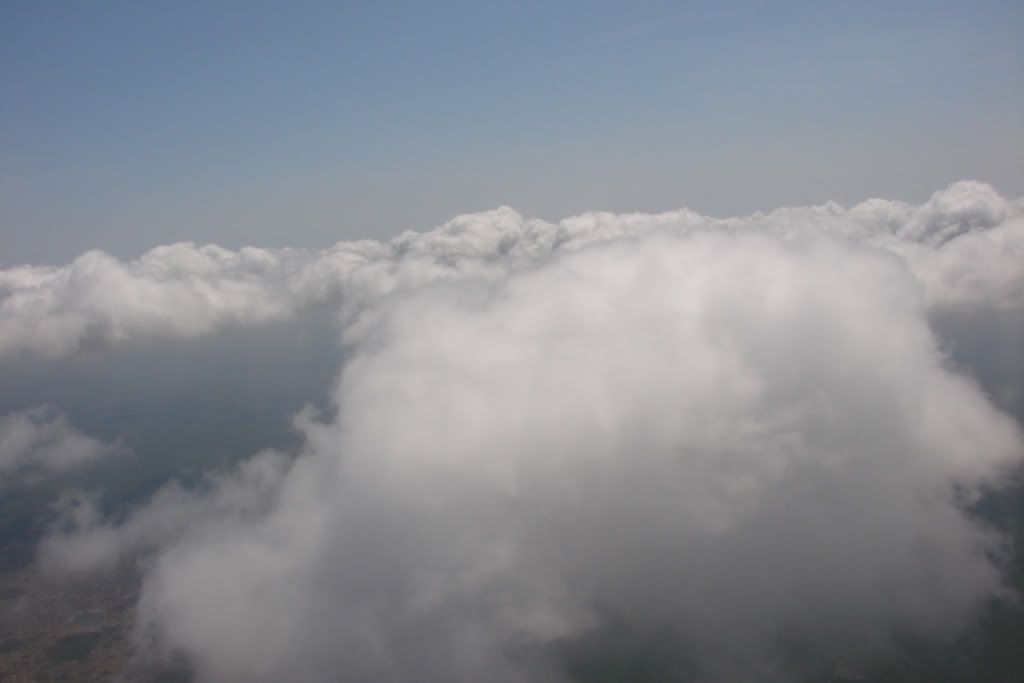 Descending into CUN
Landing at CUN
We parked at terminal 2, the new domestic terminal, now that international arrivals have switched to the new terminal 3. I was a little surprised to get a gate, but at the relatively early hour, we found ourselves an empty one at gate 14 (A1 on the inside).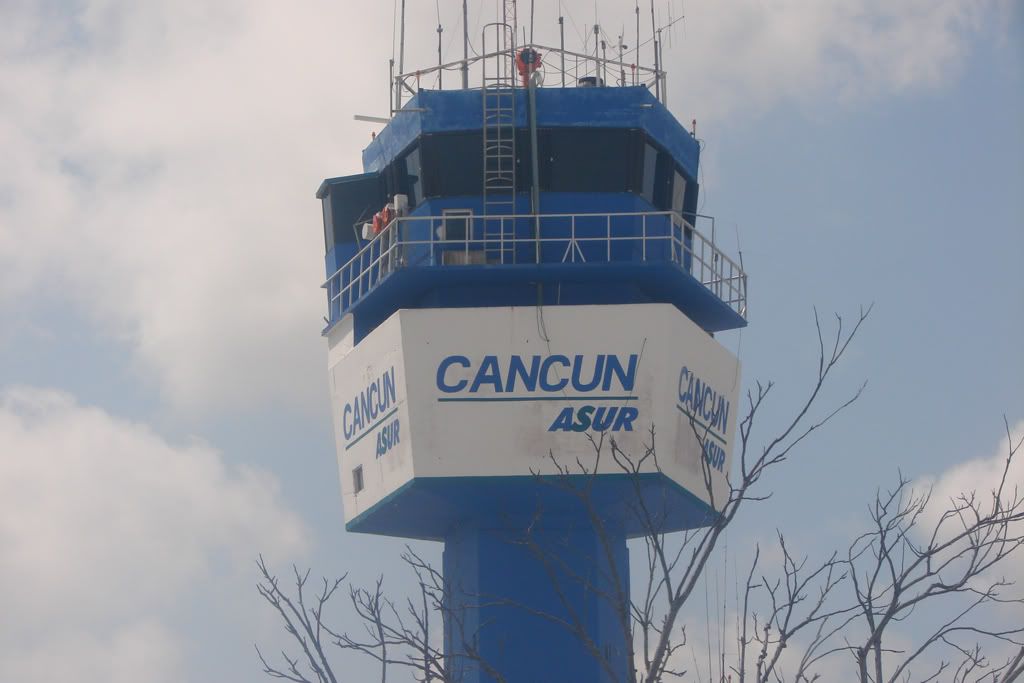 In case there were any doubts I was at CUN!
As many of you who have been to Cancun have experienced, there is a not-so-graceful parade across the terminal to get to the stairs for Customs and Immigration. For the first time, Cameron has captured the scene on film!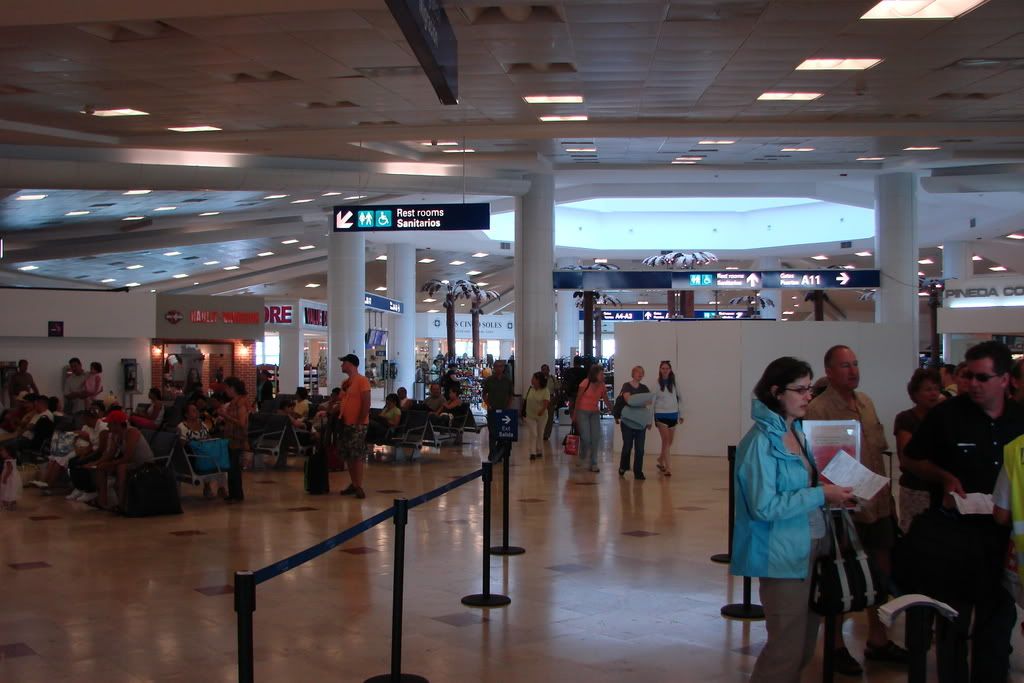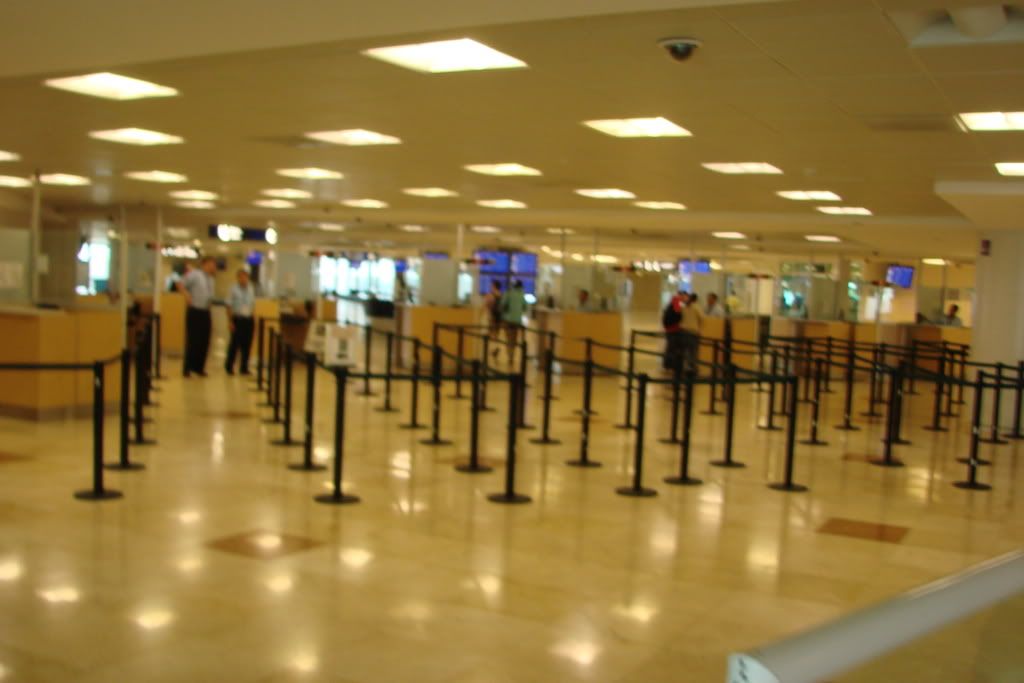 I also snuck in a shot of the immigration facility (though they quickly told me that no pictures were allowed).
We claimed our bags, and off we went on vacation for a week outside of Playa.
The beautiful view from my room.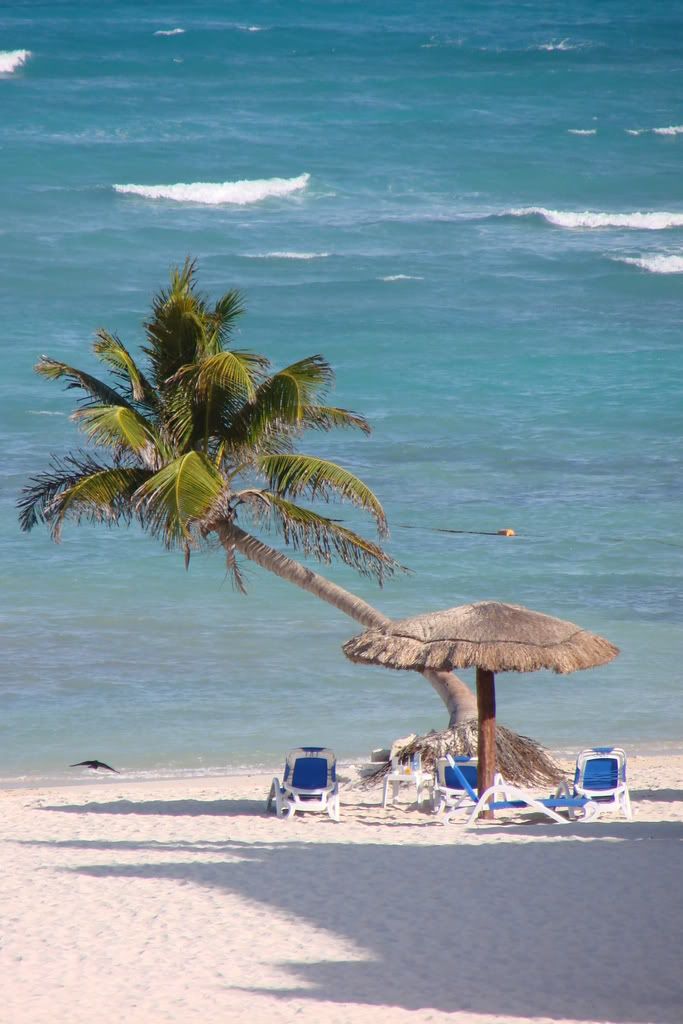 A true Caribbean scene.
May 24th, 2008
After a wonderful vacation (I got my Open Water Diver certification!), it was time to head back home. Our flight was originally scheduled to leave at 1115, and the van picked us up at the Haciendas at 0745. We arrived at Terminal 2 at 0815, and made our way to the Viva Aerobus check-in counter.
Airport
Although they hadn't opened the counters for check-in, there was already a fairly significant line. The check-in counters opened at 0830, and they went much quicker than they did coming down. I was the 21st person to check-in. Not surprisingly, Viva had changed our flight time again, although this time they moved it forward to 1045. No wonder they tell you to check-in 3 hours prior, they just might move the flight time up an hour! After proceeding through security, we decided to go eat at TGI Friday's. This was a good way to kill some time, and spend up the rest of our pesos. About 9:45, we headed off to gate A1.
Fortunately, I had plenty of time to snap some shots of the CUN regulars.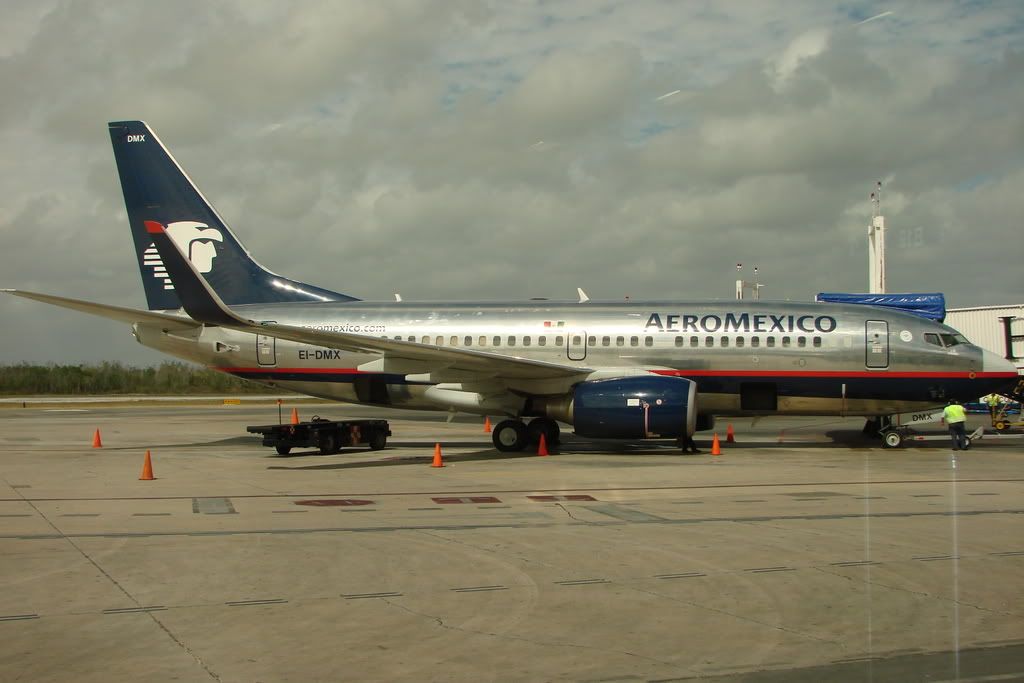 EI-DMX (an ex-Ryanair bird, perhaps? Do they even have 73Gs?)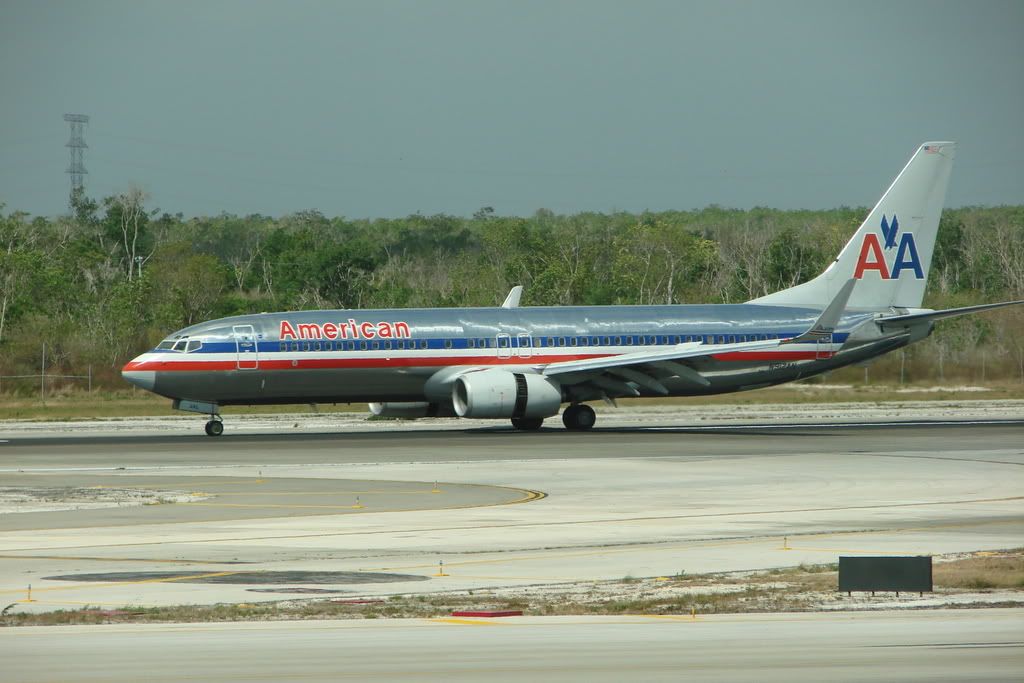 American 737-800, probably arriving from MIA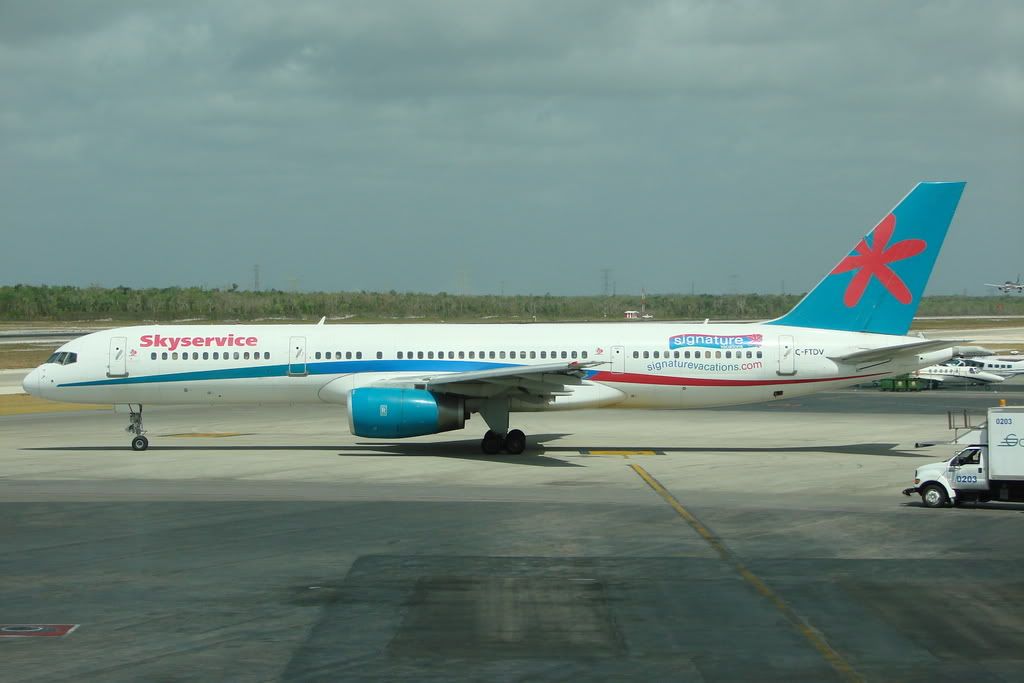 Skyservice 757-200, departing to YYZ.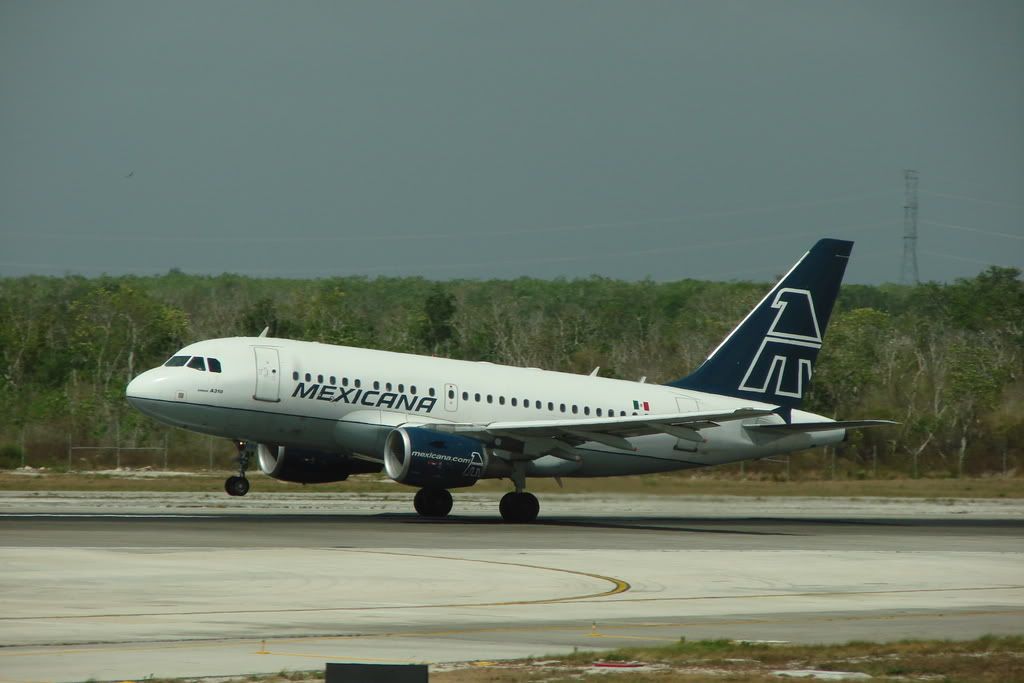 MX's BabyBus
Aladia 757-200, I believe arriving from GDL, though it could've been MEX.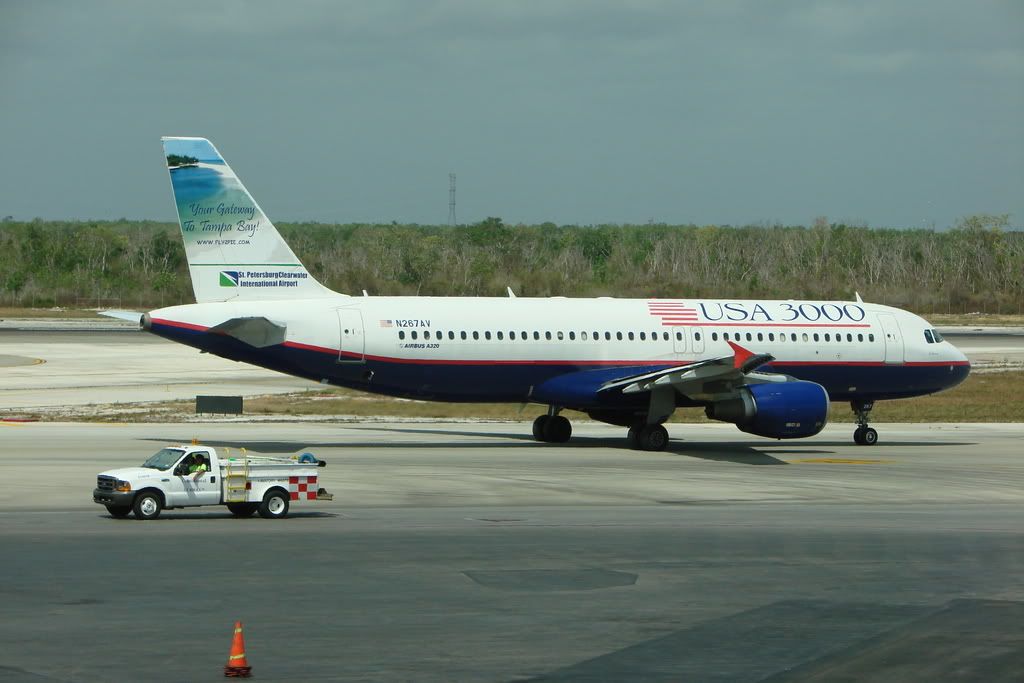 USA 3000 with a special Tampa Bay tail.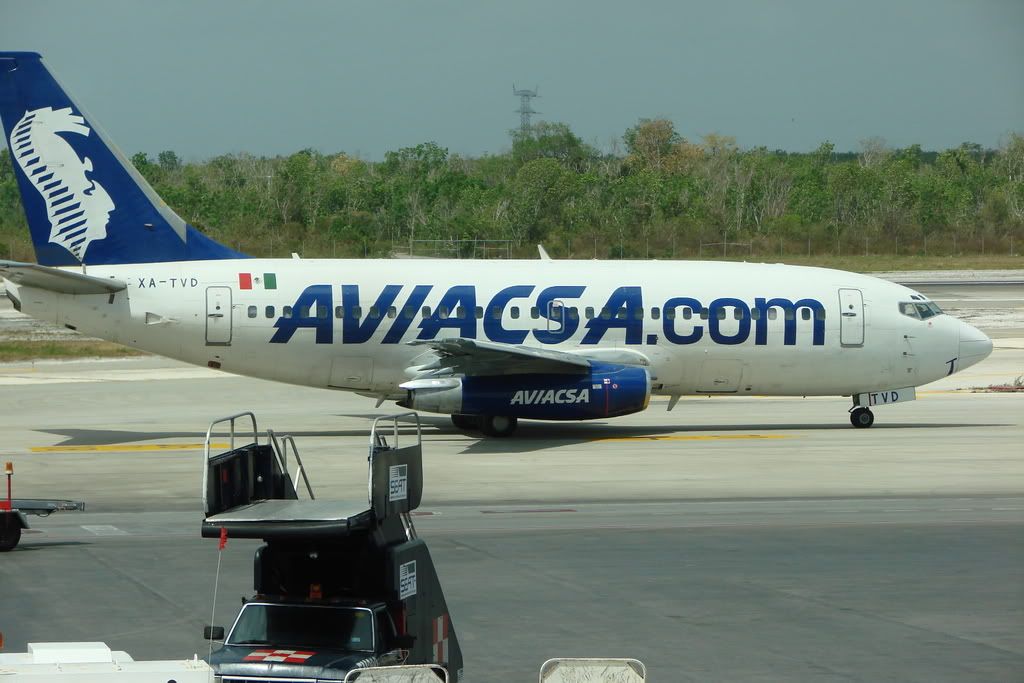 The increasingly rare 732, this one belonging to Aviacsa.
Time passed, and still no Viva Aerobus 737. 1045 was starting to seem a bit ambitious. Finally, at 1050, our 737 appeared, arriving as 02 922 from AUS. They switched gates from A1 to A2, as the Skyservice had vacated A2 in time.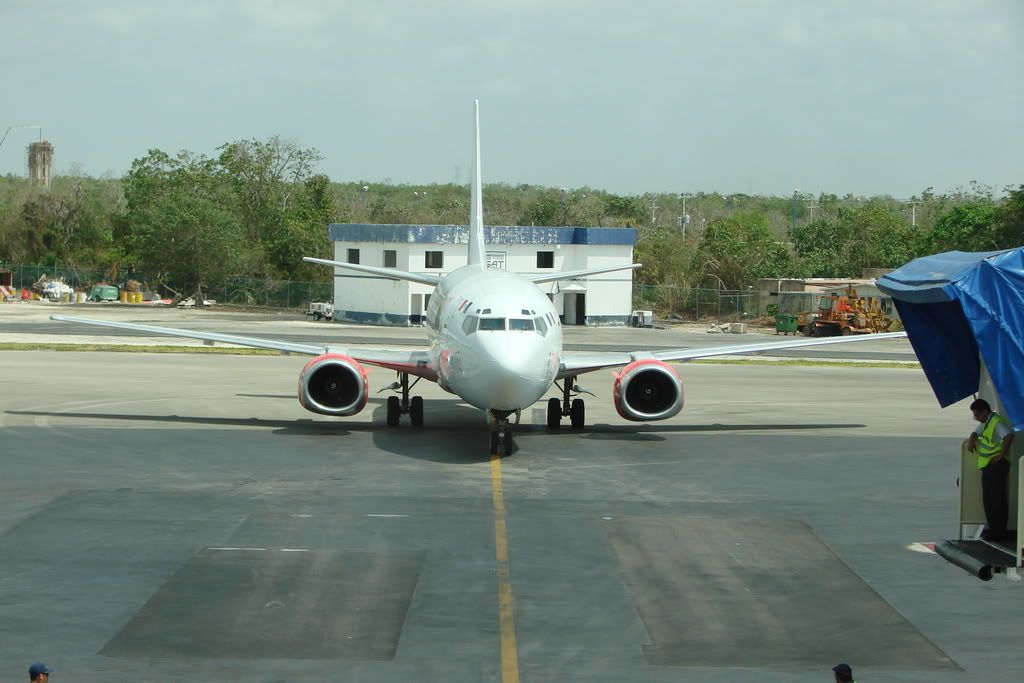 Finally, XA-TAR arriving from AUS
Well suffice to say, 1045 was out of the question, could they make 1115? The answer was a resounding no. We started boarding about 1120. After another quick security check, and a short delay at the end of the jetbridge, we were finally let on. And boy did the one disadvantage of priority boarding make itself readily known. It was H.O.T.! Almost no air was coming through the vents, and boarding took nearly twice as long as it did in AUS. I sat relatively impatiently, waiting for them to crank on the two CFM56 turbofans, and get some air moving. While I waited, I was treated to a nice view of a Champion Air 727
. Almost undoubtedly the last time I'll get to see a passenger 727 in North America. Nevertheless we finally closed up, and pushed back.
So long, old friend.

02 923
CUN-AUS
737-300
XA-TAR

Scheduled Departure: 1115/1045
Out: 1209
Departure Gate: A2/15
Seat: 3A
Departure Runway: 12
Off: 1222
Cruising Altitude: FL 340
Arrival Runway: 17R
On: 1453
Arrival Gate: 1
Scheduled Arrival: 1405/1345
In: 1457

We pushed back almost an hour/more than an hour (again, depending on which schedule you go by) late, and made our way to 12.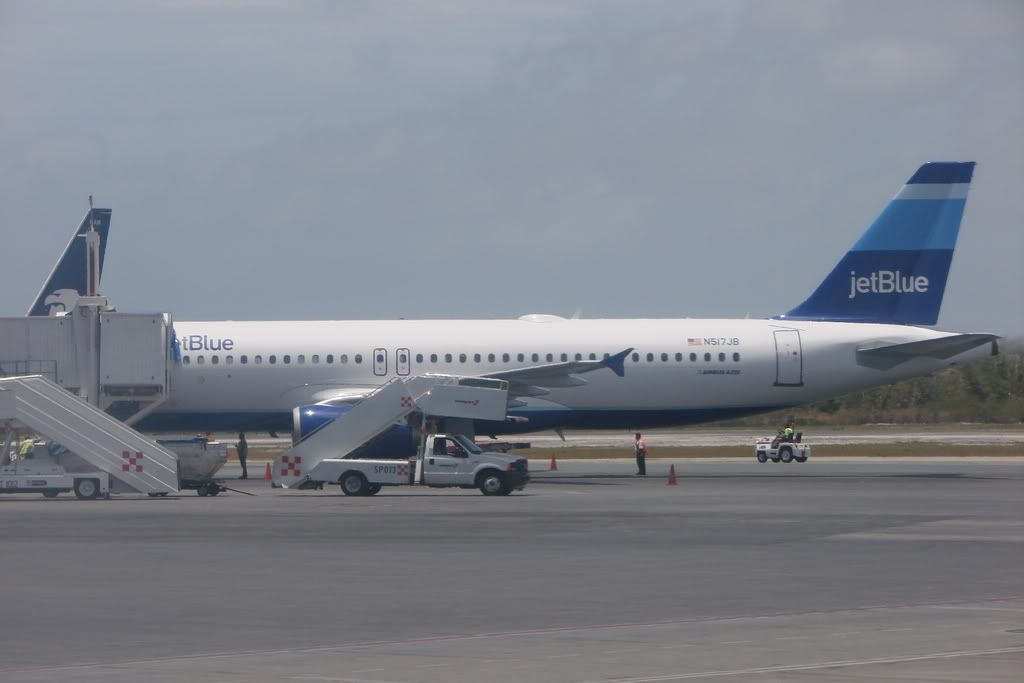 I was surprised to see this A320 at Terminal 2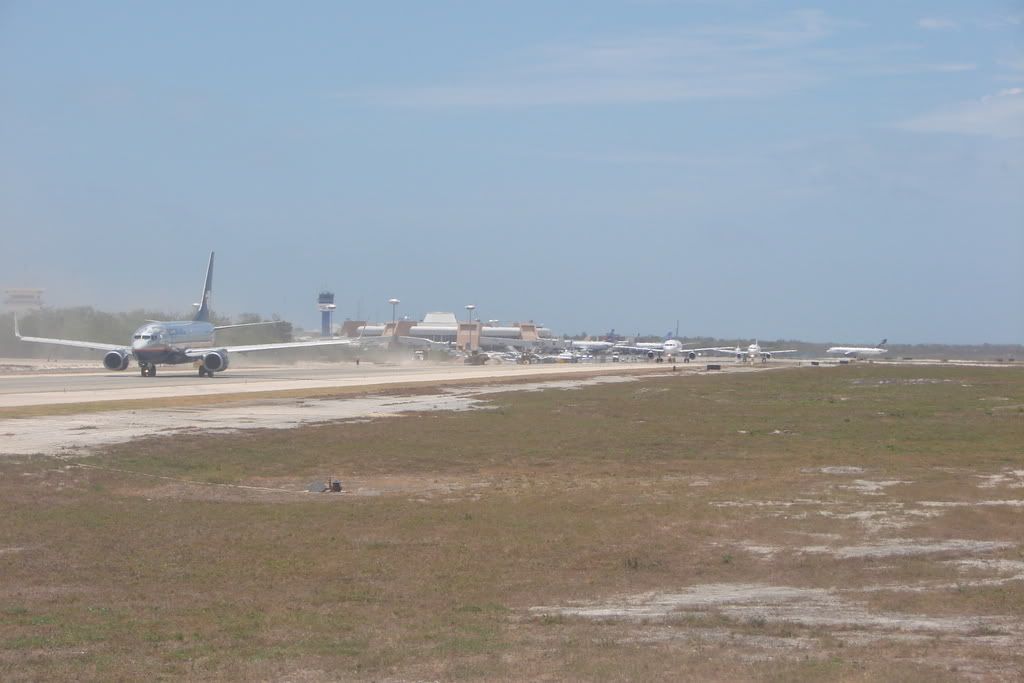 Waiting for a CO 738 ahead of us
Takeoff from CUN (sorry about the dirty window)
The standard climbout involves a runway heading departure until we're over the ocean, and then a turn on course. Unfortunately, we turned to the south, thus preventing what would've otherwise been a fantastic view of Cancun's Zona Hotelera. Nevertheless, I did get this picture: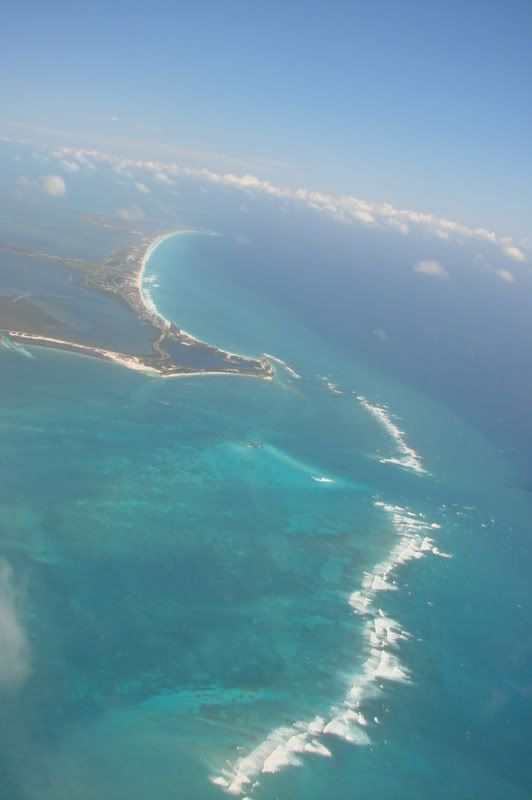 Gorgeous!
Another uneventful flight, cruising at .74M, found us arriving at the Texas or Mexico, though I believe it was Mexico, coast, after a fairly short trek across the gulf. The brevity of our overwater time makes me think it's Mexico, but decide for yourself:
I don't see anything resembling South Padre Island, so I think we came ashore near Matamoros.
We eventually made a turn to the north, and shortly thereafter, began our descent into AUS. Although it rarely happens, I became really disoriented as we got closer to AUS, though admittedly it was not a direction I normally come from.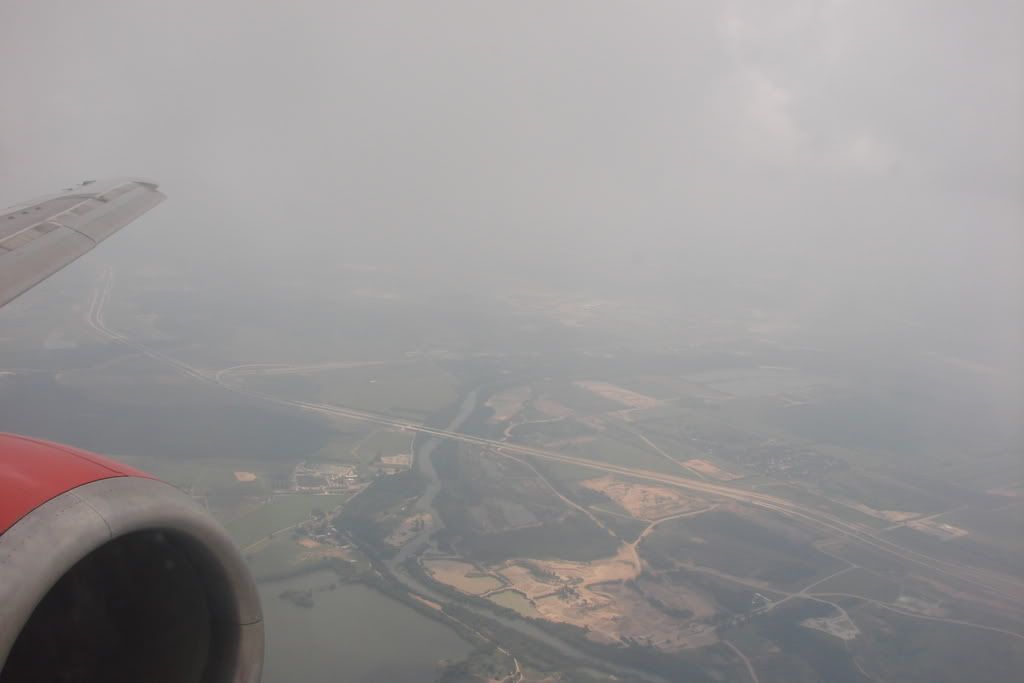 Pretty poor visibility descending into AUS.
We flew a left downwind, made a turn back to the west, then south, to line up for 17R. My camera batteries died right before my video started, so no video of the landing. It's a shame, too, as it's the first time I've landed in daylight in AUS in probably 5 years. We made a quick taxi over to the South Terminal, where we had a visitor, an AeroMexico Connect ERJ 145, that had just arrived from MEX. Alas, this made the little, rudimentary baggage claim facility very cramped. We eventually passed through customs and immigration, officially arriving in the United States, and ending an excellent vacation.
Hope you enjoyed! Feel free to leave comments/questions/constructive criticism.
Cheers,
Cameron