As I haven't really done a long haul trip report and that also this one was going to be in AAs Flagship First, I thought I would treat you all to a trip with AA!
My last couple of TRs haven't been to the scale of this trip but more of little hops back and forth to MIA out of GCM.
GCM- MIA
https://www.airliners.net/aviation-fo...ums/trip_reports/read.main/124795/
MIA- GCM
https://www.airliners.net/aviation-fo...ums/trip_reports/read.main/124834/
Well now let's get down to the good stuff!
I decided that it was time for a break from work and as my Nephew was going to be christened on the 25h of May up in Aberdeen, Scotland, (yes I will miss the Monaco Grand Prix for this but you have to take some sacrifices!), I decided to take a week off work and head over to see my Brothers family and catch up with some friends from University.
As I am a working man now and I was going over for a short period of time I thought I would try and go AA business class across the pond and use up some of my miles in the process but at least enjoy the comfort of what AA has to offer up front. However when looking for AA milesavers (90,000 miles round trip) in biz I couldn't find any fares on the days that I wanted to travel. I then looked at AA First (125,000 miles) and found that I could go first class all the way but I would have to go via ORD and on the way back, spend a night in BOS. I actually jumped at this ticket as I always normally do the MIA-LHR-MIA route on AA and I always enjoy a different airport with different sights! So my routing would be:
20th May. GCM-MIA (AA flt 1746-B738), MIA-ORD (AA flt 295-B763), ORD-LHR (AA flt 46-B772)
22nd May. LHR-EDI (BA flt 1446-A321)
27th May. EDI-LHR (BA flt 1445-A321), LHR-BOS (AA flt 155-B772)
28th May. BOS-MIA (AA flt 1909-B757), MIA-GCM (AA flt 561-B738)
I was able to get all the above for 125,000 miles and just for 340of my US dollars in taxes.
This trip was actually going to set some milestones for me as this would be a trip that I get to travel on every family model of Boeing aircraft that AA have. I would also be using BAs new mammoth of T5 to travel up to EDI (and also on BAs new A321s) and that this trip will be in First Class which for me is going to be a rare thing! I have twice been on AA F across the Atlantic but this was well before 9/11 and back in the days when your could upgrade on AA for just 25,000 miles on the day of travel to biz class and then getting another free upgrade to First as they needed my seat in Biz!
With this all booked and the 20th of May approaching so fast I could hardly keep in my excitement!
Also with work somehow being quiet in the airport there wasn't a lot to do so with the 20th getting a lot closer there seemed not that much to do but ponder on what my trip would be like! I was really looking forward to my trip as I would be also getting to show off the new biz class and also the flagship suite! I have been on both before (Suite when it was just introduced, Biz class two winters ago MAN-ORD)
As my flight was a Tuesday morning, and thankfully I was working only Monday morning so I was able to get home and try and start the packing. However as it always is the same, I always wait till the last minute which is never the plan! Also Monday nights here are something of a must to go out and with my friends all saying that I didn't have work I should definitely be out! Well I did go out and foolishly I kinda got stuck into a game of dice which was stupid! However after saying to myself that I would be in bed early I left earlyish (1am!)
I awoke with the alarm blaring off at 5am and with a quick last check that I had packed everything and before I realized, my taxi was waiting for me to take me to the airport.
Perimeter road around the end of Rny 08.
Threshold for Rny 08. If you could get above this fence then you can get some great photos of aircraft departing and also arriving.
Welcome to GCM!
Owen Roberts (GCM) is at the moment in a state of chaos! The construction of the new terminal is starting and also after seeing the plans, it's gonna be a long time before this terminal will be done!
Check-in was quick and as usual and normally the terminal at that time of the day is empty as only AA and KX have flights departing at that time (AA and KX to Miami and KX to Kingston. Also a KX express to LYB and CYB). The terminal is packed during midday when most of the flights come in.
Security was always busy at that time as the 3 flights all leave around the same time and of course security only have one of the two lines open! Also after this in Cayman, you go through immigration here also to show that you are leaving the Island and that it actually is you leaving the island.
Our very small departure lounge. This place is packed at lunch time with all the flights going back out.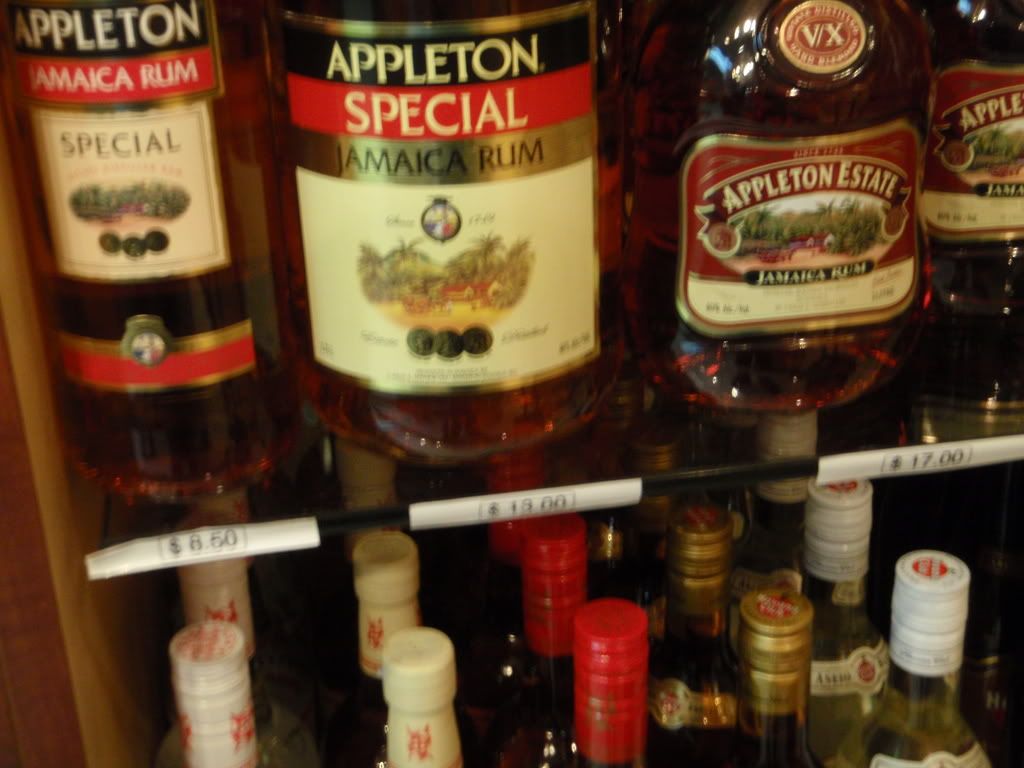 Best place to buy duty free! These are all US dollar prices!
I sat down and decided that because I was pretty tired and that I had a short wait here on the ground, I would fill in my US immigration forms now and then on the aircraft try to sleep for most of the short journey up to MIA.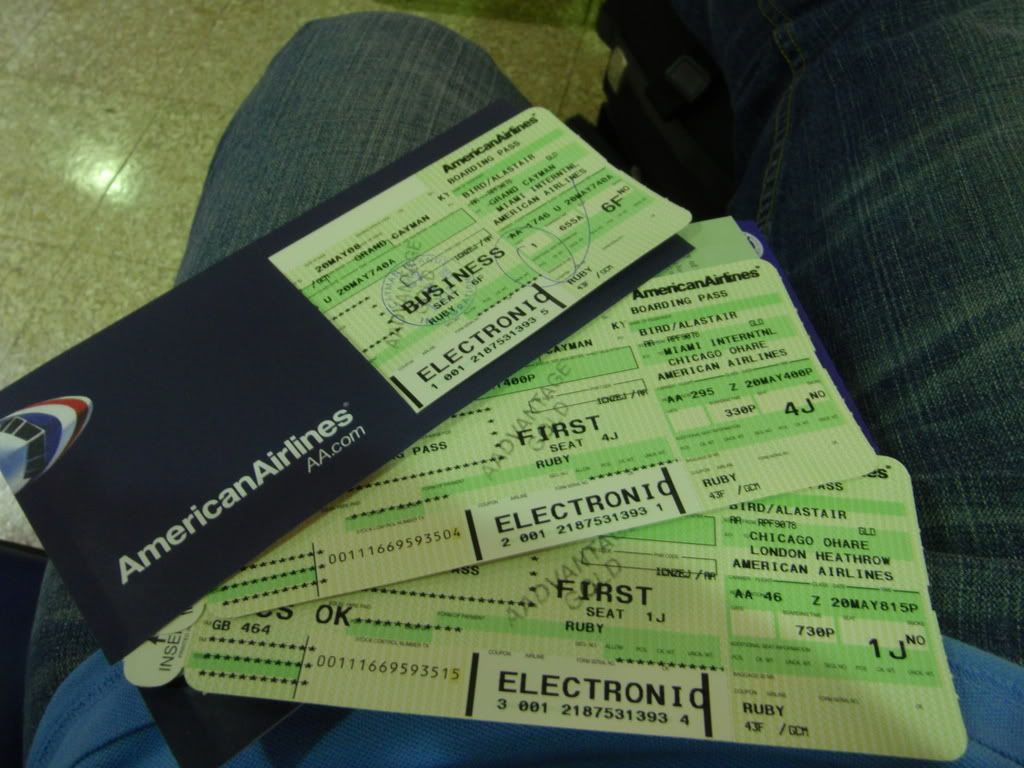 Such a sweet sight! Business, First, First!
Soon before I realized, they had begun the boarding for out flight up to MIA. Now a little tip for GCM is don't be first to board! I have found out this too many times since 9/11 there are always extra random security checks! I got in the queue around 5-6 and soon looked at the person (who ran to the front to try and get on the aircraft first!) who was pulled over and had a little laugh to myself!
Good shot of the last 732 in KXs fleet! She will be gone probably by the end of June as the new 733 comes into the fleet.
AA flt 1746
GCM-MIA
Dep: 7:40am
Arr: 10:00am
Acft: B738W
Seat: 6F (biz-window)
My aircraft getting ready for departure this morning.
Making my way up the stairs to the entry door looking at our beautiful aircraft!
My seat 6F.
A look at the First Class seats on this 738.
Not bad legroom on these 737s!
The view from my seat.
Today's flight was pretty much full. All of the biz seats were taken and the flight attendants did make a routine announcement of making sure that if you had 2 bags that you placed one under your seat due to the flight being full.
Soon when everybody was on board the door was shut and we were soon underway for our flight to MIA.
Pushback and looking towards the terminal.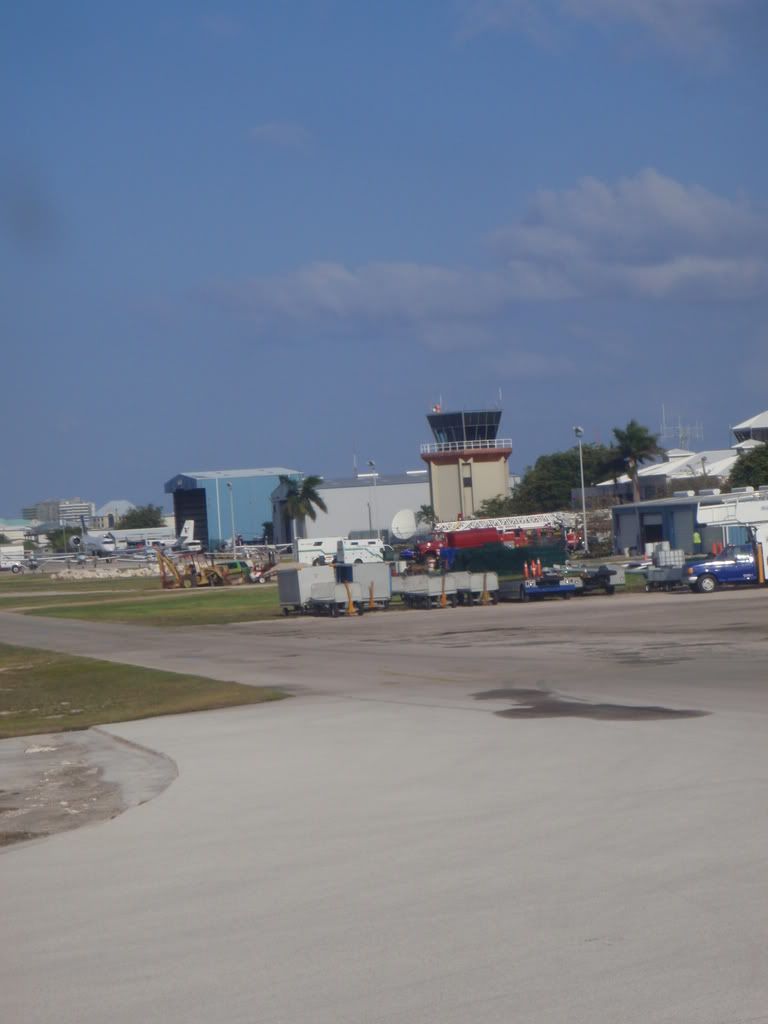 My boss was in the tower this morning and was doing a good job as we didn't have any hold ups with ATC or clearance (not that we should of as the airport is basically empty tam!)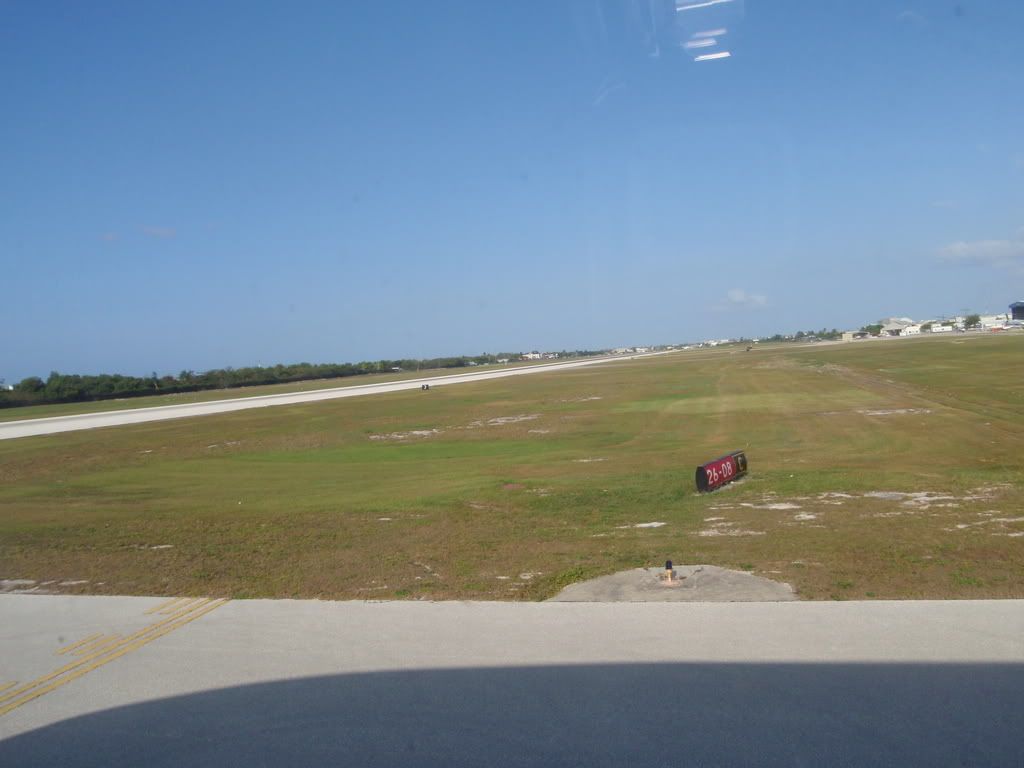 Aircraft just passing the holding point at Taxiway Charlie about to backtrack all the way up the runway.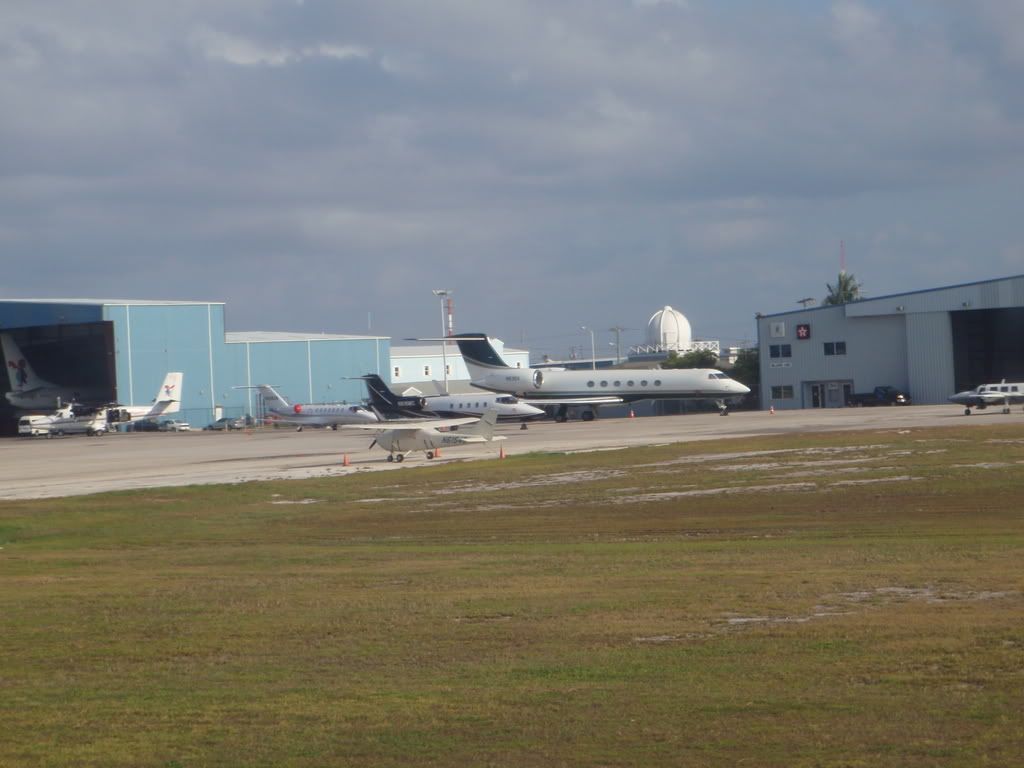 Our General Aviation Ramp. Not much here apart from the G5 which belongs to Dart. He has around 304 aircraft and actually his aircraft cost more than the whole of KXs Fleet!
VP-CAY in the Hangar for maintenance. Tuesday is normally a maintenance day for KX and you will usually find one of their aircraft there most of the day.
Our takeoff. RIKEL 2 departure today which involves flying the runway heading until 500 feet then making a turn to Radial 42 for departures.
Our flight today was a little bumpy as we climbed out due to some weather front in between us and Cuba, There were a lot of big cumulus clouds already forming over the sea and this is usually starts more around midday when the heat builds up!.
A view after our left turn heading northerly looking towards the east side of the island. Rum point is on the far left tip if the island in that photo.
View of the crystal clear water as we make our way out of the island. This is roughly under 2 mins after departure and notice how our slats are already up and in the clean position.
The building clouds just North of the island that we were going to try and avoid as we made our way North.
After that front, there wasn't a cloud in the sky!
We soon were cruising at 35,000 feet and our flight attendants were soon working their way through the cabin to offer us a beverage of our choice for this short flight. I just asked for a glass of Orange juice and soon the flight attendant brought me it in a glass and also with a little biscuit. The flight attendants on this flight were very good and came around once or twice to make sure if anybody wanted a top up or another biscuit which in my books now for AA is very good! (to me this is what makes or breaks a flight – the service) He also was very helpful in telling passengers that who had bought Duty Free and were going onwards to another destination that to stop security taking it from you, you would have to put it into your checked bag (if you had any) cause they wouldn't care if it was bought in a secure place already and explained that actually when you cleared customs, you were not airside anymore so they would just see it as banned liquid. Very nice of the Purser to say this all and make sure that no one went home empty handed! (obviously I think he has had a bad experience with TSA- but then again, WHO HASN'T!)
Now I had planned to try and sleep for this journey and unfortunately it didn't happen. However I kicked back and just put my iPod on and enjoyed the short flight over to MIA.
Somewhere over Cuba.
Soon we had flown over Cuba and were making our way down into the MIA area. Our flight route took us basically straight over the keys and into the everglades to the west of MIA. We then made a 90 degree right turn and headed out to the east to come in onto runway 30 at MIA. The weather in MIA was very good and although there was some large clouds around it still didn't stop me taking photos!
Making our right turn to head out to the east before our lining up with Rny 30. Technically it was more south-east.
HELP needed on which airport this is! It is north of Homestead but south of MIA. Is this OPA?
After turning onto a heading of 30 for finals into MIA. This is the famous Miami Beach!
A view of Downtown Miami.
Looking back to Miami Beach and also you can see the little islands where the rich and famous live!
Our landing into MIA. You will see the new Terminal J and also a Korean 744F about to depart! Out of interest anybody tell me where that aircraft would be off to? I would presume guess it's not a nonstop flight all the way back to ICN!
We soon made our way off the runway and back along to our gate of E25.
Gotcha! DC-10 just touching down on Runway 27.
An AA A300 Scarebus just pushing back for her departure for today.
I've seen you already today! KX aircraft VP-CYB that left before us from GCM already at the gate and getting ready for her flight back down to GCM.
Immigration today was very quiet, however it seemed that the staff all saw us coming and didn't want to get stuck here for another 20 mins and decided to all go on break! I had to swap 3 times to find an officer that was not going on break and soon was through immigration heading down to Baggage re-claim and customs.
My layover in Miami was going to be around 5 hours so it wasn't really enough time to head out to Miami so I would just stay in the terminal. I also was on strict rules to find chocolate cherries for my Sister in law (as you can't get them in the UK it seems!) so after purchasing some outside of security, I made my way to the Admirals club in concourse D.
This admirals club to me isn't the best layout but I think that it is due to the club only really being half finished. I Say this because I presume that when the new terminal in built for AA at MIA, the expansion of the admirals club will increase and make the place a lot bigger. At the moment it feels as if the club is just too small and kinda odd. However I found a place where I could plug in and sit back and relax while I had my long wait in MIA.
What else to do but check the A.nuts out!
My friend had given me a copy of the film 21 so I decided to sit down and watch it. It was a really good film and actually was great for killing more than 2 hours of my layover. Where I was sitting it wasn't a bad place to watch the aircraft come in for landing, however the way the glass is makes it hard to get any good photos but here are a few anyway.
VS coming in from LHR. Notice you can probably only see the inside reverse thrusters are only used. Same as the A380.
My 763 arriving in from ORD and pulling into the gate. This flight I have been watching normally leaves late out of MIA and I was worried that I may not have enough time for my flight in ORD! However after only seeing that this flight is only given an hour for a turnaround!
After a long wait and boarding was to begin at 3:30pm so I made my way down around 3:20pm as the gate was only 5 mins away.
The new Terminal D is actually amazing compared to the old rubbish that use to be MIA. It has large ceilings and a lot of natural light!
View down onto it from the admirals club.
Great new concourse D!
As I arrived at the gate I saw a lot of commotion around the gate and actually found out that they had begun boarding First class! In fact they then made an announcement saying that it was only First class boarding as they hadn't finished cleaning the main cabin. So I headed down to the agent and boarded the aircraft.
AA flt 295
MIA-ORD
Dep: 4:00pm
Arr: 6:20pm
Acft: B763
Seat: 4J (First- Window)
Now I haven't seen many reports on this new seat so I will have to have a go and try my best to show off this seat. As we boarded all the window shades were drawn down I presume to save on energy to keep the aircraft cool.
My seat 4J.
Now many people seem to bash AA for this seat but this seat to me is AMAZING! It is very comfy and it is such a big improvement over the old cradle seats! However I will conceded that maybe there are a few flaws in the seat and one maybe that there really isn't enough space for storage around the seat for your items really. However with the IFE on the domestic flights meant that there was plenty of space on this flight!
My leg room, Notice the small pockets for storage of magazines and also safety cards. Actually these pockets are pretty deep so plenty of space for items (like my iPod and headphones-plenty of space)
View of the top of the seat backs. Notice the little light there for when you're working you can have plenty of light when working using the tables.
Coat hook for jackets. The cabin crew actually came around and asked if you would have liked your coat to be stored in the jacket closet.
Controls for the seat. Also has a button for a memory if for a comfortable position that's not already in the preset functions.
Instead of announcements by the cabin crew, there are built in announcements about placing your bags in the overhead bins and under the seats in front of you. Also notice the new LCD screens.
New Boeing signature bins in these new cabins! I'm not sure if they actually store more space but do look a lot better Shame that AA haven't really put this in all of the cabins (only in First and first section of Economy).
One of the two tray tables in this seat! Notice the big empty space that would normally be for the IFE unit on the International flights.
Not the best look for this new cabin! I think that this must have been one of the first aircraft to upgraded with the seats. Also a good view of the magazine holders here also.
Even though all the blinds were closed, I took a quick pic of the outside world!
Soon around 4pm the aircraft was fully loaded (100% in both cabins) and we were pushed back to make our way to ORD! However our captain soon came on saying that no matter that we pushed back early, we had a lift off time of 4:19 and we could only try for a 5 mins early departure so we moved slowly down to the end of the runway and the captain turned off one of the engines to save some fuel (fuel smart man!)
Pushed back and making our way to the end of 26L.
Making our way past concourse A that has been shut down while they build the new Terminal. However I saw this photo and as you can see that all these gates are extremely close! I presume that they have been moved for some reason in construction!
Another AA 763 coming out of the storage area I presume getting ready for a flight probably to CDG or MAD.
A line up of AA tails all waiting for their next flights. 2 A300s and 3 777s!
Some ATRs in the maintenance shop getting some work done to them!
The beautiful silverbirds of AA! Love the 777s!
AA A300. These birds are well needed and do a great job even if they seem to be falling apart!
Our departure today was a good one and gotta love those engines! We soon made our turn to the north and began to climb away from the MIA.
Looking back at the sprawl of Miami and Ft. Lauderdale.
Great seat and also very very comfy when I began to recline the seat!
Good view of Florida as we make our way north. Notice the huge Thunder clouds forming up a head. We were going to make a little deviation to avoid these storms!
Soon the screens began to show a video about how to use the new seat and all the features. Not a bad thing to show I thought to allow people to get to know their seat!
The new Air show map! Looks like a satellite image and a lot nicer than the old one in my opinion. Very much like the ones that SQ use on the 77Ws and A380. Also had the sun position in relevance to the aircraft and world.
I put the seat into full recline just to show off the new seat. It does make some odd movements before the seat goes flat (such as it moves up and forward). It gives the feeling that the seat is going to crash into the one in front but then moves back down. My shoes were also off and didn't get crushed when the seat went flat so there is a little space down there but not enough for a bag!
Seat in full recline. I am a big man so it doesn't seem like there is much space but I felt absolutely comfortable.
Kind of view of the angle of the seat is. This camera is kind of showing the way you would look when the seats in recline. Very comfortable!
This armrest as shown can be moved down to give you more space when fully reclined. A very good design to give space to the passenger!
This shows the very innovative table feature on this AA 767. There are two tables, one from the back of the seat in the front and one in the seats armrest that join together to create a very large work surface to work on. The armrest table is large enough to use on its own anyway but a great idea to have plenty of workspace.
About 20-30 mins into the flight the flight attendants made a round for drinks and also gave out the warm nuts before the dinner service. As it was past 6pm (somewhere in the world) I decided to have a Jack and Coke along with my nuts
These nuts are great and I still am trying to find out where they get them from!
I put the seat into a semi relax mode but also upright to have my drinks and the dinner that was due up soon enough.
Looking back at these great GE engines as we head over Florida.
This huge storm was over the edge of Florida and Georgia. I always think that these clouds are superbly impressive and I stared out at the cloud for ages as we went around this storm system. Some turbulence was experienced around the storm but nothing too violent.
Soon a hot towel was passed around and the flight attendant on our side of the aircraft came around with the trolley began the dinner service. As this was an Odd number FEBO was being respected and she began at row 6. The choice of the tonight's dinner was Chicken with Beans on rice, Or a cheese tortellini. I chose the cheese tortellini and I am glad I did as it was very very good! I was surprised with the choices as I was expecting some kind of sandwich on salad thing! This may have been because I was on a 767 but I was still very impressed with AA and the food! Also METAL CUTLERY! It's been a while since I have seen this on AA! Extra bonus!
Cheese Tortellini with a salad and foccia bread. There was a choice in bread also.
Ah this dessert was not expected! I was looking for just the usual cookie but the chocolate ice cream with cheesecake bits and raspberry sauce was just amazing!
AA for me here just made my trip! I was kinda of expecting the usual First class food that I have been seeing for a bit now on AA domestic First and then this was a wow! It may have been just the 767 so then I have a tip for other thinking of travelling on AA First, GET A WIDEBODY! Or perhaps this is just an improvement from AA!
As this meal service was quite a long service and filling so I put my seat back and began decided to sleep off all my work from that meal!
A very nice touch I think to the seats and looks very cool!
I slept mostly apart from the odd bump that woke me up but I was soon back off to sleep. The duvet and pillows on these flights are very comfy and great for keeping you warm and cozy!
I awoke with us well into our decent (I believe the announcement for the arrival was being announced- it was an automatic one onboard the 767) and already over lake Michigan. I put my seat up and got ready for our arrival into ORD.
Making our turn over lake Michigan onto a runway of which I don't know which number it was!
Over Chicago suburbs on finals into ORD.
ORD is an amazing airport! There are departures and arrivals on many runways that all zigzags! As one arrives on one, another aircraft is waiting for it to land and pass its runway so it can take off! Fascinating stuff to watch but must be very stressful for the ATC! I'm glad that I don't work in a place like ORD!
An AA MD80 landing after us.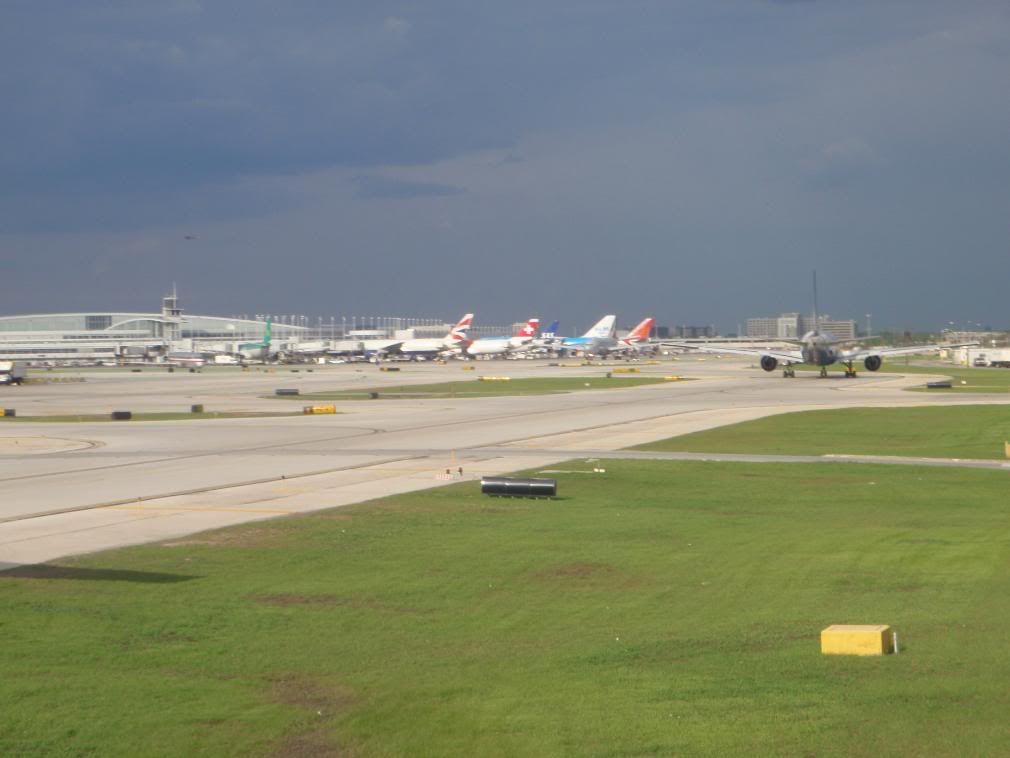 A look at the international terminal here at ORD. All international flights have to go into there no matter what airline (AA international arrivals are here but departures are from their normal terminals.) Out of interest then, who has the pleasure of moving these aircraft back to the normal terminal? The pilots surely have cleared customs and probably want to head on home or do they have one final thing to do before leaving?
A UA 763 in the new colours heading over for departure.
Another UA new colours but this time she was a 777!
A VA A343 departure off to LHR. Must be one of VAs last A343s.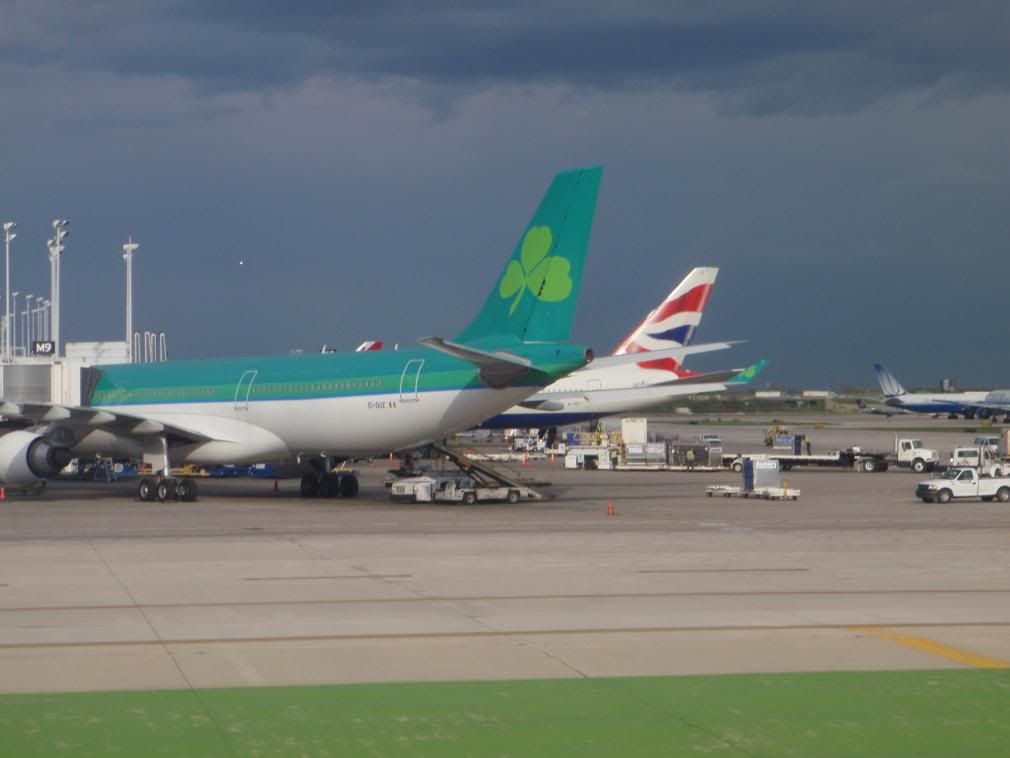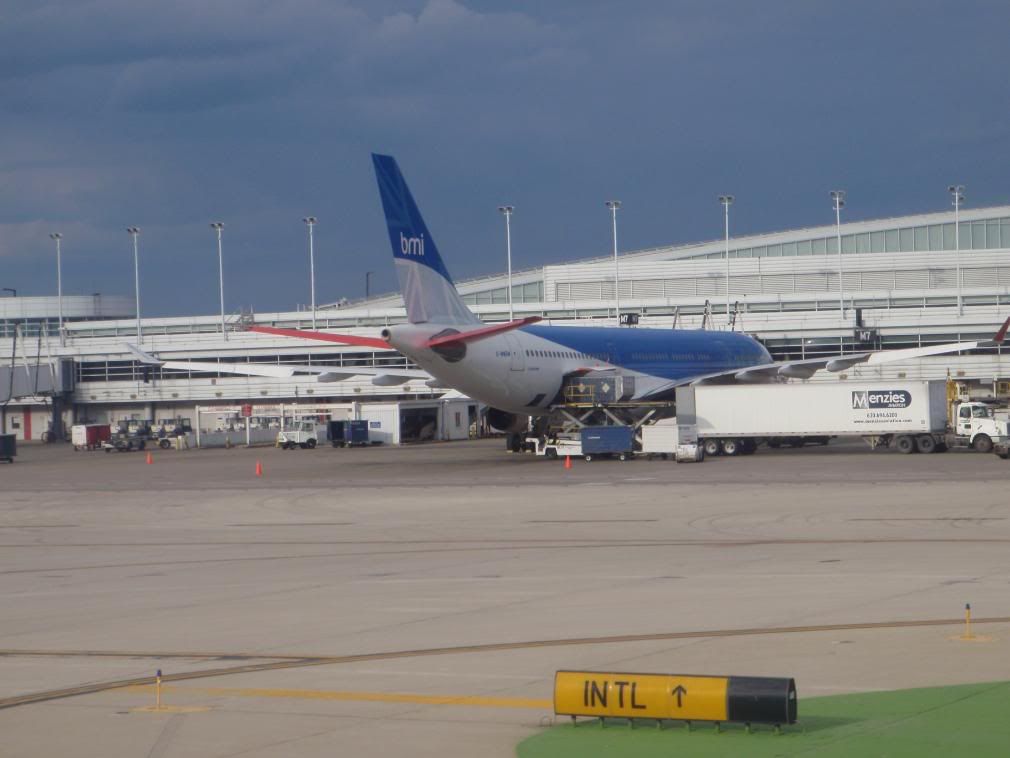 EI and BMI A330s at the international terminal. Our aircraft actually had to move around a bit as our gate wasn't free and we had to wait for the alleyway to be clear before we made our way into H concourse.
AA 772 getting ready for her flight to Delhi. AAs longest flight I do believe.
Were in Mad Dog Country! MD80s everywhere! No longer at MIA anymore so a treat for me to see once again!
Soon the aircraft was parked at the gate and our engines spooled down and fasten seat belt sign was switched off which as always causes a mad rush for the isles! As much as I like to get up sometimes I didn't want to leave me seat!
Now for all those who think that AAs seat is already outdated I would ask you to reconsider. This seat is really, really comfy and a great improvement from the last