When some friends invited us to visit them at their house in Spain, we didn't hesitate long. A short spring break was just what we needed (and an opportunity to write a trip report on an airline other then LX 
)
We had the choice between easyJet from Basel or Air Berlin from Zurich to Alicante. As AB's flights aren't daily and as I couldn't be too flexible with dates, I chose U2. The tickets were booked 2 months in advance during an easyJet promotion – 341 CHF for me and my boyfriend plus one suitcase, not bad at all.
Saturday May 3rd
EZS1083 BSL-ALC
ETD 1045 / ETA 1300
A319 HB-JZG
Load factor – ca. 90%
As we only had one suitcase, I decided to do online check in to be assured of group A. However, we arrived at Basel in plenty of time and so both ended up with A. Strangely enough there was nobody at passport control, the second time this has happened to me at BSL. I'd forgotten my empty water bottle, which I normally fill up from a washbasin after security, so had to pay the extortionate price of 5.50.- for one……
Although I've flown with easyJet more than any other airline, it had been over two years since my last flight with them. Consequently, I'd forgotten just how bad the boarding procedure can be. I refused to pay the 70 .- they wanted for Speed Boarding, so was left to push and shove at Gate 82.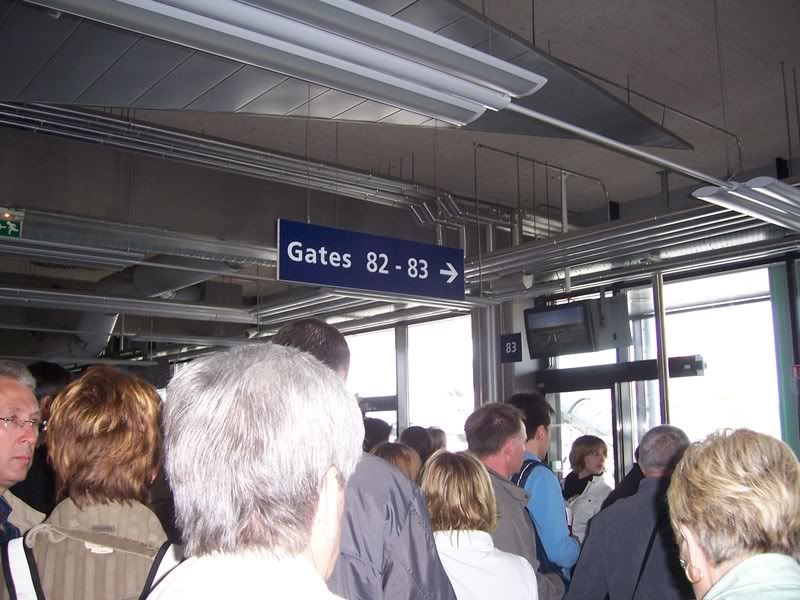 It's actually quite comical. People behind me with group A were trying to push past, whilst Group B passengers were at the front of the queue. Anyway, we made it on to the tarmac and were able to secure seats 5A&B.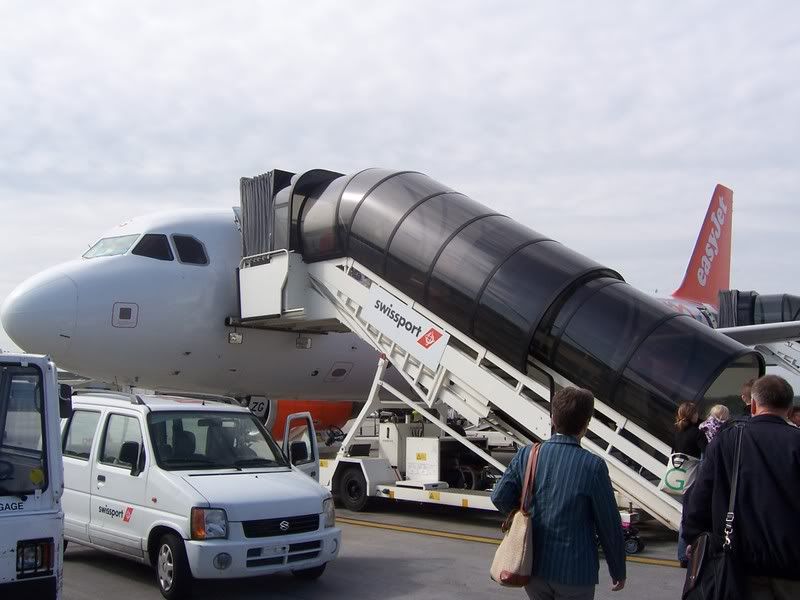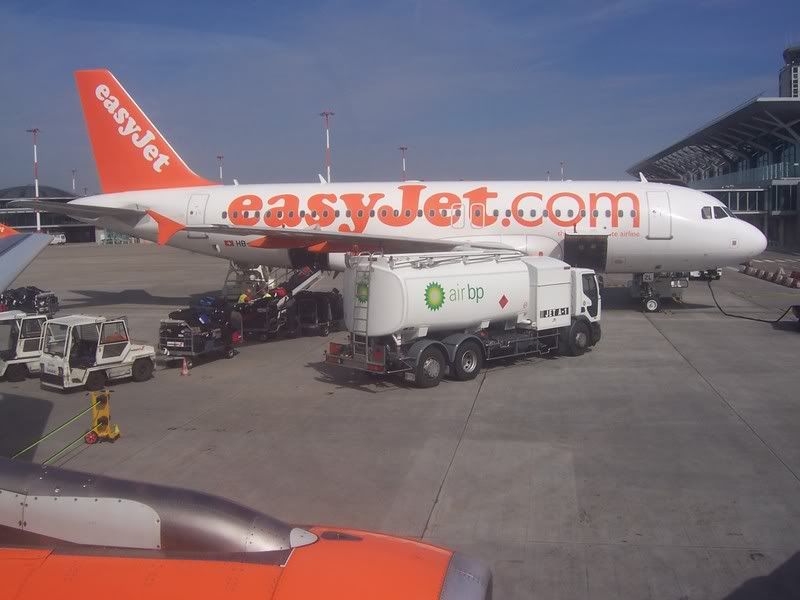 A nice surprise for me, the Pilot was English; cabin crew German and French. We pushed back at 1050 and took off at 1105, flying time was to be 1hr55.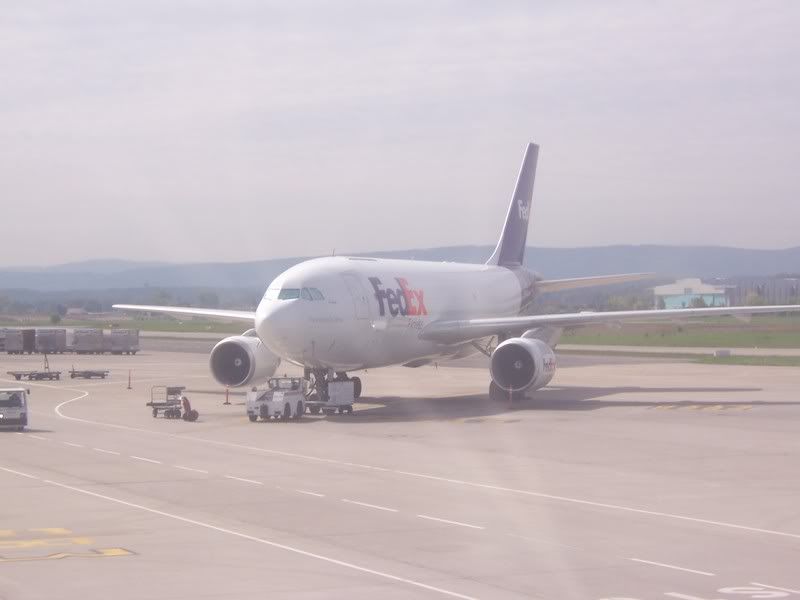 Ready for take off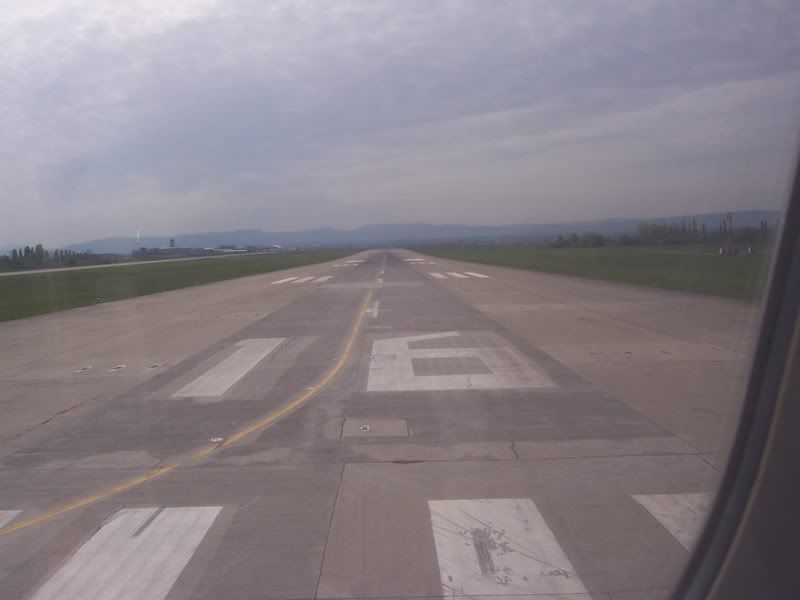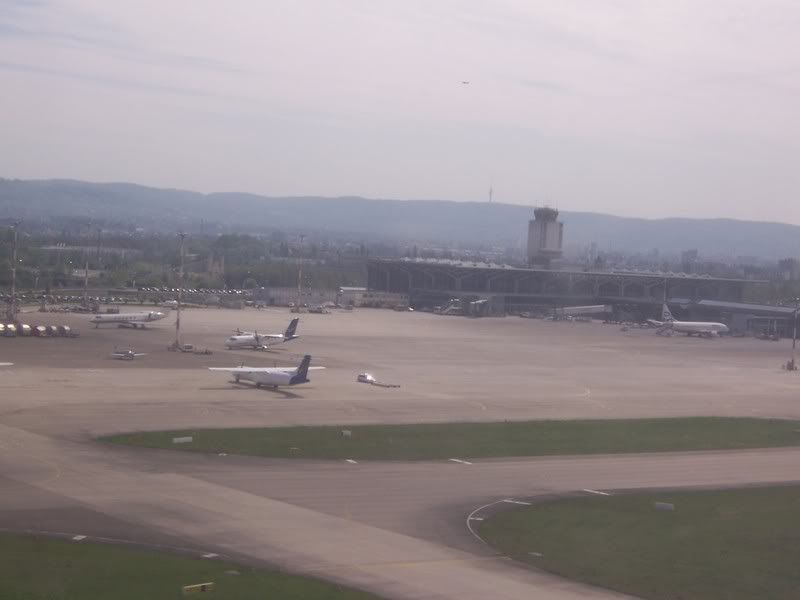 I can see our car!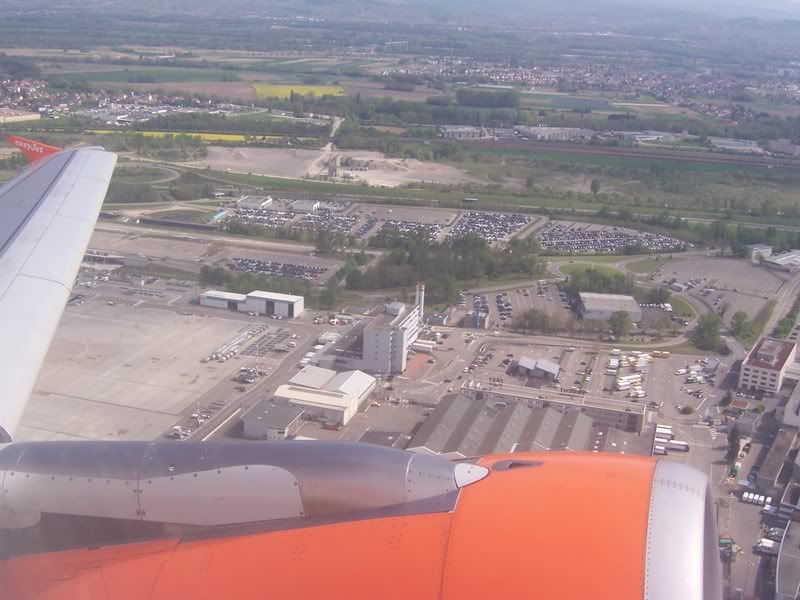 Basel from above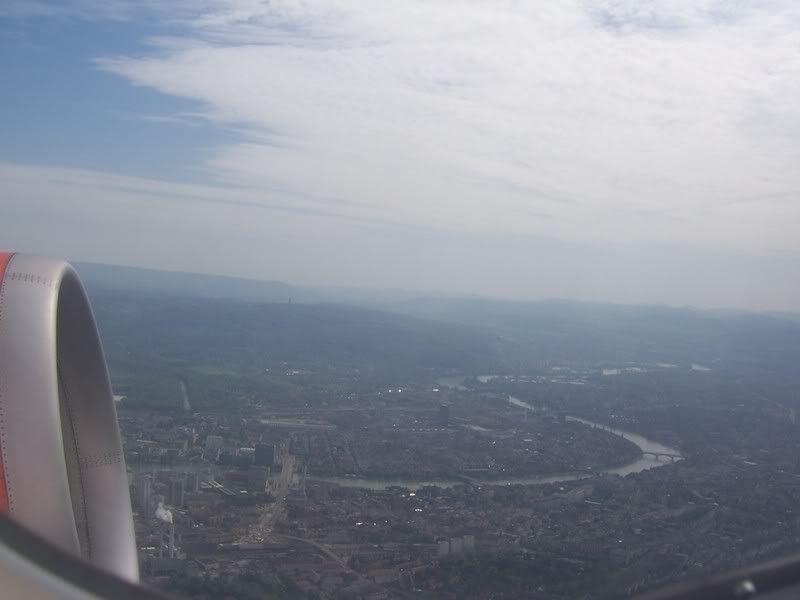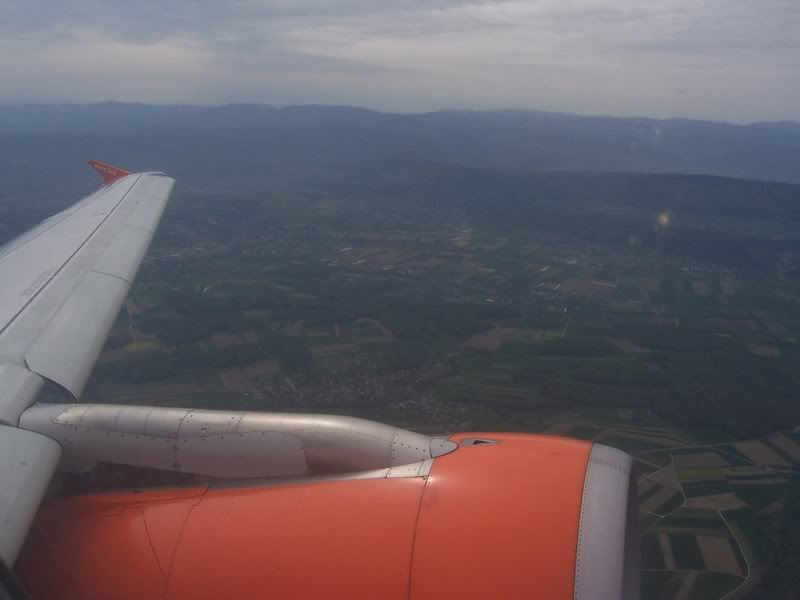 To begin with it was quite hazy, but as we approached Geneva conditions improved and we had a lovely view of the Alps.
Lake Geneva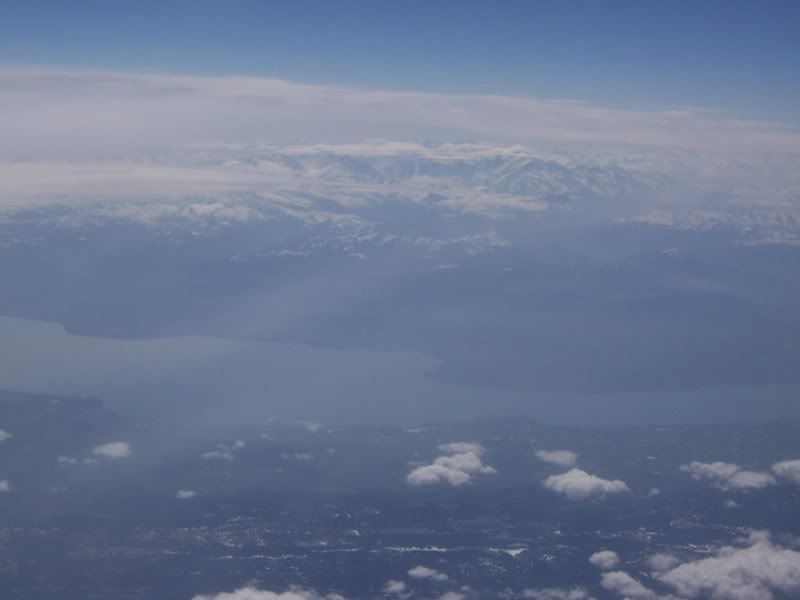 Geneva with airport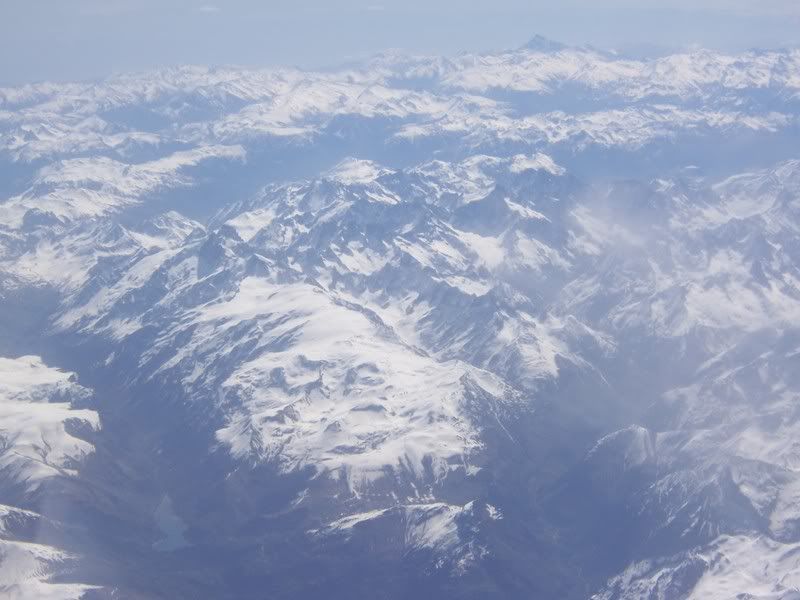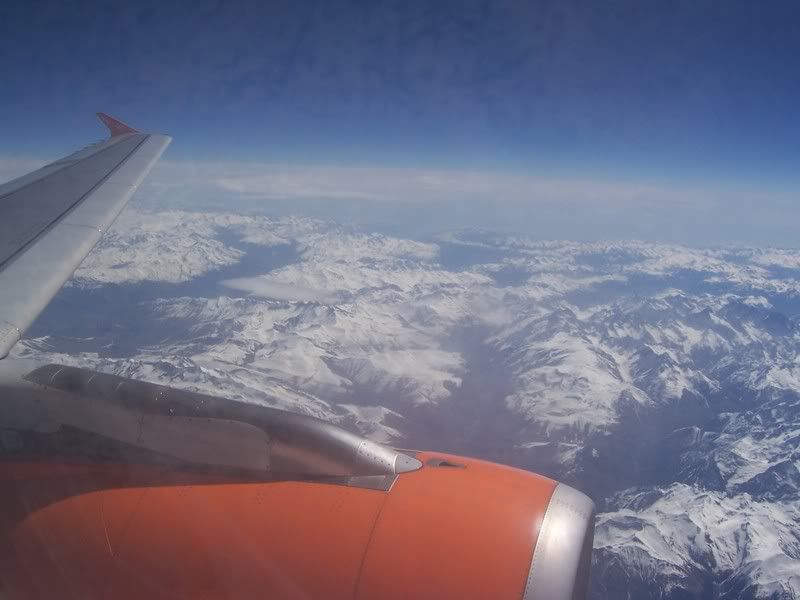 The trolley came round, albeit incredibly slowly. By the time we got our food the trolley that had started at the back was just two rows behind us. I had a cheese sandwich and an ice tea and my boyfriend a noodle soup and some Bündnerfleisch with bread. Total cost 27.-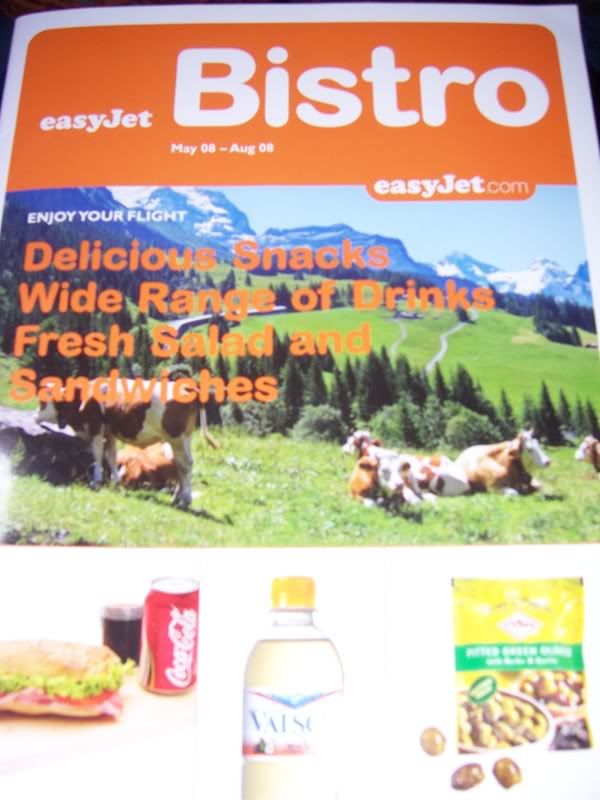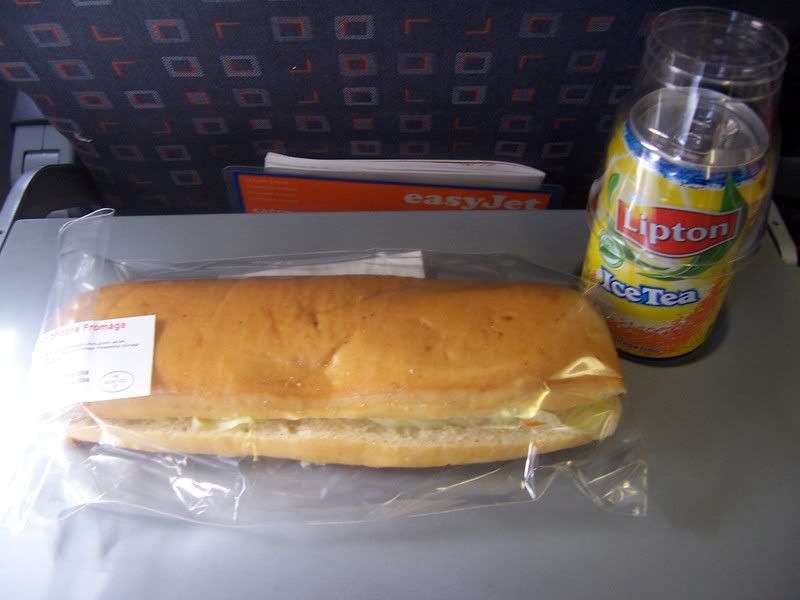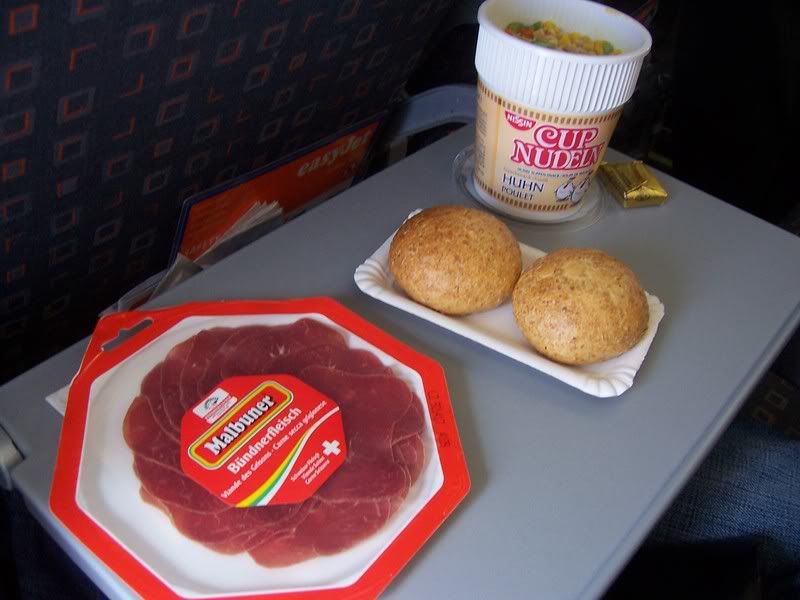 It was hazy again flying along the coast and before too long we began our descent. The pilot told us we would head inland at Benidorm before flying back out towards the sea for our landing at Alicante. I was amazed at how dry and barren everything looked.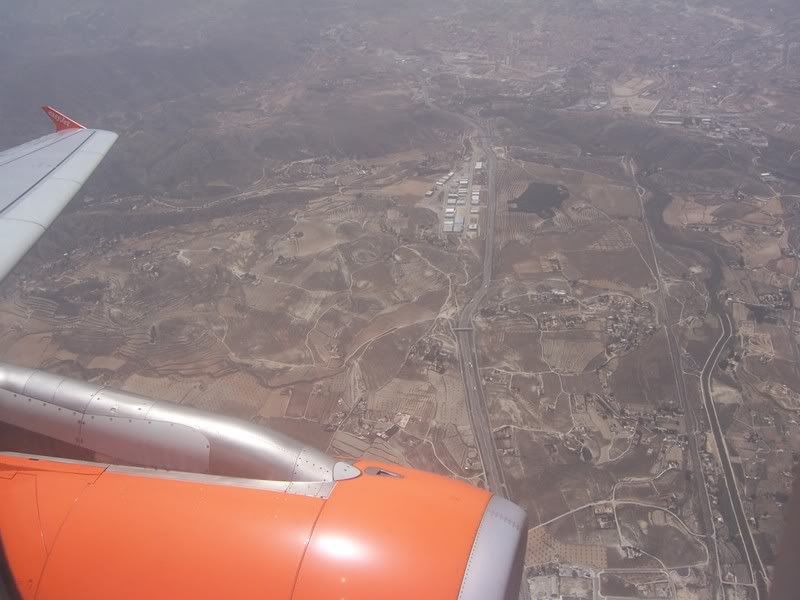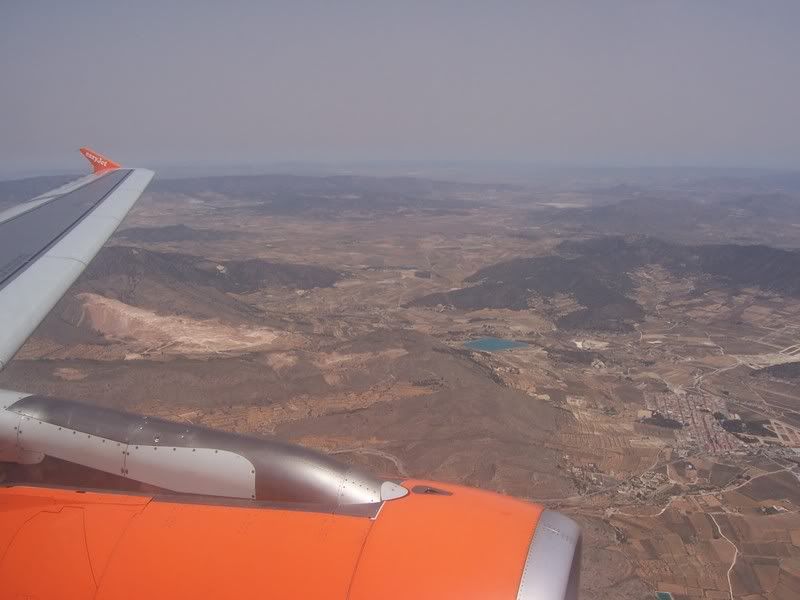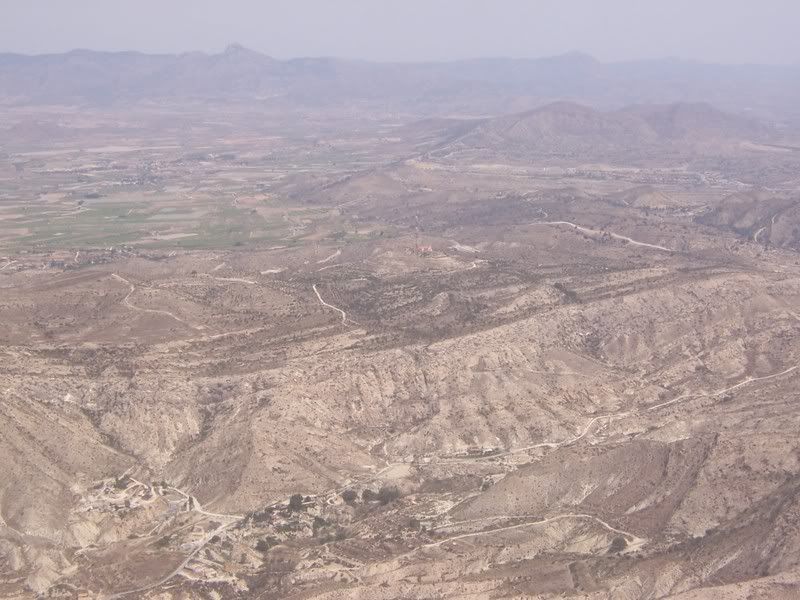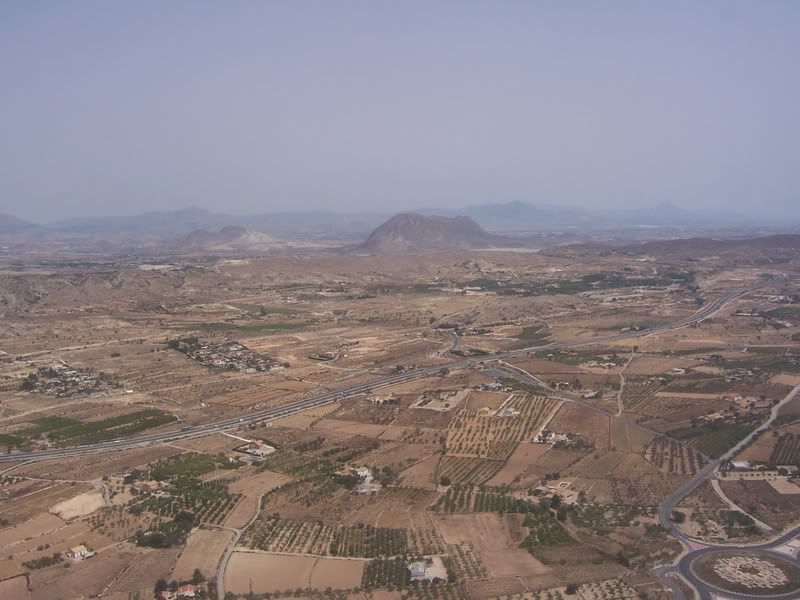 We touched down bang on time and were bussed from our open stand to the terminal.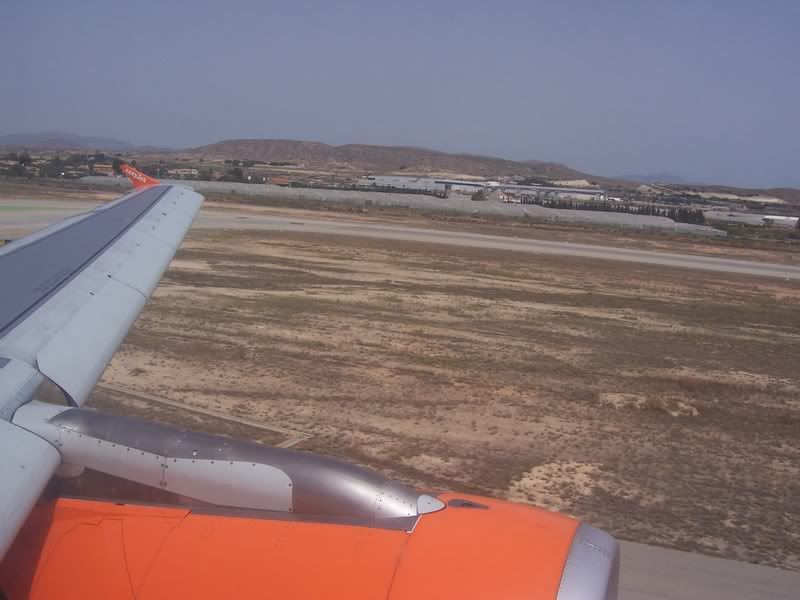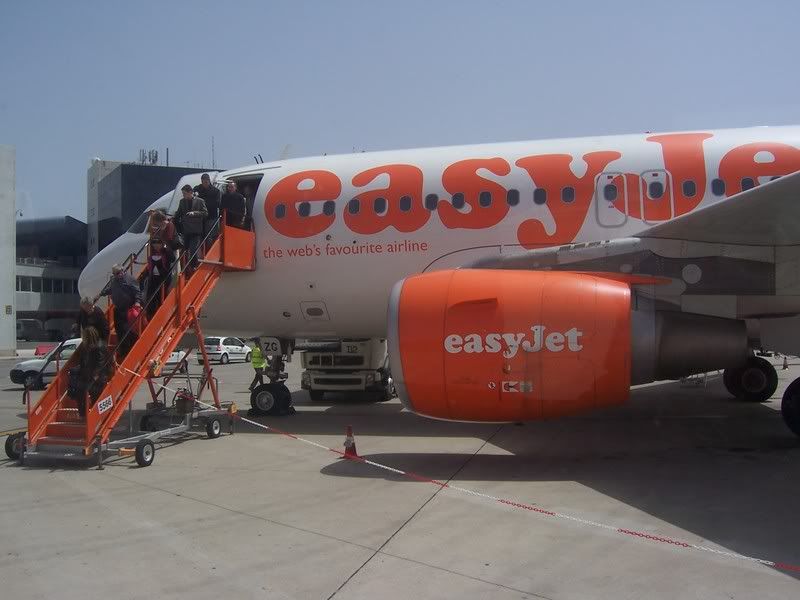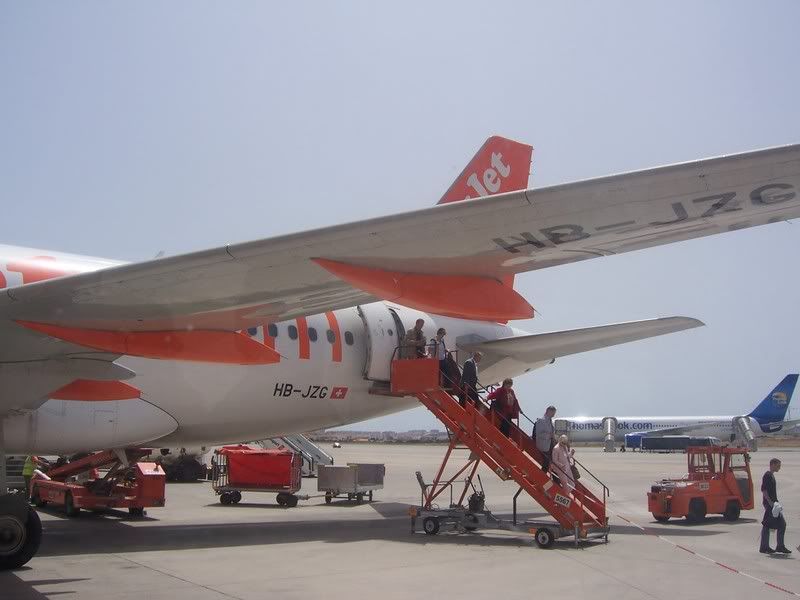 There was a short wait at passport control (but where isn't there these days?), although the sight of a security guard amused me. He was sitting reading his book, oblivious to all the queuing passengers. It must have been an enthralling story  
By the time we reached the luggage belt our case was already waiting for us.
Alicante, after baggage claim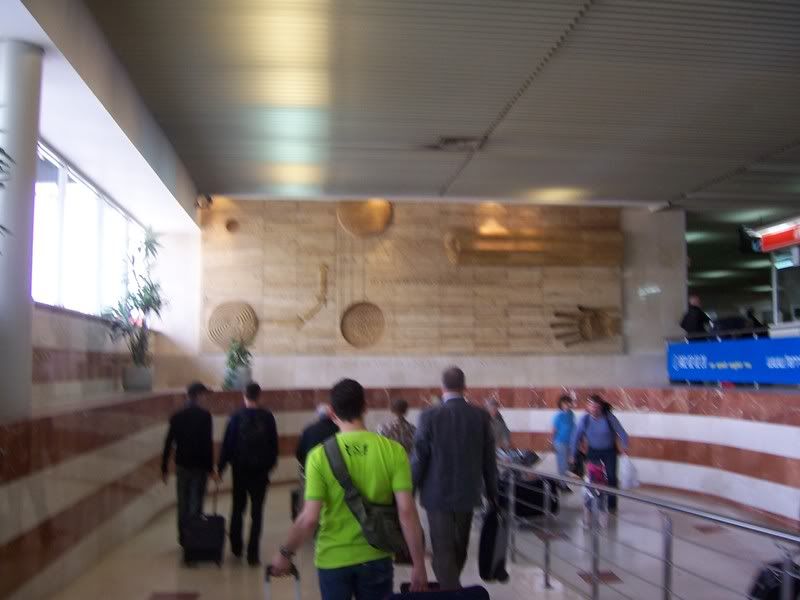 Our friend was ready waiting for us and in just over an hour we arrived at Calpe. Like Benidorm, the resort stretches for several kms, with many skyscrapers but also has many nice villas on the outskirts.
The skyline is dominated by the 332m high Penon de Ifach. This giant rock face is popular with climbers but there is also a path to the top, which is equally as stunning as many here in the Alps. It takes just under 90 minutes to reach the top.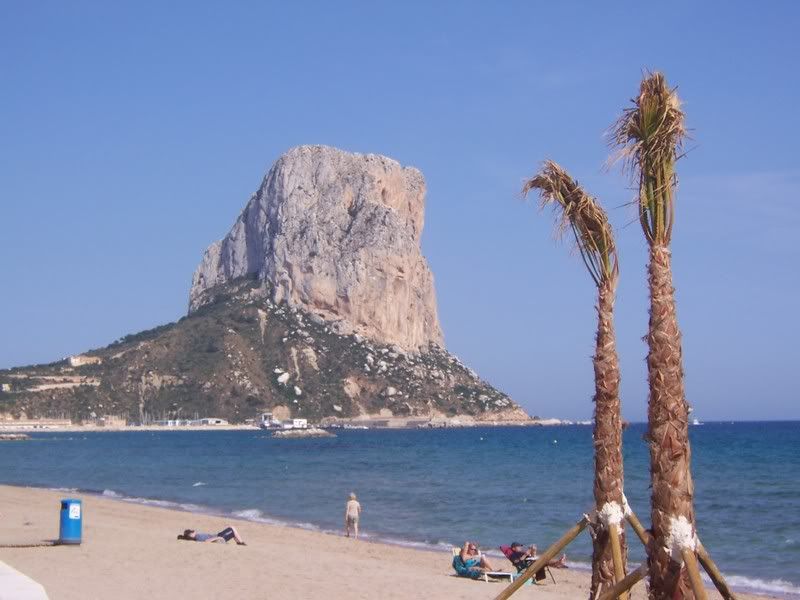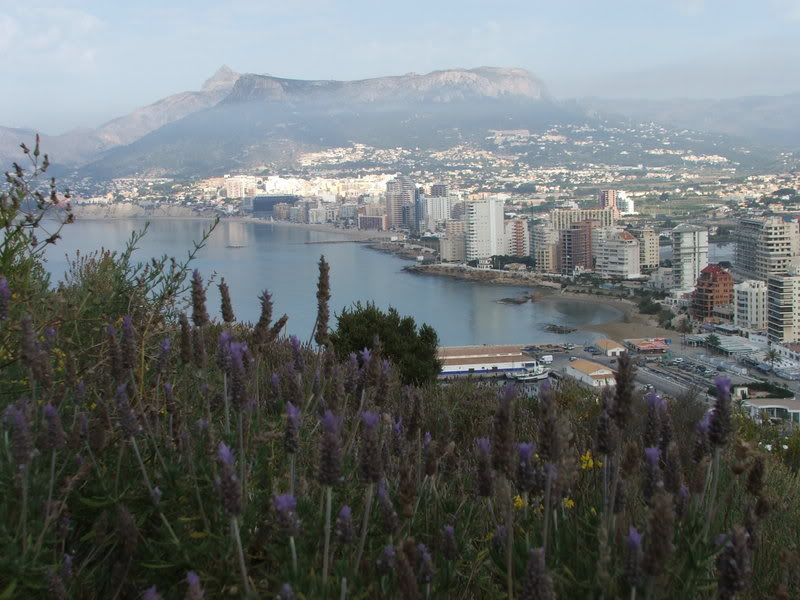 The tunnel on the way up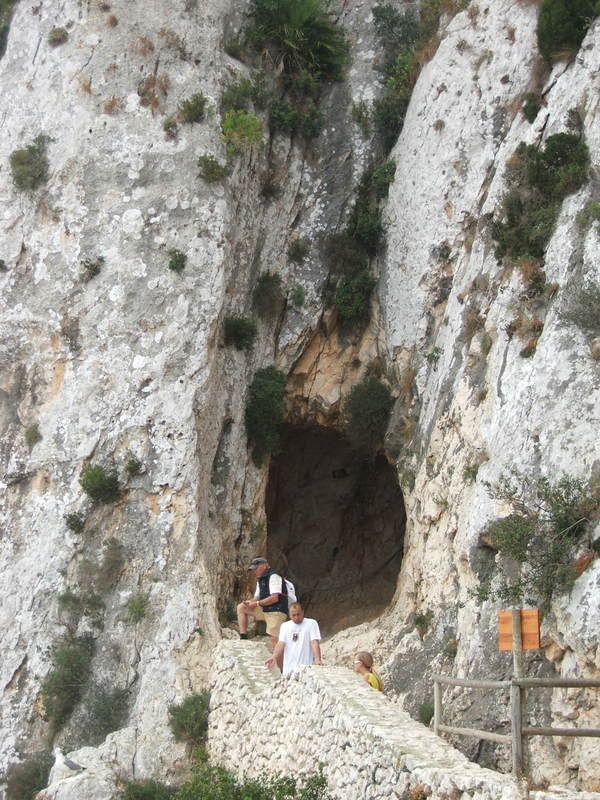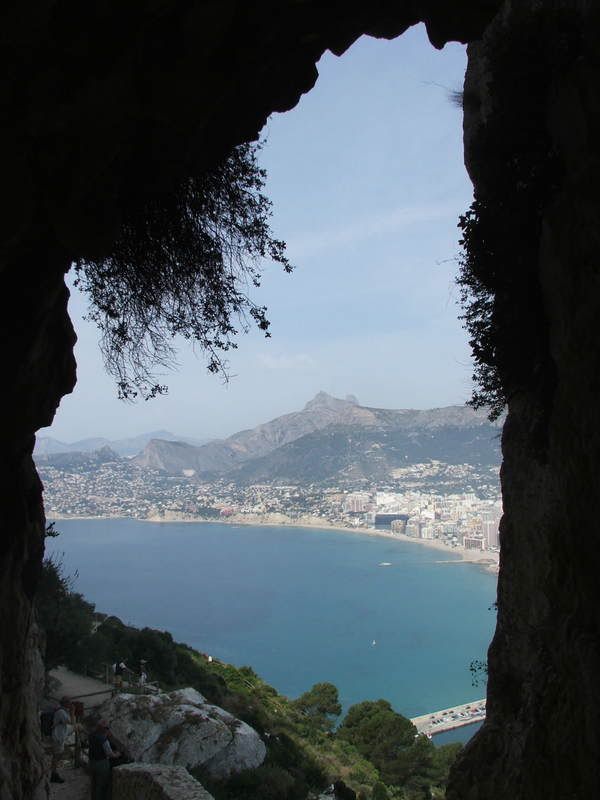 Views from the summit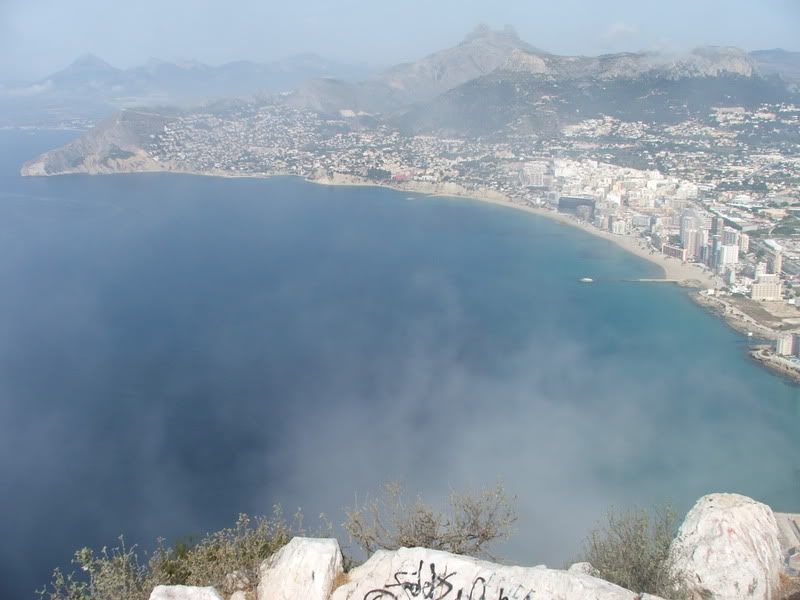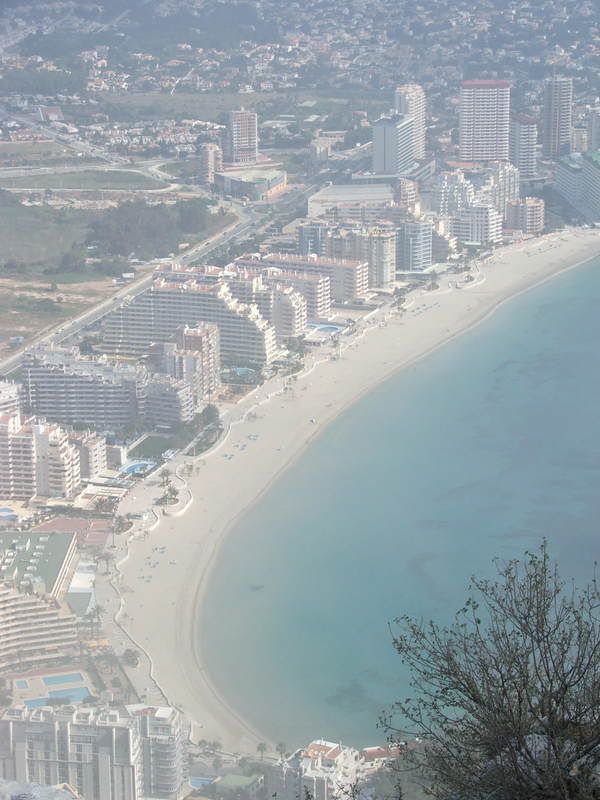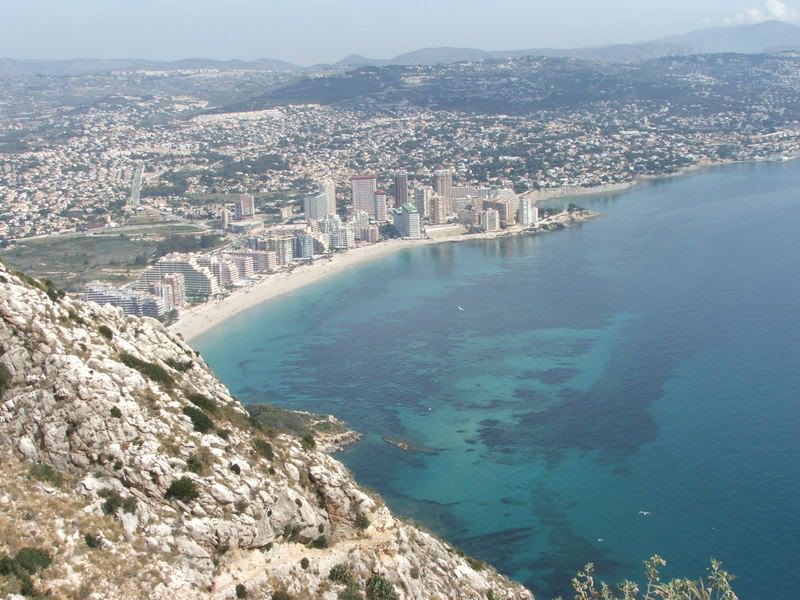 One of the dangers at this time of year are the many seagulls protecting their young. Should you come too close, they have no hesitation in trying to attack you. On the way down (and although we kept strictly to the path) one took a swipe at my boyfriend who was left with a cut on his head.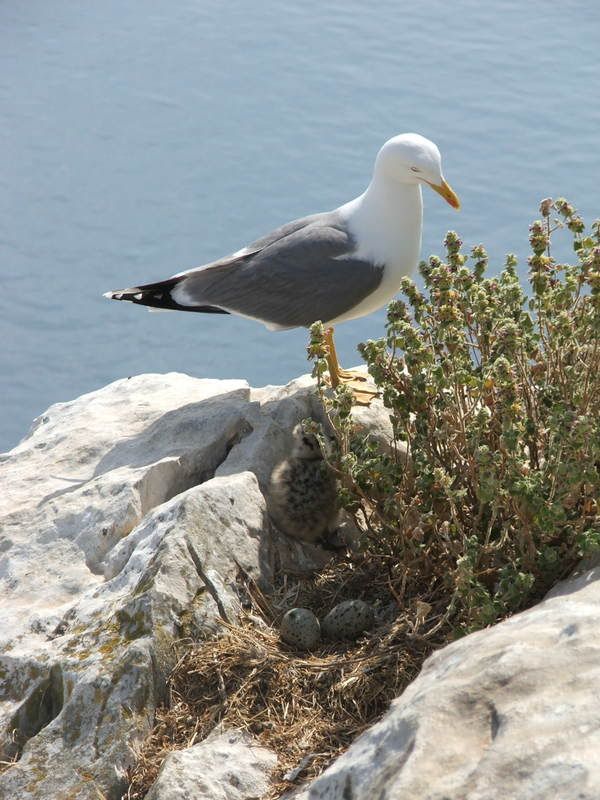 Local ceramic shop - I could have bought all these gorgeous flower pots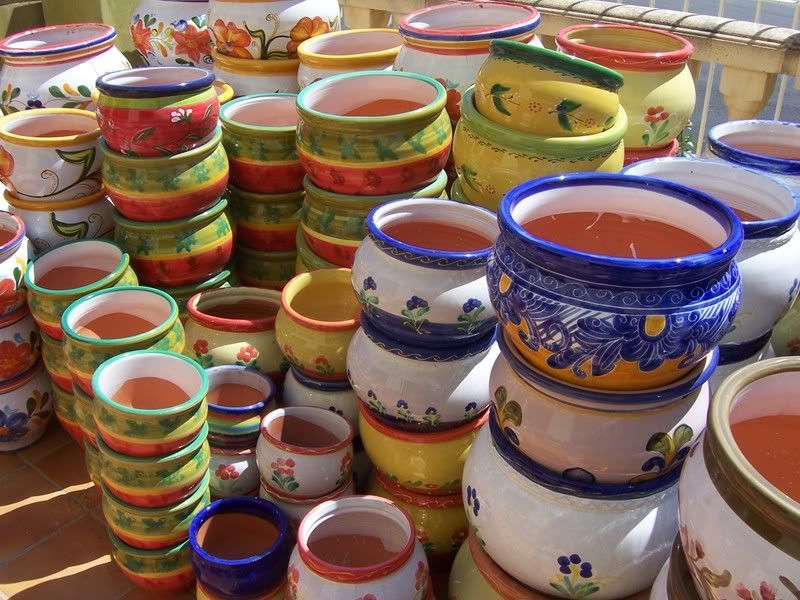 Sunrise from the house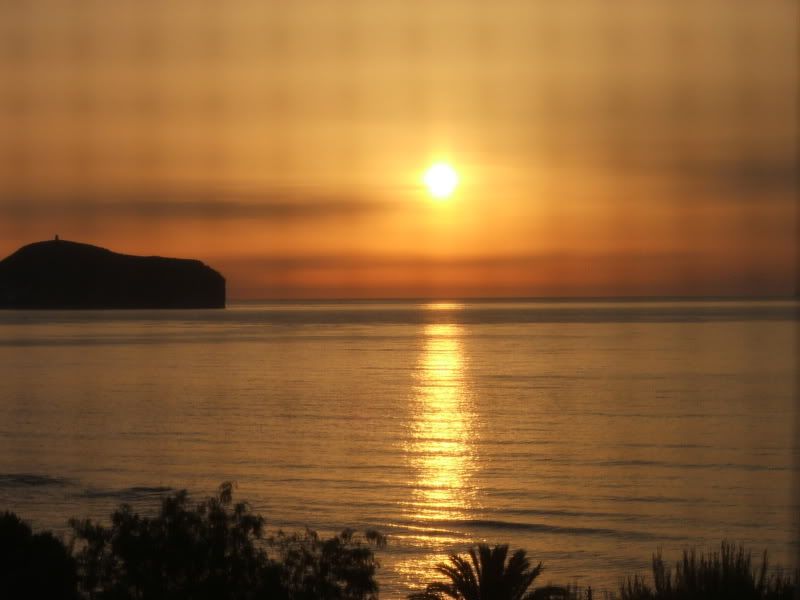 Tuesday May 6th
EZS1086 ALC-BSL
ETD 2015 / ETA 2220
A319 HB-JZN
Load factor – ca. 85%
We were dropped off at the airport around 1815 and headed straight for check-in. My boyfriend was given group B this time, which I found somewhat strange, as were at the front of the queue 2 hours before departure. Judging by the number of passengers in the queue for the Newcastle flight departing around 2100, obviously check-in had opened earlier than the 2 hours indicated.
Drop off at ALC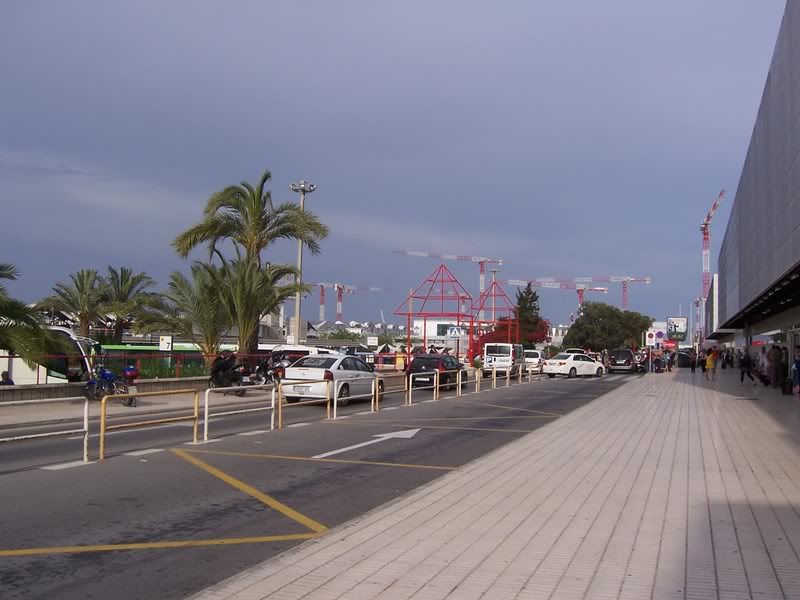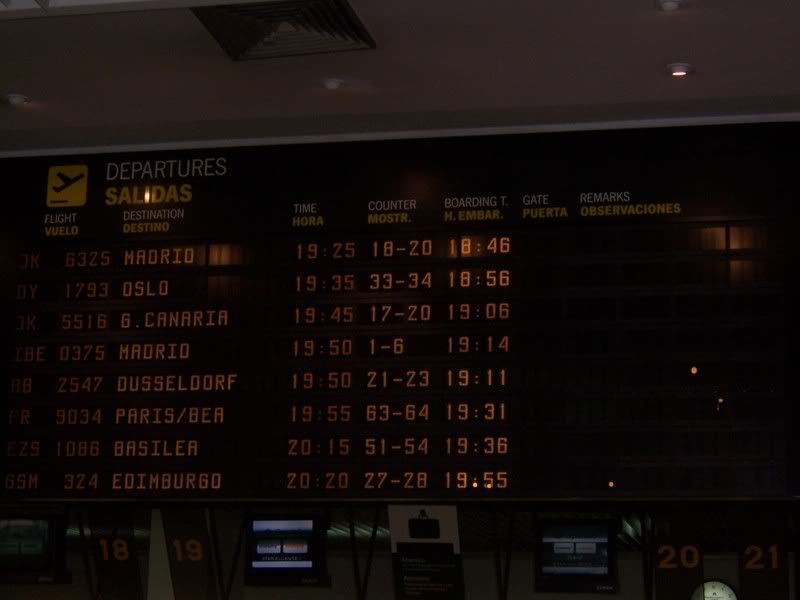 No comment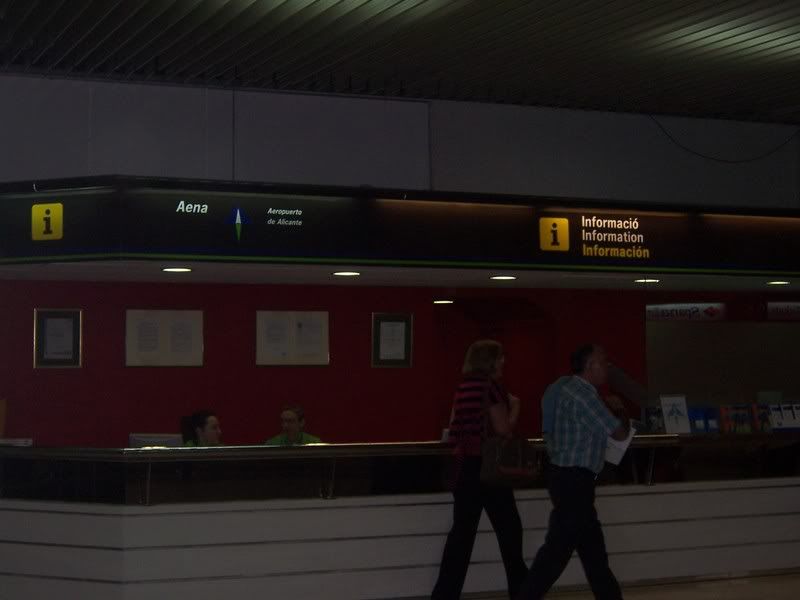 Security was very well organised and I liked the fact that you collected a tray and put your items in it before you reached the x-ray machine. It certainly saves time. There was a wide range of duty free shops and mainly British style eateries (hardly surprising, considering the number of flights there were to the UK). Gates were only announced a few minutes before boarding time and accompanied by very annoying announcements for every flight, all computerised with 5 seconds gaps between each word.
Activity at Alicante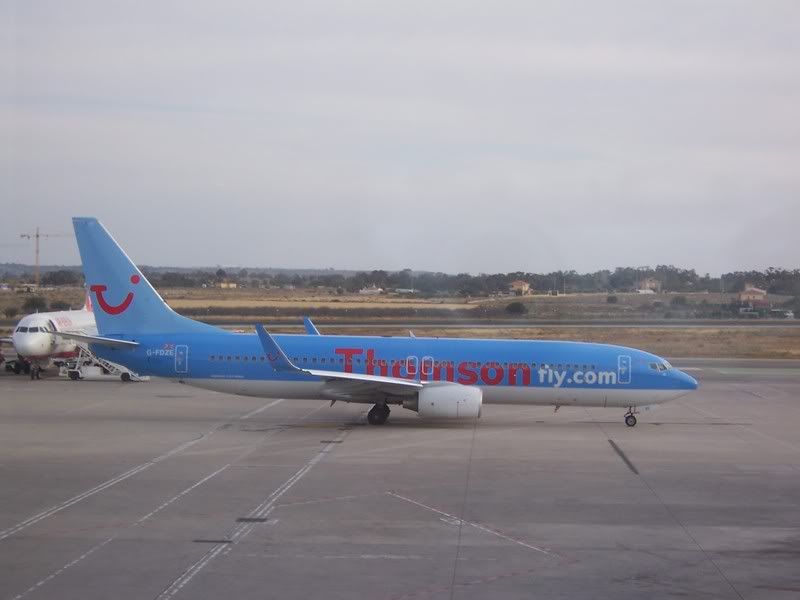 Around 1945 our gate was announced as 24 and it was here that passport control took place.
Our plane
As we were queuing we saw another Swiss couple who we'd passed walking up the Penon earlier that morning…die Welt ist klein! Boarding started shortly after and this time I took the back stairs and was able to secure 21 A & B.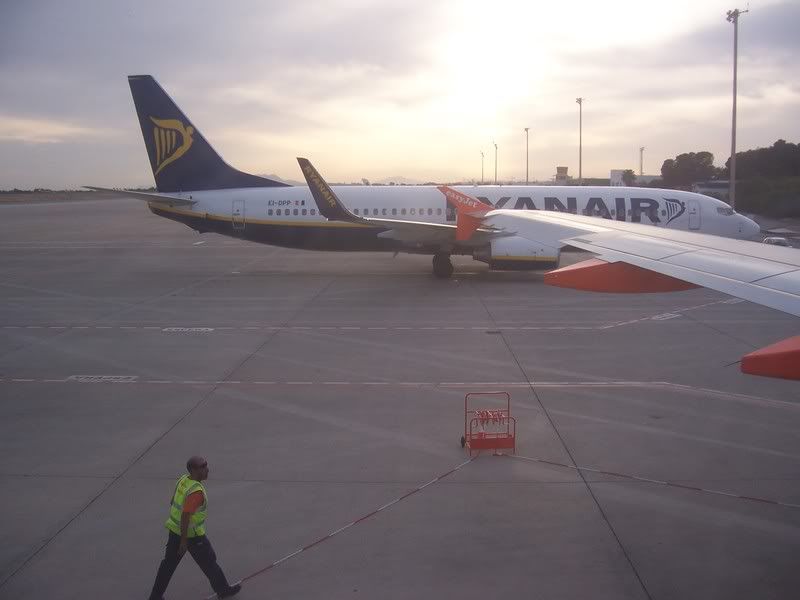 It seemed uneerily quiet onboard and sure enough there was an announcement from the flight deck that there had been a bird strike on departure in Basel and that the wing now had to be checked for any damage. We were given the all clear after about 20 minutes, but then had to wait for the chief engineer to come and give his signature.
Pushback was at 2045, take off towards the sea at 2050 with an estimated flying time of 2hrs10. The crew were all French. We banked steeply over the water and headed back inland but by this time it was getting dark outside.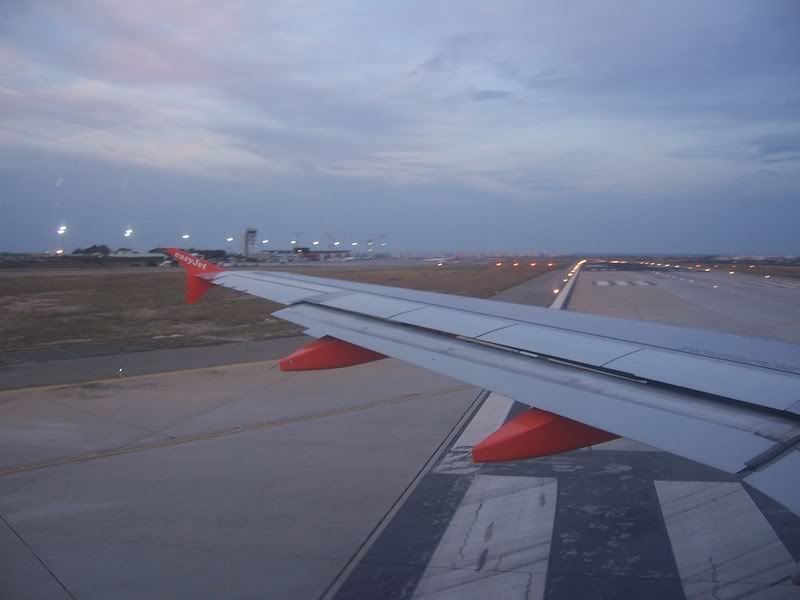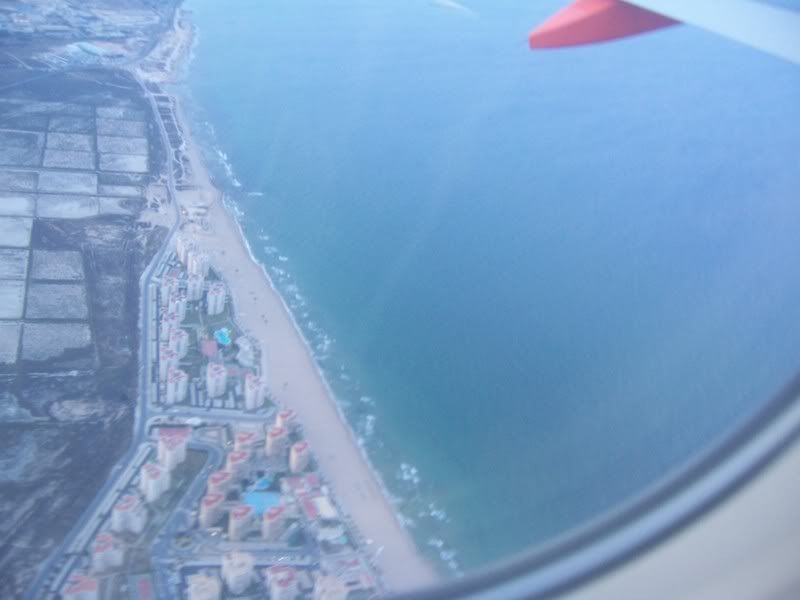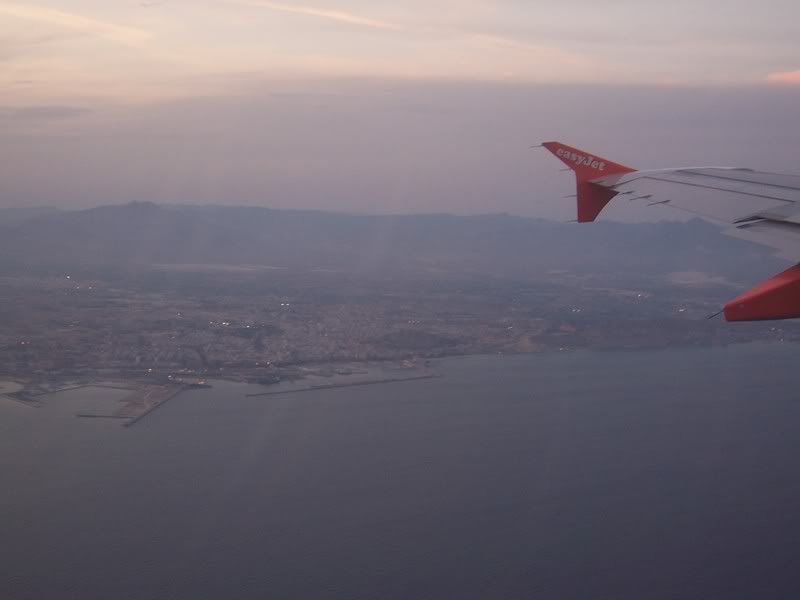 Alicante from above
Sunset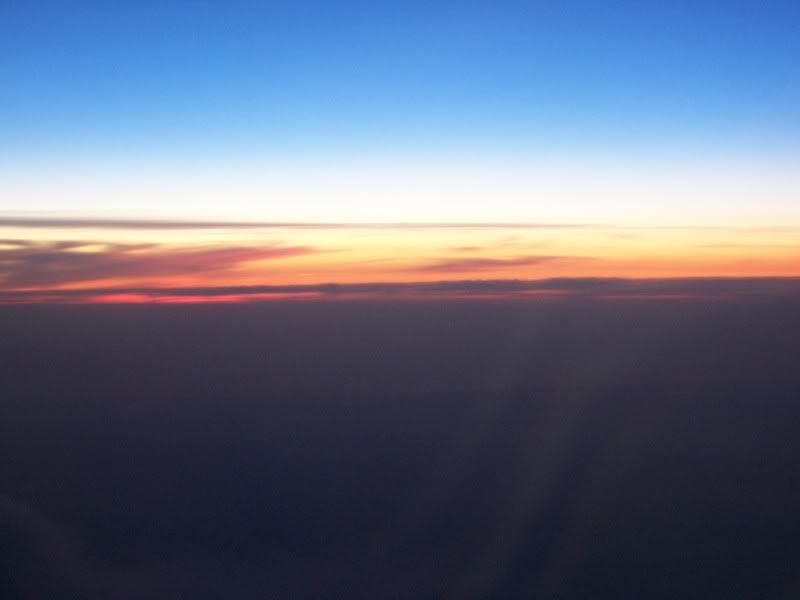 Our route took us towards Barcelona, France, Geneva and Bern and the flight was uneventful. This time I just had a cup of tea with a sandwich I'd bought at the airport and my boyfriend another noodle soup, which in his opinion is THE reason to fly with easyJet  
I also bought a model A319, limited to 5000. I got the comment "Why are you buying another one when you've already got one?". You see anetters, not everyone understands the difference between a 737 and a A319....
We landed 35 minutes late at 2255 and it took sometime for our luggage to arrive.
The car had been left on a car park 10 minutes' walk away, for the reasonable price of 55.- for up to 4 days. And so our trip came to an end.
My thoughts on easyJet? I am always happy to fly with them, my one problem is the boarding procedure. I would be prepared to pay a supplement if I was assigned a particular seat but I guess the chances of this happening are pretty slim. Otherwise no complaints.
Thank you for reading and comments are welcome as always!
Happy flying
Infodesk  
[Edited 2008-05-28 09:15:38]