Flying Flemish, A Dutch Lady Between 2 Harbours…
Posted: Fri May 30, 2008 3:34 pm
Hi,
Thank you for jumping in to this tripreport !
Flying Flemish, a Dutch lady between 2 harbours…
Time to visit one of Europe's biggest harbours, but more import the city itself.
Small introduction; in April my partner was celebrating his birthday, and as always it was too difficult to find a present. As we both like travelling, I though about Hamburg. So, that's why I secured flights and a hotel in this interesting German city.
I saw an interesting fare between AMS and HAM, on LH. I made the mistake first to look for the hotel reservation which was done in a few clicks. The SuiteHotel Hamburg-City was able to offer me an interesting offer for 2 nights, including the breakfast buffet.
It was a pity to see the LH fares next morning, which were about 50 euro's higher then the evening before. So I immediately checked other options. Only KL was available out of AMS, for even much higher fares… No way!
As we live in between AMS and RTM, I also checked flights ex RTM, and found VG (VLM Airlines) operating 2 daily services on RTM-HAM. Fares were remarkable good, and the final deal was better then LH offered ex AMS. So I finalized the deal. Bookings were made halfway March.
The present was gladly accepted, and on May 20th, the day had come. We had to leave early. At 05:40am we drove away for the 30 minute ride to Rotterdam Airport. Parking was done at the long-stay parking, which costs EUR 30,- for the nearly 3 days. It's located within walking distance from the terminal building. I checked ourselves in the day before on the VLM website, and opted for seats 9 C/D. But we had a small trolley which we wanted to drop-off, and we were immediately served by a very friendly male staff at desk no. 2 (Desks 1 & 2 were for VLM use, all flights). We got new boarding passes, original style. Also we obtained 2 vouchers for a free coffee in the waiting lounge, and both obtained a free newspaper (some options to choose from, English and Dutch). The agent also told us to use the Fast Lane for security, which is available for
all
VLM passengers. Good to see this service, as it was pretty busy, with 3 Transavia B737-700 flights departing within the hour.

Rotterdam Airport terminal building
So, we sneaked along the huge crowd of waiting people and were checked by security staff. All without hassle, and we were now even early enough to use the voucher and got ourselves a free cappuccino at the bar.
The waiting lounge at RTM was pretty busy. 3 HV flights departing all within 5 minutes, destinations ORY, FCO and AGP. Our flight is the first one of the day at 07:00am, all followed by 3 other flights (MAN, LCY and LHR). In the lounge, you'll find a small seating area, a food/drink shop, a bar, bookshop and a tax-free shop. The lounge offers great views on the apron.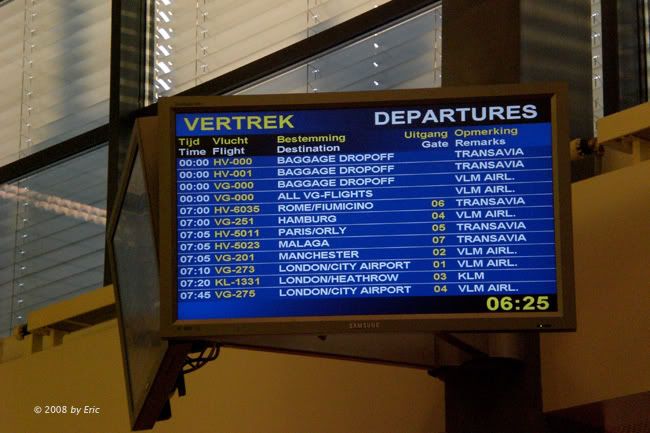 Few flights departing shortly after eachother, causing a crowded departure lounge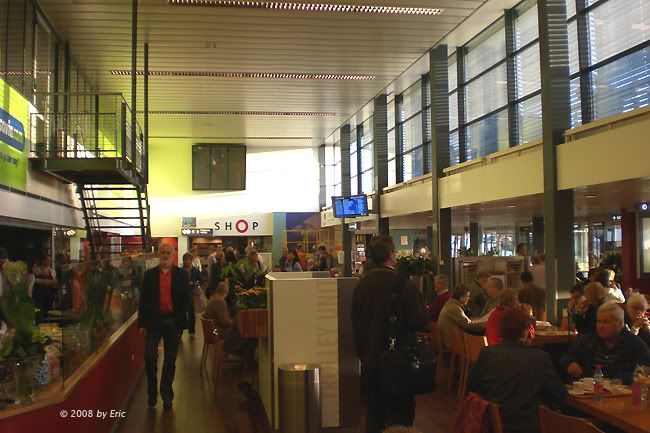 Busy scene in the departure lounge
We finished the cappuccino and our flight was called for boarding at 06:35am. Using gate 4, a bus was waiting outside to deliver us at the aircraft.

Apron view just before boarding our aircraft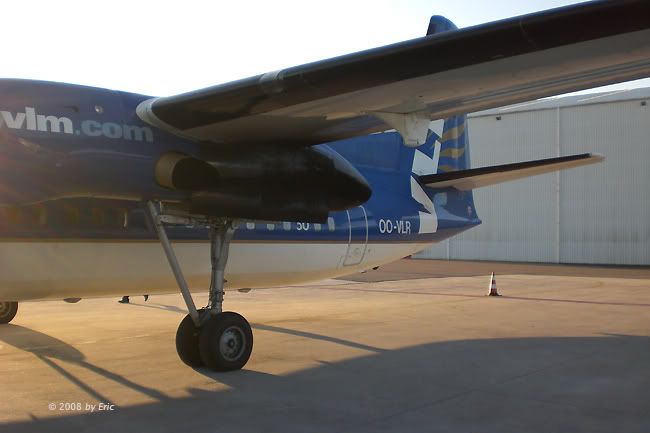 OO-VLR, before boarding
RTM-HAM
Flight No.:
VG 251
Date:
20MAY08
STD:
0700
ATD:
0655
STA:
0815
ATA:
0803
A/C:
Fokker 50
Reg No.:
OO-VLR
Seat:
06B – Economy Class
(seat changed from row 9 to row 6 due to light load)
My only 4th ride on the Fokker 50, and the first on this machine.
View Large
View Medium


Photo © Andrew Hepworth
Doors were closed early. I counted a total of 25 pax, meaning a load of exact 50%. Not the best, but I think quite common for this route. With the majority of passengers high-yield biz-pax, I expect that VG still makes money on this route.
Cabin crew consist of one male, one female, of which the female was most friendly in my opinion. Candy was given out before takeoff, and a short safety briefing was done manually. We departed ahead of schedule and got airborne at runway 06 at exactly 7 o'clock.

Airborne!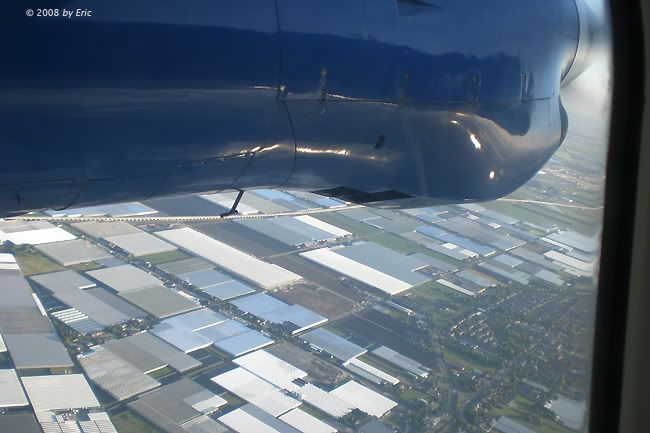 Good views outside…
After takeoff, we got terrific views on my country, and even spotted my house, which is quite near AMS. Other cities visible were Den Haag, Katwijk, Haarlem, Zaandam, Assen, as well the new high-speed railroad which is still under construction. We also spotted GRQ in a distance, an airport which is also served once per day by VG.

Western part of The Netherlands
About 15 minutes inflight, we were served breakfast. This was a great meal, and is for sure the best on any route between the Netherlands and HAM! I got a large cheese-roll, a yoghurt, Leonidas chocolate, orange juice, and a coffee. About 15 minutes later, another coffee was given. Nice touch, excellent service!

Breakfast service on flight VG251
About the cabin; it was looking well maintained. Carpet was in good order, seats in a beige colour, leather. Pitch was very good, and inflight the noise of the Pratt & Whitney engines wasn't annoying at all.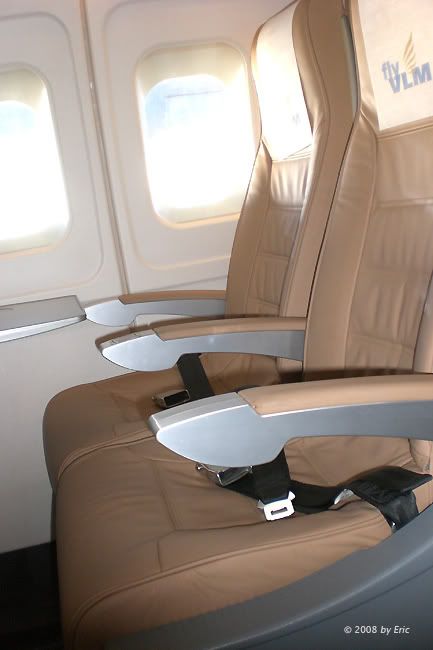 Seating on this Fokker 50, OO-VLR
The remaining of the flight was uneventful. Good views everywhere, as the sky was very clear.
We did not get any info from the flight deck, probably not respected by the usual type of passenger on these flights. Most of them were dressed 'suit and necktie', which says enough
We approached HAM from the South-West, and landed at runway 05. Followed by a short ride to the final remote parking position, spot 63. We were parked next to an Intersky Dash 8-300. Deplaning using a bus, which brought us to the arrival terminal. After a brief visit to the toilet, we found our bag already on the carousel. Good start of our trip to Hamburg, everything on time with great service.

Approaching Hamburg …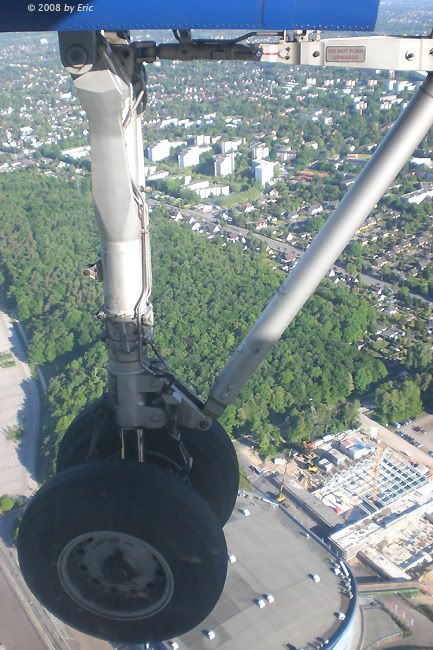 final approach … gear down!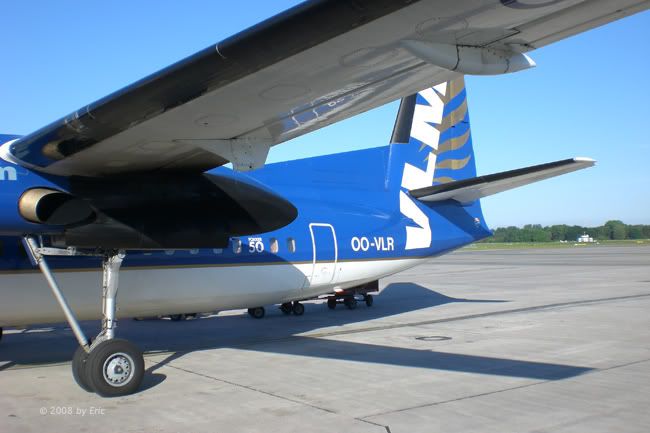 Disembarking
***
Let's include a short visit to the city. We got a 3-day ticket for all means of public transport in the greatest part of Hamburg and surroundings. This includes S-bahn and U-bahn. Our trip to the city center was by bus 39 to Ohlsdorf station, changed to the S-bahn there. Later we had to change to U-bahn to reach our destination. Another frequent bus (no. 110) runs between Airport and Ohlsdorf station, which is recommended to the foreign travelers, but mostly very crowded.
The SuiteHotel Hamburg offered a nice room, about 30 sqm, and with some amenities. We got a room at the 15th floor, so great opportunities to look outside. Altough, the second day our room wasn't cleaned and we did not get fresh towels. Also the breakfast area was very crowded with people who didn't pay for breakfast but took advantage of the free coffee/tea which is served in the lobby every morning. Most annoying were the children which were able to play around everywhere during breakfast time…, with parents who doesn't care. No way that this hotel will see us again!
The city center offered us enough to fill our needs. Interesting shopping district, with the usual good selection of department stores. The city itself has nice architecture, and the overall impression is very relaxing. We enjoyed our walks around! Also a trip by boat through the canals of the 'Speicherstadt' and the harbour is a nice idea. Please note that when you hold a travel-card you'll get a 1 euro discount on such trips.
We also went to Miniatur Wunderland, a great selection of H0-scale electric trains. This is a big attraction, located in 'Speicherstadt'. You'll reach it by traveling to U-bahn station 'Baumwall'. Also reduction on the entrance fee by showing the travel-card.
I'll include a small selection of pictures taken these days;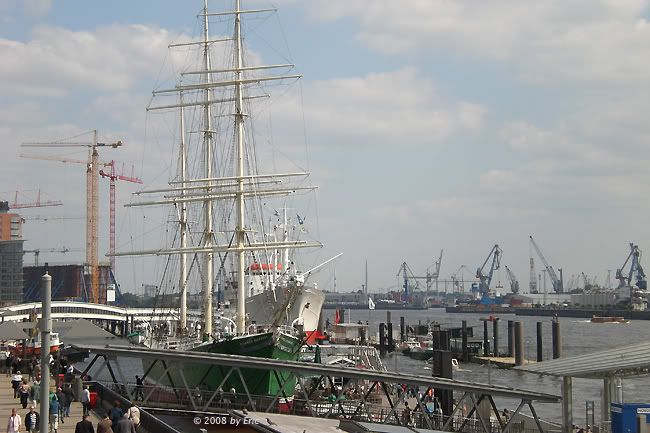 St. Pauli - Landungsbrücken

View on "Außenalster"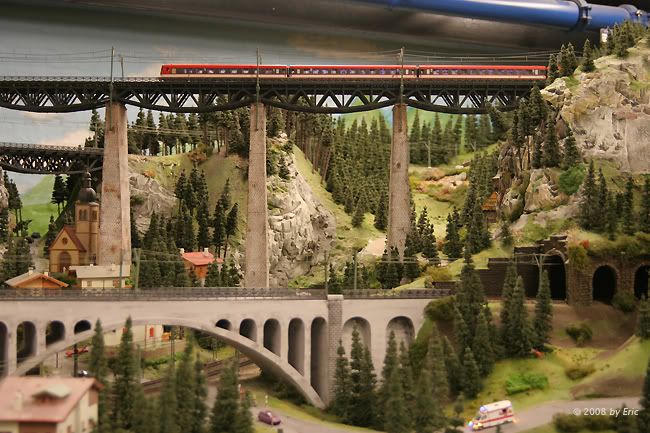 Miniatur Wunderland inside…

"Alsterarkaden"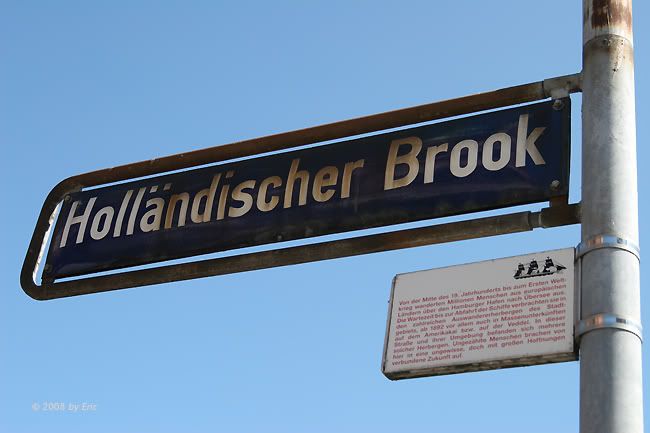 Coincidence to see this streetname ?

"Speicherstadt"
***
Our return flight was on the third day, taking the evening service offered by VLM.
We took S-bahn 11 to Ohlsdorf Station, changed onto the very crowded bus 110. This bus takes about 10 minutes to reach the airport. We arrived at the arrival level of terminal 1, so took the escalator to reach departures. We were surprised to see our check-in desk still closed. It opened a while later at 18:00hrs. One desk served all, and it went fast. Not too many passengers of course!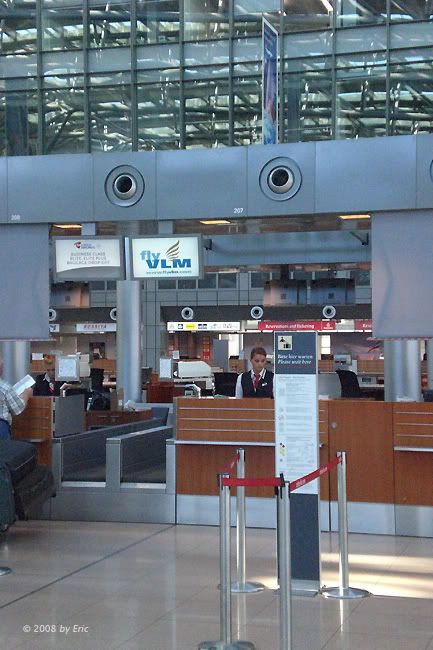 The single check-in desk for VLM at Hamburg
I think HAM terminal 1 has a very spacial departure lounge, and it was not too busy. We went upstairs for a quick look at the observation deck, to see what was going on there. In the beginning we thought an aircraft crashed, with many smoke and fire services around. Later we found out that this was just an emergency drill. Passengers were later also informed about this issue by an informative call throughout the terminal building.
At the time that we went through the security checkpoint, it wasn't busy. Staff was friendly here, nice for a change as friendly security staff are rather uncommon in my own country.
Our gate was C13, as shown on the screens. Not the good variety of shops available here. Overall the waiting lounge is a bit boring. Food really expensive here, so we better waited to be onboard our flight for the next meal
Boarding was announced at 18:55hrs, our gate was next to that of a KLM flight to AMS. Apparently people don't listen, as when the Rotterdam flight as called for boarding, most of the Amsterdam pax stood up as well
.
One bus waiting for us to deliver us at the aircraft. Easy the count heads this time, a total of 29. Making it loaded for 58%, in case of another Fokker 50…, and it was:

"City of Rotterdam", as well signs mentioning the 15 years existence of VLM
HAM-RTM
Flight No.:
VG 258
Date:
22MAY08
STD:
1925
ATD:
1924
STA:
2040
ATA:
2032
A/C:
Fokker 50
Reg No.:
OO-VLZ
Seat:
02A – Economy Class
My 5th ride on the Fokker 50, and the first on this machine.
View Large
View Medium


Photo © David Marshall
Good to see that our aircraft is named after the city of Rotterdam. This bird is flying home tonight
Again one female, one male cabin crew. Friendly and again offering candy before departure.
Doors closed just on time to avoid a delay, and a brief safety demonstration was given.
We taxied along 2 KLM cityhopper Fokker 70's, apparently one of these was broken or having at least a very big delay.

Two Fokker 70's of KLM, one is heavily delayed
The cabin was now with blue/grayish leather seats, pitch a bit smaller but still very sufficient. Signs in the cabin showed a bit history of her previous owner Air Kosova. Walls and panels on this Fokker were showing some age, making this example given a lower impression on me then expected since I flew on 'VLR' as well just 2 days before.
Takeoff was from runway 33, straight out after being airborne. Finally a left turn, but now already far away from the city. So, views on the city weren't good anymore, but we managed to see Finkenwerder/Airbus Airport.

Airborne, and on the way back to Rotterdam
Once airborne, I checked the seatpocket, which includes the VLM inflight magazine 'Velocity', a safety cars, and a disposal bag.
Meal service also started now; this time they offered a choice of chicken-filet sandwich, or a cheese roll again. It came on a plate, with a piece of apple pie, Leonidas chocolate and a coffee. Additionally I was able to get my white wine: "Domaine Peirière by Paul Sapin".
Later, we were again offered another coffee or tea.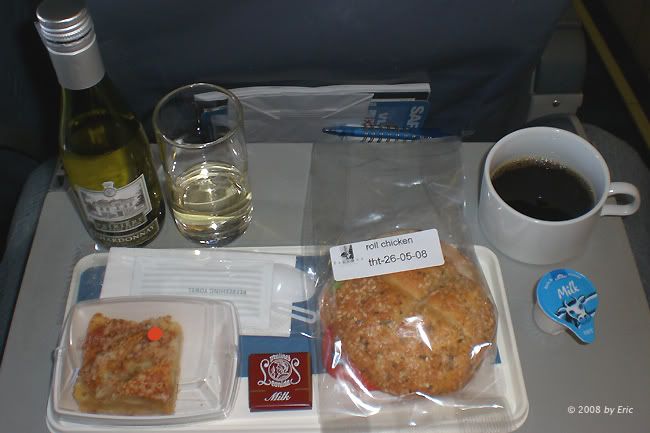 Mealservice on flight VG258
The final part of this flight was a bit boring. My country was not visible due to the clouds. During decent some info from the flight deck, which was in English language only. Strange! We fly between Germany and The Netherlands…, so probably this aircraft was flown by British flightcrew then.
During final descent, we got some heavier turbulence, and the suit & necktie passenger in front of us spilled his red wine on the shirt. He got a bit angry about it, but was calmed down by the male crewmember, who gave a towel to clean it up a bit.
Landing was performed on runway 24. Views on the skyline of Rotterdam (the best city-skyline in the Netherlands by the way) were nice, although difficult to see due to the haze. Parking was right in front of the terminal building. We blocked in just ahead of our schedule, so also here VG performs pretty well.
Disembarking onto the apron, guided by a ground staff into the terminal building.
Baggage was coming onto the single belt already. I counted a total of 9 bags off our flight, which says something again about the type of travelers on this route.
OK, that was it. Everything went smooth, without hassle, with just a bit extra attention from staff and crew to make these flights on VG just at an excellent level. Believe me, you won't get this on the larger carriers. As long as VG still flies around under their own name, they might see me another time on board. Although, they will be integrated into the AF/KL operations in the (near) future, and I foresee a downgrade in the service level when this merger takes place.
Anyway, I'm happy to have flown VG again since my last LCY-AMS experience on PH-DMS, leased from Denim Air. Now I add 2 new Fokker 50 registrations to my log, which is always good!
Btw, nice to know maybe; RTM got a new surface on their runway from May 23 ~ May 25. On the evening of my return (May 22nd) from 23:00 hours, the airport was closed, and from that moment all flights were redirected via AMS. Lucky enough that we escaped from this situation…
Thanks for reading, and I hope to read your comments!
Cheers,
Eric