US-based carriers are often compared against Asian and European airlines—and more often than not, the former are trounced. I could think of many excuses to pardon the sometimes awful hardware and software—poor leadership, rising costs, tough competition, byzantine labor rules and regulations—but alas, sometimes I cannot forgive my share of horrendous experiences. Many times it seems as though the glamour and mystique of flying are taken out of today's American airlines—the immaculate suit has been replaced by the disheveled tracksuit.
With that being said, without the bad times, how would we know the good ones? Initially I was going to write about the new media system in Continental's economy class. Finally, Continental was upgrading its hardware in the face of competition from upstarts and legacy carriers. But, unfortunately for that report and fortunately for me, I was upgraded, erasing the memories of the bad times with Continental.
Continental Airlines CO89, May 15th, 2008
Newark Liberty International Airport (EWR) to Beijing Capital International Airport (PEK)
Gate C75(? Apologies, I lost my ticket-The gate across from the Nathan's for those familiar with EWR)
Seat 10E (BusinessFirst)
Departure (Scheduled/Actual): 12.15/12.28
Arrival (Scheduled/Actual): 13.50 (+1 day)/13.49 (+1 day)
I arrived at Newark pretty early, and in my experience individual check-in with Continental has never been that difficult, as they dominate the pretty expansive terminal and allocate a lot of check-in desks and staff. Security had a long line, but it moved relatively quickly. I made a quick stop at the President's Club (the Continental lounge) and was shocked that they reintroduced food and that it wasn't excessively crowded. Granted the food was a bagel, but a vast improvement over the very dodgy-looking Cabot cheese and crackers.
The plane boarded early, amid some confusion over the fact that American passport holders had to prove that they had valid Chinese visas. I suppose this is a necessary annoyance, as it would be pretty bad to fly all the way over there to find out that you can't enter the country. The plane was delayed a couple of minutes, not because weather or a long line of departures, but because of a BusinessFirst passenger that decided to go to the President's Club amidst the commotion caused by the visa inspection.
I sat in my economy seat and was surprised at the new inflight entertainment system, as I had dreaded the endless loops of CSI and How I Met Your Mother's. As I began to explore the already activated system, a flight attendant tapped me on the shoulder. "Seat 10E is open. Hurry up!" I often question the upgrade policy of Continental, upgrading mileage club members when the BusinessFirst area is relatively empty, as this encourages people not to buy the BusinessFirst seat. Although this practice is noticeably on the decline, it still occurs. The last time someone invited me to the front, during a school trip to Chicago on Continental, I genuinely thought I was in trouble and asked, "WHY ME?"
Settled into the comfortable seat (albeit outdated compared to the slick offerings by other international carriers), I was greeted by a barrage of gifts—a bilingual menu, an amenity kit, a blanket and pillow set, a headset and a choice of newspapers. It had been too late for me to get a welcome drink, but I noticed they were in glass cups, and not plastic ones like Delta's domestic BusinessElite. Once the plane took off, the chief purser came around and greeted everyone by name and asked them if they were comfortable and stopped for a good ten minutes talking with the passengers. Another non-Chinese flight attendant who I have recognized from the Newark-Honolulu flights spoke in Chinese to the Chinese passengers.
Fiddling with the seat controls like a brat on a sugar high, the attendants took my lunch order and I started to look at the IFE. There was something like 300+ choices for movies alone, and an equal number of television shows. The content was pretty foreign language friendly for an American carrier, but it was obviously geared towards an American audience with a lot of HBO and Disney-ABC choices. All-in-all it was items that people actually wanted to watch—ranging from cinema classics to what was in theaters a couple of months ago.
I'll be honest, the food was alright, and this is an airplane food lover. Some items tasted a bit burnt or overcooked, but in their defense, I would never ask for a steak rare in a germ-rich environment. The service however, was top notch—a combination of very old-school formal but also very relaxed and friendly. The attendants also took subtle cues and asked if I liked it or not and then inquired about my food preferences, which turned into a friendly discussion of our favorite restaurants in New York and Honolulu (as most of the female and a couple male FA's were from Hawaii). Some flight attendants even gave me their business cards so I could contact them for food or drinks, which I thought was a nice touch.
Most people quickly passed out after lunch was served, but the attendants kept on working, setting up a mini-bar and walking around the cabin to see if those who were awake needed anything. They slipped a bottle of water in my seat's pouch while I was asleep.
The combination of friendly flight attendants, lots of food and entertainment options, and a comfortable and sleep-inducing seat (at least for me), the 15 hour flight came and went all too quickly. Soon enough we were approaching the impressive Beijing Capital International and cutting through the smoky haze that envelops it.
While I don't think the front has spoiled me for life just yet—I still have to go back on economy, and experiences like this are few and far between—it's both reassuring and inspiring that good service DOES exist on an American carrier, contrary to many people's opinions.
Photos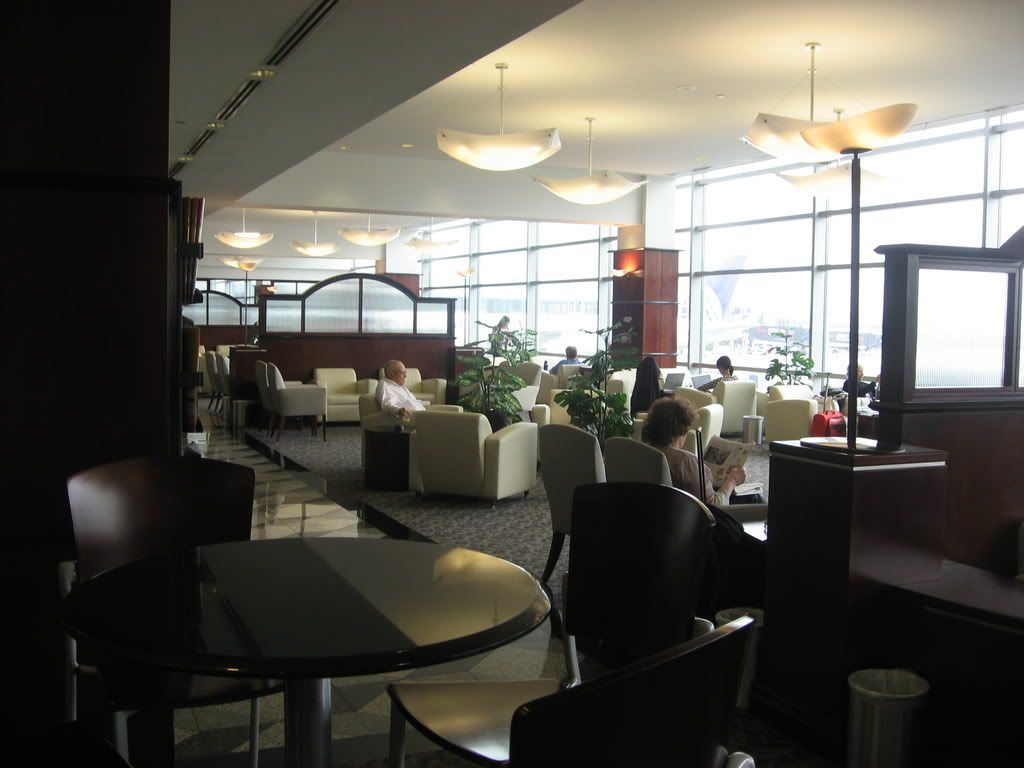 President's Club
Limited food offerings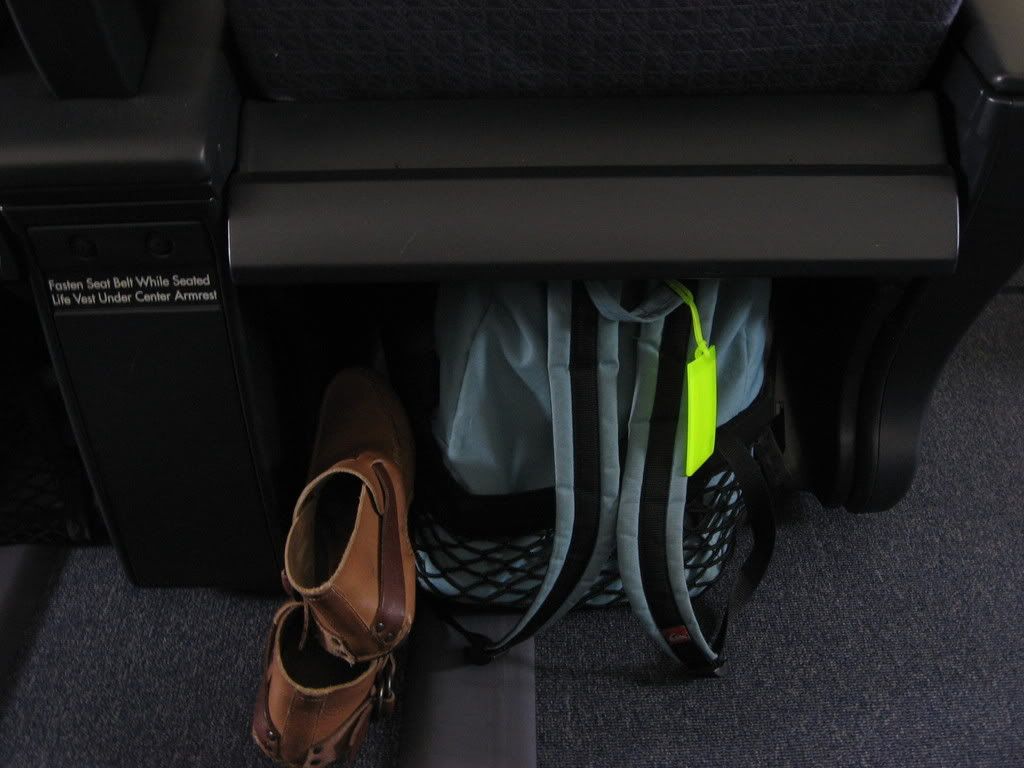 Storage space
Seat back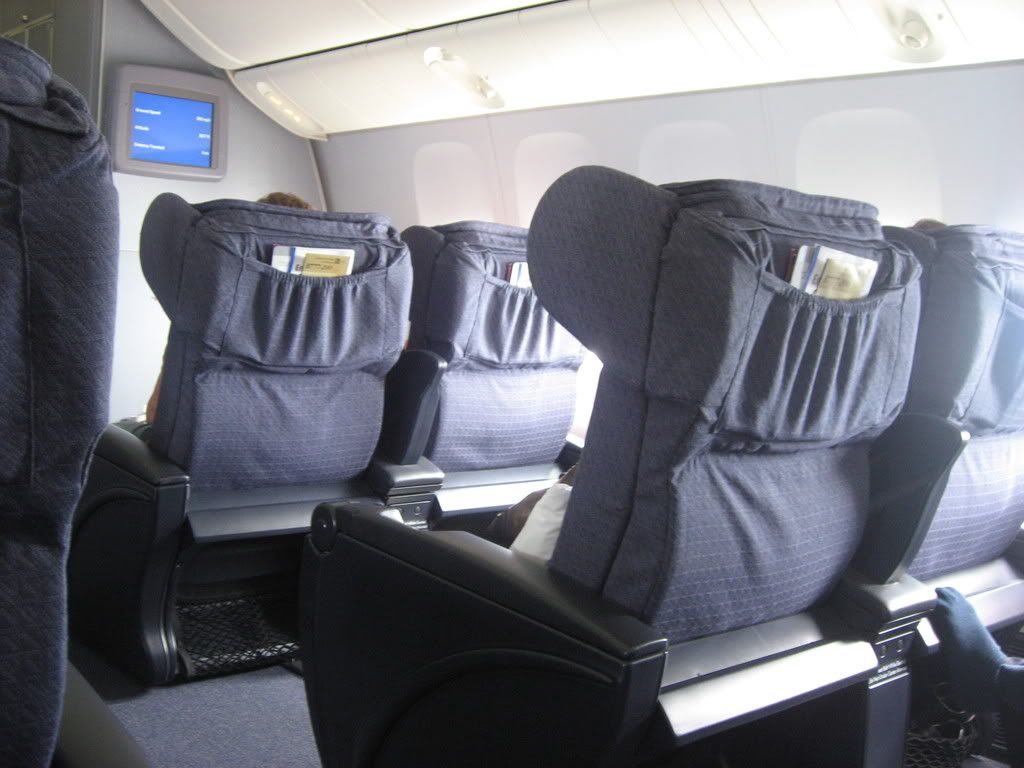 Better view
Inflight power
Nuts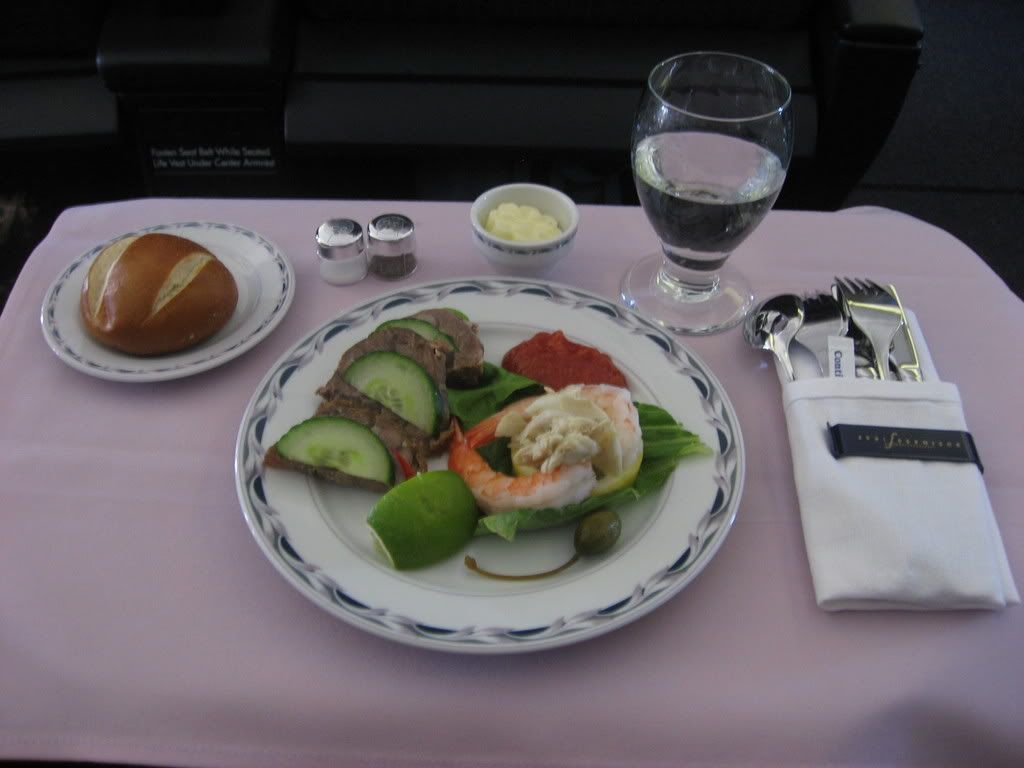 Some sort of Chinese appetiser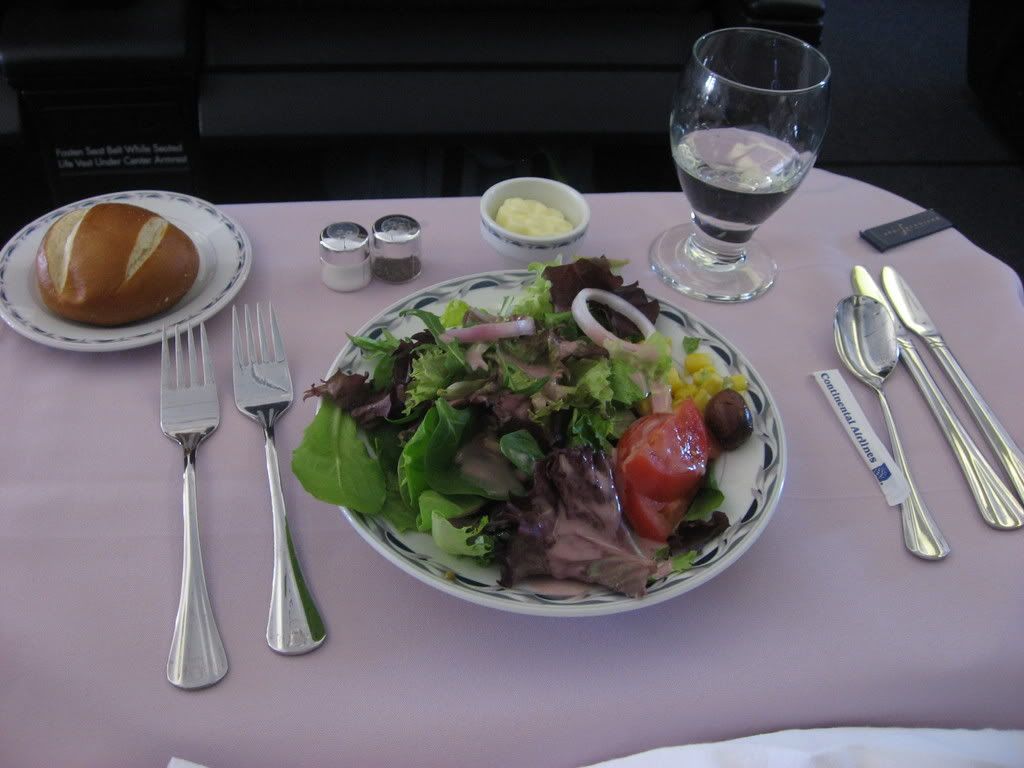 Salad
Steak
Sundae with green tea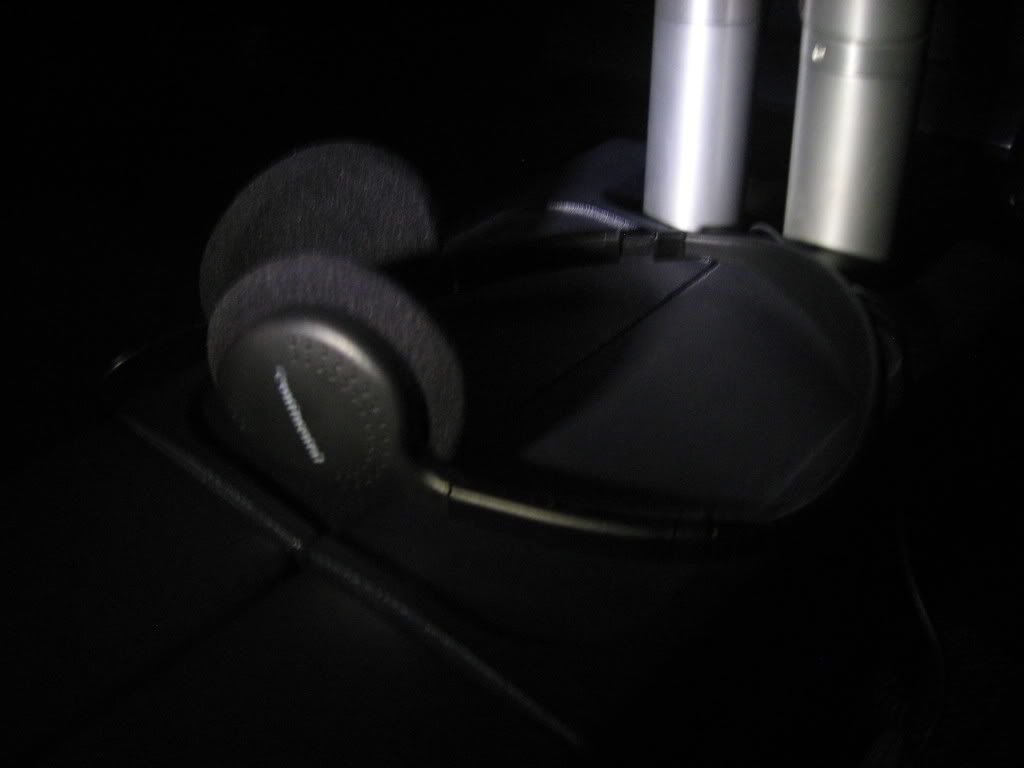 Headset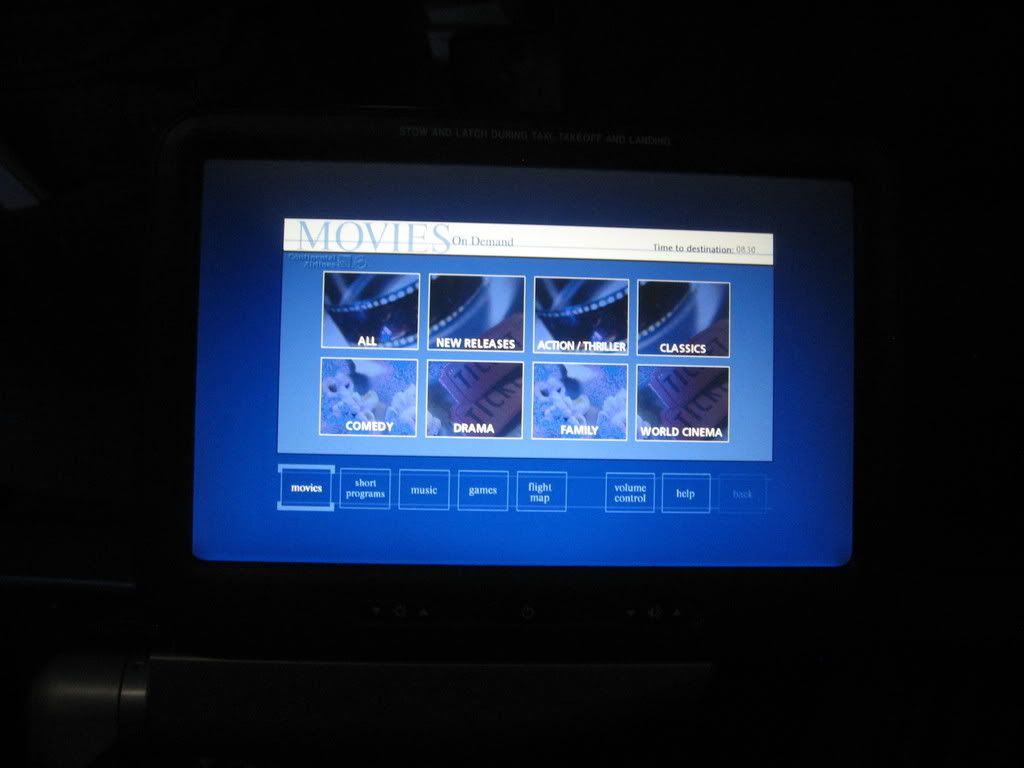 New and improved IFE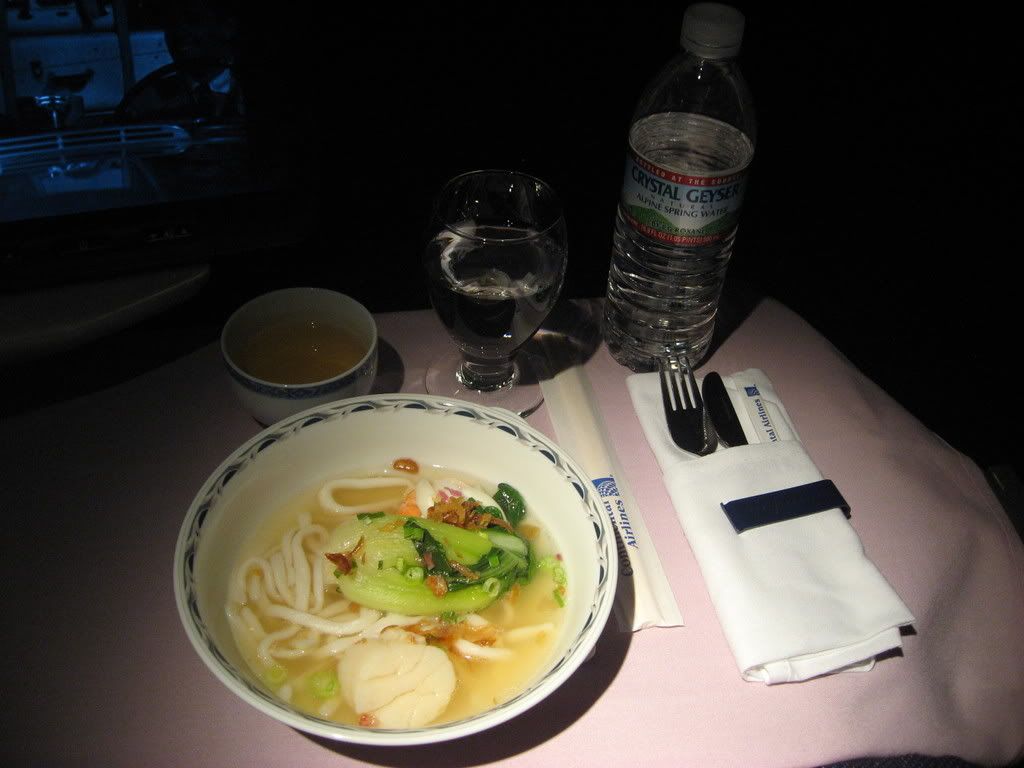 Snack-Chinese noodles
Post-snack cheesecake (they do try to fatten you up here I suppose)
Fruit course of breakfast
Congee with duck
And Beijing pictures (I have been here already a couple of times and haven't done much sightseeing this time around)
Forbidden City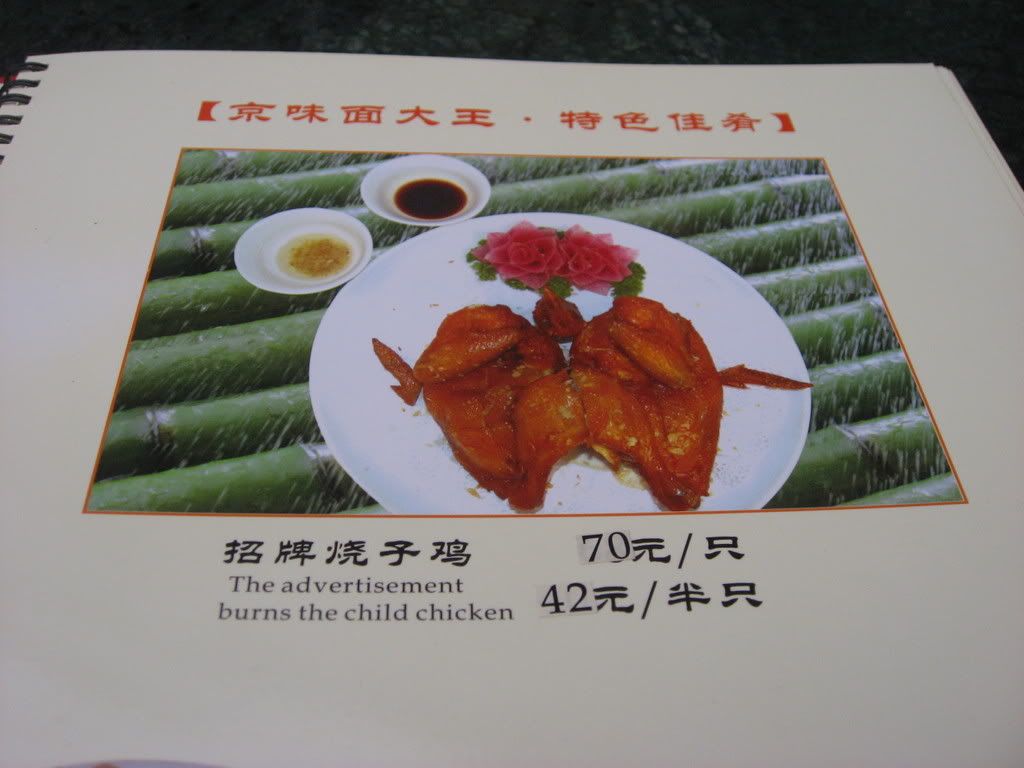 ???
It's H&M's Chinese cousin—W&H!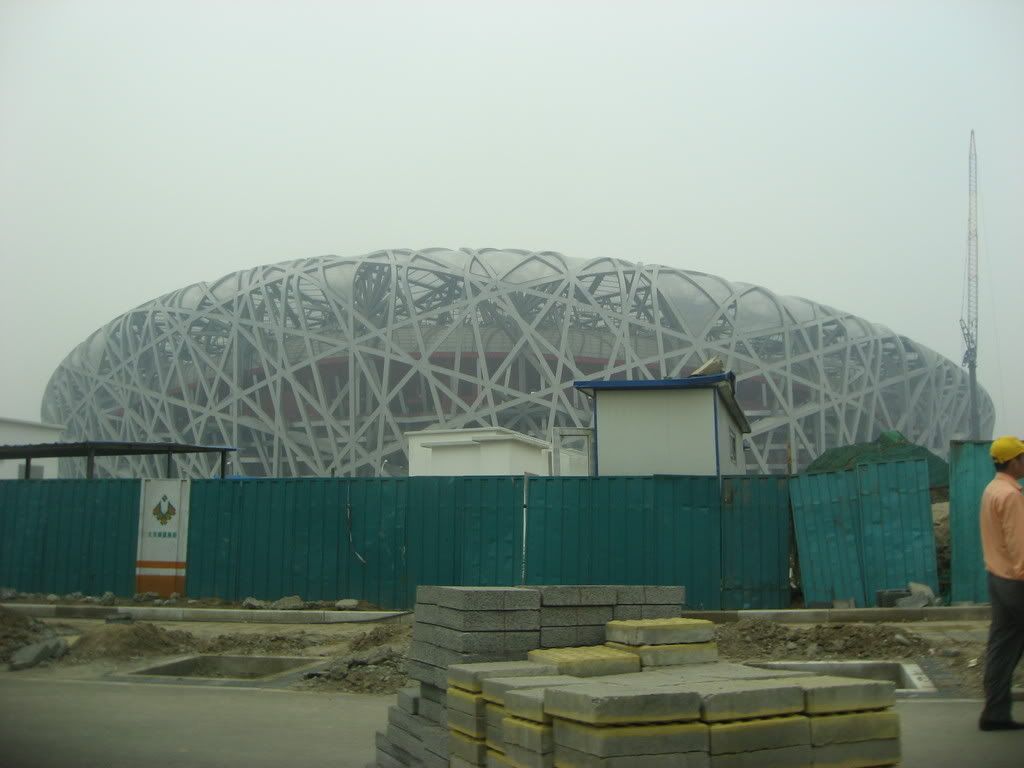 Olympic Stadium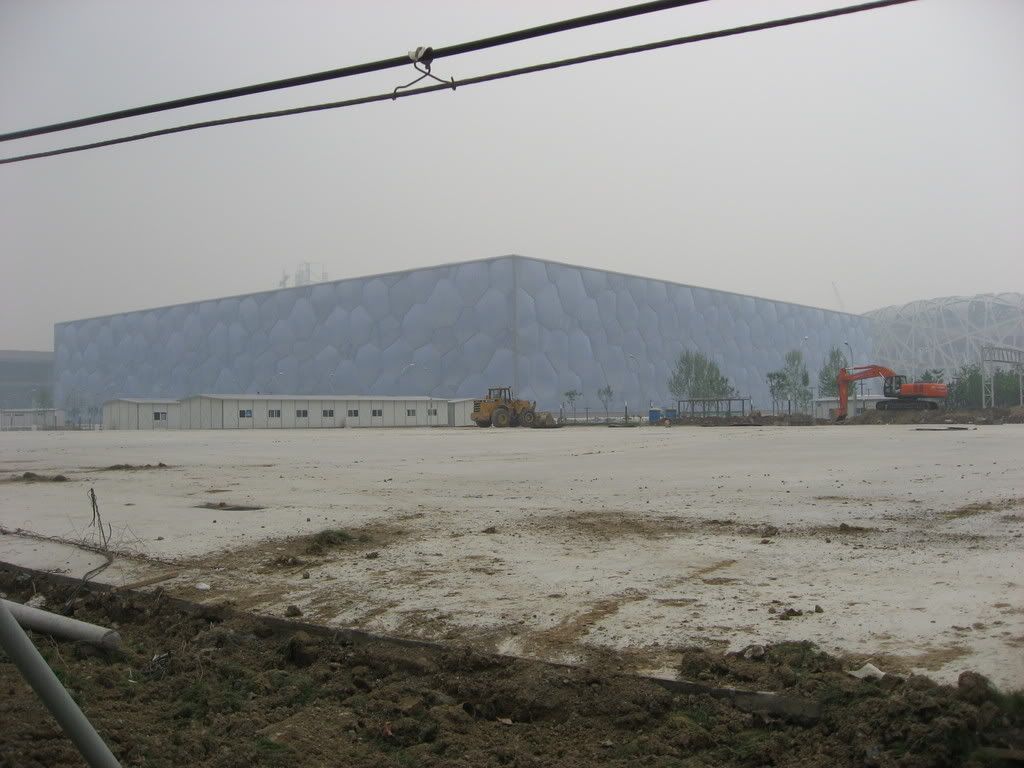 Water Cube
Quanjude Peking Duck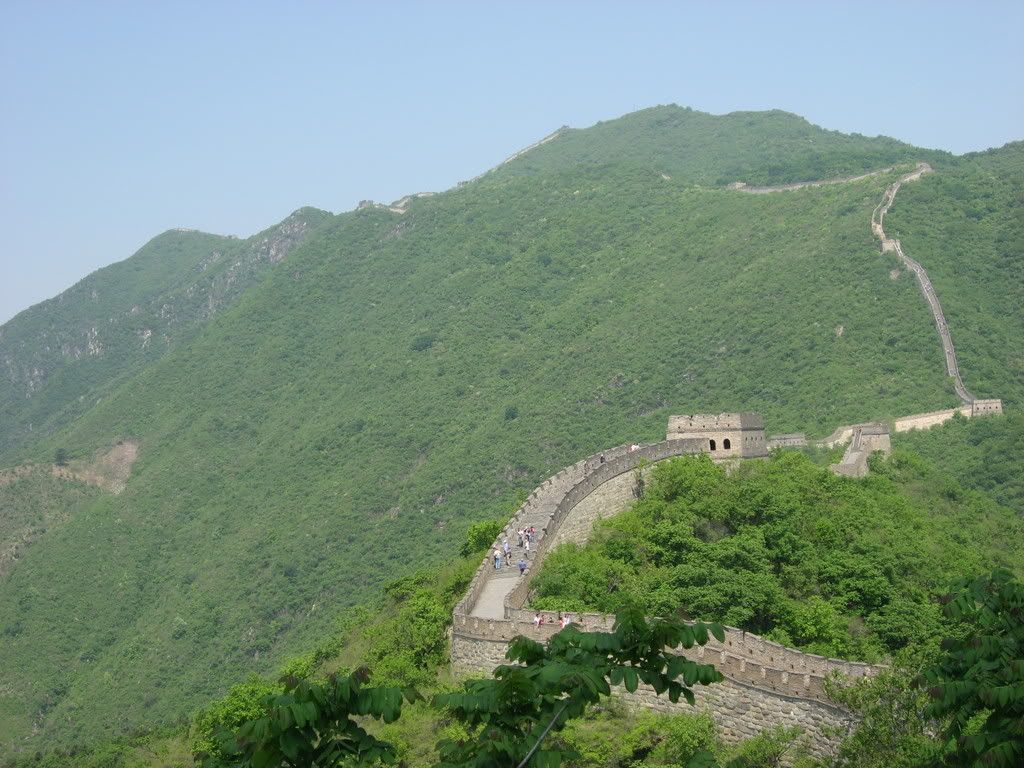 Mutianyu section of the Great Wall
Comments, questions, concerns greatly appreciated and wholeheartedly welcome.