THE
ticket may have been reserved almost a year ago – but you still don't quite know why you're going. All those rapidly depreciating miles accumulated over too many hours of tortured steerage flying should be rewarded with something wildly extravagant, you think. One idle Saturday afternoon you remember calling Cathay Pacific, suggest the farthest place you can think of, and they say the next available First Class seat is, ahem, next year in May. Can you make it? Who knows? In an impulse you say: yes please burn my miles – and the rest, as they say, is history.
<><><><><><><><><><>
And so here you are today at Hong Kong International Airport. Final destination: Miami, Florida. Why? Absolutely no reason at all.
transpacific on new First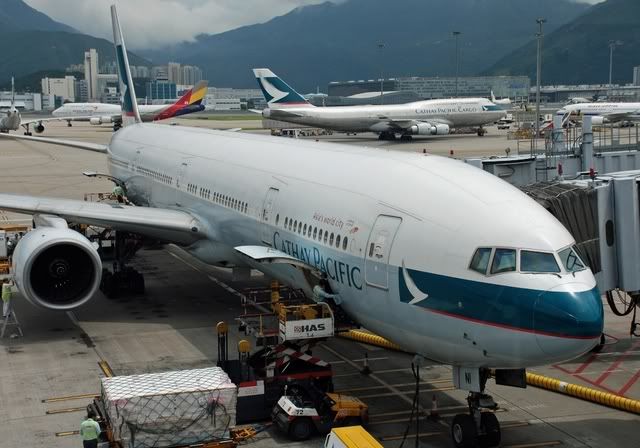 This Cathay Pacific B777-300 just arrived from Kuala Lumpur as CX720 is how you start your day. As you didn't have enough miles to redeem a ticket all the way from KUL, you fork out some dosh for a cheapish Y class seat on the short regional sector. The packed 3 hour-plus flight is so mediocre – too few crew, all of them junior, doing their barest minimum – you feel almost vindicated for abandoning CX. They have treated you well over the years, but now it's time to move on… free at last from the shackles of airline alliances and their frequent flyer programs. What more fitting way to celebrate than at the indulgent end of the bus:

BUT
first things first. There are some airports with good spotting, and then there is Hong Kong's Chep Lap Kok – the airport
designed
for spotters. No other airport even comes close to its intoxicating mix of amazing airline variety, widebodies at every turn, and massive floor-to-ceiling glass walls with views that take your breathe away. You may think you've outgrown your spotting days, but count on HKG to convince you otherwise.
The main spine of the terminal building is a kilometer-long smorgasbord of planes set against a backdrop of misty green mountains and skyscrapers. Get off the moving walkway to your left or right for more than a cursory view. The photos here are just a small taste of 15 minutes of casual meandering.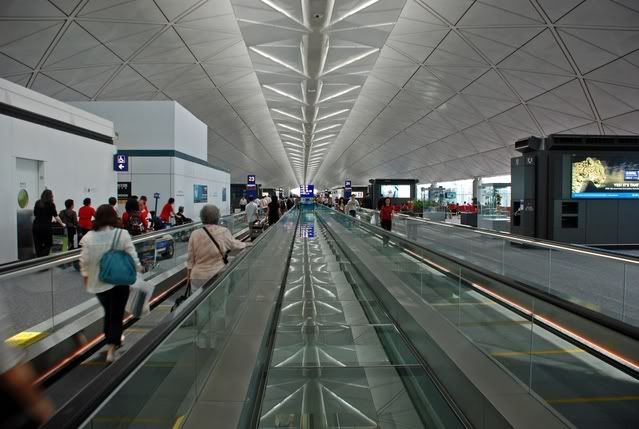 This Cathay B744 is headed for Vancouver and New York this afternoon as CX 888. You can tell it's one of the retrofitted versions (with new seats in F, J and Y) by the two blocked off windows in the forward cabin. The two windows just aft of door 1R are where one of the two First Class washrooms is located. (You'll get to see one later.)
The first of three daily British Airways B744s from London has arrived. It will soon be towed to a remote stand where it stays parked for quite a while until its late night departure back home.
Taiwan's China Airlines is one of the airport's most frequent visitors and it flies almost every aircraft type in its fleet here. As large numbers of passengers connect onto mainland China-bound flights at HKG, these frequencies will fall once direct scheduled cross-straits flights are finally established.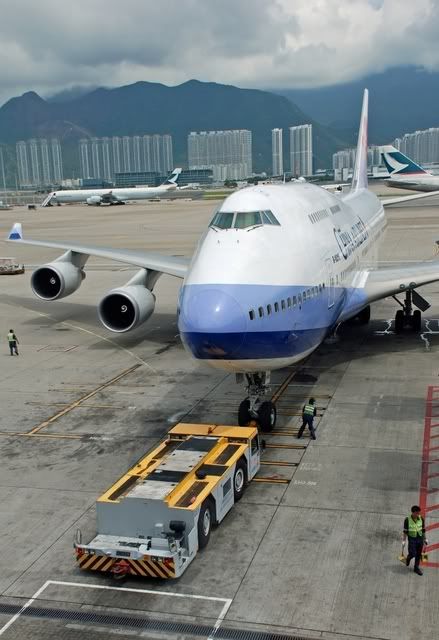 Unusually parked across the runway from the cargo terminal (another massive aviation complex in its own right) is one of Cathay's Silver Bullets. The P&W-powered version is increasingly common as CX takes delivery of more former SQ machines.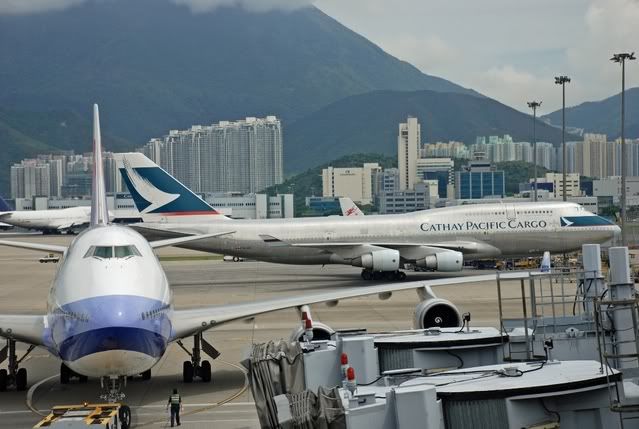 This A319 has just pushed back. China Southern Airlines is another regular at Hong Kong but how come it doesn't sport the Skyteam logo?
An All Nippon Airways B763 (operated by subsidiary ANK) does its regular daily turnaround from Kansai. Next door is a company B744 which does the same from Narita. What's the new construction in the background?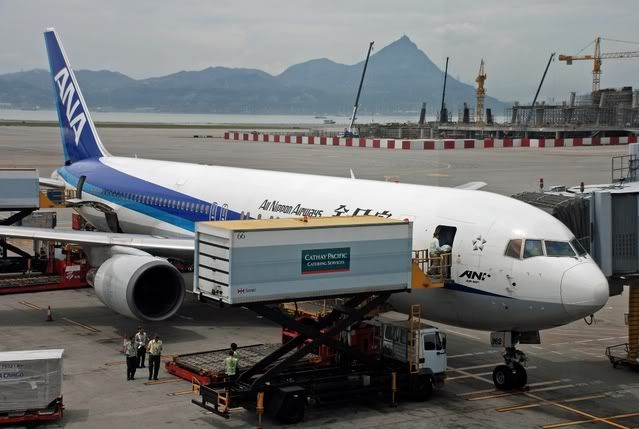 One of EVA Air's latest purchases pushes back from its stand bound for Taipei. The lengthy body of the B773ER is clearly evident here.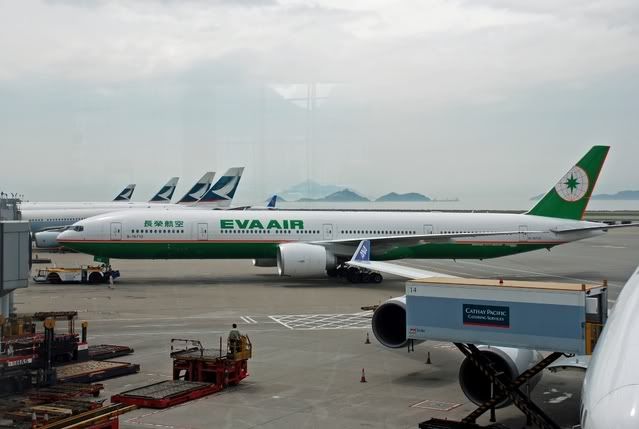 Only one body is longer. A very gorgeous looking Qatar Airways A346 is being towed to a remote stand after discharging its passengers from Doha. Behind it, you spot a resting Air Canada B77L that plies the nonstop to Toronto.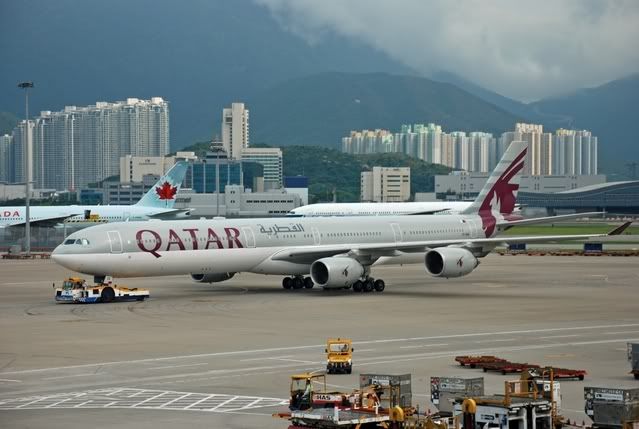 A Lufthansa A343, just arrived from Munich, occupies the stand recently vacated by a company B744 that departed on the daytime service to Frankfurt. This machine will stay until late before returning overnight to Germany.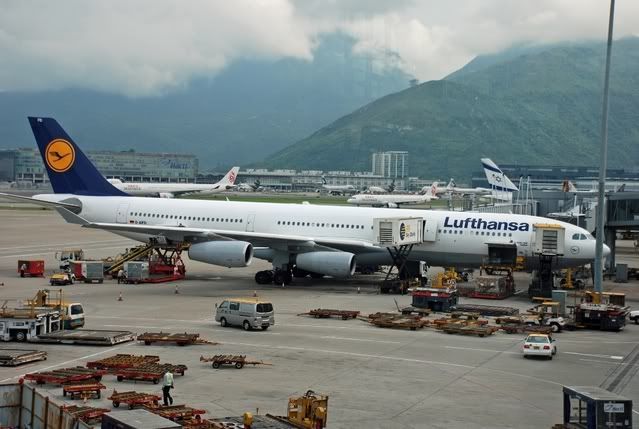 Such is the traffic at Hong Kong – with everyone flying in their largest or newest – that an ageing Malaysia Airlines B734 becomes an object of exotic curiosity. This classic is pushing back for Kota Kinabalu, next to an A332 of Jet Airways, a recent addition to the airport's impressive list of customers.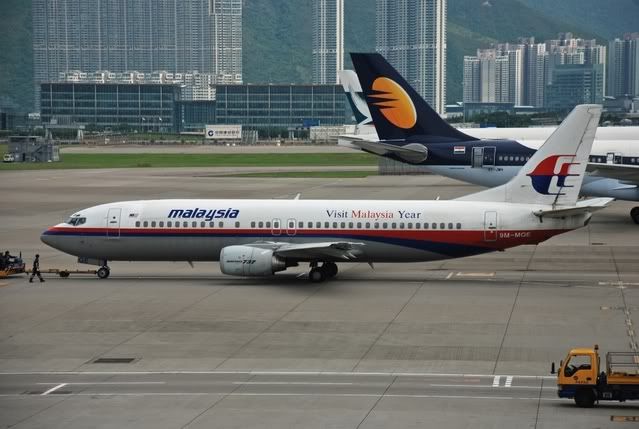 <><><><><><><><><><>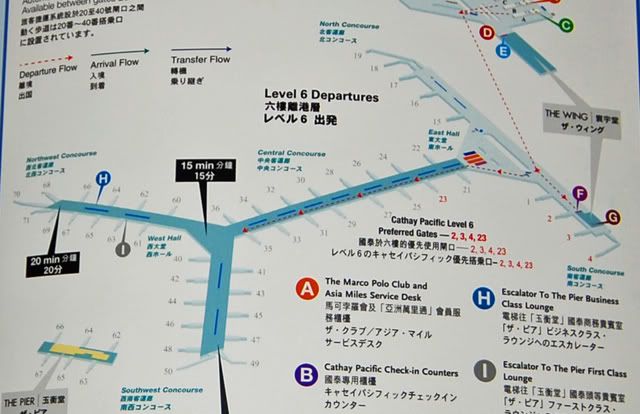 THERE
are two CX First Class lounges to choose from.
The Wing
is closer to the main departures area and a natural choice when departing from Hong Kong while
The Pier
is nearer the more remote gates. As you have already walked the entire length of the terminal and your flight gate number is still unknown, the latter's a more obvious choice.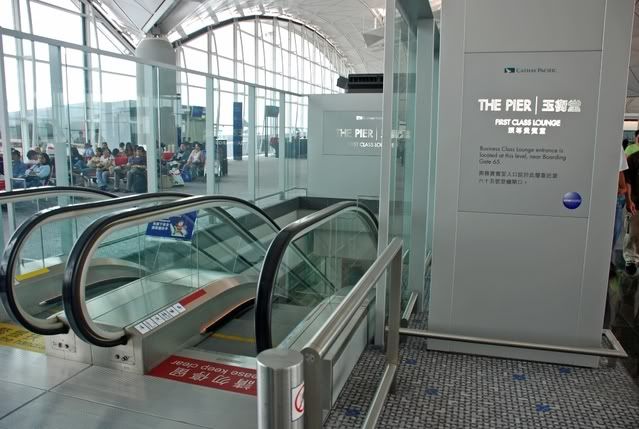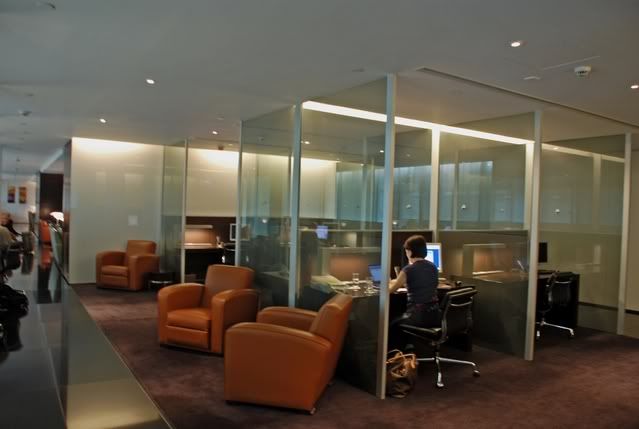 Your first visit ever to Cathay's First Class lounge is a disappointment. It's decent of course with lots of leather sofas but it is on the smallish side, and seriously lacks the wow factor. Compared to the spacious J Class portion of
The Pier
which you like very much, this supposedly more exclusive bit is actually less attractive, especially on a busy afternoon like this. The service is reluctant at best, sometimes downright surly. You have to constantly remind yourself this is "First Class" – because it sure doesn't feel like it. You almost regret having recently experienced First Class on ANA because your expectations have been reset to stratospheric levels. And this subterranean cavern just doesn't do it for you.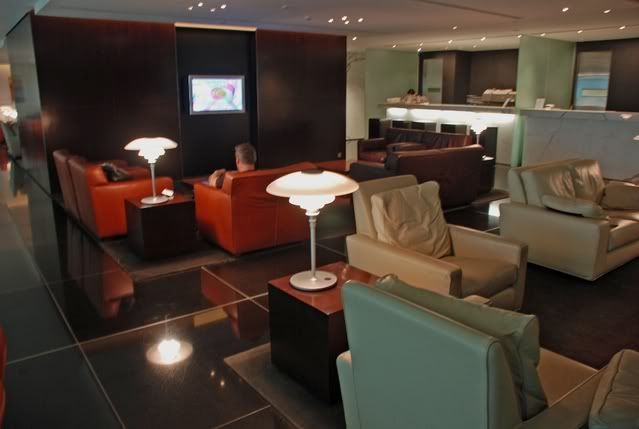 Time for a shower? Not really, but lacking anything better to do, you decide to check out the facility. It looks similar to the J class shower rooms. Again, decent enough but you had expected something more for the poshy end.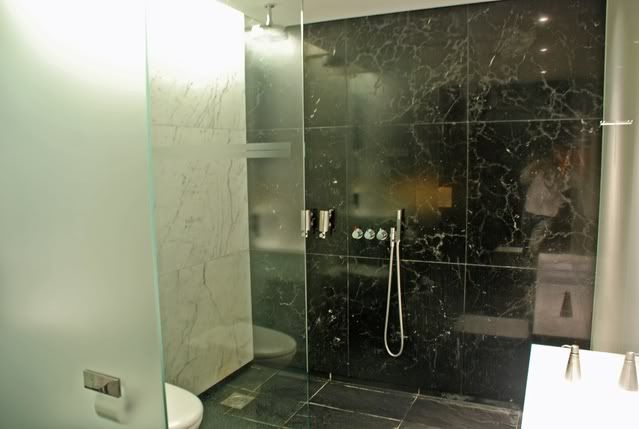 The only discernable difference between the F and J lounges is the sit-down dining room which CX calls
The Haven
located uptown only. A reasonably good selection of hot dishes as well as salads, sandwiches and noodles is on offer at the buffet table. Personally though, such formal places with hovering eagle-eyed waiters make you uncomfortable: you'd much rather spread out a newspaper while slurping up udon at the canteen-like J class noodle bar.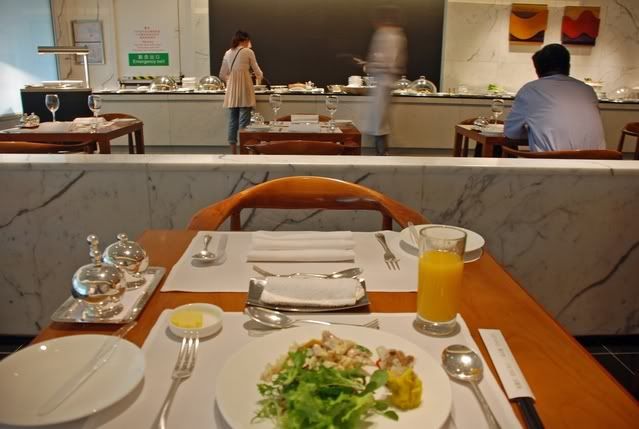 Although there's very little natural light, the designers have cleverly played around with what's available, adding "mood" to good effect. But there's no more time to loiter – you find out CX882 departs from gate 4, as far away from this lounge as you can get at this airport.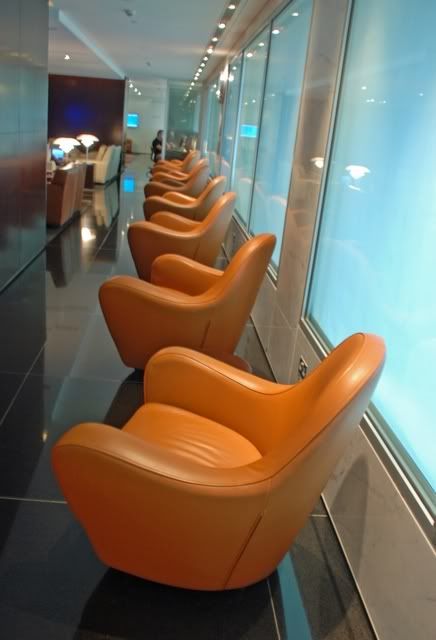 <><><><><><><><><><>
Hong Kong to Los Angeles
Cathay Pacific Airways flight CX 882
Dep 1707 Arr 1430 (arrives 15mins late)
B747-400 B-HKU
5 May 2008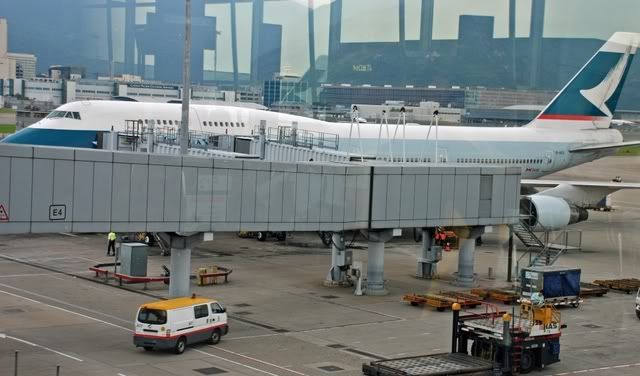 A LONGISH
walk brings you to gate 4, one of the few "out-on-a-limb" gates at HKG that doesn't afford a good view of the plane you're flying on. You recognize the registration B-HKU as a former SQ machine and coincidentally, one you'd flown on before. Boarding in the busy gate area is already underway when you arrive, but you don't worry: this airport does priority boarding better than any other. The separate premium queue is clearly marked, and as you approach, the ground agent notices your red boarding pass and promptly ushers you to the front of the line of Business Class passengers.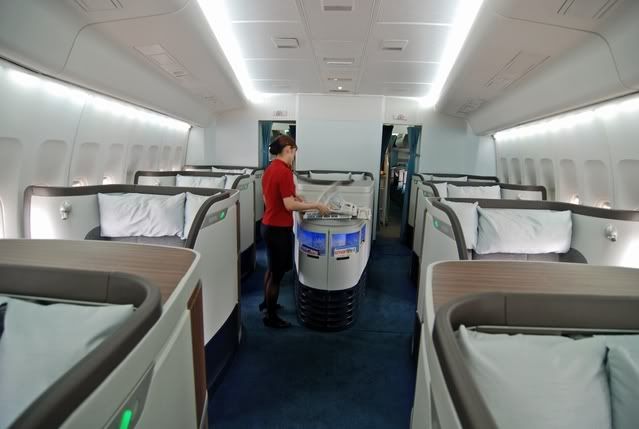 After a quick secondary security check, you're aboard being warmly greeted at door 1L by cheerful and chirpy Tina, who accompanies you into Cathay's plush new First Class cabin. You have been in this exact same cabin before: over a month ago, you received an unexpected upgrade on a short flight between Bangkok and Singapore that wasn't completely satisfactory but today, the real test is to see whether CX fares better on a long-haul.
You settle in at your allotted seat 3K. It seems like you're the only First Class passenger to have boarded so far, but you can't be certain – the privacy screens ensure precisely that.
There must be some secret contest between CX and SQ to see whose frequent fliers have the most voluminous bottoms. Your seat is wider than you know what to do with, but thankfully it's more comfortable than it looks in the upright position.
There's no shortage of room to spread out. Whether you're tall, wide or large, the CX First
Suite
will fully accommodate you with room to spare.
Of the nine seats in this cabin, the ones that offer the least privacy (that's a relative term of course) are located right at the front. But they are also seem to be the best for couples.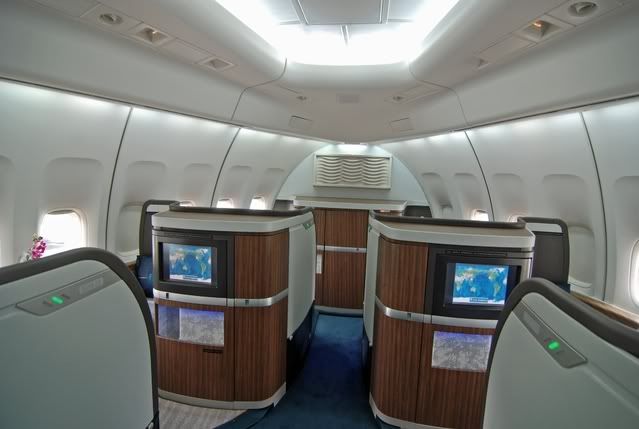 In the interests of full disclosure, it must be said right here and now that you used to be a CX fan. It is not blind love or love at first flight, but it is the acquired variety that grows with familiarity. The top notch crews serving the premium cabins are a key reason for your affection for CX; they combine the formality of Asian hospitality with the right dose of genuine warmth, friendliness, confidence and professionalism. It's a devilishly difficult balance to achieve, and although you occasionally see it on SQ or MH, it is on CX that this happens most consistently and naturally. (Many new recruits now serving in CX Y class are unfortunately so far off this mark that F/J and Y are sometimes like two different airlines.) To put it another way: if you like flying Asian airlines for the service but dislike servitude, then premium class CX would be your choice. But try it now before these wonderful crews retire – the new bunch has all the makings of a… hmmm, how does one put it delicately … pretty crap airline in the future.
And so that's how you fell out of love with CX.
But of course, it's harder to leave when you have crews like those in F today. They come personally to introduce themselves. Tina from Taiwan is a sunny character whom you've already met at the door, and alternates in conversation among three languages when you say you don't mind being addressed in any of them. "It's much more interesting that way," she cheekily says in English, before slipping into Mandarin for your drink order and Cantonese when she brings you the menu. Dane, meanwhile, is from the Philippines and has the gift many Filipinos have of making you instantly feel like you're already old friends on the first meeting: you chin wag about everything from CX's controversial new J class seating to the Filipino obsession with shopping. Together, Tina and Dane make a fantastic team of the classic CX variety that made you fall for the airline all those years ago. It's a certainty: you'll have a great flight.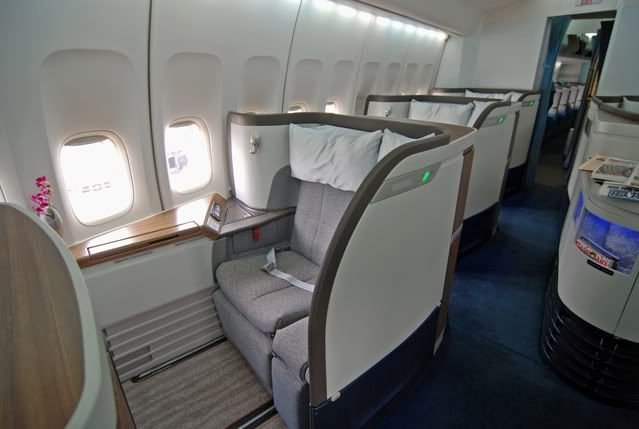 A Shanghai Tang PJ – medium should be just right for you, says Dane – is passed out together with a Victorinox amenity kit. Tina tempts you with another glass of Krug. They take it in turns to pamper you. Inflight manager Marion stops by to say hello and inform you about the flight time to LA: a relatively short 12 hours and 4 minutes. "Good tail winds tonight but it could get a little bumpy according to the pilots," Marion adds. "And by the way, you're the only one in First Class today. Enjoy!"
You guessed it'd be a light load when you saw no other seat selected at online check-in but you never even dared to hope for a cabin all to yourself!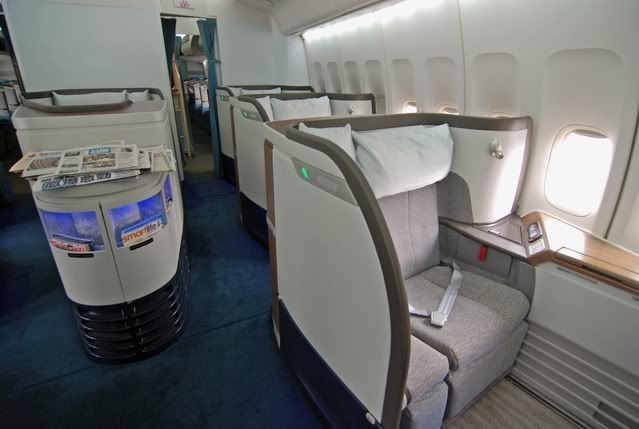 A series of announcements by the captain first, that you'd be facing an air traffic delay and then a "minor" avionics problem that needed "a ten minute fix", fail to dampen your mood. After all, you're not in a rush to get anywhere. In the meantime, you take a couple more cabin pics without the distraction of curious fellow passengers. How satisfying indeed.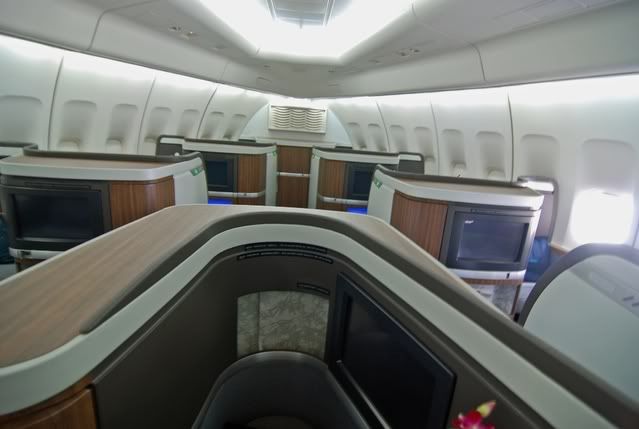 When CX882 finally gets going, it's almost an hour late. At cruising altitude, the sun is starting to set and over Taiwan, you're ready to dine.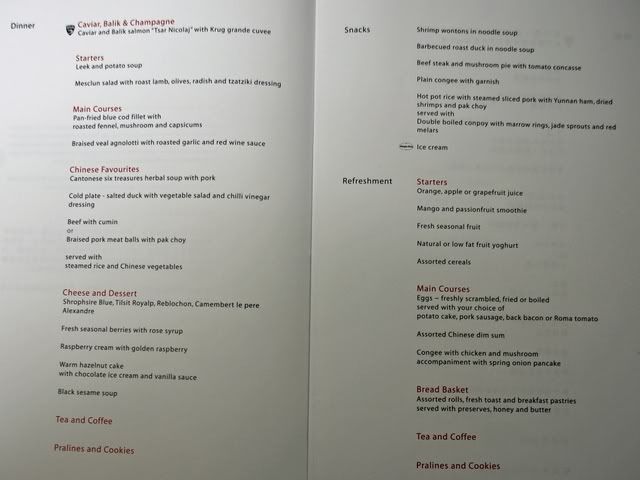 Tina takes your dinner order and encourages you to "try everything". Ah, so that's why they have those extra wide seats. You start with a generous helping of caviar and balik salmon.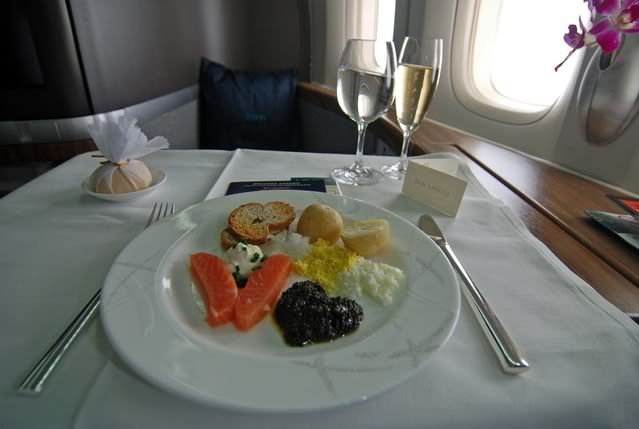 Then move on to the comfort of the leek and potato soup.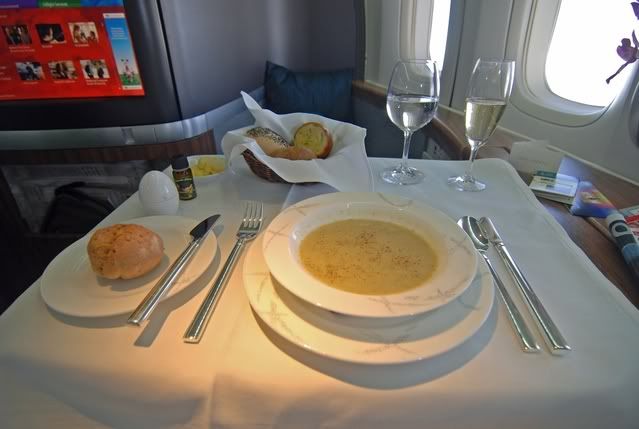 A salad you don't remember ordering appears. It's tasty so it must be tried says Dane. (And yes she's right, it really is.)
CX does decent Cantonese food and so your meal now takes a decidedly easterly heading. Tina serves up the six treasures herbal soup.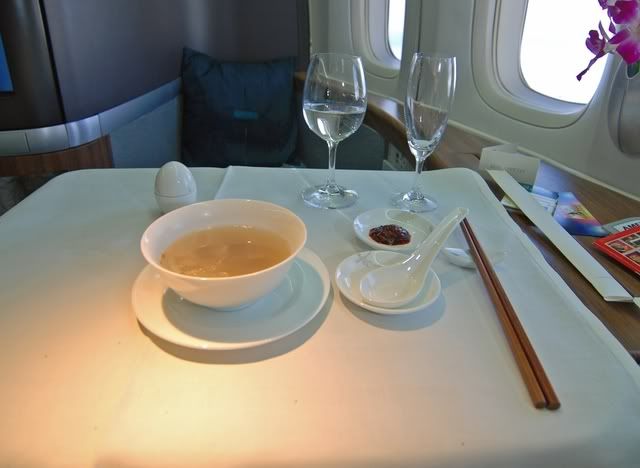 Five courses on and bursting a little at the seams, you finally reach your main course of beef with cumin, vegetables and rice.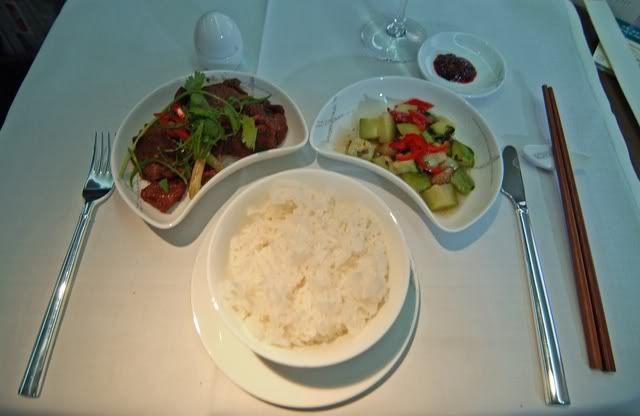 Passing on the cheese and dessert, you opt for some summer berries to finish.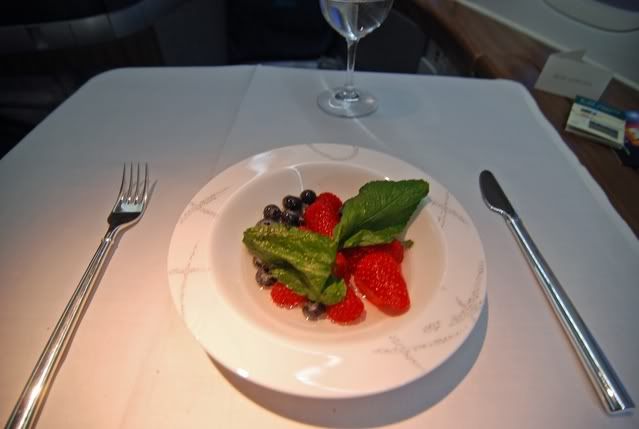 Just as coffee is served, the promised turbulence starts to make its appearance.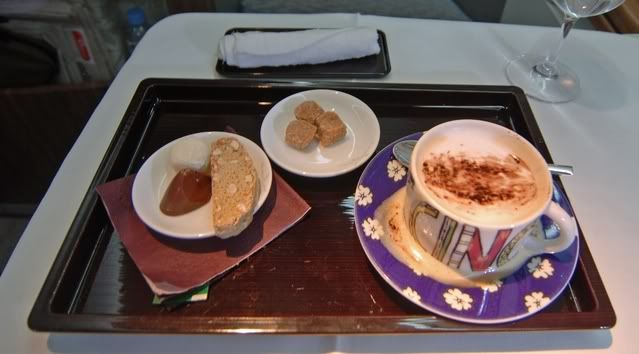 Dinner is done. Shall we dim the lights? Since you've never owned a private jet, that question has never arisen before. But you take it in your stride: not yet you say – there are some things you need to do first. Like go absolutely mad with the camera in
your
private cabin. Here's a small sample of the result…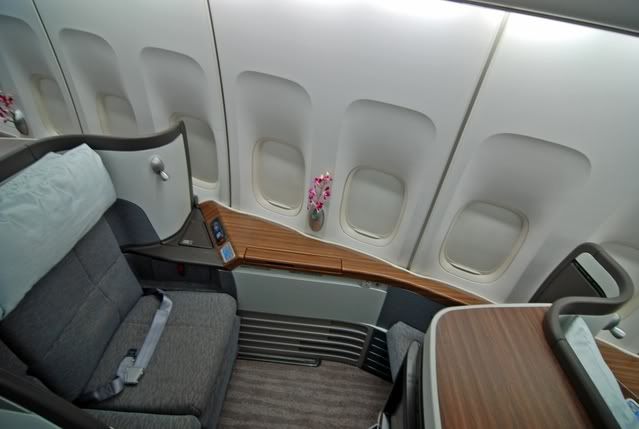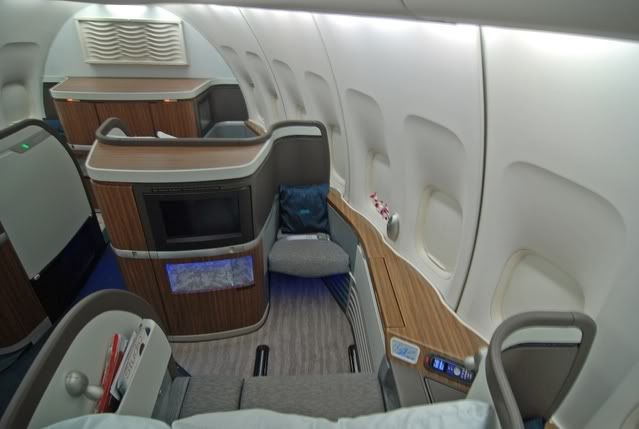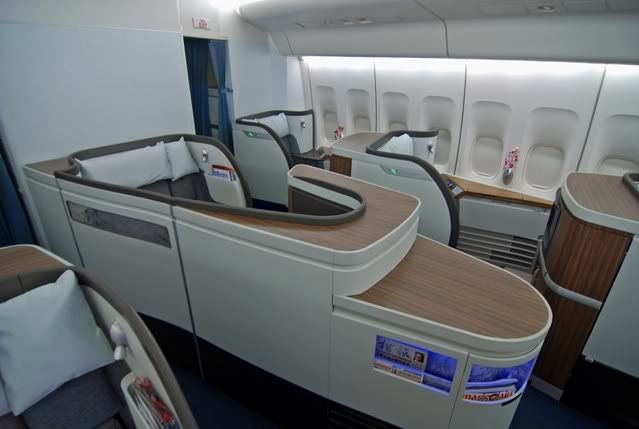 It hardly needs to be said, but Cathay's new First really is a very nice place.
With the cabin lights finally dimmed, Tina asks if you want your bed made. Although you don't quite feel like bed yet, you say yes only to make things easier: there's something about being the only passenger that makes you slightly uncomfortable. When all the attention of two crew members is lavished on you alone, you can't help feeling having crossed into overly-indulgent territory. After you change into your designer Shaolin kungfu monk PJs, you find seat 3K already transformed into a comfy bed. You try watching a movie but succumb to luxury and nod off well before the end.
A bumpy night across the Pacific of light pitching and rolling helps sleep and you manage almost five hours' worth. When you wake, the air has calmed, the international dateline is behind you and the sun has risen on a Monday again. The airshow channel reveals the routing taken overnight as an almost straight line from Japan to California, with landfall likely to be around San Francisco at the current heading.
Two hours to go, you change and freshen up in the washroom, which is quite the nicest and most spacious you've been to aloft. There are two identical ones like this for the use of First Class only – yes, that's for
you
alone.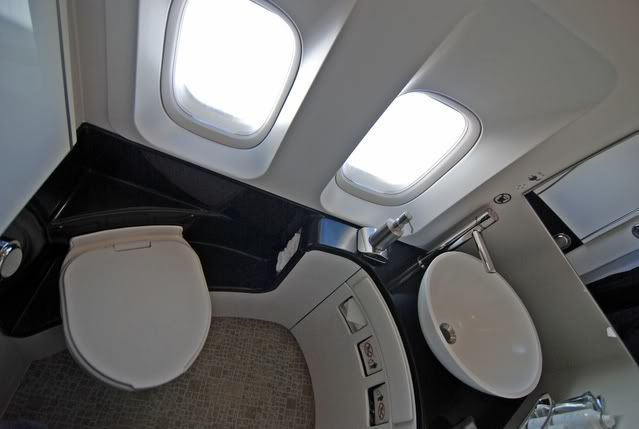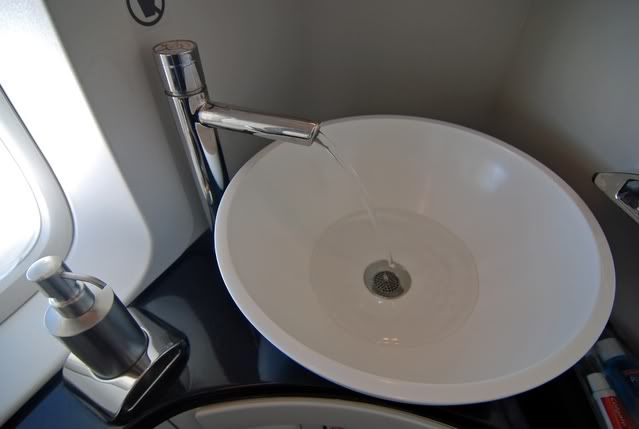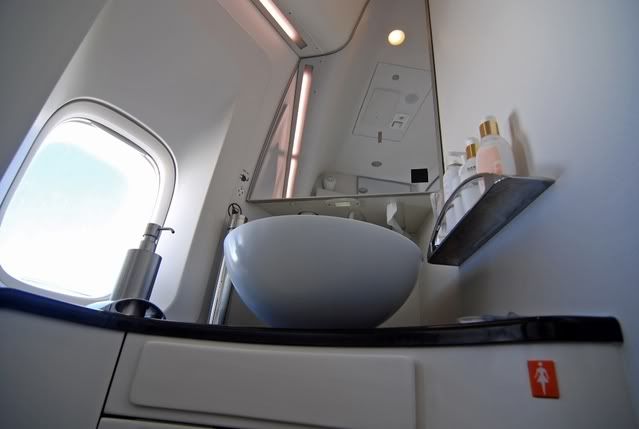 You're a little disappointed you have had to unmake your own bed – what a spoilt snobbish bastard just one night of First Class has turned you into! This scares you a little: just as well you're usually in steerage. Having over-indulged at dinner, you opt for a healthier breakfast.
Both Tina and Dane come round for a final chat before descent into LAX. You thank them for the wonderful experience and take some photos together. Marion brings an inflight survey form for you to fill. There are only praises to sing.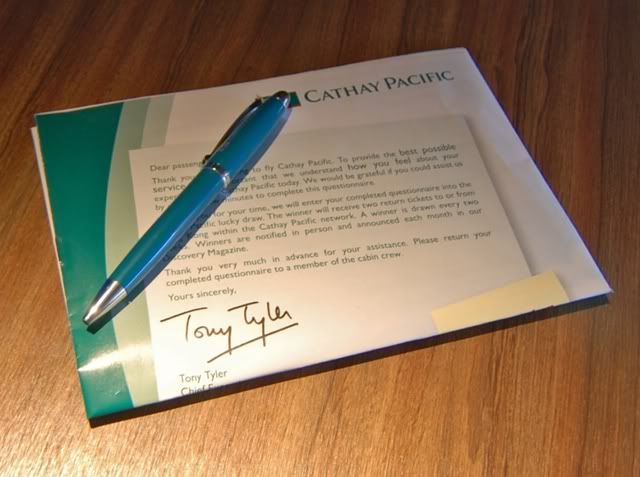 You get in mid afternoon 15 minutes behind schedule, which isn't so bad. Parking at a remote stand next to a smart looking LAN B763, the First Class experience ends abruptly at the door and you're unceremoniously bussed to the terminal. There's no more authentic welcome to LAX.
<><><><><><><><><><>
an american intermission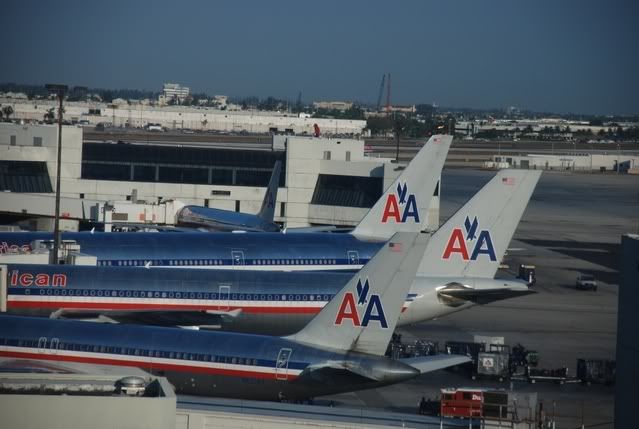 THERE
are already some very good trip reports on American Airlines on A.net. Writing another here about your return flights between LAX and MIA adds nothing more to the collective knowledge. Suffice to say that First Class aboard AA cannot even be compared to Business on CX, but put in context (i.e. if one lowers one's expectations sufficiently as one must when flying in the United States), it really is quite good. Here are a few notable things to share:
Head-to-head: LAX American Airlines Terminal 4 is used by Qantas too. A B744 parked so close you can almost touch it excites you, but to most "normal" people it's just another plane.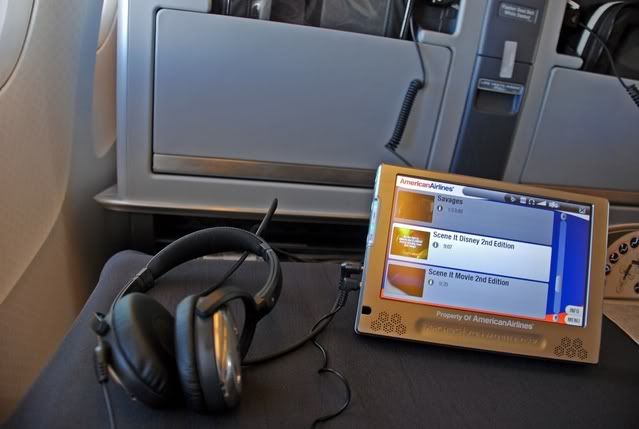 AVOD: It may be fiddly IFE but the Archos and Bose combination makes for a remarkably high quality audio visual experience on AA's newest cabins.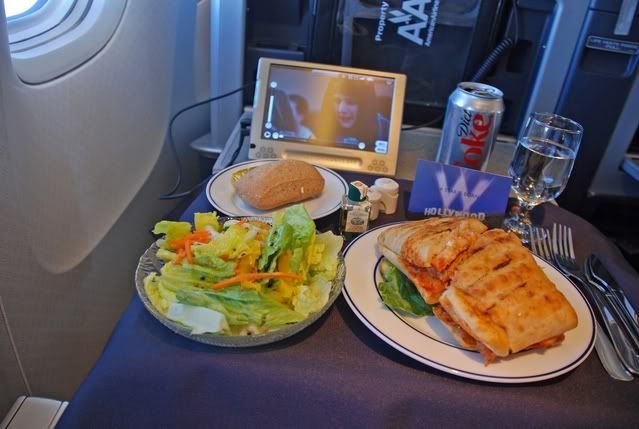 Lunch: Just be thankful you're being fed. A single tray sandwich meal in First Class is as lavish as it gets on a five-hour transcontinental flight.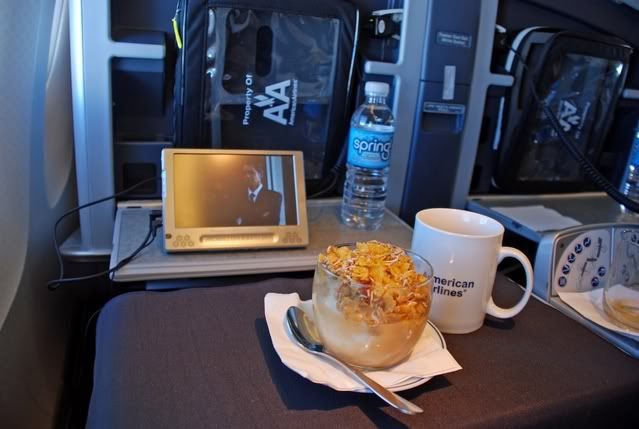 Dessert: The highlight of the flight. Make sure you stay awake for the cookie dough ice cream.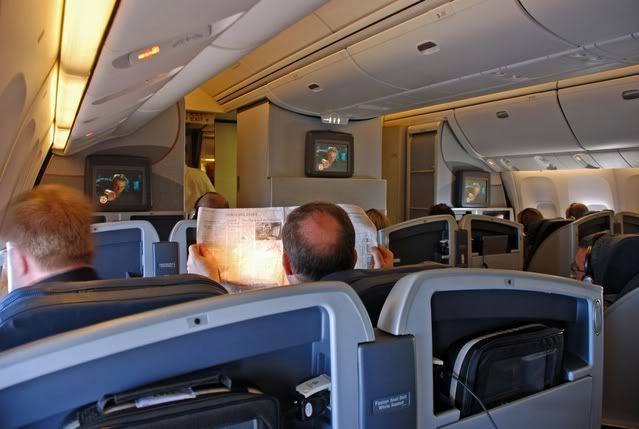 Cabin: This is the new Business Class cabin fitted on AA's international B763s but it already feels dated. It masquerades as First Class on this LAX-MIA flight.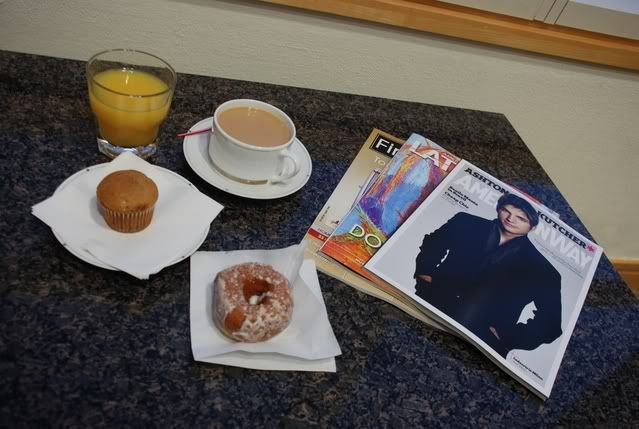 Lounge: Try collecting everything available for free at AA's premium Admirals Lounge in MIA for a still life pose and it'd look something like this.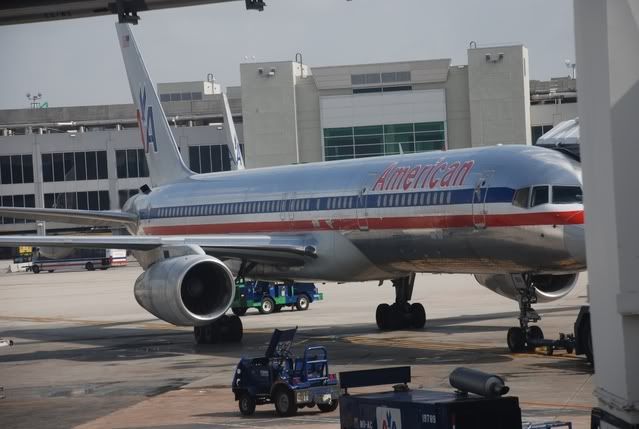 Breakdown: A mechanical fault grounds this B752 that's supposed to be flying you back from MIA to LAX. You get going on a replacement aircraft two and a half hours later, but it means you will miss your CX connection at LAX.
<><><><><><><><><><>
cathay pacific fails you
OBVIOUSLY
someone has a cruel sense of humor.
Your delayed AA flight from MIA deliberately taxies past the CX B744 that you're supposed to be on, minutes before it pushes back from LAX for Hong Kong without you on board.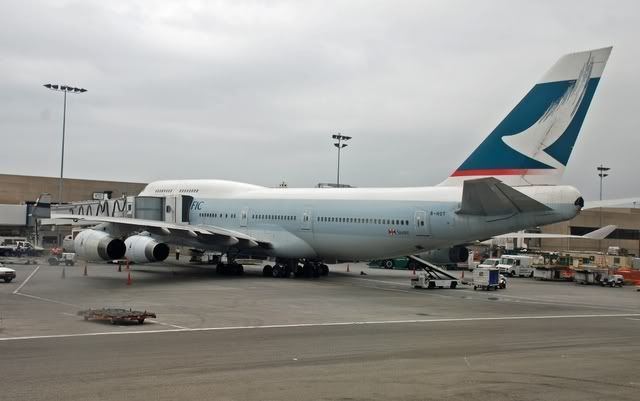 So what can you expect as a oneworld First Class passenger who has missed his connection? Apparently – nothing at all at LAX, one of the alliance's most important stations. No one meets you with a sign at the gate (yeah, dream on); no one has a record of your missed connection at the AA gate; no one has booked you on a later flight; and no one knows what will happen to your mishandled bag. The most helpful comment is of the pass-the-buck variety and can be quite funny if only you were in the mood: "you should go to Cathay Pacific but they may be closed now." So much for the rhetoric about oneworld "revolving around you".
You realize that each situation is different, but surely can't be blamed for comparing this AA/CX fiasco with a recent
Star Alliance First Class connection between NH and TG
at Narita that can truly be called seamless. The differences cannot be more stark.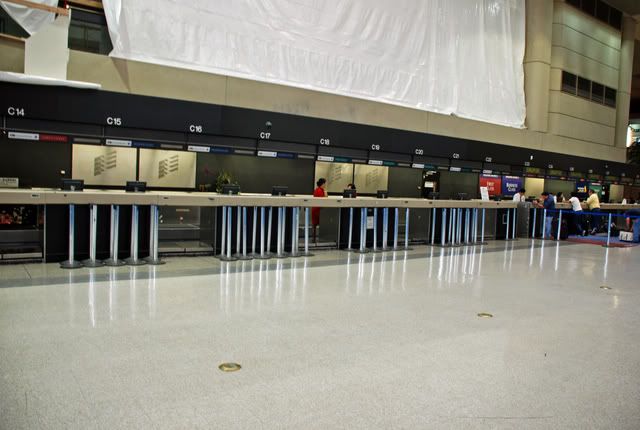 Making your own way next door to Tom Bradley International Terminal, you do indeed find CX "closed". The check-in desks are deserted and a sign asks you to come back at 8 pm. (It is now 1.45 pm.) A helpful SQ baggage agent at the next counter takes pity on you and tries to locate a CX staffer. While you wait, you call Cathay's Marco Polo desk – apparently you're still one of the airline's more favored customers, though it hardly feels like that now – to rebook you on the next flight: CX883 departing at 11.45pm. This is done in an instant, but the Marco Polo agent has difficulty selecting your seat. "The system says there's a configuration change, so I can't do it now," are the ominous words. You fear that can only mean one thing: you'd be getting an old configured plane in a last minute substitution.
A uniformed CX agent eventually appears. She doesn't recognize you as the First Class passenger who missed his flight; makes no exclamations like "we've been looking all over for you!"; has no apology for not making an effort to meet your failed connection, doesn't offer to rebook you, and doesn't even thank you when you tell her you've done the rebooking for her. She checks your booking again and tells you to come back tonight to check-in. "We open at eight." What? That's it?
You want to know if CX883 is operated by an old or newly configured plane, but she assures you it is new; so you do not change to the later flight, CX881. Instinctively you feel she's wrong, but a ground agent at LAX should know more about these things than you, right? (Well no, as you discover later.)
"What about my bag? I don't know where it is, and it's now incorrectly tagged…" you say. "Just come back tonight, we'll retag it." You know when you're being fobbed off. Quite apart from the fact you're traveling First Class, you're also a transit passenger who's involuntarily stranded at LAX for 10 hours. Shouldn't they be concerned about what you're going to do in all that time? At least won't you be hungry? Why don't you rest in our lounge? But no, there's not even a hint of an offer: not even a cardboard box for you to lie on the floor. At this moment to CX, you're more like an inconvenience taking up someone else's valuable break time: we
only
open at eight, okay?
All this time, you have kept quiet, deliberately making no demands. You may have got something by shouting loudly and behaving badly, but that really should not have been necessary. It serves CX right that you're doing something conceivably more damaging by posting what happened on a public forum.
<><><><><><><><><><>
Los Angeles to Hong Kong
Missed Cathay Pacific Airways flight CX 885
Rebooked on flight CX 883
Dep 2357 Arr 0540+2 (arrives 15mins late)
B747-400 B-HOO
12 May 2008
IT IS
9.30 pm. before you return to the CX check-in desk again. Another agent is manning the First Class counter. He doesn't know about you or the whereabouts of your bag but "will look for it and deliver the bag tag to the gate." Call it a hunch but you somehow don't share his optimism. The delay has resulted in a bag that's not only tagged for the wrong flight but the wrong destination too – with your original plan to overnight in Hong Kong shelved, you're now having to make an immediate connection in HKG for KUL. The agent also confirms what you had guessed earlier: yes, you're flying on an old configuration aircraft. How you hate being proven right on this occasion.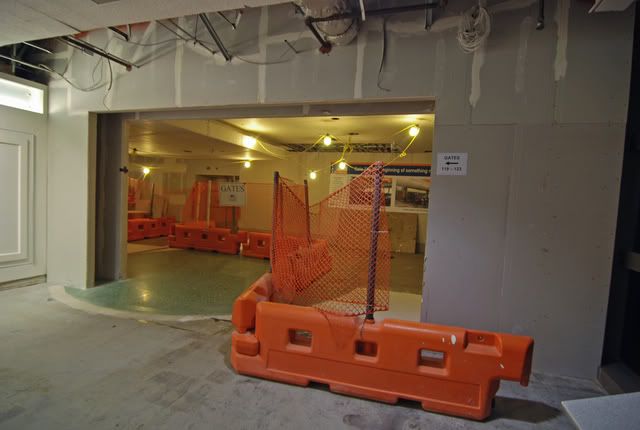 Your short, sharp notes to describe the check-in and departures area at Tom Bradley International Terminal – dark, dingy, sad, nasty – seem to be apt ones for almost everything that's happened today. This is one of the world's top international airports: isn't it just lovely?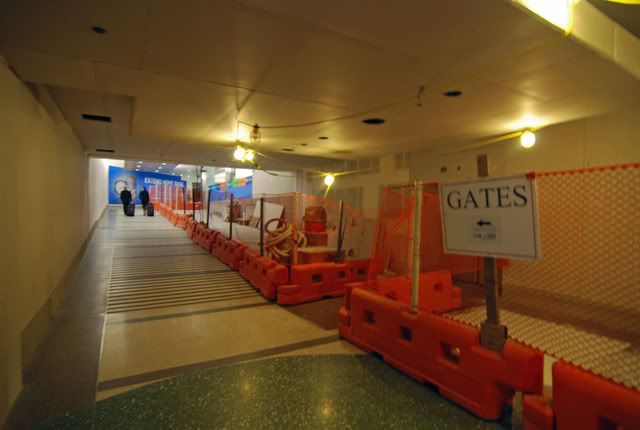 You are invited to the First Class Lounge that's shared by the oneworld members using Tom Bradley. If ever there was an airport that needed decent premium lounges, LAX is it. Unfortunately the offerings are meager and some consider this among the nicest of the lot.
The lounge is crowded with Qantas passengers when you arrive but they quickly disperse as their flights are called. Apparently what you see here – essentially a longish space with seating for ninety – is a vast improvement over the lounges it replaced.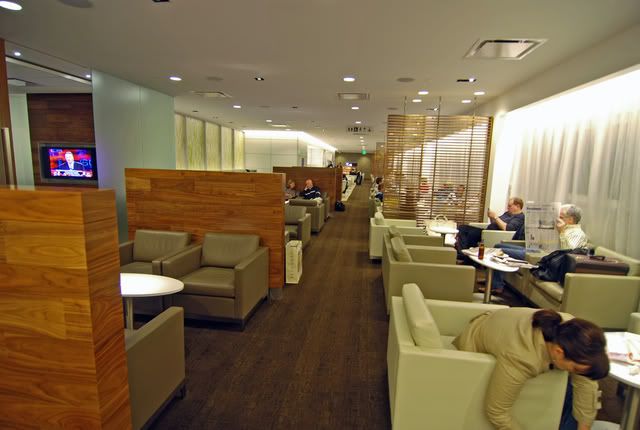 You used to be a little reticent at openly taking photos of other passengers you don't know: it just seems a little rude. Tonight, you somehow don't give a hoot.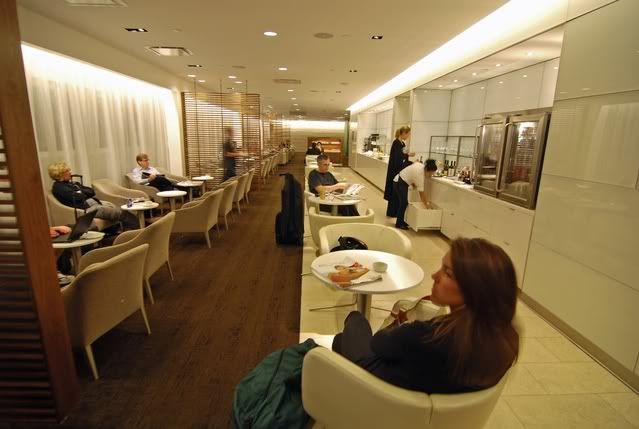 Airline lounges are not where you like to spend a lot of time, even on the best of days. On one like today, the experience is positively stifling. This is the zen-like buffet area that you feel disinclined to visit, much less care what's on offer. You leave not long after you take this picture.
Your nerves need some soothing. A touch of spotting helps, and being able to photograph the B744 you'd be flying on puts you in a slightly better mood.
The gate area is crowded and passengers over-flow into the next gate where a TG A345 is already boarding for Bangkok. The stark fluorescent lighting and insufficient seating combo is well in character with the rest of this delightful terminal.
Queues start to form well before boarding is called. There are more than twelve passengers queuing for First Class, defying the actual size of the cabin – while the one for Business Class is so long many think it's the Economy Class line. It feels almost as exclusive as boarding an AirAsia flight.
You approach a gate agent to ask if your bag is loaded. What bag? You explain your predicament for the third time. A series of calls to the "baggage people" reveals that nobody quite knows what's happened to it. "We'll continue to look." You've reached the end of your tether: what's happened is totally unacceptable, you say. CX knew all about you and your missed connection since this afternoon! The agent senses you're going to say some not so nice things about CX just as his First and Business Class passengers are boarding. So he decides to calm you down by rubbishing a fellow oneworld member: "It's American Airlines, they don't take much care about baggage. We have lots of problems with them."
You wait for 10 minutes, and still nothing. Meanwhile First, Business Class and CX frequent flyer members have all boarded. From the sheer number of passengers whose seats are changed at the gate (almost every other one when you were looking), you estimate that close to the entire First Class cabin tonight comprise upgrades from Business Class, and that Business Class is filled with upgrades from an over-booked Y Class.
You are invited to board: the gate agent assures he'll update you when he hears anything at all. You're reluctant but also know that, short of making a nuisance of yourself, there's nothing much you can do by standing around.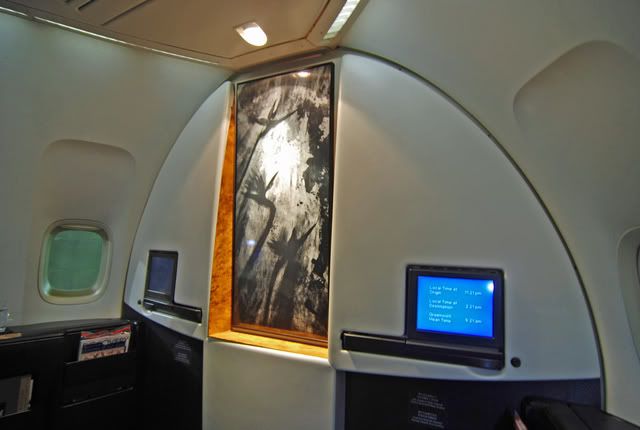 Boarding at door 2L, you walk past Business Class to the First cabin at the nose. Every seat you pass is already occupied. You're seated right in front at 1K, one of the less private seats in the old configuration. After having flown in a new configuration cabin, your seat here feels a little "exposed". The PTV screens also look tiny – they seemed so big before… alas how expectations have changed.
The dimmed lights appropriate at this late hour do not make for good cabin photos, but here are a few you manage to take after landing in Hong Kong. This is seat 1A, adjacent to yours: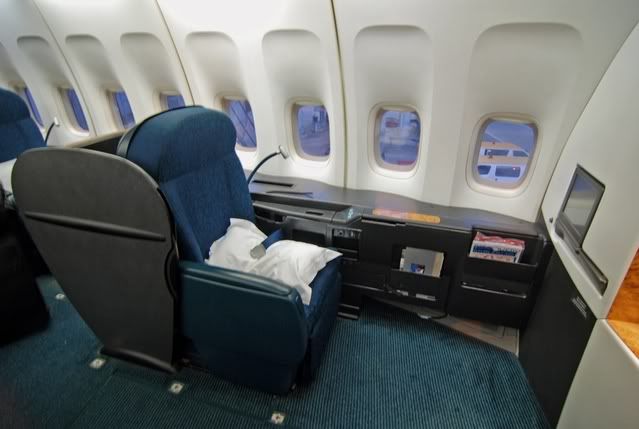 This First cabin still doesn't look too bad after more than 7 years in service. It's just not nearly as nice as the new one.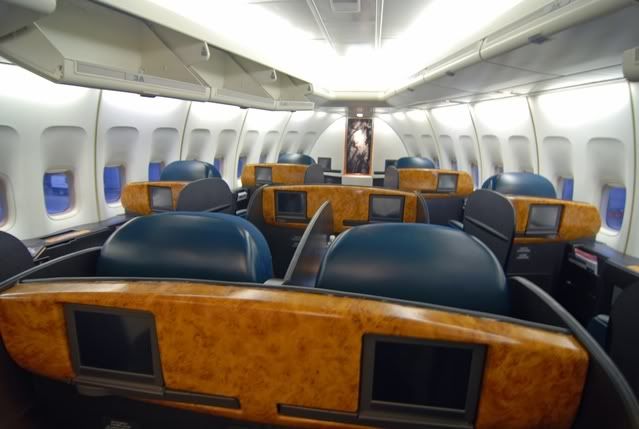 The view of the cabin as seen from the nose. The old configuration seats 12 First Class passengers – this is cut down to 9 in the new.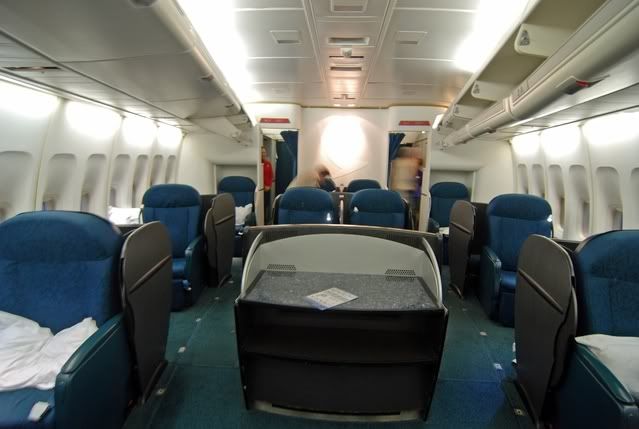 Cathay Pacific has one last chance to redeem itself: inflight service. And in this respect, the crews on CX883 do not disappoint. It's been a bad day, but the warmth of welcome alone makes you certain the worst is over. Nancy, who's Filipina, comes personally to introduce herself and welcome you aboard, saying you look like you could do with a very tall glass of champagne. Her colleagues, Cita, also from the Philippines and May from Hong Kong, also stop by to say hello; as does inflight manager Helen. It looks like another good team in command of the front cabin tonight.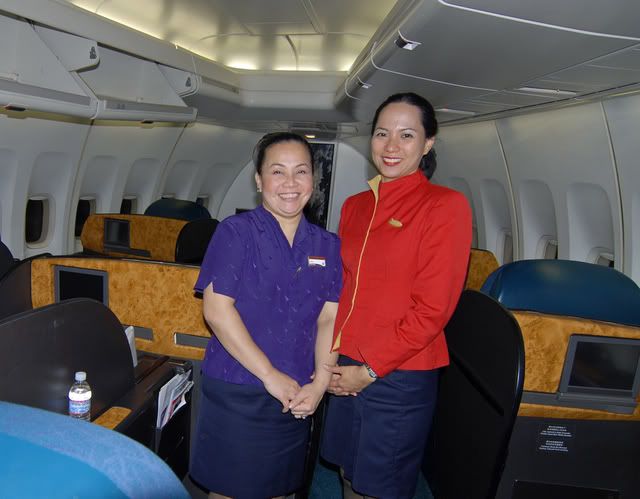 It's getting perilously close to departure time and still, no news of your bag. You go back to the galley to let Nancy know, and a few minutes later, a gate agent is bouncing his way to your seat to say your bag has now been loaded. You're so thankful you forget to ask him for the tag, but by the time you remember, the doors are closed and CX883 is already pushed back for departure. (Yes, you may have guessed: the story of the bag has not ended yet.)
It takes you a remarkably long time to settle down. While most of the other passengers in First want to quickly get horizontal after take off, you're starving! You missed dinner tonight and are too hyped up to sleep, so the best option for you is to sit back and enjoy a long leisurely meal. No need to rush: Hong Kong is a distant 14 hours 17 minutes away.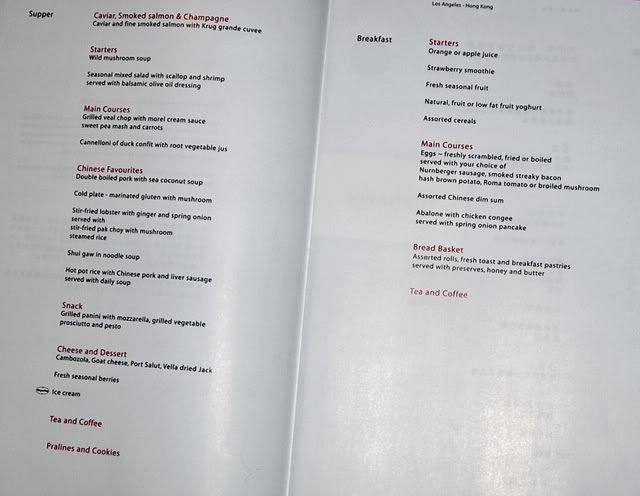 You start with the caviar but this time, the serving is rather miserly.
A delicious scallop and shrimp salad to follow…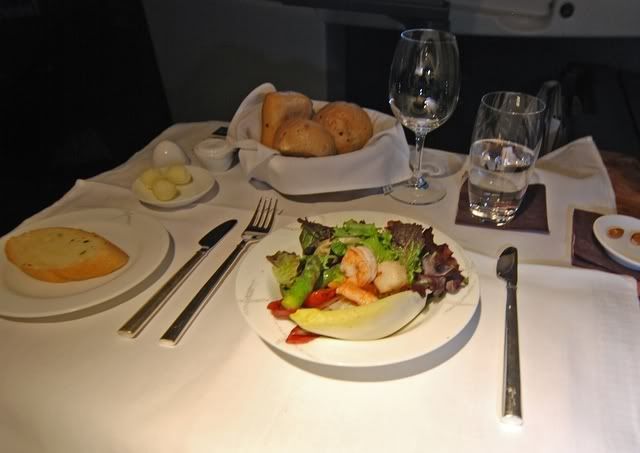 You opt for a Chinese favorite: hot pot rice with
lap cheong
as your main course, accompanied by jasmine tea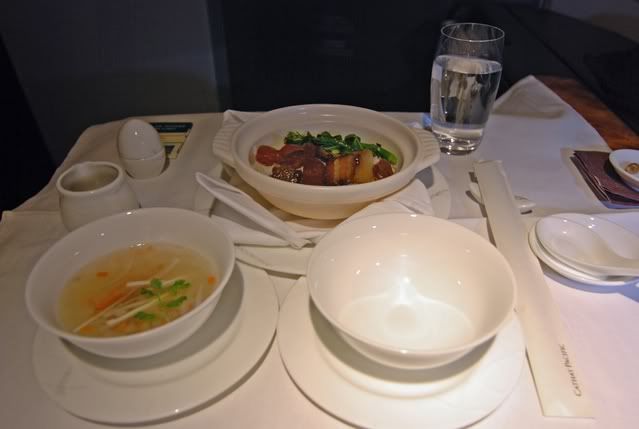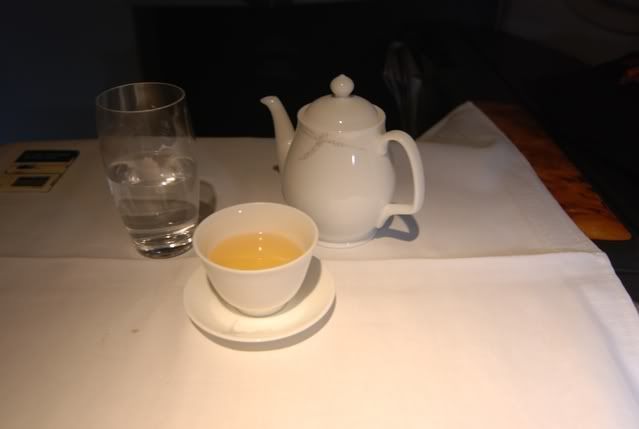 And finally, coffee and ice cream to finish. Service is unrushed, and as good and friendly as any you've experienced on CX; by the time you sip your cappuccino, the LAX fiasco is nothing but a fading, distant nightmare.
Three hours into the flight, you decide it's time to call it a night. Every other passenger in the cabin is already fast asleep. Cita comes round to make your bed, and you ask to be woken up for breakfast.
The sleep is decent, as it always is on a flat bed in First Class. You awaken three hours out of Hong Kong – CX883 is now closing in on Beijing and heading directly south. The routing taken overnight is more northerly than usual at this time of year: northern Alaska, the Russian Far East and into China.
Spotting you're awake, Nancy offers breakfast. Your appetite is still in top form. Fruit, toast, energizer drink and coffee to start: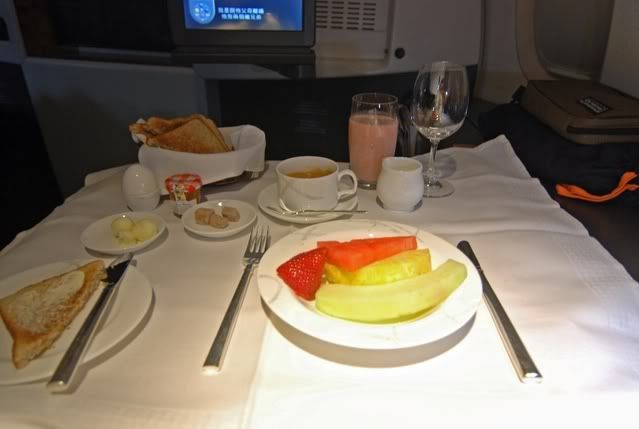 Abalone and chicken congee to follow…
Helen comes round with a comment card after you tell her a little about your experience at LAX. You start writing but soon realize you're never going to be able to fit everything that went wrong within the one page of the form. Instead you decide this trip report becomes your de facto comment form – you have provided CX the link to this page.
Arriving 15 minutes later than scheduled is not a problem – you have three hours before your connection to KUL. You thank the First Class team for the great service. You can't help feeling a little melancholy: it could be years before you fly on CX First Class again, if it even happens. To all intents and purposes, this was the very last time. You will miss those wonderful crews!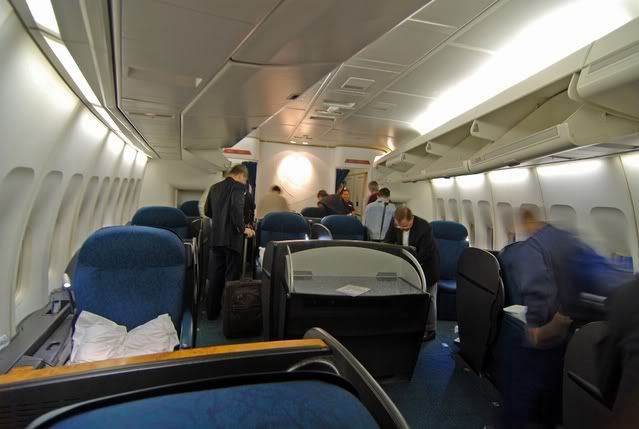 <><><><><><><><><><>
DESPITE
traveling in Y on your next flight, you are invited to use CX's First Class Lounge at HKG. You choose
The Wing
this time. At reception, you ask the CX agent (she looks a bit sleepy but who could blame her: it's 5.55 am.) to check that your bag, for which you don't have a tag stub, is headed on the same flight as you to KUL.
Not surprisingly the lounge is quiet and empty this time of the morning. You have your choice of sofa. This area of the lounge overlooks the departure gates that CX calls its "favorites".
The views from the balcony make a spotter out of anyone. The morning light gives everything a fresh glow.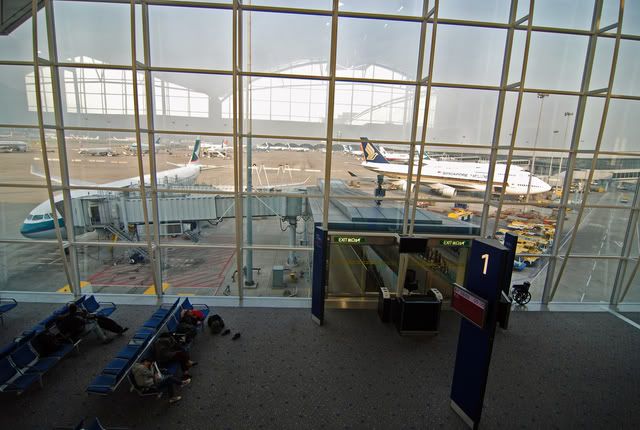 A quieter sanctuary within the lounge known as
The Library
has a more "indoor" feel.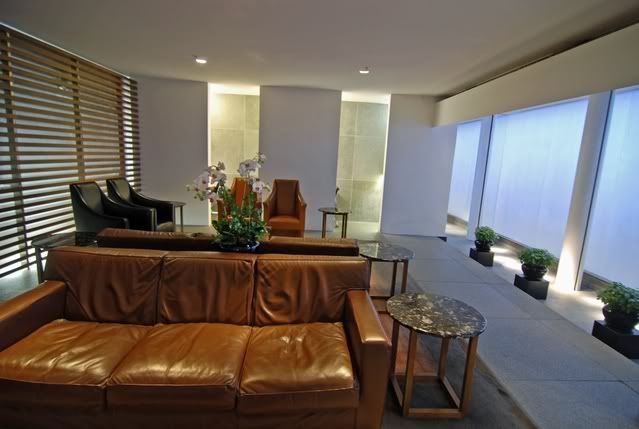 A decent sized dining room serves a choice of western and Chinese breakfasts from the buffet. A second breakfast this morning? Why not?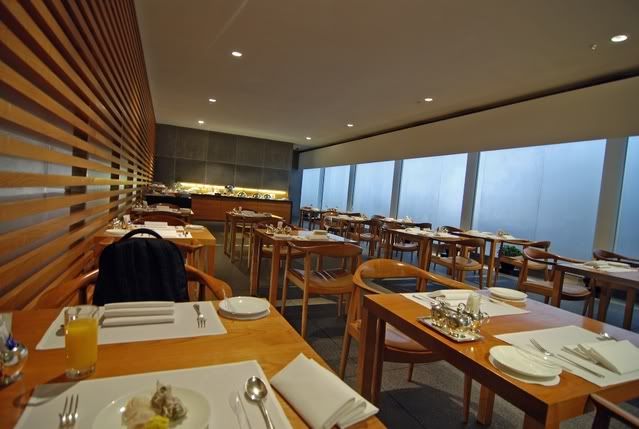 Time to freshen up. Frequent CX fliers rave about
The Cabanas
: you now finally see what the fuss is all about.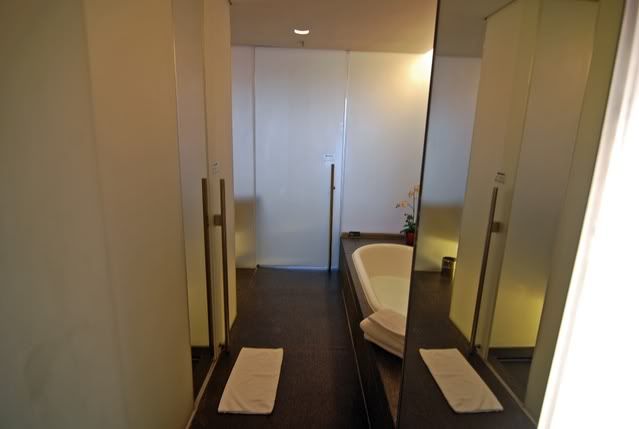 It is ages since you took a real bath… how could you resist?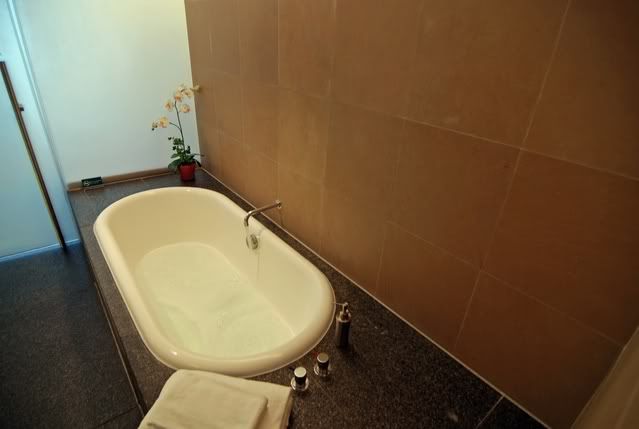 You're fresher now: fed, bathed and cleaned. And time for a reality check. As you leave,
The Wing
receptionist is apologetic but a fact is a fact: nobody can locate your bag, she says. It's not at the HKG baggage reclaim, or at your connecting flight. There are doubts it was even loaded on your flight at LAX.
No, surely not!
"But we will continue searching. Please check at the gate again."
Your flight is parked more than one kilometers' walk away at gate 62, which is just as well. You don't want to think about the real possibility that your bag could be permanently missing: no better activity than some more spotting right now…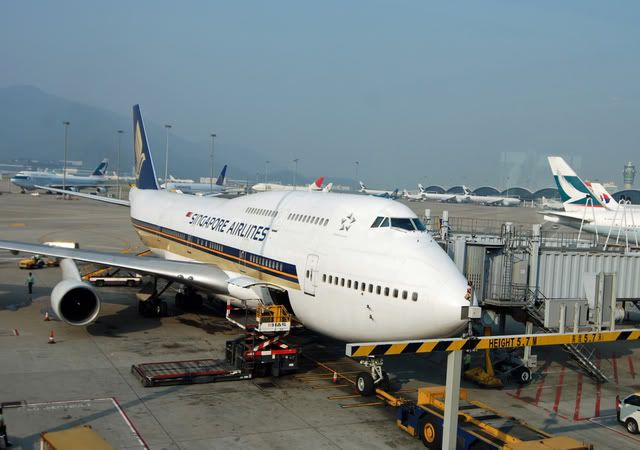 Singapore Airlines flight 001 en route from San Francisco to Singapore has been a daily event for years. Some speculate this could be an A380 before the year end.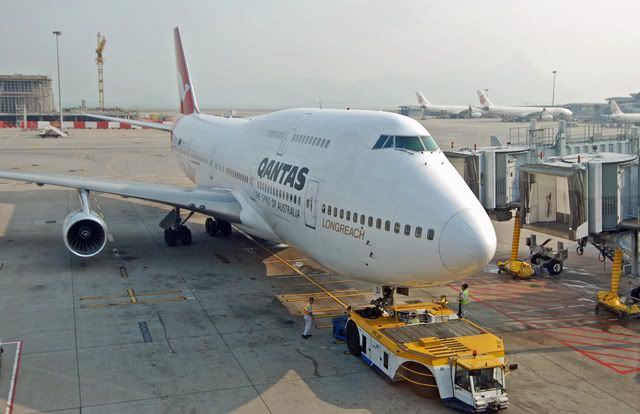 A Qantas B744 is pushing back for London… close by, fellow antipodean Air New Zealand is also headed in the same direction in an all-white B744.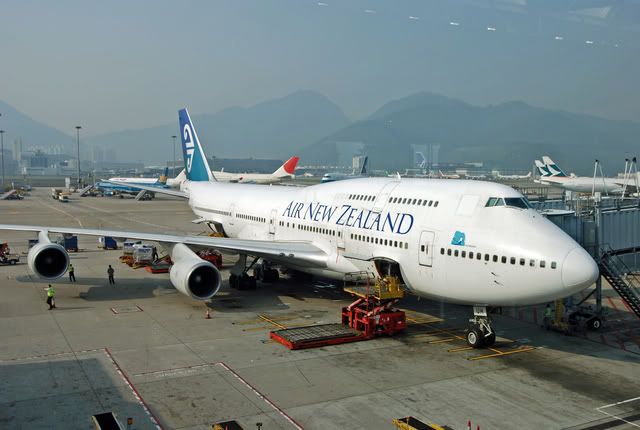 A Northwest B744 soon heading for its Narita hub. It looks rather stunning here.
A host of CX tails ready to leave in all directions during the regional morning rush hour.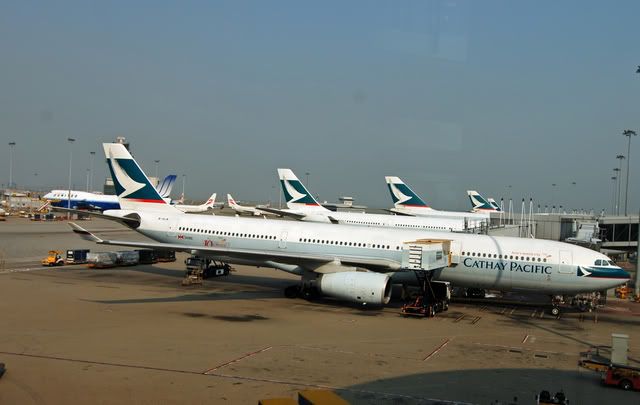 One of the planes leaving the CX fleet this year is this A346. It will be replaced by a growing fleet of B77Ws.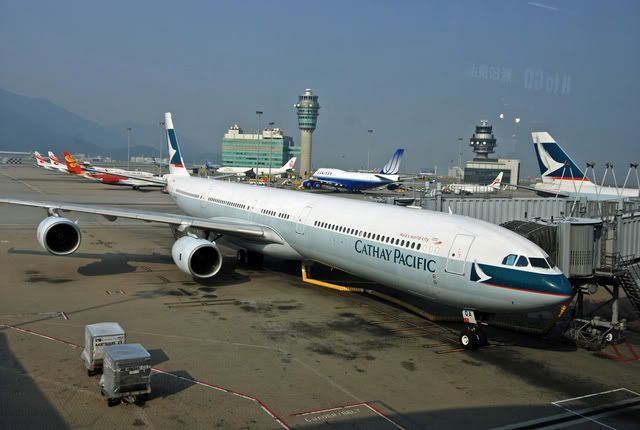 You finally reach the gate. An agent already knows about you. "We don't think your bag has been loaded in LA, but we're still waiting just in case it shows up," she says. But when you tell her the CX gate staff at LAX assured you it'd been loaded, she starts: "Sometimes they…" She stops mid sentence.
"They lie to passengers?" you ask. She smiles uncertainly, and keeps a diplomatic silence.
As you board and settle into your steerage seat, you are already resigned to the fact that your bag could be permanently lost.
<><><><><><><><><><>
N.B.
More than two days later, a surprise phone call from Malaysia Airlines, CX's baggage handling agent at KUL, informs you that your missing bag had been located. It made it home after all.