A Dutch-German Joint-Venture: 5 legs around FRA (1)
Hi, dear readers,
Late January, time had come, that I made final preparations with fellow A.netter FLIEGER67 to do some flying around. To catch some flights together, we decided to stay within Germany, and to stick with one airline. A multi-segment trip on Lufthansa was booked, with 5 flights for both of us, of which 3 together.
I had to position out of AMS, Markus had to position out of STR. For me, the fare per leg was nearly around EUR 60,- each, including taxes. Not bad at all, and a good chance to collect a few more M&M points of course.
So, finally the day had come. Tuesday June 3, 2008;
I had checked in the day before, Markus as well. We arranged seats close to eachother, but both of us having window, of course. So, no need to show up early at the airport, although I still wanted to be in time to print out original boarding passes from the Self Service Check-In machine. And you never know if AMS security is busy, or not… it fully depends on the amount of staff hired on each day.
I decided to take a trainservice leaving around 06:00am in the morning, but I found on internet that it wasn't running. So I had to catch the 05:34am service, which was too early, but one hour later would be too short, maybe. I didn't want to take the risk, so I took the early one. Finally no problems to reach the airport, arrival at 05:50am.
At the LH Check-In machine, I was only able to print-out the boarding pass for my first leg. OK, maybe better luck at FRA…Security was fine, busy but running fast. No problems this time. In the clean area, I needed a coffee, but it too many people were queuing at Starbucks, so I went upstairs to the normal food court. Had a really small cappuccino for EUR 2.80 (outrageous price!), and took my seat at the window. Not much traffic around, only some HV charters leaving, plus the single AB service for PMI. Visibility was low, after very heavy thunderstorms which passed by during the night before. Some hours with > 10,000 lightning strikes per hour (!), so you can imagine how serious it was.

View on the apron, taken from the foodcourt

Departure screen for B-gates
Then I headed to my gate, B13. In the meantime I checked prices in some tax-free shops. My aircraft was waiting for her first service that day, after nightstop. I noticed the AMS-MUC (LH4691) flight being cancelled, so apparently many passengers were rebooked via FRA on my flight. I was pretty crowded at my gate after all. Finally boarding was announced at 07:15am (10 minutes late, boarding pass showed 07:05am for boarding).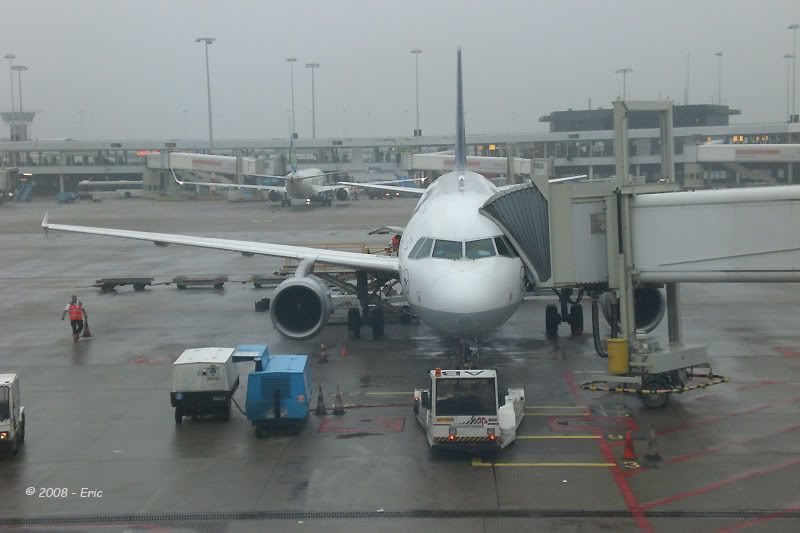 My first aircraft of the day parked at gate B13
AMS-FRA
Flight No.:
LH 4689
Date:
03JUN08
STD:
0735
ATD:
0812
STA:
0845
ATA:
0923
A/C:
Airbus A.320-200
Reg No.:
D-AIQM
Seat:
25F – Economy Class
My 19th ride on an Airbus A.320, and the first on this machine.
View Large
View Medium


Photo © Wim Callaert
Boarding finished late, doors closed 07:37am, 2 minutes late. Good to see that the middle seat at my row remained empty. Total load estimated at about 90%. Seat was very comfortable. Light-grey leather, with perfect seatpitch. I really felt good on this aircraft. Safety demo was done manually by the cabin crew. Spoken in German/English language, later another safety demo in Dutch language, by use of a tape. Also Dutch newspapers were given out, although stock only lasted until row 19. Bad luck for me.
Engine start needed the jet-starter today, due to an inoperative APU. I noticed some strange noises during this process and concluded 'problems'. And it was a problem indeed, later announced by the captain, at 07:55am. We were now waiting for another, more powerful, jet-starter. In the meantime I send a SMS to Markus, who was already on the ground at FRA. I estimated a longer delay, and a shorter connection time for me. We agreed to meet at my arrival gate at FRA.
Doors of the aircraft were re-opened to give some 'fresh' air in the cabin. And they were closed again about 15 minutes later, when we got another try with a new jet-starter. Now, all OK. Captain announced departure with the words "Jetzt geht's los"
Departure was from runway 18L, after an OS A319, IB A321 and a KL F100.

Lining up on runway 18L
As soon as the seatbelt sign switched off, the crew commenced their service. For some reason and their working path, my row was served almost at the very end, to be honest, at 09:00am. This was during our holding pattern for FRA…. I got a chicken-filet sandwich, as well a cheese sandwich, a coffee and an orange juice. Good selection of food for this flight, but served too late.
When I got it, I nearly had time to eat it.

Cabin view on D-AIQM

Breakfast service in Economy Class for flight LH4689
During descend the crew gave info about connection flight, mostly USA bound. My flight was not mentioned. Arrival gate was said to be A32. I quickly finished my eating, and crew did their rubbish collection. Final preparations for arrival.

Approaching Frankfurt-Main
Landing was on runway 25L, at 09:15am. It was a rough touchdown. An LH A340-300 landed almost simultaneously at runway 25R. Nice to see the action.
Arrival gate was indeed A32, block-in was 38 minutes behind schedule. I met Markus and we proceeded to the next gate, A26, for the next flight to TXL.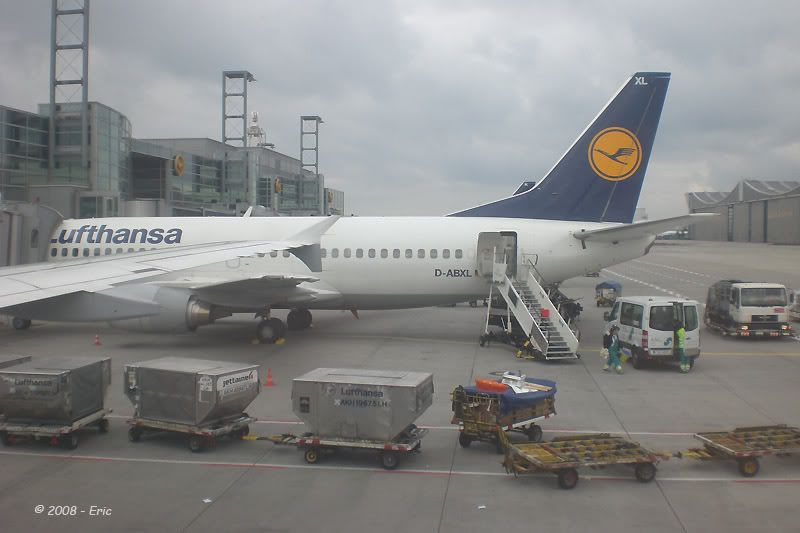 Parking was next to a company Boeing 737-300
According to Markus, D-AIRX was on the planning to do our flight to Berlin. I knew this would mean the LH Retro-Jet, and for sure it was when we saw it arriving from CDG a little later.
Also for me, this was a nice surprise, since the aircraft was downgraded from the original A300.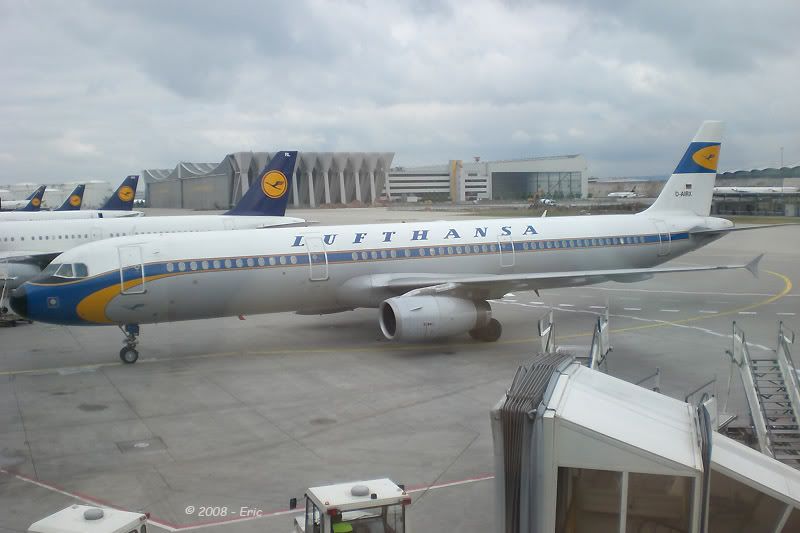 D-AIRX arriving from CDG

A small delay expected on the screens…
FRA-TXL
Flight No.:
LH 176
Date:
03JUN08
STD:
1015
ATD:
1040
STA:
1120
ATA:
1140
A/C:
Airbus A.321-100
Reg No.:
D-AIRX
Seat:
36A – Economy Class
View Large
View Medium


Photo © Mathias Henig
My 6th ride on an Airbus A.321, and the first on this machine.
Full flight. Boarding took a while. Probably caused by the long cabin of the A321. It takes ages to get everybody seated. We used the barcode on the boarding pass, for boarding. A nice extra passenger feature on LH, I think.
Grey leather seats, and we took the last row. Markus at F, me at A. Both window. Other seats filled up quickly, full house on this flight.
Legroom was the poorest one this day. For sure a lot more worse then on the A320, B737-500 and A300.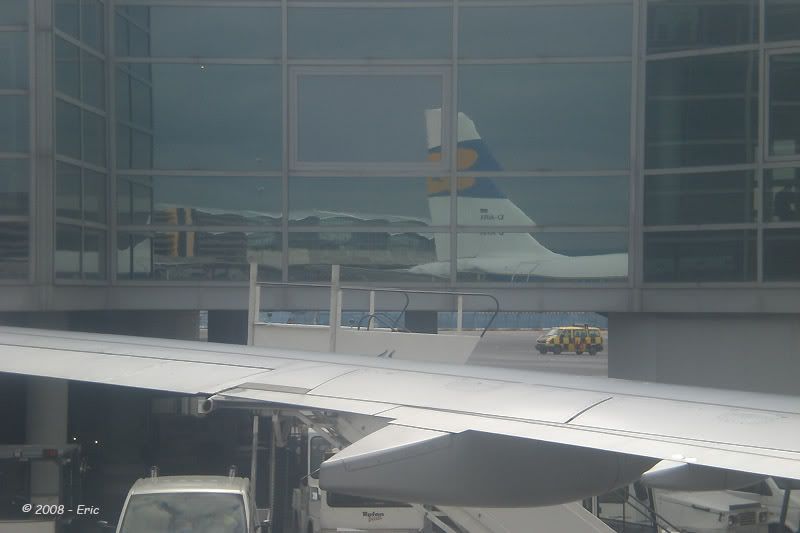 Can you spot my aircraft?
Takeoff was from runway 25L, followed by a right turn when we were airborne. Quite unusual departure, I think. Good views through the windows during this flight up North.
Service commenced shortly after take-off. Drinks only. I got a coffee and an orange juice on this flight.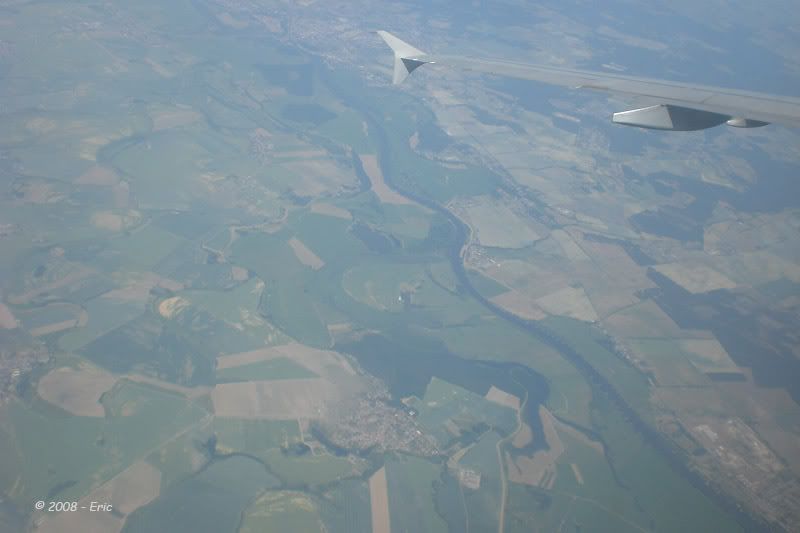 Good views outside for sure
In the back of the A321, I think that this aircraft is less comfortable then shorter narrow-bodies. It seems less stable inflight and also when taxiing on the ground. Anyway, that's just my personal impression, and I never noticed when I was seated upfront on the 321 with other companies (BD, AF).

Approaching Berlin-Tegel
We had a bit bumpy approach into TXL, finally landed on runway 08L. Interesting Il-76 cargo plane on the military apron. Too far away though for a good picture. Deplane by a fingergate, into the small arrival hall.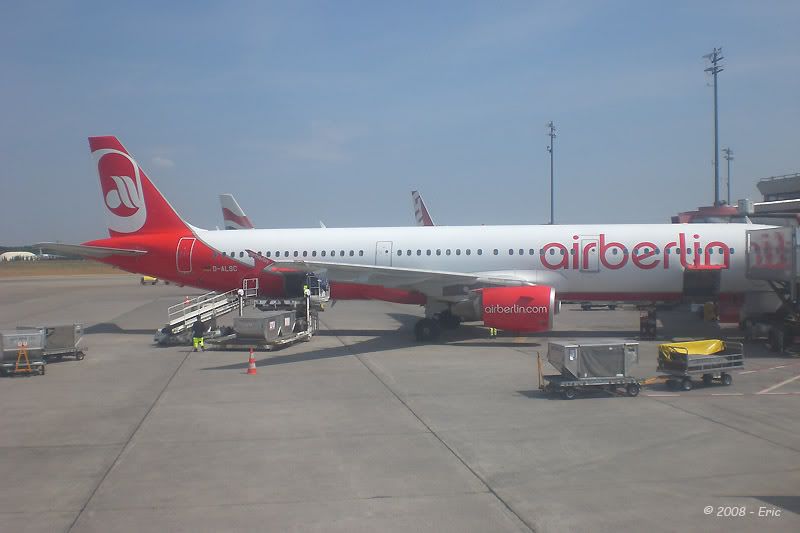 Parking next to another Airbus 321
TXL-MUC
Flight No.:
LH 223
Date:
03JUN08
STD:
1305
ATD:
1305
STA:
1415
ATA:
1405
A/C:
Airbus A.320-200
Reg No.:
D-AIPB
Seat:
26A – Economy Class
View Large
View Medium


Photo © Finn Yannick Piskol
My 20th ride on an Airbus A.320, and the first on this machine. This aircraft is the second A320 ever delivered to LH, and therefore more interesting.

D-AIPB, our Airbus A320, parked at the gate …
Flight was originally planned on an A321, so another downgrade of equipment today. Another full flight expected. Markus worried a bit about our seat assignments. Does an A320 have 26 rows? We weren't sure, but finally it was all OK.
Boarding started about 15 minutes before departure, early enough. We departed on schedule. Manual safety demo given again. Seats comfortable, same as on the AMS-FRA leg. And for sure much more legroom on LH's A320, then on her bigger sister A321.
Load on this flight, about 95%. No free seat in my row, but still space enough.
Takeoff from runway 08R, and on runway 08L an Air Berlin B737-800 landed simultaneously. Nice views. Some moderate turbulence after takeoff, caused by the heat. Also some serious cloud formations around Berlin, probably the sign of thunderstorm later that day. All together nice views.

Takeoff, with an Air Berlin arriving on the other runway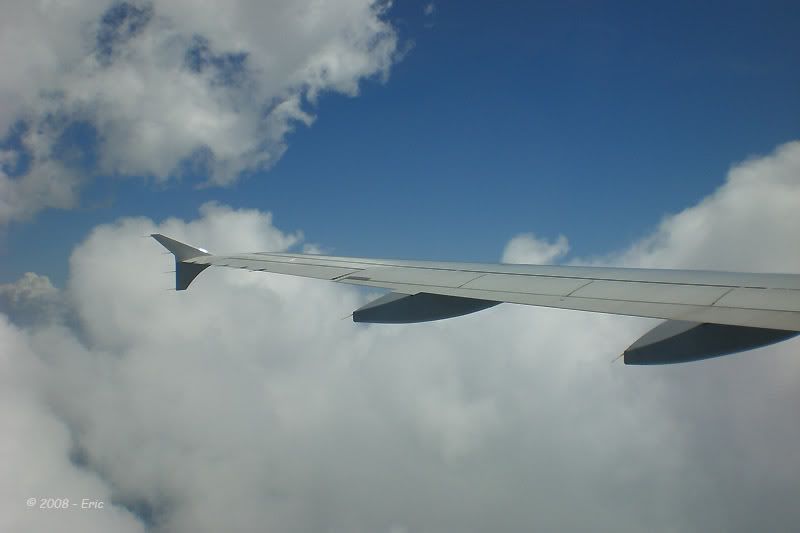 Surfing the clouds after take-off, it got a bit bumpy ride here!
Inflight we got drink service only. I got a coke. That's it.
Above mid-Germany, we climbed further, to come above clouds levels. Some bad weather below us, probably to turbulent to fly in. Germany had some severe weather last week, causing huge problems in several areas. Better to avoid any trouble of course…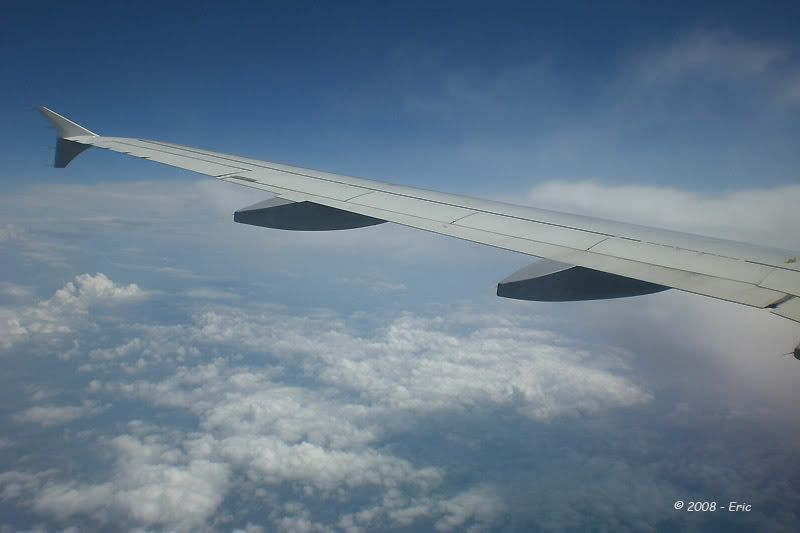 More interesting cloud formations above mid-Germany
Captain gave a small information from the flightdeck, only mentioning an 'on time' arrival and good visibility on arrival.
Landing was done on runway 26R. The aircraft for our next flight was arriving not long before us, we saw it taxiing in to the gate.
We finally parked on a remote spot, no. 245. Deboarding by stairs, both using front and rear doors. 3 buses waiting to deliver us into the terminal building. Time until next flights boarding start; about 15 minutes!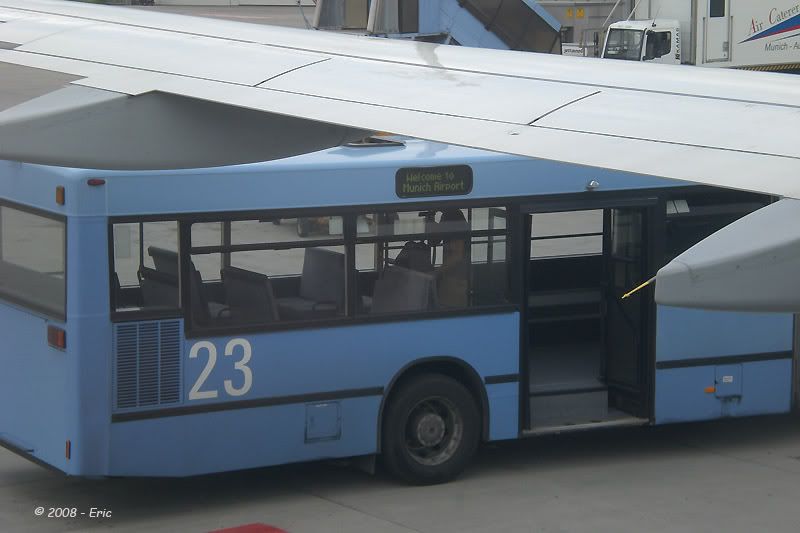 Bus transportation to the terminal building after arrival
MUC-FRA
Flight No.:
LH 975
Date:
03JUN08
STD:
1455
ATD:
1500
STA:
1600
ATA:
1545
A/C:
Airbus A.300-600R
Reg No.:
D-AIAL
Seat:
44K – Economy Class
View Large
View Medium


Photo © Frank Kuehne
First flight on the Airbus A300, so I was very happy. This was the main purpose of this trip!

Largest aircraft this day, the A.300-600R! What a beauty!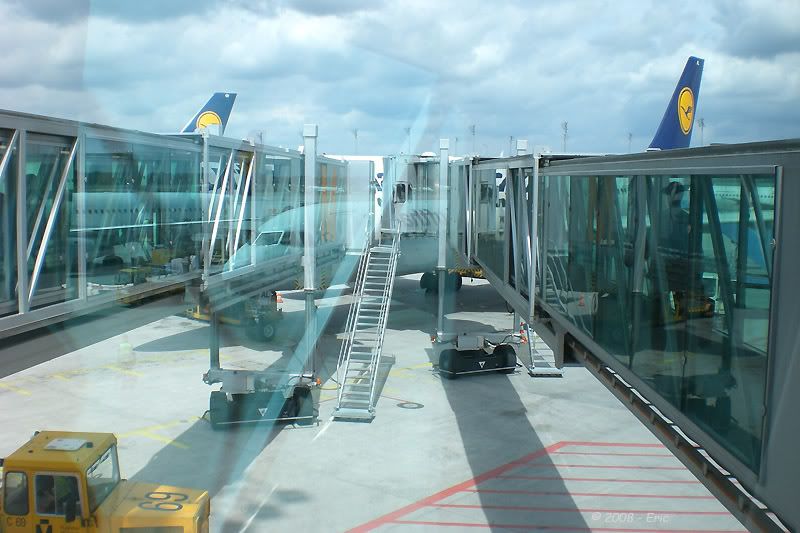 Boarding at 2 doors
Gate G30. Boarding finished at 14:50pm, all on time. Load around 50%. Seat next to me remained empty. Legroom and comfort very much OK, even better then on some longhaul Boeing 747-400s and B777-200's. Of course, no IFE on this machine. So it might be boring on the longer flights. For us, no problem at all. The A300 itself is enough entertainment for us today
Interior looks new. Very bright cabin. Clean and in good condition, since this aircraft first flew in 1987 when it was delivered to LH.

Nice and well kept interior on D-AIAL
Cabin crew was about 9 staff, but can't say for sure. Safety demo also done manually on this 2-aisle aircraft. Friendly staff, it seems.
Takeoff from runway 26R. The video says enough;