Thanks for opening up this trip report. I should mention at the outset, the LGQ-NQY leg is really a
joint
report with NQYGuy, but as there's no facility for joint authorship, it's appearing under my username...
LGW-NQY
Date: 300508
Flight: BA 2972
Departure: LGW 1315 (sched.); 1330 (push); 1340 (t-o)
Arrival: NQY 1415 (sched.); 1415 (ldg); 1420 (on stand)
Aircraft: Type – A319-131 Reg – G-EUPA
Seat/Cabin: 1A/Domestic
Driving through drizzle towards Gatwick at twenty past nine on Friday morning, a text message arrived: "Hey, weather's crap at NQY. Fog, fog and more fog! Haha." Having enjoyed reading NQYGuy's excellent trip report
https://www.airliners.net/aviation-forums/trip_reports/read.main/122772
, I thought a quick jolly to the darkest southwest with BA was in order. My first domestic flights, with an A319 out and a long overdue appointment with a 737 classic for the return leg, were all the self-justification I needed!
The welcome surprise was that the inspiration for this trip in the shape of NQYGuy himself was to be on the same flight - hence the weather update - and we arranged to meet up in the North Terminal departures lounge. Check-in and security were brisk and I was soon in the BA Terraces lounge enjoying a much needed coffee and a far better breakfast than I would have had at home, even supposing I'd been organised enough to get it ready before leaving.
Another text from NQYGuy confirmed that he too was airside and overlooking the ramp from the vantage point of Costa Coffee. After asking several strangers if they were the a.netter in question, yielding a satisfying range of amused, bewildered and irritated responses, we finally met up and spent an enjoyable hour or so watching the arrivals and departures on 26L and the BA 777s being prepared for Tampa and Barbados amongst others. It was great to meet someone else who enjoys the buzz of a busy airport and talking about fleet structures, engines and airline liveries, things that non-a.netters seem curiously reluctant to do. A young-sounding girl with high-pitched voice of glass-shattering harmonics announced the Easyjet flight to Malaga and NQYGuy and myself raised our voices to talk over the sound of stampeding polyamide tracksuits.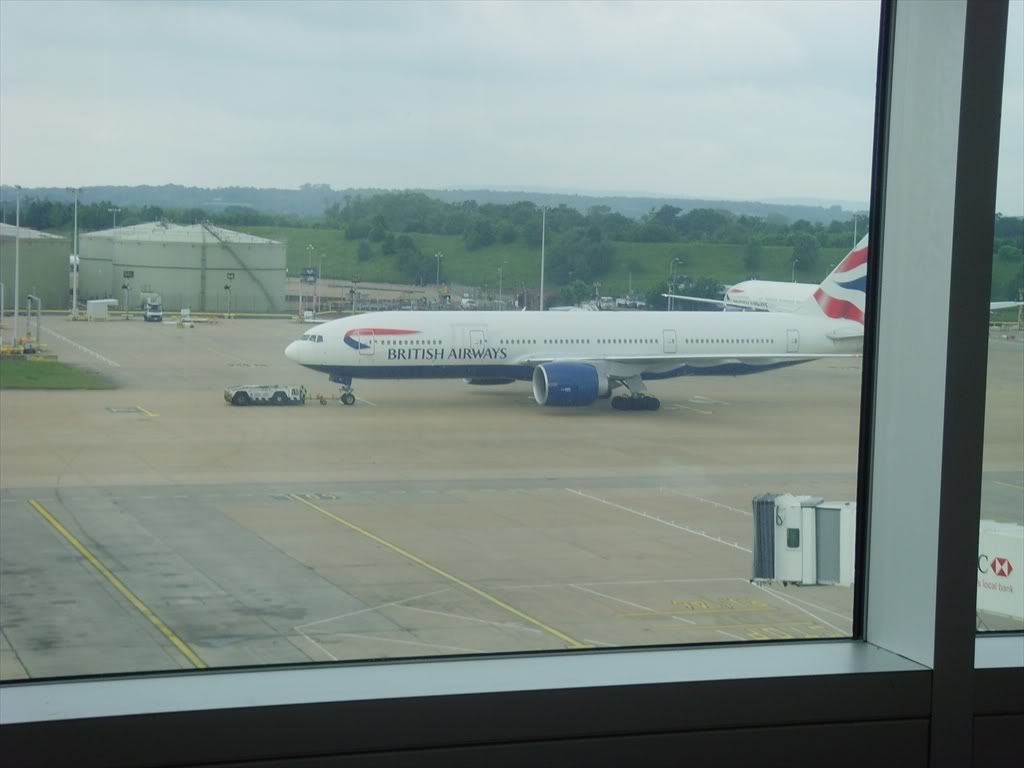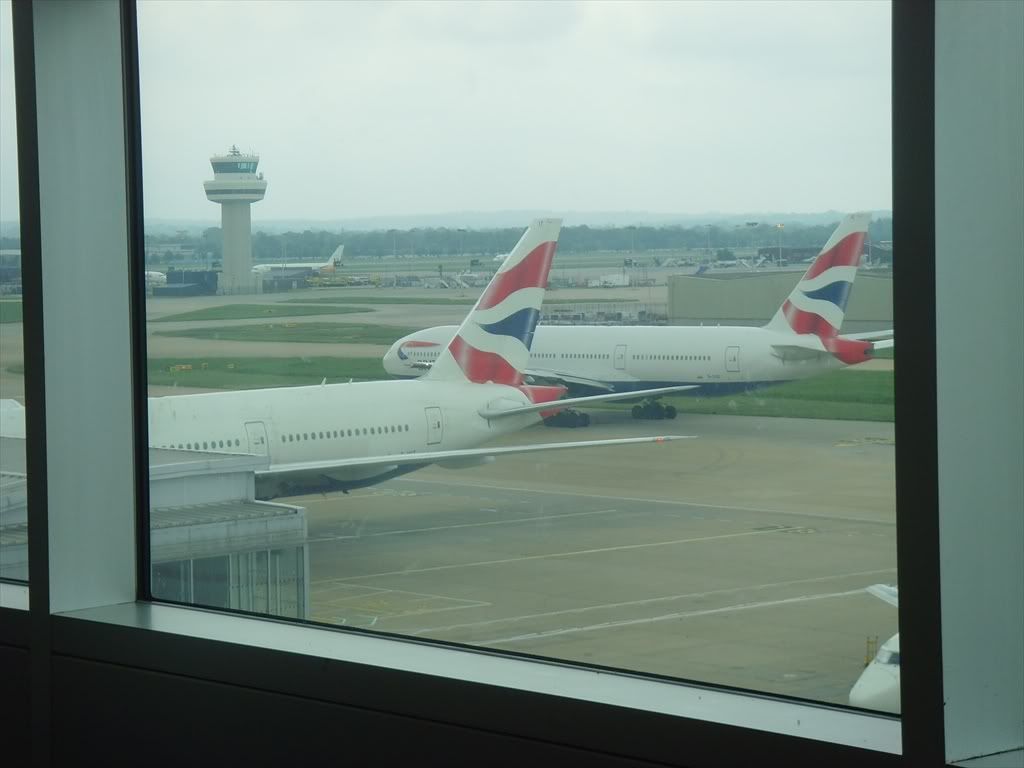 Ramp views from Costa Coffee, North Terminal (NQYGuy)
At about half twelve, we congregated in the pokey gate 55 area from which UK domestic services operate and from which we saw G-EUPA landing a little late from Edinburgh. The two gate agents at 55D were engaged in conversation about their dogs. One had recently taken delivery of a Labrador puppy which, it transpired, had a lame leg. While she expressed consternation for its welfare and the exorbitant cost of vet fees, her colleague, a fellow dog owner, was recommending the use of various alternative therapies which apparently are suitable for soothing aching canine limbs. When an American couple rushed up to their desks, panting (in a non-canine manner) and with boarding cards outstretched, the older of the two agents abruptly dismissed them with a "No, not yet!" and a wave of her hand which seemed a little on the unfriendly side.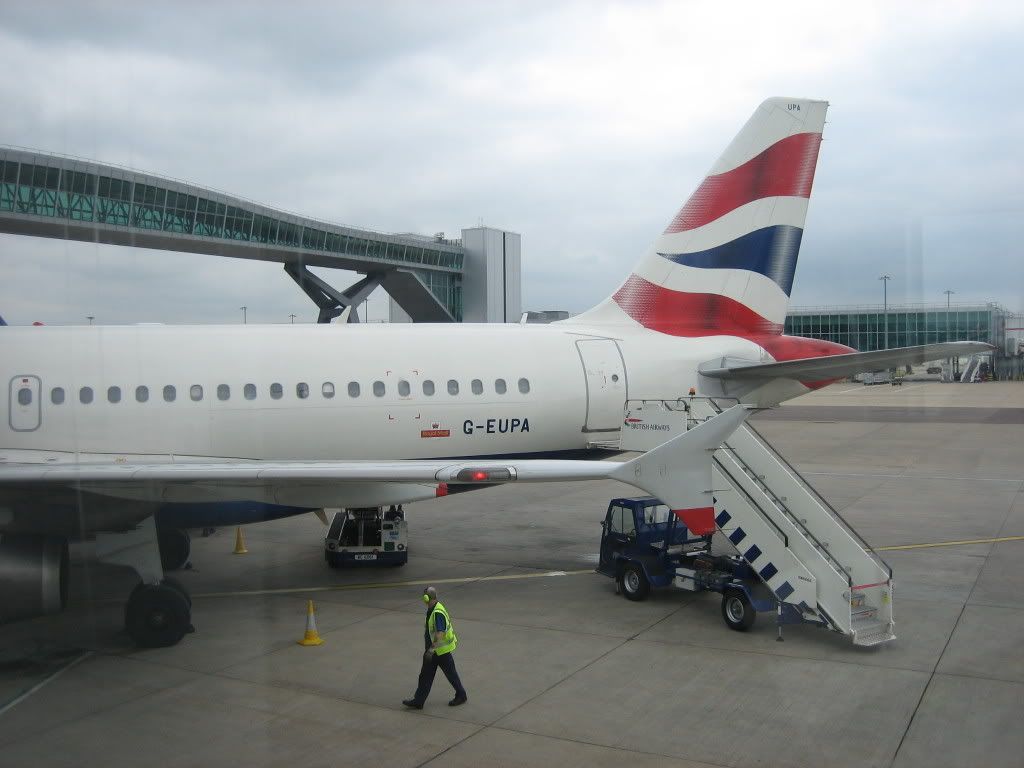 A319-131 G-EUPA arrived from EDI
Boarding was called, and after waiting for the predictable breakdown in British queuing etiquette and allowing the crush of people to elbow their way on to the airbridge, we finally made it on board and pushback followed at 1330, 15 minutes behind schedule. The captain announced that the flight time would be 38 minutes (yes, exactly 38) and after a leisurely take-off roll, we climbed into the low cloud over southern England.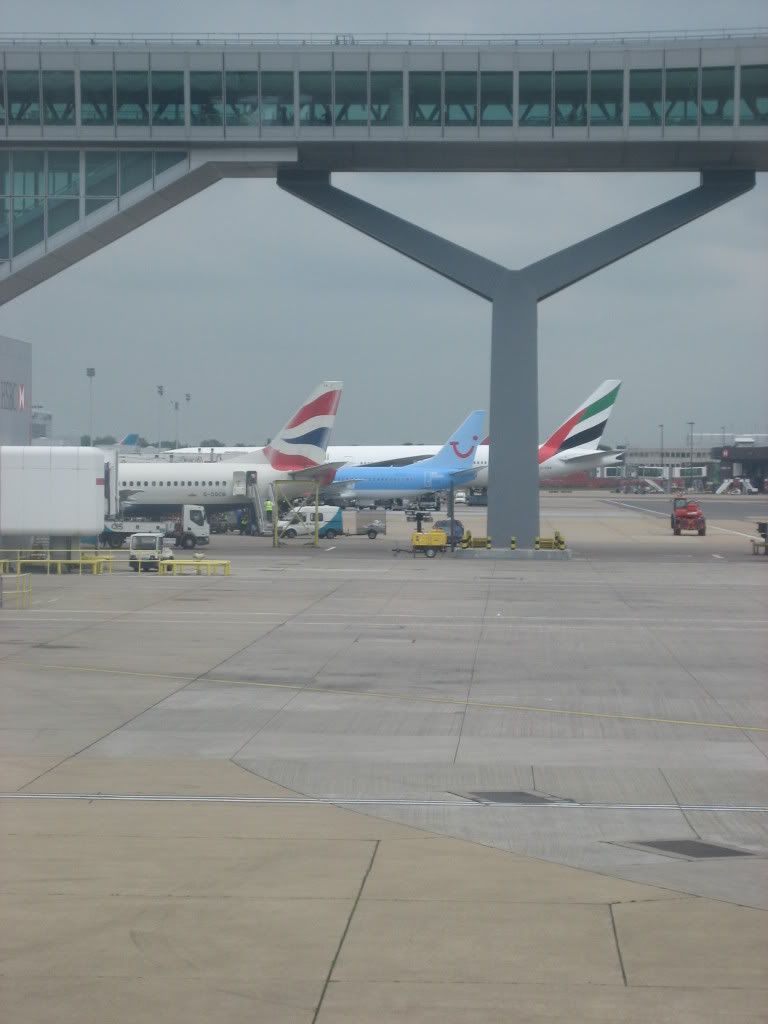 Footbridge connecting the main North terminal with Pier 6. EK 77W recently arrived from DXB.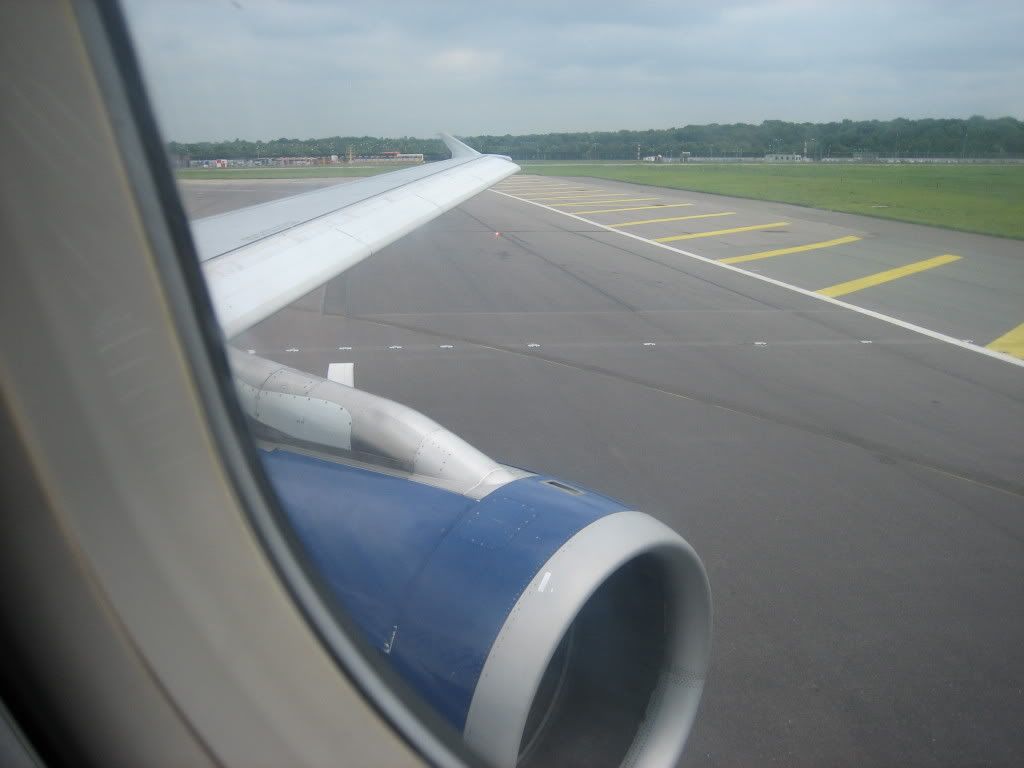 Turning on to runway 26L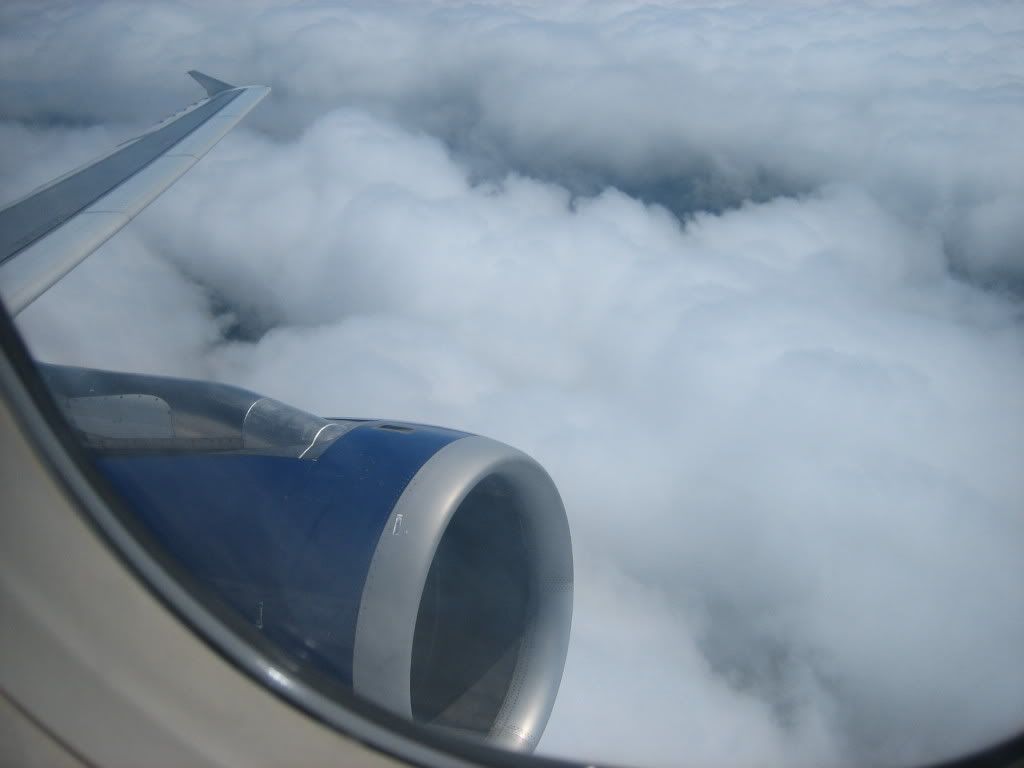 Emerging out of the cloud into some nice blue sky
Inflight service was, by necessity, brisk consisting of a bar service and the infamous BA birdseed aka Skybites, worked by a cabin crew team of 4. They were more polite than friendly, but understandably concentrating on getting the job done in a short time! The flip-down screens popped out (the highlight of NQYGuy's trip!!) and showed we were already over Devon, and sure enough the descent started with spoilers deployed soon after. As promised, the weather wasn't brilliant with occasional views of the countryside below. We finally broke through the cloud on final revealing a landscape of rolling hills, fields and some rather ugly quarry pits. Landing on runway 30 was on time at 1415 with steps at the door fewer than 5 minutes later.
Inflight coffee and birdseed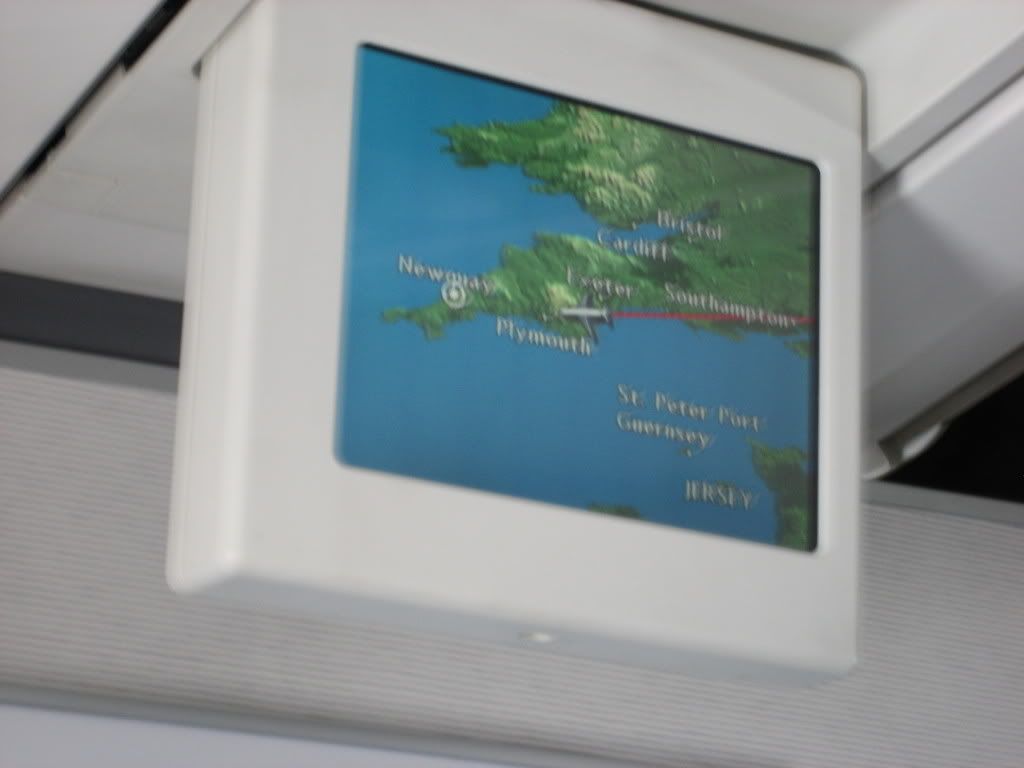 Homing in on NQY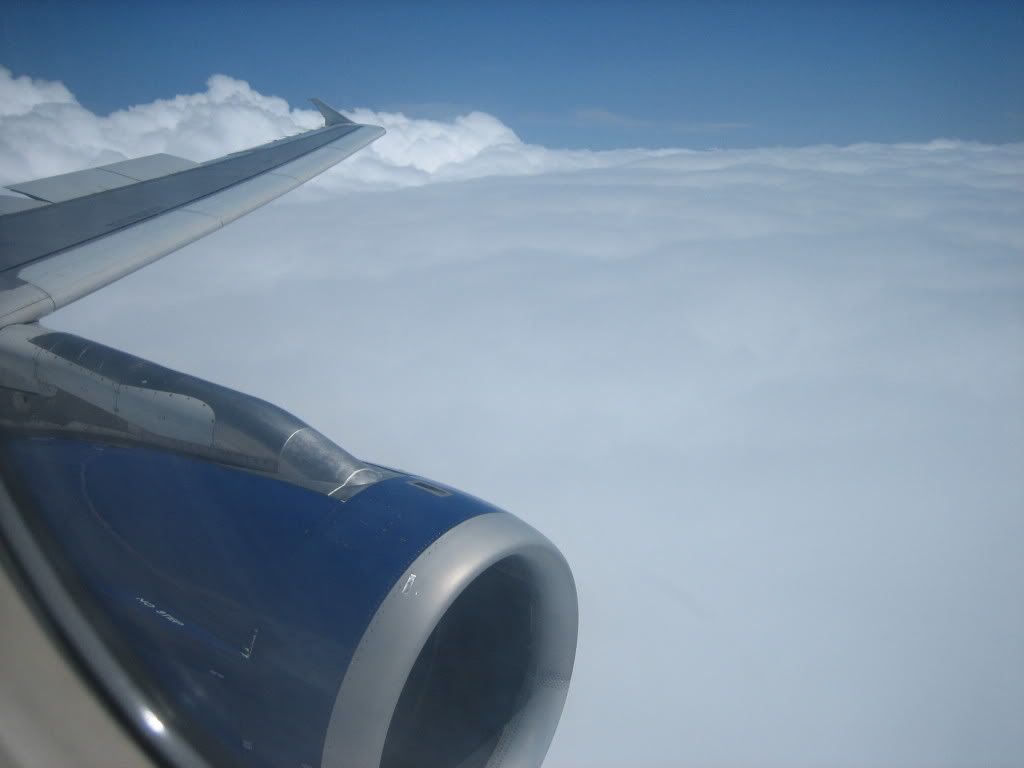 About to plunge into some thick cloud cover with spoilers deployed
Over the southern Cornish coast on final to NQY's runway 30
Here's a link to NQYGuy's excellent video of the landing:
http://uk.youtube.com/watch?v=3rbLu6vGB5o
Again leaving everyone to disembark first in the hope of grabbing some photos in peace, we got to the aircraft door to find the captain standing at the top of the steps taking in the view of the ramp. He, along with G-EUPA, was LHR-based. They had flown LHR-EDI the previous evening and overnighted in EDI before flying EDI-LGW and LGW-NQY today. After flying the return to LGW, BA apparently had a chauffer waiting to drive him back to LHR. It was his first time to NQY and he seemed to be really enjoying it. He particularly mentioned the novelty of arriving at an airfield controlled by the RAF. I didn't ask whether he'd swap his shiny 'bus for a 737-400, but felt he might have been tempted.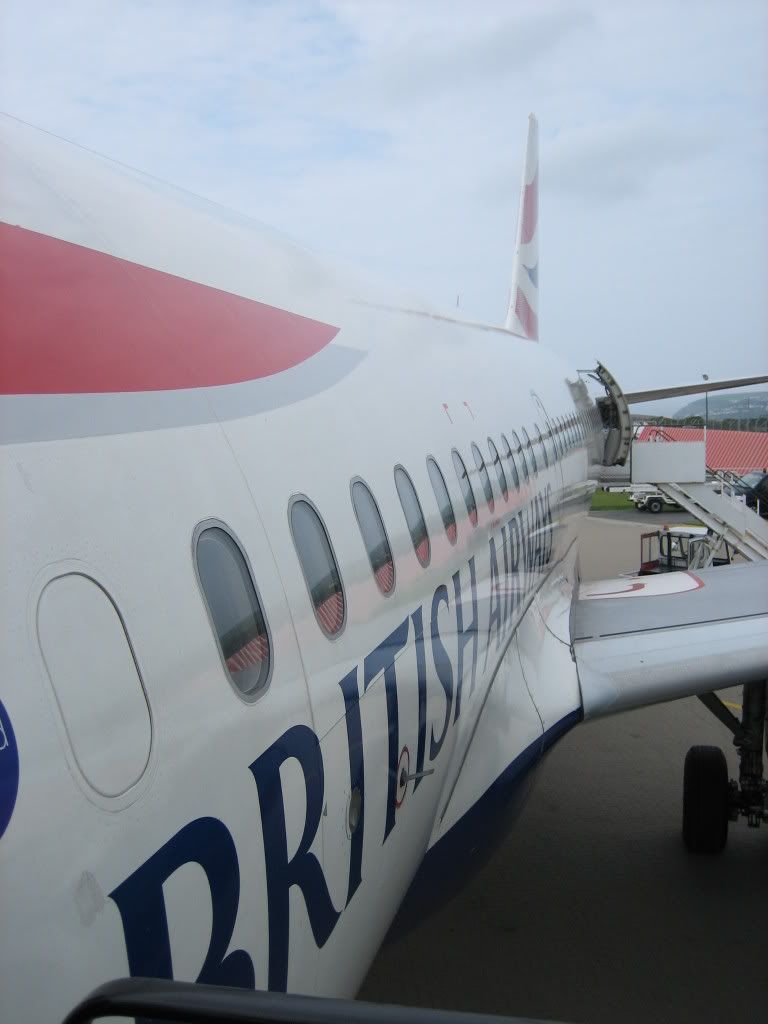 Disembarking G-EUPA at NQY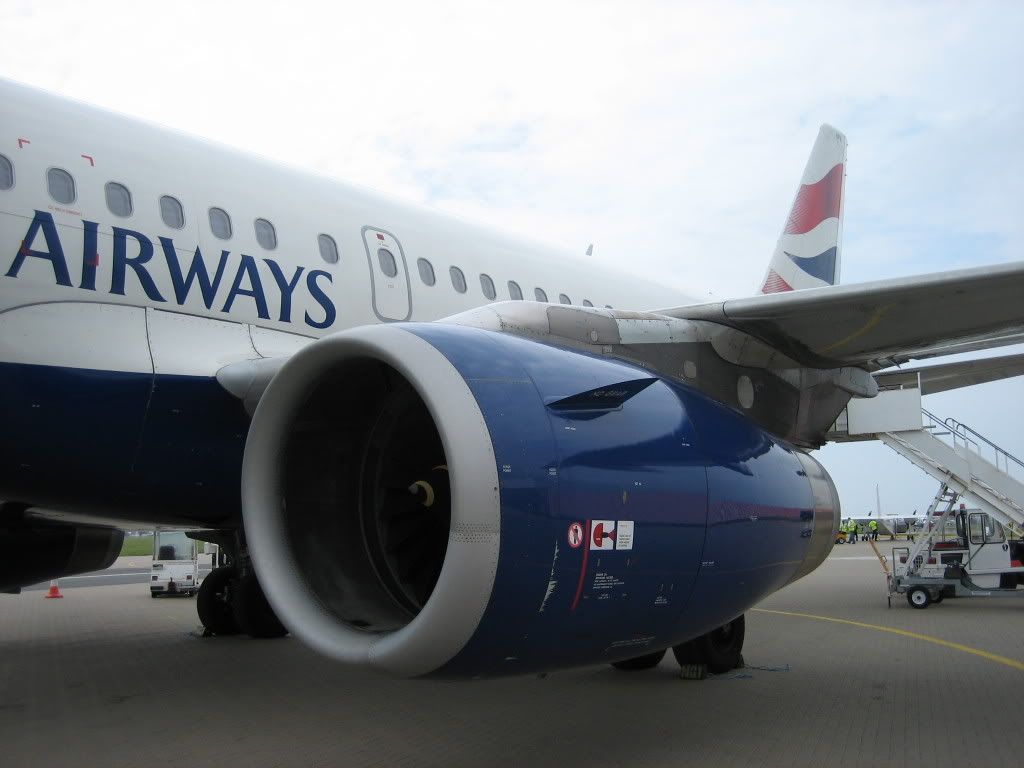 G-EUPA at NQY
Baggage seemed to take a leisurely time to emerge on to the single conveyor belt, and after saying farewell to NQYGuy and collecting a hire car, it was time to set off into deepest Cornwall…
NQY-LGW
Date: 010608
Flight: BA 2973
Departure: NQY 1800 (sched.); 1755 (push); 1805 (t-o)
Arrival: LGW 1900 (sched.); 1850 (ldg); 1855 (on stand)
Aircraft: Type – 737-505 Reg – G-GFFG
Seat/Cabin: 3A/Domestic
After a couple of interesting days in beautiful Cornwall including visits to Heligan and the Eden Project (both of which I'd recommend), the highlight of the trip – a spin in a 737 classic – beckoned. On arrival at NQY's departures building, it was immediately apparent why they're engaged in stripping every passengers' wallet of a fiver. It seemed that nearly every air conditioning duct was leaking, with ribbons of water drops spattering into a network of buckets spread over the floor both landside and airside. And the baggage conveyor behind the check-in desks kept breaking down. I felt like donating them another fiver. The departure lounge was pretty grim with a well worn and stained floor, piles of litter on the tables and very limited views of the ramp. Hopefully the new construction work will be well worth it. After a couple of Air Southwest flights to Bristol/Leeds-Bradford/Manchester and Glasgow had departed, BA 2973 was called for boarding. Apart from being on a 737-500 which was more of a thrill for me, especially the roaring, rocket-like take-off, the service was much the same as on the outbound. The cabin crew were very friendly and cheerful. One of them was particularly fond of NQY as it was the first flight she worked after completing her training with BA. After a 45 minute flight, arrival was on Gatwick's runway 08R and we were on stand a good 5 minutes early.
These were the first flights of this sort that I have taken and I continue to be impressed with BA. Just providing any sort of complementary bar and snack service on a 40-minute flight deserves some credit and the crew, especially on the return, were a good bunch. Many thanks to NQYGuy for a.netter company and inspiring this trip!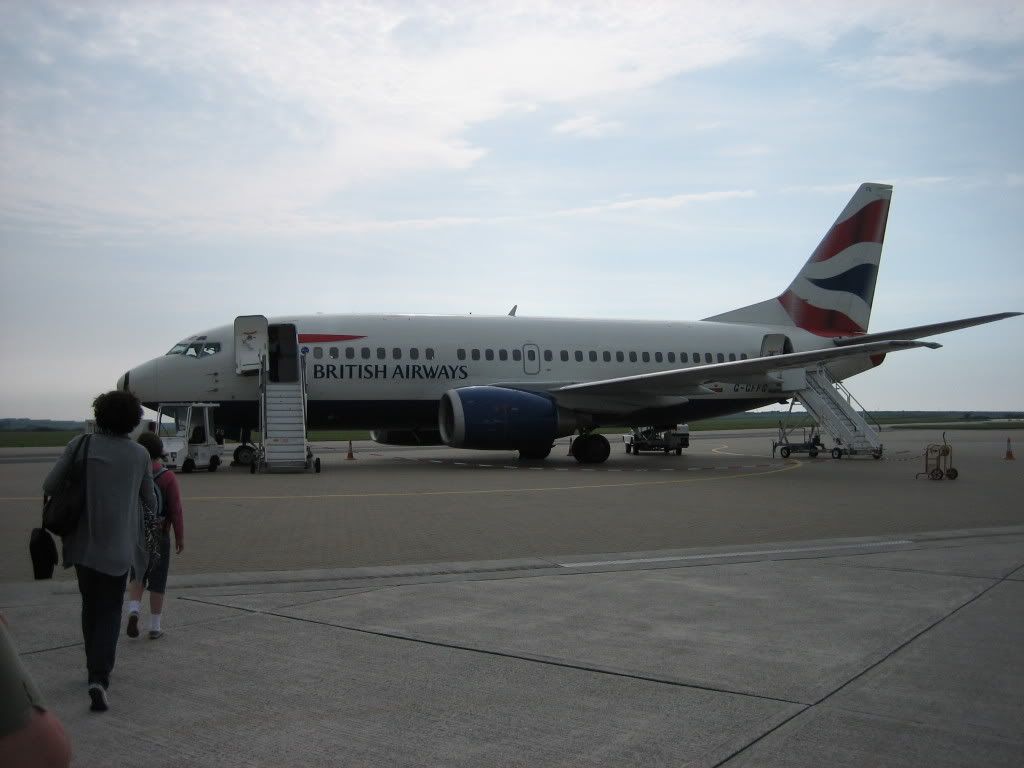 737-505 G-GFFG at NQY. Doesn't the 737 look fantastic in it's smart BA uniform?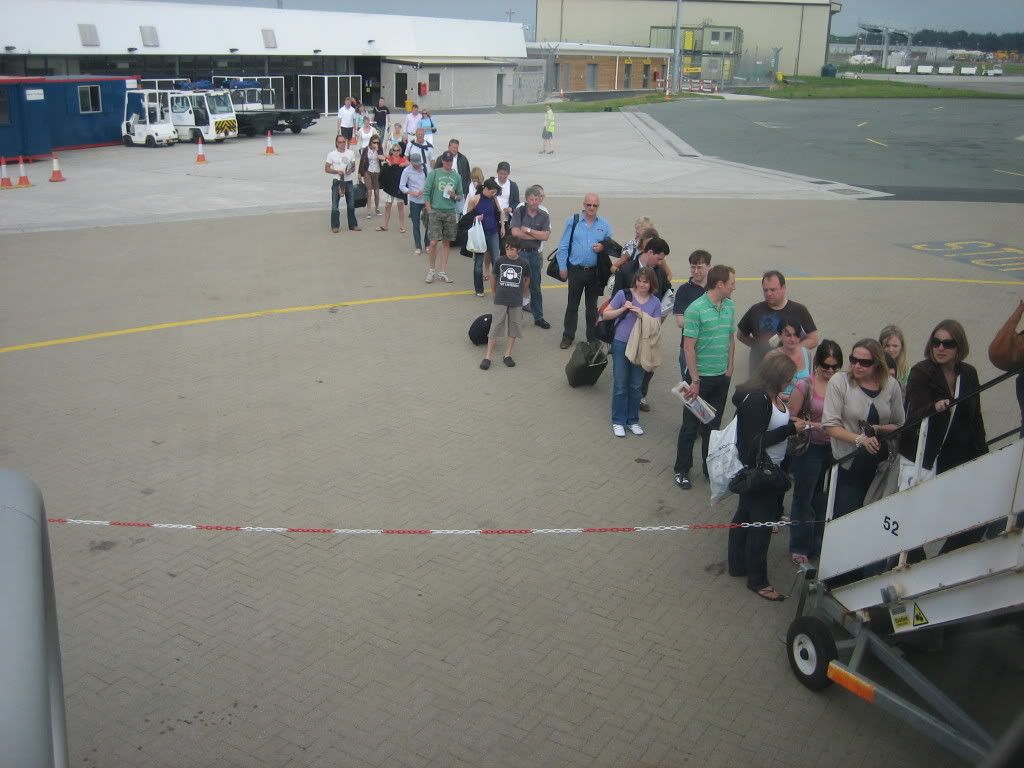 Boarding underway
Take-off from NQY's runway 12
During the (very short) cruise en route NQY-LGW at 21,000 feet
Many thanks for reading and happy flying to you all.