I had always wanted to take this trip to see the last bastion of a Stalinist like state.
The only way to tour North Korea is through an authorized travel agent. I was just in luck as the sole agent doing this trip from Singapore had a tour during my vacation. With 4 friends we embarked on this very rare and bizarre trip (from 1-10 June 2008).
Our fight from Singapore to Pyongyang was via Beijing on Air China
SIN-PEK
CA 970 - B767
STD 0015
STA 0620
I have to apologize that there are no photos for this leg because silly me forgot to put in the battery into my camera. The battery was in the charger which was in the checked-in luggage. Believe me, I was extremely frustrated when I discovered to my horror that I had the camera but without the battery when I was on the aerobridge boarding my first ever CA flight. Aghhh . . . was so mad at myself throughout the flight.
Anyways, the mid night flight SIN-PEK is almost exactly as the PEK-SIN leg (also a mid-night flight). There's not much of the difference in service.
Beijing-Pyongyang
CA 121 - B737-300
STD 1340
ETA 1630
Again no pics !!! The flight was uneventful. Flight was ¾ filled with the tour group from Singapore. There were some UN officers, Europeans, Chinese and Japanese pax too.
Inflight service was a simple drink service with finger sandwich. FAs were polite and efficient. Their announcement in English can be a little hard to understand.
Now the pictures . . .
Pyongyang-Beijing
CA 122 - B737-300
STD 1720
ETA 1830
This is Pyongyang's international airport.
The ATC.
There were a few men in uniforms standing around. Was a bit weary when I was taking this shot. Anyways, no one objected, so guess it was alright to take pics in the airport and tarmac.
The entrance and exit (i.e. departure and arrival)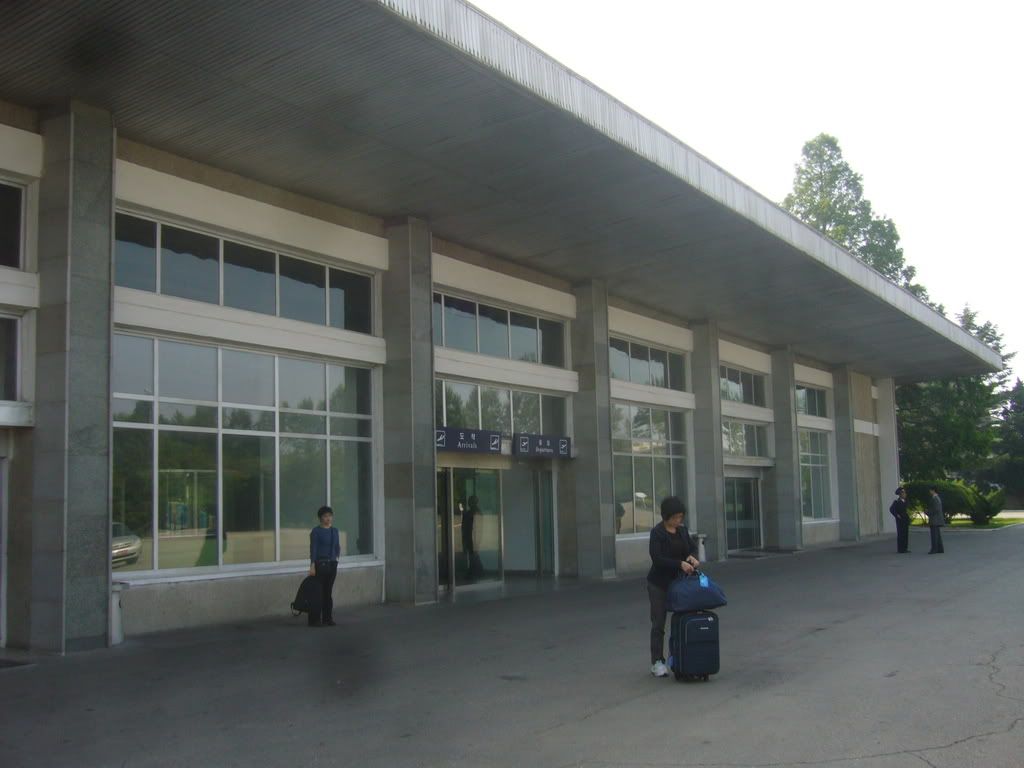 Arrivals
Sorry for the poor pics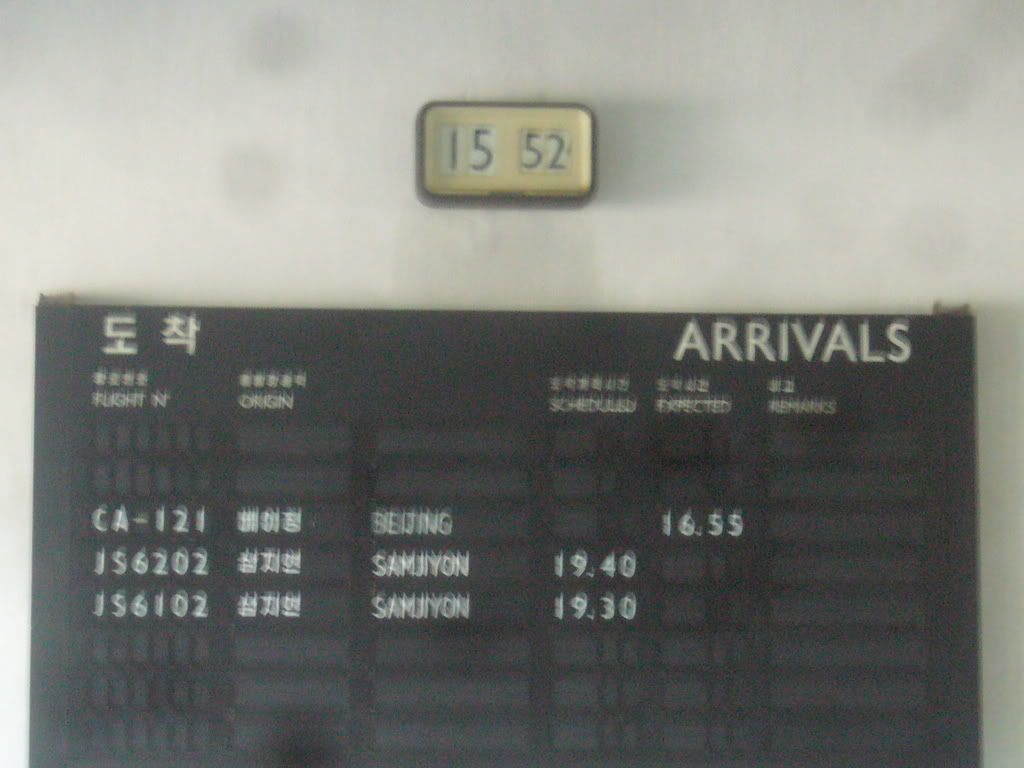 Departure – The only international flight for the day.
Anyone like to fly Air Koryo? Here's the flight schedule for it.
Check-in is on the ground floor. Once done, pax go up to the 2nd floor which is the waiting area before boarding. It is one big hall with duty free stuff (more like blackmarket. Products for sale were a miss mash of soap, ginseng tea, dried veg, dolls, snake wine and every gadgets from the 80s. The front of the huge hall faces the tarmac. On the left is a VIP room. On the right is were pax clear immigration and proceed down the staircase to a bus. Japanese made.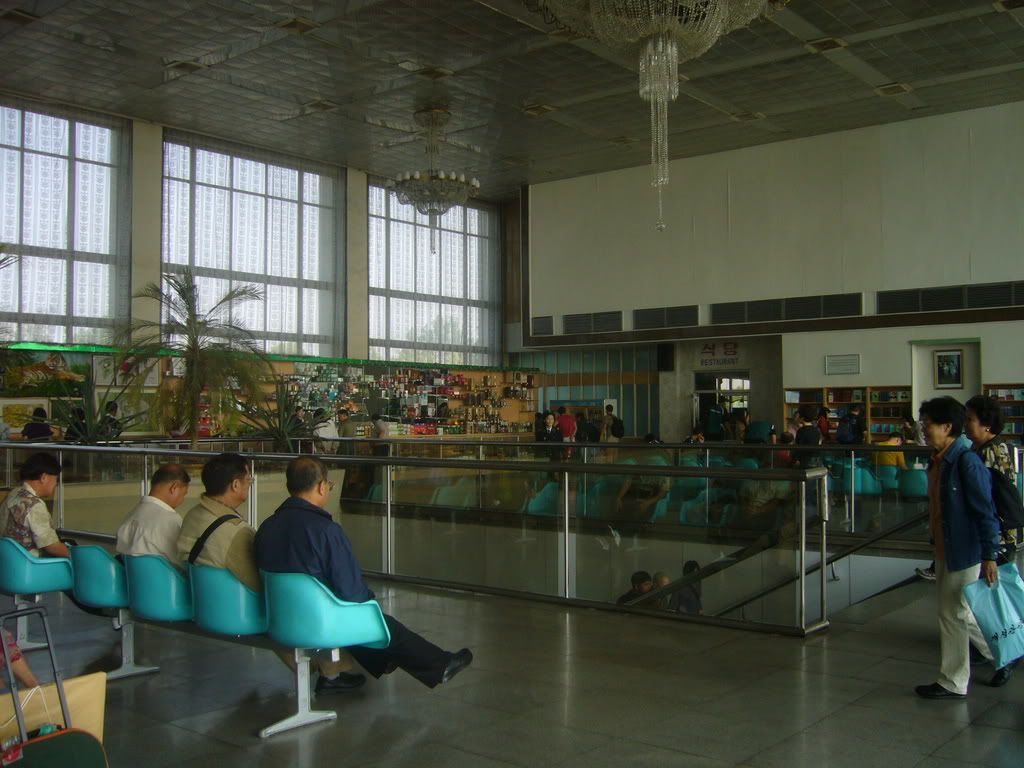 Pyongyang Airport with the Great Leader welcoming and seeing you off.
Air Koryo aircrafts.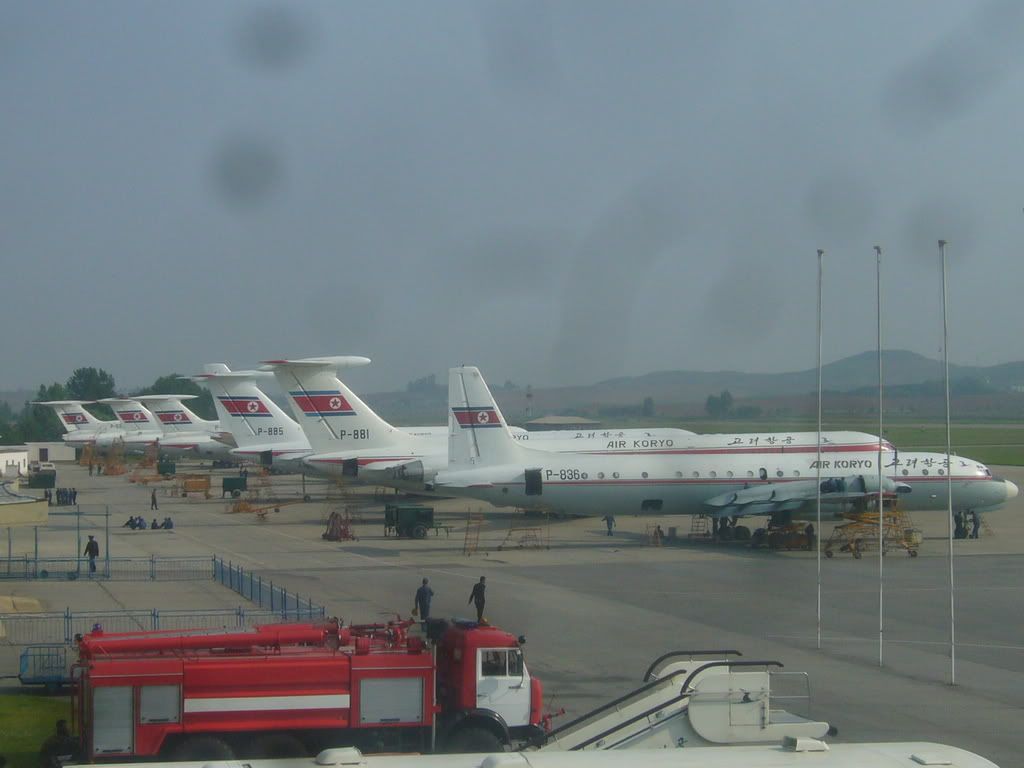 Boarding the 737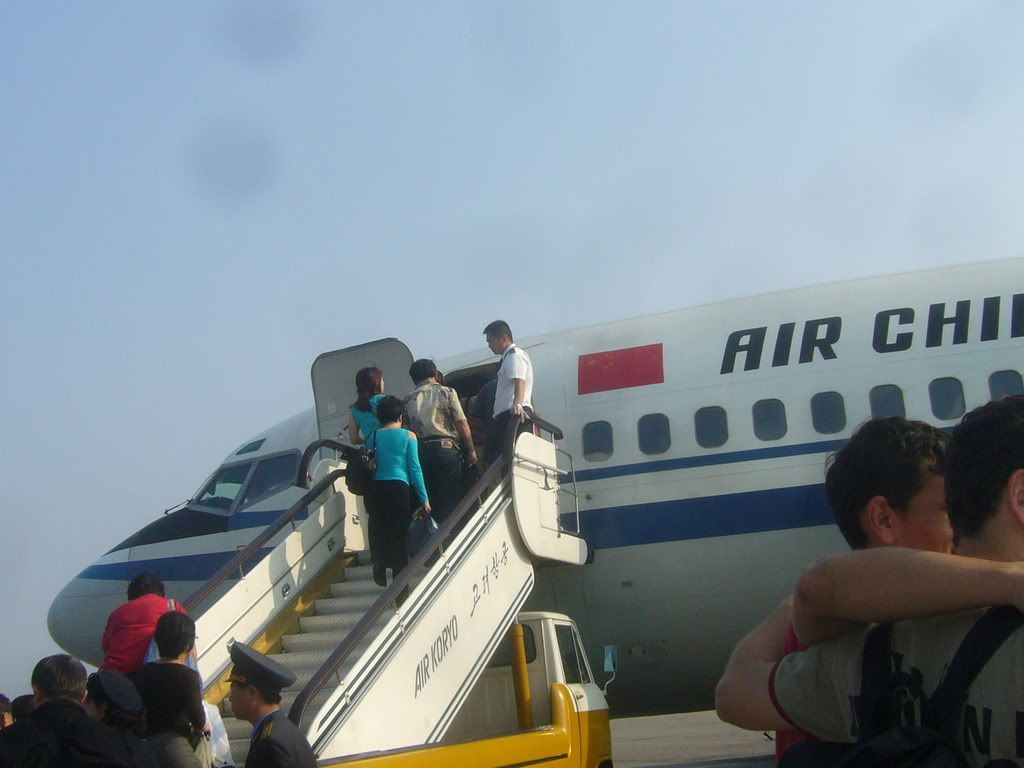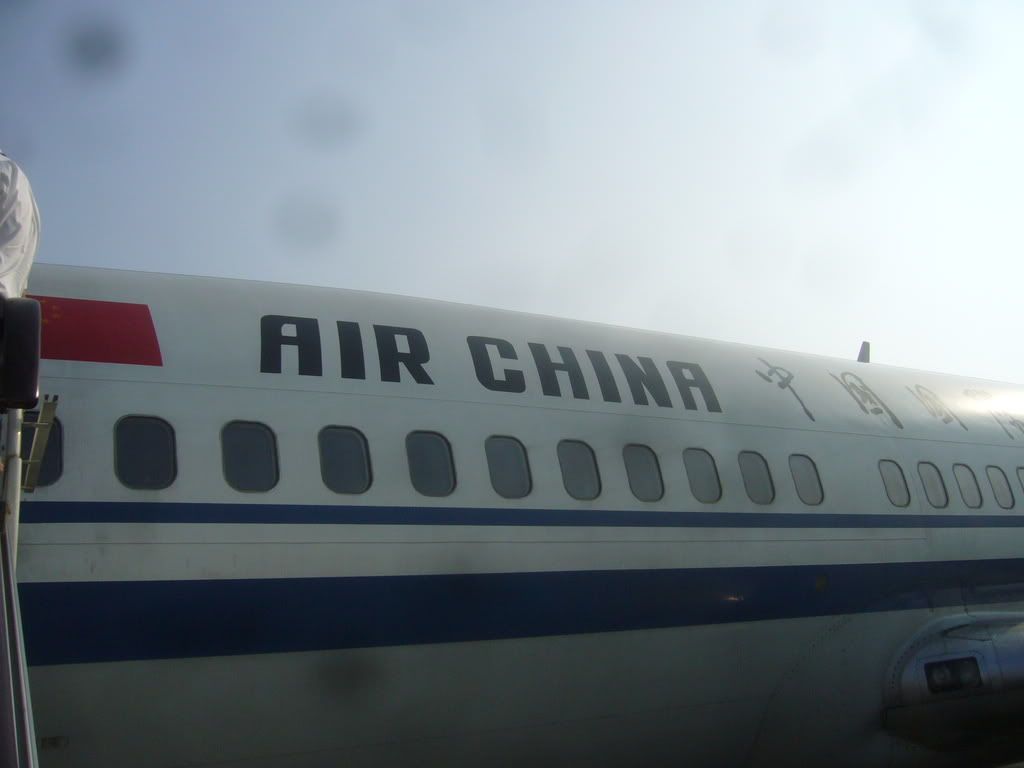 Safety Demo. Sorry for the poor pics. It was real bumpy while taxiing.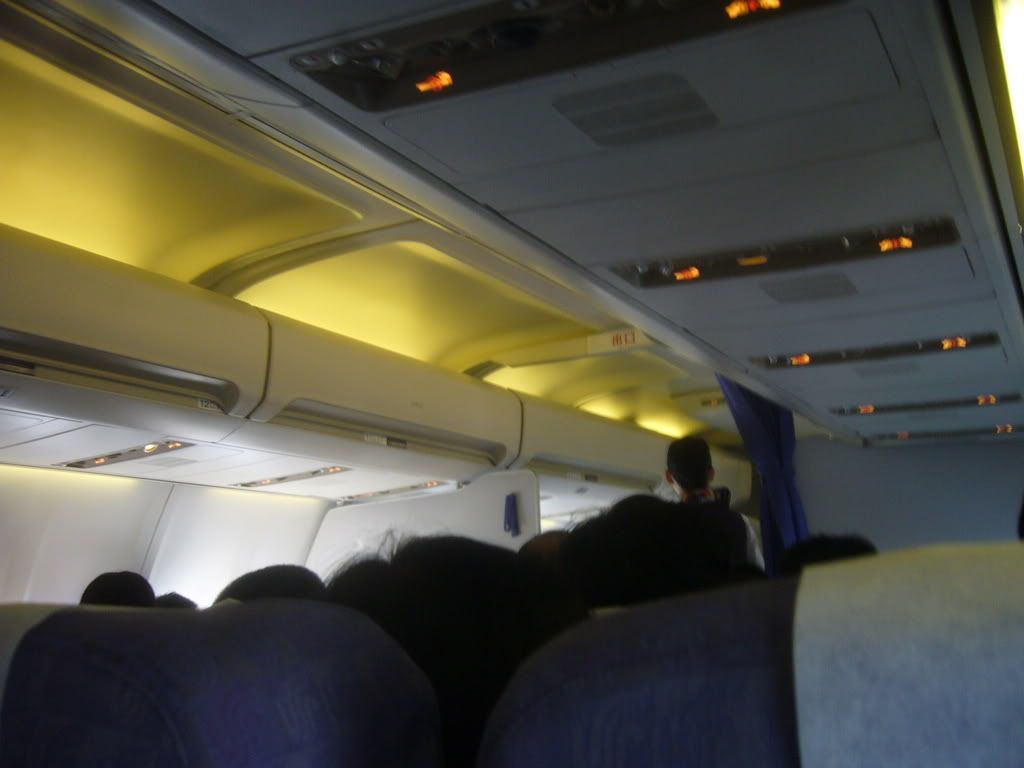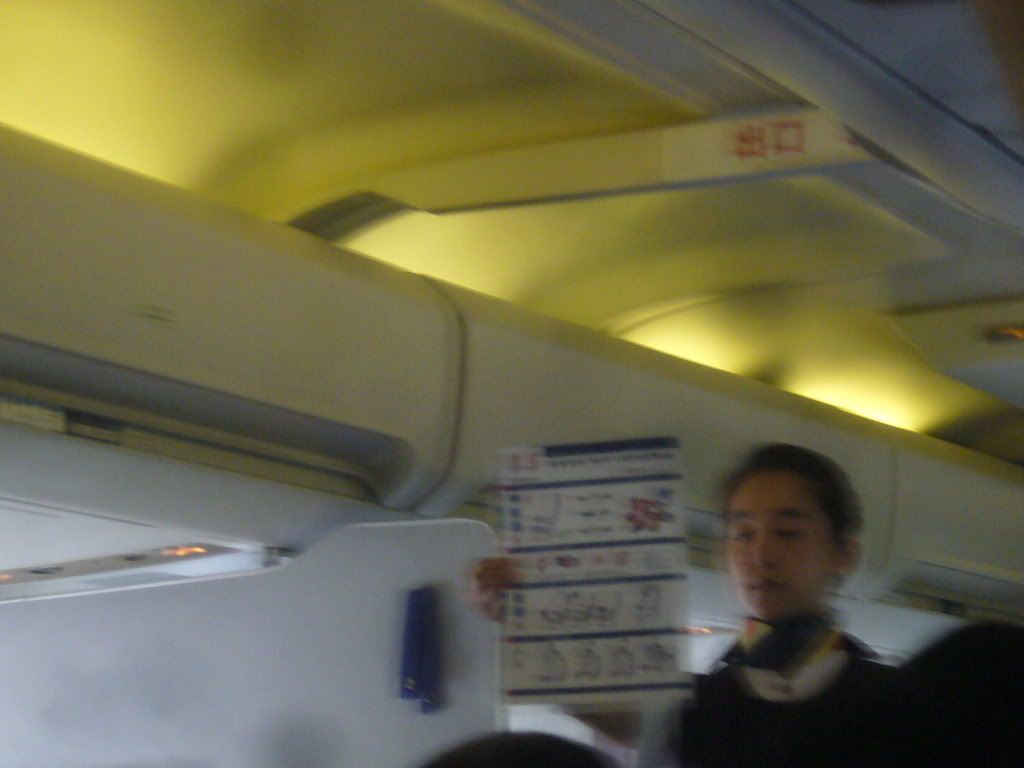 FA making a bow after the demo.
Scenes around the runway. There's a rice field along it.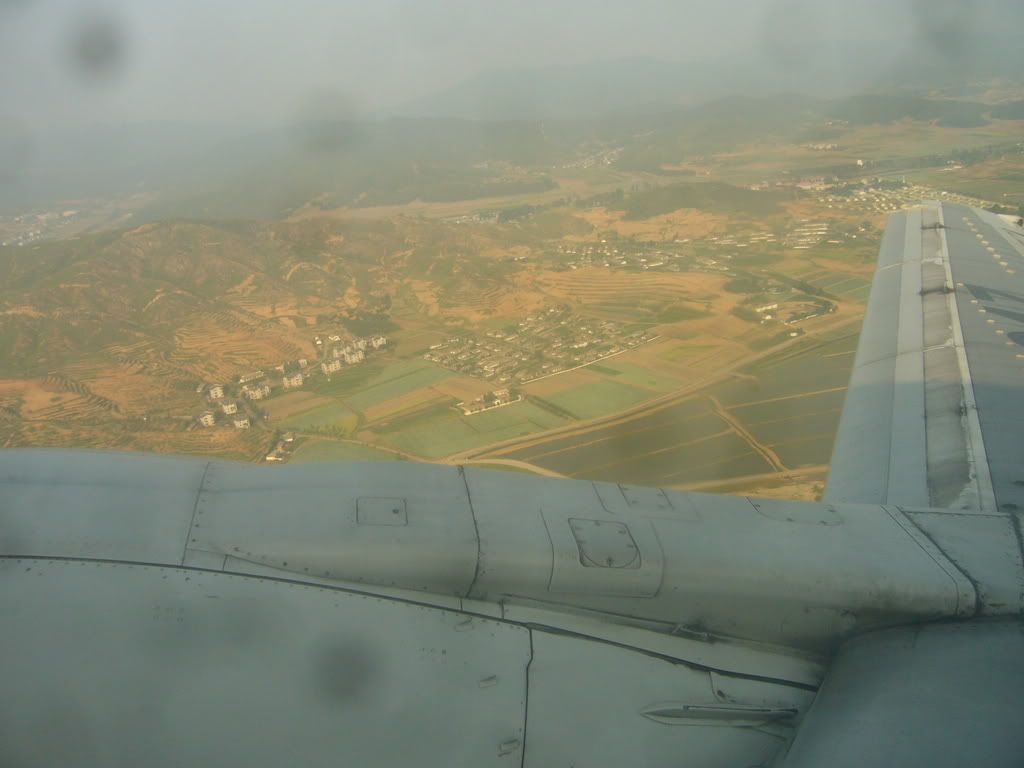 My seat 14L. This is the first time I've seen JKL. Do other airline practice this too?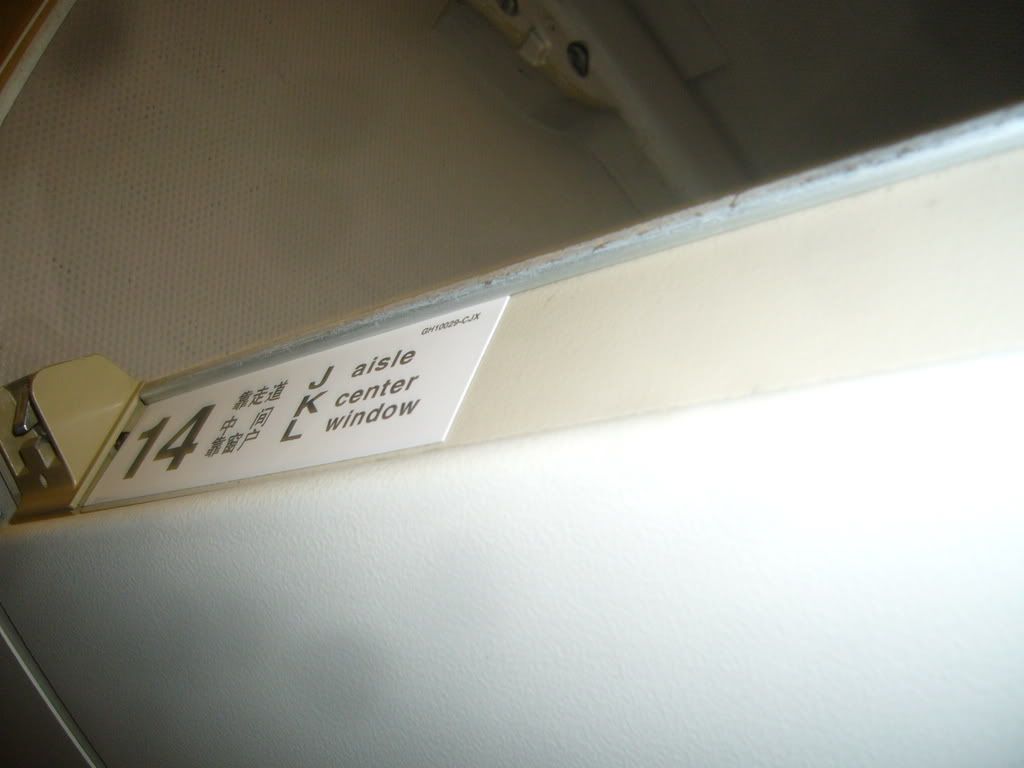 Bit tight pitch.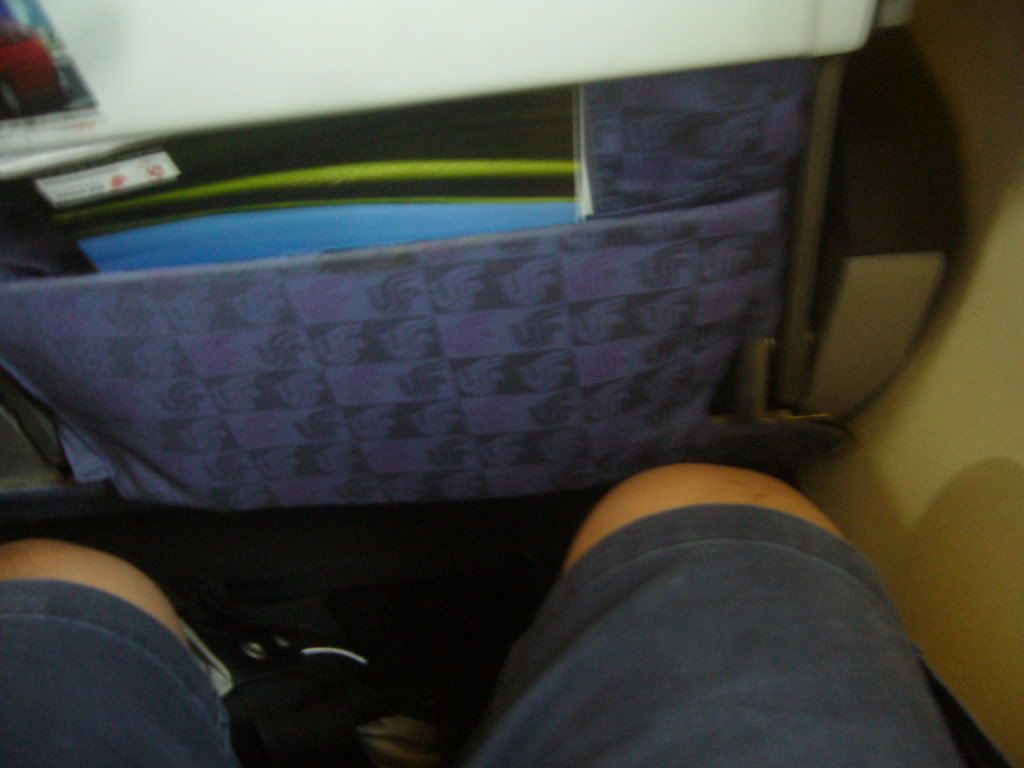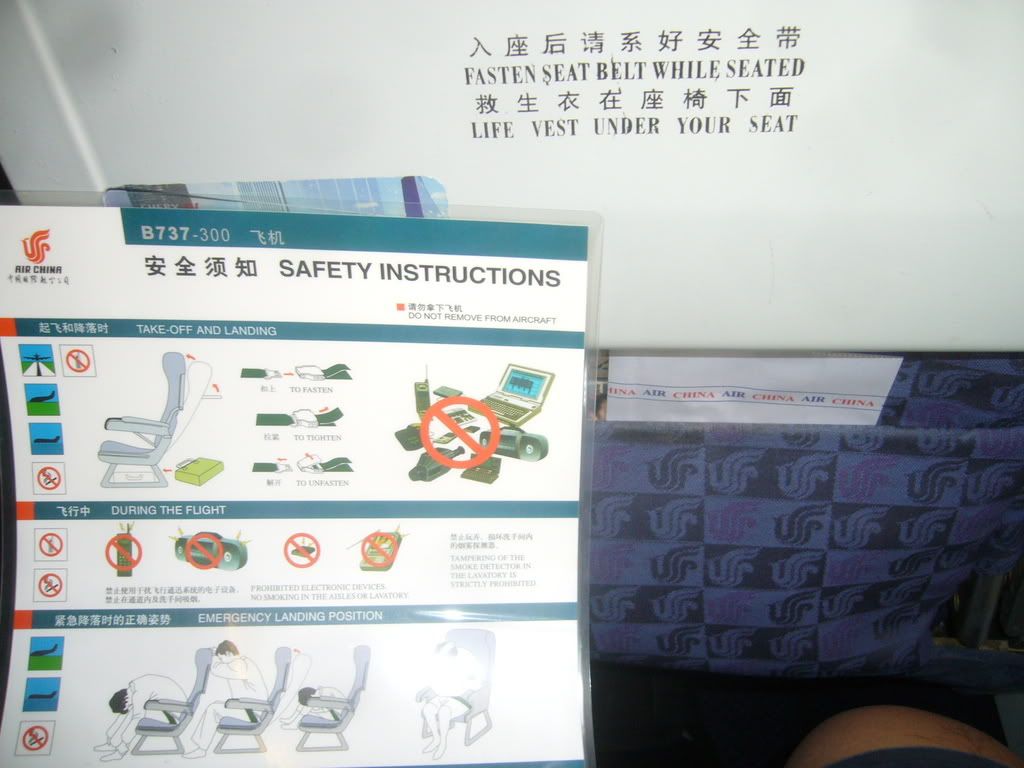 After take-off. Drinks were offered.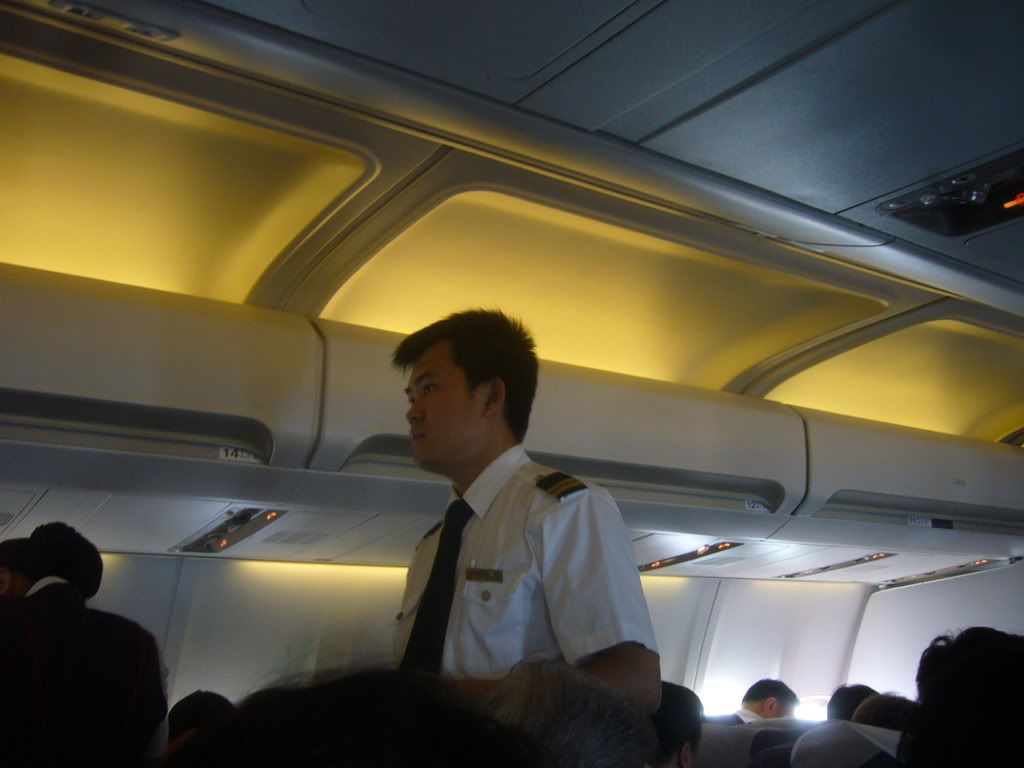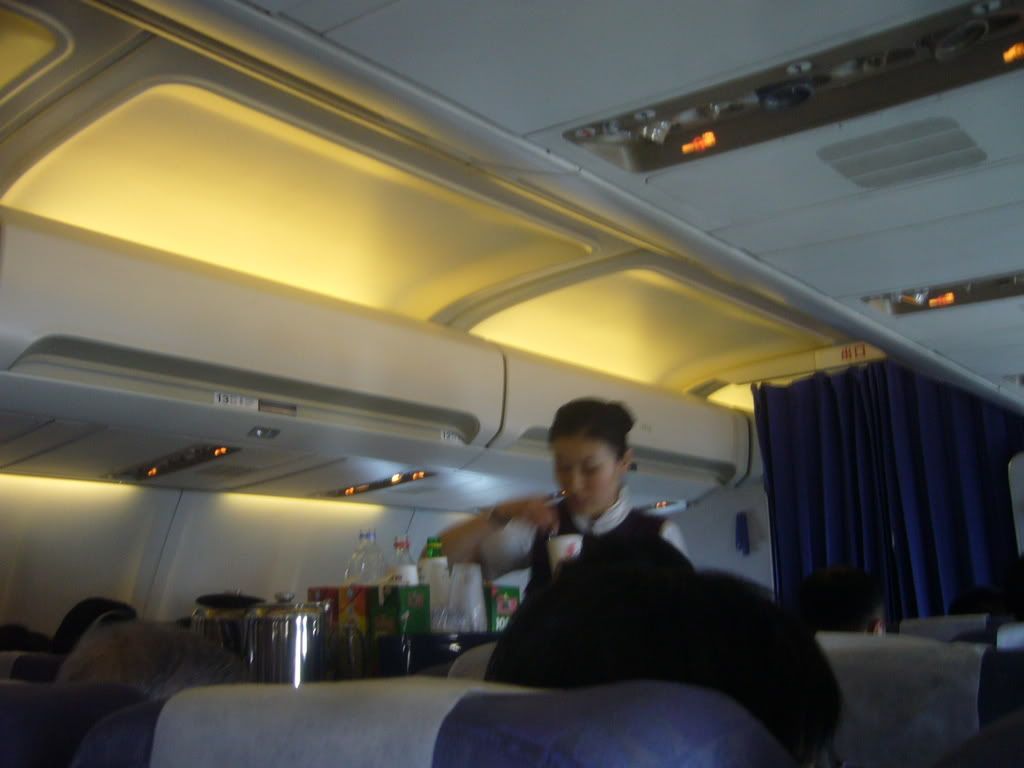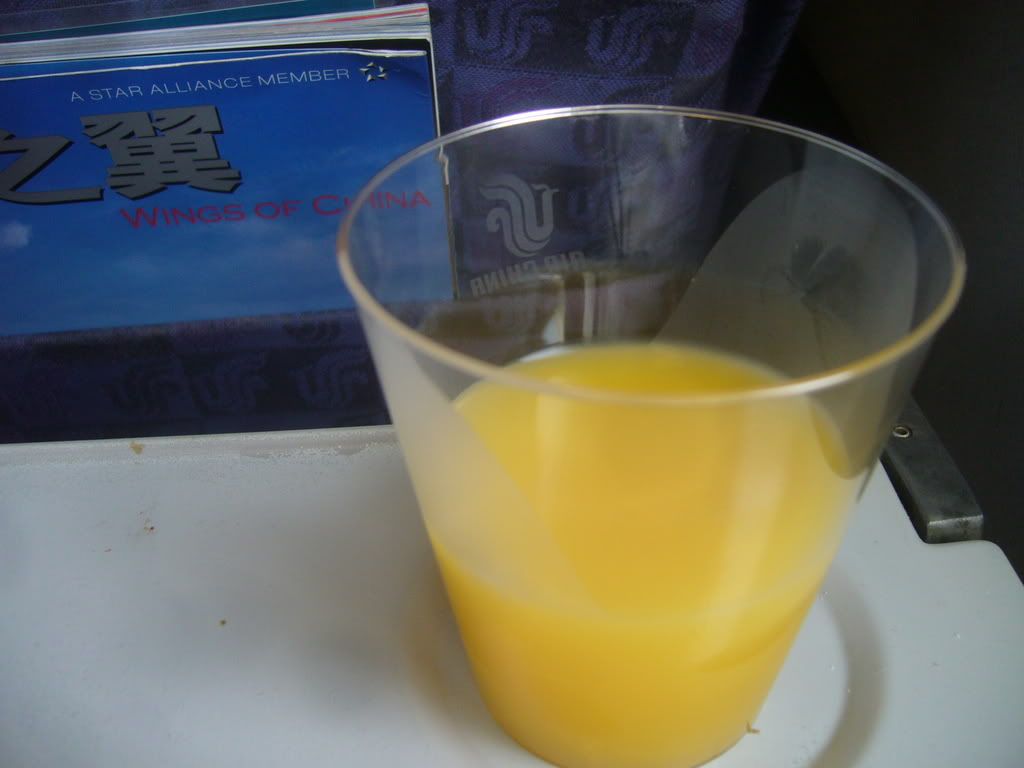 On the PA it was announced that a snack would be served. However, I did had a whiff of food being heated. True enough, there was going to be a hot meal. Choice was pork or fish with rice. I wasn't hungry, but how can I turn down a meal. I chose the pork. It was hoisin pork. If there were a menu card, it would look something like this:
Stir Fried Pork in Hoisin Sauce
Mixed Vegetables
Steamed Rice
The box contained a fruit jello cup, sweet cup cake (tasted awfully artificial), plastic cutlery and wet wipe.
No one in my row took the fish option, so no pics on it.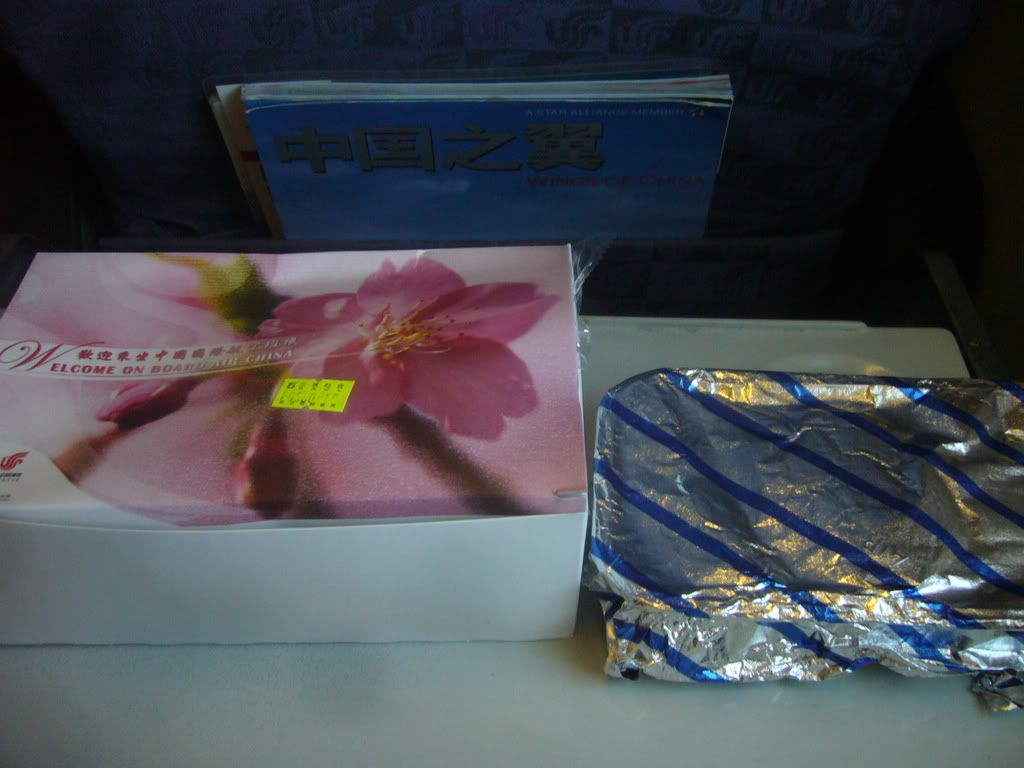 [On the PEK-Pyongyang leg, finger sandwiches (tomato, ham and tuna) and drinks were offered. I thought it was good enough]
FA clearing the meals.
My seat mates gone to the loo after the meal, took the chance to shoot these: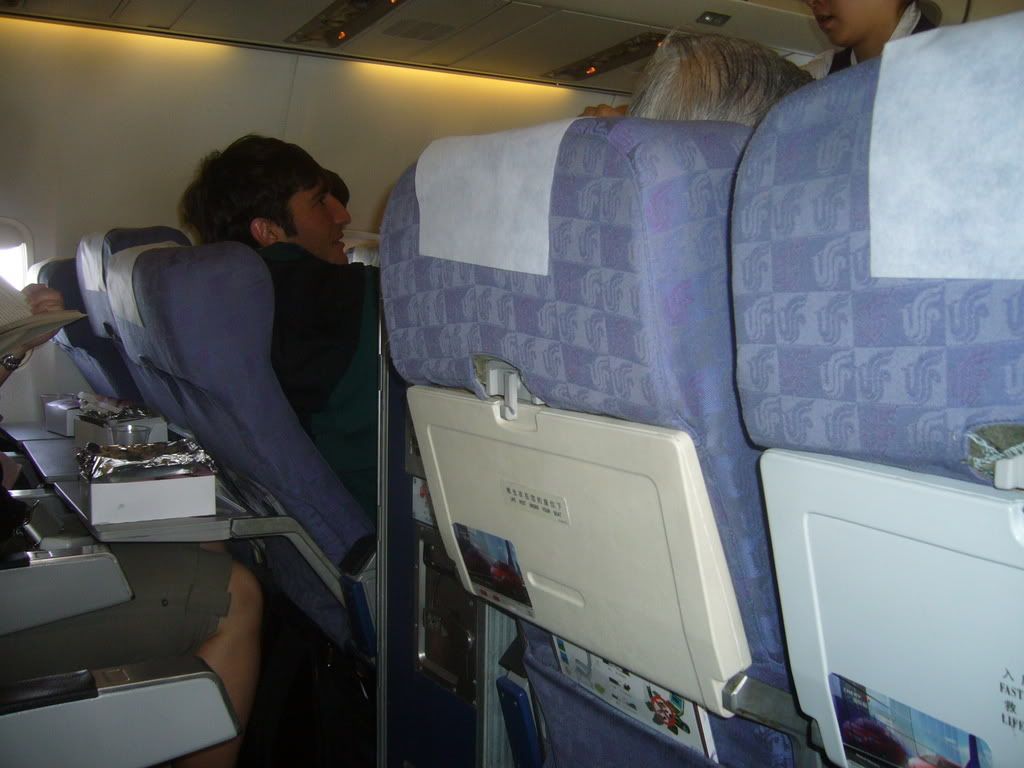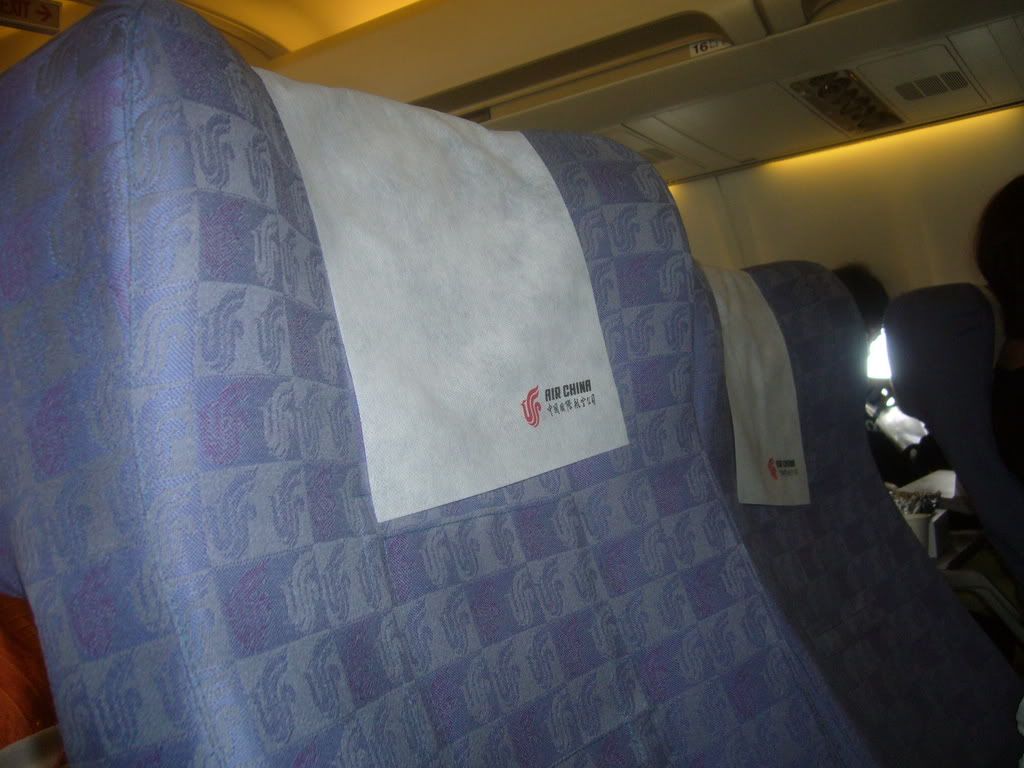 Arrival in PEK
On the way out of the a/c
Transit in PEK new T3. It's big!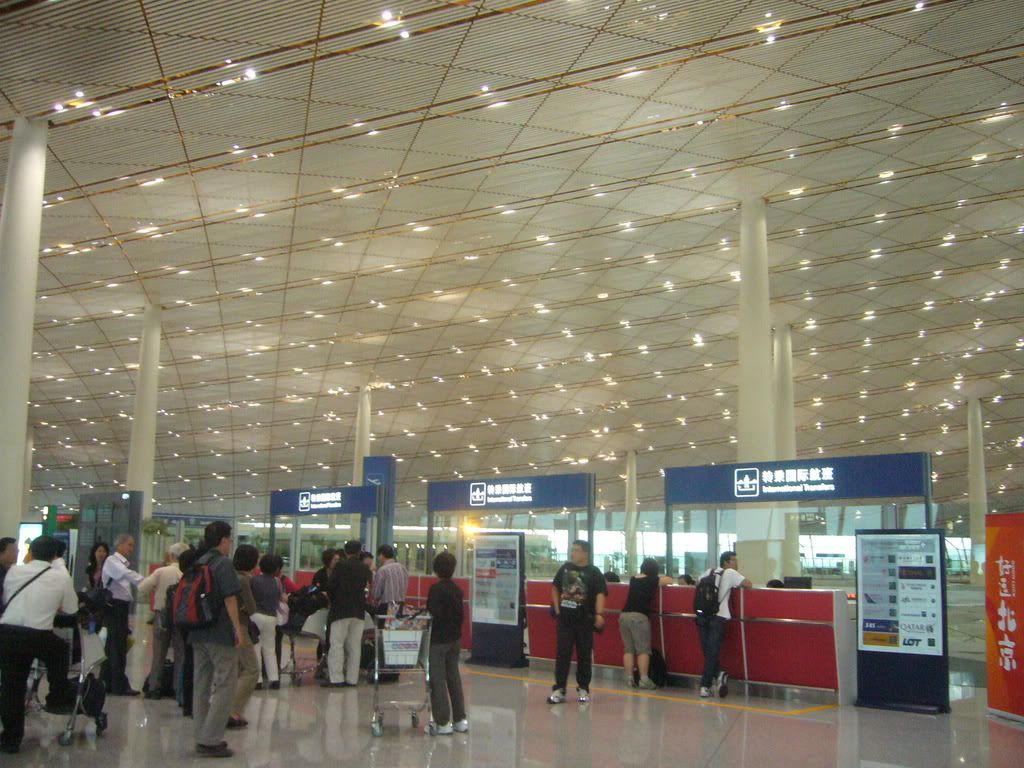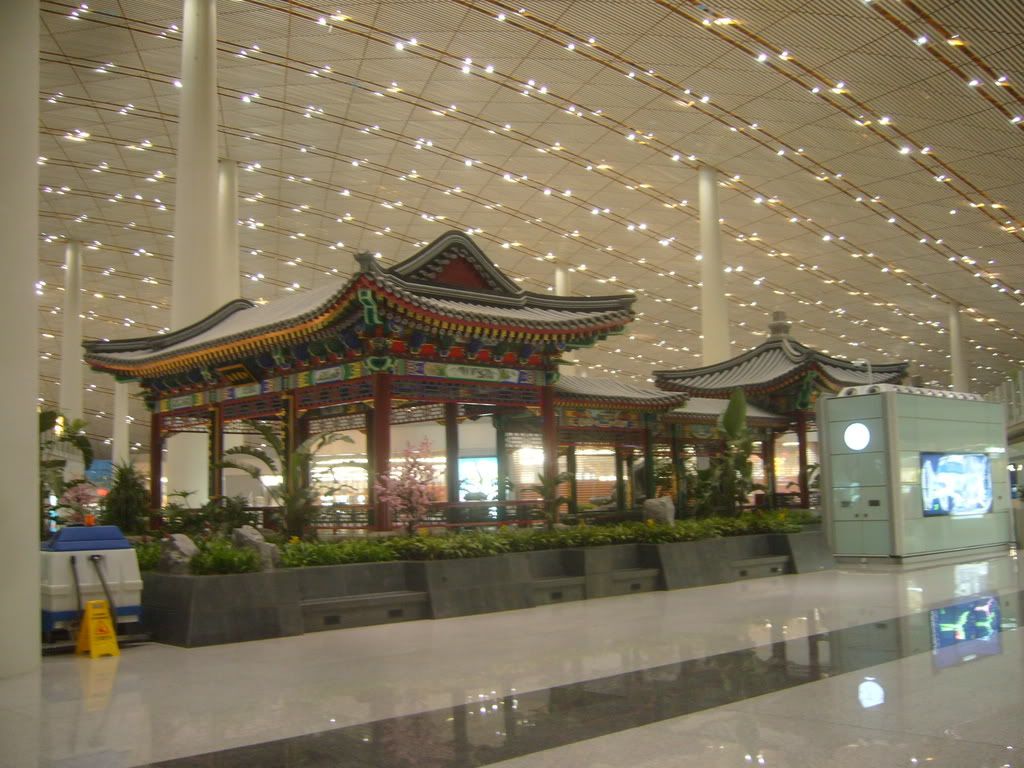 Huge floor to ceiling windows without steel pillars blocking. Excellent for taking pics.
PEK-SIN
CA 975 – B767
STD 2345
STA 0545
Boarding via stairway. I really enjoy this now rather than the aerobridge.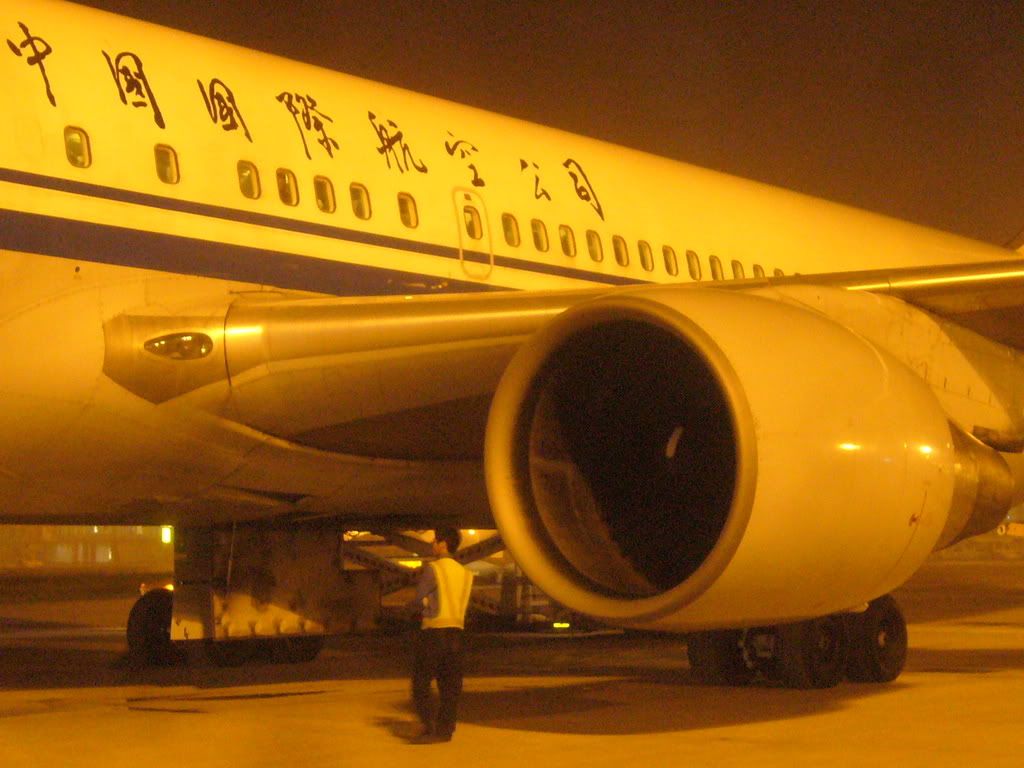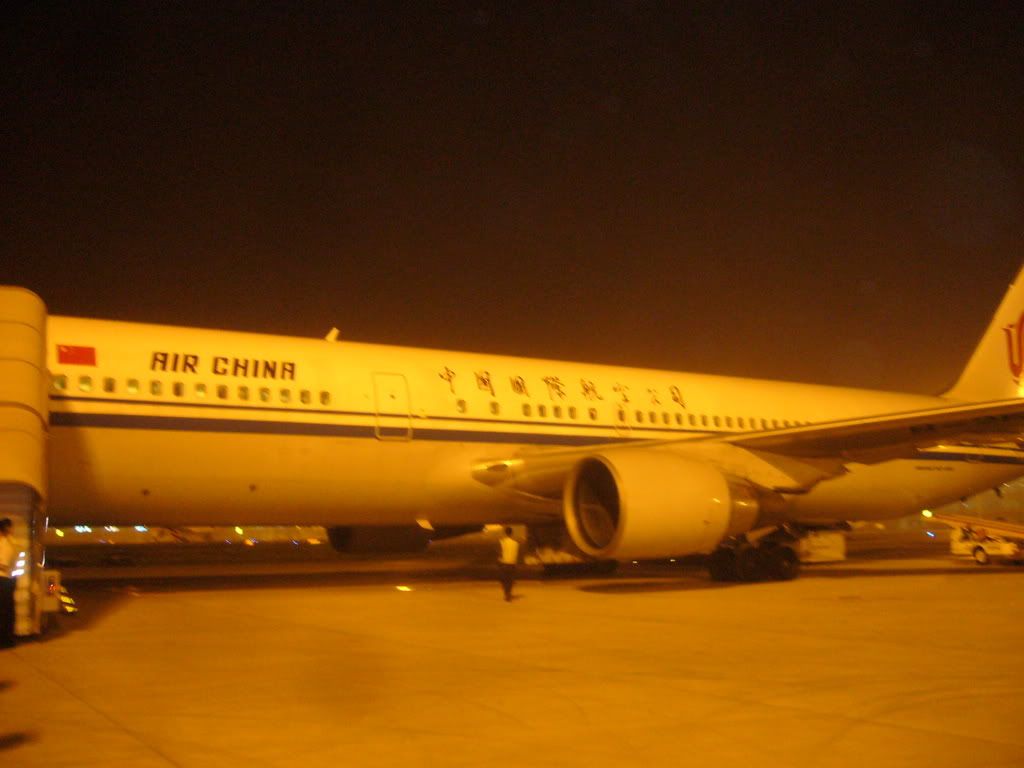 Cabin view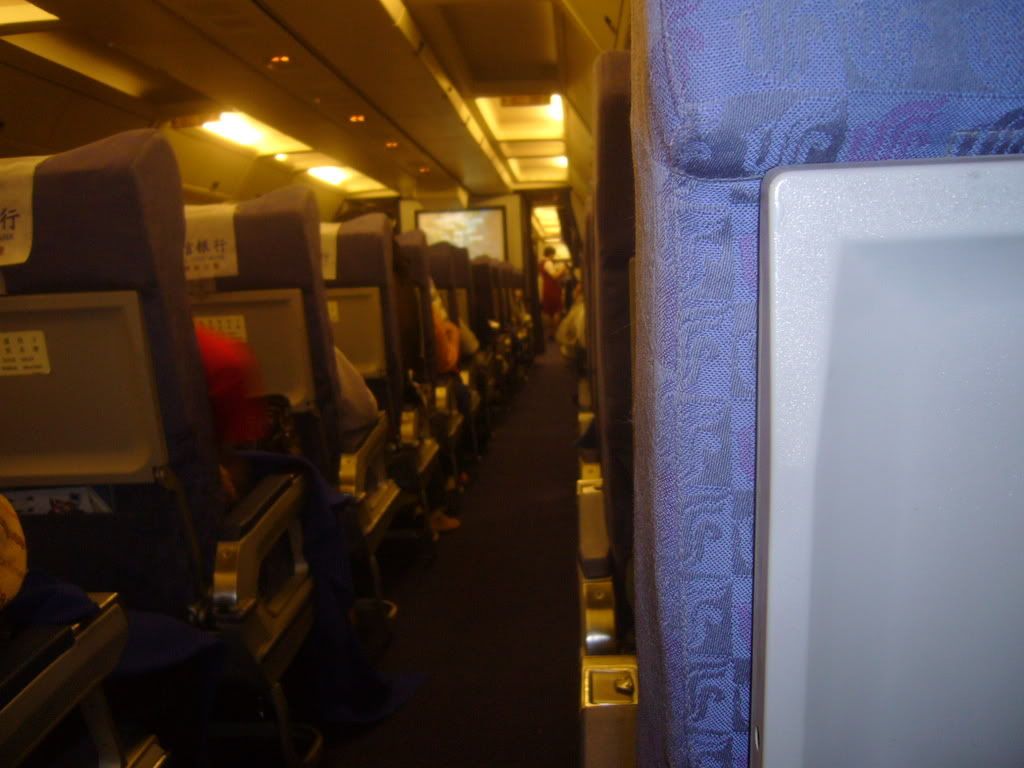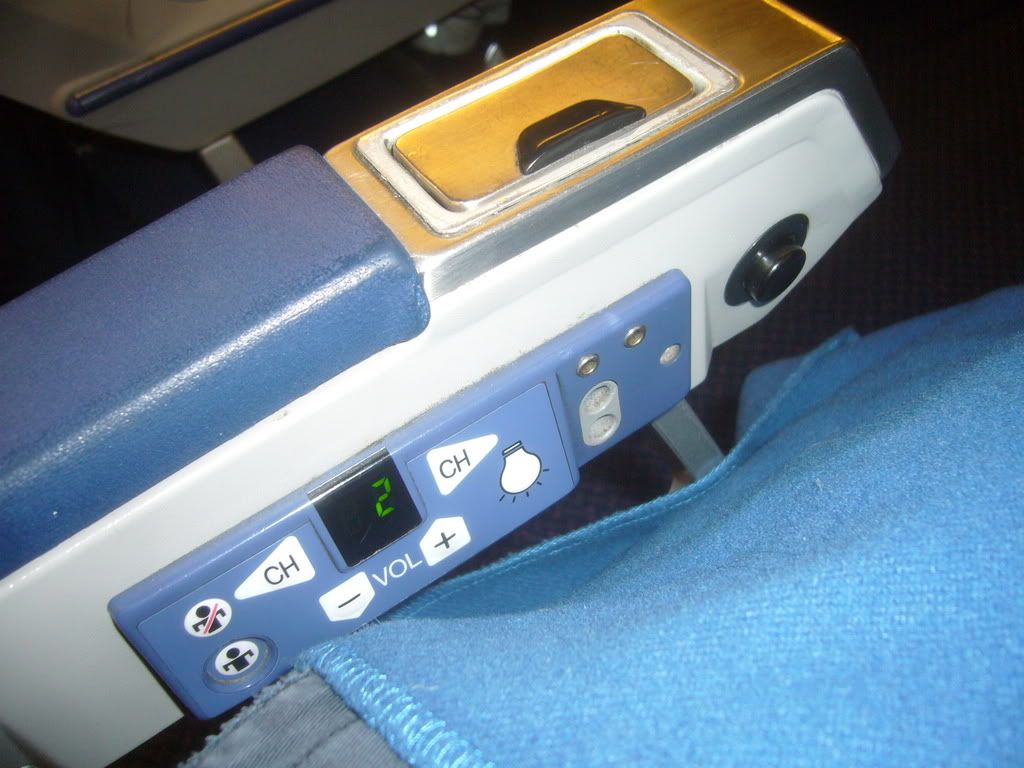 The envelop next to the pillow is for donation for the earthquake victims.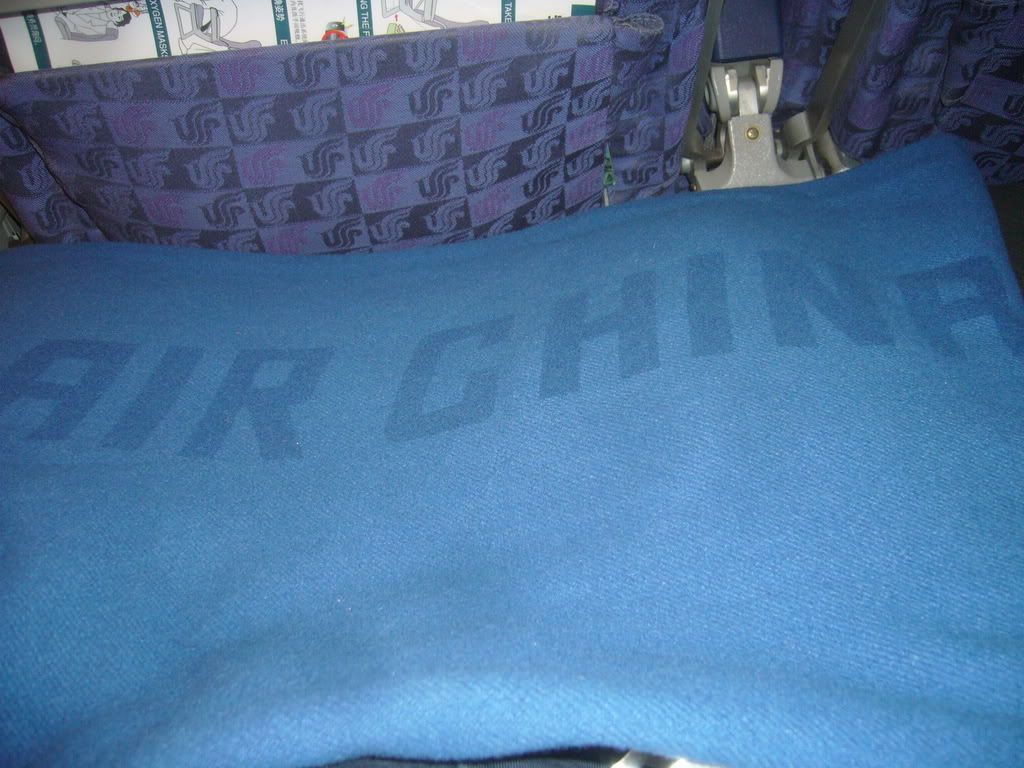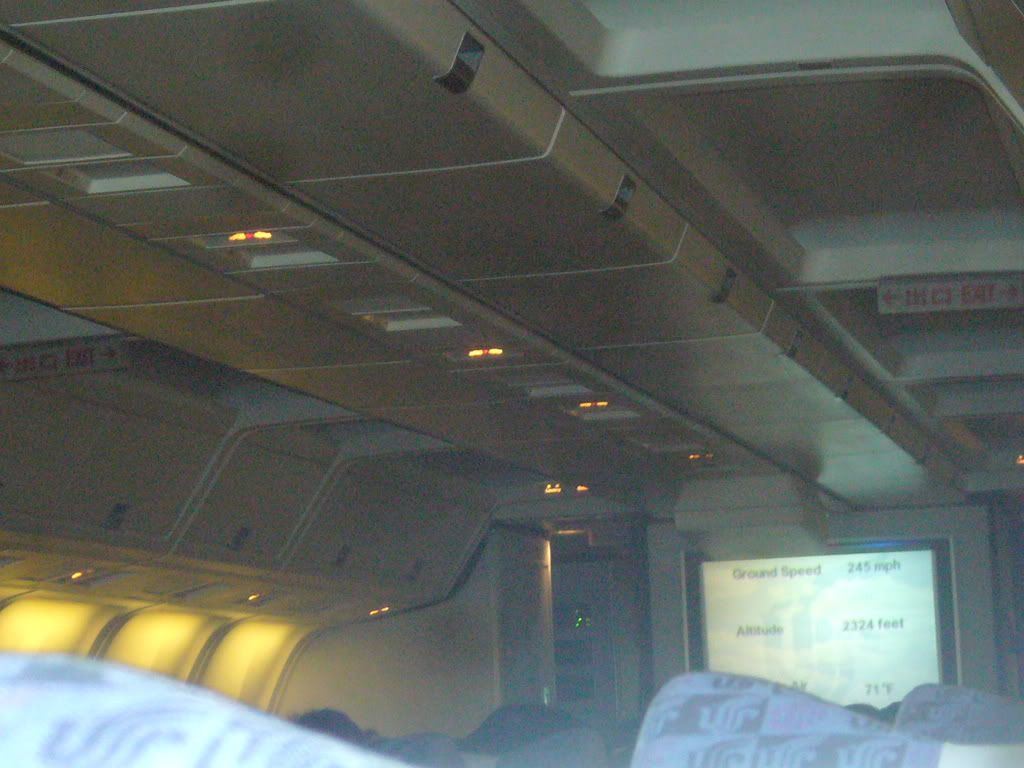 Inflight service began with a drink and peanut service. Standard choice of coffee, Chinese tea, OJ, apple, tomato juice, water, Coke, Sprite and Chinese beer.
The male FA on my row just plonks down the peanut packet and wet wipes on your table. The female FA was serving the drinks was very polite. However, anyone sleeping, too bad you got nothing.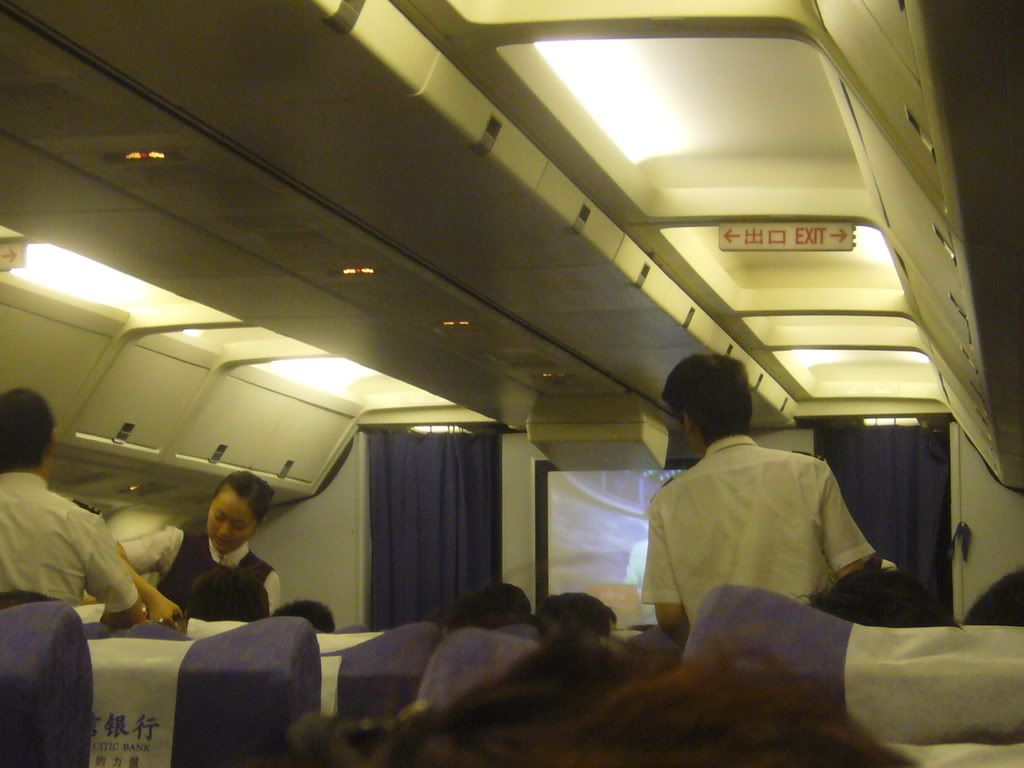 [SIN-PEK leg, no drink service, the meal service just starts straight away]
Meal service
From airlinemeals.net pics I saw CA offered very simple meals on the SIN-PEK vv sectors. So, I made a Seafood SPML order. It was a good decision.
My meal consisted of a small shrimp salad, fish with tomato sauce, buttered potatoes, green beans and pumpkin. Dessert was fresh cut melon and a thick slice of kiwi.
The normal meal on the flight was pork with noodles or chicken with rice. This came with small tomato and cucumber salad , dessert a pear jello and a package of Chinese preserved veg.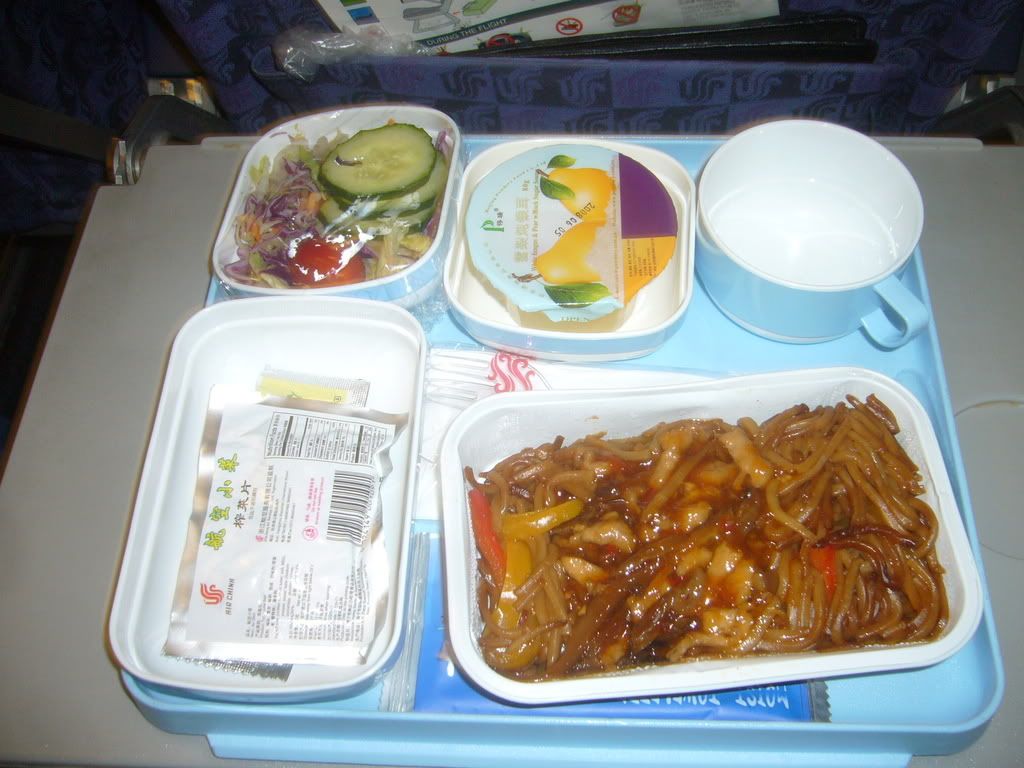 [SIN-PEK, my Seafood meal was almost exactly the same a small coleslaw salad, fish with thick tomato sauce, fried cubed potatoes, greenbeans and carrots. Dessert was fresh cut melon, papaya and pineapple. The standard meal on the flight fried noodles or fried rice. This came with small tomato and cucumber salad, dessert and a package of Chinese preserved veg. My friend took the fried rice and said it was horrible and tasteless. Lacking in ingredients too. Just rice, egg and mixed frozen veg. Not a single piece of meat. The fried noodles fared no better too. Those familiar with Singapore breakfast beehoon at the hawker center that sells for about $0.80 a packet, it's something like that).
After meals were collected, duty free sales and then lights off.
Spartan toilet. Thank goodness it was relatively clean.
In the middle of the flight I went to the galley to get a drink. I asked the male FA who was sitting on the crew seat dozing off. He just murmured in mandarin pointing to a cart filled with the standard drinks – zhe zhi na – simply translated, go help yourself or get your own. His eyes closed and wet off to Zzzzz land again. Man, I left my camera at my seat! It would have been a nice shot of him sleeping. Anyways, I was happy helping myself to about 2 cups of apple juice and fiddling around the galley. No other FAs were around.
About an hour to touch down, only water service was provided in this cheapo paper cup.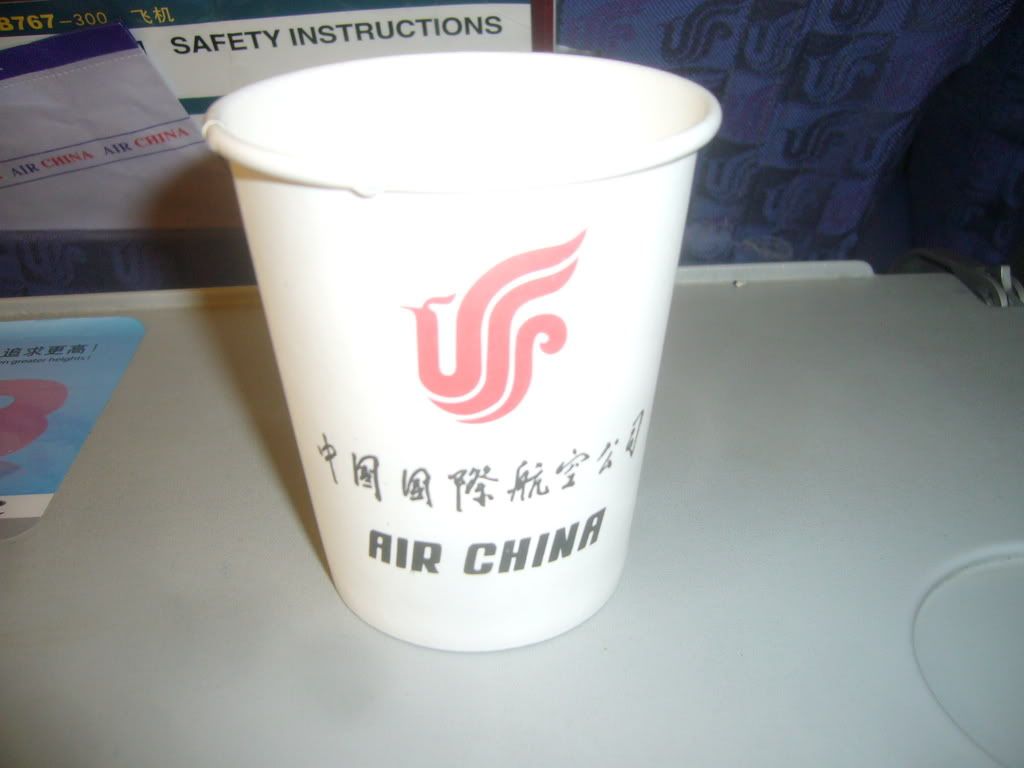 [SIN-PEK - About an hour to touch down, drink service was served. FA had a tray filled with a mix of OJ, apple juice and water for pax]
Arrival in SIN disembarking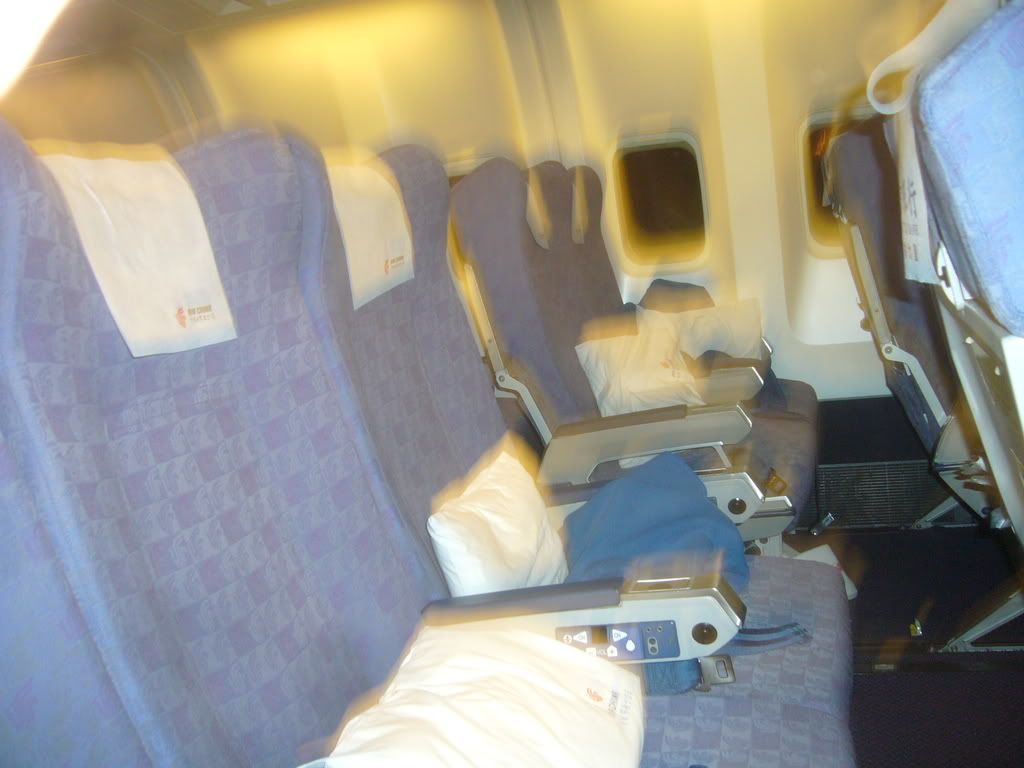 Here's some pics of Pyongyang. The guide will inform where it's alright to take pics.
Citizens making a bow to the leader. All tourists are obliged to do the same with the guidance of the tour guide.
Cleaning the steps by hand
Cutting grass by hand – at the hotel garden
At the DMZ facing South Korea
An aerial view of Pyongyang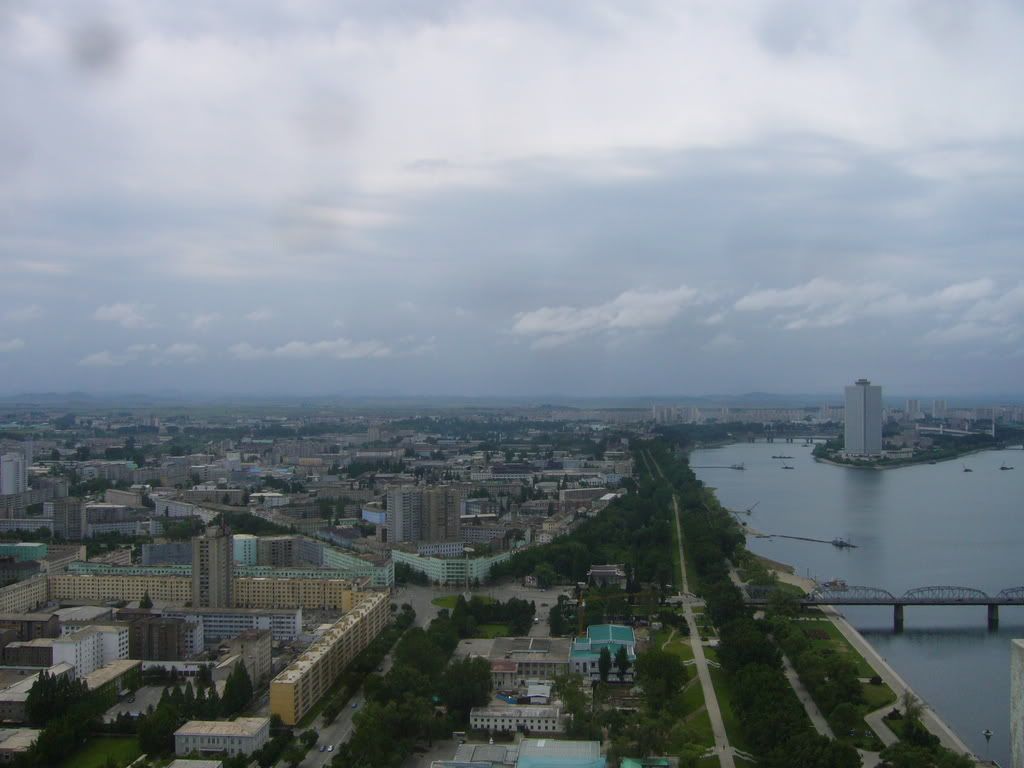 Street scene. No locals would talk to any tourist.
Emblem of North Korean Communist Workers Party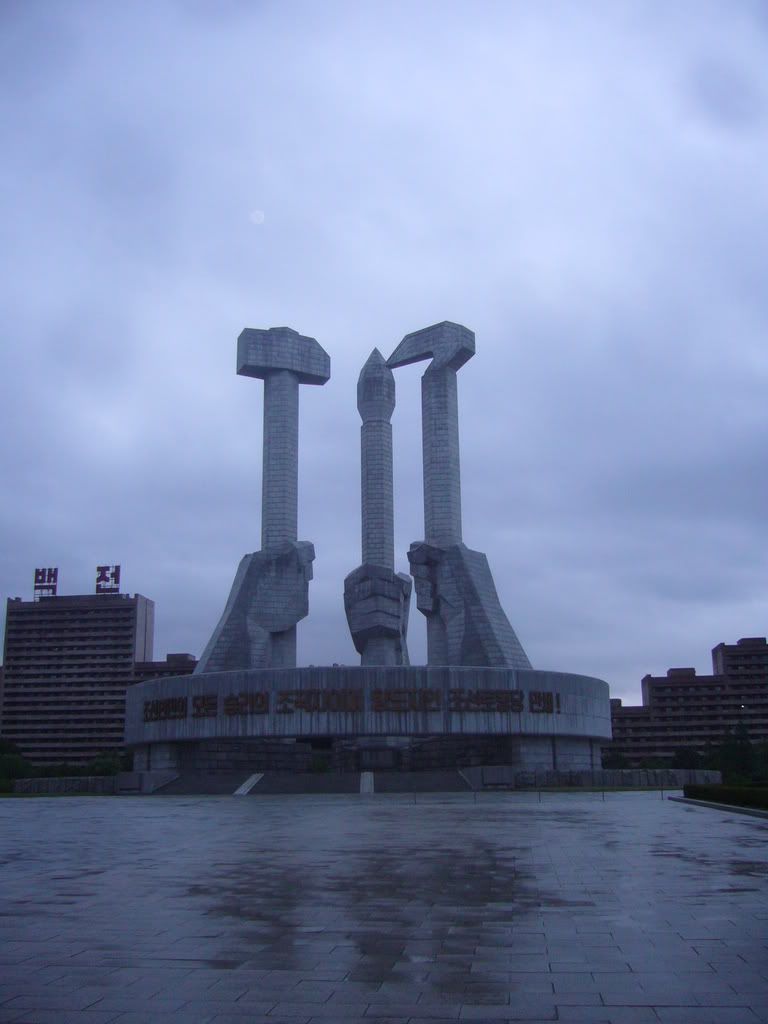 City view and a shot of the 105 story pyramid hotel which is still not competed since mid 1990s.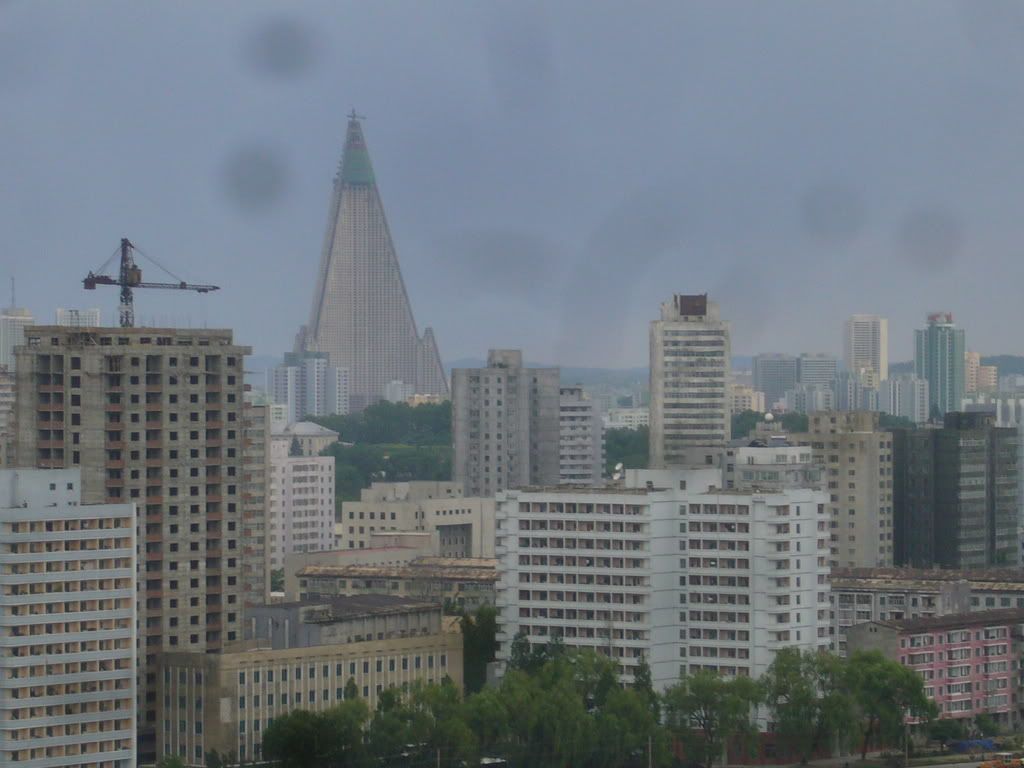 Great leader's portrait is omnipresent in almost every city corner.