This past March, I took a trip to both Bangkok and Hong Kong. I did this because of a special promotion for about $600 round trip to Bangkok with a free stopover in Hong Kong. I immediately bought it when I saw it online. I also wanted to see the new Cathay seats and test out how good they were.
Cathay Pacific Airways CX841, March 14th, 2008
John F. Kennedy International Airport (JFK) to Hong Kong International Airport (HKG)
Gate 4
Seat 63G (Economy)
Departure (Scheduled/Actual): 10.10/11.00
Arrival (Scheduled/Actual): 14.05 (+1 day)/14.20 (+1 day)
Terminal 7 at JFK is relatively modern and is one of the best operated at JFK. There were the duty free shops and typical fast food restaurants. The gate was pretty busy and full of people but Marco Polo Club members (even green tier) have priority boarding. I was greeted by a pretty and young flight attendant who guided me to the right row.
Today's flight would be a brand new B777-300ER. Since it was new, the new seating pattern was built in. I passed by the herringbone business class seats and entered a very clean and new economy cabin. When I sat down, I was at first awkward of how the seat worked—the new Cathay economy seats do not recline but have a fixed shell back that lets the seat slide. The presence of an airbag in the seatbelt was also quite uncomfortable. Personally I wonder how much difference it makes between adopting the brace position and the seatbelt airbag. On the plus side, the tray was nice and wide; with a conveniently located power outlet for laptop users (although it may be inconvenient for some as it is accessible only once the tray is down). The PTV was large as well. There were over 50+ choices in movies and TV.
Typical for JFK, there was a lot of tarmac traffic and there was about an hour wait to take off. Two British Airways flights departed at a similar time and it took an hour just to get into the air. Soon after we reached cruising altitude, the flight attendants snapped into action, handing out drinks that were already poured in cups. After drinks, flight attendants handed out landing forms for Hong Kong and menus. The choices were as follows:
Brunch
Seasonal mixed fruit
Fruit yoghurt
Parsley omelets
Roasted potatoes, Turkey bacon, green beans, tomatoes with basil and parmesan
Or
Braised pork with mild spicy sauce
Steamed rice and mixed vegetables
Blueberry muffin
Tea and coffee
Lunch
Marinated Greek salad with chicken
Baked chicken with salt and five spices
Steamed rice and mixed vegetables
Or
Braised pork with mustard mushroom sauce
Roasted potatoes, broccoli and carrots
Or
Ziti with marinara sauce and asparagus
Jumbo profiterole with chocolate sauce
Tea and coffee
Snack
Snacks are available throughout the flight
For brunch, I chose the pork while my neighbor chose the omelette. Like I said before, the tray table is huge so I expected that the portions would be bigger. Oh how I was wrong… It was not incredibly small but medium size. What it lacked in portion size, the meal was quite good. Personally I have never had a bad meal on Cathay (**knocks on wood**).
When I woke up, I was a little hungry and thirsty. Cathay now has a snack box in the galley so that passengers can take candies and sweets whenever they please. Also in the galley were pre-poured cups of water. I thought that the flight attendants would come around midflight with the noodles on a tray because that's what they did the last couple of times when I flew Cathay. Now, passengers have to ask for it either by ringing the call bell or going up to the flight attendants in the galley. Though they are glad to do it on demand, I would have preferred if they would have already done it and passed it around.
Soon after, the female Captain said that there would be a little delay due to weather. I then became concerned about my connection to Bangkok and my fellow seat mate next to me who was going to Bangkok as well. She asked a flight attendant about the connection and the flight attendant said in a professional and calm manner that there were plenty of CX flights to Bangkok in case we miss our flight. The flight attendant also said he would make priority for connecting passengers to exit the plane.
We landed about 30 minutes behind schedule. The flight attendant promised priority and the connection passengers got it.
Cathay Pacific Airways CX701, March 15th, 2008
Hong Kong International Airport (HKG) to Bangkok Suvarnabhumi International Airport (BKK)
Gate ???-too jetlagged to notice, the one next to the MUJI outpost
Seat 48F (Economy)
Departure (Scheduled/Actual): 16.00/16.05
Arrival (Scheduled/Actual): 18.20 (+1 day)/18.15 (+1 day)
After the great trans-Pacific flight, the route to Bangkok was nothing too spectacular. The aircraft for the flight was a B747-400. Though once a majestic bird of the skies, it was now showing its age. Also, there were the old seats instead of the new ones I got used to. But the same great service was there. As I sat down, a flight attendant offered a blanket and pillow to me. Cost cutting was apparent, such as the lack of menus and choice of newspapers. Meal service was chicken with rice or pork with rice both with an ice cream bar. Since it was a short flight, I watched the TV programs on the regional StudioCX. Soon after, we landed in Bangkok. Since it was a full B747, everyone made a mad dash to the immigration line.
After a week in Bangkok and a side trip to Phuket, (on Thai Airways) it was time to go to Hong Kong for a couple of days before going back to New York.
Cathay Pacific Airways CX712, March 22nd, 2008
Bangkok Suvanabhumi International Airport to Hong Kong International Airport (HKG)
Gate E19
Seat 38H
Departure (Scheduled/Actual): 16:10/16:15
Arrival (Scheduled/Actual): 19:55/20:00
This time, the aircraft was a B777-300 with the old seats, old PTV and old regional entertainment. I was surprised to see that the business class did not even have the lie flat seats but a seat like most "first class" seats on American Carriers. The meal choices were curry fish with rice or chicken and noodles. The fish was nice and spicy, one of the best I've had in the air in any class. We landed late because of the weather and also because our gate was not ready for our flight.
CX830, March 25th, 2008
Hong Kong International Airport (HKG) to John F. Kennedy International Airport (JFK)
Gate 26
Seat 37A
Departure (Scheduled/Actual): 09:45/09:55
Arrival (Scheduled/Actual): 13:05/13:10
Cathay's flight to New York has a separate counter than other Cathay counters. I'm not sure it is because of security reasons or for the fact that the flight goes to America. Check in was quick because I used Cathay's online check-in service. When I was checking in online, the flight was full and only a couple of seats were available in the front economy cabin.
When it was time to board, passengers had to line up so that the gate agents could stamp the ticket. I'm not sure why they do this because they do not collect the large end of the ticket as Cathay now scans the ticket into the system. As I entered the jetway, there were tables inspecting for liquids. All flights to the US from Hong Kong will not let passengers have bottled water or any liquids unless placed into a ziplock bag and 3oz. or less. A hysterical passenger in front of me learned the hard way and got his water bottle confiscated that he just purchased minutes before. He was shouting "You can't do this! What I am I going to drink for 15 hours? This is outrageous!"
I then entered the new B777-300ER aircraft. A senior flight attendant in purple attire greeted me and guided me the right way. Like the flight going to Hong Kong, the plane had the new seats. Soon after, menus and landing forms for the US were passed out. The menu choices for the flight were:
Lunch
Ham and gherkin salad
Black pepper chicken
Steamed rice
Carrot, straw mushroom and long cabbage
Or
Pan-fired tilapia with preserved lemon caper
Cream sauce
Mashed potato, carrots and broccoli
Or
Penne pasta with corn and spinach cream sauce
Marble cheesecake
Tea and coffee
Snack bag
Refreshment
Mixed seasonal fruit
Braised beef with horseradish and parsley sauce
New potatoes, green peas and carrots
Or
Steamed pork with black bean sauce and rice roll
Jasmine tea panna cotta with evaporated milk
Tea and coffee
This flight was like the one before with tasty and delicious food. Also, there was a snack bag which consisted of a bottle of water, a granola bar, and apple wedges. It was just like the QANTAS snack bag but it had fewer items (don't know if QF still gives them—I got one circa 2004 on a flight from LAX to SYD). I got some sleep, played games, and watched movies. The 14 hour flight went by quickly and we landed in New York almost on time. The American citizens' immigration line was quick because there were few Americans on the flight. The down side was that the baggage took a long time to come and also a British Airways flight from Manchester landed and made the area more crowded.
In my opinion, cost cutting at Cathay City is now pretty evident, with the lack of menus on the regional sectors, the reduced portion sizes and necessity to ask for snacks instead of automatic snack runs. However, I suppose it paid off—I was surprised to get such a long trip for such a nice price. I would defiantly fly CX again and would love to try their new premium products—from what I see here they look great.
Pictures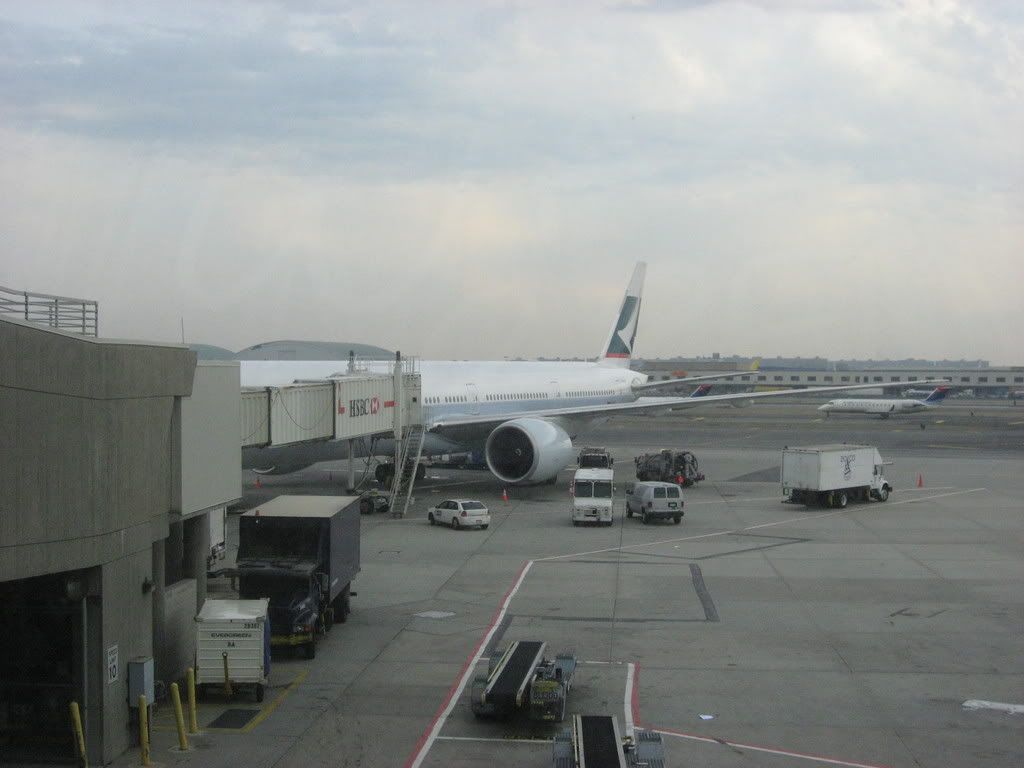 New map/IFE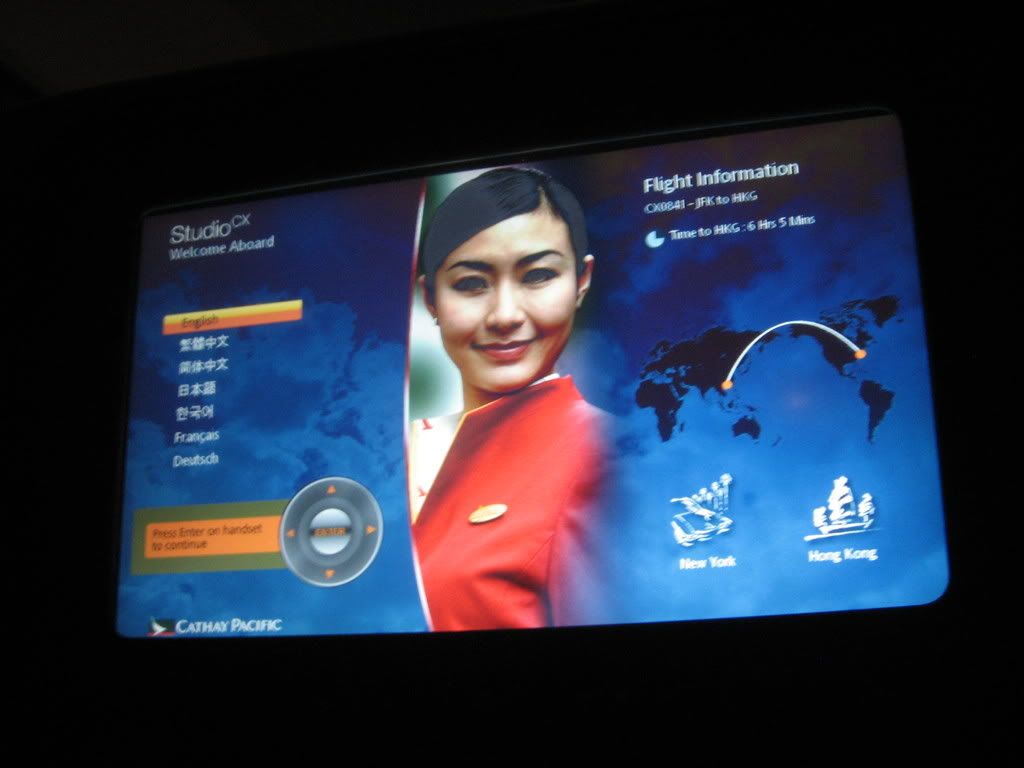 New IFE 2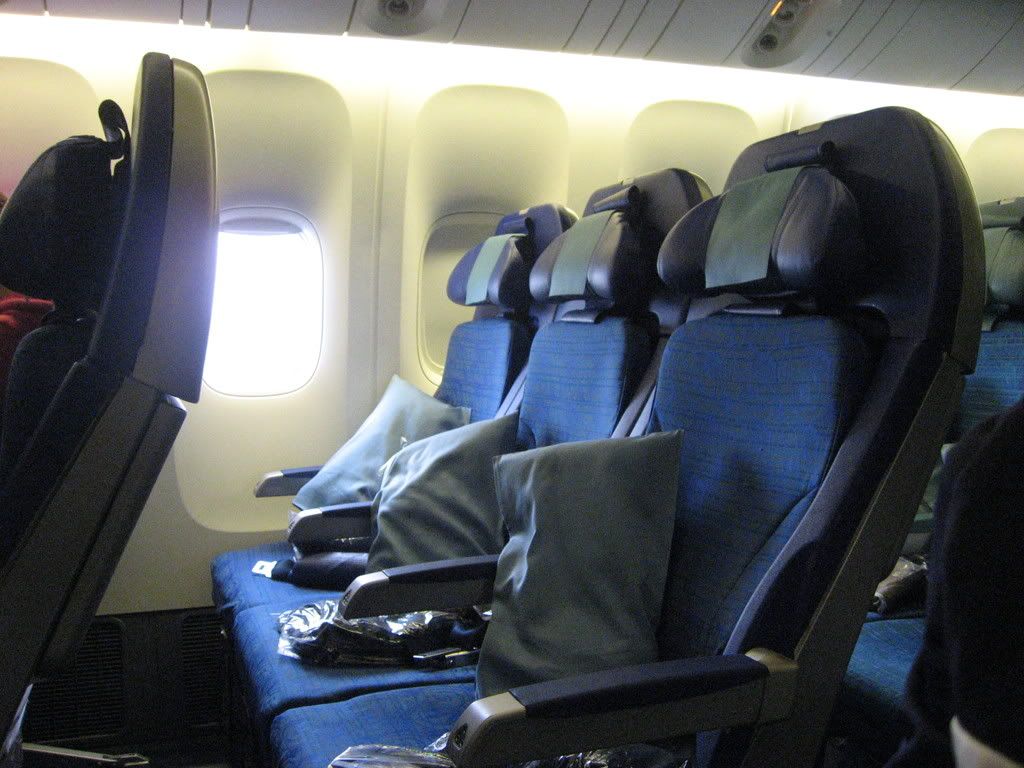 New seats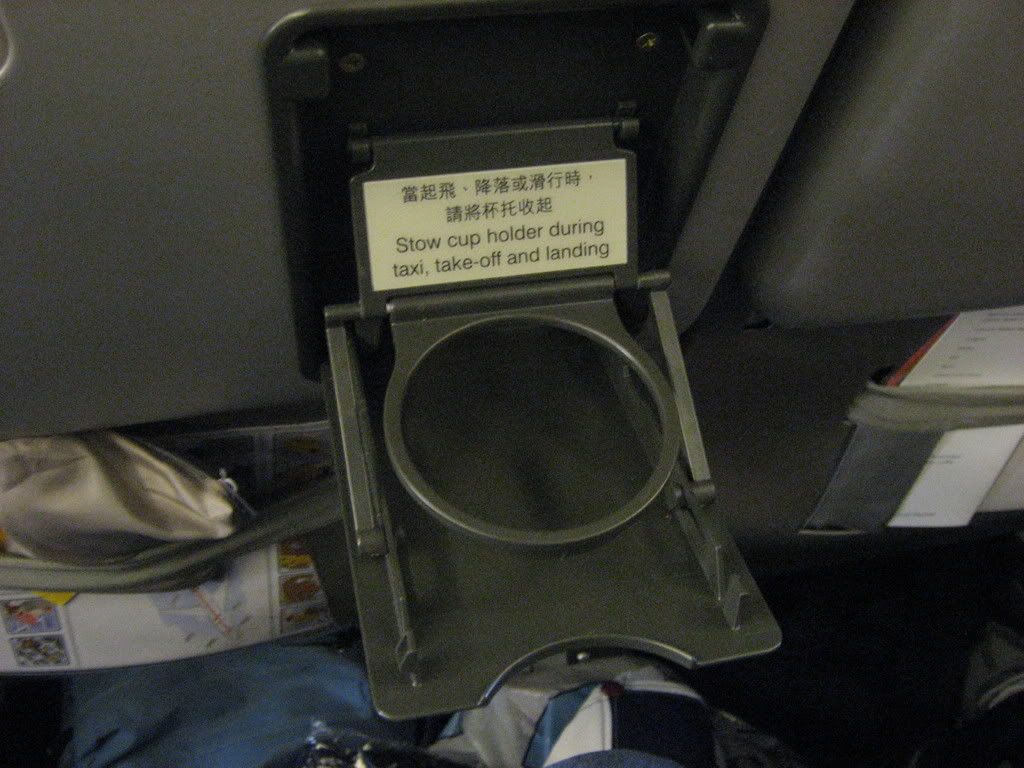 Cup holder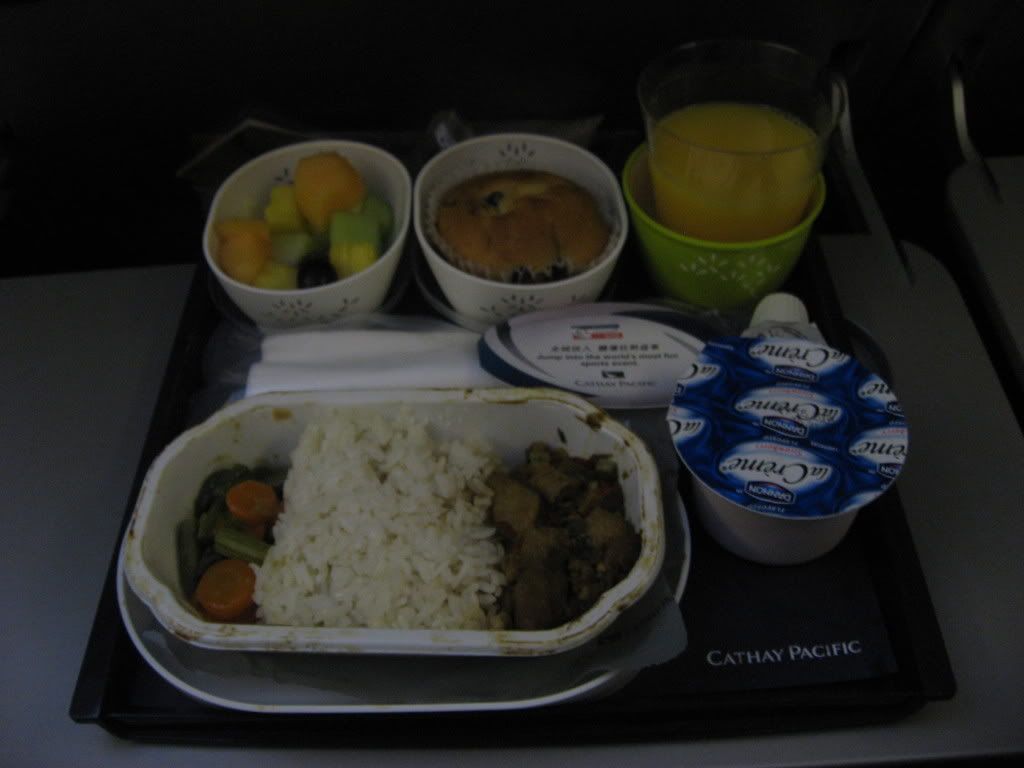 Breakfast
Lunch
Lunch 2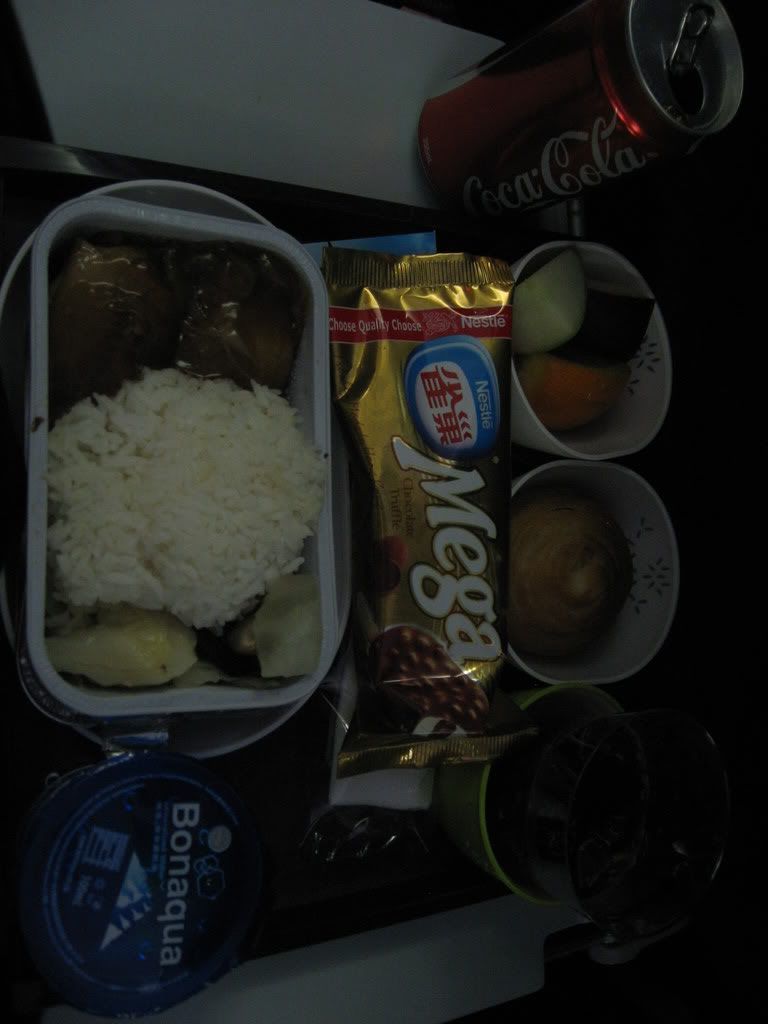 Lunch to BKK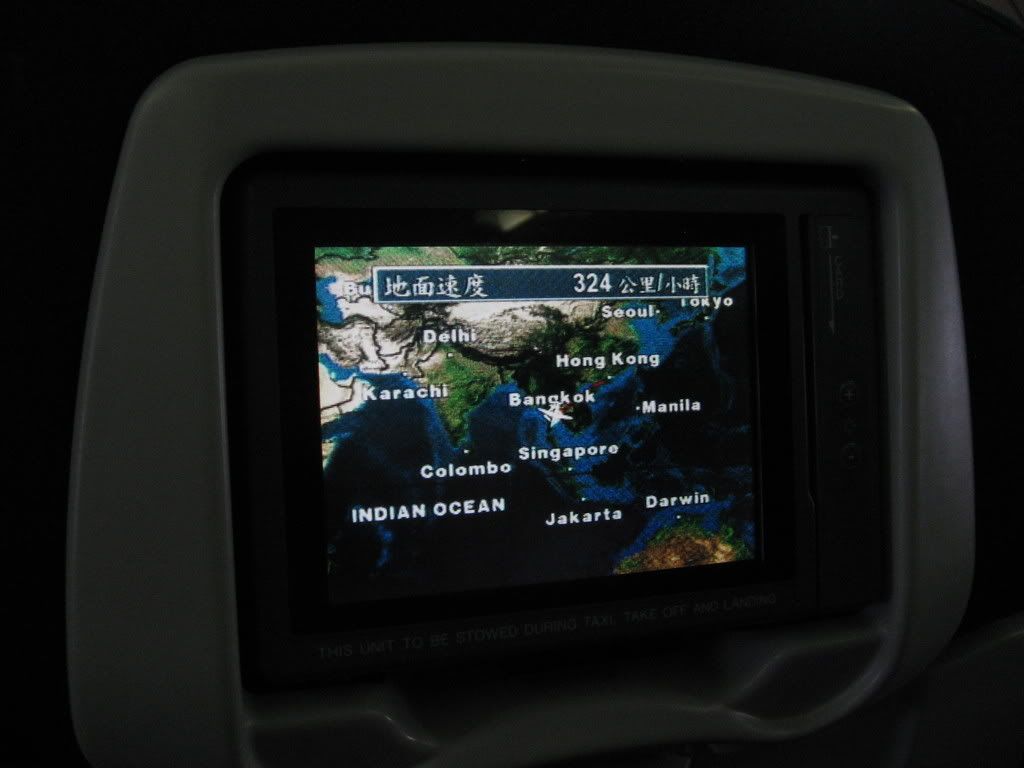 Older IFE screen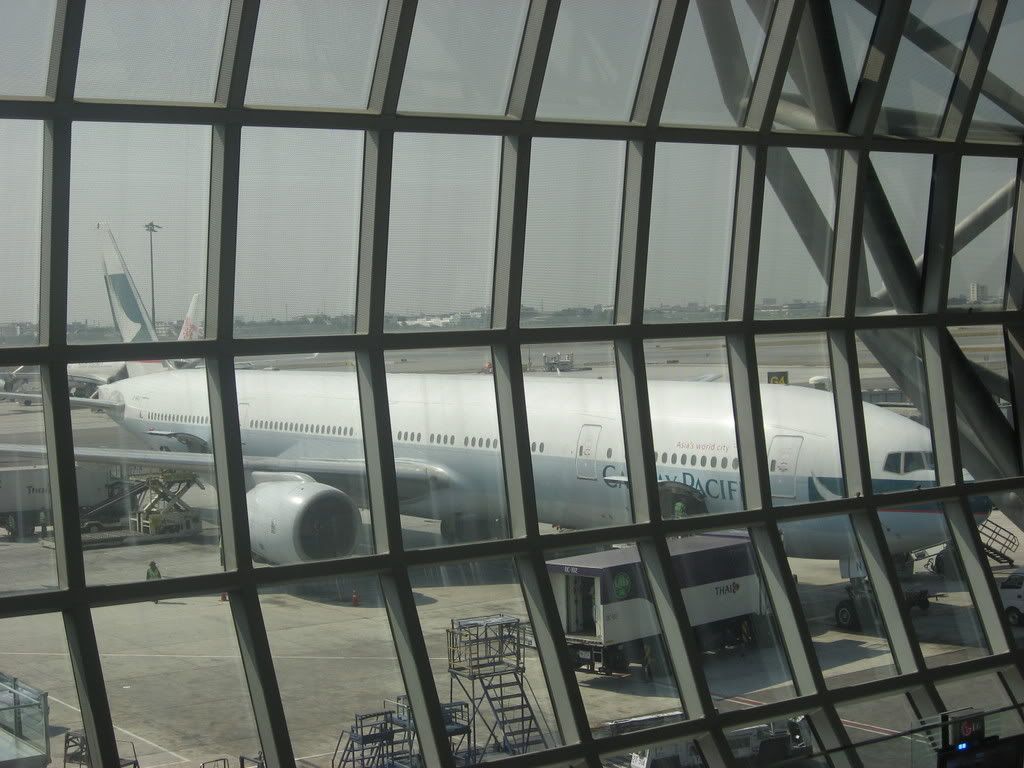 Plane to HKG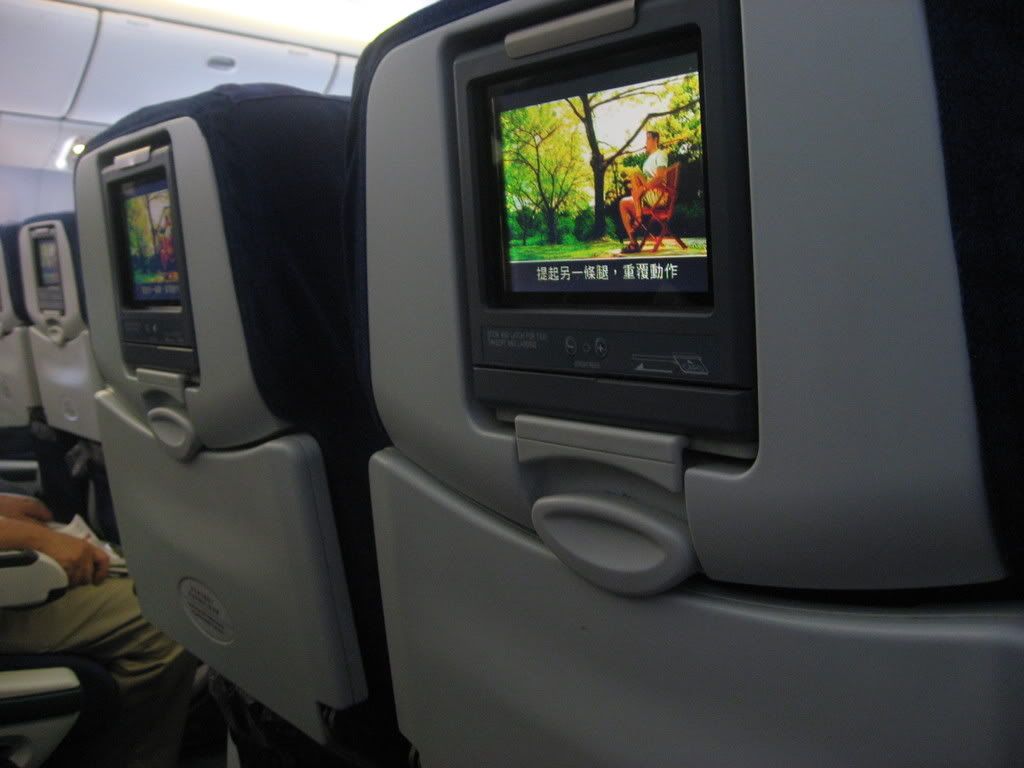 Old IFE with the fitness video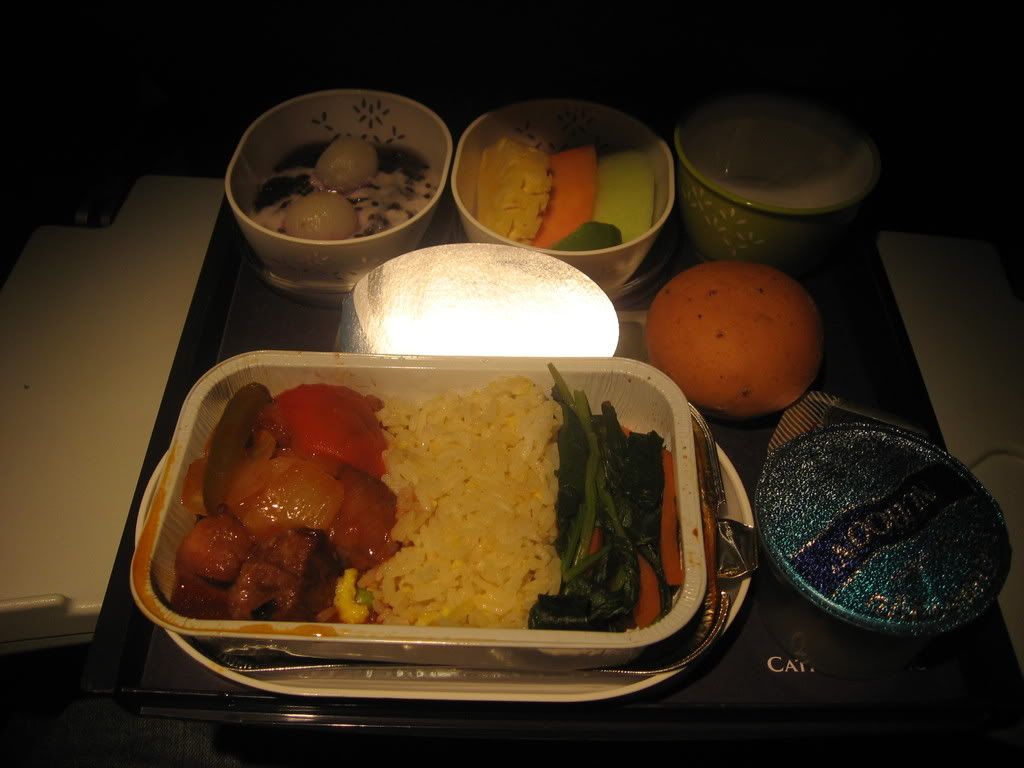 Dunch (=in between Lunch and Dinner)
Cavernous HKIA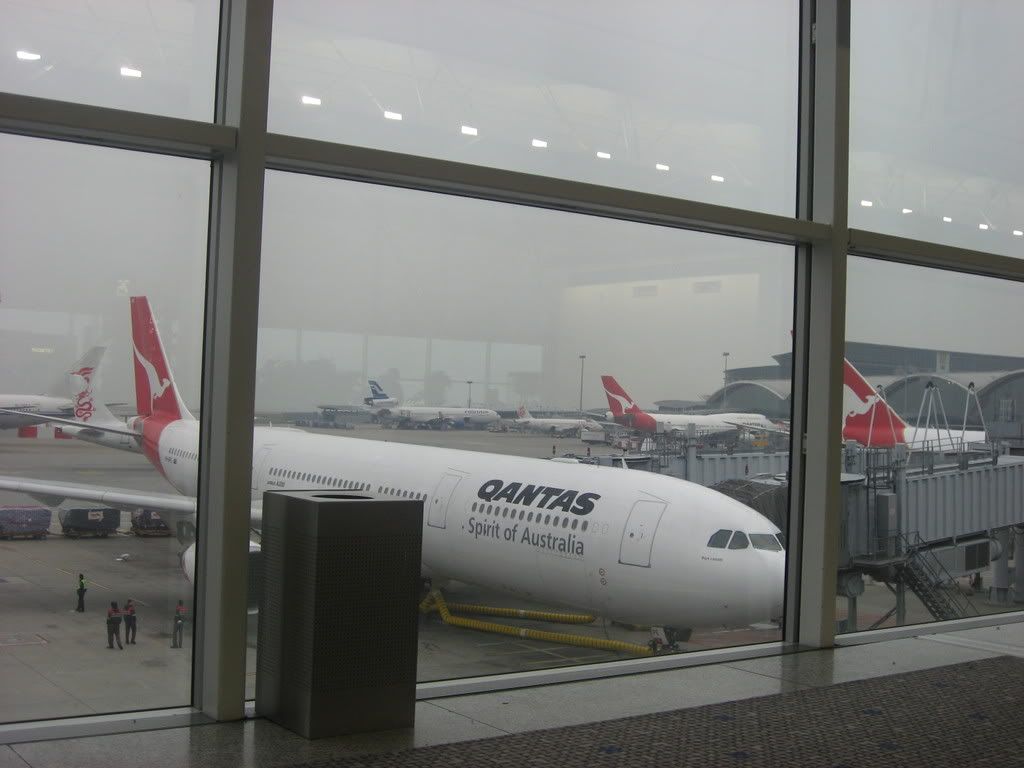 Lots of QANTAS
Plane to JFK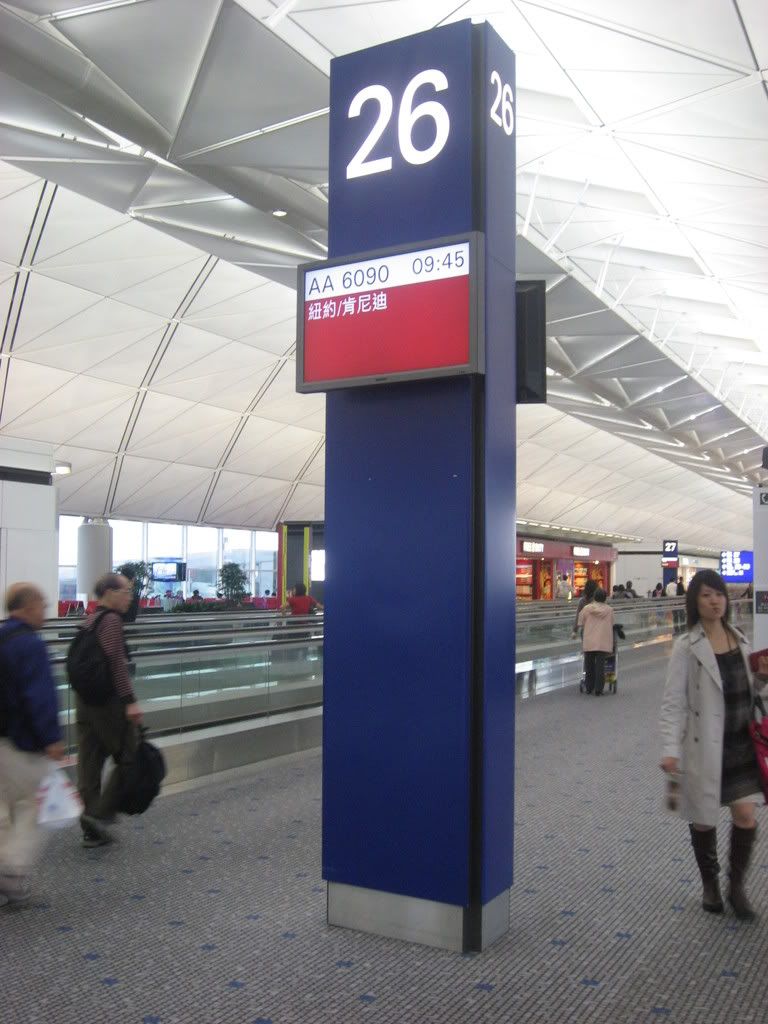 Pillar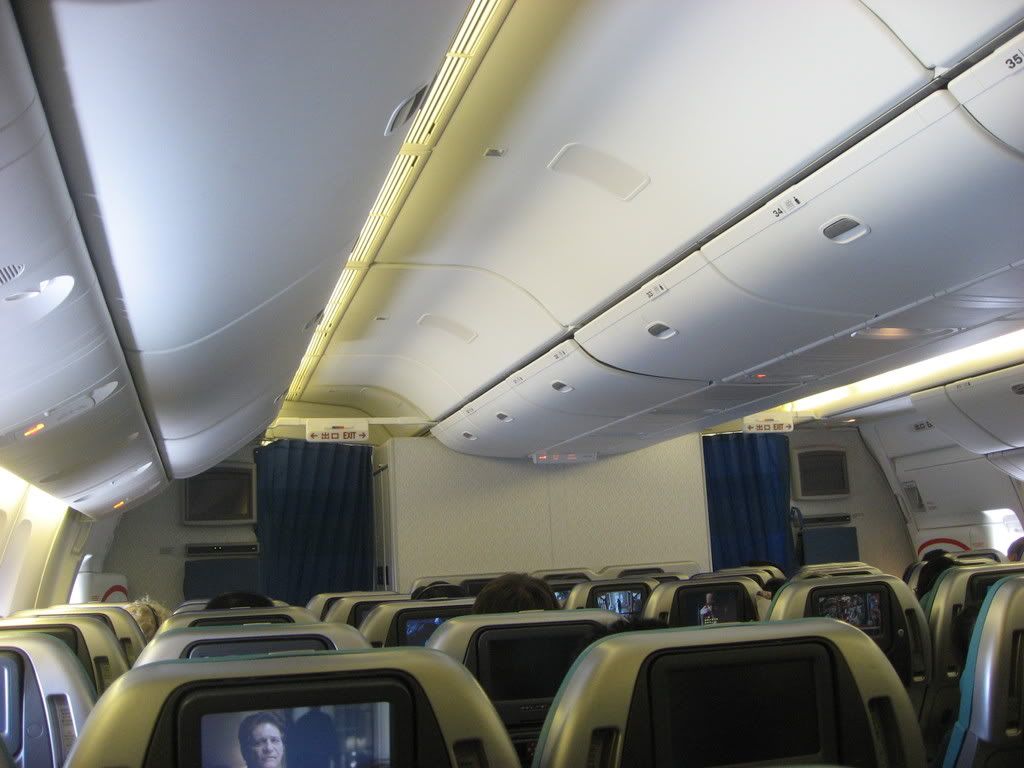 Cabin view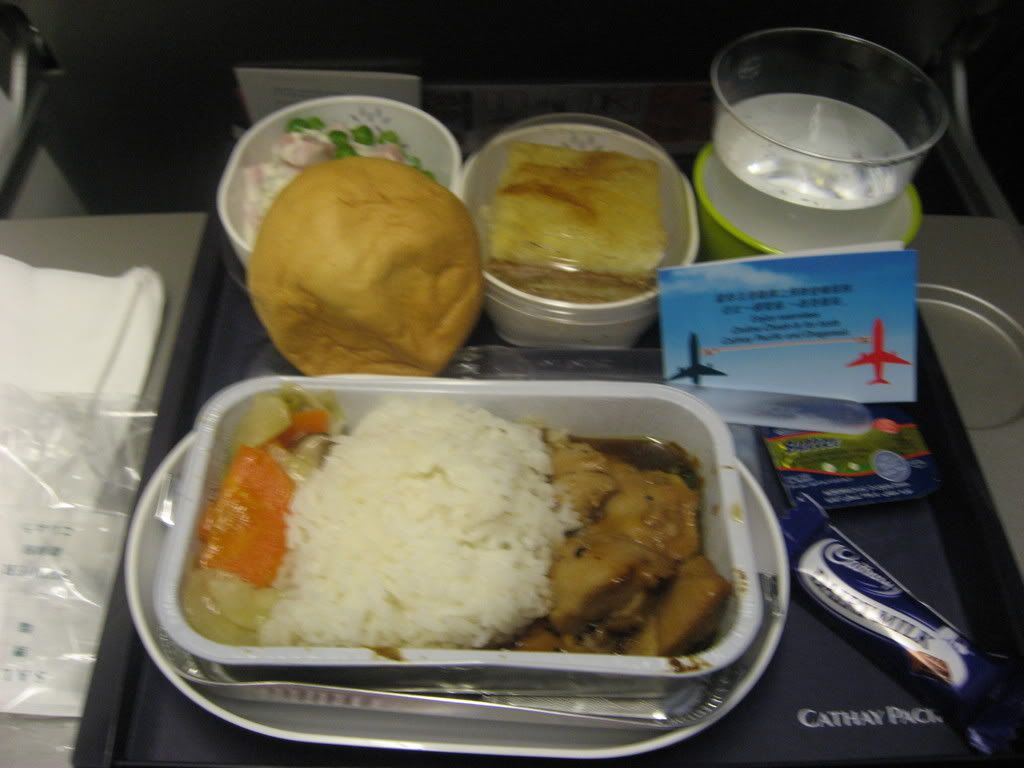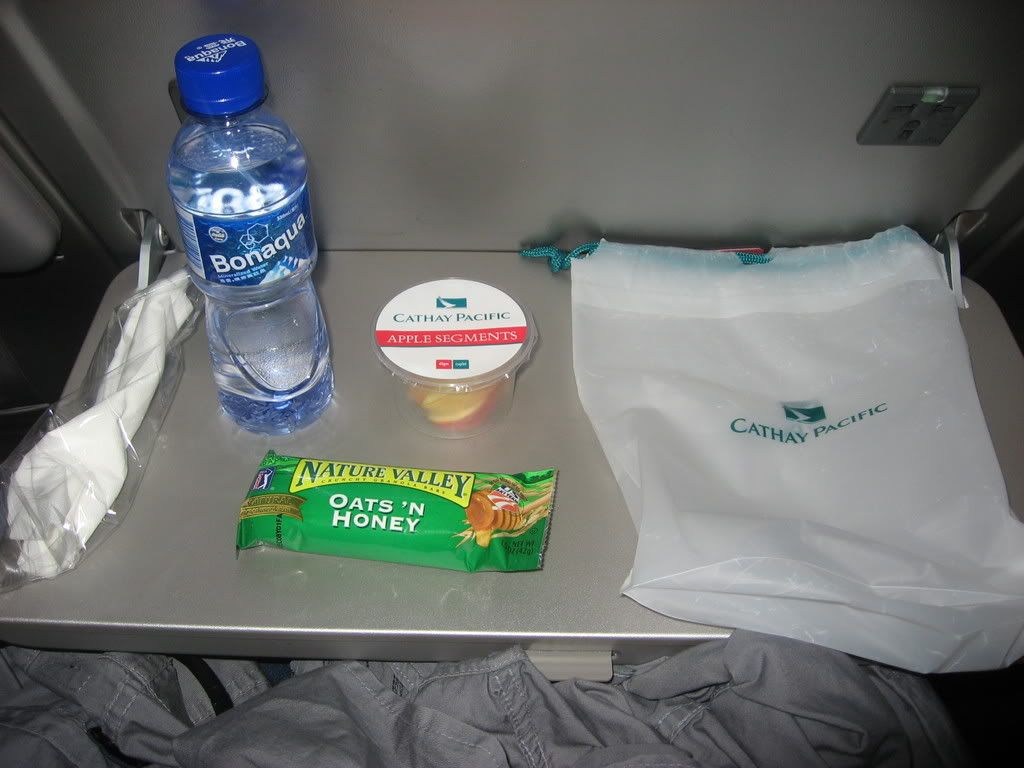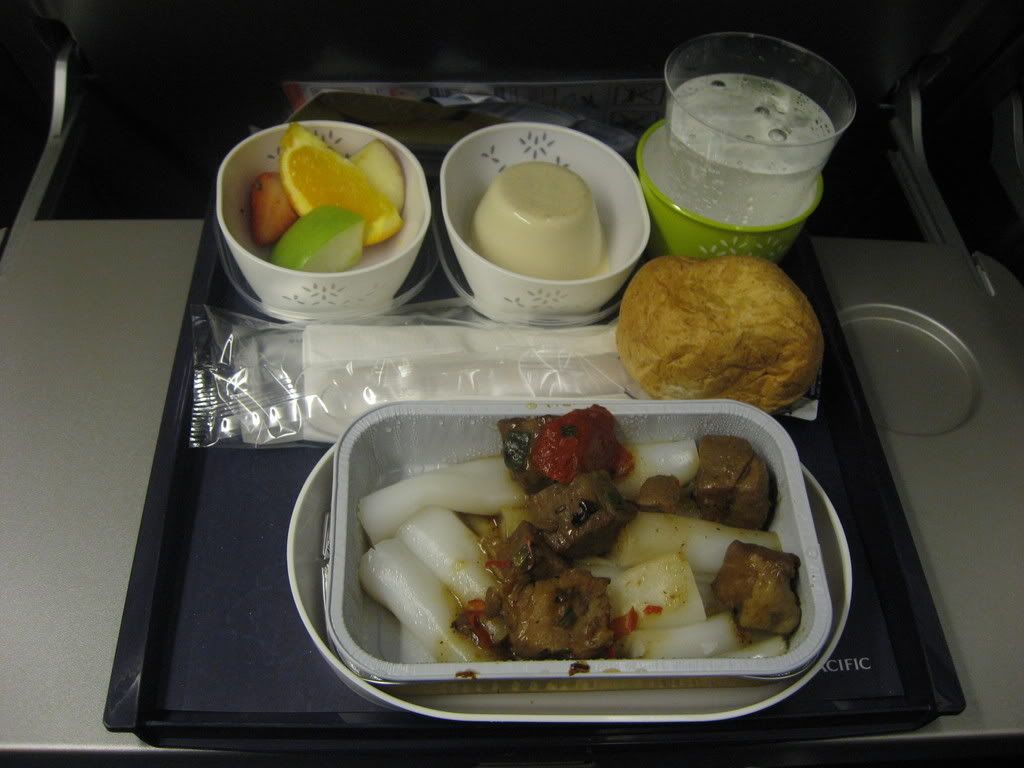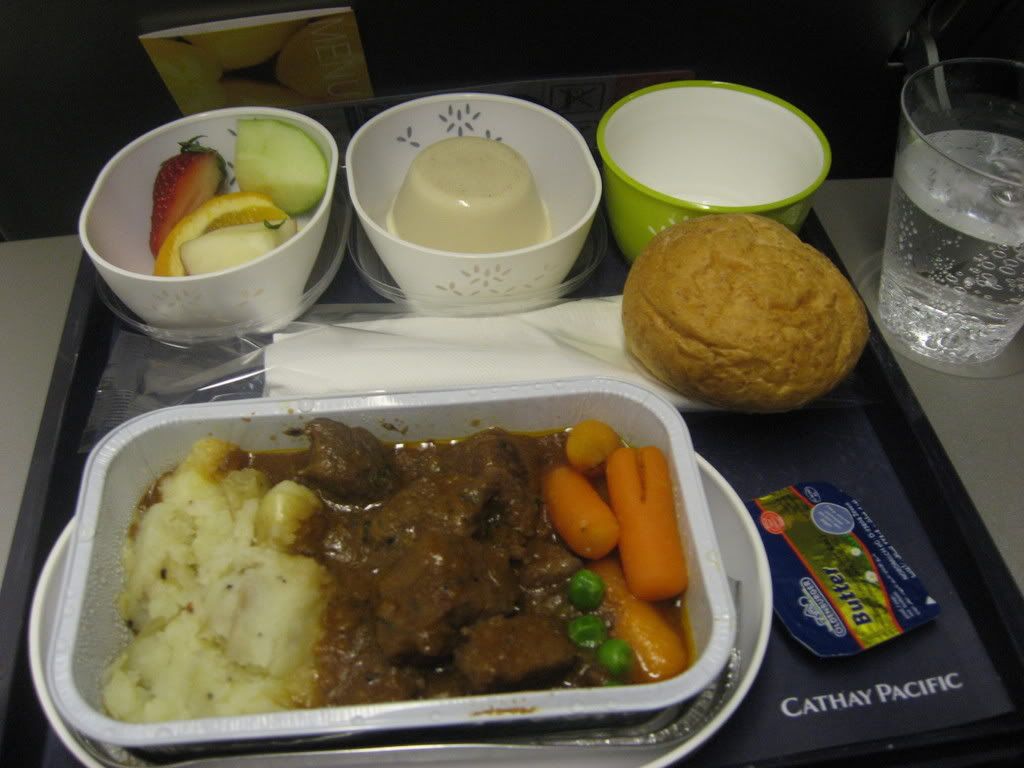 Nice view over JFK