Where is Liepaya and what about Danu Oro Transportas?.
Hello, dear readers,
spring time, with it´s long daylight, is flying time for me.
Where is Liepaya ?, was the question, when I´ve noticed a good fare from Copenhagen.
Booking was done in February.
So, lets go and see!.
Tuesday, 17.06.2008
STR (Stuttgart-Echterdingen) - CPH (Copenhagen-Kastrup)
Duration: 1 hour, 30 minutes
Service SAS SK 668 operated by WDL Aviation BAE 146-100 D-AWDL
Scheduled: 07.05 // 08.50
Actual: 07.15 // 08.45
Gate: 159 Seat: 14A
Load factor: Around 50%
Fare: 54.18 EUR per SK leg
History:
23.12.1983: Delivered to TABA / Brazil
14.06.1986: Royal West Airlines / USA
01.12.1987: Sunworld / USA
03.09.1988: Air Nova / Canada
09.01.1990: Air UK
30.01.1998: KLM UK
30.06.1998: WDL
Premiere, leg no. 1 on the BAE 146-100
The flight to Liepaya departs from Copenhagen, so SK was the best option to go.
Interesting sub-leased planes there at SK nowadays, one more reason for this trip.
No online check-in for flights departing from STR possible, LH does the check-in for SK.
I don´t want to queue for the counters Tuesday morning, so I´ve decided to visit STR monday afternoon.
No problem to check-in at the LH self service machine for the outbound leg to CPH,
the inbound was not announced. So further to the counters, where more agents waited than pax arrived.
No time to wait till a friendly female searched the system to check me in for the return flight.
Only a minute thereafter I´ve was on the way back with the first two of four boarding passes for the next day.
06.45 am was announced as boarding time, I´ve reached the airport at 06.15 am, long queues at T1 security,
no time to wait at T3. My gate was at T1, the well known bus area at the ground floor.
I was present there at 06.30 am, settled down and waited for the call.
That seems all well organized, perfectly ontime the door opened and the first pax entered the bus.
The plane was parked at the far eastern parking position, near the general aviation area.
STR is busy these days, also with visitors for the football games in Austria and Switzerland, I saw sometimes planes parked at the cargo area, opposite the
terminals.
Eastern from Scotland: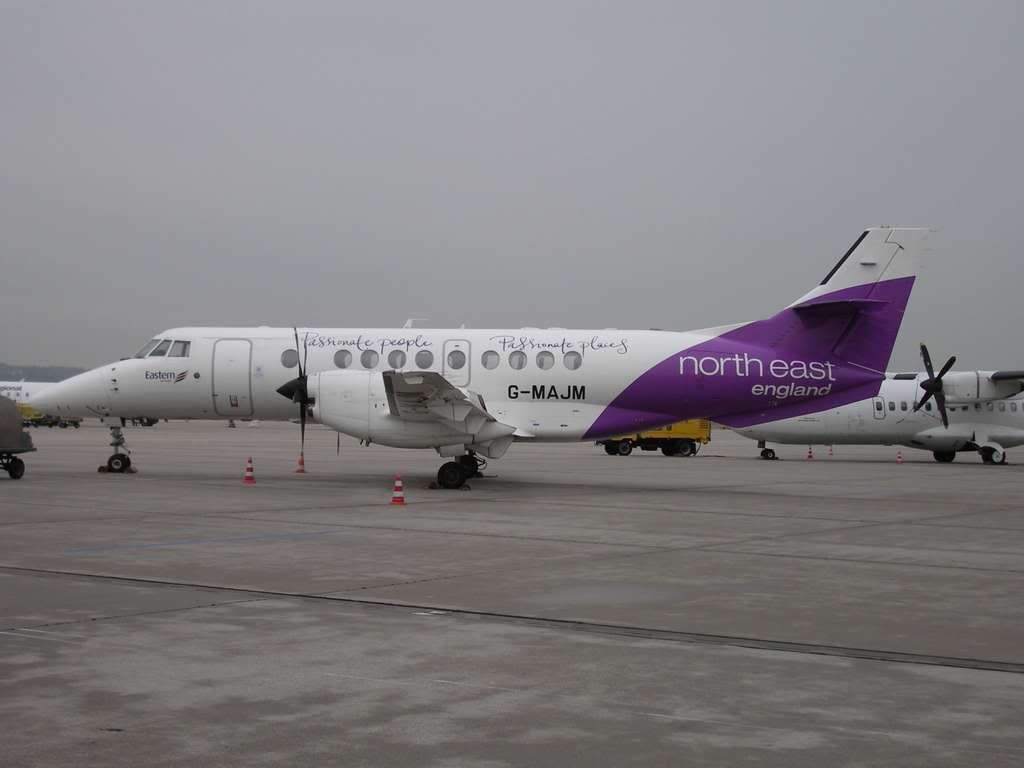 Polish White Eagle:
Eastern again:
WDL operates a mix of BAE planes on the SK sublease operation. The -200 and -300 series is in my log, the -100 is still missing,
never more, the single -100 series plane waited for me. A first time, so a nice starter for me on this trip.
Welcome to my first BAE-146-100 flight:
Close-up: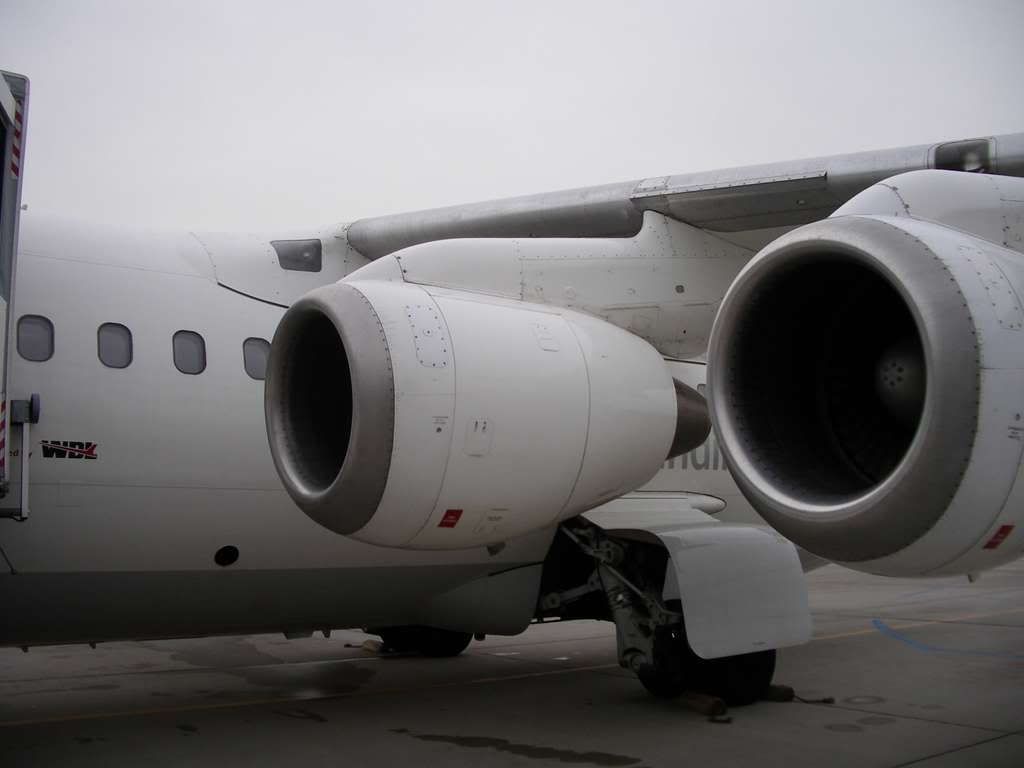 Boarding:
Two female FA´s, friendly so far, greeted me. Dark grey leather seats, the cabin oldfashioned, but clean.
Comfortable legroom in row 14, 2/2 seating there. The whole interior shows a well used aircraft.
Indoor: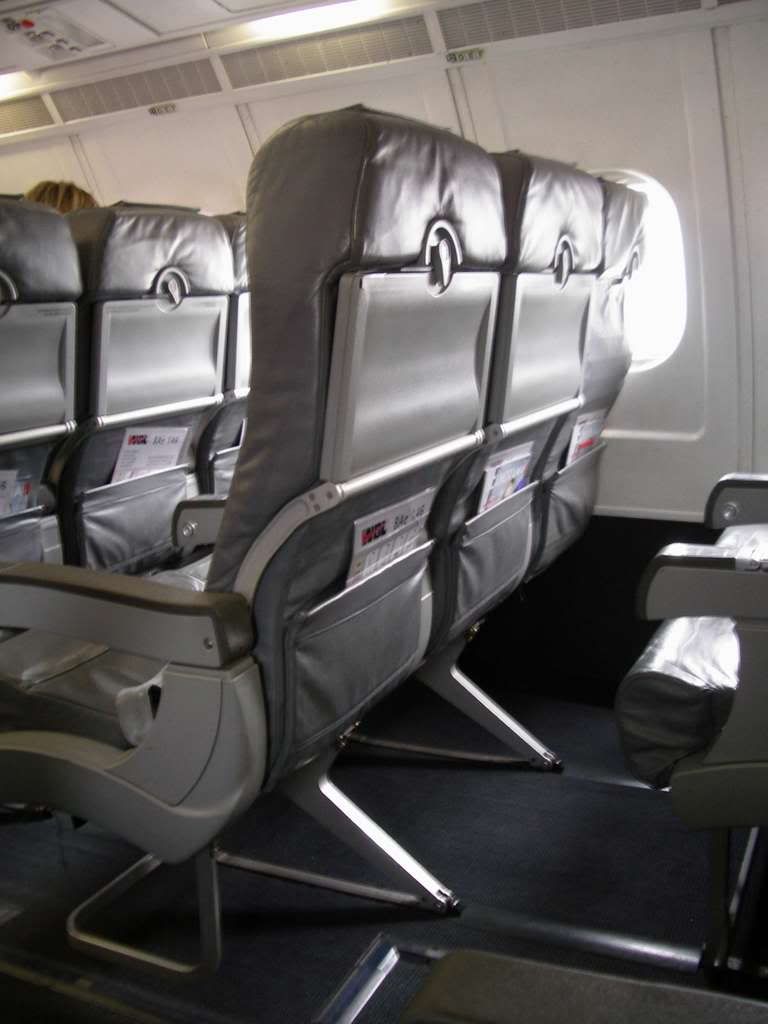 25 years back: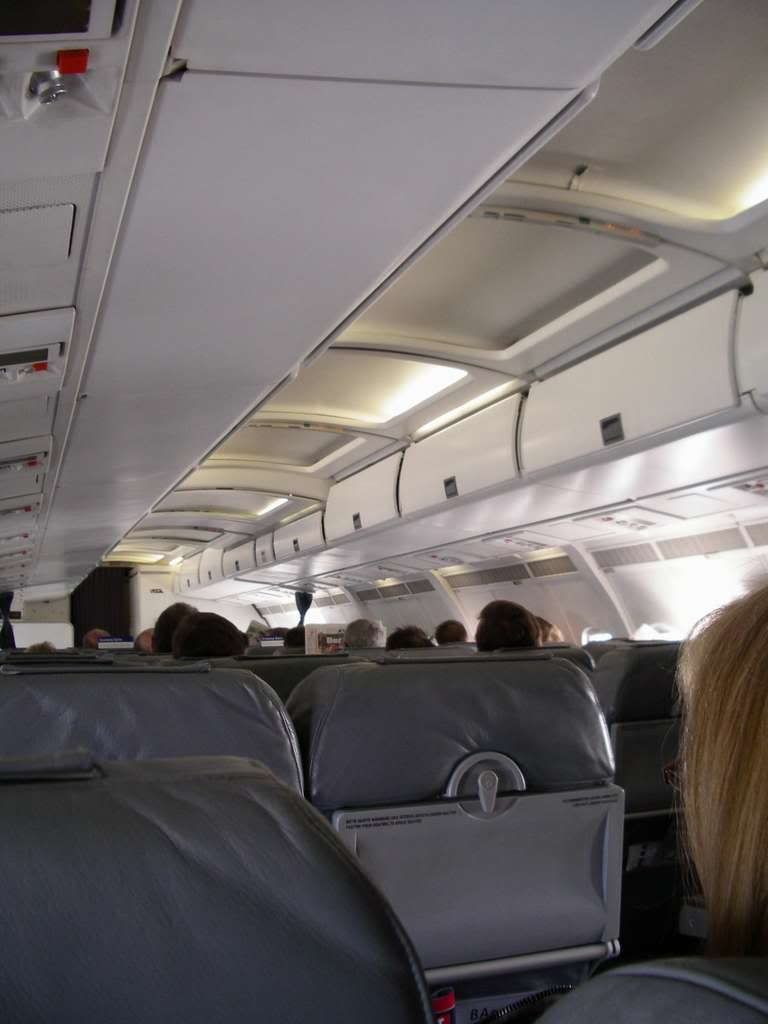 The noise level was impressive, nearly no chance to understand the announcements.
Therefore no comment from the flightdeck, or I´ve dont noticed it.
Cockpit crew was according to the names from Germany.
Departure from runway 07, very noisy and a real short takeoff.
Service: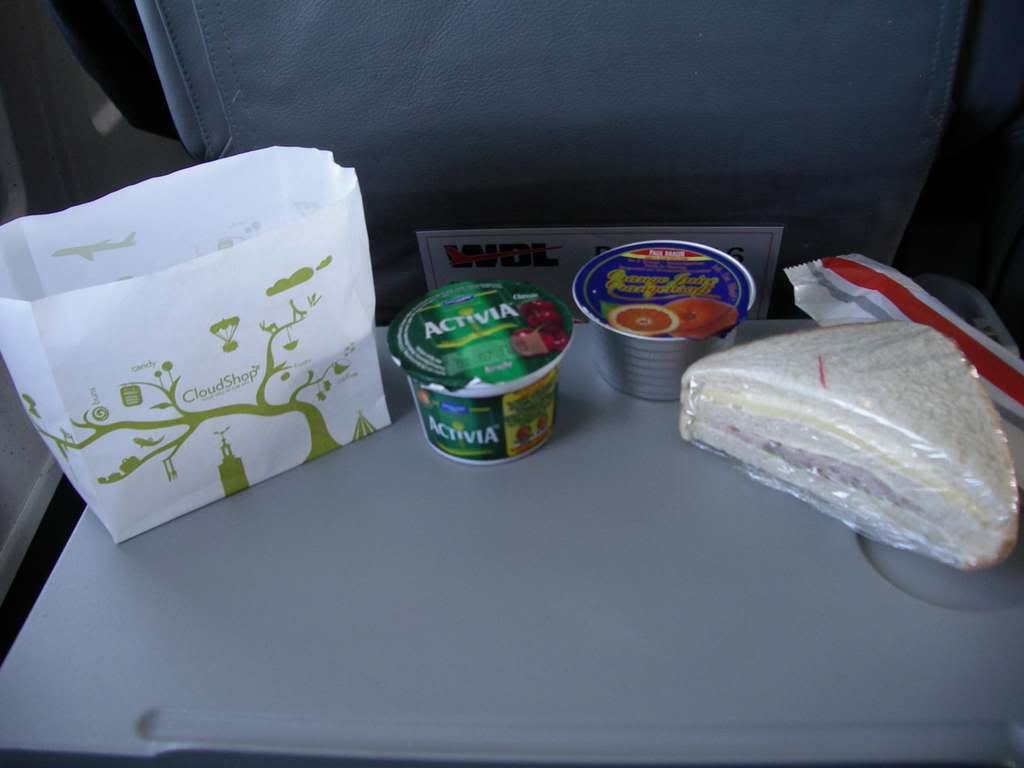 The flight path leads us east of FRA and HAJ directly to CPH.
Clouds till FRA, much better views later. No flightlevel info.
Leaving Germany, note the extremely scratched windows: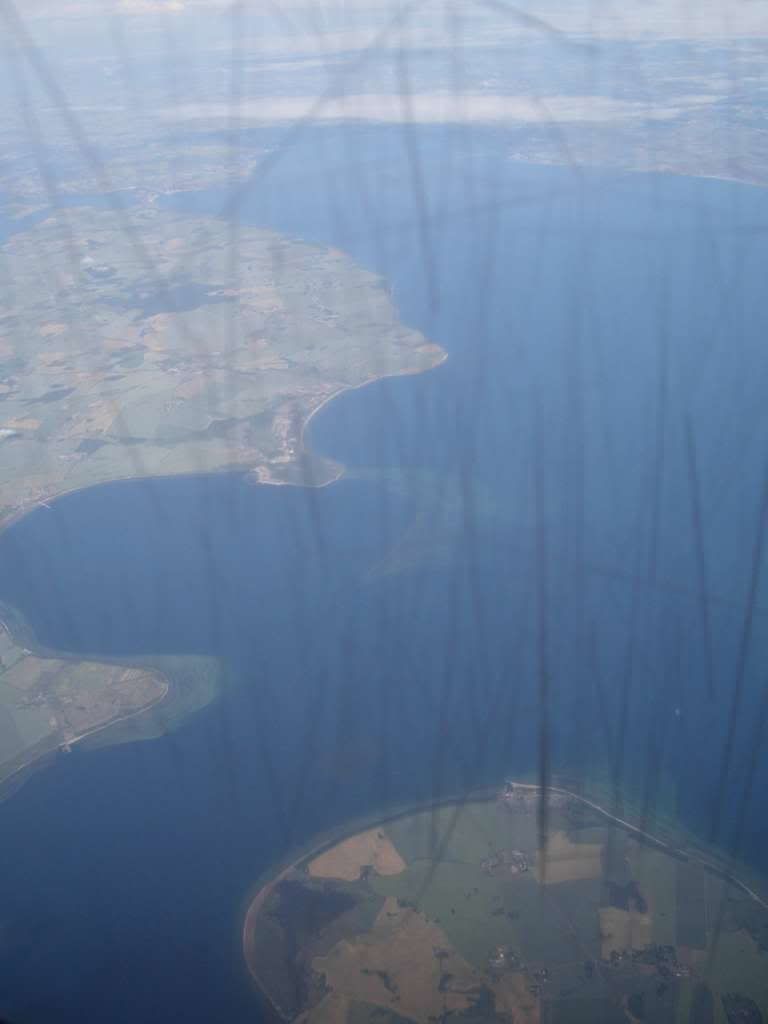 Approach to CPH:
The Oresund bridge: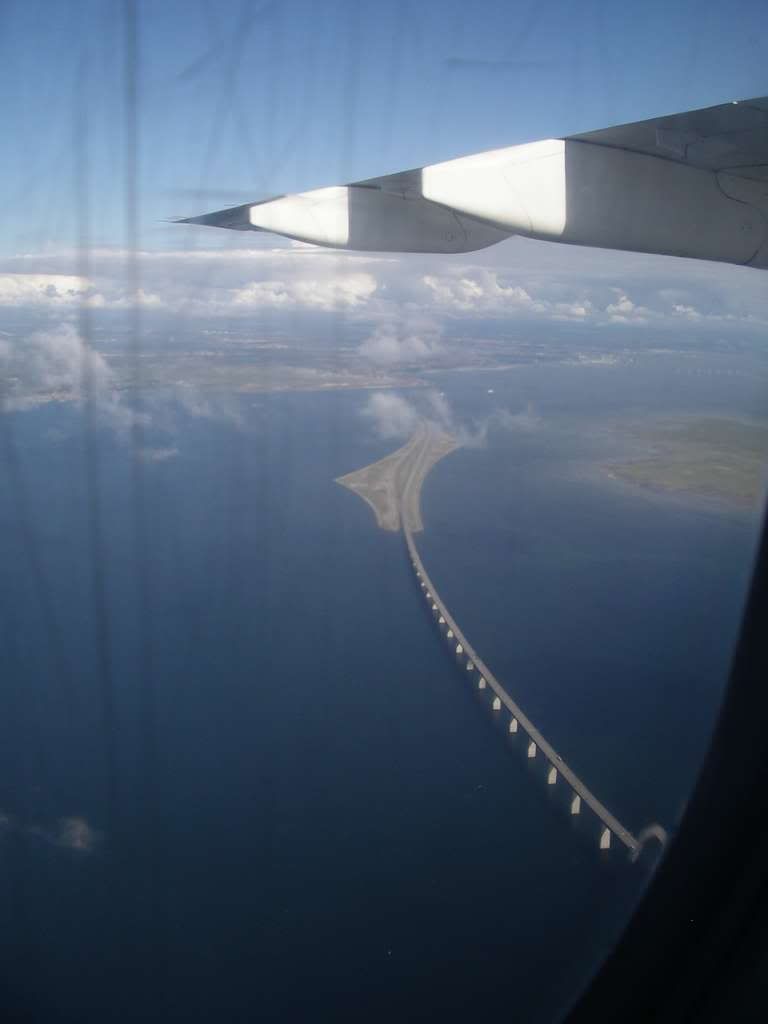 Arrival later on runway 22L, only a short way to leave the runway and parked far from the terminal near the SK technics hangar.
Welcome to sunny CPH: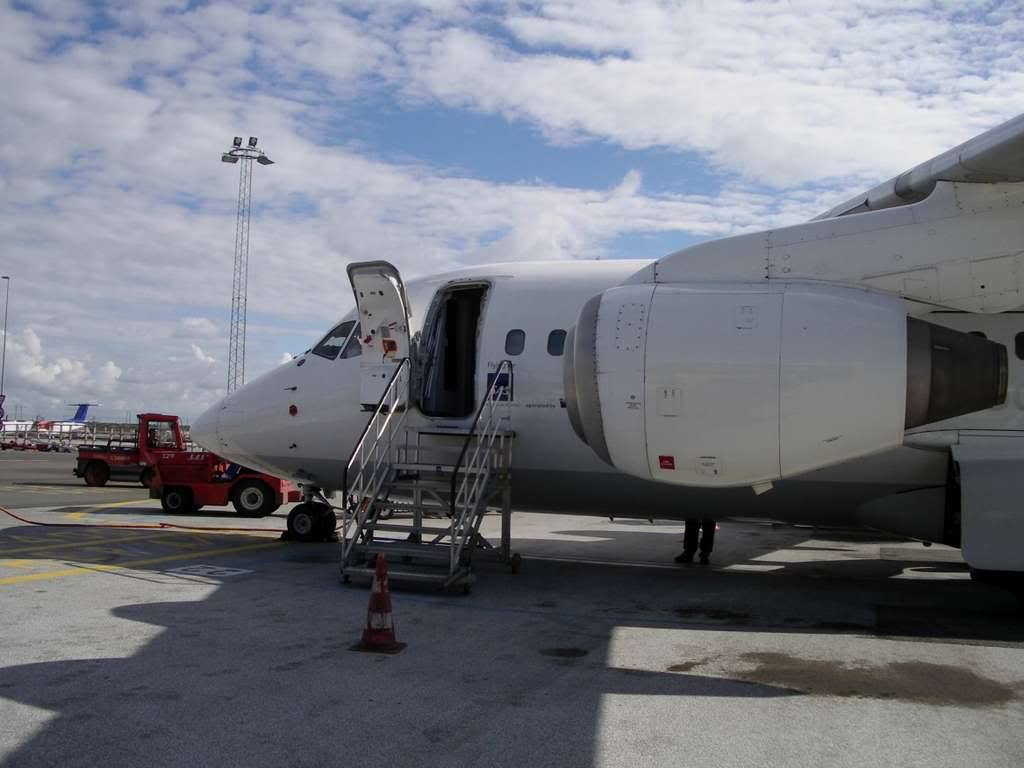 See you later!: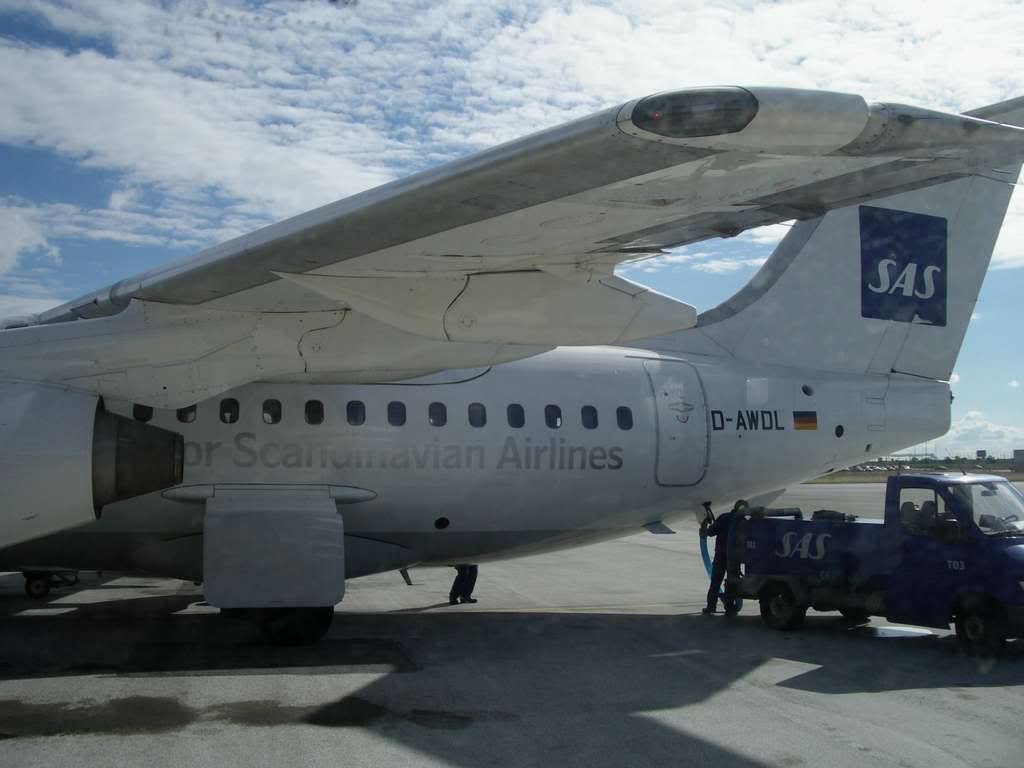 Ex-SK Dash 8-400:
Bus transfer to the main building.
Tuesday, 17.06.2008
CPH (Copenhagen-Kastrup) - LPX (Liepaya)
Duration: 1 hour, 20 minutes
Service Air Baltic BT 011 operated by Danu Oro Transportas ATR 42-300 LY-LWH
Scheduled: 10.20 // 12.50
Actual: 10.25 // 12.45
Gate: A25 Seat: 12A
Load factor: Around 60%
Fare: 39,93 EUR per BT leg
History:
24.08.1989: Delivered to NFD / Germany
01.01.1993: Eurowings / Germany
24.03.2000: Coastair / Norway
14.03.2008: Danu Oro Transportas
Leg no. 4 on the AT 42-300 and the first on this machine
Online check-in from Copenhagen seems available on Air Baltic´s website, but CPH was never more on the list at step 2.
CPH stated some self-service kiosks in Terminal 2 also for Air Baltic.
Surprisingly, the machine told me that check-in with non E-tickets was not possible, there. Seems like a joke.
Further to the announced desk. Had a nice chat with the friendly guy there, not that much action and was checked in without further questions to Liepaya.
No time to wait at security, a long walk to the end of the A gates, settled down and viewed the action outside.
Some minutes thereafter, I was called to the counter and you know the reason:
"Mr. X, let me see your ticket".
I´ve explained that there was no ticket and I´ve had no clue that there was a paper ticket to collect.
The girl there called someone and told me that it was ok.
Let me say, I was a bit concerned, not to fly to Liepaya, sad, but not to fly from Liepaya back, that will be a real problem.
Later at home I´ve recognized that I´ve printed only page one, economically as always, of the BT confirmation, maybe on page 2 was some ticket information.
The plane directly in front off the gate was registered in Lithuania, no company sign at all.
Suspicious machine: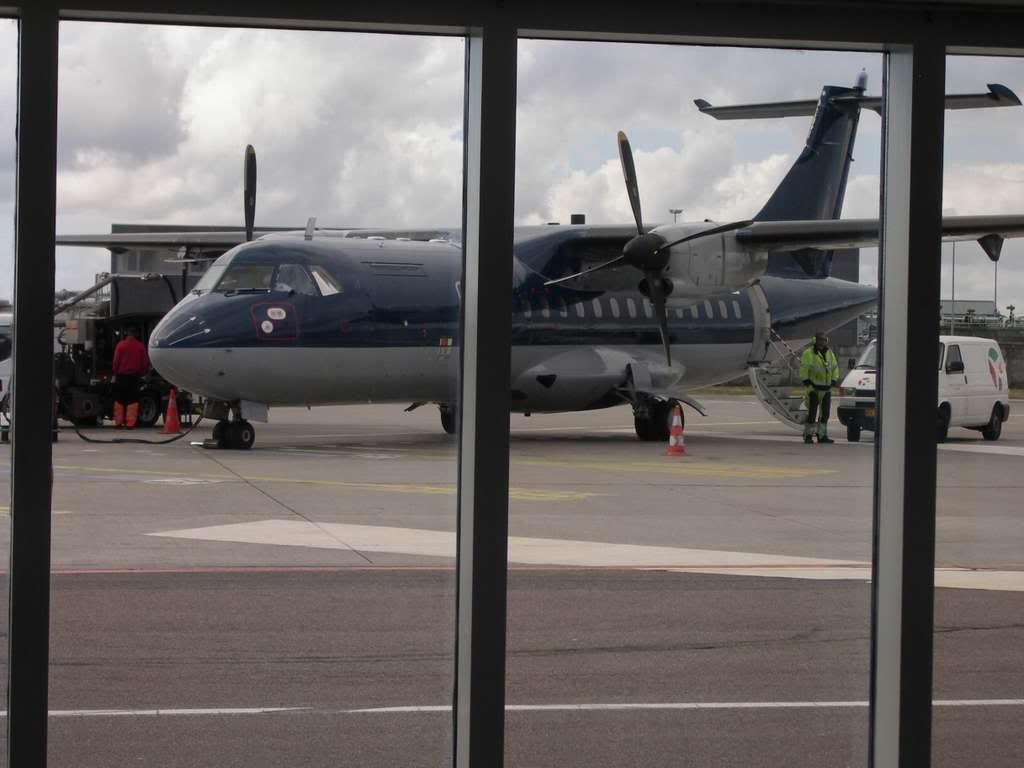 Boarding was called some minutes late and I´ve walked the short distance to board the machine.
Closer: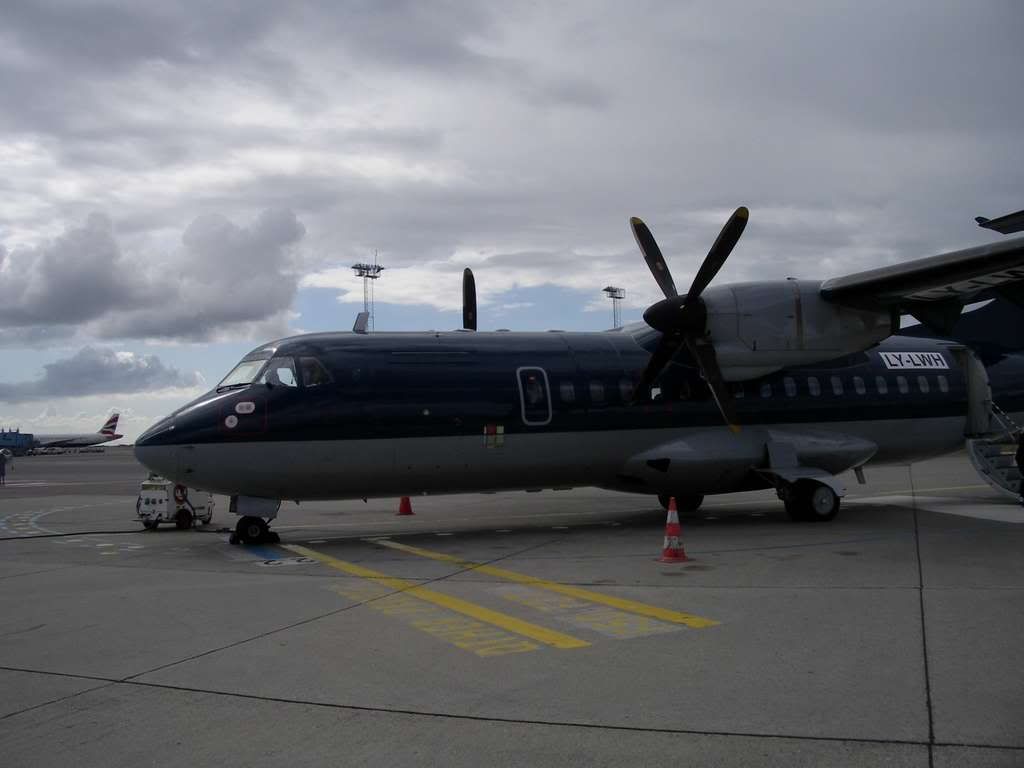 Boarding: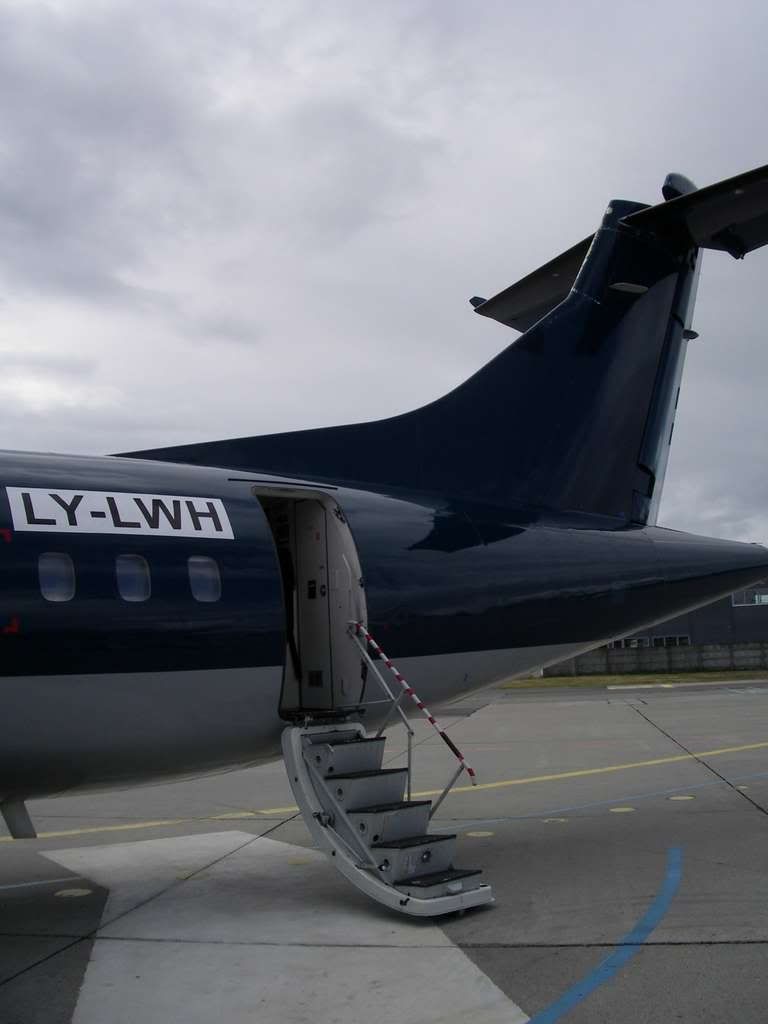 Close up: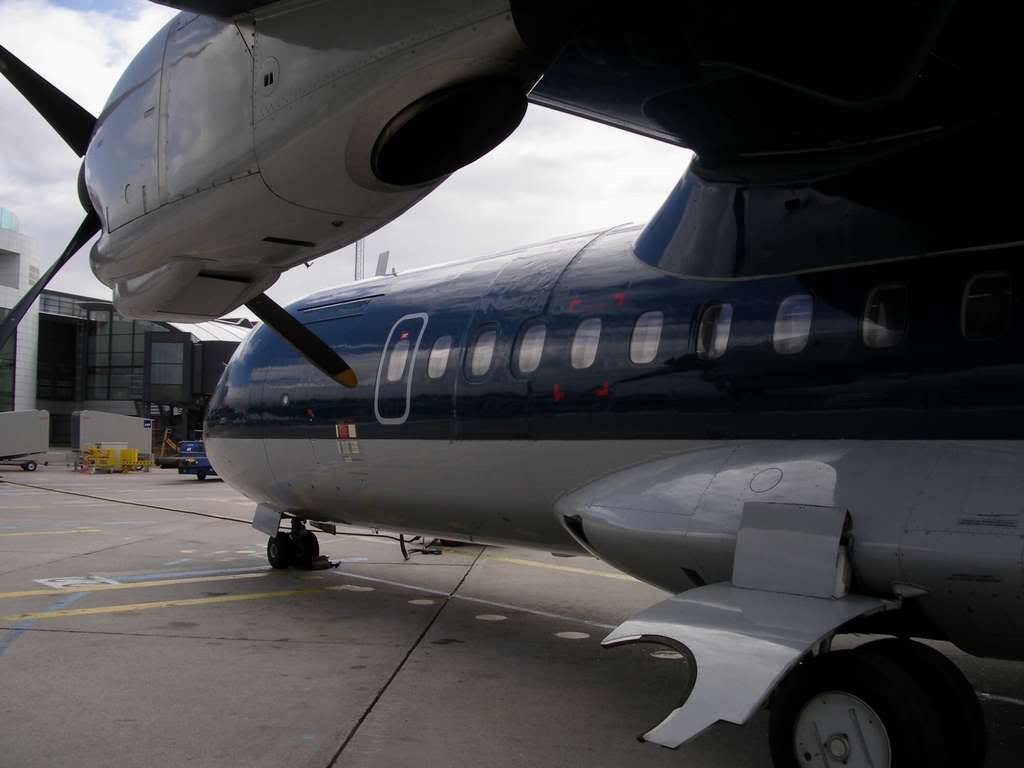 One friendly male FA greeted me at the door.
Dark blue fabric seats, worn out interior, not the best first impression.
Inside:
The captain walked around, while the rampers loaded some more cargo. He was an well experienced whitehaired guy, it seems from the Baltic region.
Departure from runway 22R and further along the swedish coastline over the baltic sea.
CPH in the distance: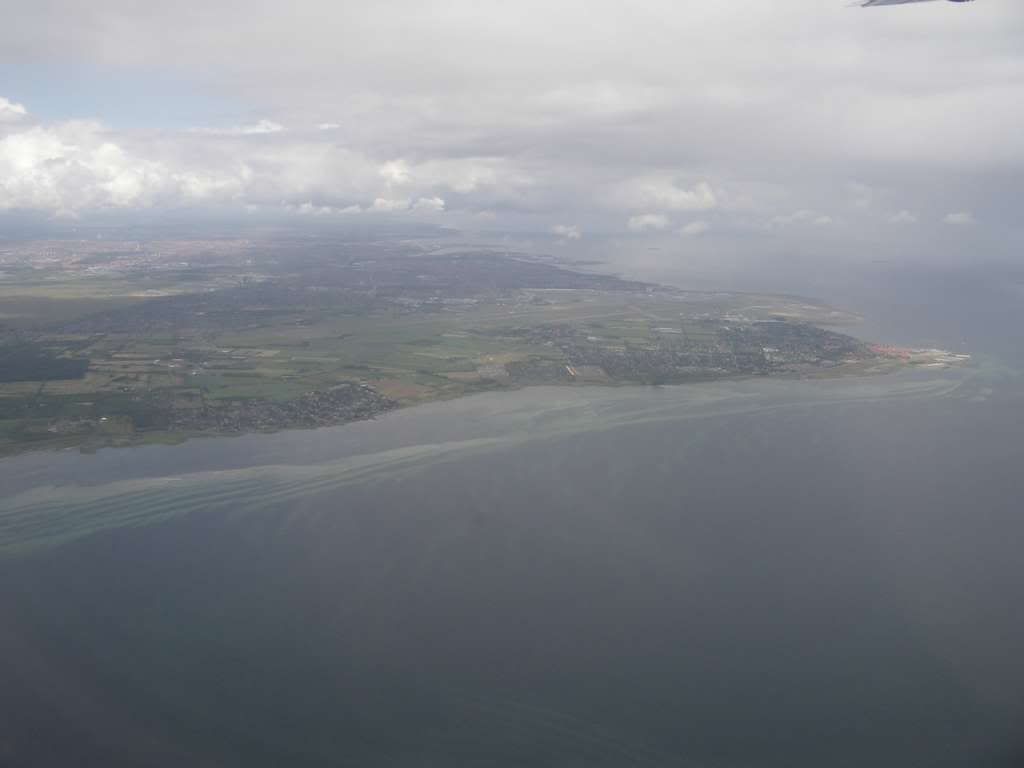 Oresund again:
A sandwich and free drinks on offer.
The captain announced later shortly the weather situation in Liepaya.
Good views along the whole route, no flightlevel info, some heavy clouds near the Latvian coastline, but we circled around.
Approach over the city and touchdown on runway 07.
Welcome to fighter base Liepaya:
.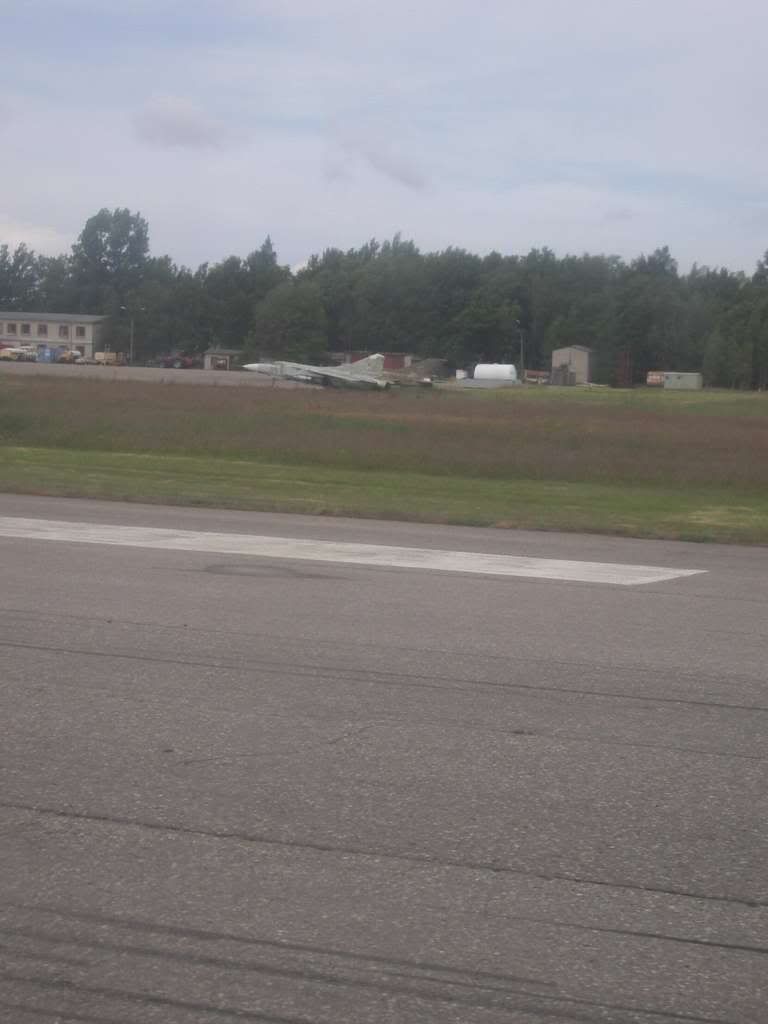 Again, see you soon!: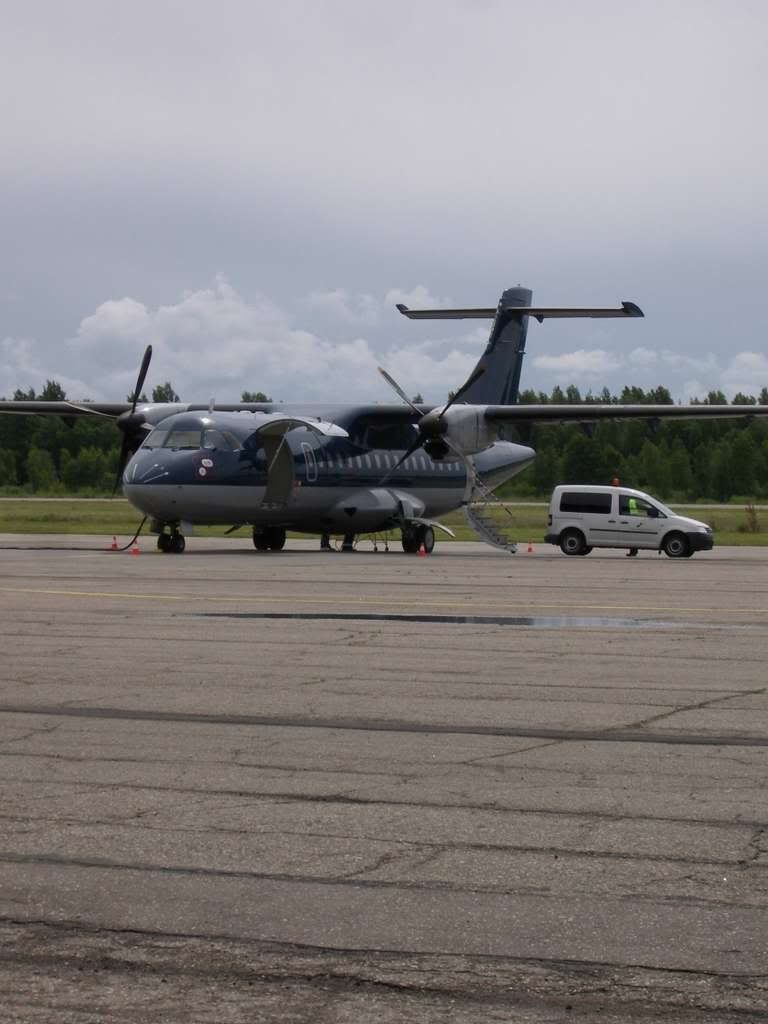 No bus there in Liepaya, so I´ve walked over the apron to a small building, which was the arrivals terminal or garage.
A tractor delivered the few bags and the pax had to pick it up, I´ve remembered something similar years ago in Hobart, Tasmania, great fun there.
Fight for your bag.
Another small building was the departure area. Only a little desk there used as airport information, ticket counter and check-in.
Lidosta Liepaya: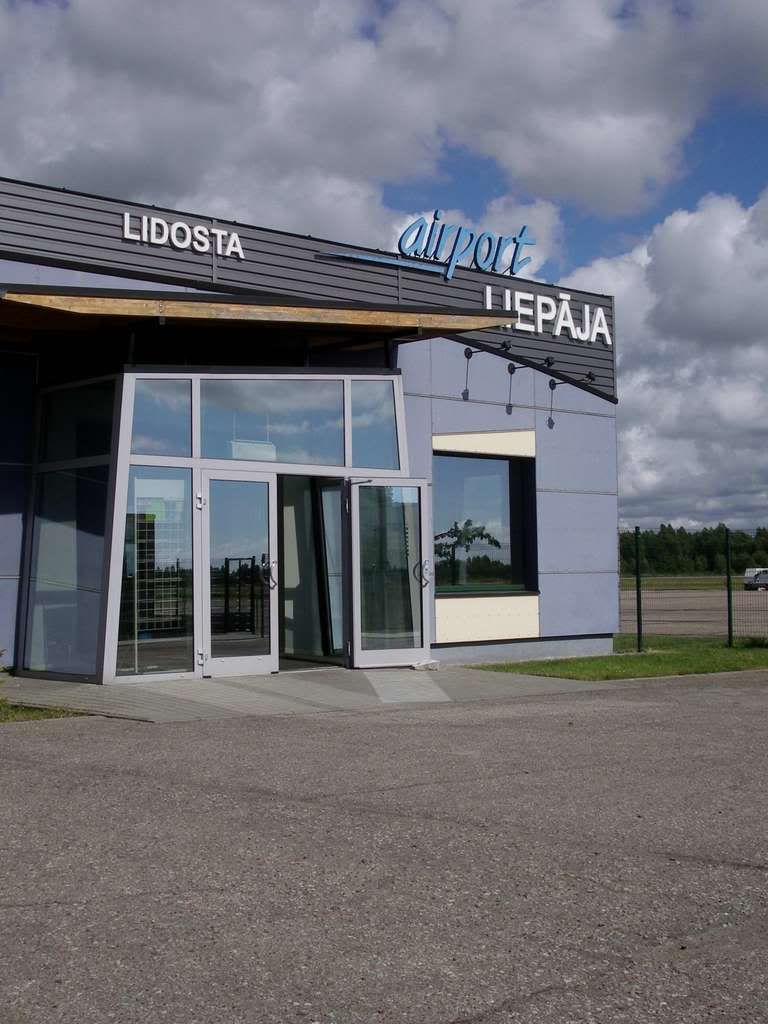 After the experience at Copenhagen, I´ve decided to ask immediatelly if check-in for the return leg was possible.
A friendly young male picked my hand written boarding pass from the CPH afternoon pile, wrote a new one, when I´ve asked for a window seat.
And what about a ticket, no question at all.
So time to go for the city.
There is a bus service, but not very frequently, so I´ve know from my book that a taxi to the city cost´s around 5.-- Euros.
I´ve asked the single driver there, he confirmed my quote and so I´ve shuttled in the back seat of a very dirty old Opel to the city.
Welcome to Latvia.
Some pix:
Anna church:
So, dear readers, what would you do if the following happens:
Me, as the always curious traveller, found the door to the clock-tower in Sant Anna church open.
A notice shows that the entrance is free, beneath a donation.
I´ve climbed it up, interesting experience by very old wodden stairs.
In the clock tower:
From above: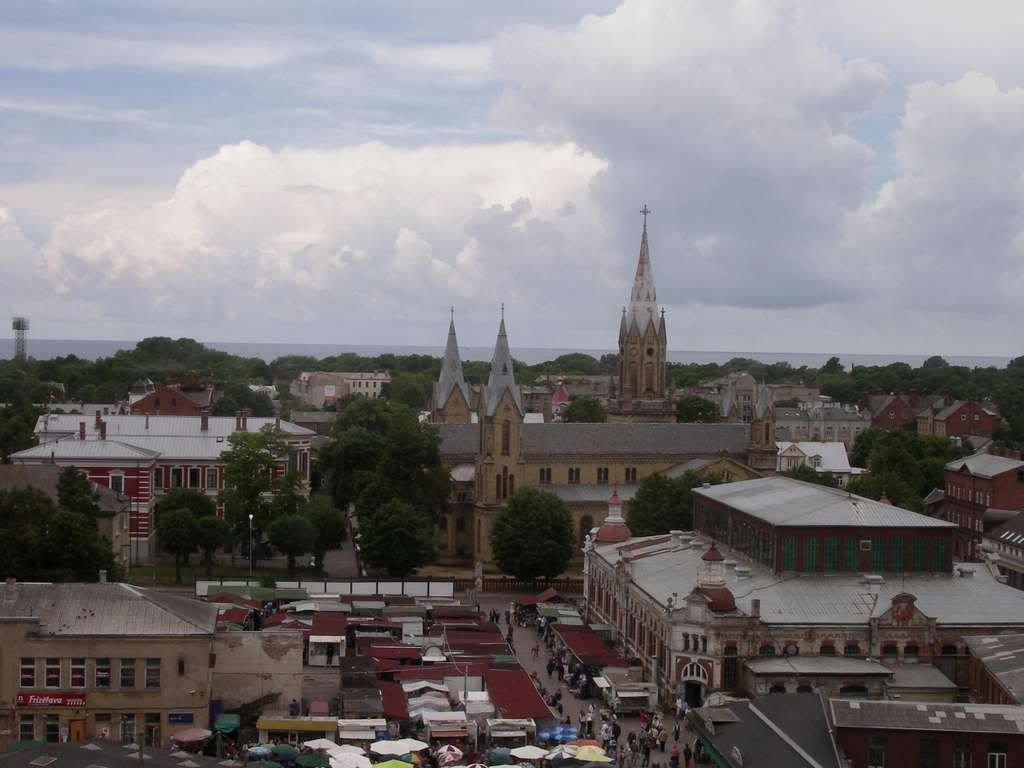 Some pix from above, climbed down and the single door was closed.
I was the once and only visitor there.
Trapped in the clock-tower.
No chance to open the door from the inside.
I´ve decided to wait some minutes if someone walkes along, so I knock at the door or call the person.
No one was there.
Thanks god, I´ve had my book and mobile with me, so I´ve searched for the number of the Liepaya tourist information, secured,
called them. I´ve told my story to a friendly girl there, told it again, she cant belive it.
But finally she answered that she will try to reach someone at the church´s office.
More minutes later a nun arrived, she speaks no english, but I think she closed the door for a break and dont noticed me.
Lucky, back in freedom again.
My prison: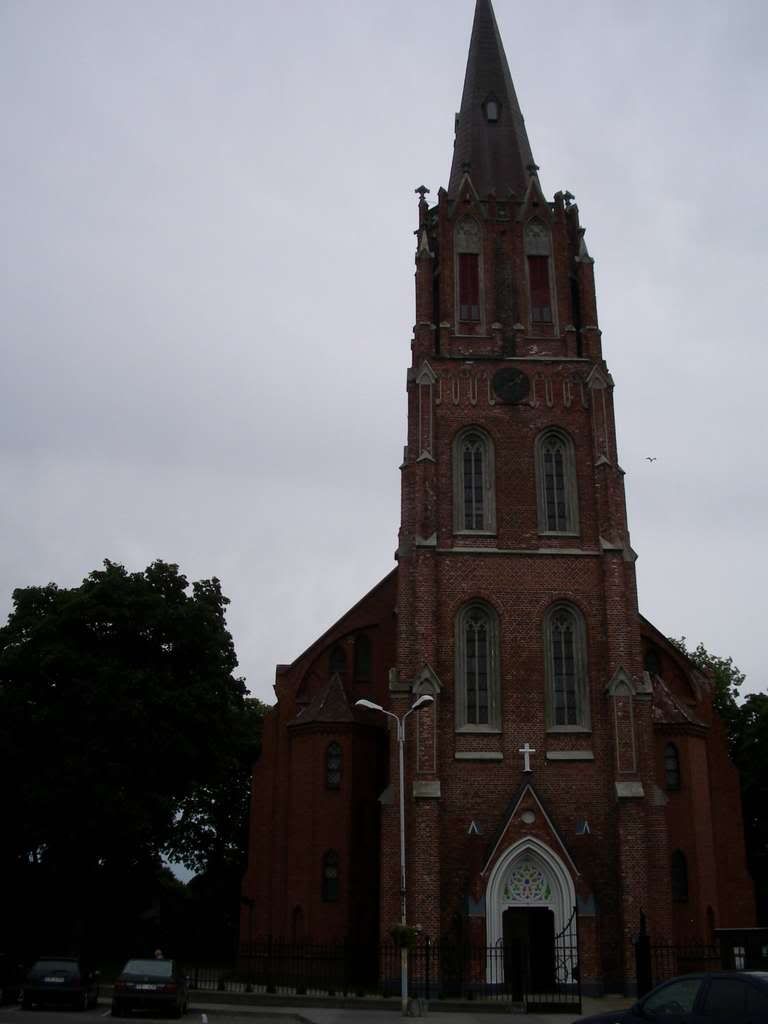 The old market hall: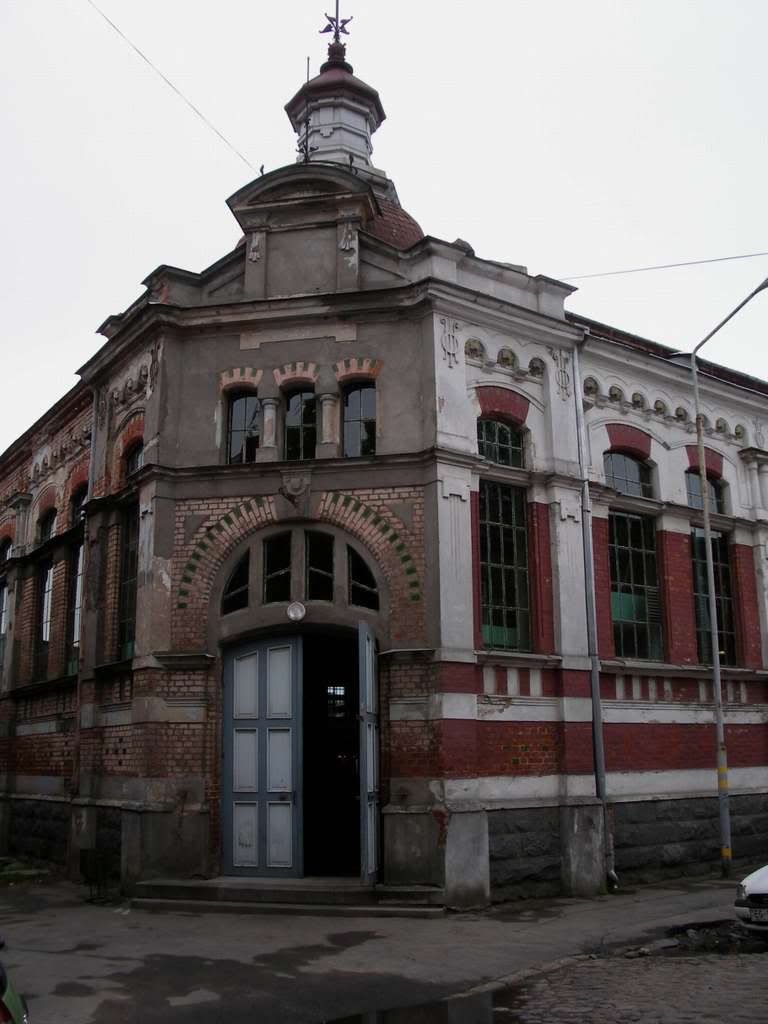 St.Joseph:
At the beach: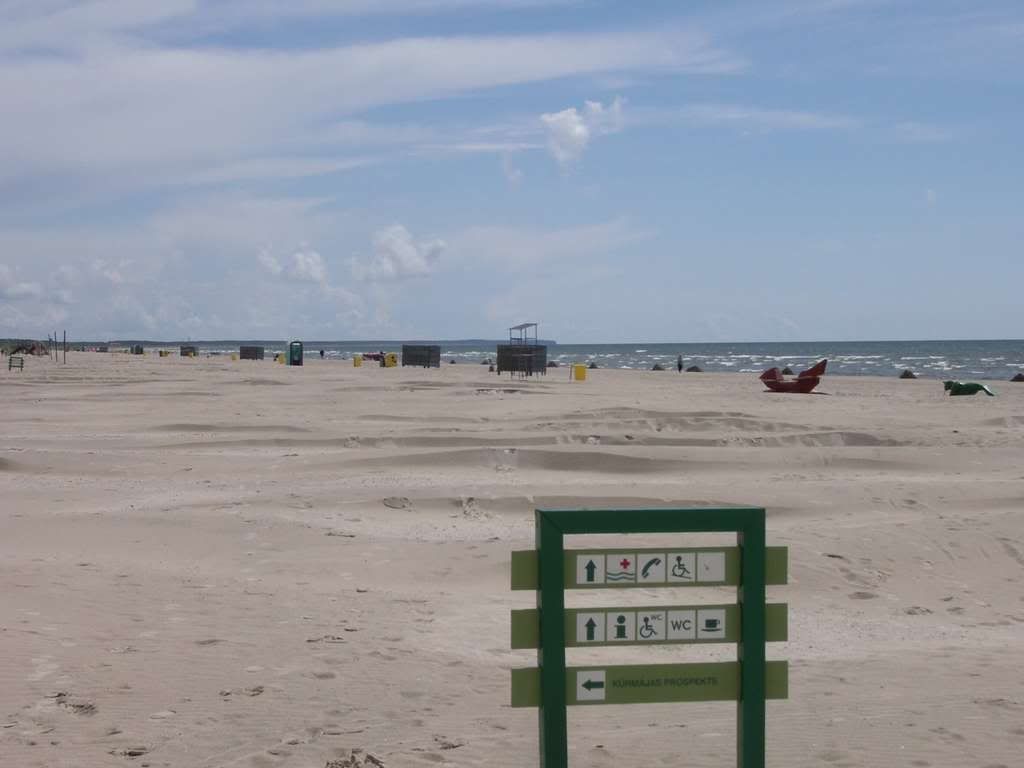 Again: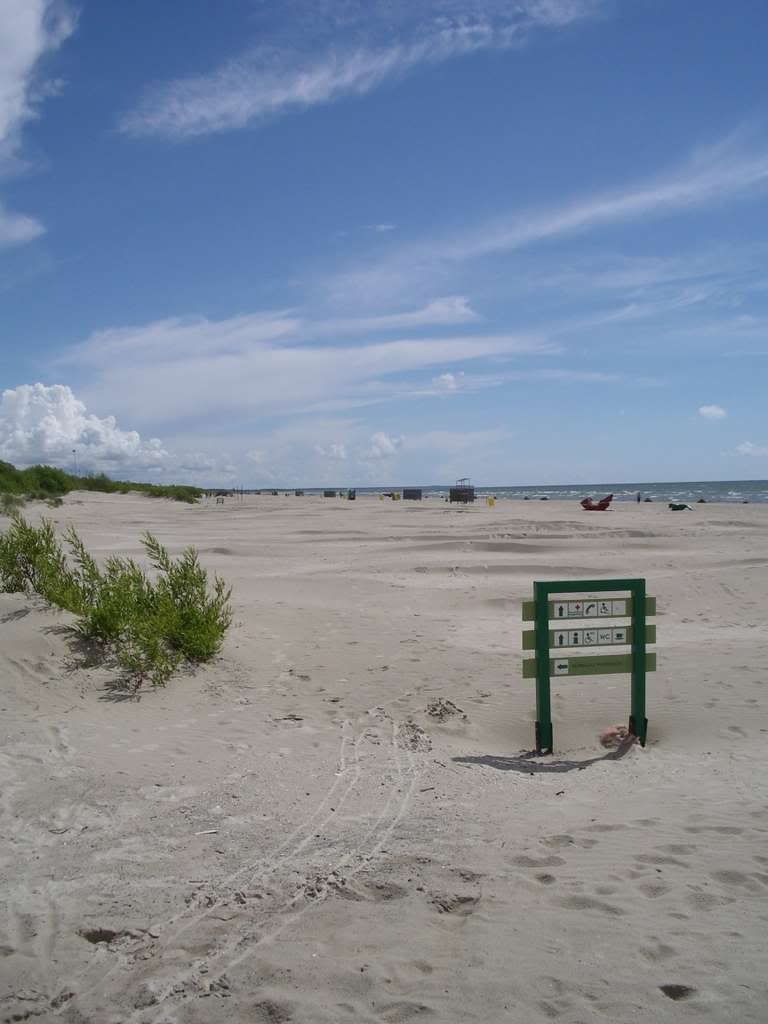 Once more:
Beach biking: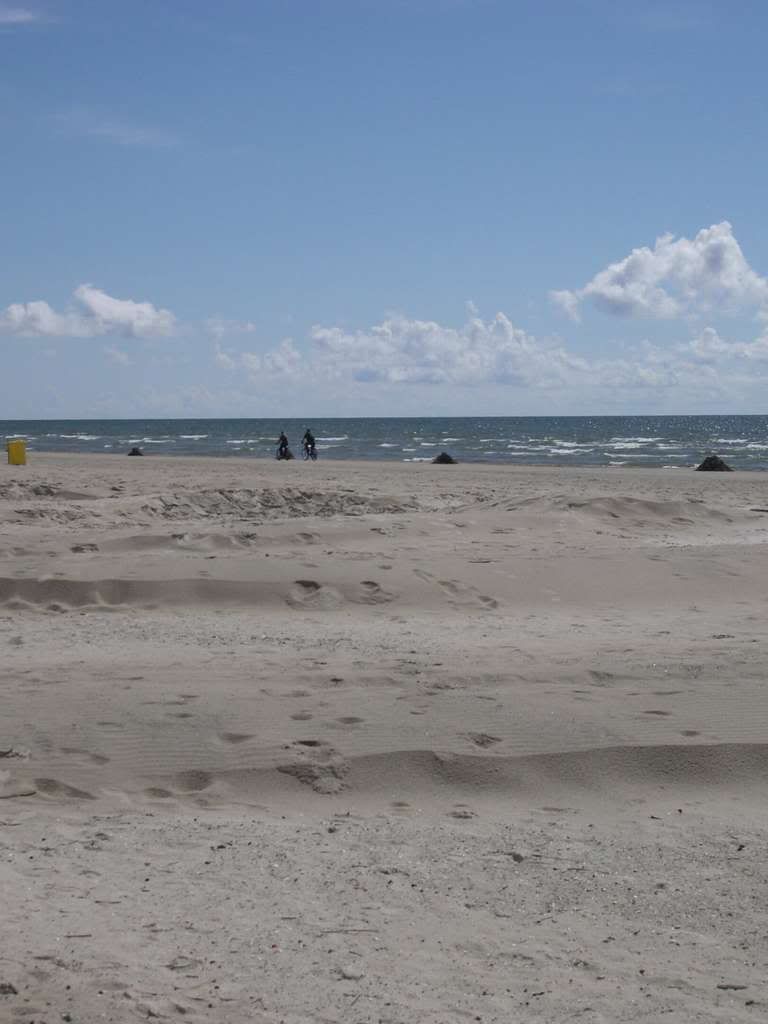 Still a lot to do:
Nice architecture: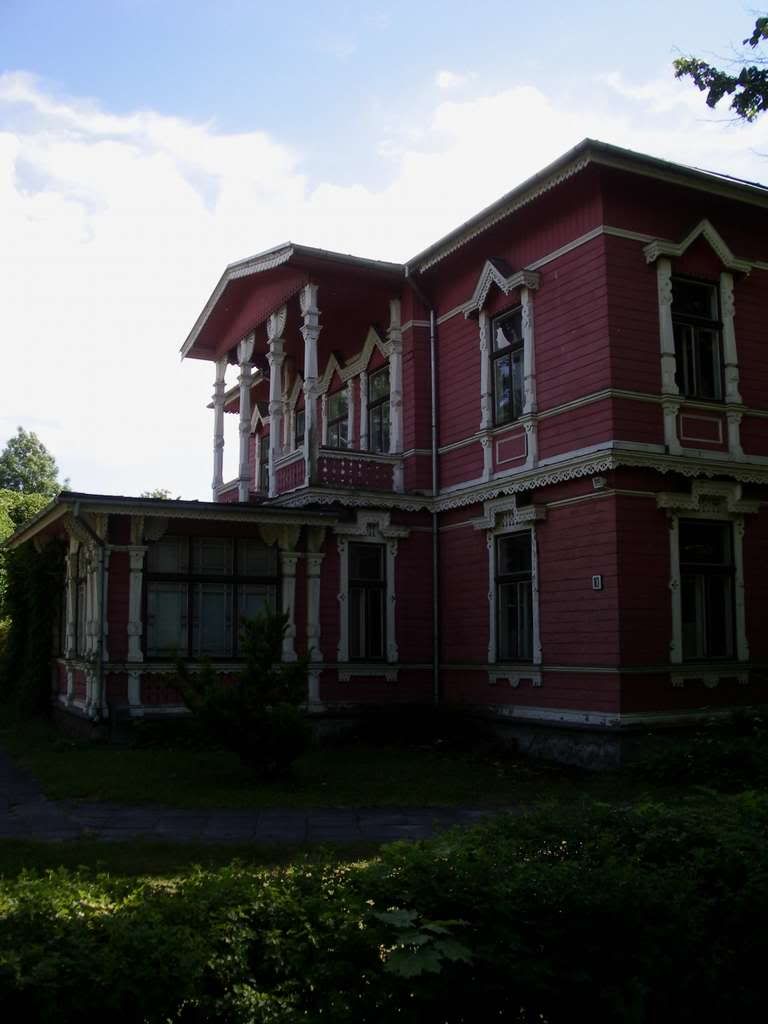 And again: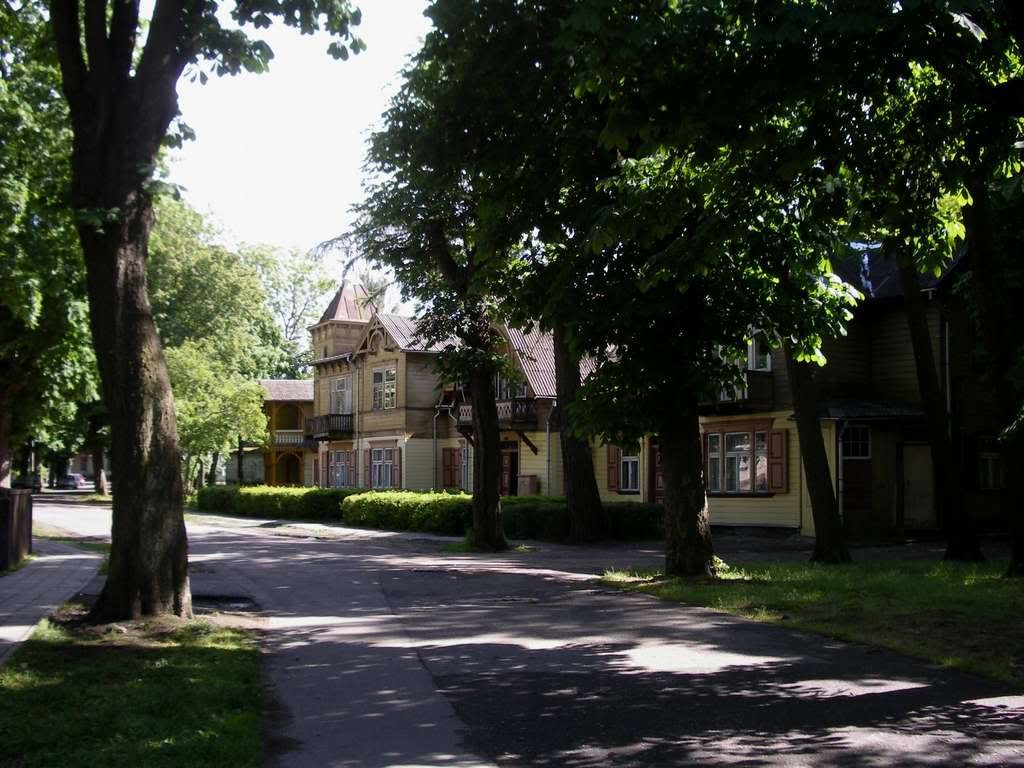 Tuesday, 17.06.2008
LPX (Liepaya) - CPH (Copenhagen-Kastrup)
Duration: 1 hour, 25 minutes
Service Air Baltic BT 012 operated by Danu Oro Transportas ATR 42-300 LY-LWH
Scheduled: 18.10 // 18.40
Actual: 18.15 // 18.40
Gate: Only one gate at LPX Seat: 10F
Load factor: Around 50 %
Leg no. 5 on the AT 42-300 and the second service on this machine
Return to the airport again by taxi at around 5 pm.
Not that much pax around.
I´ve followed the arrival of my machine from Hamburg from the outside and was the last pax to pass security.
Arrival from HAM:
Taxi: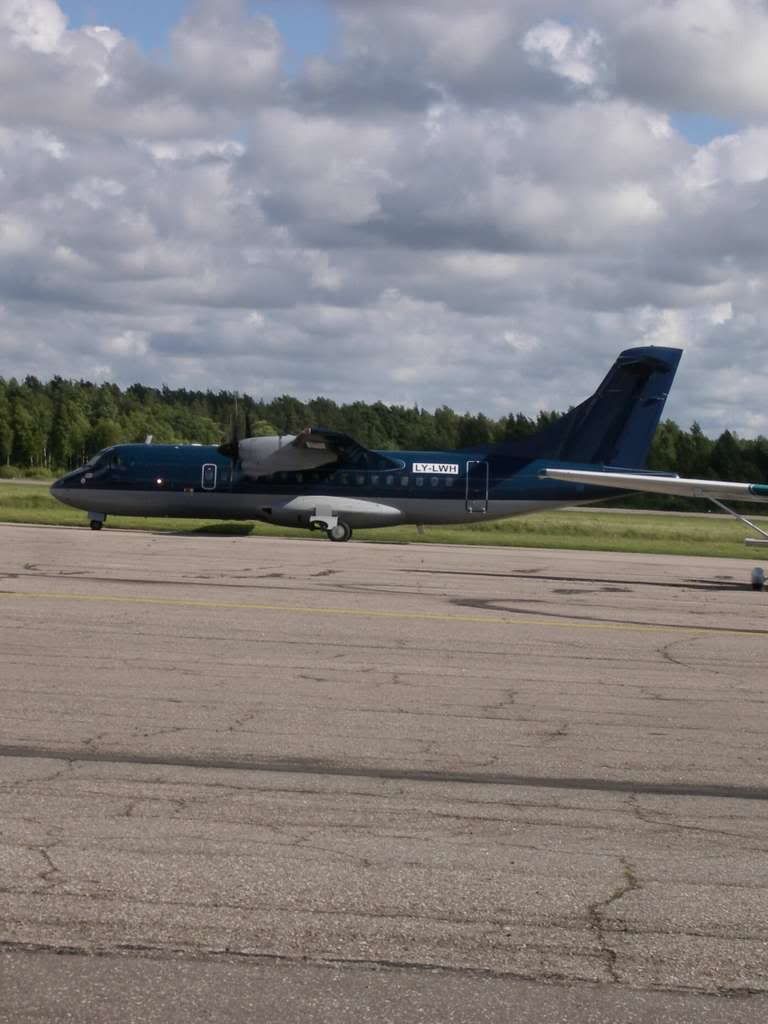 Ground handling: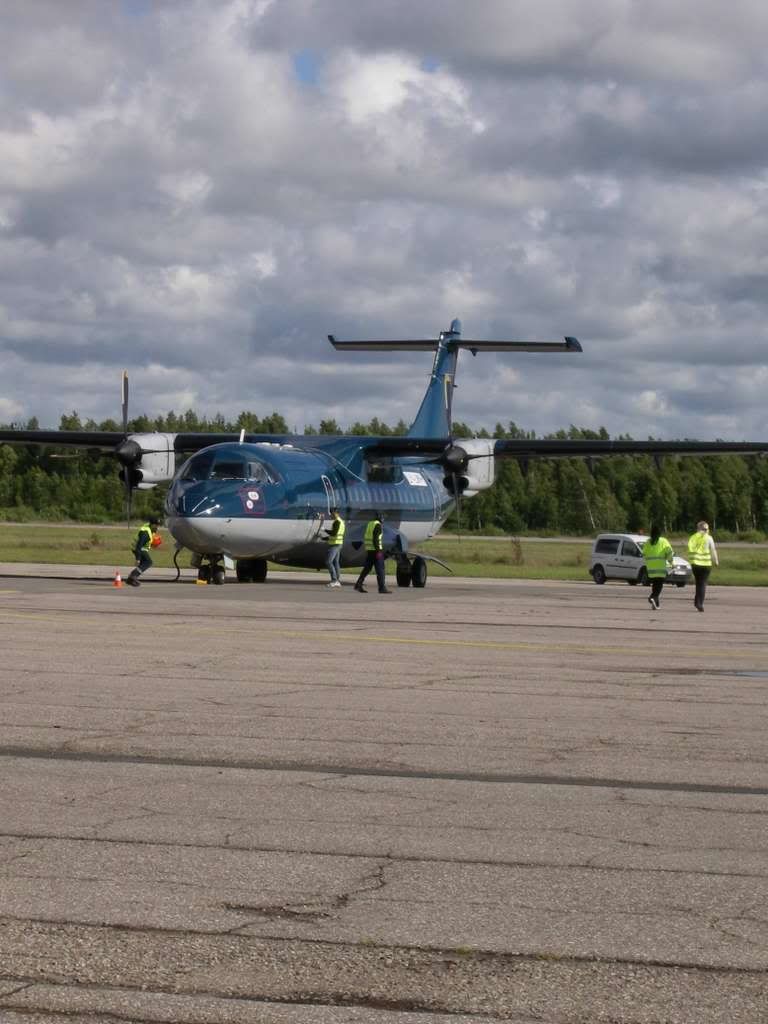 Boarding:
Again the nice apron walk, the same machine with the same crew like in the morning.
The friendly male FA recognized me and we had a nice chat later on.
He works CPH-LPX-HAM-LPX-CPH today, the planes duty was also impressive.
Eight legs RNN-CPH-RNN-CPH-LPX-HAM-LPX-CPH-RNN with that nearly twenty years old ATR.
Thats the way to make money nowadays.
Departure from runway 25 over the baltic sea and again along the swedish coastline.
Along the coastline: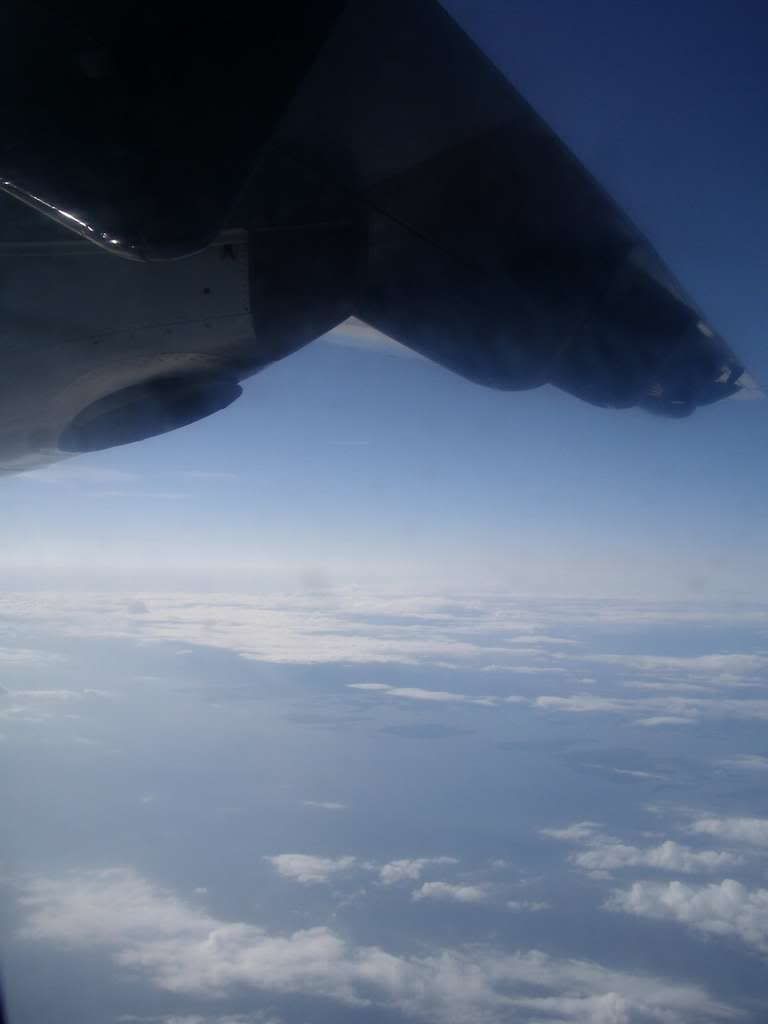 Good views. We´ve circled between some heavy dark thunderstorm clouds, but no problems at all.
Again a sandwich and something to drink.
The captain announced short ahead to CPH the latest weather report in a friendly way.
No flightlevel information.
Arrival on runway 22L , the same position on the apron.
A friendly bye-bye from the FA and back in CPH.
CPH again:
Deboarding:
Tuesday, 17.06.2008
CPH (Copenhagen-Kastrup) - STR (Stuttgart-Echterdingen)
Duration: 1 hour, 25 minutes
Service SAS SK 667 operated by WDL Aviation BAE 146-100 D-AWDL
Scheduled: 20.00 // 21.45
Actual: 20.05 // 21.30
Gate: C4 Seat: 12A
Load factor: Around 90 %
Leg no. 2 on the BAE 461 and the second on this machine
My gate was not announced when I´ve reached the first screen at the A gates.
I´ve decided to walk to the central area, when I´ve noticed that C4 will be the place for STR.
Earlier scheduled was a BAE146-200, but STR informations shows the 146-100 also for the inbound leg.
With only one 146-100 in service by WDL, it will be the same machine like in the morning.
But no problem, the 146-100 is something special enough.
Boarding was called early by bus.
The plane was parked in the same area like in the monring, a 146-200 taxied by, it seems my original scheduled machine.
D-AWDL again: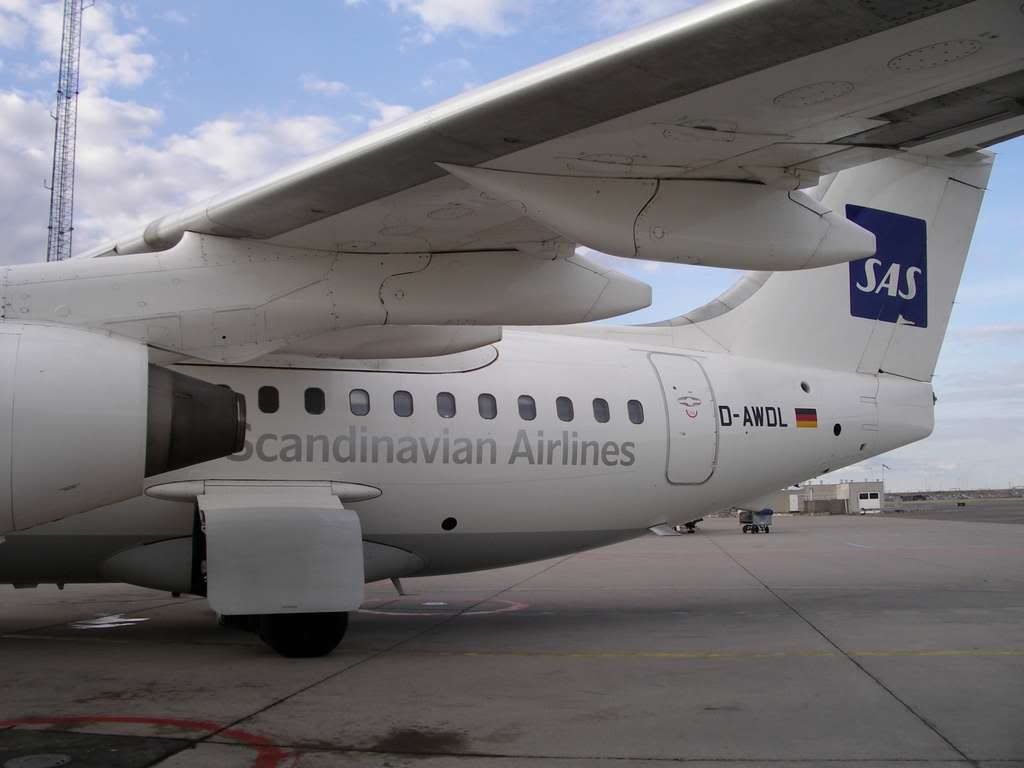 Close up:
Operated by WDL:
Touchdown Air Greenland:
Two male FA´s this time, one more, one less friendly.
The elder male done the announcements and explained that this machine was operated by WDL for SAS.
I´am sure that the standard pax don´t noticed the difference, with all that SK markers outside.
Departure again from runway 22R.
Communication was better than on the outbound leg, but for sure not 100% ok.
Again a sandwich and free drinks. Another german cockpit crew.
No comment from the flightdeck, it seems not usual at WDL.
A smooth flight, not that much to view outside and finally touchdown on runway 07, well ontime.
By bus to the terminal and on the way back home.
Only eight hours till my next departure from STR, that will be a short night!.
Liepaya is an interesting place for a short stay with it´s white beaches and interesting architecture.
I´ve saw suspicious groups of drinking men, a problem everywhere around the world, but for sure on a higher level in the former soviet countries.
SK offers me the chance to fly an interesting and till today not covered aircraft in my log.
WDL was ok for this short flights. No problem for me with the noise but that was for sure near the highest acceptable level, ever.
The guy beneath me inbound mentioned it also immediatelly after we started the engines at CPH.
Danu Oro Trasportas is part of the Danish company Danish Air Transport, simply to cut costs with the planes registered in Lithuania.
But it seems the FA was from Denmark.
CPH is a good place to connect, no problems there. LPX is only used by Air Baltic, therefore small but large enough for the actual needs.
All together another interesting day of flying and no problem to go there again.
Comments welcome,
Markus (FLIEGER67)