Four legs to catch the Dornier 228 // SCN-DUS
Hello, dear readers,
always, when I was in STR and saw the Dornier 228 in action,
I´ve thought, that might be an interesting plane to fly on.
Fellow users Christoph(Contact Air) and Alex (Ndebele) covered the Do 228 on the STR-DTM route.
So, I´ve had to search for something new!.
1.)
Wednesday, 18.06.2008
STR (Stuttgart-Echterdingen) - TXL (Berlin-Tegel)
Duration: 55 minutes
Service AB 6526 operated by airberlin Airbus A319 D-ABGJ
Scheduled: 06.30 // 07.45
Actual: 06.40 // 07.35
Gate: 333 Seat: 25A
Load factor: Around 70%
Fare: EUR 34,91 per leg
History:
04.03.2008: Delivered to airberlin
Leg no. 35 on the A319 and the first service on this machine
A short night ahead, after I´ve arrived back at my home office from Latvia
https://www.airliners.net/aviation-fo...ums/trip_reports/read.main/128519/
turned on my laptop and searched if check-in for the next day was possible.
No problem the last time with airberlin, but this time only the first flight was ready to go.
Secured my seat and decided to be a bit earlier at the airport the next day.
A strange boarding time was announced, 05.45 am for the 06.30 am service.
At the airport at around 05.30 am.
Bad luck today, a tired and unfriendly female reprinted my self-service boarding pass but send me to
another desk with my check-in question for the next flights.
Better luck now, a real friendly female searched the system, first she told me only leg two was ok,
but later all flights showed up.
Seat change on leg four was not possible, maybe an aircraft change?.
No time to wait at security, settled down at the gate around boarding time.
The plane was parked at the finger, no bus service today.
STR early morning: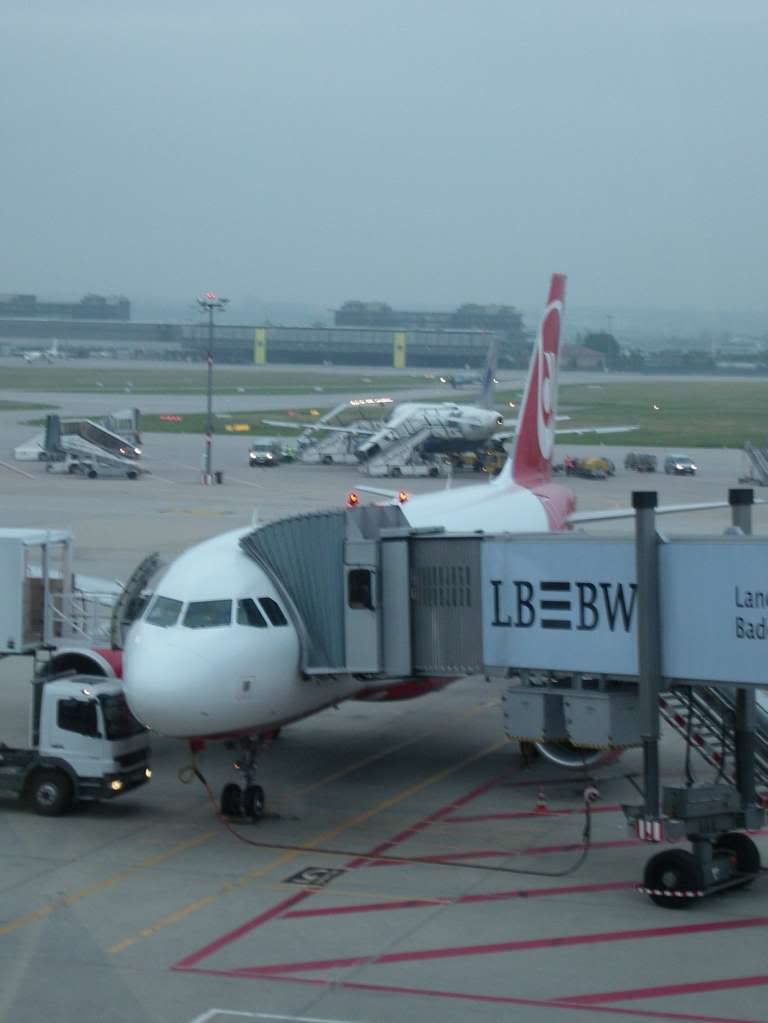 Finally 6.00 am was the real boarding time.
Three females on the plane, ok, but not that especially friendly.
The cabin clean, legroom was ok, fitted with blue-grey leather seats.
Indoor: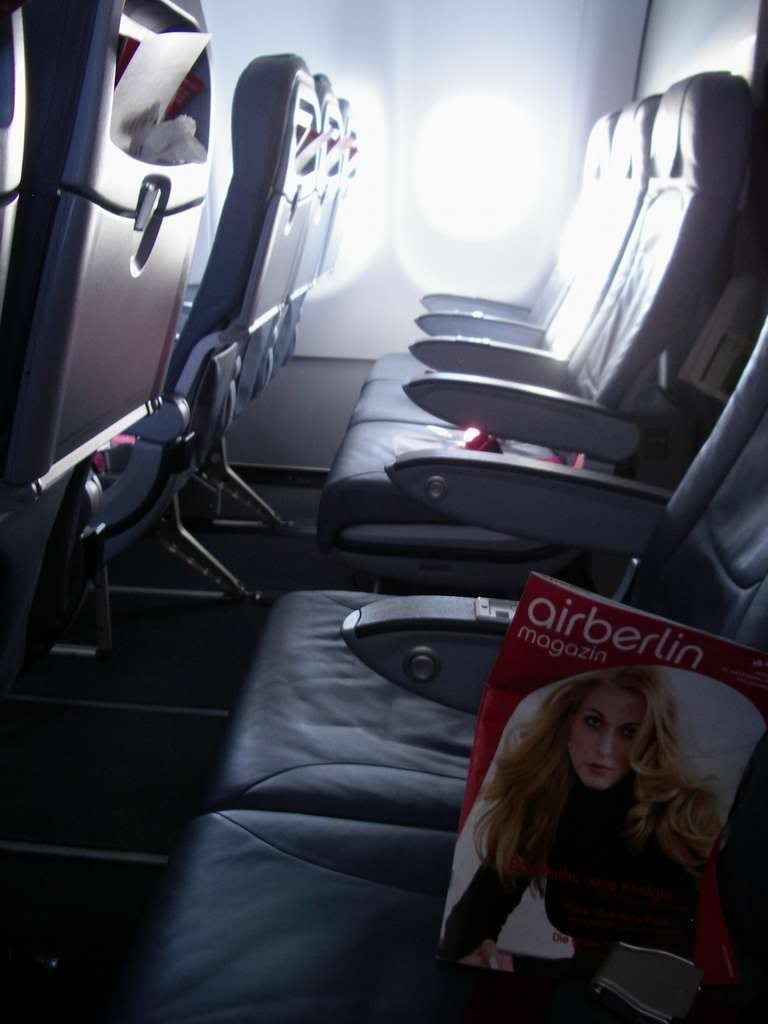 The map system on the screens for the whole duration.
A very friendly welcome from the pilot on the ground, more detailed and friendly inflight.
Cockpit crew was from Germany.
Departure from runway 25. The route was more western than usual near ERF and LEJ.
Flight level 35.000 feet.
Inflight:
Good views, especially during approach.
SXF: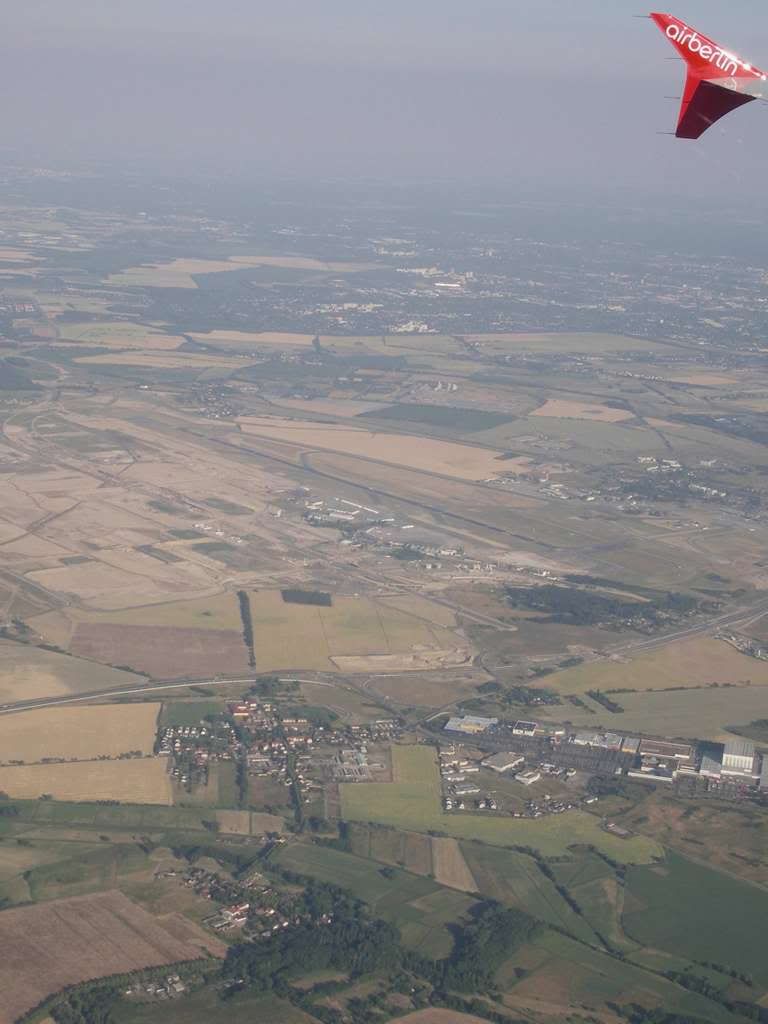 Soon to be history, THF:
Newspapers, snacks and drinks on service. For me the austrian Manner football waffle.
Touchdown on runway 26R and deboarding in front off the new Terminal C.
Nice weather in TXL:
Bye-Bye:
No bus, self service to the entrance.
2.)
Wednesday, 18.06.2008
TXL (Berlin-Tegel) - SCN (Saarbrücken-Ensheim)
Duration: 1 hour
Service AB 6478 operated by airberlin Boeing 737-700 D-ABBV
Scheduled: 08.40 // 09.55
Actual: 09.20 // 10.20
Gate: C44 Seat: 23A
Load factor: Around 75 %
History:
21.11.2001: Delivered to Sun Country/USA
01.05.2002: Further to Air Astana //Kazakhstan
14.04.2007: In service with airberlin
Leg no. 18 on the B737 and the first on this machine
If FR wants to fly from Tegel, that will be the perfect place!.
The usual fast built industrial style terminal.
A sign shows stairs up for connecting flights from the arrivals area, but it was closed.
I´ve asked a friendly girl, she called another friendly male which opened the stairs and walked with me towards the departure area.
It seems this is not that much used there.
The screens showed a delay for the SCN service, finally boarding started some 30 minutes late.
This time by bus to the plane.
Boarding a new entry to my log:
And again: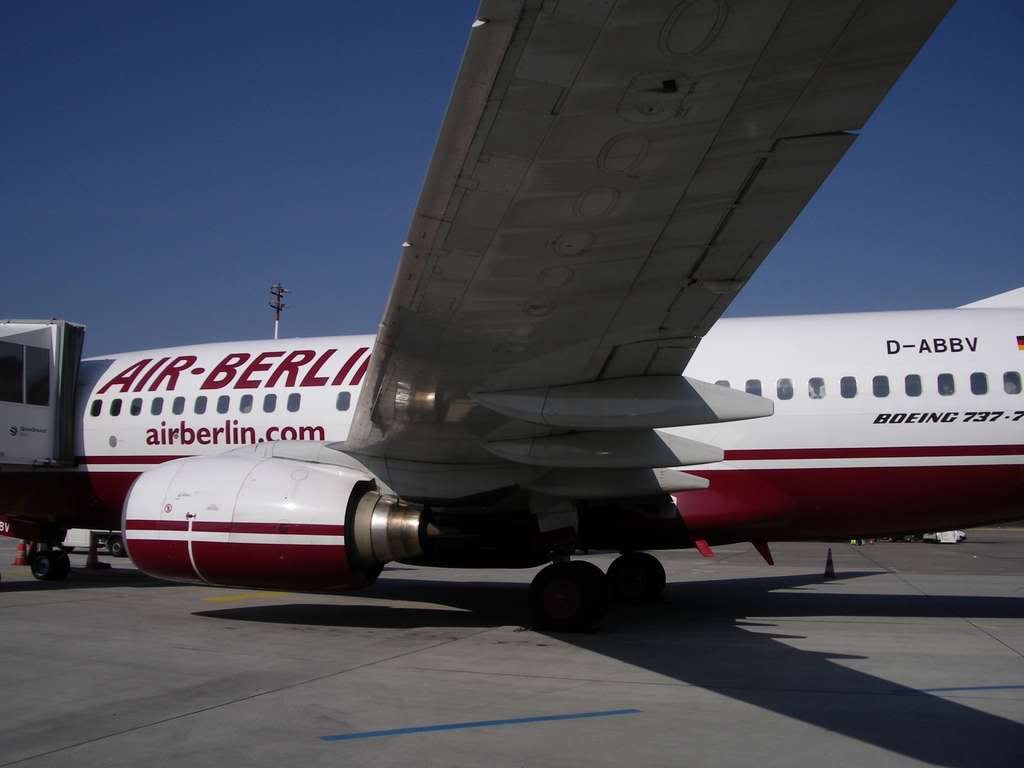 One male, two females, all friendly, the best impression around the different cabin crews today.
Departure from runway 26R, single runway operation at TXL.
This machine was fitted with blue yellow fabric seats, something oldfashioned, lower legroom than on the new A319.
Indoor:
Again newspapers, free drinks and a bread roll, this time a "Laugenstange".
A friendly welcome and apologize for the delay from the pilot short after departure.
Reason was the late arrival from SCN. He was once more on the speakers inflight with detailed route and weather informations.
No screens on this plane.
No flightlevel information, we´re gone southwestern towards Erfurt, Frankfurt, directly over the airport Zweibrücken
and further to SCN.
Inflight: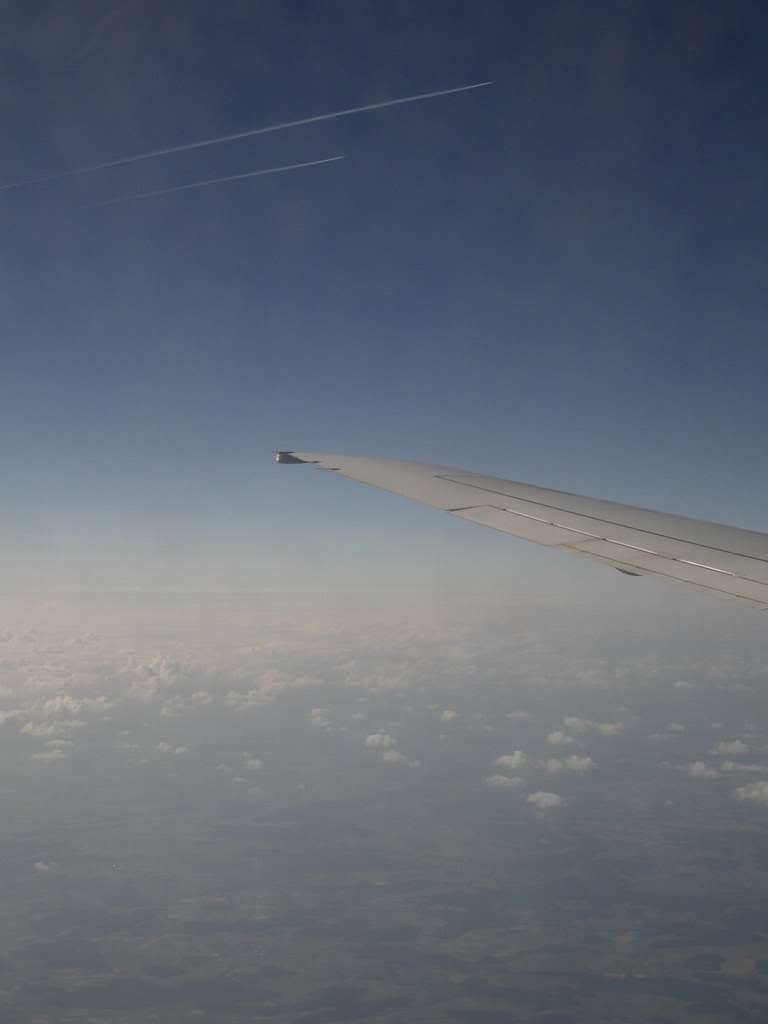 Approach: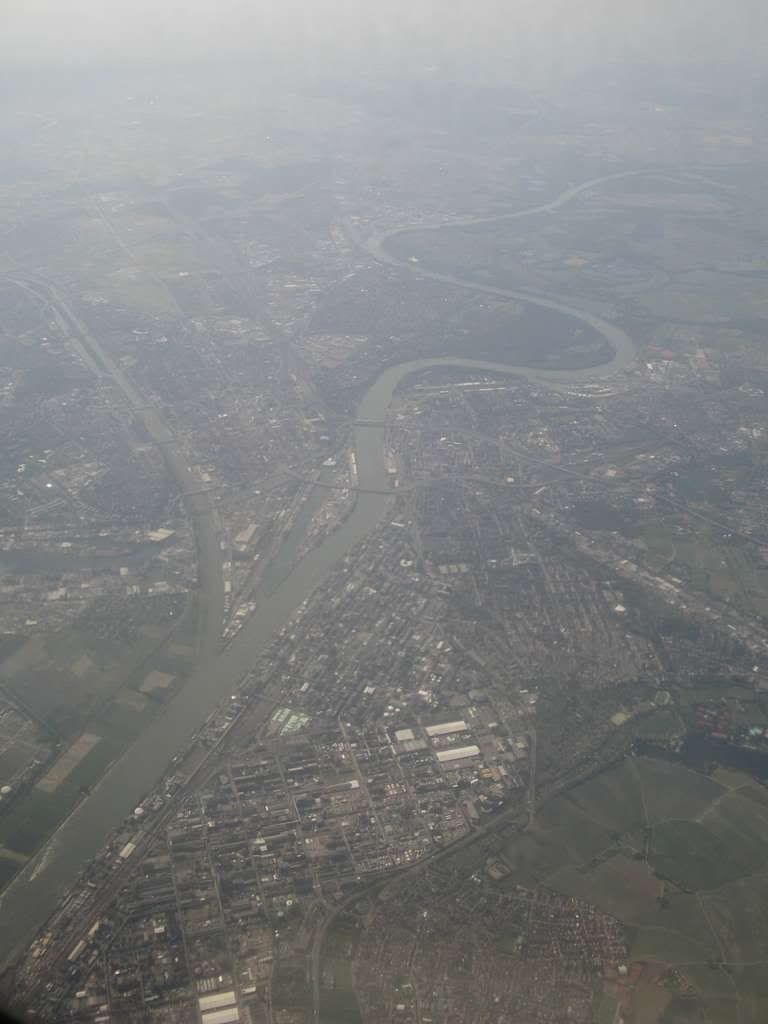 Touchdown hard and heavy on runway 27 , rough breaking action, the pilots called SCN the "aircraft carrier",
now I know why. A valley ahead and one after the end of the short runway.
Breaking: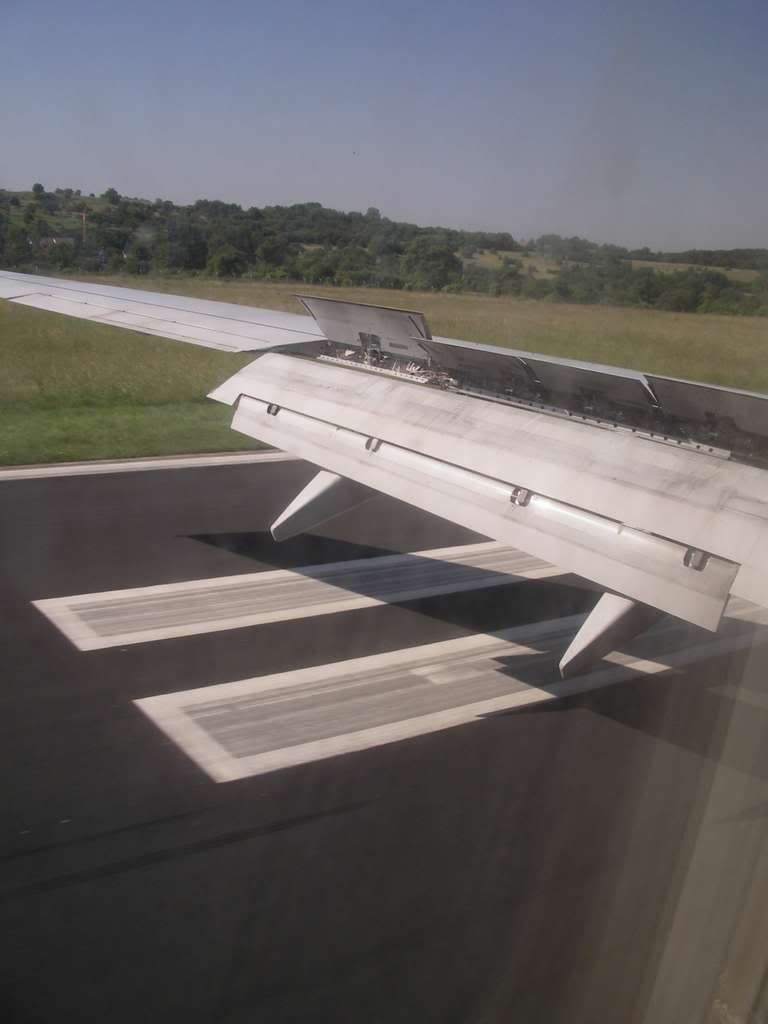 Welcome to a new airport for my log: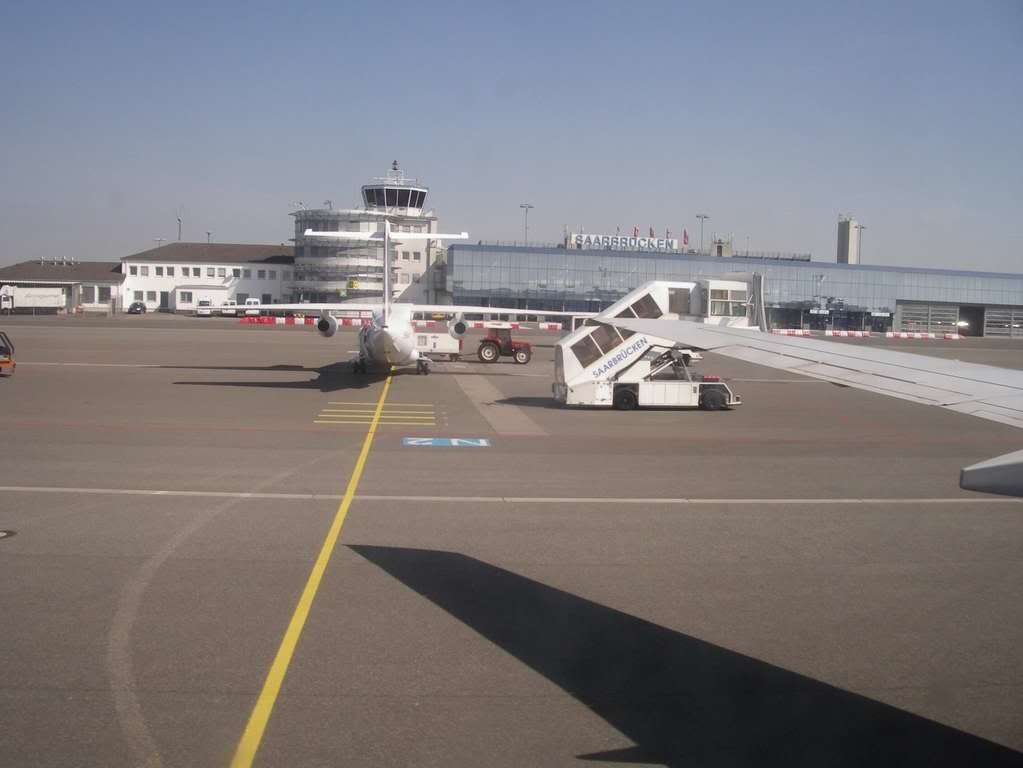 Parked on the apron, like earlier at TXL, self service deboarding, walked over the apron to the terminal building.
Deboarding:
Nice neighbour:
3.)
Wednesday, 18.06.2008
SCN (Saarbrücken-Ensheim) - DUS (Düsseldorf-Rhein-Ruhr)
Duration: 45 minutes
Service airberlin AB 6003 operated by LGW Luftfahrtgesellschaft Walter Dornier Do 228 D-IMIK
Scheduled: 12.25 // 13.20
Actual: 12.30 // 13.15
Gate: B Seat: 1C Exit
Load factor: Around 30%
History:
Not that much data found, built in 1985 and registered in Germany, Australia and the UK for several times
Premiere, leg no. 1 on the Dornier 228
My first impression about SCN was not bad, a modern style building with lots of glass.
The viewing deck was free, but secured with a glass wall, not the best for good pix.
Now to PMI:
Arrival HHI from PMI: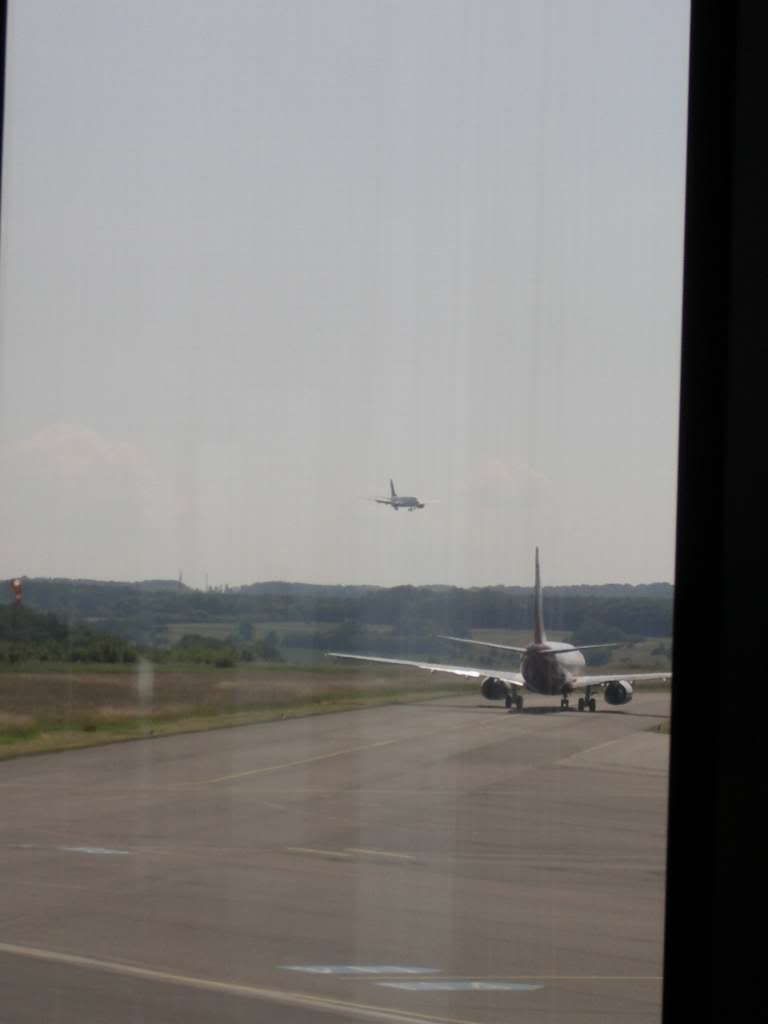 I´ve passed security without any time to wait and headed for my gate in the B area.
Now the main purpose of this trip seems not to far away.
My plane arrived early from DUS and parked on the apron.
Arrival: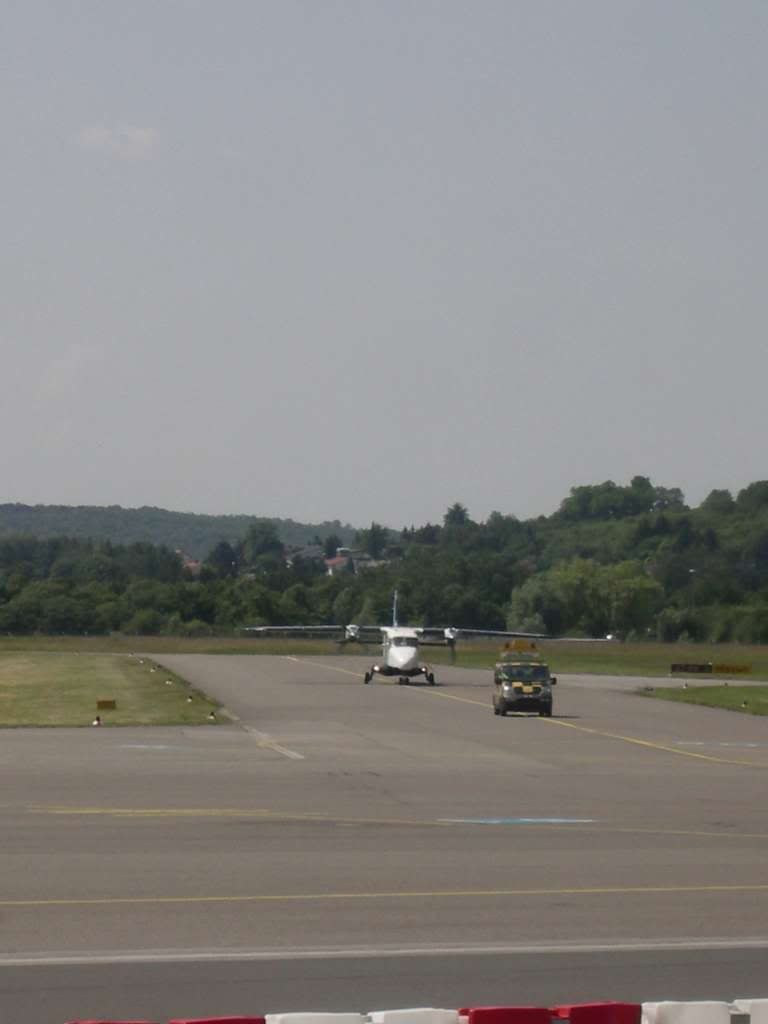 Taxi:
Close by:
What a nice plane/tractor combination!: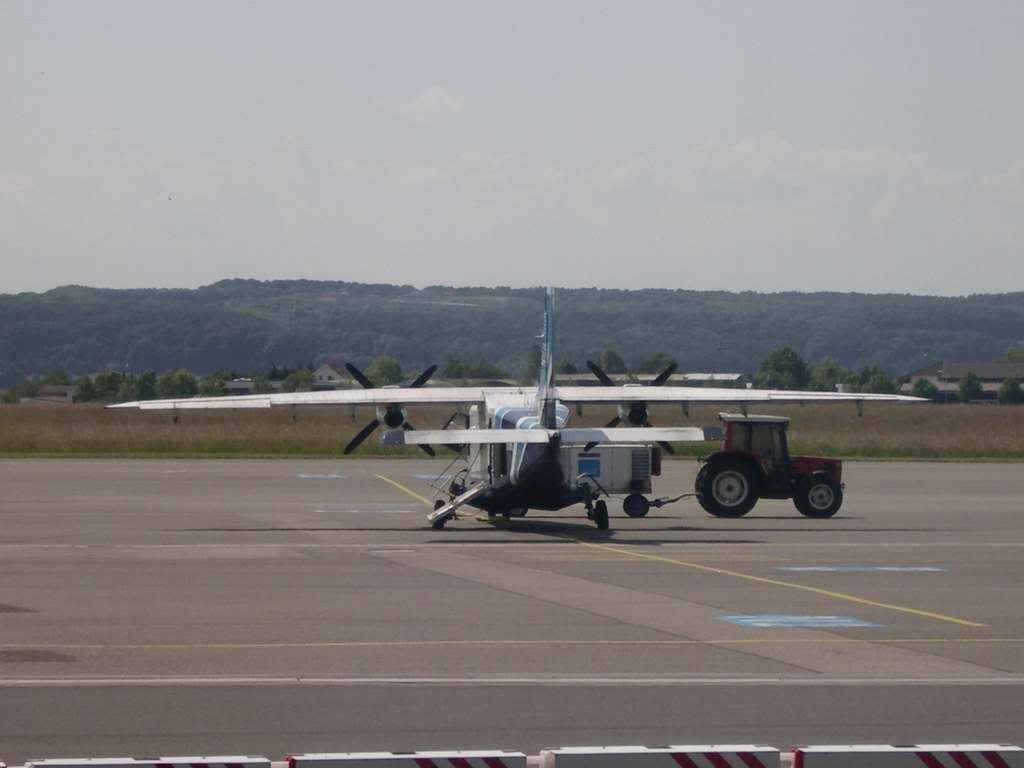 Boarding was called also early, the female agent pointed to the small Dornier, again self service walking over the apron.
No problem during these nice weather conditions.
Me and four other "victims" proceeded to the machine. There was one nice female, she was a german singer, dont know the name, but I remember here.
She cant believe that this was the plane to DUS. It seems she want to go back to the terminal, but the FO, greeting us at the door and the whole
conviction from her manager and the other pax worked out, she boarded.
Closer:
Tail shot: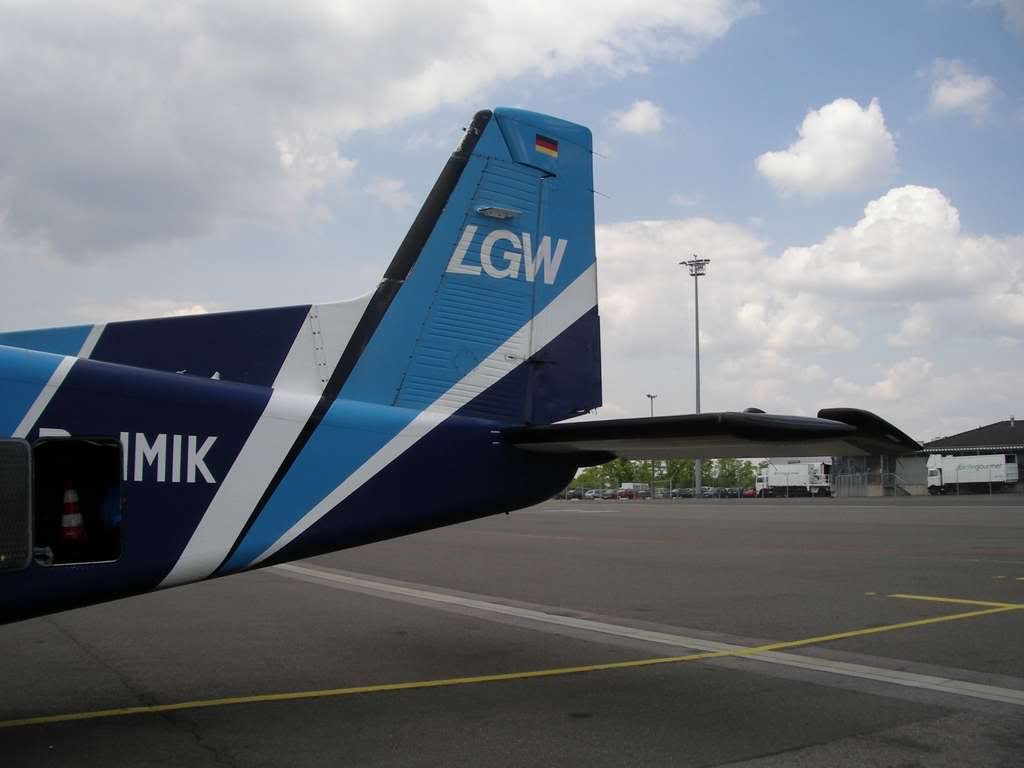 A very friendly welcome from the captain, real young guys there in front. No FA on the Do 228.
I´ve decided to sit in 1C, exit, directly behind the cockpit, great to follow the action there.
Preparations: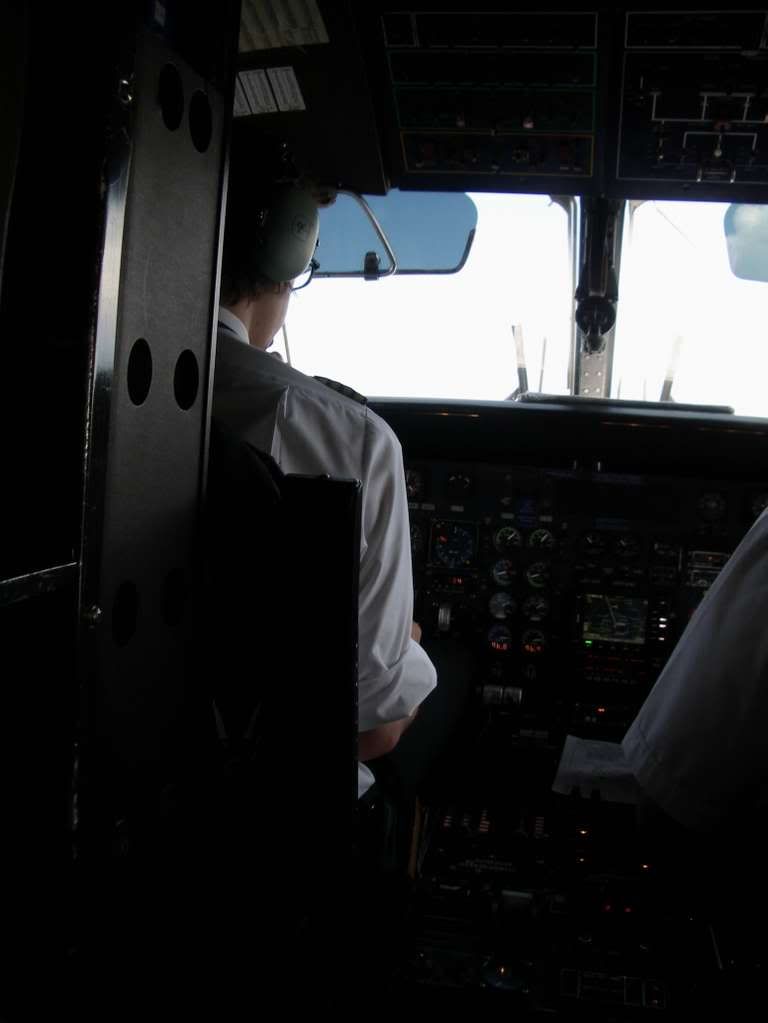 The cabin fitted with dark grey leather seats, well used, worn out, something dirty and very noisy.
Also free drinks and a sandwich on this short flight.
Departure from runway 27 in direction CGN and DUS.
Flightlevel 9000 feet, no pressurized cabin.
Departed: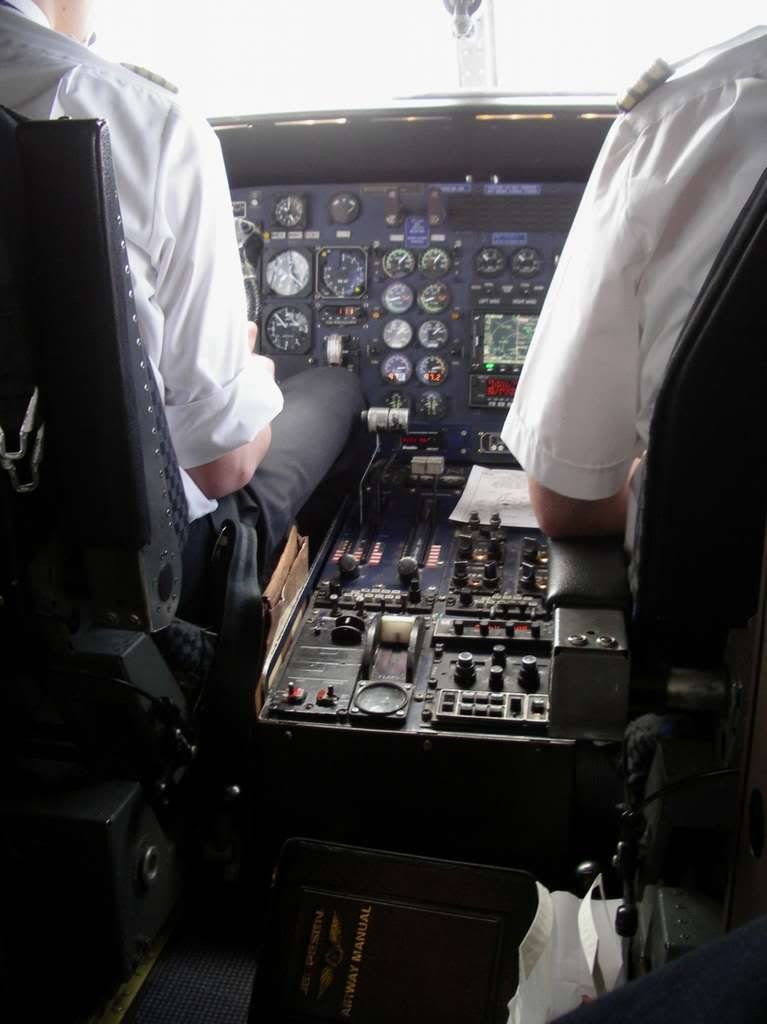 Shakers ahead:
Inflight: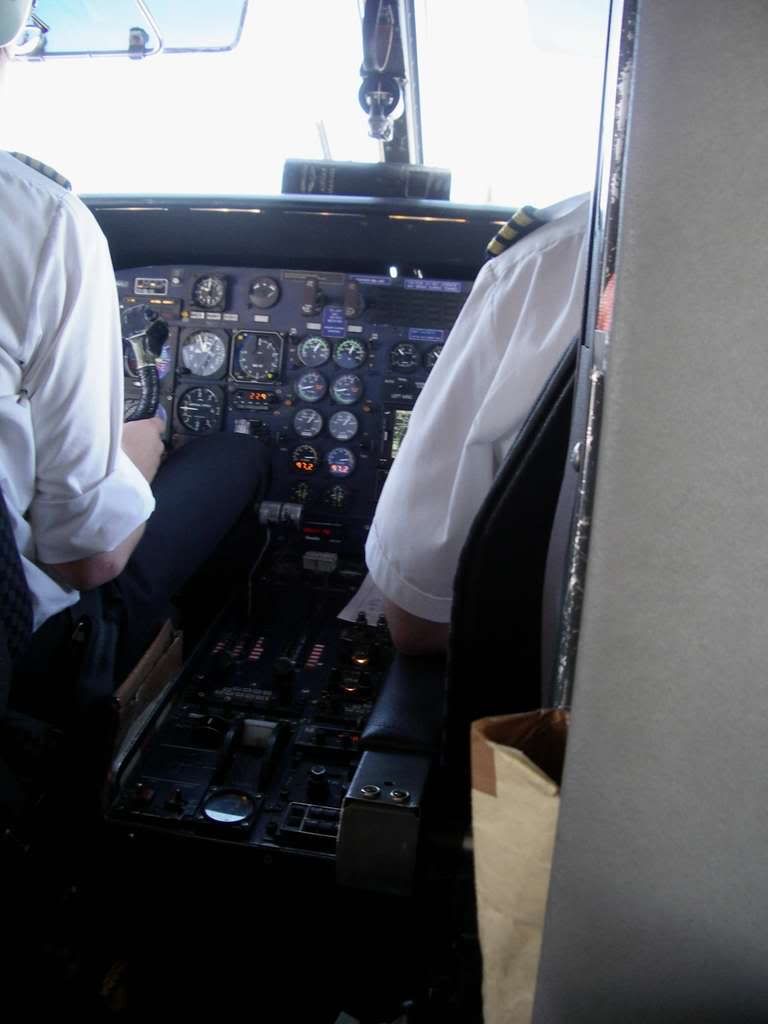 Heavy clouds around, some shakers, but not a real problem.
Good views along the whole route, one more real flying experience in my log.
Radar station: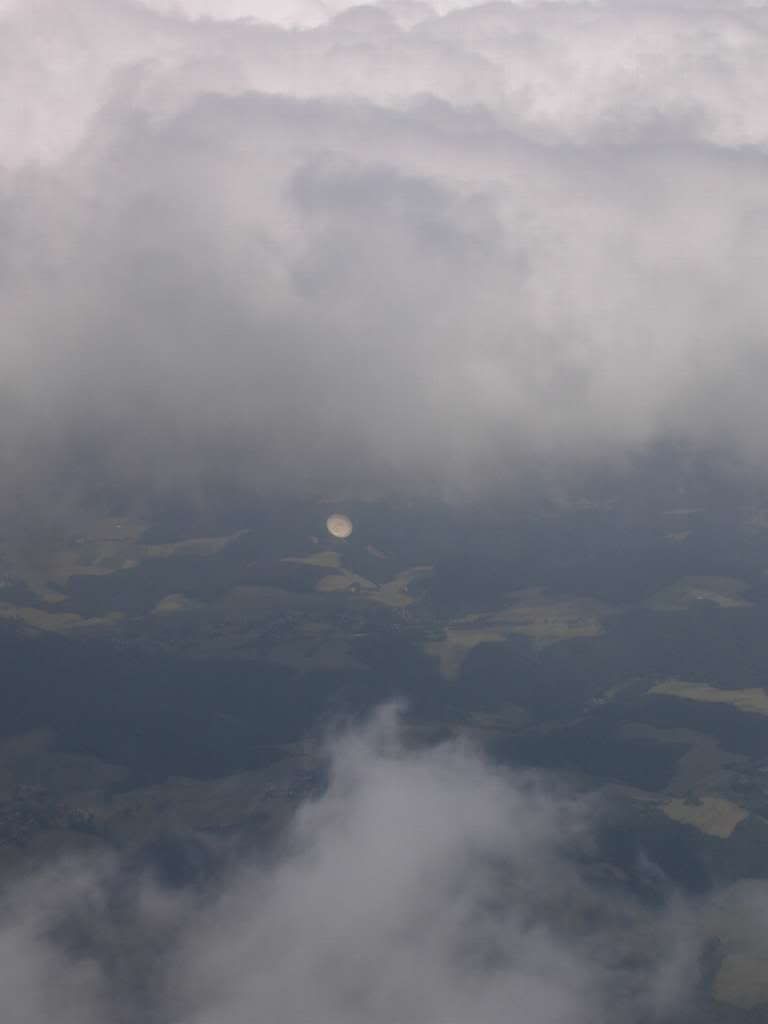 Inflight: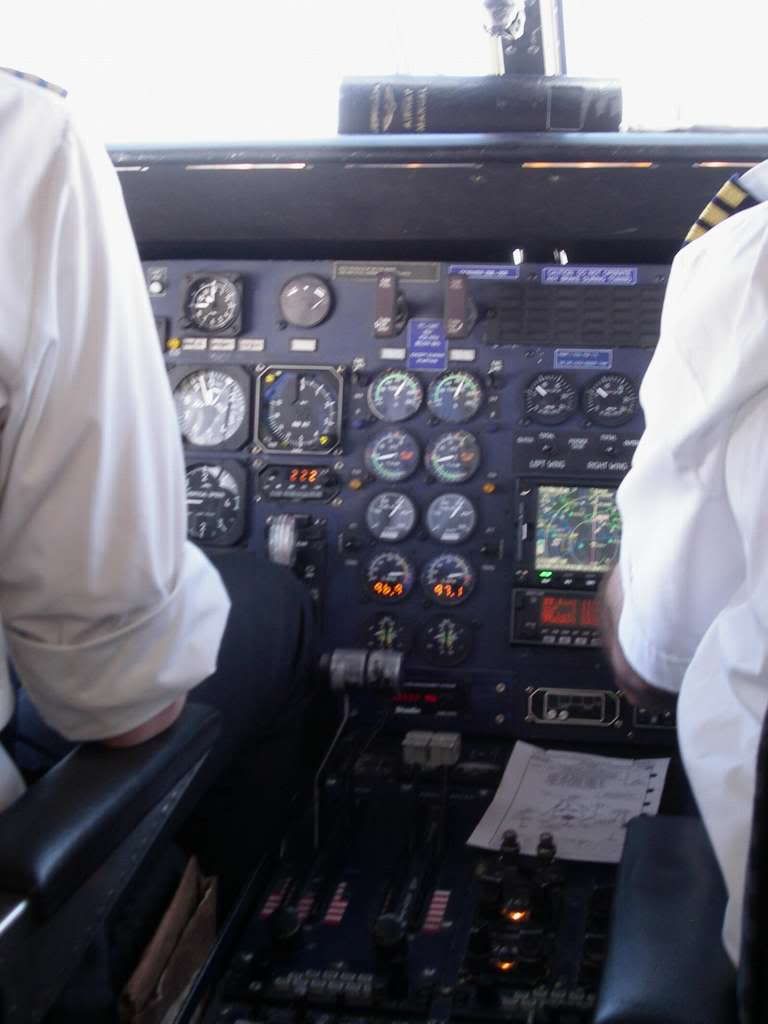 Approach: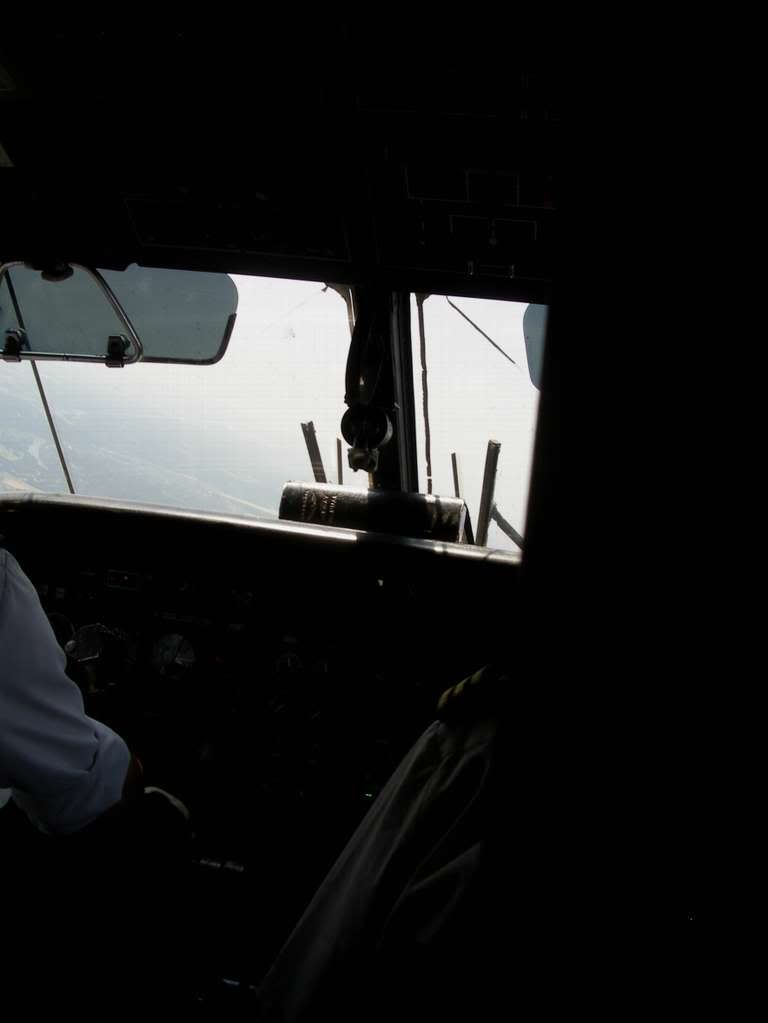 MGL: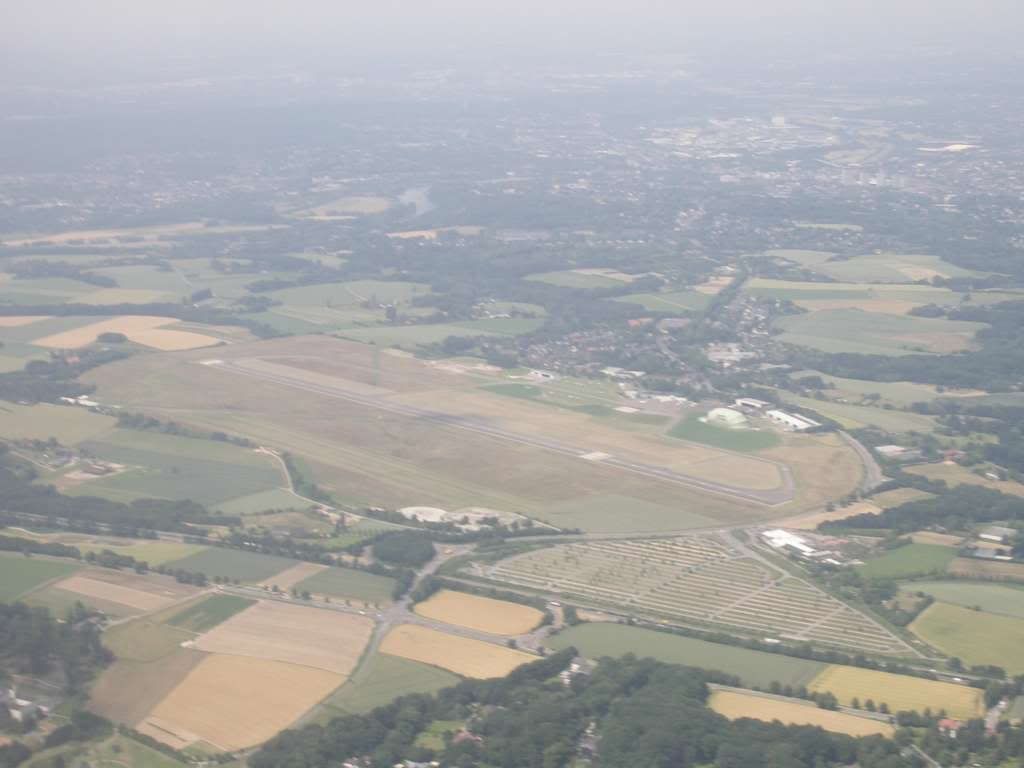 Very short to DUS: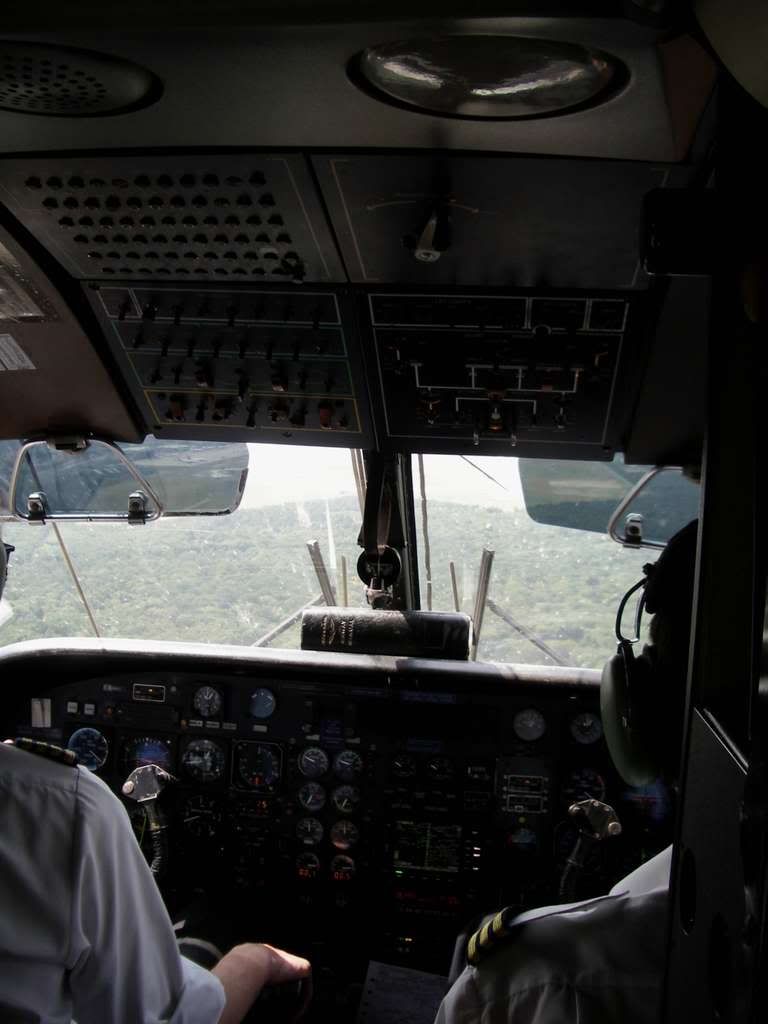 Touchdown on runway 23R , taxi to a position near the Jet Aviation hangar.
Me and the singer´s manager had a very nice chat with the pilot, the bus had to wait for us.
After a goodbye to the two guys I´ve shuttled to the terminal.
Bye-Bye: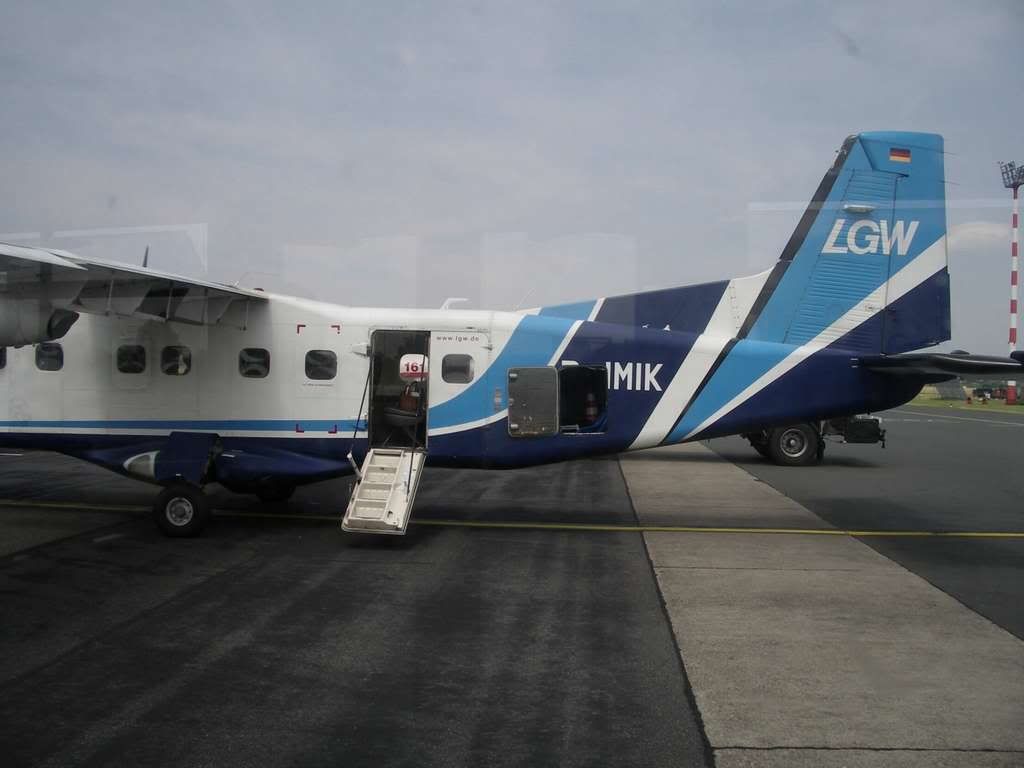 4.)
Wednesday, 18.06.2008
DUS (Düsseldorf-Rhein-Ruhr) - STR (Stuttgart-Echterdingen)
Duration: 40 minutes
Service AB 6840 operated by airberlin Airbus A320 D-ABDK
Scheduled: 15.45 // 16.50
Actual: 16.25 // 17.05
Gate: B44 Seat: 29A
Load factor: Around 60%
History:
07.12.2006: Delivered to airberlin
Leg no. 42 on the A320 and the first service on this machine
Time enough for some spotting at DUS, there is a large terrace with good views and only a short fence, not bad.
No problem to change my seat for the usual last row window, but for sure a problem when I´ve asked about the plane and the girl there
told me the A320.
A F100, one of my favourites was scheduled and now the A320, not anything else interesting, no, the A320, still the most covered plane in my log.
Another Do 228 departure:
And a more heavy one, dedicated to Airbuseric:
3.25 pm was printed for boarding, at 3.00 pm I´ve passed security, again no time to wait and headed for the gate.
Not that much action this time at DUS.
Also not that much pax around, for sure not the reason for the aircraft change, maybe a better demand on the way back to DUS or they need the A320 for another service.
Boarding: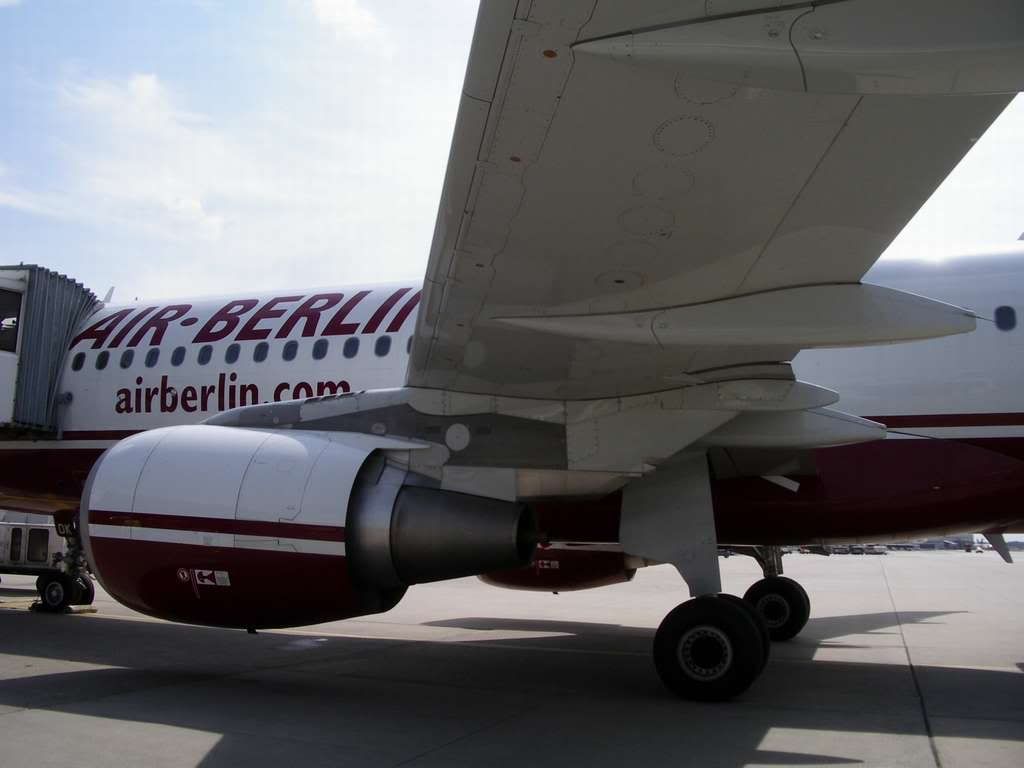 And again:
Two male, two females, ok so far. Bright blue leather seats, comfortable, good legroom , clean.
A friendly welcome from the pilot, the load sheet gone lost, but that will be fixed within minutes.
Departure from runway 23L
Magazines/newspapers, snacks and drinks for free.
Flightlevel 23.000 feet via FRA to STR.
More friendly and detailed informations from the FO during cruise.
Also good views on this leg.
Another heavy touchdown on runway 07 follows, parked at a finger gate and soon on the way back home.
Welcome back to STR: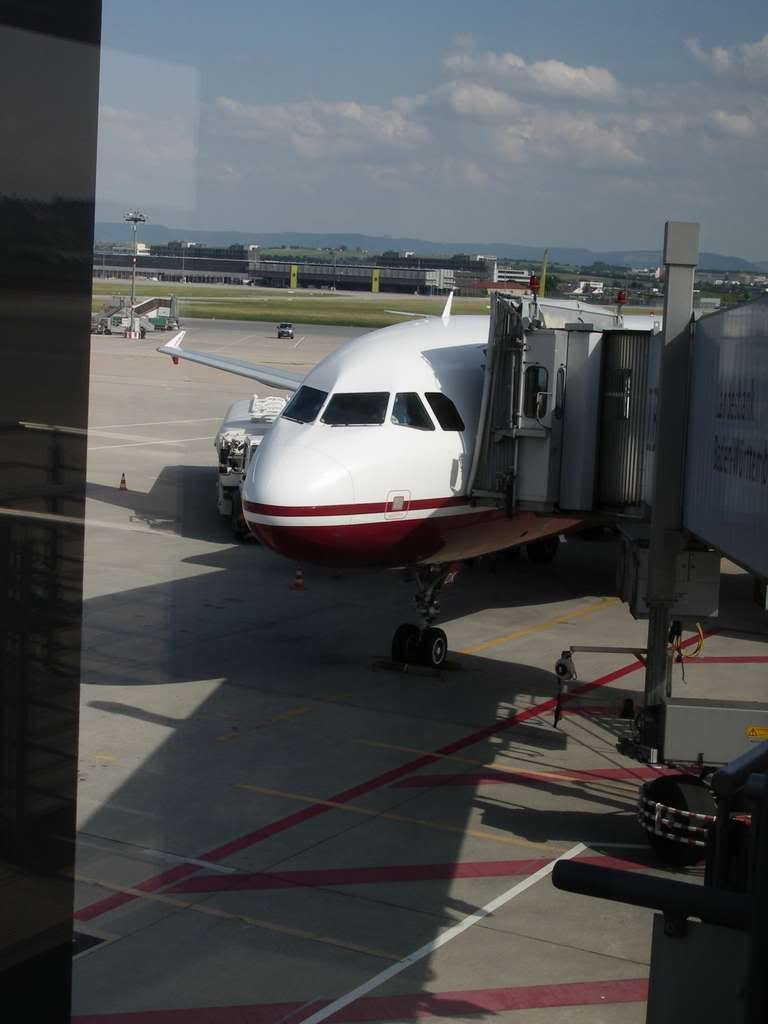 Colour comparison: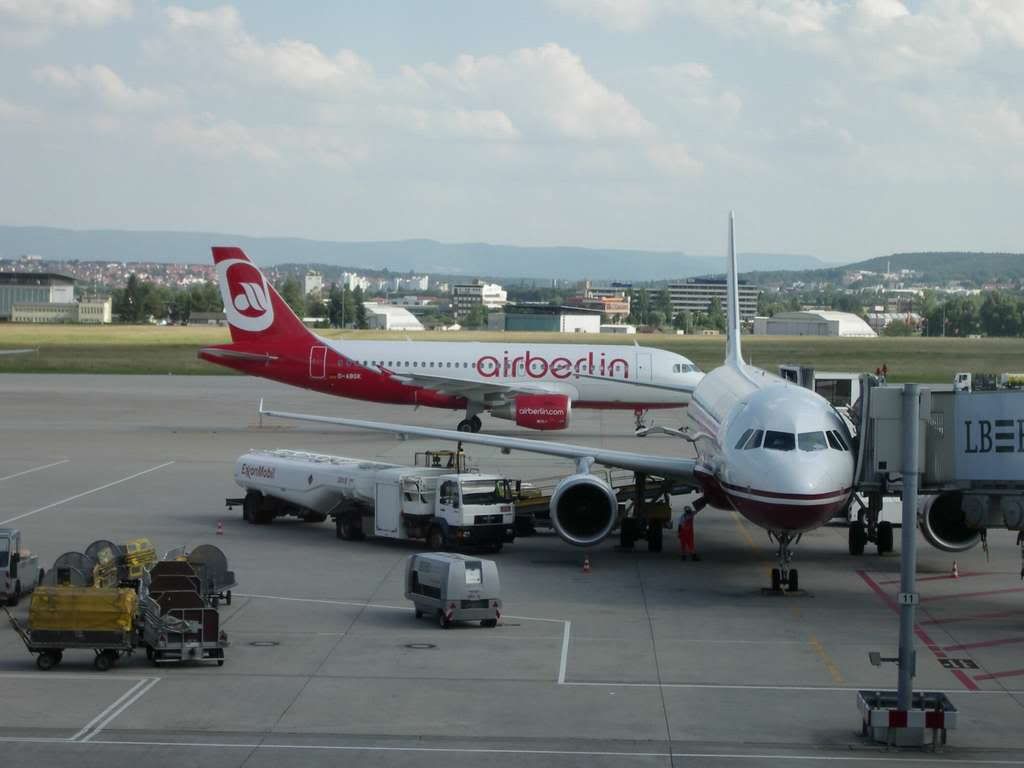 What about my opinion?:
I´ve covered a new airport, SCN, a positive experience and a new type, the Do 228.
I like real flying and that was real flying, for sure, friendly guys there at LGW.
The other flights on AB ok, small delays, no problems at all. Service and planes ok.
No problem to fly AB and LGW again.
Comments welcome,
Markus (FLIEGER67)
[Edited 2008-06-29 01:11:08]
[Edited 2008-06-29 01:14:01]