VS Trip reports always seem rare, especially Upper Class ones, so I thought I would share my experience with you. This is my first TR, so bare with me. Also, I am not a photographer, nor into my photography so my pictures aren't fantastic, but they get the message across.
Background To The Trip.
VS are my favourite airline, and it has always been my dream to fly with them in Upper Class. In 2007, myself and 5 other students won an enterprise competition designing a sporting aid for the visually impaired, we came up with a rock climbing experience. We went on to win the competition and receive £100 worth of Virgin Vouchers. This partially funded the trip, as well as personal savings and air miles. For the enterprise part, I wish to thank Mrs P and Mrs W, who are my Business Studies teachers, without them the inspiration and this trip wouldn't have been possible. My parents also agreed to fund a small portion of the trip as a well done for completing GCSE's (end of compulsory education exams conducted across the UK).
Pre-Airport
I didn't sleep much at all Friday night, I came back from Air Cadets so excited, it made it virtually impossible. I awoke at 06:00 and left home at 07:00 for the hour and a half journey to LHR.
Check In.
Virgin have recently renovated there check in at terminal 3 and it now looks very modern. It was fast and extremely effective. I collected my boarding card and checked in my bag. My family and I made our way up to the VS Upper Class Wing. As an Upper Class passenger, I was able to use the new Upper Class Wing. This includes a private security channel for Upper Class and Flying Club Gold passengers. I bid farewell to my family who will be joining me in 3 weeks times. In the wing, passengers arriving by Virgin's car service get dropped off and it is claimed that passengers can get from limo to lounge in 10 minutes. I managed it in 4. Quickly breezed through the wing with no trouble what so ever, and by-passed the shoe channel by showing my boarding pass, and entered the lovely LHR terminal 3 departures. I followed the signs to the Clubhouse, hoping not to get lost as I had no idea where exactly it is. I saw the white marble stairs, which I recognised from the Virgin Atlantic website. I proceeded up the stairs and made my way to the heaven that is the VS Clubhouse.
Clubhouse.
I showed the lady at the counter my card, and was welcomed by name. How to describe the Clubhouse? WOW. It is incredible. So modern, spacious and vast full of typical features you can only find on VS. You instantly get the impression that Virgin are welcoming to you, and that you are in for a fun flight, and not just another normal flight.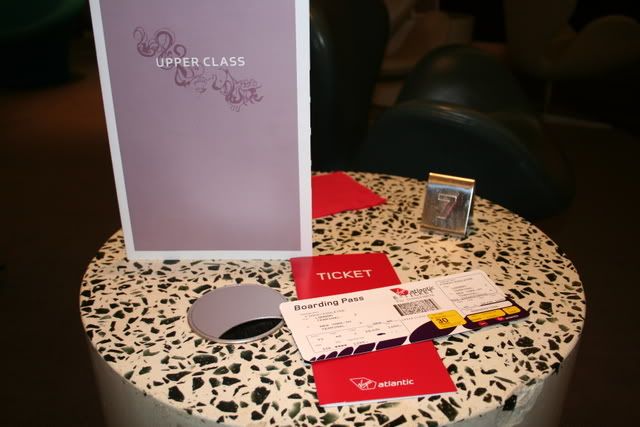 Above: Boarding card, Menu & Ticket Holder.
Just before I took the above photo, a lovely lady offered me breakfast, I of course did not decline.
a href="http://s307.photobucket.com/albums/nn312/Finchee4/Virgin%20Atlantic%20Upper%20Class%20VS45/?action=view&current=VirginUpperVS045004-Copy-Copy.jpg" target="_blank">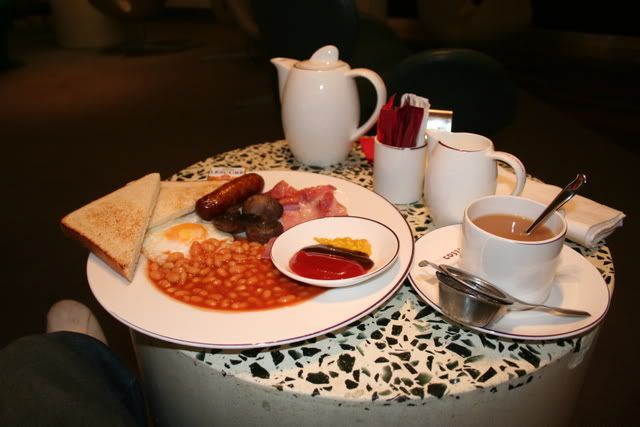 Above: Full English Breakfast & Tea.
It really was as nice as it looked, I could have had another, if I knew I wasn't going to eat so much later, this was the right choice, as I really did eat loads.
After eating this, It was time to explore. I started around by the hot tub and Cowshed, but unfortunately didn't take any pictures here. Also, unfortunately wasn't allowed to use it due to my age and travelling alone. I also wasn't allowed a massage due to my age, so instead took a haircut which I had pre-booked for 12:00.
Time for some Pictures, since they speak a thousand words, and can just explain how amazing this airline lounge really is compared with any others.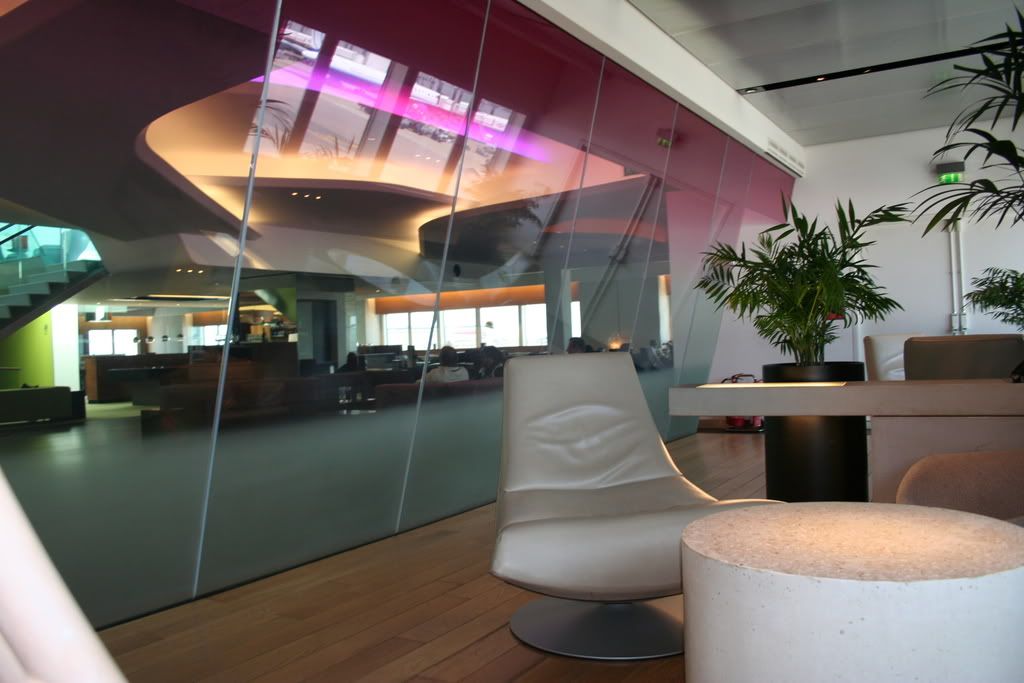 Above: Gallery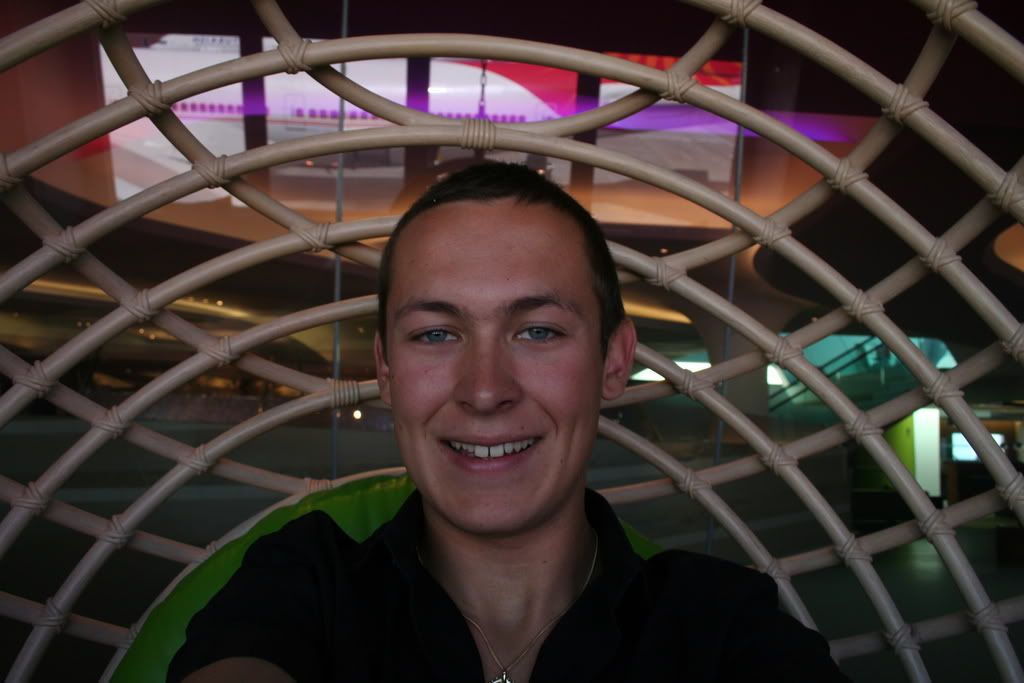 LHR Clubhouse">
Above: Me in a basket chair, (Looking awful)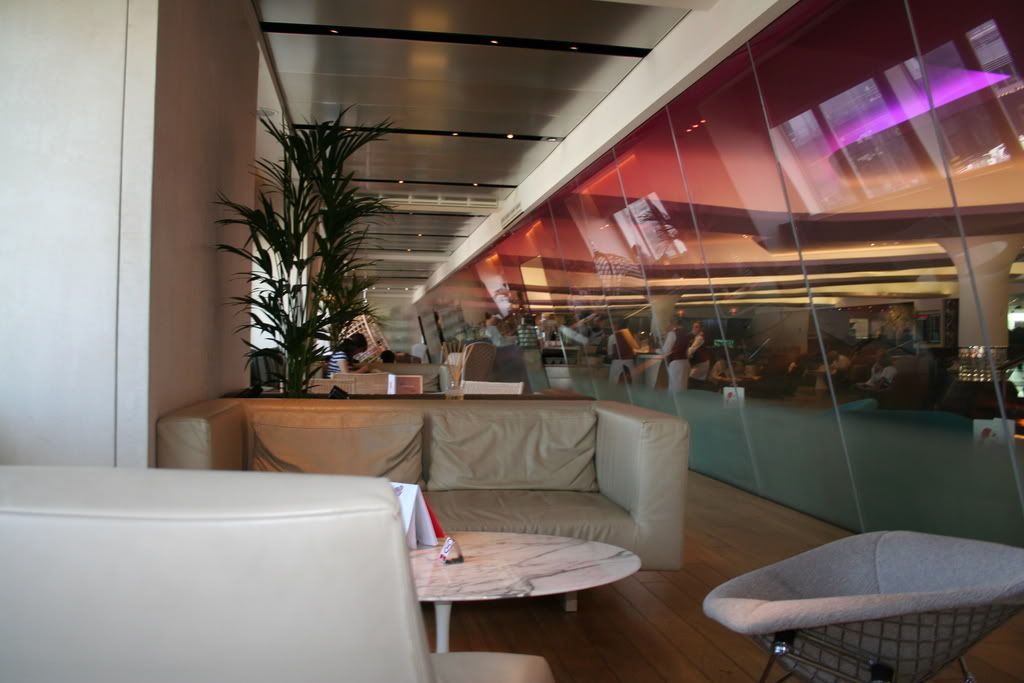 Above: Gallery
Above: Fish on a screen, which a fellow passenger thought were real, until corrected otherwise by VS staff.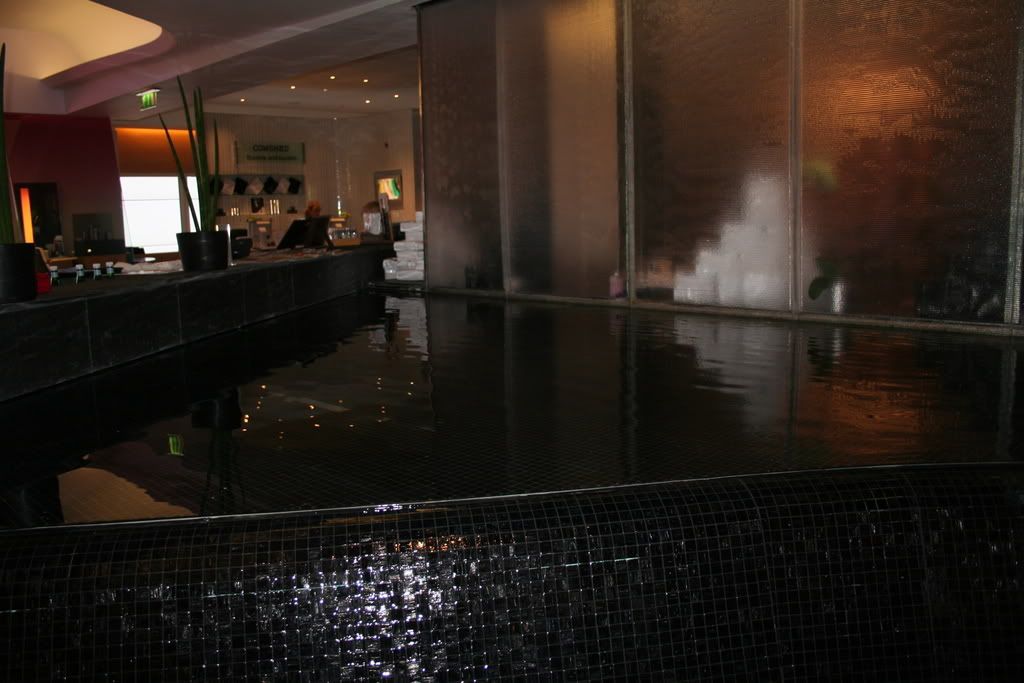 Above: Pool side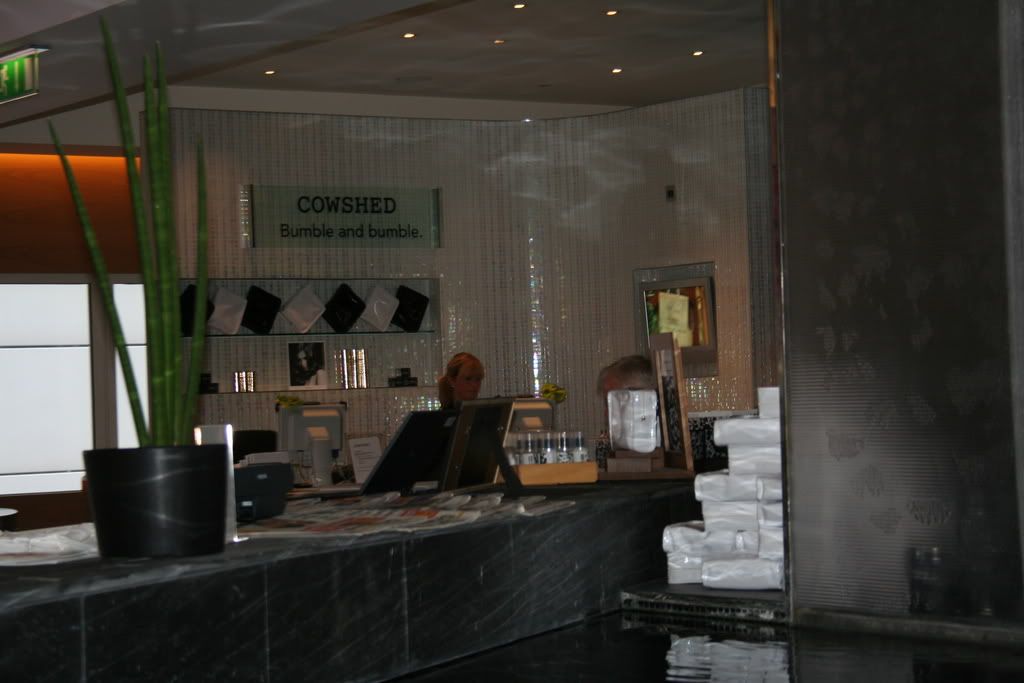 Above: Pool side and Cowshed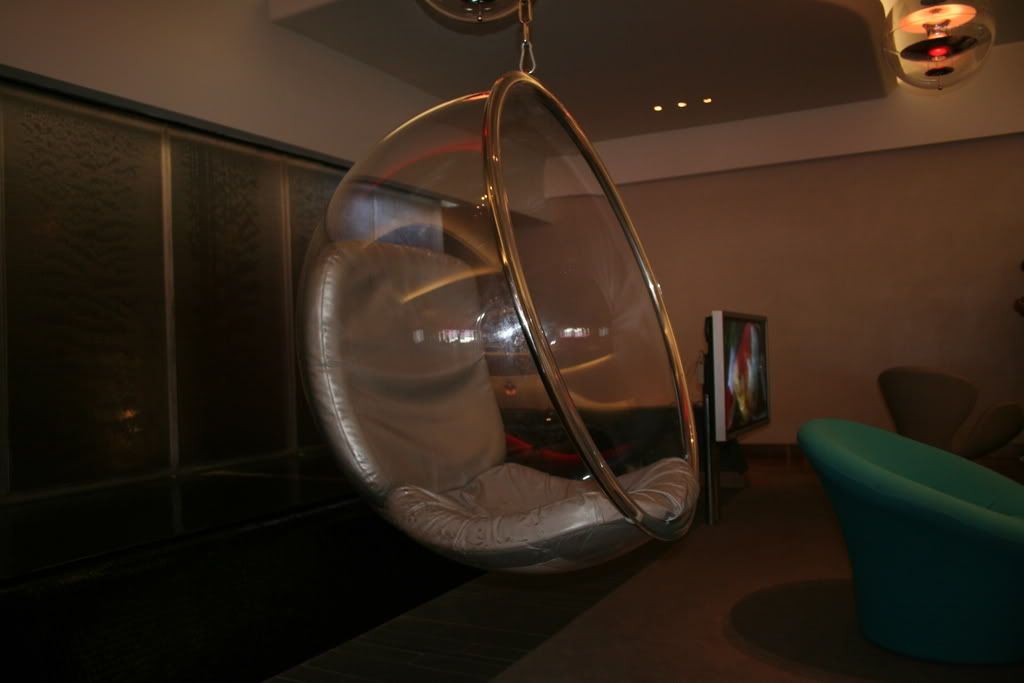 Above: Pool side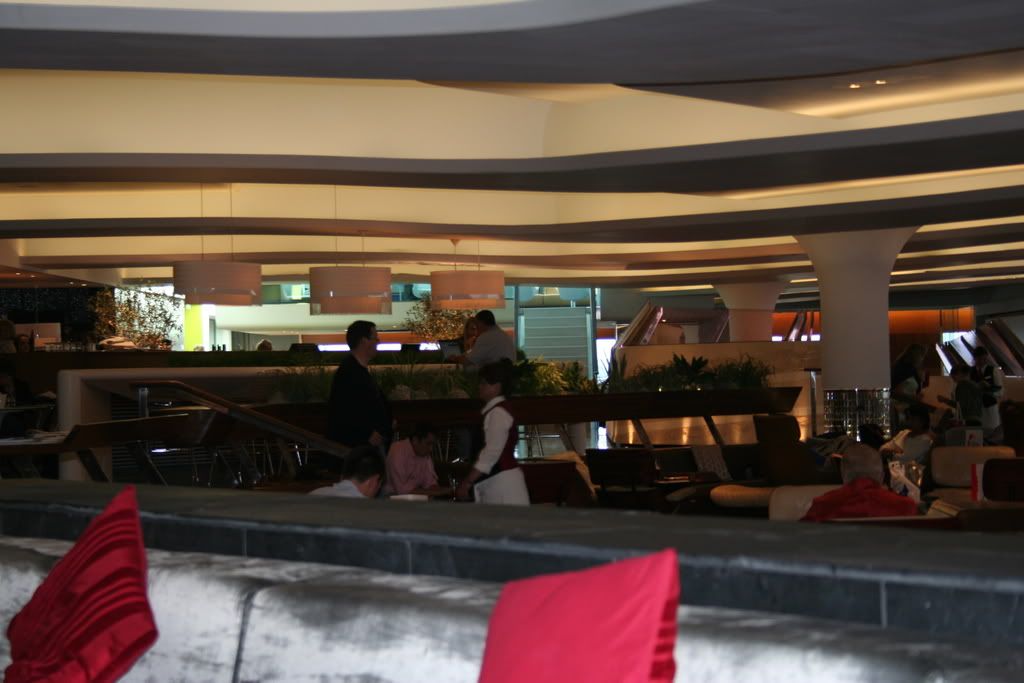 Above: Lounge Overview.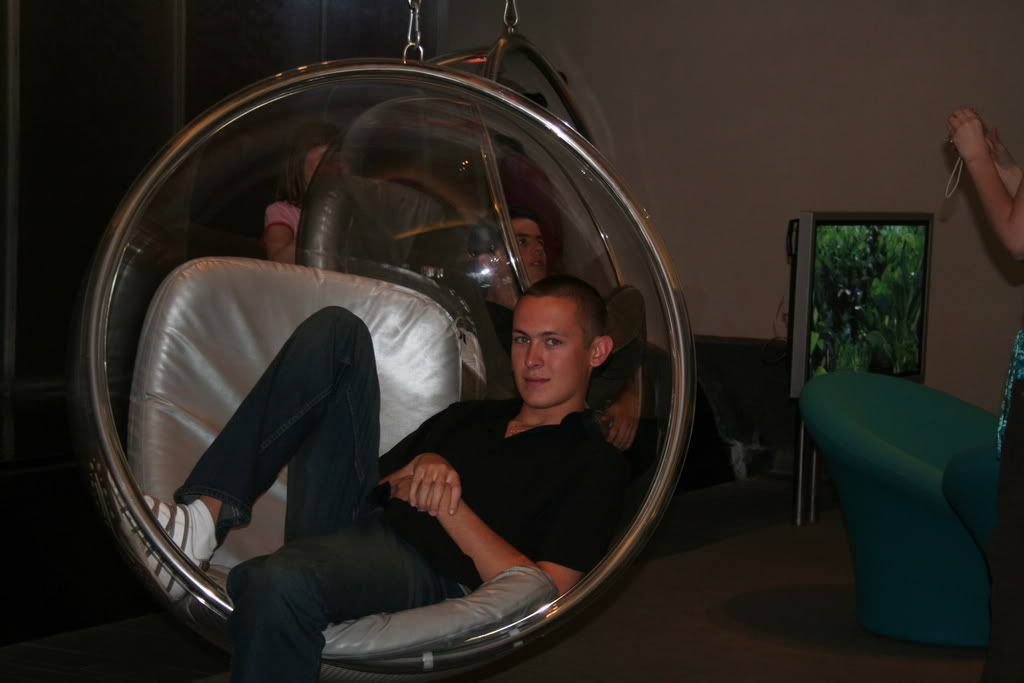 Above: Me in the bubble chair in the poolside lounge.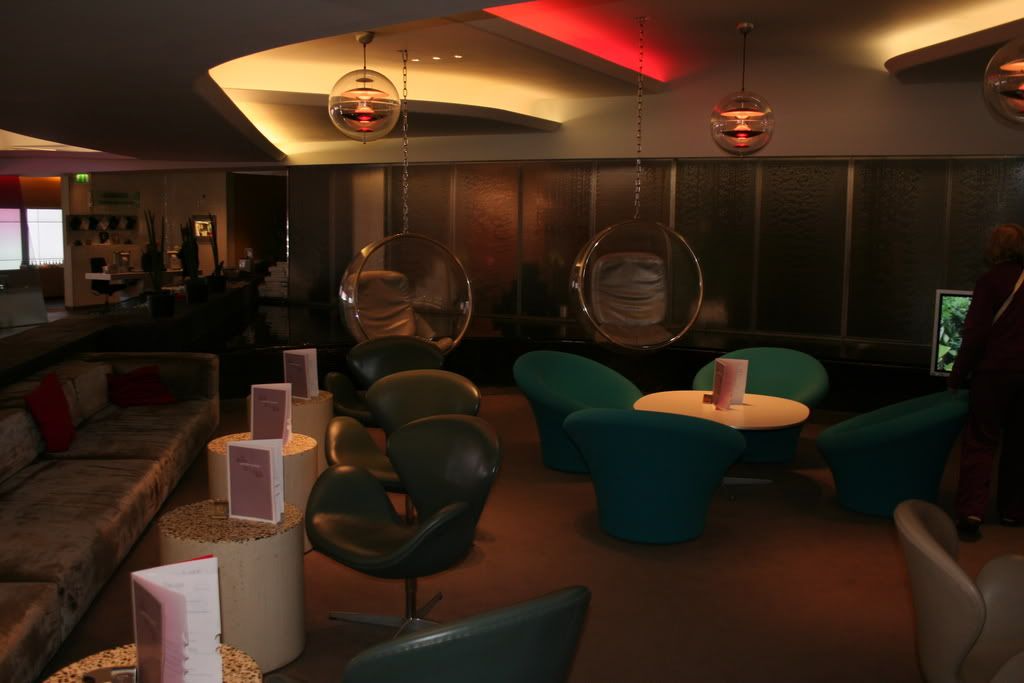 Above: Pool side lounge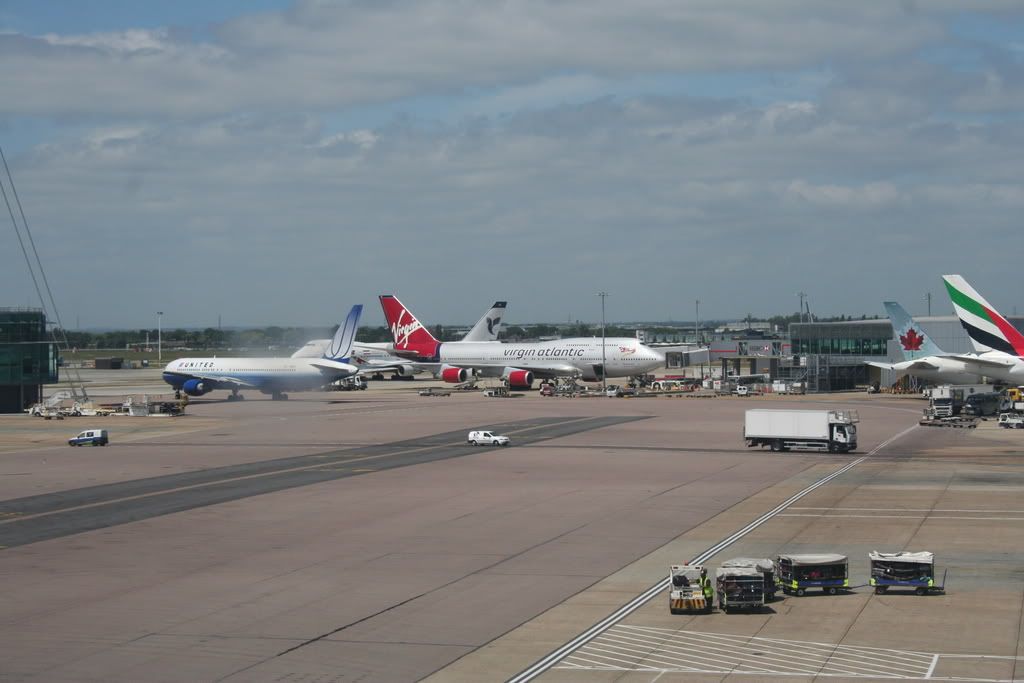 Above: View from the VS Clubhouse, and my ride, G-VROC "Mustang Sally".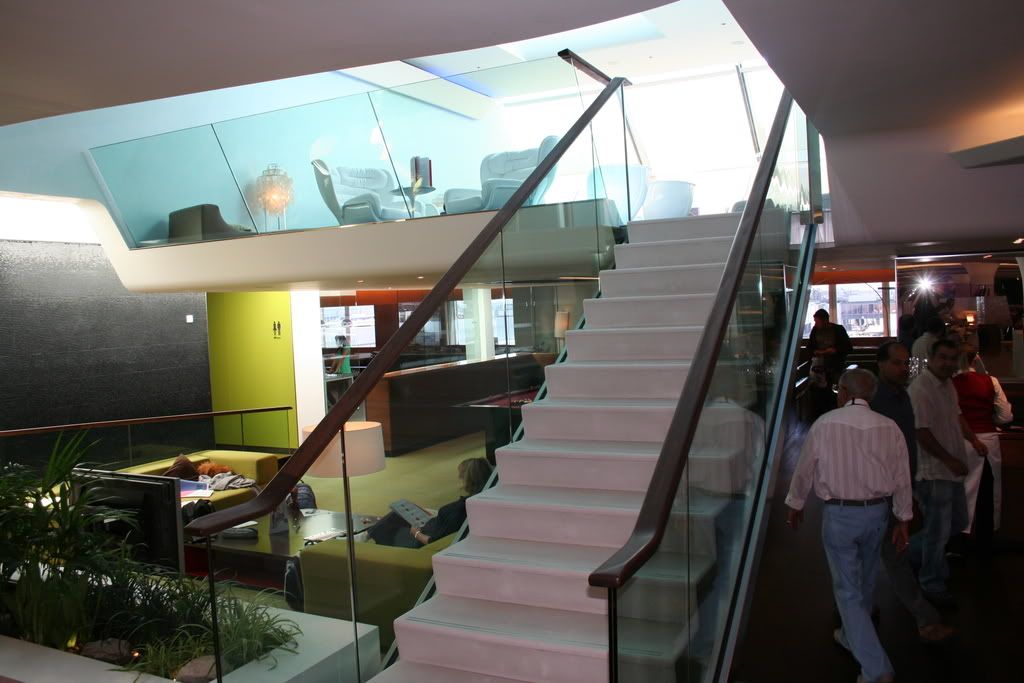 Above: Raised area, nice light and modern.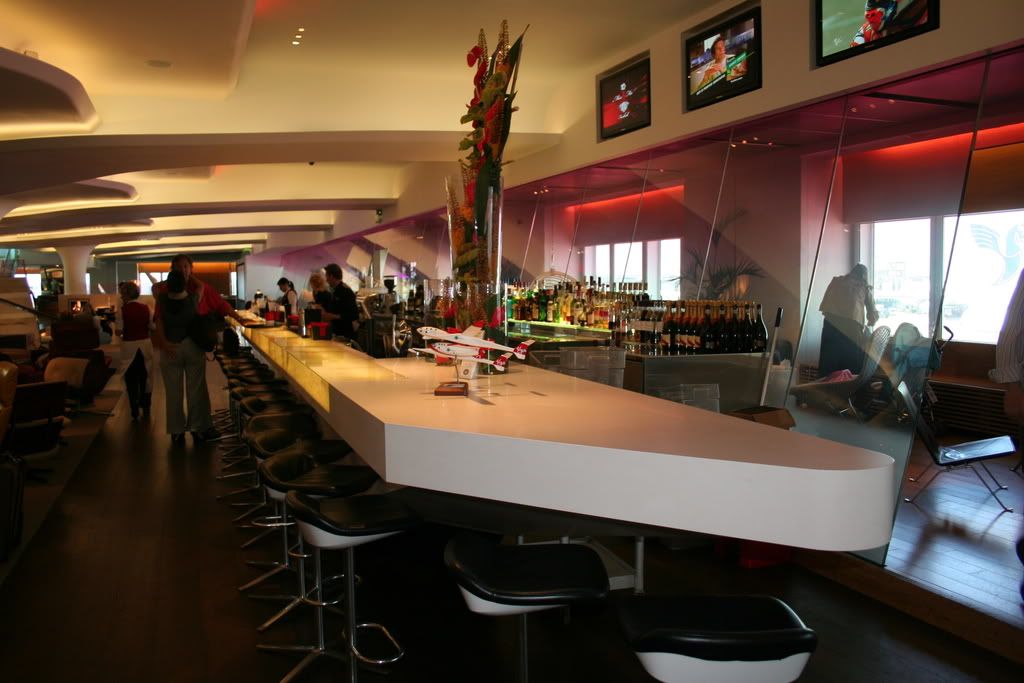 Above: Bar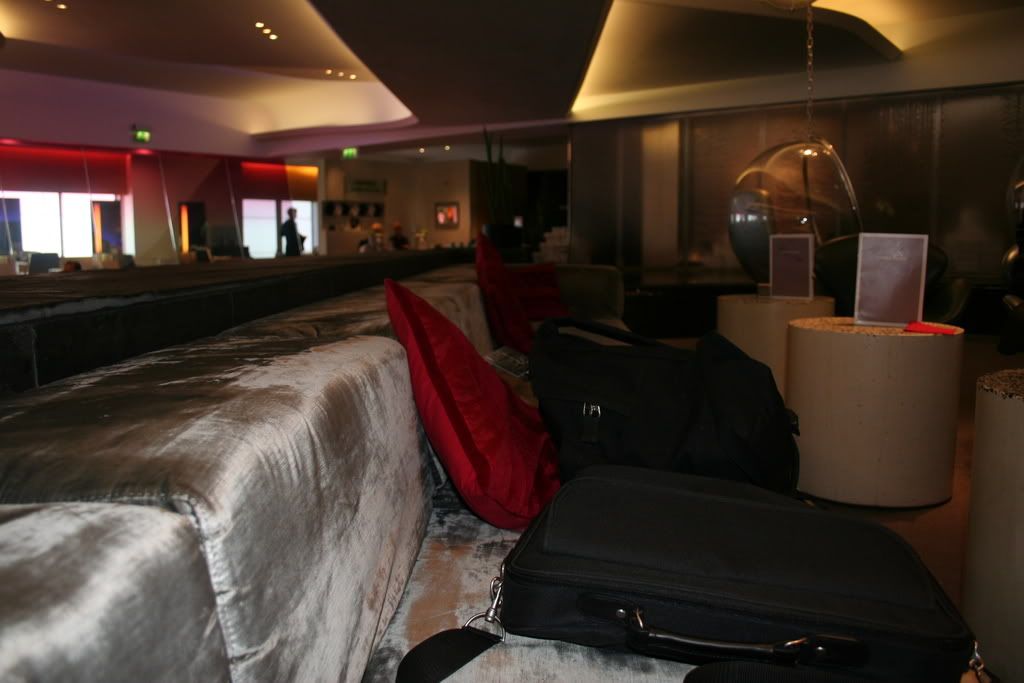 Above: Modern seats in the VS Clubhouse.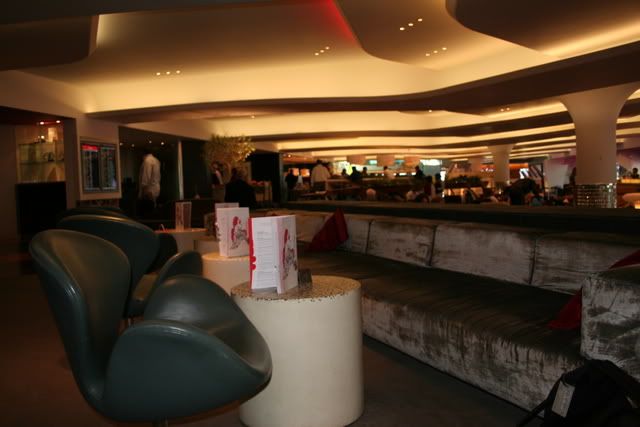 Above: Another lounge overview.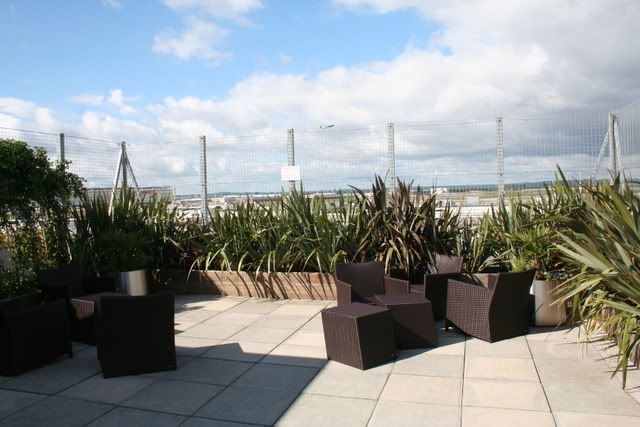 Above: Roof garden, currently closed due to fire started by smokers. This will re-open as soon as CCTV has been fitted to prevent this.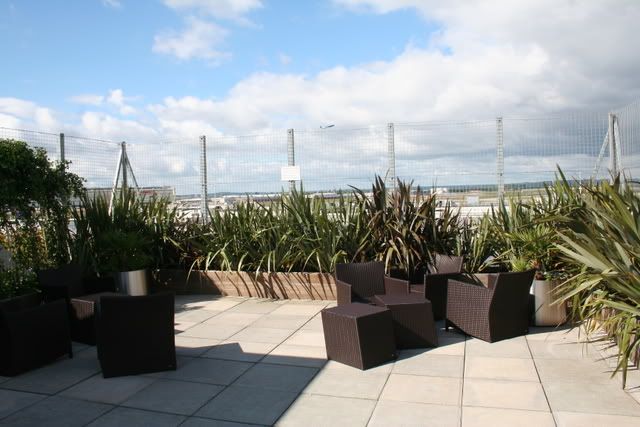 Above: Roof garden again.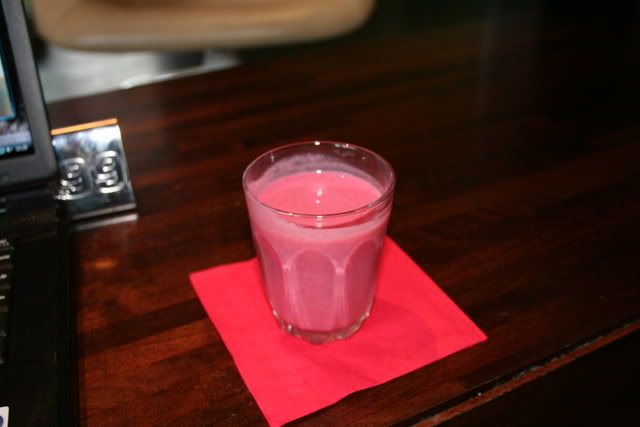 Above: Strawberry mix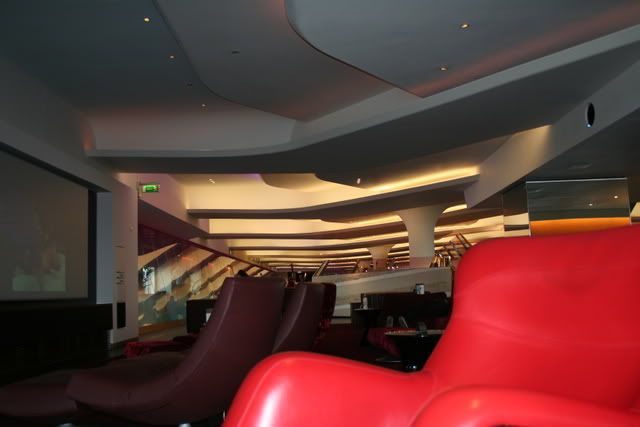 Above: Multiscreen.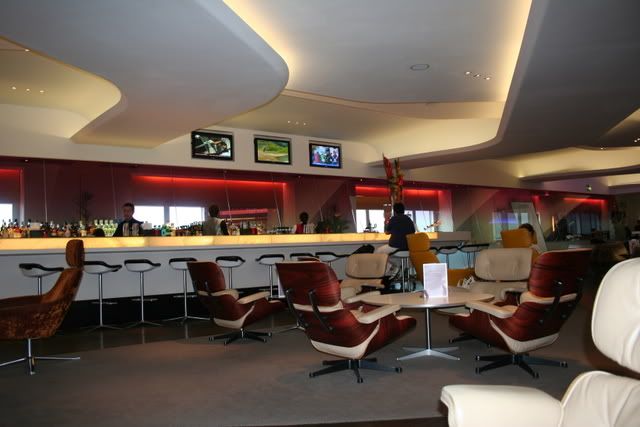 Above: Bar.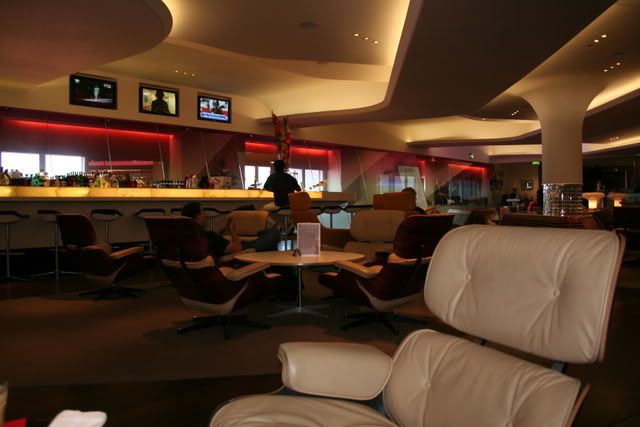 Above: Overview.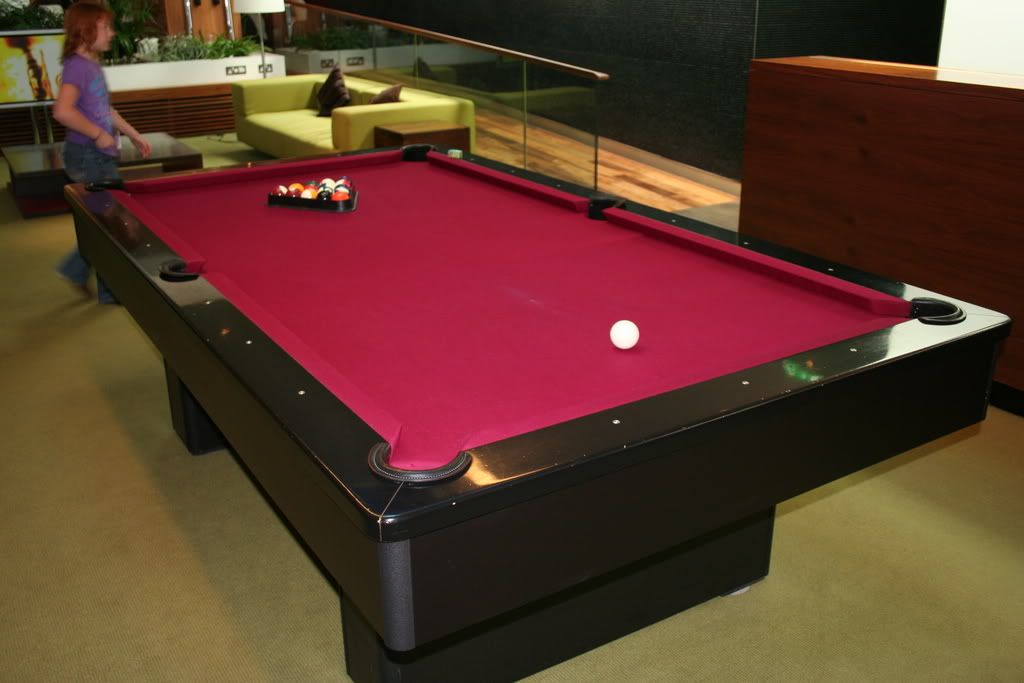 Above: Pool table, there are other games, but I didn't take pictures.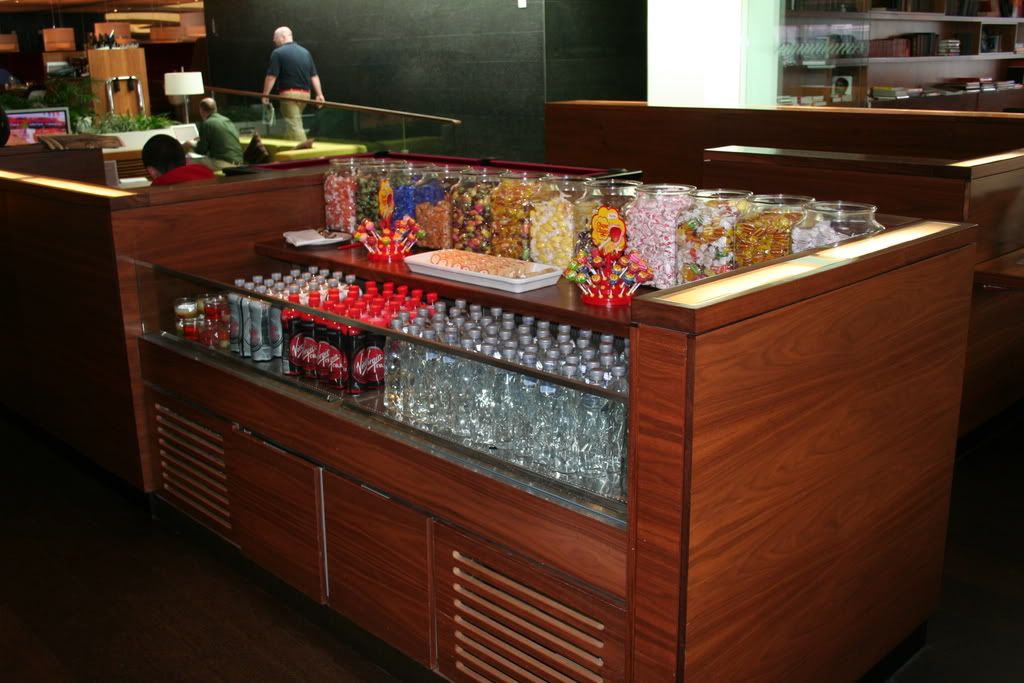 Above: This counter was full of sweets, jelly, fruit salad, and little things that are naughty, but nice as Virgin Atlantic refer to them as.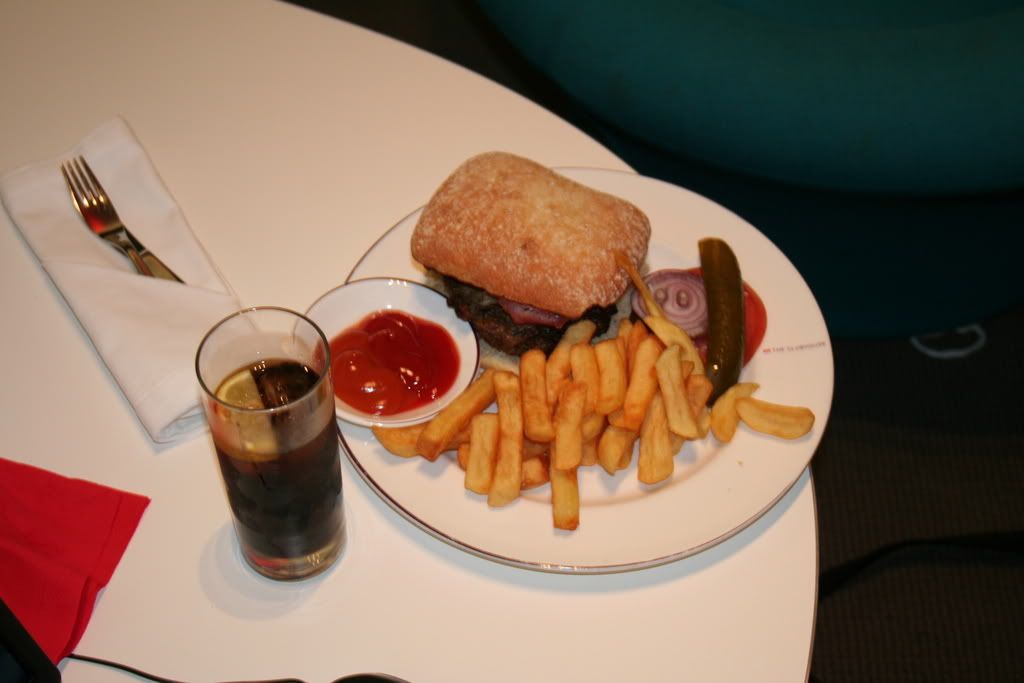 Above: Clubhouse Burger, It was Delicious.
Boarding.
Leaving the Clubhouse as VS045 was called, and I made my way to gate 32.
Airline: Virgin Atlantic
Flight Number: VS045
Aircraft: G-VROC "Mustang Sally" Boeing 744
Flight time: 7 Hours
Departure: 14:00
Arrival JFK: 16:40 local.
Load factor: 100%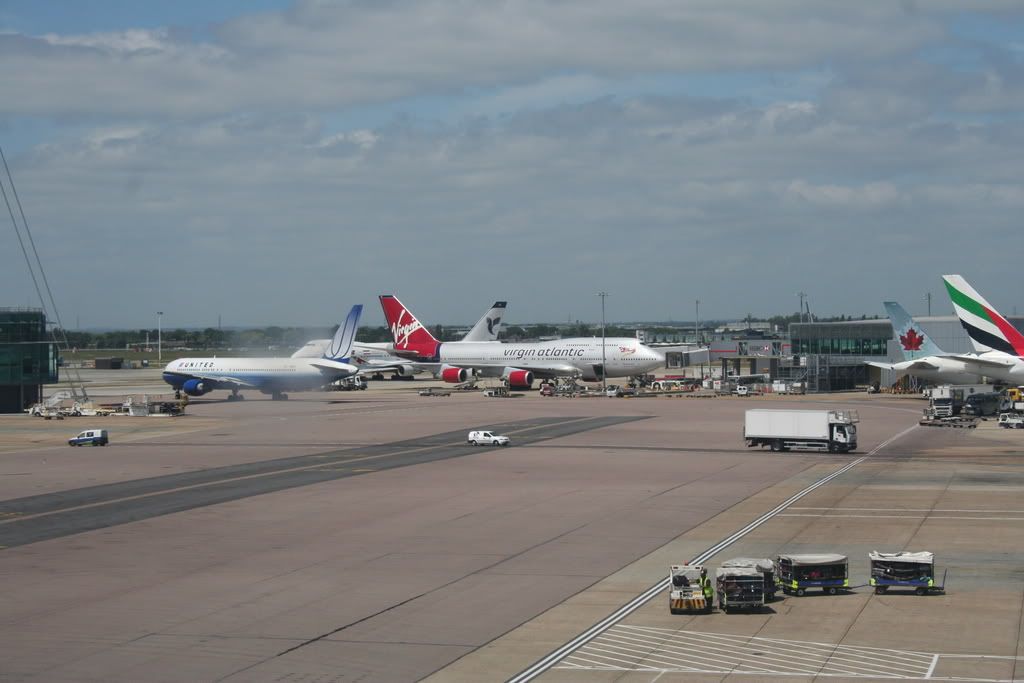 Above: G-VROC "Mustang Sally"
We were told to walk straight to the front of the line, showing our boarding pass to ensure priority boarding, this did make me feel a tad guilty cutting in front of other passengers. Joined the line, and the couple in front of me had the "magic beep", they had been upgraded to Premium Economy. Lucky people.
I was instructed to walk straight on to the aircraft, and was greeted by some very friendly crew, they escorted me to my seat (15K) and offered me a pre-flight drink. Obviously due to my age, I wasn't offered champers, so instead went for water to make a change to the amount of coke I had drunk in the clubhouse.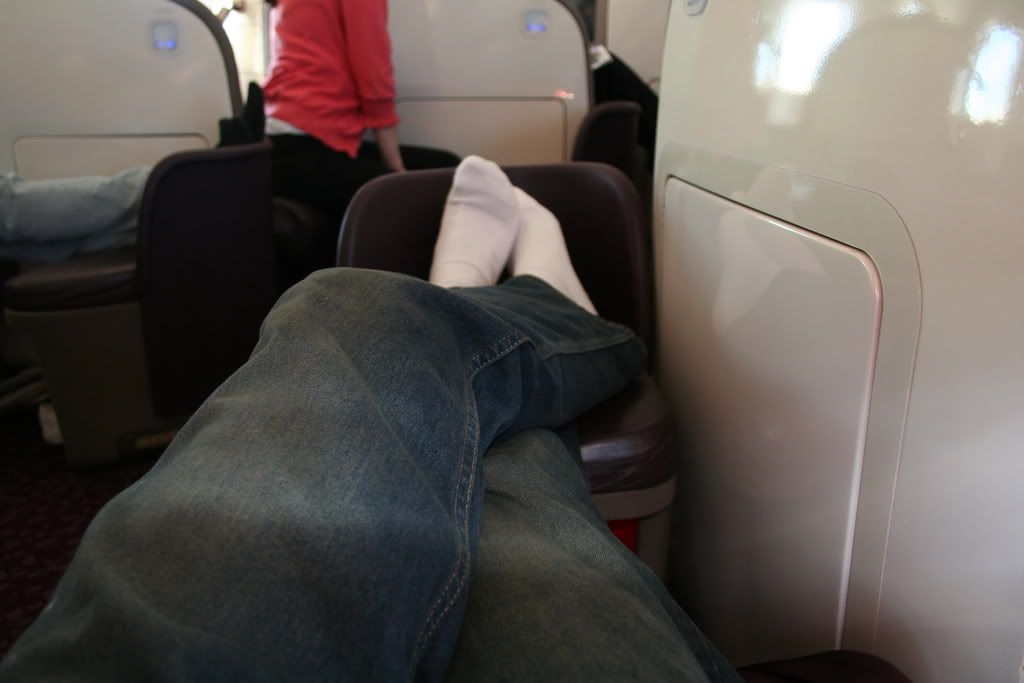 Above: Feet up!
We were greeted by the FSM and CSS for the flight, who both were fantastic and took care of all the 54 passengers to ensure a smooth running.
The Upper Class suite is so comfortable, and lived up to everything it is marketed to be. My only tiny complaint, is that is hard to look out the window, but that isn't important unless your an a.nutter.
a delay of 15 minutes due to ATC and 2 late passengers, who turned up just as bags were about to be offloaded. During this time, a manual safety demonstration was completed, which is a shame because Virgin's video is so funny, even after the 15th time of viewing it, defiantly a way to get people's attention.
30 Minutes late, we took off from Runway 27L.
The crew member that would be looking after me came around and introduced herself to me and got to know me better. She was very fascinated with my story and how I had worked to get this trip, she really worked hard to ensure I received the most out of it. Defiantly a credit to VS. After this, she explained how the suite works, the services available today and if I wanted duty free, and asked me for drinks orders. I went for yet more coke.
During this time, kits were handed out and noise cancelling headphones. The CSS came round with a basket full of additional goodies.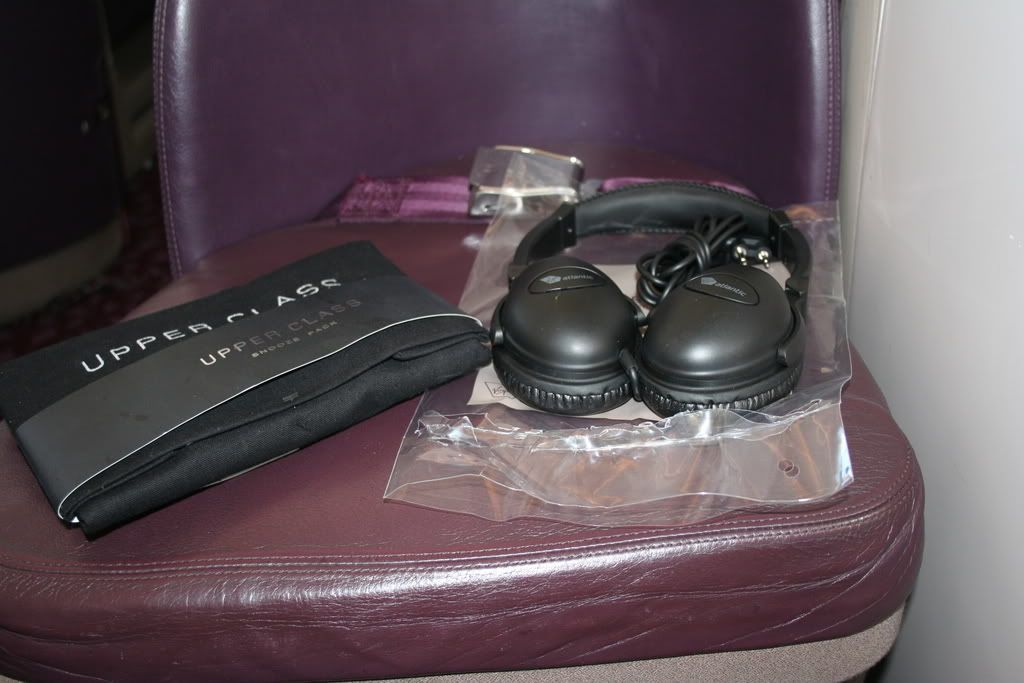 Above: Kit & Headphones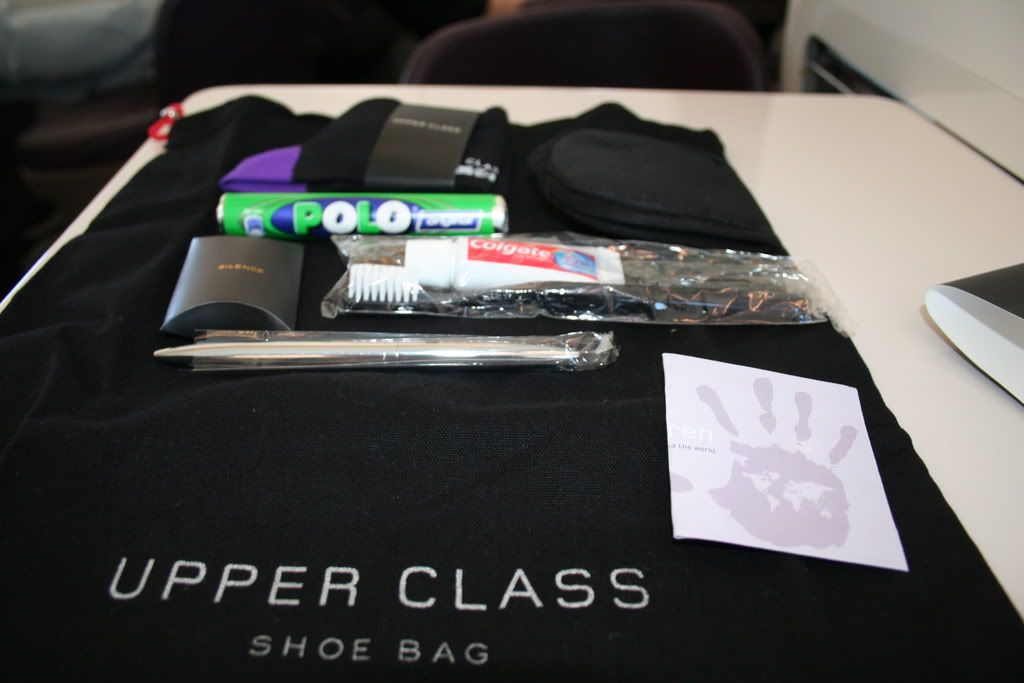 Above: Snooze Pack opened.
Drink's arrived with a little side plate of crisps.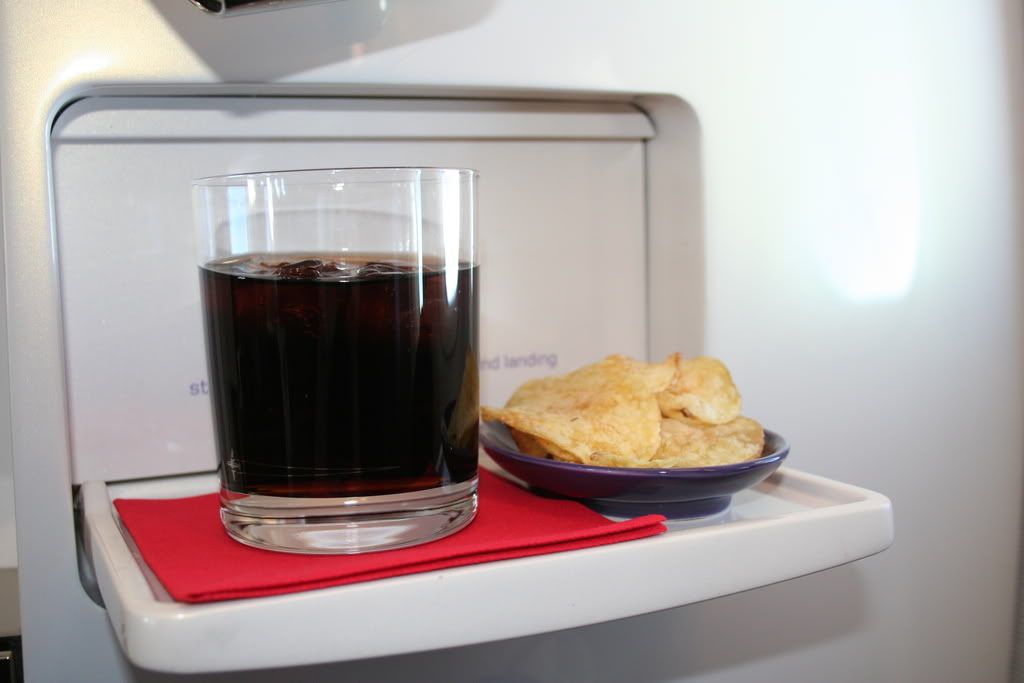 Above: Coke & Walkers Sensation Crisps.
V:PORT (Virgin's AVIOD IFE) was turned on, an incredible system full of all kinds of feautres.
a href="http://s307.photobucket.com/albums/nn312/Finchee4/Virgin%20Atlantic%20Upper%20Class%20VS45/?action=view&current=VirginUpperVS045068.jpg" target="_blank">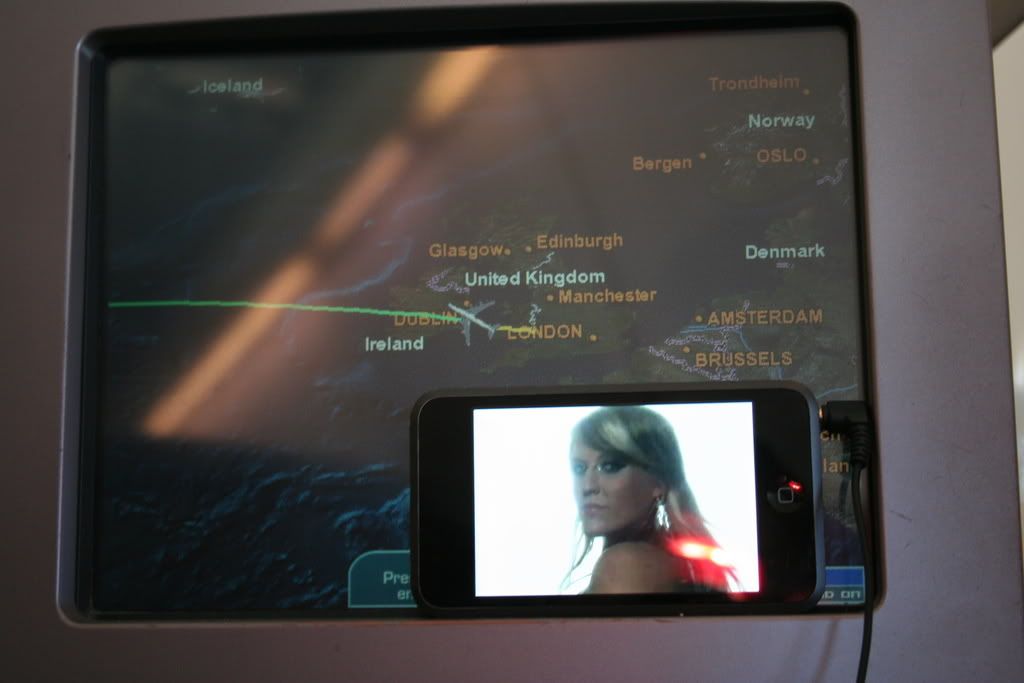 Above: IMAP with the lovely Nataile Horler aka Cascada.
My member of crew came back and took dinner orders. I made my chose and she came back to lay my table.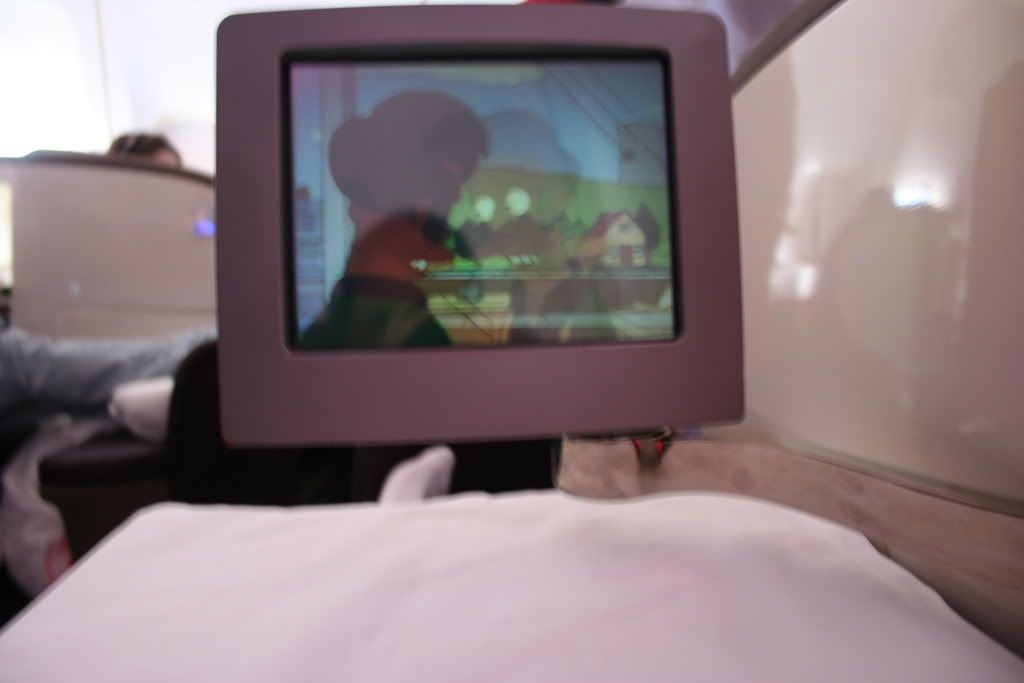 Above: Table with The Simpsons.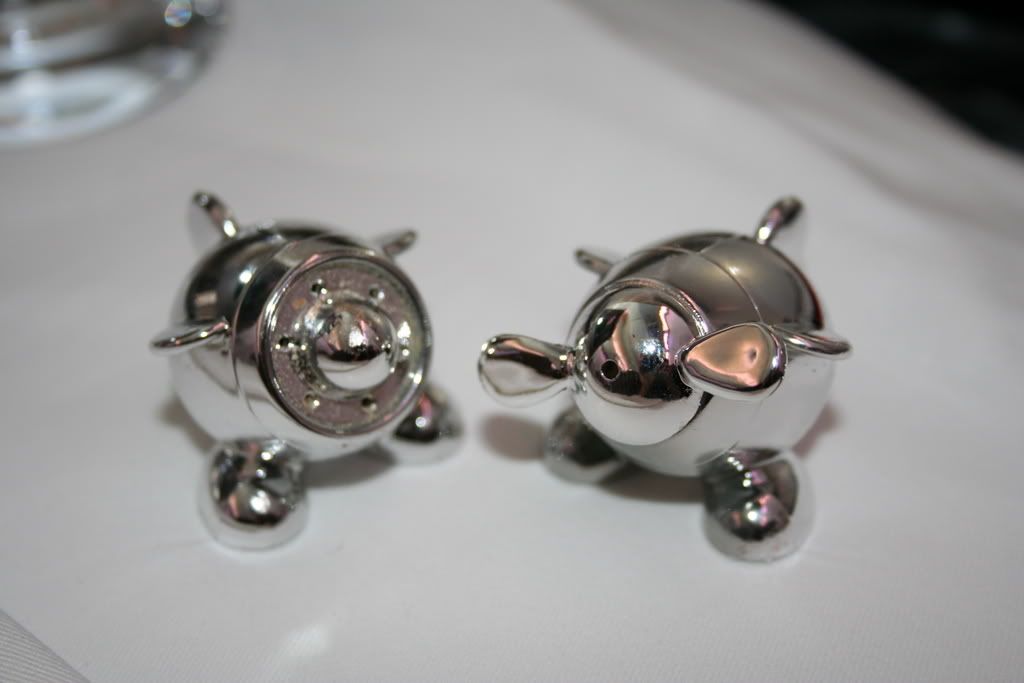 Above: Salt & Pepper, I love these" They say "Pinched From Virgin Atlantic" on the bottom.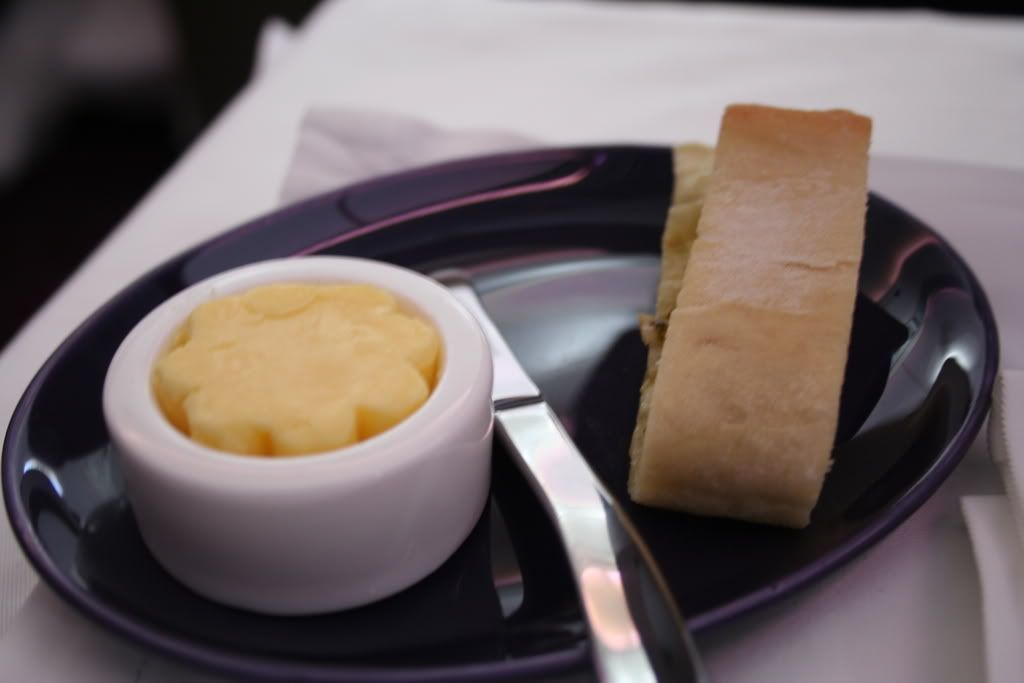 Above: Warm bread service with 5 options, I went for the garlic and it was lovely.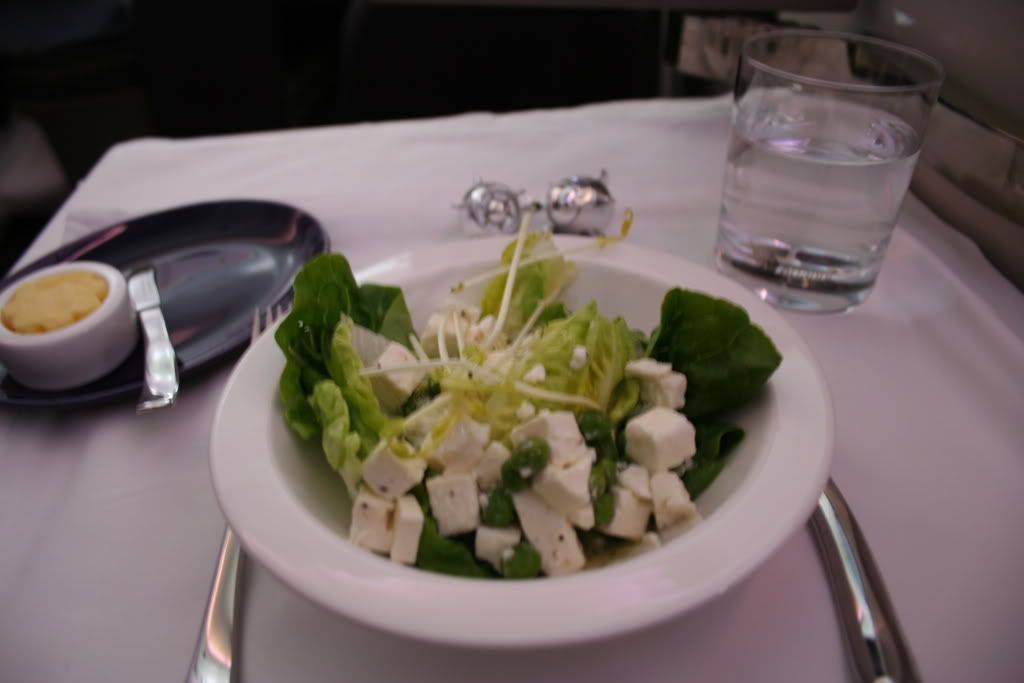 Above: Green salad with feta cheese, rocket dressing and peas. It was lovely, perfect condition.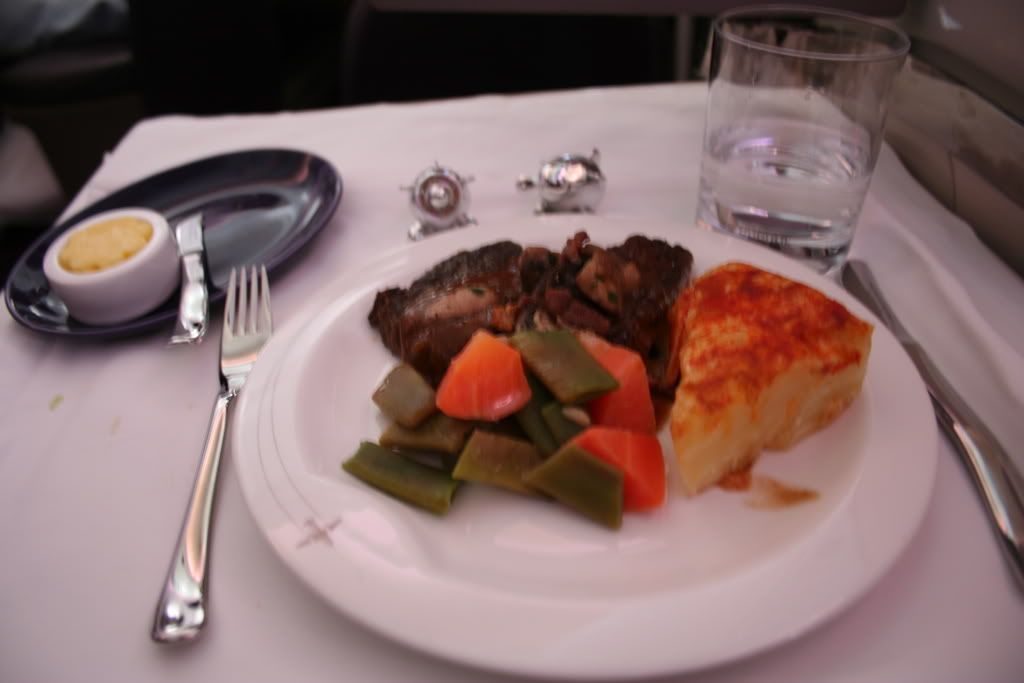 Above: Beef in red wine source. Really moist and tender, vegetables were perfect and an enjoyable dinner.
I was then offered sweets, and being the child I am, went for the orange ice cream with dark chocolate source.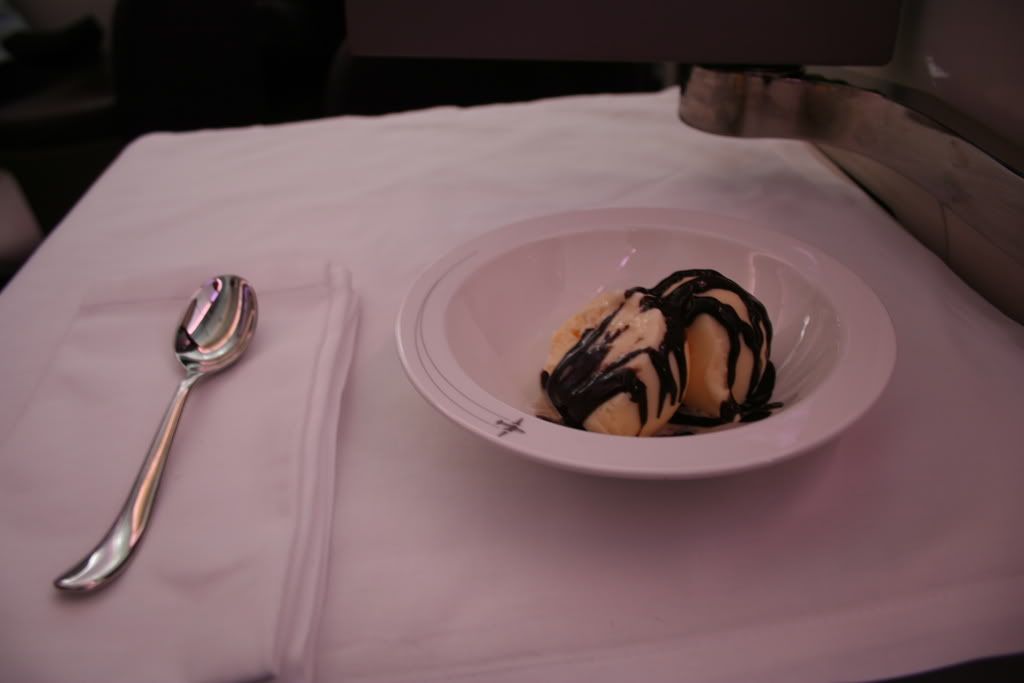 Above: Pudding, It was lovely!
After all of this, I decided a trip to the bar was in order. I was up there for at least 1 hour 30 minutes of the flight, chatting away to the crew, who showed me the upper deck (recently this had been re-configured) and were really generous to me at the bar, offering me more ice cream (can't say no can I?) and crisps.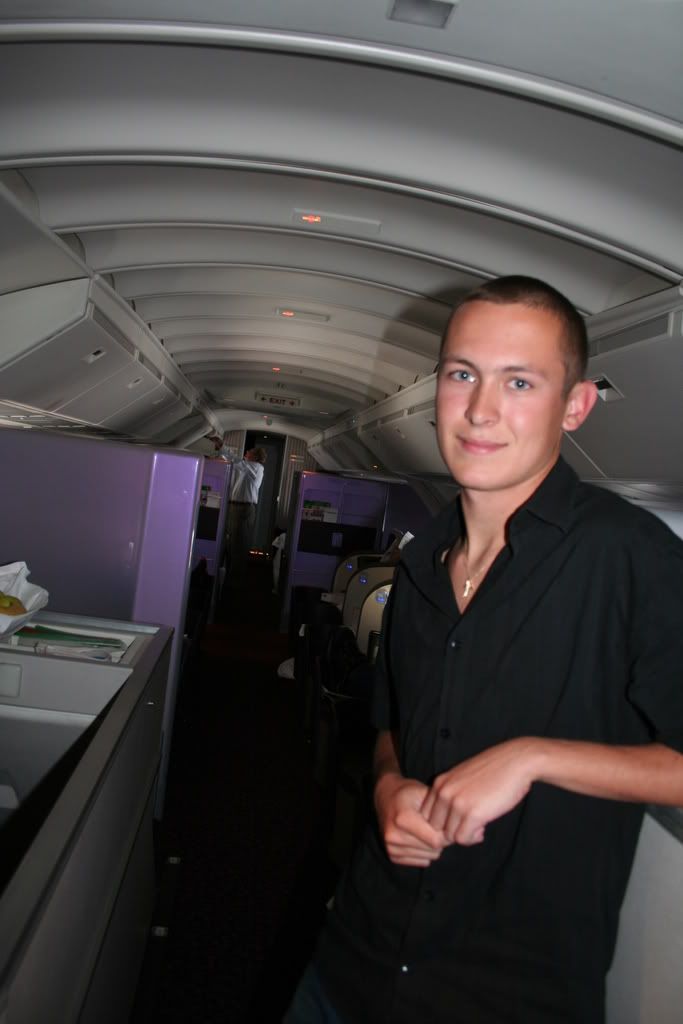 Above: Me on the now all Upper Class upper deck.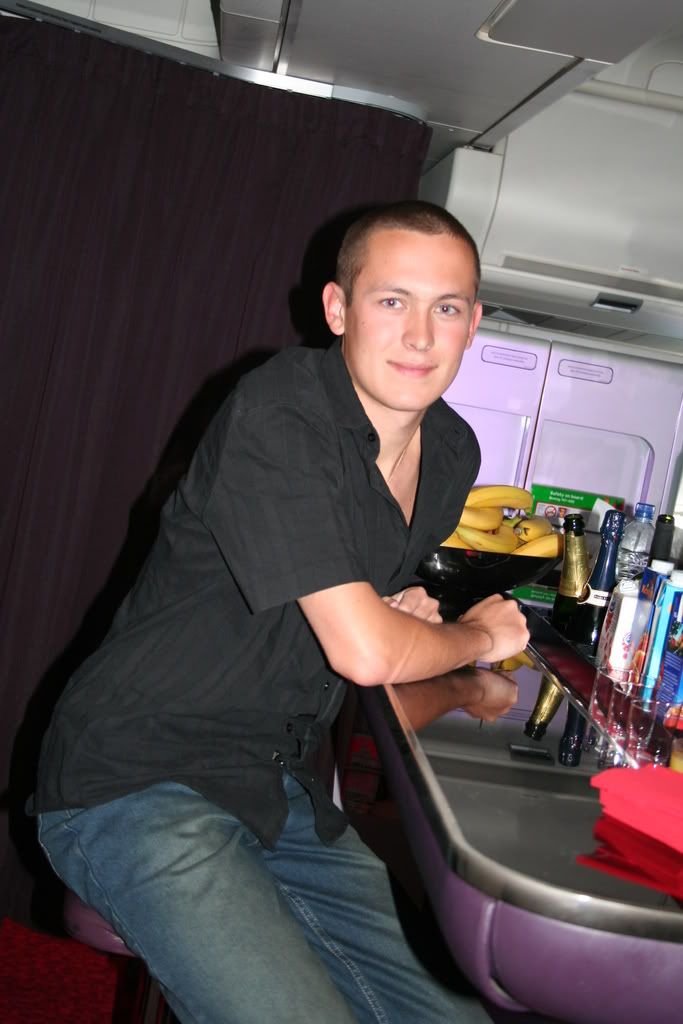 Above: Me at the bar.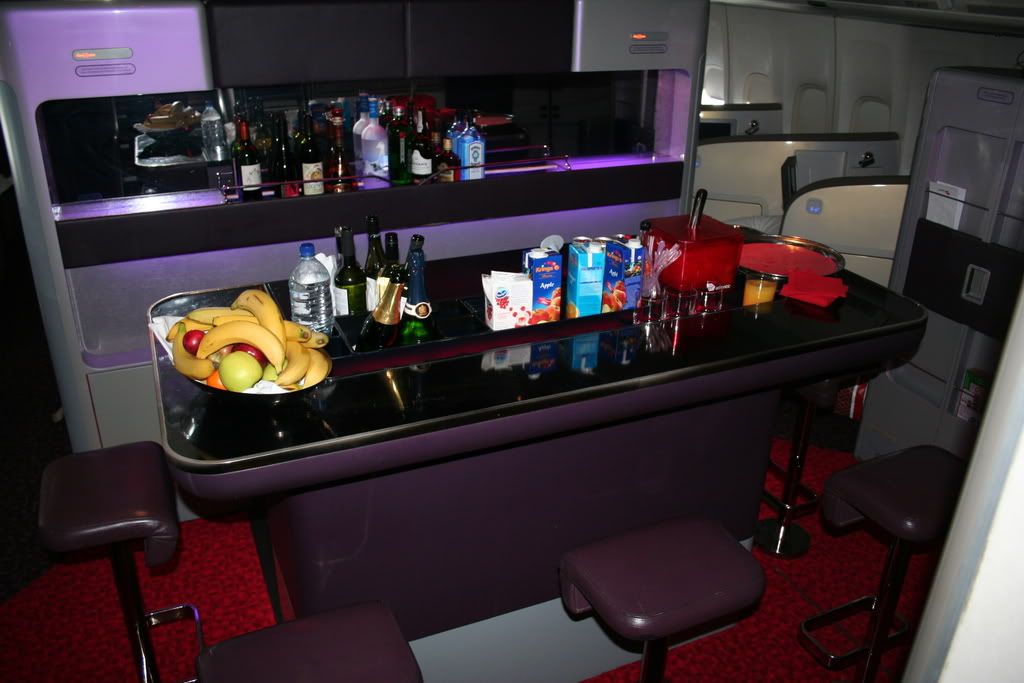 Above & Below: The Bar.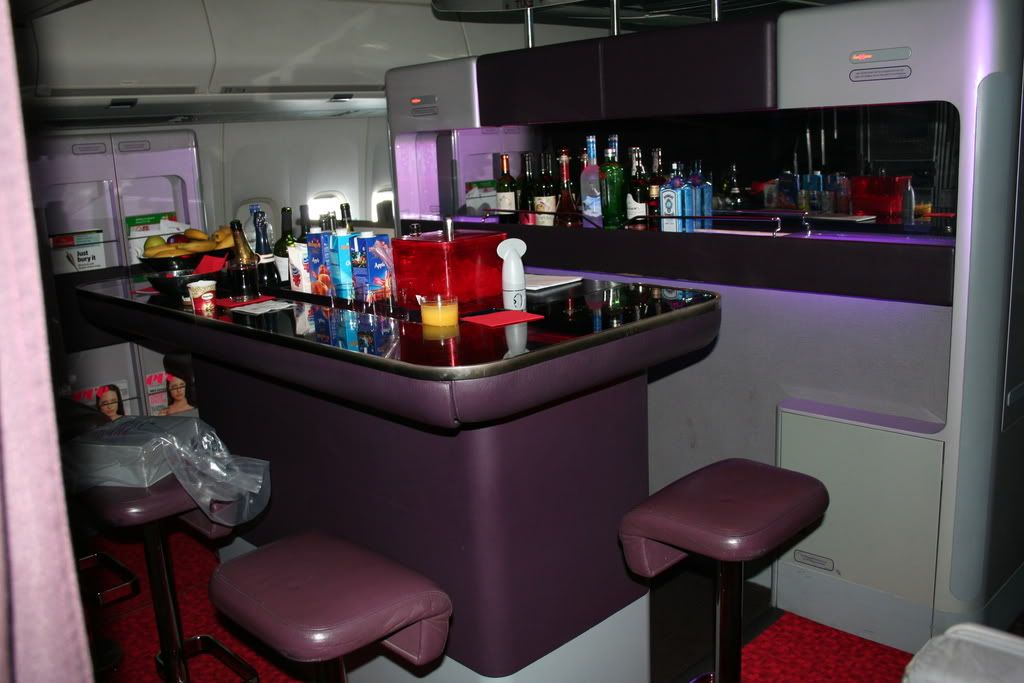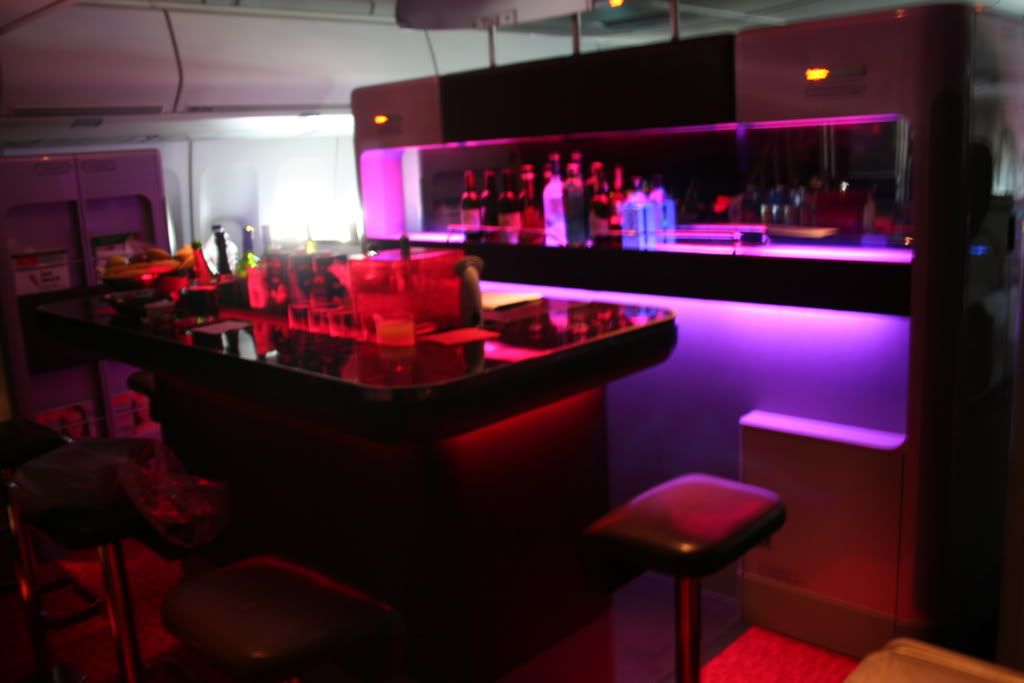 Above & Below: Bar in the funky lights.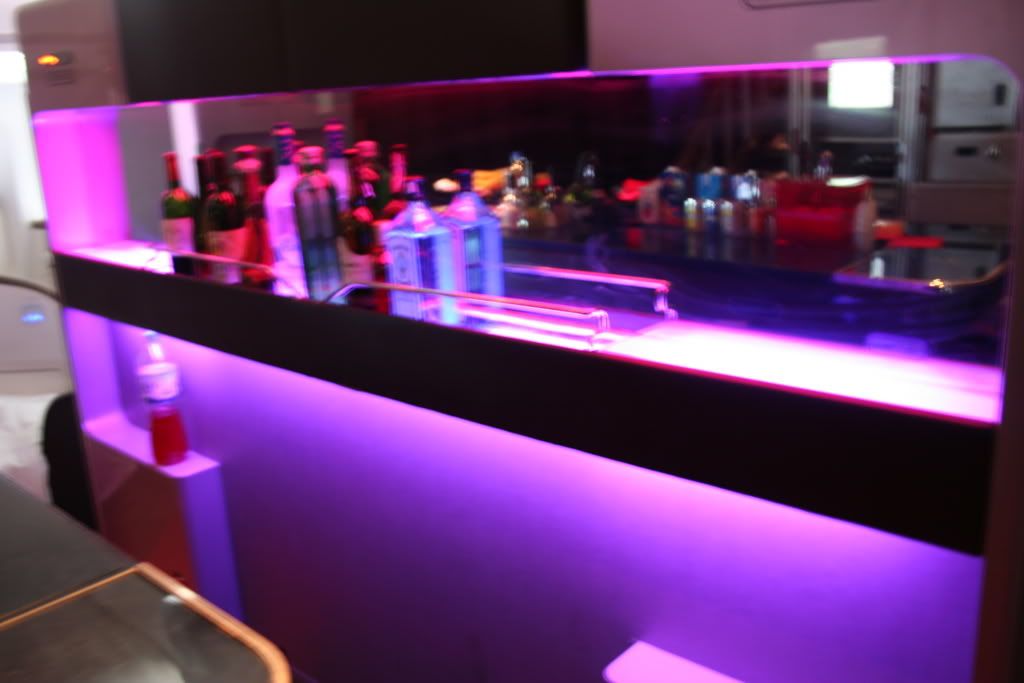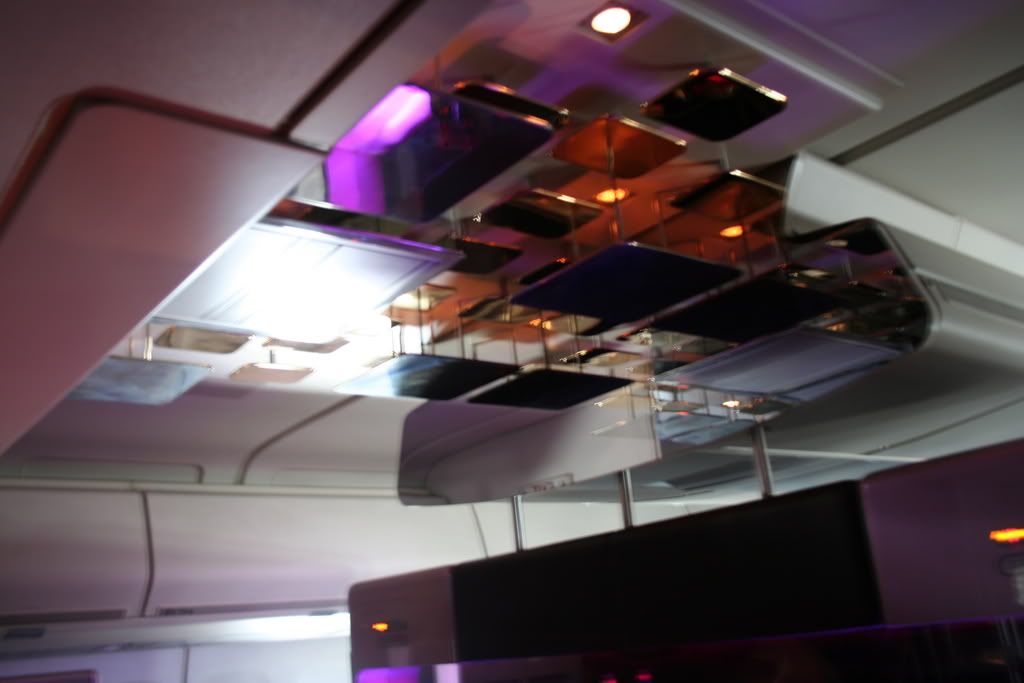 Above: Modern design above the bar.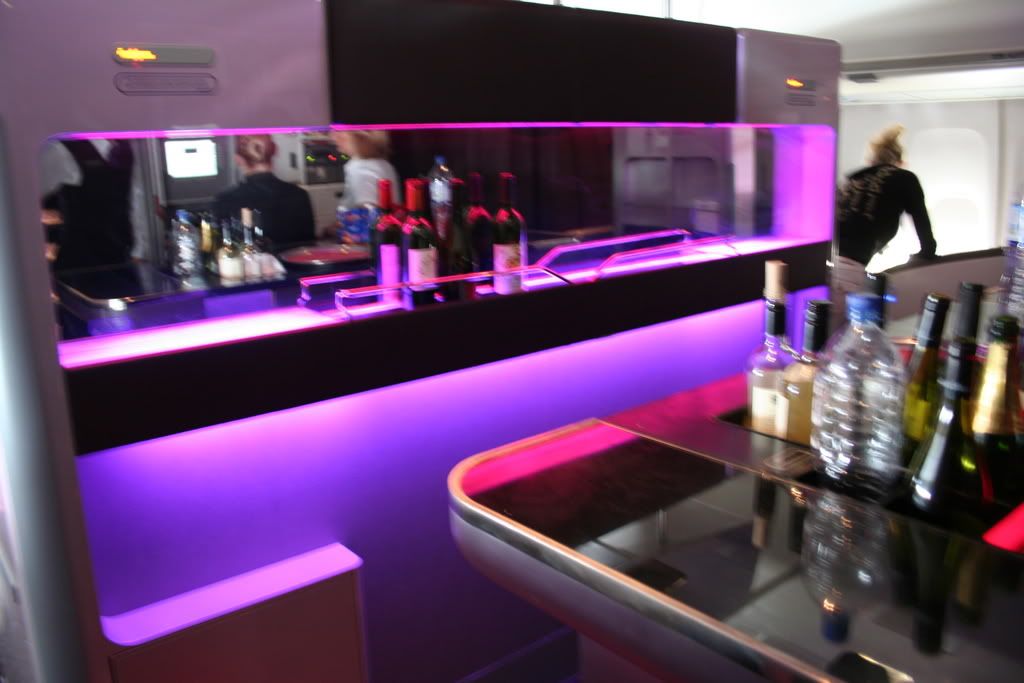 Above: More Bar.
After leaving the bar, I took a few cabin shots.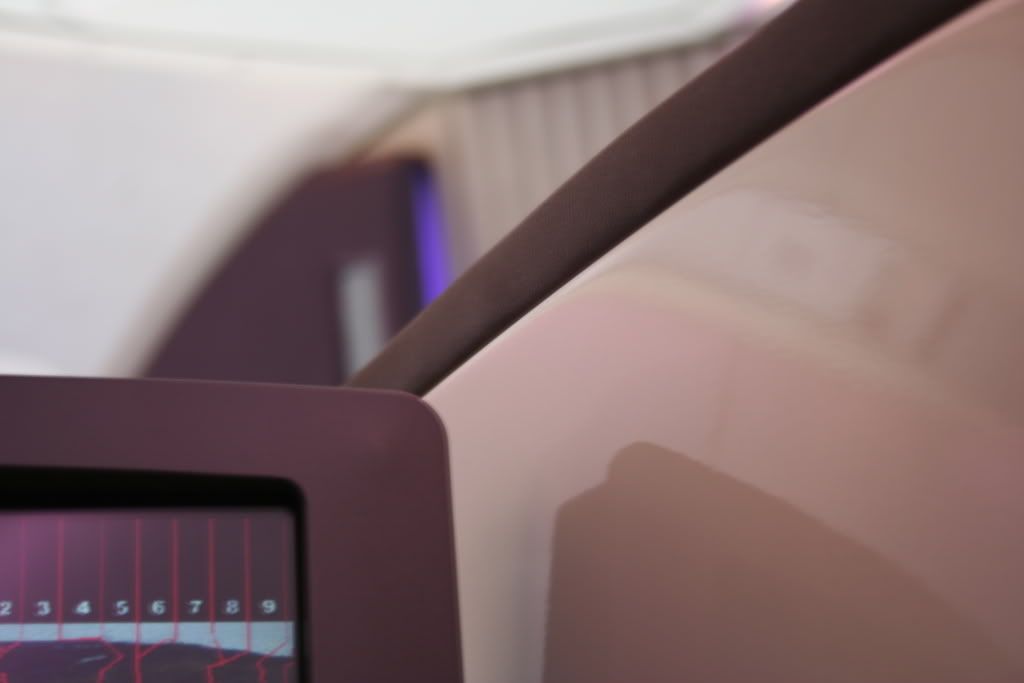 Above: View from my suite, I think it looked cool.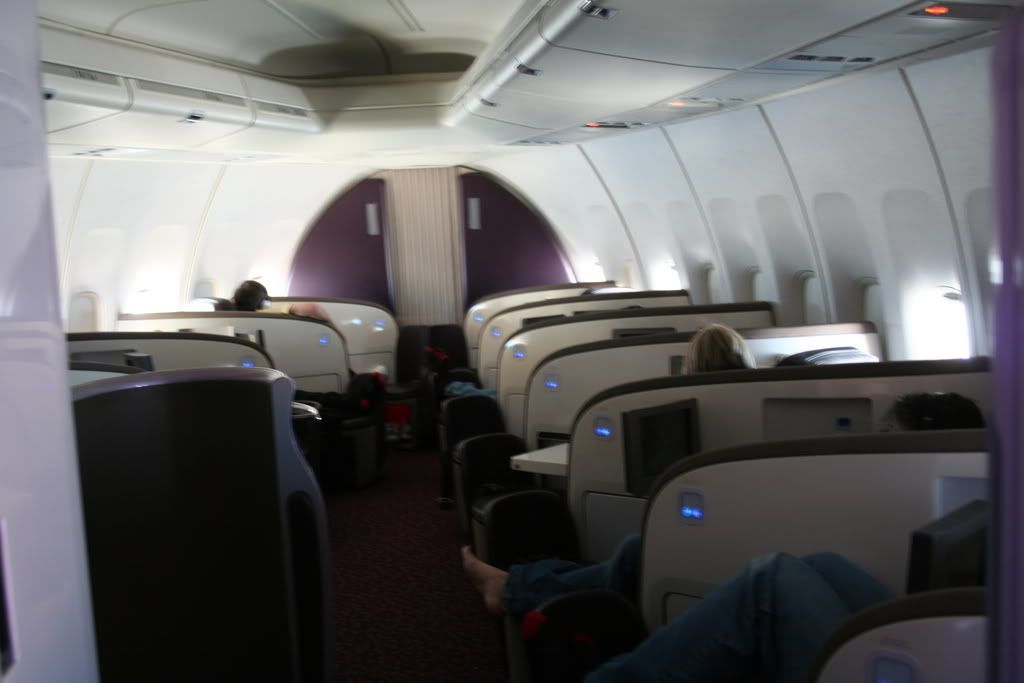 Above: Nose of the 747.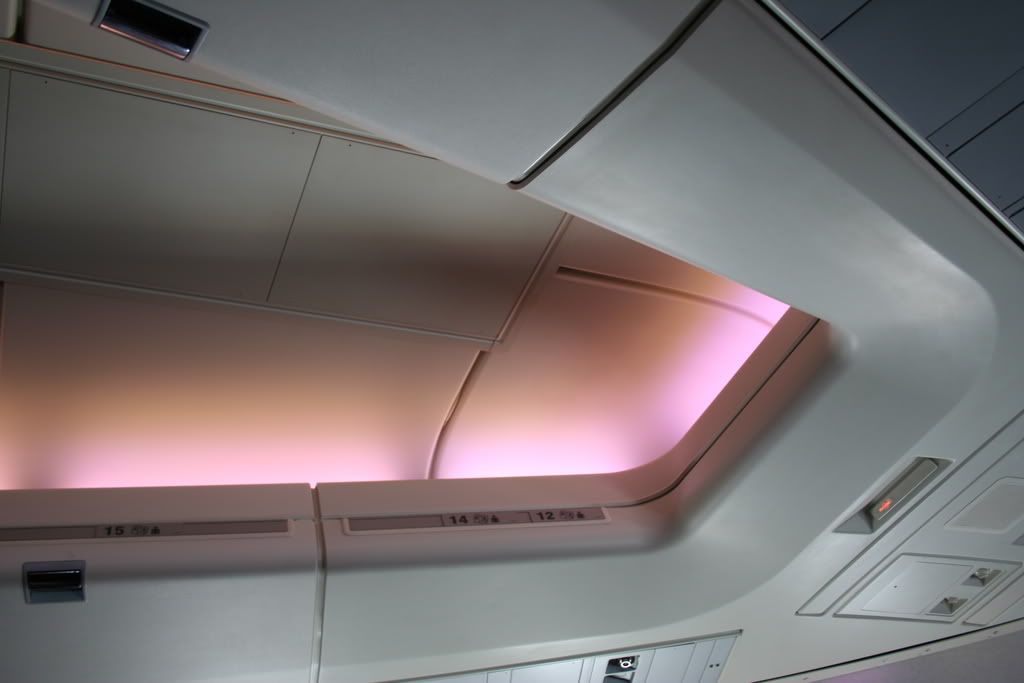 Above: Can't really see the mood lighting, but it was visable in the cabin.
a href="http://s307.photobucket.com/albums/nn312/Finchee4/Virgin%20Atlantic%20Upper%20Class%20VS45/?action=view&current=VirginUpperVS045101.jpg" target="_blank">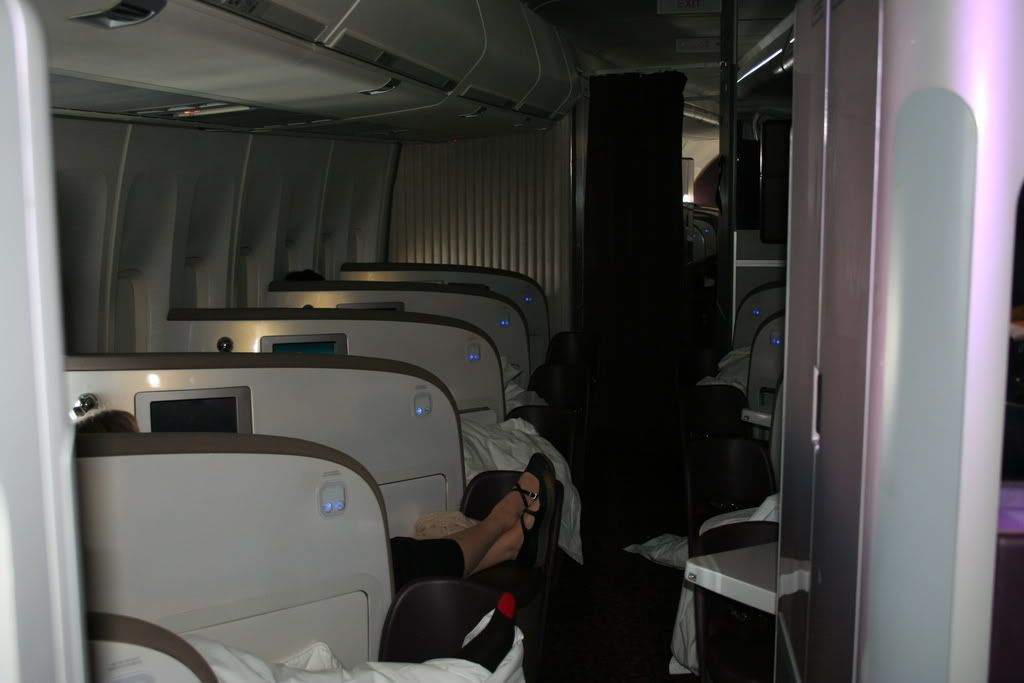 Above: "B" Zone on this 747.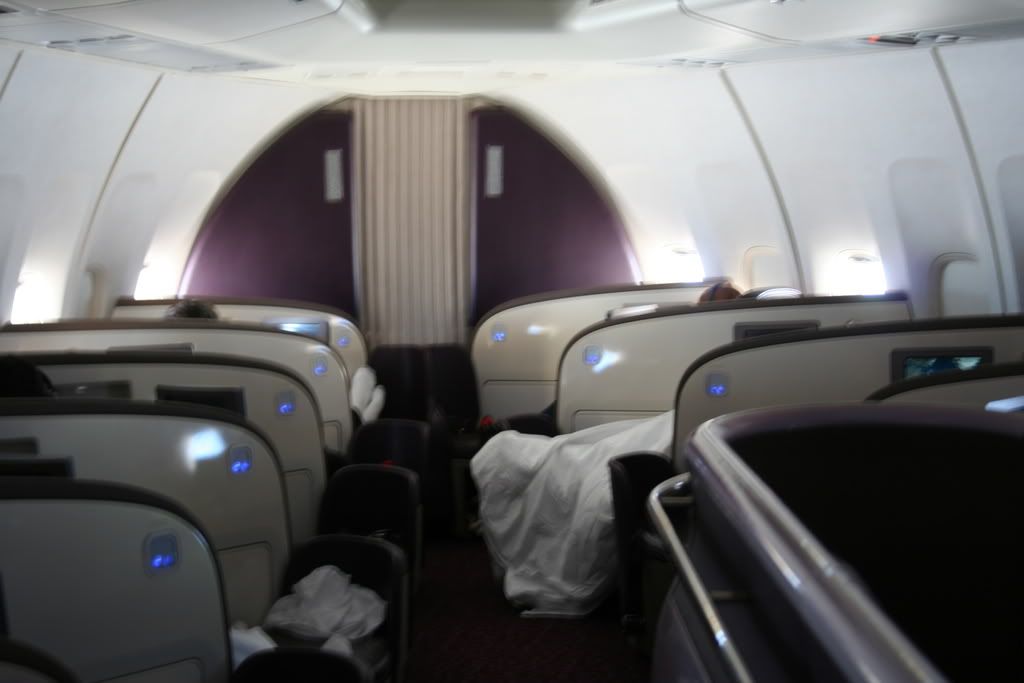 Above: Nose of the 747, with the former beaty area on this bird. Sad to see it empty.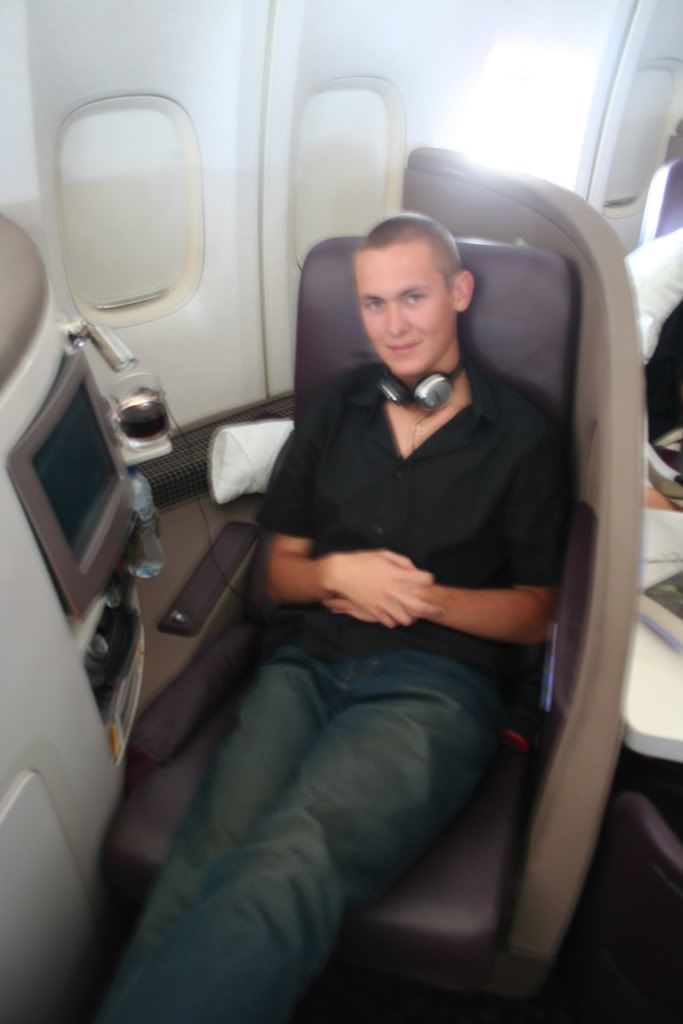 Above: Me in my suite.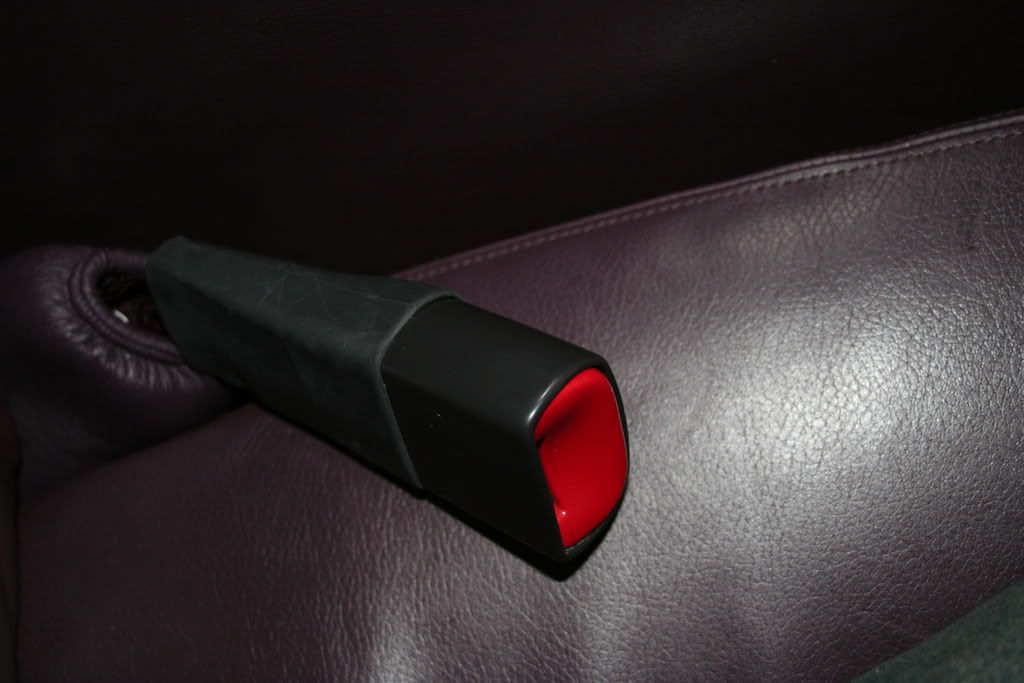 Above: Not like a normal airline seat belt.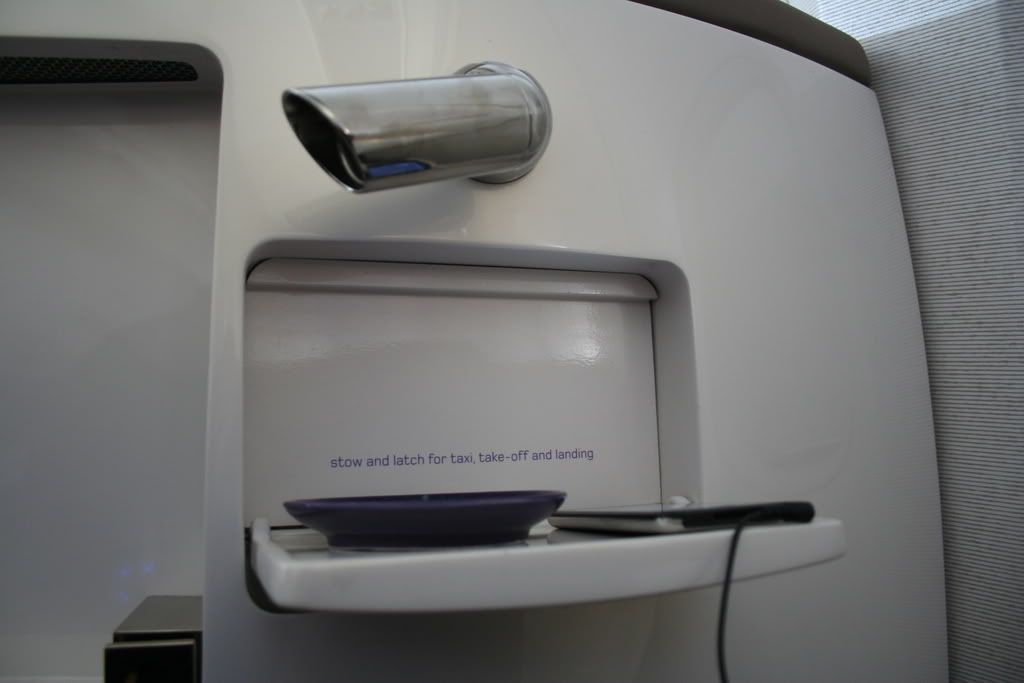 Above: Cocktail tray.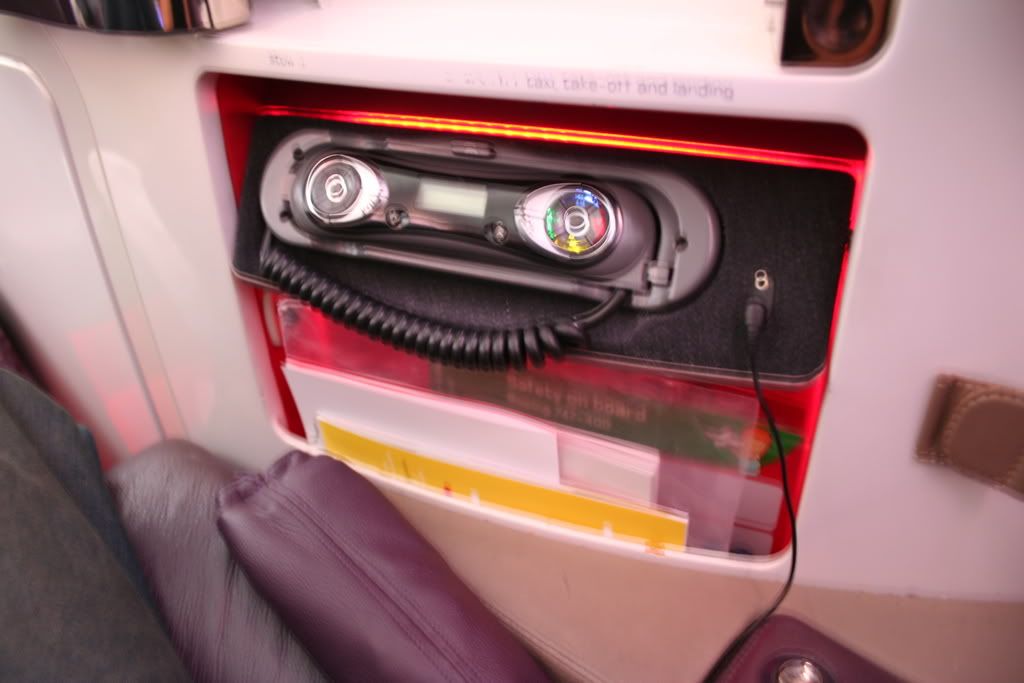 Above: More modern lights on this bird.
At this point, I converted to a bed, just so I can lie down for a bit, unfortunately no pictures, but I will on the return.
I was asked if I wanted anything more before landing, I opted for the apple & cinnamon scone with cream and jam.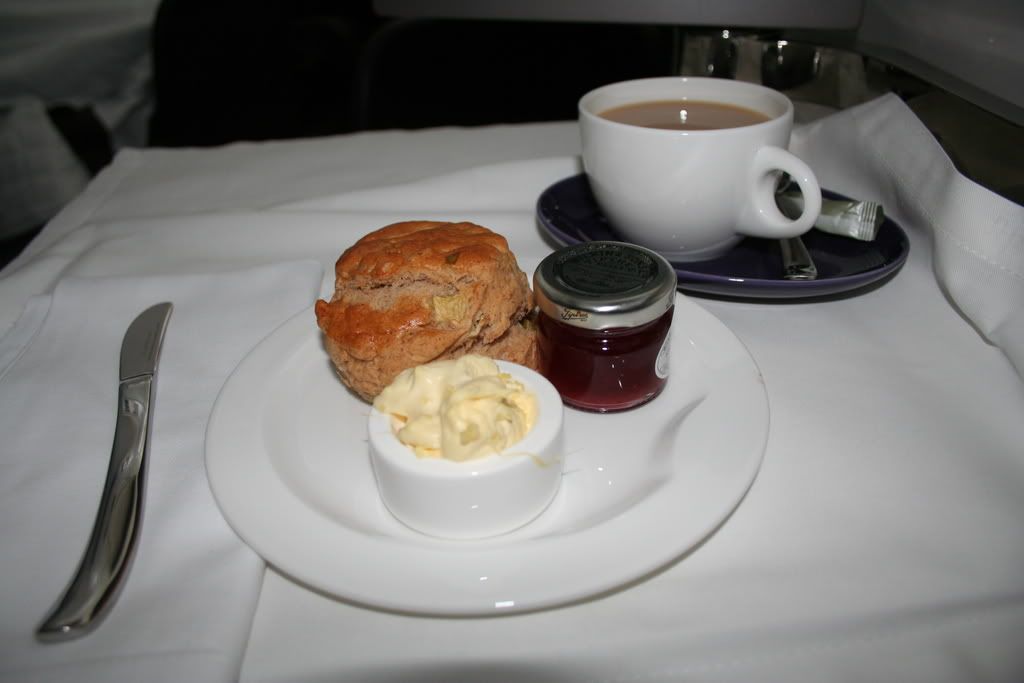 Above: Scone, Jam & Tea.
It really was as nice as it looked, I asked my member of cabin crew if there was any more ice cream left, and she said she would see what she could do, and luckily enough came back with a tub.
At this point we were at the top of our descent, and the cabin started to get ready for landing. The IFE was then switched off.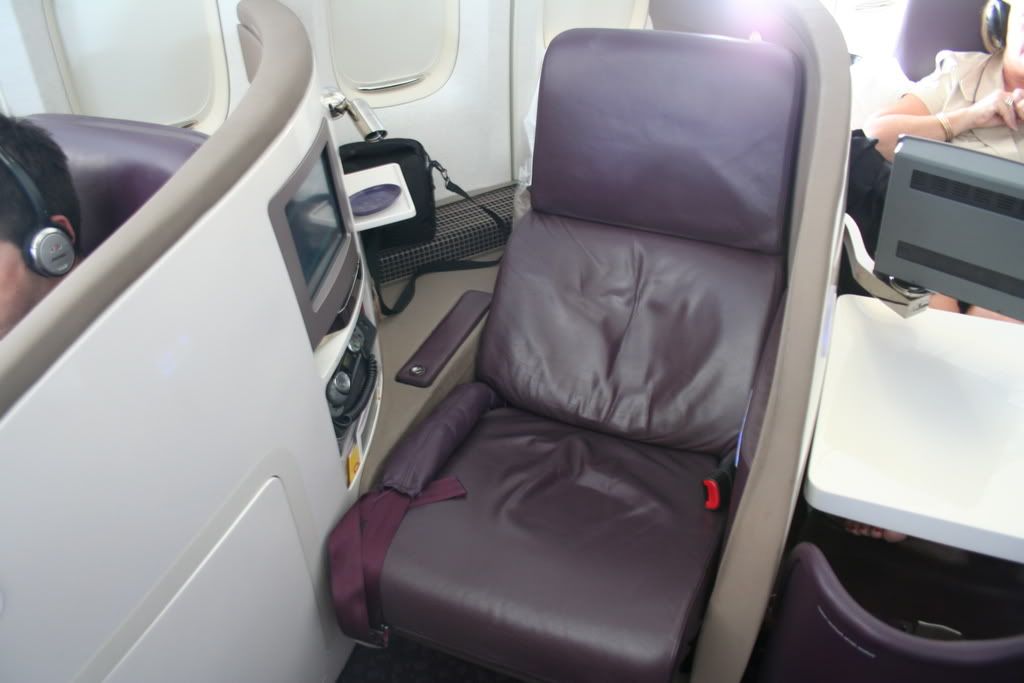 Above: My Suite 15K.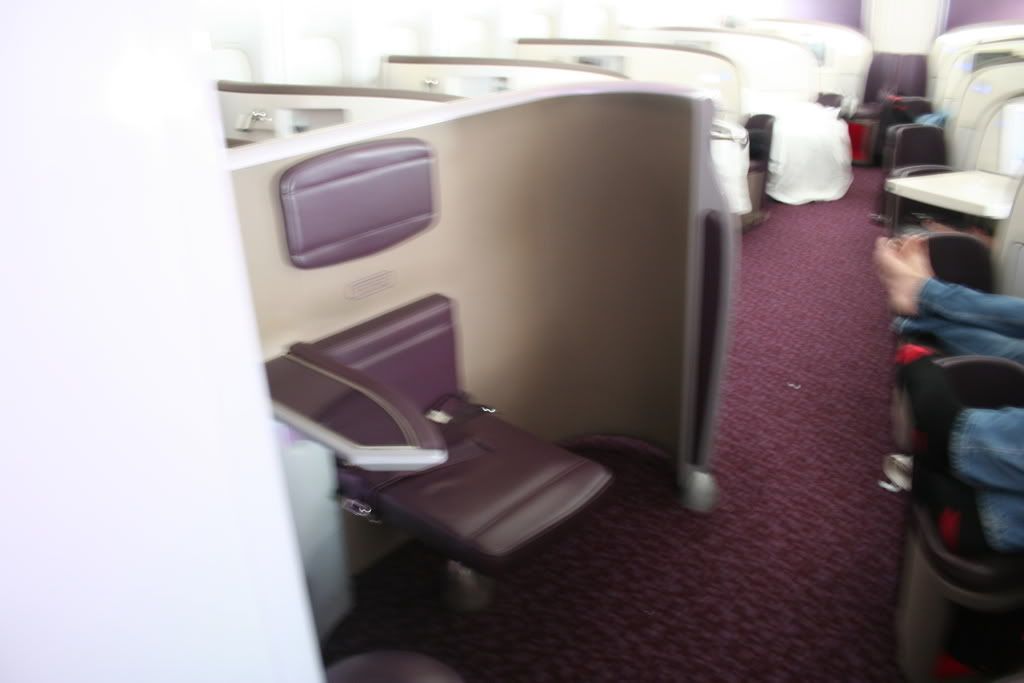 Above: The now un-used IFBT area.
Landing in JFK was smooth and the approach was amazing, with great sites of NYC.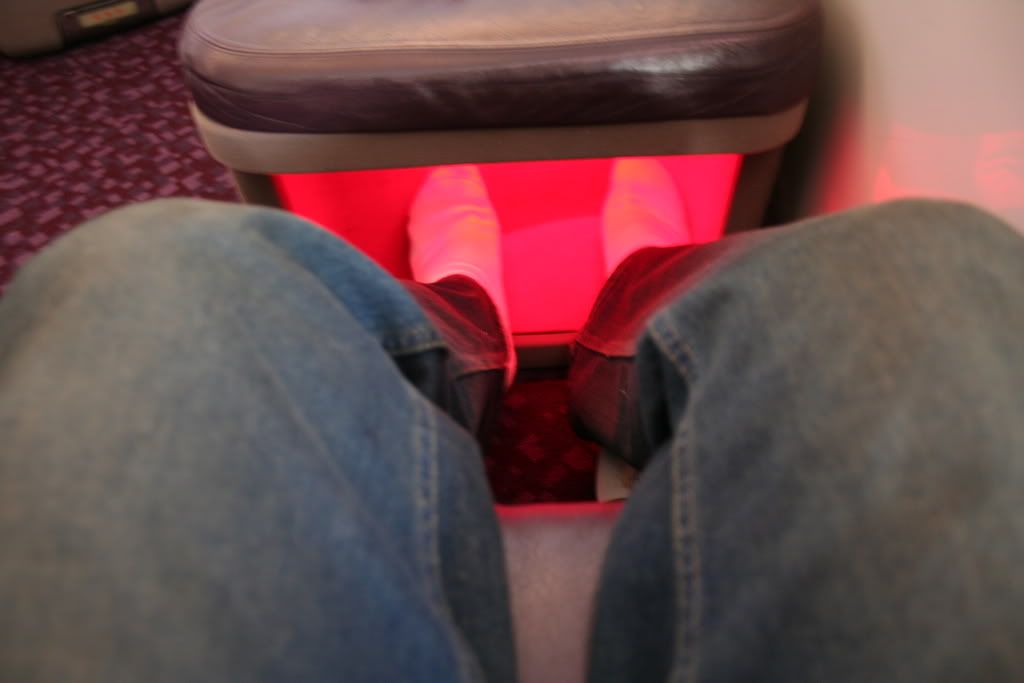 Above: Random photo I took before landing showing the red lighting.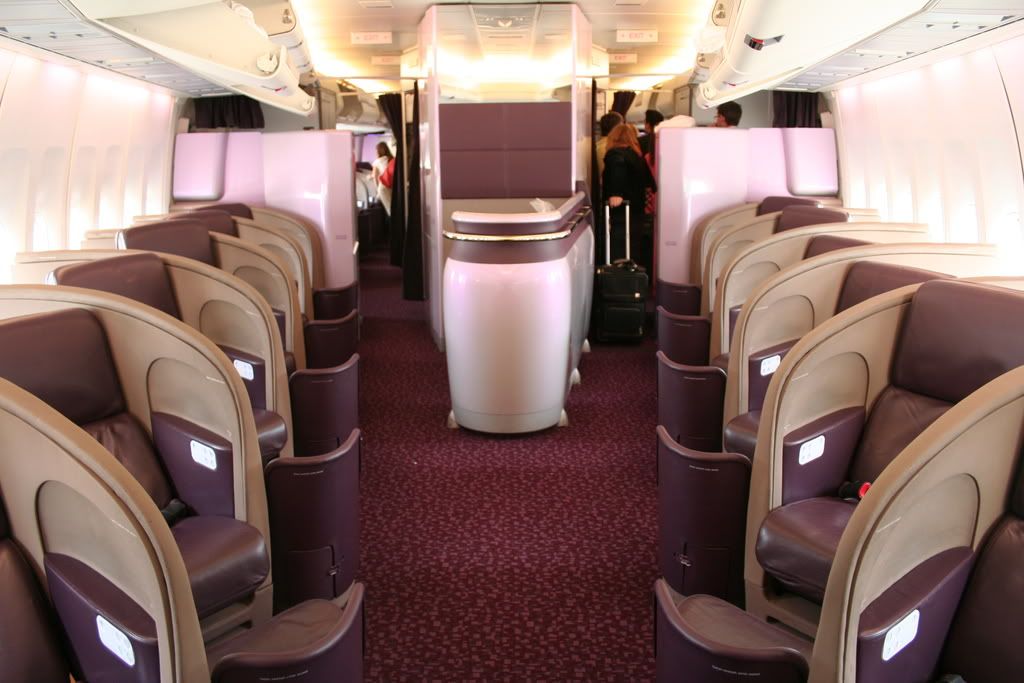 Above: The cabin after landing at JFK.
The cabin crew had obviously listened to me at the bar earlier on the flight, and invited me to the flight deck at JFK. The flight deck crew were fantastic, and started to play with my camara. The found my stories interesting and wished me luck with my future plans.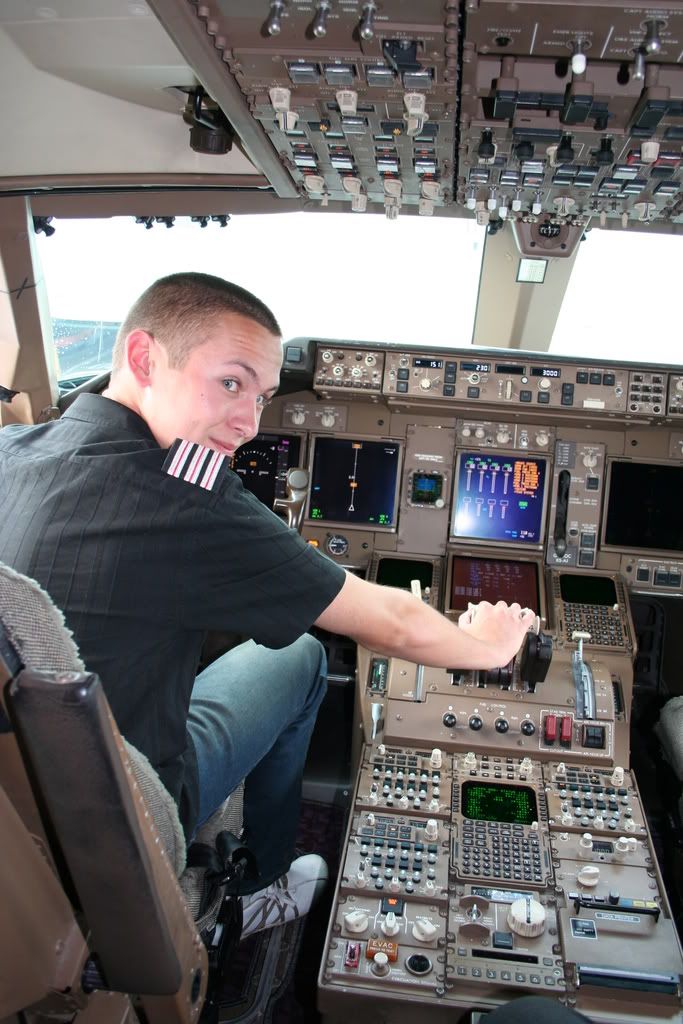 Above: Posing for the camera, the FO decided to put his stripes on me. These guys were great.
After thanking the flight deck crew, I thanked the FSM and her crew for making this flight a really special flight for me, and proceeded to immigration.
JFK terminal 4 was warm and very busy. I breezed though immigration and collected my bags to meet my host family for the next 6 weeks.
Overall, I loved Virgin Atlantic. They keep the fun in flying and have a really strong Upper Class product. I look forward to my return flight on the 6th of Aug.
Thank You and I hope you enjoyed reading.
VSCaptain.